The red camp fires back. AMD has just announced an updated version of the 7950 in the same vein as the 7970 GHz edition update. What this means is that the card is getting faster base clocks as well as a new feature that boosts the core clock when the TDP isn't fully loaded. With AMD and NVIDIA nearly matched on performance and AMD losing in power efficiency, they've decided to go for the best performance-per-dollar.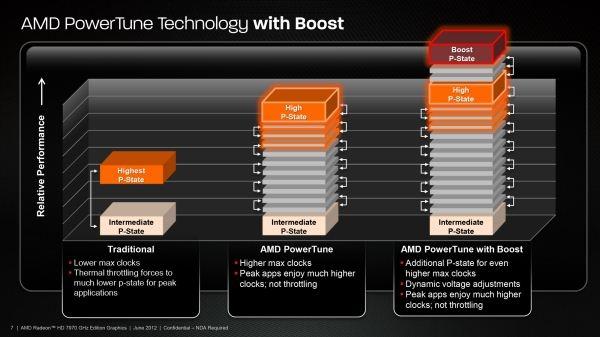 So, aside from throwing power consumption out the window, what else have they changed? Not much really. The new base clock is up to 850MHz from the original 800MHz. Boost clock speeds allow the clock speed to jump to 925MHz. The reason power usage will jump is they have increased the core voltage to support these speeds.
With the 7970, it wasn't too bad as they had top bin parts. With the 7950, they are dealing with either broken chips or chips that wouldn't hit clock speed requirements. Because of this, AMD is using 1.25v which is higher than the 7970GHzE's 1.218v. It will be interesting to see how this increase affects benchmark results.
The card will launch with an identical name: HD 7950. The upgrade is a BIOS and driver change so all the board partners have to do is update their BIOS and re-qualify them. Once done, the physically same cards will begin shipping using the same name which could easily cause confusion. Way to go AMD!