ASRock unveils Z77 Extreme9, the first high-end Z77 motherboard is here
ASRock announces Z77 Extreme 9, filled to the brim with features, even includes a serial port, yes,

Published Mon, May 14 2012 10:29 PM CDT
|
Updated Tue, Nov 3 2020 12:28 PM CST
ASRock has unveiled a high-end Z77 motherboard, the ASRock Z77 Extreme9, and when I say high-end, it's filled to the brim with features. First up, it sports the Z77 chipset which will give us compatibility for Intel's latest 22nm Ivy Bridge CPUs. The Z77 Extreme9 sports 4-way NVIDIA SLI support as well as 4-way AMD CrossFireX support.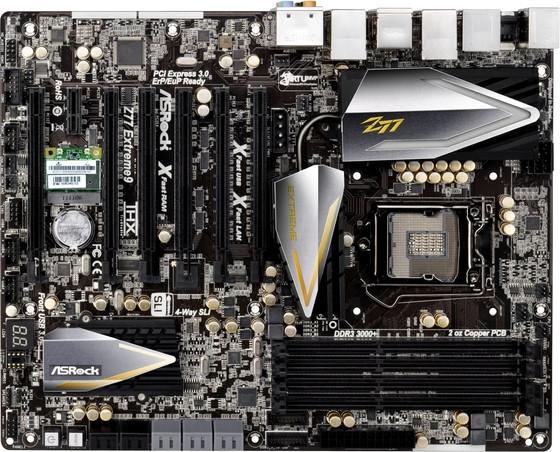 As for the SLI and CrossFireX support, if all four PCI-Express 3.0 ports are filled, we're looking at x8 for all four slots, or if a 2-way setup is used, it will sport x16 speeds. With graphics out of the way, the board includes no less than twelve (12!) SUB 3.0 ports, with four on the front, and eight on the rear, as well as six SATA 6Gbps ports.
The ASRock Z77 Extreme9 comes with a single x1 PCI Express 2.0 slot, backed up by a mini PCI Express slot that takes a dual-band combo 802.11a/b/g/n Wi-Fi and Bluetooth 4.0 card. On the back of the board along with the eight USB 3.0 ports, you'll find two USB 2.0 ports, an eSATA port, a FireWire port, dual Gigabit Ethernet, 7.1-channel audio with optical S/PDIF out, an HDMI-out port, and a clear CMOS button.
ASRock step the game up a bit by offering a bundled front USB 3.0 port drive bay module, or Wi-SB Box as ASRock like to call it. It sports two USB 3.0 ports, as well as Wi-Fi and Bluetooth antennas, a pair of LEDs which indicate that it's transmitting data. But, ASRock aren't finished with features for the Wi-SB Box, it also features enough space for a 2.5-inch drive to be mounted inside, perfect for an SSD.
How much does a feature-laden board like this cost? Well, we're looking at US pricing of around $410. Not too bad considering the features the board includes.
Related Tags