CyberpowerPC high-end desktops will now feature GTX 690s
Cyberpower plants a GTX 690s at the heart of several of its desktop systems.
Published Thu, May 3 2012 1:02 PM CDT
|
Updated Tue, Nov 3 2020 12:28 PM CST
Cyberpower has announced a new option to allow customers to configure new gaming systems around the newly released GTX 690. Systems in which the card can be used include the enthusiast Fang III series, Zeus series, and Gamer Xtreme and Ultra series. The GTX 690 is based on two GTX 680 cards and provides similar performance to them in SLI.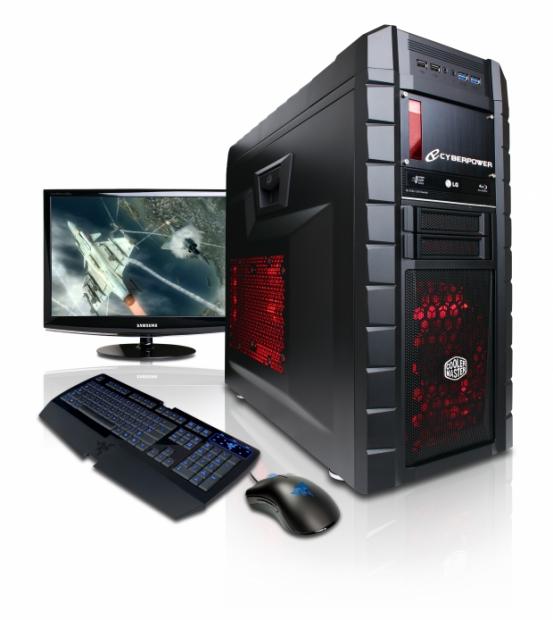 The entry-level system based around the GTX 690 starts under $1700, which with a $1000 card inside, isn't too bad of a price. Cyberpower has also optimized their liquid cooling system for the dual-GPU GTX 690. The computers, in addition to the GTX 690, can be customized with a wide range of features. The full text of the press release is below:
BALDWIN PARK, CA (May 3, 2012) - Cyberpower Inc. www.cyberpowerpc.com, a global manufacturer of custom gaming machines, today announced the integration of NVIDIA's flagship GeForce GTX 690 graphics card into its line of enthusiast desktop gaming PCs.

Powered by two Kepler GPUs, the GeForce GTX 690 is a record setter in 3D performance, incredibly power efficient, and possesses an awesome visual aesthetic with its metallic design to express the raw, uncompromising power of a dual-GPU Kepler based graphics card.

The GTX 690 has 3,072 NVIDIA CUDA cores running at a blazing 915MHz, with 2GB GDD5 RAM for each individual GPU. The GTX 690 delivers the performance of dual GTX 680s in SLI but with reduced power consumption and a little more serenity.

Starting today, CyberpowerPC customers can configure new desktop gaming systems based on the GeForce GTX 690. The card will be available in CyberpowerPC's enthusiast Fang III series, Zeus series, and Gamer Xtreme and Ultra series of custom gaming PCs.

CyberpowerPC systems based on the GTX 690 ensures users the best gaming experience on all of the latest gaming titles at maximum quality settings. The card is also crammed with NVIDIA features such as FXAA, which eliminates jaggies and sustains smooth frame rates for flawless game play. To maximum the gaming experience, users can hook up three monitors and play games at 5760 x 1080, in NVIDIA Surround or NVIDIA 3D Vision Surround mode with the optional NVIDIA 3D Vision technology.

At a MSRP of $999, the GeForce GTX 690 is not a graphics card for everyone. But for enthusiasts who demand the very best and gamers who want a graphics card that will last for generations, the GeForce GTX 690 represents the ultimate in gaming and performance from NVIDIA. CyberpowerPC systems based on this powerhouse card will start under $1,700. CyberpowerPC will also offer a GeForce GTX 690 monster, the Zeus Thunder Max, with a starting price at $3,999.

CyberpowerPC's Advanced Hydro liquid cooling system has also been optimized for the new dual-Kepler GPU card to provide maximum heat dissipation for users looking to combine maximum performance, cool operating temperatures, and improved acoustics.

All CyberpowerPC custom gaming systems can be customized with a number of performance hardware and components such as CyberpowerPC's Advanced Hydro Liquid Cooling kit, Solid State Drives, Blu-ray drives, performance gaming memory, gaming peripherals, business and productivity software, and more.

All systems are housed in gaming chassis from top-tier manufacturers that are designed to provide ample features and intelligent functionality with emphasis on advanced cooling, silent performance and extreme airflow. Every system is meticulously built with precise cable routing to ensure optimal airflow and a clean aesthetic appearance. CyberpowerPC loads every system with Microsoft Windows 7 Home Premium Operating System for an enhanced gaming and multimedia experience. All CyberpowerPC desktop gaming systems include an industry-best 3-year limited warranty.
Related Tags