Close-up look at GIGABYTE's Intel Z77 Ivy Bridge motherboards
We go hands-on with four of GIGABYTE's upcoming Ivy Bridge boards.

Published Fri, Mar 2 2012 9:06 AM CST
|
Updated Tue, Nov 3 2020 12:29 PM CST
Earlier on today we visited the GIGABYTE headquarters here in Taipei where we got some exclusive hands-on time with its range of upcoming Intel Z77 "Ivy Bridge" Socket 1155 motherboards. GIGABYTE told us to say "3rd generation" processors, but to be more clear, we're telling you they are indeed "Ivy Bridge" processors. These are the boards that will support the upcoming third generation Intel Core processors that are due to come onto the market sometime in April as far as we know at this stage of the game. These boards will also support current Sandy Bridge based processors such as the 2500k, 2600k and 2700k.
We also know that the performance of these said processors is really impressive and the power consumption numbers are great, too. We cannot go into too many details about this platform at this stage, but what we can do is give you a look at what GIGABYTE has planned for the platform with a look at four of its upcoming Z77 boards which we went hands-on with today.
We'll start off with the big daddy which is the G1.Sniper 3, this is a board designer for gamers as well as overclockers and represents as the highest end Z77 board from GIGABYTE at this stage. It comes with an improved cooling setup with oversized heatsinks and a more minimalistic cooler design - rather than a big gun shaped heatsink at the south end of the board, there is just a small golden skull with a knife held in its mouth.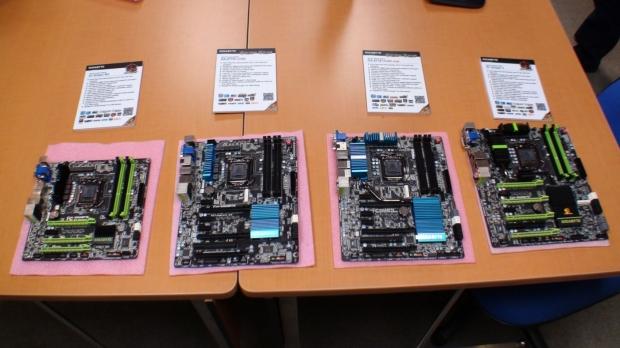 The board has support for three-way SLI and four-way CrossFireX thanks to the inclusion of a PLX bridge chip which provides extra PCI Express lanes. It has some other good features including Creative Core3D quad-core audio processor onboard sound with a shielded setup to reduce electrical interference, dual gigabit LAN (one Intel and one Qualcomm Killer Game Networking), Lucid Virtu MVP, mSATA and plenty of USB 3.0 support which now comes curtsey natively via the Z77 chipset from Intel.
[img]2[/img]
Next up we move down to the Z77X-UD5H which is similar in many ways to the G1.Sniper 3, except of course being a cheaper model, it has some features taken off. For one it doesn't include the additional PLX bridge which means the board only gets two-way SLI and CrossFire support. This board still features the oversized heatsinks, but without the skull and knife treatment. It also comes with an mSATA slot for small solid state drives in this format along with dual gigabit LAN (Intel and Qualcomm Atheros), PCI Express gen 3.0 and more. This boar d does drop some nice features from the previous including Creative Core3D and Qualcomm Killer Game networking.
[img]3[/img]
Moving on we end up with the Z77X-UD3H which is again a cheaper board than and others and drops out some features to help reduce the price. It has a more simplistic cooling setup without the heatpipe design. It still maintains support for two-way SLI and CrossFire support, but from the UD5H it does drop some features such as only having a single gigabit LAN port provided again by the Qualcomm Atheros solution. It still does maintain quite a few good features though such as the Lucid Virtu MVP, 3D BIOS, 3D Power with a great digital PWM and many of the other unique GIGABYTE features such as On/Off charge and so on.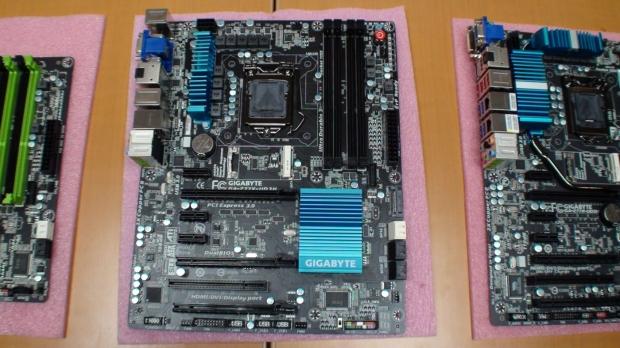 Finally we end up with what might end up being a very successful motherboard for GIGABYTE, we're talking about the G1.Sniper M3 and our motherboard editor Shane is really keen to try it out and thinks at this early stage it should do quite well. You could basically take the larger G1.Sniper 3 and put it into a MicroATX design and you have the M3. For a board of this size, it packs in the features and will surely make a great motherboard for smaller systems such as a LAN gaming box. It comes with two-way SLI and CrossFire support and being a gaming boards it maintains the great features since in the bigger Sniper Z77 such as Creative Core3D sound, Lucid Virtu MVP and Intel gigabit LAN. I would have personally preferred to see this board include Qualcomm Killer Game networking, but that wasn't to be the case.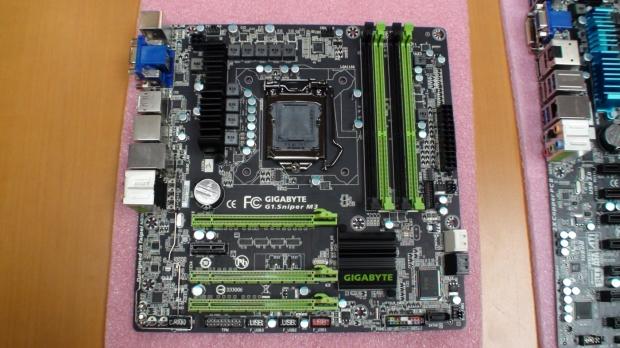 We are due to get all of these boards in for review and testing soon and look forward to trying them out fully.
Related Tags