Microsoft Courier Booklet, impressive design and concept
If it makes it to the real world.
Published Tue, Sep 29 2009 11:39 AM CDT
|
Updated Tue, Nov 3 2020 12:36 PM CST
It is no secret that if Apple says they are working on something (or even rumored to be working on something) the tech press stops for a second and then beings to type hasty and enthusiastic articles for publication.
Well while the keyboards are busy with fresh copy for the rumored Apple Tablet a spark of an Idea from MS could be missed. The idea in question is Microsoft's Courier Booklet.
The new booklet seems to be an innovative idea that could possibly bring the tablet to the real world (finally). It looks like a book and in fact the GUI has page-like markers for flipping between your stored files and applications. This is called the Infinite Journal, this is a journal that is limited only by the amount of storage you have on the Courier. You can also publish your journal online and pull it down in a few different formats (Courier File, PowerPoint and PDF).
You also have a library for storing your subscriptions and applications.
You can drop things into a virtual pocket at the hinge for moving between pages (which is very cool) while navigation and input seems to be all pen and multi-touch based.
This brings the feel of a working notebook to the device and seems to be something that could actually find its way into the market as a usable product. My only hope is that MS actually does develop and sell this instead of killing it off due to perceived lack of market or technical issues.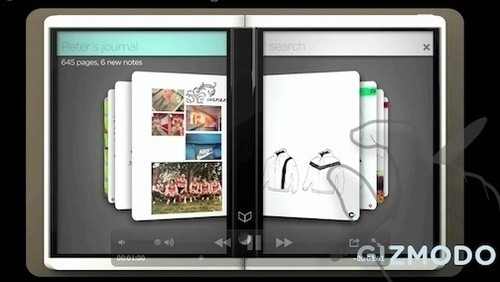 Related Tags