OCZ Introduces Summit Series SSDs
Touts snappier speeds and longer battery life.
Published
1 minute & 1 second read time
OCZ has announce a new line of SSDs that they say provides the best of both the performance of cutting-edge technology and unmatched reliability.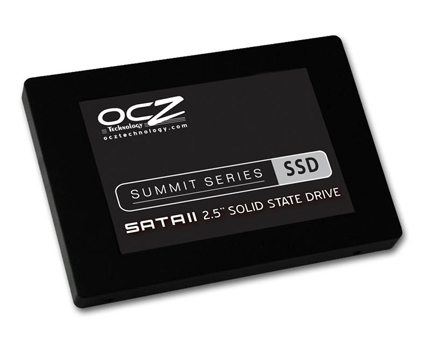 The new OCZ Summit Series SSDs come in a durable 2.5" aluminum casing and are meant for all areas of computing for the enthusiast, small-scale enterprise, and professional-class storage devices. OCZ claims that the Summit Series of SSD's will achieve read speeds up to 220MB/s and wire speeds up to 200MB/s.
All the Summit Series of drives also have 128MB of onboard cache for faster data access. OCZ is offering the drives in 64GB, 128GB, and 256GB sizes, however there is no mention of availability or pricing. Those interested in reading the full press release can catch it
here.
"OCZ's SSD lineup offers drives for the complete spectrum of applications, and the new Summit SSD's cater to both enthusiast level consumer and enterprise customers," said Alex Mei, CMO of the OCZ Technology Group. "Making use of premium flash and a large 128MB cache, the Summit SSD delivers a combination of high speed, excellent compatibility, and superior reliability in mobile, workstation, and entry-level enterprise computing applications."

Offering a robust upgrade from traditional platter-based drives, OCZ Summit Series SSDs have a compact form factor with no moving parts resulting in quiet and cooler operation. For crowded cases and system builders striving for multiple drives in RAID configurations, OCZ Summit SSDs offer space and cost-savings that use significantly less power thanks to the benefits of high-quality flash chips in a durable 2.5" aluminum casing.
Related Tags