Large Hadron Collider restart delayed again
Pushed back until September.
Published Wed, Feb 11 2009 7:31 AM CST
|
Updated Tue, Nov 3 2020 12:37 PM CST
The Atom smashing LHC (Large Hadron Collider) has hit another delay and now will not restart until September of this year.
When the LHC when live back in September of 2008 there was talk that it would create miniature black holes, the end of the world, and rice pudding...ok so I made that last bit up. In reality no one seems to know exactly what will happen when they shoot beams of lead atoms into each other at speeds approaching the speed of light. Scientists at CERN hope to gain a better understanding of matter by observing the results of these collisions.
The LHC was put out of action shortly after its initial launch by an electrical malfunction in a cooling system. The malfunction caused a helium leak and required the system to be taken offline as all of the 53 magnets used needed cleaning and repairs.
Read more
here
.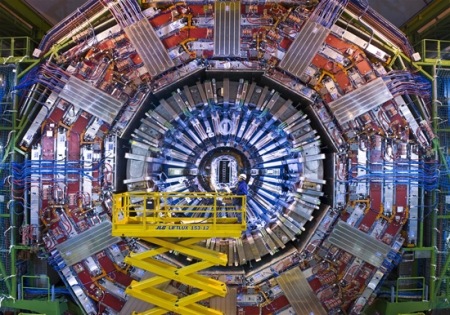 The delay is the latest in a string of restart dates CERN has announced. CERN had originally expected to have the LHC back online at the beginning of April, following CERN's annual maintenance period. But that target was revised last November to June. Later that month, CERN's head of communications, James Gillies, told ZDNet UK that the new plan was to restart the LHC in late summer.

"The schedule we have now is without a doubt the best for the LHC and for the physicists waiting for data," CERN Director General Rolf Heuer said in a statement. "It is cautious, ensuring that all the necessary work is done on the LHC before we start-up, yet it allows physics research to begin this year."
Related Tags