Developer: Ubisoft Montreal
Publisher: Ubisoft
Release Date: March 1, 2016
Platform: PS4, Xbox One, PC (Reviewed)
Genre: Open-world RPG
MSRP: $59.99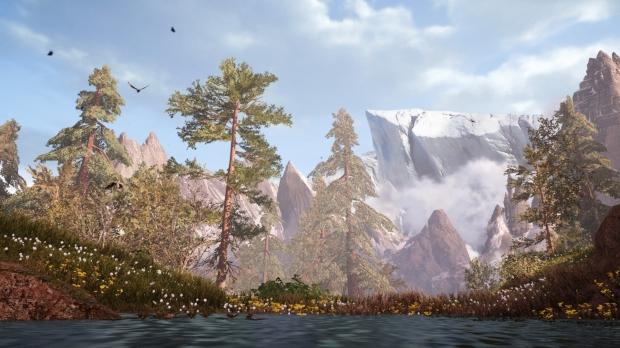 I can confidently say that Far Cry: Primal is one of the best games I've played in recent years. It's a fascinating and hugely satisfying foray into Stone Age survival that pulled me right in from the start.
Modern games typically have a hard time with constant immersion, but every moment of Primal had a way of pulling me in and keeping me in 10,000 BCE. Of course, I think riding mammoths, taming sabertooth tigers, and wreaking tons of havoc with fire-tipped arrows had something to do with that.
While it does maintain the age-old Far Cry formula, Primal quickly sets itself apart from its predecessors to deliver a strikingly unique experience. Ubisoft has recreated a window to humanity's brutal prehistoric past in painstaking detail and drops us into a world where beauty mingles with danger at every turn.
At its core, Primal is a visceral and bloody game, but its violence serves a fundamental purpose. Players are drawn into a fully realized embodiment of "survival of the fittest" with a world that's so alive, vibrant and rich that it's quite spellbinding. It embraces the savagery of early man while maintaining a natural, fluid scope that mirrors everything about the wilderness. The violence isn't completely empowering as it is in other games. Sure, you're free to slaughter whatever you please, but there's a sacrosanct feel to the natural world. You're compelled only to kill for what you need, whether it be wolf furs to ward off frozen blizzards, bones to fashion crude--yet effective--killing tools, or meat to ensure your survival.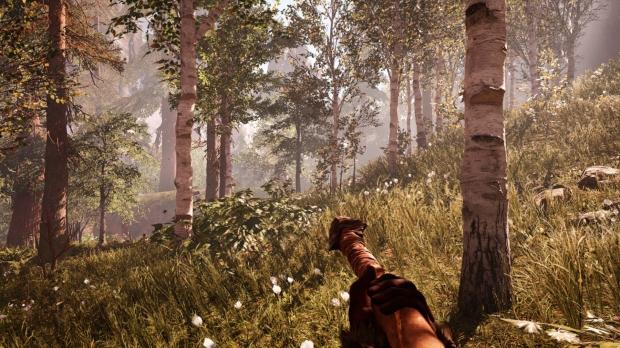 The in-game world is quite spellbinding and enchanting. It's not just beautiful but vivacious, vibrant, and alive. The land of Oros has teeth, and it'll bite you often. Far too often I've seen open world games trade beauty for substance. Primal marries these two to create an in-game atmosphere that is not only brilliant but also living, dynamic, breathing.
Primal looks stunning even at 1080p, and I flexed my Radeon R9 390 to push ~45 FPS at Ultra settings in 1440p. At this resolution, every single view transforms into a picturesque vista. Apart from the impeccable visuals, Oros is quite literally teeming with life at every turn.
Packs of wolves give chase to deer across the rolling hills, mammoths lumber in the frostlands to the north, birds chatter in the canopy, and dozens of other animals mingle, hunt, die, and live. The animals feel so natural, so real, so alive. Jaguars slink in the high grass, deer will dart away in fleeting fear, and tigers maul would-be hunters whose screams of "Tigre! Tigre!" can be heard for miles.
If you do play this game, buy some headphones. Trust me. The game becomes more of a conscious entity once you can hear everything, making it a more intimate and magical experience. Hearing the cacophonous symphony of the wild has a way of adding even more depth to an already immersive adventure.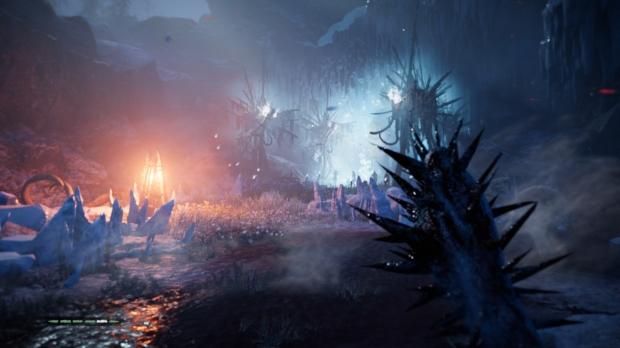 In a way, Oros feels like a distant fantasy land filled that's fraught with mystical creatures and colorful--yet bloodthirsty--tribes. This land is entirely untouched by modern pollution and has a distinct purity to it. Sometimes I feel like Far Cry: Primal is what a fantasy universe would be without steel, plate mail, or magic, which is something I've always wanted to experience. Now I can.
When I first saw gameplay for Far Cry: Primal, I thought "aww, it's just a re-skinned Far Cry game!" Then I played it. Honestly, this is a game you have to play--it's something you have to experience. The combat is extremely satisfying, but it's not crazy to the point where you're fully empowered and can't die. On the contrary.
I've been overrun by a crash of rhinos, gutted by sable jaguars in the night, and froze to death in a blizzard. I've even been urinated on by a one-armed Wenja, and although I wanted to die (and die a little inside when the one-armed miscreant calls me Piss Man every time he sees me), I got back up. In the true spirit of caveman sims, what doesn't kill you only makes you stronger.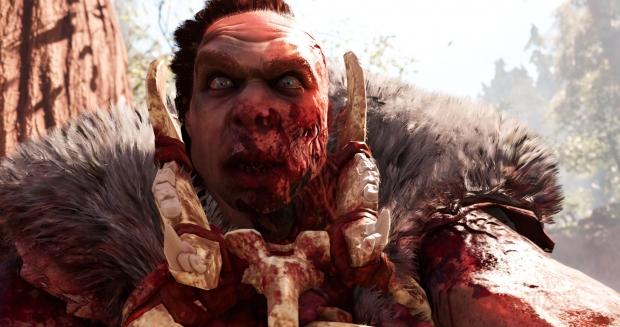 As Takkar, the stalwart Wenja tribesman, players must match brains with brawn to survive. You're given tons of nifty tools to work with, like being able to skinchange into an owl and fly above outposts and scout out enemies, or taming wild beasts to fight along your side. As you level up and unlock more skills, you can tame sabertooths and even hulking bears to wreak serious chaos. Hell, you can even ride a sabertooth or a mammoth into battle. It never gets old--trust me, I've done it a lot.
Combat is extremely fluid and satisfying but balanced perfectly so that the game isn't ever too easy. Takkar has three main weapons at his disposal: a spear, club, and bow. You can actually throw spears and clubs, the former acting like a deadly javelin that one-hit kills with headshots, and the latter being a brunt slam that stuns enemies. The bow is incredibly fun to use, especially once you get used to its primitive feel and start getting headshots.
For an added bonus of awesomeness, you can ignite your arrows, spears and clubs to dispatch cannibalistic cavemen in a blaze of glory. Fire is a pure DOT (damage over time) mechanic that will eat away at anything, proving the adage "kill it with fire!" as quite apt. Fiery bowshots or spears work great for taking down big beasts like mammoths or rhinos, and you can even self-ignite weapons on-the-fly.
Pyromaniacs beware: fire is incredibly dynamic in this game and will spread out to leaves and trees, and it'll eat away your health if you're not careful. I love how fire is a double-edged sword, making Prometheus' boon to man into a kind of curse for the clumsy.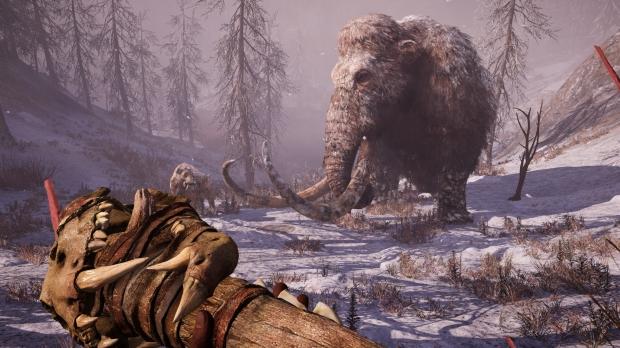 In my opinion, Far Cry: Primal sets the perfect pace for progression. You don't have to worry about getting overburdened with quests, or having activities pile up like in Assassin's Creed games. This game is built around exploration and activity, and Ubisoft genuinely wants players to get lost in their prehistoric world.
Skills and upgrades are naturally woven into story progression, and not in the usual path of grabbing XP from quests. Takkar's abilities and skills are tied to other dynamic NPCs. Players have to recruit these skill masters to grow the Wenja village and unlock new skill trees. I'm a huge fan of this approach as it drives you to explore the world without being too pushy.
There's a distinct draw to the environments, and honestly, I didn't mind running halfway across the continent for a quest. Oros is so vastly populated with interesting things to do and see that you'll get sidetracked, but it's almost always a welcome detour. Whether you're cracking Izila skulls, gathering flint, or taming that rare snowblood wolf, every excursion is entertaining.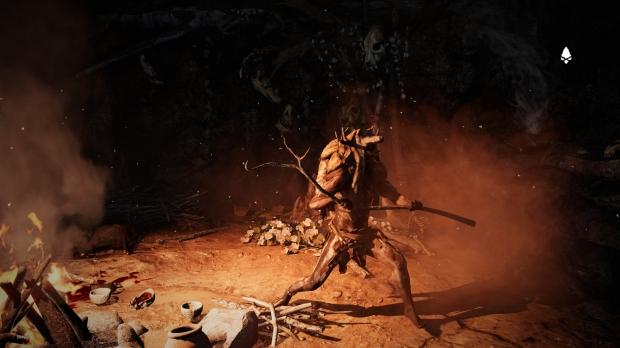 We can't depart without discussing the game's characters. Ubisoft so perfectly captured the likeness of hunter-gatherer culture that you'll often forget you're playing a game. The NPC's feel so genuine and fortify that intense immersion.
Tensay the Shaman makes you drink an eyeball blood concoction to see visions. Sayla wears a necklace of ears that she screams curses into. Your Wenja tribesman will sing, dance, and hunt in the persistent world, making them feel real and authentic. Ull, the ruthless leader of the cannibalistic bone-armor-wearing Udam, radiates menacing cruelty, not unlike the wildlings in Game of Thrones.
Although it's savage and brutal, the latest Far Cry has all of the trimmings that make for a good game. It has high replay value, a persistent breathing world, memorable characters, and most of all, it's an entertaining spectacle built by developers who obviously loved the project. Ubisoft went so far out of their way to make this a memorable and believable game that they created their own language rooted in actual history.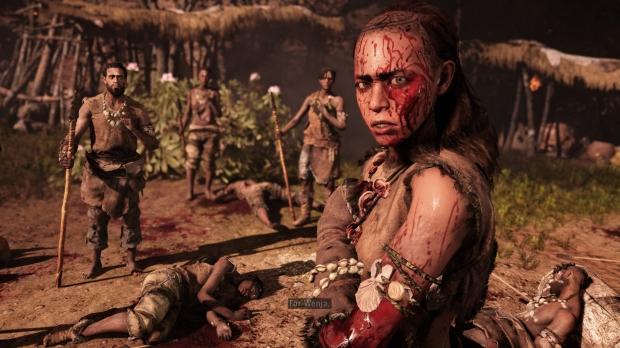 While it doesn't completely redefine the basic Far Cry formula, Primal walks its own path. It's not just about a new location or timeframe: the world of Oros is so diverse, persistent, and dynamic that it actually feels alive. The combat is much more intuitive and fluid, adding more intimacy to the blood-dance of death. And there's no flooding of quests and tasks--players set their own pace in the enchanting Oros.
I feel that there's something special here. Primal speaks to the inner caveman within all of us, delivering an experience that transcends language and cultural barriers. The game resonates so strongly with the kind of pre-history that blurs into legend, creating its own spiritual mysticism.
Ubisoft Montreal has successfully cast their spell. Primal beats to its own drum, casting a path into what I hope is a new scope of open-world gaming.
Also, where else can you ride a sabertooth and sling fiery spears of chaos?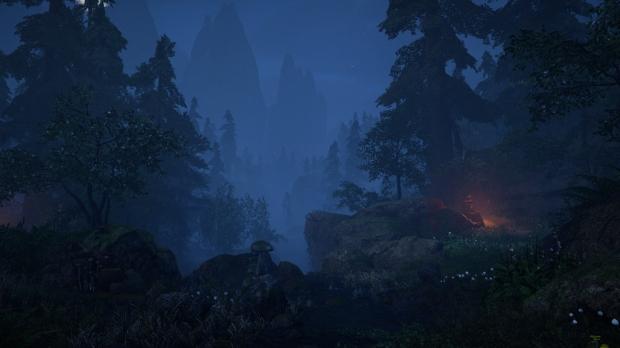 What's Hot
Energetic world teeming with life - Oros is packed with wild flora, fauna, and savage Stone Age tribes hellbent on killing one another. All of these things clash together in an epic and bloody circle of life we call nature.
Amazing graphics - Ubisoft's Dunia Engine spins some of the most beautiful in-game environments and atmospheres I've seen in recent games. Every moment in Oros is a feast for the eyes.
It's just plain fun - Primal is an all-around good time. You don't have to be an anthropology buff to appreciate the game's deep spiritual scope, and nothing beats riding a sabertooth and raining down bee bombs from an owl.
Character and animal AI - Hulking mammoths, skulking jaguars, and devious wolves make the environs all the more immersive. An unforgettable cast of primitives like Tensay, Wogash, and Ull add even more plausibility to the mix.
Combat is fluid and satisfying - We only get three weapons, but they're so naturally enjoyable to use that it doesn't matter. You can find creative and unique ways to mix and match items, and use strategic advantages to reign supreme in Oros.
What's Not
Problematic night spawn points - Animals will randomly spawn in the night, sometimes right in front of you. I've had a full pack of wolves pop out of nowhere and maul the life out of me. This is pretty frustrating.
Grappling hook controls - At no point was I given instruction on how to use the grappling hook, so I had to figure it out on my own. It's pretty frustrating leaping across chasms on blind faith, or falling into a jaguar pit because of mismatched tutorial prompts.