Uncharted: Golden Abyss (U:GA) PlayStation Vita Review
Drake returns for the second time in a year. Too much?
Published
Developer / Publisher: Bend
3 minutes & 59 seconds read time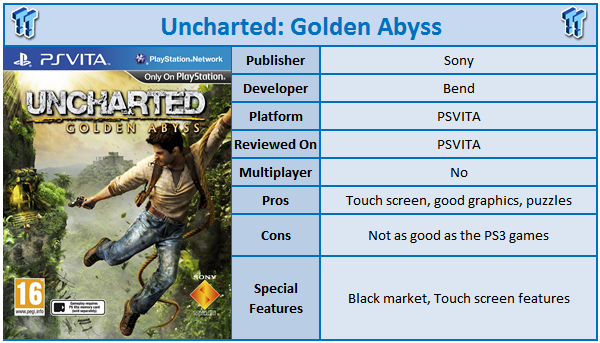 Whenever a brand new system launches, eyes turn to the line-up of games to see if it will be worth dropping a load of cash down for the system as soon as it's released. In the case of the PlayStation Vita there is no doubt the poster boy is Uncharted: Golden Abyss. Uncharted in the life of the PlayStation 3 has gone from a new franchise, to one of the most recognised and formidable around and so launching with the PlayStation Vita was a no brainer, but also a risk. This is the first time the game has been developed outside of the watchful eye of Naughty Dog and its development team (although no doubt they kept an eye on things) and also the first time the game has leapt from the PS3 to another system. So with that in mind the risk was taken and the game is out. Thankfully the PlayStation Vita is better for it.
Uncharted: Golden Abyss (U:GA) is a side story to the Uncharted series on PlayStation 3. It is a side story to those which Drake encountered with Elena and Sully and takes Drake on a new adventure, which takes him away from the Sir Francis Drake history. Instead it takes you to South America whilst helping a friend out. Drake is not the successful, famous adventurer that we know and love (especially in UC3), leading us to believe the game is set just after Uncharted 1.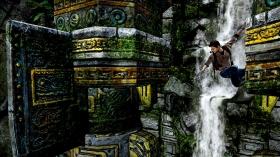 Perhaps the biggest success of U:GA is proving that the formula can be taken off the PS3 system and still work. We definitely have not seen the last of Nathan Drake yet and the gameplay is as good as ever on the PlayStation Vita, despite the weaker system in terms of specs and the portable nature. There are a few things that are unique to the PlayStation Vita game as well. Bend has used some of the PlayStation Vita exclusive features to good effect such as the touch screen. Instead of having to traverse the walls with the buttons and control sticks, you can instead 'draw' the path you want Drake to take with your finger and he will take it. This actually saves a lot of time and is a lot more enjoyable than we expected going into it to be honest.
Aside from this at certain points during the game you will need to swipe the screen to either use a knife to cut trees, take out an enemy or help boost up a companion character. And not to be forgotten the motion sensor is used occasionally as well. What Bend has managed to do is not over use the technology and so when the prompts come up it's a nice change. The game also uses the touch screen to solve many of its puzzles, which is an improvement on the PS3 games in terms of direct control of items.
Other than that the game plays very much like a traditional Uncharted. Drake traverses huge canyons and environments. Like Uncharted 3 most of the areas that Drake needs to grab onto is highlighted gold and so clearly Bend has taken some input from the latter PS3 games. One thing we have to say against the game unfortunately is there are some points where there are 'roadblocks' of enemies.
The game will flood enemies into your area with high powered guns and rather than enjoying this, on about the fourth or fifth time, you will just want to get back to the adventuring. Uncharted's strength is in its adventuring gameplay and puzzle solving - not its shooting model. The rest of the game more than makes up for this, but it's still a disappointment.
[img]2[/img]
The other disappointing aspect of the game is that it is generally set in only one type of environment. Given the wide variety we've seen in previous games such as the second and third PS3 games, to go backwards like that is again disappointing. Clearly the PlayStation Vita system has to have some concessions made for it and the fact we are even considering it close to a PS3 level game is a feather in its cap, but with that comparison, some down sides appear. It's definitely closer to Uncharted 1 rather than 2 and 3 in this respect.
However with that said the game is stunning to say the least. It is probably the most beautiful portable game we have seen to date. Obviously with the power of the new system behind it that wasn't going to be hard, but the environments are as intricately detailed and structured as its bigger brother which is quite an achievement for a handheld game. The game also includes full voice acting and sound effects which come out loud and clear from the PlayStation Vita system and is of a quality that the PS3 games have including strong voice work from Nolan North.
[img]3[/img]
One downside to the PlayStation Vita game is that there is no multiplayer, so there is not a huge amount to draw you back to the game. However for the completionists there is much to be found such as charcoal paintings, treasure items and some secret areas to be found. There are also bounties you can collect throughout the game and trade with other players through a Black Market game mode, which has been added for the western release of the game.
UG:A is a stunning example of the PlayStation Vita power even though it's a launch game. Sure, it has its problems and in many ways does not compare to the PS3 big boy games, but it proves two things; developers other than Naughty Dog can get Uncharted right and that the game is portable to other systems. Uncharted remains one of this generations strongest franchises and this game just backs that up. Almost enough to warrant a PlayStation Vita purchase to play it.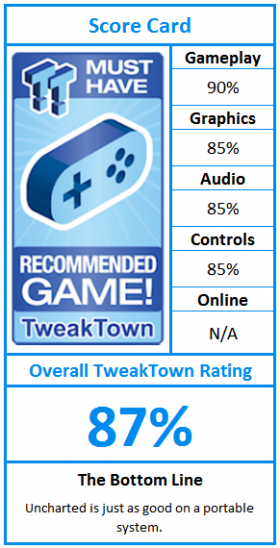 PRICING: You can find products similar to this one for sale below.

United States: Find other tech and computer products like this over at Amazon.com

United Kingdom: Find other tech and computer products like this over at Amazon.co.uk

Australia: Find other tech and computer products like this over at Amazon.com.au

Canada: Find other tech and computer products like this over at Amazon.ca

Deutschland: Finde andere Technik- und Computerprodukte wie dieses auf Amazon.de
We openly invite the companies who provide us with review samples / who are mentioned or discussed to express their opinion. If any company representative wishes to respond, we will publish the response here. Please contact us if you wish to respond.