The latest iteration to the Fight Night series sees Fight Night Champion get a Hollywood inspired story. Starting in a prison boxing match, the rawness of Fight Night Champion can really be seen here as EA have taken us to a much darker side of boxing. After a brief experience in prison you'll find yourself jumping back in time working to the point of how you got there.
From Amateur boxing at the Olympics to contending to become world champion, you've got every boxing cliche you would expect. The corrupt promoter, falling on hard times, subtle love interest and a trash talking nemesis, it's all here and while it's everything you would expect, the story takes the series to a completely new level of enjoyment, made only better with extra polish like the inclusions of ESPNs Friday Night Fights and Brian Kenny who make a number of appearances throughout helping keep you up to date on what's happening with your boxer and the competition.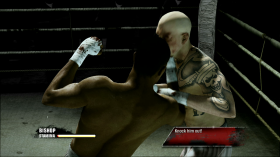 Gone are the days of sore thumbs after six rounds with a simpler flick process being implemented for punching. While sounding like a bit of a low blow for fans of the series, you'll quickly find yourself appreciating the new style which gives you all the combinations you need with a flick, making sure that button mashing players won't out box you, while at the same time giving new comers to the game a chance to ease into it.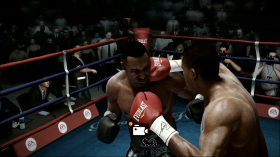 Blocking has become more automated when holding down the right trigger and gone are the powerful haymakers, instead replaced with a heavy punch modifier. While a more simplistic approach has been taken, making the effort to dodge and weave while using the right punch is very rewarding and still takes a good level of skill; something that will be needed in the higher difficulty settings. Healing is also now automated and based on how well you did in the previous round.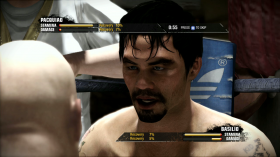 A new range of training games are found and while for the most part are more frustrating than anything else, they will indeed help you level your boxer up as you work through legacy mode, which gives you the ability to create your own boxer or use someone well known.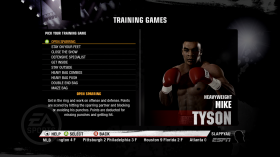 Like previous Fight Nights this is a great looking game. Unlike the previous ones, though, there's clearly a higher level of blood and the attention to detail is great as you pummel in a competitors face.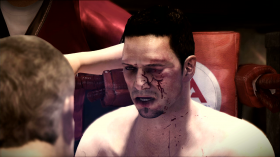 Commentary with Joe Tessitore and Teddy Atlas is over the top as you would expect, but overall very good. As the hours do get on, though, you find the same lines over and over again get quite tiresome.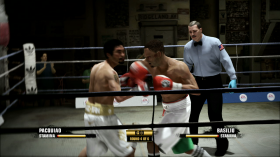 Strong visuals combined with strong voice acting and thumps that will send a rumble through any great subwoofer make for a game that's pleasing on both the eyes and ears and help justify the cost of that expensive surround sound system and TV.
Fight Night Champion is clearly the best we've seen from the series thanks to a fantastic story mode, and while a little short, it does indeed help take the franchise to another level.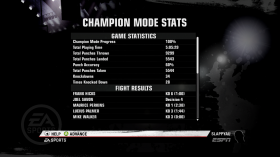 Outside of all that, we've got the normal multiplayer mode which is best enjoyed in an environment when a friend's over more so than over the internet.
If you're a fan of the series you're going to love what Fight Night Champion brings to the table in its story mode and while some areas feel like they've had more of a makeover than anything else, there's still plenty of fun to be had as you battle out dream match ups.
If boxing isn't your type of sport, don't let that turn you off. Once you get into Fight Night Champion you should truly enjoy what's on offer and you'll quickly realize you know more about the sport than you thought, as you see names like Ali and Tyson.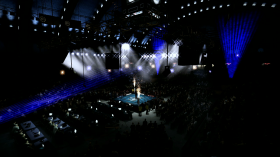 While the story could indeed be longer and some more life could've been breathed into Legacy Mode, Fight Night Champion is still a fantastic game that a lot of people will enjoy. If you're still not sure about taking the leap, it's definitely worth grabbing the demo to see if it sparks your interest. To end on a lame pun, Fight Night Champion really is a Knockout.