Introduction
Metro Exodus Enhanced Edition recently dropped, with some major upgrades included by 4A Games with NVIDIA's magic DLSS 2.0 technology, Ray Traced Emissive Lighting, a FOV slider, boosted frame rates, and resolutions. It's all here, and we're going to run right into it.
8K benchmarking in Metro Exodus Enhanced Edition gets its own article of course, but I am working tirelessly on pumping away at all of my graphics cards here in the TweakTown GPU labs through the newly-polished game... especially my GeForce RTX series graphics cards since they can do RT + DLSS 2.0.
If you already own Metro Exodus on the PC, then Metro Exodus Enhanced Edition is a free upgrade with a bunch of new graphical goodies to check out. There are some videos walking you through some of the differences between the normal version and the Enhanced Edition on the PC, with next-gen consoles getting their upgrade to Metro Exodus on June 18.
There is an awesome, and very detailed breakdown between the regular Metro Exodus and the new Metro Exodus Enhanced Edition on 4A Games' official website. Where it goes into every single individual part of the game that has been upgraded... and there is a lot. It's filled with geeky information for you to drool over.
First up, let's go over the Minimum through to the RT Extreme system requirements.
At a minimum, 4A Games recommends that you have a 4-core CPU with SMT, 8GB of RAM, and a GeForce RTX 2060 to hit 1080p 45FPS average with Normal graphics settings and Ray Tracing set to Normal. You'll need an 8-core CPU and higher-end GeForce RTX 2070, GeForce RTX 3060 or Radeon RX 6700 XT for 1080p 60FPS on High.
If you want to crank up to 4K 60FPS on the Extreme graphics setting with Ray Tracing set to Ultra then you're going to need a much beefier system with 4A Games recommending you have a GeForce RTX 3090 graphics card. Well, I do and I'm going to use it to crank through Metro Exodus Enhanced Edition at 8K -- 33 million pixels per second with Ray Tracing and DLSS 2.0 enabled.
Let's do this.
Metro Exodus Enhanced Edition Graphics Settings
I had everything cranked up to maximum in terms of graphics settings, starting with Shading Quality at Extreme, Ray Tracing quality on Ultra, Reflections are Raytraced, Variable Rate Shading (VRS) is set to 1x, Tesselation is on Full and both Hairworks and Advanced PhysX are disabled.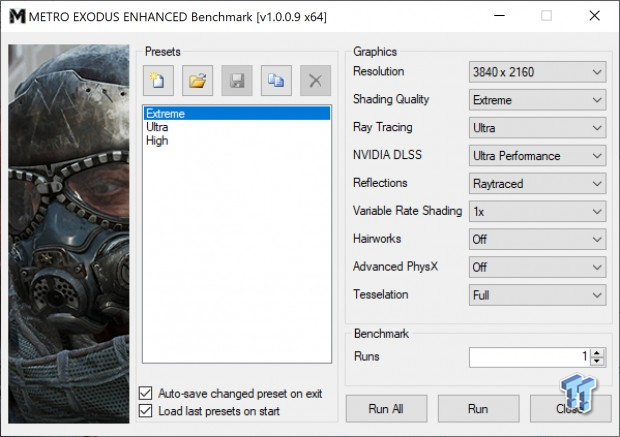 In my regular resolution testing with 1080p, 1440p, and 4K with Metro Exodus Enhanced Edition benchmarking I've been doing the same thing. For the purposes of this exclusive 8K benchmarking with the game, I'll keep the same graphics settings and run through the various DLSS 2.0 modes that are in the newly-enhanced version of the game.
DLSS 2.0 settings include: Ultra Performance, Performance, Balanced, Quality, and off. As I type I'm running all of NVIDIA's GeForce RTX series GPUs on every DLSS 2.0 preset in Metro Exodus Enhanced Edition. That will take a little while longer, but for now we have some pretty exciting 8K benchmarks to share with you.
Test System Specs
AMD Ryzen 9 5900X processor: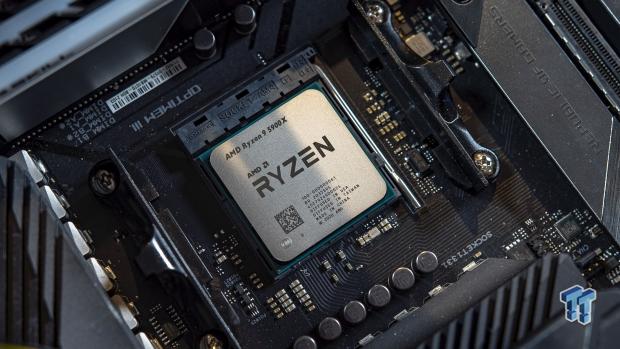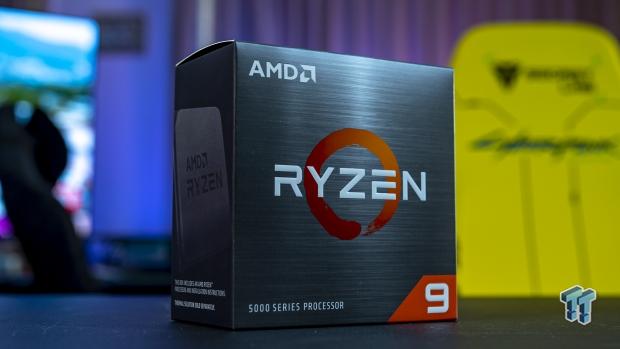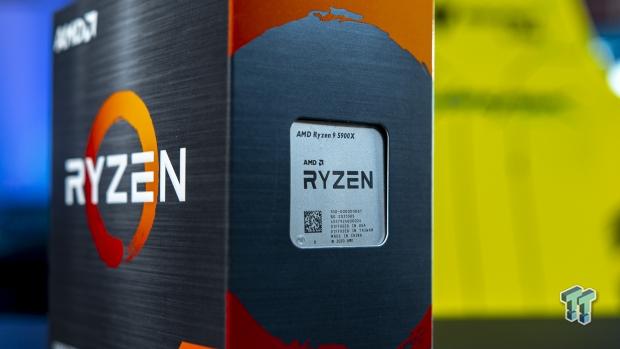 Latest upgrade: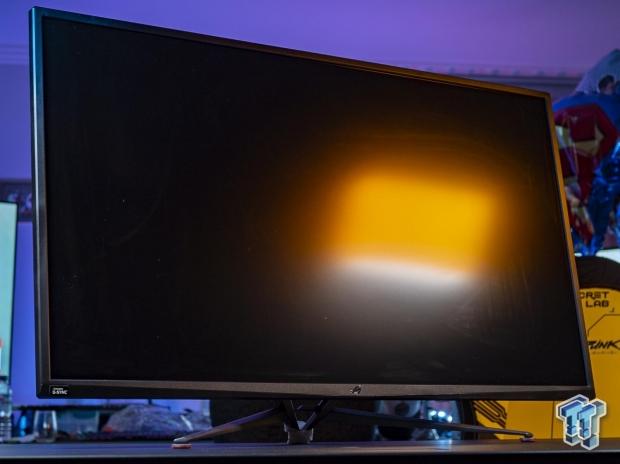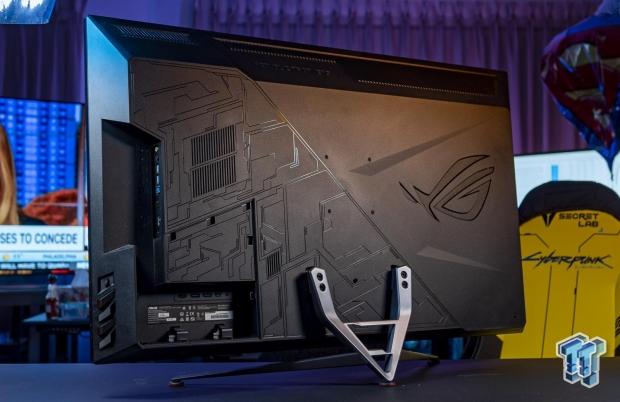 ASUS provided a rather large upgrade to my GPU testing lab -- or rather, I kept the ASUS ROG Swift PG43UQ gaming monitor after my review on it. The 43-inch 4K 144Hz panel is just glorious to look at -- it's huge, the DPI for Windows 10 when set perfect for your viewing distance is kiss-fingers-emoji good. It's just amazing -- for work, and gaming.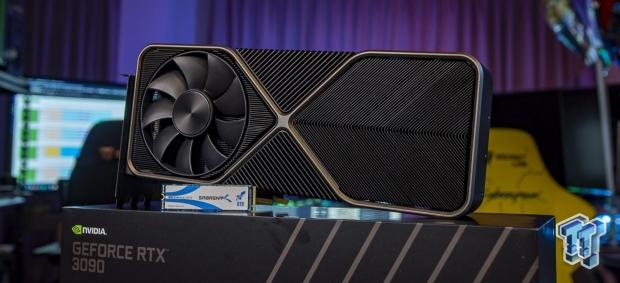 Sabrent sent over their huge Rocket Q 8TB NVMe PCIe M.2 2280 SSD, which will be my new Games install SSD inside of my main test bed.
I'll be making some changes over the coming months to the GPU test bed here for TweakTown, to both the Ryzen 9 5900X and then Intel's new Core i9-11900K to do some proper PCIe 4.0 testing between the chipsets for GPUs + super-fast load times into games on these new super-fast Sabrent SSDs.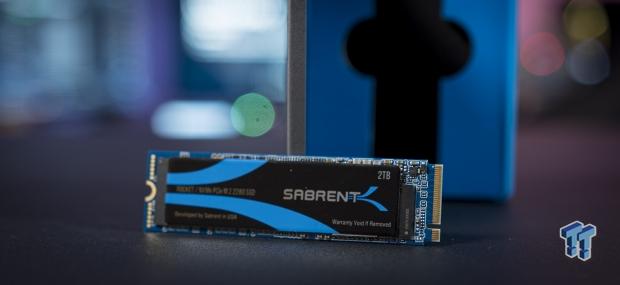 Sabrent helped out with some new storage for my GPU test beds, sending over a slew of crazy-fast Rocket NVMe PCIe M.2 2280 SSDs. I've got this installed into my GPU test bed as the new Games Storage drive, since games are so damn big now. Thanks to Sabrent, I've got 2TB of super-fast M.2 PCIe 3.0 x4 SSD storage now.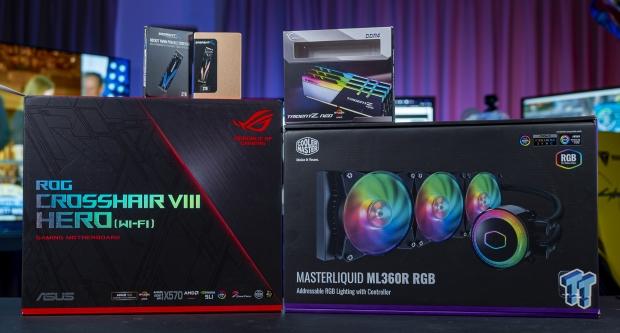 Anthony's GPU Test System Specifications
I've recently upgraded my GPU test bed -- at least for now, until AMD's new Ryzen 9 5950X processor is unleashed then the final update for 2020 will happen and we'll be all good for RDNA 2 and future Ampere GPU releases. You can read my article here: TweakTown GPU Test Bed Upgrade for 2021, But Then Zen 3 Was Announced.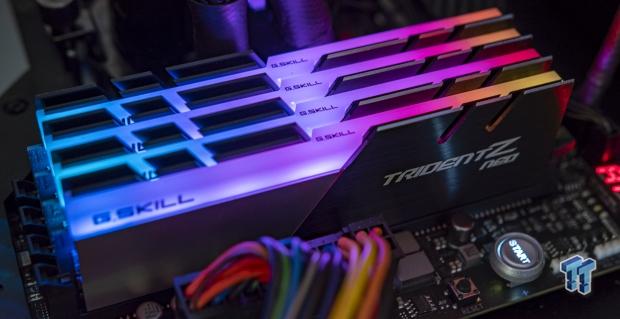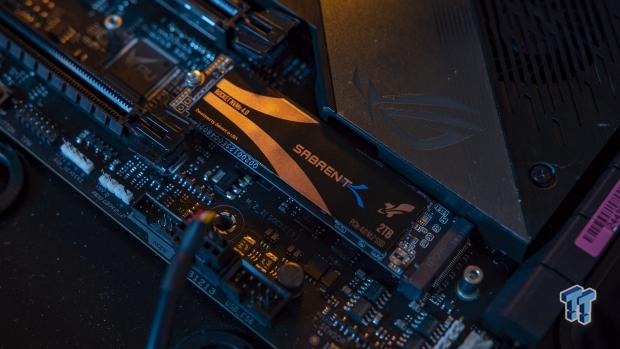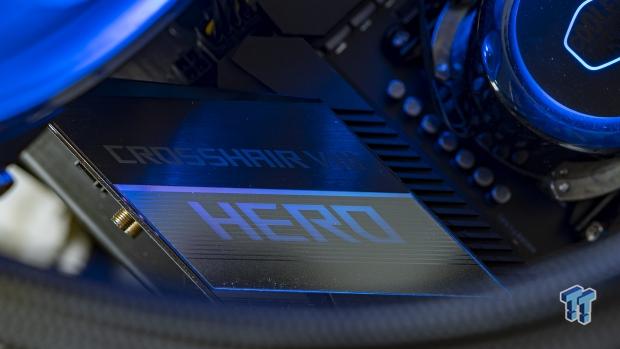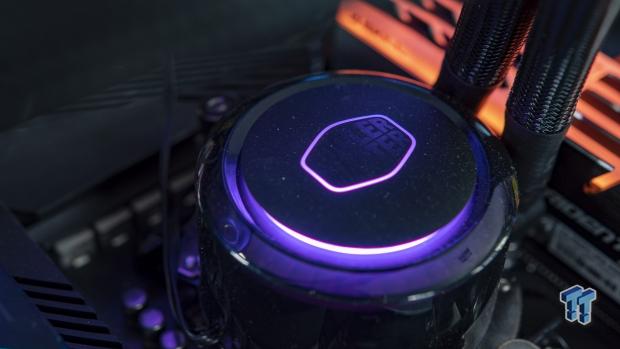 Benchmarks - 8K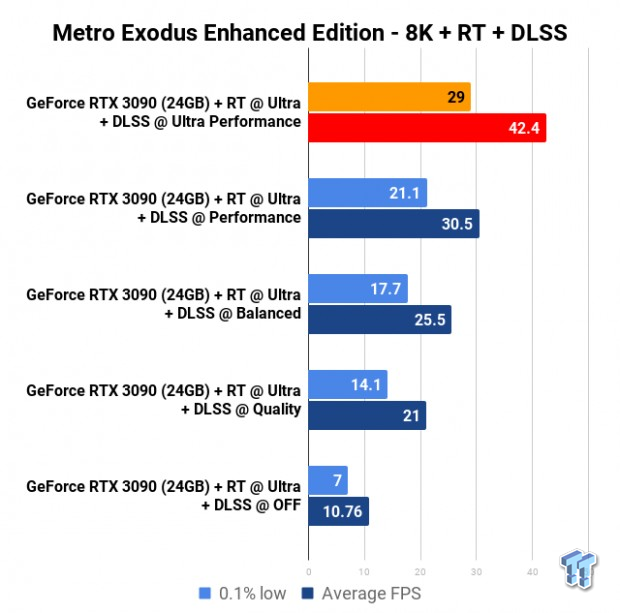 Final Thoughts
Metro Exodus is already one of the games that on the PC you really need some beefy hardware to run it with all of the graphics dials turned up to 11. But the new Metro Exodus Enhanced Edition is an entire new beast, helped oh-so-much at 8K with the inclusion of DLSS 2.0 technology.

With NVIDIA's black magic DLSS 2.0 technology disabled, even the best GPU on the market can't run Metro Exodus Enhanced Edition at more than 11FPS average. ALbeit, that's with everything absolutely maxed out: ray-tracing, graphics detail, oh and the fact we're rendering it at 7680 x 4320 -- 8K -- or 33 million pixels per second.
But once you start playing with the other DLSS settings, Metro Exodus Enhanced Edition sees performance gains that are quite impressive -- I don't think I've been disappointed with a single game running DLSS 2.0 yet, it truly is magic.
DLSS on Quality at 8K with the GeForce RTX 3090 sees performance lifted from 11FPS average to 21FPS average which was much more playable. DLSS on Balanced has performance jumping to 25FPS average, while DLSS on Performance sees 30FPS average. Fantastic results for 8K 30FPS and Metro Exodus Enhanced Edition.
But at 8K, the DLSS "Ultra Performance" preset works its deep learning magic and cranks out 42FPS average when throwing 33 million pixels per second at your eyeballs. 7FPS minimum and 10.7FPS average with DLSS 2.0 disabled, but when set to Ultra Performance the frame rate nearly skyrockets 400% to 29FPS minimum (3x the average with DLSS disabled) and 42FPS average.
Incredible results here with Metro Exodus Enhanced Edition at the super-enthusiast 8K resolution with DLSS 2.0 enabled and enabling 8K gaming. You could disable a few settings here and there, and enjoy a ray-traced, DLSS 2.0-powered AAA game at around 8K 60FPS on a GeForce RTX 3090.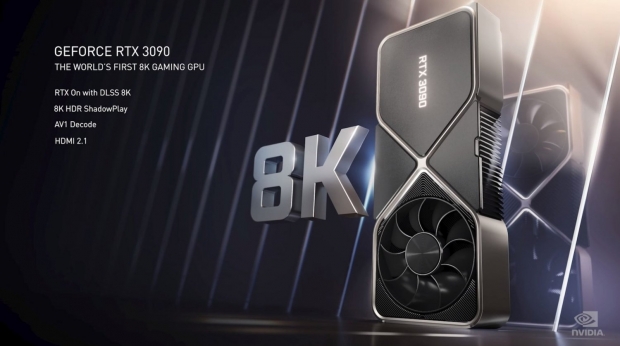 I'll be doing some of this testing on the upcoming GeForce RTX 3080 Ti as well, with its lower 12GB frame buffer (against the 24GB inside of the RTX 3090. Once those results are ready, I'll get some new articles written with that fresh benchmarking data.
Metro Exodus Enhanced Edition is a fantastic-looking game and an even better one at 8K.