Introduction
Call of Duty: Warzone recently had a major update which added support for NVIDIA's kick ass DLSS 2.0 technology, with Deep Learning Super Sampling adding a gigantic injection of performance into the game if you own a GeForce RTX graphics card.
Well, while NVIDIA and most tech sites will cover 1080p, 1440p, and 4K with Call of Duty: Warzone and DLSS -- I thought I would run some high-end GPUs through Warzone + DLSS at 8K -- the full 7680 x 4320 which looks incredible, and runs pretty damn smooth now that DLSS is here.
Enabling DLSS in Warzone is not hard at all -- you'll need to make sure you have your installation of Call of Duty: Warzone updated, and I would recommend installing the very latest GeForce drivers which at the time of writing were the GeForce Game Ready 466.11 WHQL drivers.
There are multiple DLSS options in Call of Duty: Warzone: Quality, Balanced, Performance, and Ultra Performance. I would recommend against using the Ultra Performance mode for anything less than 8K -- but that's exactly what we're here for today. 8K is the peak of gaming right now, and trying to hit 8K 60FPS is a gigantic milestone that only NVIDIA can hit anywhere near close to 60FPS.
For the purposes of benchmarking Call of Duty: Warzone at 8K, I used MSI's flagship (and beautiful) custom GeForce RTX 3090 SUPRIM X graphics card. It's the very best GeForce RTX 3090 that I have here in the TweakTown GPU labs, and a perfect fit for the Intel Core i9-10900K processor and MSI MEG Z490 Unify motherboard.
Warzone Graphics Settings + Enabling DLSS
You will need a GeForce RTX series graphics card to enable DLSS 2.0 in Call of Duty: Warzone, with these cards included:
GeForce RTX 3090

GeForce RTX 3080

GeForce RTX 3070

GeForce RTX 3060 Ti

GeForce RTX 3060

GeForce RTX 2080 Ti

GeForce RTX 2080 SUPER

GeForce RTX 2080

GeForce RTX 2070 SUPER

GeForce RTX 2070

GeForce RTX 2060 SUPER

GeForce RTX 2060
Graphics Settings Used
I had everything virtually maxed out in Call of Duty: Warzone, even when playing it at 8K -- the game would only run on the GeForce RTX 3090 with my GeForce RTX 3080 crashing every time I tried to enable 8K and start tweaking settings. 8K isn't easy, and 10GB of VRAM simply isn't enough to be putting all of those pixels through it -- and then enabling DLSS on top.
Here's the graphics settings that I used: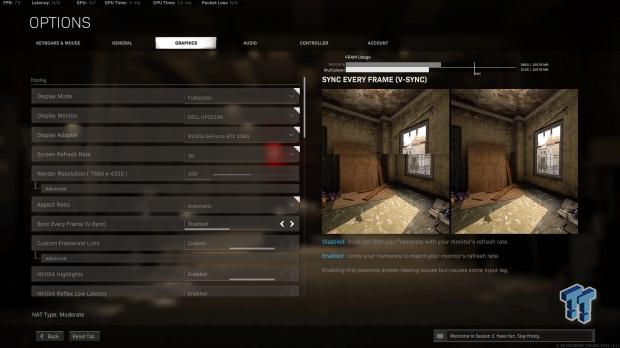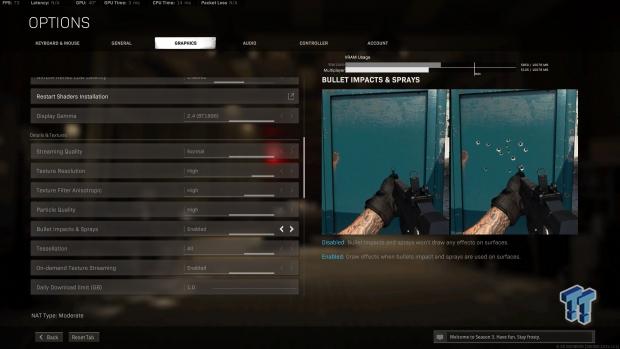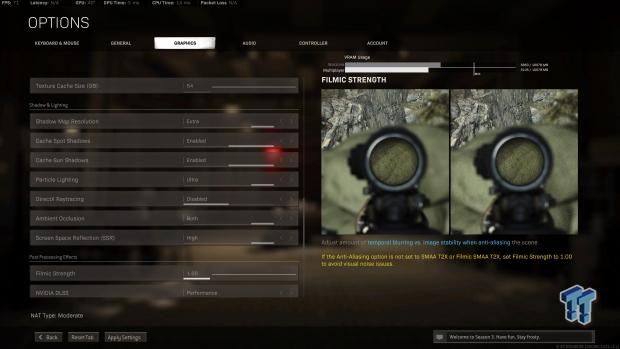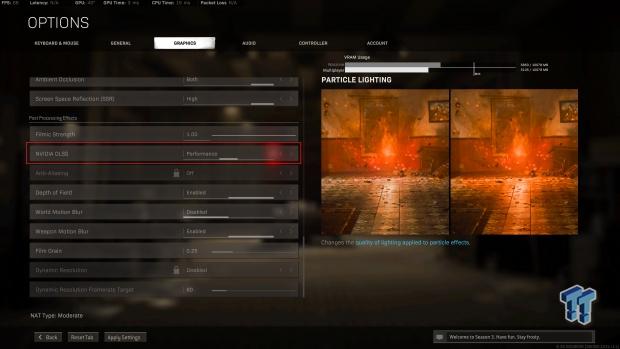 Test System Specs
After MSI asked if I wanted to do some testing with their GeForce RTX 30 series cards and the Intel Core i9-10900K and MSI MEG Z490 Unify motherboard, I asked if they would like me to use other MSI products in the article.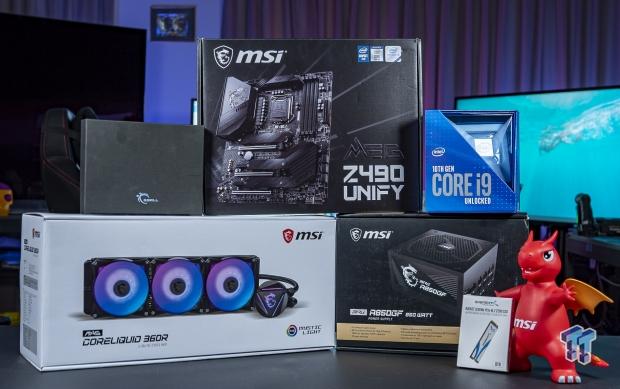 They agreed, so the CPU cooler, PSU and case were on their way and the upgrade began.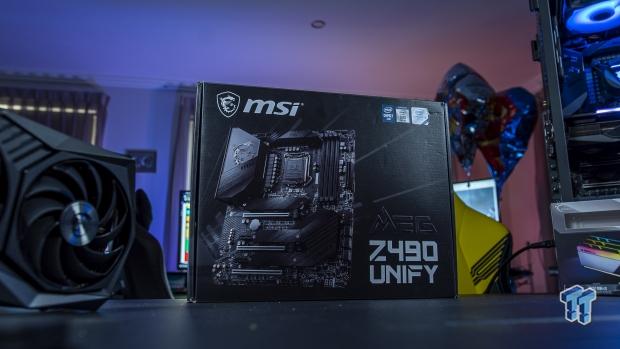 MSI sent over their Z490 Unify motherboard, which is the heart and soul here -- taking in our Core i9-10900K processor, super-huge Sabrent Rocket Q 8TB NVMe SSD, and G.SKILL Trident Z Royal RAM.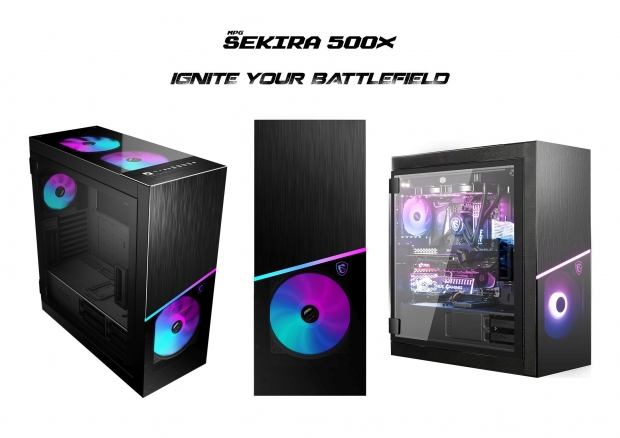 I think I was most excited for MSI to send me their huge MPG Sekira 500X case, as this started off with a 'hey, do you want an MSI Z490 Unify motherboard to do some testing on' into a full-on MSI-exclusive system. The MSI MPG Sekira 500X is a freaking hefty beast of a case, but man does it keep the system nice and cool -- and quiet -- oh and it looks dope, too.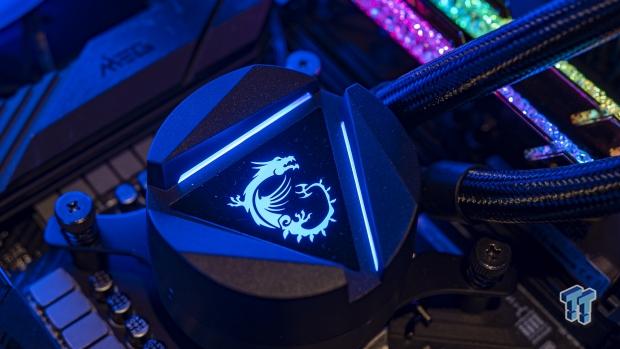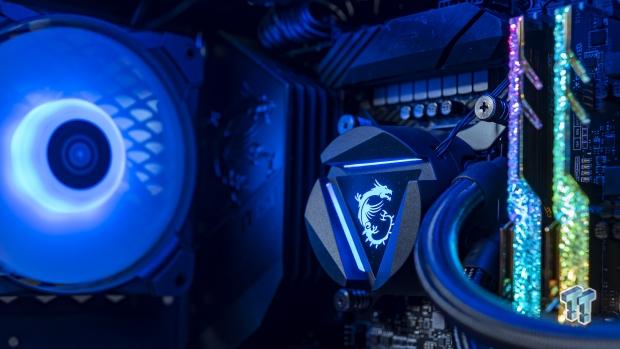 I've got a hefty MSI MAG CORELIQUID 360R AIO liquid cooler keeping the Intel Core i9-10900K nice and chill, installed onto the MSI Z490 Unify motherboard. I have to say this is my first time using an MSI AIO cooler and I love it, the design really looks great inside of the machine.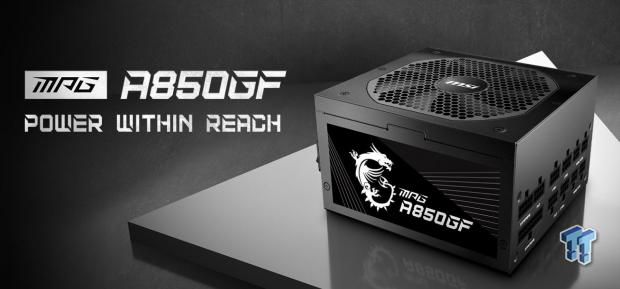 MSI wanted me to use their MPG A850GF power supply, which is another first for me -- never used an MSI PSU before, and neither have you I'm sure. MSI has only just entered the PSU market, so I've been using this 850W unit for all of the testing on this new MSI Z490 Unify + Core i9-10900K system.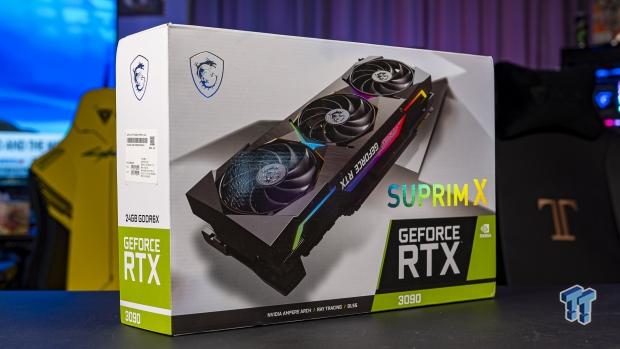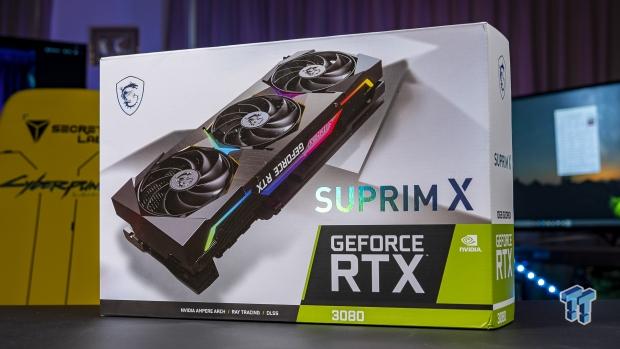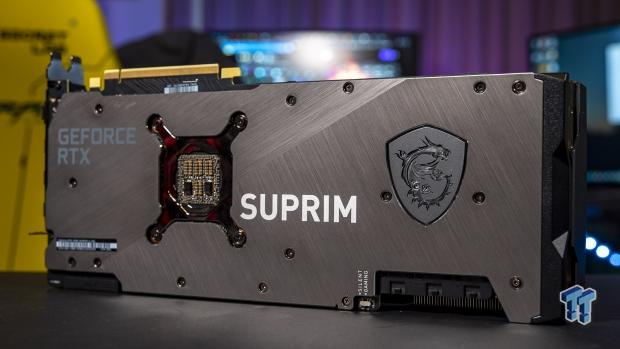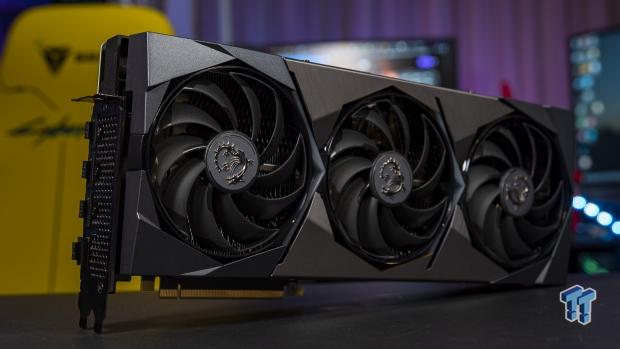 On the graphics side of things I'm using the RTX 3090/3080 FE cards as well as the MSI RTX 3090/3090 SUPRIM X graphics cards -- two of the fastest Ampere cards on the market.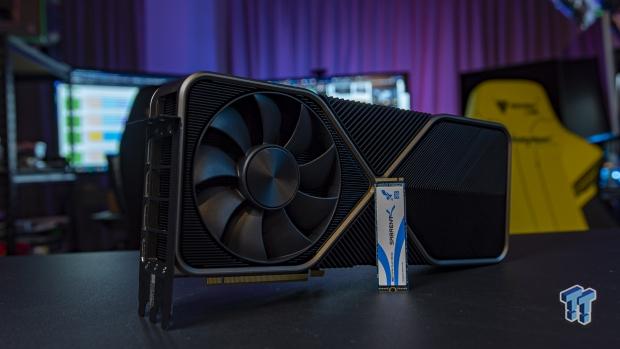 One of the most insane parts of this new MSI system is the Rocket Q NVMe 8TB SSD that our good friends at Sabrent sent over -- yeah a huge 8TB super-fast NVMe SSD that pumps away at 3GB/sec.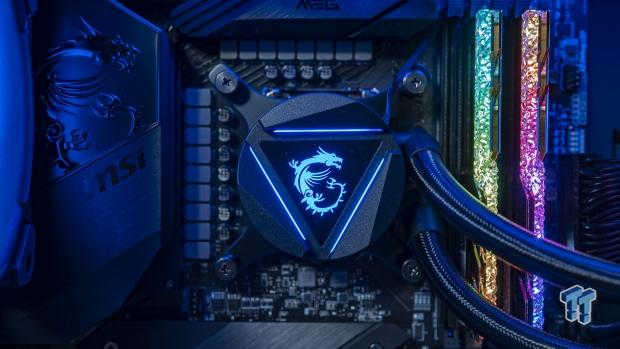 G.SKILL helped in a big way by sending over some super-fast, and super-stylish Trident Z Royal DDR4 RAM. Installed into the MSI Z490 Unify motherboard is 16GB (8GB x 2) of G.SKILL Trident Z Royal DDR4-3600 memory (CL16-16-16-36).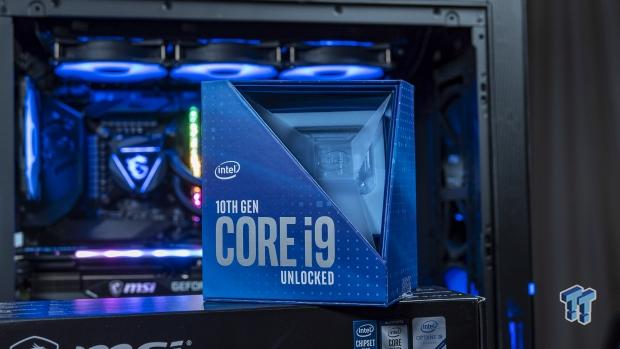 Another important part of this rig is the flagship Intel Core i9-10900K processor, a beasty 10-core/20-thread CPU that rocks up to around 5GHz under gaming loads. Plenty for the testing we'll be doing with it -- and some 8K testing with this new system should push that 10900K to the limit.
Benchmarks - 8K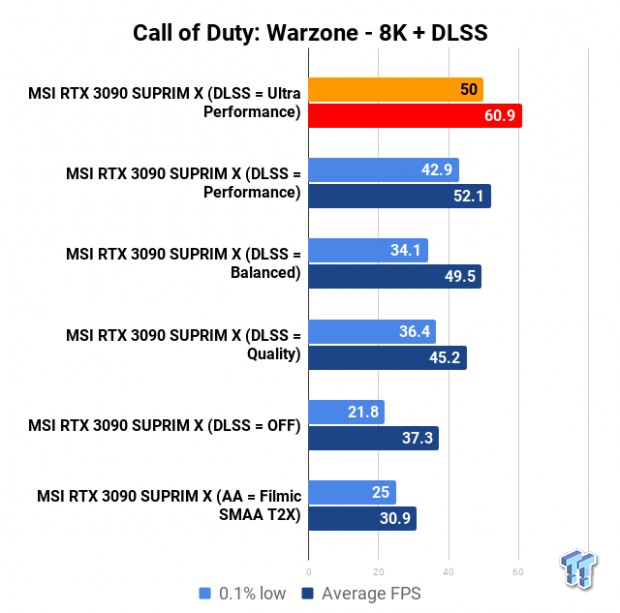 Final Thoughts
Call of Duty: Warzone looks pretty damn incredible at 7680 x 4320 in all of its glory, with the flagship MSI GeForce RTX 3090 SUPRIM X graphics card running Warzone at 37FPS with DLSS 2.0 disabled.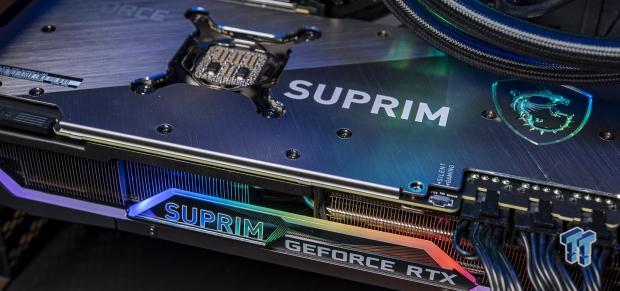 That's not bad at all and gives us a great look at how Call of Duty: Warzone looks at 8K but just over 30FPS isn't playable at 8K, that's where NVIDIA's magic DLSS 2.0 technology steps in and with DLSS turned on and set to Ultra Performance the performance skyrockets up to 60FPS average.
8K 60FPS average is an incredible result that is exclusive to the flagship GeForce RTX 3090 graphics card, and requires NVIDIA's magic DLSS 2.0 technology to get there. I did run through all of the DLSS 2.0 presets through Call of Duty: Warzone, where performance hits 45FPS average with DLSS set to Quality, 49FPS average with DLSS set to Balanced, 52FPS average with DLSS set to Performance and the rock-and-roll performance of 60FPS average at 8K with DLSS set to Ultra Performance.
I'm used to playing Call of Duty: Warzone on my 43-inch ASUS ROG Swift PG32UQ monitor -- at native 4K and 144FPS but Warzone is really something else at 8K. 30FPS is just garbage, but 60FPS average is smooth enough to run around in and check it out.
I'd love to see something like Call of Duty: Warzone at 8K and 120FPS but it seems that we're at least a generation or two away from 8K at 120FPS even with DLSS 2.0 tech. DLSS 2.1 will be powering Metro Exodus Enhanced Edition which releases on May 8, and I'll be running it through its paces on my GeForce RTX graphics cards at 8K -- it seems 8K 120FPS might need next-gen GPUs and even next-gen DLSS 3.0 or DLSS 4.0 technology.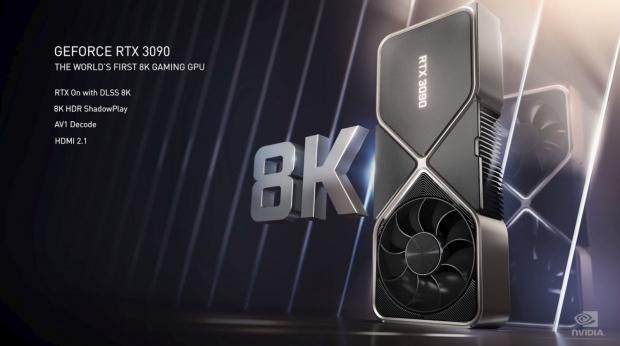 Wrapping up -- the addition of DLSS 2.0 technology in Call of Duty: Warzone is nothing short of GPU witchcraft at 8K, an incredible show of 8K muscle from NVIDIA and its flagship GeForce RTX 3090. They marketed it as the "world's first 8K gaming GPU" and they weren't wrong.