Introduction
Last week from a top secret hidden bunker located miles under ground here in Taipei, Taiwan, we were given full and uninterrupted access to a motherboard based on ATI's upcoming RD600 + SB600 platform for Intel Core 2 Duo and Core 2 Extreme processors.
RD600's marketing product name will be "CrossFire Xpress 3200 Intel Edition" (or "IE" for short). RD600 from its inception was designed to be something really special to come from the ATI chipset boys in Canada - a chipset designed for real hardcore overclockers and gamers wanting the best performance available today - or at least sometime in September of this year, when retail boards will due to be shipping around the world.
During our time spent with the motherboards and friendly chaps who know quite a bit on how this kind of gear works, we were able to learn a lot about RD600, quizzing them with as many questions as we could think of at the time.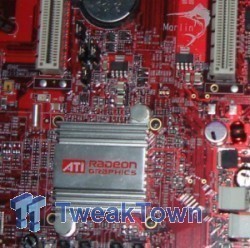 Over the next few pages you'll be able to learn exclusive first hand information about RD600 including benchmark numbers, spicy overclocking information along with other features of the chipset ATI is hoping will become one of the number one gaming platforms for the Intel processor platform.
Let's get this show on the road!
Secret facts about ATI RD600
For starters, the chipset is based on a 90nm manufacturing process, which means motherboard manufactures will be able to produce silent 0db motherboards based on RD600. Even during half way through our benchmarking, physically touching the chipset by hand, it barely even felt warm. You may end up seeing some companies add active cooling solutions to their retail RD600 motherboards, since the chipset is designed for overclockers and gamers.
Along with obvious support for CrossFire dual graphics (two X8 slots), ATI has designed the RD600 to be very future proof. Most RD600 based motherboards should come out with three x16 PCI Express graphics (PEG) slots. The first two are obviously for CrossFire but the third (physical X16 slot but operating at only X2) is for physics processing - ATI should have its physics hardware ready soon and the RD600 is setup to take advantage of this by using an additional graphics cards in the third PEG slot.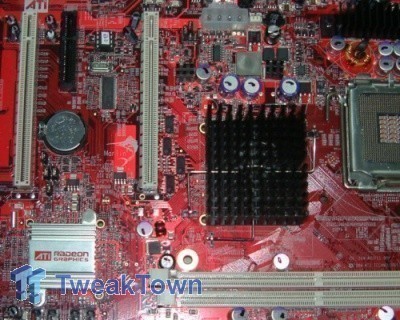 Not only this, but the big shock is RD600 was designed for the ground up to support not only DDR-2 but also upcoming DDR-3 memory. In fact, ATI has already fully tested DDR-3 memory on RD600 and it is working fine, months ahead of before it is due to be released for public consumption. ATI are ready for DDR-3 memory whenever it enters the market, which is likely after Q2 2007, according to our sources. Since DDR-3 memory uses a different slot to DDR-2, you won't be able to use new DDR-3 memory on current RD600 motherboards you buy this year or early next year. As well as the new memory slot, our friends in the bunker also told us that a new PCB design is required but it only requires a very small change to the internal circuitry - nothing too complex.
The motherboard we looked at last week was an ATI reference board named "Marlin". We're unsure of the revision number but we were told it was the latest reference version from ATI. In fact, we have been informed that motherboard makers have already started to receive the first versions of their RD600 retail boards and now they will spend a month or two tweaking the product and BIOS for maximum performance and overclocking support.
Overclocking Conroe on RD600
As far as overclocking goes, this has to be one of the biggest surprises of the ATI RD600 chipset. There have been rumors floating around the Web about this but until now all these rumors were from ATI or one of their partners. We are here to tell you, the rumors are true.
Intel has always been able to offer the best overclocking support for their processors with the 975X and previous chips but it would seem Intel is in for a shock - along with the rest of us. We removed the X6800 Conroe processor from the socket and installed a more overclocker-friendly CPU, E6300 Core 2 Duo and that's where the fun started.
We dropped the multiplier back to 6 and set the FSB to 440MHz and the system actually booted - that is 1.86GHz up to 2.64GHz - on a reference motherboard, with stock standard air cooling. While the system posted and loaded into Windows, it would hard lock as soon as you tried doing anything stressful. It even managed to run quite a few seconds of 3DMark05 at 2.64GHz before overheating occurred and the processor began to throttle itself back to reduce temperatures.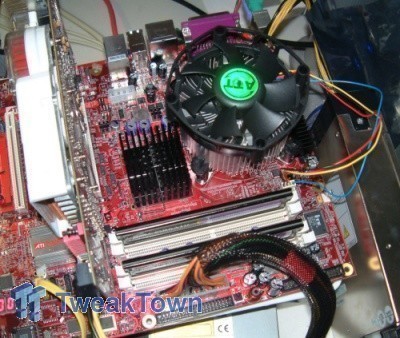 We played around with the FSB settings for a while and discovered that 420MHz x 6 (2.52GHz) was very stable, with the processor voltage at default. This resulted in an overclock of 660MHz and it does help turn the cheapest Core 2 Duo processor into a much more respectable performing CPU up there with the likes of the much more expensive E6700 Core 2 Duo. This information is based on the benchmark numbers in an
article recently published
by Anand over at AnandTech.
That effectively means you are buying an E6300 CPU priced around $183 USD which in gaming benchmarks is almost as fast as the E6700 CPU priced at around $530 USD - you do the math - it is definitely
tremendous value through overclocking
. Spend some extra dollars on a better cooling setup and you'll likely be able to push the processor clock speed even further. The consensus was we were being limited by our cooling setup with the temperatures rising too high.
ATI designed the RD600 to handle very high memory frequencies with the CPU and memory running in an optimal performing 1:1 ratio. Imagine when retail motherboards come out, which should be able to run stable at around 450MHz (according to our friends in the know), and you've got a pretty kick ass gaming platform. Your $183 USD CPU is rocking along at around 2.7GHz and your more expensive memory running at around PC8500 speeds in 1:1 ration with tight timings. That is sure to make any overclocker grin along with the sales people at ATI who are looking very much like they have a real hardcore enthusiast chipset platform just ready and waiting to enter the market.
We also had access to a reference nForce 5 Intel Edition motherboard based on the C19 revision "C" chipset. Since this chipset is now quite old and operates at a hotter temperature, overclocking is quite a long way behind RD600. The maximum stable FSB under the same conditions as the E6300 was 320MHz. nVidia will release their response to RD600, C55, in Q1 or Q2 next year but at this stage we have no information on the overclocking ability of this upcoming chipset.
Performance of ATI RD600
Test System Setup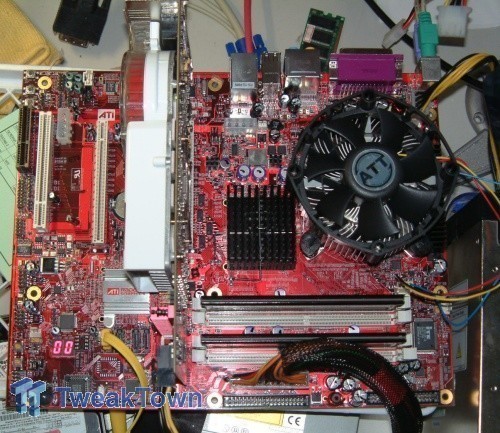 Processor
: Intel "Conroe" Core 2 Extreme X6800 @ 2.93GHz
Memory
: 2x 1GB Corsair PC8000 DDR-2 @ SPD 5-5-5-18 2T Dual Channel
Motherboard
: ATI RD600 + SB600 "Marlin" reference
Hard Disk
: Seagate 7200.7 SATA
Graphics Card
: ATI Radeon X1900XTX 512MB
Operating System
: Microsoft Windows XP Professional SP2
Drivers
: ATI Catalyst 6.6, latest ATI reference chipset drivers and DX9c
We were even given access to an nVidia nForce 5 (Intel Edition) reference motherboard but unfortunately we didn't get time to run our suite of benchmarks.
Unfortunately we don't have anything to compare the RD600 against however above you can see the full test system specifications so you can gauge how it will compare against Intel's 975X chipset and so on.
Please don't flame us - we did the best with what we had and the time available. It's not too hard to find other reviews with similar specifications to what we used.
The Benchmark Numbers3DMark05 Build 120
640 x 480: 13061
1024 x 768: 11402
1600 x 1200: 8532
CPU TEST: 10068
3DMark06 Build 102
640 x 480: 9260
1024 x 768: 7538
1600 x 1200: 5393
CPU TEST: 2520
PCMark 2004
CPU: 7447
Memory: 5631
HDD: 5003
Pi Fast - 10 million PI (standard, fastest mode)
26.25 seconds
Super PI - 1 million PI
17 seconds
ScienceMark 2.0
Primordia: 226
Cipher Bench: 9.85
Sandra 2007
CPU ALU: 2110
FPU: 18614
Integer: 161867
Floating Point: 87158
Memory Bandwidth
Integer: 5234
Floating Point: 5233
CINEBENCH 9.5 - x CPU
CPU Benchmark: 24 seconds
KribiBench - City Demo
6.3 fps
Quake 4 - Ultra High Quality (Necro666)
1024 x 768: 169.8
1600 x 1200: 146.4
Quake 4 - Low Quality (Necro666)
640 x 480: 216
1024 x 768: 201
What do all these benchmarks numbers mean? Well, from what we have seen so far, it makes the RD600 as fast as Intel 975X and in cases a little faster and according to our friends in the under ground bunker, stock performance between RD600 and C19c are about the same.
Please remember the benchmark numbers and overclocking results in this article from a
reference motherboard - You are likely to see performance gains from retail versions of the RD600 along with further overclocking.

Final Thoughts



That completes our initial first look at ATI's upcoming RD600 chipset from our top secret location in Taiwan. It is quite clear to see that even before we have had the chance to get our hands on a finely tweaked retail motherboard, the RD600 is going to very popular with gamers and overclockers. Performance is up there with Intel 975X and we overclocking is a dream - perfect for users wanting top notch value for money, which is one of the fundamental reasons overclocking first become popular back in the days of Intel 440BX motherboards and Celeron 300A processors.

ATI's Intel chipset platform is looking very bright and it will be interesting to see how Intel react considering the recent happenings last month with AMD deciding to buy ATI. If RD600 becomes very popular (as we suspect it might) and Intel sell more processors as a result, wouldn't you want to let the company continue to produce more chipsets based on your CPU, even if you are competing against them? At least on the surface, it makes pretty good business sense to us.

Intel has recently teamed up with nVidia (or visa-versa) to allow users to officially run SLI dual graphics on Intel 975X based motherboards which might be a result of the internals testing's of the RD600 platform or maybe purely just a reaction to AMD and ATI's news. Nevertheless, things are starting to heat up and it's a good time to be a consumer.

nVidia's AMD processor based nForce chipsets have been selling like hot cakes for a long time now but our initial investigation tends to paint a very good picture for ATI in the months to come. From our prospective, it's clear to see ATI means business and nVidia will have some real competition on their hands.

We may be able to test retail CrossFire Xpress 3200 Intel Edition and nForce 5 Intel Edition motherboards soon for now you can grab a tissue and wipe the drawl off your mouth and get on with whatever you were doing!