Intel teases Ice lake and details project Athena
Intel have teased their new upcoming 10th generation CPU architecture Ice Lake, while also introducing and detailing Project Athena.
Published
5 minute read time
Intel's Mobile Vision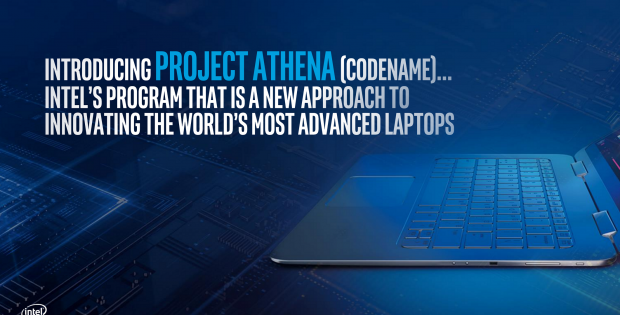 Ultrabooks, a standard for notebooks pushed by Intel back many years ago, redefined the mobile computing world. Small, versatile, and loaded with computing power, the Ultrabook standard redefined laptops as slim and lightweight devices capable of taking care of many of the tasks once designated to desktops. Now Intel wants to redefine the notebook again with project Athena and Ice Lake.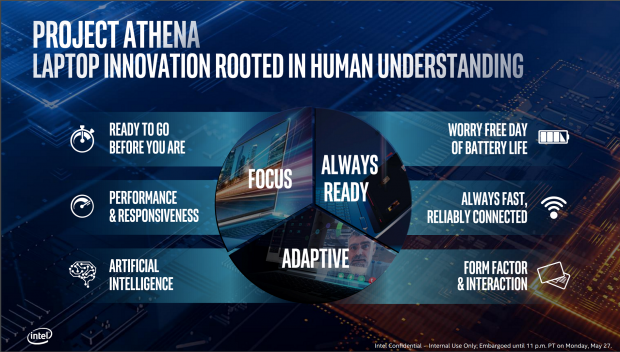 We will discuss project Athena in more detail later in this article, but for now, you need to know that Intel's primary goal is to extend battery life, provide the latest in connectivity, and integrate artificial intelligence into your computing experience.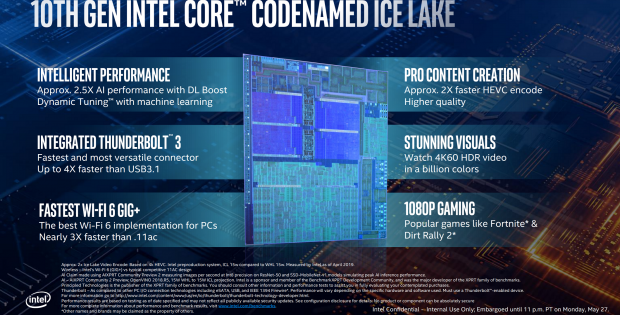 Intel detailed Ice Lake a few weeks ago at an NDA meeting in the bay area. They promised many improvements, including integrated Thunderbolt 3, WIFI generation 6 (Wireless AX), a new microarchitecture, and a new integrated GPU.
Ice Lake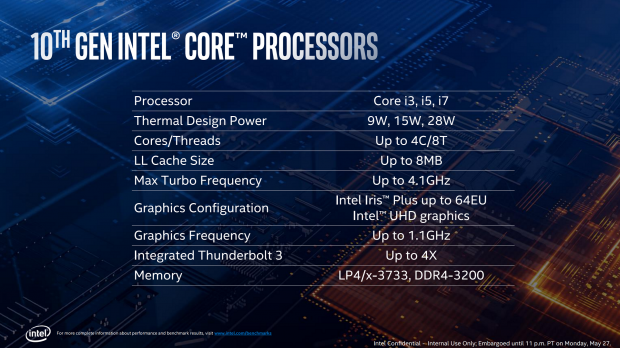 For now, Intel is releasing Ice Lake in configurations up to four core and eight threads, with TDPs from 9W to 28W. Cache size will stay around 8MB, while max Turbo speeds are up to 4.1GHz. They will also offer Iris Plus graphics, but we assume most SKUs will integrated Intel's UHD graphics processor. However, the good news here is that Thunderbolt 3 will be integrated into the SoC and memory speeds get a boost up to 3733MHz.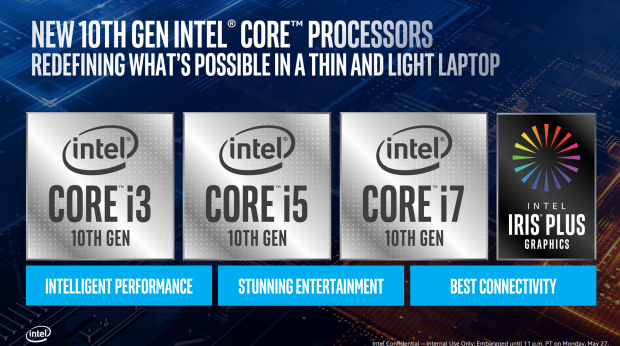 The re-integration of Iris Plus is a good sign, and we will discuss this later, but these new notebooks will be capable of 1080P gaming even though they are ultra-thin and lightweight.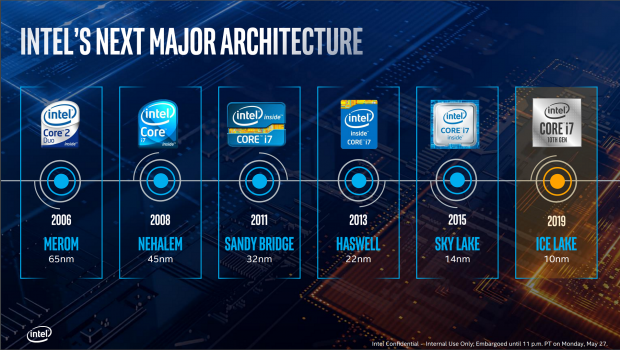 We should reiterate that Intel's Ice Lake processors will be on 10nm, and they will be the next big step in performance since Skylake.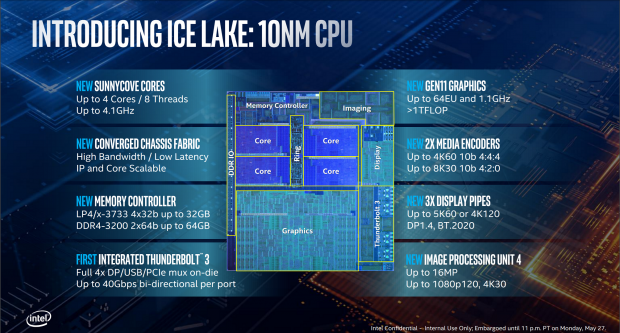 We covered the basics of the SoC, but with it come some major improvements in the SoC ecosystem. For starters, we get Gen11 graphics with up to 64EUs and a clock speed up to 1.1GHz. The iGPU will also be capable of 4K60FPS, and 8K30FPS playback with three display outputs up to 5K60FPS or 4K120FPS. That leads us to believe that notebooks with 8k displays are on the way.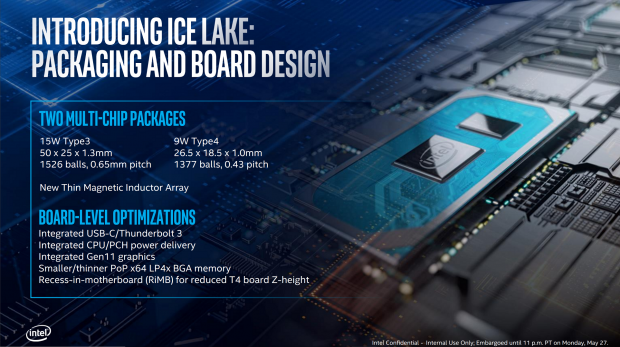 Intel has also reworked its packaging, something Intel specializes in. Power delivery, Thunderbolt 3, and pretty much everything else is integrated and on-die/package.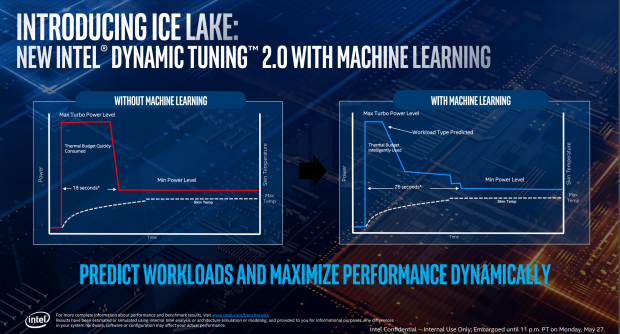 While we see some Microsoft Azure AI integrated into newer gaming notebooks from vendors such as GIGABYTE, Intel is taking it to the next level. They want to use AI to better the notebook experience, extend battery life, and improve performance.
Sunny Cove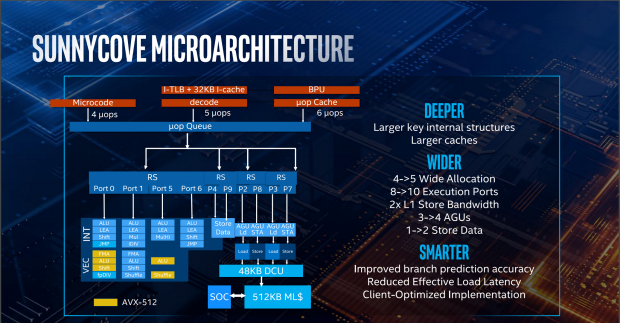 We covered Sunny Cove microarchitecture a while ago, but here is a refresher on what has changed. Internally the CPU is larger, and the cache has been increased, the CPU internally can handle a lot more as Intel has widened the microarchitecture, and technologies such as branch prediction have been optimized to improve accuracy and reduce latency.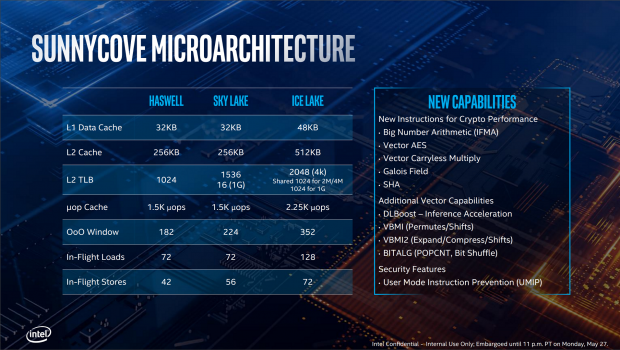 Compared to Skylake, Sunny Cove will have 50% more L1 cache, 100% more L2 cache, a larger out of order window, and will be capable of many more loads and stores. It is a serious improvement over Skylake.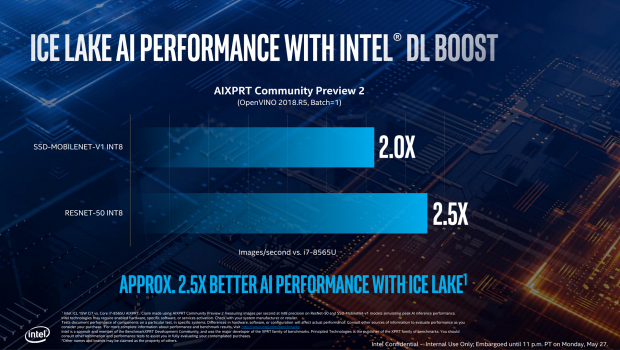 Intel is also integrating its deep learning boost instruction set, which is much like an improved AVX and is already available with Cascade Lake.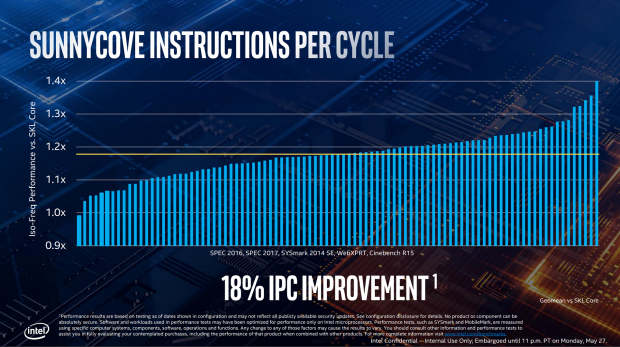 With an impressive 18% IPC increase, Intel is poised to impress many with their new microarchitecture.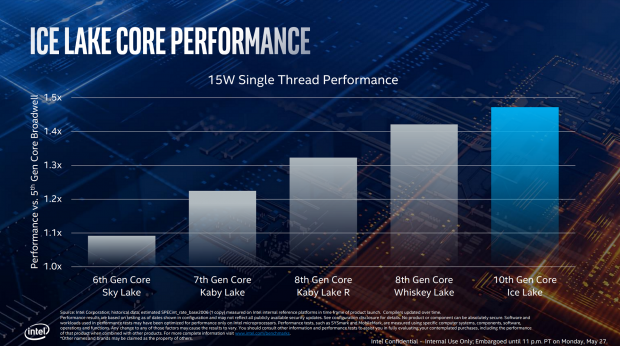 Performance is also on track to keep up with the generational performance improvement, even with the decrease in frequency which was hinted in Intel's first 10nm process briefing.
Integrated Thunderbolt 3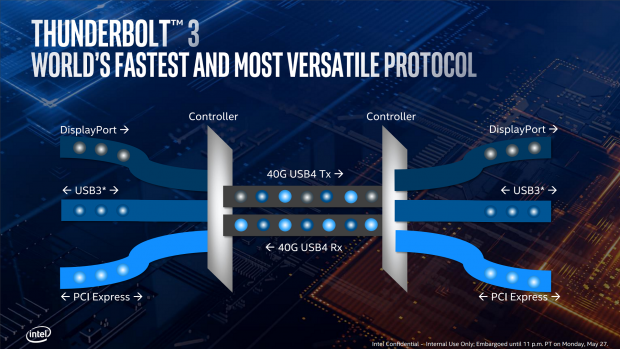 Intel finally did it, they integrated Thunderbolt 3 into their SoC. The 40Gpbs protocol is on track, and while some call it USB 4.0, it's still known as Thunderbolt 3 and still supports all the technologies we all know and use, such as DisplayPort and USB 3.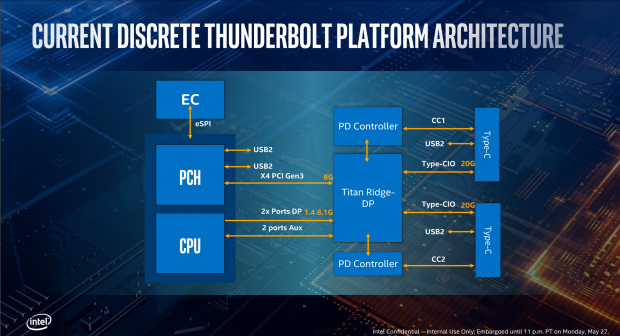 By integrating Thunderbolt 3, Intel aims to reduce costs to vendors. Not much has changed in regards to how the protocol or configuration is done.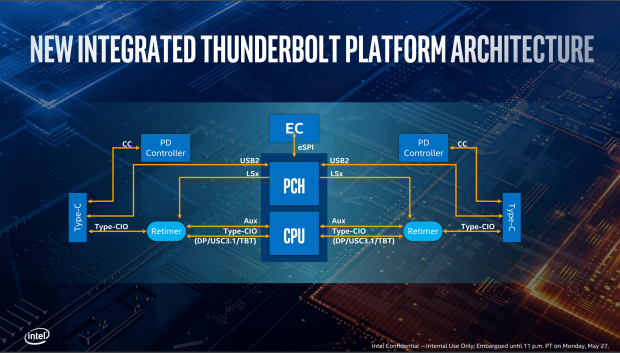 However, there is one part that vendors will need to incorporate, and that's the Thunderbolt 3 retimer, which Intel said had to be developed in-house due to engineering and time constraints.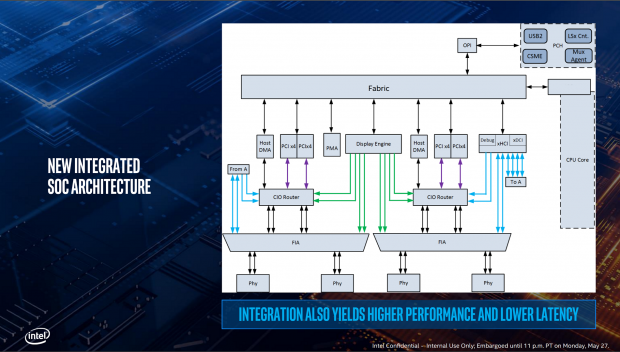 Here we get a look at the new integrated SoC structure of how they integrated Thunderbolt 3. What we see are higher performance and lower latency.
WIFI 6 and new iGPU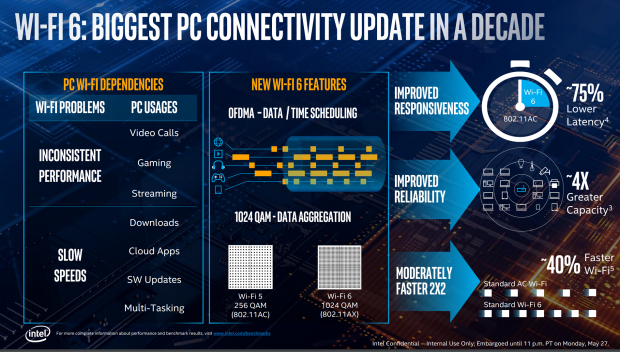 WIFI 6, also known as Wireless AX, had been on its way to replace Wireless AC for a while now. The new technology will be mostly integrated into the SoC, and will offer over 1Gbit/s.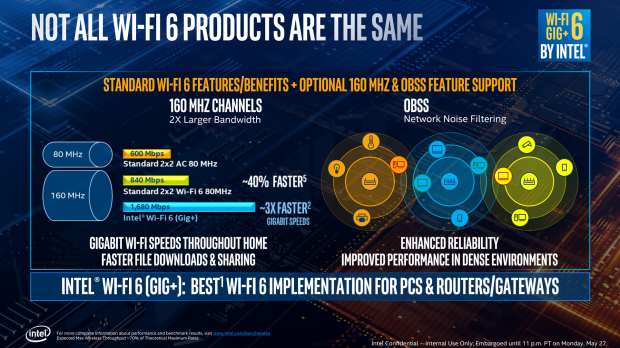 Intel is a leader in Wireless technologies, especially WIFI, and here we see that on the 160MHz band we can expect upwards of 1.7Gbps, which is on par with Wireless AC 160MHz products, but in this case we might actually see these speeds as more than theoretical.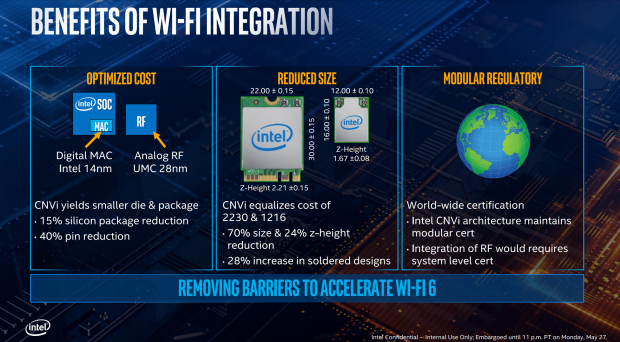 While many might assume that the new WIFI controller is integrated into the SoC, some of it is not. By utilizing Intel's CNVI technology, Intel integrated the digital MAC portion of the controller, while the analog section is located outside, like most PHY WIFI devices on current Intel products.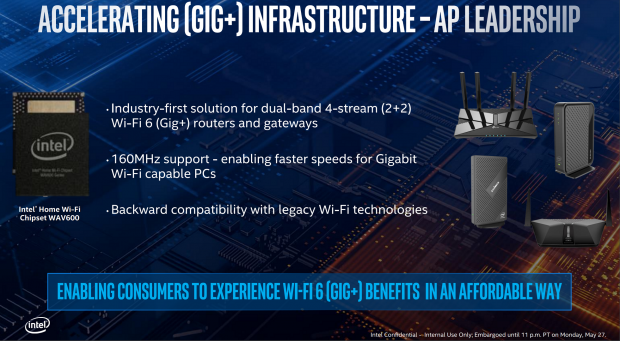 Infrastructure is also very important, and in this case, Intel has worked with vendors to ensure many routers and access points support the new Wireless AX technology.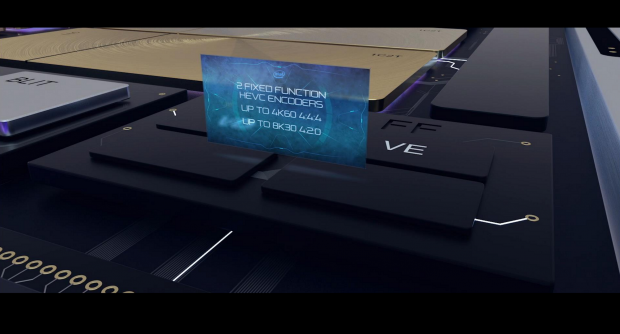 Graphics have also been bumped up a notch, with new HEVC encoders that support up to 4K 60FPS at 4:4:4 and 8K 30FPS at up to 4:2:0.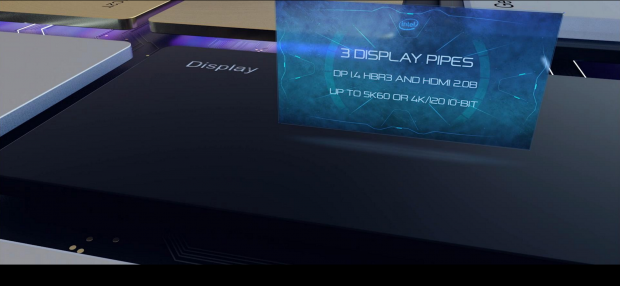 Supporting up to three displays, the new iGPU will support up to DisplayPort 1.4 and output 5K 60FPS or 4K 120FPS, so we might see much better displays in new notebooks.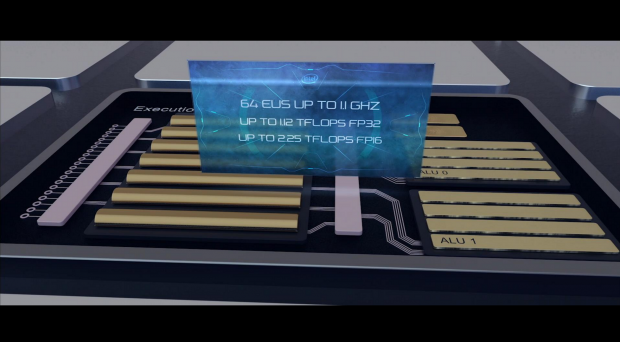 The internal iGPU microarchitecture has also been improved and supports up to 64 execution units and up to 2.25 teraflops.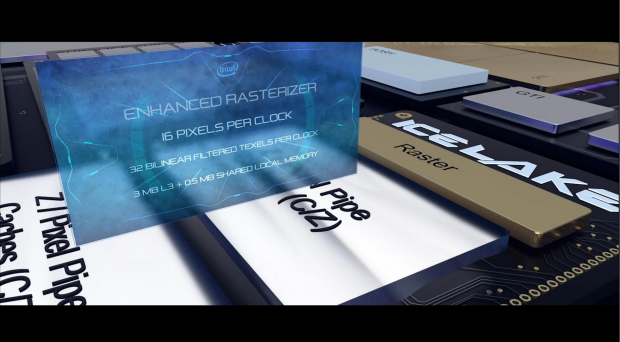 The rasterizer engine has also been improved and is capable of 16 pixels per clock.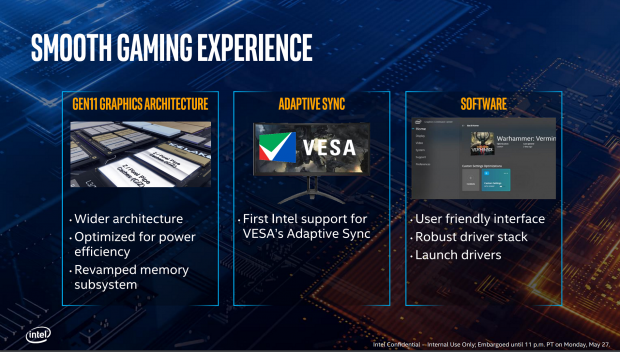 The end result will be a notebook as thin as an Ultrabook, but capable of actually gaming at 1080. The new system also supports VESA's adaptive sync specification. Intel has also revamped its gaming software to help gamers improve their experience.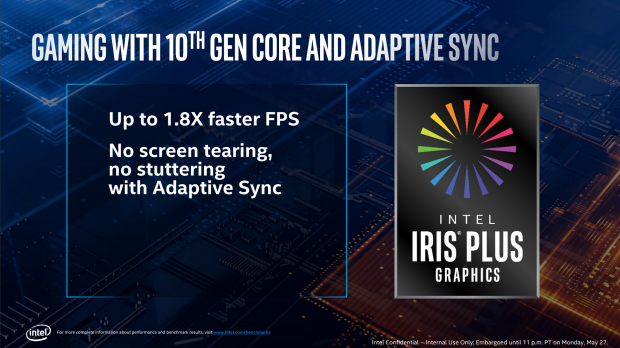 Adaptive sync is much like the other display synchronization technologies, where you don't see tearing, so it improves the gaming experience.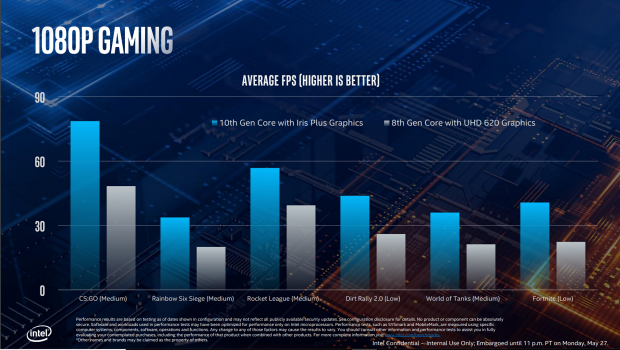 Here we see Intel's new iGPU in action, and while these are self-reported numbers, we do expect some major improvements.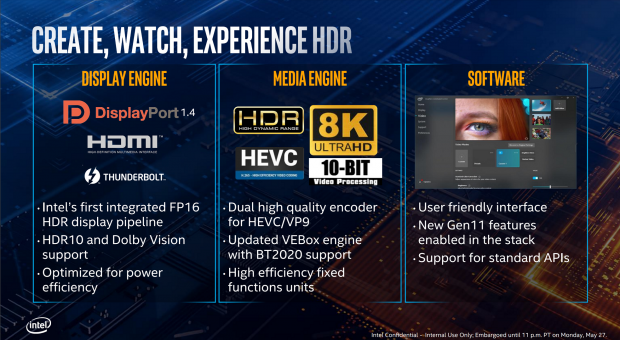 To summarize, we get DisplayPort 1.4, HDMI 2.0b, HDR10, 8K, and new software to help improve the gaming and visual experience of the new SoC and resulting notebooks.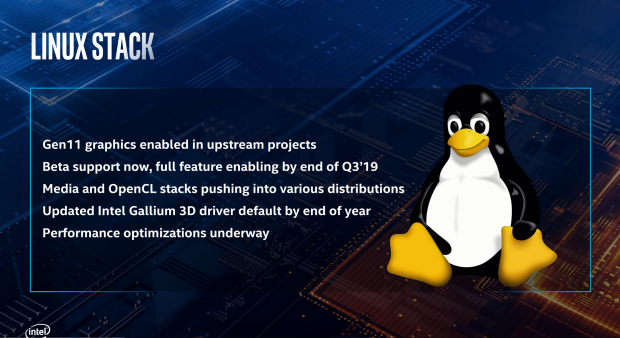 Intel has also been reaching out to the gaming community and is now working on fully supporting the Linux stack.
Project Athena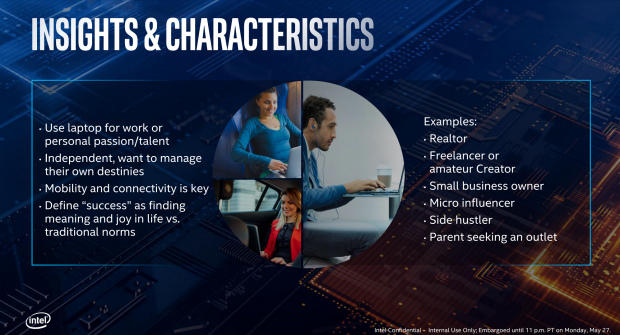 So, what is Project Athena? Well, Intel sent out surveyors into the general public and determined the new and changing needs of those who use Intel products. In short, they learned that the use-case for notebooks has shifted and changed over time, and that notebooks need to provide more joy and usefulness to the general public.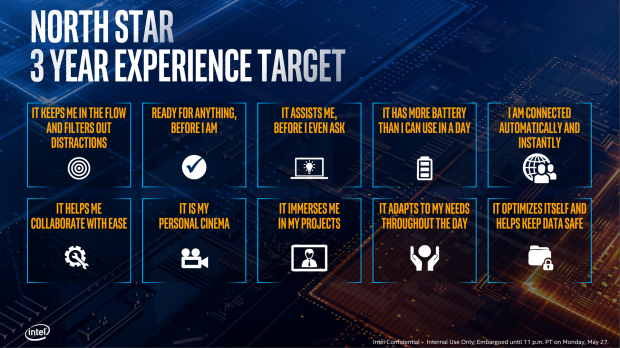 Intel has worked with their industry partners to ensure minimum standards for new notebooks, including incorporating AI, allowing people to zone into tasks, and reliably lasting the entire day.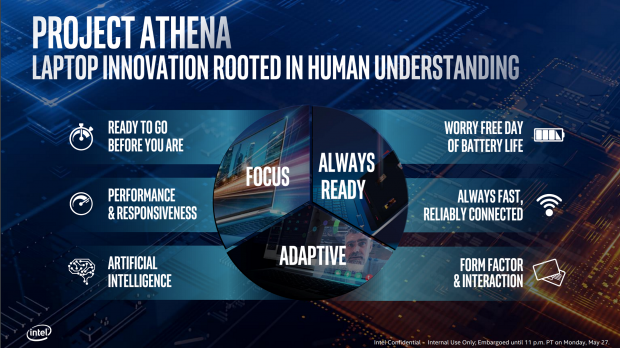 The new notebooks will be working for you rather than requiring your upkeep of the system, and they will offer the latest in connectivity and reliability when it comes to being online and reachable.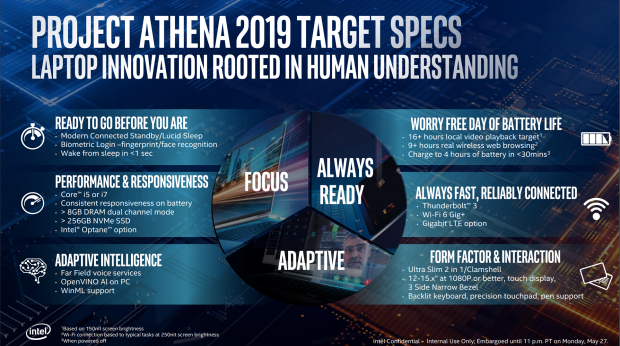 While these target specifications are aimed for 2019, it might take many more years to fully implement what Intel is aiming for. The targets Intel has set, such as 16+ hours of video playback are very far-reaching, but with Ice Lake, they should be possible.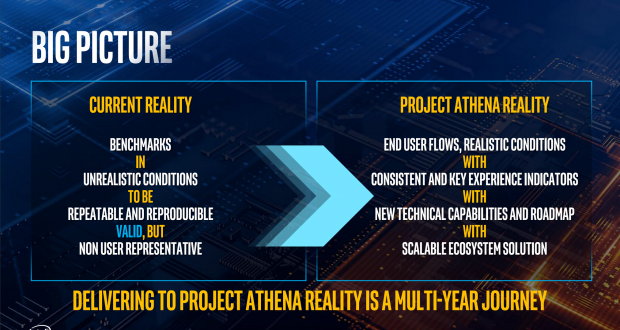 Project Athena also aims to bring quantitative aspects of computing into the qualitative reality, so in sum, it's designed to move specifications and expectations together. The project is a longshot, but with Ice Lake, Intel believes it can achieve its goals, and we are excited to see how Intel utilizes its new microarchitecture and SoC in future products.
We openly invite the companies who provide us with review samples / who are mentioned or discussed to express their opinion. If any company representative wishes to respond, we will publish the response here. Please contact us if you wish to respond.