Intel P35 Bearlake Chipset Performance Preview
Using an Intel P35 "Bearlake" motherboard, we test performance of 1333MHz FSB CPU's on the new DDR-3 capable platform.
Published Mon, Mar 12 2007 11:00 PM CDT
|
Updated Tue, Nov 3 2020 7:04 PM CST
P35 "Bearlake" Performance Preview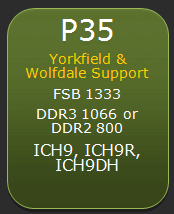 Intel P35 "Bearlake" Chipset Performance Preview
Intel has always been one of the biggest powers in the CPU market. They've been so dominant due to the fact they have had their own platform to build on. Intel produces its own chipsets for the processors, unlike AMD who until recently had to rely on third party companies to build chipsets for their platforms. It has brought them down a few times - Slot A was the biggest wait fest we ever had to endure.
Not only has Intel got its own platform but we have seen that Intel has put a lot of technologies into their chipsets ahead of other companies. Intel's 9xx series was first to market with PCI Express, Intel also was the first to introduce DDR-2 memory into its chipsets which is something that AMD said it wouldn't ever do, but still has.
While Intel does charge more for its chipsets, their development department does do a lot of work alongside their partners. While they have made some mistakes in the past (but we think just about every chipset manufacturer has had a few bad products) their current line has seen nothing but success.
Now it's time for Intel to start on its next generation of chipsets to support their upcoming Dual Core and Quad Core processors later this year and next such as Yorkfield and Wolfdale. The processors are based on 45nm technology and faster FSB and more onboard cache. These new chipsets are now dubbed the "3" series with new naming and features for each and are all based around the new Bearlake architecture. Today we are previewing the mid-range P35 chipset in the form of a pre-release product from one of our partners.
EDITOR NOTE - The following is a PREVIEW of a product which is still in development stages using non-final hardware and first revision silicon. Take this into consideration when reading and looking at our benchmarks.
Bearlake Chipset Details
Unfortunately due to the nature of NDA's we haven't been able to get any direct answers or info on the chipsets from Intel themselves but rather info we have accumulated from Intel roadmaps and media briefings that we had in the past, such as the following.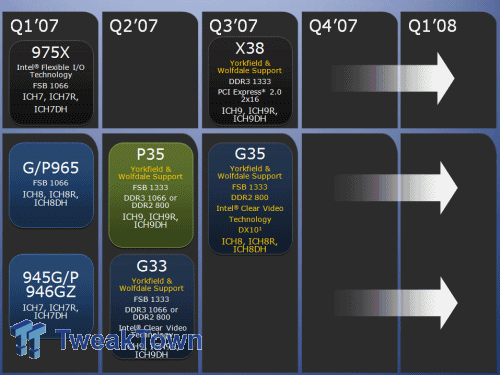 Additionally we are not allowed to publish any photos of our testing P35 Bearlake motherboard but we do have some photos of a P35 motherboard for your reference.
Memory Controller Hubs (MCH)
Intel's Bearlake chipset family consists of six different versions using 65nm manufacturing process technology (compared to 110nm of 975x and 90nm of P965), all containing a "3" in the name. Each is capable of supporting all existing Intel processors as well as upcoming Socket 775 Yorkfield - Quad Core and Wolfdale - Dual Core (for sale Q4 and Q1 2008) processors using 45nm manufacturing technology and total L2 cache up to 12MB. With the exception of G35, they all support new DDR-3 memory technology and officially support 1333MHz FSB.
Bearlake-X will be known as the X38 chipset and it will be Intel's premium high-end chipset designed to replace the 975X chipset. The main advantage of this chipset is that it features two full-speed PCI Express x16 slots for Dual Graphics and they will be new version 2.0 slots supporting up to 5Gbps bandwidth. It's not clear if Crossfire and/or SLI will be supported yet, however, ATI/AMD have already stated they plan to open Crossfire up to any platform - it is more than likely if it doesn't get SLI support, Crossfire should work just fine. DDR3-1333 memory is also supported however it does not support DDR-2 memory modules at this stage. While this may seem rather hasty to remove DDR-2 support, this chip will not see the market until late in Q3 of 2007 and DDR-3 will be on the market then in good quantities.
Coming down the list we now hit the Bearlake-P which will be the desktop mainstream chipset known as the P35 and it is what we are testing here today. It officially features just a single full-speed PCI Express x16 slot but you may see motherboard companies adding in a second PCI Express x 16 slot depending on their configuration but they'll likely only operate electronically at x2 or x4 (such as the ECS P35T-A). To handle migration to DDR-3 memory, Intel has included a DDR-2 and DDR-3 memory controller into the P35 chipset. You can use either one but not both at the same time. Depending on what motherboard manufacturers want to use, you may see boards with two DDR-2 slots and two DDR-3 slots or just one or the other - it all depends on how they want to configure.
Intel hasn't moved away from the integrated graphics for its value-end desktop chipset, Bearlake-G or G33 as its known. It will feature the same DDR-2 and DDR-3 memory controller setup as P35 which is limited to a final DDR-3 memory speed of 1066MHz DDR. It also features Intel's Clearview Video technology supporting full DX9 feature set. No word on performance numbers just yet.
To manage Vista Premium support the Bearlake-G+ will come into the line in Q3 which will feature a new graphics core with hardware DX10 support for running Vista Aero Desktop and gaining Premium support. Only DDR2-800Mhz will be supported and will probably end up being coupled with older ICH8R Southbridges, most likely ICH8DH. Again, no word on performance numbers as yet.
Lastly Intel has a couple more chipsets labelled Q33 and Q35. These chipsets will be vPRO supporting chipsets. There is no details of any changes to the onboard graphics systems but will be positioned with the DH Southbridge.
I/O Controller Hubs (ICH9)
I/O Controller Hubs (ICH) - Say hello to ICH9!
With the new Northbridge or MCH as Intel now calls them, a new Southbridge or ICH will be put into play. This is set to be the 9th generation of ICH so creatively it's known as the ICH9. Intel plans to release four different variants, similar in design to that of the current ICH8 series - ICH9, ICH9R, ICH9DH and ICH9DO.
ICH9 will support the basic features such as the six SATA ports with port multiplier functions, Azalia HD audio and a total of six PCI Express X1 lanes. Like the ICH8 series, there will be no PATA port which means we can expect to see JMicron making more money thanks to their SATA and PATA PCI Express chip which have come in quite handy.
ICH9R will add to the ICH9 features by supporting RAID functions on the Serial ATA ports, just like the ICH8R did to the ICH8. This is the only major function of the ICH9R, there are no more or less SATA ports, no extra PCI Express lanes or any additional audio features. We are unsure about HDD performance at this stage but we'll find out soon enough in our benchmarks.
ICH9DH and ICH9DO are geared towards the Digital Home and Digital Office to gain vPRO support. Their feature sets are comparable to the ICH9R series, only with new power saving features to gain vPRO recognition from Intel.
All of the ICH9 series will support PCI Express 2.0 ports allowing for a doubling of bandwidth. For example, PCI Express x1 lanes on the 1.0 standard support 250MB/s in each direction, PCI Express x1 in 2.0 will support 500MB/s in each direction. One of the other major changes to PCI Express 2.0 is external plug in system. Instead of just having slots in the case, PCI Express 2.0 can be connected to external devices though standard copper cables up to 10 metres away according to the PCI Special Interest Group or PCI-SIG who set out the new standards. This will be extremely helpful for laptops who want to plug in an external graphics card, no more MXM modules needed, just a PCI Express 2.0 plug and your off and racing.
USB 2.0 support has gone up from 10 ports on the ICH8 series to 12 ports on the ICH9 series. It's not surprising why as even now I have maxed out my 10 ports on my home ICH8 based motherboard and require a hub for extra devices - the two extra ports will be most welcomed.
Benchmarks - Test System Setup and Sandra
Test System SetupProcessor
: Intel Core 2 Extreme X6800 at different speeds (Supplied by
Intel
)
Memory
: 2 x 1GB DDR2-1066 Corsair in Dual Channel @ 1:1 (Supplied by
Corsair
)
Hard Disk
: 500GB Seagate 7200.9 SATA (Supplied by
Seagate
)
Graphics Card
: MSI Radeon X1950 Pro (Supplied by
MSI
)
Cooling
: Gigabyte Neon775 (Supplied by
Gigabyte
)
Operating System
: Microsoft Windows XP SP2
Drivers
: Intel INF 8.3.0.1007, ATI Catalyst 7.1 and DX9c
Today we are pitting our early and non-final P35 based motherboard (we can't say where we got it from due to NDA reasons) against the Gigabyte solid and well performing P965-DQ6 motherboard based on the Intel P965 chipset.
Since P35 is designed to replace the P965 chipset, we wanted to see how everything stacked up, even though the P35 motherboard we have is still in early development and using first revision chipset silicon. Since overclocking is not up to scratch yet, we didn't even bother attempting overclocking tests but naturally Intel will improve this and being based on 65nm process technology, we may end up seeing even better FSB OC results than the impressive P965.
We used our Core 2 Extreme CPU however we decided to run the FSB at 266MHz and 333MHz on both motherboards to determine just how much difference there is in performance on both chipsets when running at the exact same clock and FSB speeds. Since this chipset is designed to work with the new Core 2 1333MHz FSB processors, we simulated this with our Core 2 Extreme as we are able to select different multipliers and bus speeds and all E6000 series processors will all have 4MB of L2 cache.
We used 8 x 333MHz and 9 x 333MHz to simulate upcoming Core 2 E6750 and E6850 Dual Core processors speeds. We also simulated a current E6700 and X6800 by running the Extreme processor at 10 x 266MHz and 11 x 266MHz. Memory was also operating at 1:1 at all times.
Will we see any performance boost going from an FSB of 266MHz FSB to 333MHz FSB? Let's take a look!
SiSoft SandraVersion and / or Patch Used:
2007
Developer Homepage:
http://www.sisoftware.co.uk
Product Homepage:
http://sisoftware.jaggedonline.com/index.php?location=home&a=TTA&lang=en
Buy It Here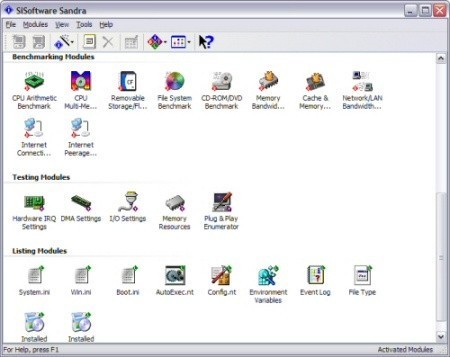 SiSoft Sandra (
S
ystem
AN
alyser,
D
iagnostic and
R
eporting
A
ssistant) is a synthetic Windows benchmark that features different tests used to evaluate different PC subsystems.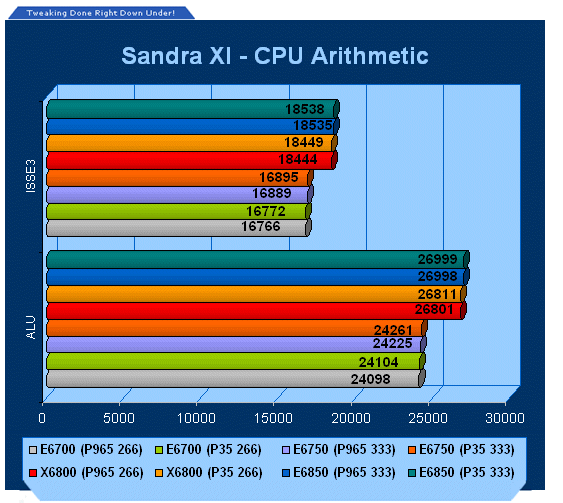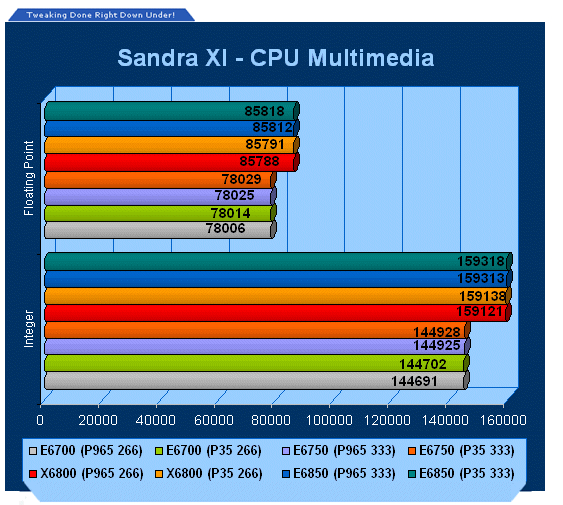 This test we are only testing the differences between the two CPU setups. Moving to the 1333MHz FSB has improved the synthetic scores a little.
Benchmarks - Memory Performance
EVEREST Ultimate EditionVersion and / or Patch Used:
2006
Developer Homepage:
http://www.lavalys.com
Product Homepage:
http://www.lavalys.com
Buy It Here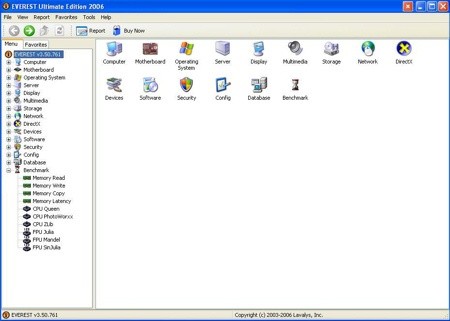 EVEREST Ultimate Edition is an industry leading system diagnostics and benchmarking solution for enthusiasts PC users, based on the award-winning EVEREST Technology. During system optimizations and tweaking it provides essential system and overclock information, advanced hardware monitoring and diagnostics capabilities to check the effects of the applied settings. CPU, FPU and memory benchmarks are available to measure the actual system performance and compare it to previous states or other systems.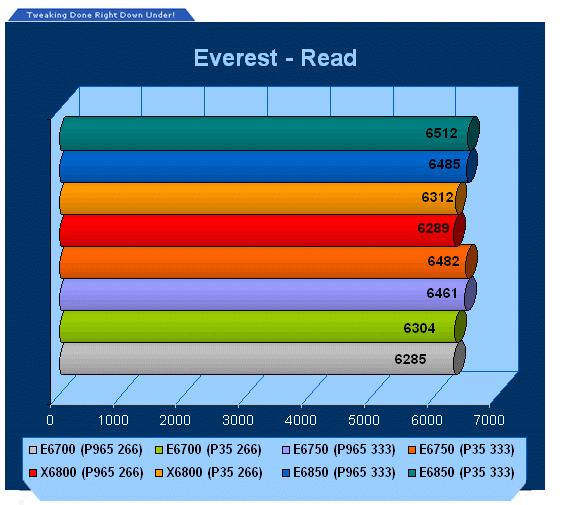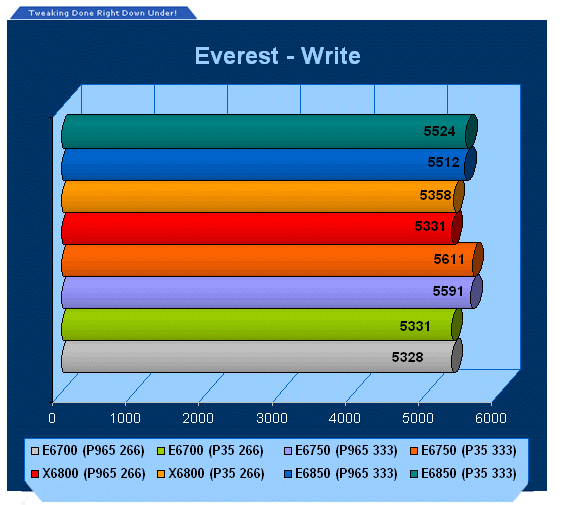 Everest shows us that the P35 has improved its memory controller over the P956 while running the same DDR2-800 speeds - it's able to generate a few more points in its favour.
Benchmarks - PCMark05
PCMarkVersion and / or Patch Used:
1.2.0
Developer Homepage:
http://www.futuremark.com
Product Homepage:
http://www.futuremark.com/products/pcmark04/
Buy It Here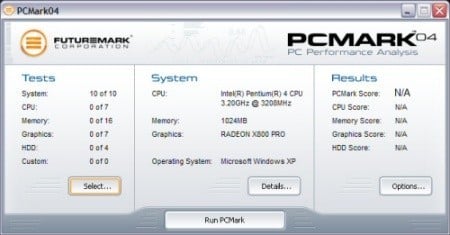 PCMark is a multipurpose benchmark, suited for benchmarking all kinds of PCs, from laptops to workstations, as well as across multiple Windows operating systems. This easy-to-use benchmark makes professional strength benchmarking software available even to novice users. PCMark consists of a series of tests that represent common tasks in home and office programs. PCMark also covers many additional areas outside the scope of other MadOnion.com benchmarks.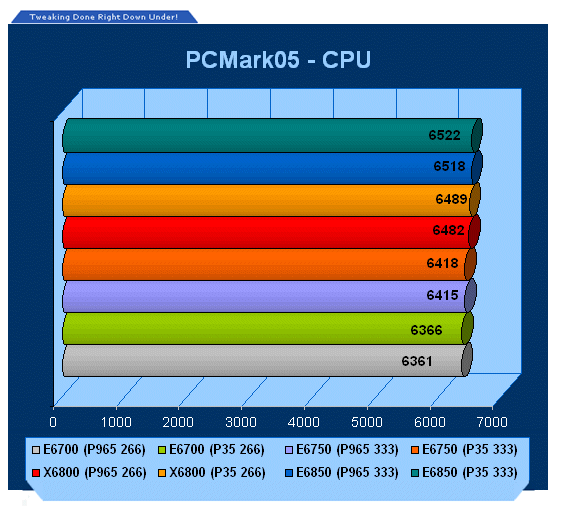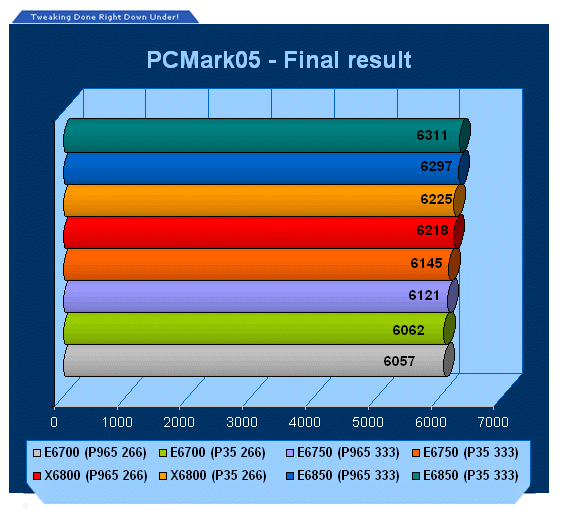 PCMark05 while getting older still shows us in the synthetic world how the system overall performs, P35 does again manage to pull some strings over its older brother to get ahead.
Benchmarks - WorldBench
WorldBenchVersion and / or Patch Used:
5.0
Developer Homepage:
http://www.pcworld.com
Product Homepage:
http://www.pcworld.com
Buy It Here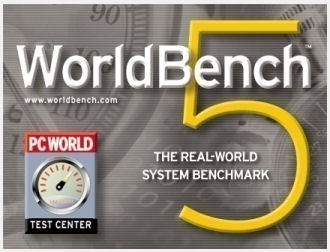 WorldBench 5.0 is the fifth generation of PC World's industry-standard benchmarking application. Designed to measure the performance of today's wide range of personal computers, WorldBench has been in continuous use at PC World for nine years.
WorldBench 5.0 uses the following applications to gauge system performance: ACD Systems ACDSee PowerPack 5.0, Adobe Photoshop 7.0.1, Adobe Premiere 6.5, Ahead Software Nero Express 6.0.0.3, Discreet 3ds max 5.1 (DirectX), Discreet 3ds max 5.1 (OpenGL), Microsoft Office XP with SP-2, Microsoft Windows Media Encoder 9.0, Mozilla 1.4, Musicmatch Jukebox 7.10, Roxio VideoWave Movie Creator 1.5 and WinZip Computing WinZip 8.1.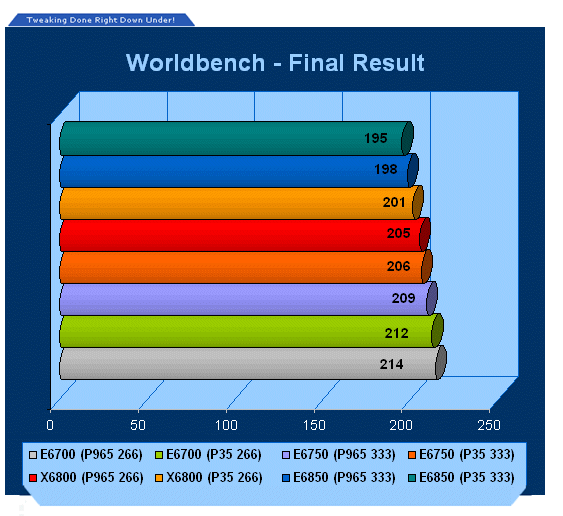 WorldBench loves the 333FSB and the P35's new memory controller - remember lower scores are better!
Benchmarks - Adobe Premiere Elements
Adobe Premiere ElementsVersion and / or Patch Used:
2.0
Developer Homepage:
http://www.adobe.com
Product Homepage:
http://www.adobe.com/products/premiereel/
Buy It Here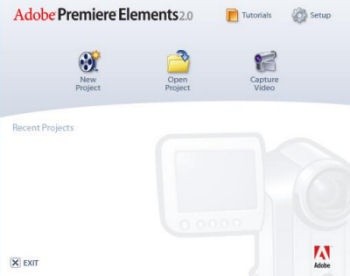 Our test with Adobe Premiere Elements 2.0 is performed with a raw two hour AVI file. It is then compressed into DivX format using the latest version codec. We measure the time it takes to encode and then record CPU usage.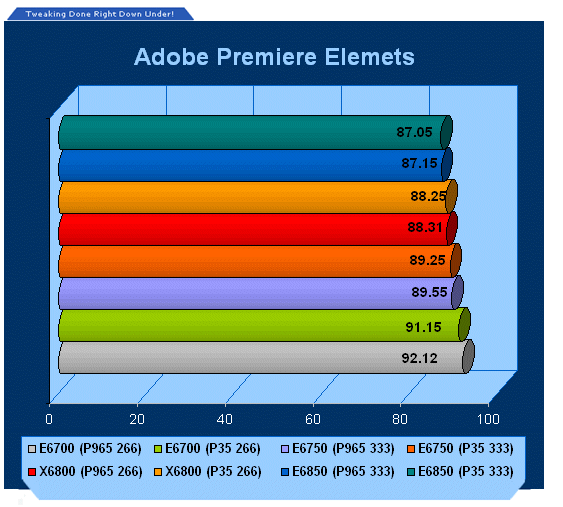 With a better memory controller the P35 is able to attain a faster encoding time and we are starting to see good signs about Intel's new Bearlake platform.
Benchmarks - HDD Performance
HD TachVersion and / or Patch Used:
3.0.1.0
Developer Homepage:
http://www.simplisoftware.com
Product Homepage:
http://www.simplisoftware.com/Public/index.php?request=HdTach
Buy It Here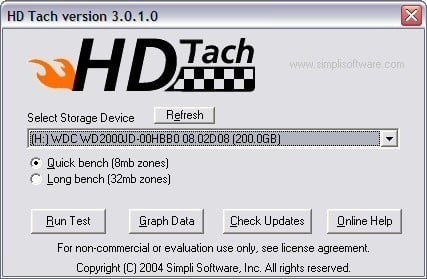 HD Tach has been around for a long time and is excellent when it comes to testing hard drive performance. It is also a very handy program when it comes to testing the controller used on particular motherboards. Tests such as Read, CPU Utilization and Burst are available at a click of the button and give you a good idea of how the hard drive can perform from system to system.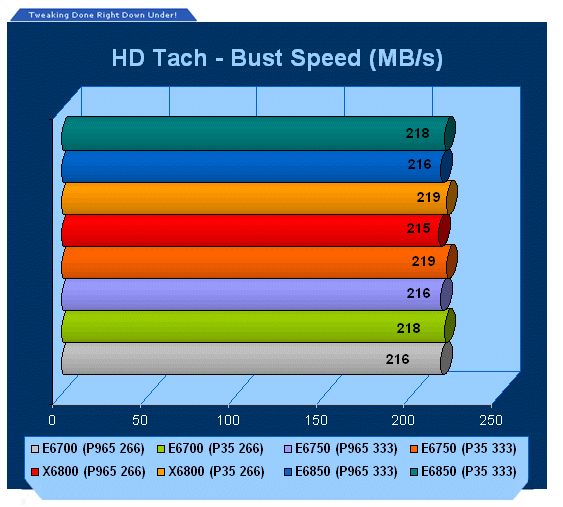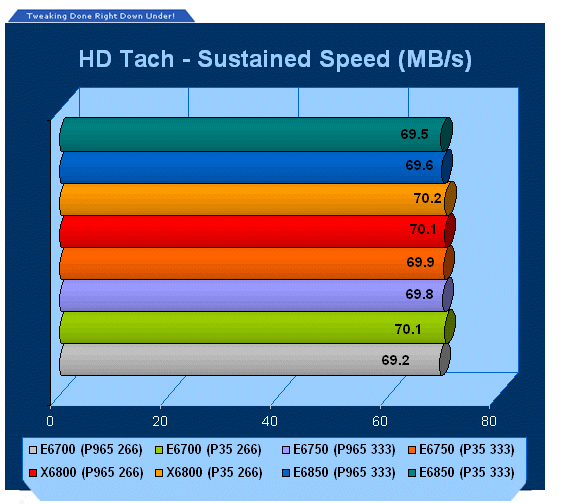 ICH9 hasn't made any ground on the HDD side of things however; it hasn't fallen off either, which is a good sign.
Benchmarks - 3DMark06
3DMark06Version and / or Patch Used:
Build 110
Developer Homepage:
http://www.futuremark.com
Product Homepage:
http://www.futuremark.com/products/3dmark06/
Buy It Here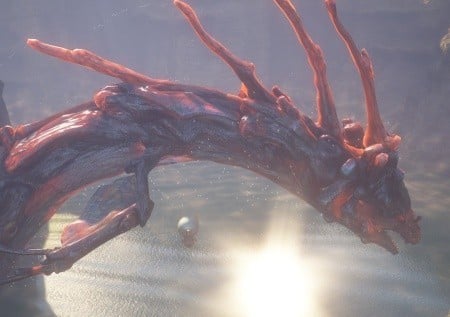 3DMark06 is the very latest version of the "Gamers Benchmark" from FutureMark. The newest version of 3DMark expands on the tests in 3DMark05 by adding graphical effects using Shader Model 3.0 and HDR (High Dynamic Range lighting) which will push even the best DX9 graphics cards to the extremes.
3DMark06 also focuses on not just the GPU but the CPU using the AGEIA PhysX software physics library to effectively test single and Dual Core processors.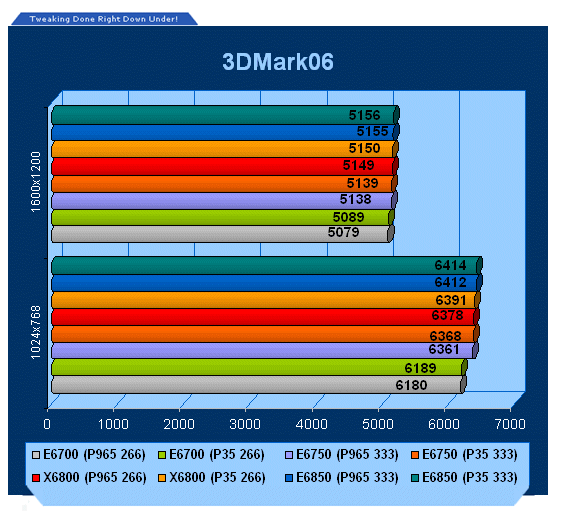 Synthetic benchmarks show the P35 in front of the P956 chipset but it's all quite close.
Benchmarks - PREY
PREYVersion and / or Patch Used:
1.2
Timedemo or Level Used:
HardwareOC Custom Timedemo
Developer Homepage:
http://www.humanhead.com
Product Homepage:
http://www.prey.com
Buy It Here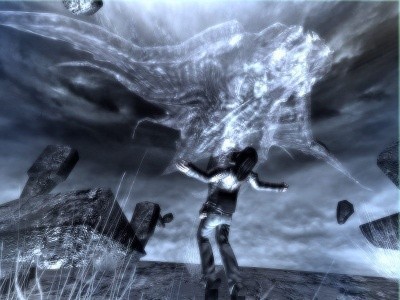 PREY is one of the newest games to be added to our benchmark line-up. It is based off the Doom 3 engine and offers stunning graphics passing what we've seen in Quake 4 and does put quite a lot of strain on our test systems.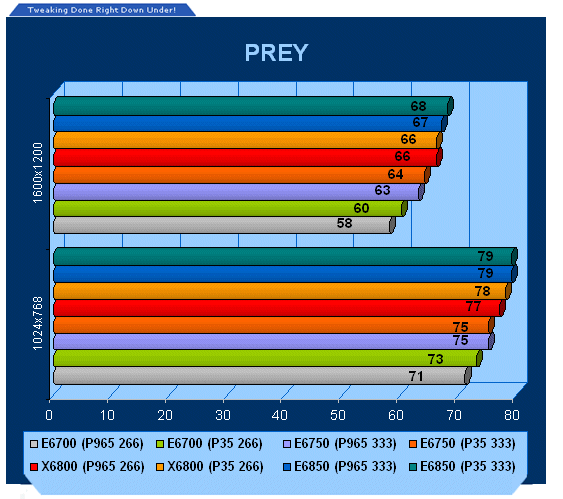 Pure real-world gaming benchmarks show that the P35 is able to hold its own in front of the older P965 chipset providing at least a few extra frames per second.
Benchmarks - Far Cry
Far CryVersion and / or Patch Used:
1.3
Timedemo or Level Used:
Benchemall Default Demo
Developer Homepage:
http://www.crytek.com
Product Homepage:
http://www.farcrygame.com
Buy It Here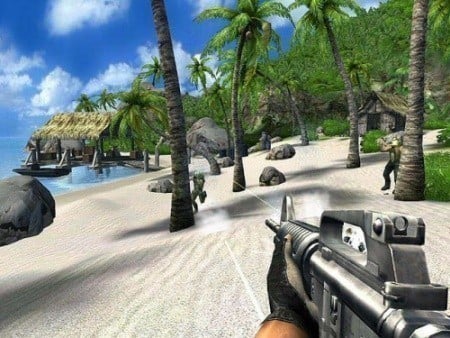 While Far Cry is now one of our older benchmarking games, it is still able to put pressure on most computers systems as it is able to utilize all parts of the system. Utilizing PS2.0 technology with the latest versions supporting Shader Model 3.0 with DX9c and offering an exceptional visual experience, there is no denying that even some of the faster graphics cards get a bit of a workout.
Here again P35 is just able to win in both 266MHz and 333MHz FSB configurations. Looking good so far for Intel's Bearlake platform!
Final Thoughts
While we have only got our hands on the first working silicon of Intel's P35 Bearlake-P chipset, we are extremely impressed with it so far.
Intel has put a lot of work into this chipset by the design of it, and with more on the way we can only hope things do get even better. Intel is looking like they are setting themselves up for a great run for the remainder of 2007 and into next year with their upcoming Yorkfield and Wolfdale processors. And with massive price drops on the horizon for upcoming Intel processors since all Dual Core processors will become mainstream parts making room for Quad Core as premium high-end, it's only going to mean good things for Intel. For instance, the E6850 processor will debut with a street price around $266 USD which is around 75% cheaper than what the X6800 was selling for and you're getting a processor platform which is able to perform faster.
One thing that was very limited in this silicon revision was its overclocking. By default the motherboard supports 333MHz FSB but we only managed to get it to 350MHz and this wasn't 100% stable. This wasn't anything to do with the board itself, as our board was supplied with plenty of overclocking tweaks, just that the chipset is of first silicon and not ready for full release yet. As we said, the P35 is based on 65nm process technology and once it's fully ready for public consumption, we expect it to perform as least as well as Intel P965 in FSB overclocking.
Intel's Bearlake will soon make its debut onto the motherboard market with the P35 first to market with the G33 and G35 soon to follow for the value segments. X38 will be the big thing but don't expect that till late in Q3 of 2007 when DDR-3 memory is shipping.
Looking good so far!
PRICING: You can find products similar to this one for sale below.

United States: Find other tech and computer products like this over at Amazon.com

United Kingdom: Find other tech and computer products like this over at Amazon.co.uk

Australia: Find other tech and computer products like this over at Amazon.com.au

Canada: Find other tech and computer products like this over at Amazon.ca

Deutschland: Finde andere Technik- und Computerprodukte wie dieses auf Amazon.de
We openly invite the companies who provide us with review samples / who are mentioned or discussed to express their opinion. If any company representative wishes to respond, we will publish the response here. Please contact us if you wish to respond.