NVIDIA GeForce RTX 2080: What We Know So Far
Everything we know about NVIDIA's next-generation GeForce GTX 1180, GTX 2080, RTX 1180, RTX 2080 - or whatever it will be called.

Published
13 minute read time
Introduction
The Latest
August 20 update: NVIDIA's purported GeForce RTX 2080 Ti Founders Edition teased with a dual-fan cooler.
August 19 update: So, I've just flown over to Berlin (a 36-hour journey that I still have hours of layover here in Berlin and then the flight to Cologne) and lots has happened. We've seen leaks of virtually all AIB partner cards so far, here's the list:
GIGABYTE GeForce RTX 2080/2080 Ti WindForce/Gaming
MSI GeForce RTX 2080 Ti GAMING X TRIO
MSI GeForce RTX 2080 Ti/GTX 2080 DUKE
Palit GeForce RTX 2080 Ti/GTX 2080 GamingPro
EVGA GeForce RTX 2080 XC Ultra
ZOTAC GeForce RTX 2080 Ti/GTX 2080 AMP!
ASUS ROG STRIX GeForce RTX 2080 Ti (DUAL & TURBO variants, too)
August 17 update #2: We now know that the GeForce RTX 2080 Ti will feature a whopping 4352 CUDA cores based on the Turing GPU architecture. It seems GDDR6 will be clocked at 14Gbps, with 616GB/sec of memory bandwidth on offer (blowing away HBM2 on the Vega 64).
August 17 update: So it seems NVIDIA will indeed be launching the GeForce RTX 2080 Ti alongside the new RTX 2070 and RTX 2080, with our first look at a custom RTX 2080 Ti in the form of the MSI GeForce RTX 2080 Ti GAMING X TRIO graphics card.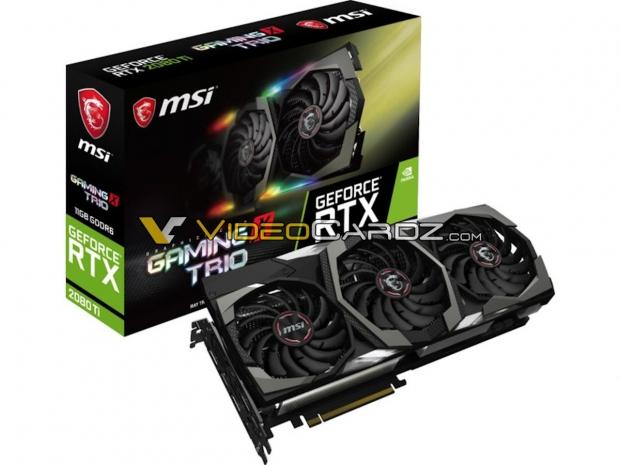 The big note here is that it features NVLink, something I talk about in this article in detail. It seems I could be right, with SLI gone on the Turing-based offerings in both Quadro and GeForce RTX form. This could open the doors to 22GB of GDDR6 in NVLink on the RTX 2080 Ti... so my hype meter just went to 11/10.
This is where I'll keep all of the updates to the article, and bleeding edge information. There's new info and leaks happening constantly right now, so expect it to be updated and changed at a quick pace.
Remember: We are giving away not one, but two next-gen GeForce RTX 2080 graphics cards the second they launch. If you haven't already entered, you should really do it as it's not hard to be in the world's first giveaway of NVIDIA's next-gen graphics cards. You can do that here.
What We Know So Far
In just a few weeks time the world expects NVIDIA to launch its next generation GeForce graphics cards and to say that there is a hype train right now would be an understatement. I'm confident in saying this is the most anticipated graphics card launch of all time, and now we're an inch closer to that launch with NVIDIA unveiling the next-gen Turing GPU architecture at SIGGRAPH 2018.
Just as their SIGGRAPH 2018 press conference kicked off, NVIDIA began the next-gen GeForce hype train with a new video. We pulled apart the video right here, with multiple teases of it being the GeForce RTX 2080. NVIDIA could be trolling us all - which would be even better, and then unveiling it as the GeForce GTX 1180. At this point I don't think they'd do that, as it's very clear 'RTX' and '2080' are being shown in the video.
We will be updating this page as the new rumors and announcements happen, so keep coming back here. While you're here, we are giving away not one but two of NVIDIA's next-gen graphics cards no matter what they are. If they end up as the GTX 1180 or RTX 2080 they will be given away.
Turing GPU Architecture
NVIDIA's Next-Gen Turing GPU
The new Turing GPU architecture is the most advanced GPU architecture NVIDIA has ever made, with NVIDIA having two "engines" at the core of the Turing GPU architecture. The first is the accelerating Ray Tracing, while the other side of Turing handles acceleration of AI Inferencing.
Turing is by and far not a gaming GPU in any way shape or form here, with NVIDIA unveiling not one but three new Quarto RTX branded professional graphics cards. The new Quadro RTX graphics cards all feature RT cores (Ray Tracing Cores) as well as Tensor Cores for deep learning acceleration, but NVIDIA hasn't been clear on whether the Tensor Cores have been tweaked under Turing compared to the Volta GPU architecture.
NVIDIA has also made fundamental changes to the way the Streaming Multiprocessor (SM) GPU units work, with Integer cores separated into their own indivudal blocks, a move that was used with the Volta GPU architecture.
Turing is an absolute beast coming in at 18.6 billion transistors and a huge 754mm2 die size. If we compare this to the Volta-based V100 GPU with 21 billion transistors and 815mm2 die size, we can see Turing has done quite a lot with what it has. Pascal in comparison has 11.8 billion transistors on a die size of 471mm2.
There are a huge 4608 CUDA cores on the flagship Quadro RTX 8000 card, but this is still down from the Volta-based TITAN V which packs 5120 CUDA cores based on the Volta GPU architecture. NVIDIA hasn't shown off proper performance metrics and benchmarks on the Turing-based Quadro RTX range of cards so once that happens we'll be able to properly compare the Volta-based cards (TITAN V, Quadro GV100, etc) against the new Turing-based Quadro RTX 8000/6000/5000 cards.
The big difference between Volta and Turing is that Volta uses HBM2 while Turing uses GDDR6, however even GDDR6 in its basic 14Gbps form is giving numbers that can beat the HBM2-based cards. There's also more framebuffer with 48GB of GDDR6 available on the flagship Quadro RTX 8000 compared to 16GB on the original Volta-based cards, and 32GB on the new Quadro GV100 and upgraded Tesla V100 unveiled a few months ago at NVIDIA GTC 2018.
GDDR6: The New Memory Champion
GDDR6 Memory
NVIDIA unveiled its next-gen Turing GPU architecture during SIGGRAPH 2018 with the new Quadro RTX range of cards featuring GDDR6 memory from Samsung with transfer speeds of up to 14Gbps.
Samsung is providing its new GDDR6 technology for NVIDIA's latest cards, with the company using the 10nm node for its GDDR6. Jim Ellott, Corporate Senior Vice President at Samsung Semiconductor explained: "It's a tremendous privilege to have been selected by NVIDIA to launch Samsung's 16Gb GDDR6, and to have enjoyed the full confidence of their design team in making our key contribution to the NVIDIA Quadro RTX GPUs".
NVIDIA's new Quadro RTX 8000 has an astounding 48GB of GDDR6 and when used in two-way NVLink mode that VRAM framebuffer doubles to a huge 96GB of super-fast GDDR6 memory. Samsung's new 10nm-built GDDR6 tech will eventually run at up to 18Gbps (up from 14Gbps) and that each die can transfer data at 72Gbps, which is a two-fold increase over the same GDDR5 chips with 8Gbps bandwidth.
Samsung explains: "Built on Samsung's advanced 10-nanometer (nm) class* process technology, the new GDDR6 memory comes in a 16Gb density, which doubles that of the company's 20-nanometer 8Gb GDDR5 memory. The new solution performs at an 18-gigabits-per-second (Gbps) pin speed with data transfers of 72 gigabytes per second (GBps), which represents a more than two-fold increase over 8Gb GDDR5 with its 8Gbps pin speed. Using an innovative, low-power circuit design, the new GDDR6 operates at 1.35V to lower energy consumption approximately 35 percent over the widely used GDDR5 at 1.55V. The 10nm-class 16Gb GDDR6 also brings about a 30 percent manufacturing productivity gain compared to the 20nm 8Gb GDDR5".
It might not sound like much, but it means that we can expect a 256-bit memory bus on a consumer GeForce GTX 2080 for example, to contain up to 16GB of GDDR6 (double the GTX 1080 and its 8GB of GDDR5X) with a huge 576GB/sec memory bandwidth. A higher-end TITAN or GTX 2080 Ti could pack a larger 384-bit memory bus (they normally do) with a maximum of 24GB of GDDR6 with a huge 864GB/sec of memory bandwidth on-tap which would be truly amazing.
What New Graphics Cards To Expect
What We Could Expect
New TITAN RTX: 12-16GB GDDR6 @ 16Gbps on 384-bit memory bus = 768GB/sec
GeForce RTX 2080 Ti: 12-16GB GDDR6 @ 14Gbps on 384-bit memory bus = 672GB/sec
GeForce RTX 2080: 8GB GDDR6 @ 14Gbps on 256-bit memory bus = 448GB/sec
GeForce RTX 2070: 8GB GDDR6 @ 12Gbps on 256-bit memory bus = 384GB/sec
We could expect a different naming scheme other than just 'RTX 2080' as I've had sources tell me that the naming system will be changed. We could see a RTX 2080X or something to that effect.
Full List Of Possible Turing-Based Graphics Cards
New TITAN RTX

RTX 2080 Ti

RTX Ultra/Xtreme

RTX 2080

RTX 2070

GTX 2080

GTX 2070

GTX 2060
I'm hoping for a big change in terms of branding, with the new RTX branding delivering something fresh in the form of an Ultra/Xtreme card. NVIDIA teased 'Xtreme' on the #BeForTheGame marketing hype for the next-gen GeForce RTX series cards, but I want to see the return of the Ultra moniker from years ago. We have Ti from the old Titanium days, but I want a GeForce RTX 2080 ULTRA. It just sounds awesome.
GeForce RTX 2080 Marketing
Hey There, RTX 2080
NVIDIA just unveiled its next-generation Turing GPU architecture during SIGGRAPH 2018, with three new Quadro cards unveiled: Quadro RTX 5000, RTX 6000, and the flagship Quadro RTX 8000.
Well, just a couple of hours ago NVIDIA uploaded a video to their YouTube account dubbed 'Be For The Game'. The video shows off a bunch of high-quality shots of an unknown graphics card - could be a GTX 10 series card, or it could be a next-generation GeForce graphics card based on the just-announced Turing architecture. There are a few teases of '20' and '2080' in the video, with one particular part standing out.
At the end of the video, NVIDIA has edited it perfectly to display the date '20.AUG.2018' except that the '20' and '08' come up last... which could be a tease of '2080'. It could be some sly trick to tease us of the GeForce GTX 2080, or I could be looking into it too much. But for NVIDIA to rearrange those numbers: 2, 0, 8, 0 and have the other numbers still placed there - they're highlighting '2080' for a reason.
If you pause the video at the 45-second mark, NVIDIA pans towards a Discord chat between two people. Someone called 'RoyTeX' is talking to 'Not_11' with Not_11 saying at the end 'eating, gimme 20'. Out of all of this we have someone called RoyTeX, with the capitalization of RTX... leaning towards GeForce RTX, while the other person is called Not_11, which could be NVIDIA teasing it's not the GTX 11 series. Not_11 then says at the end 'gimme 20' which could mean 'gimme 20 series'. It's all so cryptic, I love it.
Another part has someone called 'Mac-20' chatting with 'Eight-tee' and at this point, I can't see how you don't agree it's the GeForce RTX 2080.
At 42 seconds there's a chat on a smartphone with someone called 'Zenith20', the meaning of Zenith is: "the time at which something is most powerful or successful". Zenith20 to be specific, where I'm sure the '20' is another sly wink at the GTX 20 series. Not only that but there's someone called 'Ray' which I presume is nod towards the Turing architecture and its ability to do ray tracing, and then there's also 'Xtreme'. I'd love to see a GTX 2080 Xtreme.
If we want to dig a little deeper and put our tin foil hat on, at 24 seconds there's a shot of a modded gaming PC and two numbers: 509 and 509. If we add the 5+9+5+9 we get... 28. Another nod to the GTX 2080?
In the YouTube comments for this video, someone pointed out that these numbers are a place: Cologne, Germany.
As you can see, those coordinates definitely check out.
The video itself is really well made, with a bunch of people unboxing graphics cards, building gaming machines, and even custom watercooled gaming PCs. It goes from standard PCs and gaming laptops into super-configured enthusiast machines that have custom waterloops and all, with streamers not missing out. The gaming market is absolutely huge, and people do spend large chunks of their days gaming (so do I).
Twitch streaming and Discord are on display, showing how involved the world is with some of the gamers in the Be For The Game promotional video closing their blinds from the sunlight so they have maximum immersion in their game of choice. Multiple monitors are used for streamers, so it's nice to see NVIDIA reflecting on that in their video.
But damn is this a tease towards the next-gen GeForce GTX 2080... and if the excitement of the new Quadro RTX graphics cards wasn't enough... this is.
VirtualLink For Next-Gen VR Over USB-C
VirtualLink: Next-Gen VR Headsets
The new Turing GPU architecture represents the largest change in GPU architecture for NVIDIA since the release of the first CUDA GPU back in 2006. We can expect lots of new tricks, features and inputs - not just more raw performance and horsepower.
We already know to expect a new VirtualLink connector on the GeForce RTX series graphics cards, with the new USB-C connector powering next-gen unannounced VR headsets. We can expect 3 x DisplayPort and 1 x HDMI outputs as usual, with a smaller USB-C port above those as the first card with VirtualLink. This new connector will free up the HDMI port that will be better used with BFGDs, I'm sure.
NVIDIA's next-gen Turing GPU architecture was made with raytracing in mind, and it'll pack a bunch of RT cores alongside its Tensor Cores. This side of the card represents half of the Turing GPU, and since we don't know if NVIDIA will use any ray tracing/Tensor Cores on the GeForce SKUs, you have to remember it's sitting there. If it is used in a way we don't know about, we could expect things we also don't know anything about yet. Hidden performance, new tricks NVIDIA has up its sleeve to improve performance on untouched parts of the card.
It would be great to re-purpose the RT or Tensor Cores for gaming, but I think the biggest thing I want to see is the rise of NVLink.
Next-Gen Multi-GPU: NVLink For GeForce RTX?
NVLink Is The New SLI
HB-SLI was great for a while, but it's not enough - we need a doubling of the framebuffer to handle 4K and beyond games, especially as 8GB isn't going to be enough to drive next-gen games at 4K, and beyond. Remember we have 8K monitors on the market in the form of the Dell UP3218K, as well as plenty of triple-monitor setups using multiple high refresh rate 1440p screens and triple-monitor gaming rigs with 3 x 4K60 panels.
8GB of framebuffer isn't enough and buying a second GeForce GTX 1080 Ti or TITAN Xp won't help as the framebuffer isn't doubled. The performance in multi-GPU mode sucks pretty bad for the most part, so I want to see NVIDIA putting much more love into multi-GPU setups without going into the 3/4-way rigs. We won't need 3/4-way multi-GPU rigs if the new GPUs are this good (and they have to be).
NVIDIA teased the power of the NVLink connector during the unveiling of the Turing-based Quadro RTX cards, where it doubles the VRAM - so that the flagship Quadro RTX 8000 with its already huge 48GB of GDDR6 will have its framebuffer DOUBLED to a huge 96GB of GDDR6. Now imagine this on the RTX 2080 with its 8GB of GDDR6, being doubled to 16GB with NVLink.
This is where I think we could see a big change. People will complain if the new GeForce RTX 2080 'only' has 8GB of GDDR6, but GDDR6 is going to be expensive for a while as it's a brand new memory technology. Samsung is providing NVIDIA with its new 10nm-based GDDR6 chips for the Quadro RTX series cards, so we can expect the same with the gaming versions.
8GB of GDDR6 on the GeForce RTX 2080 paves the way for 12-16GB of GDDR6 on the TITAN RTX (I'm loving that name the more I type it) which would swell to a huge 24-32GB of GDDR6 when used in NVLink, if it floats down into the consumer GeForce line of cards.
Would we see a doubling of FPS if there's a second card thrown into a gaming rig with NVLink? Well, possibly. NVIDIA could up the ante on multi-GPU support for major titles, giving them better SLI (or NVLink) profiles within GeForce Experience. I want to see GFE expanded to include NVLink so that you can see the average multi-GPU scaling to expect in your chosen or installed games.
This means NVIDIA can sell the GeForce RTX 2080 with 8GB of GDDR6 and if they wanted or needed more, grab a second one and throw it into NVLink and have 16GB of framebuffer.
Why We Need All This GPU Power
Given the information of this post, which I'll keep updated as we get closer to August 20 (or whenever NVIDIA unveils these new graphics cards), we can expect the GeForce RTX 2080 to beat the GTX 1080 Ti and even the TITAN Xp. Hell, there's a tease of the RTX 2080 beating out the TITAN V and if it does that, we're looking at a new graphics card that's capable of gaming at 4K 144FPS on a single card.
The only problem I have with that is that if the RTX 2080 is that fast, what in the hell would we need the RTX 2080 Ti for? This is why I don't think the GeForce RTX 2080 will beat the TITAN V, but I think it'll beat the GTX 1080 Ti which makes the purported $649 price sound right. NVIDIA could drop the price of the GTX 1080 Ti once the RTX 2070/2080 are announced, but then there's a huge gap between $649 and $1199 (which is what the TITAN Xp is priced at).
NVIDIA's new GeForce RTX 2080 being faster than the GTX 1080 Ti means the TITAN Xp should be wiped away overnight, and replaced with what I'm thinking will be the TITAN RTX with 12-16GB of GDDR6. NVIDIA could split it up into two cards at $1199 and $1499 with 12GB of GDDR6 and 16GB of GDDR6, respectively. This leaves the $649 to $1199 market wide open for NVIDIA to price the RTX 2080 Ti and any other card between the RTX 2080 and RTX 2080 Ti, with a wide $500+ gap between cards.
The heading of this part of the article is 'why we need all this GPU power' and the answer is: new G-Sync HDR monitors. Acer and ASUS have both released new 27-inch 4K 144Hz G-Sync HDR gaming monitors that cost $2000, yet there's no graphics cards on the market that can drive them. There's no single-GPU solution that handles 4K at Ultra details and is able to pump out 144FPS.
I've been using both of the new 4K 144Hz G-Sync monitors and I'm using an NVIDIA TITAN Xp Star Wars Collectors Edition graphics card, which is the single best graphics card on the market. I'm only playing Overwatch and can't have it on Ultra details and hit 144FPS at 4K, so I'm having to drop it to a mix of low/medium detail to reach closer to 120-144FPS constantly at 4K. I don't want any frames dropping in those huge 12-player battles, and even this $1199 graphics card can't do it.
We don't just have the new 27-inch 4K 144Hz G-Sync HDR monitors but the soon-to-be-released Big Format Gaming Displays (BFGDs) in the coming months, with NVIDIA getting G-Sync into large 65-inch 4K TVs. They'll be the first to market with a 65-inch 4K 120Hz G-Sync HDR TV, which will be a new unexplored market for not just NVIDIA but any panel and TV partners like LG, ASUS, Acer, and so on.
There's never been a time before in the history of computing that we've really needed a new graphics card because monitor technology is so far ahead, and games can't be run on it easily. We've come close before with CRTs back in the day doing 1600x1200 @ 85-100Hz, and then the leap to 1920x1080 wasn't that bad as we had huge 30.5-inch 2560x1600 (yes, not 2560x1440) monitors. 4K was years away at that point, and still limited to 60Hz.
Until now, we've been limited to 60Hz on 4K but up to 165Hz on 2560x1440. 4K at 144Hz requires much, much more graphics card horsepower than the GeForce GTX 1080 Ti and TITAN Xp are capable of. This is why we need Turing and GDDR6 here now with the new TITAN and GeForce RTX series cards.
I'll be updating this post as we go, with the first page being updated at all times. Thanks for reading!
PRICING: You can find products similar to this one for sale below.

United States: Find other tech and computer products like this over at Amazon.com

United Kingdom: Find other tech and computer products like this over at Amazon.co.uk

Australia: Find other tech and computer products like this over at Amazon.com.au

Canada: Find other tech and computer products like this over at Amazon.ca

Deutschland: Finde andere Technik- und Computerprodukte wie dieses auf Amazon.de
We openly invite the companies who provide us with review samples / who are mentioned or discussed to express their opinion. If any company representative wishes to respond, we will publish the response here. Please contact us if you wish to respond.