TweakTown was one of the first in the world to host an NVIDIA GeForce GTX 1080 giveaway, before it launched back in May 2016, and here we are doing it again. It might not be called the GeForce GTX 1180, but we are giving away TWO of whatever next-gen flagship graphics card NVIDIA releases, whenever they comes out. We're celebrating the fact it has been so long between exciting GPU releases that we're not giving away one, but TWO of their next-gen cards! SLI giveaway, baby!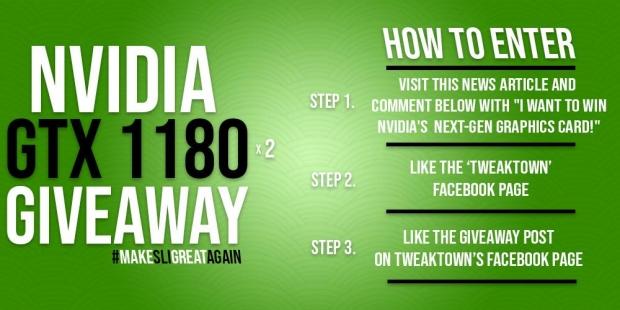 All of the rumors are pointing towards a release sometime this month so we're starting ours now building up to its release, and then hosting livestreams and giveaways on top of this GTX 1180 giveaway once the card has been made official by NVIDIA. We don't know if the flagship new card will be a Turing-based GeForce GTX 1180 or something else such as a GTX 1185/1190/1195 or something, but whatever it is unveiled as TweakTown will give away the best card NVIDIA announces in this world-first competition.
How To Win:
Step 1 - Visit this news article and comment below with "I want to win NVIDIA's next-gen graphics card!"
Step 2 - Like the TweakTown Facebook page. We're also on Twitter if you want to follow TweakTown, or me personally.
Step 3 - Like the TweakTown NVIDIA GeForce GTX 1180 giveaway post on Facebook.
Step 4 - If you want to post on your FB so that your friends can enter! This giveaway is GLOBAL!
Step 5 - This is for the winner, please come back here and post a picture with your new GTX 1180 (if you don't want to be in the photo, that's fine, but show us the #hardwareporn)
Note: We are giving away two separate cards, with two winners - each receiving a graphics card.
Note: Please make sure to do the above steps as we will disqualify a chosen winner if they haven't met all of these guidelines. It's not much, considering what's up for stake!
TweakTown will be covering shipping wherever you are in the world, so don't worry about that. You should have the card as soon as humanly possible the second the card is launched.
Disclaimer:
This promotion is in no way sponsored, endorsed or administered by any Facebook. You are providing your information to us, and not to Facebook. We collect your information for shipping your prize to you.
Giveaway runs from August 7, 2018 through to the release of NVIDIA's new GeForce GTX 1180 (or whatever it ends up as). No entries past the official release of the card will be taken into consideration.

If you are the winner, we will contact you through Facebook (which is why we make you like the post so we know who you are) to collect your full name, address, and telephone number for shipping. These details will only be made to the shipping company. If you do not respond to the Facebook message within 48 hours, your prize could be forfeited and we will choose another winner.

The competition is global. Anyone in the world can enter and we will cover the full shipping costs to any corner of the planet. We just want you to have a kick ass new GTX 1180 to game with! :)