Dolby Labs Interviewed Regarding PC Audio
Our audiophile James interviews Devon Bergman of Dolby Labs' PC segment to discuss the company's involvement with regard to PC audio.
Published
7 minute read time
Dolby Labs Interviewed Regarding PC Audio
TweakTown:
Hello and welcome to TweakTown. Thank you for the opportunity to conduct this interview today about Dolby's involvement in the PC world.

Dolby has been well respected in the professional world of audio for some time now. When did the company first get involved in the world of personal computing?
Dolby: Dolby is the global leader in entertainment technologies for the movies, at home, or on the go. Therefore, it made complete sense that the surround sound specialists who bought cinematic surround sound from the movie theater to the home, should target PCs.
Our initial focus was DVD playback software and for many years there have been a huge variety of DVD playback applications available that not only play a DVD, but give PC users the opportunity to enjoy their movie or music video in virtual surround sound, either over any standard headphones or 2.1 speakers.
Then, in 2005, as the PC became increasingly used by all types of consumers for entertainment, Dolby launched the "PC Entertainment Experience". This enabled PC manufacturers to integrate a suite of Dolby technologies directly onto the PC motherboard, meaning that whatever you did on your PC and whatever application you used, you could enjoy all of your movies, music and games in cinema-style, high-quality Dolby surround sound.
TT:
Was there a key motivating factor behind the move into personal computing for the company? Is it a case of moving with the times?
Dolby: In all the areas that we work - be it at the movies, TV, games, or mobile phones, Dolby's over-riding goal is to improve the entertainment experience for consumers. In the last decade, we've seen dramatic changes in the way that consumers use their PCs. No longer just used for emailing, managing personal finances and online shopping, PCs were becoming increasingly used by consumers to store, manage and experience their entertainment.
Audio is of course an essential part of the entertainment experience, so for this reason it made sense for Dolby to integrate technologies into the PC that would enhance its audio performance.
TT:
Regarding the 'Dolby PC Entertainment Experience' which is one of Dolby's most recent packages for sound restoration and maximization, who is the target audience for this product? - It sounds like something for movie buffs largely, but will the average user be able to get as much out of it?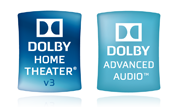 Dolby: The Dolby PC Entertainment Experience was developed with all types of consumers in mind; movie buffs, music lovers and gamers - regardless of whether they are "hard core" users or use their PCs for entertainment just from time to time.
TT:
Following on closely from the last question, will this software require any special knowledge of sound in general, or more specifically surround sound, to be used to its full potential?
Dolby: The audio settings for Dolby Home Theater and Dolby Advanced Audio are all preconfigured, so no specialist surround sound knowledge is required. We also designed the audio controls to be very easy to use, even for the most inexperienced of PC users.
TT:
It sounds like a difficult task transforming the (literal) multi-media PC of today into an all encompassing audio powerhouse; especially when just using software. How did Dolby compensate for the seemingly endless amount of different speaker/sound card combinations out there at the moment when designing the Dolby Home Theater v3 and Dolby Advanced Audio packages?
Dolby: One of the great new features in Dolby Home Theater v3 and Dolby Advanced Audio is our "Audio Optimization" technology. This technology enhances the speaker performance of laptops and is individually configured according to the characteristics of a laptop's speakers. This means that for each model of laptop, the manufacturer sends Dolby a sample and one of our expert audio engineers tune the technology in order to get the best possible audio performance and experience from that machine.
The results are really impressive! Today's sleek and slim laptop designs mean that the space available for speakers is becoming smaller. Therefore "Audio Optimization" from Dolby is an essential technology, as it can dramatically boost the audio performance and quality of any laptop speaker - no matter how small.
TT:
I'm interested in the natural bass element of the software, particularly in how the bass is shifted up one octave. Can you expand on this technology for our readers?
Dolby: Natural Bass extends bass response up to an octave by recognizing, measuring and working within the characteristics and limitations of the speakers to harness their best, most natural-sounding bass response.
Working from the assumption that the best bass sounds are the ones your ears actually hear, Natural Bass is designed to produce an optimal bass response from speakers of almost any size. The technology pushes speakers to produce as much bass performance as possible while guarding against sudden peaks that could potentially damage speaker elements. And it maintains clearly audible bass, even when the volume is set low.
Dolby Labs Interviewed Regarding PC Audio - Continued
TT:
Can I further enhance an already high quality soundtrack in Dolby Digital 5.1 using Dolby Home Theater?
Dolby: One of the many benefits of Dolby Home Theater is that it gives you multiple options for enjoying a movie, music or game that has a high quality Dolby Digital 5.1 soundtrack.
For movie viewing in the living room, you can connect your laptop or PC to a 5.1 speaker system and enjoy a DVD in true Dolby surround sound - so your experience will be as close as it can to a trip to the movies.
For listening to music on the move, you can listen to DVD audio tracks over headphones and get a simulated 5.1 experience using a pair of regular headphones.
For late night gaming in the den where you just have a 2-speaker set up, Dolby Home Theater will create a virtual multichannel experience, so although you are using just two speakers, you'll get the effect of 5.1. So whatever you do on your computer - be it music, movies or games and regardless of where you are and how you are listening, Dolby Home Theater can be tailored to give you the best experience possible.
TT:
To me there is a great difference between a DVD movie in full Dolby Digital and one being up-mixed from stereo using Dolby Pro-logic II. Have any steps been taken to improve the general liveness of up-mixes?
Dolby: Pro Logic IIx allows users to upmix content that was not broadcasted or originated in surround sound, such as music, UGC, web content and much more. Also, Pro Logic IIx enables users to upmix even 5.1 Dolby Digital content into 7.1 when back surround channels are supported.
TT:
As I understand it, Dolby are launching the new v3 technology with Acer. Will these systems come with any special audio hardware to showcase the new technology on offer in the v3 package?
Dolby: Dolby Home Theater v3 was launched with Acer in May and is available globally on all Acer Aspire notebooks. No additional hardware is neccessary as the technology lives solely in software.
TT:
Aside from involvement with Acer, has Dolby thought about packaging this technology with any of the new sound cards coming out?
Dolby: This is not under consideration at this point in time. The key benefit of "Audio Optimization" and "High Frequency Enhancer" is that they can be tuned-by-Dolby to get the best possible listening experience from laptop speakers. Therefore, in integrating these technologies into sound cards, you'd effectively lose all of this benefit.
TT:
Moving over to gamers now. Firstly, how will they benefit from the technologies discussed here today?
Dolby: The majority of gamers use a surround set up when they game, so they will definitely benefit. Firstly Dolby Home Theater gives the gamer multiple surrond sound listening options, so they can game in surround using any headphones, any 2.1 speakers or of course a full 5.1 set up.
Also, for the many millions of online gamers out there, Dolby Home Theater will transform any stereo game into surround sound, again giving those playing MMOs or in a virtual world the opportunity to game in surround over regular headphones, just two speakers or a full 5.1 set up.
The biggest benefit of this is that they'll experience the game as it was intended. Surround sound makes the experience more compelling, deeper, dynamic, life-like and it can give a gamer a competitive advantage too - as they will be more aware of their surroundings (important in stealth and FPS titles) and will be able to hear the enemy before they see them.
TT:
Secondly, will here be any conflicts for gamers wishing to use this software while still taking advantage of the latest EAX algorithms?
Dolby: No, there's no conflict. EAX was designed to create a convincing sense of environment so gamers can differentiate from say being in a cave to being in an airplane hanger. Gamers who use Dolby Home Theater and a game that features EAX, will then experience these games' sounds in Dolby surround sound which ultimately will make the experience even better.
TT:
How about the world of console gaming, is Dolby looking to also expand its involvement here?
Dolby: Dolby surround sound technologies are currently available in all of the leading consoles. This gives games the opportunity to game in 5.1 and watch HD movies in Dolby TrueHD 7.1, too - depending of course on the console they use. We are investigating a number of console related opportunities at this moment, so watch this space!
TT:
Will we begin to see console games supporting Dolby Digital in more than 5.1 channels in the future?
Dolby: This is not my current market, so I'll have to pass on this question.
TT:
Now, we know Blu-ray has seen the arrival of fantastic TrueHD lossless audio tracks, but not everyone can afford the expensive equipment to take full advantage of them. Would something like the Dolby Home Theater v3 or Dolby Advanced Audio technology bundles bring the average user closer to TrueHD quality in this application?
Dolby: Dolby TrueHD is a codec, while Dolby PC Entertainment Experience is a bundle of post-processing technologies. Dolby PC Entainment Experience can enhance the listening experience for any codec/audio file that can be played back via a user's PC.
TT:
Thanks very much for your time and I look forward to checking out some of these exciting new products myself.
Dolby: You are very welcome.
PRICING: You can find products similar to this one for sale below.

United States: Find other tech and computer products like this over at Amazon.com

United Kingdom: Find other tech and computer products like this over at Amazon.co.uk

Australia: Find other tech and computer products like this over at Amazon.com.au

Canada: Find other tech and computer products like this over at Amazon.ca

Deutschland: Finde andere Technik- und Computerprodukte wie dieses auf Amazon.de
We openly invite the companies who provide us with review samples / who are mentioned or discussed to express their opinion. If any company representative wishes to respond, we will publish the response here. Please contact us if you wish to respond.