G.Skill DDR2 and DDR3 Memory Kits
We've got two G.Skill kits on the table today, a 1000MHz DDR2 and 1600MHz DDR3 kit. Read on to see how they stack up.
Published Thu, Nov 22 2007 11:00 PM CST
|
Updated Tue, Nov 3 2020 7:04 PM CST
Introduction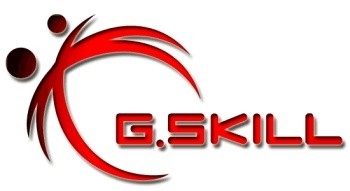 PC system memory is always getting faster and faster, especially with the introduction of the DDR3 memory standard. JEDEC has ratified it, Intel P35 and X38 chipsets are supporting it and we are now seeing it come from all the major players. We have seen Mushkin, OCZ, Corsair and Kingston all producing memory based on DDR3 technology, but we haven't seen the last of DDR2 just yet.
DDR2 is still the mainstream memory of choice, only the Intel X38 and P35 chipsets so far support DDR3. AMD is planning on moving to DDR3 when AM3 socket finally makes its debut, but let's hope that AM2 stays for a while yet. AMD stuck to their guns with DDR on the Socket 939 platform, but when AM2 was released AMD wanted nothing more to do with DDR.
Today we have two new kits from memory maker G.Skill, one of the slightly more unknown brands to us. While we have tested them in the past, their name isn't as well known to us as the likes of OCZ or Corsair. However, what we have tested from them in the past has impressed us. Today we are going to test Both DDR2 and DDR3 from G.Skill, a 1000 MHz DDR2 4GB kit and 1600 MHz DDR3 2GB kit. How will they fair? We will pit the DDR3 against our just recently tested OCZ memory and the DDR2 against our Geil memory which has broken over 1200MHz.
Packages and Contents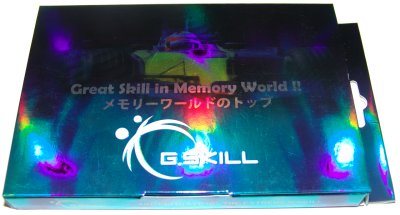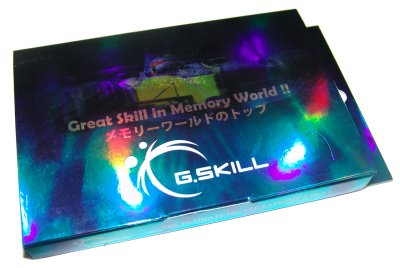 First off we have a look at the packages that G.Skill places the modules in. From the pictures you can see that the DDR2 and DDR3 both come in identical packages, there is no difference in colour schemes either.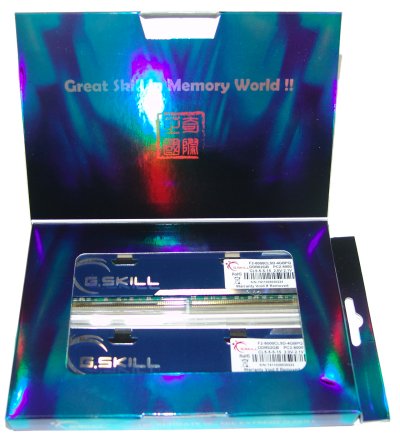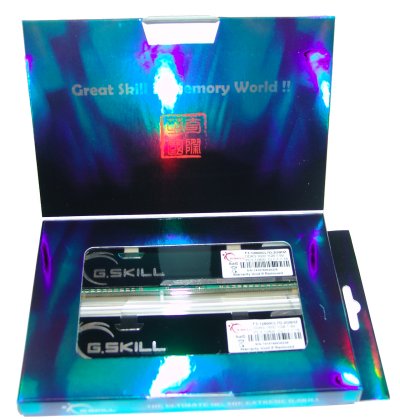 Both packages have a flip top that has a clear plastic case which covers the memory; here you get to actually see the modules before you buy them, no need for a product photo on the box. This is also where you tell the difference between the DDR2 and DDR3 modules, the DDR2 modules use a blue heatsink where the DDR3 use black heatsinks.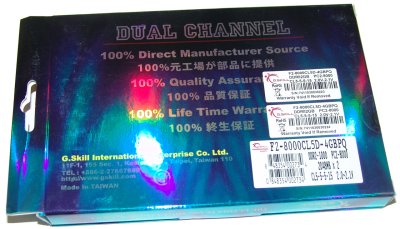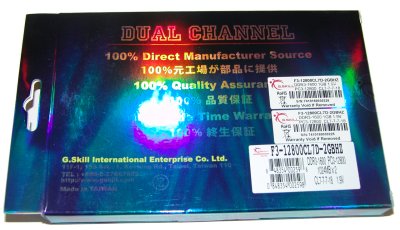 Lastly we look at the back of the boxes; again the colour scheme and info is identical on each box, however a sticker is placed on each box which gives you the info on the memory modules including their rated speed, latencies and if it's DDR2 or DDR3.
The Modules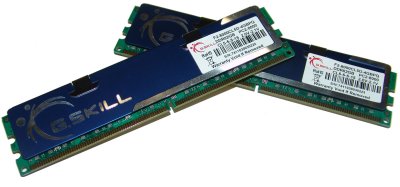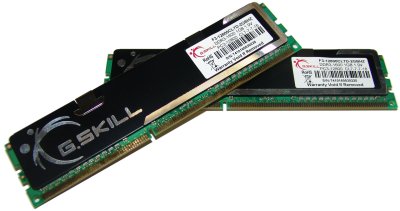 Getting down to the modules themselves, both kits are Dual Channel ready. If you don't know what that means, simply put they are two identical modules designed to run on both Intel and AMD platforms (not so much AMD with DDR3 yet) which have a 128-bit memory interface allowing for a doubling of the bandwidth between the CPU and memory. The DDR2 kit we were supplied was a 4GB kit and our DDR3 was a 2GB kit.
Both memory modules used the exact same heatsink design to cool their respective modules.
However, to avoid confusion the DDR2 kit's heatspreaders were coloured blue and the DDR3 black. Both modules are 240-pin interface with the board, but this is where things change. DDR3 is not electrically compatible with DDR2. DDR3 runs at 1.5v default where DDR2 runs at a higher 1.8v, so if you did manage to stick a DDR3 module into a DDR2 board, chances are you will fry it, especially since the pin configuration is different.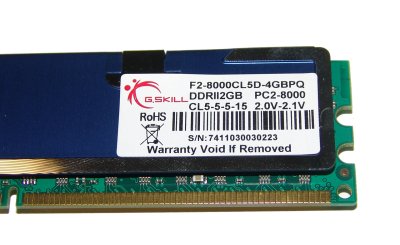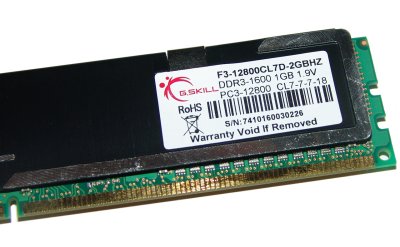 Getting down to the specifics of the modules, our DDR2 kit came with 2x 2GB modules for a total of 4GB. These modules are designed to run PC2-8000 or 1000 MHz with timings of 5-5-5-15 at either 2.0 or 2.1v, which is pretty high really; but when you consider DDR2 is only rated at an official 800 MHz it's clear to see why such loose timings are needed in this case.
The DDR3 kit on the other hand is a 2GB kit with 2x 1GB modules designed to run at PC3-12800 or 1600 MHz using timings of 7-7-7-18 and a max of 1.9v supported, which isn't too high for these particular modules. These aren't rated for Intel XMP so X38 users don't get any special treatment here, but that's not a great loss.
Overclocking
Overclocking the ModulesDDR2 Modules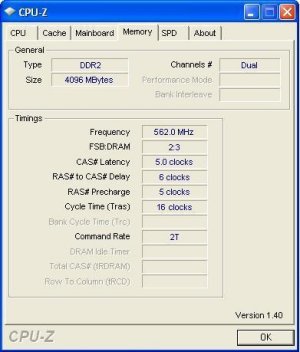 Our DDR2 kit was quite impressive. While it didn't break the 1200 MHz barrier, it did manage 1125 MHz when going just above the 2.1v barrier. This was achieved with 2.2v and reducing the timings a bit. Quite a good result really, especially for a 4GB kit which tends not to fair so well for high clock speeds.
DDR3 Modules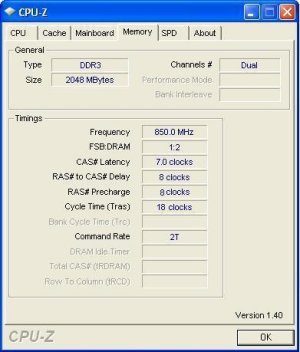 To the DDR3 kit and we managed to hit 1700 MHz stable at 1.9v. However, going beyond this voltage range didn't give us any more stability, so we were quite content with what we got.
Important Editor Note: Our maximum overclocking result is the best result we managed in our limited time testing the motherboard. Due to time constraints we don't have enough time to tweak the motherboard to the maximum and find the highest possible FSB as this could take days to properly find. We do however spend at least a few hours overclocking every motherboard to try and find the highest possible overclock in that time frame. You may or may not be able to overclock higher if you spend more time tweaking or as new BIOS updates are released or "burn in" time might come into play if you believe in that.
Test System Setup and Everest
Test System
Processor
: Intel Core 2 Quad QX6700 @ 3GHz (9x333MHz)
Motherboard
: GIGABYTE P35(T)-DQ6 (Supplied by
GIGABYTE
)
Hard Disk
: 500GB Seagate 7200.9 (Supplied by
Seagate Australia
)
Graphics Card
: MSI GeForce 8800GTS 640MB (Supplied by
MSI
)
Cooling
: Stock Intel Cooler
Operating System
: Microsoft Windows XP SP2
Drivers
: Intel INF 8.3.1.1009, Forceware 163.21
Today we have done a 2-up; we did tests using the P35 platforms, the P35-DQ6 for our DDR2 and the P35T-DQ6 for the DDR3 system. This allowed us to clock the modules as high as possible without any constraints like the X38 chipset is starting to show.
Our stock results were for DDR2 running 800 MHz (which is the official JEDEC speed) using the lowest timings the modules could run with the SPD enabled. Overclocking results were with the SPD disabled and timing the modules manually.
DDR3 at stock was running at 1333 MHz which is the fastest official JEDEC setting for DDR3. We did this while using the lowest possible timings the modules are rated for at this speed. When overclocking we disabled the SPD again and did it manually to the most stable speed possible.
EVEREST Ultimate EditionVersion and / or Patch Used:
2006
Developer Homepage:
http://www.lavalys.com
Product Homepage:
http://www.lavalys.com
Buy It Here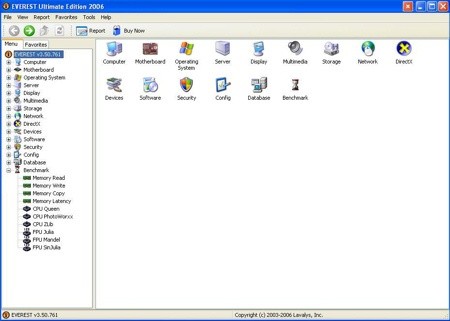 EVEREST Ultimate Edition is an industry leading system diagnostics and benchmarking solution for enthusiasts PC users, based on the award-winning EVEREST Technology. During system optimizations and tweaking it provides essential system and overclock information, advanced hardware monitoring and diagnostics capabilities to check the effects of the applied settings. CPU, FPU and memory benchmarks are available to measure the actual system performance and compare it to previous states or other systems.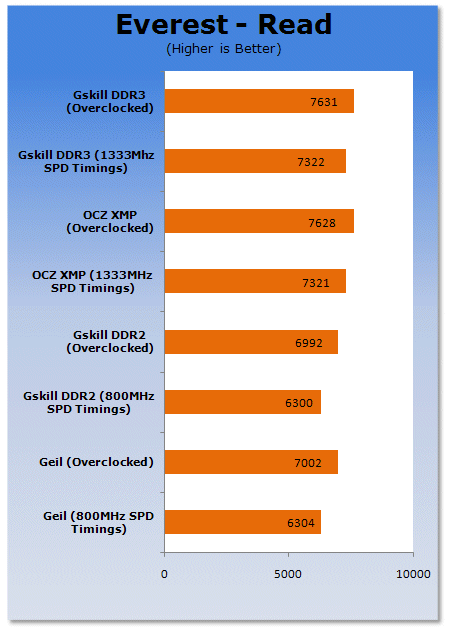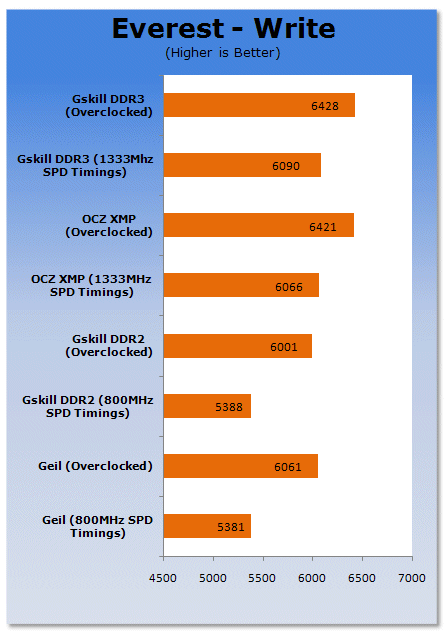 All the DDR2 modules perform identically at stock speeds; no advantage to either. When overclocking the Geil manages a bit more bandwidth than the G.Skill thanks to its higher clock speeds.
With the DDR3 we see the G.Skill manage some impressive results at the overclocking level, being able to beat out the OCZ memory.
Benchmarks - PCMark05
PCMarkVersion and / or Patch Used:
1.2.0
Developer Homepage:
http://www.futuremark.com
Product Homepage:
http://www.futuremark.com/products/pcmark04/
Buy It Here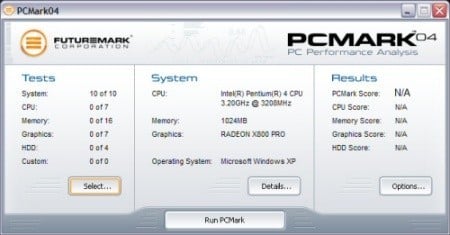 PCMark is a multipurpose benchmark, suited for benchmarking all kinds of PCs, from laptops to workstations, as well as across multiple Windows operating systems. This easy-to-use benchmark makes professional strength benchmarking software available even to novice users. PCMark consists of a series of tests that represent common tasks in home and office programs. PCMark also covers many additional areas outside the scope of other MadOnion.com benchmarks.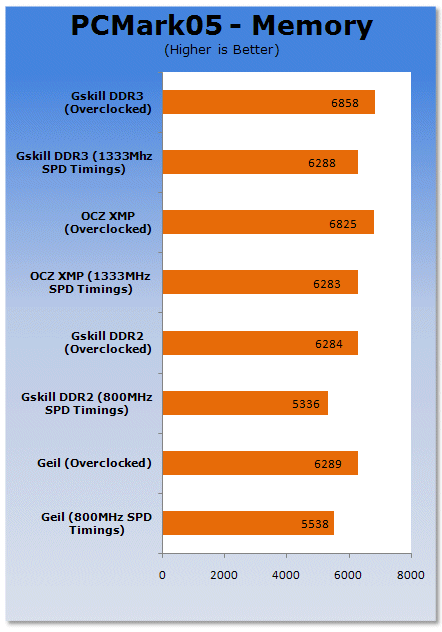 Moving to PCMark we see that the DDR2 results show the G.Skill falling behind the Geil only when the overclocking side comes into effect. At stock speed things are all identical.
G.Skill managed to gain the upper hand in the DDR3 tests thanks to some lower timings at 1333MHz, and just manages a slight win at 1700MHz compared to our OCZ memory locked to the same speed on this chipset.
Benchmarks - Adobe Premiere Elements 3.0
Adobe Premiere Elements 3.0Version and / or Patch Used:
2.0
Developer Homepage:
http://www.adobe.com
Product Homepage:
http://www.adobe.com/products/premiereel/
Buy It Here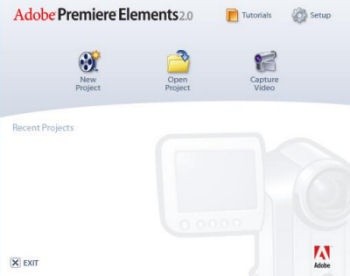 Our test with Adobe Premiere Elements 2.0 is performed with a raw two hour AVI file. It is then compressed into DivX format using the latest version codec. We measure the time it takes to encode and then record CPU usage.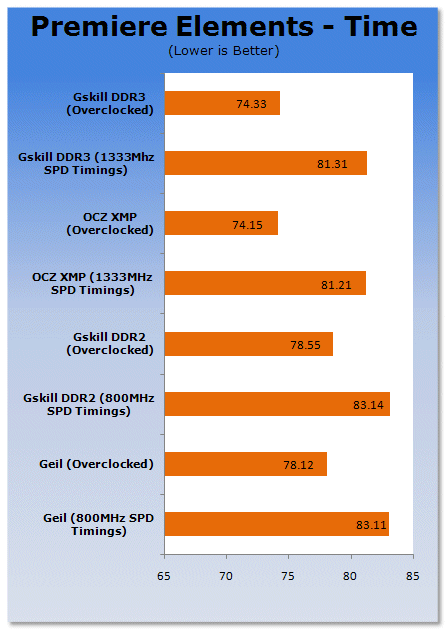 Premiere Elements shows the two DDR2 kits with identical results at stock, and not a huge gap at the overclocked level. With DDR3 we see the OCZ manage a win at overclocked. We're not exactly sure what happened here but three runs and three wins went to OCZ at overclocked levels.
Benchmarks - ScienceMark
ScienceMark 2.0
ScienceMark 2.0 is a mathematical program designed to stress the memory subsystems of both desktop/workstation and server environments to determine the read/write latency as well as the overall memory bandwidth available between the CPU and the memory controller.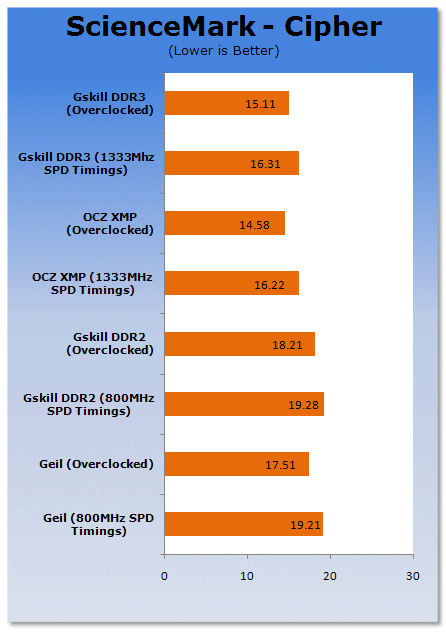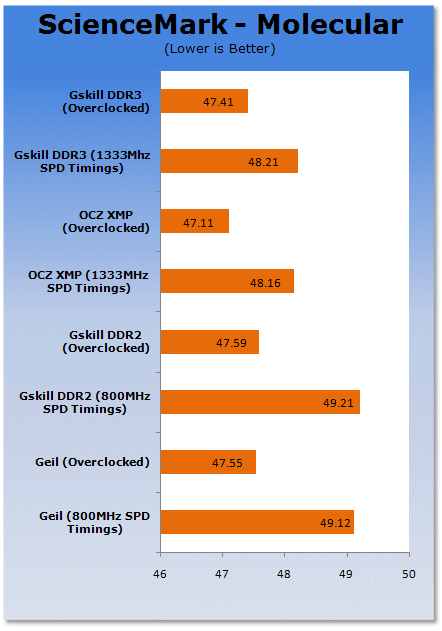 Here the G.Skill DDR2 runs just behind the Geil memory at overclocked speeds, stock speeds give an even result. G.Skill and OCZ tie it up for the win here at overclocked.
Benchmarks - Prey
PreyVersion and / or Patch Used:
1.2
Timedemo or Level Used:
Hardware OC Demo
Developer Homepage:
http://www.humanhead.com
Product Homepage:
http://www.prey.com
Buy It Here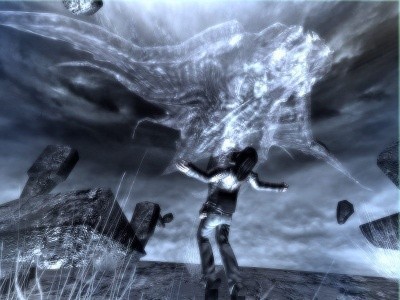 Prey is one of the newest games to be added to our benchmark line-up. It is based off the Doom 3 engine and offers stunning graphics passing what we've seen in Quake 4 and does put quite a lot of strain on our test systems.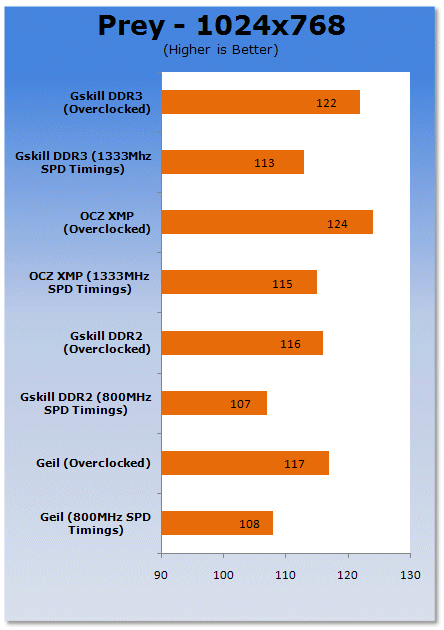 Our last test gives us very little in the way of any performance in real life gaming between the G.Skill and Geil. The DDR3 modules show a similar result, however the OCZ just comes in front here again.
Final Thoughts
While DDR3 is making its way to the Intel platform at record pace, DDR2 simply won't die anytime soon, why is this? AMD still have its foot in the door on this technology, and due to its integrated memory controller on its CPU line, it's hard to change memory standards without re-designing the CPU and motherboard. Intel however can go either way, but again this has its drawbacks too.
G.Skill's kits were very impressive, especially their DDR3 kit. Speeds are now starting to approach the 2000 MHz barrier, some have broken this already in fact, and it won't be long before all makers do. With higher yields coming expect DDR3 to launch high very soon.
DDR2 Kit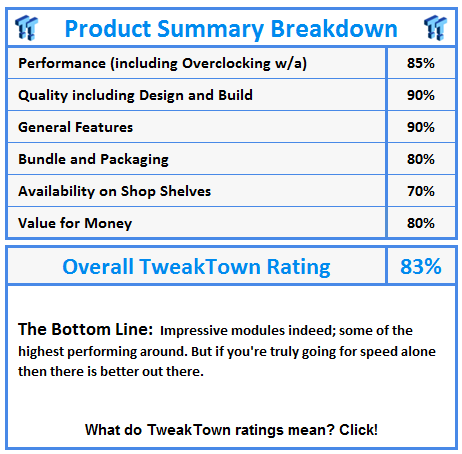 DDR3 Kit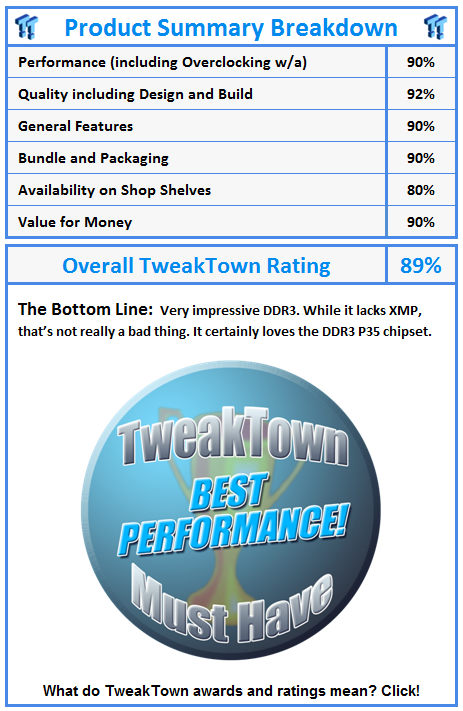 PRICING: You can find products similar to this one for sale below.

United States: Find other tech and computer products like this over at Amazon.com

United Kingdom: Find other tech and computer products like this over at Amazon.co.uk

Australia: Find other tech and computer products like this over at Amazon.com.au

Canada: Find other tech and computer products like this over at Amazon.ca

Deutschland: Finde andere Technik- und Computerprodukte wie dieses auf Amazon.de
We openly invite the companies who provide us with review samples / who are mentioned or discussed to express their opinion. If any company representative wishes to respond, we will publish the response here. Please contact us if you wish to respond.