Introduction
DDR-2 memory is certainly here to take on the mainstream and enthusiast markets. Until recently the only platform supporting DDR-2 was Intel with their 900 series Express chipset. Intel is not the only player in DDR-2 now. AMD has finally voiced its support for DDR-2 with the AM2 based K8 range using the new AM2 socket.
AMD has joined the 21st century of memory technology and adopted DDR-2 for its AM2 range of K8 processors. This now includes the Sempron, Athlon 64, Athlon 64 X2 and Athlon 64 FX processors.
Today we are taking a look at DDR-2 in our roundup of 8 modules from various companies in various speeds to see just what each company has put out and just what can be obtained from our Athlon 64 X2 AM2 platform.
We have modules from Corsair, G.Skill, Kingston, OCZ, A-DATA, SyncMAX, Super Talent, TwinMOS and the latest player who we just recently took a tour of their facility, Team. Since we started testing the modules, there have been some newer modules released and we'll be testing those soon - we cannot keep adding new modules or the article will never get completed.
So sit back, grab a cold one and enjoy what we have put together for your statistic pleasure - Battle of the Memory Monsters. Who will be the overclocking king?
The Modules - Corsair and G.Skill
Corsair XMS2 8500
First on our list is Corsair's XMS2 2GB DDR-2 modules set for a base line speed of 1066MHz DDR. These modules are set to be the companion to the Intel Core 2 systems using a 266MHz FSB, as these modules will run 1:2 at 533MHz (1066MHz) without a problem. These also will work well with AMD Athlon 64 systems as 266MHz FSB on AMD is nothing these days.
Corsair's XMS2 modules look quite identical to any of the other modules they have released to the market in the XMS range. The "2" on the end identifies that these are DDR-2 modules, so you won't buy DDR accidentally for your DDR-2 system or vice versa. The black heatspreader is prominent in the Corsair range with a white and purple sticker on the front and back.
On the front side of the modules is where Corsair put some basic info on the modules which includes operating speeds, speed rating of the memory and the serial number.
Our kit was a 2GB DDR-2 XMS2 8500 series with timings of 5-5-5-15-2T running at 1.8v. These modules have been rated with the new EPP or Enhanced Performance Profile of 5-5-12-2T with a maximum voltage rating of 2.2v for 1066MHz DDR if you want to push your RAM that hard.
We kept the speeds at the SPD defaults to give us the best possible overclocking curve. We managed to get a maximum speed of 1308MHz DDR (654MHz) total out of the memory using SPD timings and voltage of 2.2v. We did try higher voltage to the extent of 2.5v but this simply didn't allow any faster speed - in fact, it resulted in instabilities at 1308MHz DDR.
G.Skill PC2-8000
Next on the list is G.Skill's 1000MHz DDR-2 modules. These modules use a standard bus speed of 500MHz to obtain their DDR-2 1000MHz rating and are ideal for AMD processors and the new Core 2 range from Intel with 266MHz FSB.
G.Skill's modules are a matched pair of 1GB modules for a 2GB kit and 512MB modules for the 1GB kit. We received the 2GB kit for our testings. The heatspreader is a black thin alloy heatspreader with G.Skill's logo and name in raised engravings. These are held onto the modules with doubled sided heat transfer tape and 2 U-clamps at both ends.
On the front side of the module is a sticker with the memory timing ratings as well as the serial number. G.Skill have set the timings at 4-4-4-5-2T (the best timings in any of the 1066MHz DDR memory we tested here today) with a maximum supported voltage of 2.2-2.3v depending on what your motherboard supports. Anything above 2.2-2.3v will void warranty; however, this is more than enough for our testings.
We ran the full 2.3v into the memory and managed a final speed of 1185MHz DDR (592.5MHz) fully stable at SPD timings. Users in forums have been reaching speeds over this by reducing the timings but we are only interested in the maximum speed at SPD for this article. While higher clock speed is good, tight SPD timings are also very important.
We did push the voltage to 2.5v but this did not result in any further speed increase - stability was identical to that at 2.3v, so there is no need to run an extra 0.2v into the RAM for no reason but to shorten the life of the modules.
The Modules - OCZ and Super Talent
OCZ EL PC2-8000 Platinum Extreme Edition
It's been some time since we have seen OCZ RAM come into our labs and it's good to have the boys from the USA show up again to see how far they have come in OCZ's relatively short life time. Dedicated to the overclockers, OCZ has put a lot of work into its memory modules, and the PC2-8000 EL is no different.
First off OCZ has gone with a totally unique heatspreader unit. The heatspreader is platinum coated allow with a honeycomb interior. While it's debatable if this increased surface area for cooling will make any difference, it does look rather smick and is definitely an eye candy thing. In the middle on both sides of the heatspreader are raised "Z" logos that represent the company logo and really set the memory off in terms of style.
On the front of the RAM modules OCZ has placed its sticker with memory module data. OCZ has set their modules up with a SPD rating of 4-5-4-15-2T. OCZ has a 2.2v maximum voltage rating on its modules that still covers you for warranty.
We ran these modules at 2.2v to see what was obtainable and we managed to get 1208MHz (604MHz) without any problem. With 2.5v we managed to get 1225MHz DDR (612.5MHz) stable.
Super Talent TX800 Series
This is the first memory we have received from Super Talent for our review pleasure and it's great to see new companies coming into the hardware market.
Super Talent puts a silver alloy heatspreader on its modules with Super Talent imprinted at the far end. Apart from that there are very little other markings.
One thing that we didn't like here was that Super Talent didn't put any direct info on their modules in relation to speed, timings or serial numbers. Only a small sticker with a code was included that we had to lookup on Super Talents website to get any direct info.
These modules are rated at DDR-2 800MHz, so they are ideal for use with the Intel P965 series chipsets at stock speeds. The SPD rating for these modules is 4-4-3-8-2T. There are no voltage warranties with these modules, so going above 1.8v will put you out with Super Talent's RMA team. We managed to get these to a maximum speed of 1098MHz DDR (549MHz) with memory voltages at 2.2v. Anything more would result in constant reboots of the system and no posting.
The Modules - Kingston and A-DATA
Kingston HyperX PC2-8000
Kingston is no stranger to us, we have enjoyed many tests and reviews in the past with this fine company and today they have come onboard to give us a sample of one of the latest modules to come off their shipping line.
Kingston has a blue allow heatspreader with the Kingston logo on the front and HyperX logo on the back. DDR-2 is also written on both sides so you know what version you are getting. The heatspreader is the same design as the one used by G.Skill that is attached with double sided heat tape and held with the metal U-Clips for security.
Kingston places a sticker on the front right of the board with the model number of the memory along with some basic info. Kingston doesn't include any timing info, for that we had to visit the Kingston site and download their datasheet.
These modules are rated to run at 1000MHz DDR using 2.2v with ratings of 5-5-5-15-1T. We managed to only get the modules to a max of 1080MHz DDR (540MHz) using 2.2v. If we went above 2.2v, memory refused to post. This was a big source of mystery for us; however, we did these tests on both AMD and Intel systems and obtained the same results. Possibly a bad batch?
A-DATA Vitesta DDR-2 800
A-DATA we have run into a couple of times in our labs. They are one of the leading OEM brands when it comes to cheap systems but they also now target the overclocking user.
A-DATA's Vitesta modules are rather unique in their colour scheme. This is the first time I can honestly say I have seen a pink memory module! The heatspreader is coloured bright pink with the A-DATA logo and Vitesta logos on both sides of the modules. The heatspreader is the same as used by both Kingston and G.Skill in terms on the clamping mechanism.
Like Kingston, A-DATA doesn't put much information on their modules in terms of technical data. There is a sticker on the front of the modules but no direct information. There was no direct information on the website either therefore we used software to find the SPD.
The timings were 5-5-5-12-2T. These modules are warranted for only 1.8v so going above this results in no warranty. We ran the modules at 2.2v which was the optimal voltage setting - we got from 800MHz DDR (400MHz) up to 1112MHz DDR (556MHz) which makes these modules quite fast for the design.
The Modules - SyncMAX and Team Group
SyncMAX Express DDR-2 667
SyncMAX are also a new player in the memory module market. We haven't heard much of SyncMAX, let alone seen any of their modules in stores.
SyncMAX doesn't put any heatspreader on the modules that they sent to us. This is because they are only rated for DDR-2 667MHz speeds.
The sticker on the front gives some info on the memory speed and ratings. The SyncMAX Express we were sent was rated with timings of 4-4-4-8-2T with 1.8v maximum memory voltage. We could only get 2.0v out of these modules before instability set in - we did manage 828MHz DDR (414MHz) before system stability was compromised.
Team Xtreem DDR-2 1000MHz
Team Group was one of the companies we managed to gain a tour of just recently, while there we secured some modules to add to our roundup. This is also a new group we have met and before now, didn't realise what they had to offer.
Team's memory modules are in fact one of the more unique looking modules out there. The spreader looks like s single piece of flat alloy with the Team Xtreem logo in one corner and the Team logo on the other corner.
The sticker on the front gives quite a bit of info on the modules capabilities. Team has sent these modules into the world with timings of 5-5-5-15-2T. Voltage range for these modules is supported to a maximum of 2.3v, which is quite impressive. We only needed 2.2v as any more resulted in no further overclocking of the RAM.
These modules managed a decent speed of 1145MHz DDR (572.5MHz).
The Modules - TwinMOS
TwinMOS Twister PC2-6400
TwinMOS is no stranger to us; in fact we tested some of their first Twister modules on our site some time ago and found them to be somewhat good, though not really worth the extra money. We have today their Twister DDR-2 800MHz modules in our labs.
TwinMOS places a sticker on the back side of its Twister modules with some basic info. These modules are rated for 800MHz DDR operation with ratings of 4-4-4-8-2T.
TwinMOS only warrants the use of 1.8v so going above this is simply not going to be good for those who want to keep their warranty. We managed to get 2.2v into the RAM for a maximum speed of 995MHz DDR (497.5MHz).
Benchmarks - Test System Setup and Sandra
Test System SetupProcessor
:AMD Athlon 64 X2 3800+ Socket AM2
Motherboard
: MSI K9N Platinum (Supplied by
MSI Australia
)
Hard Disk
: Seagate 7200.9 500GB SATA (Supplied by
Seagate Australia
)
Graphics Card
: nVidia GeForce 7800GT
Operating System
: Microsoft Windows XP Professional SP2
Drivers
: nForce Platform Driver 9.16, ForceWare 91.31 and DX9c
Our test system was an AMD Athlon 64 X2 on the AM2 platform as it was the first CPU/Motherboard platform at the time we started testing to officially support DDR-2 800 from stock without overclocking the CPU.
This is done by running a divider of 1:2 as the AMD Athlon 64 series uses 200MHz starting bus to get the required 400MHz memory clock for 800MHz DDR. It is required to double the FSB clock speed to the memory controller hence a 1:2 ratio is used. This gave us a good baseline to determine the memory modules ability to run DDR-2 800 which all our modules did without a problem. We then lowered the CPU multiplier and raised the FSB while leaving the RAM dividers set for DDR-2 800 (1:2).
As we raised the FSB, we lowered the multiplier of the CPU in order to keep the final CPU clock speed as close to 2.2GHz as possible - it's not an ideal world, so each module had a slightly different processor clock speed.
The speeds that are on our graphs are the DDR-2 speeds that the memory is running - in order to get the actual clock speed, you need to take the DDR-2 speed recorded in our graphs and halve it. For example, the Corsair memory operated at 1308MHz DDR which results in a 654MHz memory clock speed.
All memory modules are running at their default SPD timing speed. Some modules may be able to obtain a higher clock speed by loosening the timings but this is not the purpose of this article. We are here to tell you the maximum clock speeds at SPD - it is just not possible with this many memory modules to find the perfect medium between SPD and clock speed. SPD and clock speed are both important - as you will see, even running quite a slower clock speed, some memory modules are not too far behind the leaders because they use tight timings.
SiSoft SandraVersion and / or Patch Used:
2007
Developer Homepage:
http://www.sisoftware.co.uk
Product Homepage:
http://sisoftware.jaggedonline.com/index.php?location=home&a=TTA&lang=en
Buy It Here
SiSoft Sandra (
S
ystem
AN
alyser,
D
iagnostic and
R
eporting
A
ssistant) is a synthetic Windows benchmark that features different tests used to evaluate different PC subsystems.
The results are as expected here - Corsair is leading the pack because this benchmark just measures the raw memory bandwidth and that comes from the clock speed of the RAM.
Benchmarks - PCMark05
PCMarkVersion and / or Patch Used:
1.1.0
Developer Homepage:
http://www.futuremark.com
Product Homepage:
http://www.futuremark.com/products/pcmark04/
Buy It Here
PCMark is a multipurpose benchmark, suited for benchmarking all kinds of PCs, from laptops to workstations, as well as across multiple Windows operating systems. This easy-to-use benchmark makes professional strength benchmarking software available even to novice users. PCMark consists of a series of tests that represent common tasks in home and office programs. PCMark also covers many additional areas outside the scope of other MadOnion.com benchmarks.
PCMark shows that the higher bus gives the overall better result. Wins are to the Corsair in first, OCZ in second and the G.Skill in third with its tight SPD timings.
The G.Skill memory is only just behind the OCZ memory even though the memory speed is 60MHz slower - it is clear that the SPD timings help make up for some of the lost ground in the clock speed department.
Benchmarks - ScienceMark 2.0
ScienceMark 2.0
ScienceMark 2.0 is a mathematical program designed to stress the memory subsystems of both desktop/workstation and server environments to determine the read/write latency as well as the overall memory bandwidth available between the CPU and the memory controller.
The higher speeds of the Corsair and OCZ give these modules a clear lead, especially in the bandwidth side. On the timing side of things we see the OCZ memory make its move on the Corsair memory with its tighter timings.
Benchmarks - 3DMark05
3DMark05Version and / or Patch Used:
Build 120
Developer Homepage:
http://www.futuremark.com
Product Homepage:
http://www.futuremark.com/products/3dmark05/
Buy It Here
3DMark05 is now the second latest version in the popular 3DMark "Gamers Benchmark" series. It includes a complete set of DX9 benchmarks which tests Shader Model 2.0 and above.
For more information on the 3DMark05 benchmark, we recommend you read our preview
here
.
3DMark05 gives a close race between the OCZ and Corsair memory modules; OCZ comes in pretty close due to its lower timings than the Corsair modules.
Benchmarks - 3DMark06
3DMark06Version and / or Patch Used:
Build 102
Developer Homepage:
http://www.futuremark.com
Product Homepage:
http://www.futuremark.com/products/3dmark06/
Buy It Here
3DMark06 is the very latest version of the "Gamers Benchmark" from FutureMark. The newest version of 3DMark expands on the tests in 3DMark05 by adding graphical effects using Shader Model 3.0 and HDR (High Dynamic Range lighting) which will push even the best DX9 graphics cards to the extremes.
3DMark06 also focuses on not just the GPU but the CPU using the AGEIA PhysX software physics library to effectively test single and Dual Core processors.
With more stress placed on the system, we see the gap between the OCZ and Corsair close up due to the lower latencies of the OCZ memory.
Benchmarks - Doom 3
Doom 3Version and / or Patch Used:
1.1
Timedemo or Level Used:
Custom Timedemo
Developer Homepage:
http://www.idsoftware.com
Product Homepage:
http://www.doom3.com
Buy It Here
Doom 3 is still one of the most popular games at the moment and is quite intensive in the 3D department, even though it is starting to age. With our own custom time demo we are able to give a realistic rating on what kind of FPS you will be achieving.
For more information on benchmarking Doom 3 we recommend you check out our extensive article regarding it
here
.
Doom 3 likes higher bandwidth rather than lower latencies; here Corsair is the clear winner.
Benchmarks - Quake 4
Quake 4Version and / or Patch Used:
Unpatched
Timedemo or Level Used:
Custom Timedemo
Developer Homepage:
http://www.idsoftware.com
Product Homepage:
http://www.quake4game.com
Buy It Here
Quake 4 is one of the latest new games to be added to our benchmark suite. It is based off the popular Doom 3 engine and as a result uses many of the features seen in Doom. However, Quake 4 graphics are more intensive than Doom 3 and should put more strain on different parts of the system.
Quake 4 also likes higher bandwidth than lower latencies; Corsair manages to win out here.
Benchmarks - F.E.A.R.
F.E.A.R.Version and / or Patch Used:
Unpatched
Timedemo or Level Used:
Custom Timedemo
Developer Homepage:
http://www.vugames.com
Product Homepage:
http://www.whatisfear.com/us/
Buy It Here
F.E.A.R. (First Encounter Assault Recon) is an intense combat experience with rich atmosphere and a deeply intense paranormal storyline presented entirely in first person. Be the hero in your own spine-tingling epic of action, tension, and terror...and discover the true meaning of F.E.A.R.
In our last test the higher bandwidth of Corsair is a major factor for this as it manages to gain a few extra FPS over the rest.
Final Thoughts
DDR-2 is simply the next step up for the DDR platform and it's clear to see speeds are now scaling beyond that of the aging standard. While it was great in its day, DDR cannot provide the raw bandwidth that today's hungry processors crave - that's where DDR-2 comes in, and our tests today showed us some amazing results.
Corsair was extremely impressive, not only did it manage to give us some great clock speeds but (at least from our research in the Australian market) its pricing is extremely competitive for such high clocked memory. OCZ clearly is another great choice for speed and even a good price range, considering OCZ in the past has been some of the more expansive RAM modules on the market. G.Skill memory while not able to overclock as high was running more impressive SPD timings and it's clear that tight timings are also important when it comes to performance.
SyncMAX, TwinMOS and A-DATA we also have to give some credit to, as these modules simply performed quite well for their price and performance bracket they fell into. Super Talent did a good job of performance but still wasn't exactly what we were fully hoping for. Our real disappointment was the Kingston HyperX which we found to be the least performing memory, though we didn't have Core 2 to test the RAM on at the time, maybe it simply isn't the right companion for the AM2 platform.
One of the big surprises was the Team Xtreem memory which managed to offer some very solid performance - we're looking forward to testing more Team memory in the future. We hope this article has provided you with a good guide on which DDR-2 memory to choose.
During our testing new RAM has been released and we'll be providing individual reviews of this memory soon.
FINAL RATINGSCorsair Rating - 9.5 out of 10




and TweakTown's "MUST HAVE" Editors ChoiceOCZ Rating -
8.5 out of 10
G.Skill Rating -
8.5 out of 10
Kingston Rating -
6.5 out of 10
A-DATA Rating -
: 8 out of 10
Team Rating - 9 out of 10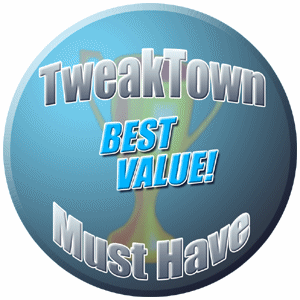 and TweakTown's "MUST HAVE" Best Value AwardSyncMAX Rating -
7.5 out of 10
TwinMOS Rating -
7.5 out of 10