Introduction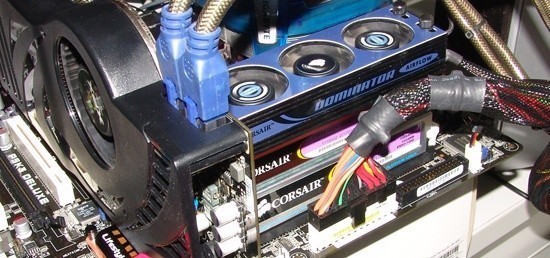 DDR-3 memory is not exactly something new, we have been hearing about it for over a year thanks to the VGA market. Much was the same with DDR-2 and much will be the same with GDDR-4 as we are hearing it being mentioned on the latest graphics cards like the upcoming HD 2950 XTX from AMD.
The release of the P35 chipset from Intel has marked DDR-3 memory coming to the mainstream market. While pricey at the moment and not looking all that attractive when it comes to timings, we find ourselves in the same position as at the launch of DDR-2 which came with a high price tag and pretty ordinary looking specs out of the gate.
With a bunch of motherboards along with some DDR-3 memory from our friends at Corsair, we are going to dive in and have a look at exactly what an upgrade to DDR-3 is going to do for us at this point in time but is it worth jumping straight on the bandwagon right now? Maybe we should wait it out for a bit? Is the P35 a worthy upgrade from the P965? This and more will be answered as we look through a number of different setups and benchmarks in this article.
Let us have a closer look at what exactly DDR-3 is along with what is running what today.
Motherboards
- ASUS P5B Deluxe (P965)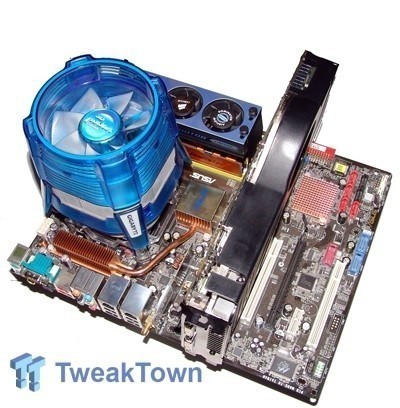 The P965 chipset from Intel has been the chipset of choice for performance Core 2 Duo users that opt for a single graphics card solution. We emphasize the fact that it is for single card users for the plain fact that anyone serious about his or her graphics performance is going to be looking at an SLI setup from Nvidia and be using the nForce 680i chipset.
The advantage that the P965 had over the 975X and even the nForce 680i was that the overclocking ability was uncanny. High front side bus levels could be achieved, and with so many people using the chipset even newcomers to overclocking managed to get their 2.4GHz E6600 running at 3GHz with very little effort.
While the memory bandwidth was generally slightly lagging between the older but more expensive 975X, with such huge FSB speeds it did not matter, the memory performance could be made to catch up and then overtake anything that the 975X was spitting out.
The ASUS P5B Deluxe is one of our personal favorite P965 boards, it was used on our VGA test bed for a long time and managed to run our E6600 between 3GHz and 3.33GHz without much effort at all. For that reason it is being used today to see how the P35 performance has changed from the P965.
- ASUS P5K Deluxe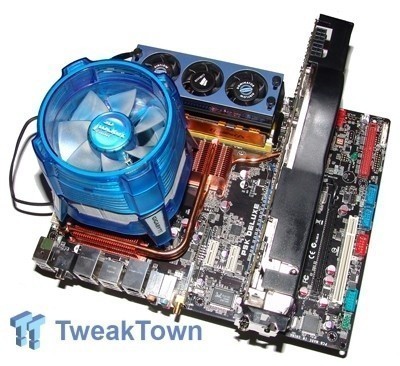 Performance P965 boards are coming off the shelf left right and center, and with restocking slowing down, the P35 chipset from Intel is coming in as a replacement. The P35 is capable of handling the new Yorkfield and Wolfdale processors coming later this year which carry a 1333MHz FSB. Also along with this we have support for DDR-2 800MHz or DDR-3 1066MHz. The P5k Deluxe from ASUS carries support for DDR-2 800MHz memory only. With three versions of the newest southbridge the ASUS P5K Deluxe brings with it the RAID wielding ICH9R version.
- ASUS P5K3 Deluxe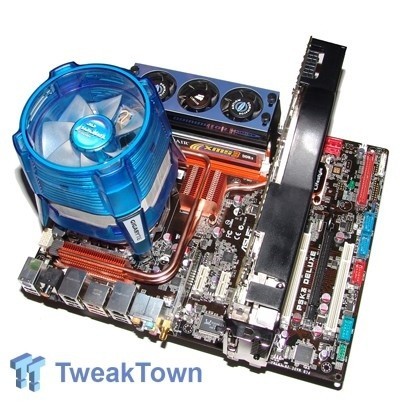 This board looks almost identical to the P5K Deluxe. Looking physically at the board the only really noticeable difference is the heat pipe design. We of course also have the DDR-3 memory slots on this model thought at first glance you could not really tell; in all honesty it probably would not be until you tried to install DDR-2 memory into that you would notice something a little weird.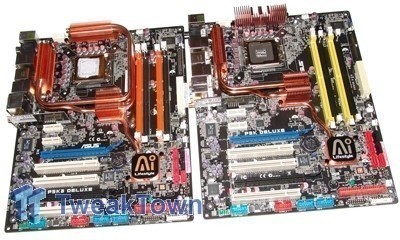 As you can see the P5K3 on the left with the orange slots has an extra pipe on the right side of the CPU socket.
A closer look at the ASUS P5K(3) Deluxe
Closer look at the P5K(3) Deluxe
The package of the P5K Deluxe and the P5K3 Deluxe are almost identical with only a few changes on the box. Before we dive into having a look at the memory we have on hand today let us just have a quick sneak peek at the package of the P5K Deluxe and P5K3 Deluxe.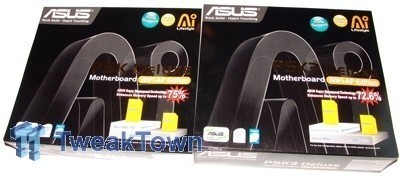 The front of the box has an elegant look about it with the model number in gold writing. The only other difference between the two is the graphs that show a difference between ASUS memory performance and its competitors. We are not holding our breath though for 75% increases.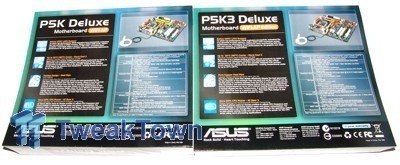 Turning the box over we can also see that we have a very similar layout, the only changes include the fact that the P5K Deluxe says it natively supports DDR-2 1066MHz while the P5K3 natively supports DDR-3 1333MHz. The picture in the top right corner is different with the noticeable heat pipe difference between the two boards.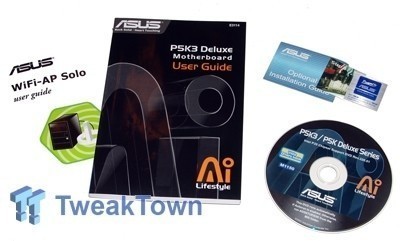 Diving into the package apart from the name on the manual and the extra fan that comes with the P5K3 Deluxe there is no difference between the two. All the usual culprits are seen, manual, quick install guide along with our ASUS sticker.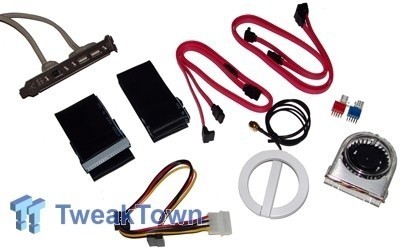 We have 4x SATA cables, 1x IDE cable, 1x floppy cable, molex to SATA cable, wireless antenna and USB 2.0/Firewire header. All very standard when it comes to the Deluxe package from ASUS. As we just mentioned the cooler seen is only included with the P5K3 Deluxe variant.
Getting knee deep with Corsair XMS3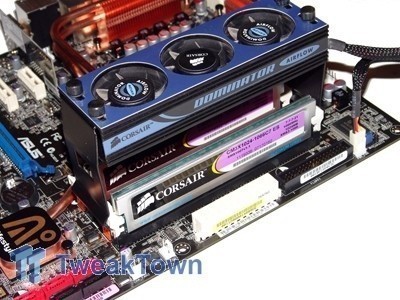 If you are going to look into DDR-3 you may as well do it in style, Corsair has been on the top of the "to buy" list of a number of enthusiast users for years. The XMS became popular back in the DDR days and it feels like yesterday we were trying to hunt down some DDR 333 BH-5 modules from Corsair so we could achieve that glorious overclock.
We follow on in the XMS name with the latest series to enter it being the XMS3, the 3 of course lets us know that these modules are DDR-3. Currently the 1066MHz XMS3 modules we have are the only ones available in Corsair's range, though word is that within the next few weeks we should see 1333MHz DDR-3 memory join the ranks of the latest elite lineup from Corsair.
The launch of DDR-3 is much like that of DDR-2, the current timings on the 1066MHz memory comes in at what people would consider quite a sloppy 7-7-7-21. Considering Corsair has the Dominator PC10000 which is capable of 1250MHz at 5-5-5-18 along with its PC6400 800MHz modules achieving timings as low as 3-4-3-9 at default, it is easy to see how you can come to this conclusion.
Not only are the timings high like the release of DDR-2 but we also have high prices with a lot of countries not even listing DDR-3 at the moment and of course causes a miserable supply rate. It's not Corsairs fault though with DDR-3 boards not being available in most countries it makes sense that they aren't going to flood the market with DDR-3, especially considering that as demand and supply picks up prices will begin to drop.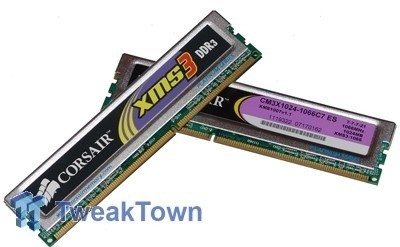 DDR-3 is of course just another evolution jump in the world of memory, like we did from SD to DDR and DDR to DDR-2 we are now going to slowly transition to the much higher clocked DDR-3. Increased speeds give us increased bandwidth and eventually the goal is that we see DDR 2000MHz at timings like 5-5-5-18 and lower clocked 1066MHz or 1333MHz running a CAS latency of 3 or 4.
Looks wise the memory of course is very XMS with the platinum heat spreader. There is no doubt it is not the best looking module in the lineup, hopefully we will see Corsair release a line of Dominator DDR-3 modules with the fancier heatsink and RAM cooling option.
The biggest specification changes with the release of DDR-3 that actually affect the user are the official JEDEC speeds which are from 800Mbps to 1600Mbps compared to DDR-2 and its 400Mbps to 800Mbps, also the fact that it is capable of running at less voltage, 1.5V versus 1.8V, than DDR-2 as well as one of the more cooler features...literally, the optional inclusion of a thermal sensor on the RAM.
Aside from this there are a few other new features like the inclusion of a "fly-by" Topology instead of a "conventional T" model that was used on DDR-2, we also see a doubling in the amount of internal banks from four (DDR-2) to eight (DDR-3) which helps reduce access latency.
Benchmarks - Test System Setup and Sandra
Test System SetupProcessor(s):
Intel Core 2 Duo E6600 @ 3GHz (333MHz FSB x 9)
Motherboard(s):
ASUS P5B Deluxe, ASUS P5K Deluxe and ASUS P5K3 Deluxe (Supplied by
ASUS
)
Video Card(s):
XFX GeForce 8800 Ultra XXX (Supplied by
XFX
)
Memory:
2 X 1GB Crucial PC6400 5-5-5-15 (Supplied by
Crucial
) and 2 X 1GB Corsair XMS3 DDR-3 1066MHz 7-7-7-21 (Supplied by
Corsair
)
Hard Disk(s):
Hitachi 80GB 7200RPM SATA 2
Operating System:
Microsoft Windows XP Professional SP2
Drivers:
Nvidia ForceWare 158.22 and DX9c
Intel P35 chipset brings with it full support for the new 333MHz FSB processors coming from Intel in the coming months. Setting our FSB to 333MHz we achieve a clock speed of 3GHz and emulate what the new E6850 Core 2 Duo processor from Intel should be like.
Now while we achieved this front side bus on all three boards without any problems, the RAM dividers on the P965 motherboard from ASUS is slightly different to that of the new P35 chipset and its motherboards. When at 333MHz FSB we could set the P5K and P5K3 to run our memory at 800MHz (DDR-2 only!), 1066MHz (default speed for the XMS3) and 1333MHz (DDR-3 only!).
The P5B Deluxe P965 let us run at 833MHz and 1000MHz on our DDR-2 memory, meaning that at the lower speed it was clocked slightly higher and at the higher slightly lower than its P35 DDR-2 counterpart.
1500MHz Results
While we thought all these different setups were exciting we thought we had to have a closer look at what DDR-3 was going to be capable of, while leaving the voltage at the standard 1.5V it was time to increase the FSB since at 333MHz the highest divider was setting the memory at 1333MHz. The only way we would increase the DDR-3 beyond this meant that the processor was also going to get a bump in speed so please make a note of this. With default voltage in hand we found ourselves hitting a wall at 1500MHz DDR or 375MHz FSB with a 1:2 divider.
IMPORTANT NOTE - Now while the results are significantly higher in most sections please remember that the processor is now running at 3.375GHz as opposed to the flat 3GHz in all our other tests.
SiSoft Sandra XIVersion and / or Patch Used:
XL
Developer Homepage:
http://www.sisoftware.co.uk
Product Homepage:
http://sisoftware.jaggedonline.com/index.php?location=home&a=TTA&lang=en
Buy It Here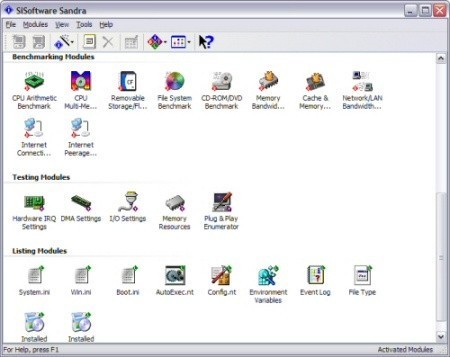 SiSoft Sandra (
S
ystem
AN
alyser,
D
iagnostic and
R
eporting
A
ssistant) is a synthetic Windows benchmark that features different tests used to evaluate different PC subsystems.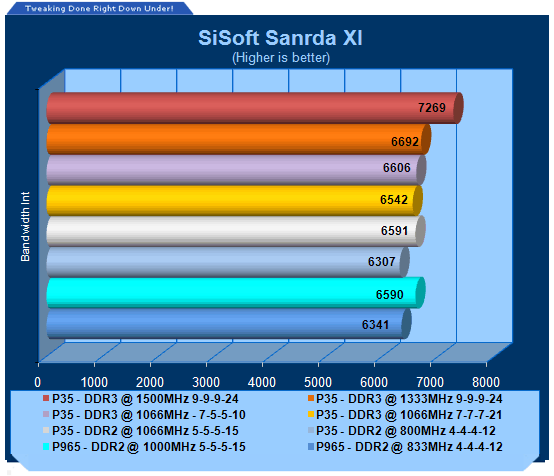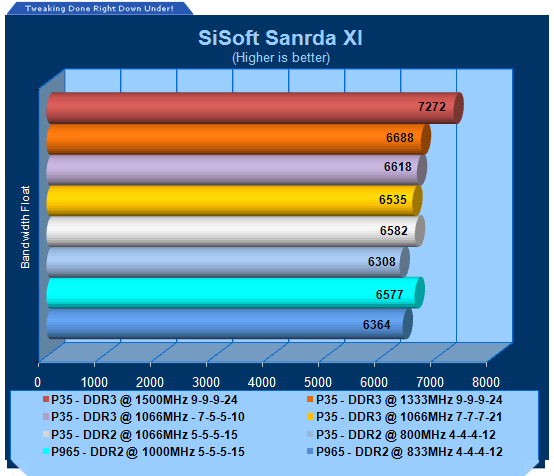 Looking at the P965 and P35 DDR-2 performance we can see that results are very similar. Moving to DDR-2 vs. DDR-3 it is not until we are at 1333MHz that we see that we are slightly ahead of all the other setups. The looser 7-7-7-21 timings see us slightly behind DDR-2 running at the same speed (1066MHz) using 5-5-5-15 but going slightly more aggressive with the DDR-3 and getting 7-5-5-10 we can see that it is slightly faster than all the other memory clocked at 1066MHz. 1333MHz gives us another slight increase at 1500MHz with our CPU speed running faster showing us the biggest amount of performance.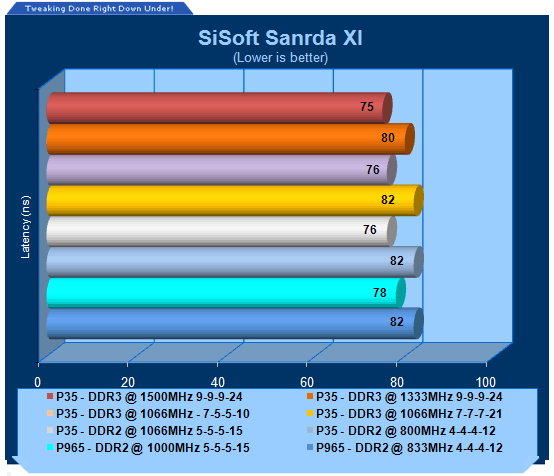 Across the board the latency of the DDR-3 generally seems to be better, especially when we become more aggressive with the timings. What is interesting is at 1333MHz the latency takes a bit of a hit thanks to the very loose timings. It is not until we move higher up to 1500MHz with the CPU clocked up that we are able to achieve results only slightly better than the DDR-3 at 7-5-5-10 or DDR-2 at 5-5-5-15.
Benchmarks - Everest Ultimate Edition
Everest Ultimate EditionVersion and / or Patch Used:
2006
Developer Homepage:
http://www.lavalys.com
Product Homepage:
http://www.lavalys.com
Buy It Here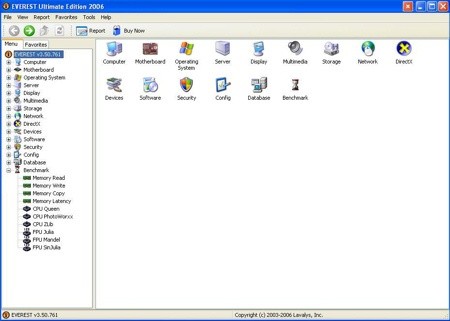 Everest Ultimate Edition is an industry leading system diagnostics and benchmarking solution for enthusiasts PC users, based on the award-winning Everest Technology. During system optimizations and tweaking it provides essential system and overclock information, advanced hardware monitoring and diagnostics capabilities to check the effects of the applied settings. CPU, FPU and memory benchmarks are available to measure the actual system performance and compare it to previous states or other systems.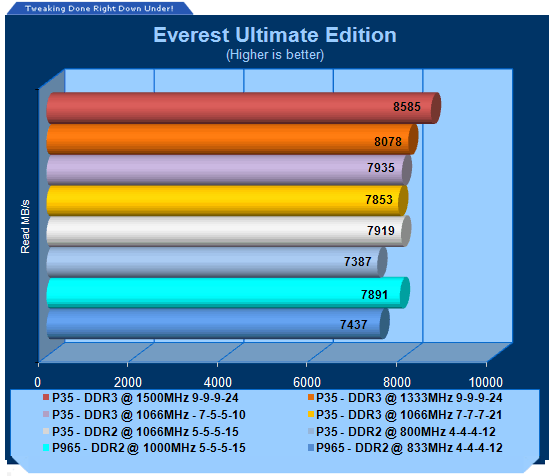 The biggest gains can be seen with the move from 800MHz to 1066MHz. P965 vs. P35 performance is pretty similar with 1066MHz sneaking just ahead of 1000MHz, and 800MHz just behind 833MHz. At the default 7-7-7-21 timings DDR-3 seems to lag just slightly behind its DDR-2 5-5-5-15 counterpart. When you move to 7-5-5-10 the DDR-3 fights back and sneaks ahead with 1333MHz giving us a little bit more speed breaking 8000MB/s. Of course 1500MHz and our increased FSB see us well over 8500MB/s.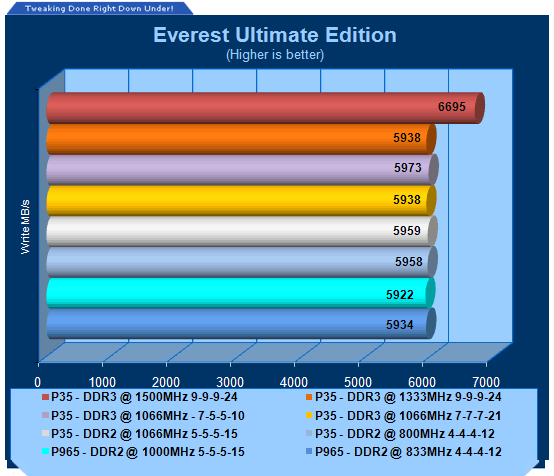 Write speeds across the board are very similar, the good thing is that Everest is very consistent, so while there might only be 50MB/s difference it is going to be faster which again shows us that P965 vs. P35 does not have a huge amount going for it. DDR-3 at 7-7-7-21 vs. DDR-2 at 5-5-5-15 sits slightly behind, and when we get more aggressive with the DDR-3 timings doing 7-5-5-10 it is able to outperform the DDR-2. The loose timings at 1333MHz put us closer to the standard 7-7-7-21 timings at 1066MHz and the 1500MHz power clock is spitting out big numbers again thanks to the high speeds of not only the memory but the processor.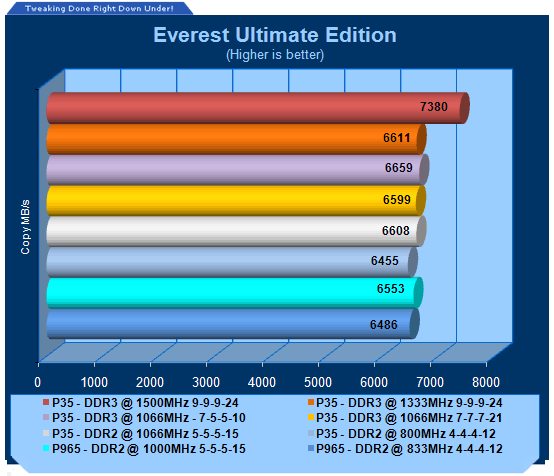 Copy speeds paint the same picture as we saw in our write tests, we can see that the move from 800MHz to 1066MHz also carries with it the biggest jump in performance.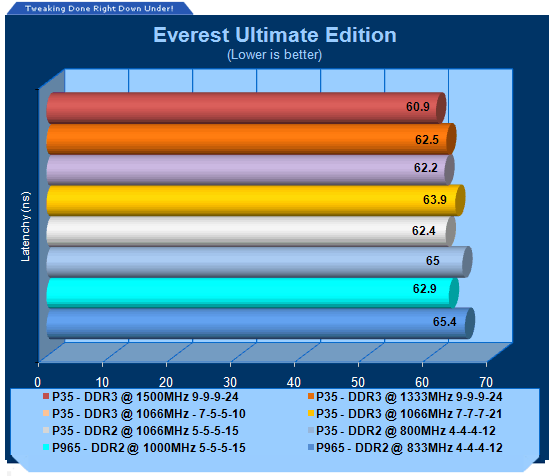 We can again see that at the default timings at 1066MHz the latency is noticeably higher than the 1066MHz DDR-2 running 5-5-5-15 but when we move to 7-5-5-10 on the DDR-3 it outperforms the DDR-2. Even at the same speeds and a CAS rating of 7 versus 5 it is able to outperform the DDR-2 memory.
Benchmarks - ScienceMark
ScienceMark 2.0
ScienceMark 2.0 is a mathematical program designed to stress the memory subsystems of both desktop/workstation and server environments to determine the read/write latency as well as the overall memory bandwidth available between the CPU and the memory controller.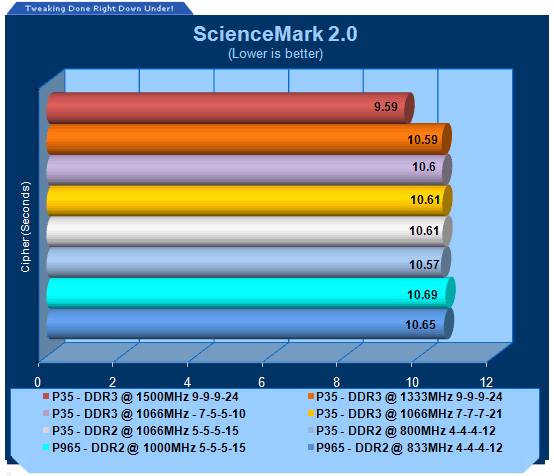 With all results sitting at around the 10.6 mark there is no really noticeable gain between the different setups, we can again see that the 375MHz FSB vs. 333MHz and 1500MHz memory speed give us a 1 second gain which equates to a 10% performance increase.
The molecular test that takes longer means that we can see a larger difference between scores. Again the biggest notes would have to be the fact that the DDR-3 running at 1066MHz and its default timings manages to lag behind the DDR-2 running at the same speed but at 5-5-5-15. However, when we get more aggressive on the DDR-3 and move it to 7-5-5-10 we see that it manages to be the fastest 1066MHz memory here. Again we can see that the increased FSB and memory speed shows us huge gains.
Benchmarks - PCMark
PCMarkVersion and / or Patch Used:
2005
Developer Homepage:
http://www.futuremark.com
Product Homepage:
http://www.futuremark.com/products/pcmark04/
Buy It Here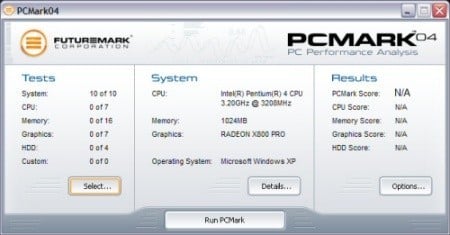 PCMark is a multipurpose benchmark, suited for benchmarking all kinds of PCs, from laptops to workstations, as well as across multiple Windows operating systems. This easy-to-use benchmark makes professional strength benchmarking software available even to novice users. PCMark consists of a series of tests that represent common tasks in home and office programs. PCMark also covers many additional areas outside the scope of other MadOnion.com benchmarks.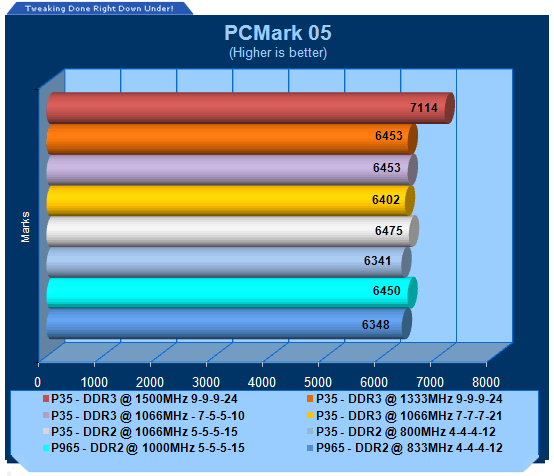 The trend is really set by now and continues to be consistent, P965 vs. P35 yields no real difference, DDR-3 at 1066MHz at 7-7-7-21 continues to get beat by DDR-2 at 5-5-5-15 but DDR-3 at 7-5-5-10 manages to be the fastest out of the three setups. The increased FSB and memory speed again shows us roughly a 10% gain in performance.
Benchmarks - Super PI - XS Mod
Super PI - XS ModVersion and / or Patch Used:
Xtreme Systems Mod
Developer Homepage:
http://pw1.netcom.com/~hjsmith/Pi/Super_Pi.html
Product Homepage:
http://pw1.netcom.com/~hjsmith/Pi/Super_Pi.html
Developed by some folks from the University of Tokyo (yes, Japan), Super PI is a small utility that does just as the name implies. It figures PI to a set number of decimal places. Since PI is an infinite number to the right of the decimal point, the utility measures the time it takes to figure a set number of places. It runs the calculations a set number of times and gives a time for the completion of the task. This is a simple and effective way to measure the raw number crunching power of the processor being used to compile the results.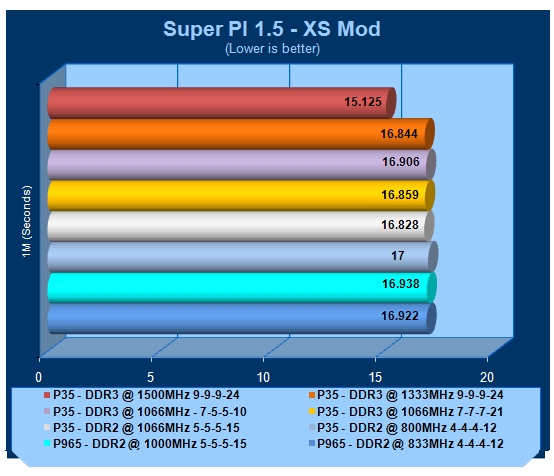 With only .15 of a second separating the numerous setups we can see that at the same FSB the increased memory speed is not giving us a huge effect. It is not until you start increasing the FSB and let the memory go with it that we see big gains in Super PI.
Benchmarks - 3DMark06
3DMark06Version and / or Patch Used:
Build 110
Developer Homepage:
http://www.futuremark.com
Product Homepage:
http://www.futuremark.com/products/3dmark06/
Buy It Here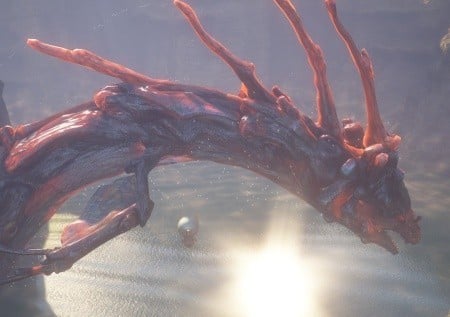 3DMark06 is the very latest version of the "Gamers Benchmark" from FutureMark. The newest version of 3DMark expands on the tests in 3DMark05 by adding graphical effects using Shader Model 3.0 and HDR (High Dynamic Range lighting) which will push even the best DX9 graphics cards to the extremes.
3DMark06 also focuses on not just the GPU but the CPU using the Ageia PhysX software physics library to effectively test single and dual-core processors.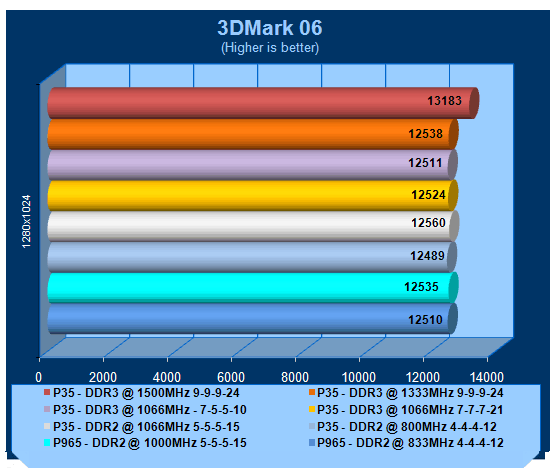 From a synthetic gaming point of view you can put the few marks difference between all the setups running at 333MHz FSB down to fluctuations. Not until we increase our FSB and memory speed do we see something different.
Benchmarks - Lost Planet: Extreme Condition
Lost Planet: Extreme Condition (DX9)Version and / or Patch Used:
DX9 Demo
Timedemo or Level Used:
Built-in Test
Developer Homepage:
http://www.capcom.com
Product Homepage:
http://www.nzone.com/object/nzone_lostplanet_home.html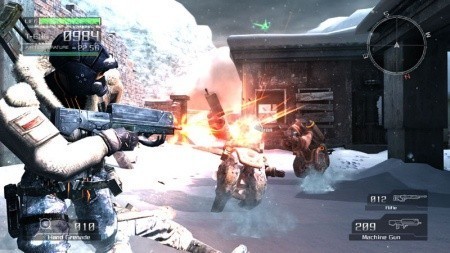 Driven to the brink of extinction on ice-covered wastelands, humankind fights to survive. From extreme conditions and insurgent Snow Pirates to hostile gargantuan alien Akrid, all that you can trust are your instincts.
Combining a gripping single player campaign and intense multiplayer modes with support for up to 16 players online, Lost Planet is an epic gaming masterpiece. Enormous world maps unfold as players' battle across vast snow fields and deserted cities either on foot or in armed, robotic Vital Suits.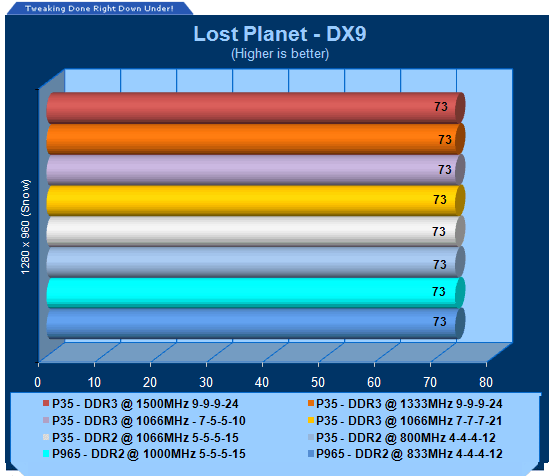 It is humorous when you see something like this, really what can you say? (Not a graph error).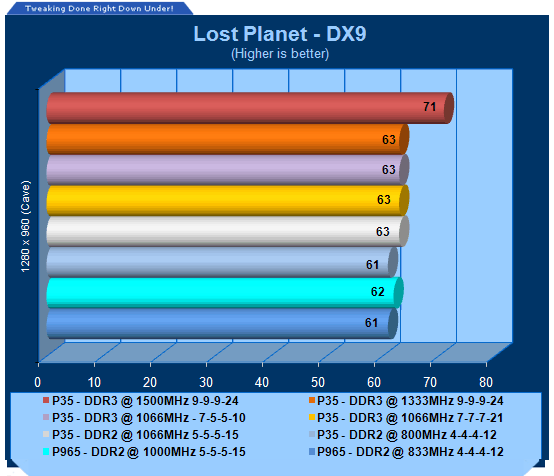 When we move to the Cave test we see that the jump from 800MHz to 1066MHz gives us a bump in performance, it is not until we raise the FSB and let the memory follow that we see a difference that again equates to 10%.
Final Thoughts
It feels like the release of DDR-3 might be too early to market, it still feels like only yesterday that DDR-2 had finally concreted its self into the ground as a serious performance memory option and that you did not need CAS 2 to be fast.
When you really think about it though, it comes as no real surprise that DDR-3 is being talked about seriously already with samples floating around the world wide web. The computer industry is all about staying on top of technology and that is exactly what we are seeing here today. While people might not realistically be buying DDR-3 for another 3 - 6 months, it is here, it is working and it is ready to go when the market needs it.
It also comes down to Intel again who is making the push for DDR-3. With so many memory manufactures out there it is not hard for Intel to make the move to DDR-3 and then get companies to follow. If you look at it from another perspective where
if
Corsair wanted to do DDR-3, with only a handful of chipset manufactures, and even less that people want to use, it would be harder for it to get to market. As always Intel is leading with innovative design and technology to help make sure the computer industry moves forward.
There are a few things to make note of when it comes to performance. Generally speaking the upgrade from P965 to P35 is not going to yield much in the way of extra memory performance. What it does bring though is a better interface for overclocking, more options and support for the new Intel processors.
The other thing is that from a synthetic point of view DDR-3 while at 1066MHz with tweaked timings of 7-5-5-10 was generally able to outperform DDR-2 1066MHz with 5-5-5-15. This again shows that CAS rating is not everything as DDR-3 does have other underlying performance enhancements. We do not doubt as time goes on 5/6-5-5-10 at 1066MHz is going to be relatively easy from DDR-3.
The bottom line though is at the top of every graph, 1.5V and 1500MHz DDR. This really sums up DDR-3 in a nutshell; we could go as far to say that we do not even need a Final Thoughts page thanks to these results. DDR-3 is ultimately about taking the speed to the next level. It looks like it is going to do this very well, Corsair has already mentioned the release of XMS3 1333MHz, hopefully we see something under the Dominator naming scheme, and then other companies starting to really place pressure with more speed and tighter timings. Companies may even showcase 1500 - 1600MHz DDR-3 memory at the upcoming Computex Taipei 2007 trade show and other companies have even already had success pushing 1066 DDR-3 memory to well over 2000MHz when pushing voltages up to the maximum.
DDR-3 is not for today! DDR-3 is for tomorrow! Price drops, new 333MHz FSB processors from Intel, X38 chipset, reworked timings, and more speed means that it is eventually going to be the ultimate choice for enthusiasts. Like it not, if you are a high-end user, you will be forced to buy DDR-3 memory before much longer.
While upgrading to DDR-3 at the moment might be like upgrading from a 8800 GTX to an 8800 Ultra we should find that within 12 months upgrading is more like moving from a 8600 GTS to an 8800 Ultra - sure the 8600 GTS or DDR-2 is doing what you need to do but performance junkies who want the best or people who just generally want everything on their PC zipping about a little quicker again will find themselves jumping on the DDR-3 bandwagon and by then pricing should be a lot more attractive!