Introduction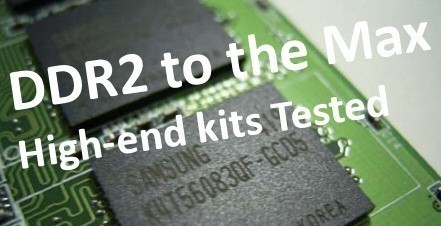 DDR2 memory has been the mainstream over the last 3 years. Intel first brought DDR2 into the market when it launched its 9xx series of Express chipsets. These saw DDR2 hitting only 533MHz; originally not much faster than DDR, but we never see high gains in speed on the first series of new products.
Intel have made some questionable decisions in the past, especially in terms of memory support. After the RAMBUS debacle, who really wanted to have another go at the Intel memory path? Luckily for the chip giant, DDR2 paid dividends. While the first DDR2 400MHz incarnations were no faster than their DDR 400MHz counterparts, DDR2 scalability beyond DDR's wildest dreams meant that the faster DDR2 went, the more performance it gained over DDR.
Today we have DDR2 memory modules topping out at 1200MHz DDR2 or 600MHz clock speeds, and this is using only around 2.4v which is within the safe zone. With even more time, cooling and voltage adjustments, more can be possible.
We have five different memory kits for your viewing pleasure, all of them designed to run at speeds beyond DDR2 800MHz for the Athlon 64 X2s and also Intel's P965 and P35 chipsets which have memory support for 800MHz and beyond.
We have been sent two kits from Kingston (a 1GB PC2-6400 and 2GB PC2-9600 kit), a DDR2 1200MHz Kit from Winchip, a DDR2 1200MHz kit from ADATA and also a PC2-9600 2GB kit from Geil. We will be testing each of these kits for stock performance as well as overclocking potential. Which will be our pick? Lets find out.
The Modules - Geil PC2-9280 DDR2-1160+ Dual Channel Kit
Geil PC2-9280 DDR2-1160+ Dual Channel Kit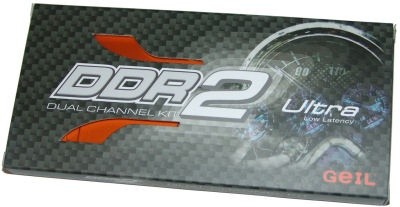 First on the chopping block is the Geil PC2-9260 (or 1160MHz) DDR2 memory module kit. Geil sent us a 2GB kit that contained 2x1GB modules rated to run at 4-4-4-12 at their maximum 1160MHz with a safe working voltage between 2.35 and 2.55v, definately one if the highest supporting voltage memory kits on the market.
The package Geil put it in is quite nice, black on silver with orange stripes to denote its ultra series of modules.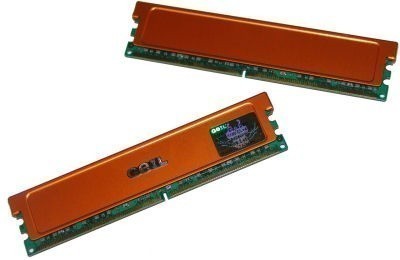 Once you unpack the modules you get to see them in all their glory. The ultra 2 series which these modules are a part of come with an orange alloy heatspreader to keep them cool, no special raised fins or anything extra.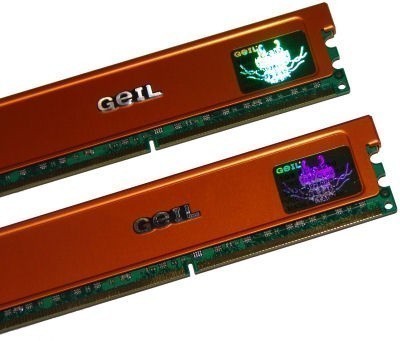 On one side of the modules Geil places a sticker with the info about them. The sticker is holographic so you don't get a good picture from the camera, but the sticker contains all the specs on the modules and in easy to read english, not like some of the other modules we have here.
The Modules - Kingston KHX9600DX2K2/1G
Kingston KHX9600DX2K2/1G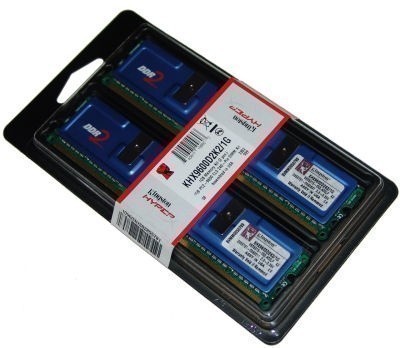 Kingston sent us two kits for our evaluation, first on the list is their high-end KHX9600 kit. These modules are rated for PC2-9600 (or 1200MHz DDR2) speeds with latencies of 5-5-5-15, which is pretty normal for modules running at this high speed. The package which Kingston sent the modules in is identical to their other HyperX series of modules, only the front sticker band changes between the series.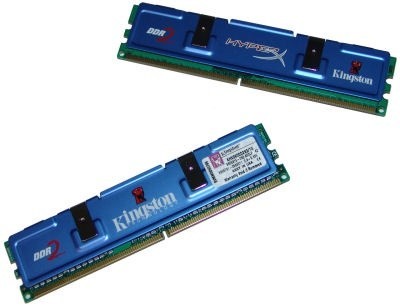 Kingston's HyperX modules come with the traditional blue alloy heat spreader with U-clips holding the heat spreaders to the modules. In terms of appearance it doesn't look any different from the other HyperX modules on the market.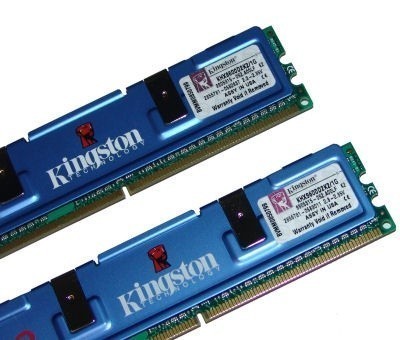 Kingston places on one side of each module a sticker with specs, unfortunately you need a translator book to understand the code that Kingston uses. Kingston only rates their modules to a maximum voltage of 2.35v.
The Modules - Kingston KHX64002ULK2/2G
Kingston KHX64002ULK2/2G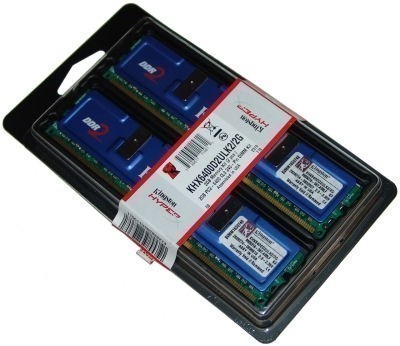 Our second Kingston kit we received is their brand new KHX6400 Ultra Low Latency series. These are designed to run at 3-3-4-12 with a top voltage of 2.35v, the same as the 9600 kit. The package again is identical to their 9600 series but only the package band changes with the specs and model number on it.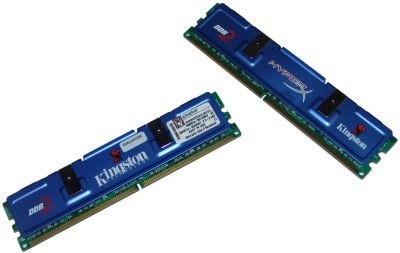 Again, out of the package the Kingston 6400 and 9600 modules are almost identical in looks, the same heatspreader is used with the clips to hold them on.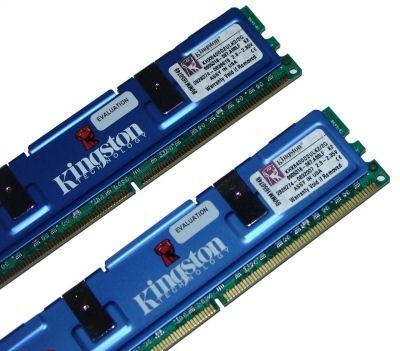 Lastly, a sticker is placed on one side of each module with the model number and specs in coded form, you need to go to Kingston's site to understand the code.
The Modules - Winchip
Winchip 2GB DDR2 Memory kit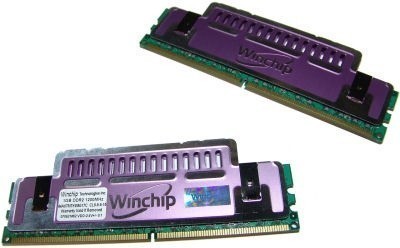 Winchip are a new company on the memory scene. Winchip was once a name in the CPU market, IDT produced the Winchip CPU during the Socket 7 days when Pentium was king. Now Winchip is a memory company producing memory modules. Our first product from them is a 2GB offering. We were given the modules in clear plastic casing, no other paraphernalia was included due to the early nature of these modules.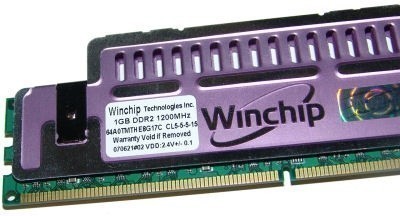 Winchip's first set we have been given was a 1200MHz DDR2 memory module kit, these with timings of 5-5-5-15 at a max voltage of 2.35v. The modules come with a rather sexy heatspreader which sits above the memory in order to move the heat away from the modules. This principle works by convection cooling, moving the heat to the top of the spreader where cool air from the internal case fans can blow over the modules much more effectively than the standard alloy heatspreaders like those seen on both Kingston and Geil's modules today.
The Modules - ADATA DDR2-12000
ADATA DDR2-1200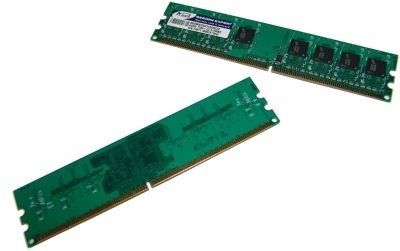 Now we move on to the ADATA PC2-9600 memory modules. These are rated to run at 1200MHz DDR2 (or 600MHz stock) with a voltage of 2.35v and timings of 5-5-5-15, which is pretty standard for modules running 600MHz or above, you will be hard pressed to find anything running lower than 5-5-5-15 at 600MHz.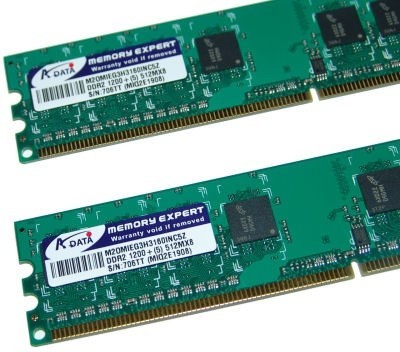 ADATA doesn't put any heatspreaders on these modules, which we do consider strange as DDR2 even at 800 MHz is recommended to have a heatspreader on them.
Overclocking the Modules
Overclocking
Without any doubt the overclocking is definitely the most important part of the modules. First let's have a look at our CPU-Z results.
Kinsgton PC2-9600
Kingston PC2-6400
Geil PC2-9280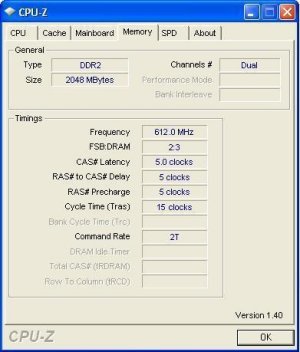 Winchip PC2-9600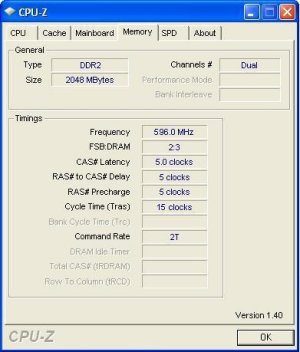 ADATA PC2-9600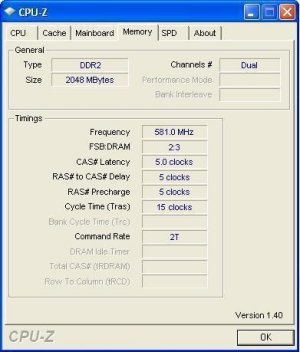 Here we can see that the Kingston memory managed to get the highest speeds in our tests, with the Geil not that far behind. Geil was extremely impressive as they're only rated for 1160MHz, we managed to squeeze extra with a bit more voltage. The rest was pretty standard, the ADATA and Winchip modules didn't quite live up to their speeds, but this could be due to the new memory controller of our P35 chipset board.
Test System Setup and Everest
Test System SetupProcessor
: Intel Core 2 Extreme X6800 (Supplied by
Intel
)
Motherboard
: Gigabyte P35-DQ6 (Supplied by
Gigabyte
)
Hard Disk
: 500GB Seagate 7200.9 (Supplied by
Seagate Australia
)
Graphics Card
: MSI 8800GTS 640MB (Supplied by
MSI
)
Cooling
: Gigabyte Neon775 (Supplied by
Gigabyte
)
Operating System
: Microsoft Windows XP SP2
Drivers
: Intel INF 8.3.0.1013, Forceware 158.22
Down to our test system, we have our new P35 motherboard on the chopping block form Gigabyte. P35 chipsets have a much faster memory controller than the previous P965 chipset, along with a higher obtainable bus speed. 600MHz is now possible with the latest BIOS updates.
We did two major tests, first we did the JEDEC 800MHz using the SPD of the modules, this gauges how well they run at the lowest common denominator. Next we kicked it into high gear and did our tests with the memory at overclocked speeds; these were with the memory at their highest obtained speeds. We tried to keep the CPU as close in clock speeds as possible by lowering or raising the multiplier, though it was hard at times.
EVEREST Ultimate EditionVersion and / or Patch Used:
2006
Developer Homepage:
http://www.lavalys.com
Product Homepage:
http://www.lavalys.com
Buy It Here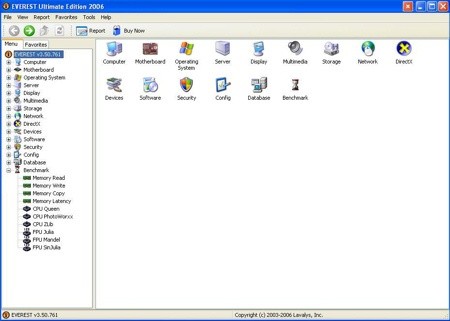 EVEREST Ultimate Edition is an industry leading system diagnostics and benchmarking solution for enthusiasts PC users, based on the award-winning EVEREST Technology. During system optimizations and tweaking it provides essential system and overclock information, advanced hardware monitoring and diagnostics capabilities to check the effects of the applied settings. CPU, FPU and memory benchmarks are available to measure the actual system performance and compare it to previous states or other systems.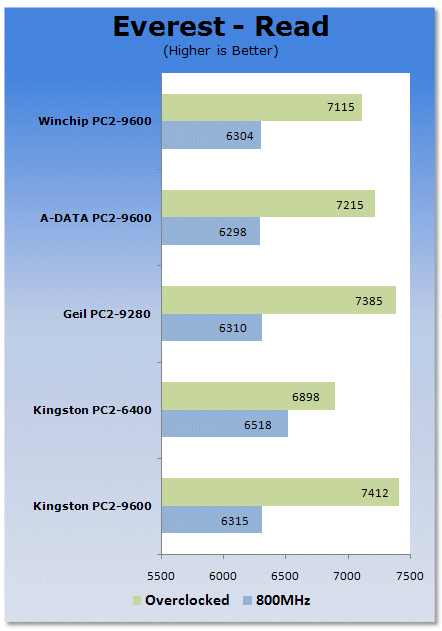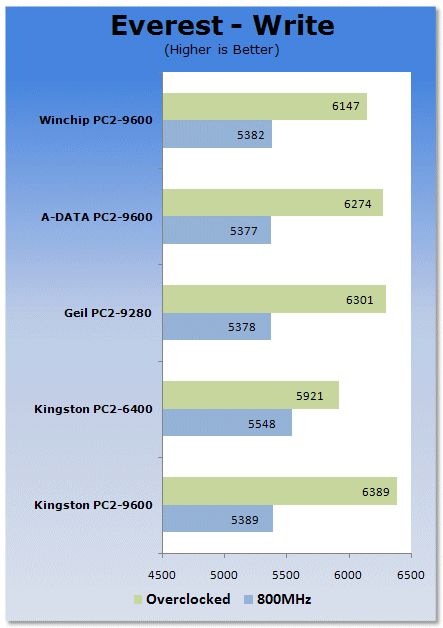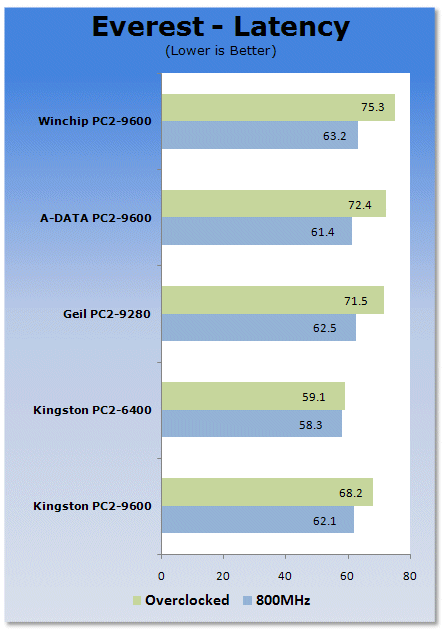 First Everest shows us at stock speeds the Kingston 6400 series is very powerful due to its extremely low latencies. When overclocked we see the Kingston PC2-9600 take the lead with Geil right on its heels.
Benchmarks - PCMark05
PCMarkVersion and / or Patch Used:
1.2.0
Developer Homepage:
http://www.futuremark.com
Product Homepage:
http://www.futuremark.com/products/pcmark04/
Buy It Here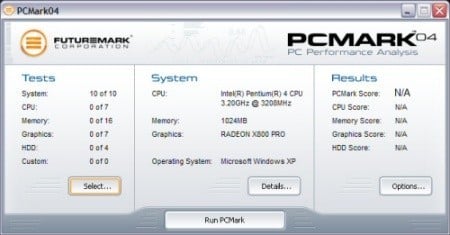 PCMark is a multipurpose benchmark, suited for benchmarking all kinds of PCs, from laptops to workstations, as well as across multiple Windows operating systems. This easy-to-use benchmark makes professional strength benchmarking software available even to novice users. PCMark consists of a series of tests that represent common tasks in home and office programs. PCMark also covers many additional areas outside the scope of other MadOnion.com benchmarks.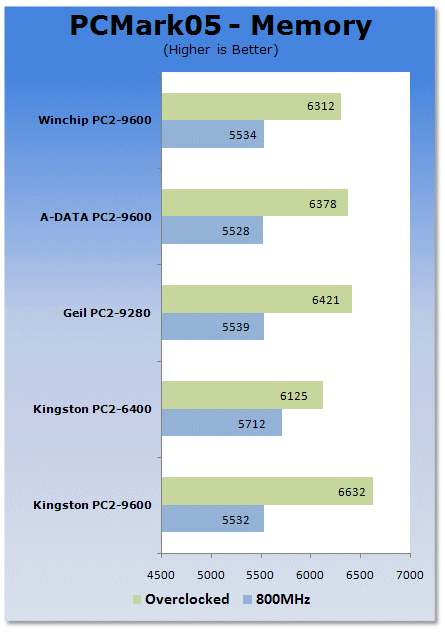 PCMark also shows the same trend as Everest with the Kingston 6400 series in front at 800MHz but falling off at overclocked speeds.
Benchmarks - Sciencemark
Sciencemark
ScienceMark 2.0 is a mathematical program designed to stress the memory subsystems of both desktop/workstation and server environments to determine the read/write latency as well as the overall memory bandwidth available between the CPU and the memory controller.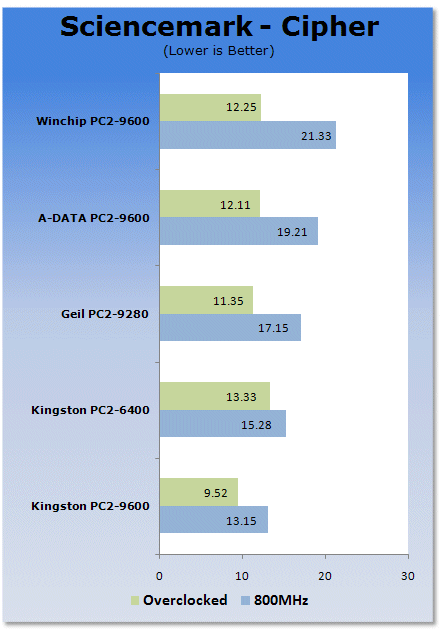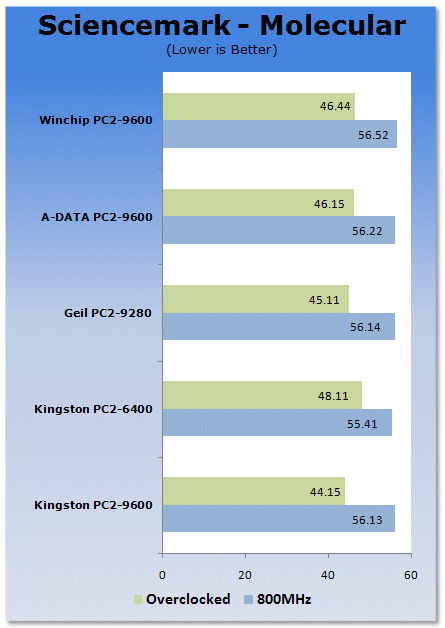 Sciencemark manages to keep the 6400 Kingston in front at the 800MHz level, and the 9600 at the overclocked level.
Benchmarks - Adobe Premiere Elements 2.0
Adobe Premiere Elements 2.0Version and / or Patch Used:
2.0
Developer Homepage:
http://www.adobe.com
Product Homepage:
http://www.adobe.com/products/premiereel/
Buy It Here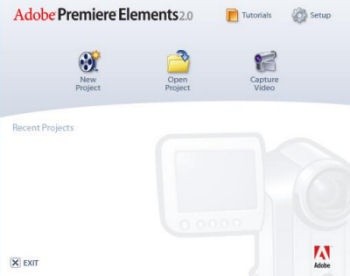 Our test with Adobe Premiere Elements 2.0 is performed with a raw two hour AVI file. It is then compressed into DivX format using the latest version codec. We measure the time it takes to encode and then record CPU usage.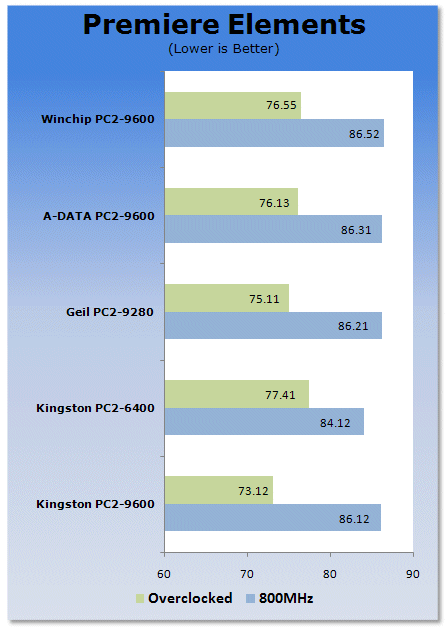 Premiere Elements really liked the Kingston 6400 at 800MHz, as the lower latencies allows the memory to clear the data from the RAM to the CPU a lot quicker. At overclocked speeds we see the PC2-9600 Kingston work its magic.
Benchmarks - Prey
PreyVersion and / or Patch Used:
1.2
Timedemo or Level Used:
Hardware OC Demo
Developer Homepage:
http://www.humanhead.com
Product Homepage:
http://www.prey.com
Buy It Here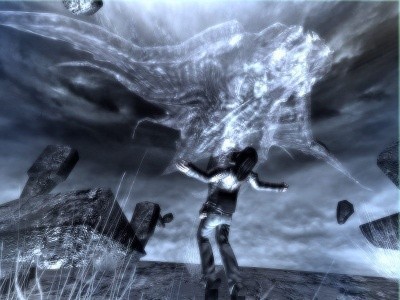 Prey is one of the newest games to be added to our benchmark line-up. It is based off the Doom 3 engine and offers stunning graphics passing what we've seen in Quake 4 and does put quite a lot of strain on our test systems.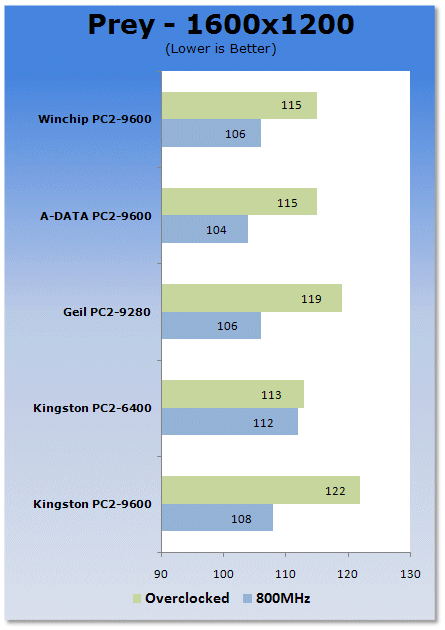 Lastly we see that the lower latencies do give a slight advantage at the 800MHz level.
Final Thoughts
Well DDR2 still has its place, it may not be the main memory for the Intel platform for much longer but it's still the mainstream for AMD, and for the time being P35 is happy to run with DDR2 until DDR3 manages to take a foot hold and prove itself.
Our roundup today manages to give us a good idea on what we have here, especially the high-end 1200MHz kits from Kingston, ADATA, Winchip, and Geil as well as the ultra low latencies of the Kingston 6400 series of RAM modules.
Kingston's PC2-9600 memory has managed to impress us immensely with its speed as well as overclocking abilities. While 600MHz may seem good to most, our final speed of 622MHz gives us just a bit more speed for your dollar. To this end we have given the Kingston PC2-9600 our Must Have Editors Choice Award.
Kingston's second entrant is the PC2-6400, which we must admit isn't really a high-end product, but for those of you wanting wanting lower latencies, then this is the RAM for you. Both Intel and AMD support DDR2 at 800MHz, so the latencies will run on both setups, and with AMD's onboard memory controller combined with the lower latencies, you're going to really see some extra juice from an AM2 setup here.
Geil has a fantastic DDR2 memory package, it's quite attractive as well as being able to almost match the speeds from the Kingston package. It's rated at a lower speed of 1160MHz from from factory, its extra voltage range up to 2.55v gave us the boost we needed to pass 600MHz and reach the 612MHz mark. To this end we give the Geil a big thumbs up and give it our best features award.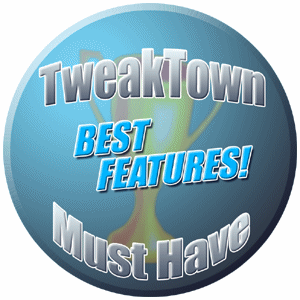 ADATA's modules were unfortunately not what we were hoping for, we didn't get the full 1200MHz out of it, quite possibly due to heat issues as the ADATA lacked any heatspreaders.
Now to Winchip; for their first product on our slab we were quite impressed, the style was quite impressive as well as the heatsink. While we didn't get to 600MHz we did get very close with 596MHz. Possibly with more time we would have gotten to 600MHz but with so many kits to test we were really under the pump.