Introduction
We have been prattling on about DDR3 and the Intel platform for some time now. It has only been a few months since DDR3 hit the shore, but it's already starting to be produced in mass, especially by the enthusiast companies such as OCZ, Micron, Mushkin, Corsair, Geil and so on.
DDR3 is the next logical step for the Intel Core 2 platform as its ability to deliver extreme bandwidths beyond that of the current DDR2 line is remarkable. This is going to be the trump card Intel will push for the 1333MHz FSB CPU, especially with the Core 2 Quad series of CPU which requires as much bandwidth and memory speed as it can get, this due to die-A needing to go back along the FSB and into main memory to communicate with die-B; the faster this can be done, the better off Intel will be.
So far there is only one major player in the DDR3 arena, that being Intel. Only the Intel 3 series chipsets have support for DDR3 memory, though we hope to see an nForce 6 or 7 series chipset soon with support for DDR3 and overclocking, as the potential for overclocking has greatly increased.
DDR3 uses a lower signal voltage of 1.5v rather than the usual 1.8v of DDR2 memory, an 8-way buffer is also used rather than the 4-way in DDR2, this allowing for the increased speed of the memory without having to increase the cell frequency.
Today we have three DDR3 memory kits on test; OCZ's DDR3-1333MHz, Geil's DDR3-1066MHz and Kingston's DDR3-1375MHz.
The Modules - OCZ PC3-10666
OCZ PC3-10666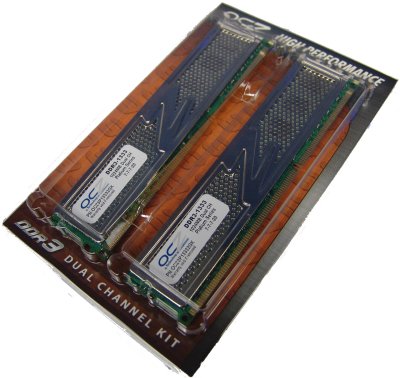 First on show is OCZ's PC3-10666. These are brand new out of the factory from OCZ, who we have come to know produce some of the best memory modules out there. The modules come packaged in the same common blister pack which can be placed on a shelf hook in the local PC store.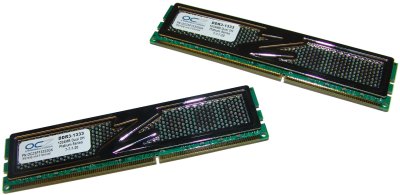 The modules themselves are from the Platinum range that OCZ produces. The modules are cooled by a special Extreme Thermal Convection heatsink which has many holes on both the front and back (much like a mesh), this is used to promote better air flow across the modules over standard alloy and copper heatsinks which you'll see on most modules.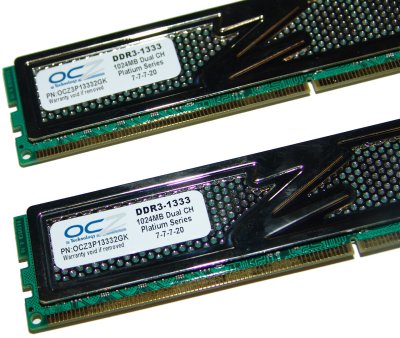 The modules that we have been sent were the latest PC3-10666 modules designed to run at a speed of 1333MHz DDR3 or 667MHz internal speed. The modules are set to run at this speed with timings of 7-7-7-20. DDR3 runs at higher latencies than that of DDR2.
The Modules - Geil PC3-8500
Geil PC3-8500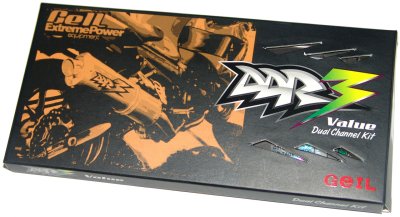 Second on the list we have Geil's PC3-8500 memory modules. These modules are packed in the same sort of box that our DDR2 modules we received from them came in. There is a little bit of info on the box with the specs. You can clearly see the hologRAM.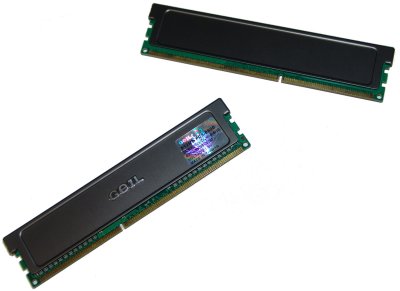 Unpacking the modules from of the box we get our first look at the sticks. Geil has gone for a grey alloy colour over the orange alloy of the DDR2 modules. Geil has its logo with raised letters in the middle of the heat spreader on each side.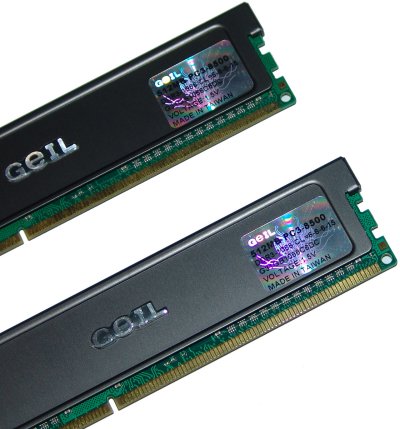 The modules also come with a holographic sticker on one side of each module. This sticker contains info on the model number as well as the specs of the RAM. These particular modules run with a timing setup of 7-7-7-20, the same as that of the OCZ memory. The biggest problem with this kit is that it is only a 1GB kit and runs at just 1066MHz, this being the first step up from the top DDR2 memory speeds.
The Modules - Kingston PC3-11000
Kingston PC3-11000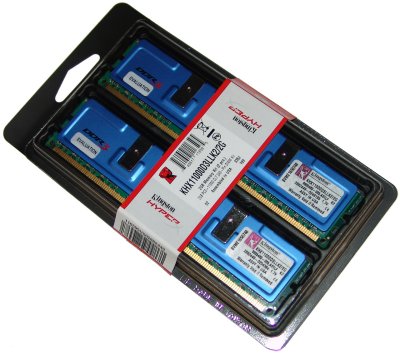 Kingston's modules come shipped in their traditional pack which have a black backing and clear cover so as you can see the modules inside. This package is the same one they use to ship all of their HyperX series, with the paper sticky band that seals the modules to the package. On the band you get a model number, unfortunately if you want to find out the specs of the modules you need to understand the code that Kingston uses on their packages or go to their website.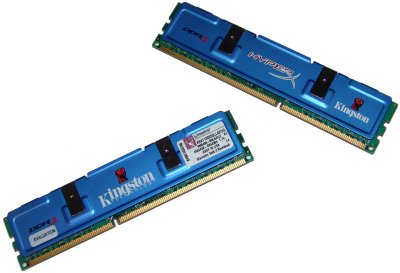 Unpacking the modules from of the box you get a slightly better view. The heat spreaders used resemble some of the older aftermarket coolers which have double-sided tape to hold onto the memory chips as well as brace clips to keep the heatsink on when the RAM chips begin to generate heat.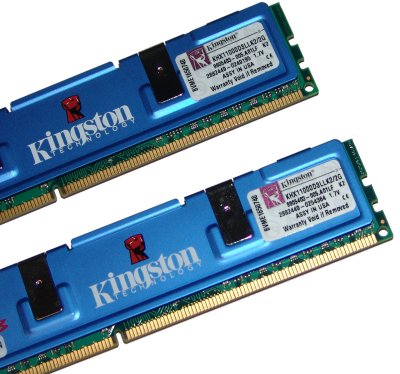 Lastly we come down to the sticker that Kingston places on the modules. Kingston places the info in a cryptic code, so if you don't know how to read the code you won't know much about it. The modules are rated for 1375MHz using 7-7-7-20 timings but you need to use 1.7v to run this, as these modules are designed for 1066MHz operations at 1.5v, they have just been juiced up to run up to 1.7v with 1375MHz.
Overclocking the Modules
Now we get down to what matters, overclocking the modules to see just how far we can push them. Thanks to the P35 motherboard we are able to use a 333MHz FSB and a 1:2 memory divider which gives us 1333MHz memory from stock. This allowed us to keep the overclocking of the CPU down while pushing the memory modules as far as they would go.
OCZ PC3-10666
Geil PC3-8500
Kingston PC3-11000
Our overclocking tests were quite fruitful. DDR3 may be in its infancy but the chips that are coming on the production line at this early stage are extremely capable. Our OCZ memory managed to hit the highest speed at 1600MHz using just 1.8v on the memory, however no extra voltage would allow it to go any faster, this possibly due to the limit of the early chips. Kingston did a good job of 1532MHz, and despite its low starting point, the Geil managed to hit 1400MHz using 1.8v.
Important Editor Note: Our maximum overclocking result is the best result we managed in our limited time testing with the P35 motherboard. Due to time constraints we weren't able to tweak the motherboard to the maximum and find the highest possible FSB as this could take days accomplish. We do however spend at least a few hours overclocking every motherboard to try and find the highest possible overclock in that time frame. You may or may not be able to overclock higher if you spend more time tweaking or as new BIOS updates are released. "Burn-in" time might also come into play if you believe in that.
Test System Setup and Everest
Test SystemProcessor
: Intel Core 2 Extreme X6800 (Supplied by
Intel
)
Motherboard
: Gigabyte P35T-DQ6 (Supplied by
Gigabyte
)
Hard Disk
: 500GB Seagate 7200.9 (Supplied by
Seagate Australia
)
Graphics Card
: MSI 880)GTS 640MB (Supplied by
MSI
)
Cooling
: Gigabyte Neon775 (Supplied by
Gigabyte
)
Operating System
: Microsoft Windows XP SP2
Drivers
: Intel INF 8.3.0.1013, Forceware 158.22
We have attempted to keep the test system as close to our DDR2 setup as possible. To this end Gigabyte have supplied us a P35T-DQ6 motherboard. This board is identical to our P35-DQ6, but rather than DDR2 memory it runs DDR3, perfect for our review purposes.
EVEREST Ultimate EditionVersion and / or Patch Used:
2006
Developer Homepage:
http://www.lavalys.com
Product Homepage:
http://www.lavalys.com
Buy It Here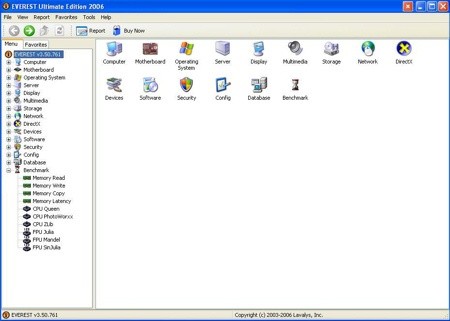 EVEREST Ultimate Edition is an industry leading system diagnostics and benchmarking solution for enthusiasts PC users, based on the award-winning EVEREST Technology. During system optimizations and tweaking it provides essential system and overclock information, advanced hardware monitoring and diagnostics capabilities to check the effects of the applied settings. CPU, FPU and memory benchmarks are available to measure the actual system performance and compare it to previous states or other systems.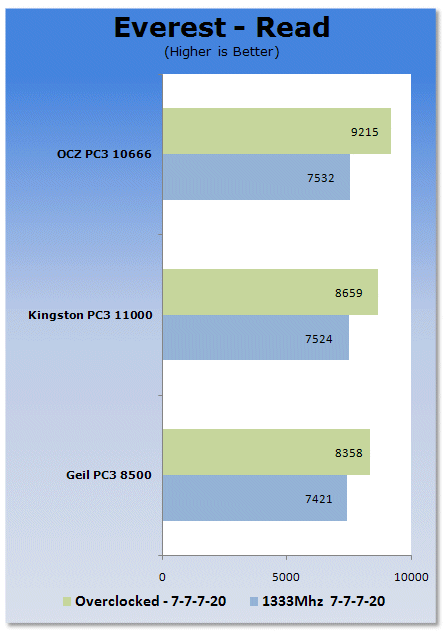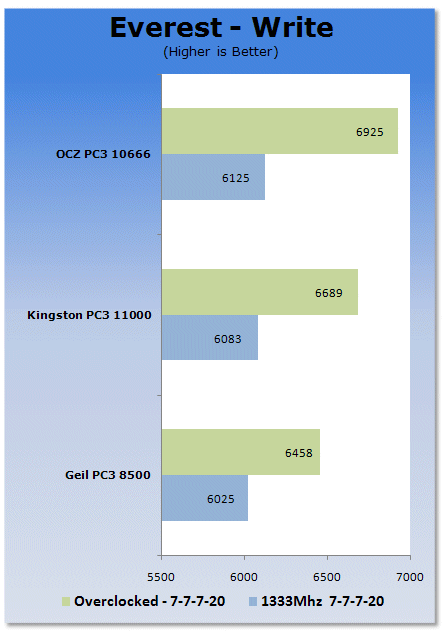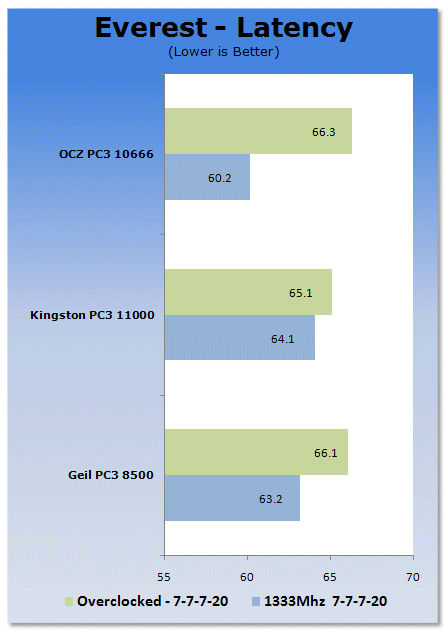 We start to see how much extra bandwidth DDR3 is able to give us, especially when overclocked. It's turning out to be the ultimate for the Intel platform.
Benchmarks - PCMark05
PCMarkVersion and / or Patch Used:
1.2.0
Developer Homepage:
http://www.futuremark.com
Product Homepage:
http://www.futuremark.com/products/pcmark04/
Buy It Here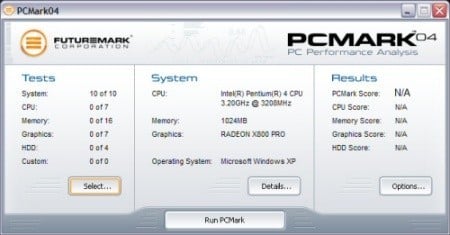 PCMark is a multipurpose benchmark, suited for benchmarking all kinds of PCs, from laptops to workstations, as well as across multiple Windows operating systems. This easy-to-use benchmark makes professional strength benchmarking software available even to novice users. PCMark consists of a series of tests that represent common tasks in home and office progRAMs. PCMark also covers many additional areas outside the scope of other MadOnion.com benchmarks.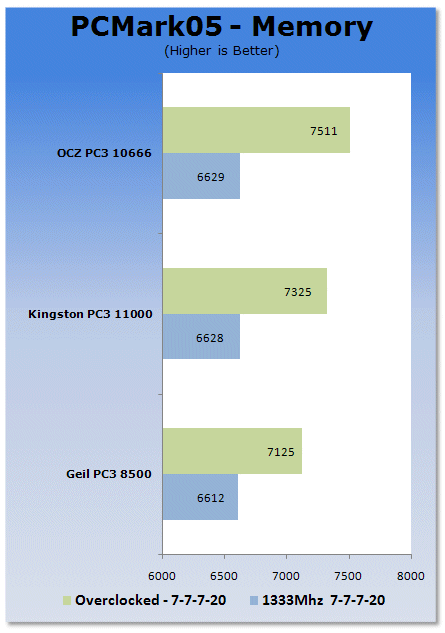 PCMark gives DDR3 a good run for its money and does give a good indication of the overall system performance.
Benchmarks - Sciencemark
Sciencemark
ScienceMark 2.0 is a mathematical progRAM designed to stress the memory subsystems of both desktop/workstation and server environments to determine the read/write latency as well as the overall memory bandwidth available between the CPU and the memory controller.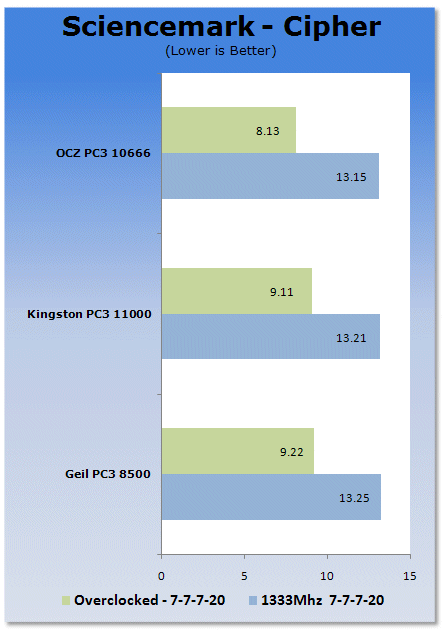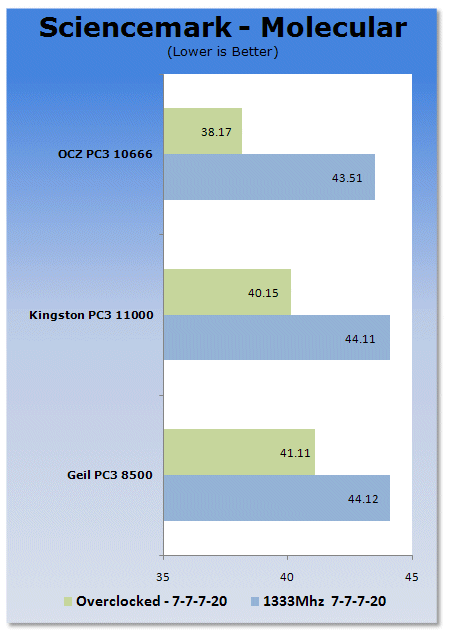 Sciencemark puts the DDR3 in its place. At stock speeds its not much faster than DDR2 modules, it's when we overclock and squeeze the extra bandwidth out we get better results.
Benchmarks - Adobe Premiere Elements
Adobe Premiere Elements 2.0Version and / or Patch Used:
2.0
Developer Homepage:
http://www.adobe.com
Product Homepage:
http://www.adobe.com/products/premiereel/
Buy It Here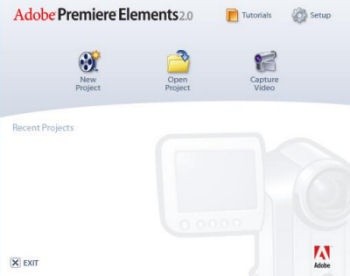 Our test with Adobe Premiere Elements 2.0 is performed with a raw two hour AVI file. It is then compressed into DivX format using the latest version codec. We measure the time it takes to encode and then record CPU usage.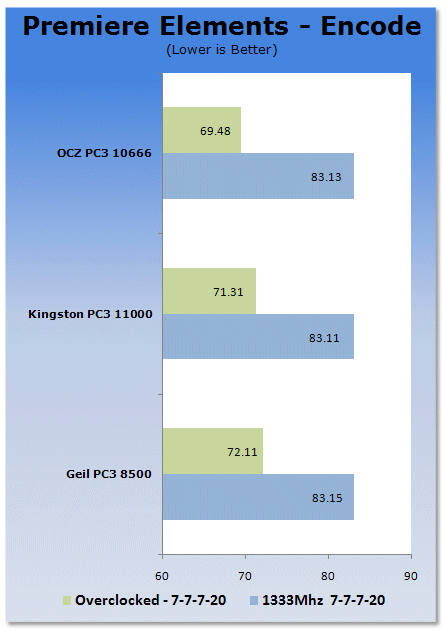 Premiere Elements with its hunger for bandwidth prefers DDR3, that is for certain. With the increase in bandwith (especially when overclocking comes in), we see that the OCZ's memory pulls well in front in the encode time.
Benchmarks - Prey
PreyVersion and / or Patch Used:
1.2
Timedemo or Level Used:
Hardware OC Demo
Developer Homepage:
http://www.humanhead.com
Product Homepage:
http://www.prey.com
Buy It Here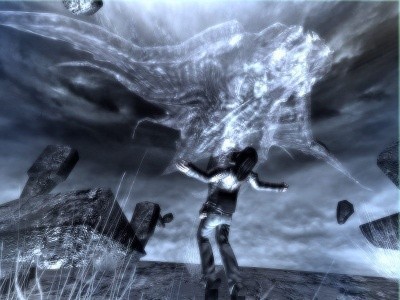 Prey is one of the newest games to be added to our benchmark line-up. It is based off the Doom 3 engine and offers stunning graphics passing what we've seen in Quake 4 and does put quite a lot of strain on our test systems.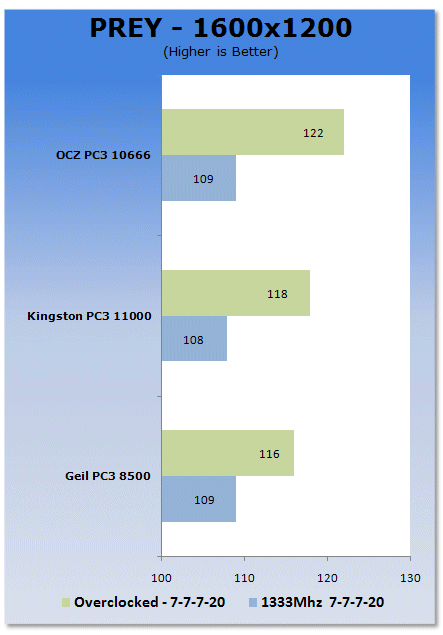 Prey doesn't have as much need for bandwidth as our other benchmarks do. Gaming seems to depend more on a balanced system with good graphics, CPU and memory combination.
Final Thoughts
It's now happening, DDR3 is making its way into the market, and with a vengeance. DDR3 vs DDR2 at a clock-for-clock basis tends to give DDR2 a slight lead, this is due to lower latencies. However, DDR3 has managed one thing from the start, when DDR2 made its appearance on the market it only hit with a 400MHz clock rate, this was the same as DDR, and clock-for-clock DDR was faster with lower latencies. DDR3 has come out on the market and already passed the speeds DDR2 was capable of.
DDR2 struggled to break over 1200MHz, where DDR3 already has a JEDEC standard for 1333MHz, which indicates its ability to scale and clock well beyond DDR2's wildest dreams.
OCZ
Given the prematurity of DDR3 in the market thus far, OCZ's DDR3 modules have really pushed the barrier for overclocking systems. No longer is the memory a bottleneck, as you can now expect to hit 800MHz with the modules. If only your FSB could go this high, a 1:1 ratio would be nice. To this end OCZ gets our thumbs up and Editors Choice Award.
Kingston
Kingston's memory modules are pretty competitive to that of the OCZ modules. However, in order to run their rated 1375MHz, you need to go straight to 1.7v, so if you're getting a P35 board with limited or no voltage increase options on the board, you're stuck here, whereas as OCZ can run 1333MHz with the default 1.5v.
Geil
Geil's modules were quite fast. However, we are disappointed that they haven't pushed DDR3 to its limits. If OCZ can get 1333MHz, and Kingston can get 1375MHz, why not Geil? Also, the modules we were sent from them only added up to a 1GB kit, and their rating of 1066MHz stock simply doesn't excite us too much.