TweakTown's Rating: 89%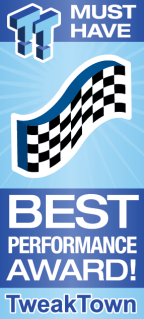 The Bottom Line
The NZXT Capsule is a fantastically designed microphone with powerful audio recording capabilities with a solid price point. However, there the lack of software and microphone monitoring issues could steer away gamers/streamers.
Introduction & Specification Details, Close-up and Design
The NZXT Capsule has been designed with the smoothest plug-and-play experience as its focus. No initial setup is needed, and no software is required to use the microphone.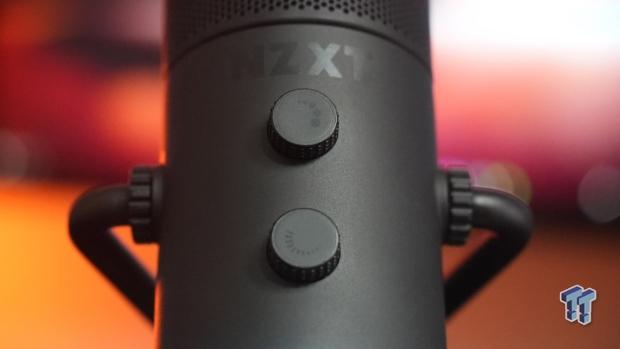 The Capsule has an extremely clean, minimalist, industrial design, with an all-matte black finish available, or with the main body of the microphone in matte white and the dials, stand, and other components in matte black. The design is almost all metal, with the grill and dials made from plastic, and a rubber ring on the underside of the base for grip, in NZXT's characteristic purple.
The NZXT logo written across the front has a semi-gloss finish that allows it to remain subtle and not detract from the overall aesthetic but is still readable. Beneath the logo is the dials for microphone gain adjustment and headphone volume. However, only the latter has a symbol beneath to indicate what it is for, albeit a rather easy-to-miss symbol given its size and finish.
Design
Both with a raised dot texture around them for grip, and the icons on both dials that indicate which rotation direction increases the respective setting have the same finish as the NZXT logo, but in this case are almost too subtle, disappearing at certain angles and under certain lighting.
A ring light runs around the bottom of the microphone that glows white with a light blue tinge to indicate it is live and red when muted. On the underside of the microphone is a female 1/4" thread and USB-C and 3.5mm connectors. Muting the microphone is achieved by pressing in the microphone gain dial, as it doubles up as a button. The Capsule can be tilted to any angle forward or back until it contacts the stand, practically limiting it to being tilted between forward ~30 degrees and back just below ~90 degrees.
The box alongside the Capsule itself includes a 3-meter USB-C to USB-A cable, 1/4" male to 3/8" female microphone mount adapter, stand quick-release cover, and a card with a support link and QR code that takes you to the manual. Saving on paper by neglecting to include a physical copy of the manual is an appreciated, environmentally conscious move. However, given the card that is included, a line stating that the microphone is muted by pressing in the microphone gain button would help to eliminate guesswork and the need to refer to the manual.
On the back half of the microphone is a small metal section connected to the stand on both sides that slots into the body of the microphone and can be removed by pressing in the button in the center. This disconnects the stand from the microphone, leaving an open section in the back of the microphone for the included cover to then slot into, designed for when the microphone is to be used with boom arms or other mounting solutions. NZXT sells their own boom arm to complement the Capsule, which the included microphone thread adapter will also need to be used for.
Specifications
Total: 115 x 131.3 x 252.8mm
Without Stand: 60 x 65.1 x 170.2mm
Weight:
Total: 883g
Without Stand: 314g
Materials: Extruded Aluminium Structure with PC ABS Shell
Polar Pattern: Cardioid
Frequency Response: 20Hz - 20kHz
Max SPL: 120d
THD: 0.1% @ 1kHz
Bit Depth / Sample Rate: 24-bit/96kHz
Connection: USB-C
Headphone Amp
Impedance: 16ohms
THD: <0.1% @ 1kHz
Frequency Response: 15Hz - 22kHz
Signal to noise: 100dB
Microphone Thread: Female 1/4"
Warranty: 2 years
Close-up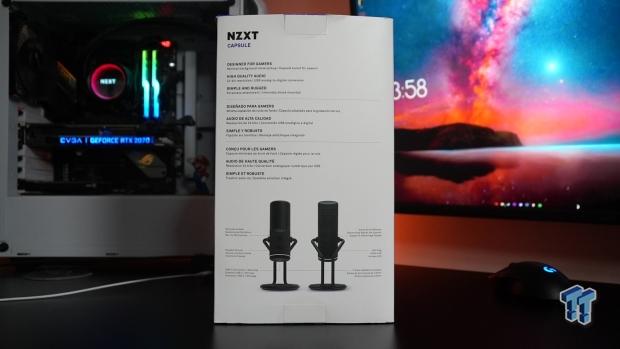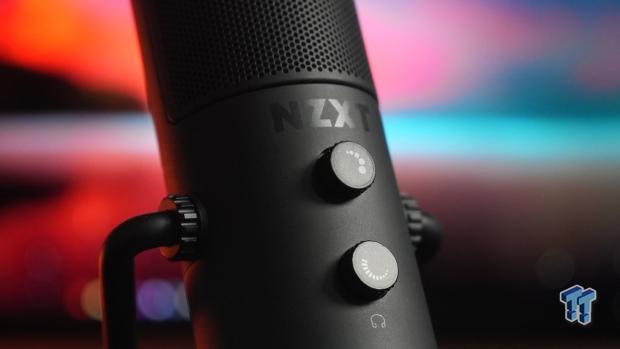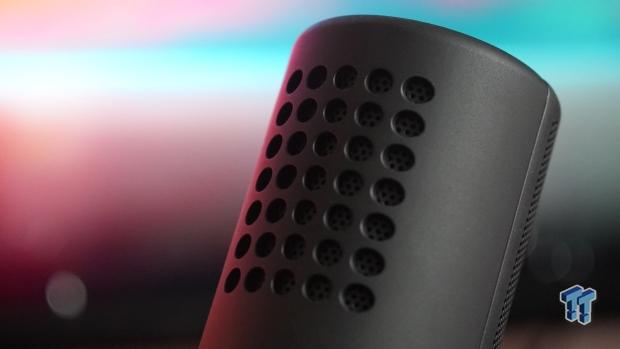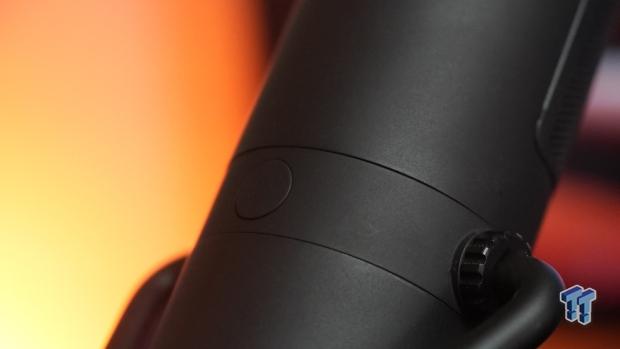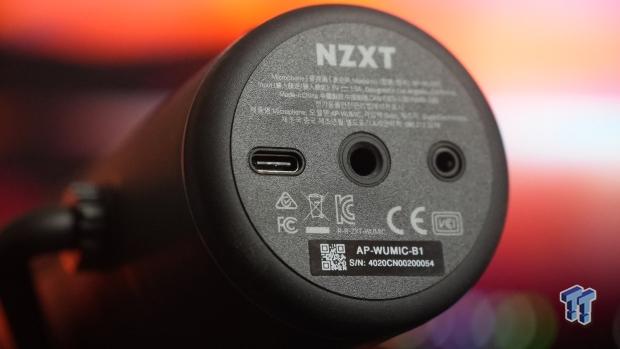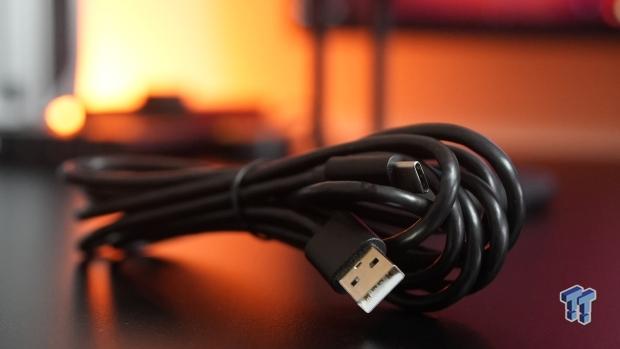 Jak's Test System Specifications
Design Continued & Software
Design Continued
Internally, the Capsule has an internal pop filter to reduce plosive sounds and an internal shock mount to dampen vibrations and help eliminate noise transfer into the microphone. The microphone has a cardioid polar pattern, capturing sound from a ~120-degree cone radiating out from the front and tapering off at wider angles to eliminate sounds coming from the sides and behind, helping emphasize speech directly into the microphone.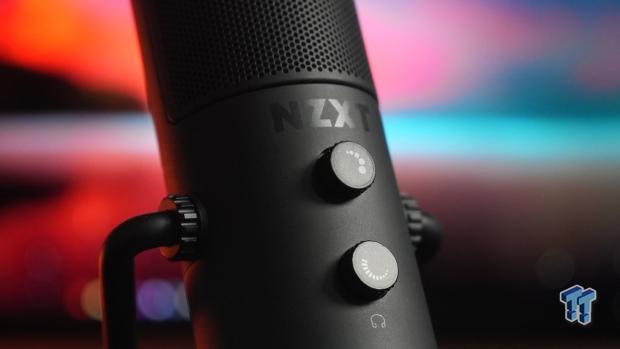 Gain is preconfigured to be at 50% out of the box but can be adjusted by the user as they see fit. To receive volume through the headphones, the audio output device on Windows 10 will need to be set to the Capsule, though plugging in the microphone will automatically switch the audio output. The volume knob works independently of the system volume for the microphone as an output device, so both will have to be set to the desired levels.
Software
Both the microphone gain and headphone volume dials spin freely with no set stopping points for the minimum and maximum setting, so tuning either setting to the same point becomes difficult if levels are reset, for example, when the microphone is unplugged and reconnected. Consequently, the lack of software designed to work specifically with the Capsule becomes somewhat of a hindrance, as it could display the exact levels of either setting and have them configured as the setpoints to return when the microphone is disconnected.
Given NZXT has their own PC monitoring software in the form of NZXT Cam, which even has an audio section, it seems to be a missed opportunity for the Capsule to not appear as a supported device to configure there.
Performance & Microphone
Performance
When microphone gain is adjusted, microphone monitoring is simultaneously turned up if headphones are connected to the 3.5mm output on the microphone. Microphone monitoring is a useful feature to have to ensure you keep your voice in check when sounds in your headphones stop you from hearing yourself, but not having it as an independent feature to adjust is frustrating.
I would personally prefer to disable it and adjust my gain to make sure whatever level I'm speaking at, whether I can hear it or not, is ideal for others, and enjoy the sound isolation offered by my headphones. Regrettably, without software to accommodate this, microphone monitoring cannot be disabled or even adjusted to be more or less present for differing amounts of gain according to user preference.
Despite the cardioid polar pattern, ambient sounds like mechanical keys can still be picked up by the microphone as they radiate past the microphone even if their source is positioned behind it, becoming more noticeable as gain increases. Using a program like Discord, which automatically determines input sensitivity when transmitting based on voice activity, won't transmit these ambient sounds, thus increasing microphone monitoring alongside gain to increase the user's awareness of the unwanted audio source only serves as an annoyance.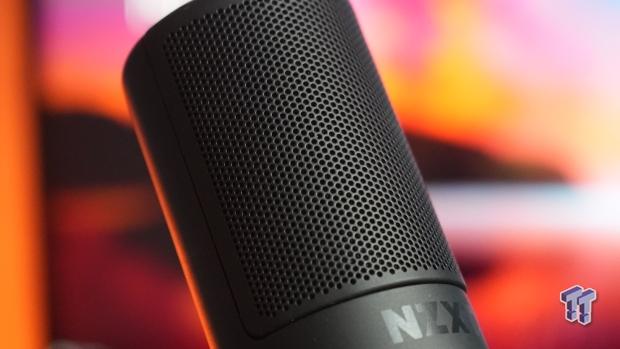 Aside from microphone monitoring, the quality of recordings is heightened by the inclusion of bit depth and sampling rates of 24-bit and 96kHz, respectively, compared to the 16-bit/44.1kHz or 16-bit/48kHz solutions in other competitively or even higher priced microphones. This is particularly useful for recording vocals or any sounds that are to be edited later, as more data is captured in any sample, producing a more true-to-life recording and preserving more quality in any compression down the line.
Microphone
HyperX Quadcast S
NZXT Capsule
Final Thoughts
What's Hot
Sleek, modern design that fits into any setting

24-bit bit depth and 96 kHz sample rate for high quality recordings

Ease of set up
What's Not
Lack of software support

One polar pattern

Inability to enable/disable microphone monitoring or adjust independently of gain
The NZXT Capsule is a beautifully designed microphone with strong recording capabilities owing to its high bit depth and sample rate.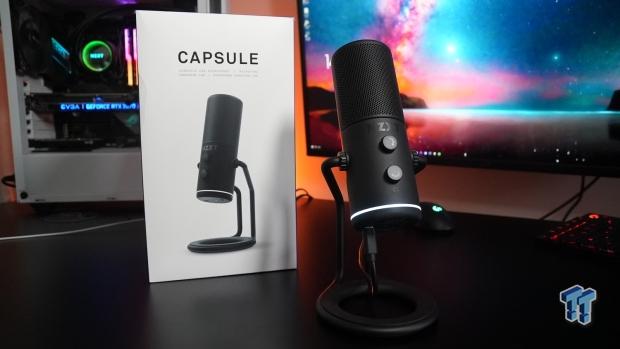 Being limited to a cardioid polar pattern limits the spectrum of recording scenarios for which it is optimal. However, for a target audience of gamers, streamers, and the like, it should more than suffice and help make the microphone more affordable. With a focus on plug and play, the Capsule is to get straight into using and not worry about making any adjustments.
However, for those inclined, some form of software, whether integrated with the already existing NZXT Cam or standalone, to adjust microphone monitoring, muting, and microphone gain and headphone volume values, would have made this great microphone virtually perfect.
| | |
| --- | --- |
| Performance | 95% |
| Quality | 95% |
| Features | 75% |
| Value | 90% |
| Overall | 89% |
The Bottom Line
The NZXT Capsule is a fantastically designed microphone with powerful audio recording capabilities with a solid price point. However, there the lack of software and microphone monitoring issues could steer away gamers/streamers.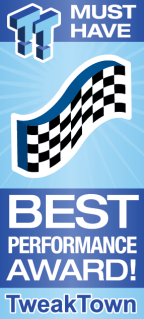 We openly invite the companies who provide us with review samples / who are mentioned or discussed to express their opinion. If any company representative wishes to respond, we will publish the response here. Please contact us if you wish to respond.