TweakTown's Rating: 89%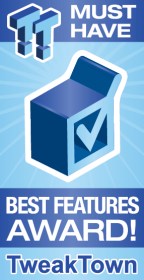 The Bottom Line
The SmartMike+ comes with fantastic audio quality, multiple accessories, and lots of features via the companion app. However, it does have problems with its earbud, transcription, and bugs throughout the app.
Introduction & Close-up
Introduction/Design
The SmartMike+ is a two-way Bluetooth lavalier microphone in a sleek package with a two-tone design, either with a dark-grey cap housing the microphone and black body or a light-grey cap and white body.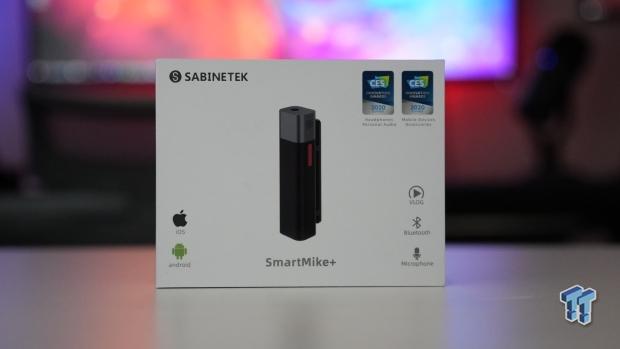 The power button for both options is red, providing a nice contrast, and the front of the microphone has a small indicator light to display charging and on/off status. It weighs only fifteen grams (just over half an ounce) and feels very solid despite its plastic construction. It has a reassuringly strong clip to help it remain attached to a shirt collar or lapel.
The microphone supports both Android and iOS systems to enable convenient videography for vloggers, YouTubers, or any other kind of content creator. On the side of the box, within the documentation, and seen in a small sticker on the microphone's clip are QR codes that take you to a download option for the SmartMike+ app, which unlocks all of the microphones features on Android and iOS.
Close-up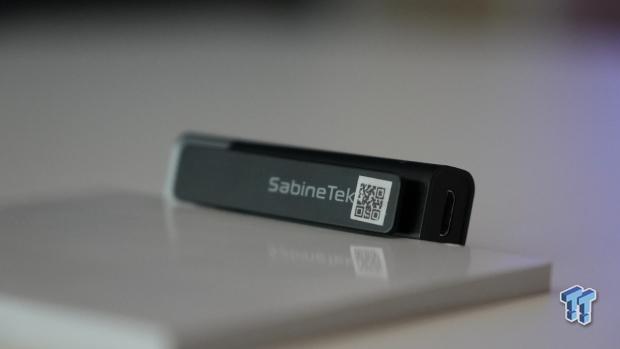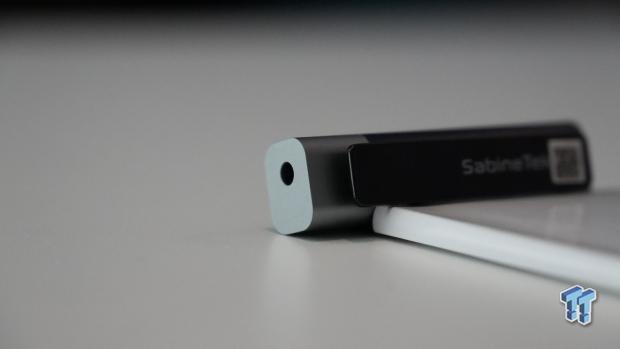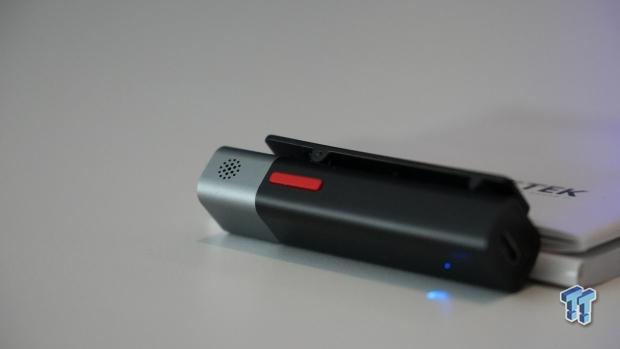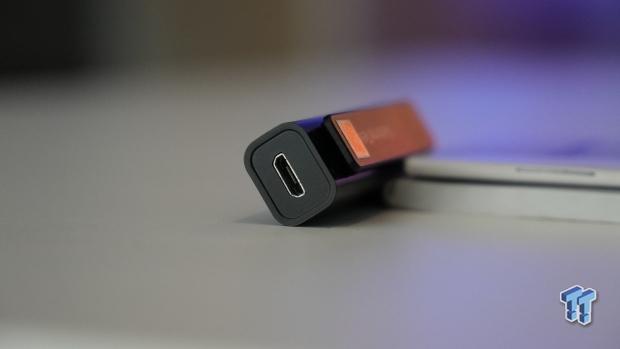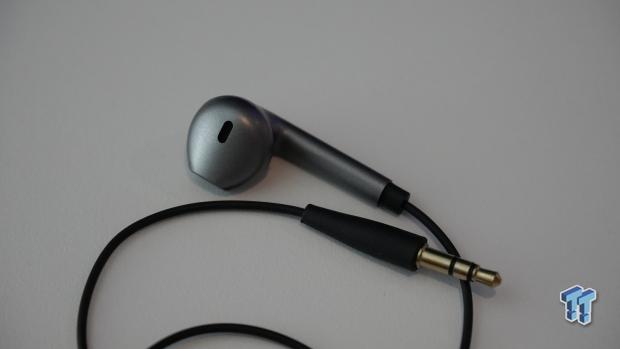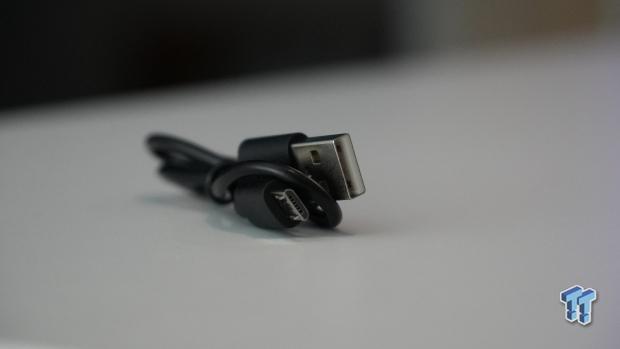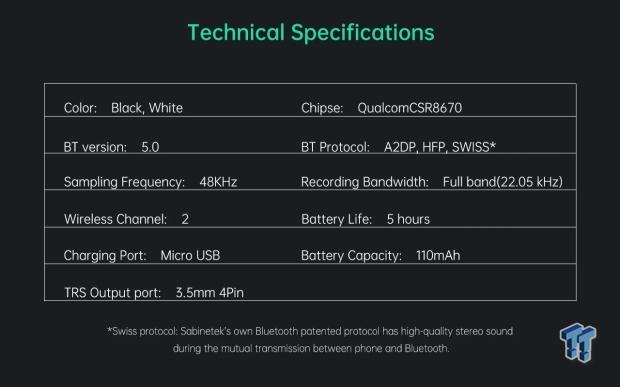 Jak's Test System Specifications
Design Continued
Design
The SmartMike+ comes in a neat little box with a pull-cord beneath the microphone to pull it out of its compartment, and the accessories are tucked away in another compartment.
Also included in the package is an earbud with a one-foot-long cable ending in a 3.5mm connector to fit the port on the end of the microphone, an approximately 24-centimeter micro-USB cable for charging, a microphone sponge cover, a wind-proof cap, and a manual and quick start guide.
The single earphone has a dark-grey body with a black cable, matching the microphone's design. It rests in the opening of the ear canal, in contrast to in-ear earphones that insert their tips into the ear canal.
Performance & Software
Performance
The SmartMike+ can record full-band 48 kHz audio, spanning six times the frequency range of conventional mono microphones, according to Sabinetek's website. The Qualcomm CSR8670 chipset powers noise reduction, which paired with adjustable levels of noise reduction in the SmartMike+ app and the wind-proof cap allow high levels of control over noise reduction.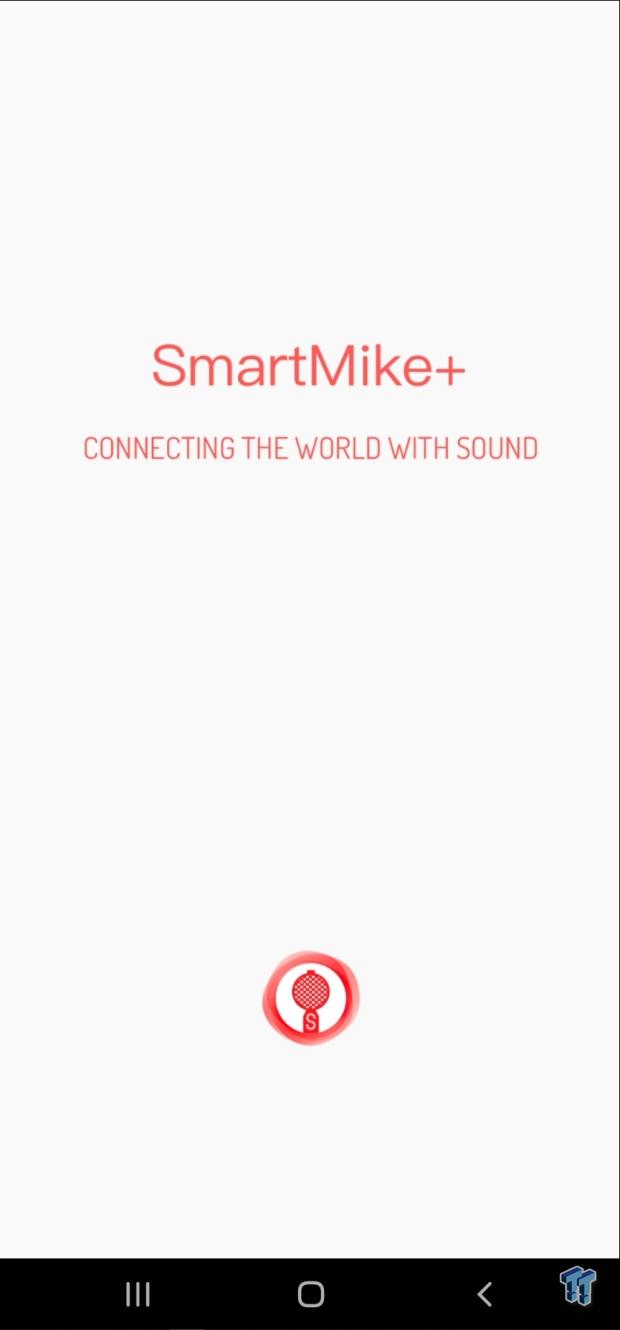 Video and audio or audio-only can be recorded using the app, with a host of features and customizability available for either. When turned on, the SmartMike+ automatically reconnects to previously paired devices or stays in Bluetooth pairing mode to pair with new devices. Using Sabinetek's TWISS Bluetooth protocol, the SmartMike+ can transmit data up to 15 meters.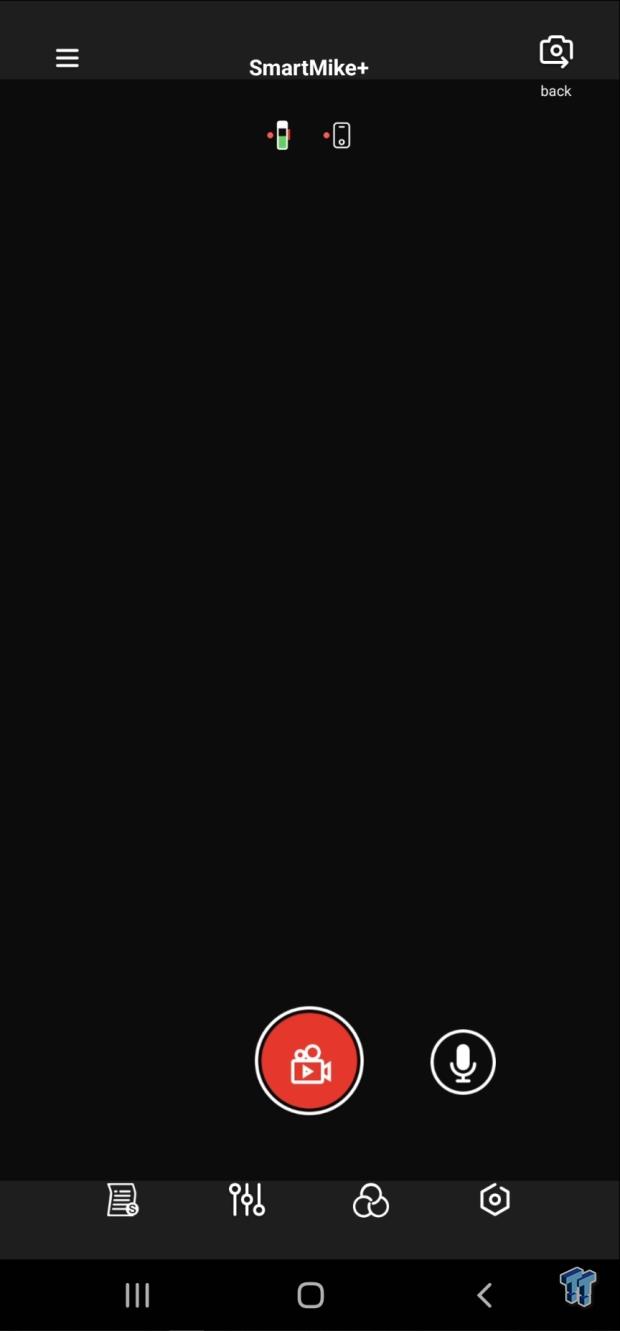 One of the audio recording options in the app allows you to choose between the phone or the SmartMike+ as a source, or enable both simultaneously, indicated by the SmartMike+ or phone icons brightening or dimming at the top of the app's interface. Activating both isn't recommended if they are near one another, as it layers the two recordings with a noticeable and distracting delay.
The external mic setting allows you to enable or disable the unidirectional cardioid microphone that Sabinetek also sells, which plugs into the 3.5mm port on the SmartMike+ to combine with its built-in microphone for superior background noise elimination.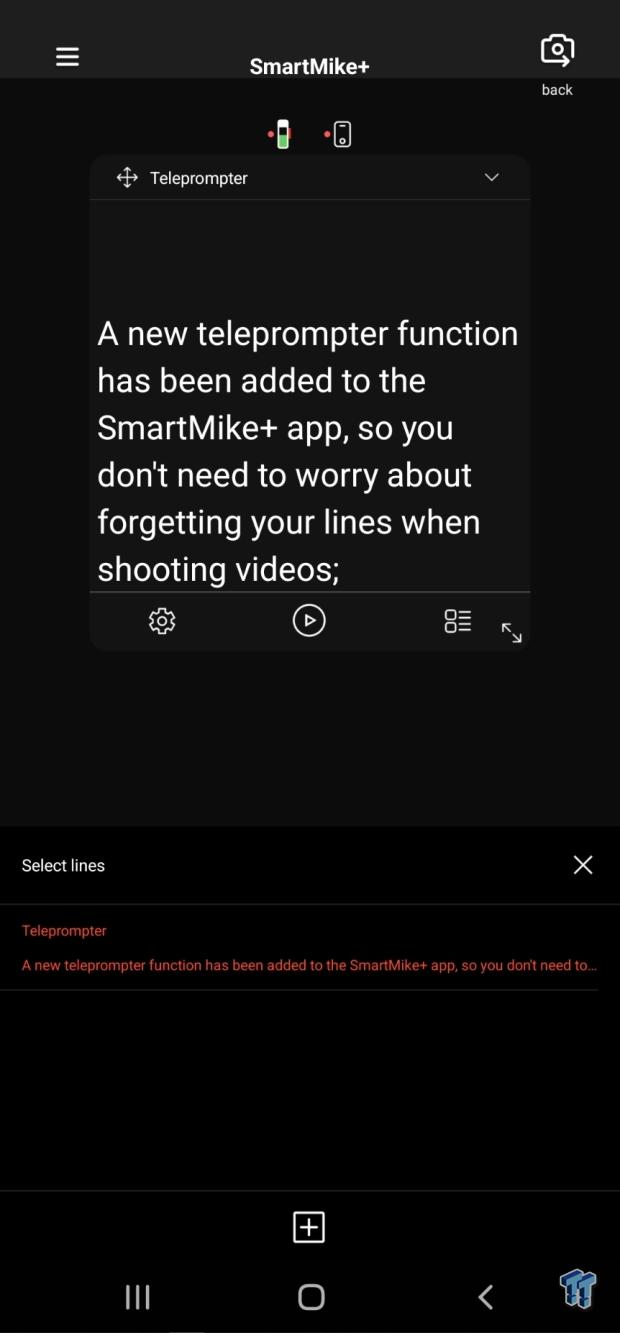 Microphone gain can be adjusted manually or left to the app to adjust automatically. If using the included earbud while recording, there is a microphone monitoring slider that you can adjust to determine how much of what the microphone hears is played back through the earbud. The level of noise reduction the app tries to employ can be adjusted in the same menu, and you can optionally mix music in with any audio.
You can control how loud the music is in the mix with a volume slider or disable the feature entirely. When music is playing, a spinning music note icon will appear next to where it says SmartMike+ at the top of the app to indicate if the app is receiving the audio.
The microphone is sensitive enough to pick up music playing through the earbud even if it is disabled in the mix, so it may be best to not listen to music while recording audio or adjust gain and noise reduction accordingly. The earbud has decent audio quality but is nothing special, largely due to its form factor, which lends itself to falling out more easily during physical activity as well.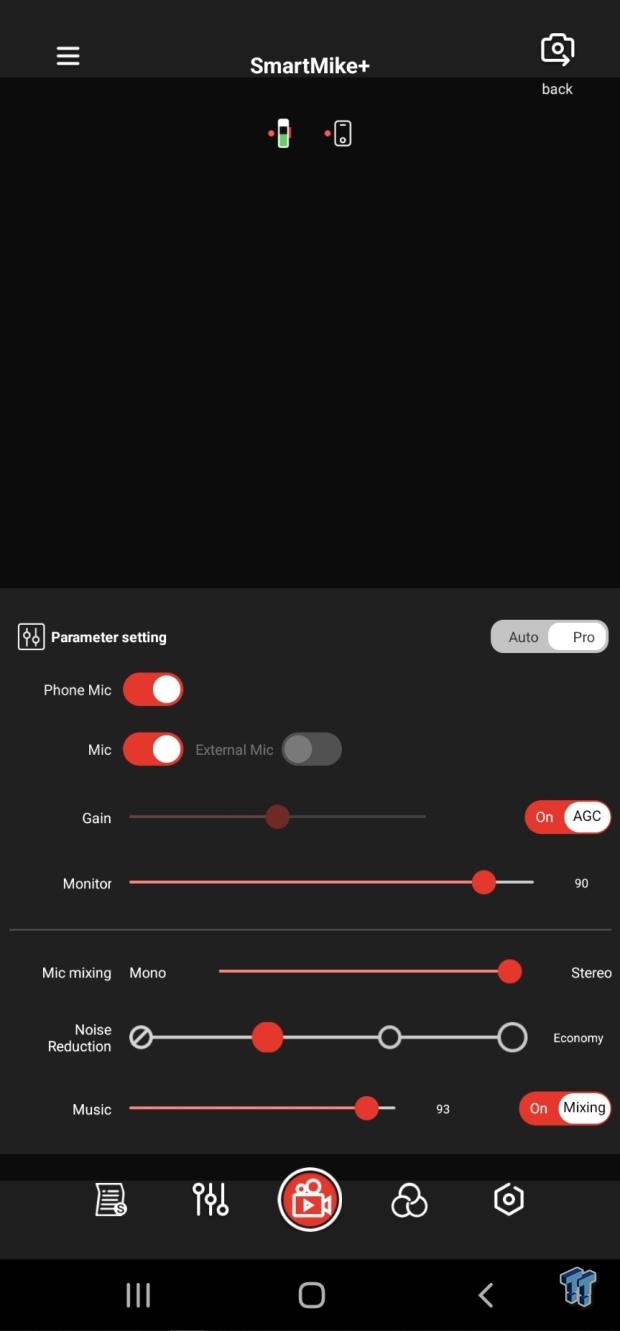 Though in-ear earphones are not for everyone, if one chooses, they may use different wired earphones or headphones with better sound isolation to prevent the microphone from detecting audio leaking from them while listening to music or anything else, in addition to potentially higher audio quality. All audio settings can be adjusted in real-time while recording, except for which microphones are active and whether mono or stereo audio is recorded. Having both the phone microphone and SmartMike+ recording enables the mono to stereo slider to be adjusted in real-time.
While recording either video and audio or just audio, decibel meters appear on either side of the screen to indicate the loudness of the audio being recorded. A teleprompter feature is available in either mode, creating a pop-up with text to read from while recording. You can adjust the scrolling speed, color, and size of the text while recording and the transparency of the pop-up itself. The pop-up can be moved anywhere on the screen and resized, and scrolling can be initiated or paused at will. Different lines can also be saved and easily selected to be displayed.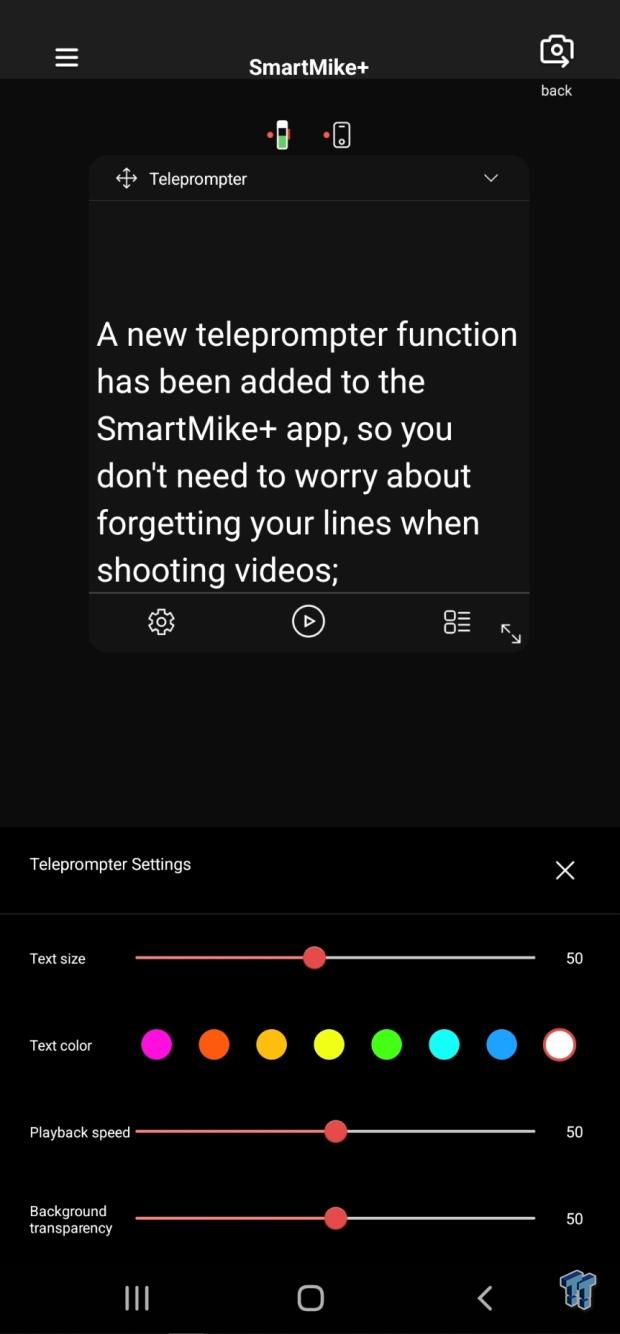 The video recording interface is minimalist but functional, allowing you to choose from front and back cameras in the top right, with options to select individual lenses if, for example, your phone has additional telephoto or ultrawide lenses. Tapping anywhere on the screen will set a focus point, the indicator for which will remain on screen for reference, with an exposure slider right next to it, a simple but powerful feature some camera apps unnecessarily complicate.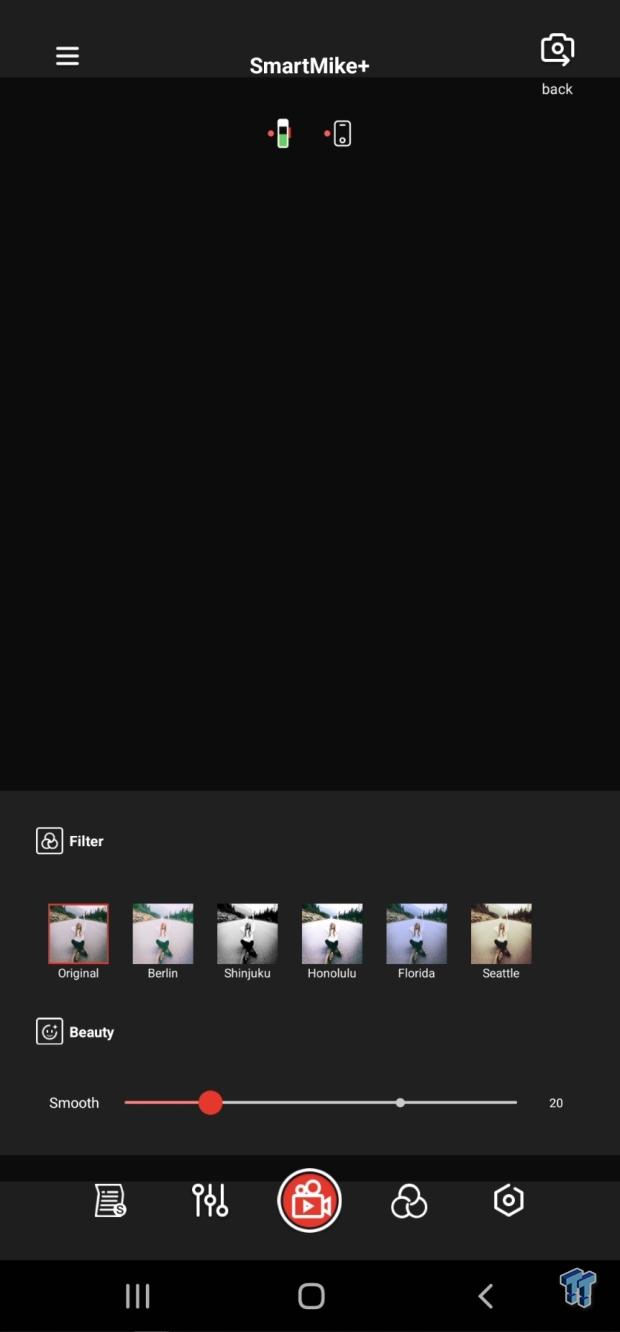 A variety of filters are available to choose from, and a "beauty" slider is available to smooth over facial features. Other advanced video settings available include choosing whether the front camera image is mirrored, the output resolution of the video, video bitrate, frame rate, gridlines on the preview window, aspect ratio, and an anti-shake feature (anti-shake is only available for the rear cameras). Unlike the audio or filter settings, these settings are not adjustable during recording.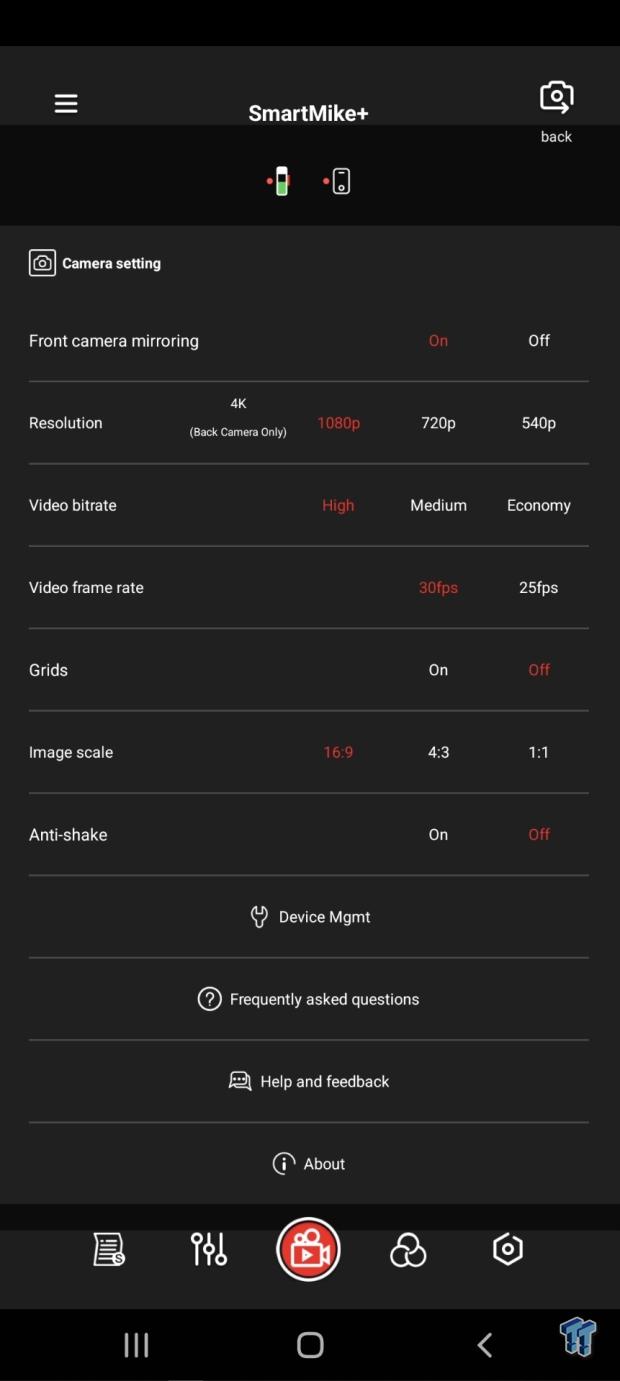 You can replay any audio or video recordings in the app, where they can be renamed, deleted, or shared to all the usual apps. Additionally, there is a file transfer over Wi-Fi option, where you can access the files on another device by entering your phone's IP address in a browser, followed by the port number the SmartMike+ app uses.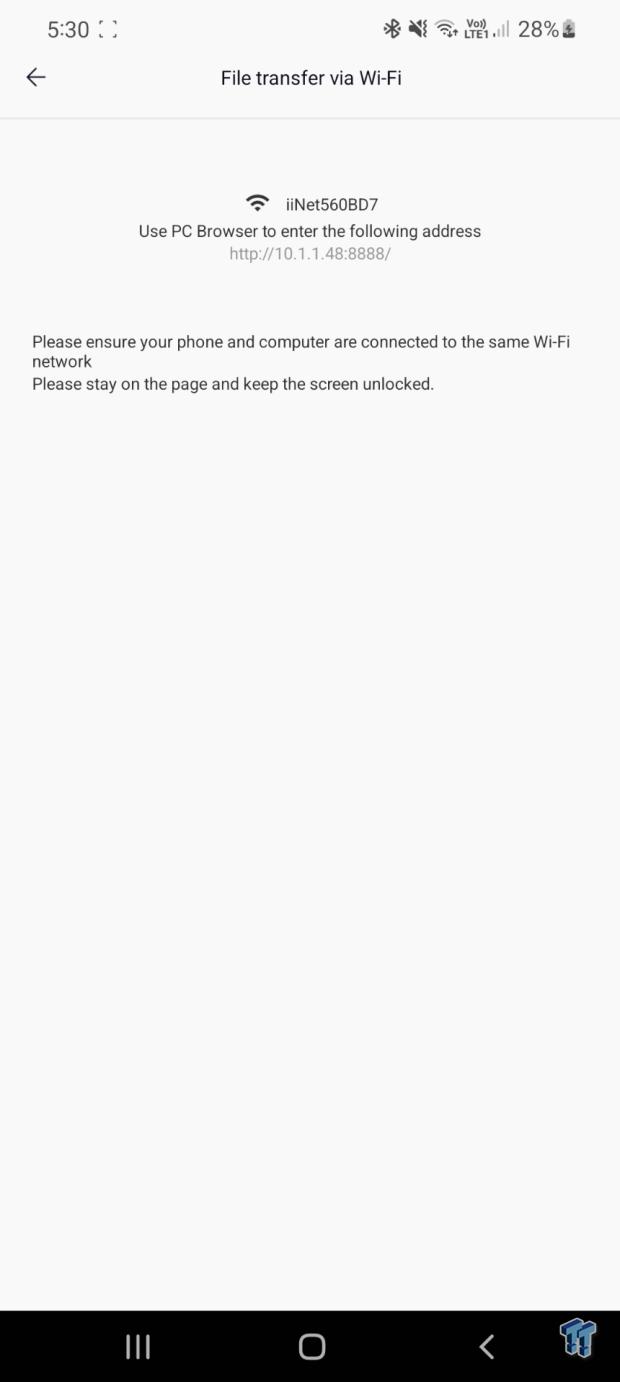 A trial feature also available while replaying content is closed captions, where speech recognition software is used to transcribe the audio content of your recordings in the subtitle language of your choice. It does a decent job but is likely to misinterpret a good amount, though you can edit the subtitles once the audio is processed.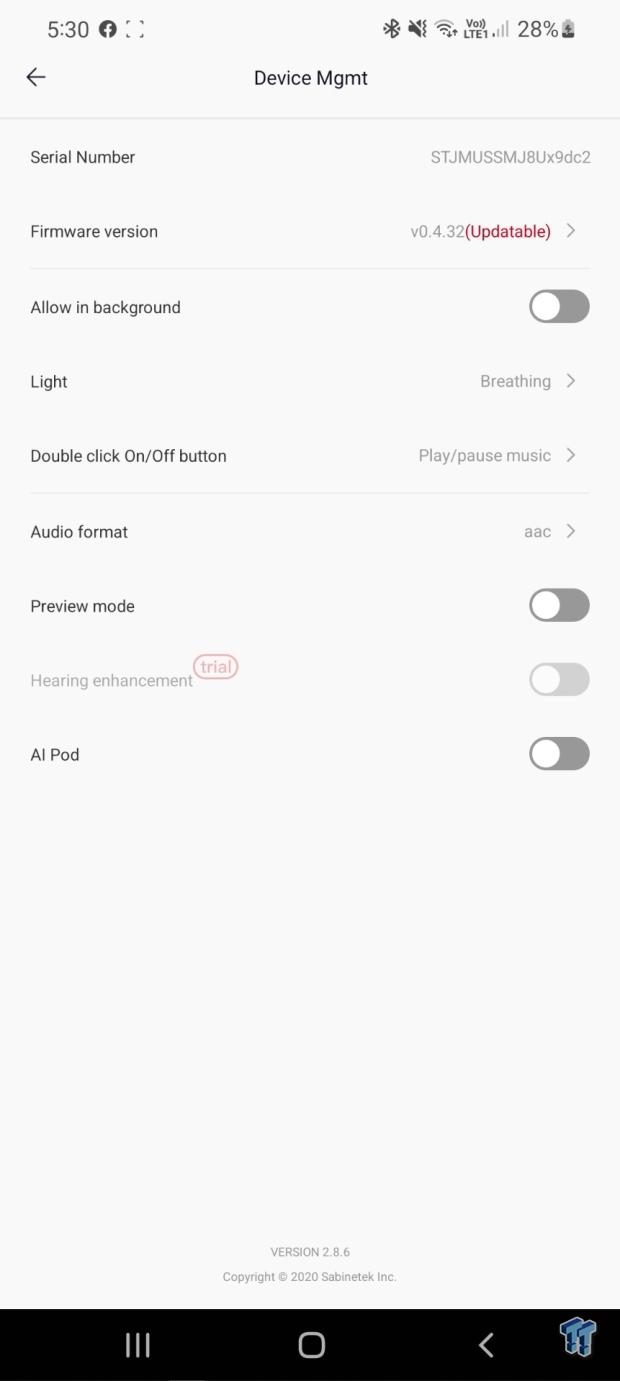 Other features available in the app's settings include enabling it to run in the background, although this will only allow continuous audio recording and not video. The microphone's indicator light can also be disabled during recordings or made to blink or breathe periodically, and the double-click function of the power button can be assigned to either playing and pausing music or switching between front and rear cameras while recording. Audio format choices of .aac, .mp3 and .wav are also available. Hearing enhancement is available as another trial feature, and the AI Pod setting is for use with Sabinetek's phone gimbal stabilizer accessory.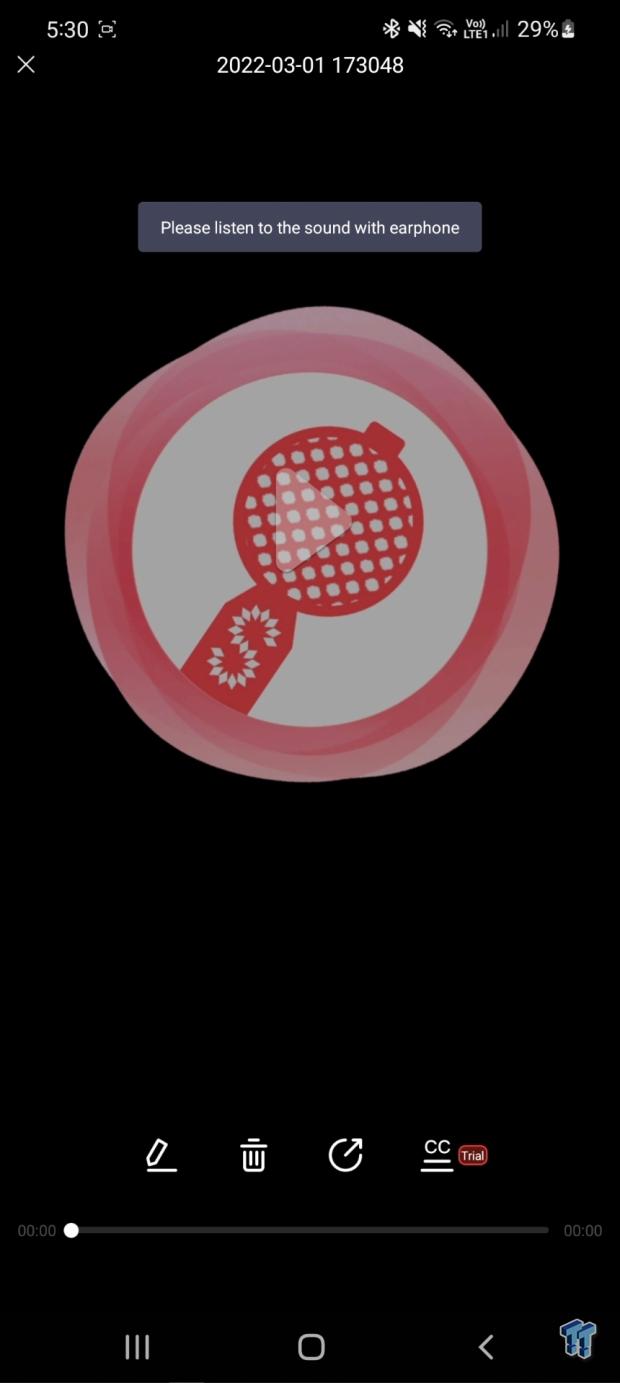 Having two SmartMike+ microphones unlocks various extended features, such as connecting both simultaneously to your phone for audio recording. They can also be configured in a master and slave configuration. One acts as a microphone and the other as a receiver, allowing audio to be transmitted to a device without Bluetooth, such as a digital camera, GoPro, or PA system.
Prices are Manufacturer's Suggested Retail Price
Sabinetek SmartMike+ ($299)
Sabinetek SmartMike+ (on shirt pocket)
MSI Immerse GV60 ($129)
Elgato WAVE 3 ($129)
MSI Immerse GH61 Effects Enabled ($100)
HyperX Cloud Revolver S ($149)
Logitech G395 ($169)
Sennheiser GSP 300 ($90)
HyperX Cloud II Wireless ($149)
Sennheiser | EPOS GSP 370 ($199)
Sennheiser | EPOS GSP 370 (Warm) ($199)
SteelSeries Arctis 7 Wireless ($139)
Corsair HS80 Wireless ($149)
Final Thoughts
What's Hot
Great audio quality

Multiple accessories available and extended functionality enabled with a second SmartMike+

The companion app has many useful features and is highly customizable

Trial features demonstrate the continued expansion of the software
What's Not
Sub-par included earbud

Recordings aren't available in gallery apps elsewhere on your smartphone, only accessible through the companion app

Transcription isn't perfect, though it is a trial feature

App bugs out occasionally when initiating recordings and won't actually record until the app is restarted
The SmartMike+ and its companion app provide a feature-packed package designed to offer a comprehensive all-in-one microphone solution that will serve mobile content creators extremely well.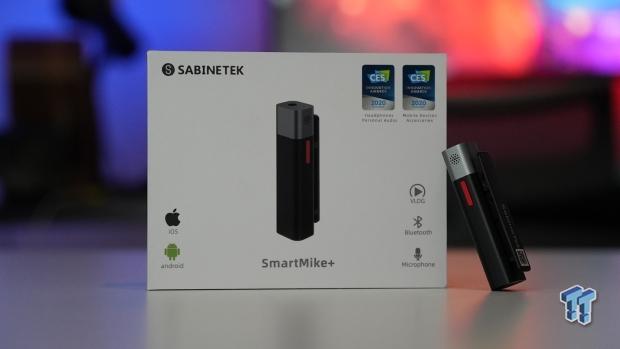 The audio recording quality is superb, and the companion app is highly customizable with many tools that content creators are bound to appreciate.
| | |
| --- | --- |
| Performance | 95% |
| Quality | 85% |
| Features | 95% |
| Value | 80% |
| Overall | 89% |
The Bottom Line
The SmartMike+ comes with fantastic audio quality, multiple accessories, and lots of features via the companion app. However, it does have problems with its earbud, transcription, and bugs throughout the app.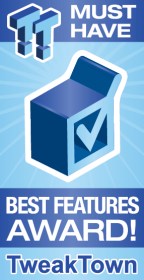 We openly invite the companies who provide us with review samples / who are mentioned or discussed to express their opinion. If any company representative wishes to respond, we will publish the response here. Please contact us if you wish to respond.