TweakTown's Rating: 88%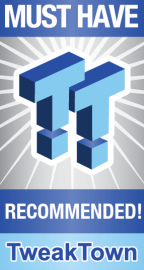 The Bottom Line
A USB condenser microphone with great sound quality and powerful software, the AVerMedia Live Streamer Mic 350 is a broadcast-ready solution for those looking for a simple plug-and-play setup.
Pros
+

Impressive build quality

+

Great tuning and out-of-the-box performance

+

Deep software customization

+

Noise cancellation works great

+

Low-latency monitoring and plug-and-play versatility
Cons
-

Pricier than most USB microphones

-

Super sensitive, so it requires customizing to get the best results

-

Better for solo recording than group recording
Should you buy it?
Avoid
Consider
Shortlist
Buy
Introduction & Specification Details and Close-up
No matter the audio solution, dedicated hardware always trumps in-built solutions. If you're serious about listening to music or being immersed in a game's audio, dedicated speakers are far better than those found on a display or laptop. From dedicated sound cards to speakers, headphones, and microphones - better audio comes from better quality and dedicated components.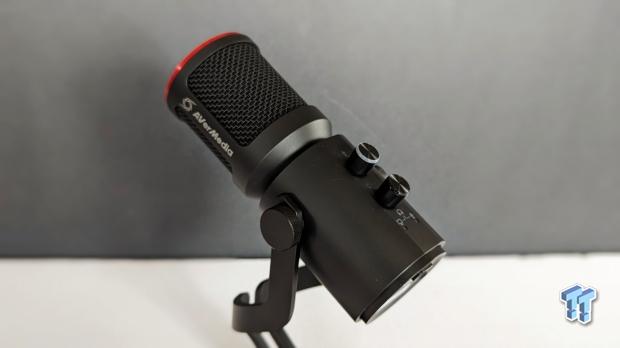 In recent years, with the rise of streaming, podcasting, content creation, and even the modern hybrid working-from-home environment, a high-quality dedicated microphone has become a highly sought-after piece of equipment. And making the jump from using a mic that extends off the side of a headset to something that sits on a desk or hangs in front of you like you're in the middle of a recording studio can be the difference between sounding like a phone call versus a professional recording good enough for broadcast.
The new AVerMedia Live Streamer Mic 350 is a USB-C solution from the company that aims to simplify the whole professional recording process through software and great hardware features (as of writing, AVerMedia also offers a bonus of a pop filter and shock mount for those looking for a more pro setup). It is a surprisingly robust package that offers highly customizable and versatile audio processing that extends to AI-based noise suppression.
Sitting within the USD 200 price range, the AVerMedia Live Streamer Mic 350 offers an impressive solution for those looking for a premium vocal entry point into content creation, podcasting, or streaming. With traditional XLR microphone setups often requiring an expensive audio interface, going USB is more user-friendly. Let's dig in.
Specifications & Close Up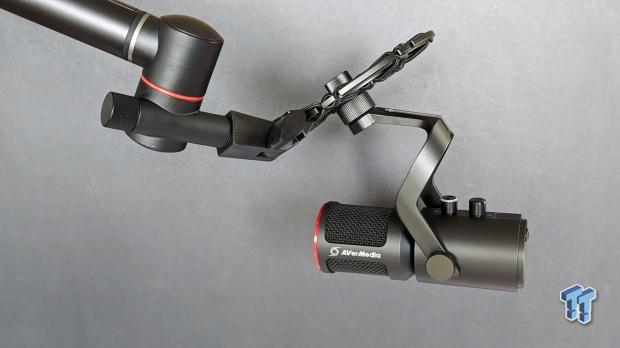 Product Type:Microphone
Model: AVerMedia Live Streamer Mic 350
Microphone Type: Condenser
Polar Patterns: Cardioid, Omnidirectional
Interface: USB Type-C
Sensitivity: -41 dB
Frequency Response: 20 - 20,000 Hz
Sample Rate/Resolution: 24-bit, 96 kHz
Dimensions: 56 x 230 mm
Weights: 302.2 grams (Microphone), 108.2 grams (Bracket), 231.8 grams (Stand)
In the Box: AVerMedia Live Streamer Mic 350, USB Type-A to Type-C Adapter, USB Type-C to Type-A Cable, Base Plate, 5/8" to 3/8" Thread Adapter, Quick Start Guide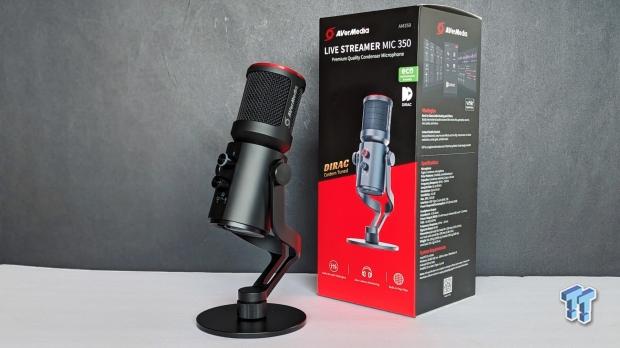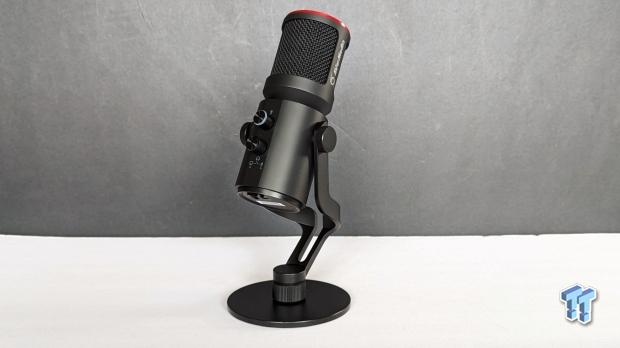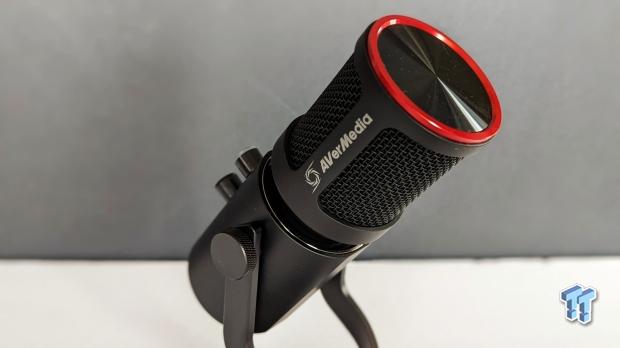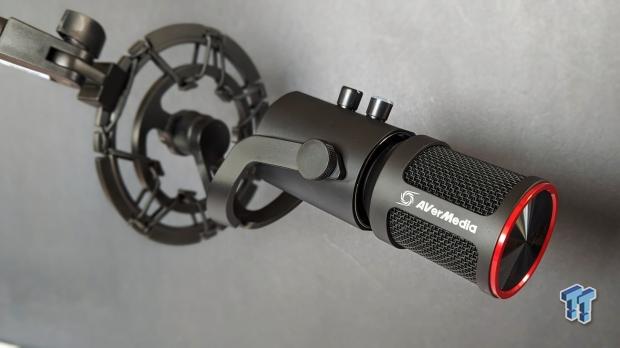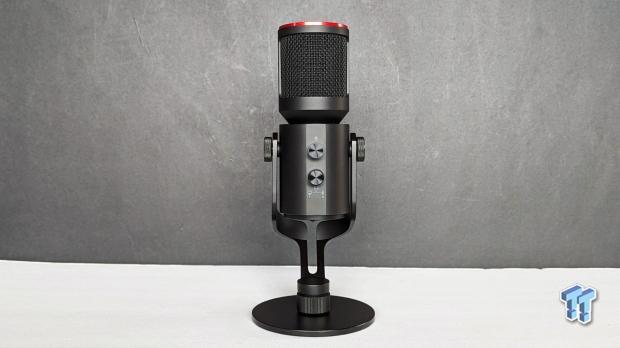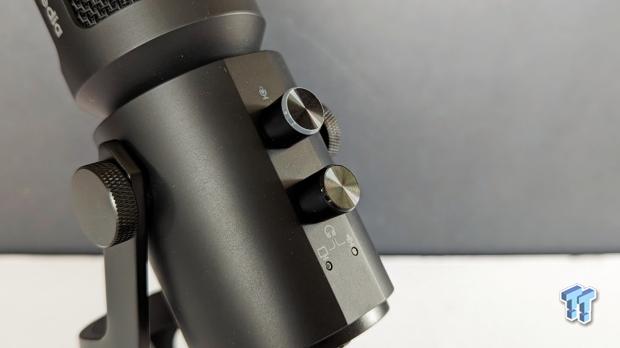 Kosta's Test System Specifications
Motherboard: MSI MPG X670E Carbon Wi-Fi
CPU: AMD Ryzen 9 7900X
GPU: NVIDIA GeForce RTX 4090 Founders Edition
Cooler: Corsair iCUE H100i RGB PRO XT Liquid CPU Cooler
RAM: 64GB (2x32GB) Corsair DOMINATOR PLATINUM RGB DDR5 DRAM 5200MHz
SSD: Sabrent Rocket 4 Plus-G M.2 PCIe Gen 4 SSD 4TB, Sabrent Rocket 4 Plus Plus M.2 PCIe Gen 4 SSD 8TB
Power Supply: Thermaltake Toughpower GF1 850W
Case: Thermaltake Core P3 Tempered Glass Snow
OS: Microsoft Windows 11 Pro 64-bit
Design & Software
Design
The AVerMedia Live Streamer Mic 350 (or AM350) is a condenser microphone with excellent frequency response, range, and sensitivity that the company notes is good enough to dabble in some ASMR recording. The physical design is minimal, stylish, and robust, with a matte black aluminum body, a red ring adorning the top, and a spot for the company logo on either side of the mic. The cylindrical shape is classic and perfect for a recording studio setup.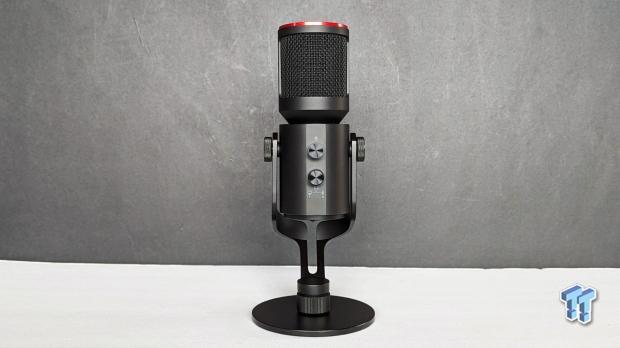 The metallic build and high-quality stand add a premium feel to the AVerMedia Live Streamer Mic 350, which is stable enough to offer great recording without the need for a boom arm or shock mount (AverMedia including the latter as part of a lunch bundle is a nice touch). The swivel can be tightened, with connections on the underside, including the USB-C interface and 3.5mm audio monitoring. You'll also find the switch to change the pattern from Cardioid to Omnidirectional here, which is excellent because the Live Streamer Mic 350 supports single-person and room-scale recording.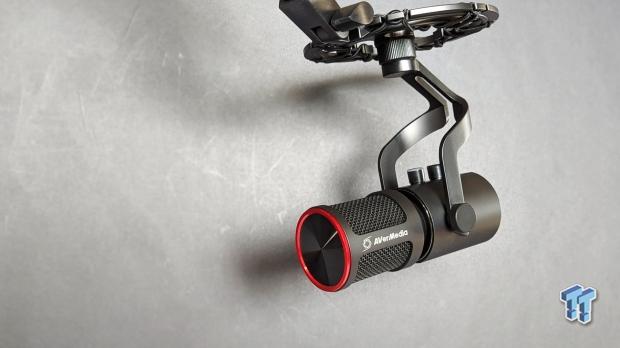 On the front side of the microphone is where you'll find separate volume or pick-up knobs for the microphone and monitoring. Being able to independently adjust the monitoring levels of the microphone and system audio separately is an excellent feature to have on the microphone, as is the ability to mute, which is handled with a simple press of the central microphone volume knob - which will then change to red to indicate that you're muted.
One of the main benefits of picking up a microphone like the AVerMedia Live Streamer Mic 350 is that it's plug-and-play and ready to use in seconds (or a minute or two if you opt to make use of AVerMedia's VibeEngine software for customization and tweaking). The default out-of-the-box recording quality is impressive for a USB microphone and lives up to the premium branding.
Software and Support
AVerMedia's VibeEngine software suite that comes with the Live Streamer Mic 350 is surprisingly feature-packed, offering a vast range of microphone effects to enable and even the option to set up a proper mixer to adjust levels and output a single combined audio stream that includes the microphone, system/game audio, and any vocal effects currently in use.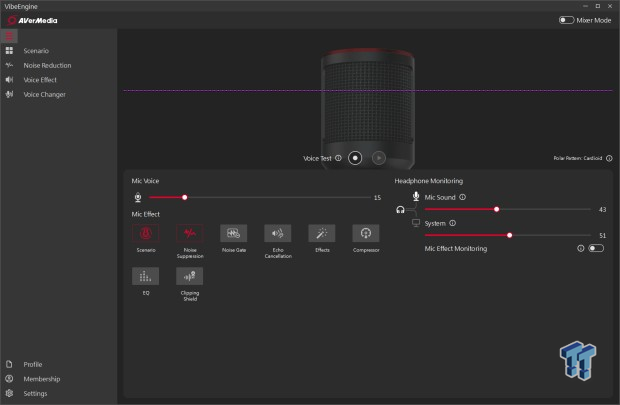 The AVerMedia Live Streamer Mic 350 default vocal quality is uniformly excellent for those who want to jump in and record. However, with a high sensitivity, you'll want to use the noise suppression effects if you're not in a completely silent environment. You've got AI noise reduction that uses an algorithm to remove unwanted background sounds and an Echo remover that removes any echo - both of these you can toggle on or off. On top of this, there's a noise gate and robust de-esser for clearing up vocals to remove unwanted sharpness.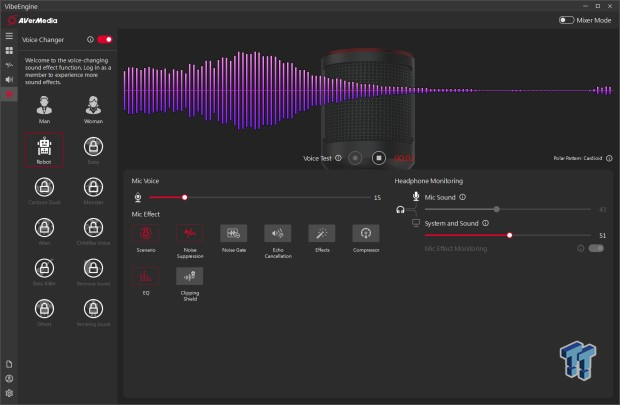 Then there are effects like reverb you can mess around with, EQ settings, and compressor. There are scenarios for chatting, podcasting, singing, and even fun little vocal modulation tools to change the perceived gender of your vocals or make you sound like a robot. With impressive noise cancellation and vocal fine-tuning, even though you can stick to third-party apps when using the AVerMedia Live Streamer Mic 350, AVerMedia's VibeEngine software suite is highly recommended.
Performance & Recording Quality
Performance
Switching between two pickup patterns with plenty of customization and different settings to play around with is great. The sound and vocal quality are here for the Live Streamer Mic 350, and you can tune your voice to sound pretty much how you want it to - with detail and clarity to spare. This is great for content creators who don't have time to run a recording through a compressor or mastering suite, as you can get broadcast-ready results through software. Of course, the Live Streamer Mic 350 plays nice with third-party apps like OBS, Audacity, Ableton Live, and others - so you aren't beholden to AVerMedia's software suite.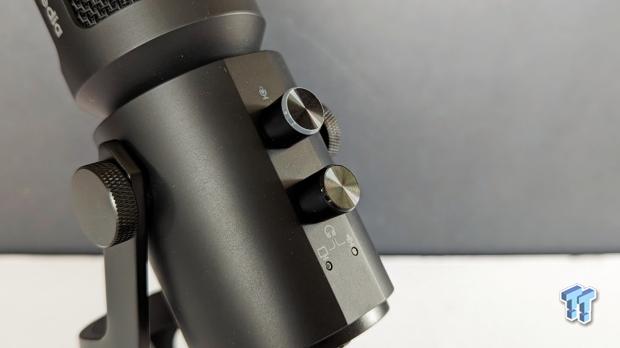 The inbuilt monitor works great, too, offering low-latency playback of your voice with system sound - and even when you crank up the effects, the latency remains relatively low. If it becomes noticeable, you can toggle the 'monitor effects' option from AVerMedia's VibeEngine software to get a clean, low-latency signal.
Recording Quality
Often, USB microphones are a step or two behind what you can get from an XLR and audio interface - your typical professional setup - but the Live Streamer Mic 350 gets close enough to impress you with how far USB audio recording has come. Here's a sample of the AVerMedia Live Streamer Mic 350's recording capabilities and quality.
It's also worth noting that Cardioid recording for solo voices often delivers more consistent results than the Omnidirectional pattern.
Final Thoughts
AVerMedia's push into the streaming and content creation space for gamers delivers impressive results, from capture cards (stay tuned for our full review of the awesome Live Gamer ULTRA 2.1 - GC553G2) to microphones and cameras. Heading into the review for the new Live Streamer Mic 350, I wasn't sure what to expect because USB audio is powerful but also beholden to drivers, inbuilt DACs, software support, and enough versatility to work well with third-party apps without issue.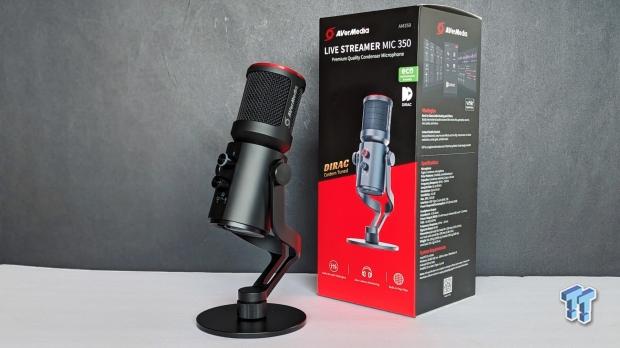 With its USD 199 price point that includes a pop filter and shock mount, you've got an impressive and broadcast-ready microphone that is easy to set up and work on a range of PC hardware and customize, thanks to the surprisingly powerful software suite. Perhaps all you need to know is that AVerMedia worked with DIRAC, leveraging its audio tuning technology to develop this USB microphone. For those looking to get a mic for streaming, podcasting, or content creation - the Live Streamer Mic 350 is highly recommended.