TweakTown's Rating: 95%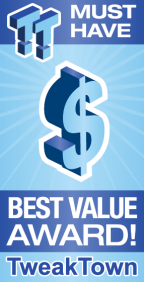 The Bottom Line
At this time, Western Digital's Blue SN550 1TB is the best overall value in NVMe for mainstream users.
Introduction & Drive Details
The once exotic NVMe SSD is now fully mainstream. The average enthusiast has at least one, and OEMs are typically including them in their base products. When NVMe SSDs started to become affordable for the masses, the focus was all on sequential performance because showing off those big numbers to consumers is what sold drives.
With NVMe SSDs maturing in the marketplace and options galore, consumer focus is starting to veer away from expensive SSDs that deliver sequential eye candy. More and more, we are seeing consumers looking for value first and all-out performance secondarily. As we see it, value is not defined by price alone. A true value SSD must be low cost, have good endurance, and most importantly, provide an excellent user experience.
Our definition of user experience boiled down to its simplest form is latency under typical user states. This means those eye-popping sequential speeds we all see so boldly advertised mean very little in reality. Sequential performance rarely comes into play for the typical mainstream user. Things like booting, loading game levels, and typical consumer tasks are almost entirely dependent on low queue depth random performance.
An SSD that delivers exceptional user experience relative to its competition will always be an SSD that delivers low latency random performance at low queue depths. This is great news for those of us who are seeking exceptional value and uncompromising user experience. Now we can get both attributes from well-engineered value SSDs like Western Digital's newest offering, the WD Blue SN550.
An expensive 8-channel fire-breathing controller that serves up five gigabytes per second sequential speeds doesn't serve up random data at low queue depths any better than a well-engineered, cost-effective 4-channel controller. And now, even DRAM on the SSD is no longer required for exceptional user experience.
With these thoughts in mind, let's refocus on our test subject, the WD Blue SN550. We will go ahead and state upfront that we are of the opinion that WD's newest offering is the best overall value proposition currently available. As our testing will demonstrate, the SN550 1TB at 10 cents per gigabyte delivers a user experience that is better than many much more expensive SSDs.
Drive Details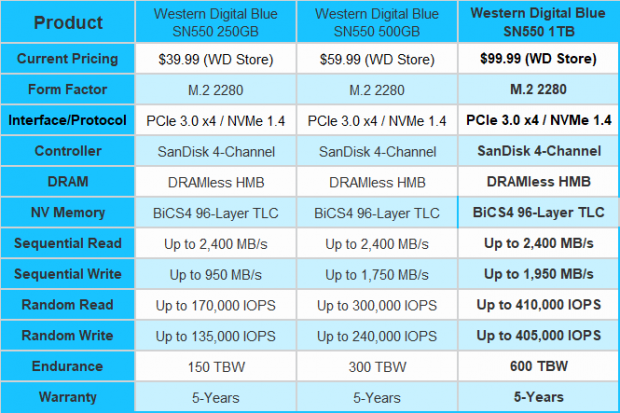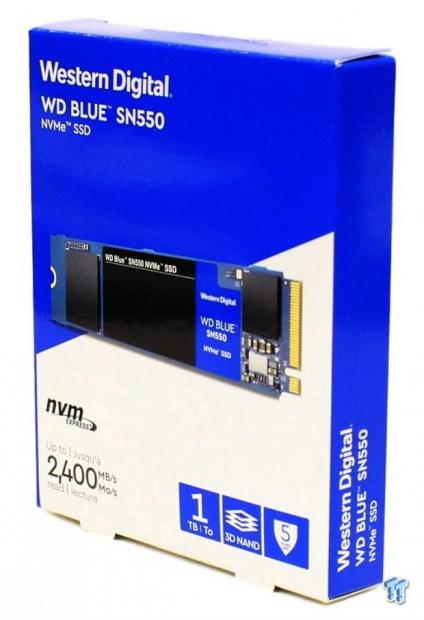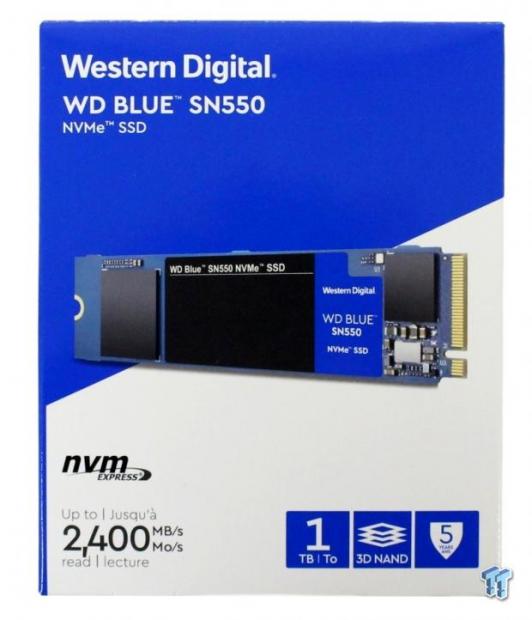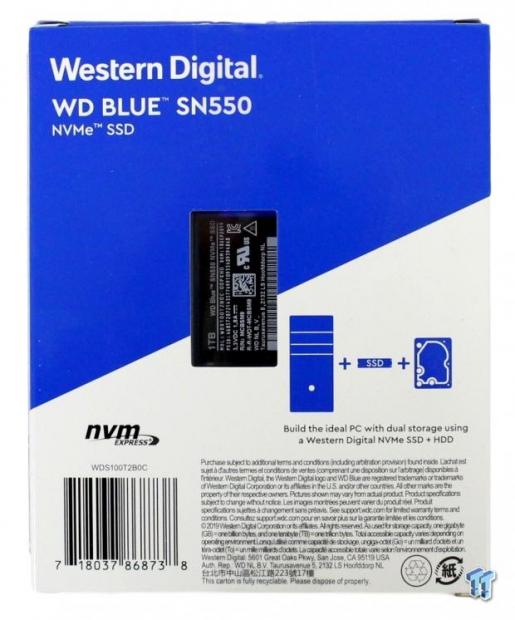 The SN550 is the first SSD we've noticed that implements the newest NVMe 1.4 protocol. The new protocol may be some of the reason why this DRAMless SSD performs so exceptionally well with our 100GB transfer test.
The drive ships in familiar WD packaging. Unlike what we typically see, the WD Blue SN550 has very few components. Only a single flash package, controller, and a few SMC's on a single-sided design. Minimal components equate to minimal cost, usually at the sacrifice of performance, but not this time, as you will see.
SSD Toolbox
Western Digital SSD Dashboard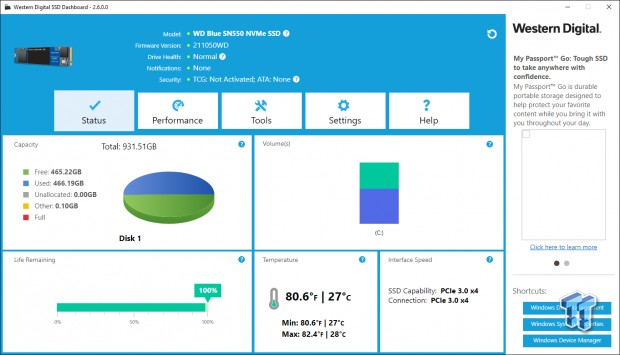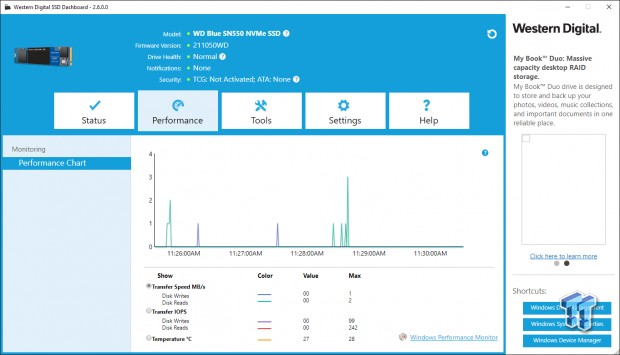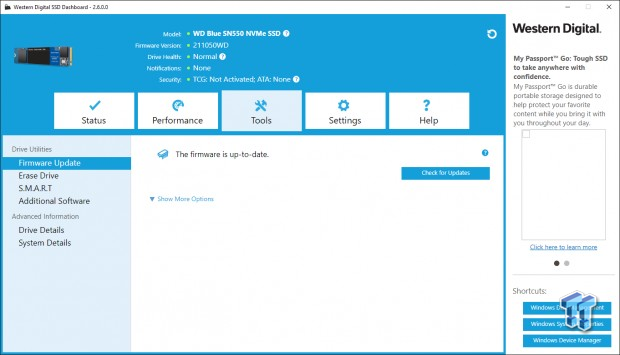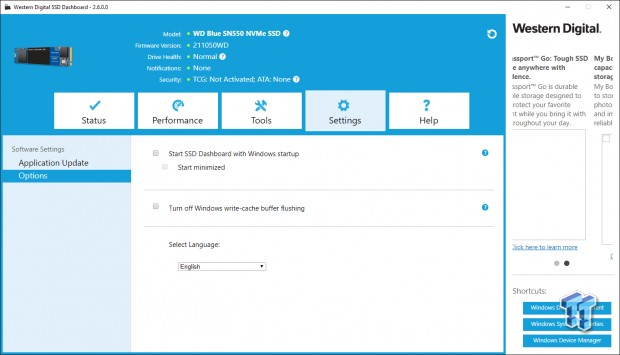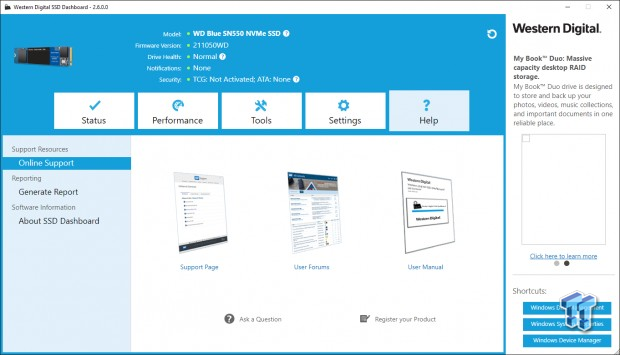 The SN550 is fully compatible with Western Digital's SSD Dashboard. The toolbox is free for download. With it, you can monitor the health of your drive, secure erase, update firmware, and perform various other functions. Cloning software is also available for free download from WD. When you buy a WD SSD, you get the complete package.
Synthetic Benchmarks: CDM & Anvils
CrystalDiskMark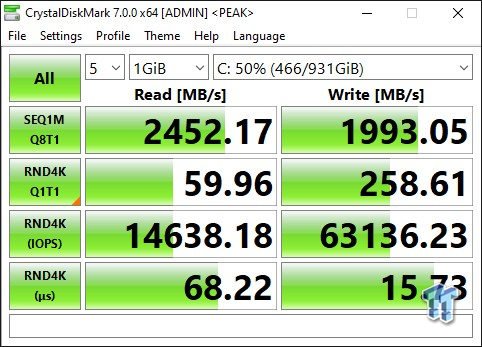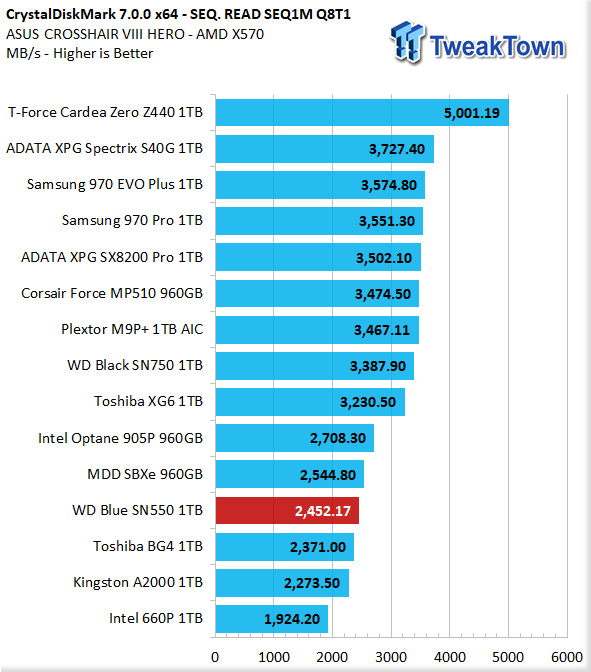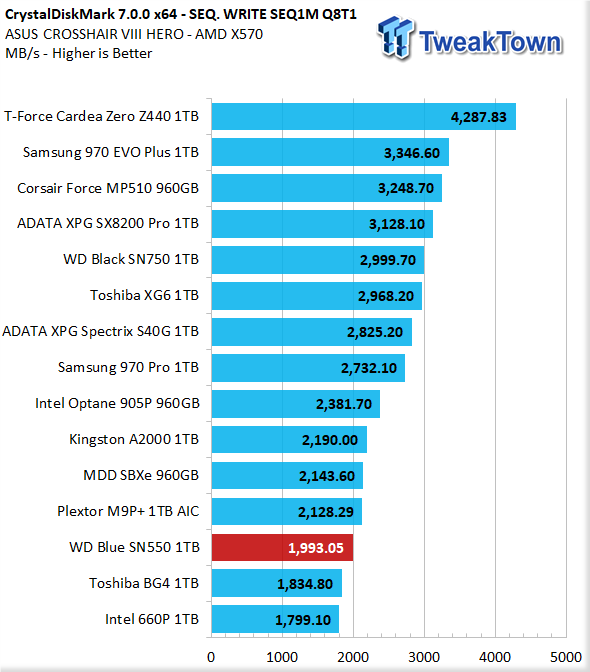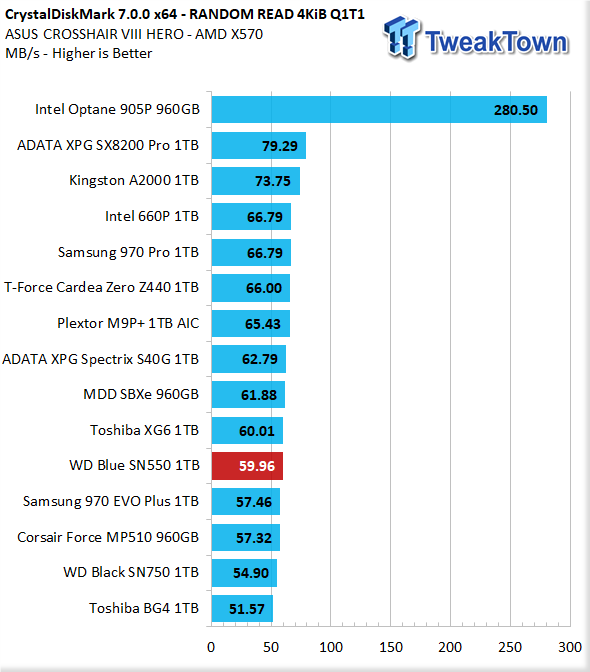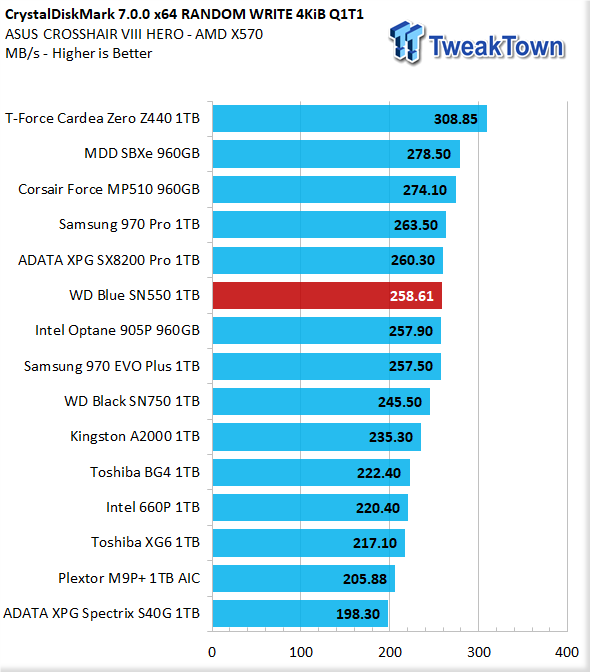 We test all SSDs as our system (OS) disk filled 50% with data. This allows us to closely replicate a typical user scenario. WD's specs sequential for the SN550 1TB at 2,400 MB/s read and 1,950 MB/s write. We had no issues meeting and exceeding factory sequential specs.
Looking at the random performance, we find the SN550 delivering a bit more than some of the big-name enthusiast favorites. Keep in mind this is a DRAMless SSD.
Anvil's Storage Utilities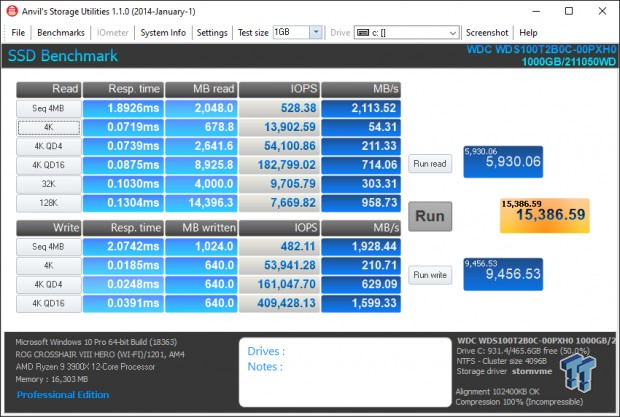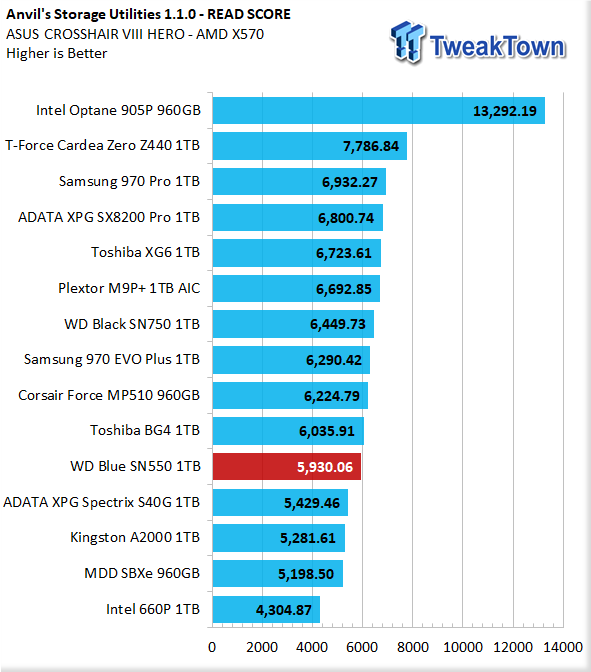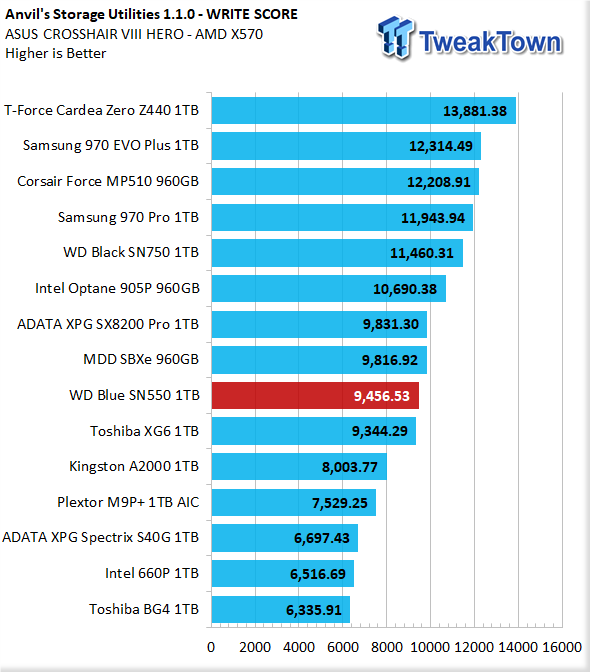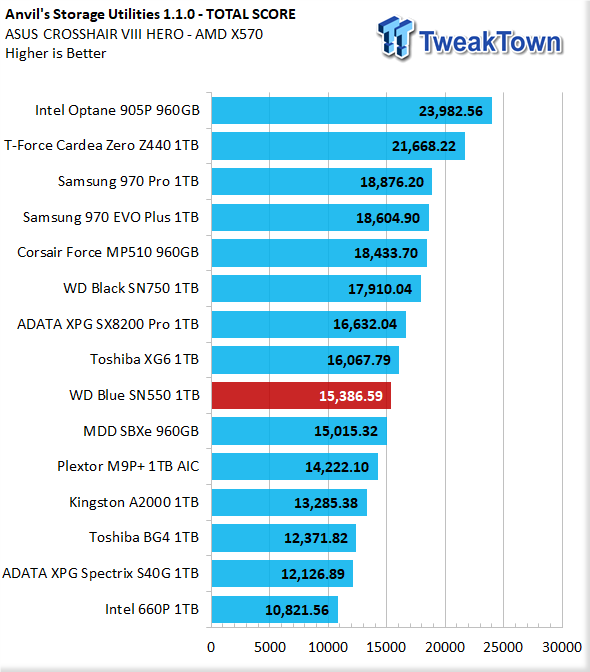 Overall, read performance is always our primary focus. Were it not for relatively low sequential performance, the SN550 would be near the top of our read chart. The good news here is sequential performance is the least important factor when it comes to delivering a tier-one user experience. We will see this fact demonstrated when we get to our new PCMark 10 storage testing.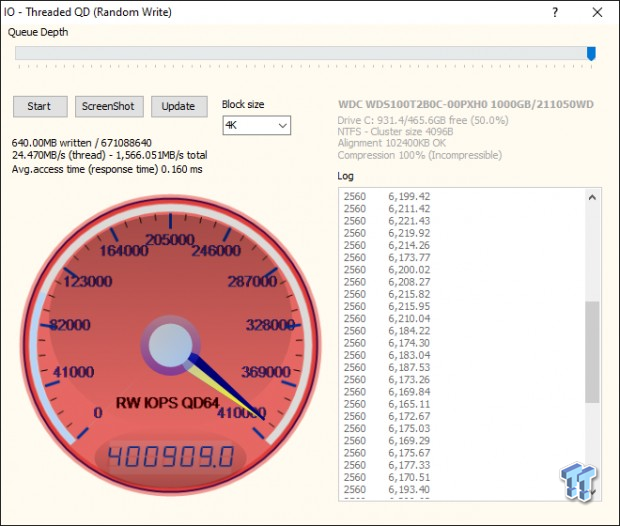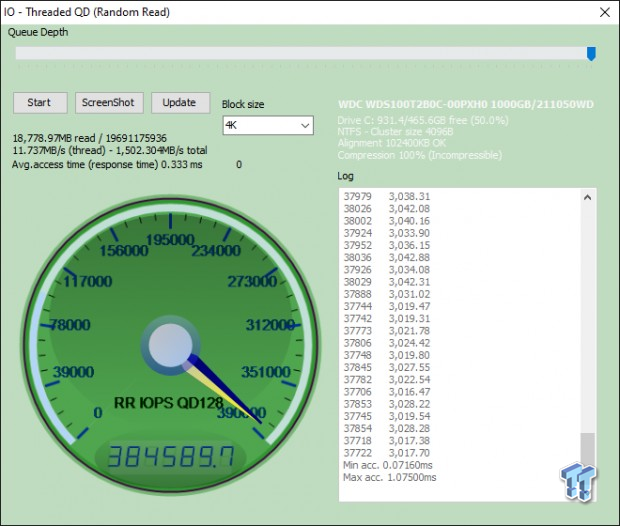 We can't quite hit factory specs for max random performance. This is most certainly because we test as system disk 50% filled. We place zero importance on max random performance. We just show what we can attain in our user state.
Synthetic Benchmarks: AS SSD & ATTO
AS SSD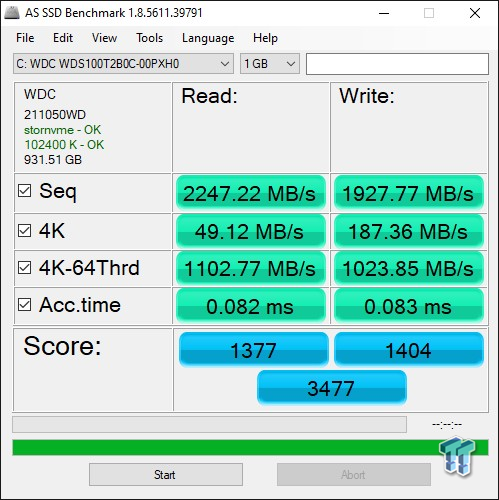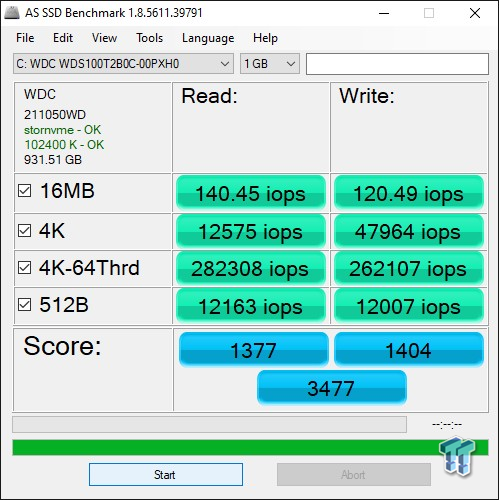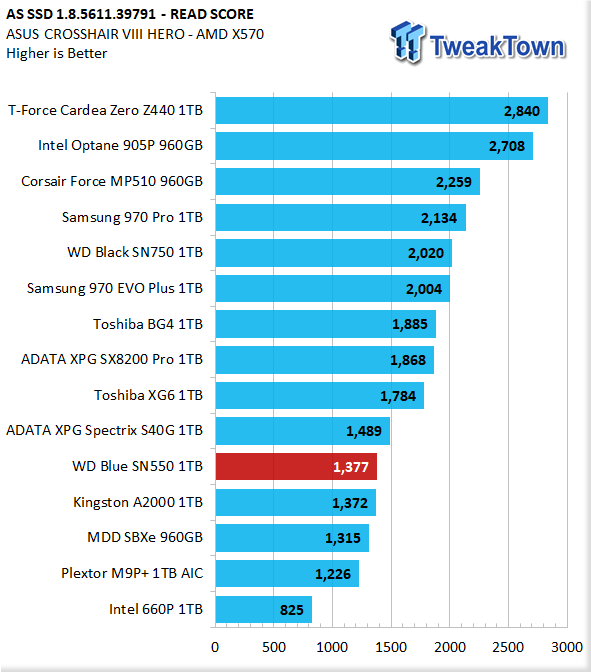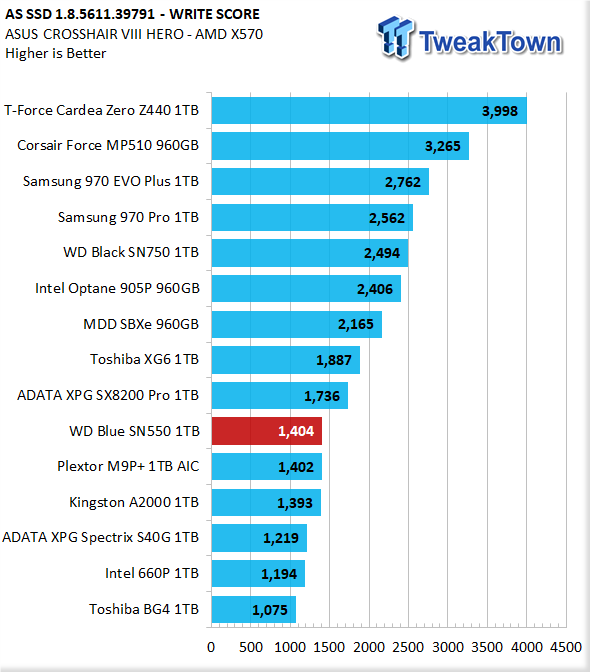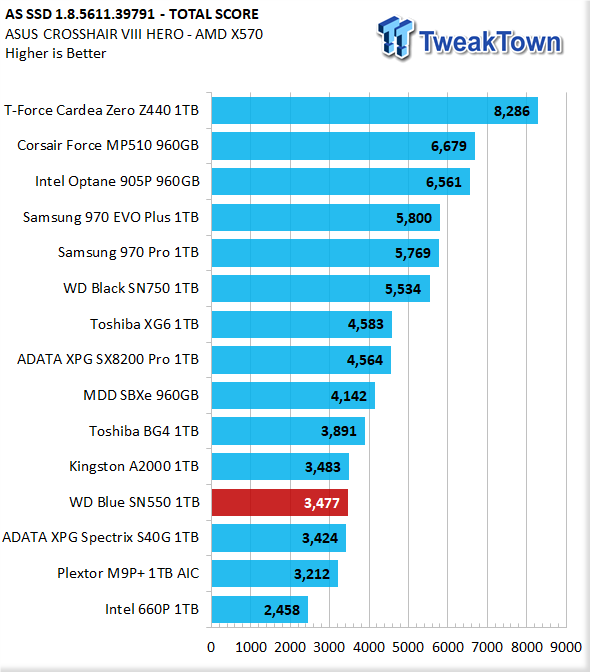 Overall read performance is again our primary focus. The SN550 delivers excellent performance in comparison to other value-oriented SSDs.
ATTO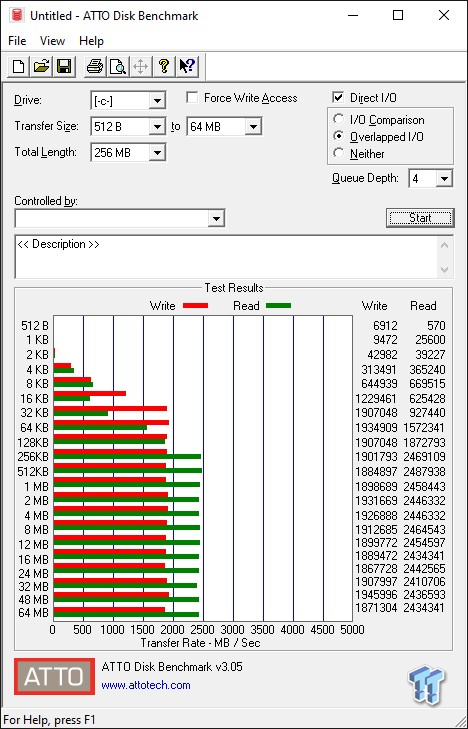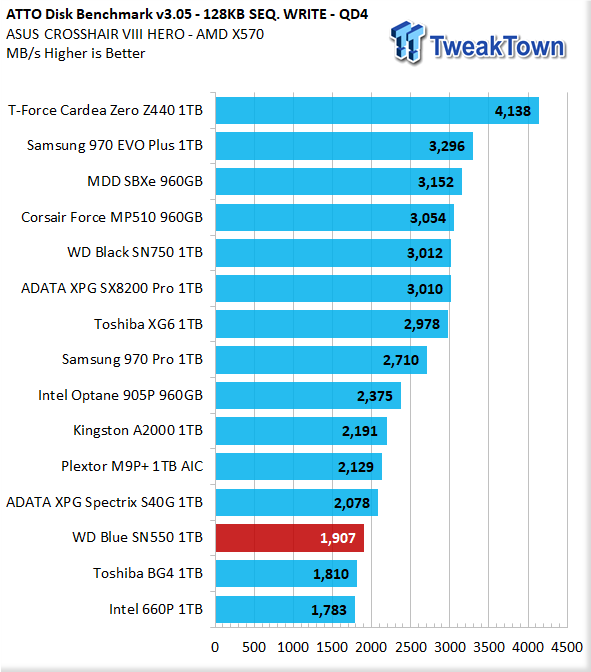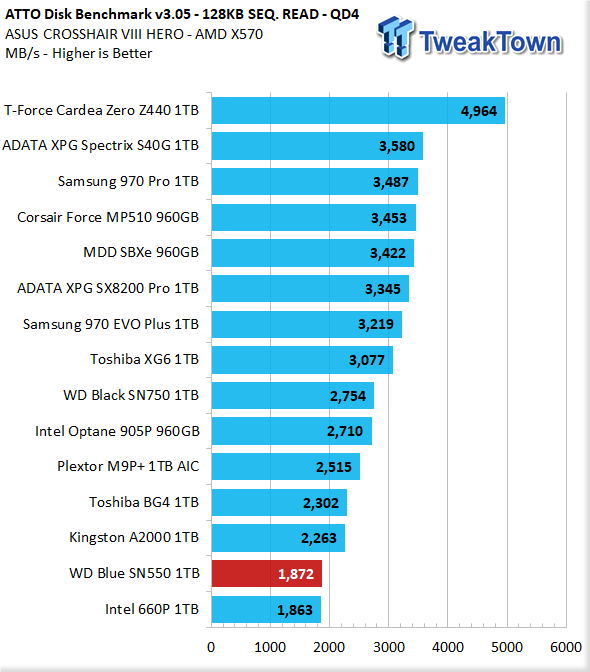 Focusing on 128KB sequential transfers, we find the SN550 near the bottom of our charts. This is not concerning in the least, because, as we've explained many times, excellent user experience is not derived from the sequential performance.
Real-World Testing: Transfer Rates & Gaming
Transfer Rates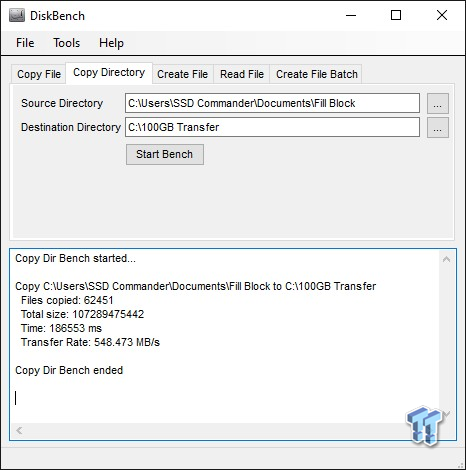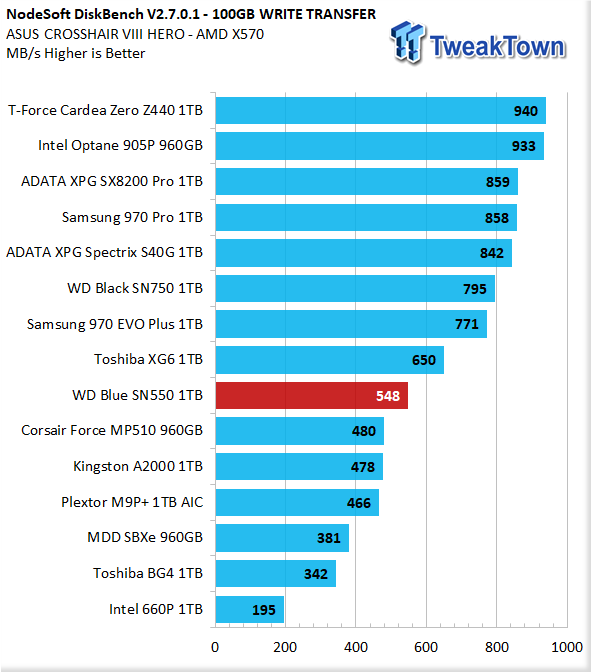 Our write transfer is 100GB in size and composed of more than 62,000 files. A transfer of this nature typically brings DRAMless SSDs to their knees, but not the SN550. A 548 MB/s transfer rate is astonishing for a DRAMless SSD and has us wondering if the newest NVMe protocol is a contributing factor.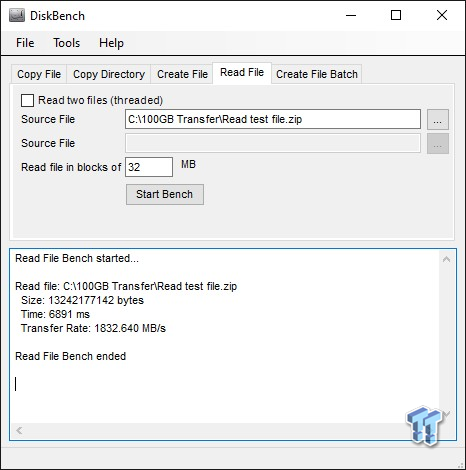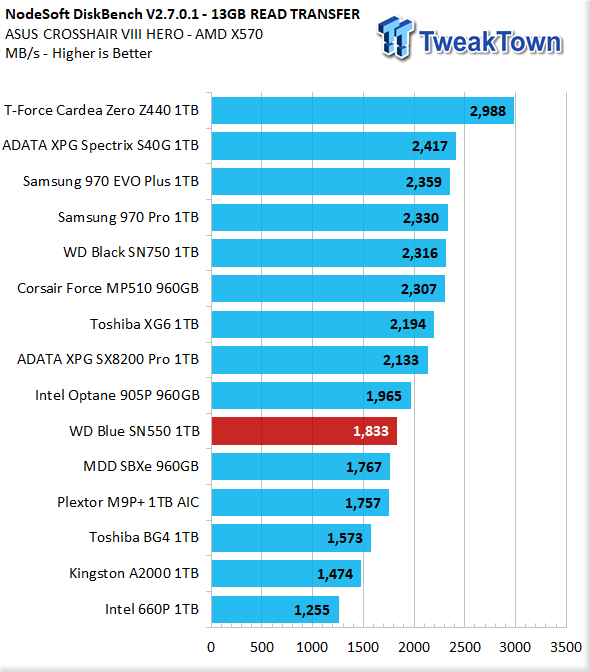 The SN550's read transfer rate is equally impressive. The SN550 is serving up data faster than its main competition.
Game Level Loading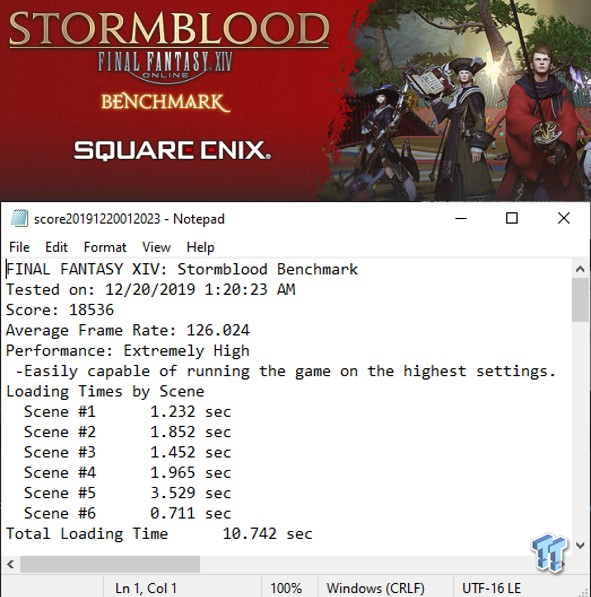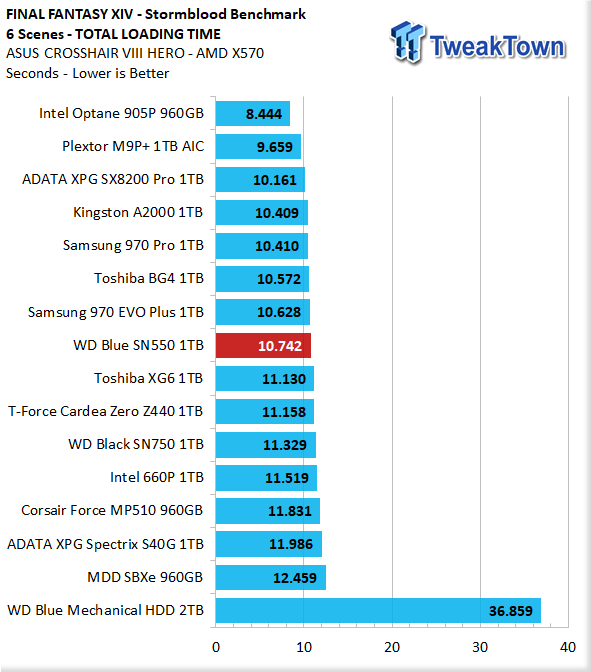 The DRAMless SN550 proves to be a very good gaming SSD. Take a close look at the drives that it is beating and realize that it is beating them soundly. Amazing. This is a real tier-1 user experience right here.
Real-World Testing: PCMark 10 Storage Tests
PCMark 10 Storage Test is the most advanced and most accurate real-world consumer storage test ever made. There are four different tests you can choose from; we run two of them. The Full System Drive Benchmark and the Quick System Drive Benchmark. The Full System Drive Benchmark writes 204 GB of data over the duration of the test. The Quick System Drive Benchmark writes 23 GB of data over the duration of the test. These tests directly correlate with user experience. Of the two tests, we feel that the Quick System Drive Test most accurately replicates a typical user experience.
PCMark 10 Full System Drive Benchmark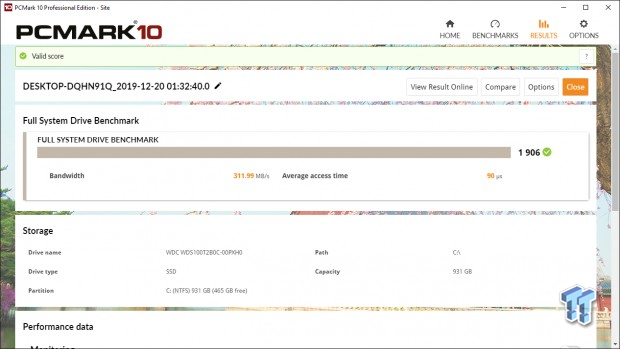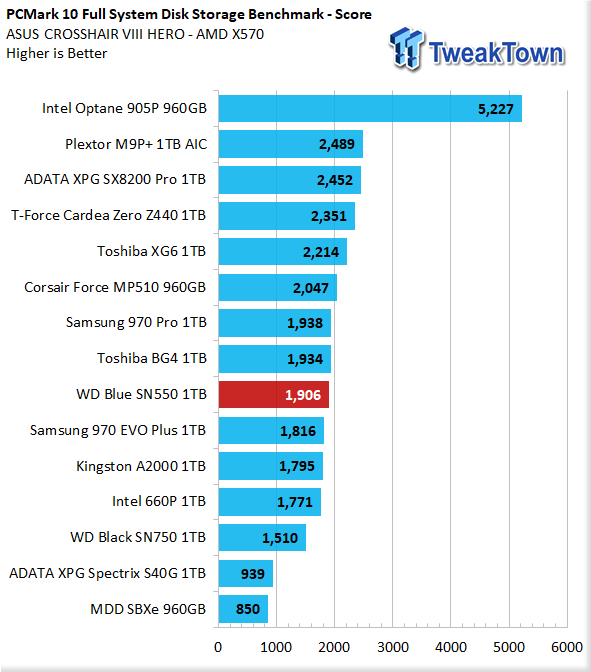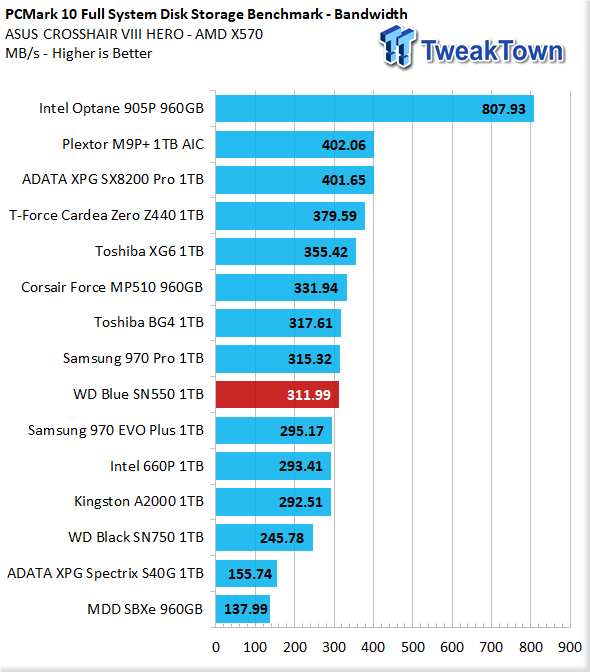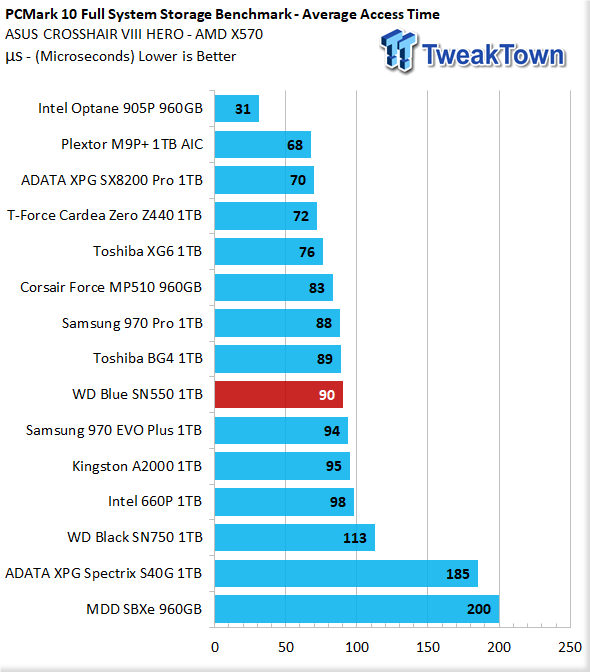 PCMark 10 storage tests are redefining what true performance really is by radically changing the pecking order we become accustomed to seeing. The SN550 delivers a better user experience than some of the top names when running heavy consumer-related workloads.
PCMark 10 Quick System Drive Benchmark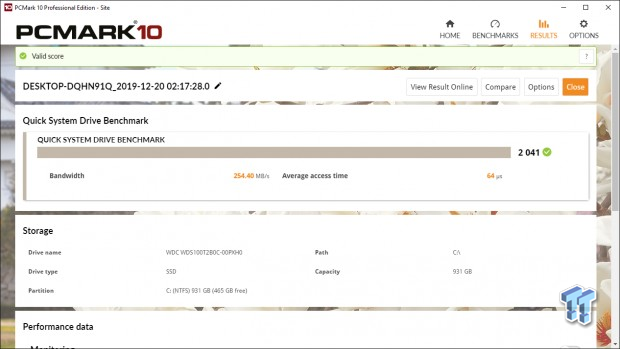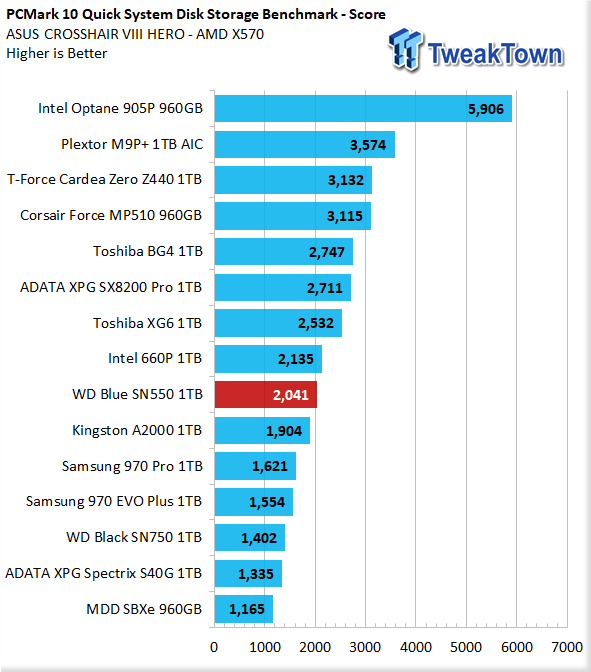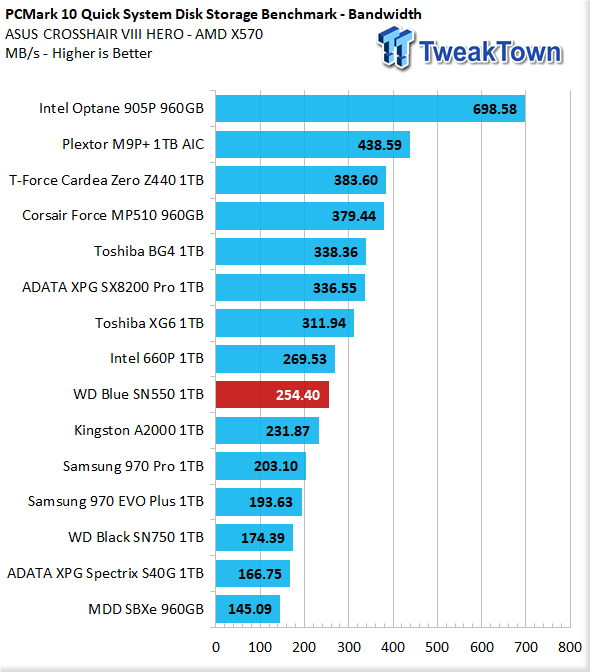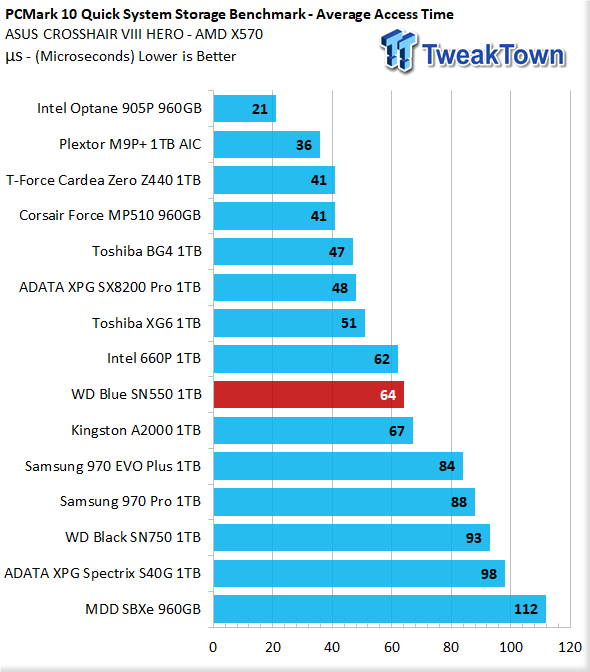 The SN550 handles moderate workloads typical for consumer use even better. Priced like it is and delivering the user experience it does is the reason we are crowning the SN550 as our new value champion.
Final Thoughts
We have to say, Western Digital's newest caught us completely off guard. One flash package and no DRAM? Beating direct competitors and SSDs that are considered out of its league? Impressive is an understatement.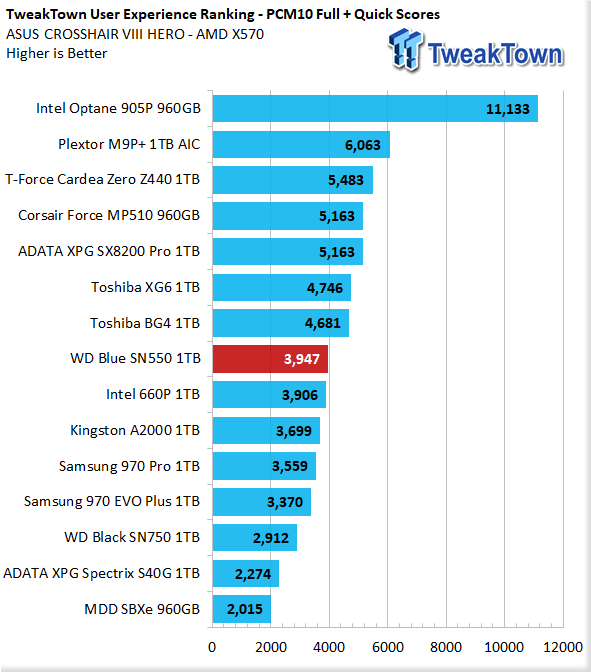 A quick look at our user experience rankings and it is easy to see why we have crowned the WD Blue SN550 our value champion. User experience is what truly matters, not some insane sequential number that grabs attention. We believe that our new user experience ranking is the most accurate way of ranking performance that actually matters and should be closely looked at before you make your next SSD purchase.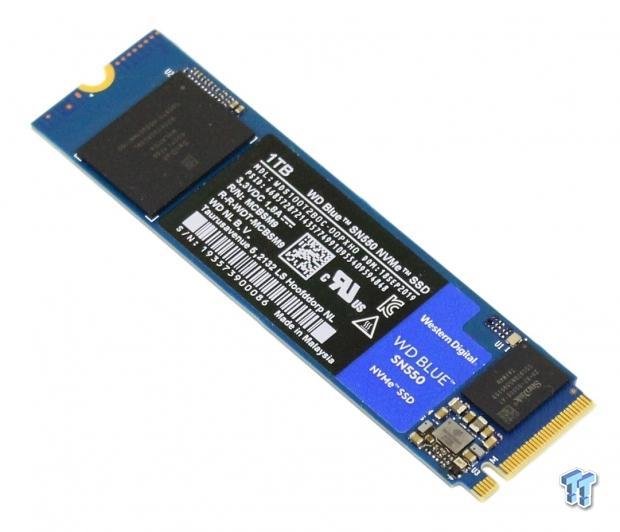 At this time, for the money spent, you cannot get a better user experience than the WD Blue SN550 is serving up. Add to that the fact that this is a TLC SSD with far better endurance than similarly priced QLC SSDs, and we have a winner.
Western Digital's Blue SN550 1TB SSD is TweakTown approved and highly recommended.
Pros
User Experience

Gaming

Price
Cons
| | |
| --- | --- |
| Performance | 88% |
| Quality | 95% |
| Features | 95% |
| Value | 100% |
| Overall | 95% |
The Bottom Line
At this time, Western Digital's Blue SN550 1TB is the best overall value in NVMe for mainstream users.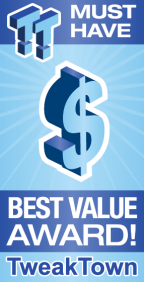 We openly invite the companies who provide us with review samples / who are mentioned or discussed to express their opinion. If any company representative wishes to respond, we will publish the response here. Please contact us if you wish to respond.