TweakTown's Rating: 93%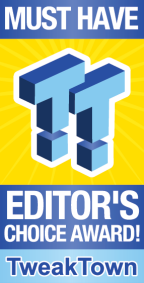 The Bottom Line
ASUSTOR pushes the market forward with the introduction of the Lockerstor lineup, featuring top level networking and storage in one platform.
Introduction
ASUSTOR finished out 2019 rather strong, releasing several new models carrying the new "Lockerstor" naming. I was fortunate enough to get my hands-on the eight-bay solution, so let's get right to it.
ASUSTOR, as of late, has gone away from the typical numbered model scheme nearly all NAS vendors have become accustomed to using, in favor of named platforms. This started with Nimbustor 2 and 4 last year and continues with Lockerstor 8 and 10 moving into 2020.
The two Lockerstor platforms use similar hardware based on Intel Denverton silicon. The eight-bay model in house takes advantage of the four-core Atom C3538 operating at 2.1GHz paired with a single 8GB stick of DDR4. Memory is upgradable via SO-DIMM to 32GB via 16GB sticks. Eight 3.5" bays are available and take advantage of SATA 6Gb/s connections and support both HDD and SSDs.
In addition, the Lockerstor offers two m.2 slots supporting both NVMe and SATA protocols for use as SSD cache. Maximum raw internal capacity of this unit is 128TB but can be doubled by using the AS6004U expansion unit to a peak of 256TB using 16TB drives.
External I/O includes dual 2.5Gbe as standard with 2x 10Gbe for those that need the additional throughput. We also have access to two USB 3.2 Gen 1 ports Expansion and backup.
MSRP of the Eight-Bay Lockerstor 8 comes in at $999.99 with a three-year warranty.
ASUSTOR AS6508T NAS Appliance
Packaging and a Closer Look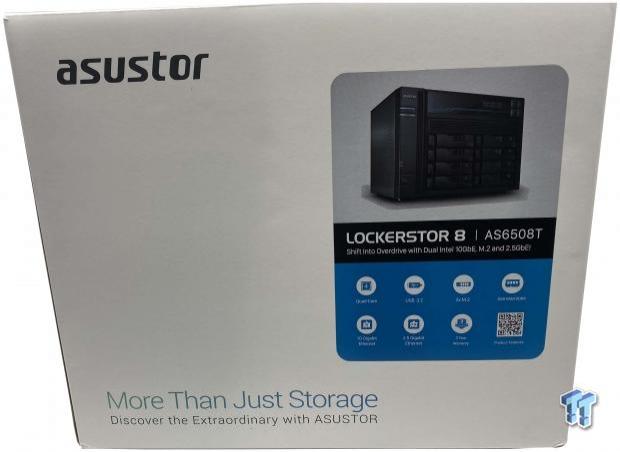 Packaging has changed slightly with a new cleaner look and large sticker to the right. This includes model identification along with platform specifications.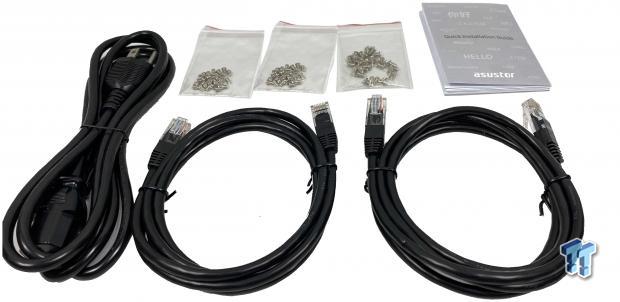 A look at the hardware gives us the power cable, 2x ethernet cables, and drive screws.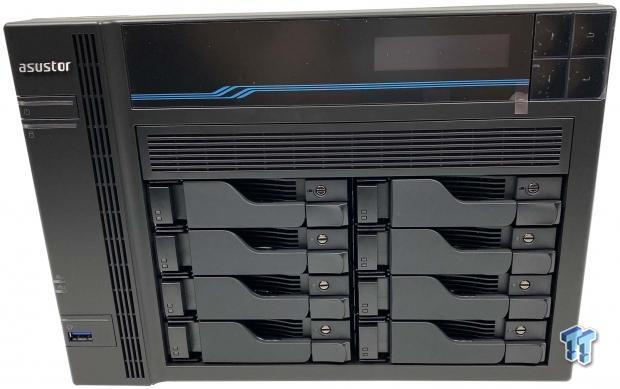 The Lockerstor 8 offers an LCD panel at the top with controls to the right. Down below, we have the eight bays, all with locking trays. To the left, we have power at the top and quick backup at the bottom.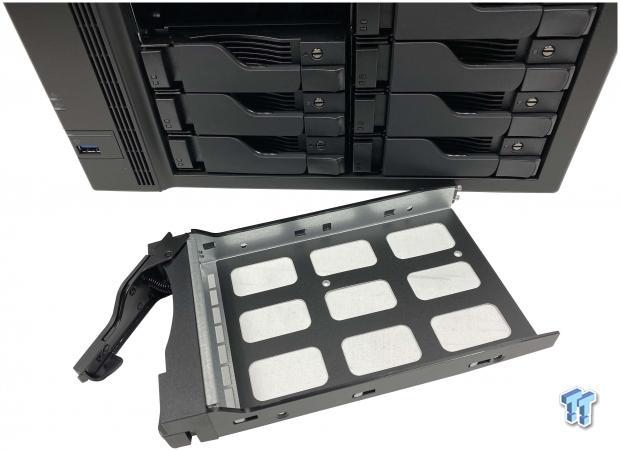 The tray design starts with a metal core that is wrapped in plastics, including the latch mechanism.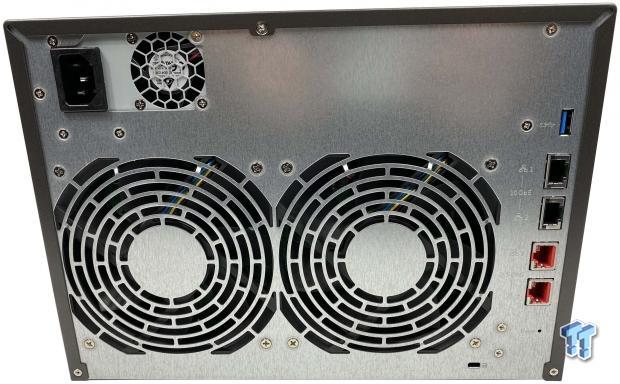 The back of the NAS offers twin cooling fans, power supply up top. To the right, we have USB, 10Gbe, and 2.5Gbe in red.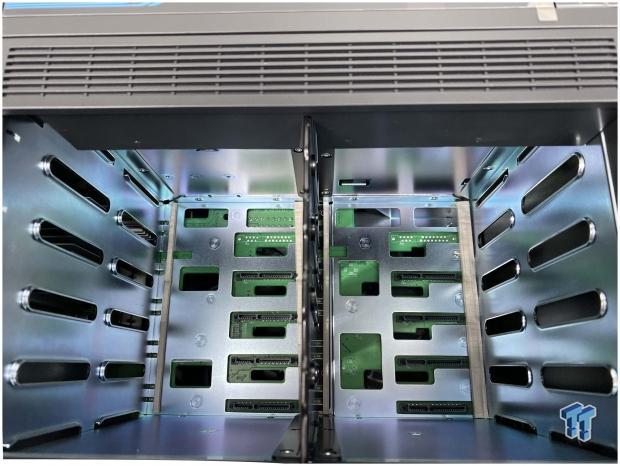 Internally, the backplane is for SATA drives only.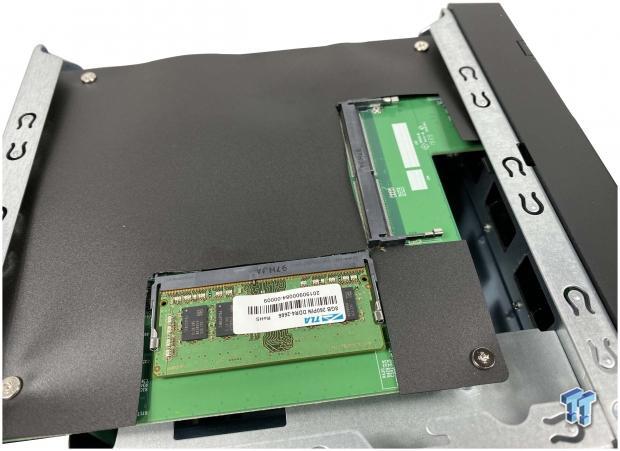 Removing the shell, we have easy access to the SO-DIMM slots for upgrading memory.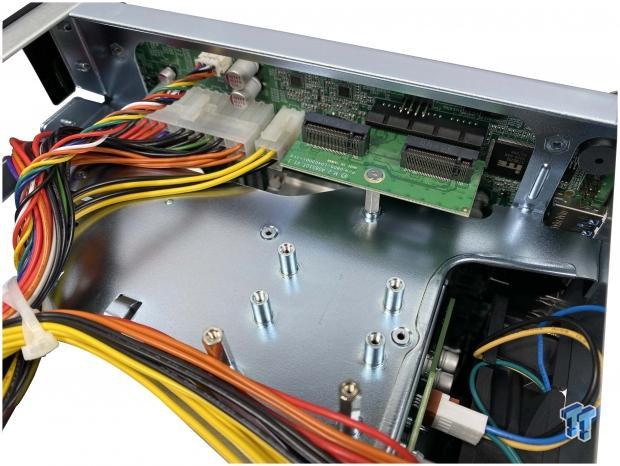 While you have the cover off for upgrading memory, up top, you will find the two m.2 slots.
Test System Setup and Web Management
Tyler's Test System Specifications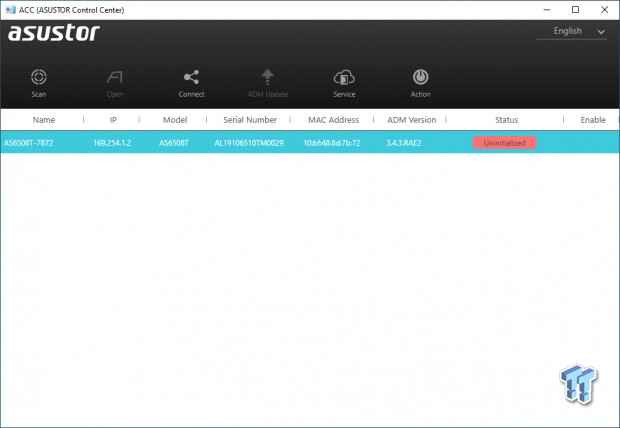 As you could have guessed, the Lockerstor uses ACC to set up and initialize the unit.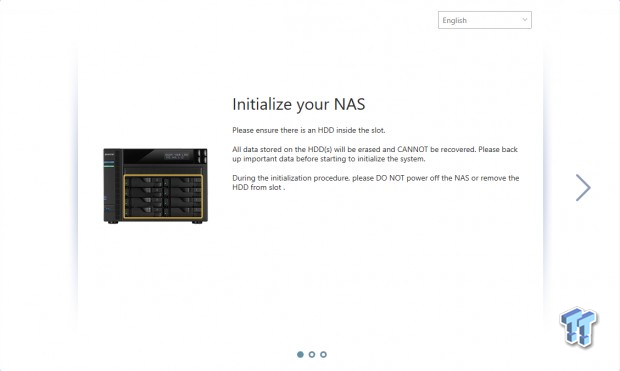 Moving through setup, we first start by confirming drives are installed and heeding the warning above, letting us know all data on the drive will be wiped.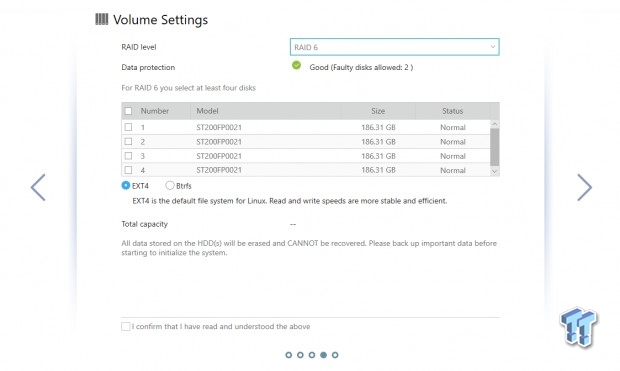 We then set up the admin account and move to creating our array. For this review, I am using four Seagate 600 Pro SSDs. EXT4 and BTRFS filesystems are available.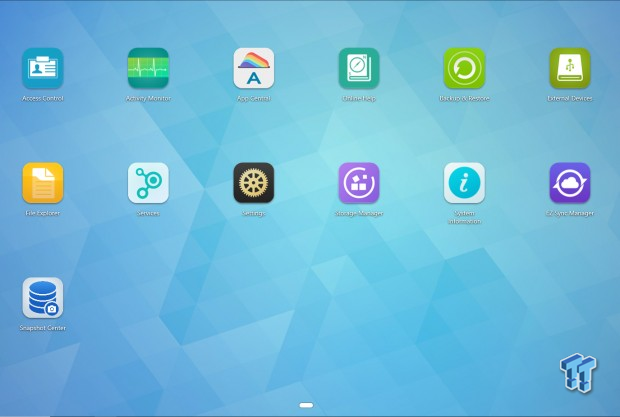 The ADM dashboard offers several shortcuts for activity, apps, and managing the NAS.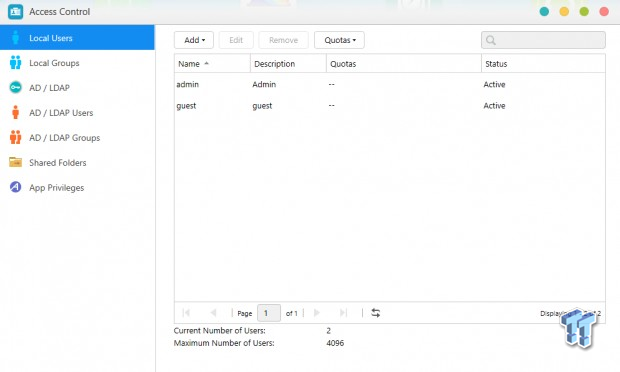 Access Control includes local users and groups along with domain setup and shared folders.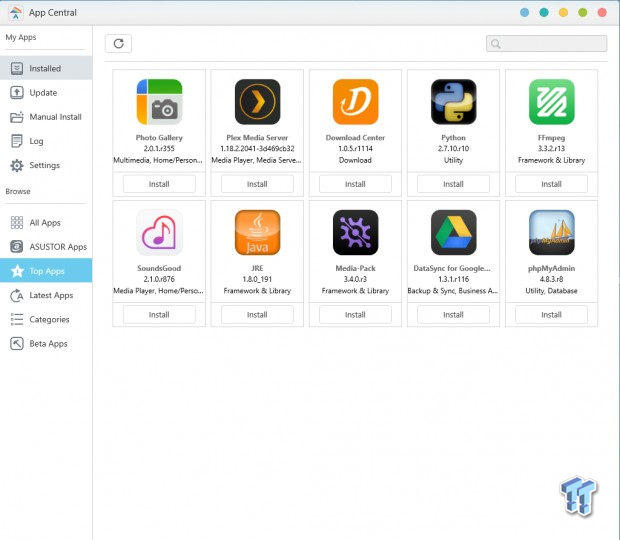 App Central opens you up to a plethora of options for enhancing the Lockerstor.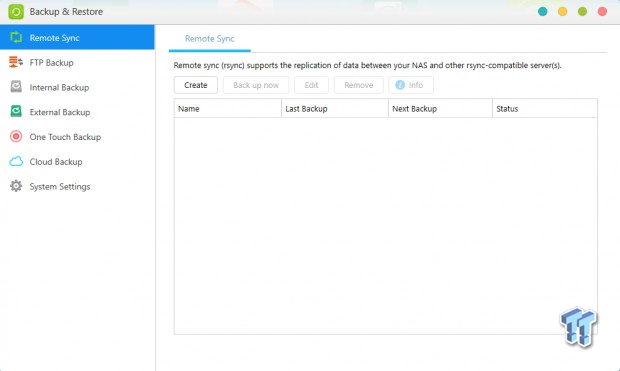 Backup and Restore offers options for Remote Sync, FTP, and Internal Backups. You can also schedule External Backups and Cloud platforms.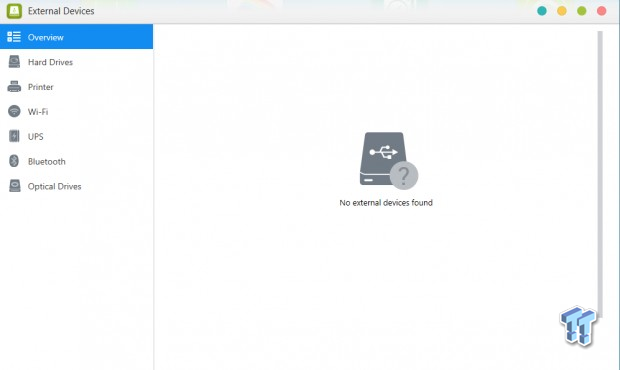 External devices support includes Hard Drive, Printers, Wi-Fi Dongles, Optical Drives, and Uninterruptible Power Supplies.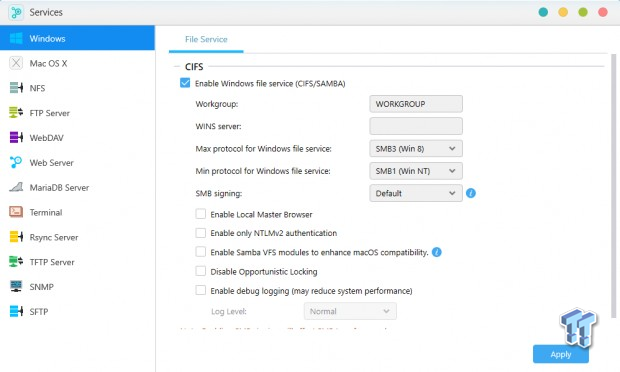 Services include SMB for Windows platform, macOS AFP, and NFS for Linux. We also have the standard FTP, Web Server, and Rsync options.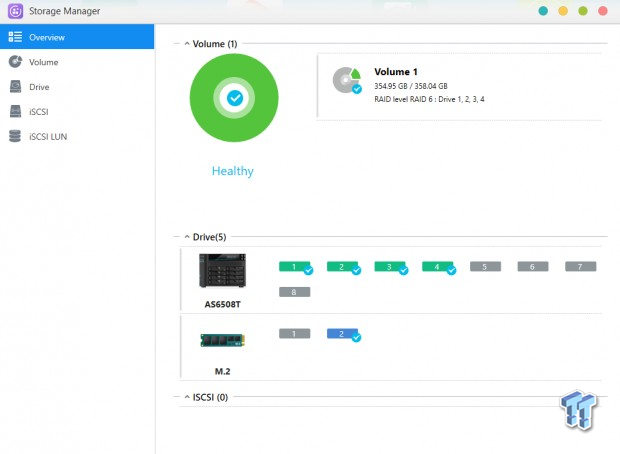 Storage Manager offers an overview of the volumes on the NAS along with capacity and array type to the right. Down below, you can see drives installed.
Benchmarks - Single Client Throughput
Single Client Throughput
HD Video Play - 720p HD stream from Windows Media Player, 256kB reads
HD Video Record - 720p HD stream, 256kB writes
File Copy from NAS - 4GB file copy, 64kB reads
File Copy to NAS - 64kB writes
The Lockerstor 8 supports both 2.5Gbe and 10Gbe. All testing was completed under a 2.5Gbe network environment.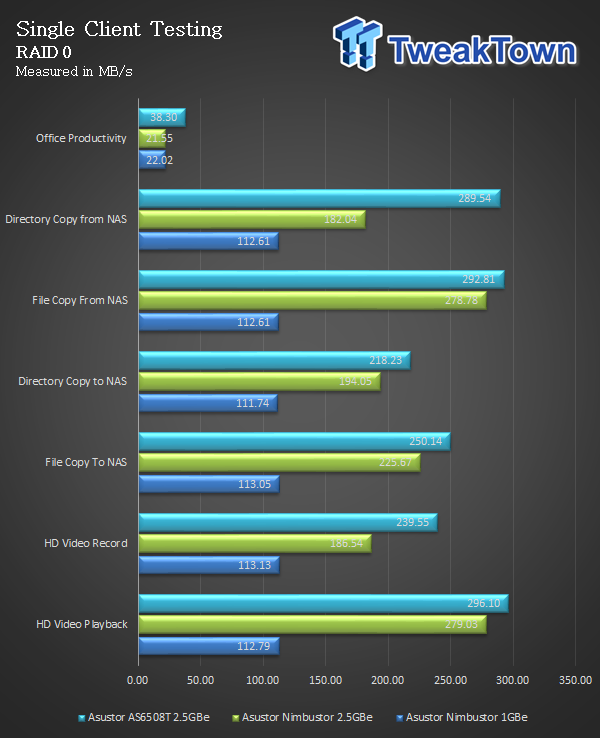 Starting with RAID 0 testing, we show solid performance numbers at 296 MB/s for playback and 239 MB/s for record. File copy to and from reach 250MB/s and 290 MB/s, respectively.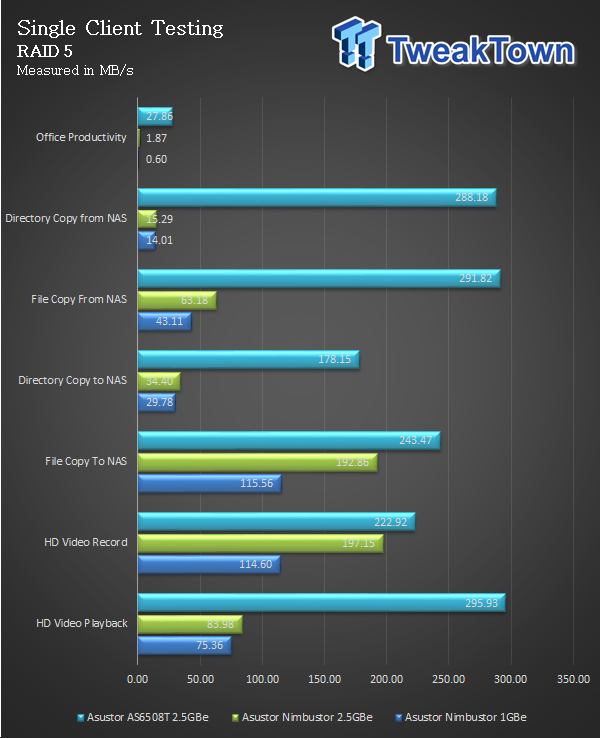 RAID 5 was able to show the increased power of the Lockerstor platform over the Nimbustor. Video Playback reached 295 MB/s while file copy operations were easily doubled and tripled in some cases.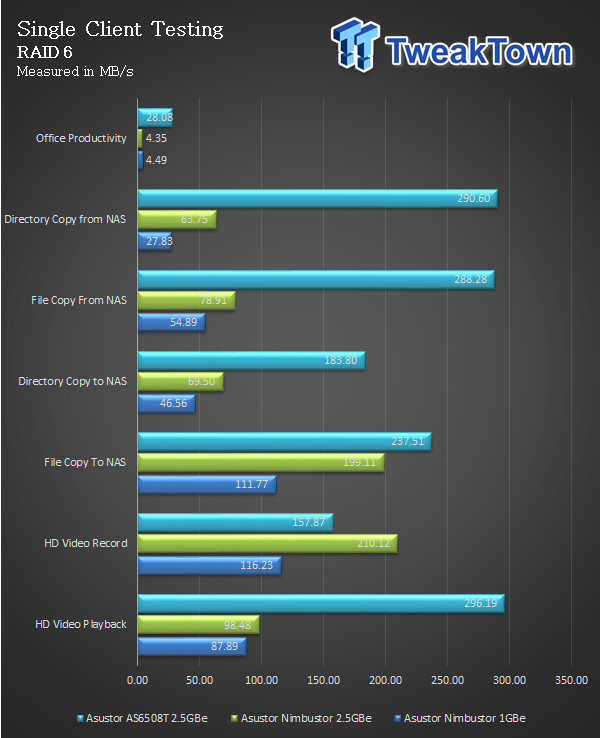 RAID 6 showed similar results with 296 MB/s in playback and file copy still hitting 237 Mb/s and 288 MB/s, respectively.
Sequential Read and Write
Our Sequential read/write workload is centered on 128K transfer sizes at QD32.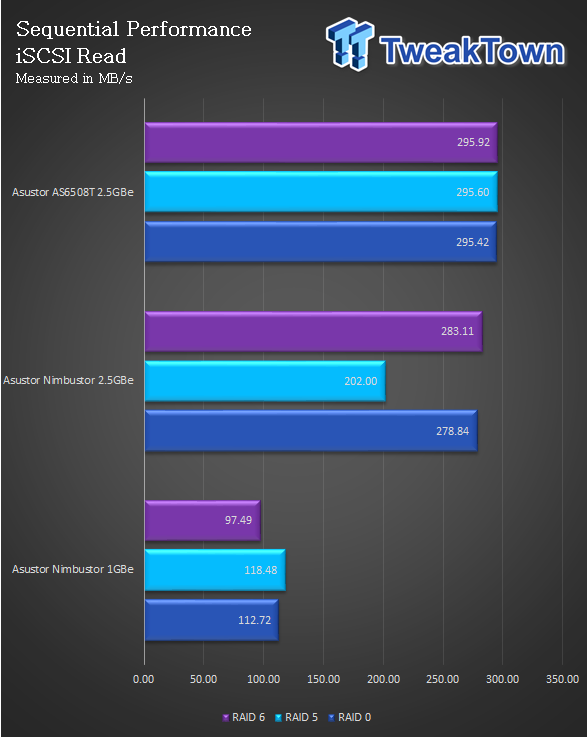 In our sequential read testing, the performance was not affected at all between RAID setups, all three bringing in 295 MB/s.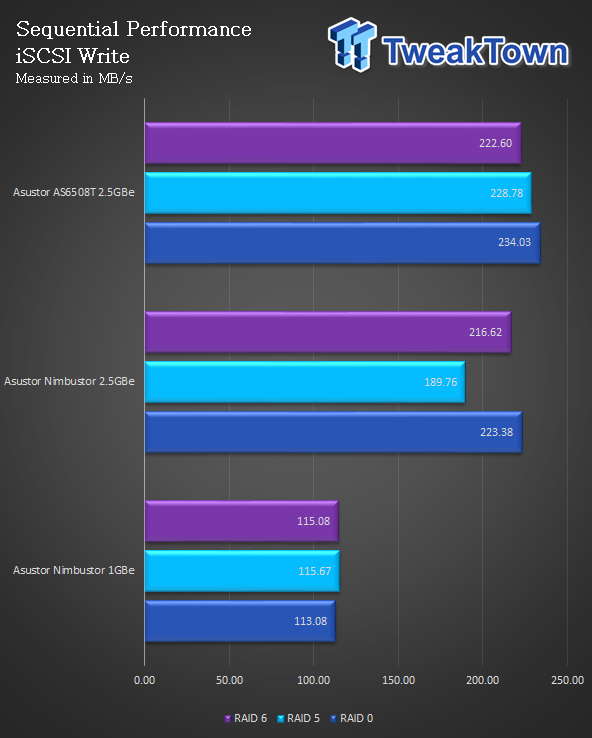 The same thing can almost be said for write performance, but we do see RAID 6 touch down to 222 MB/s, while RAID 5 hits 228 and RAID 0 lands at 234 MB/s.
Workloads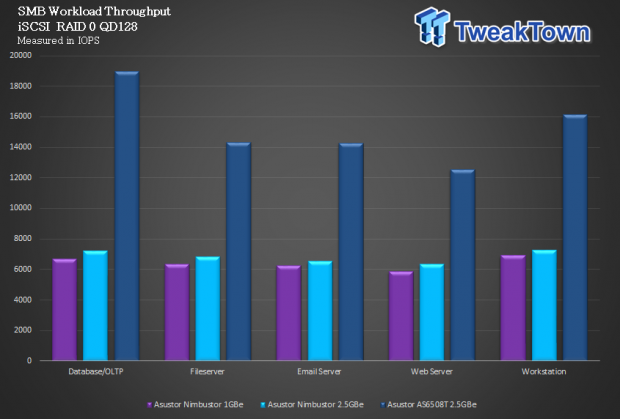 Workload testing really shows a large performance difference between the two ASUSTOR platforms. The Lockerstor with SSDs is an absolute beast hitting near 20K IOPS in database and 16K IOPS in workstation.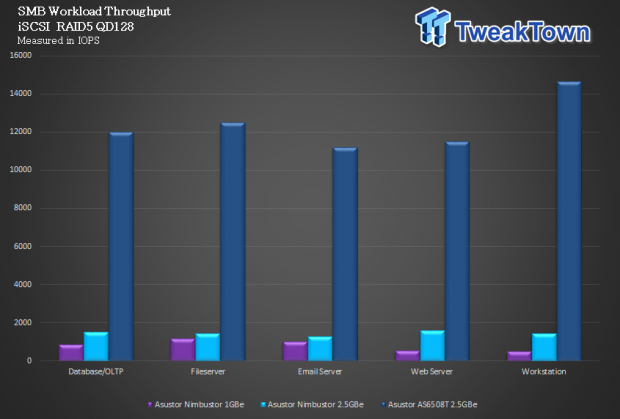 RAID 5 almost flips performance, with Workstation having the highest at 14K IOPS while the other four hover near 12K IOPS.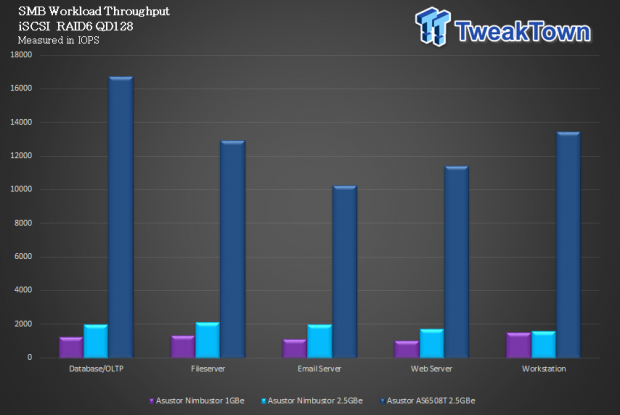 RAID 6 once again favors Database with 16K IOPS.
Final Thoughts
Coming away from the Lockerstor 8, I'm certainly pleased to see a platform that offers 2.5Gbe as its base network configuration and adding to this a pair of 10Gbe ports for those that have a suitable environment for the increased throughput. Build quality is on point with a fantastic chassis design that enables a clean exterior aesthetic and easy access to ports for upgrading memory and adding SSD cache.
I was easily able to reach the limits of the 2.5G interface with four SSDs, but for those that use this as a capacity-driven platform with HDDs, it should comfortably support your needs in the near-term, while 10Gbe is waiting should you ever need it.
In testing, I was able to reach upwards of 300 MB/s in sequential read while write workloads were reaching peaks of 230-240 MB/s. In Workload testing, we saw upwards of 20K IOPS for database and 16K IOPS for workstation across all RAID modes.
As far as pricing goes, ASUSTOR has come away with an amazing product that should surely affect what other vendors are doing moving forward. The Lockerstor 8 is the first platform I know of to offer a base 2.5G configuration with secondary 10Gbe built-in under $1000. When doing my research, the closest Synology platform is the DS1819, which requires you to purchase an add-on card, and the same can be said of QNAP as well.
| | |
| --- | --- |
| Performance | 95% |
| Quality | 90% |
| Features | 95% |
| Value | 90% |
| Overall | 93% |
The Bottom Line
ASUSTOR pushes the market forward with the introduction of the Lockerstor lineup, featuring top level networking and storage in one platform.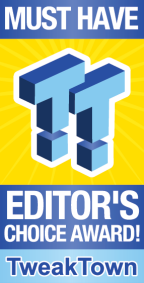 We openly invite the companies who provide us with review samples / who are mentioned or discussed to express their opinion. If any company representative wishes to respond, we will publish the response here. Please contact us if you wish to respond.