Arris SURFboard mAX Pro Mesh Wi-Fi System Review
Arris intros its Wi-Fi 6 lineup and we look at the flagship mAX Pro Mesh Wi-Fi System to see what it's all about.

Published
Manufacturer: Arris (Surfboard W133)
4 minute read time
TweakTown's Rating: 90%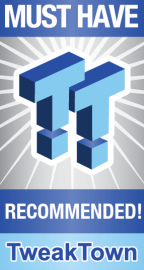 The Bottom Line
If you're one that wants the highest performance possible without all the fuss of complicated setup routines, the mAX Pro is the system for you!
Introduction
Arris meddled a bit with Wi-Fi with 802.11ac, introducing several products to their portfolio, a few of which we had a chance to review. With Wi-Fi 6 in the early stages of deployment, Arris is getting a strong start with its latest offerings, giving them a nearly full product portfolio. The SURFboard mAX lineup has been divided into several platforms, including Plus and Pro models, with and without accompanying satellite units.
The model sent to us for review is the flagship Pro Mesh model that includes both a base and a satellite unit. The design of these units takes advantage of the cylindrical shape for both aesthetics and placement of its antenna array, which in this case, offers 24 streams, 12 per node.
The Arris SURFboard mAX Pro is an AX11000 class platform offering full 4x4 support in a triband configuration. Hardware for this solution includes a Broadcom BCM4908 1.8GHz across four cores with 1GB of DRAM and 512M of NAND Flash. Radios include three BCM43684, one for each band.
This means we have full 1200Mbps on the 2.4GHz and 4.8Gbps on two separate 5GHz bands, one used for connecting modern Wi-Fi devices and one for a rapid 4.8Gbps backhaul link between nodes. Also, each unit offers four gigabit ethernet ports with support for link aggregation.
MSRP of the Arris SURFboard mAX Pro Mesh comes in at $649.99 with a two-year warranty.
Arris SURFboard mAX Pro
Packaging and a Closer Look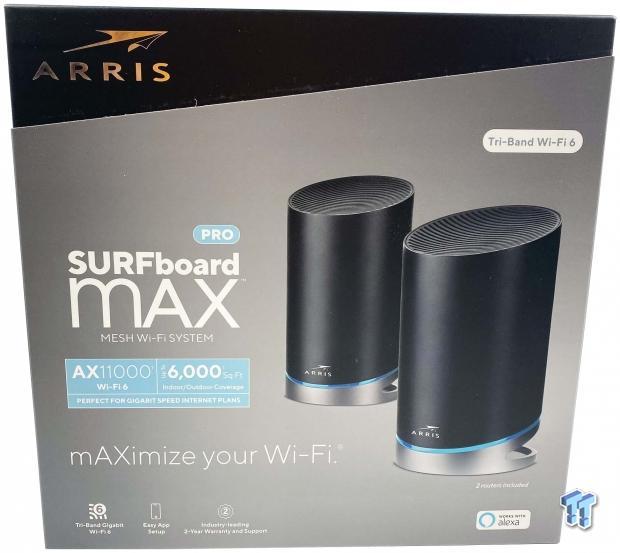 The packaging is quite extravagant for the mAX Pro. We have an image of the nodes on the box with marketing specifications and a note of its support of Alexa assistant.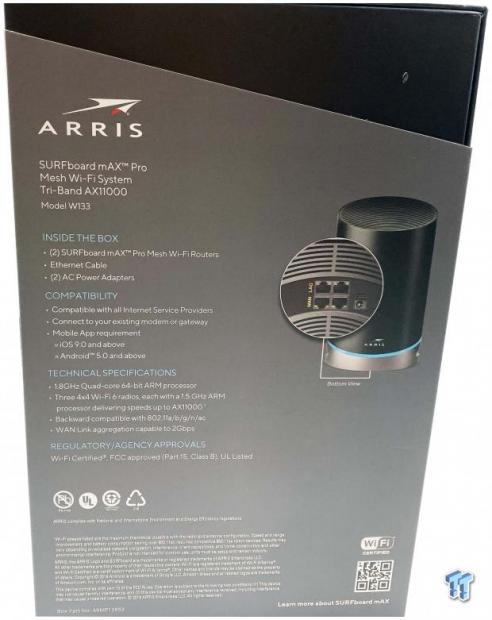 On the side, you will find a specifications list that includes box contents and compatibility.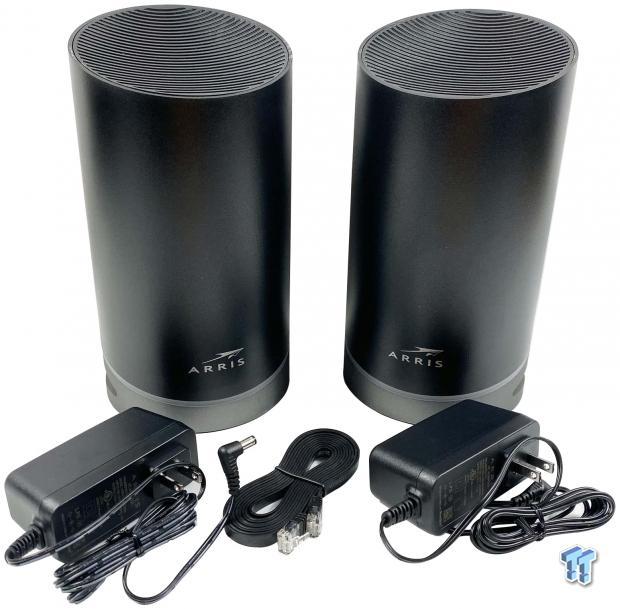 Unboxing, we have both nodes with their respective power adapters and ethernet cable.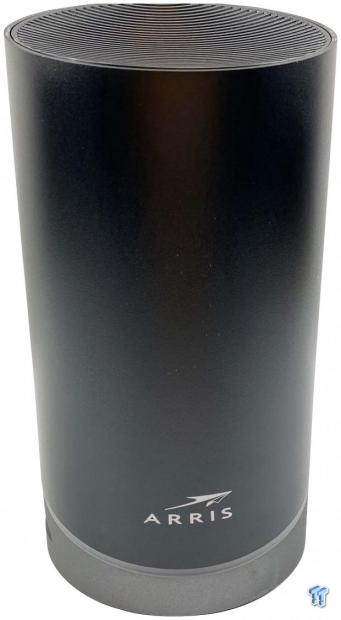 The mAX Pro is a rather large node that offers a unique cylindrical design, LED ring along the bottom just below the Arris branding.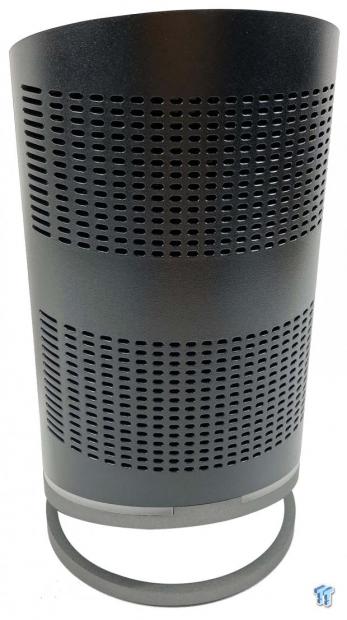 Much of the unit is devoted to allowing air pass through freely, as seen above with the back and top of the unit.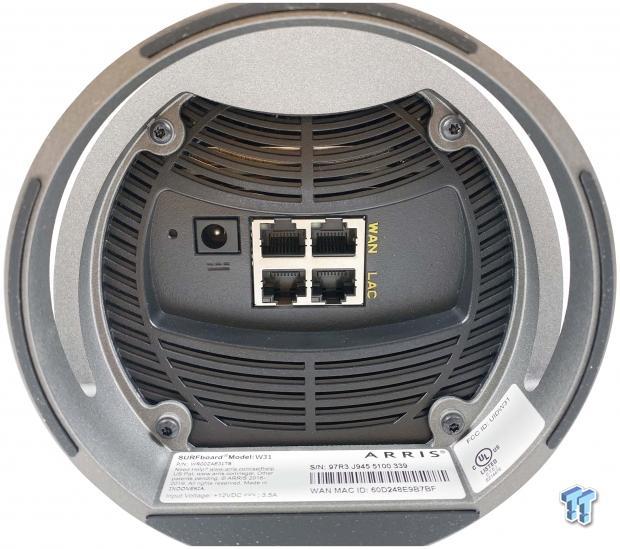 The bottom offers a rather constricted place for the four gigabit ports and power input.
Test System Setup and Web Management
Tyler's Test System Specifications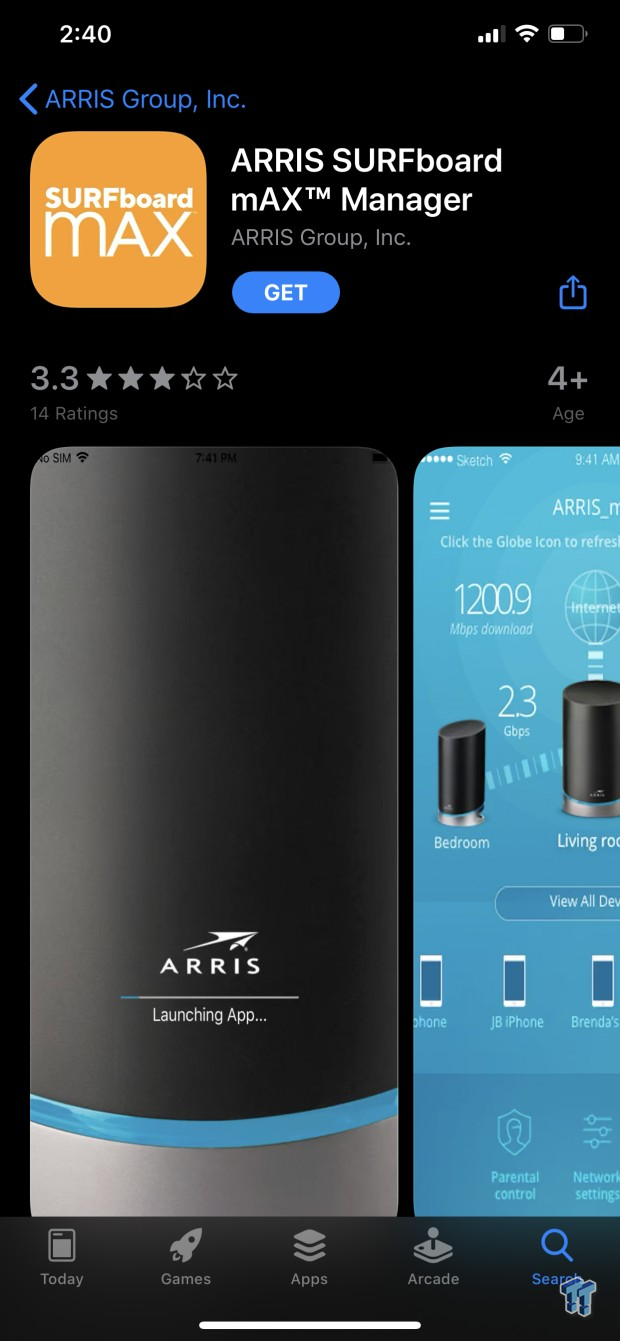 Setup for the Arris is all done within the app. This is available on both iOS and Android. We are testing using the app on iOS 13.1.3 on an iPhone 11 Pro Max.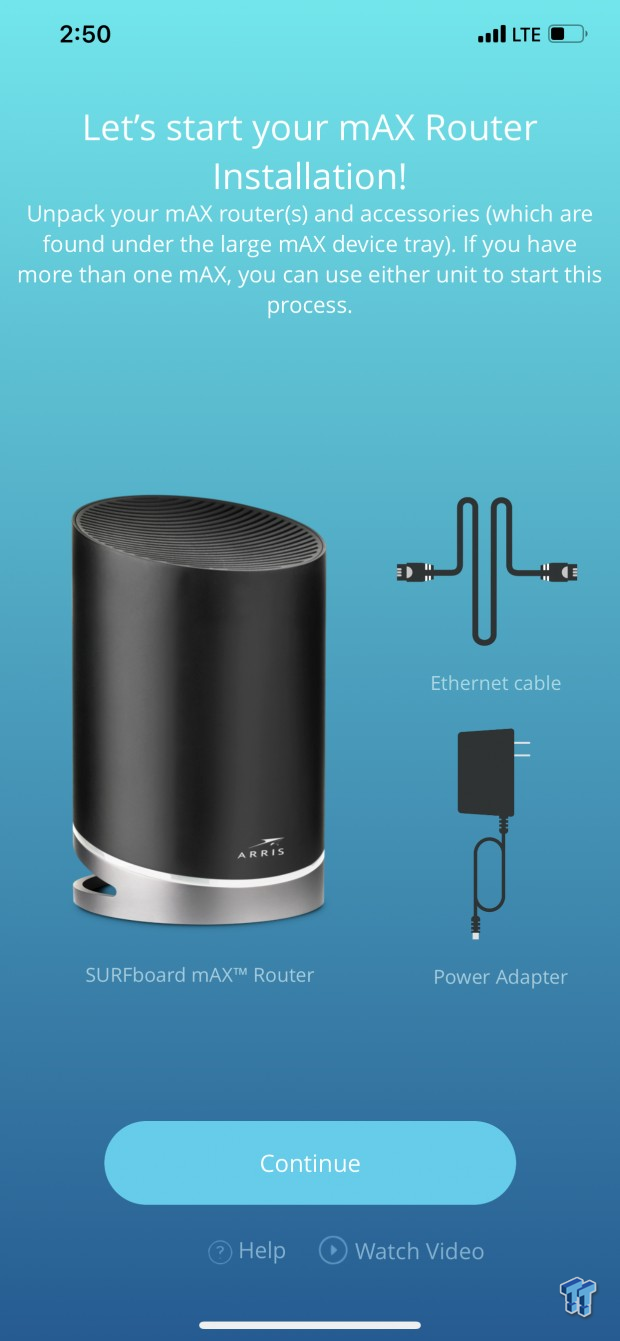 Setup continues into the app with a basic guided experience, something most of us have likely used in the past.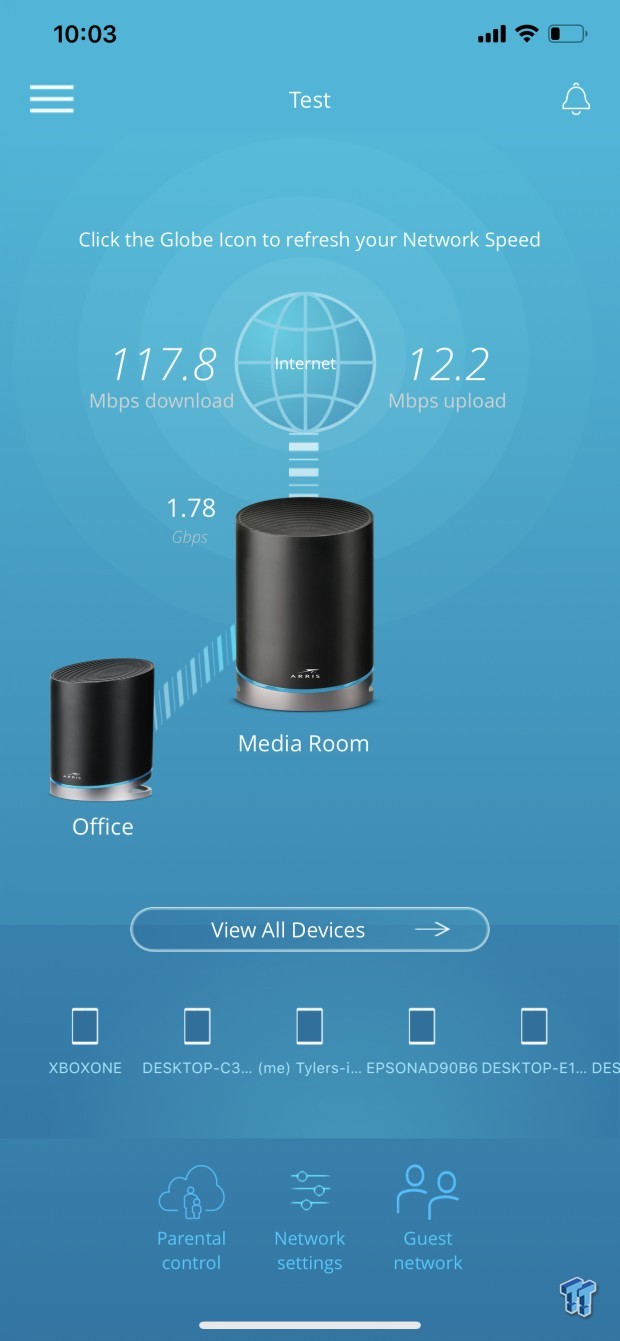 After a few questions, naming the router etc., you will land here at the dashboard, and if you chose to set up both nodes, you should see both listed as seen above. The dashboard will check the throughput between nodes and display that above, along with your ISP speed at the top. Along the bottom, we have several options for configuring the nodes these include; parental controls, network settings, and guest network.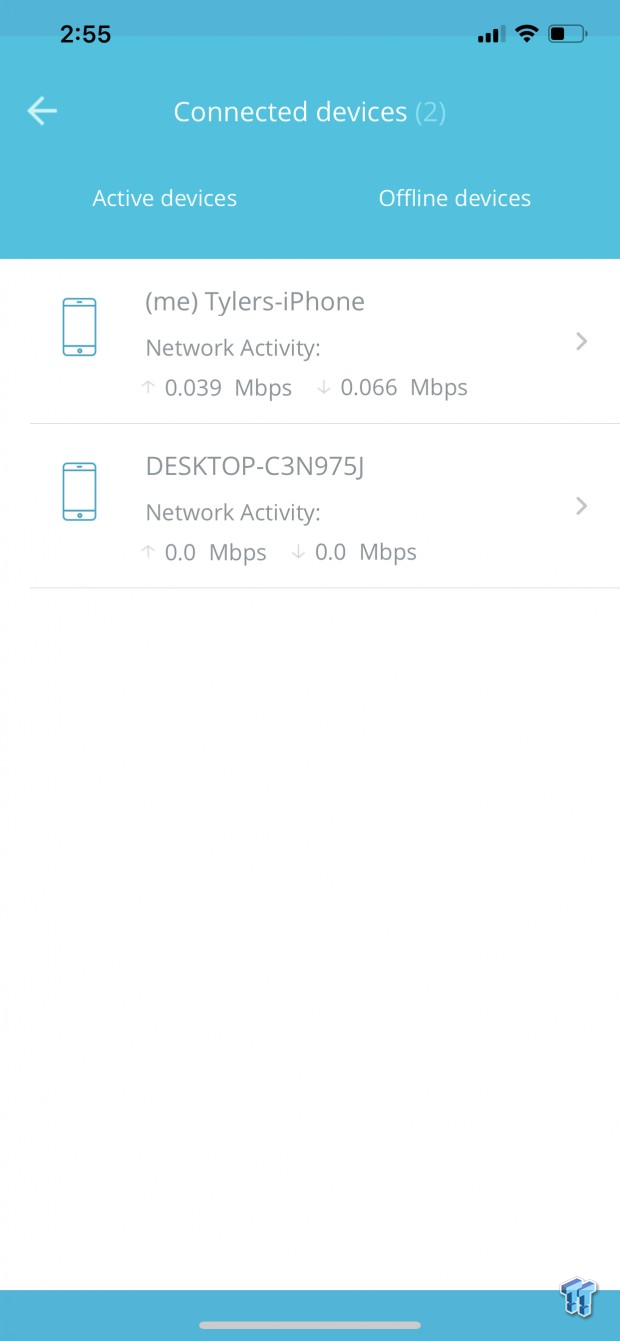 The device list, which you will find on the dashboard, shows network activity for each device.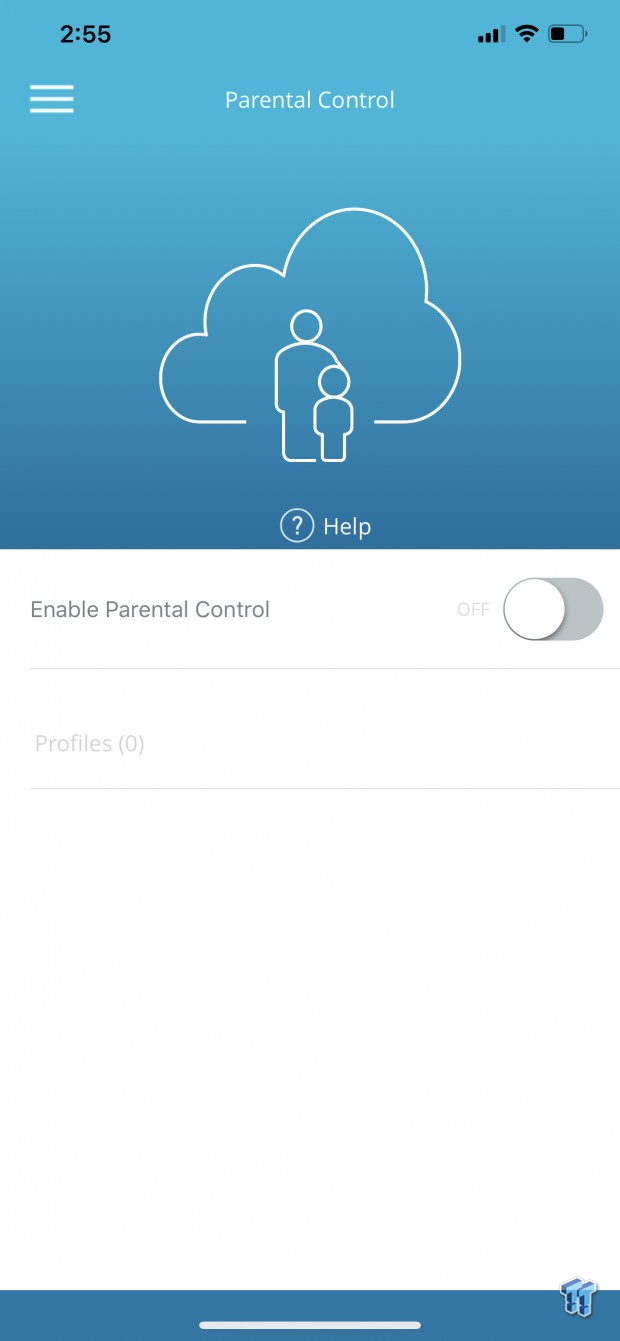 Parental controls allow you to set up and enable profiles for devices.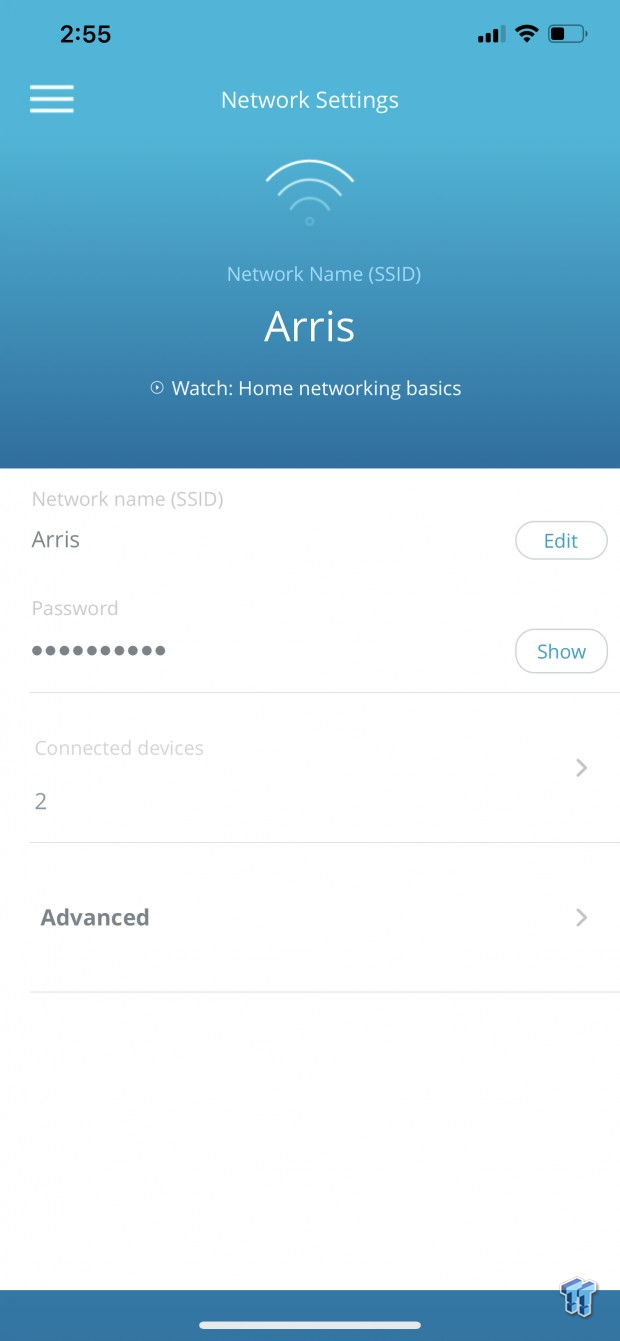 Networking settings include the ability to change the SSID and password.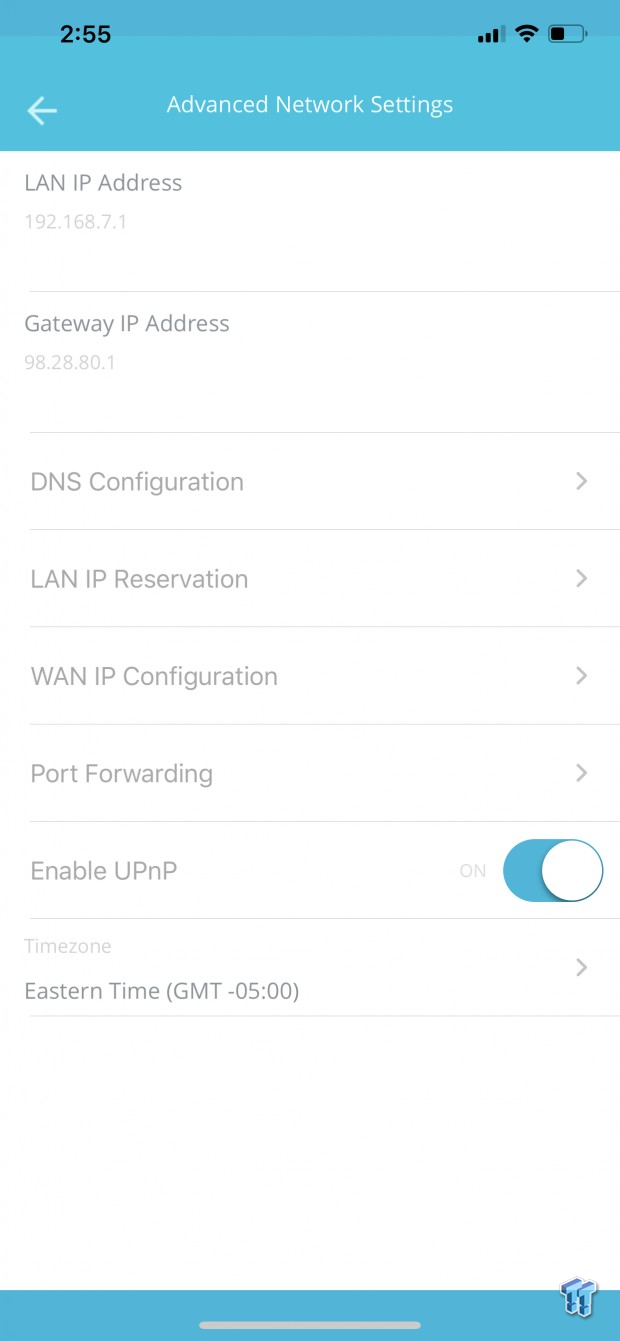 Advanced Network offers LAN and WAN IP configuration along with port forwarding and UPnP.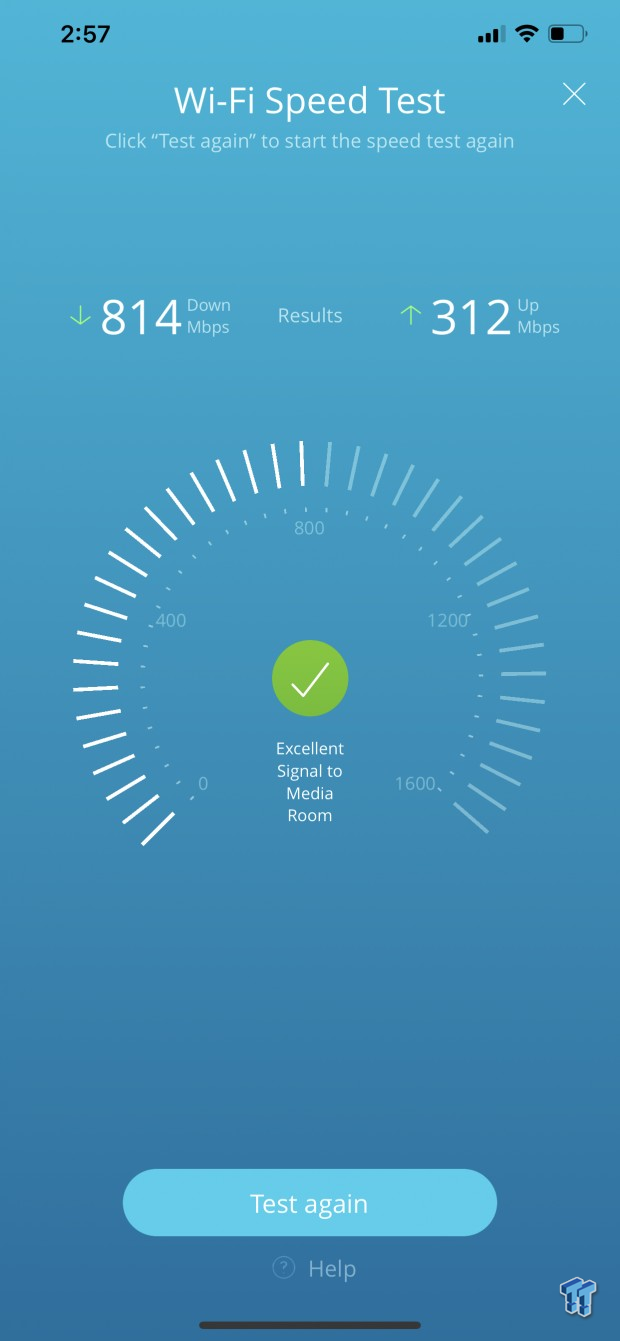 Each device that is running the Arris app has the ability to run a speed test from the node to your device. The above result is the mAX Pro to our iPhone 11 Pro Max.
Benchmarks
LAN and WLAN Throughput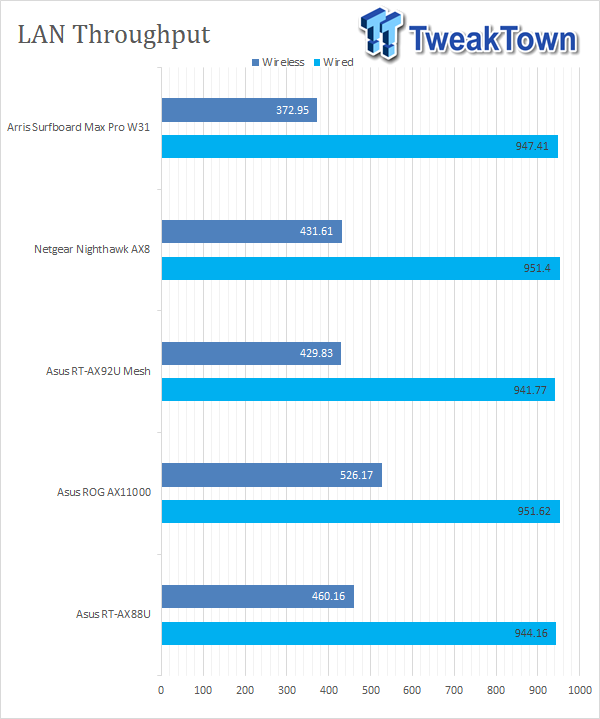 LAN throughput for the Pro was on par with expectations at 947.4Mbps. Our new wireless to wireless test showed 372Mbps for the mAX Pro.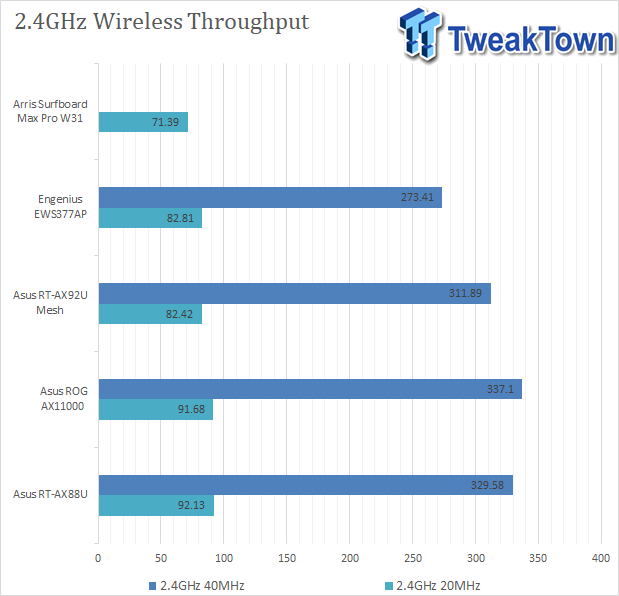 2.4GHz throughput reached a peak of 71.3Mbps on the 20MHz band. Arris does not afford the ability to force bands, so we could not connect at 40MHz for testing.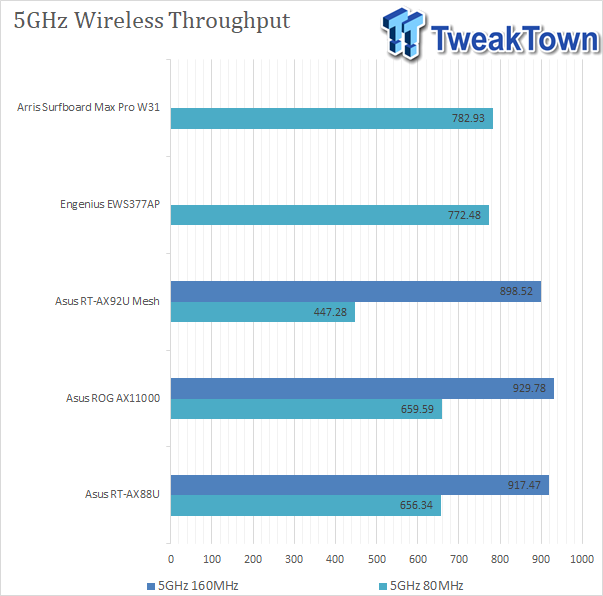 For 5GHz, we received a healthy 782Mbps but once again was unable to tell if we were on the 80MHz or 160MHz band.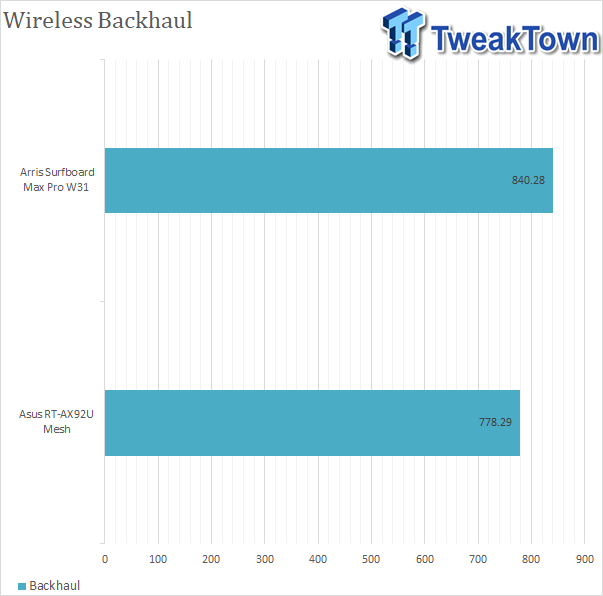 Backhaul performance was at the top of our rather admittedly barren charts. That said, 840Mbps between units is a rather solid number.
Benchmarks - Mobile Throughput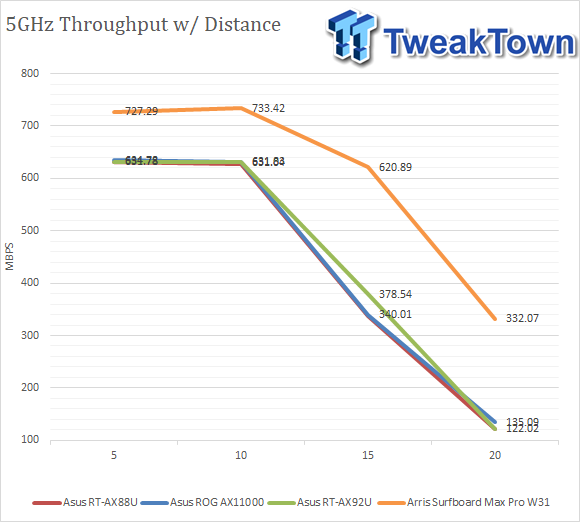 Testing for mobile is a bit constrained by the "SmartConnect" feature of the Arris mAX Pro. Without the ability to control which band we are connecting to, we are simply stuck to testing what it allows. That said, we were able to connect with 5GHz Wi-Fi 6 with our iPhone 11 and tested the SURFBoard at several distances.
Results are shown above and offer 727-733Mbps through 10ft, dropping to 620Mbps at 15ft and 332Mbps at 20ft. This makes the Arris the highest performing solution we have seen in Mobile throughput.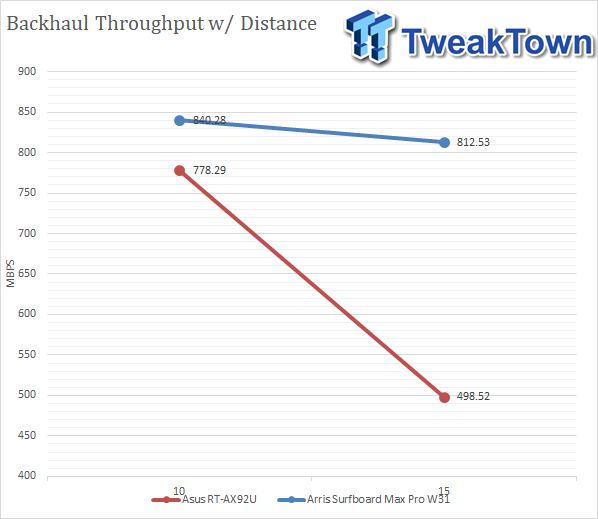 Adding to this, we set up the second node to check backhaul performance in different locations, 10 and 15 ft from the base node. At 10ft, we saw 840Mbps. And moving to 15ft, it only dropped to 812Mbps.
Final Thoughts
I've had a few weeks to run and test the Arris mAX Pro platform, and I can certainly say they did get a good bit right with this solution. For starters, the build quality is top-notch in both materials and finish. Setup is very quick and well guided, and additional features like the LED ring, while bright, can be completely shut off if necessary, via the app.
Performance, as noted several times previously, is flagship worthy. We saw fantastic performance out of this solution while running around our test zone with the iPhone 11 checking mobile throughput, and backhaul is simply stunning and the best we have seen so far out of a Wi-Fi 6 platform. LAN and WLAN testing with our desktop platform, while restricted, did produce decent results in 5GHz at 782.93Mbps.
The app, while fantastic at controlling the mAX Pro, is quite limited. It doesn't offer higher-end features you would expect from a Mesh platform being offered with the "Pro" branding. Features like the ability to choose your band or split the Wi-Fi bands are not available, and I failed to find any QoS, DDNS, or VPN setup, which we normally find on these higher-end platforms. There is also no ability to connect to a web-based GUI for controlling or installation of the SURFboard mAX Pro; it's limited to the app only.
Pricing for the two-node mAX Pro unit does come in at the higher-end of the market with an MSRP of $649.99. There are several other units from well-known vendors that share this pricing, so I wouldn't say it's far off, and given the overall performance and stability of this unit, it may be worth it for someone that wants the best in a set it and forget it package!
| | |
| --- | --- |
| Performance | 95% |
| Quality | 95% |
| Features | 85% |
| Value | 85% |
| Overall | 90% |
The Bottom Line
If you're one that wants the highest performance possible without all the fuss of complicated setup routines, the mAX Pro is the system for you!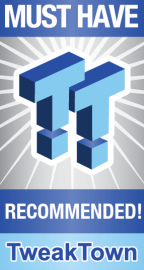 We openly invite the companies who provide us with review samples / who are mentioned or discussed to express their opinion. If any company representative wishes to respond, we will publish the response here. Please contact us if you wish to respond.
Related Tags