TweakTown's Rating: 91%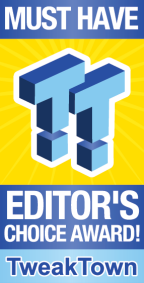 The Bottom Line
The ASUS ROG GT-AC2900 punctuates the 802.11ac era with a solid platform fit for gamers and enthusiast alike.
Introduction
As 802.11ac gets swept under the rug by 802.11ax, many vendors are pushing one last router to market as a swan song of sorts capping what was a fantastic era of innovation in home networking. With their last effort ASUS has turned to its ROG wing with the Rapture GT-AC2900.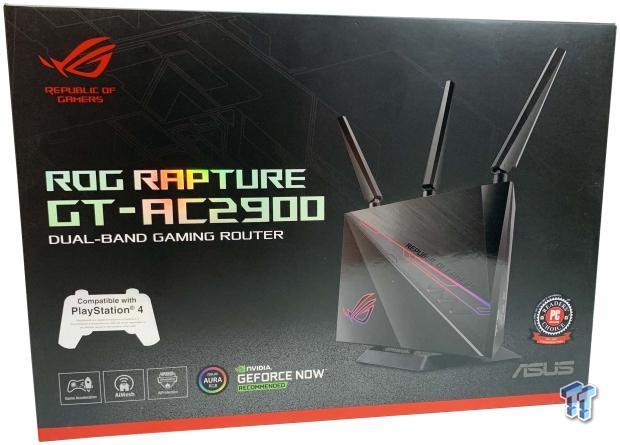 The Rapture GT-AC2900 is the ROG adoption of the AC86U from earlier. This platform works on the Broadcom 4906 SoC operating at 1.8GHz across two cores. This is then paired with 256MB of NAND Flash and 512 MB of DDR3 from Micron. Radios includes the BCM4366E for 4x4 802.11an+ac and a secondary BCM4365E for 3x3 802.11bgn. This configuration offers 450Mbps on the 2.4GHz band while the 5GHz band supports 1.7Gbps and 2.1Gbps with 1024QAM.
Additional connectivity includes both USB 2.0 and USB 3.0 ports, four Gigabit LAN and a single Gigabit WAN. Features include support for ASUS AURA RGB lighting, GeForce Now optimizations and AiMesh support.
MSRP of the ROG GT-AC2900 comes in at $249.99 with a one-year warranty.
ROG Rapture AC2900
Packaging and a Closer Look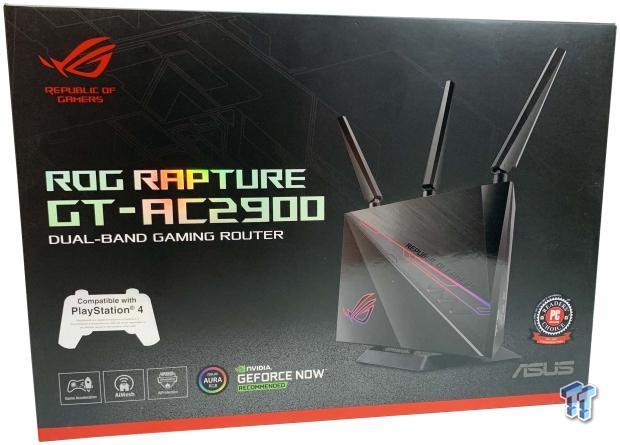 Packaging is quite similar to what you would see with a ROG motherboard of GPU. We have an image of the router to the right with features listed to the left.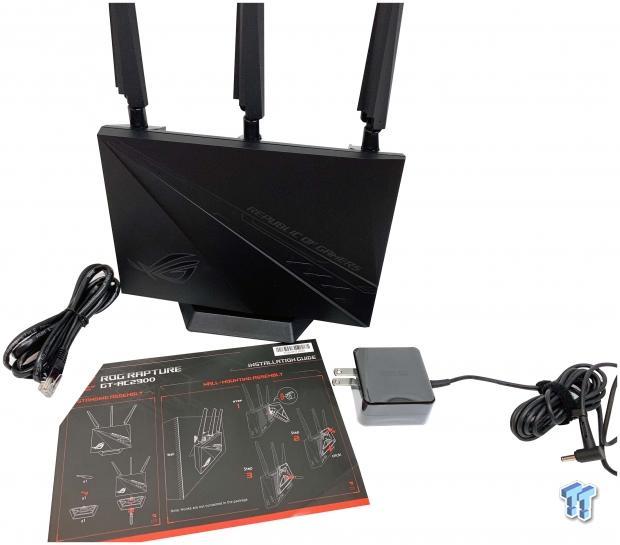 Unboxing, we have the router, setup card and power adapter to the right and ethernet cable to the left.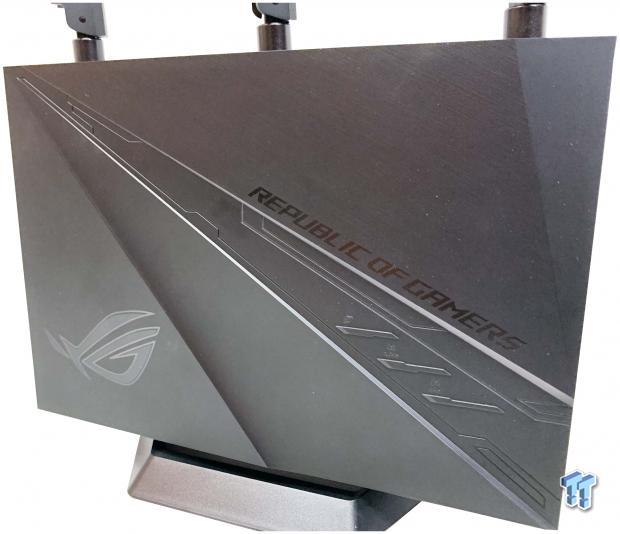 A closer look at the ROG theme, the entire center of the router lights up with AURA RGB along with the logo on the left. To the right we have several activity LEDs.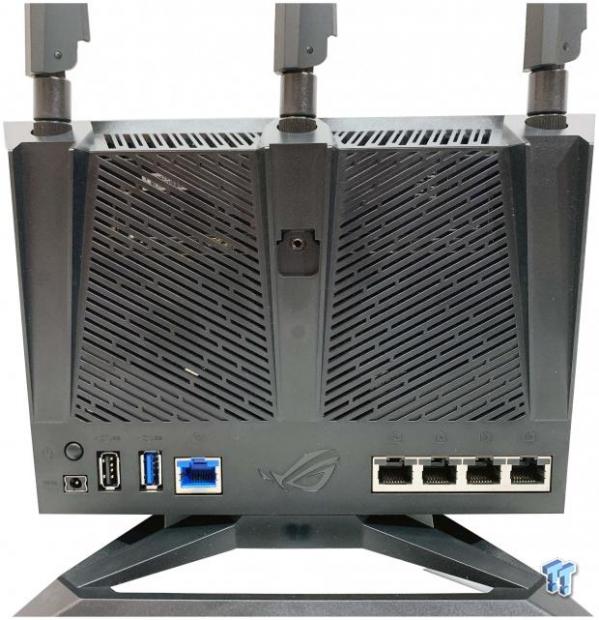 On the backside, most of the router is setup for ventilation. Below we have power, USB 2.0, USB 3.0 and WAN in blue with the four LAN ports to the right in black. Up top are three SMA connections for the antennas.
Test System Setup and Web Management
Tyler's Test System Specifications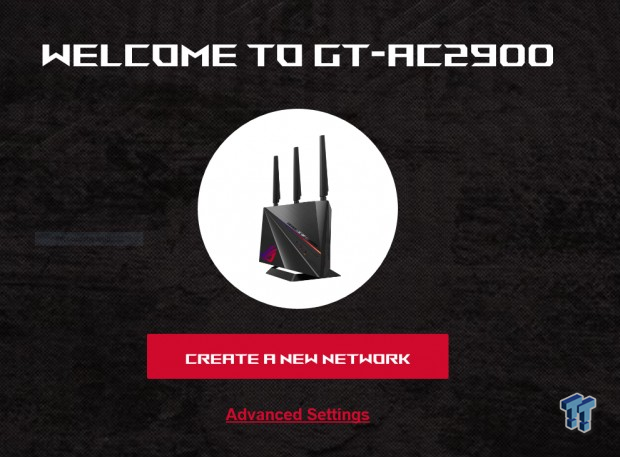 Setup and management of the GT-AC2900 starts with the familiar ASUS wizard giving you the option to setup a new network or add this solution to an AiMesh via advanced options.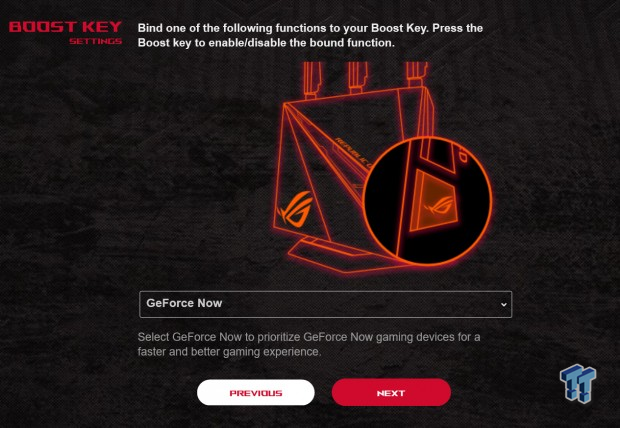 Moving through setup, the GT has a new GeForce Now configuration allowing you to tie this feature to a button on the side of the router for quick enable/disable.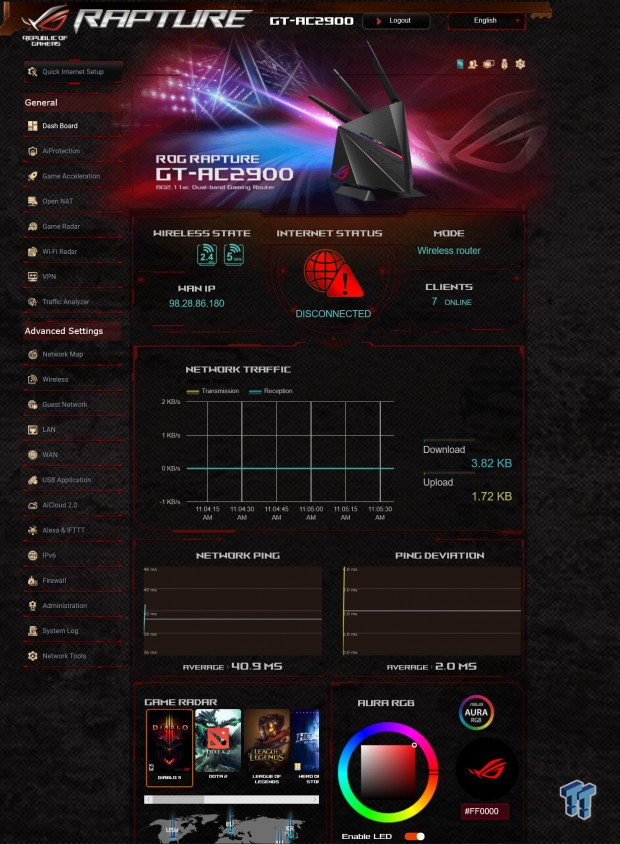 Once we push through initial setup we land at the overview and the ROG router platform. You will see this implementation of the ASUS firmware only on Rapture platforms. From here you get a quick overview of your network at the top with traffic and ping below. Further down you have RGB control and Game Radar.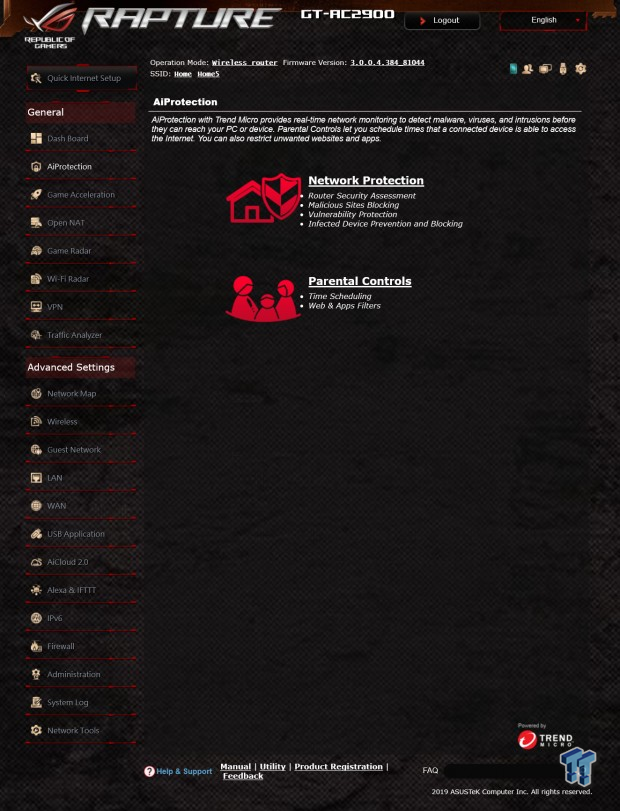 Even with this being a gaming platform, ASUS includes Trend Micro security as a part of AiProtection. This suite of control offers parental and malicious sites blocking along with security and vulnerability protection.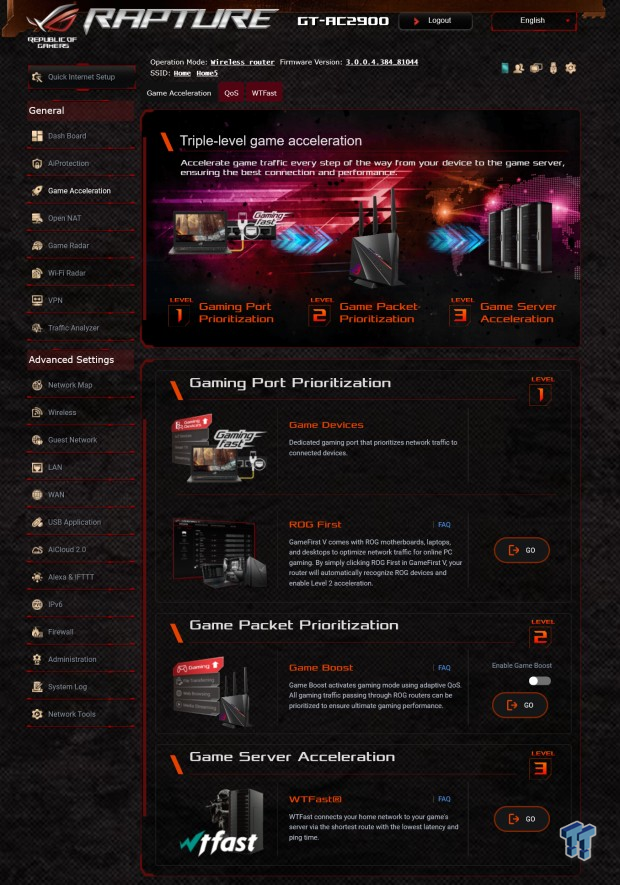 Game Acceleration offers a hardware port that has priority traffic along with ROG First and Game Boost QoS.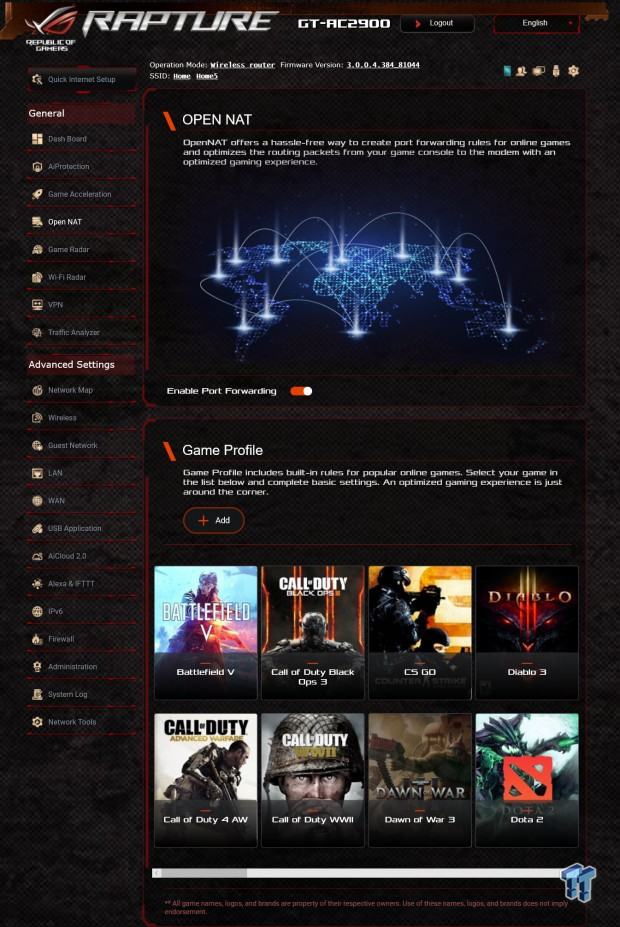 Open NAT gives a set of games that you can configure and add port forwarding rules for.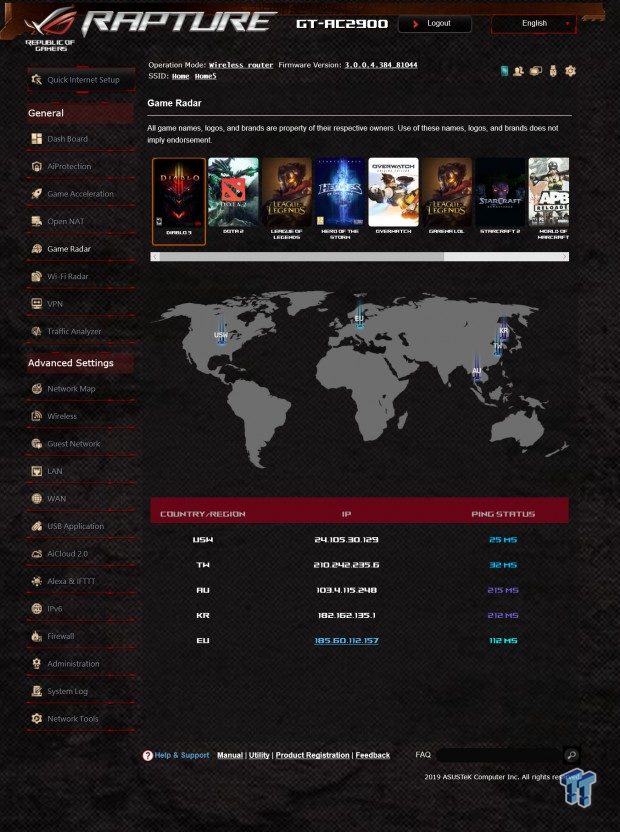 Game Radar offers insight into ping times based on loaded game servers.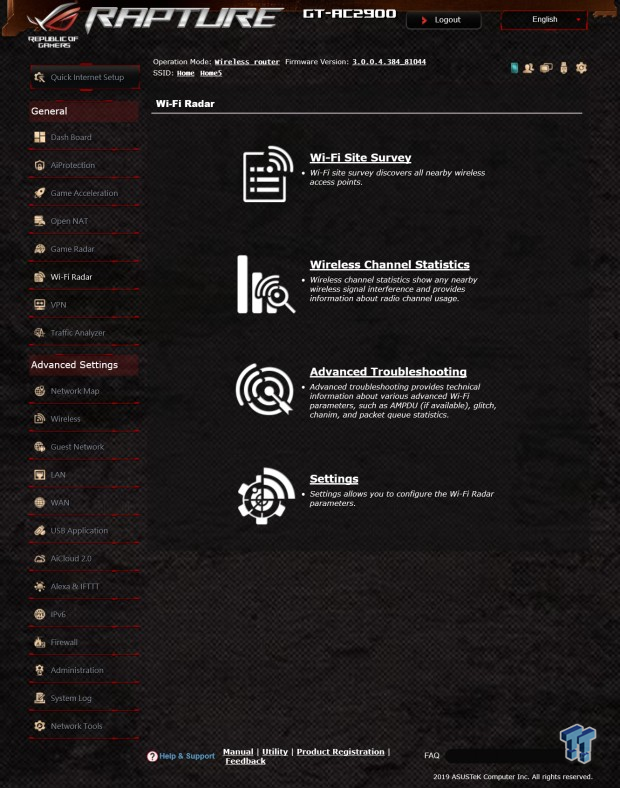 Wi-Fi Radar includes site survey to aide in choosing the best channels in your immediate area along with channel stats and advanced troubleshooting.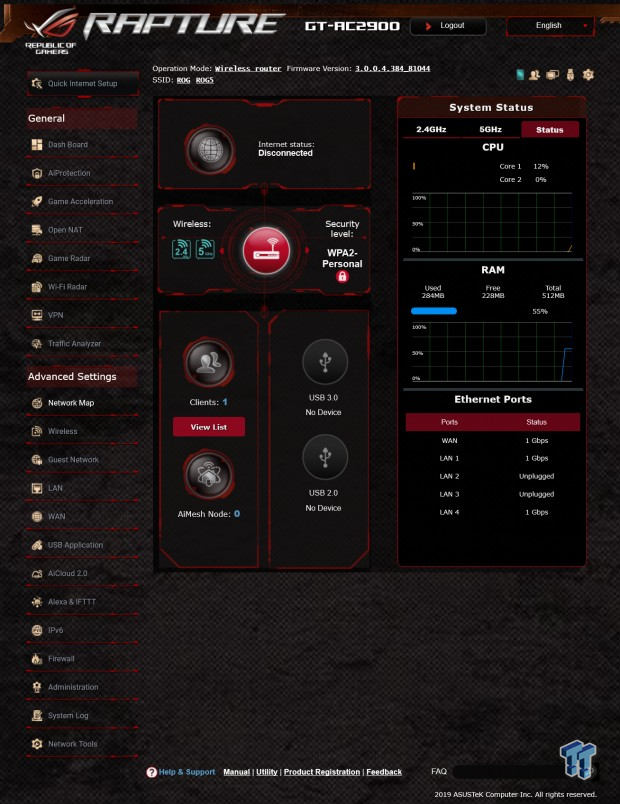 Moving into advanced setting the menu go from the gaming to something resembling a typical ASUS router GUI. This gives the same overview along with CPU and memory usage.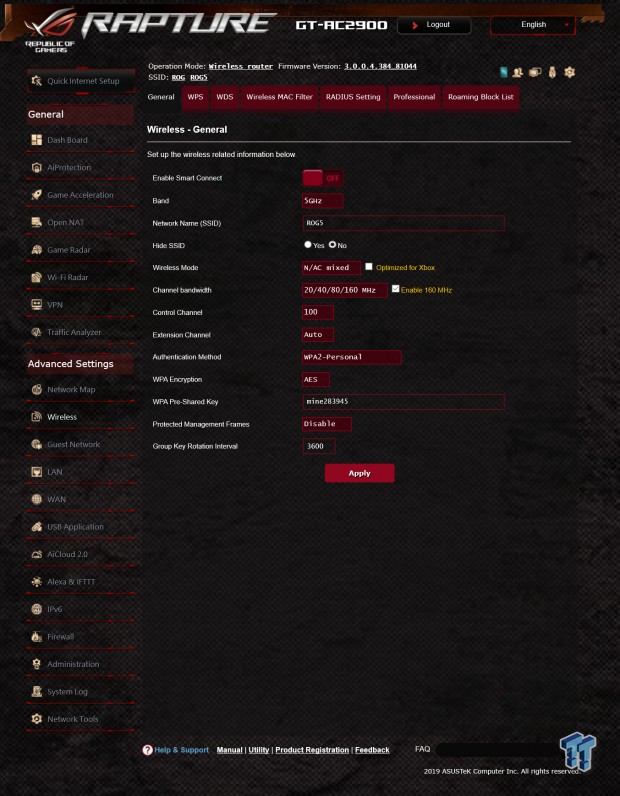 The Wireless menu allows you to configure both 2.4 and 5GHz bands independently or with Smart Connect.
Benchmarks - Wired, Wireless and Mobile Throughput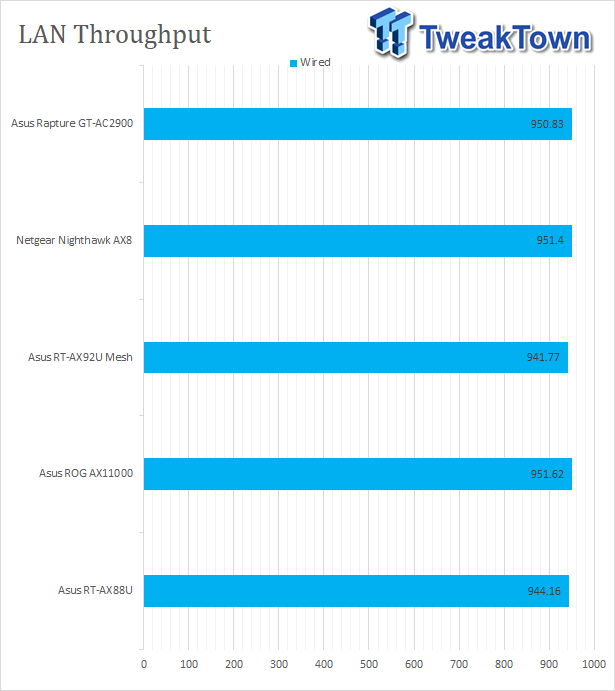 We start testing with new charts from our new platform. In wired throughput the GT-AC2900 did quite well offering 950Mbps.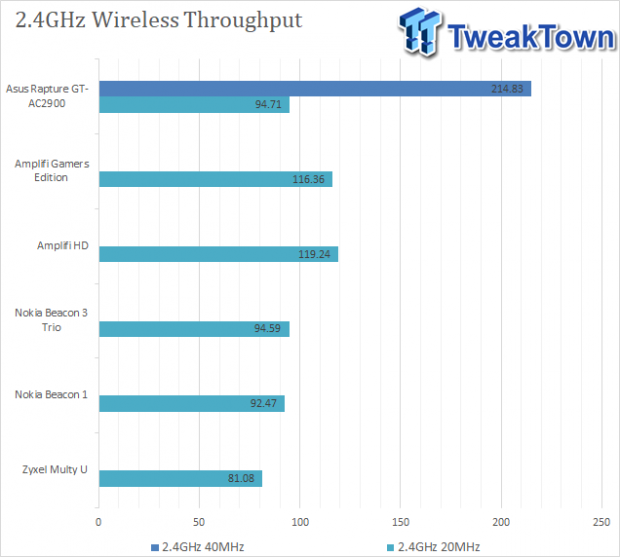 Moving into wireless, we start with 2.4GHz with 94Mbps. As a bonus I was able to force the 40MHz band giving 214Mbps.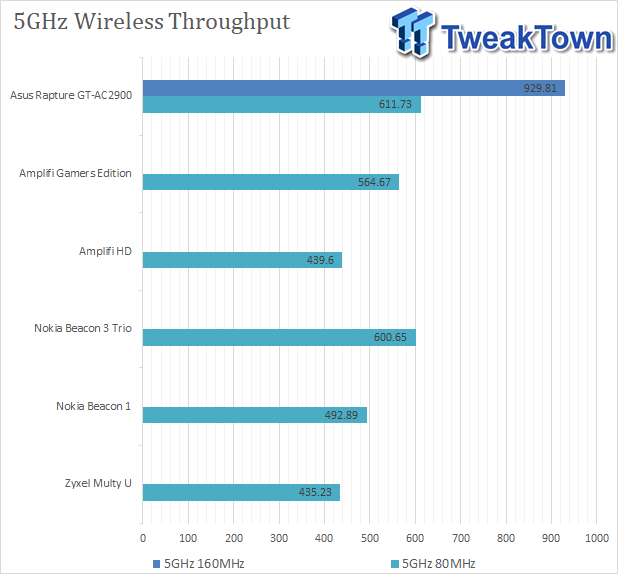 Pushing into 5GHz we see 611Mbps peak using standard 80MHz channels. Adding in 160MHz channels performance is boosted to 929Mbps.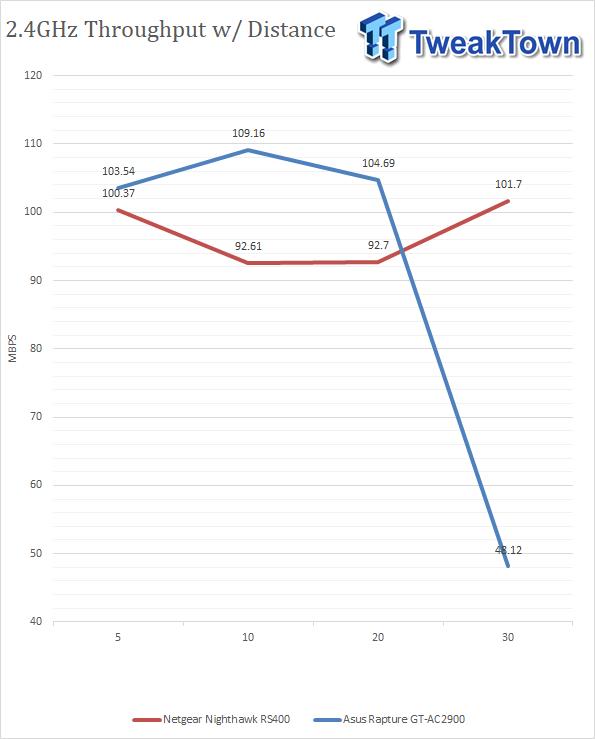 Over to mobile testing, we have the ROG at 103Mbps gaining performance out to 10ft at 109Mbps.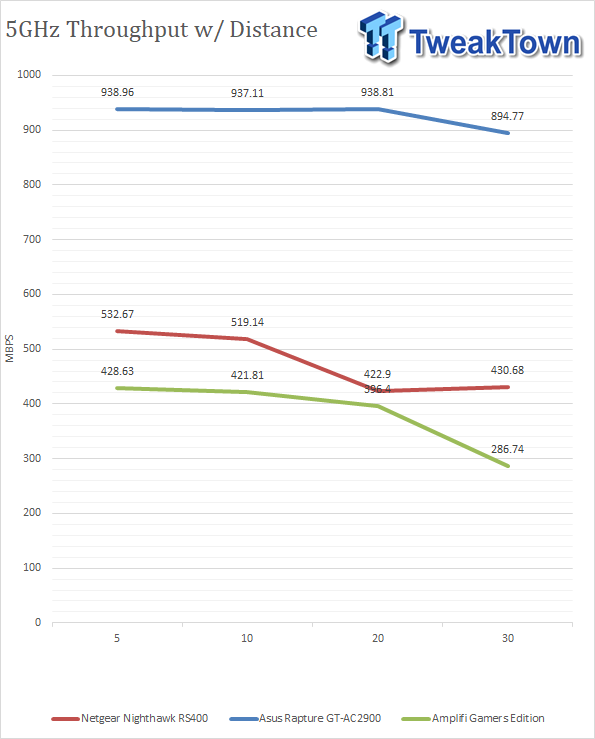 5GHz was legit for the ROG, grabbing 938Mbps from our iPhone11 and holding that through 20ft before touching 894Mbps at 30ft.
Final Thoughts
For those that love the design and appeal of a gaming router, no one really does it like ASUS. Taking from its motherboard design the GT-AC2900 has the same edgy design and lightning of its ROG X570 and Z390 lineups. Build quality is still top notch with quality plastics and matte finish adding to this the Wave 2 hardware platform and mounting options.
Performance is some of the best I have seen from an 802.11ac platform, ever. That said, our newest platform is our first to take advantage of 160MHz channels giving that extra bit of performance seen from the GT-AC2900. That said, we were able to mandate 40MHz channels from the 2.4GHz band giving us a nice 214Mbps.
Over on 5GHz we tested 80MHz channels at 611Mbps and when switching on 160MHz ramped that up to 938Mbps. Range was quite good with the ROG reaching out to 20ft holding top level 2.4GHz performance and 5GHz taking notes from there holding 938Mbps to 20ft before letting up.
Many of you have seen the Rapture Gaming platform ASUS uses in its ROG routers, most recently with our review of the GT-AX11000. This system is no different apart from the inclusion of GeForce Now. We still have all the "standard" controls you would get in an ASUS platform with a gaming overlay and GameFirst QoS including the hardware "gaming port".
Pricing is solid for the GT-AC2900 at $249.99 as the only real competition this unit has is the XR500 from Netgear which is touch more expensive at $299.99.
| | |
| --- | --- |
| Performance | 95% |
| Quality | 90% |
| Features | 90% |
| Value | 90% |
| Overall | 91% |
The Bottom Line
The ASUS ROG GT-AC2900 punctuates the 802.11ac era with a solid platform fit for gamers and enthusiast alike.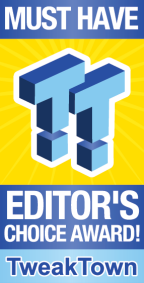 We openly invite the companies who provide us with review samples / who are mentioned or discussed to express their opinion. If any company representative wishes to respond, we will publish the response here. Please contact us if you wish to respond.