Ubiquiti UniFi Review
If you are serious about networking then you should definitely check out the Ubiquiti UniFi, it has earned our Editors Choice award.

Published Aug 26, 2019 10:17 PM CDT
|
Updated Tue, Nov 3 2020 6:57 PM CST
Manufacturer: Gateway (SWX-UAPHDNANO)
5 minute read time
TweakTown's Rating: 92%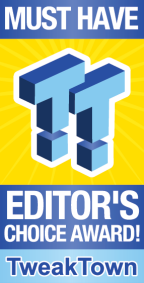 The Bottom Line
While UniFi may not be turn-key, its easily one of the most flexible networking platforms on the market and one anyone serious about networking should check out.
Introduction
For some, consumer routers just don't cut it. I've seen it myself when testing routers before writing an article; a brand new router arrives I go through unboxing and setup only to have it fall flat on its face when I start up multiple streaming services or even better a router that just gets too hot from all the traffic and locks up or shuts down.
Ubiquiti has long been a staple in the Enterprise networking market, and more recently their product has become even more user-friendly, allowing people like me the ability to understand, setup and manage a legit home network. That being said, it's not for the faint of heart; it will take a slight bit of knowledge, plenty of patience and ethernet cable to get you up and running. For this article, we will be looking at three key parts of a home network; The Gateway, Switch and Access Point.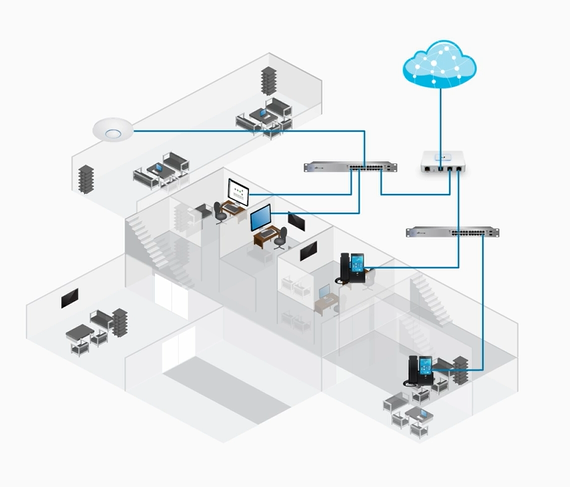 The gateway for this article is the Ubiquiti UniFi USG; this solution provides both network routing and security in a single cost-effective solution. Ports include 3 gigabit RJ45 one WAN, one LAN and one multi-purpose WAN/LAN port. MSRP comes in at $139.99.
The switch in use for this article is the Ubiquiti UniFi Switch 8 150W; this solution offers independent switching across all 10 ports, eight of which offer RJ45 connectivity with two SFP Optical. This switch includes 802.3af/at PoE+ or Passive 24V PoE capabilities. MSRP comes in at $199.99.
The access point we are using is the UniFi nanoHD; a wave 2 4x4 802.11ac solution. This AP supports 300Mbps on the 2.4GHz band and 1733Mbps on the 5GHz band. It's powered by 802.3af PoE and offers a reduced footprint over past solutions. MSRP comes in at $179.99.
All three of these solutions are managed by the UniFi Network Controller. UNC is compatible with macOS, Windows and Debian/Ubuntu Linux along with iOS and Android.
Ubiquiti UniFi
Packaging and a Closer Look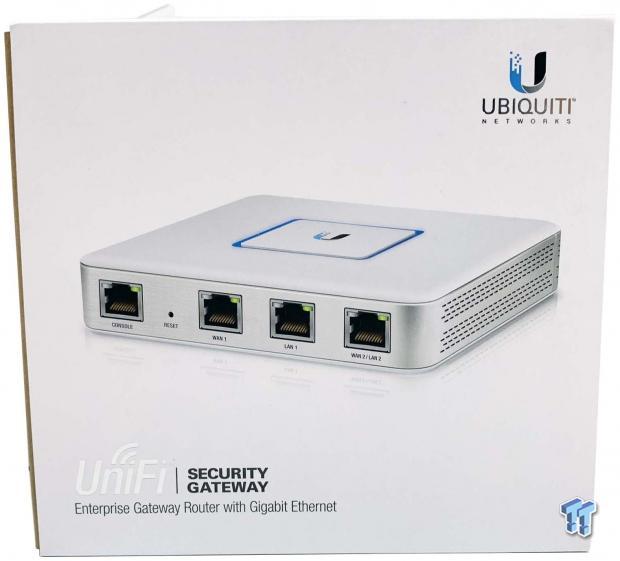 Starting with the USG; Packaging offers an image of the gateway on the front, branding at the top right.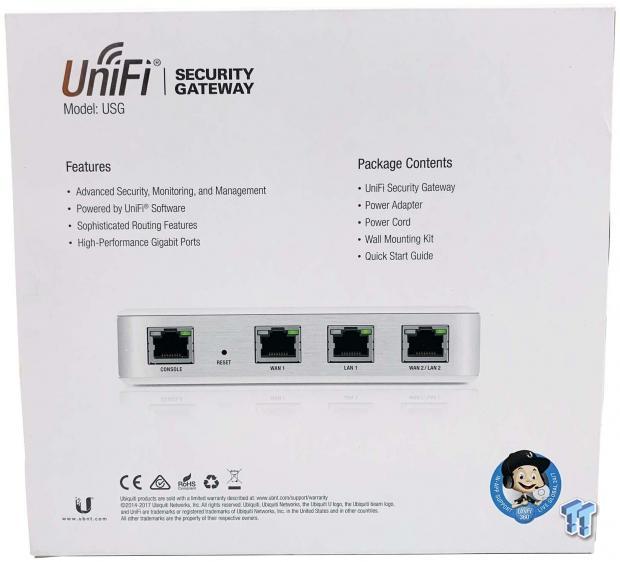 Backside lists features of the USG with package contents to the right.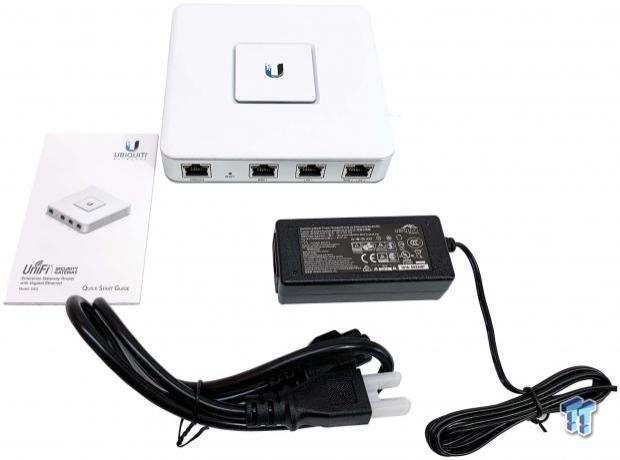 Scope of delivery includes, the USG, power adapter, and manual.

As mentioned above, the USG offers three RJ45 ports on the front with a console port to the left.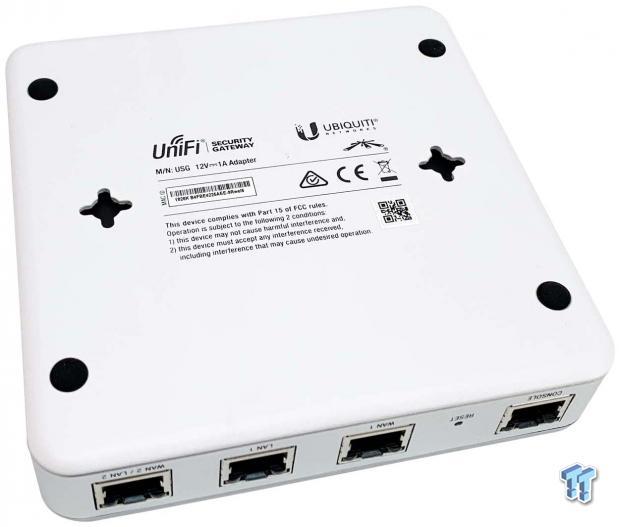 On the bottom, we have regulatory information and wall mount options built into the chassis.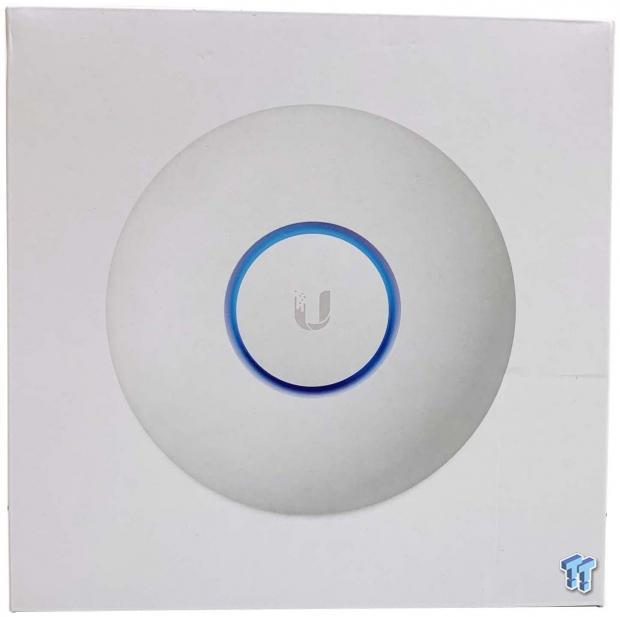 Slipping into the access point, the nanoHD is the smallest 4x4 AP to date. This solution comes boxed as all UniFi AP do, with an image of the top of the unit centered.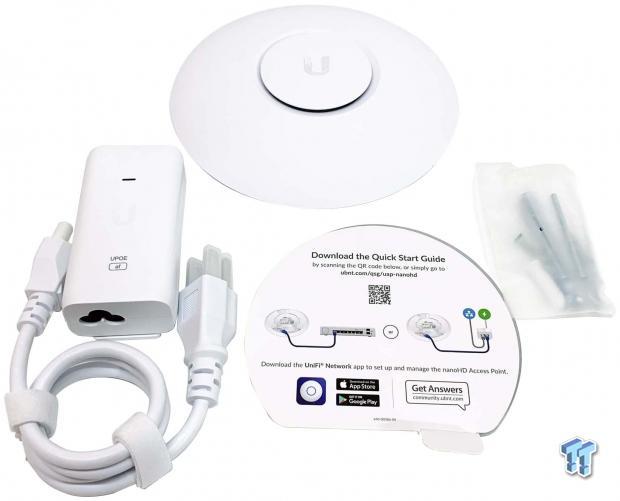 Included with we have an 802.3af injector, mounting plate, and the nanoHD.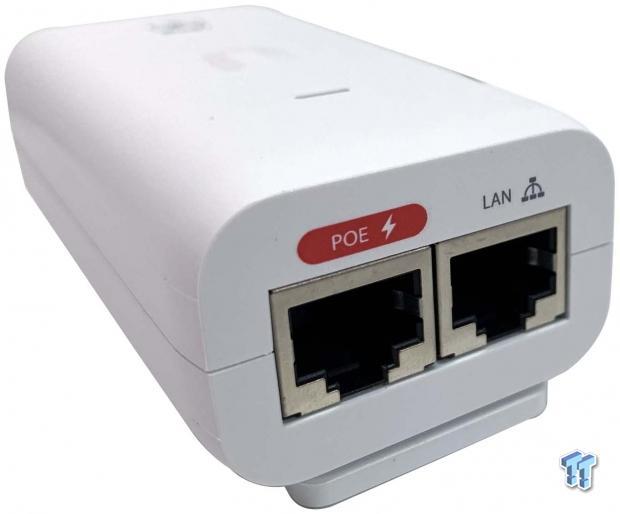 The injector offers an RJ45 input with PoE RJ45 output; the power Input resides on the opposite end with an indicator on the body of the unit.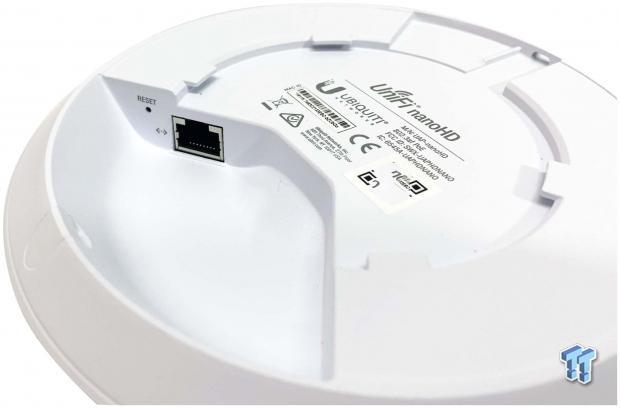 The AP accept PoE input on the bottom with its reset to the left. This unit supports wall and ceiling mounts included in the box.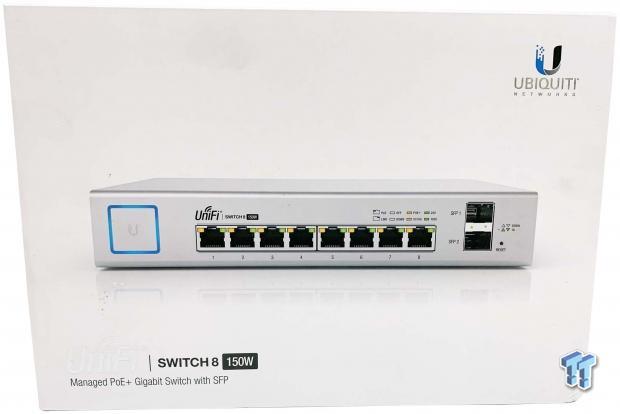 The UniFi Switch 8 packaging offers an image of the switch centered with model and features to the left.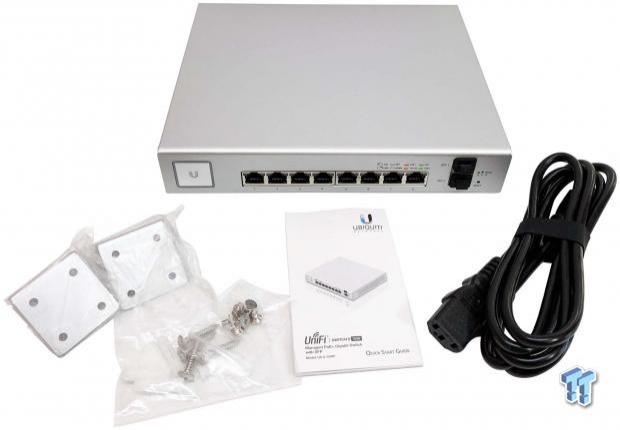 Included in the package, we have mounting ears and screws along with the power cable and manual.

The Switch 8 offers eight ports across the front all supporting 802.3af/at PoE gigabit ethernet. Two PoE ports offer optical connectivity for expanding your network.

The backside of the switch offers an open design to allow air to pass through more freely.
Test System Setup and UniFi Controller
Tyler's Test System Specifications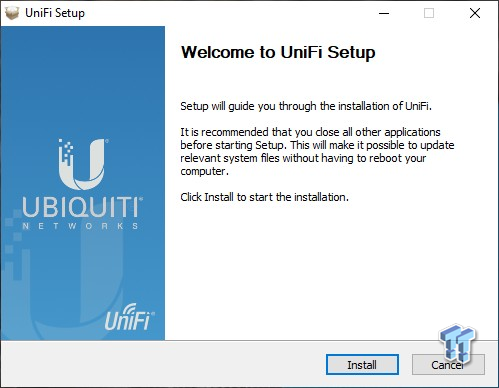 Setup begins by downloading and installing UniFi Controller. You will also need Java for this software.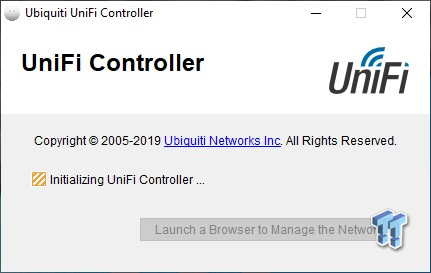 Once complete, we initialize the software and launch the browser to begin setup.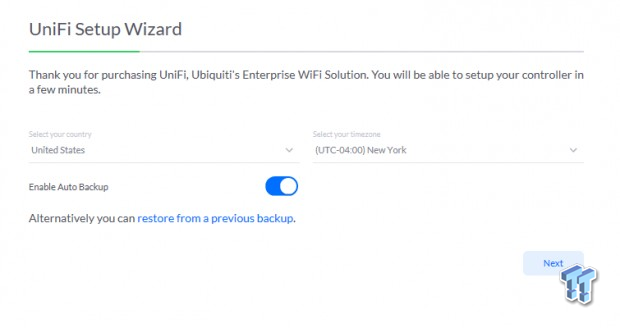 Once we are in setup, the integrated wizard will guide you through, first by setting your time zone and country.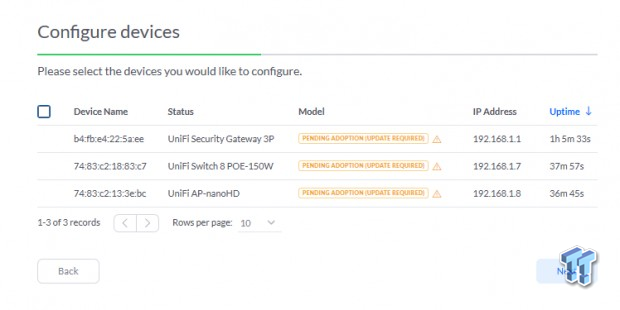 We then move into devices; everything on your network should show up here and be waiting for adoption.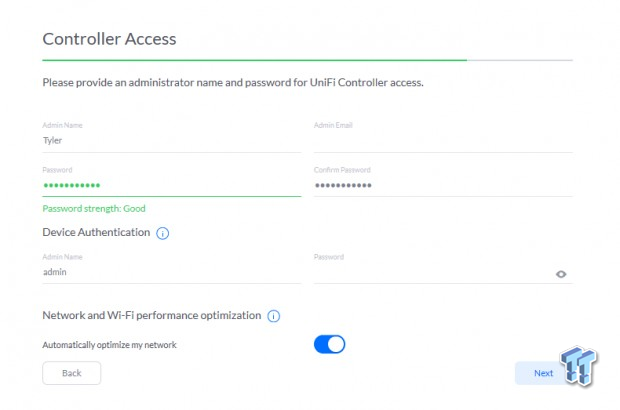 Continuing on with the setup, we add controller access by setting up a username and password.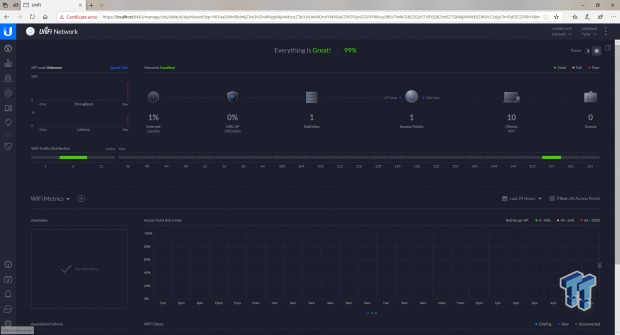 After running through those first few steps you will land here, likely with a white background. You can switch to dark mode on the right-hand side. From the top, the UniFi Network dashboard offers insight into your entire network from this browser window. To the left, we have Internet capacity followed by utilization numbers for each device in the chain. Further down, you will see the number of access points and clients connected. Down below each client that connects to a UniFi access point is monitored for anomalies and associating issues, including timeouts and authentication failures.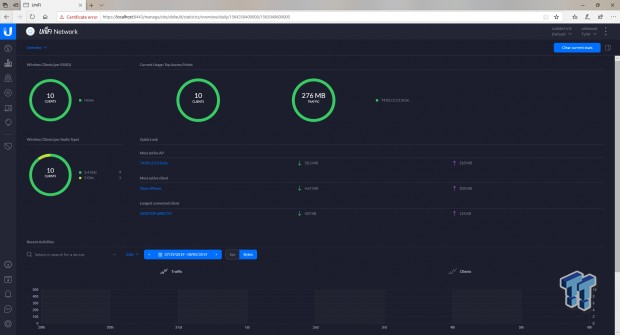 The statistics menu offers another level of analytics with clients connected and traffic moving through each. To the right, we have an overall throughput number for each access point and down below historical traffic for each client.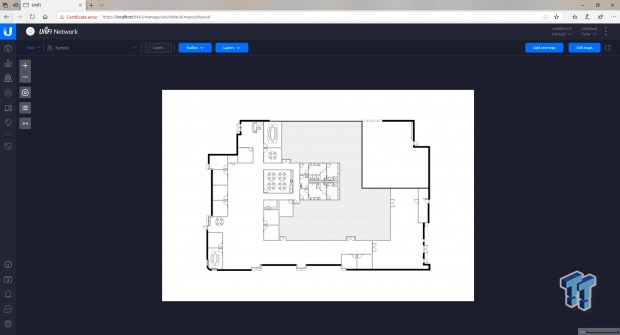 The map tab allows you to import and place access point on the map to better utilize coverage.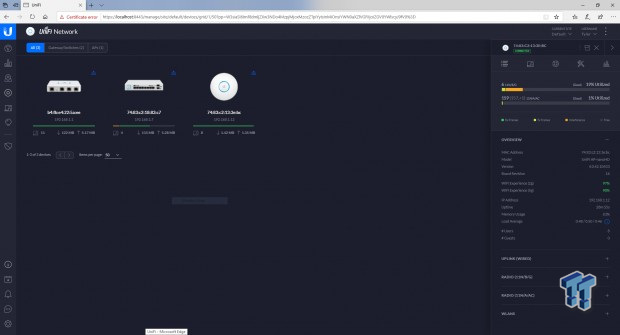 The device menu lists each UniFi solution. Clicking on any single solution offers a popup window to the right with further information and configuration if needed.
UniFi Controller Continued
UniFi Controller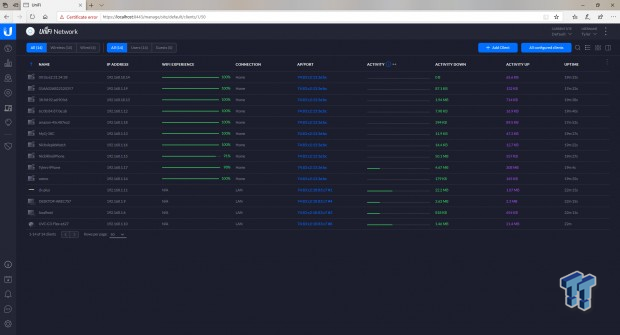 Within the Device menu, each client with have its own experience score. This is based on connection rate and signal quality. To the right, we also have traffic stats showing the activity of each client and uptime.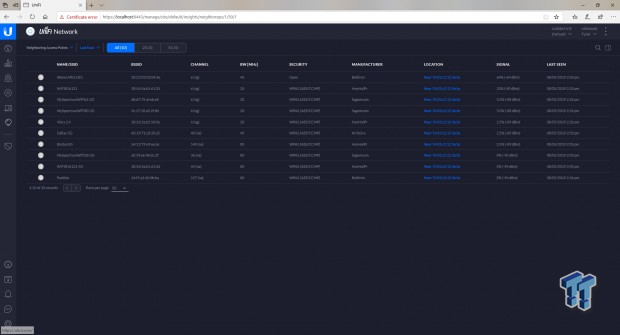 Insights show you neighboring access points and any interference they may be causing. Using this data, you can manage your network quality by changing your chosen channels.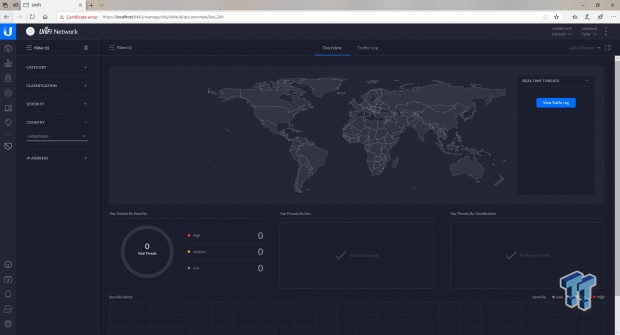 Intrusion Prevention is the Firewall of the USG Gateway. From here, you can monitor and block threats to your network.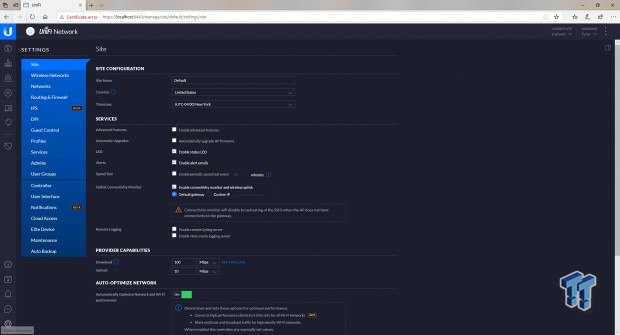 The settings menu offers the ability to change setup data for the controller. This includes time zone and advanced features. Advanced features include airtime fairness, bandsteering, minimum RSSI, and load balancing. The settings menu also allows the controller to automatically upgrade AP firmware or schedule speed tests.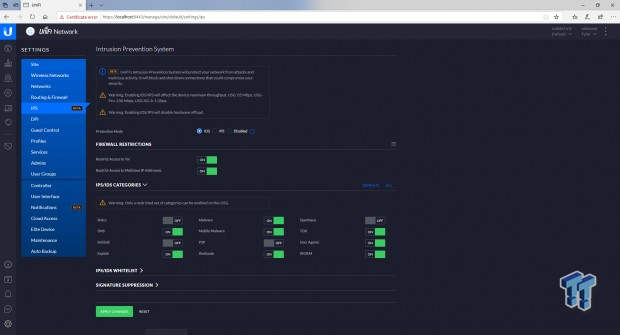 Intrusion Prevention if enabled, will monitor and block threats to your network at the expense of throughput. That said, this menu allows you to configure categories and firewall restrictions.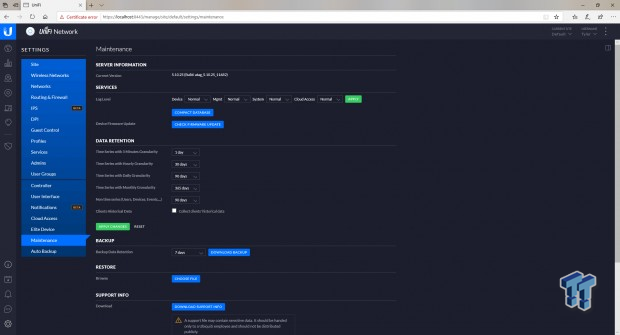 Last, we have the maintenance menu system. This allows you to backup and restore configurations along with data retention.
Performance & Final Thoughts
Performance & Final Thoughts
After going through the process of setting up the UniFi system, I am certainly ready to check the performance. I'm expecting the Switch 8-150 to be on par with gigabit standards and as you can see below, it certainly delivered.
The Wi-Fi was on point as well with the nanoHD offering 167Mbps using the 2.4GHz band and 852Mbps for 5GHz. This was of course testing with my ASUS PCE-AC88 4x4 adapter, mobile users such as smartphones and notebook can reasonably expect 4-500Mbps out of the nanoHD with a 2x2 adapter.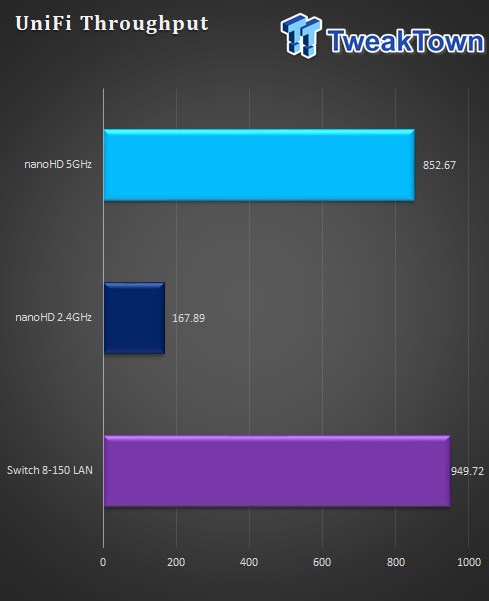 Build quality of each component is top-notch, the Switch and USG both use full metal enclosures offering EMI protection and that durable enterprise look. The nanoHD, on the other hand, takes advantage of high-quality plastics and a small form factor design to integrate into your home high-performance Wi-Fi.
UniFi Controller is what really completes the package and takes this enterprise hardware and enables the typical consumer the ability to setup and manage their network. From start to finish, the integrated wizard will pull you through time zone setup, setting up your login, devices, and even wireless SSID.
From there you can launch the dashboard through UniFi controller and have the ability to see and manage each device independently while UniFi can grade a client's performance along taking into account connection trends to maximize a client's throughput and latency.
I know this type of network isn't going to be for everyone cost alone can dictate if you are committed. For those that are, the UniFi system is one of the most flexible deployments one can have with its ability to expand as needed and upgrade as new technologies are offered.
| | |
| --- | --- |
| Performance | 91% |
| Quality | 90% |
| Features | 98% |
| Value | 90% |
| Overall | 92% |
The Bottom Line
While UniFi may not be turn-key, its easily one of the most flexible networking platforms on the market and one anyone serious about networking should check out.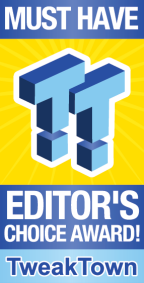 We openly invite the companies who provide us with review samples / who are mentioned or discussed to express their opinion. If any company representative wishes to respond, we will publish the response here. Please contact us if you wish to respond.