TweakTown's Rating: 93%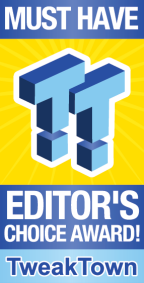 The Bottom Line
Loaded with more features, quality, and performance than any other motherboard we have encountered, the Z390 Aorus Xtreme is one of the best motherboards we have looked at.
Introduction, Specifications, and Pricing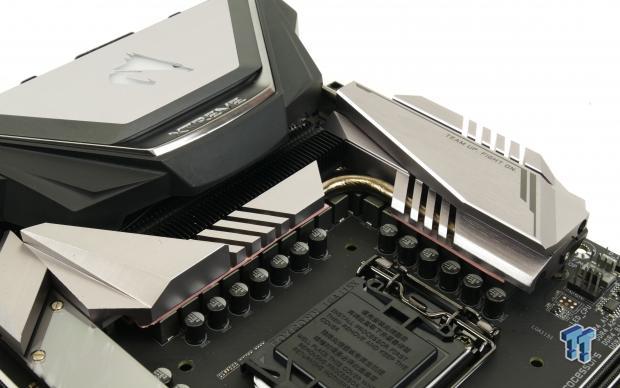 Today we take a look at one of the most expensive and well-endowed motherboards for the Z390 chipset; the GIGABYTE Z390 Aorus Xtreme. The Xtreme nomenclature basically replaces the Gaming 9, which replaced the UD9, one of the most intense X58 motherboards ever on the market.
Specifications

The Z390 Aorus Xtreme features three M.2 slots, WIFI, Intel LAN, 10G LAN, USB 3.1, and SATA6Gb/s.
Pricing
The Z390 Aorus Xtreme costs $549.99
Packaging and Z390 Aorus Xtreme Overview
Packaging and Overview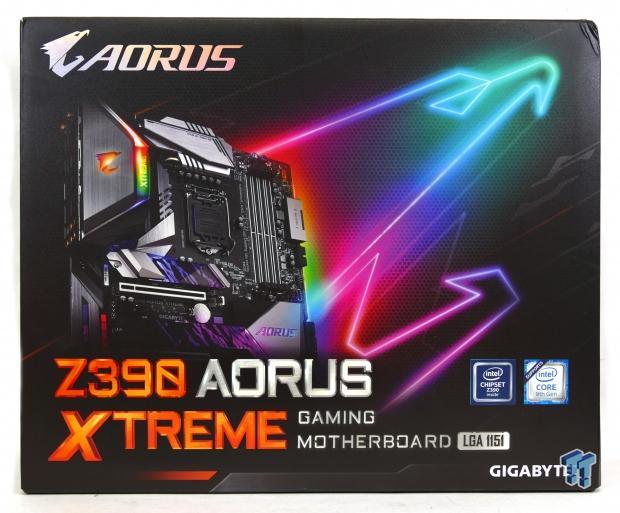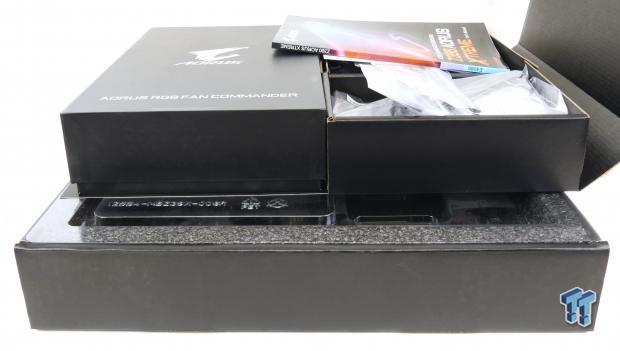 The box is much like previous Aorus motherboard boxes, but it's much larger. The packaging is seriously impressive, with many little boxes.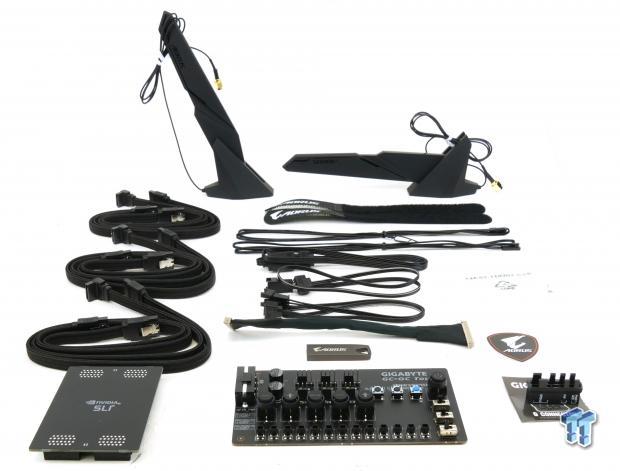 The accessory package includes Aorus RGB/Fan Commander (pictured down the page), six braided SATA6Gb/s cables, SLI HB bridge, OC panel (external OC features), OC panel cable, two temperature probes, two addressable RGB LED extensions, RGB LED extension cable, G-Connector, Aorus driver thumb drive, Velcro cable straps, manuals, two WIFI antenna, Aorus stickers, and case badge.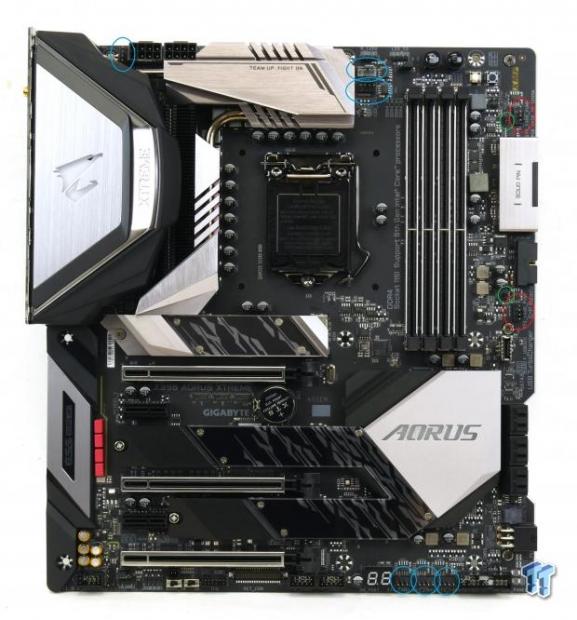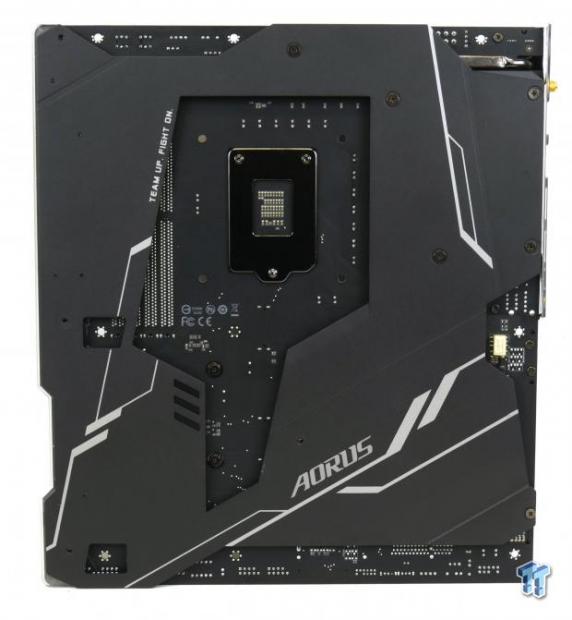 GIGABYTE has upped the number of fan headers to eight, all of them being flexible hybrid PWM or DC mode headers. The headers circled in red are 1A headers, while the two circled in blue are rated up to 2A. There are two external headers that will accept external temperature sensor readings, these are circled in green.
The motherboard also comes with the Aorus Commander, which adds support for an additional eight fans and both types of RGB LEDs the fans might have. The motherboard is an E-ATX motherboards, so it's quite huge, and it has both front and rear shields, and all the RGBs are addressable. The aesthetics are quite intense, and if you love RGBs you will love this motherboard.

The rear IO panel features WIFI antenna, four USB 3.1 type-A ports, two ThunderBolt 3 (double as USB 3.1 type-C) ports, two USB 2.0 ports, two USB 3.0 ports, HDMI, 10Gbit LAN, Gbit LAN, and 7.1 gold-plated audio with S/PDIF out.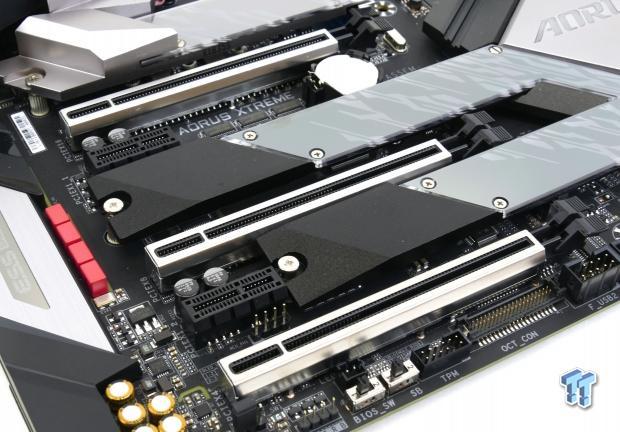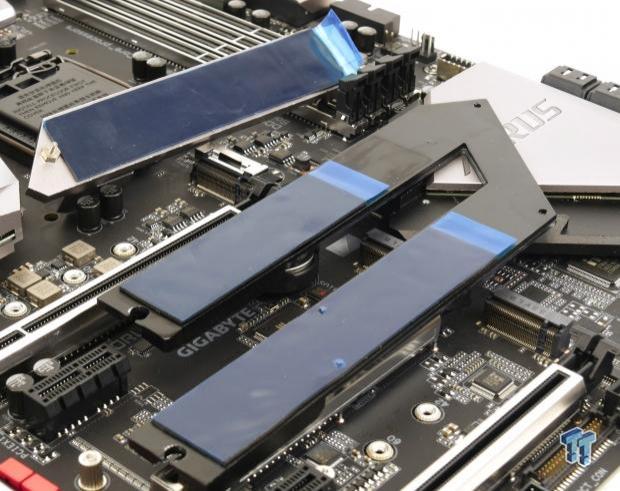 The PCI-E layout is as follows, x16/x0/x4, x8/x8/x4, the last x16 slot is wired to the PCH and shares x4 with one of the M.2 slots. The x1 slots are routed directly to the PCH. All M.2 slots have heat sinks, and while three of them support x4 PCI-E 3.0, only the top two support SATA. The ones that support SATA share SATA with the SATA ports.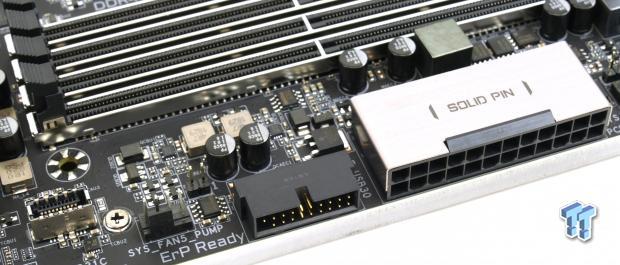 There is a USB 3.1 type-C internal header as well as a USB 3.0 internal header that is capable of QC 3.0. The 24-pin is right-angled, so look out for case compatibility because it will stick out the side. There are six SATA6Gb/s ports routed to the PCH, and there is a 6-pin PCI-E power connector for the PCI-E ports. One BIOS ROM sits in a removable DIP socket.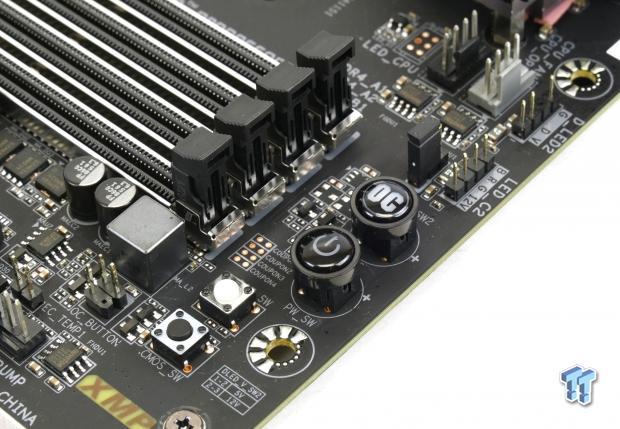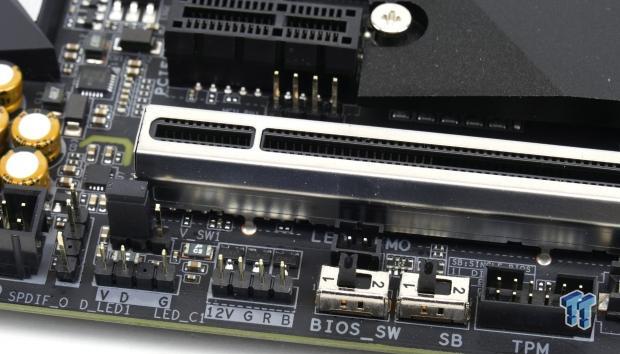 There is an addressable RGB LED header at the top as well as a standard RGB LED header. OC button, OC header, power button, reset button, and a clear CMOS button are all located in the top right corner of the motherboard. At the bottom left corner, we find another RGB LED header and an addressable RGB LED header. There is also a BIOS selector, and a dual BIOS disable switch.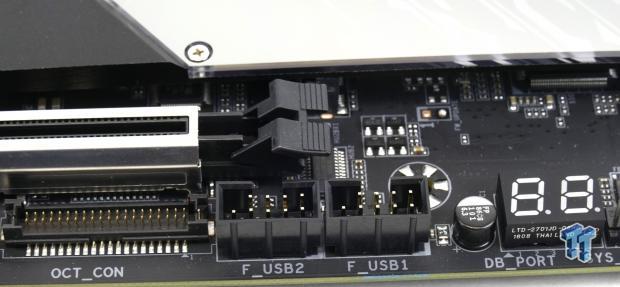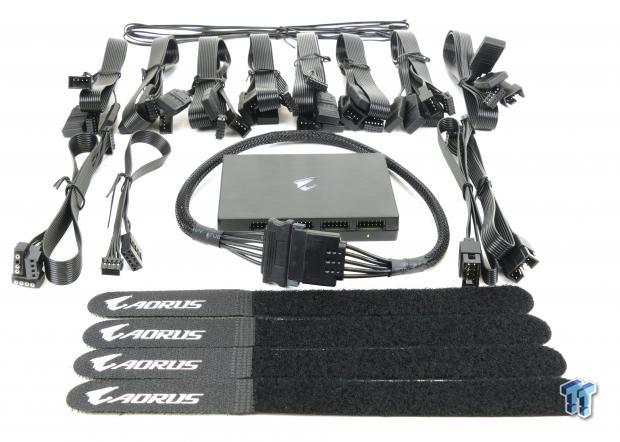 At the bottom of the motherboard, we find an OC connector header for the external panel, two USB 2.0 internal headers, and a POST code display. The Aorus Fan Commander allows for the addition of eight fans, and each cable for each fan can support either RGB or addressable RGB LED fans. The box connects to the PC through internal USB 2.0 (it offers a hub inside and provides two outputs of USB 2.0). You can also connect it through the RGB headers or fan header on the motherboard, and it uses SATA power to power it. It also offers two extra internal temperature sensors.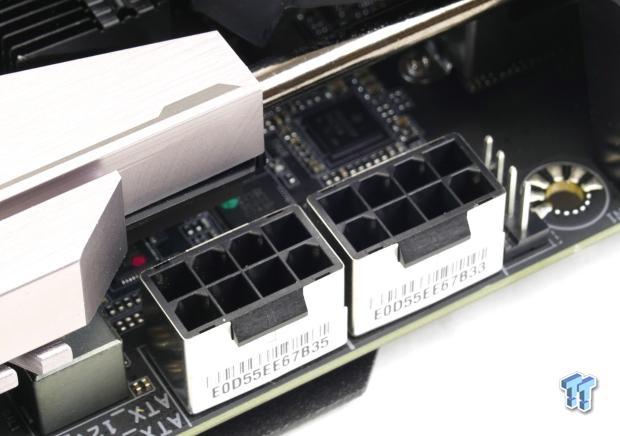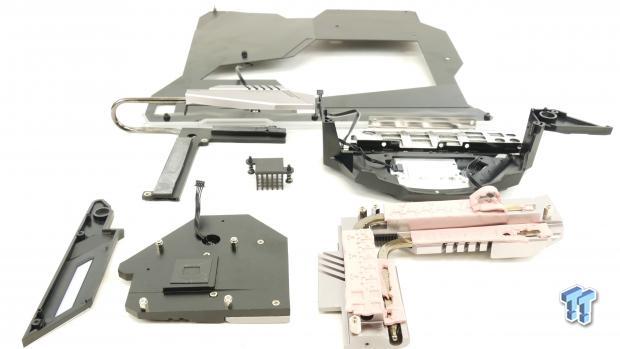 On this motherboard, you get two 8-pin power ports for the CPU. The heat sinks are crazy, there are three heat pipes that even extend to the back of the motherboard. It's one of the most impressive VRM heat sinks we have seen in a while. It uses high-quality thermal pads, copper finds and cools all the inductors.
GIGABYTE Z390 Aorus Xtreme Circuit Analysis
Circuit Analysis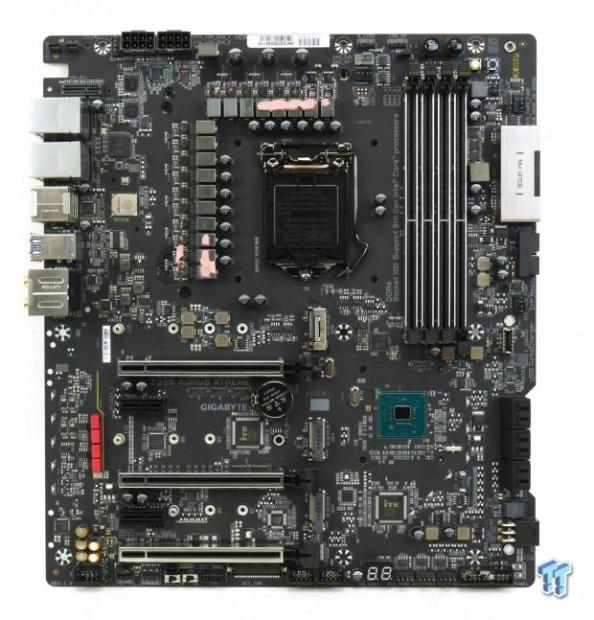 The Z390 Aorus Xtreme shows us the goods with the heat sinks removed!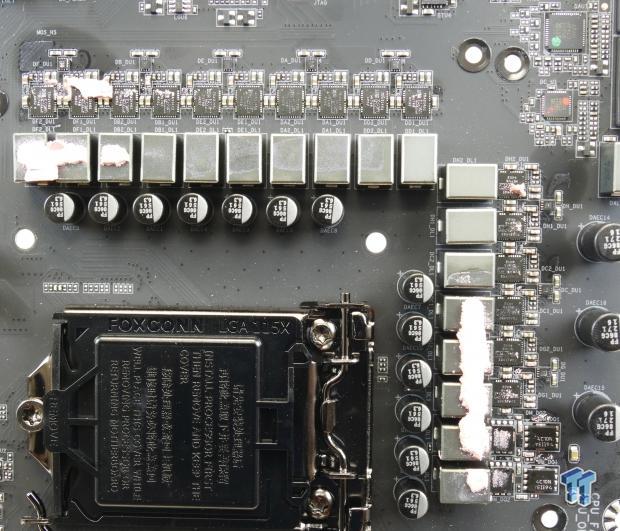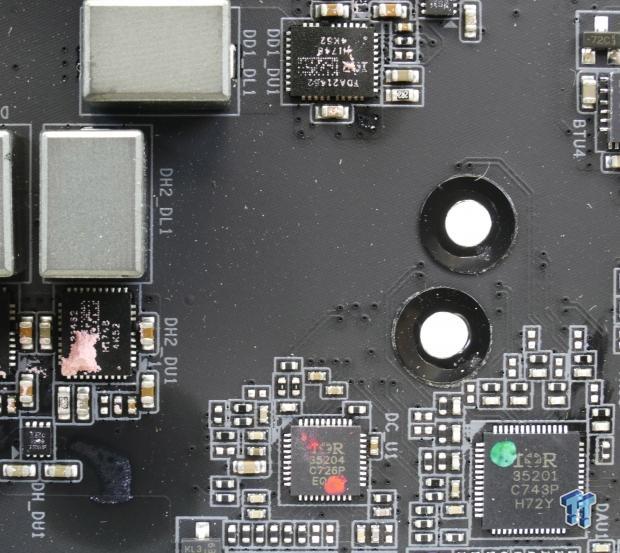 The VRM is a large 16+2 phase VRM. It uses the IR35201 in 8+0 phase mode, eight IR3599 doublers, and 60A Infineon TDA21462 integrated power stages, which are the latest from Infineon (owns IR too). It's one of the best VRMs we have seen on Z390. The iGPU phases are made up of typical PowerPAK N-channel MOSFETs.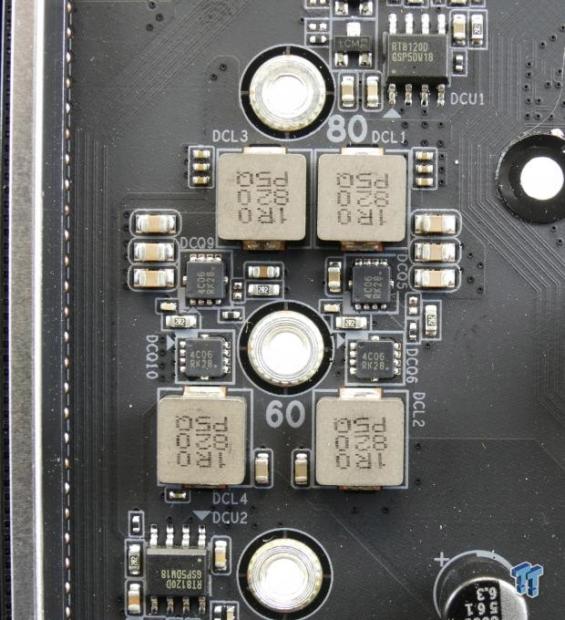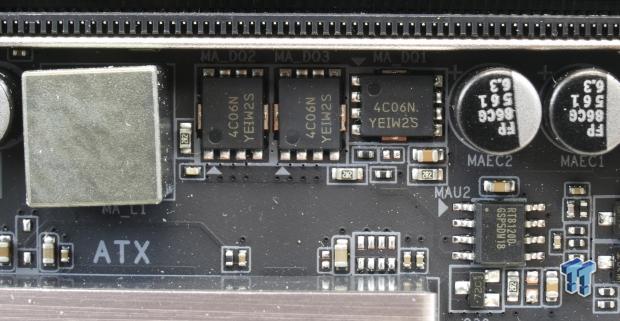 The VCCSA and VCCIO are controlled by Richtek RT8120 single phase PWMs with integrated drivers, and they control some miniature On Semiconductor PowerPAKs labeled "4C06". The memory VRM uses the same Richtek PWMs, but with larger On Semiconductor "4C06N" N-channel PowerPAKs in a two low single high configuration.
GIGABYTE Z390 Aorus Xtreme Circuit Analysis Continued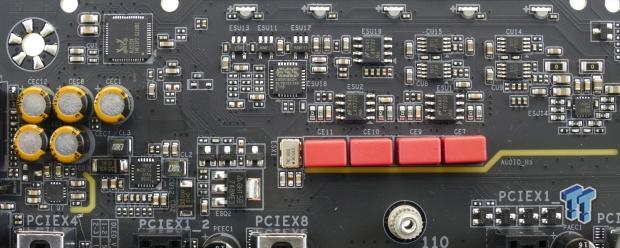 The audio solution consists of a Realtek ALC1220 rated up to 120dB and supports an integrated headphone AMP. That wasn't enough for this high-end motherboard so GIGABYTE added in a ESS9018K2M 127db rated DAC, separate left/right signal channel processing, automatic impedance sensing, a solid state oscillator, WIMA film capacitors, Gold series audio capacitors, a dedicated Texas Instruments step up converter for the OPA1622 amplifiers, an anti-pop relay (you will hear a click on the back), and even independent analog power to improve audio.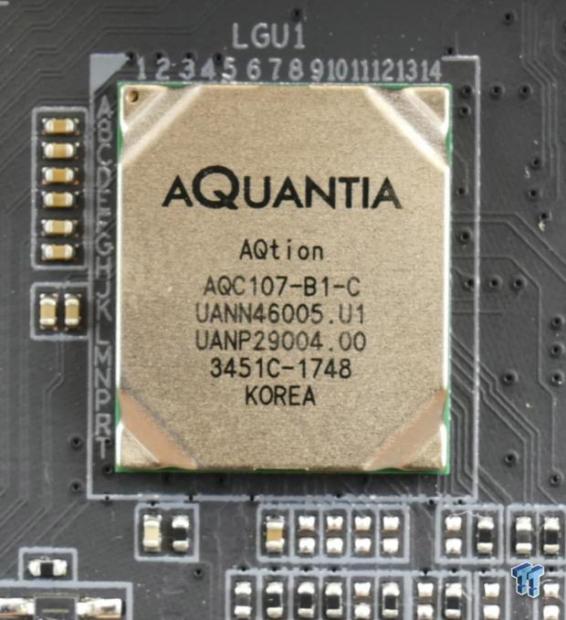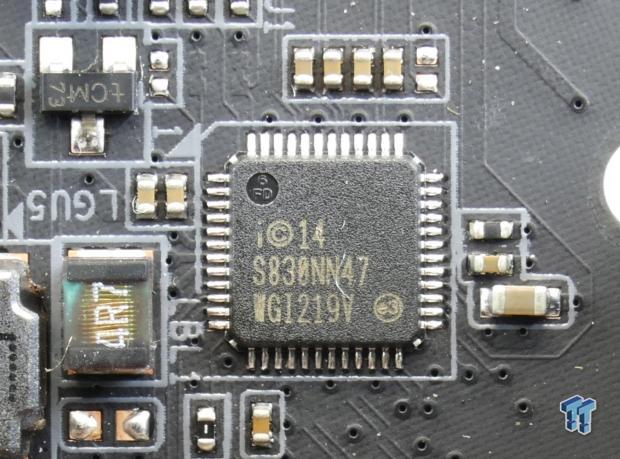 The 10Gbit NBase-T NIC is the Aquantia AQC107, which supports 10G, 5G, 2.5G, 1G, and 100M speeds. The i219v PHY provides the 1Gbit NIC.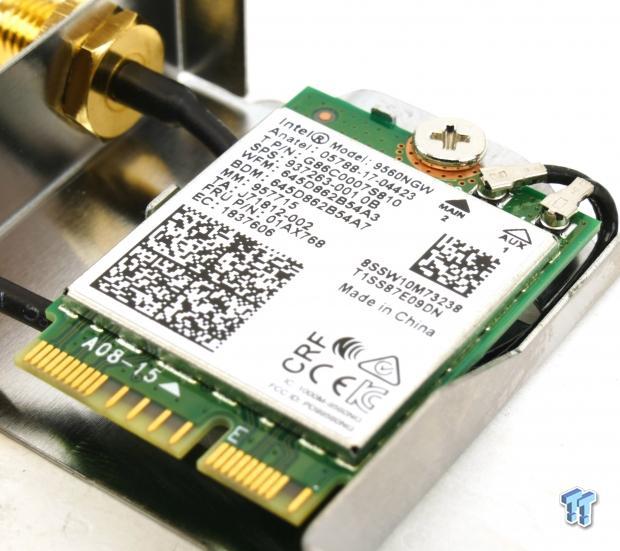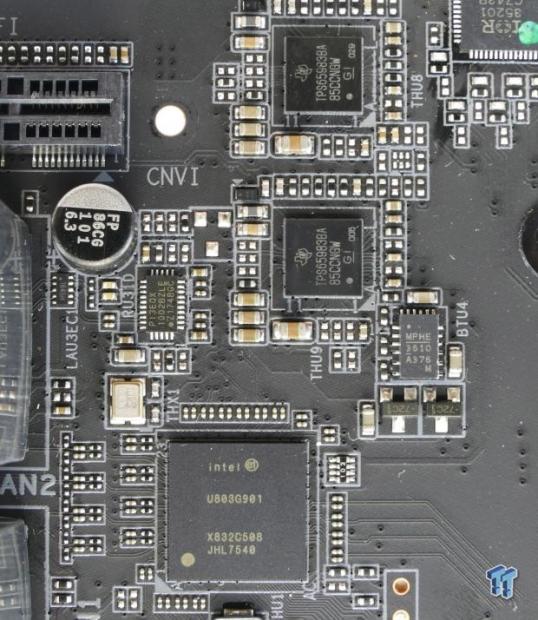 Wireless AC comes from an Intel Wireless AC 9560NGW, which supports up to 1.733Gbps. An Intel JHL7540 Thunderbolt 3 controller is used with two Texas Instruments TPS659 type-C switch and power delivery controllers to produce the two rear type-C Thunderbolt 3 ports. It uses the new controller that offers two type-C ports and uses two PCI-E 3.0 lanes.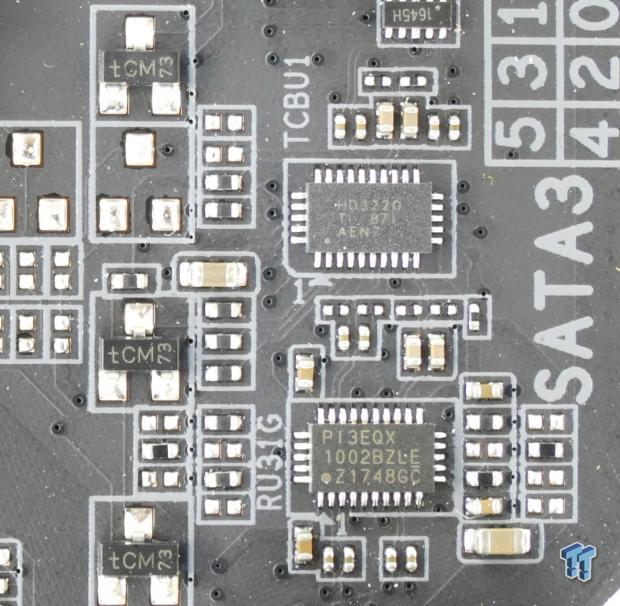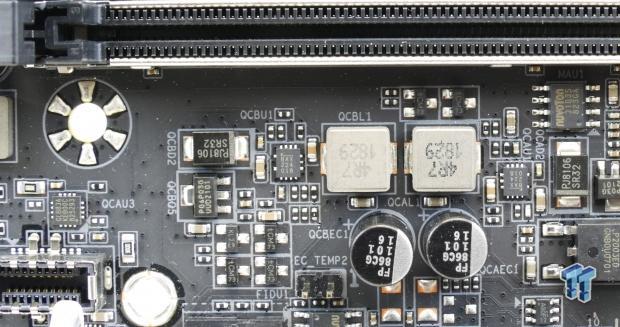 The internal type-C USB 3.1 header uses a Pericom PI3EQX re-driver and Texas Instruments HD3220 type-C controller. The GL883A is the controller that handles Quick Charge 3.0 and Apple Fast charge, and it's part of the USB TurboCharger feature on the motherboard and includes two step up converters from MPS.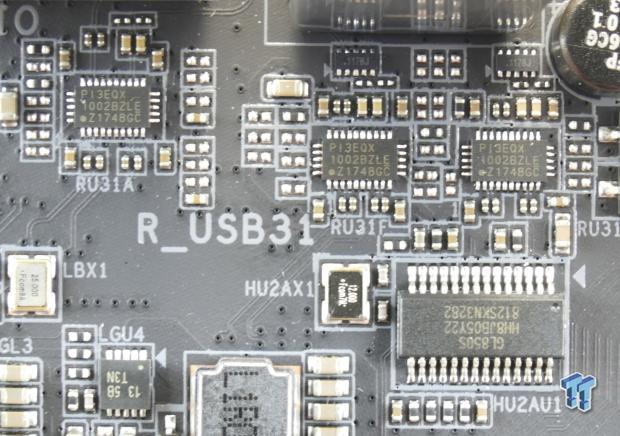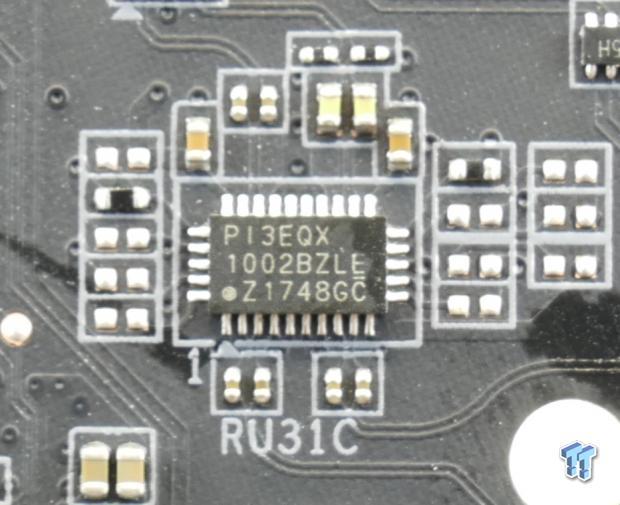 Four more PI3EQX re-drivers can be found on the rear panel for the USB 3.1 type-A ports. A GL8505 USB 2.0 hub is found at the rear of the motherboard and at the bottom to expand USB 2.0 capabilities.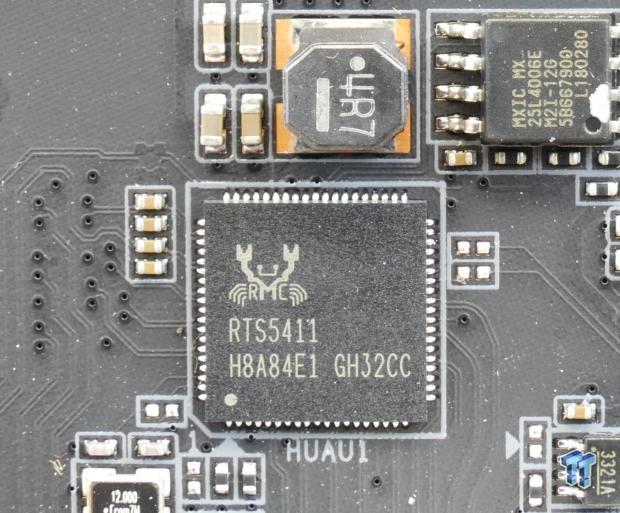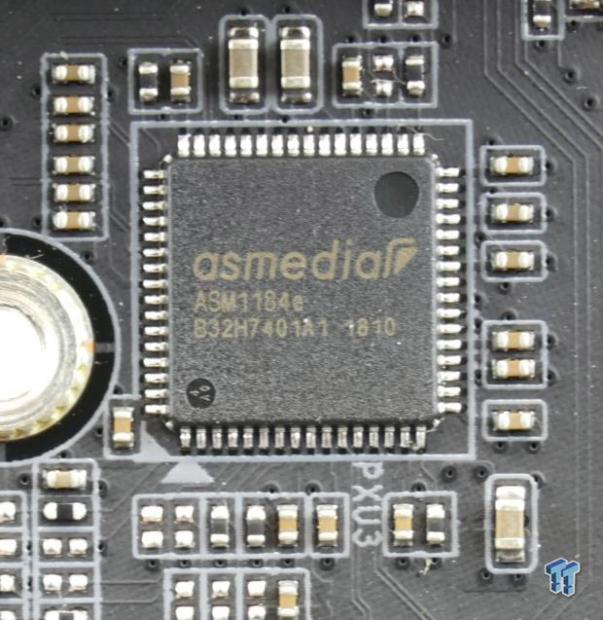 The Realtek RTS5411 USB 3.0 hub expands internal USB 3.0. An ASMedia ASM1184e expands PCI-E, as it's a PCI-E hub, for lower bandwidth use for things such as PCI-E x1 slots.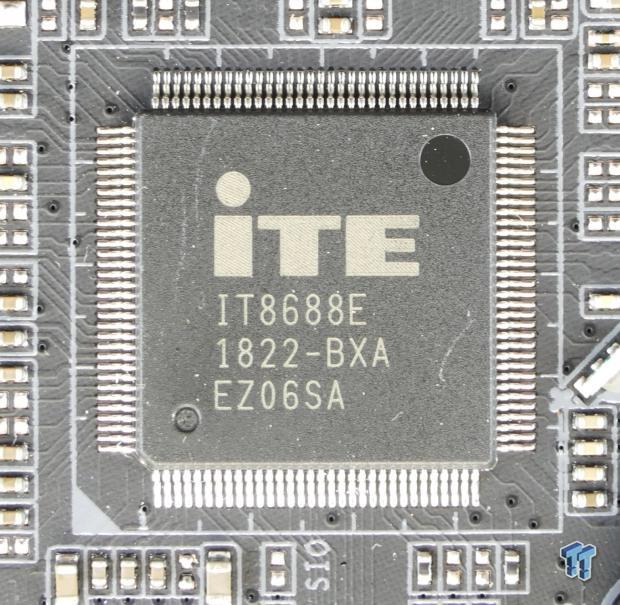 The main SuperIO is the IT8688E. An IT8795 is used to expand fan control.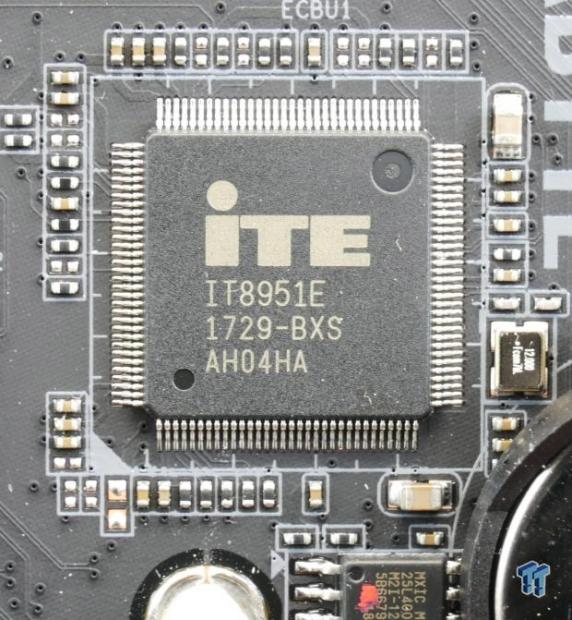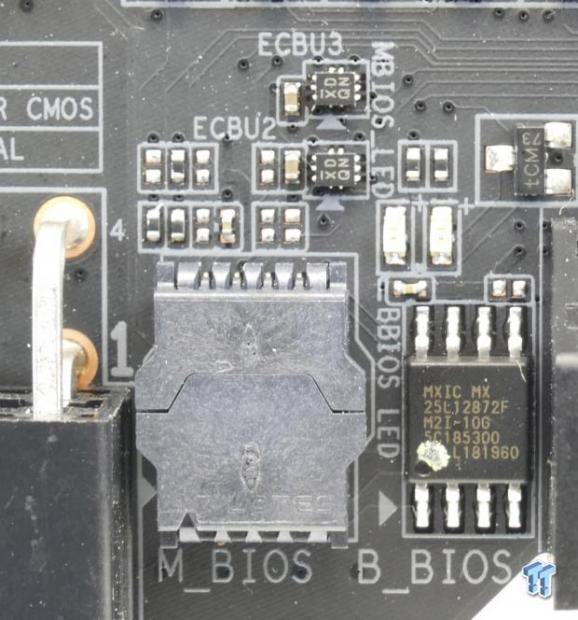 The IT8951 is used to provide USB BIOS recovery if required. The dual BIOS also offers the ability to replace one of the 128Mbit BIOS ROMs.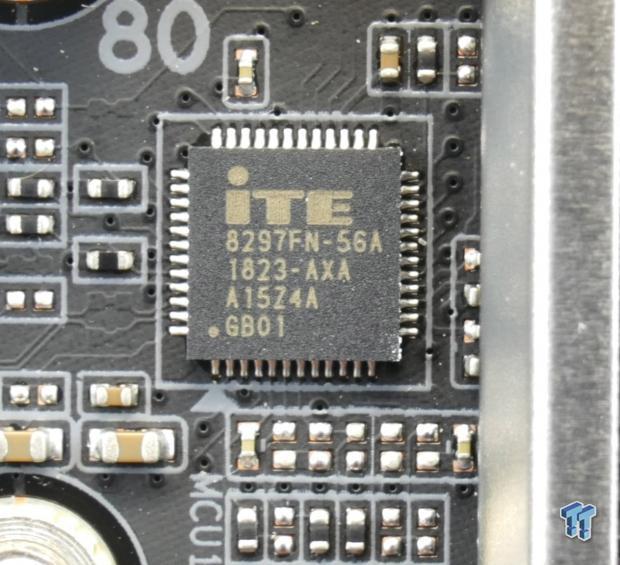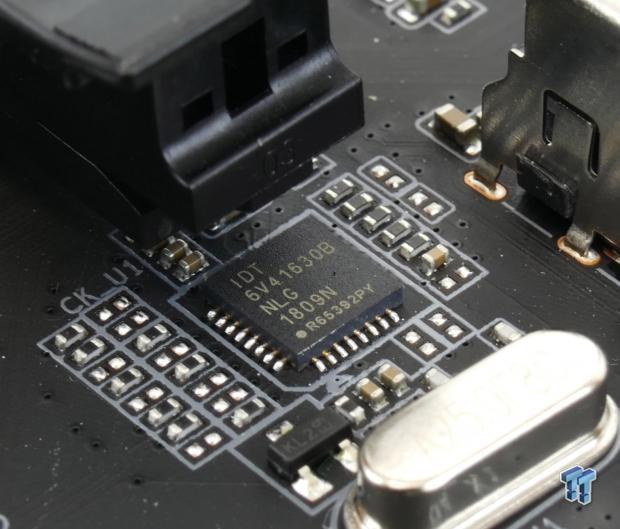 The IT8297FN offers addressable RGB LED control, and the IDT 6V41630 is used to enhance BCLK overclocking.
BIOS and Software
BIOS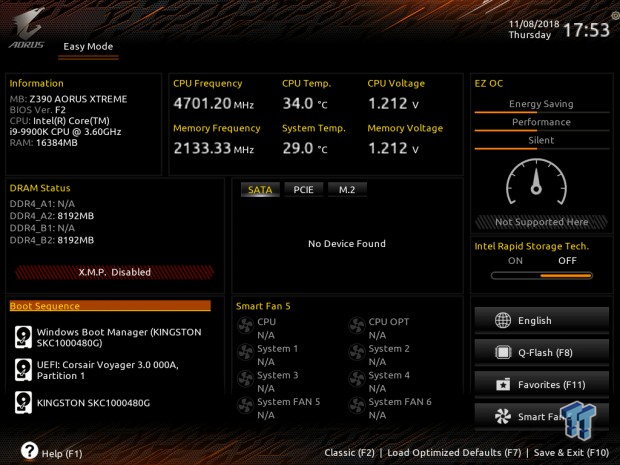 Here we have GIGABYTE's revamped UEFI, and while it doesn't look much different than previous versions it's a step towards a nicer UEFI. It has everything you need though, it's not like GIGABYTE is lacking fan control settings or overclocking, most of the complaints are about layout, and there being many menus. Either way, we found everything we needed for overclocking and fan control.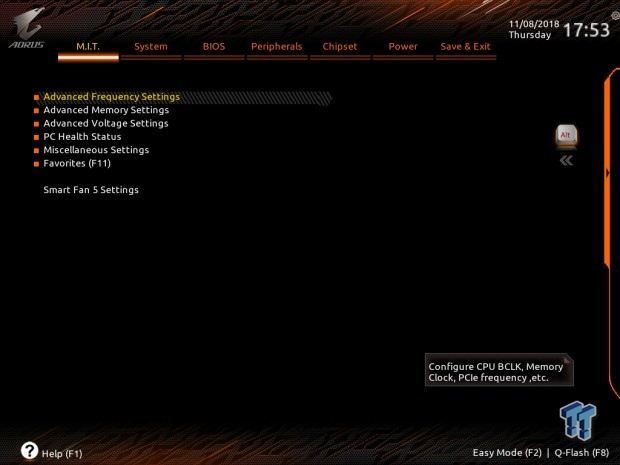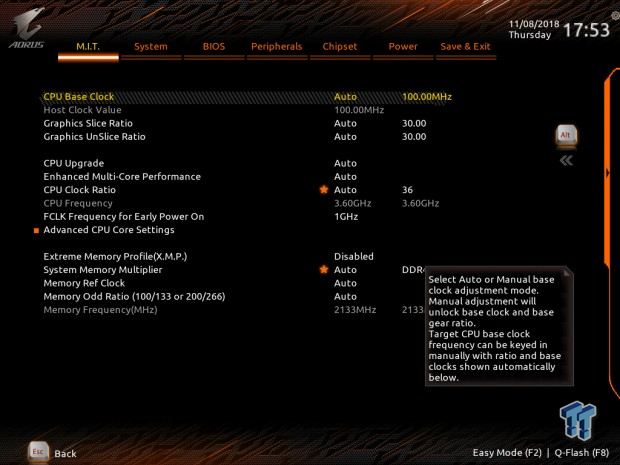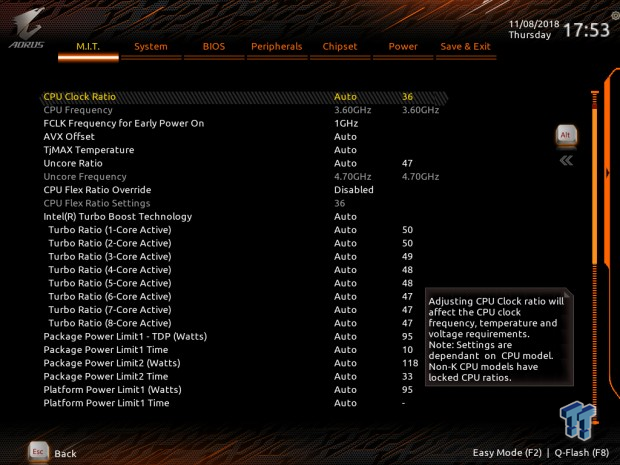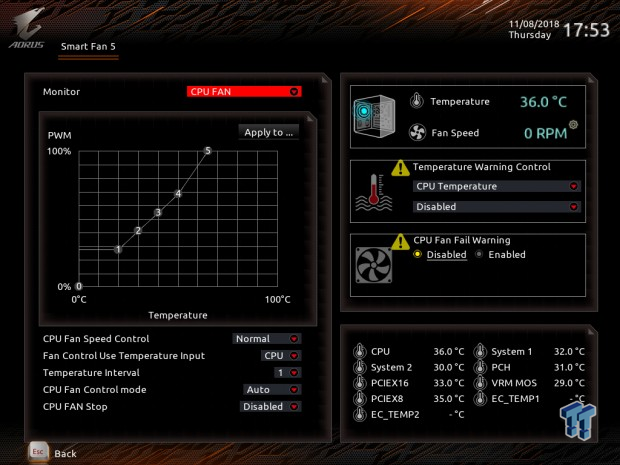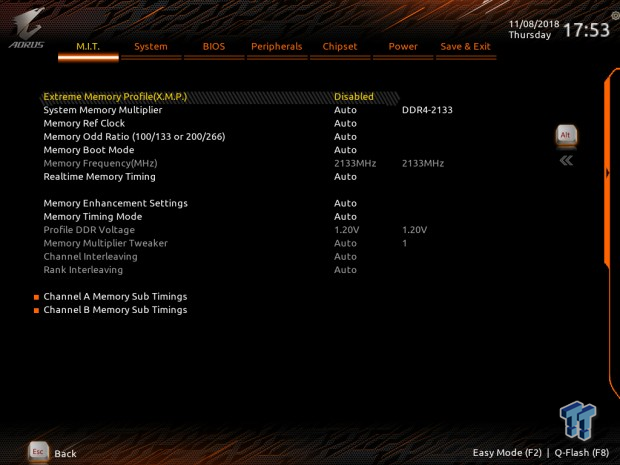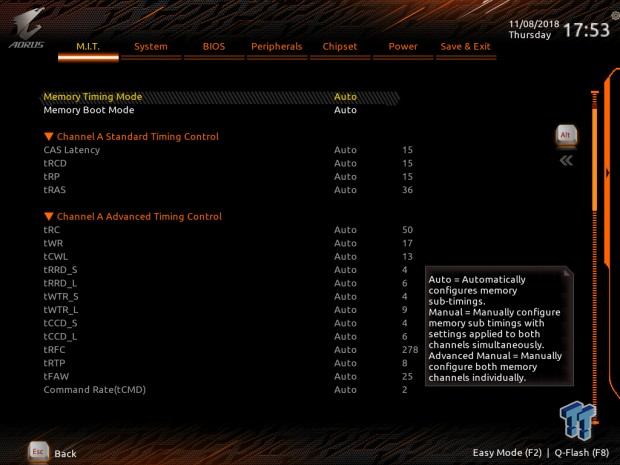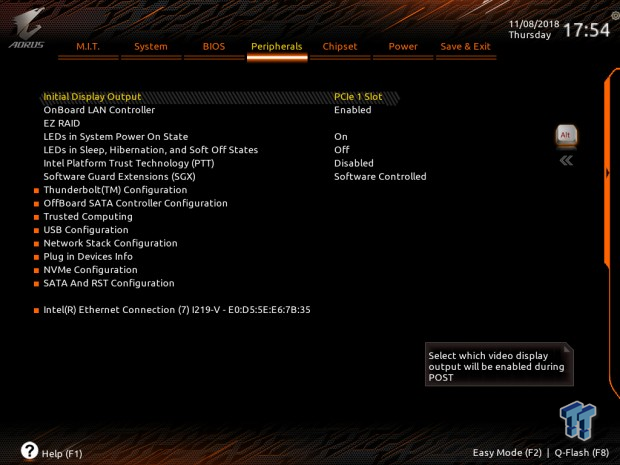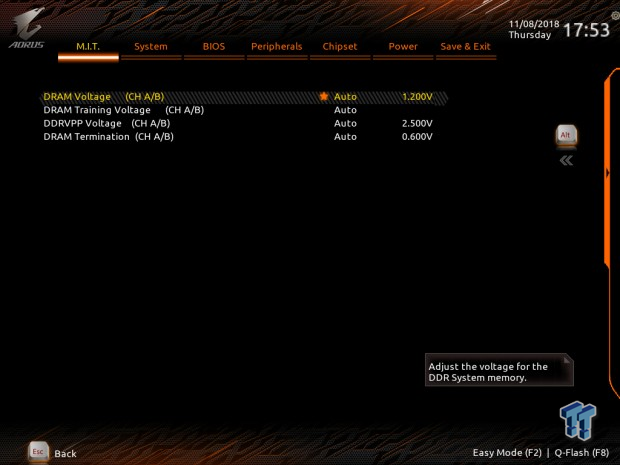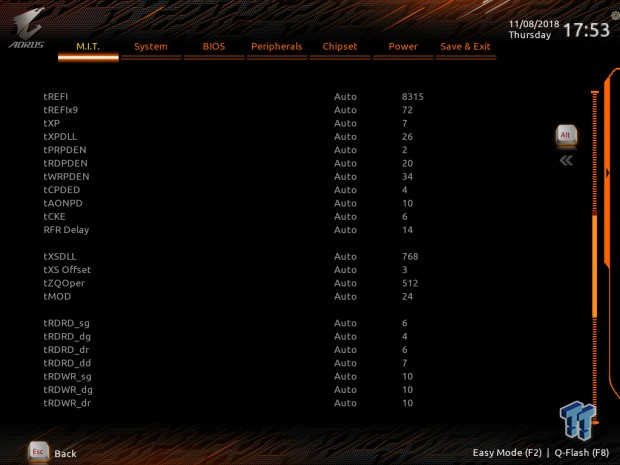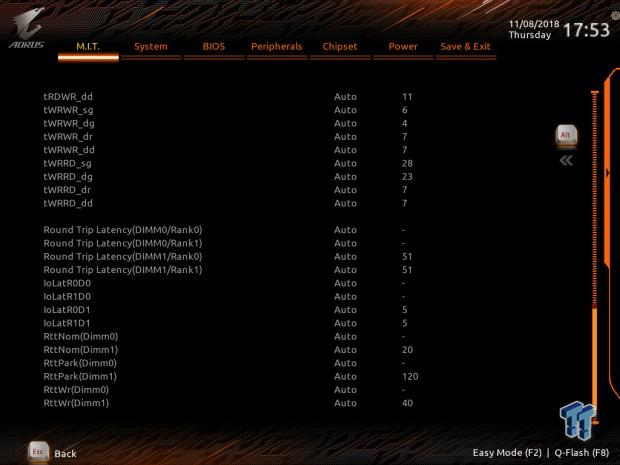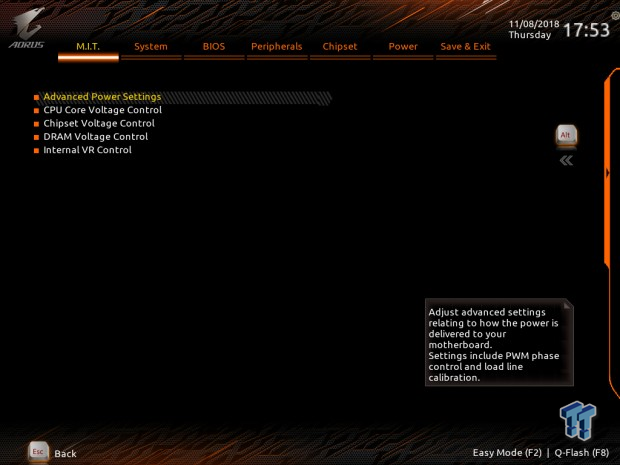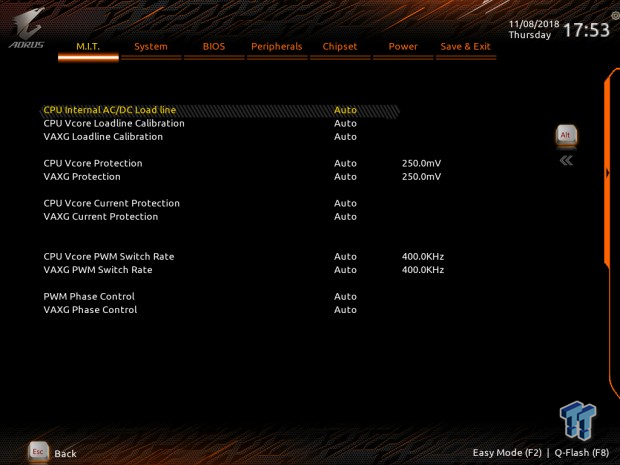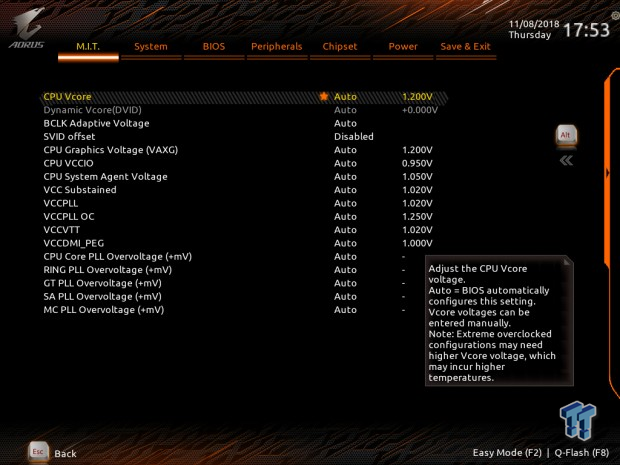 Software
We have USB Turbo charger, APP Center.
Test System Setup
Steven's Motherboard Test System Specifications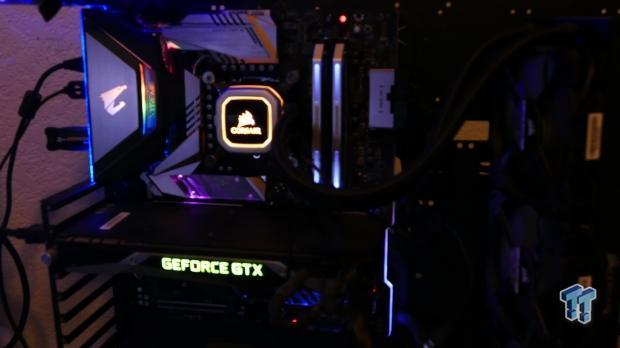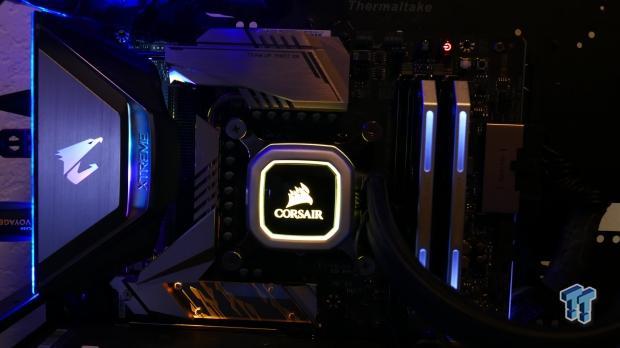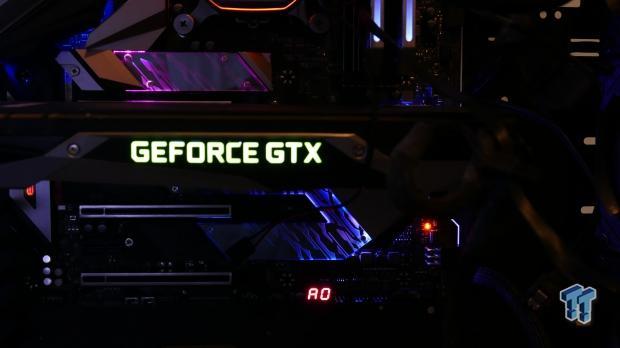 The Z390 Aorus Xtreme has one of the classiest RGB LED implementations we have seen from GIGABYTE in a while. Under the IO cover are some RGBs that by default are in a copper color and shine on the copper heat sink fins, creating an ambiance of cooling potential.
Overclocking
Overclocking Results
CPU Overclocking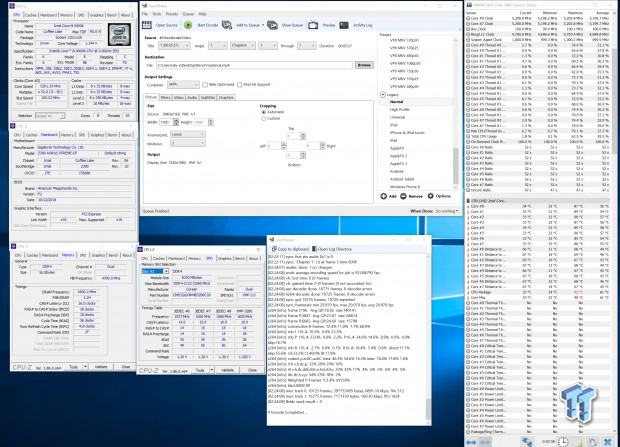 The Z390 Aorus Xtreme overclocked our CPU to 5.2GHz and performed well in pretty much every day, including our average FPS, which is quite high if you look at some other board reviews. We set CPU multiplier to 52x, cache auto goes to 47x, but a lot of other boards set this to 43x by default so look out for that. Then we set LLC to turbo, enabled XMP, and set a VCore of 1.325v. That's all we had to do.
CPU, Memory, and System Benchmarks
CINEBENCH 15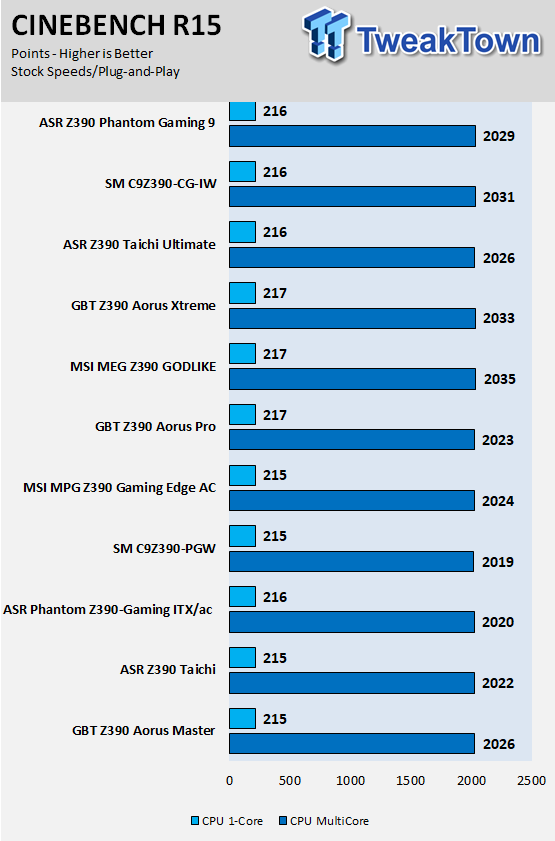 wPrime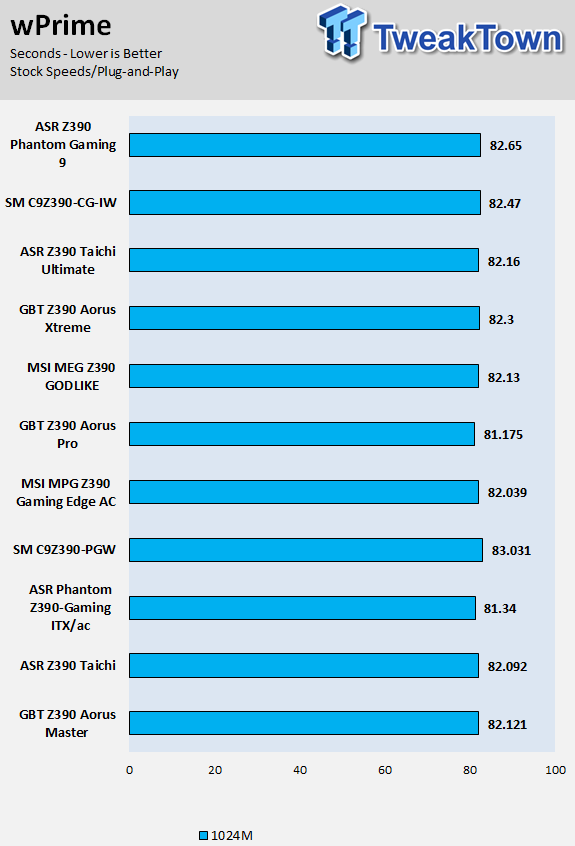 AIDA64 FLOPS and IOPS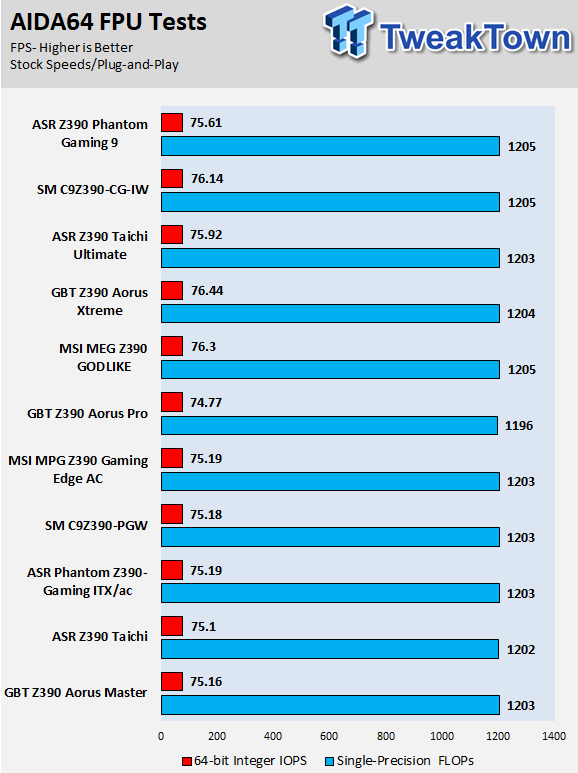 AIDA64 Memory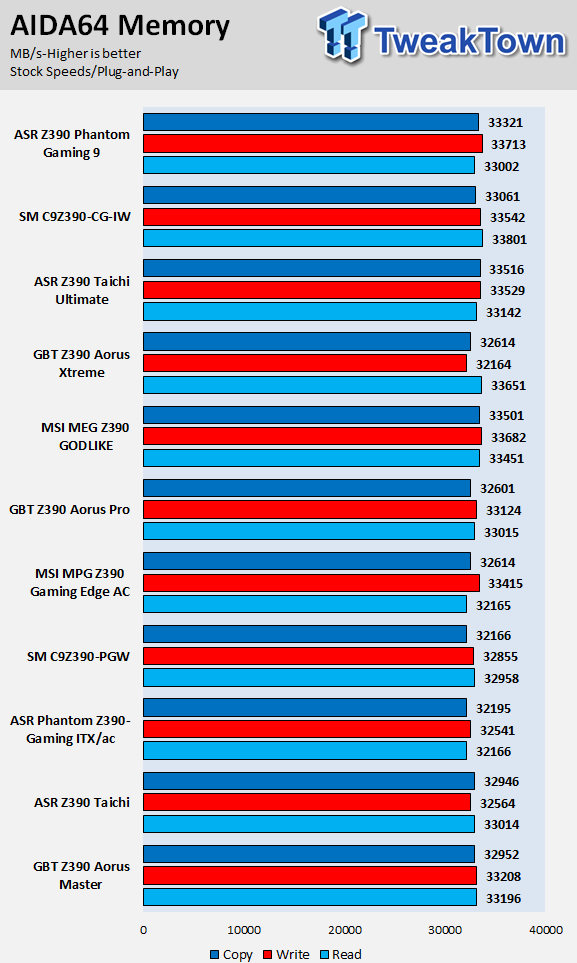 ScienceMark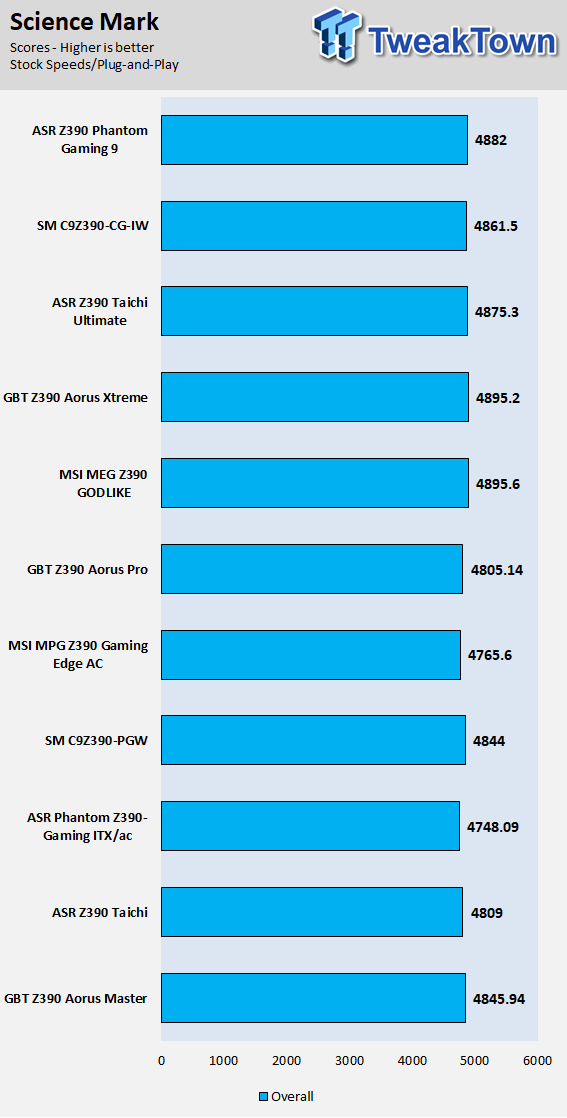 HandBrake
3DMark: Fire Strike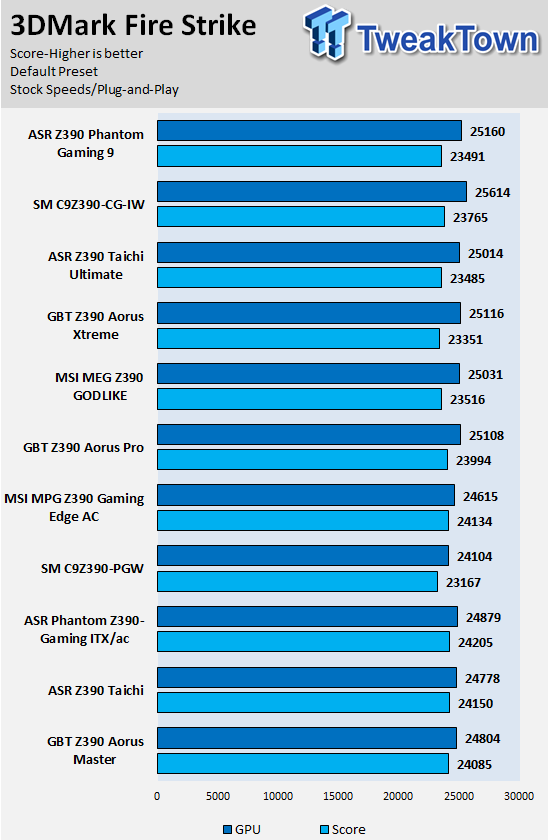 3DMark: Cloud Gate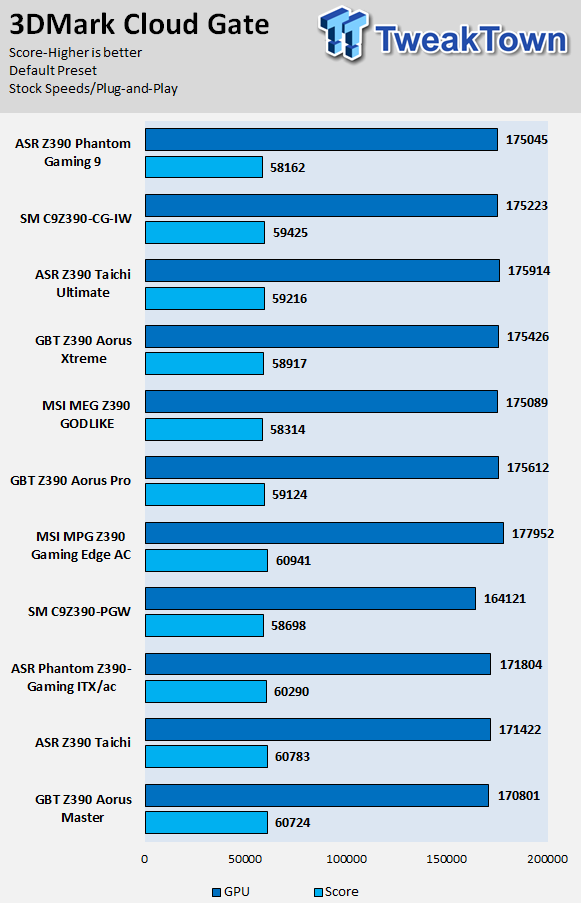 ResidentEvil 6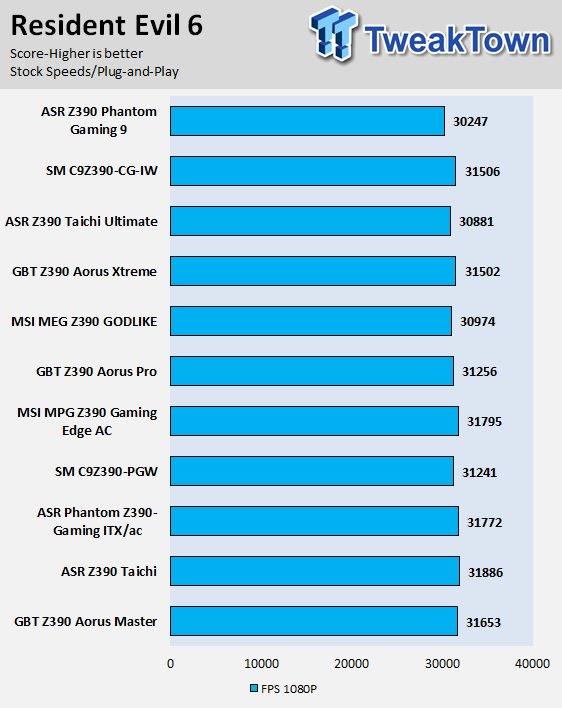 Overall, performance is solid all around, nothing spectacular or wrong.
System IO Benchmarks
CrystalDiskMark SATA6G:
CrystalDiskMark M.2: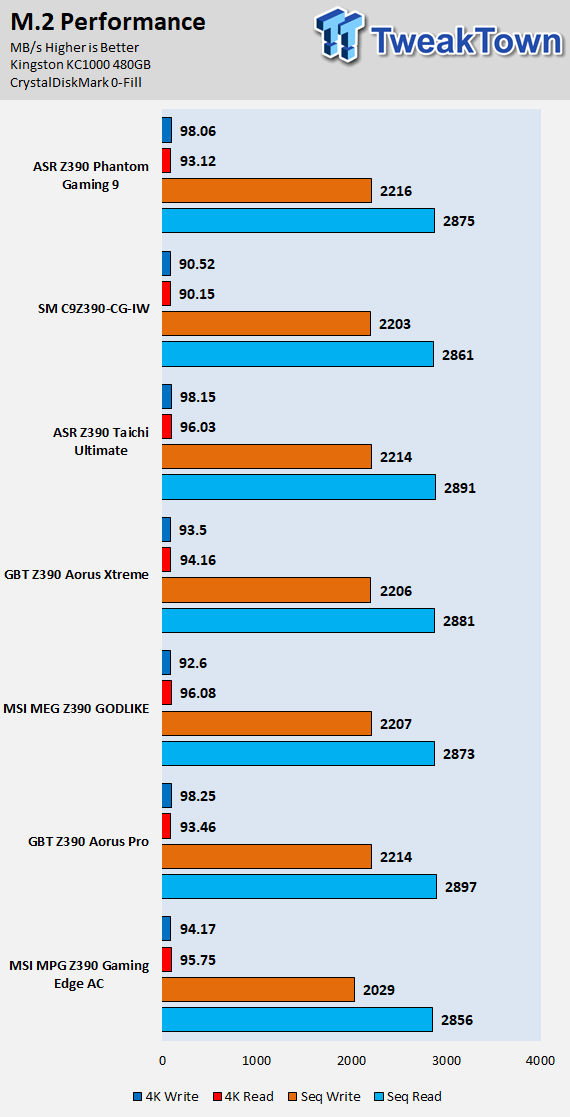 ixChariot Network Throughput: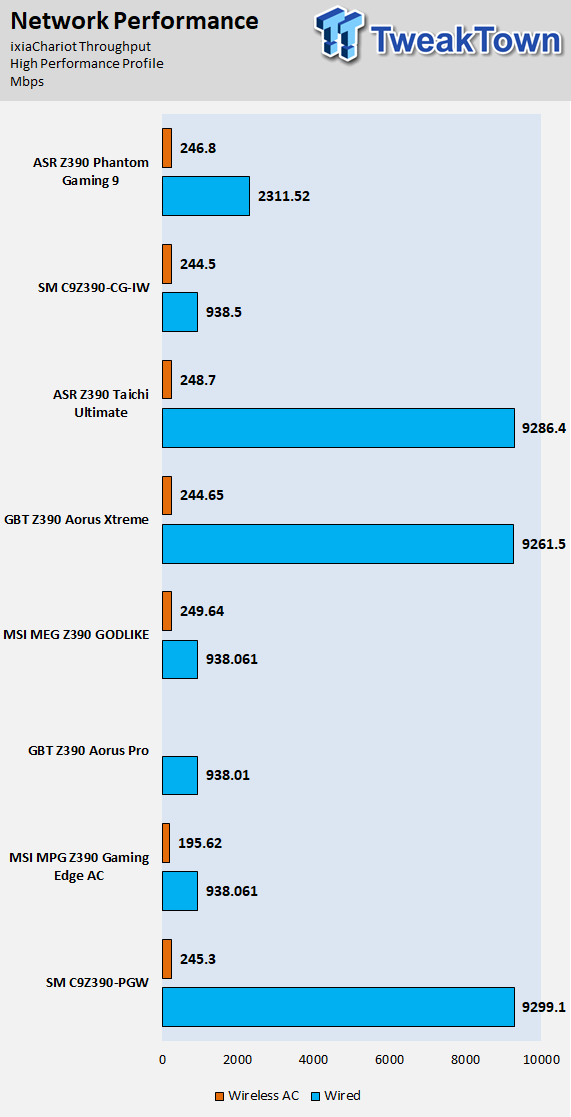 The storage and networking performance is solid.
Audio:
Sound Judgment by Ear: Excellent. Audio performance was great to the ear. There are five ratings for audio: 1. Problems, 2. Okay, 3. Acceptable, 4. Very good, 5. Excellent
Thermal Imaging and Power Consumption
System power is measured at the wall with an AC power meter.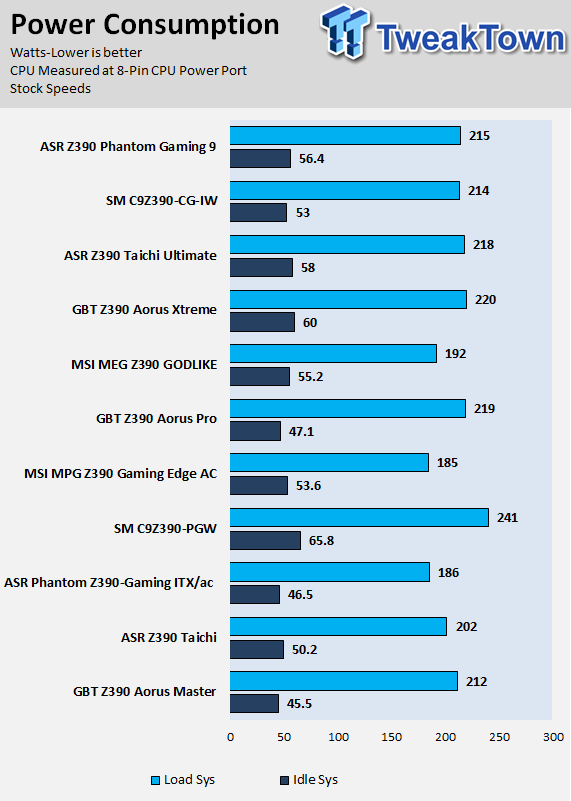 Note on Thermal Images: In the temperature section, we use our Seek thermal imaging camera to capture the surface temperatures of major components on the board. I look at the VRM and then all other things that light up the screen. If there is something to worry about, then I will state it. Otherwise, I will just show the hotter running parts of the board for fun. Unless some component is over 80-90C, then there isn't anything to worry about.
All systems will act differently, so I will look for commonalities, such as how far from the VRM the heat spreads through the PCB and the difference in temperature between the front side and back side of the PCB. Keep in mind, the majority of the heat from the VRM goes into the PCB as it is a giant soldered on copper heat sink. A larger difference in temperature between the back and front of the PCB points towards a more effective heat sink.
Thermal Testing at Stock Speeds:
The image on the left is always at idle, and the image on the right is at load. During ALL TESTS, fans to the right of the motherboard from the (Corsair H110i) radiator are left on automatic mode (ramps with internal block temperature). Additionally, a 120mm fan is situated right above the VRM, and it blows down at a medium rate (very quiet). Thermal Images are taken at loop 15 of Intel Burn Test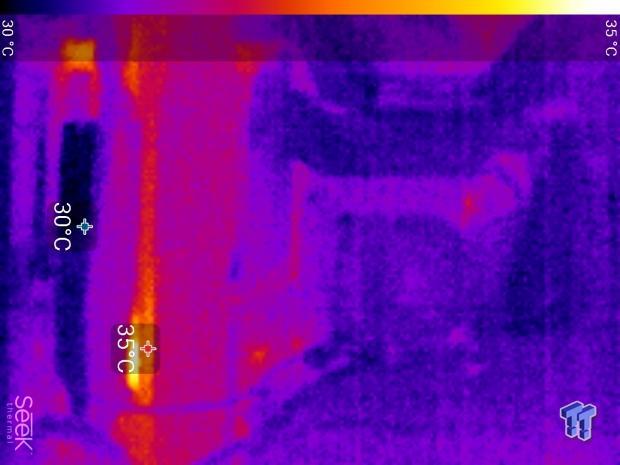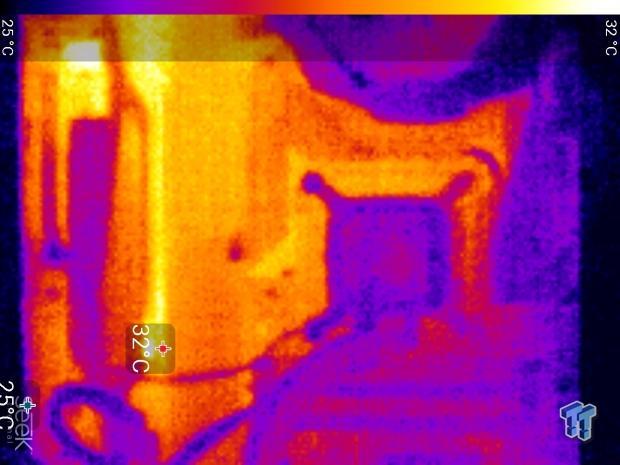 Full frontal.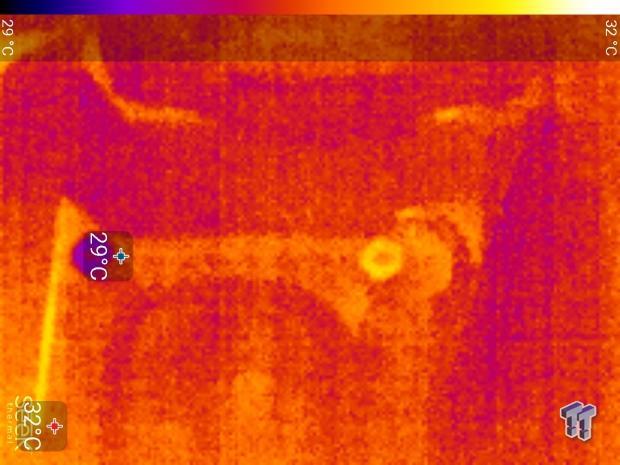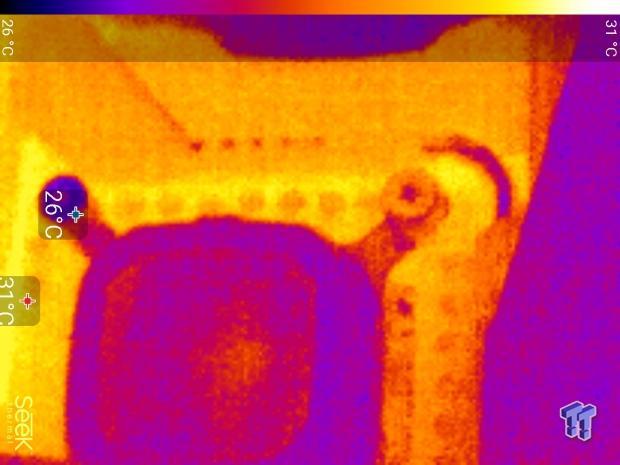 Up-close of the front of the VRM.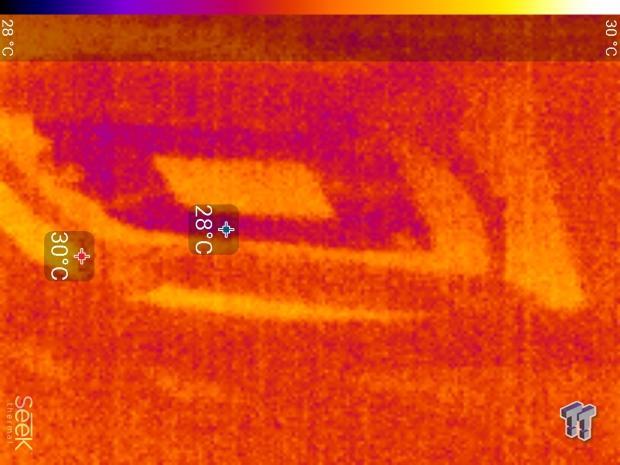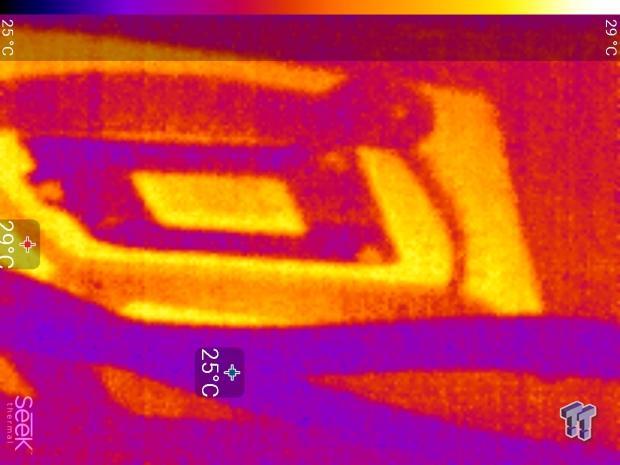 Up-close of the back of the VRM.
The Z390 Aorus Xtreme has one of the best VRM temperatures and heat sinks we have seen, this high-performance VRM is getting our highest marks. Anything under 60C is great, 60-80C is acceptable, and anything above 80C is a bit worrisome (if at stock).
What's Hot, What's Not & Final Thoughts
What's Hot
Excellent VRM and cooling: The VRM on the Z390 Aorus Xtreme is the best GIGABYTE has to offer for the Z390 motherboard. The only thing better than this triple heat pipe over-engineered yet effective heat sink would be the Waterforce edition of the motherboard.
Fans and Aorus Fan Commander: GIGABYTE has added more fan headers for a total of eight on this motherboard, and with that comes full control in the slightly revamped UEFI and through GIGABYTE's software. However, adding to that is Aorus's Fan Commander that can support up to eight more fans and offers full addressable or normal RGB LED control. If you are watercooling with multiple radiators, then this is a perfect motherboard for you.
Aesthetics: GIGABYTE's RGB LEDs on this motherboard are beautiful and produce an amazing effect. The VRM heat sink is also pretty cool looking.
What's Not
Price: The GIGABYTE Z390 Aorus Xtreme is a very pricey motherboard at $550.
Final Thoughts
The Z390 Aorus Xtreme is one of the most loaded Z390 motherboards on the market. From the VRM to the extra features, GIGABYTE hit the nail on the head quite well. We really like the inclusion of the Aorus Fan Commander, which is perfect for water cooling.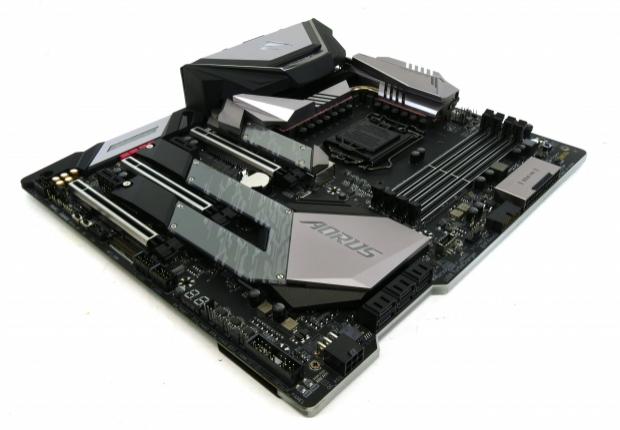 The OC Panel is also a nice touch in case you want to get into extreme overclocking, although we would have liked to see a slightly longer cable for it. The right-angled USB 3.0 and 24-pin ATX power connectors are a very nice touch, but keep in mind your case will need to provide both of those enough clearance.
We loved the RGB LEDs on this motherboard, and making them all addressable was a very nice touch, since the rainbow effect is one of our favorites. While you will drop a pretty large sum of money on this motherboard, it's one of the best you can buy for the Z390 platform.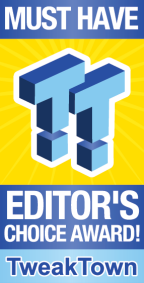 | | |
| --- | --- |
| Performance | 97% |
| Quality | 97% |
| Features | 97% |
| Value | 82% |
The Bottom Line: Loaded with more features, quality, and performance than any other motherboard we have encountered, the Z390 Aorus Xtreme is one of the best motherboards we have looked at.
PRICING: You can find products similar to this one for sale below.

United States: Find other tech and computer products like this over at Amazon.com

United Kingdom: Find other tech and computer products like this over at Amazon.co.uk

Australia: Find other tech and computer products like this over at Amazon.com.au

Canada: Find other tech and computer products like this over at Amazon.ca

Deutschland: Finde andere Technik- und Computerprodukte wie dieses auf Amazon.de
We openly invite the companies who provide us with review samples / who are mentioned or discussed to express their opinion. If any company representative wishes to respond, we will publish the response here. Please contact us if you wish to respond.