MSI MEG Z390 GODLIKE (Intel Z390) Motherboard Review
We have given our Editors Choice award to the MSI MEG Z390 GODLIKE, check out our thoughts on it here.
Published
10 minute read time
TweakTown's Rating: 93%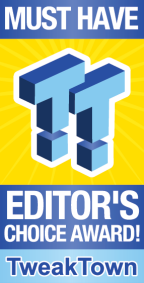 The Bottom Line
We reserve the Editor's Choice award for only the top best motherboards, and the MSI MEG Z390 GODLIKE is one of the best Z390 motherboards we have seen.
Introduction, Specifications, and Pricing
Today we are looking at a motherboard designed to shame others. MSI's GODLIKE line up has traditionally been very well equipped and very well designed, and would bring never before seen features such as Killer's xTend networking to the consumer market.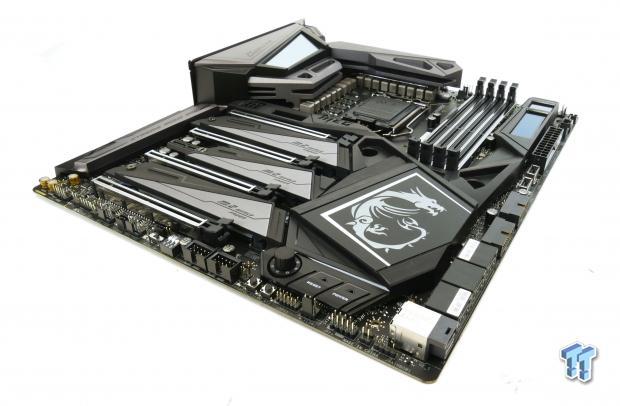 Today MSI not only has brought over many of its Z370 features to their new Z390 GODLIKE, but they have also added some aesthetic features such as an LCD and even an infinity mirror! Let's see how it does.
Specifications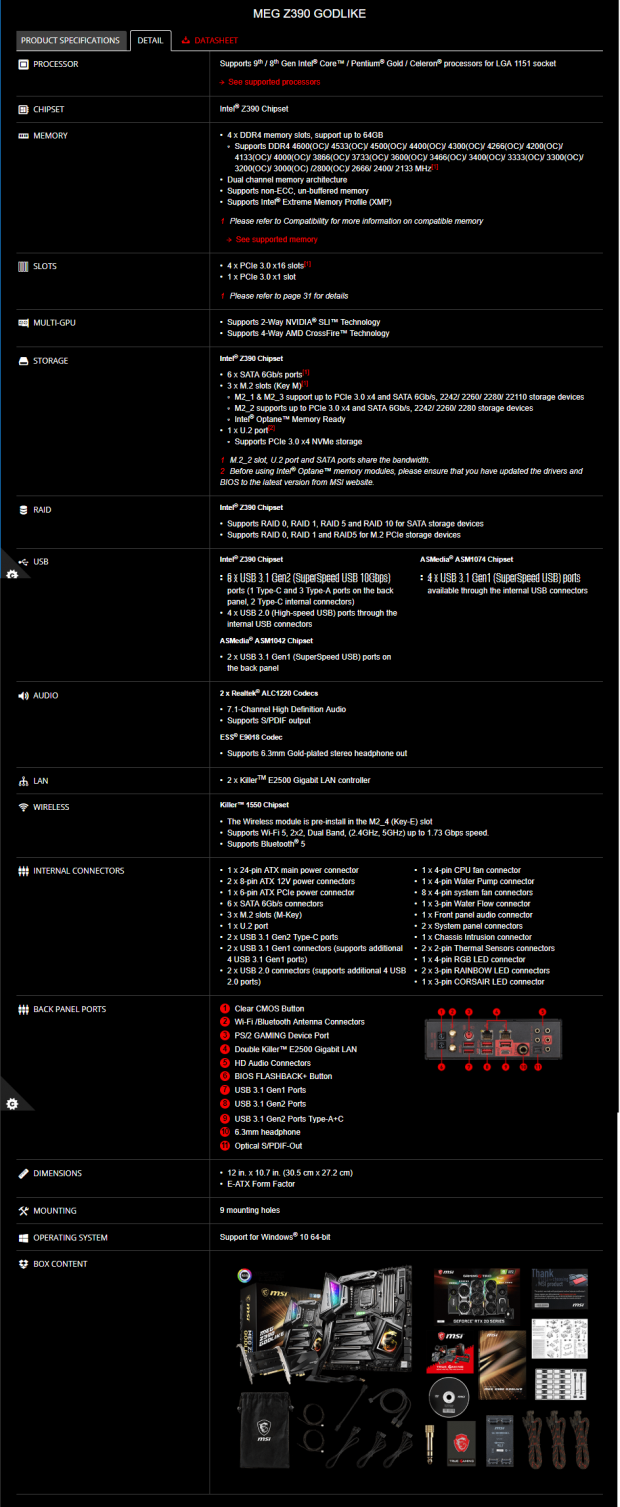 The MEG Z390 GODLIKE features three M.2 slots, Killer WIFI, dual Killer LAN, USB 3.1, and SATA6Gb/s.
Pricing
The MEG Z390 GODLIKE costs $591.99.
Packaging and MEG Z390 GODLIKE Overview
Packaging and Overview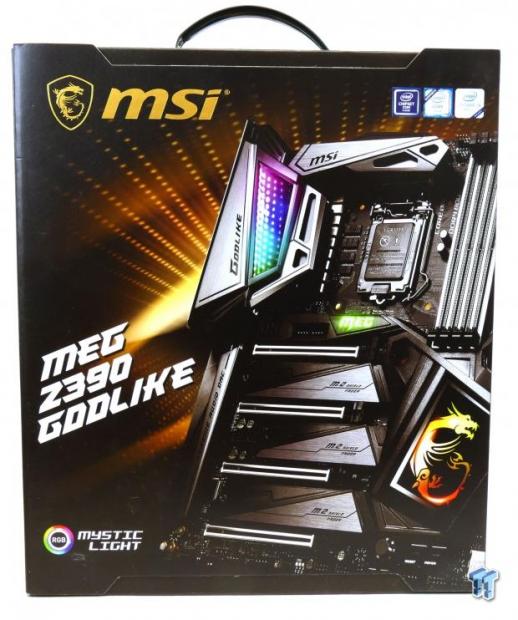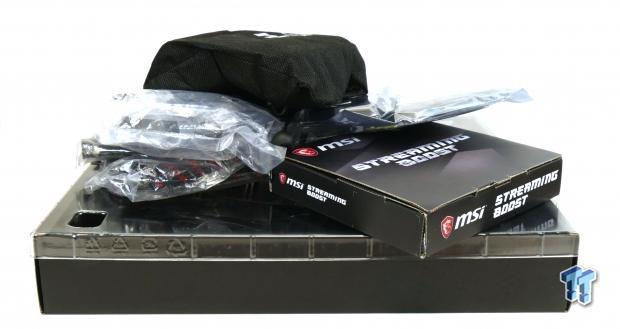 The box and packaging are top notch, and the package weighs a lot.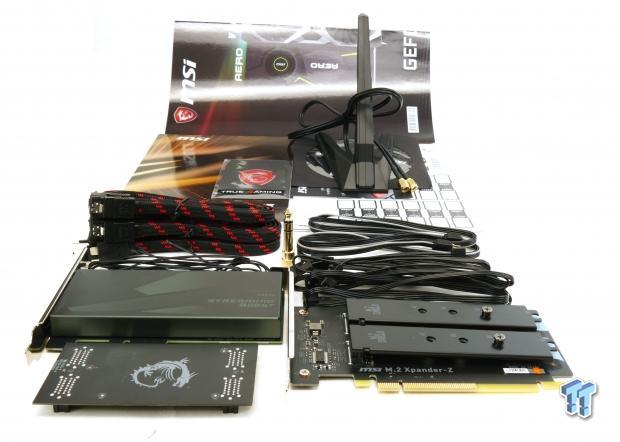 The accessory package includes six custom SATA6Gb/s cables, WIFI antenna, streaming card, SLI HB bridge, M.2 Xpander-Z card, ¼" to 3.5mm jack converter, RGB LED extension cable, addressable RGB extension cables, two external temperature probes, case badge, manuals, cable stickers, and GPU poster.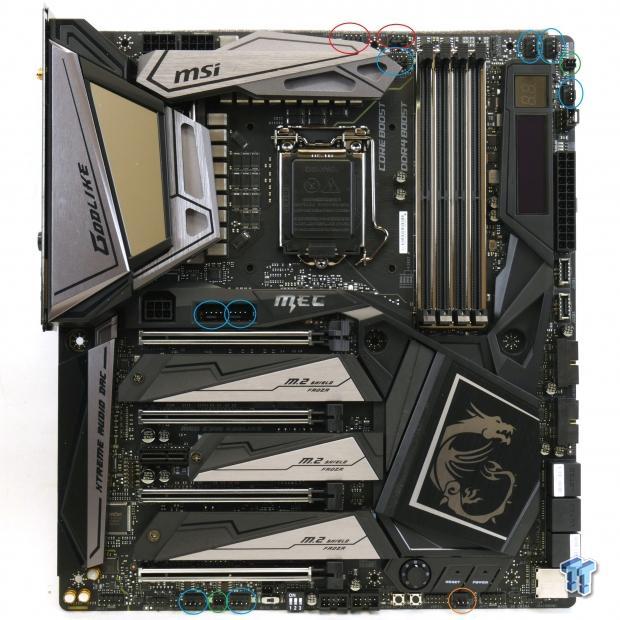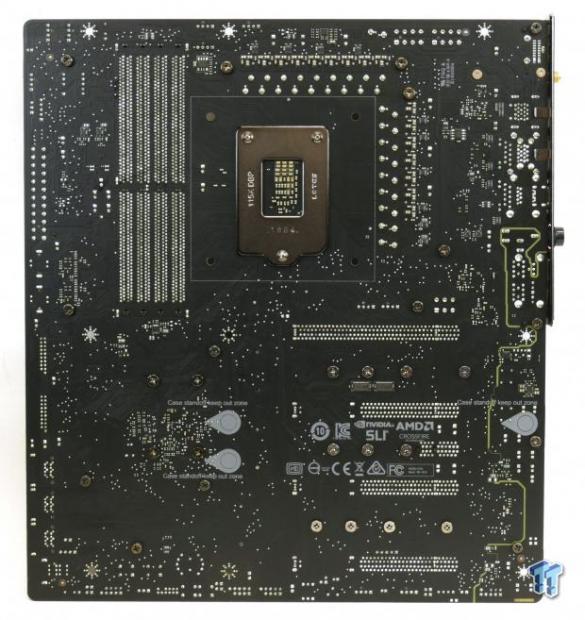 MSI has a total of ten fan headers, yea, ten fan headers. All of them are DC/PWM hybrid headers, we suspect the two circled in red are by default PWM headers and the others in blue are probably DC mode. However, MSI hasn't specified what the default headers are or if any are auto-sensing as they did on some of their previous motherboards.
MSI added in two headers for the included temperature probes; they are circled in green. There is also a water flow header, allowing you to plug in a flow sensor directly into the motherboard for monitoring. The motherboard's aesthetics are pretty decent, and there are a lot of RGBs, and the whole body shield covers most of the traces and components to make the build look cleaner. The back of the motherboard carries some components, but not too many.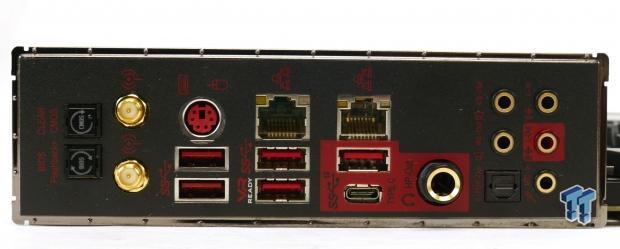 The integrated rear IO panel (first time I have seen MSI do it) features a clear CMOS button, a BIOS FLASHBACK= button, WIFI antenna connectors, PS/2 keyboard/mouse, four USB 3.0 ports, USB 3.1 type-A, USB 3.1 type-C, two Gbit LAN, 6.3mm/1/4" headphone jack, and gold plated 7.1 audio connectors with S/PDIF out.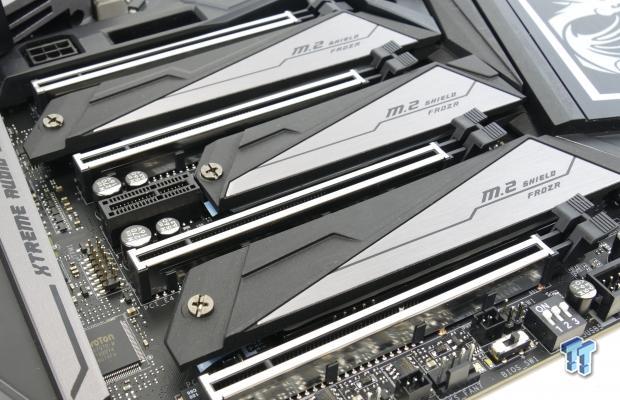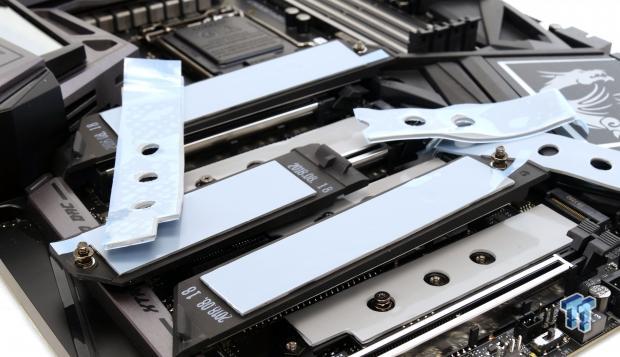 The PCI-E layout is as follows; the top three x16 slots operate at x16/x0/x0, x8/x8/x0, or x8/x4/x4. The bottom x16 slot shares all of its x4 PCI-E 3.0 from the PCH with one of the M.2 slots. The x1 slot is direct to the PCH. One M.2 slot shares with the U.2 port and two SATA ports. The last M.2 slot shares with one SATA port. MSI has diagrams and suggests configurations to help you figure out bandwidth sharing in their manual; they have one of the best manuals for figuring this out. All M.2 slots also have two thermal pads; I assume one for below and one for on top of the M.2 device.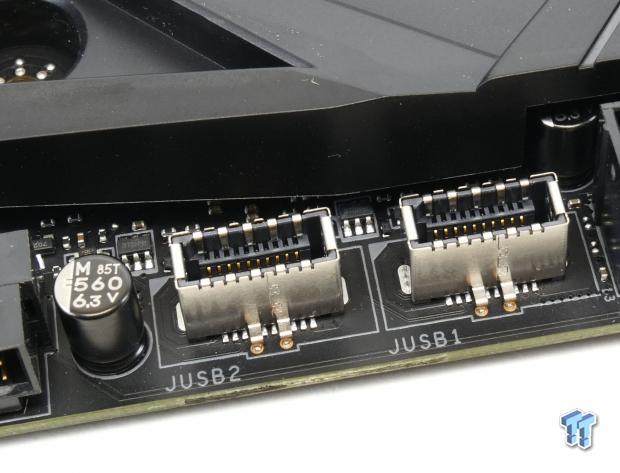 We find the motherboard features two USB 3.0 internal headers that are rotated 90 degrees. There are also six SATA6Gb/s ports that are shared with the M.2 ports and U.2 port. There are also two USB 3.1 10Gb/s type-C internal headers.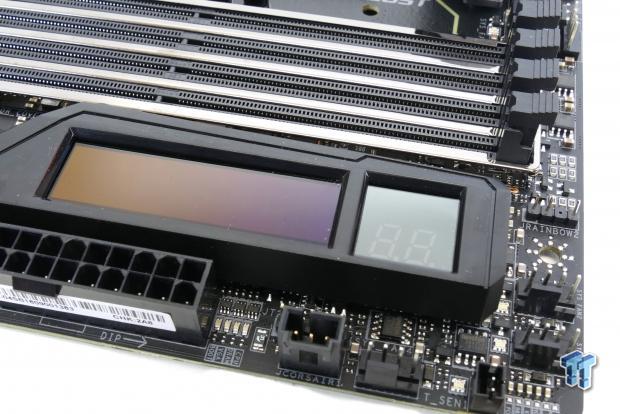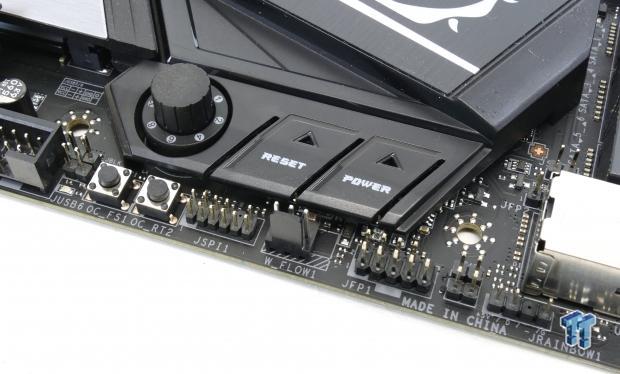 At the top right corner of the motherboard, we find a bunch of stuff including voltage read points, a POST code display, dynamic dashboard LCD, an addressable RGB LED header, a Corsair specific addressable RGB LED header, and boot LEDs. At the bottom right corner of the motherboard, we find another addressable RGB LED header, an OC retry button, an OC force BIOS entrance button, and two set of headers that can be hooked up to buttons that can increase either BCLK or CPU ratio. There are also power and reset buttons, as well as an auto OC knob that can be used for automatic overclocking.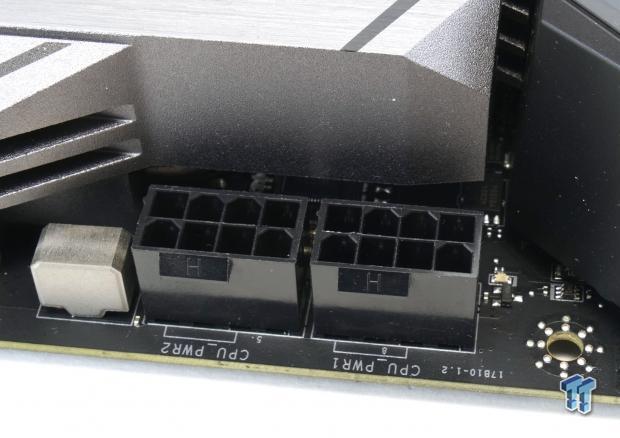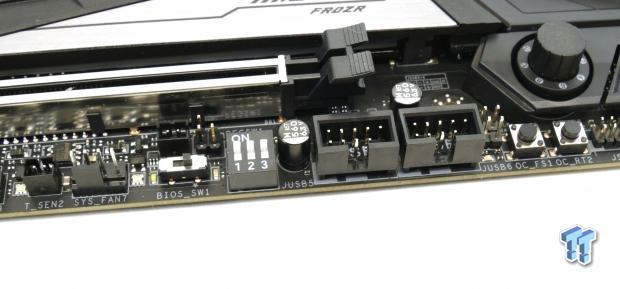 At the top right of the motherboard, we find two 8-pin power connectors. At the bottom center of the motherboard we find two USB 2.0 headers, PCI-E disable switches and BIOS selection switch.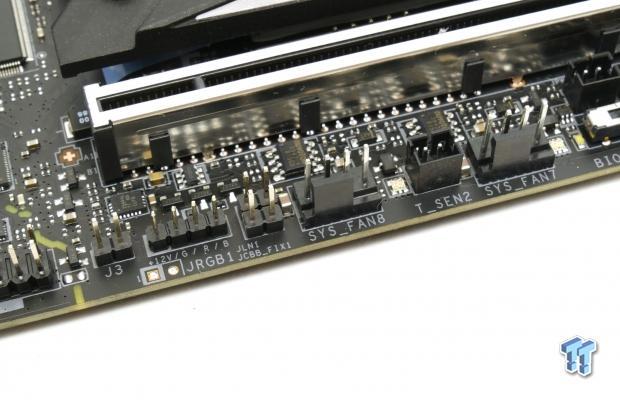 Finally, we find a normal RGB LED header at the bottom left of the motherboard, as well as an LN2 mode jumper, and a cold boot bug fix jumper (we assume it increase PLL voltage). Some motherboards are not easy to take apart, this one was fairly straightforward, and we can see solid contact has been made with components.
MSI MEG Z390 GODLIKE Circuit Analysis
Circuit Analysis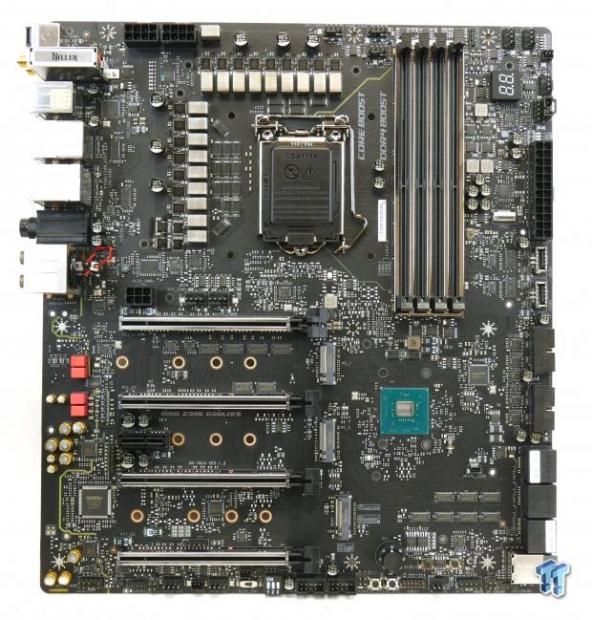 The MEG Z390 GODLIKE shows us the goods with the heat sinks removed!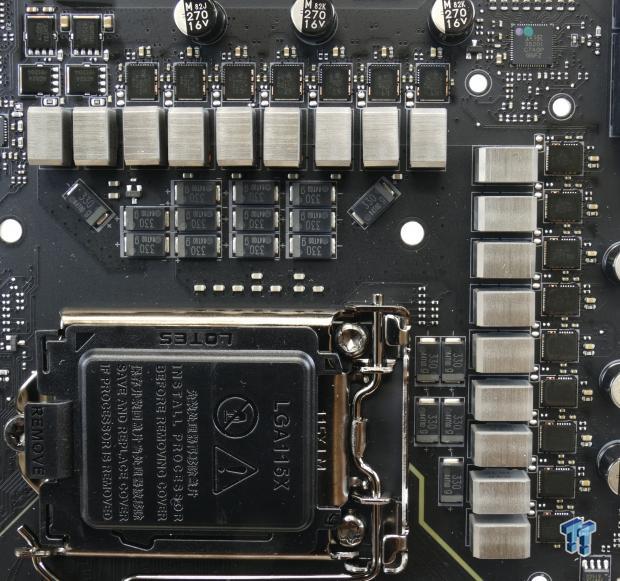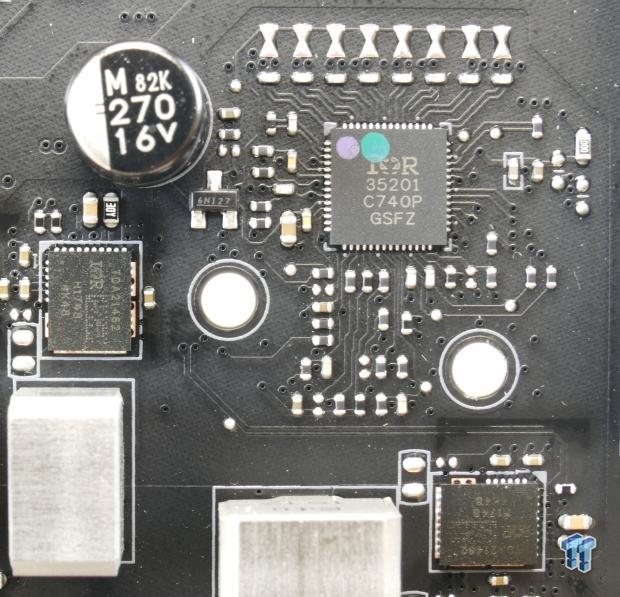 The VRM is a 16 phase configuration, yes you heard that right, there is no 14+2 or 12+4 or a secondary rail for the iGPU. That's because MSI basically figures anyone buying a motherboard costing over $500 will probably buy a GPU, and the rear IO has no iGPU outputs. Thermal tests and continuity tests confirm this. The motherboard's CPU VCore VRM is controlled by an IR35201 in 8+0 phase mode and uses IR3599 on the rear to double up to 16 phase in asynchronous mode, and each power stages are the very nice Infineon TDA21462, which is basically a newer version of International Rectifier's IR3555.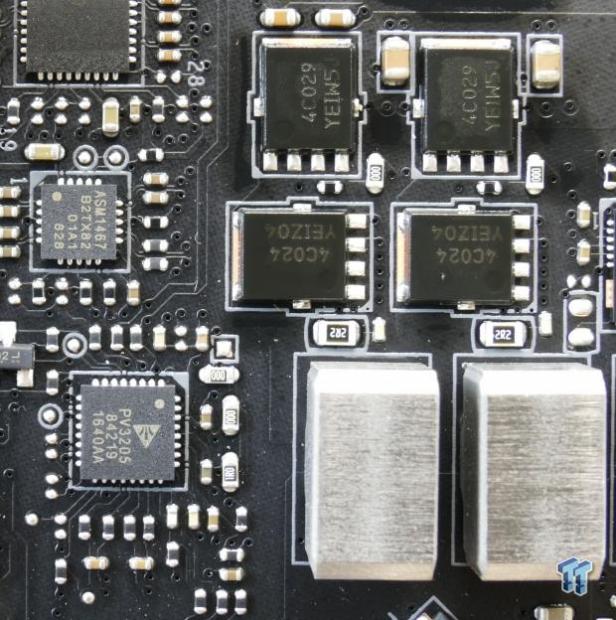 VCCSA and VCCIO come from single phases made up of PowerPAK On Semiconductor MOSFETs and use a Primarion digital PWM controller. A Monolithic Power Systems M2940 is used with two MPS drivers on the back to drive two phases made up of ON Semiconductor PowerPAKs.
MSI MEG Z390 GODLIKE Circuit Analysis Continued
MEG Z390 GODLIKE Circuit Analysis Continued

MSI did it again, they used two audio codecs so that the rear and the internal audio can not only play different outputs, but they will both get the benefit of the integrated DAC in the ALC1220. MSI does add two ESS Sabre parts; the ES9018K2M DAC for the rear and ES Sabre 9601K headphone driver for the internal. There is also a CT5302 audio SRC bridge; I assume it's there for de-pop or because there are two audio codecs.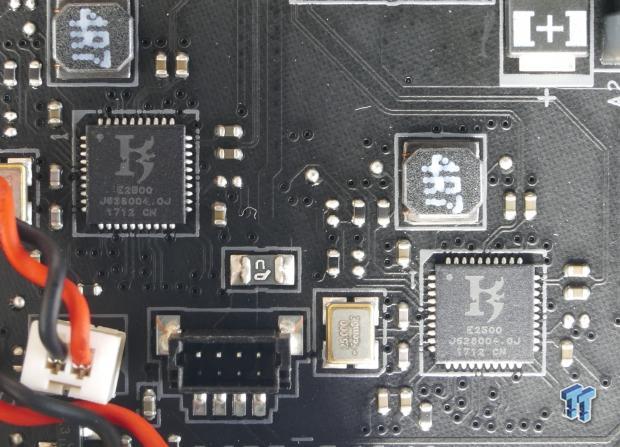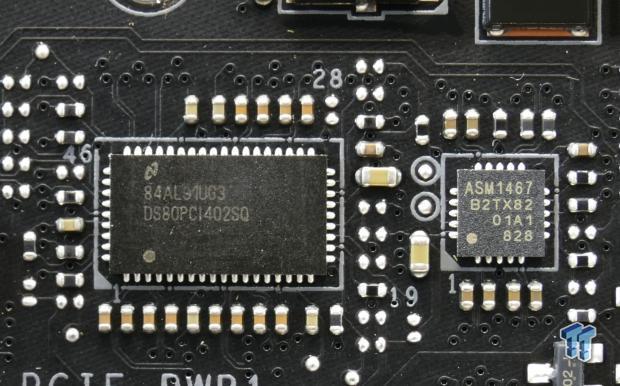 MSI is using two Killer e2500 NICs as well as the WIFI 1550 card, which is basically Intel's new 9000 series WIFI NICs that support up to 1.73Gbps. However, this motherboard also features Killer xTend, which will allow the motherboard's NICs to operate as a switch, so other devices can get internet from the board. We found two re-drivers, one we assume is for the WIFI, the ASM1467, and one we assume is for the wired NICs, the Texas Instruments DS80PCI402AQ.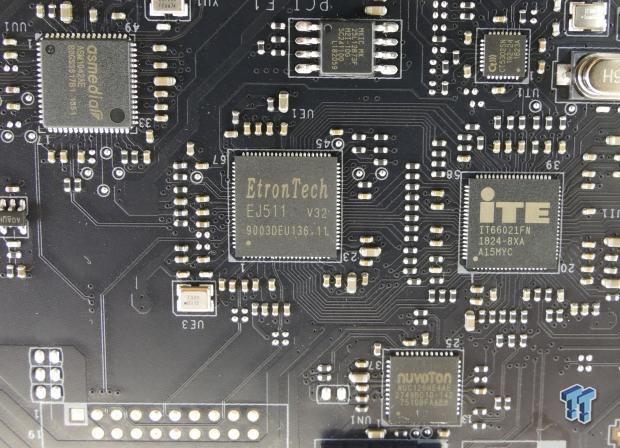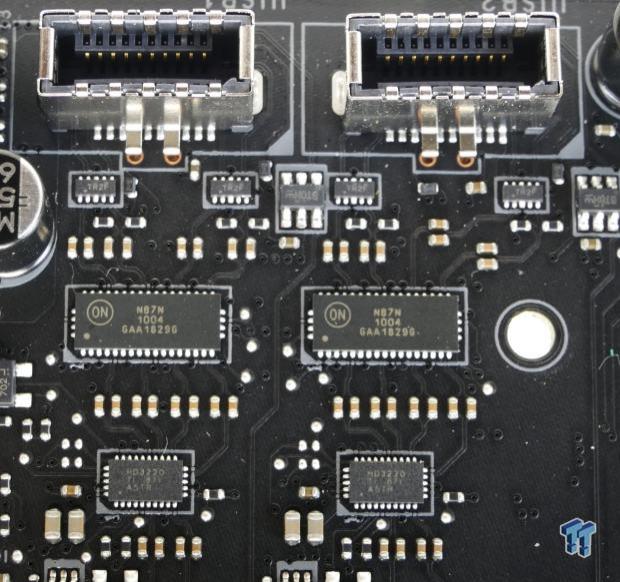 We also took the cover off of the MSI streaming card. First, it uses an ASMedia ASM1042 to produce USB from PCI-E, for the controller, the EtronTech EJ511, which is common in USB capture devices. The EtronTech EJ511 requires an HDMI codec, and that's the ITE IT66021.
We find another CT5302, which might actually be why we find another on the motherboard, perhaps it allows this card to work with the audio on the motherboard. A nuvoton NUC126 series microcontroller runs the show. Nice, we find two NB7NPQ1004M, which are two port USB 3.1 re-drivers, and then two type-C HD3220 switches for the internal type-C USB 3.1 type-C internal headers.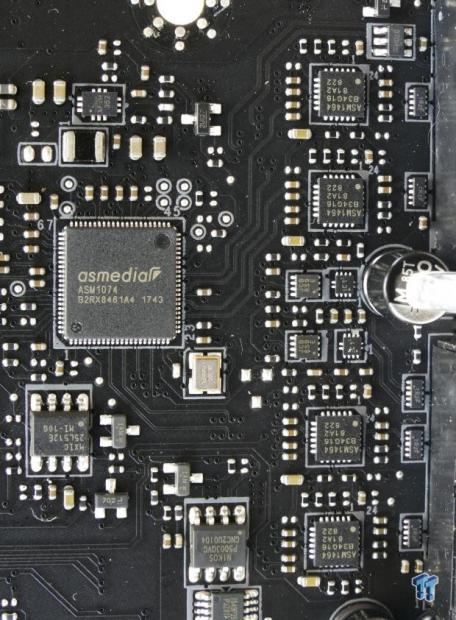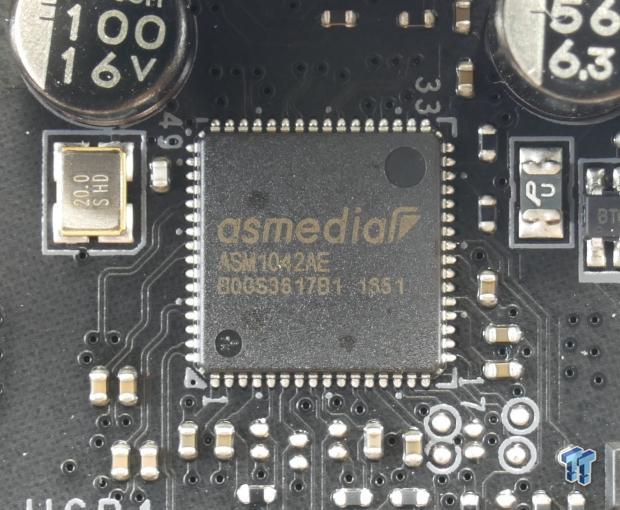 What you see above is an ASMedia ASM1074 USB 3.0 hub that outputs to four ASM1464 re-drivers, which in turn output to the two USB 3.0 internal headers. On the rear IO, we find an ASMedia ASm1042 USB 3.0 controller.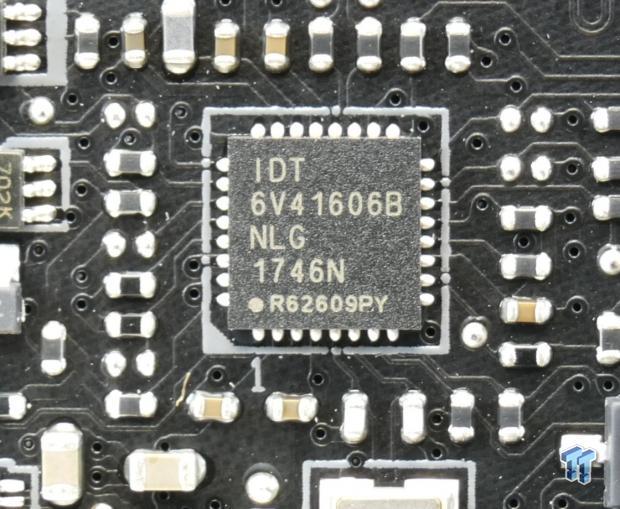 Here we see the ESS Sabre 9601K headphone driver on the rear of the PCB. An IDT6V41606B clock generator is used to enable BCLK overclocking.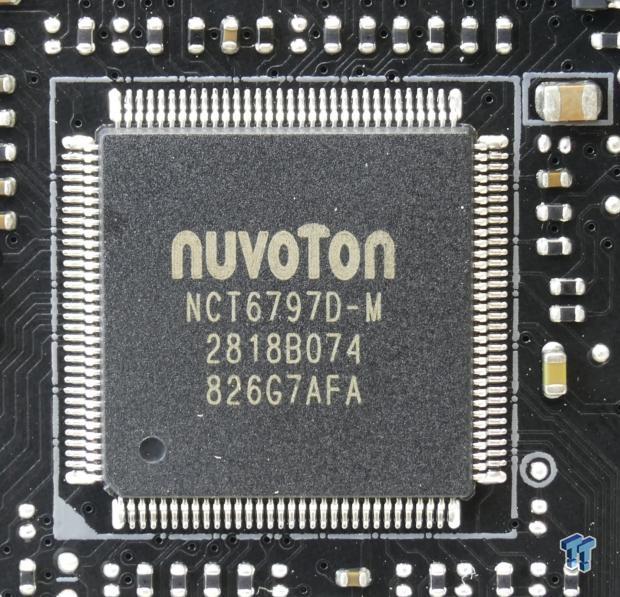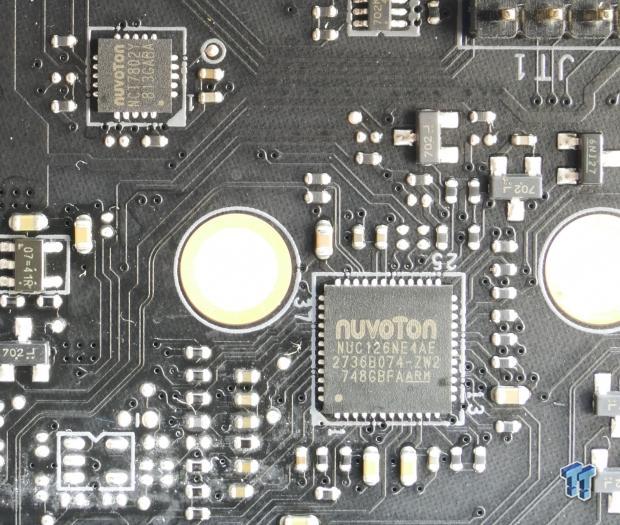 The main SuperIO is the nuvoton NCT6797D controller, and we find a lot of other smaller nuvoton controllers that help out with expanding fan control and other superior features. A nuvoton NUC126 series ARM microcontroller is used for RGB LED control.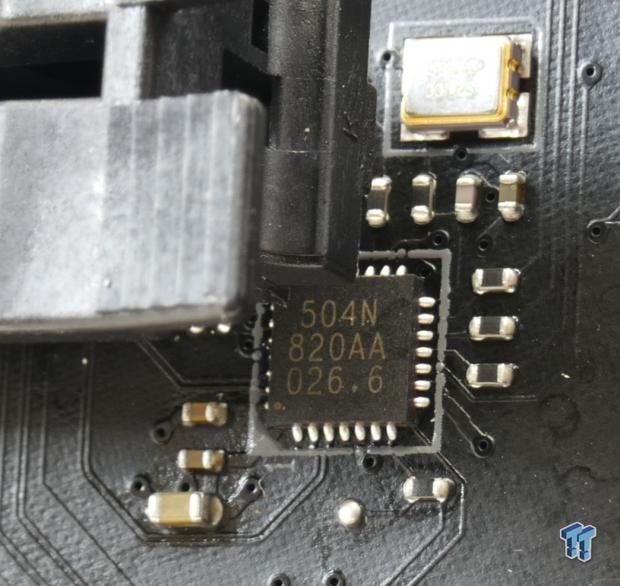 An M481Z series micontroller is used for the LCD display; we believe it's made by a subsidiary of nuvoton. Another chip we typically see is this "504N" chip; it's used for USB BIOS Flashback.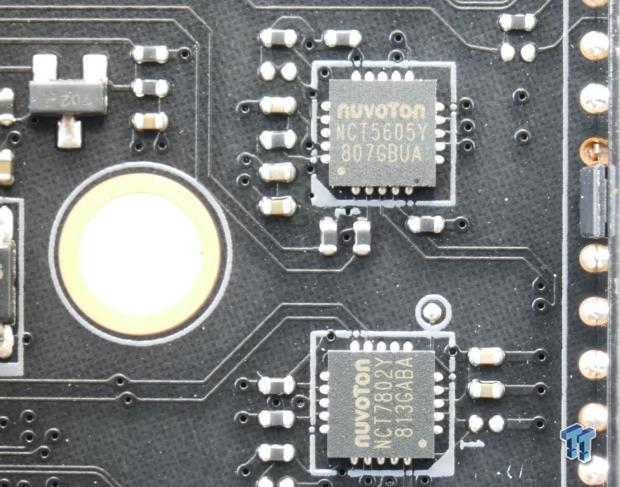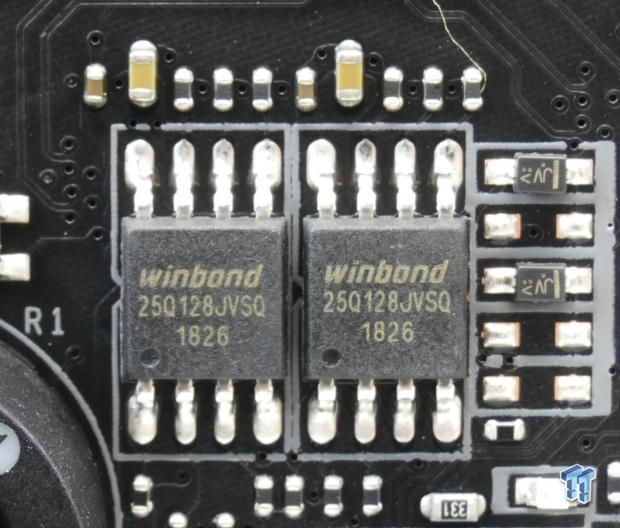 Here we find two nuvoton helper ICs, one is a GPIO controller (most likely for OC features), and another is a hardware monitoring IC. We find two 128Mbit BIOS ROMs on this board.
BIOS and Software
BIOS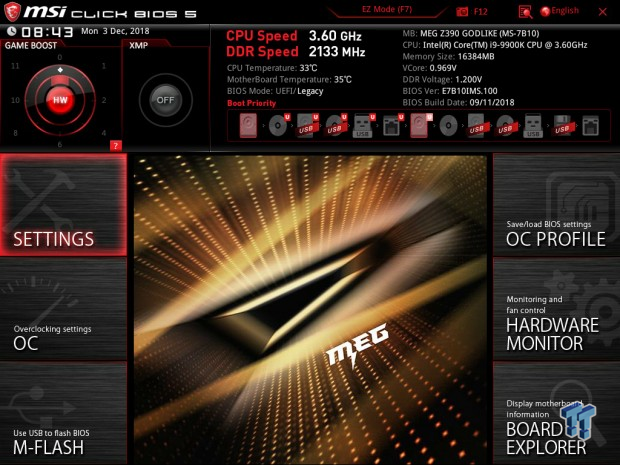 MSI has a pretty decent BIOS, with a unique layout. There are two operation modes, an Easy Mode and an Advanced mode, which we recommend you use. We were very impressed with the number of settings, especially memory and VRM settings. Fan control is present in the form of a GUI. The UEFI also has a board explorer where you can find the details of all connected devices.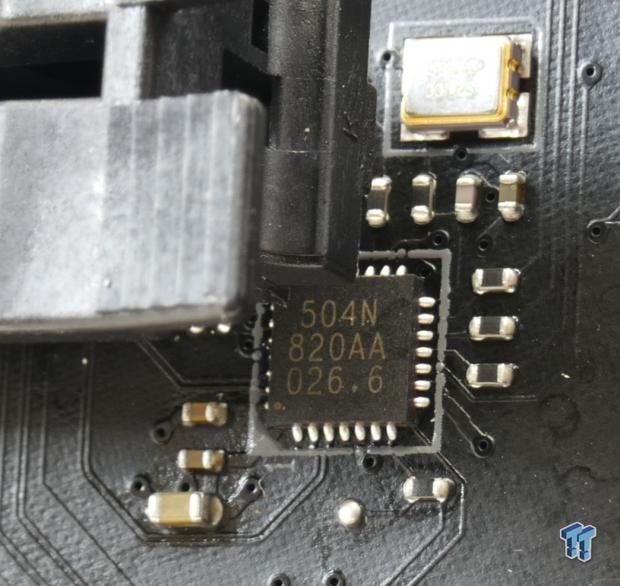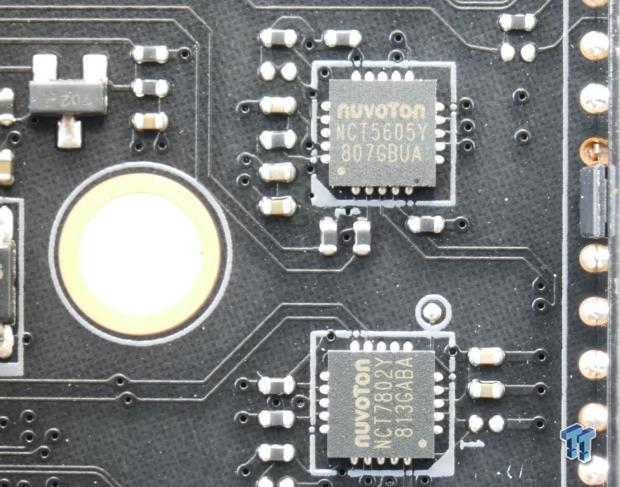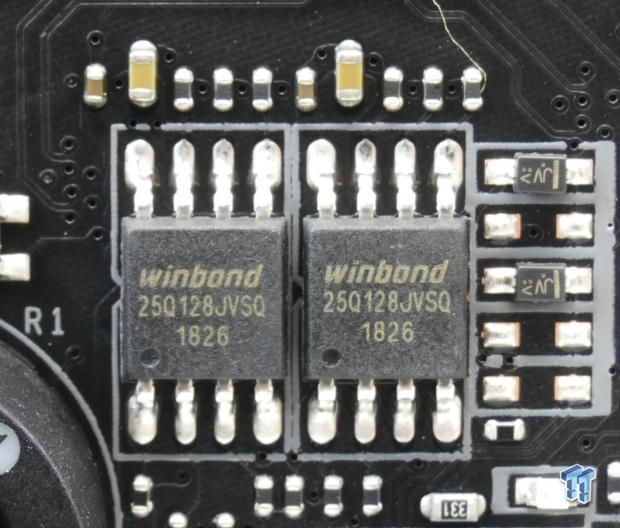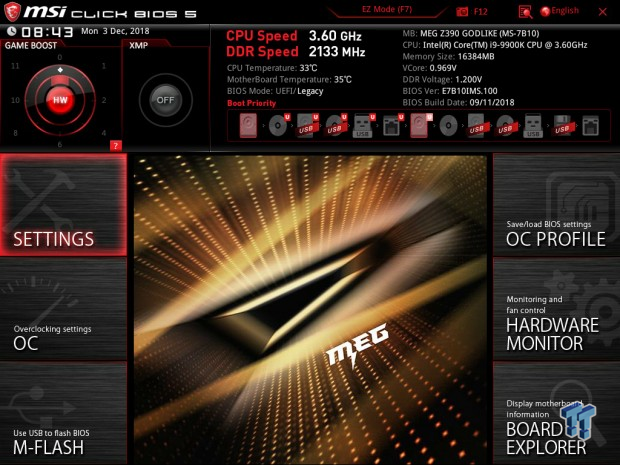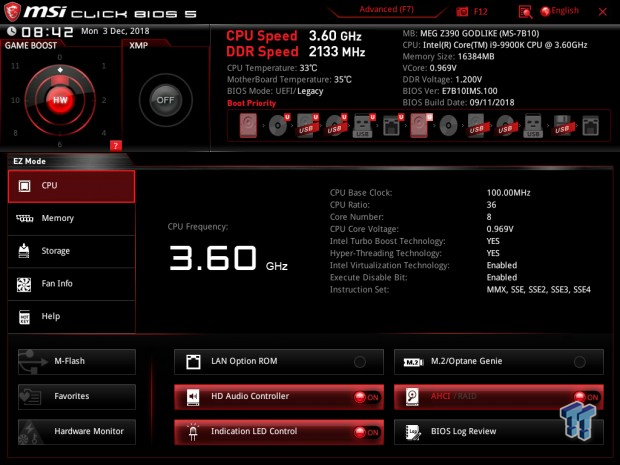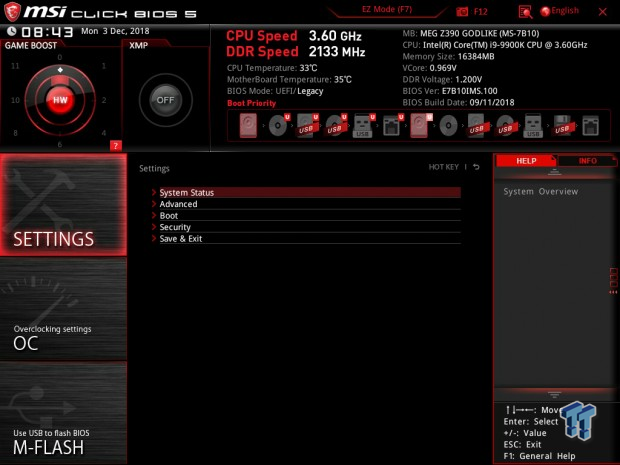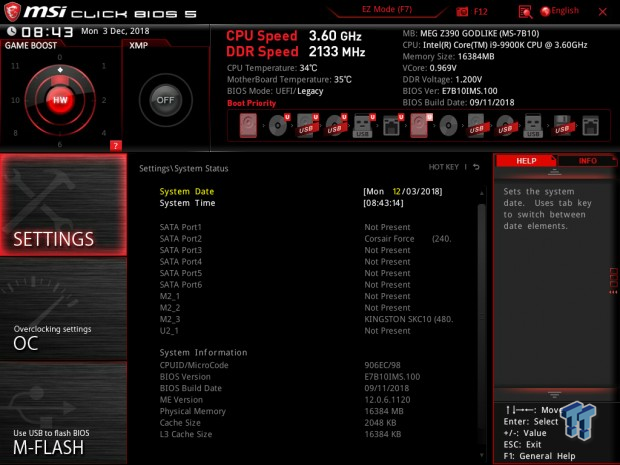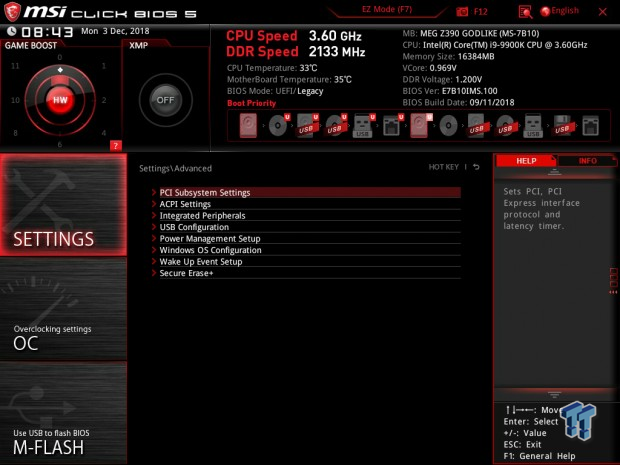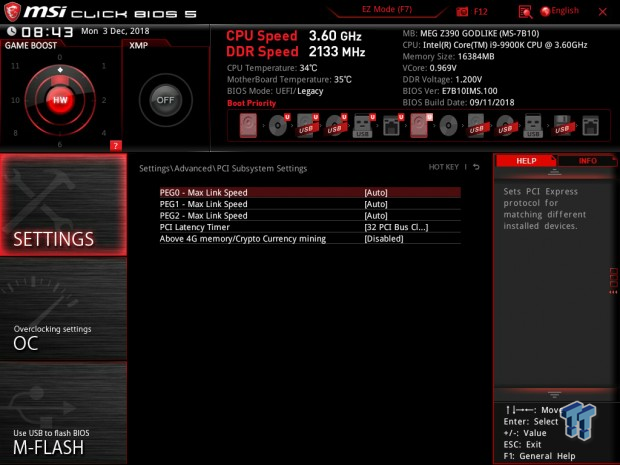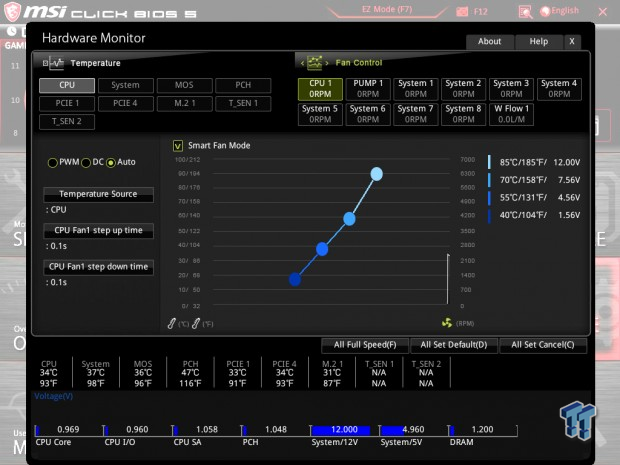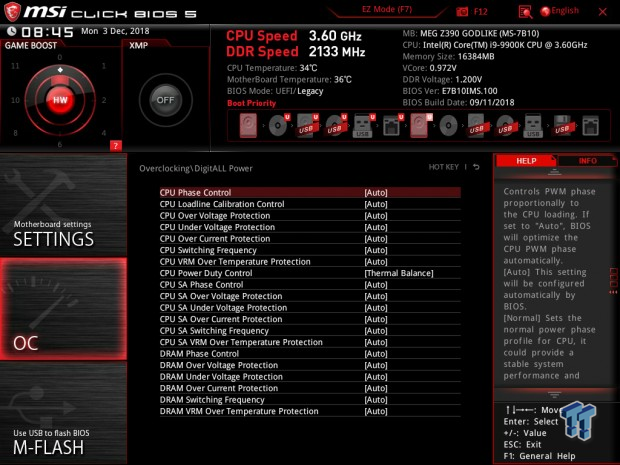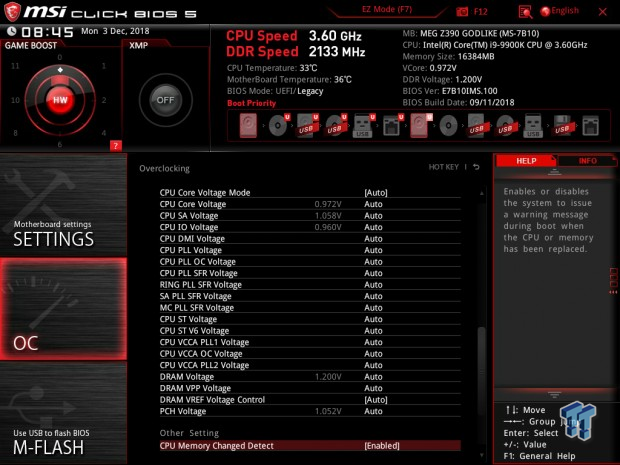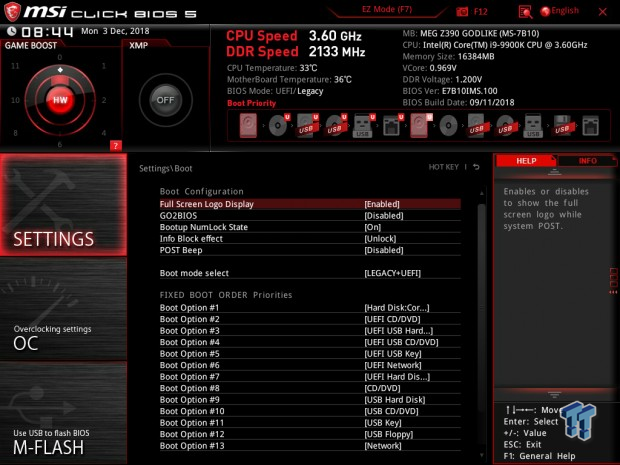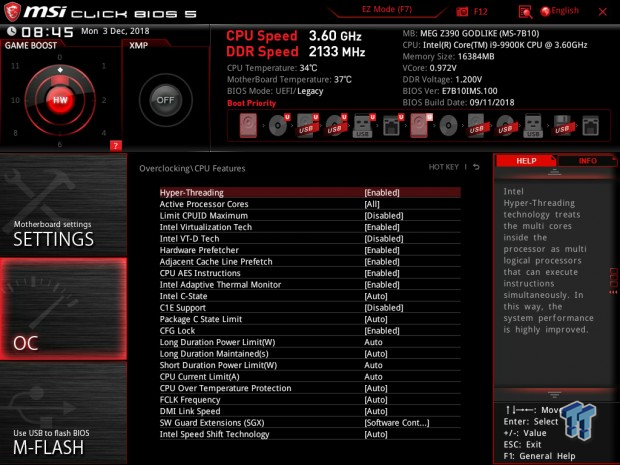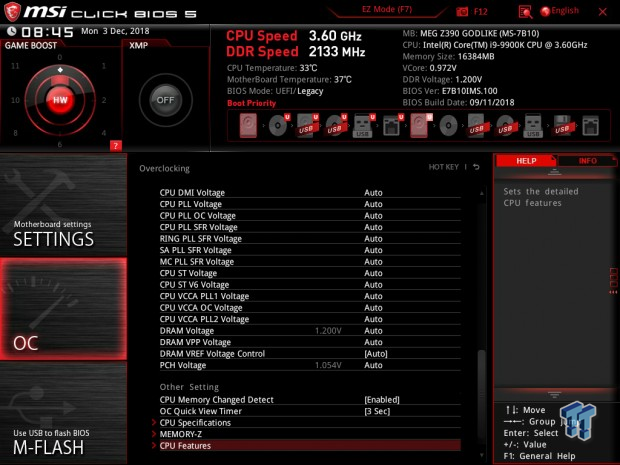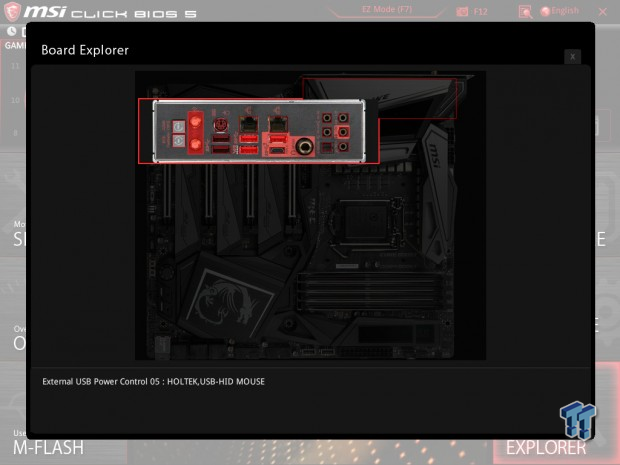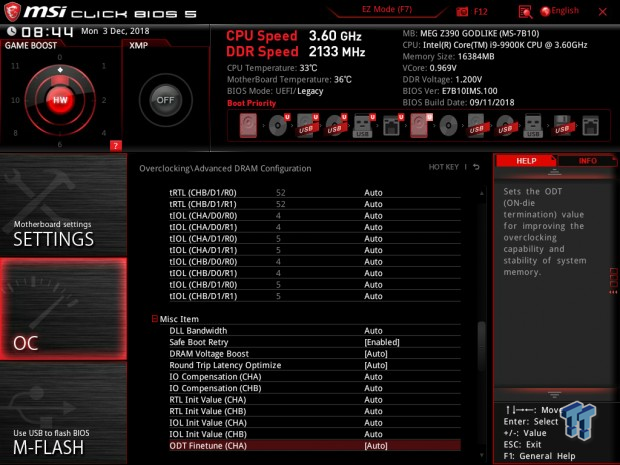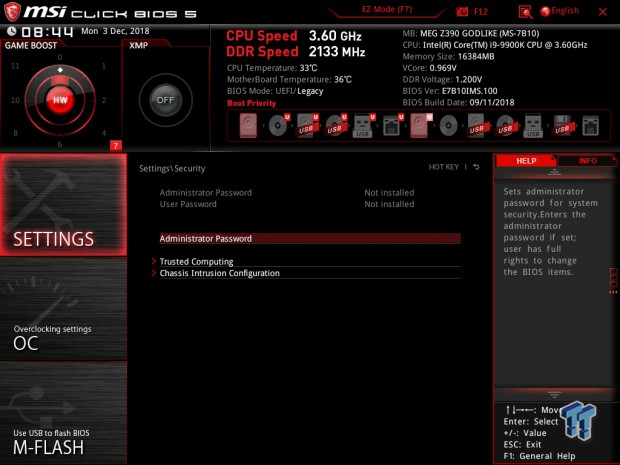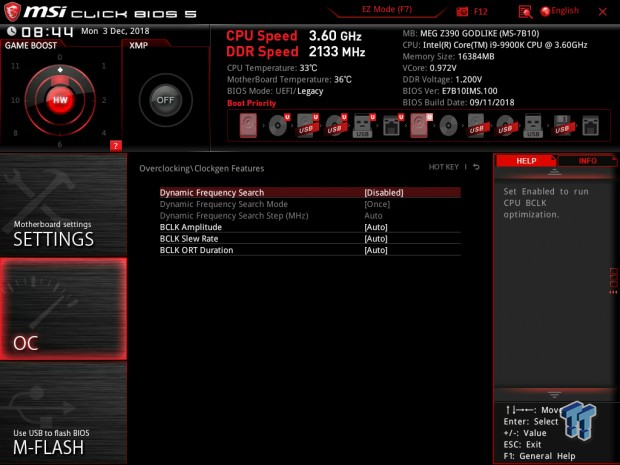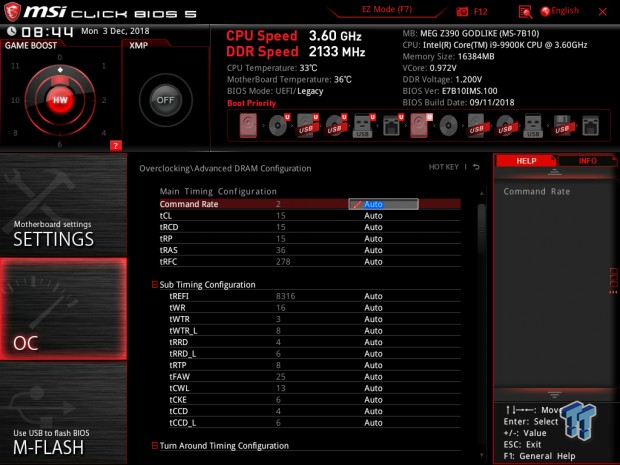 Software
MSI's Dragon Center, Mystic Light 3, Killer Control Center, and Nahimic 3 are included.
Test System Setup
Steven's Motherboard Test System Specifications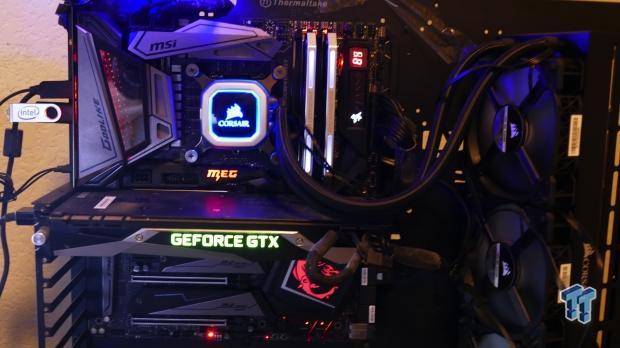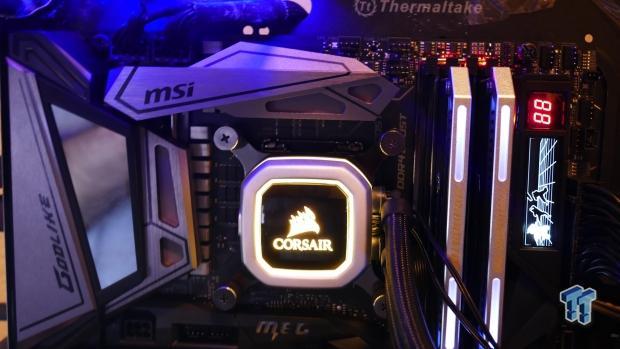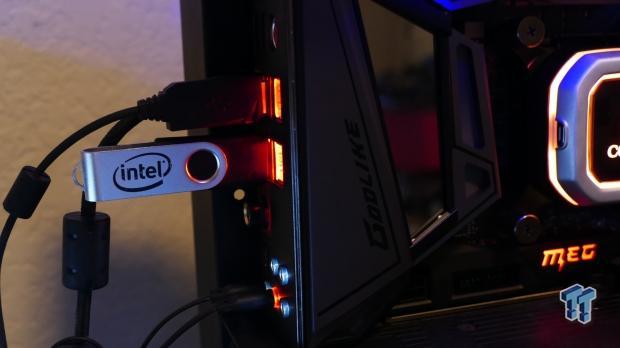 The MEG Z390 GODLIKE has a bunch of integrated RGBs, and the LCB display is a nice touch as is the infinity mirror on the IO cover. We also really liked the illuminated IO panel ports.
Overclocking
Overclocking Results
CPU Overclocking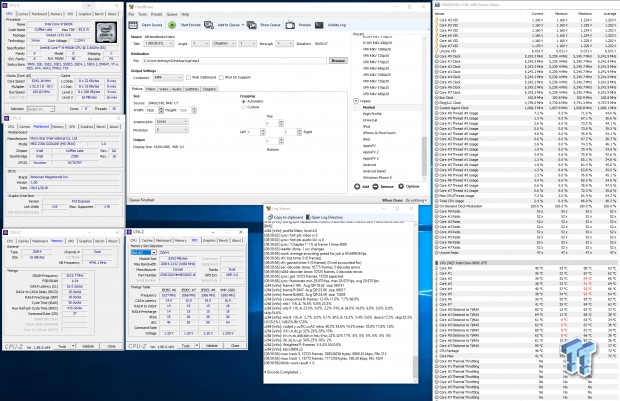 The MEG Z390 GODLIKE overclocking is pretty easy, and there is an advanced mode which unlocks more settings. I used a fixed frequency of 5.2GHz; then I set VCore of 1.325, LLC mode 2, increase CPU current to 255A in the CPU features menu, and set XMP. I then let it rip and the motherboard with pretty well.
CPU, Memory, and System Benchmarks
CINEBENCH 15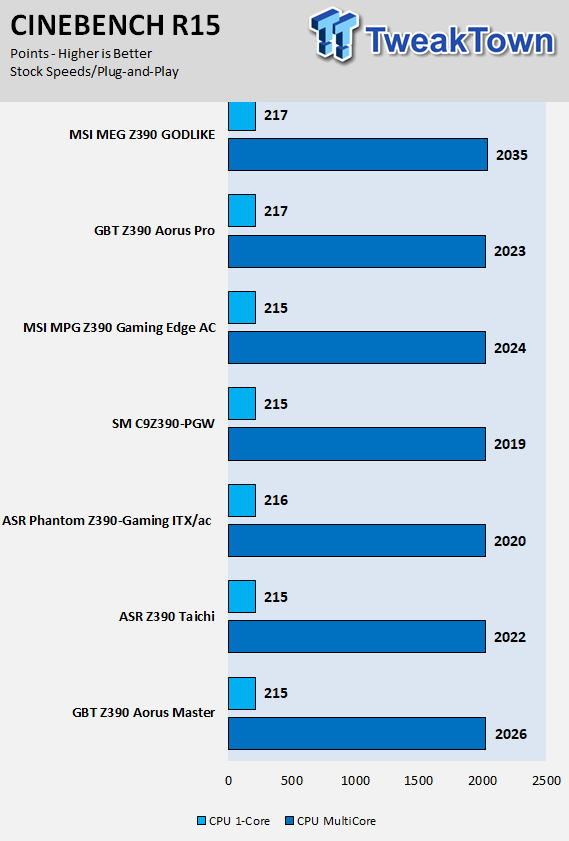 wPrime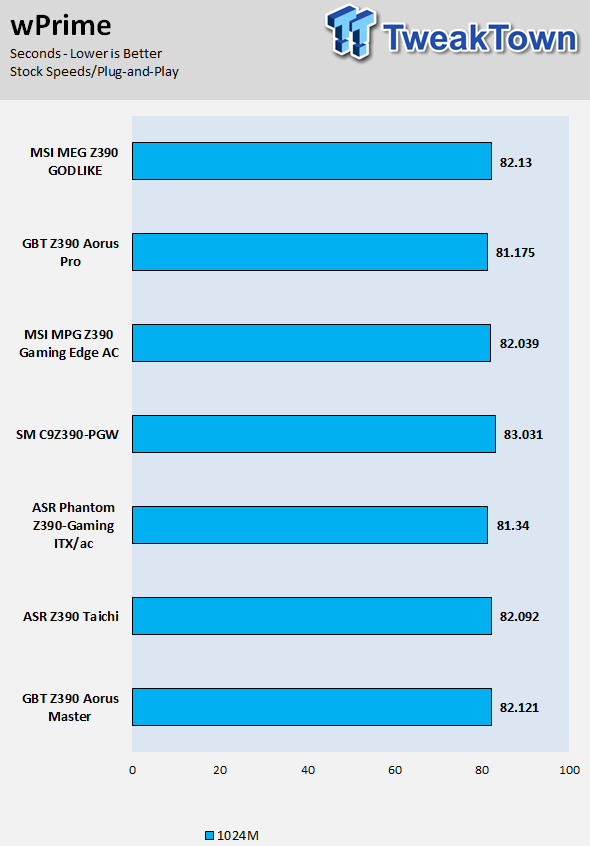 AIDA64 FLOPS and IOPS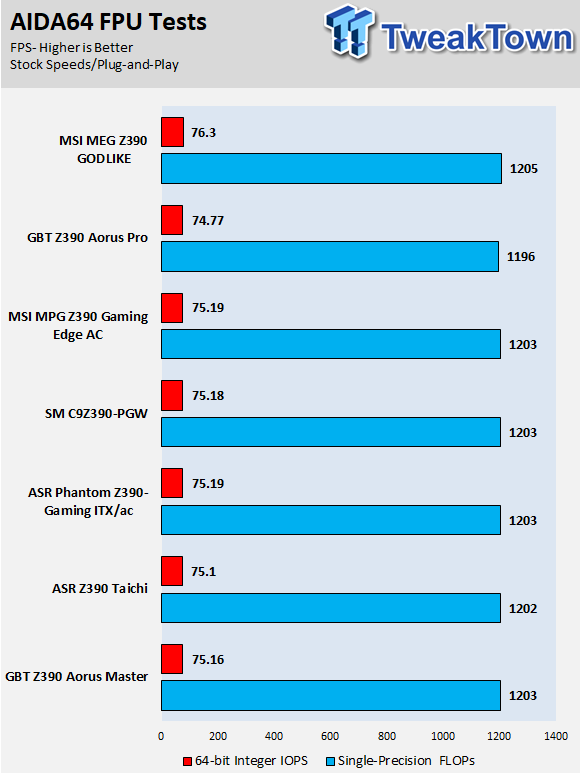 AIDA64 Memory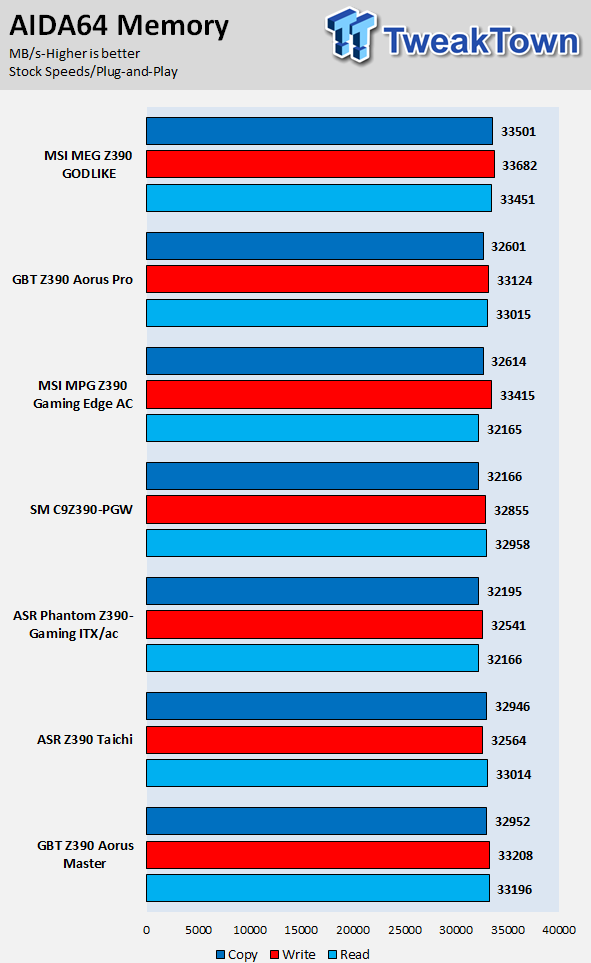 ScienceMark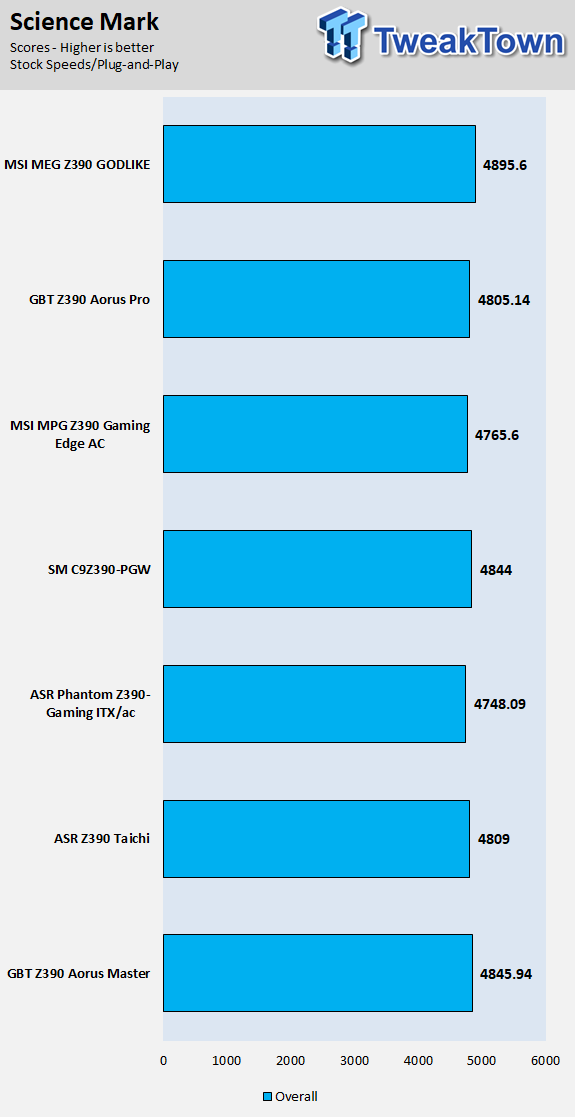 HandBrake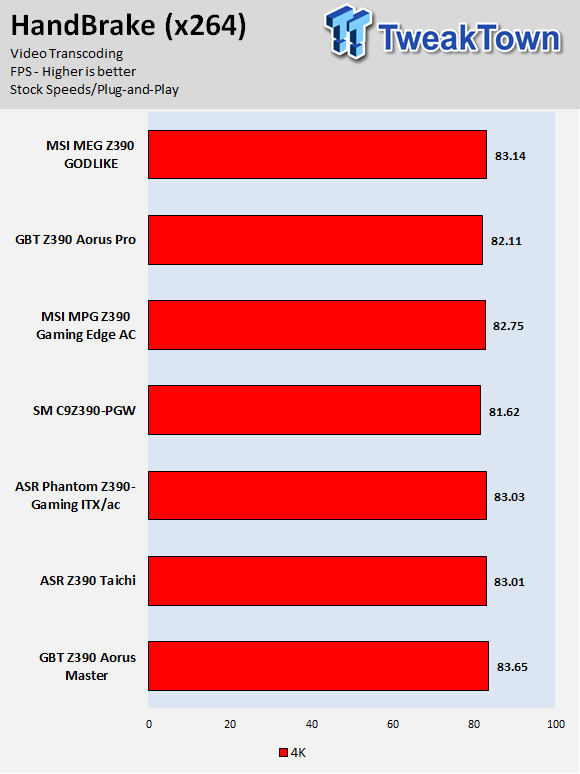 3DMark: Fire Strike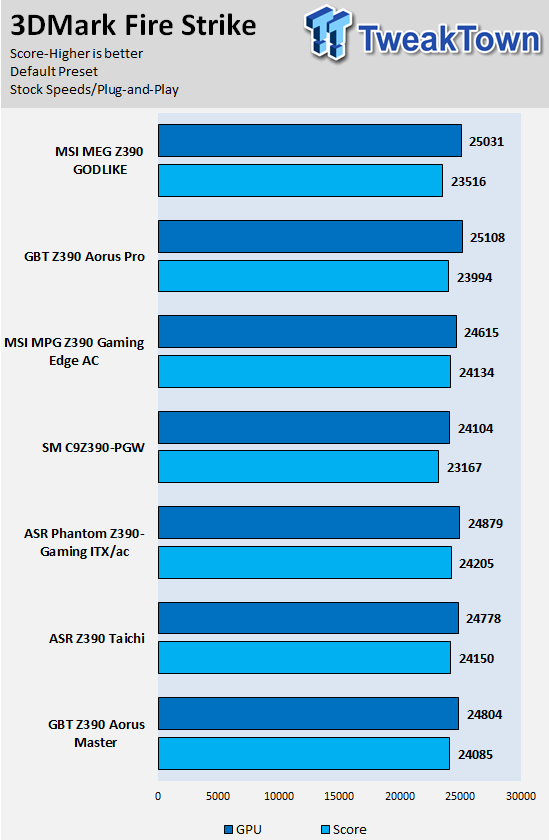 3DMark: Cloud Gate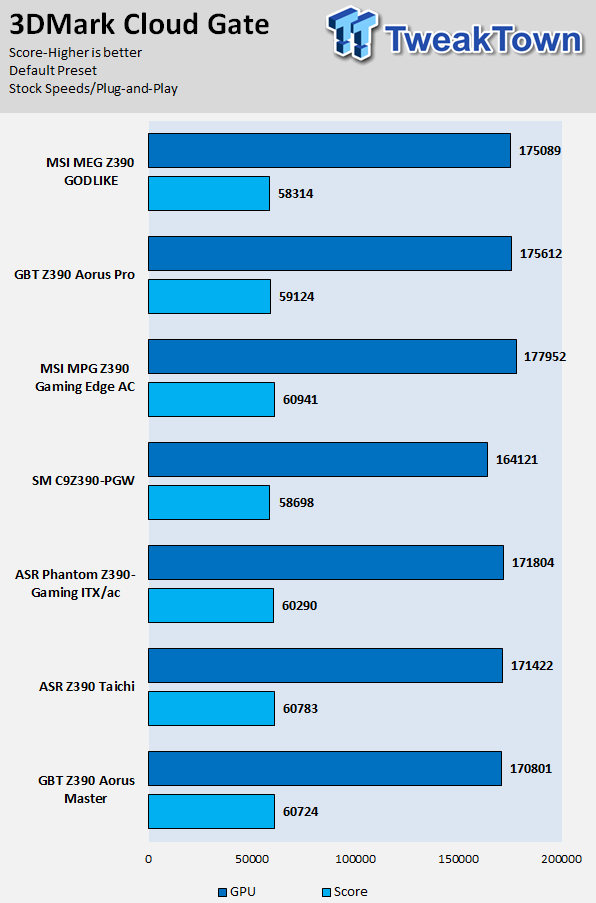 ResidentEvil 6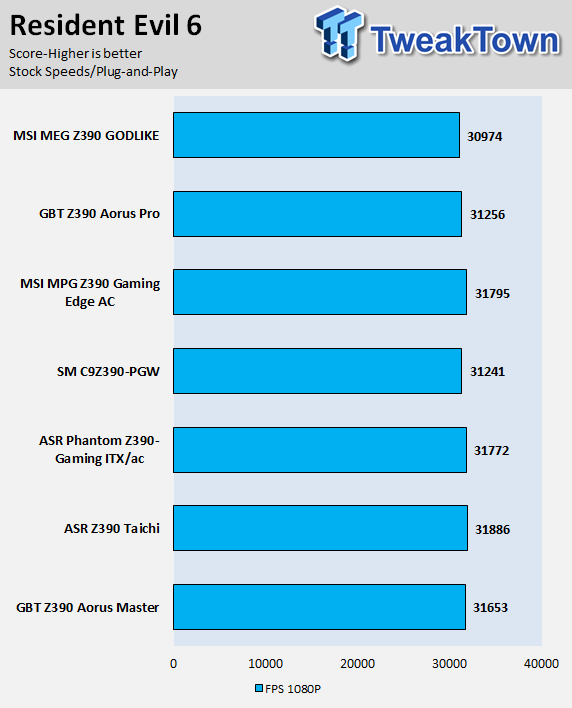 Overall, performance was solid, although MSI did increase BCLK at default to try and score a bit better. Overall, we found no performance issues.
System IO Benchmarks
CrystalDiskMark SATA6G: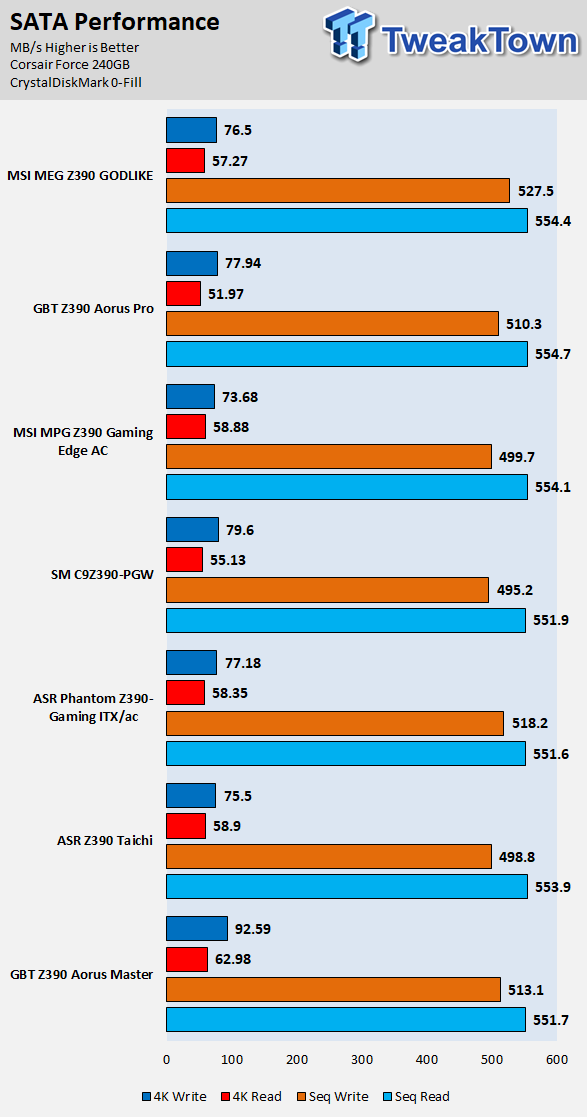 CrystalDiskMark M.2: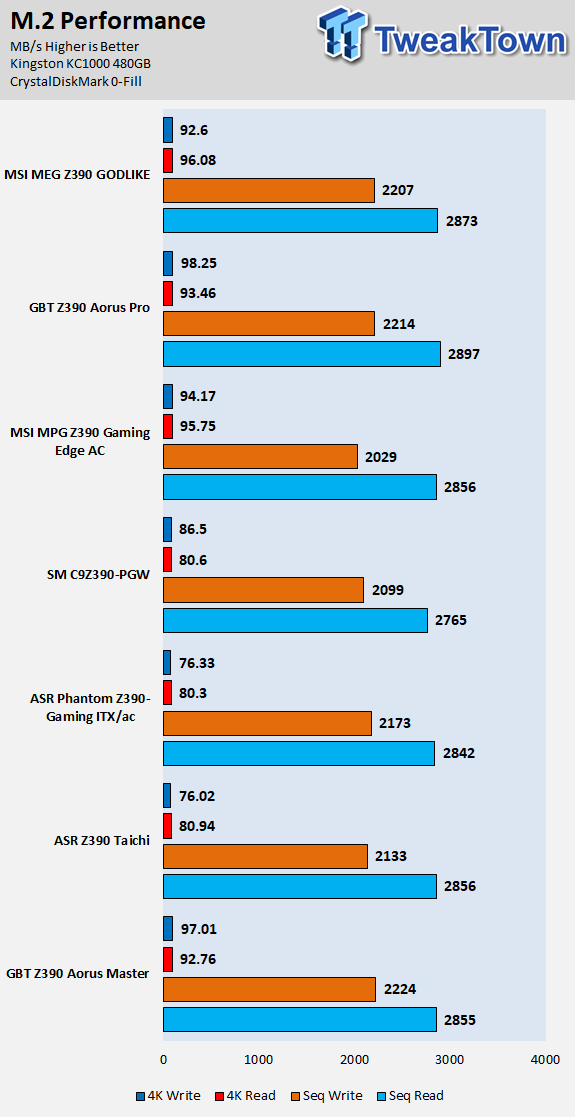 ixChariot Network Throughput: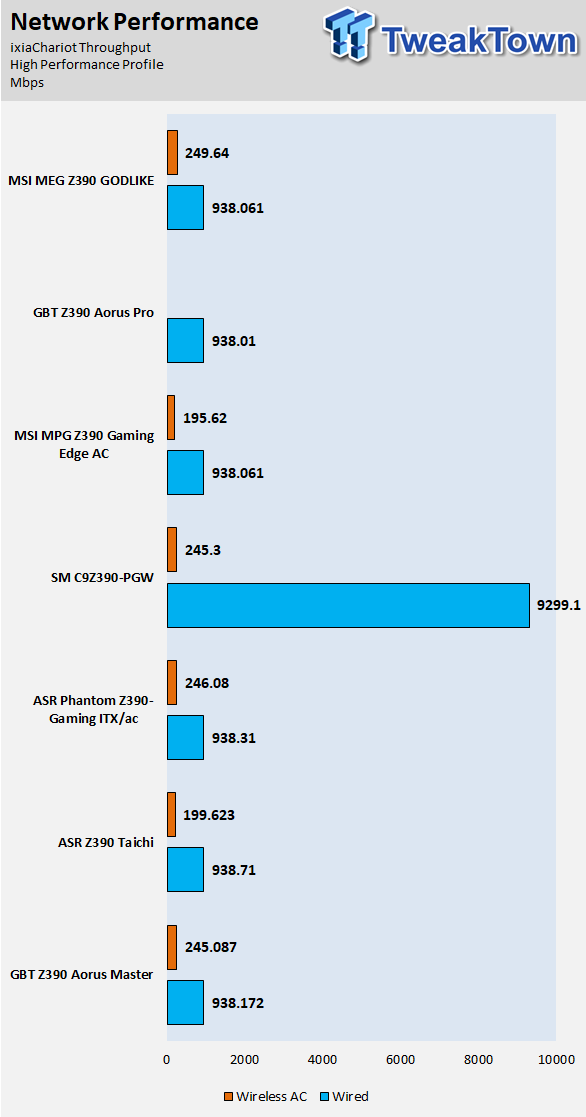 All storage and networking performance is on par with where it should be.
Audio RMAA 5.5:
I disable all audio features, set the correct bitrates, and then test the audio with a loopback test.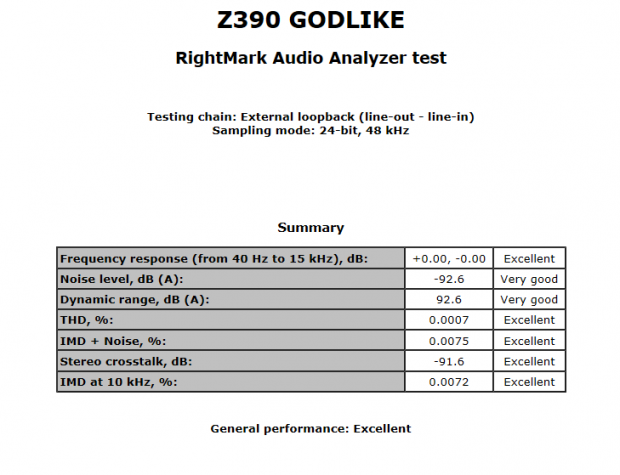 Sound Judgment by Ear: Excellent, a very nice ALC1220 implementation. There are five ratings for audio: 1. Problems, 2. Okay, 3. Acceptable, 4. Very good, 5. Excellent
Thermal Imaging and Power Consumption
System power is measured at the wall with an AC power meter.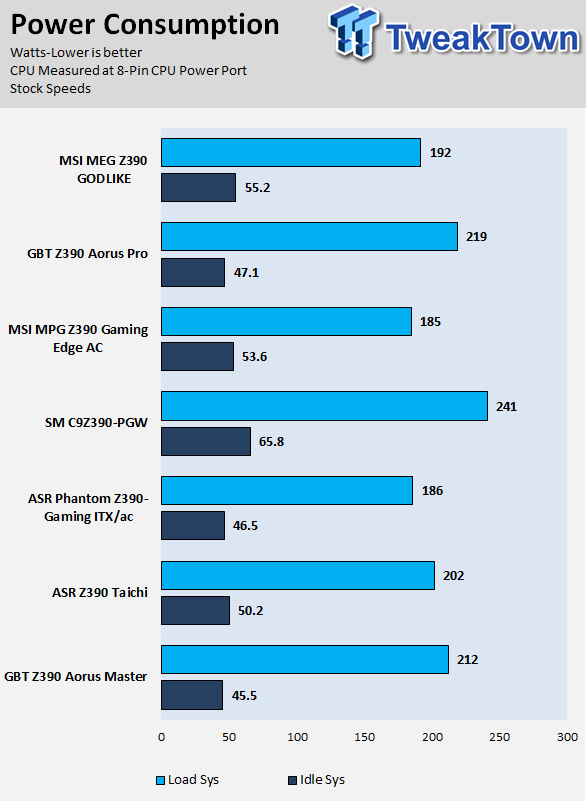 Note on Thermal Images: In the temperature section, we use our Seek thermal imaging camera to capture the surface temperatures of major components on the board. I look at the VRM and then all other things that light up the screen. If there is something to worry about, then I will state it. Otherwise, I will just show the hotter running parts of the board for fun. Unless some component is over 80-90C, then there isn't anything to worry about.
All systems will act differently, so I will look for commonalities, such as how far from the VRM the heat spreads through the PCB and the difference in temperature between the front side and back side of the PCB. Keep in mind, the majority of the heat from the VRM goes into the PCB as it is a giant soldered on copper heat sink. A larger difference in temperature between the back and front of the PCB points towards a more effective heat sink.
Thermal Testing at Stock Speeds:
The image on the left is always at idle, and the image on the right is at load. During ALL TESTS, fans to the right of the motherboard from the (Corsair H110i) radiator are left on automatic mode (ramps with internal block temperature). Additionally, a 120mm fan is situated right above the VRM, and it blows down at a medium rate (very quiet). Thermal Images are taken at loop 15 of Intel Burn Test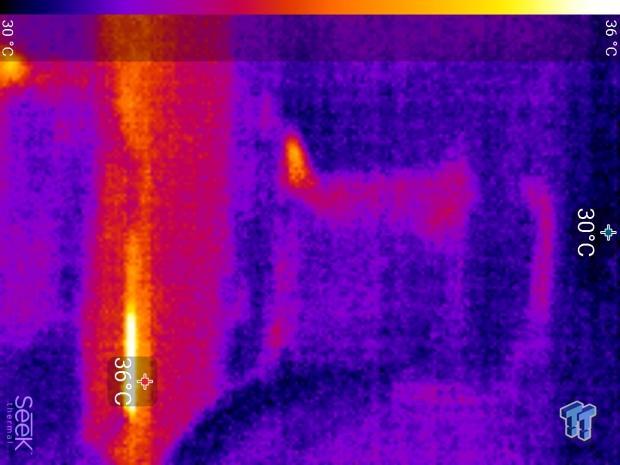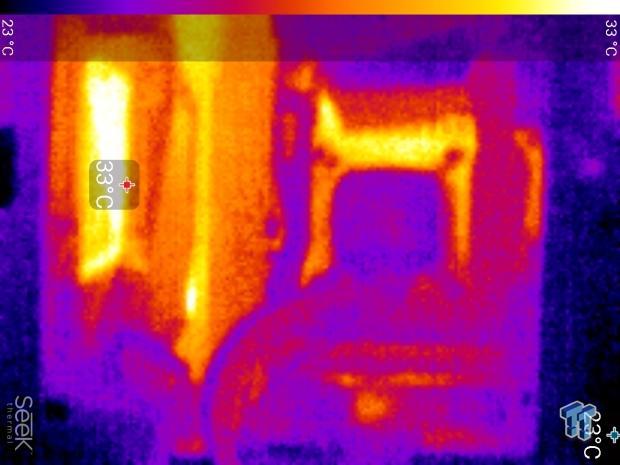 Full frontal.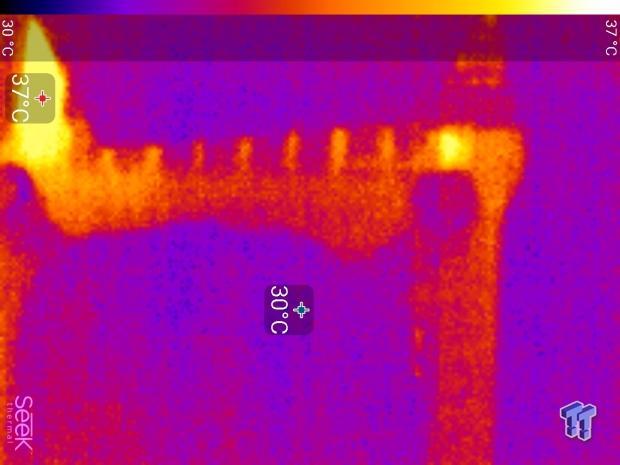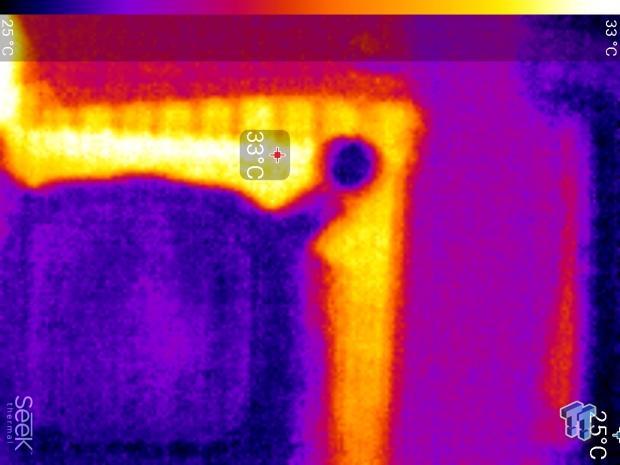 Up-close of the front of the VRM.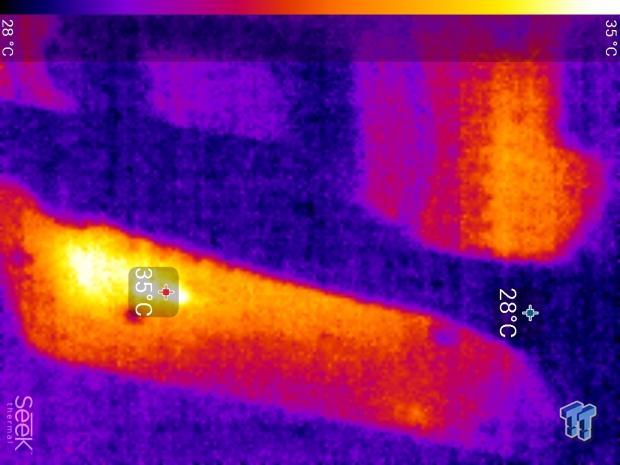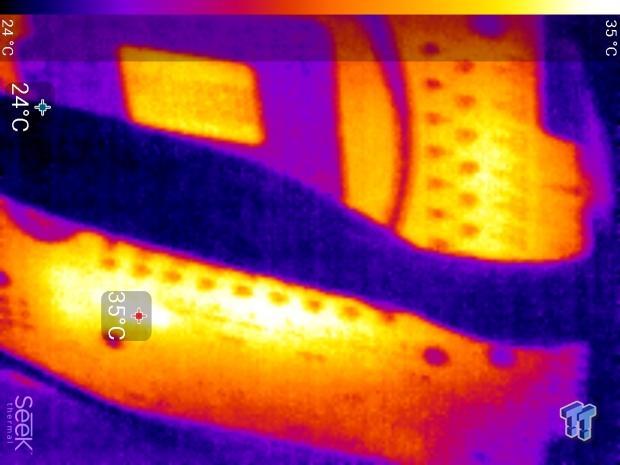 Up-close of the back of the VRM.
The MEG Z390 GODLIKE has one of the best VRMs we have seen on a Z390 motherboard, and it turns out that makes a very big difference in regards to temperatures increasing. Excellent VRM performance. Anything under 60C is great, 60-80C is acceptable, and anything above 80C is a bit worrisome (if at stock).
What's Hot, What's Not & Final Thoughts
What's Hot
Excellent VRM: The GODLIKE is a bar above the rest of MSI's line up, and it uses the latest in Infineon/IR digital products, which perform excellent. The power stages are rated 60A, and the motherboard looks like it uses better inductors than the rest of MSI's product line. All in all, this is a best in class VRM.
Audio: MSI implemented a lot of things to make the audio on this motherboard unique. Sure, there are some others with ESS SABRE DACs and high-end capacitors, but in this case, MSI uses two audio codecs to provide better rear and front headphone audio.
xTend: Some people complain about Killer, but in this case, the wired NIC is not much different than Intel, and the Killer Wireless AC 1550 is pretty much Intel's latest controller but with a Killer brand. On top of that, the NICs can operate as a switch, and provide other connected devices with internet/network connectivity made possible because of Killer's product.
Streaming Card: The streaming card is basically like a capture card, and it's a neat little addition. It's not a gimmick.
What's Not
No iGPU: MSI has basically said farewell to Intel's iGPU, as there is no iGPU VRM nor even any iGPU outputs on the motherboard.
Final Thoughts
MSI's MEG Z390 GODLIKE is extremely expensive, but you are getting a lot for your money. You are getting a best in class VRM, solid networking, excellent audio, great custom features, and even an additional streaming card. While we weren't overwhelmed by their mid-range Z390 motherboards, the GODLIKE is totally a different story.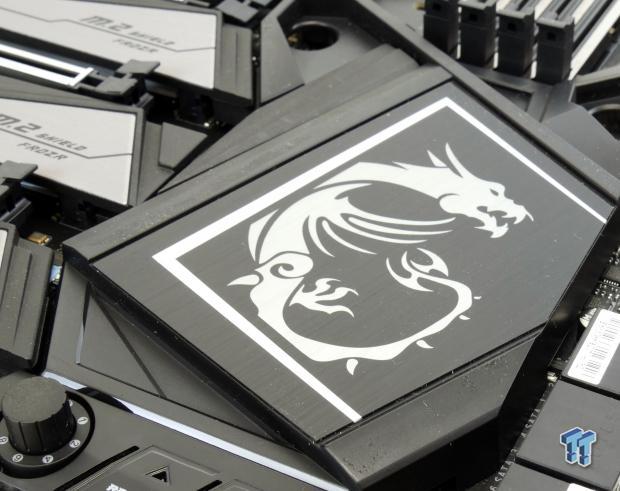 It is like an extreme OC board, last content production board, and extremely custom motherboard all-in-one package. It's very unique with the large LCD display and the infinity mirror, and RGB LED support is abundant.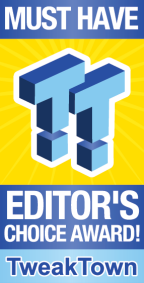 | | |
| --- | --- |
| Performance | 97% |
| Quality | 95% |
| Features | 98% |
| Value | 83% |
The Bottom Line: We reserve the Editor's Choice award for only the top best motherboards, and the MSI MEG Z390 GODLIKE is one of the best Z390 motherboards we have seen.
PRICING: You can find products similar to this one for sale below.

United States: Find other tech and computer products like this over at Amazon.com

United Kingdom: Find other tech and computer products like this over at Amazon.co.uk

Australia: Find other tech and computer products like this over at Amazon.com.au

Canada: Find other tech and computer products like this over at Amazon.ca

Deutschland: Finde andere Technik- und Computerprodukte wie dieses auf Amazon.de
We openly invite the companies who provide us with review samples / who are mentioned or discussed to express their opinion. If any company representative wishes to respond, we will publish the response here. Please contact us if you wish to respond.