MSI Z390 Gaming Edge AC (Intel Z390) Motherboard Review
For just under $200, MSI's Z390 Gaming Edge AC gives buyers a substantial amount of features, its certainly worth a look.
Published Tue, Dec 4 2018 10:00 AM CST
|
Updated Tue, Nov 3 2020 6:57 PM CST
Rating:

91%
Manufacturer: MSI
Introduction, Specifications, and Pricing
Today we are looking at our first MSI Z390 motherboard aimed at mainstream consumers.
The motherboard itself is designed to fulfill the needs of the masses at a decent price while offering a bit of glamour. Let's take a look at what MSI has to offer in this mid-range Z390 motherboard.
Specifications
The Z390 Gaming Edge AC features two M.2 slots, WIFI, Gbit LAN, USB 3.1, and SATA6Gb/s.
Pricing
The Z390 Gaming Edge AC costs $189.99.
Packaging and Z390 Gaming Edge AC Overview
Packaging and Overview
The box and packaging are decent and do a fine job of protecting the motherboard.
The accessory package includes four SATA6Gb/s cables, SLI HB bridge, RGB LED extension cable, M.2 screws, IO shield, SATA stickers, WIFI Antenna, case badge, stickers, DVD, and manual.
MSI has seven hybrid PWM/DC mode headers that can control both PWM and DC mode fans. The two headers circled in red are by default in PWM mode while the five circled in blue are by default in DC mode.
The motherboard's VRM heat sink covers most of the IO shield, which is a pretty neat design and kills two birds with one stone. The motherboard also has a nice black design with some accents on the PCB's silkscreen. The rear of the motherboard is bare of most components.
The rear IO panel features a PS/2 Keyboard/Mouse port, two USB 2.0 ports, DisplayPort, HDMI, two USB 3.0 ports, one USB 3.1 type-A, one USB 3.1 type-C, Gbit LAN, WIFI output, and gold plated 7.1 audio ports with S/PDIF out.
The PCI-E layout is as follows; the two x16 slots that are shielded operate at x16/x0 or x8/x8. The other slots are x1 or x4 wired to the PCH. The top M.2 slot is x4 PCI-E 3.0/SATA.
The bottom M.2 slot shares bandwidth with two SATA6Gb/s ports. There are six SATA6Gb/s ports and one right-angled USB 3.0 internal header.
There is another USB 3.0 internal header and a USB 3.1 type-C internal header. At the top of the motherboard, we find an RGB LED header and a specific Corsair RGB LED header; there are boot LEDs closer to the 24-pin connector.
At the bottom of the motherboard, we find a Thunderbolt 3 GPIO header and two USB 2.0 internal headers. For CPU power we get one 8-pin port and one optional 4-pin.
We also get another RGB LED header near the audio section and an addressable RGB LED header next to it. All of the heat sinks are screwed into the motherboard.
MSI Z390 Gaming Edge AC Circuit Analysis
Circuit Analysis
The Z390 Gaming Edge AC shows us the goods with the heat sinks removed!
The VRM is a 10+1 phase VRM which is achieved by doubling the number of power stage components on each of the four drivers for the CPU. The UPI uP9521 is a 4+3 phase PWM controller, but it's somehow in a 5+1 phase mode, as there is only one iGPU phase and five CPU VCore phases.
We faced the same mystery on MSI's Z370 motherboards, so perhaps this is a different version of the PWM, or it can reallocate PWM channels. The iGPU phase is in a two-low one high MOSFET configuration.
The drivers for the CPU VCore phases are located on the rear of the motherboard. The memory VRM uses an RT8125 ("8Y=") PWM controller with three On Semi. 4C024N MOSFETs in a two-low one high configuration.
MSI Z390 Gaming Edge AC Circuit Analysis Continued
Z390 Gaming Edge AC Circuit Analysis Continued
The audio solution consists of a Realtek ALC1220 rated up to 120dB and supports an integrated headphone AMP, MSI added a Texas Instruments OP1652 amplifier for the internal front panel header and Nippon Chemicon audio capacitors and a physical PCB divide.
We get an i219v PHY for the Gbit LAN. The WIFI is from Intel's Wireless AC 9462, which is a 1x1 controller rated up to 433Mbps.
MSI is using On Semiconductor NB7NPQ1004 dual port USB 3.1 10Gbps re-driver for the rear USB 3.1, and a Texas Instruments HDS3220 type-C controller. We find the same combination for the internal USB 3.1 type-C header.
The GL850G is a USB 2.0 hub used to expand the internal USB 2.0 headers. The main SuperIO is the nuvoton NCT6797D, and we find a GD75323 driver and receiver chip used for the COM port.
A Nuvoton NUC126 Arm Cortex microcontroller is used for addressable RGB LED control. The motherboard features a single 128Mbit BIOS ROM.
BIOS and Software
BIOS
MSI's UEFI hasn't changed much from Z370 to Z390; there are additional settings such as Tjmax offset and such. The layout is decent, and fan control is present in the form of a GUI. MSI's board explorer is also pretty unique; you can even see what brand mouse you have plugged into specific USB ports. The UEFI also has everything you need to overclock.
Software
MSI's Dragon Center, Mystic Light 3, and Nahimic 3 are included.
Test System Setup
Steven's Motherboard Test System Specifications
The Z390 GAMING EDGE AC has some RGBs along the back of the right side of the PCB. It's very easy to let it fade into the background.
Overclocking
Overclocking Results
CPU Overclocking
The Z390 GAMING EDGE AC overclocking is pretty easy, and there is an advanced mode which unlocks more settings. I used a fixed frequency of 5.2GHz; then I set VCore of 1.325, LLC mode 2, increase CPU current to 255A in the CPU features menu, and set XMP. I then let it rip and the motherboard with pretty well.
CPU, Memory, and System Benchmarks
CINEBENCH 15
wPrime
AIDA64 FLOPS and IOPS
AIDA64 Memory
ScienceMark
HandBrake
3DMark: Fire Strike
3DMark: Cloud Gate
ResidentEvil 6
Overall, performance is solid; there are no issues. MSI does game the BCLK a bit, but the differences aren't that crazy.
System IO Benchmarks
CrystalDiskMark SATA6G:
CrystalDiskMark M.2:
ixChariot Network Throughput:
The SATA storage, M.2 storage, and networking are all up to par.
Audio RMAA 5.5:
I disable all audio features, set the correct bitrates, and then test the audio with a loopback test.
Sound Judgment by Ear: Excellent, very clean ALC1220 implementation. There are five ratings for audio: 1. Problems, 2. Okay, 3. Acceptable, 4. Very good, 5. Excellent
Thermal Imaging and Power Consumption
System power is measured at the wall with an AC power meter.
Note on Thermal Images: In the temperature section, we use our Seek thermal imaging camera to capture the surface temperatures of major components on the board. I look at the VRM and then all other things that light up the screen. If there is something to worry about, then I will state it. Otherwise, I will just show the hotter running parts of the board for fun. Unless some component is over 80-90C, then there isn't anything to worry about.
All systems will act differently, so I will look for commonalities, such as how far from the VRM the heat spreads through the PCB and the difference in temperature between the front side and back side of the PCB. Keep in mind, the majority of the heat from the VRM goes into the PCB as it is a giant soldered on copper heat sink. A larger difference in temperature between the back and front of the PCB points towards a more effective heat sink.
Thermal Testing at Stock Speeds:
The image on the left is always at idle, and the image on the right is at load. During ALL TESTS, fans to the right of the motherboard from the (Corsair H110i) radiator are left on automatic mode (ramps with internal block temperature). Additionally, a 120mm fan is situated right above the VRM, and it blows down at a medium rate (very quiet). Thermal Images are taken at loop 15 of Intel Burn Test
Full frontal.
Up-close of the front of the VRM.
Up-close of the back of the VRM.
The Z390 GAMING EDGE AC has a decent VRM, but we would highly recommend good airflow over the VRM area, especially if you are overclocking. Anything under 60C is great, 60-80C is acceptable, and anything above 80C is a bit worrisome (if at stock).
What's Hot, What's Not & Final Thoughts
What's Hot
Aesthetics: The motherboard features decent heat sinks, and the good news here is that the metal part of one section of the VRM heat sink covers up the rear IO. The motherboard also has addressable RGBs on the backside of the right of the motherboard, and it creates a nice reflection of a rainbow. Next up we have both RGB and addressable RGB LED headers and even a Corsair specific header.
Audio: MSI's audio implementation here is quite good. Testing results show the implementation of the ALC1220 is solid and the audio capacitors and physical PCB divide produce good results. The extra amplifier is nice as well, so you will get your front panel audio amplified.
Intel NICs: While the 1x1 WIFI is from Intel (9462) is rated up to 433Mbps, it's the latest generation. The Intel wired NIC is also a solid choice.
What's Not
Rear USB Count: While the rear IO has both USB 3.1 type-C and type-A, there are only a total of five USB ports on the rear IO, and two of them are USB 2.0 and two USB 3.0. MSI should have stacked the DP and HDMI ports and added in two more USB ports.
Final Thoughts
MSI's Z390 GAMING EDGE AC is priced right at the $189 mark, and while there is a lot of competition at that price point, the MSI Z390 Gaming Edge AC holds up. It offers a variety of features, and the VRM, while not the most robust, gets the job done.
Fan control is one other aspect we didn't mention earlier, but the board has a high number of fan headers, which will help you use more fans to cool down the system. Overall, we were impressed with certain specific aspects of the motherboard. Z390 motherboards are expensive by default, and finding a good value under $200 can be hard. You should give the Z390 Gaming Edge AC a look if you are in that price range.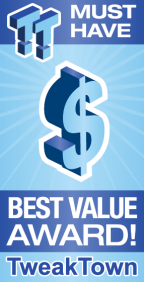 | | |
| --- | --- |
| Performance | 89% |
| Quality | 89% |
| Features | 92% |
| Value | 95% |
The Bottom Line: Chiming just under the $200 mark, MSI's Z390 Gaming Edge AC offers a solid amount of features and solid aesthetics in a decent package.
PRICING: You can find products similar to this one for sale below.

United States: Find other tech and computer products like this over at Amazon.com

United Kingdom: Find other tech and computer products like this over at Amazon.co.uk

Australia: Find other tech and computer products like this over at Amazon.com.au

Canada: Find other tech and computer products like this over at Amazon.ca

Deutschland: Finde andere Technik- und Computerprodukte wie dieses auf Amazon.de