Supermicro C9Z390-PGW (Intel Z390) Motherboard Review
The Supermicro C9Z390-PGW Z390 comes fully loaded for the user, check out our breakdown review of the board here.
Published
9 minute read time
TweakTown's Rating: 93%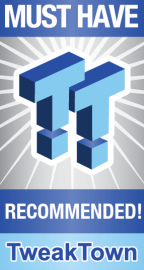 The Bottom Line
The C7Z390-PGW is loaded with the latest in networking both wired and wireless, and it's one of the only Z390 motherboards that has x32 lanes direct towards the CPU making it not only unique but fully loaded.
Introduction, Specifications, and Pricing
Today we take at our first Supermicro Z390 motherboard, the C9Z390-PGW. It is positioned to be a very high-end motherboard with 10Gbit LAN and even a chip that doubles PCI-E lanes.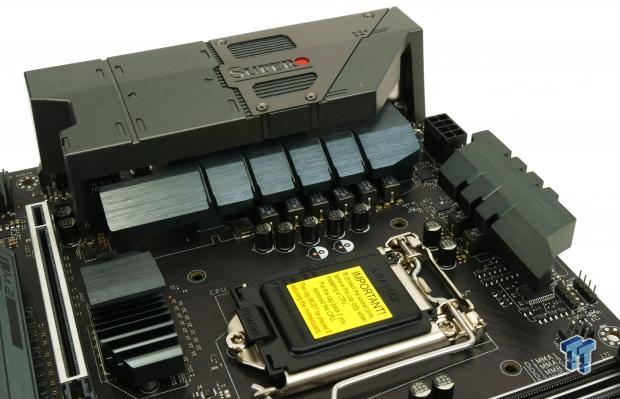 Doubling the x16 lanes from the CPU to x32 gives the motherboard a special feature not many other motherboards can claim to have. Let's take a look at the new motherboard.
Specifications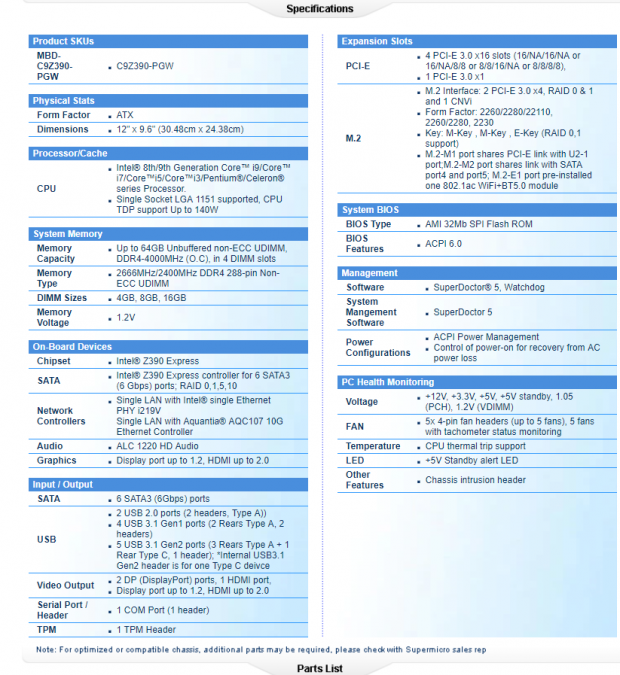 The C9Z390-PGW features two M.2 slots, two U.2 ports, 10G LAN, USB 3.1, USB 3.0, and SATA6Gb/s.
Pricing
The C9Z390-PGW costs $335.00
Packaging and C9Z390-PGW Overview
Packaging and Overview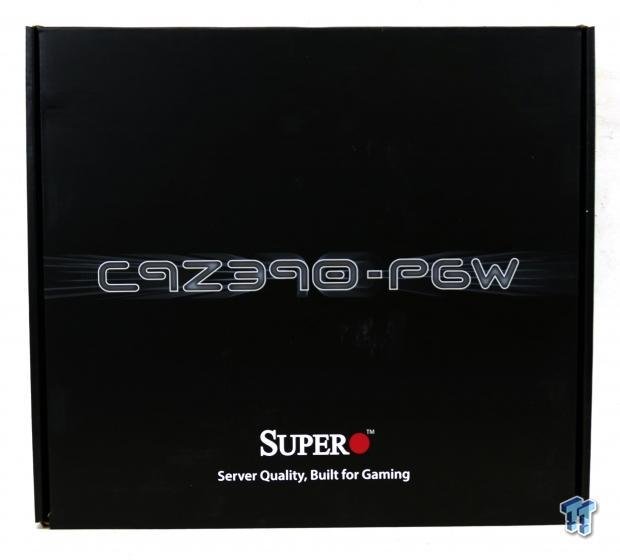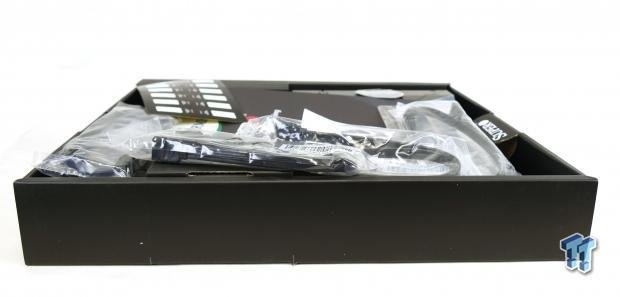 The box is very standard, and the packaging is decent.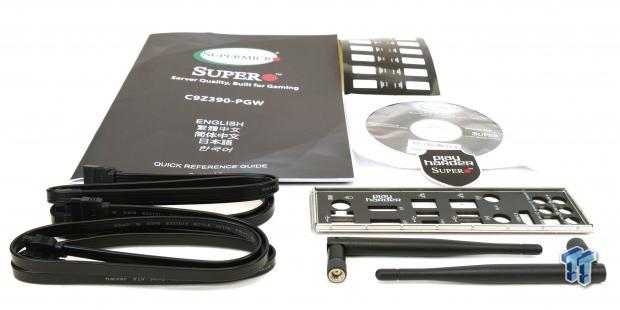 The accessory package includes four SATA6Gb/s cables, WIFI antenna, IO shield, case badge, SATA cable stickers, driver DVD, and quick manual.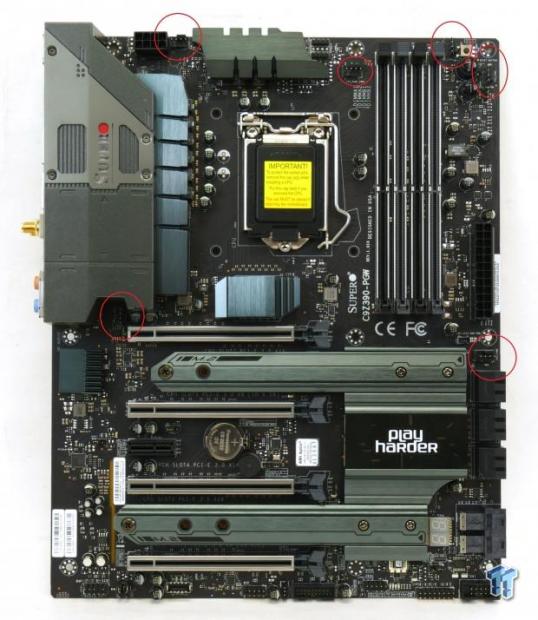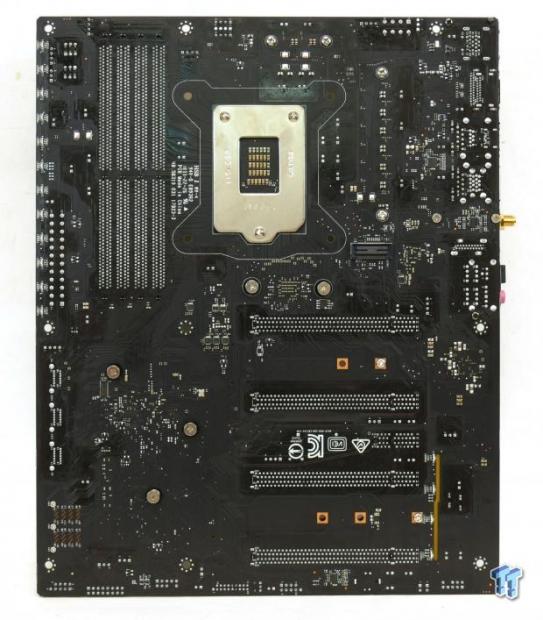 Supermicro has upped the number of fan headers to six from their standard five, and each header is capable of 2A of output, and they are all PWM/DC mode headers, Supermicro just added the ability to choose between the two modes.
The motherboard has a gun-metal color theme with hints of RGB under certain areas of the motherboard. The two M.2 slots are covered by large heat sinks, and we can clearly see all four PCI-E x16 slots. The back of the motherboard doesn't have many components, but we can see the RGBs on the right side of the board.

The rear IO panel features PS/2 keyboard/mouse, two USB 3.0 ports, two DisplayPorts, three USB 3.1 type-A, one USB 3.1 type-C, 10Gbit LAN, 1Gbit LAN, WIFI antenna out, HDMI 2.0, and 7.1 audio ports with S/PDIF out.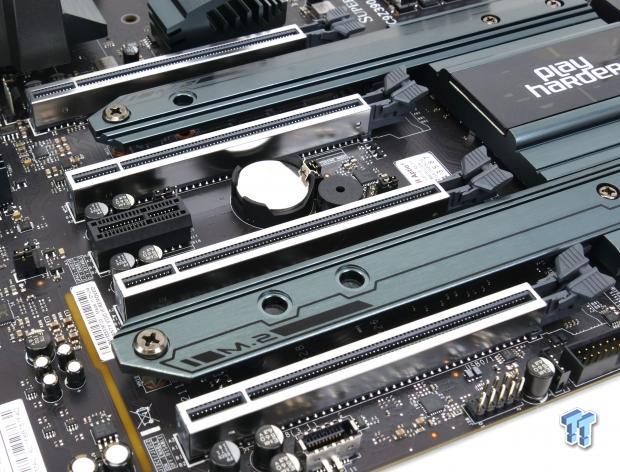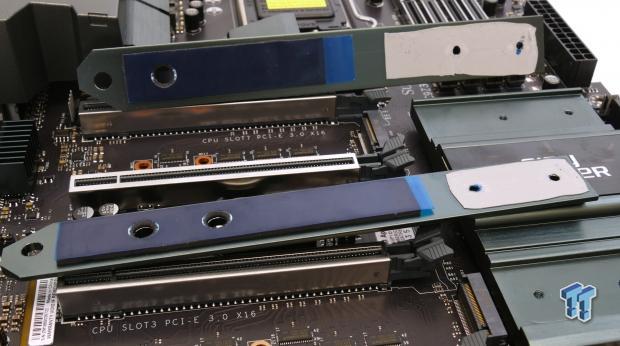 With the PEX8747 chipset, the slots operate at x16/x0/x16/x0 or x8/x8/x8/x8, which is useful in case you want one GPU running x16 and then something like an M.2 RAID card that could take advantage of x16 PCI-E 3.0. The motherboard supports CrossFireX.
There are two M.2 slots, one of them shares bandwidth with one of the U.2 ports and the other shares with two SATA6Gb/s ports. We can see the heat sinks that cool the M.2 slots also transfer heat into the large PCH heat sink.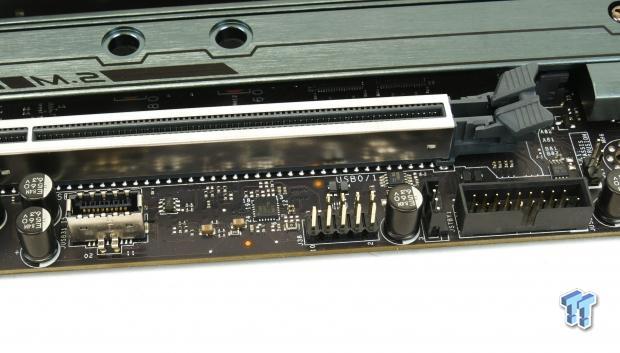 We get two U.2 ports and six SATA6Gb/s ports, and some are shared with the M.2 slots. We find a USB 3.0 internal header and USB 3.1 type-C internal header located below the last x16 slot. Our single USB 2.0 internal header can be found down here too.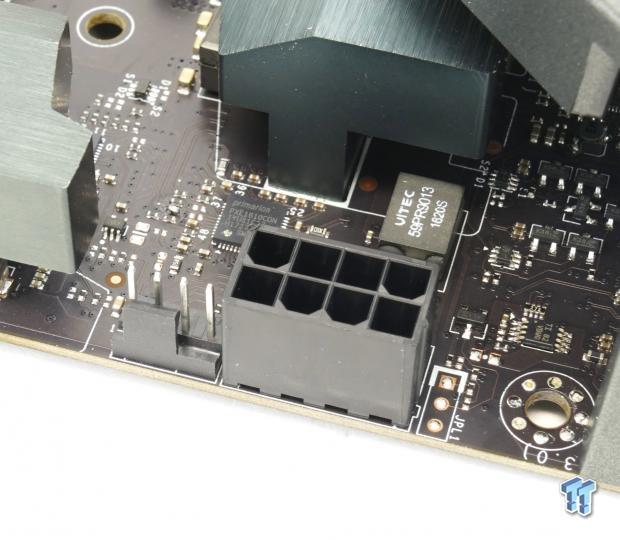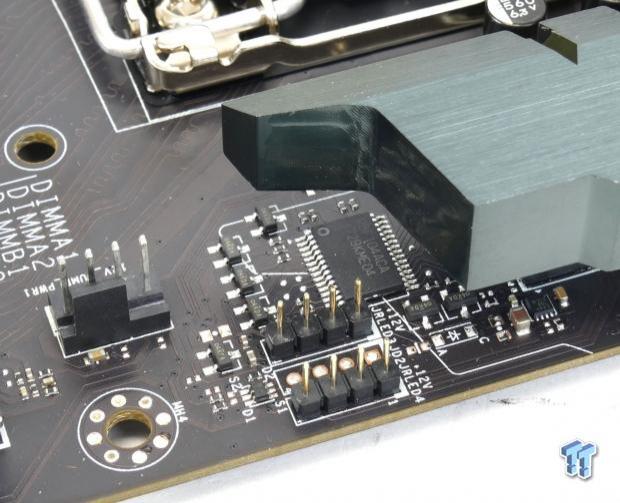 An 8-pin power header is located at the top of the motherboard. We also find two RGB LED headers at the top near the VRM heat sink.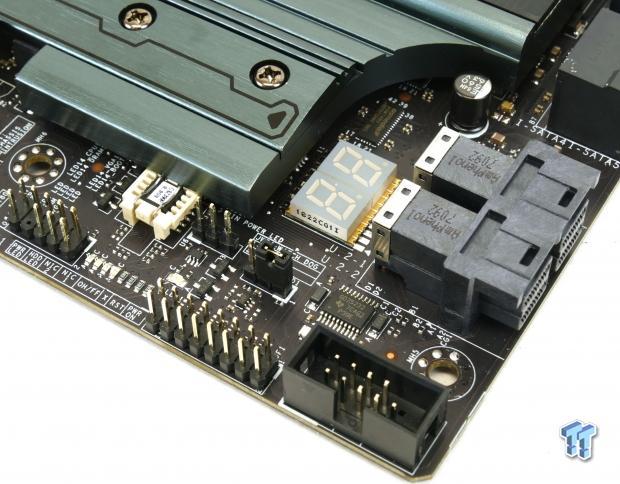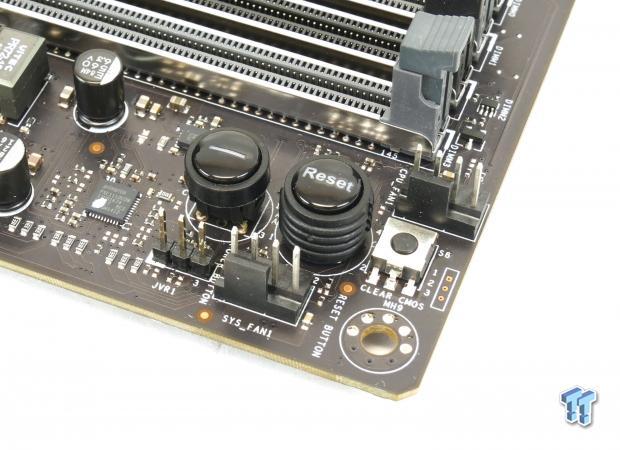 In the bottom right corner of the motherboard, we find a COM header, front case headers, some boot LEDs, and a POST code display. Power, reset, and clear CMOS buttons can be found in the top right corner.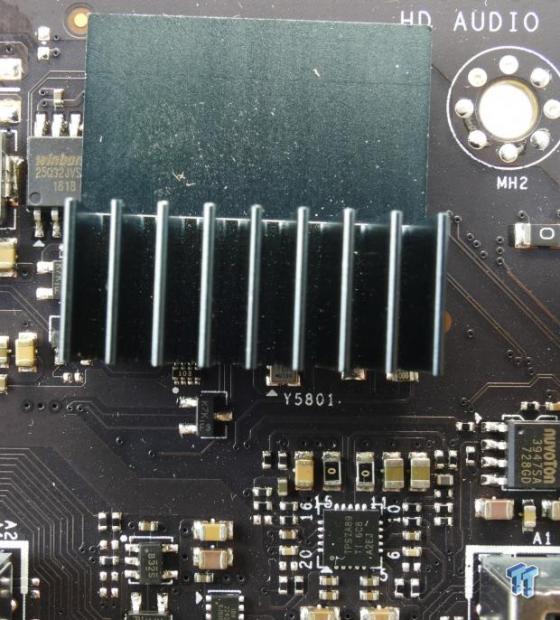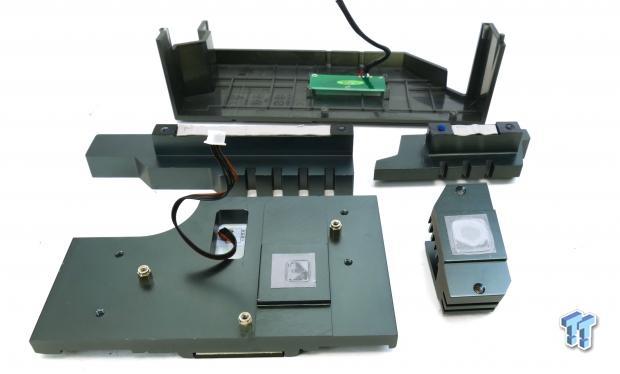 The 10Gbit Aquantia chip has a heat sink glued to it. The other heat sinks are screwed into the motherboard.
Supermicro C9Z390-PGW Circuit Analysis
Circuit Analysis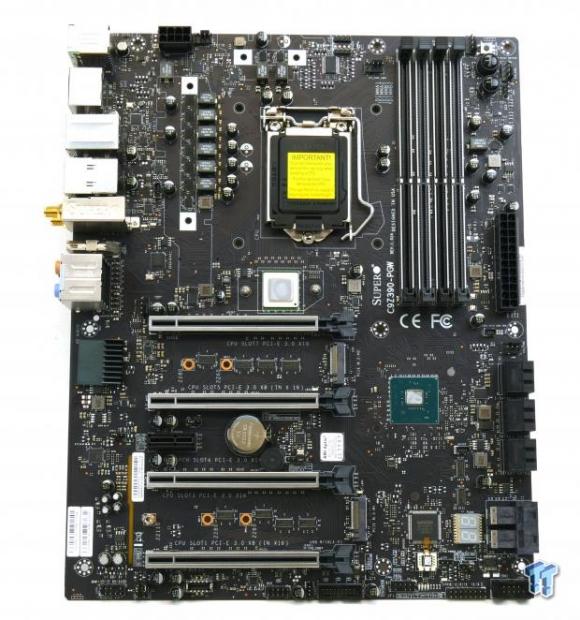 The C9Z390-PGW shows us the goods with the heat sinks removed!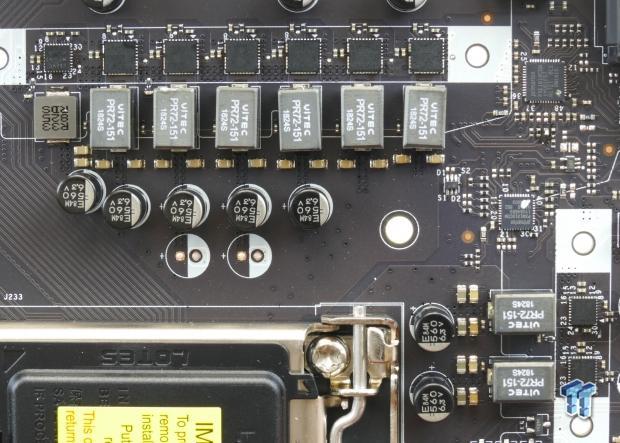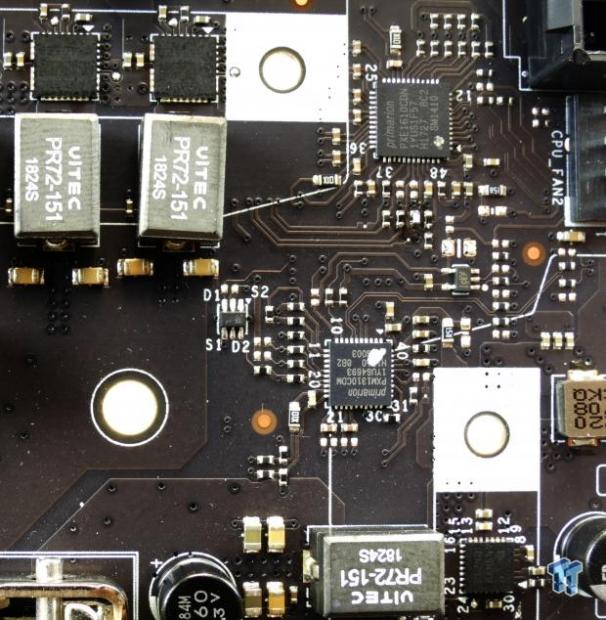 The VRM is in a 6+2 phase VRM using Vitec 66A power inductors, Infineon TDA21232 which is either a 50A or 55A integrated power stage. The Primarion PXE1610 is used as the 6+1 phase digital PWM controller from Infineon, and it controls this true 6-phase VRM. Some might think 6-phases aren't enough, but we will test it under the thermal camera because the parts are very high quality here, and quality is more important than quantity in many cases. The iGPU gets two phases and uses the TDA21240, which is a 40A part, and the PWM controller is the PXE1310 digital PWM controller.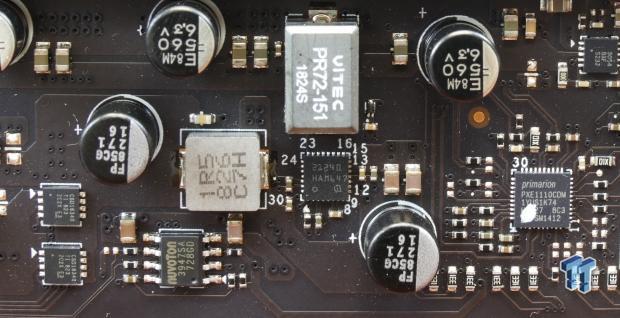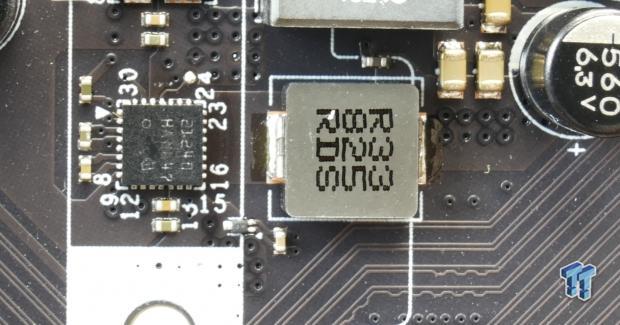 Memory power comes from a single 40A TDA21240 and is controlled by a 1+0 phase Primarion PXE1110. The VCCSA uses the same 40A part as the memory and iGPU phases.
Supermicro C9Z390-PGW Circuit Analysis Continued
C9Z390-PGW Circuit Analysis Continued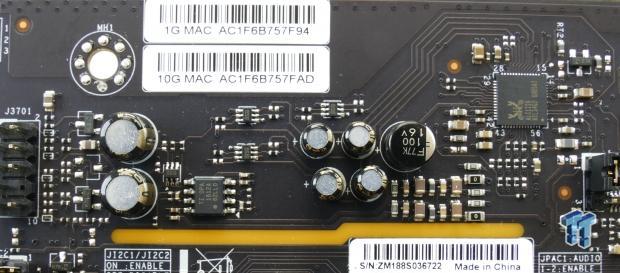 The audio solution consists of a Realtek ALC1220 rated up to 120dB and supports an integrated headphone AMP. However, and Supermicro added a Texas Instruments OPA1612 for the front headphone output. They also have audio capacitors and a physical PCB divide to improve audio performance.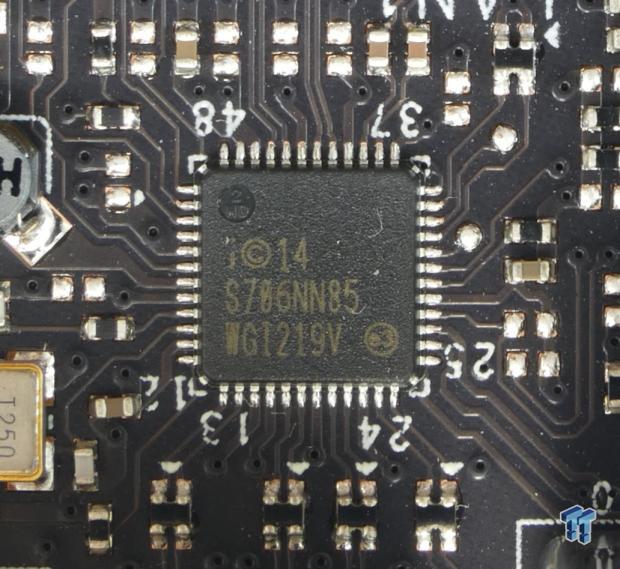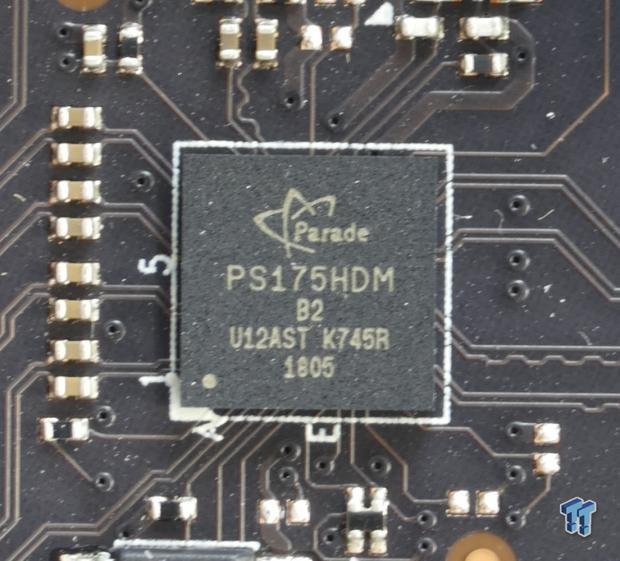 We get an i219v PHY for the Gbit LAN. The AQC107 is used for 10G LAN, but I couldn't get the heat sink off. The Parade PS175HDM is the chip used to provide the HDMI 2.0 port on the rear IO.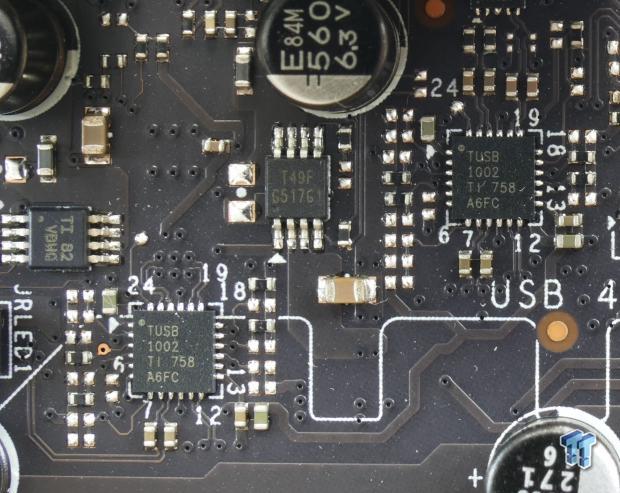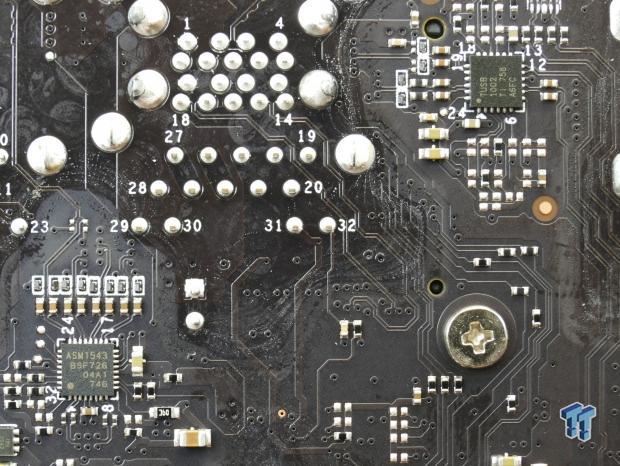 These Texas Instruments TUSB1002 chips are 10Gbps dual-channel linear USB 3.1 re-drivers. A single ASMedia ASM1543 is used to control the type-C controller.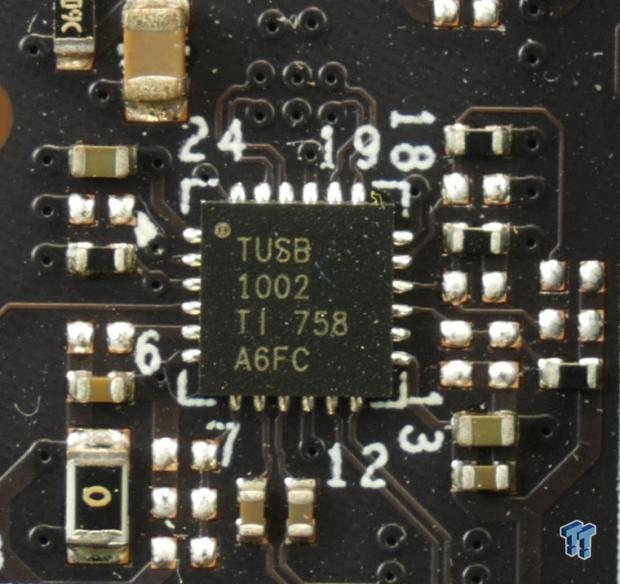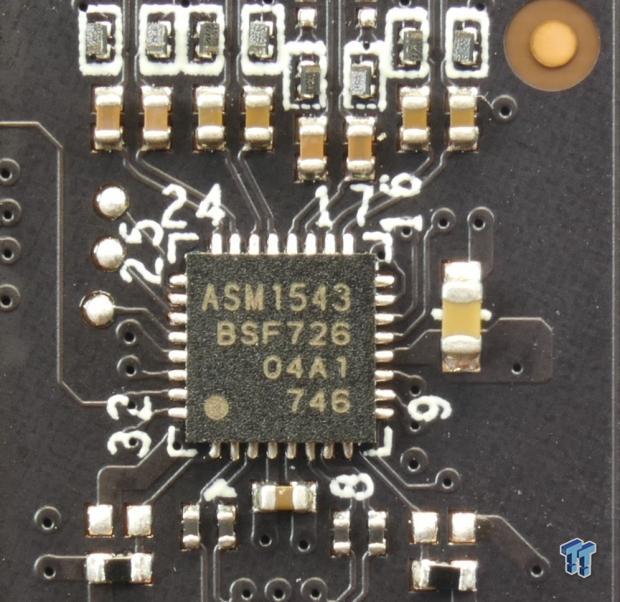 The internal USB 3.1 type-C header also gets one of the USB 3.1 re-drivers, and it has its own ASMedia ASM1543 on the rear IO.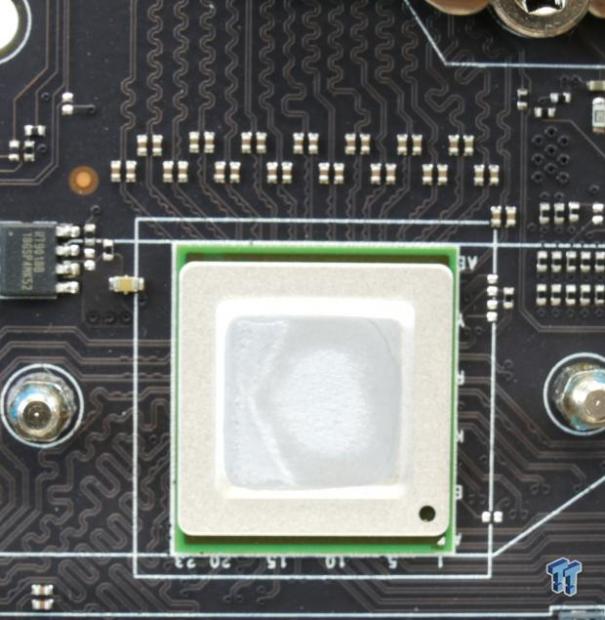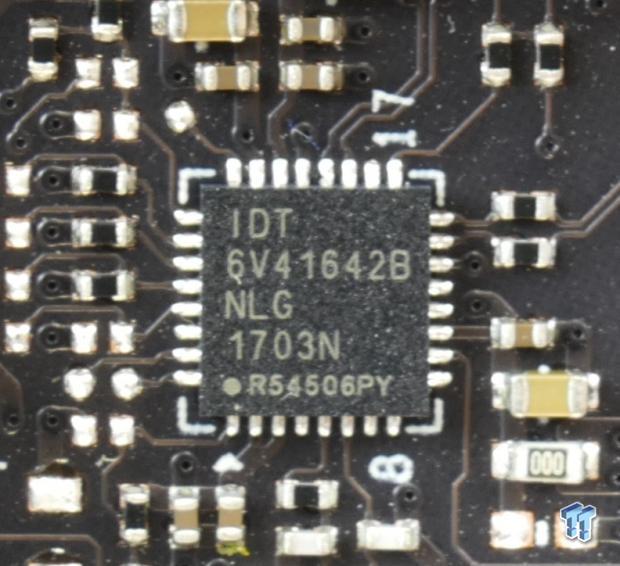 A PEX8747 is located under a heat sink, and it takes x16 from the CPU and outputs x32 PCI-E 3.0 lanes. Check out that trace swizzle. An IDR6V41642B is a clock generator so you can overclock the BCLK.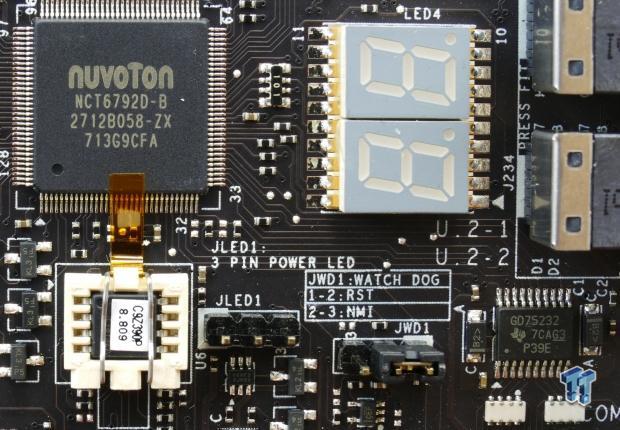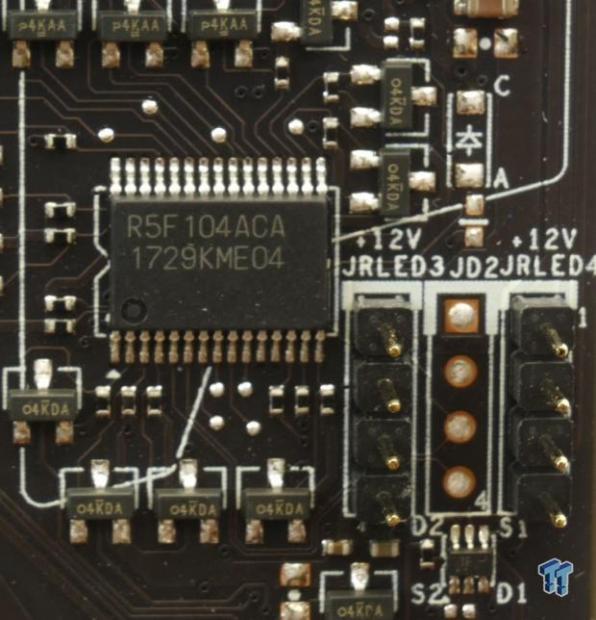 A nuvoton NCT6792 is the main SuperIO controller. The motherboard has a single 128Mbit BIOS ROM, and a GD75232 driver and receiver chip is used to provide the COM port functionality. An NEC R5F104ACA microcontroller controls the onboard RGB LED headers and the RGB.
BIOS and Software
BIOS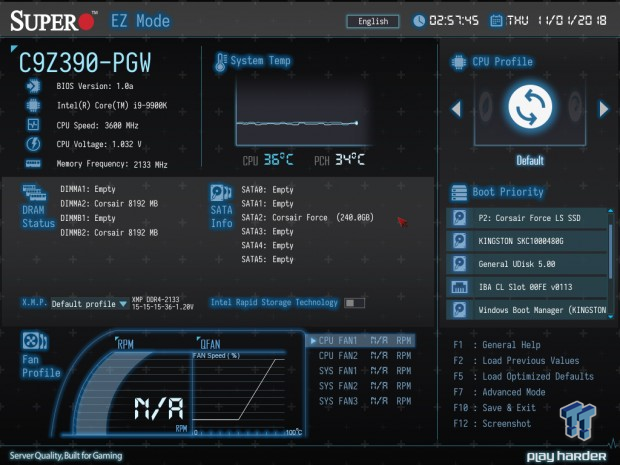 Supermicro has once again revamped their UEFI with a much easier to use layout and configuration. All the settings you need for CPU overclocking are in the single menu, except for voltages which are in their own menu. Multiple levels of LLC have been added, and if you choose the frequency preset, the board automatically changes power and IVR settings behind the scenes. Fan control is present as well and for the first time Supermicro has added in the ability to choose between DC and PWM modes.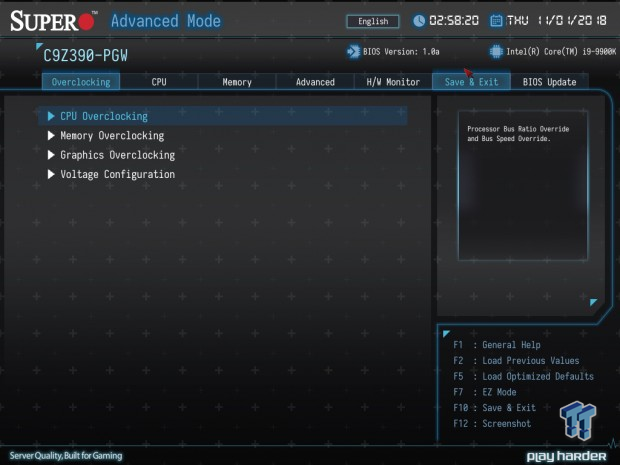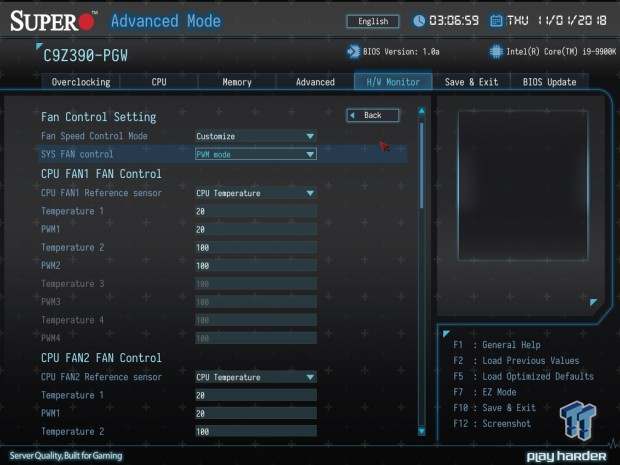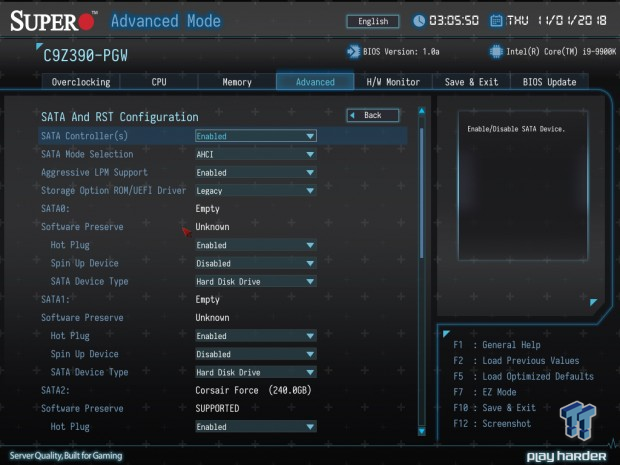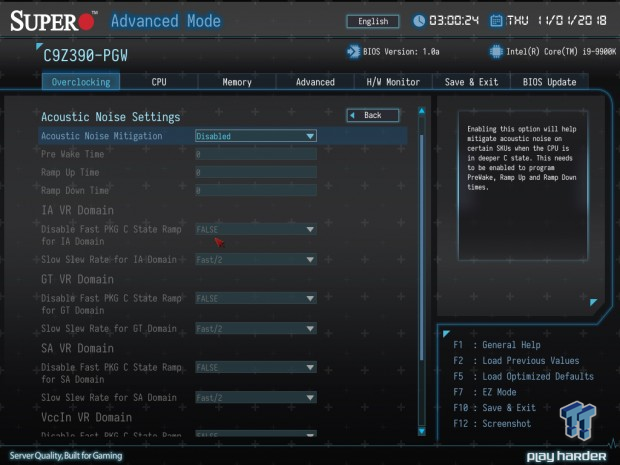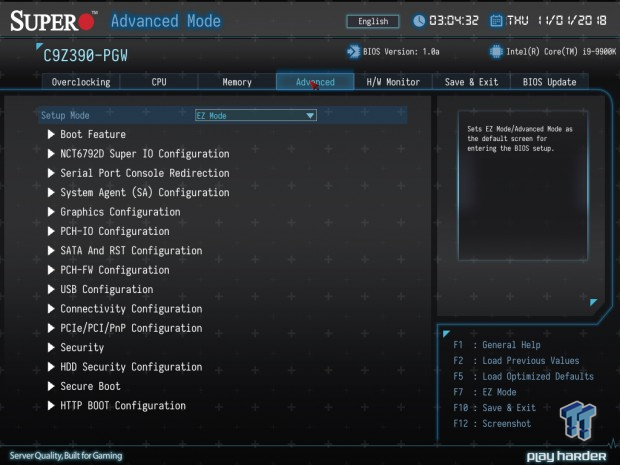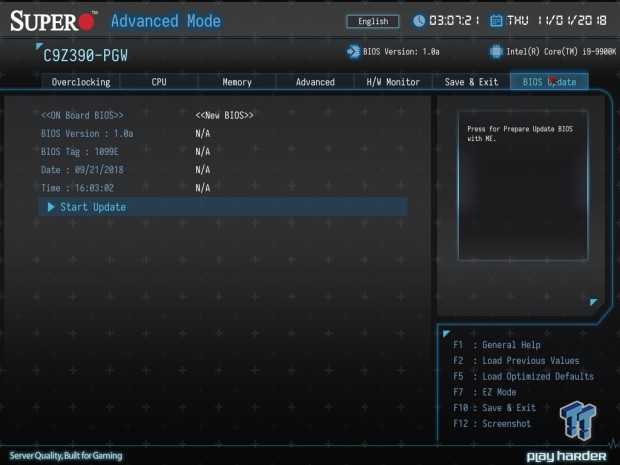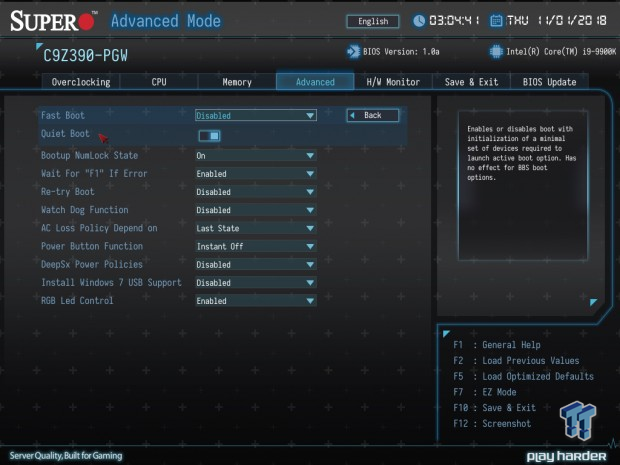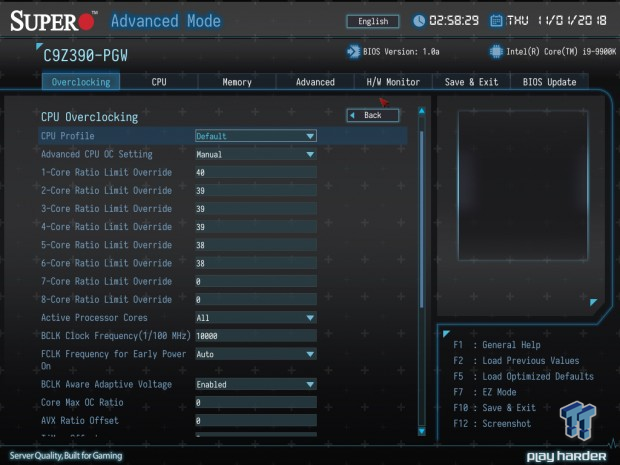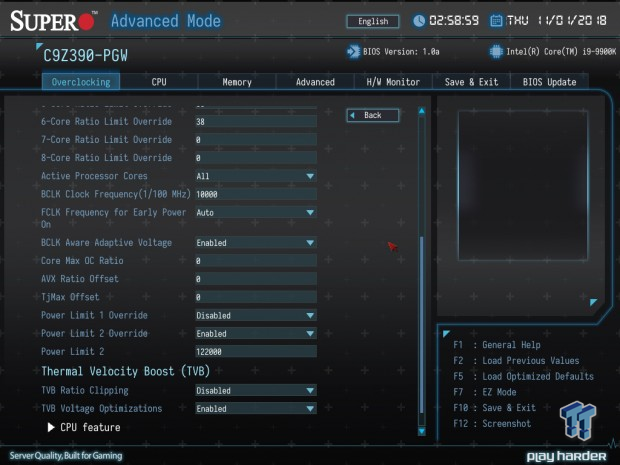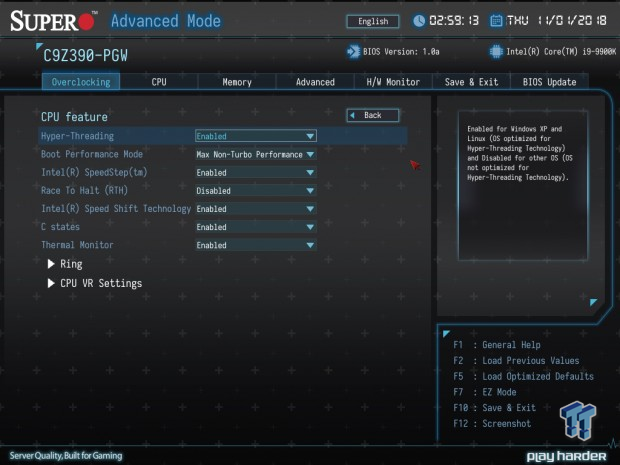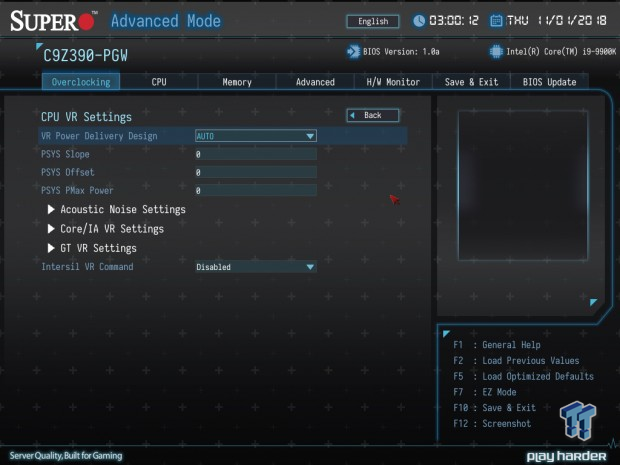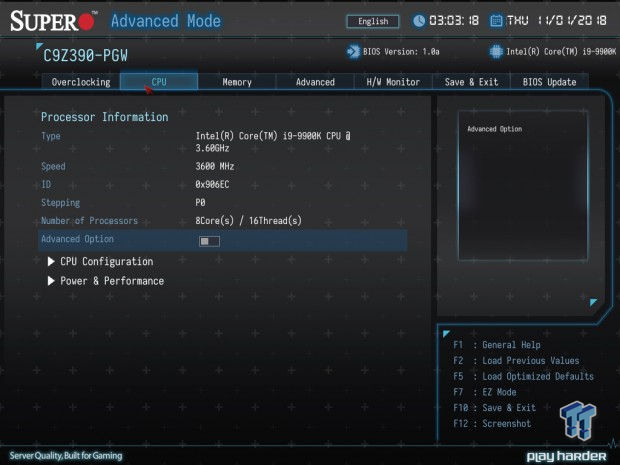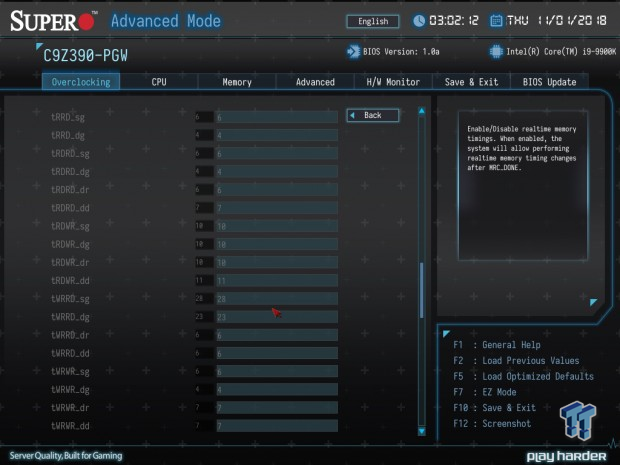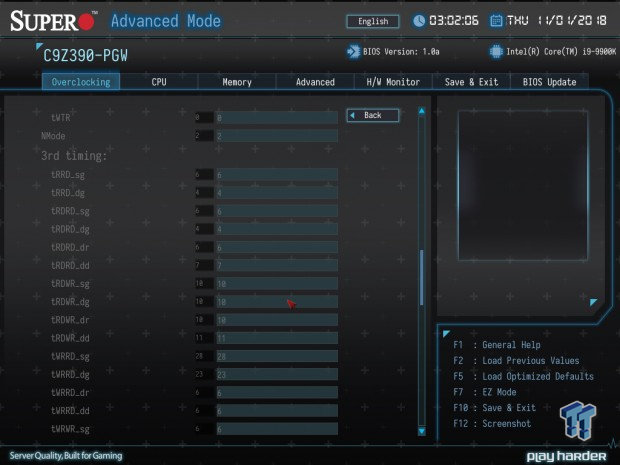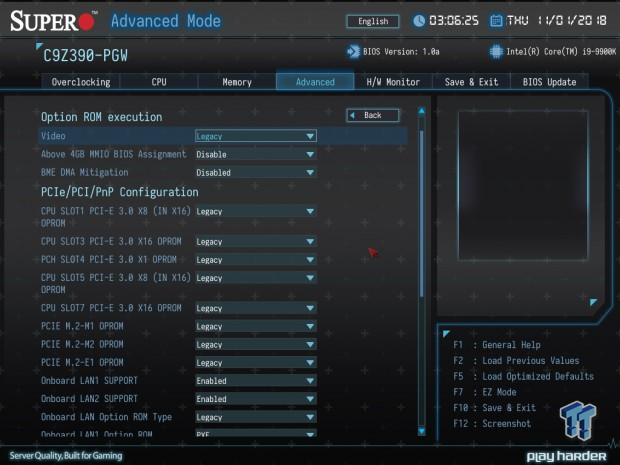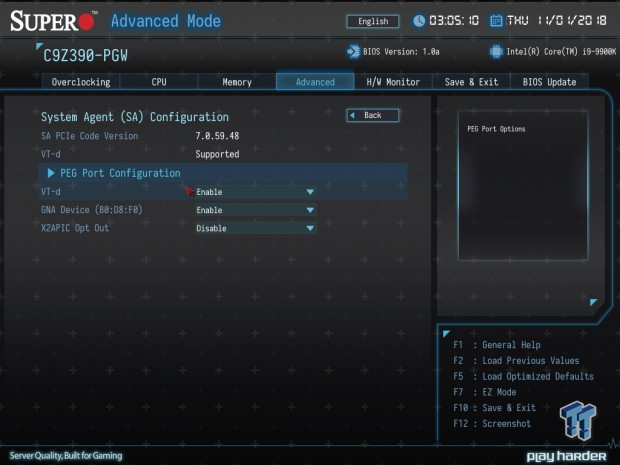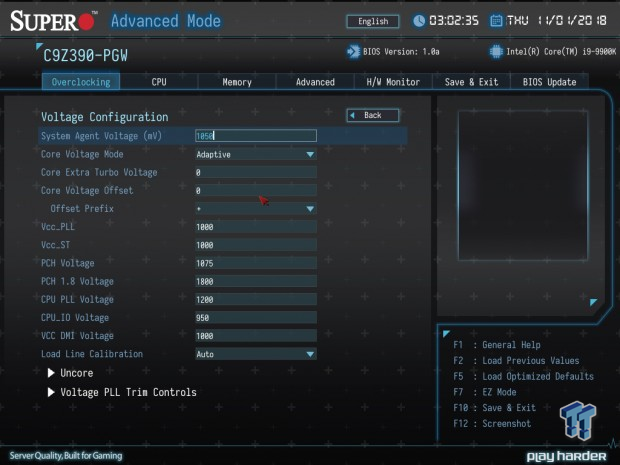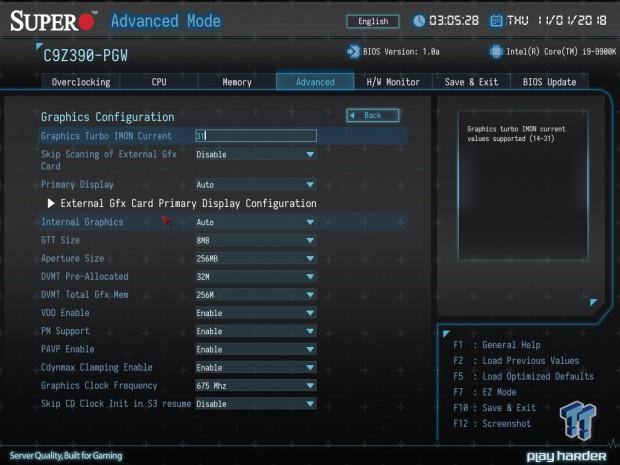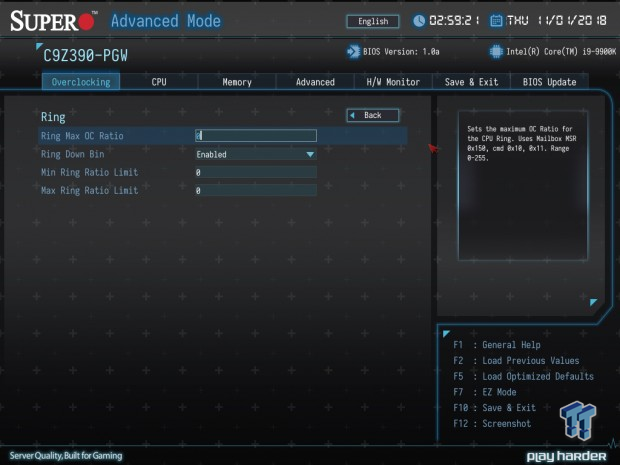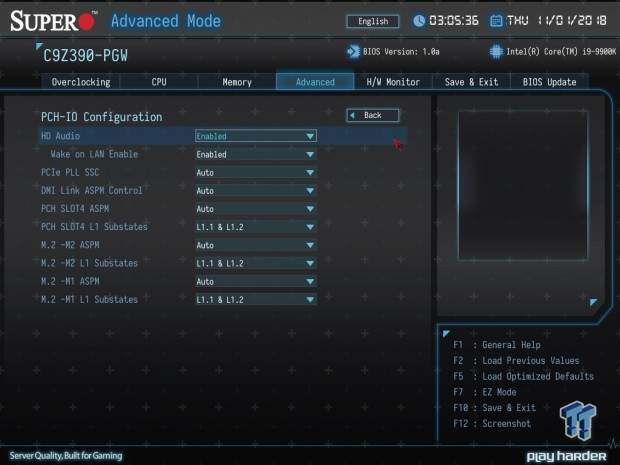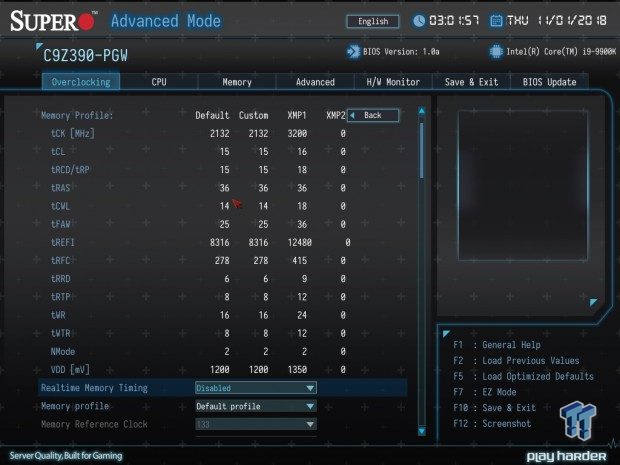 Software
Supermicro's SuperO Booster is their light application to change RGB LED settings and fan control in Windows and overclock in Windows.
Test System Setup
Steven's Motherboard Test System Specifications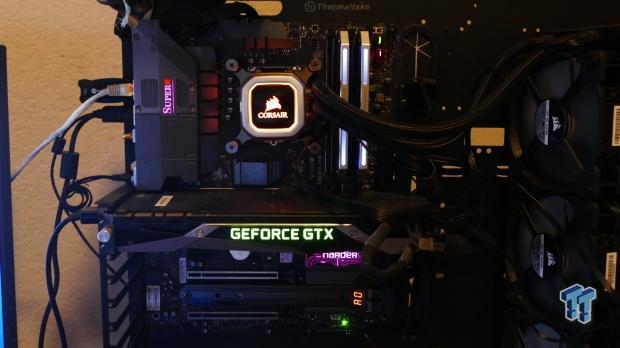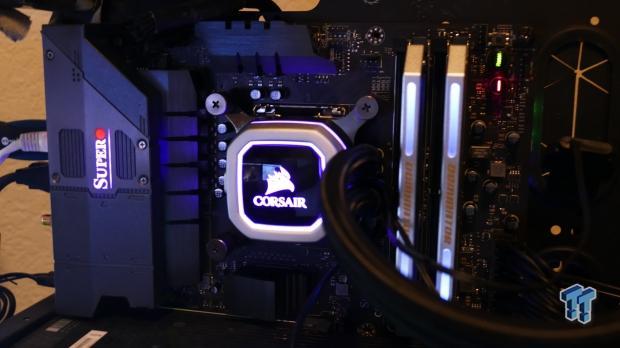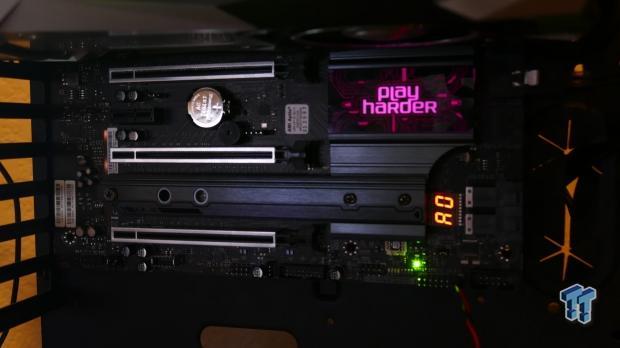 The C9Z390-PGW has a bunch of RGB LEDs built into it, and most of them are addressable, but the default RGB lighting setting is a bit extreme, so you will probably want to change it. Otherwise, you can disable the RGB LEDs.
Overclocking
Overclocking Results
CPU Overclocking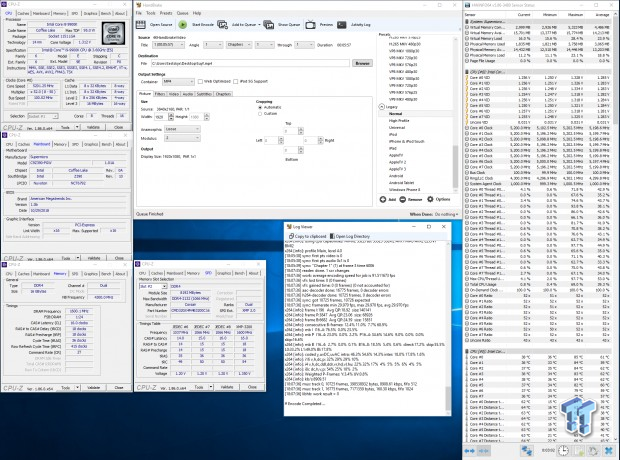 The C9Z390-PGW overclocking isn't rocket science, but it can be a bit hard for those not used to Supermicro's settings. For starters, you want to load one of their default OC profiles; they have them up far enough for ambient, I chose 5.2GHz. That will change internal settings and will set all cores to the same ratio, it will change AC/DC load line, and it will increase internal VR current limits, although we also increase PL1 and PL2 to very high levels.
Then we went into the voltage menu reduced VCCSA to 1.2v and VCCIO to 1.1v, set override VCore mode to 1.33v, which auto set LLC to level 4. You want to go and change that level to level 2. Then we went into the memory menu and enabled XMP. The result was the OC above, which shows performance is where it should be at 5.2GHz and that the CPU actually ran at a slightly lower VCore than we are used to supplying, at 1.3v.
CPU, Memory, and System Benchmarks
CINEBENCH 15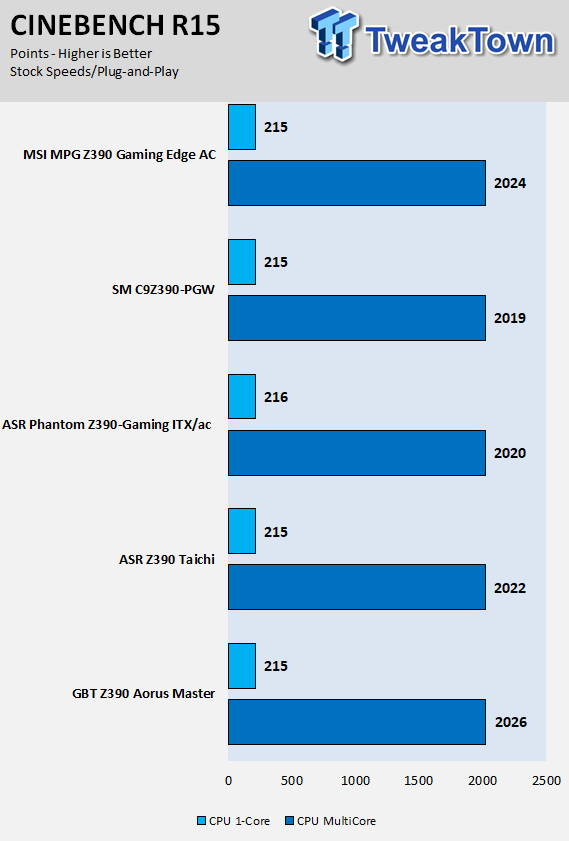 wPrime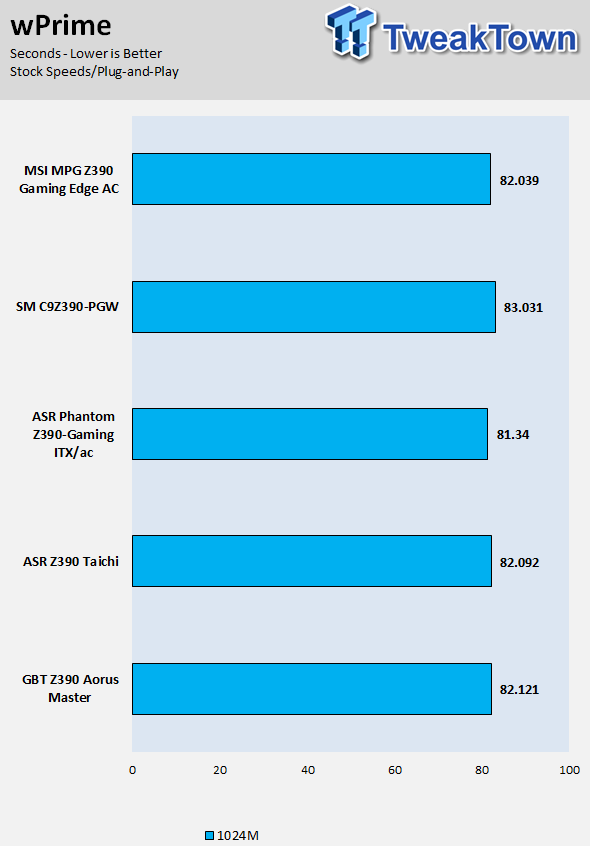 AIDA64 FLOPS and IOPS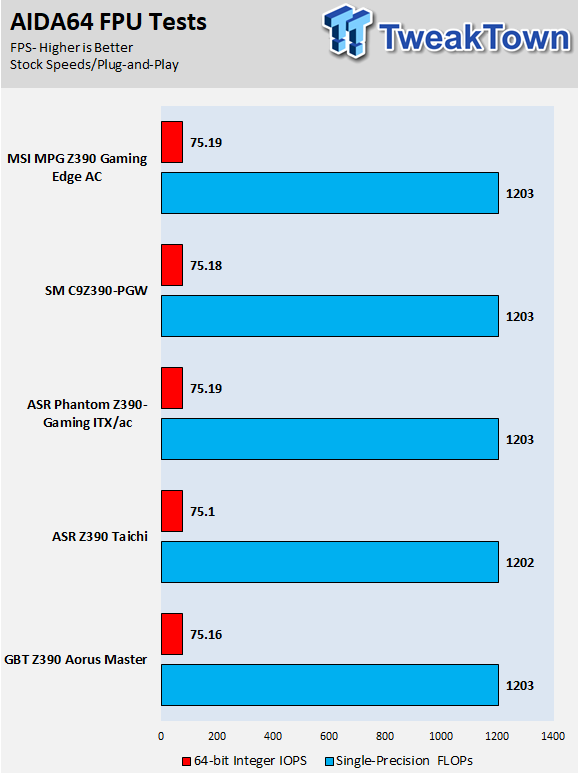 AIDA64 Memory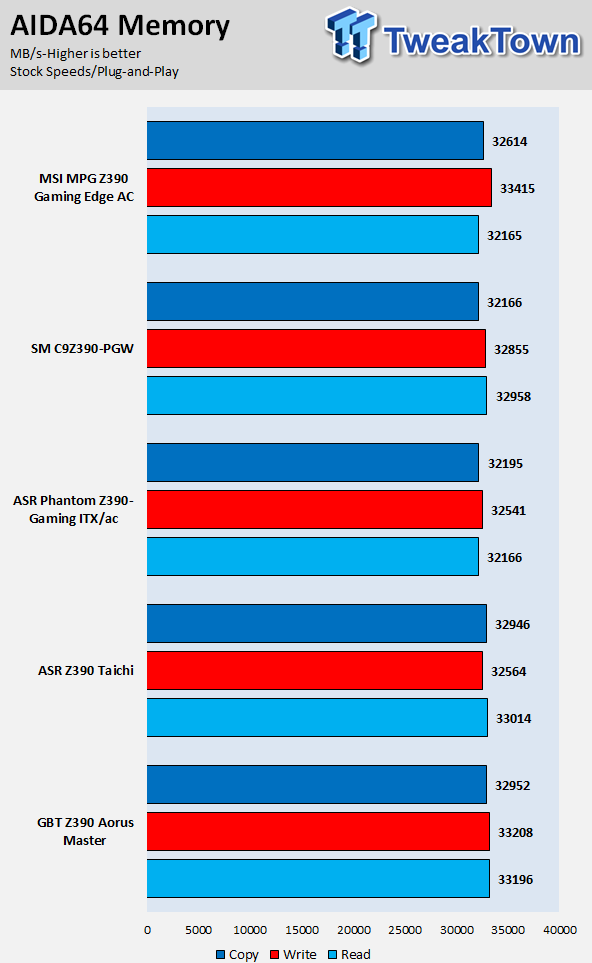 ScienceMark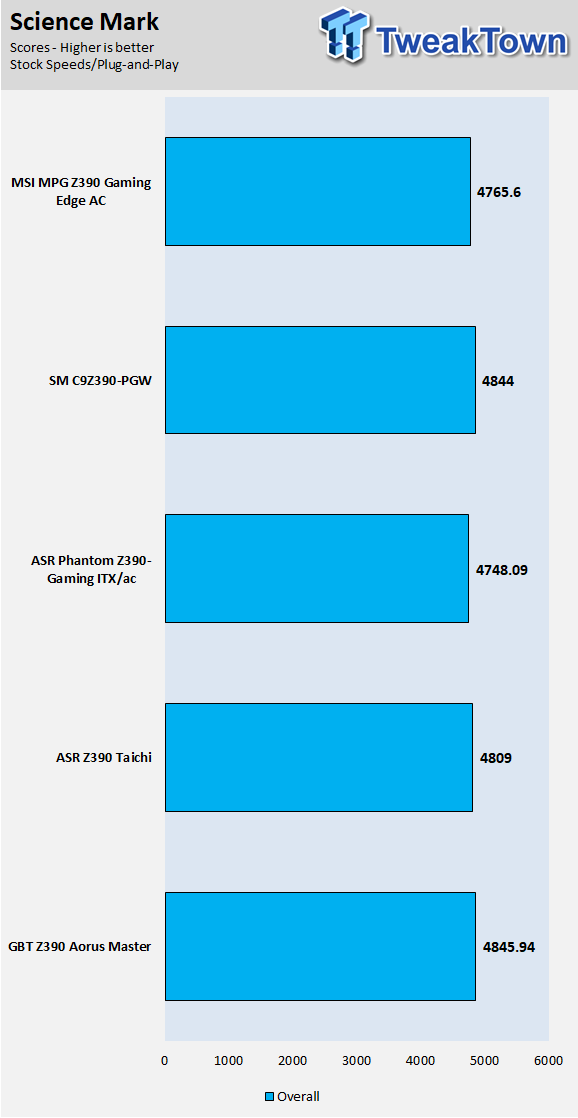 HandBrake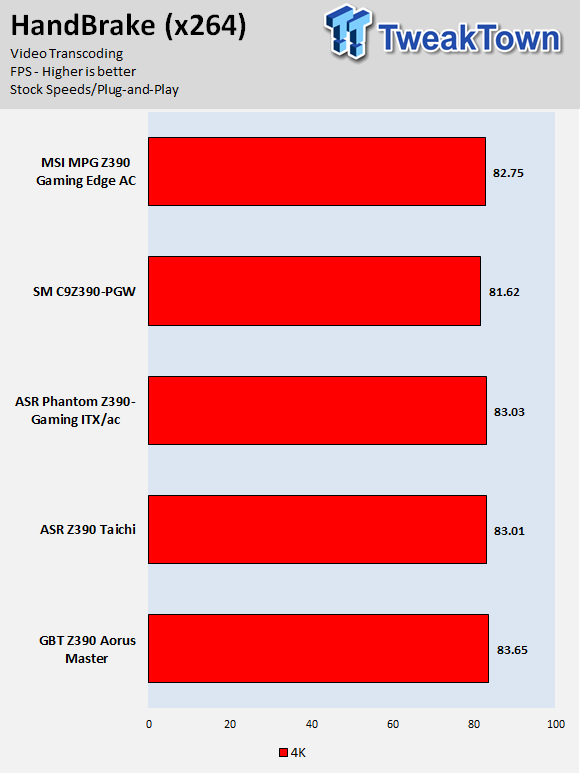 3DMark: Fire Strike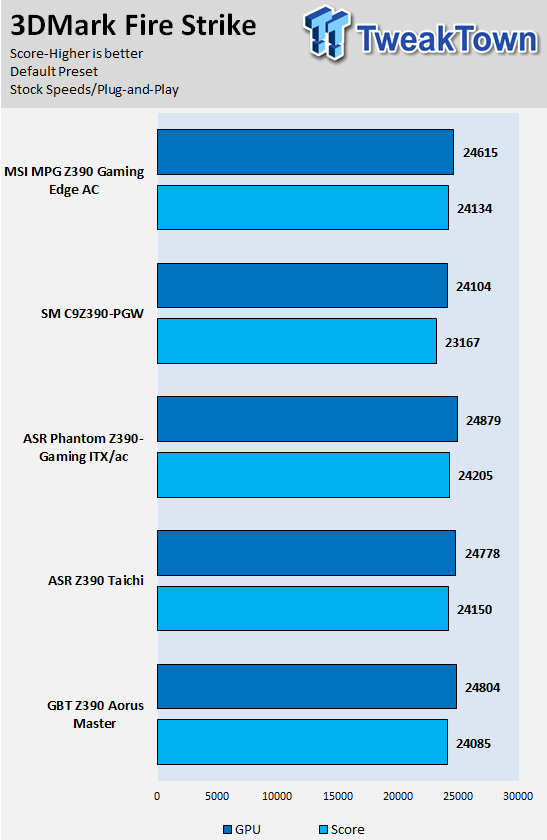 3DMark: Cloud Gate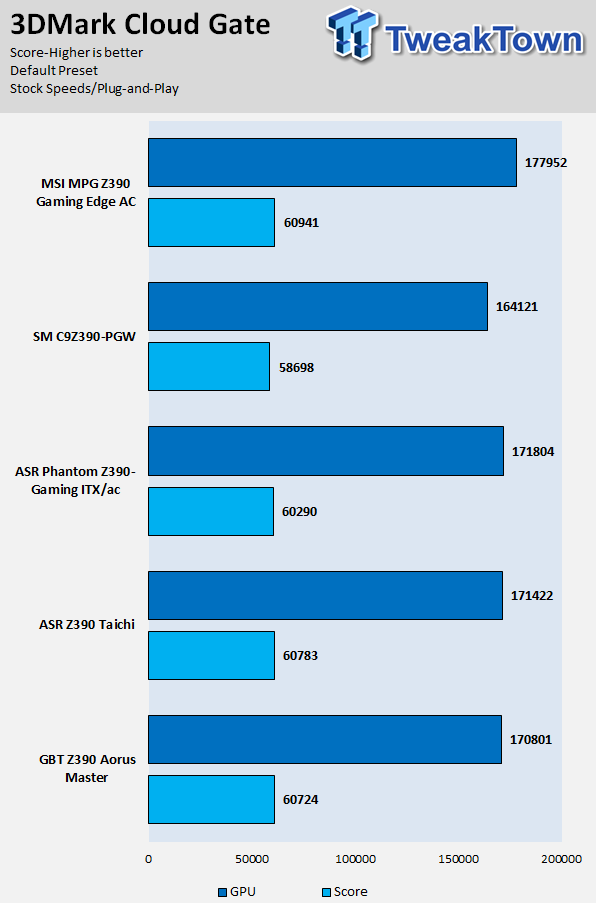 ResidentEvil 6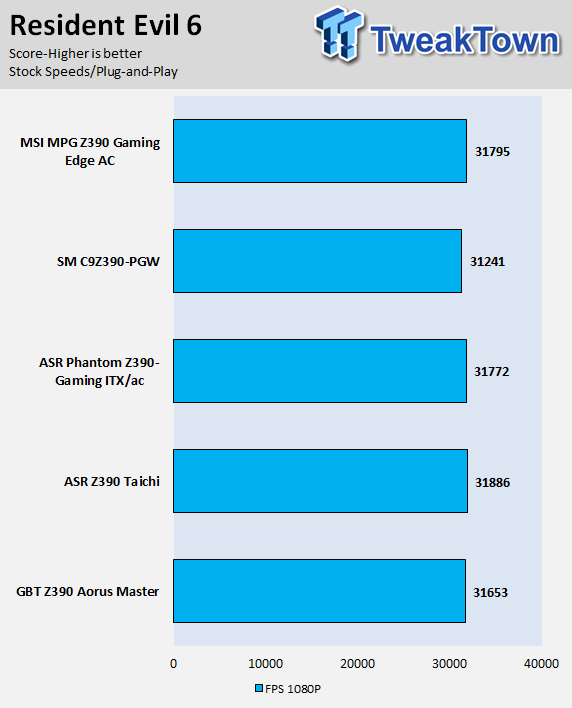 Overall, performance went up with a BIOS update on the motherboard, but one thing didn't go up GPU results. The reason is because of the PEX8747, it has historically been known to reduce the performance of a single GPU, but it's not a big impact.
System IO Benchmarks
CrystalDiskMark SATA6G: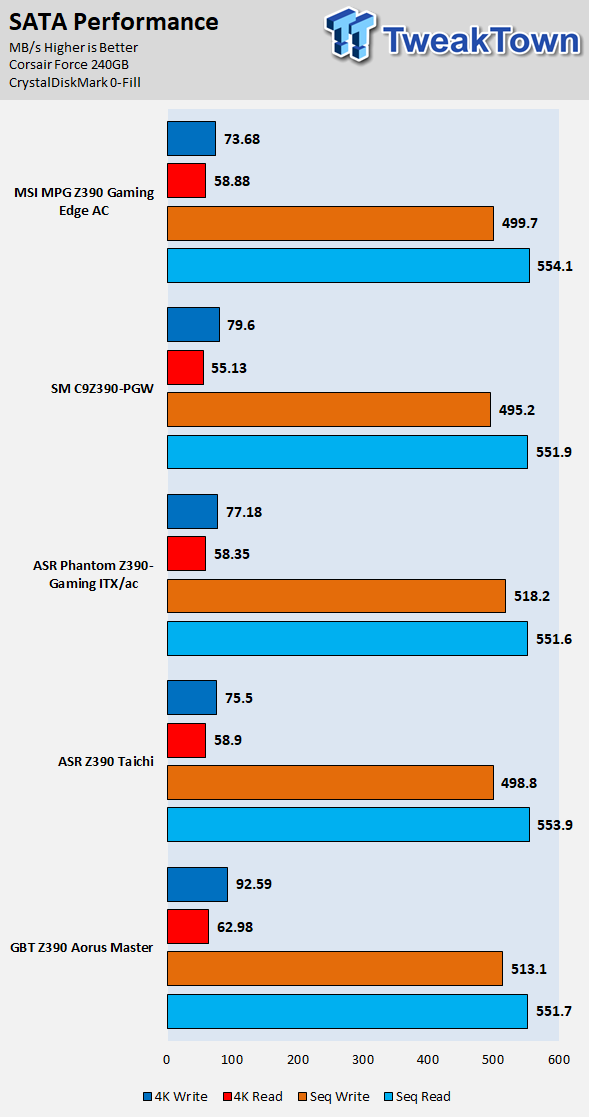 CrystalDiskMark M.2: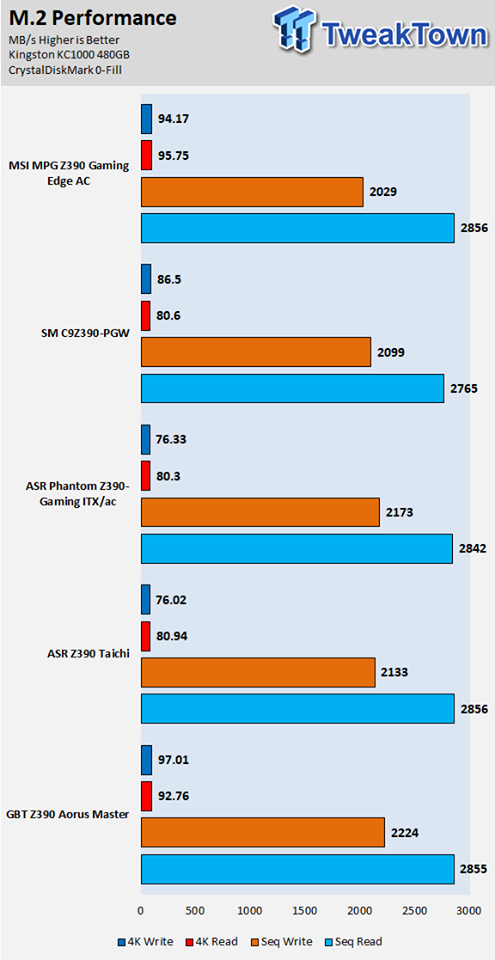 ixChariot Network Throughput: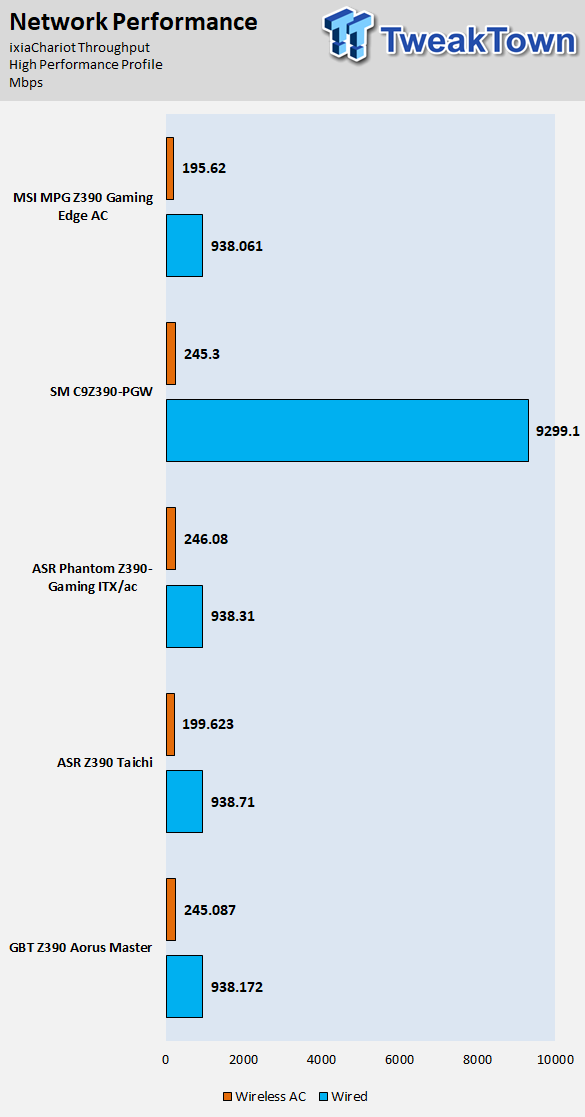 The SATA and M.2 storage performance are solid as is networking performance.
Audio RMAA 5.5:
I disable all audio features, set the correct bitrates, and then test the audio with a loopback test.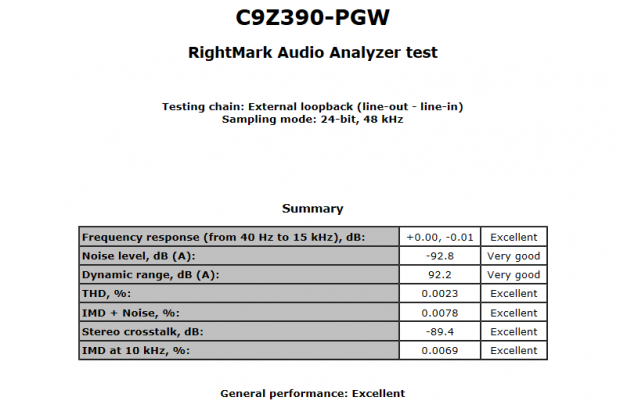 Sound Judgment by Ear: Excellent, very clean ALC1220 implementation. There are five ratings for audio: 1. Problems, 2. Okay, 3. Acceptable, 4. Very good, 5. Excellent
Thermal Imaging and Power Consumption
System power is measured at the wall with an AC power meter.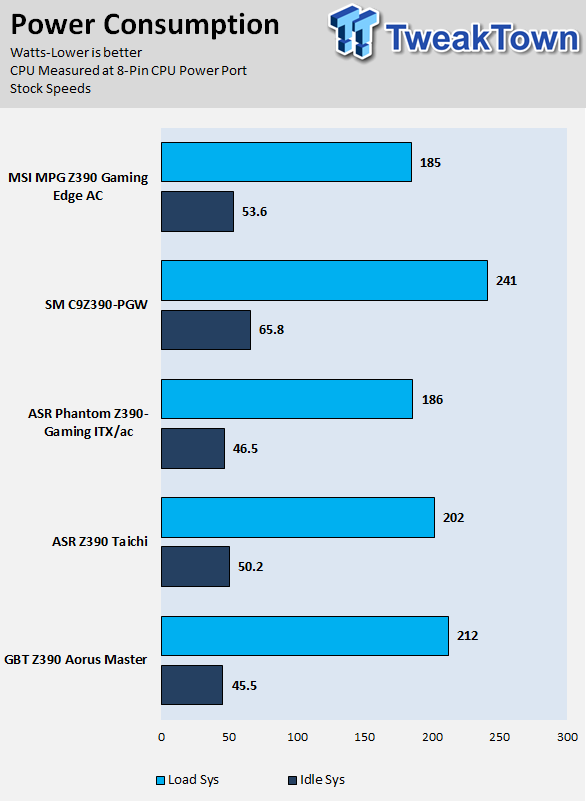 Note on Thermal Images: In the temperature section, we use our Seek thermal imaging camera to capture the surface temperatures of major components on the board. I look at the VRM and then all other things that light up the screen. If there is something to worry about, then I will state it. Otherwise, I will just show the hotter running parts of the board for fun. Unless some component is over 80-90C, then there isn't anything to worry about.
All systems will act differently, so I will look for commonalities, such as how far from the VRM the heat spreads through the PCB and the difference in temperature between the front side and back side of the PCB. Keep in mind, the majority of the heat from the VRM goes into the PCB as it is a giant soldered on copper heat sink. A larger difference in temperature between the back and front of the PCB points towards a more effective heat sink.
Thermal Testing at Stock Speeds:
The image on the left is always at idle, and the image on the right is at load. During ALL TESTS, fans to the right of the motherboard from the (Corsair H110i) radiator are left on automatic mode (ramps with internal block temperature). Additionally, a 120mm fan is situated right above the VRM, and it blows down at a medium rate (very quiet). Thermal Images are taken at loop 15 of Intel Burn Test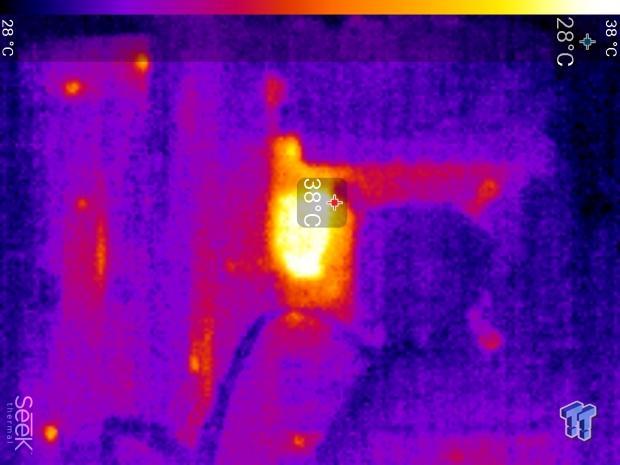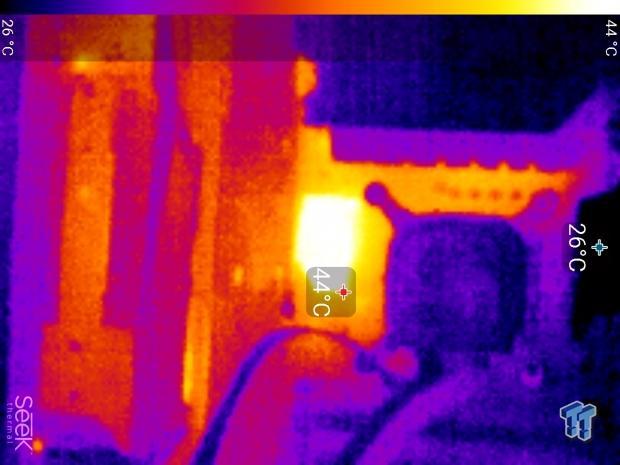 Full frontal.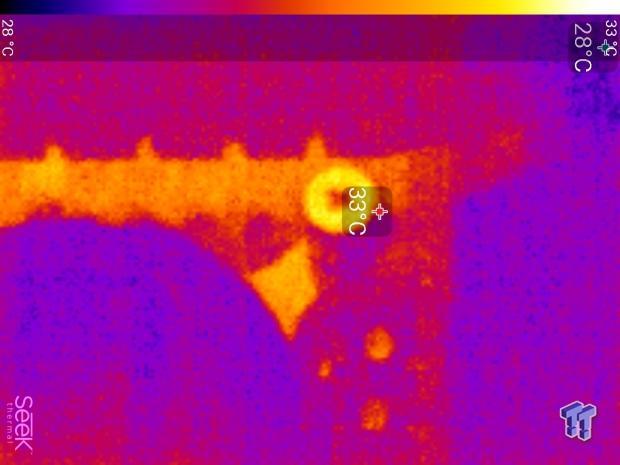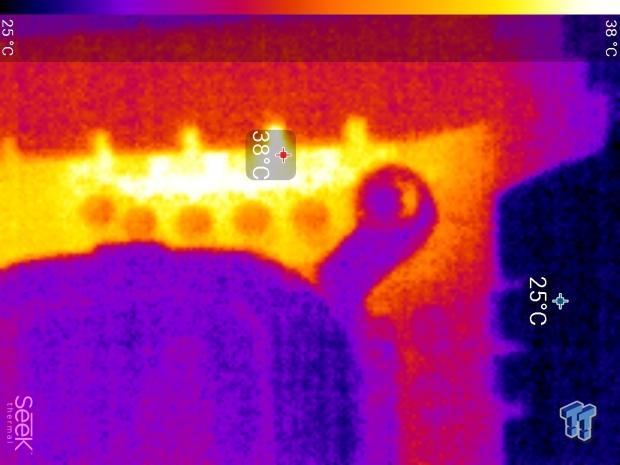 Up-close of the front of the VRM.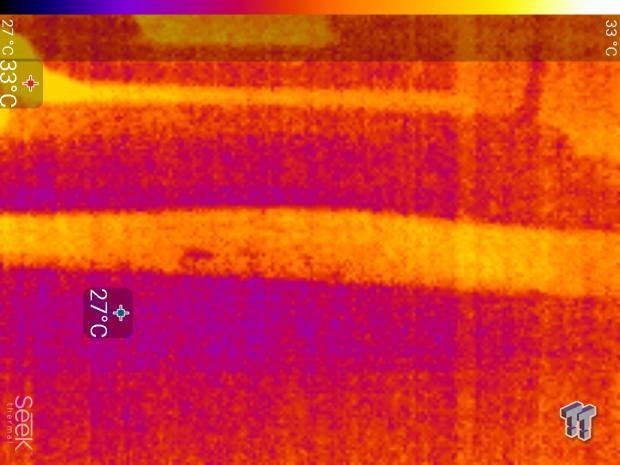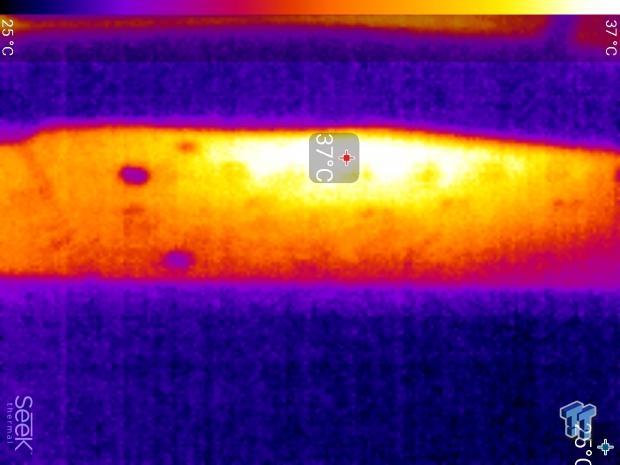 Up-close of the back of the VRM.
The C9Z390-PGW had solid VRM performance even though I didn't think it would since phase count is only six. It seems that Supermicro's implementation of Infineon power stages and a Primarion digital PWM has resulted in a 6-phase VRM totally capable of handling the 9900K. I would advise a fan over the VRm area with these new CPUs as they can pull a lot of power overclocked. Anything under 60C is great, 60-80C is acceptable, and anything above 80C is a bit worrisome (if at stock).
What's Hot, What's Not & Final Thoughts
What's Hot
Quality: The VRM on the C9Z390-PGW might only have six phases, but it was able to handle our overclock to 5.2GHz, we still recommend cooling fan pointed at the VRM. The six-phase VRM is capable of supporting the OC because of its quality level. Supermicro is also using the more expensive Texas Instruments re-drivers for USB 3.1 ports. They didn't cut corners where they could have.
PEX8747: The motherboard here today has the PEX8747 which can take x16 lanes from the CPU and output x32 lanes to the slots. That means you can run your GPU at x16 and then add in a four x4 M.2 NVMe RAID card and see some crazy speeds without the PCH bottleneck.
10Gbit NIC and Intel WIFI: Supermicro added in the Aquantia AQC107 10Gbit NIC that can also operate in 5Gbit, 2.5Gbit, 1Gbit, and 100Mbit modes. They also used Intel's latest Wireless AC card that can support speeds up to 1.733Gbps.
What's Not
Price: The Supermicro C9Z390-PGW is very pricey at $335.
Final Thoughts
Supermicro's C9Z390-PGW is one of the most loaded Z390 motherboards we have tested as of yet. It is a looker, but it also has some of the latest features and the ability to run two slots at x16 or four at x8. The motherboard is perfect as a workstation motherboard where both wired and wireless connections north of 1Gbit are present.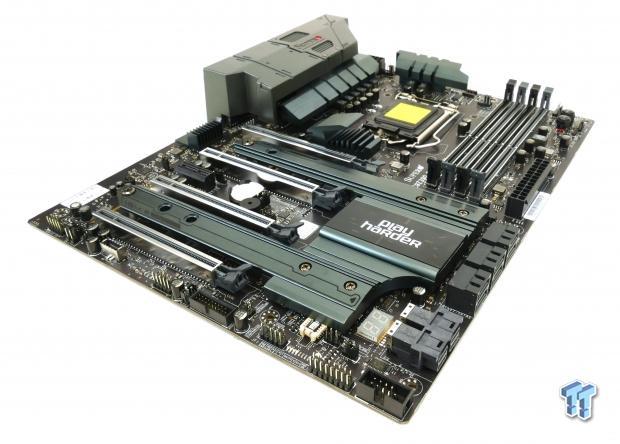 If you imagine a do it all system with an RTX 2080 Ti, a x16 M.2 RAID card, and support for a 9900K, then this motherboard can get that job done with ease. Want to add in U.2 Optane drives? The motherboard supports that. USB 3.1 (10Gbps) is present all over, and both M.2 slots have giant heat sinks on them. If you want some flash, the motherboard does have RGB LEDs as well, but it also has a dark color theme so you can let it sink into the background. If you are looking for a solid motherboard with an immense feature set, give the C9Z390-PGW a look.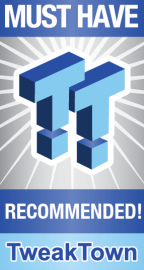 | | |
| --- | --- |
| Performance | 90% |
| Quality | 95% |
| Features | 97% |
| Value | 88% |
The Bottom Line: The C7Z390-PGW is loaded with the latest in networking both wired and wireless, and it's one of the only Z390 motherboards that has x32 lanes direct towards the CPU making it not only unique but fully loaded.
PRICING: You can find products similar to this one for sale below.

United States: Find other tech and computer products like this over at Amazon.com

United Kingdom: Find other tech and computer products like this over at Amazon.co.uk

Australia: Find other tech and computer products like this over at Amazon.com.au

Canada: Find other tech and computer products like this over at Amazon.ca

Deutschland: Finde andere Technik- und Computerprodukte wie dieses auf Amazon.de
We openly invite the companies who provide us with review samples / who are mentioned or discussed to express their opinion. If any company representative wishes to respond, we will publish the response here. Please contact us if you wish to respond.
Related Tags