Asustor AS4004T Low-Cost 10GbE NAS Review
Who said 10GbE NAS are expensive? Asustor doesn't think you should pay more for high-speed connectivity.
Published Dec 7, 2018 9:30 PM CST
|
Updated Tue, Nov 3 2020 6:57 PM CST
Introduction, Specifications, and Pricing
In June 2008, the world glimpsed gigabit Ethernet for the first time. By 2009, around the same time as the Y2K madness, the ratification process completed and we began to see products. That was nearly twenty years ago, and it's still the standard today. Could you imagine still using a 2009 Core2Duo processor today?
In a world dominated by hard disk drives, Gigabit Ethernet made sense. Most of our readers evolved their computing devices past spinning disks to flash-based storage where performance increased up to 35x over gigabit Ethernet. That's insane!
Gigabit's replacement has also been in place for a number of years, but 10-gigabit Ethernet technology has been expensive. Migrating can also be challenging due to cabling requirements and our addiction to wireless devices where the performance curve hasn't increased linearly with wired technology.
That was all in the past. Wi-Fi performance has increased, 10-gigabit switching technology cost have shrank, and devices with the technology are plentiful.
It's not that we just have consumer-grade devices, those came two years ago. The important milestones in 2018 revolve around affordable devices like motherboards, switches, and NAS.
The NAS is the last piece of the puzzle for many shippers and prices have started at $700+ with 10GbE connectivity that maximize your host system's NVMe SSD capabilities. Asustor thought that was too much and designed a storage-focused system to deliver 10GbE connectivity for less than $400. Today we're looking at the Asustor AS4004T.
Specifications
| | | |
| --- | --- | --- |
| Product | AS4004T | AS4002T |
| Pricing | $359.99 (Amazon) | $259.99 (Amazon) |
| CPU | Marvell ARMADA-7020 | Marvell ARMADA-7020 |
| CPU Frequency | Dual Core 1.6GHz | Dual Core 1.6GHz |
| System Memory | 2GB DDR4 | 2GB DDR4 |
| Maximum Memory Upgrade | NA | NA |
| Drive Bays | 4 | 2 |
| Supported RAID | JBOD, 0, 1, 5, 6, 10 | JBOD, 0, 1 |
| Encryption Acceleration | NA | NA |
| Network | 1x 10GbE, 2x 1GbE | 1x 10GbE, 2x 1GbE |
| USB | 2x USB 3.1 Gen 1 | 2x USB 3.1 Gen 1 |
| Audio | NA | NA |
| Dimensions (HxWxD) | 170mm x 174mm, 230mm | 170mm x 114mm x 230mm |
| Power Supply | Yes | Yes |
| Sound Pressure Level | 19 Db Idle | 18.6 dB Idle |
| Cooling | 1x 120mm | 1x 70mm |
The main feature of the new Asustor AS4004T is the 10G-BASE-T port, but it's hardly the heart of the system. This consumer-focused NAS appliance features a Marvell ARMADA 7020 dual-core processor running at 1.6GHz with 2GB of DDR4 system memory.
Asustor designed the system for storage and maximum connectivity capabilities rather than multimedia features we often see tacked onto systems that are more expensive. Features like HDMI output for third-party software are absent.
I wouldn't call the AS4004T a stripped down model; it just gets back to the core features of this category before companies made them all-in-one PCs, servers, media centers, and NVR systems to control a network of cameras.
That omitted features found on systems that are more expensive stops at the IO ports. The Asustor AS4004T still uses the same ADM operating system and software found across the Asustor product line.
Pricing, and Warranty
We found the Asustor AS4004T 4-bay system on Newegg for $363.72. The AS2004T, the 2-bay model with 10GbE technology was not listed at the time of writing.
Both new systems carry a best in class 3-year warranty.
A Closer Look
The system has a strong consumer design with a magnetically held front cover and just enough status LEDs to keep the user informed. The back of the system is much more impressive. 10GbE connectivity at this price point is is the strongest hardware feature, but these systems are a combination of both hardware and software playing off each other to deliver an impressive user experience.
CIFS Performance Testing
Testing Notes
Our test system is actually a cluster of systems that starts with a QCT (formally Quanta) dual-processor server loaded with an Intel 10GbE NIC. The 10GbE NIC faces a Supermicro switch with 48 10GbE and 4 40GbE ports that allows us to maximize our infrastructure.
The multiclient test utilizes ten dual-processor systems with each loaded with two Hot Lava 6-port NICs per server. The array of servers give us 120 "clients" running in a virtualized environment but with a dedicated network for each client.
We tested all of the systems in this review using Seagate IronWolf Pro 12TB HDDs in RAID 5. Every system was fully loaded with drives. Some of the systems in this comparison use four, and others use five drives.
Sequential Read Performance
There are so few low-cost NAS with 10GbE connectivity we had trouble finding comparison systems. In the end, we decided to let the AS4004T set the bar for low-cost 10GbE performance and run the other popular systems with gigabit speeds.
10-gigabit Ethernet with sequential data makes the differences between 1-gigabit performances between systems seem trivial. All of these systems will deliver strong gigabit transfers
Sequential Write Performance
We see a little more variance in the 1GbE tests between systems with sequential data moving to the NAS under test. To get the most out of the AS4004T you want to run it on a 10-gigabit network.
Sequential Mixed Workload Performance
The 10-gigabit network allows the RAID 5 array to follow the traditional bathtub curve that is prevalent in mixed workloads. Most storage technology can read and write at very high speeds but the closer it gets to a 50% mix, the slower the transactions become due to increased latency. With 1GbE networks, the bottleneck keeps you from even seeing the peaks on both edges, it's performance you simply don't have access to.
Random Read Performance
Most random workloads will not see an increase in performance with 10GbE on consumer-class NAS appliances. You need a very powerful processor for this workload to begin with. That's why the Asustor AS6404T, with a quad-core Intel processor, performs so well in the 4KB test using queue depth scaling to magnify the workload.
Random Write Performance
We see the same behavior with random data writes with these systems. Processing power and the system cache contributes a greater amount than the network connectivity technology in a low-cost NAS.
Random Mixed Workload Performance
The random mixed workload chart shows our point about random performance hanging off of processing power. Even with 10-gigabit, the AS4004T shows a fairly flat line from 100% reads to 100% writes with between 200 and 150 IOPS. The upper market AS6404T running on a gigabit network delivers a lot more.
This only impacts application performance running off of the NAS. When you simply store files on the system, those are likely large block size files moving sequentially. That means the data comes and goes in order, rather than small pieces spread across the drives in the array.
Traditional Server Workloads
That doesn't mean the Asustor AS6404T is bad for application use. Of the systems we tested, the AS4004T delivers strong performance for this price class.
Multiclient Office Workload
Standard server applications are one thing but 120 computer users reading and writing data to the NAS is much more difficult. Our multi-client test is so demanding many low-cost NAS can't even run the workload.
We didn't have that problem with the AS4004T, but the system performed best with around eight users working from the system at the same time. This workload uses Microsoft Office applications so a single user can't saturate the system. After eight users at the same time, the latency starts to overtake the system and the performance decreases as we add more users.
iSCSI Application Performance
Our only iSCSI test today comes from PCMark 8, the standard application storage test. Here we run nine applications used to produce ten tests. The applications come from frequently used software from Adobe, Microsoft, and two games where the data is on the NAS, but processed on the host PC.
Application data is largely small random files except for the sections that load images and videos. The Asustor AS4004T performs well in this test, but there is very little separation between the 10-gigabit and gigabit network.
Final Thoughts
Asustor bringing NAS back to basics with 10-Gigabit Ethernet is a strong selling point for this system. Many shoppers want a NAS to store data and want to have access to it at very high speeds. I talk to a lot of people that shop for NAS specifically has a 10-gigabit connectivity at an affordable price. For many, $700+ is not affordable after you tack on the cost of drives.
HDMI multimedia output is a really nice feature, but it's not required for most users. Many of these systems sit on a shelf, or in a closet where there isn't even a home theater to connect it to. I don't want to see the direct-attached multimedia features stripped out of every NAS, but products like the AS4004T strike the perfect balance between features and affordability.
Asustor didn't strip the most innovative features of this system. The golden features are all in the software stack where the company continues to develop new functions at a rigorous pace. Just prior to our review, Asustor launches EZconnect.to and EZ Sync. The former allows users to connect to the NAS from a remote location, like your mobile phone away from your home network. EZ Sync will synchronize files between your host system and the NAS. The NAS and the host machine don't have to be on the same network. Just imagine having a low-cost cloud-connected backup that is virtually unlimited in space without paying the high AWS fees. These are just two of the hundreds of features found in ADM 3.2, Asustor's latest operating system designed for easy setup and integration.
The Asustor AS4004T sells for less than $400 and is the lowest cost 10-gigabit enabled NAS we've tested. Asustor cut a few corners, mainly trimming the IO fat, to get the cost down but every key storage feature remains. This isn't a system for running your virtual machines from, but if your key use is storing files, the AS4004T is a great choice for your home or small office.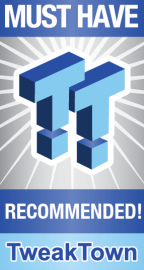 | | |
| --- | --- |
| Performance | 95% |
| Quality | 95% |
| Features | 95% |
| Value | 92% |
The Bottom Line: Asustor build a perfect solution for users looking for a low-cost storage system without the expense of bells and whistles not everyone requires.
PRICING: You can find products similar to this one for sale below.

United States: Find other tech and computer products like this over at Amazon.com

United Kingdom: Find other tech and computer products like this over at Amazon.co.uk

Australia: Find other tech and computer products like this over at Amazon.com.au

Canada: Find other tech and computer products like this over at Amazon.ca

Deutschland: Finde andere Technik- und Computerprodukte wie dieses auf Amazon.de
We openly invite the companies who provide us with review samples / who are mentioned or discussed to express their opinion. If any company representative wishes to respond, we will publish the response here. Please contact us if you wish to respond.