TweakTown's Rating: 94%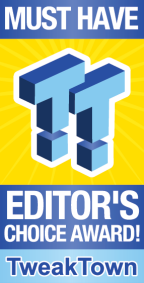 The Bottom Line
AMD knocked it out of the park with the 2200G and the 2400G; both CPUs are excellent for entry-level PC gamers and are pretty much unmatched at their price points.
Introduction, Specifications, and Pricing
A month ago we published an article detailing AMD's plans to add Radeon Vega graphics to a single Ryzen CCX using AMD's more refined 14nm+ silicon, and today we will examine the new APUs.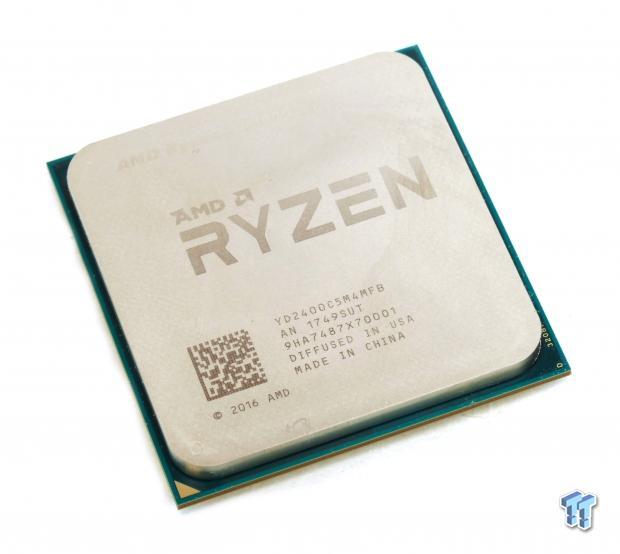 The performance figures teased a month ago were very impressive, and today we will show you our results comparing the new Ryzen 5 2400G and Ryzen 3 2200G against competitors as well as Ryzen 3 and 5 processors already in the wild. The new Raven Ridge CPUs we are testing today offer enhanced technologies and are part of AMD's Ryzen 2000 series of processors, which are compatible with 300-series motherboards with a simple BIOS update.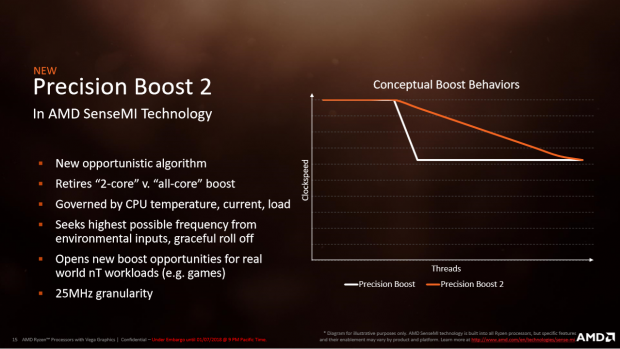 The new APUs use a few new technologies including Precision Boost 2. Precision Boost 2 offers a much more granular boost on cores and a more dynamic boost range, so it's not just a few cores boosting or all. The improved slope should increase performance at stock and uses telemetry data to boost the cores while aiming for the best performance possible.
The Raven Ridge desktop CPUs utilize much of the same technology seen in the Ryzen Mobile APUs, and we detailed their new technologies in an article published in October of last year. AMD's Infinity Fabric is what links the Vega graphics to the CPU, media engine, and the rest of the APU. AMD has also improved on power sharing between the CPU and the GPU to improve power usage and performance. In the real-world, you won't stress the GPU and CPU to 100% at the same time, so it makes sense to produce a power rail system that can benefit mixed workloads over synthetic ones.
Specifications

AMD is launching two APU SKUs, the Ryzen 5 2400G and the Ryzen 3 2200G. The 2400G will offer 4 cores and 8 threads in a single CCX, with a base clock of 3.6GHz and a boost up to 3.9GHz. It offers 11 Vega compute units with a clock up to 1250MHz. The 2200G offers 4 cores and 4 threads (no SMT) in a single CCX with a 3.5GHz base clock and a 3.7GHz boost. It will offer 8 Vega compute units with a clock up to 1100MHz. Both CPUs have the same L3 cache size, 65W TDP, and support up to DDR4 2933MHz.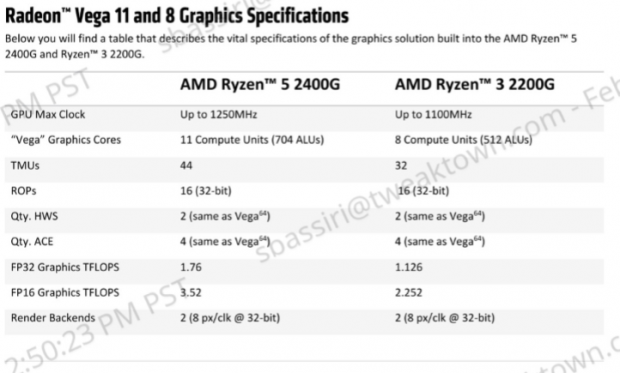 The 2400G uses what is called Vega 11, and the 2200G uses Vega 8, these numbers correspond with the number of compute units in each integrated GPU. Both have 16 32-bit render output units, but the Vega 11 has 44 texture mapping units while the Vega 8 has 32 TMUs. The new integrated graphics are based on the big Vega 64 and 56 high-end GPUs, but they are scaled down a lot and don't use HBM.

The platform has also changed a bit. The new APUs have x8 PCI-E 3.0 for graphics cards and x8 for other devices. When we talk about other devices, we are referring to the FCH (chipset), which takes up x4, leaving x4 PCI-E 3.0 for other connectivity. In this case, most motherboards with an x4 PCI-E 3.0 M.2 slot will still operate at x4 PCI-E 3.0 (we tested, and our M.2 slot was running x4 PCI-E 3.0).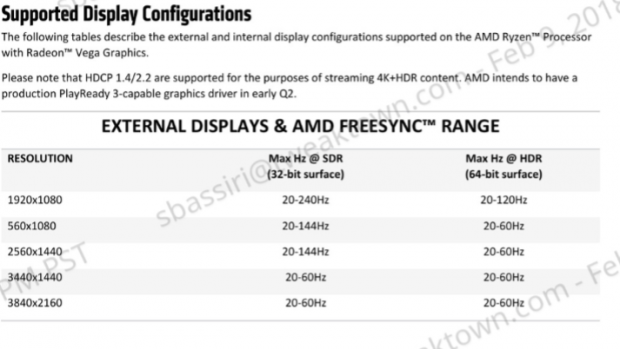 It's also worth noting the display capabilities of the new APUs. They support FreeSync and HDCP 1.4/2.2. That means they can output to gaming monitors and utilize FreeSync while also streaming 4K+HDR content.
Pricing
The Ryzen 3 2200G will cost $99, and the Ryzen 5 2400G will cost $169.
The CPUs and Coolers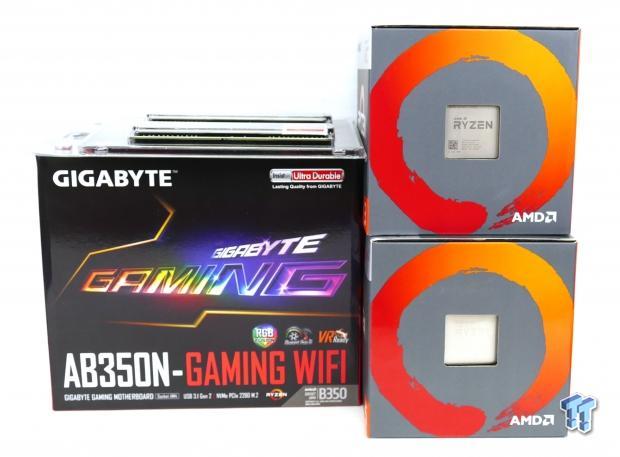 The CPU boxes are very similar to the boxes of other Ryzen 3 and 5 CPUs that came with coolers. AMD also sent over a compatible motherboard and DDR4 kit.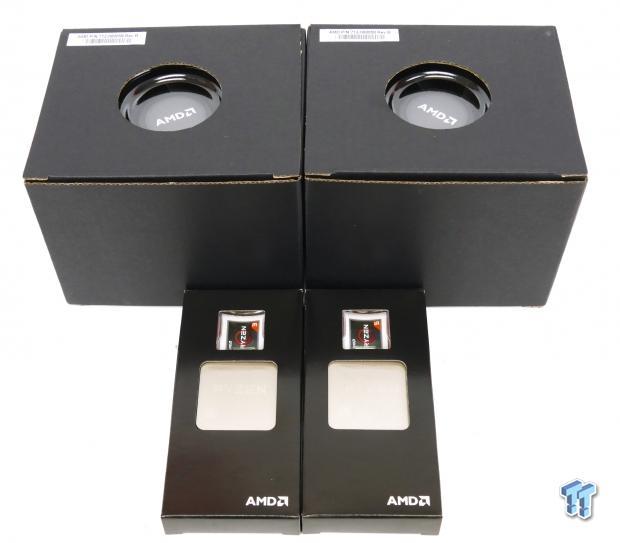 Packaging is pretty much identical to what we have seen from AMD in the past.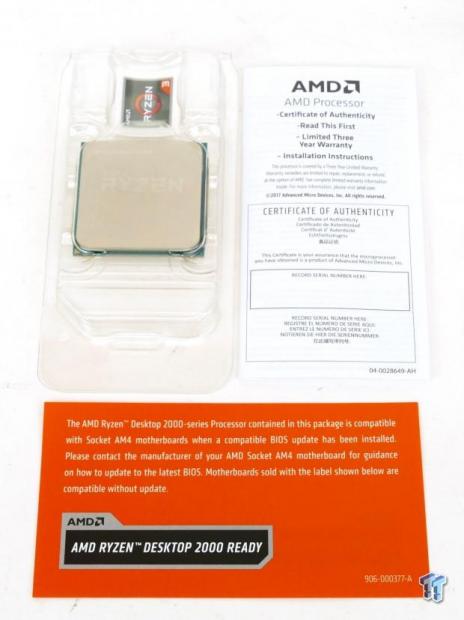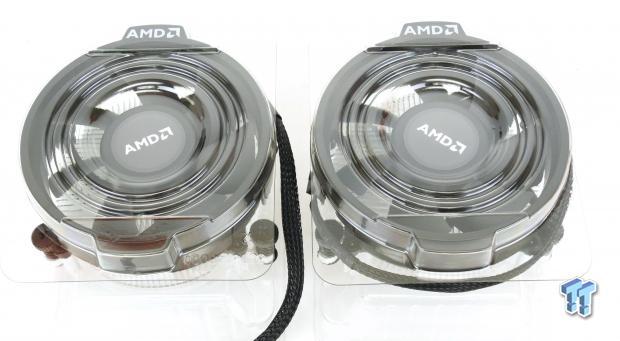 CPU packaging comes with one surprise, an orange slip, and it's important. Motherboard vendors will release new BIOS that support the new 2000-series CPUs, but you aren't guaranteed support from 300-series motherboards unless you see that "AMD Ryzen Desktop 2000 Ready" logo on the box. However, if you buy a 300-series motherboard with CPU-less BIOS recovery, then you could potentially flash the motherboard with a supporting BIOS without a 1000-series CPU.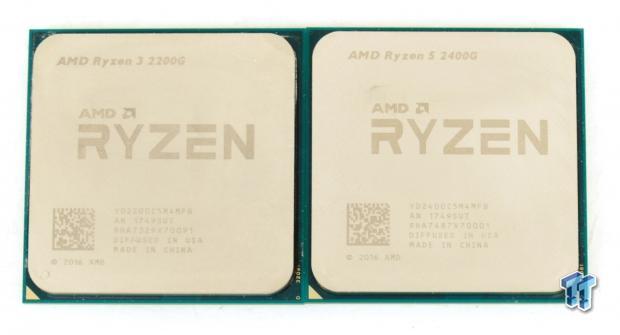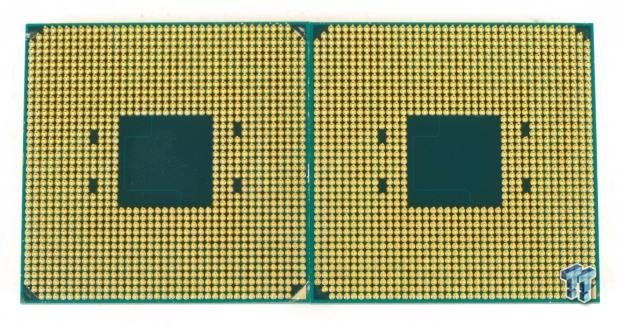 The top and bottom of the CPUs are identical to that of other Ryzen CPUs as far as we can tell. However, AMD has opted to use traditional non-metallic TIM instead of metallic TIM on these new CPUs to help lower price.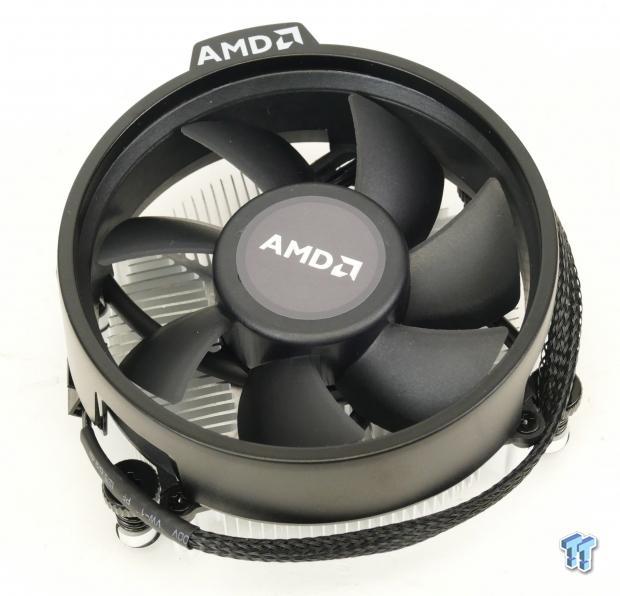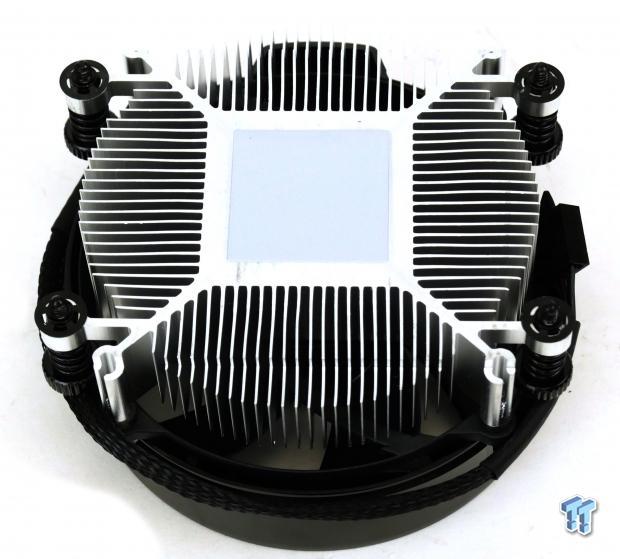 The CPU cooler provided with both CPUs is called the Wraith Stealth, which is based on aluminum. The heat sink fan comes with pre-applied thermal paste.
Test Setup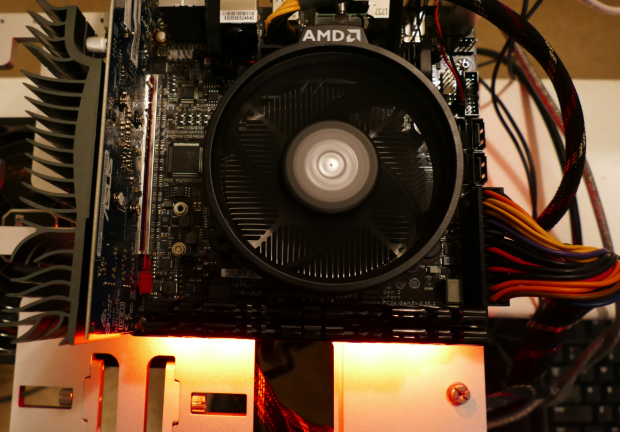 AMD provided us with the B350 motherboard and the RAM. We also went ahead and purchased an NVIDIA GT 1030 for comparison, as it's a sub-$100 GPU.
Out of the Box Performance: CINEBENCH, wPrime, and AIDA64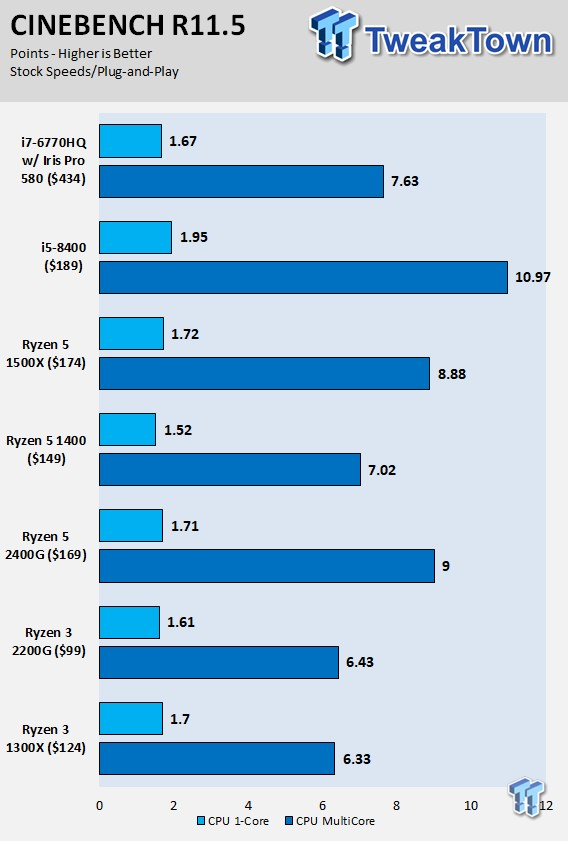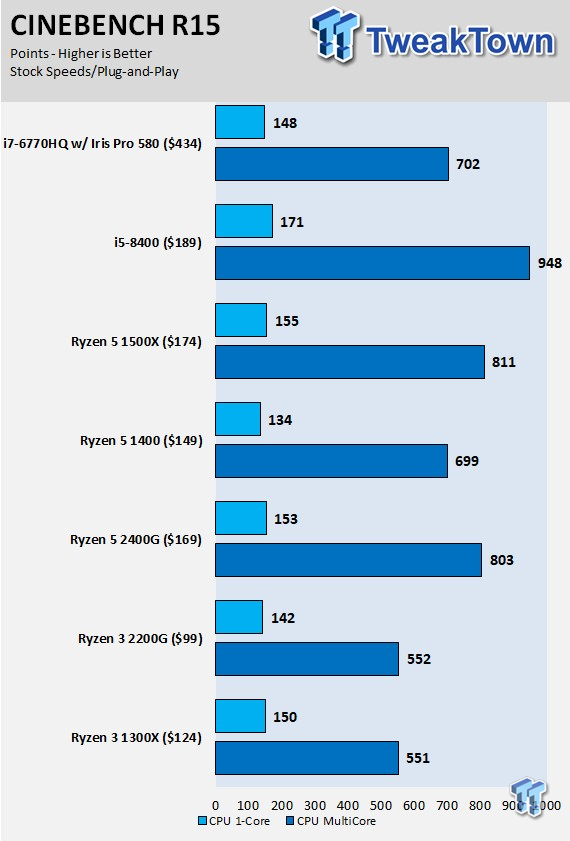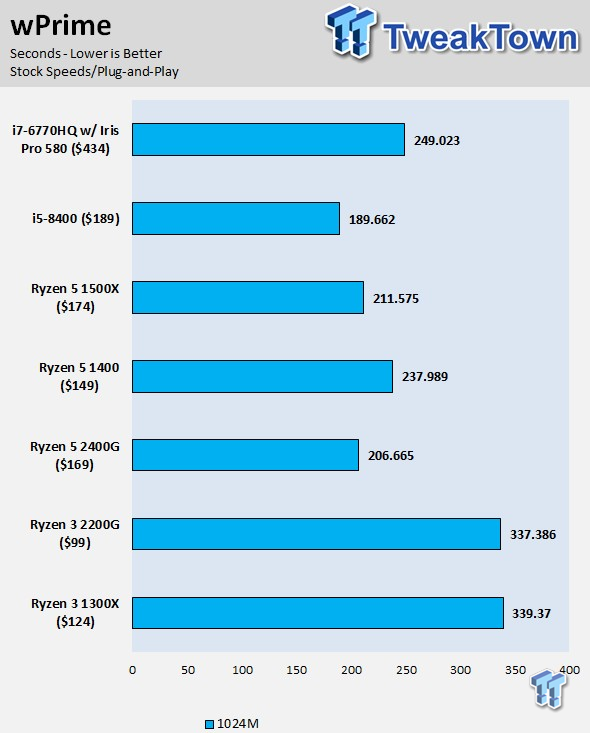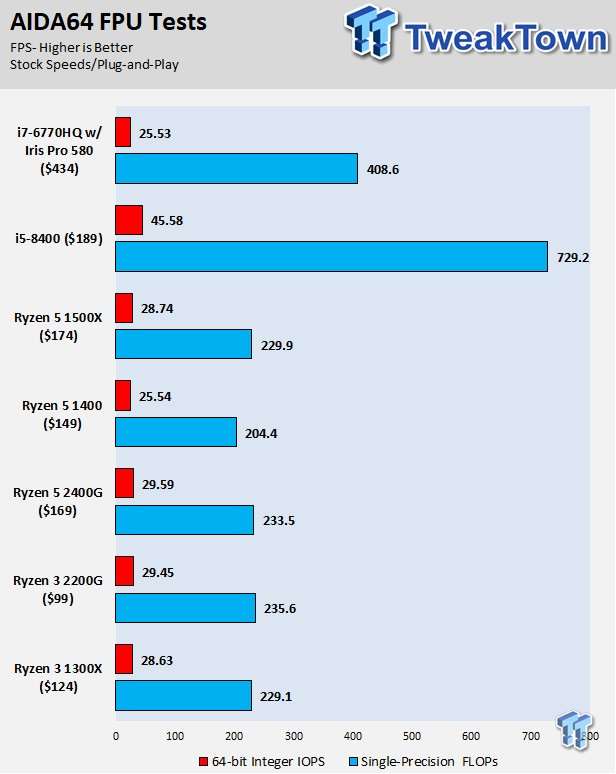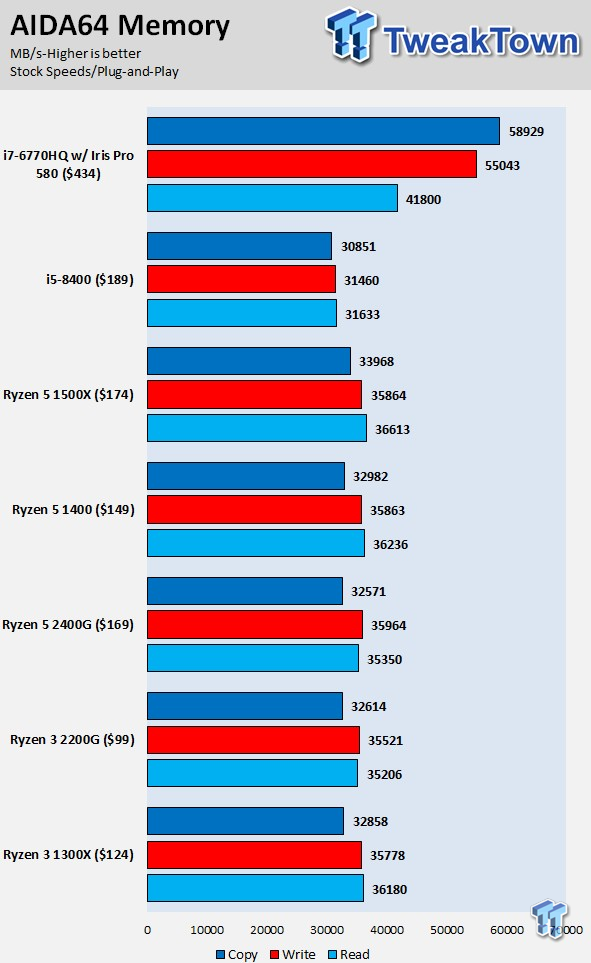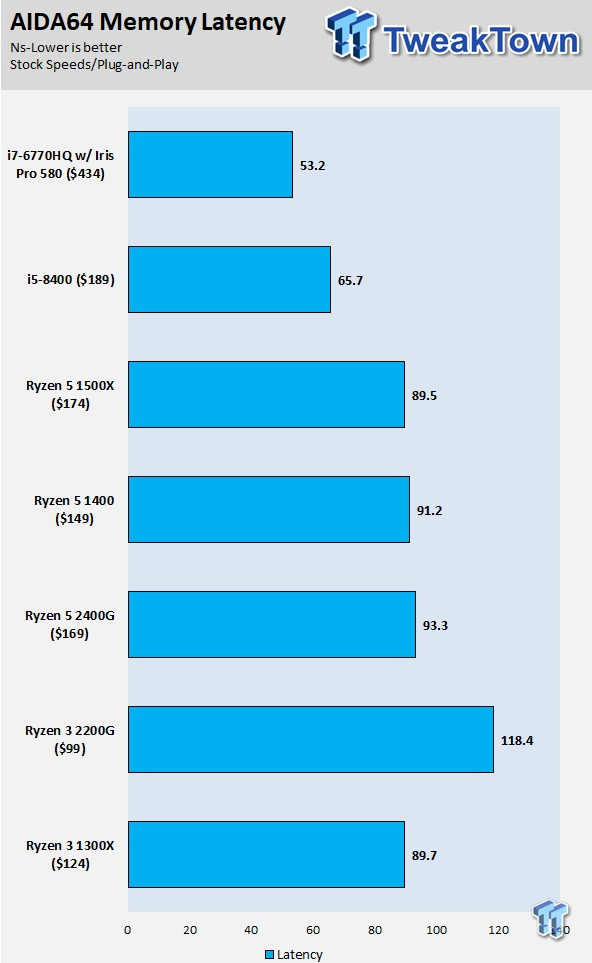 The 2400G is a beast and makes the Ryzen 5 1400 basically obsolete, and the 2200G competes well with the 1300X. Overall, we were quite impressed with the single CCX versus the two CCX system in the Ryzen 1000-series CPUs. With a single CCX, the latency from inter-CCX communication is removed and we get better performance. While the Ryzen 1000-series CPUs do have more L3 cache (even more so in the 1500X), the new 2000-series CPUs are keeping up with the single CCX. Precision Boost 2 seems to be doing a solid job here. Memory latency on the 2200G is a bit high, but we used AIDA64, which says it isn't yet optimized for these new APUs. If you are wondering about the 6770HQ's memory speeds and why they are so insane, the reason is that the core also has access to the same eDRAM as the Iris Pro graphics.
Perf: Handbrake Video Transcoding, ScienceMark and SuperPI
Out of the Box Performance: Handbrake, SuperPI, and ScienceMark
HandBrake UHD Video Transcoder (x264)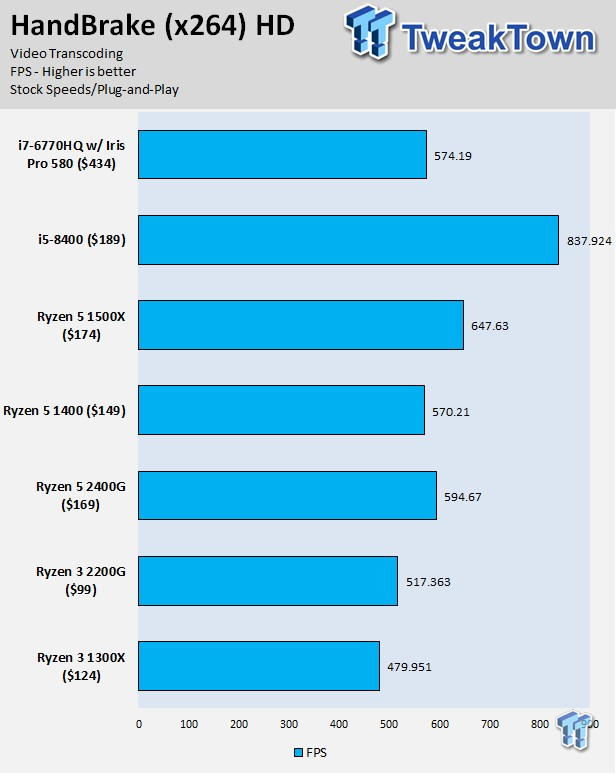 HandBrake HD Video Transcoder (x264)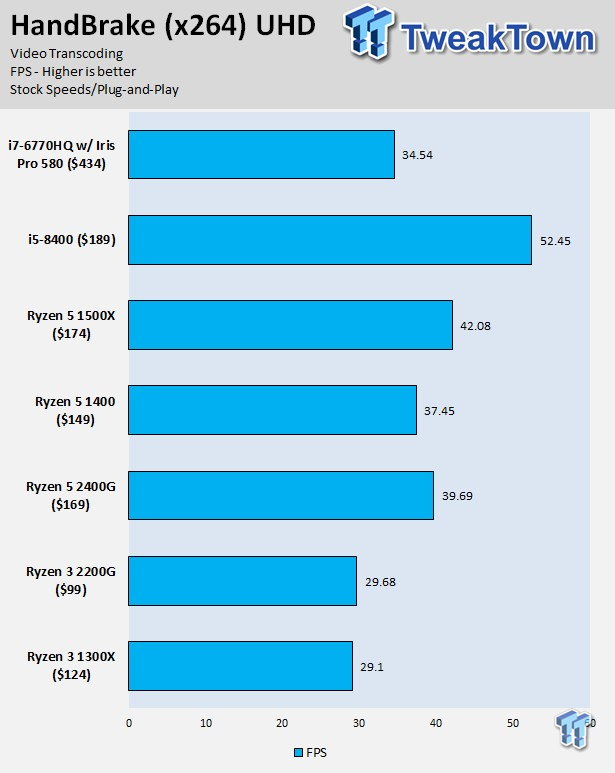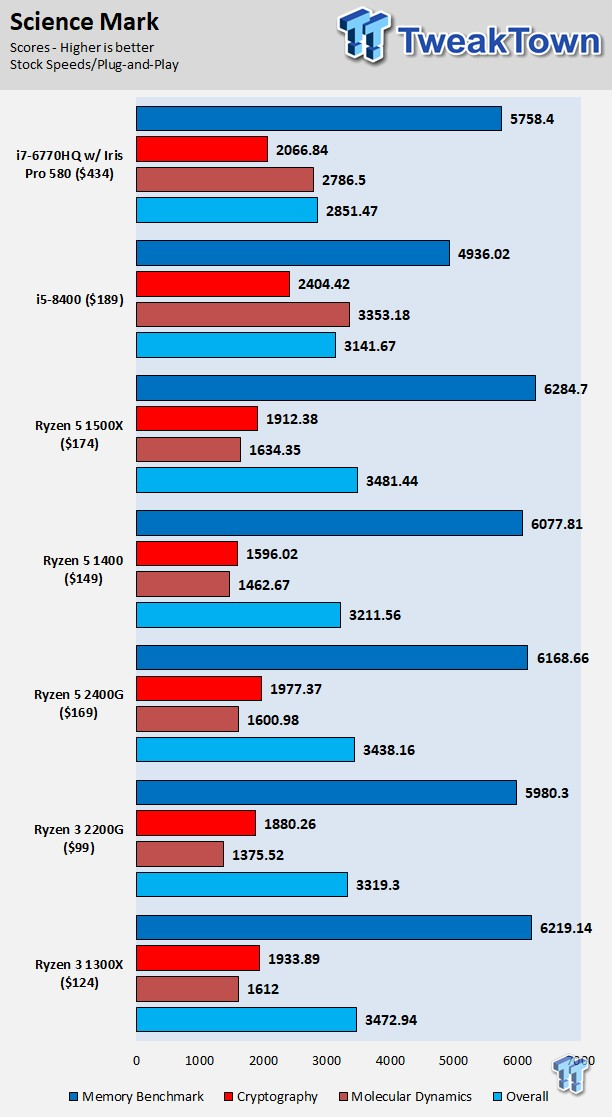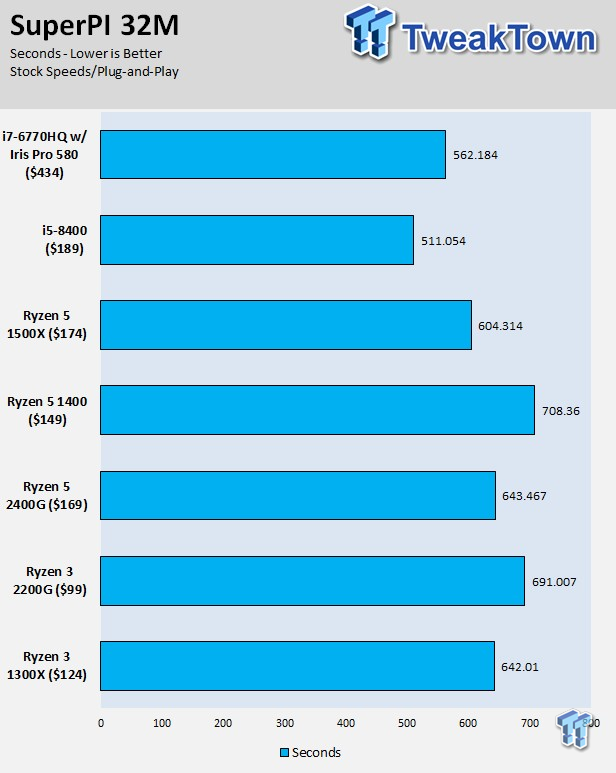 In HandBrake, the new CPUs are outdoing their native competition (1400 and 1300X respectively). The 1500X's higher cache might be helping feed the cores better. ScienceMark shows strong results and seems to like this architecture; it's one of the legacy benchmarks we use so that users can compare their older systems to newer ones. In SuperPI we see the Ryzen 5 2400G do very well. However, it would seem that the result for the 2200G reinforces the latency we saw earlier, since SuperPI loves low latency memory. We used the latest BIOS and drivers provided to us just a few days before launch for all of our testing.
Synthetic Gaming Performance: UNIGINE and 3DMark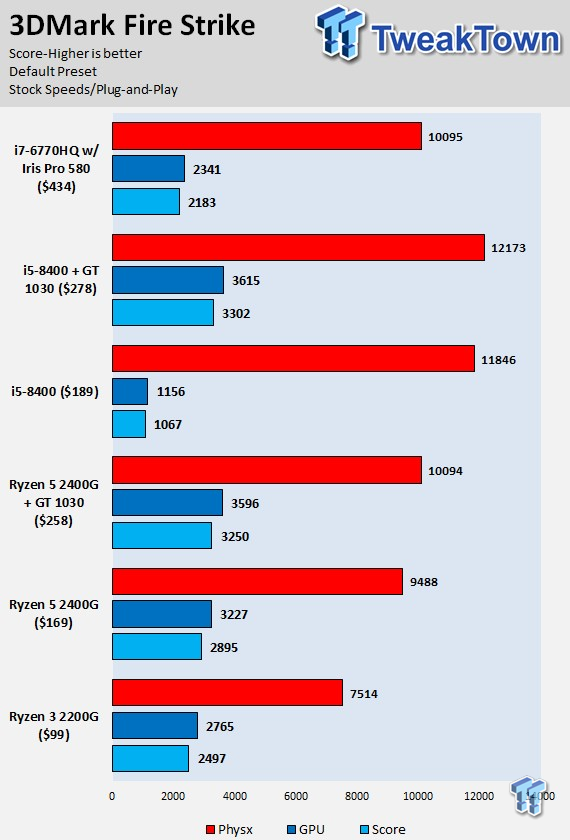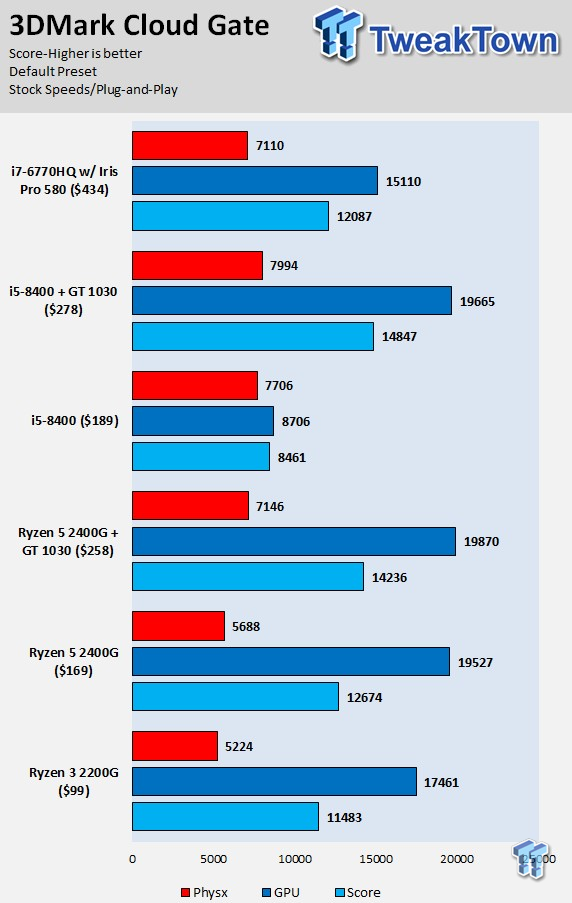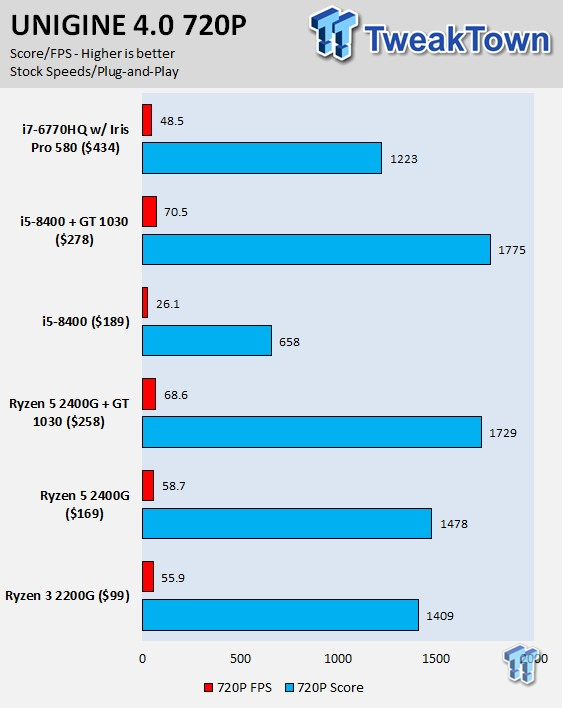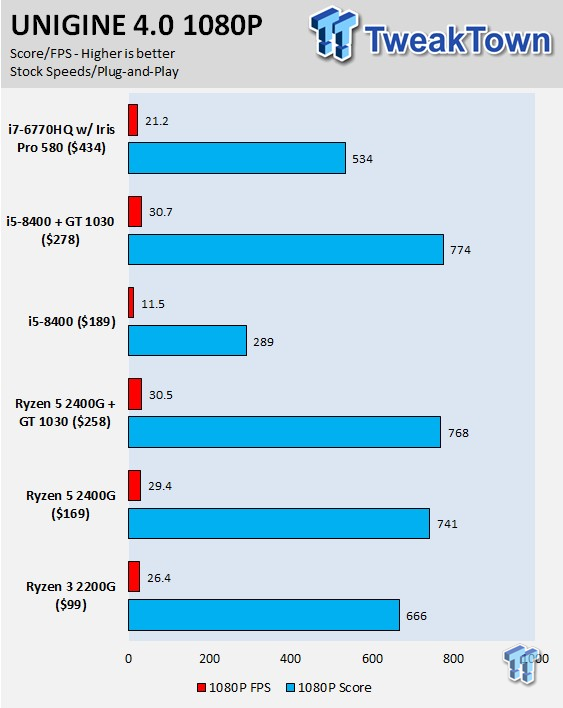 Synthetic graphics benchmarks are very interesting, but perhaps not for the reason you might be thinking. We know that the GPU and CPU within the new APUs share power, synergistic power rail sharing is going on and it favors real-world scenarios over synthetic ones. We can see that when we add the GT 1030 to the 2400G, the Physics score (which represents the CPU) shoots up 20% since the power is now being given to the 2400G's CPU instead of being shared.
The GPU score only goes up slightly when using the GT 1030, and, to us, that means during gaming scenarios the GPU is getting most of the power, which makes sense. The Intel UHD graphics don't really stand a chance against Vega based architecture, but Iris Pro is doing much better than Intel's UHD.
Unigine shows us the slight difference between the 2400G and 2200G when it comes to their GPU parts. What's interesting to note is how close the 2400G and i7-8400 are in these tests, so we will keep that in mind with real games to see if the results are the same.
Gaming Performance: Tomb Raider, GTA:V & More
Out of the Box Gaming Performance: Resident Evil, Tomb Raider, GTA:V, Ashes of Singularity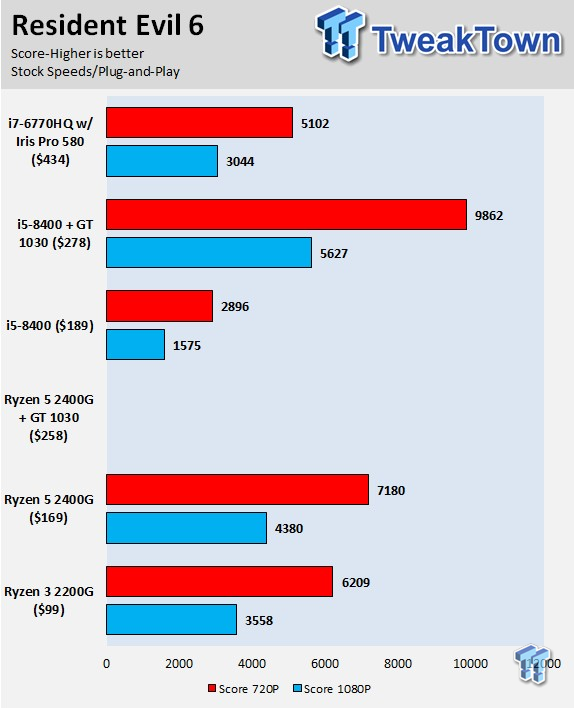 Rise of the Tomb Raider

Ashes of the Singularity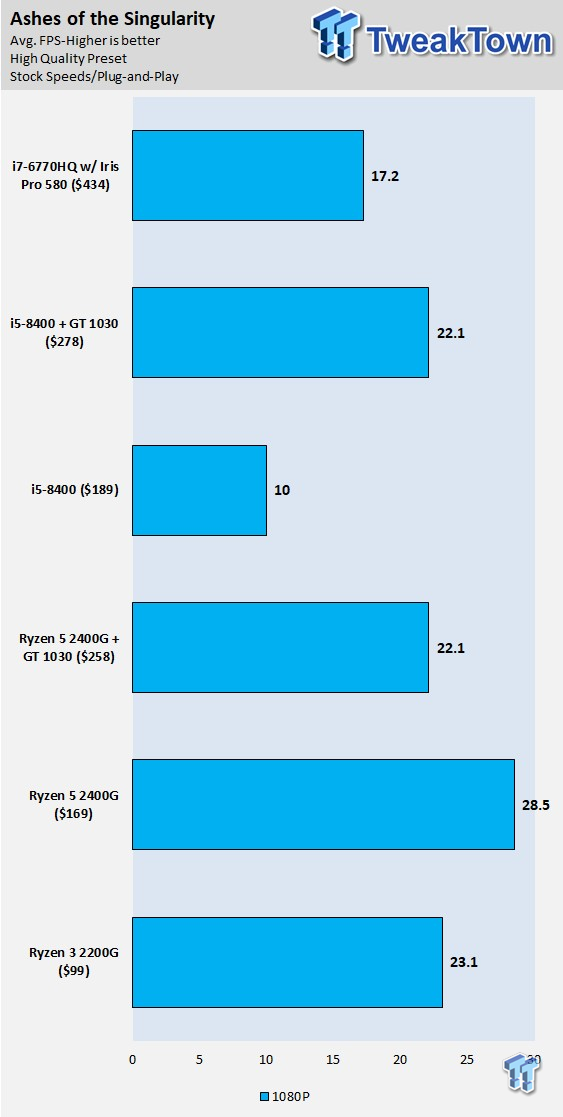 Now we look towards some actual games and not synthetics. In Resident Evil 6 we see that Intel is favored with a discrete graphics card. However, we can also see how much better the Vega-based graphics are than Intel's UHD 630 graphics. We were not able to launch the game with Ryzen plus with discrete card, and that is why the score is absent for Resident Evil 6.
GTA:V is a nice benchmark where we see the 2400G do exceedingly well, even against the i5-8400 and GT 1030. Even with the Ryzen 5 2400G with the GT 1030, the integrated graphics scores are higher in GTA:V. Rise of the Tomb Raider does seem to favor a stronger CPU, and that is why the 2400G at stock isn't as powerful as the 2400G with the GT 1030.
It's also why the GT 1030 with the 8400 does better than the 2400G with the GT 1030 by a noticeable margin (something we didn't really see in synthetics). Ashes of the Singularity: Escalation is a very taxing game, and to be honest I really enjoy playing it. That is why I was kind of shocked that the 2400G was doing so well, especially compared to the discrete setup.
Overclocking and Power Consumption
CPU Overclocking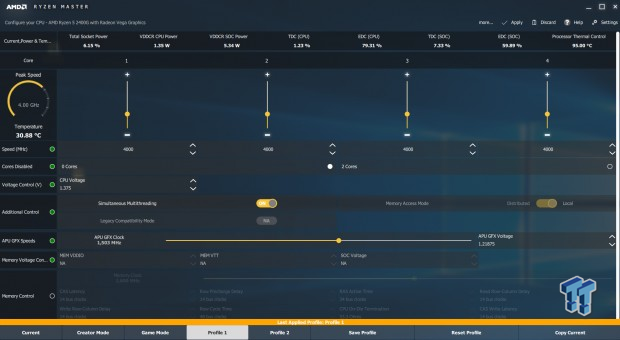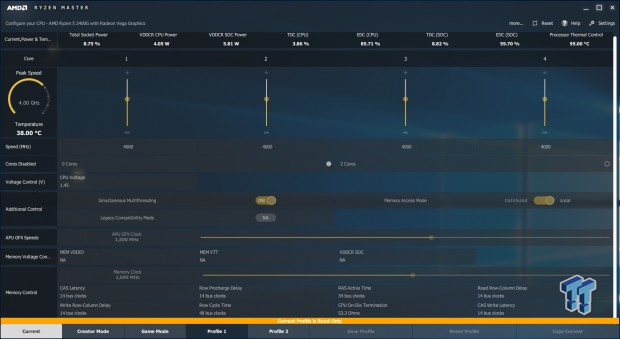 We opted to use Ryzen Master 1.2 OS-based overclocking, as it was the easier way to overclock. However, we did set XMP in the UEFI and then went into the OS to overclock the CPU and the GPU. We find that while you have an SOC voltage setting, we messed with the APU/GFX Voltage instead.
AMD told us that the SOC voltage and the GFX voltage sync up when you overclock. We were told to set around 1.2v and start at around 1500Mhz with the GPU, and we were able to get 1500Mhz on both the 2400G and 2200G with ease. We will have an article later talking about overclocking this platform, as there is a lot to tinker with and the better silicon process offer higher clocks.
We were able to boot into BIOS with up to 4175MHz on all cores, but since we were using the stock cooling, we weren't able to achieve stability to get into Windows at that overclock since we didn't want to increase voltage above 1.375v because of temperatures. Memory overclocking was simple, we hit 3200Mhz with ease, but we were able to boot into OS with 3466Mhz with an SOC voltage of 1.2v and DRAM voltage of 1.4v.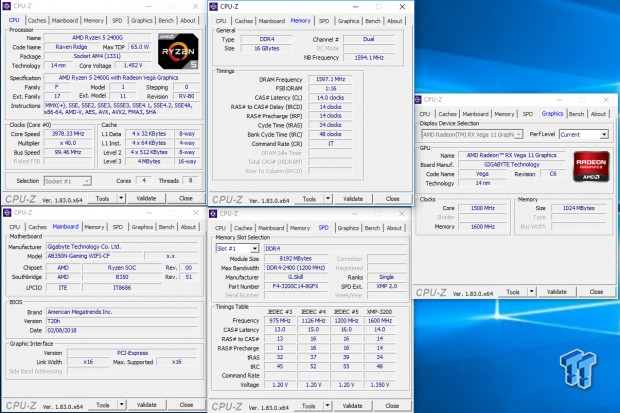 We ended up just using a 3.9GHz core OC with 1.375v (although this pushed the limits of stock cooling), a 3200MHz memory overclock, and a 1500MHz GPU overclock for both the 2200G and 2400G. As we mentioned earlier, we were able to go higher on the CPU, GPU, and memory but with our stock cooling, we couldn't do all at once. We will have an overclocking article later on Raven Ridge, as we found that gains from overclocking are substantial.

We run our overclocked 2200G and 2400G against their stock GTA:V scores, and as you can see we were able to gain a lot from just a few sliders. The 2200G beat the stock 2400G with ease and even comes close to matching the 2400G in games, which is quite impressive considering its graphics isn't as strong as those on the 2400G. We will say that Raven Ridge is going to be a budget tinker's dream platform, and we had a lot of fun messing around.
Power Consumption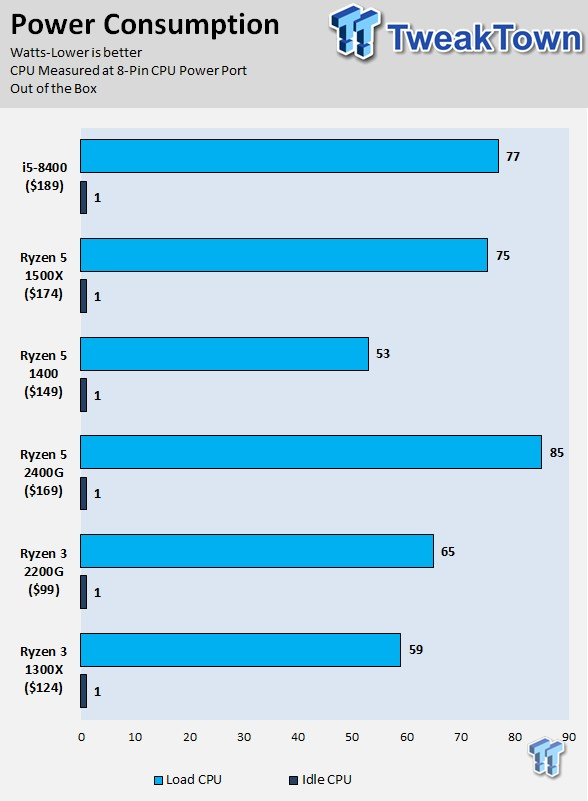 Power consumption is measured at the 8-pin power plug that feeds the VRM, so there is some efficiency loss at the VRM. The motherboard we used should be able to push out 50A per phase in best case (50A IR power stage plus CB 76A inductors), and the VRM is in a 4+2 phase configuration. It probably adds a few watts over a much larger motherboard with better VRMs, but with good cooling, it should be able to sustain a nice overclock. These numbers are just stressing the CPU with Intel Burn Test.
What's Hot, What's Not & Final Thoughts
This is where you can fast forward to the final section of the review, and get a quick recap and points on the Ryzen 3 2200G and Ryzen 5 2400G.
What's Hot
Strong Vega Graphics: Hot damn! Those were some impressive results from an integrated graphics part, and perhaps the best we have ever seen. We are glad that Vega has finally found a home with Ryzen, and together they knock things out of the park. The GT 1030 couldn't even keep up in some of our gaming tests, and we would say they are on the same level depending on how the games stress the CPU and GPU accordingly.
Single CCX: Not having to move between two CCX units really seems to help AMD's 4-core Ryzen CPUs, as the 2400G is doing really well compared to the 1500X and the 2200G does well compared to the 1300X. That being said, the 1500X is more expensive than the 2400G and the 1300X is more expensive than the 2200G, and they don't even offer integrated graphics and they have more L3 cache.
Excellent Price to Performance Ratio: Honestly, AMD could charge a lot more for Raven Ridge than they are currently aiming to charge. The price to performance is excellent, especially because you don't need to buy a GPU. While we were running our gaming tests, we were taken aback to how playable the games were at such an affordable price point. Budget tinkers are going to love Raven Ridge.
Overclocking: The CPU and the GPU communicate through AMD's Infinity Fabric, which is linked to the speed of DRAM. Overclocking our memory was extremely easy and provided large gains. The CPUs also use AMD's refined 14nm+ silicon and seem to clock high with ease; I would venture we will see people with 4.1-4.2GHz overclocks on the core with these CPUs as long as they can cool them. Overclocking the GPU to 1500Mhz was easy as well, and you can go way above that. However, look at how low the base frequency is on the 2200G (1100MHz) and how we can easily bump that to 1500Mhz. As someone who started in the industry as an overclocker, I really liked messing with these CPUs.
What's Not
x8 PCI-E 3.0: AMD's Raven Ridge parts only offer x8 PCI-E 3.0 for GPUs, so your x16 slot is running x8, and SLI nor CrossFireX is supported on motherboards that support it with Ryzen 1000-series chips.
Non-Metallic TIM: AMD shifted from solder to a non-metallic paste, which means that temperatures might be a bit harder to tame than on 1000-series parts. Remember, that there is no temperature offset on these two CPUs.
Final Thoughts
There are so many systems out there that use integrated graphics, but we finally have integrated graphics that can play actual games at reasonable resolutions (<= 1080P). There are many people who simply can't afford a $1000 gaming rig and have to utilize integrated graphics to get their gaming fix; Raven Ridge is their answer.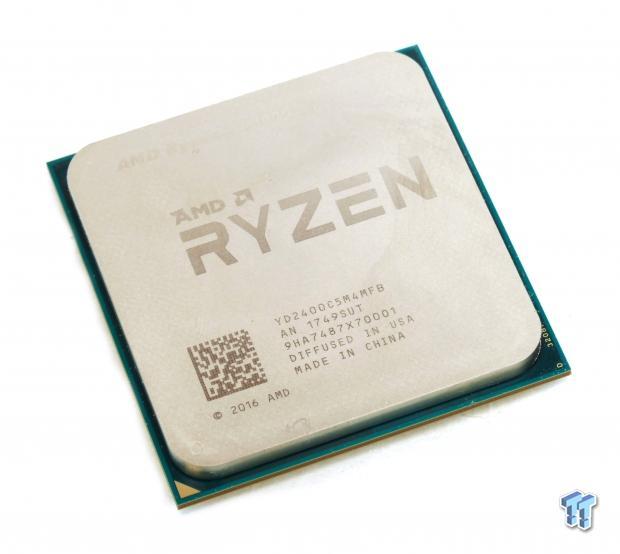 Raven Ridge is even good for people who are waiting for GPU prices to drop back down because of the mining boom; it will let you play games with enjoyment at 720P and 1080P. The story of Raven Ridge is a bit different than that of Summit Ridge (typical Ryzen 1000 series) in that it's built from the bottom up rather than from the top down.
Raven Ridge CPUs are much like Intel's mainstream offering, where the CPU is initially designed for mobile use and is then beefed up for desktop use, and as we have seen, that's a solid way to build a gaming CPU. The pairing of Vega with Ryzen has produced a real force to be reckoned with, especially at the sub-$200 price bracket.
It might be the single CCX, the improved 14nm+, or added Vega graphics, but whatever it is, the new Raven Ridge APUs from AMD are an excellent step up from their 1000-series predecessors. The 2200G is excellent for budget tinkers who need something affordable, and you can easily overclock it to and above 2400G performance levels with ease. The 2400G is great for those who need slightly better graphics and more threads, and it currently has the strongest integrated graphics of any desktop processor. Both APUs have ushered in a new age of true entry-level PC gaming systems.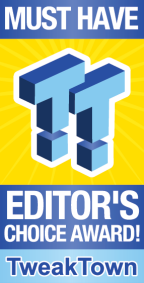 | | |
| --- | --- |
| Performance | 97% |
| Quality | 90% |
| Features | 90% |
| Value | 99% |
The Bottom Line: AMD knocked it out of the park with the 2200G and the 2400G; both CPUs are excellent for entry-level PC gamers and are pretty much unmatched at their price points.
PRICING: You can find products similar to this one for sale below.

United States: Find other tech and computer products like this over at Amazon.com

United Kingdom: Find other tech and computer products like this over at Amazon.co.uk

Australia: Find other tech and computer products like this over at Amazon.com.au

Canada: Find other tech and computer products like this over at Amazon.ca

Deutschland: Finde andere Technik- und Computerprodukte wie dieses auf Amazon.de
We openly invite the companies who provide us with review samples / who are mentioned or discussed to express their opinion. If any company representative wishes to respond, we will publish the response here. Please contact us if you wish to respond.