Supermicro SuperO C7Z370-CG-L Motherboard Review
Supermicro's SuperO C7Z370-CG-L is the latest Intel Z370-based motherboard to run through our tests. How does it do? Let's see.
Published
11 minute read time
TweakTown's Rating: 92%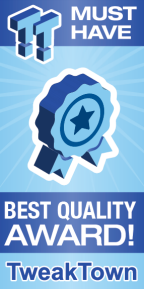 The Bottom Line
Supermicro's C7Z370-CG-L is their latest gaming motherboard featuring high-quality components at an extremely reasonable price.
Introduction, Specifications, and Pricing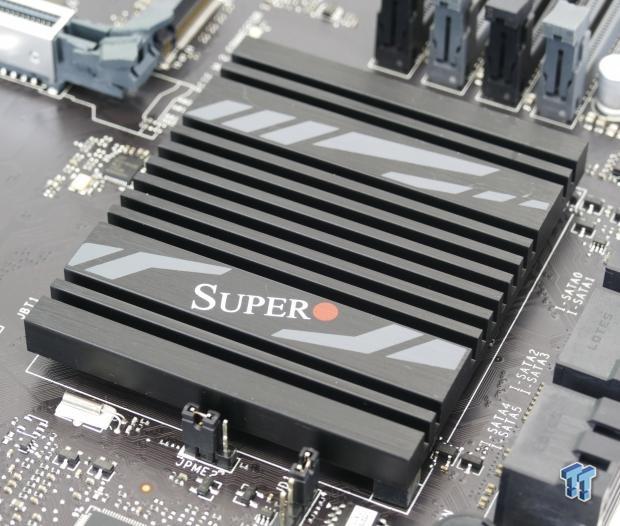 Last week a package arrived from Supermicro, and to my surprise, I found Supermicro's brand new C7Z370-CG-L inside. The C7Z370-CG-L has slight upgrades and major aesthetic changes compared to the C7Z270-CG, many of them good changes. For starters, Supermicro has realized that a lot of people are asking for all black motherboards so that the board can fade into the background.
The motherboard is actually under Supermicro's SuperO brand, which handles their gaming segment. While SuperO doesn't produce too many motherboards, they have been making their way into the consumer gaming market for a little while now, and every generation things tend to get better. I have been on the ride with them since their Z97 days, and now, many generations later, we get more motherboards that look and feel like gaming products.
Let's see what they have to offer.
Specifications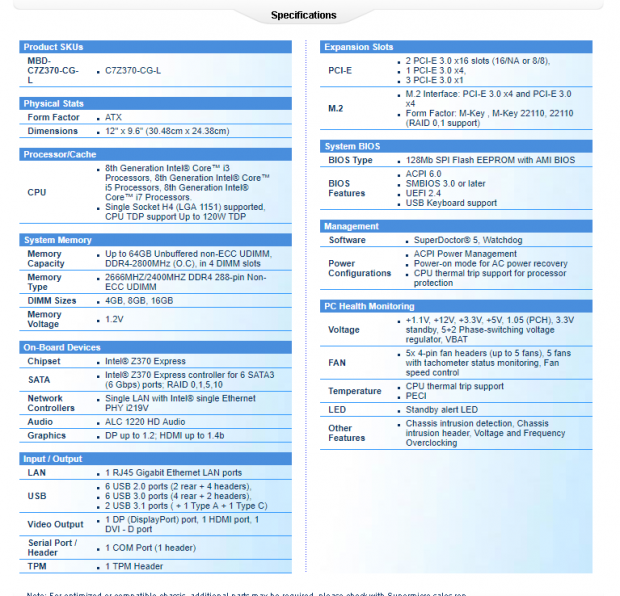 The C7Z370-CG offers two M.2 slots, six SATA6Gb/s ports, 1Gbit Intel LAN, USB 3.1, and of course USB 3.0.
Pricing
The C7Z370-CG costs $179.99.
Packaging and C7Z370-CG-L Overview
Packaging and Overview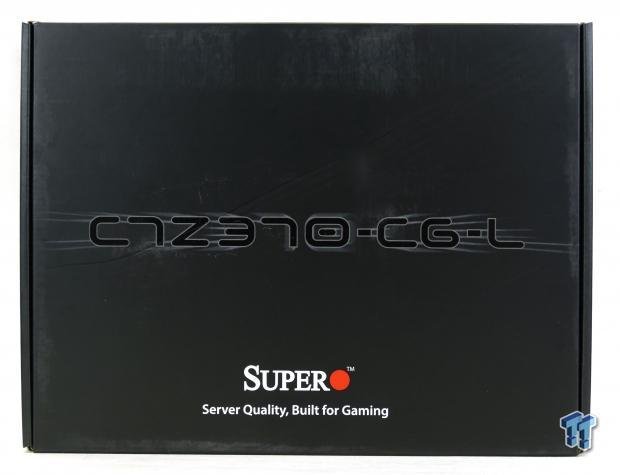 The box of the C7Z370-CG uses a standard design, and not the fancy angled edge design of its predecessor. Regardless, the motherboard is still safe and sound inside the box.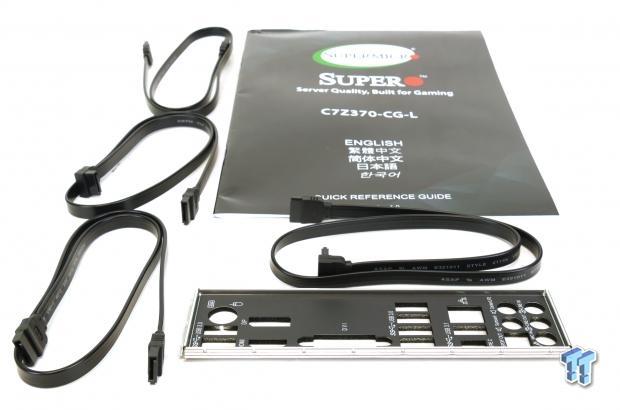 The accessory package includes four SATA6Gb/s cables, IO shield, and quick start reference guide.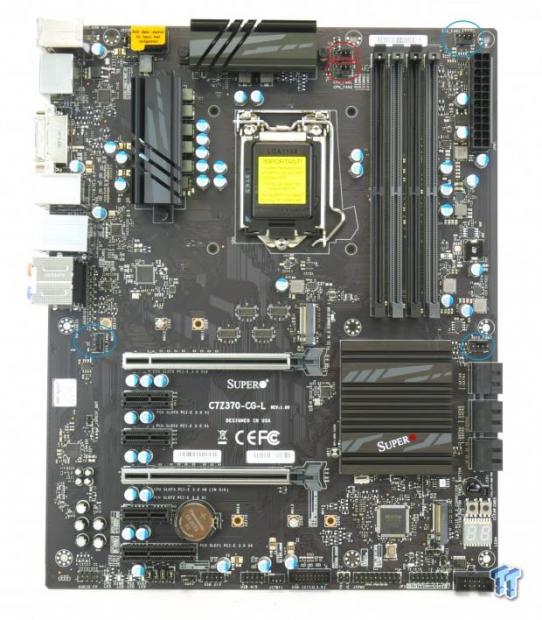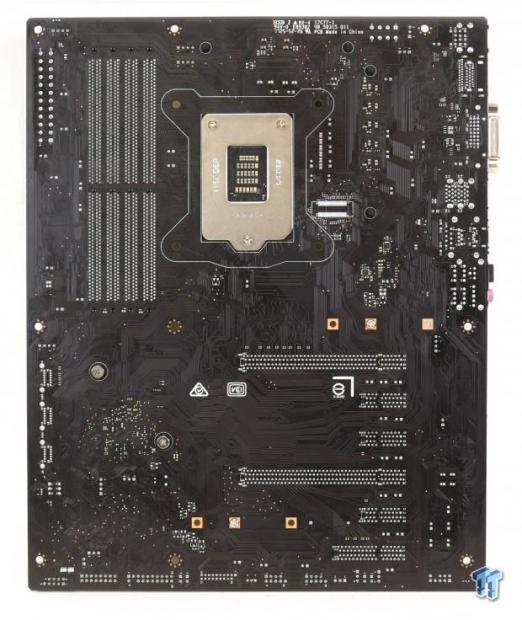 The C7Z370-CG-L has five fan headers, each capable of 2.5A output. The headers circled in red are four pin PWM headers, and the three headers circled in blue are four-pin PWM headers, but they can also work with 3-pin fans, however at default they are in PWM mode. I recommend using PWM fans with this motherboard. The motherboard's aesthetic appeal has changed a lot. Its predecessor was of a black and green design and boasted a lot more angles. The new CG is simple yet effective, while the PCH heat sink is screwed down, the VRM heat sinks use push pins. The back of the motherboard is pretty bare.

The rear IO panel features PS/2 Keyboard/Mouse, two USB 2.0 ports, four USB 3.0 headers, USB 3.1 type-A, USB 3.1 type-C, DisplayPort, HDMI, DVI, 1Gbit LAN, 7.1 audio outputs with S/PDIF out.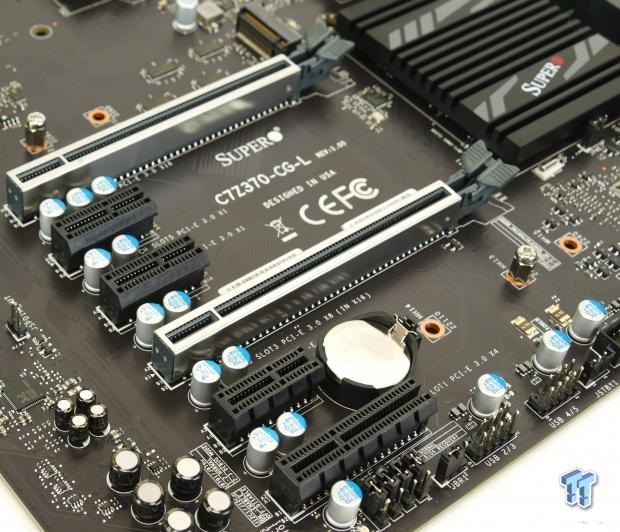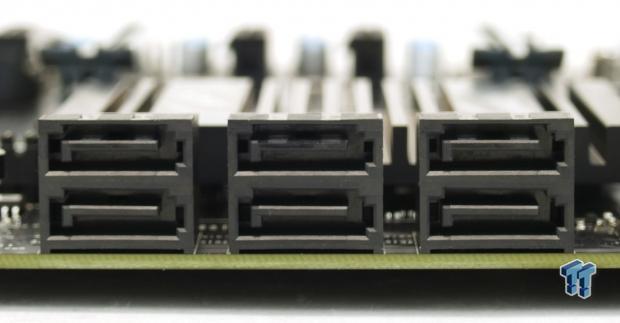 The PCI-E layout is simple; the first two reinforced slots run at x16/x0 or x8/x8. The three x1 slots are routed to the PCH. The single x4 slot is also routed to the PCH. All slots are PCI-E 3.0 slots. The motherboard features six SATA6Gb/s ports.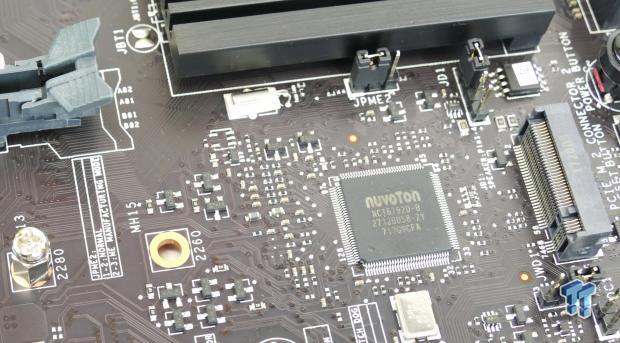 There are two M.2 slots on the motherboard, both of them are x4 PCI-E 3.0, but neither supports SATA based drives, so make sure you get a PCI-E, AHCI, or NVMe based M.2 drive.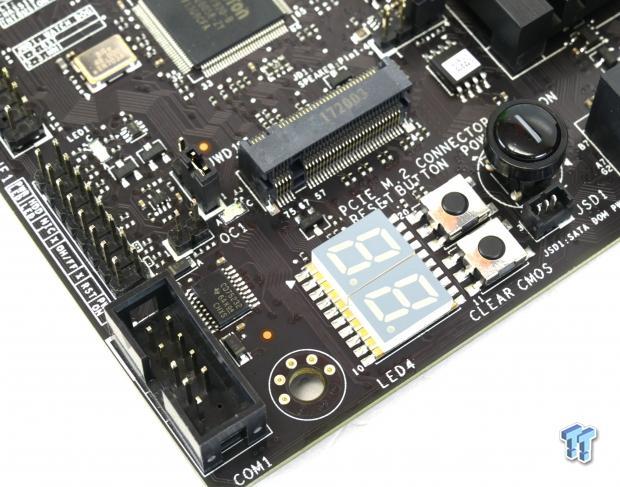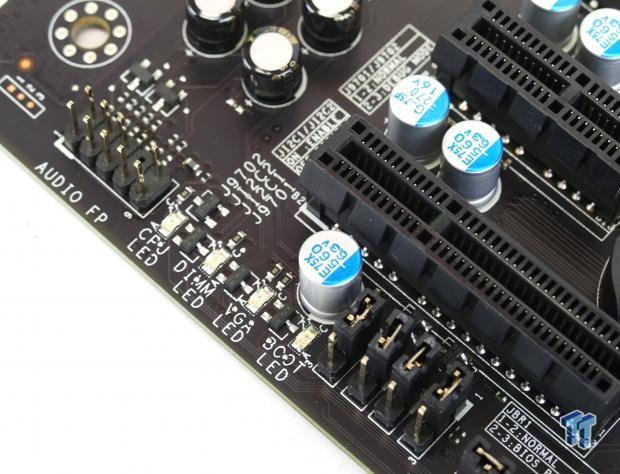 Check out the OC corner. We have a POST code display, power button, reset button, clear CMOS button, and even an OC jumper that you can hook up to an external button. There is also a COM port header to the right of our front panel headers. Supermicro has also added boot LEDs to help quickly diagnose your problems, and if you are wondering about all the jumpers on the motherboard, Supermicro's manual is extremely detailed.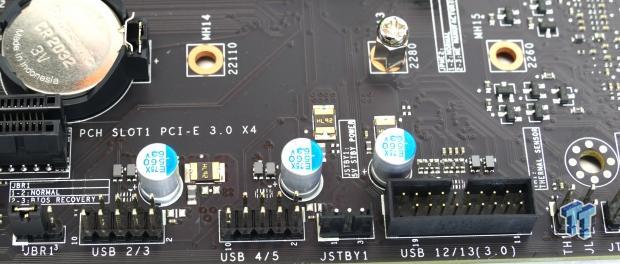 Surprisingly, Supermicro added an external temperature sensor header on the motherboard; it sits to the right of the internal USB 3.0 header. The motherboard also features two USB 2.0 headers to the right of a BIOS recovery header.
Supermicro C7Z370-CG Circuit Analysis
Circuit Analysis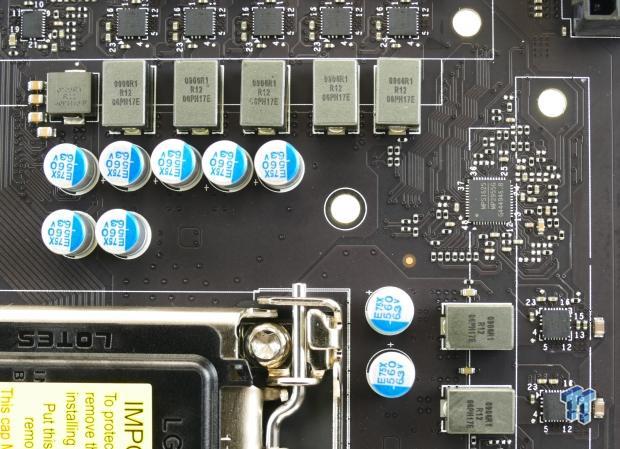 The C7Z370-CG features a 5+2 phase VRM for the CPU core and integrated graphics power rails.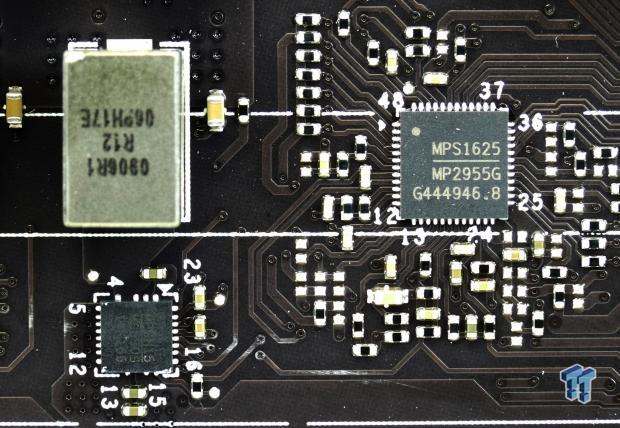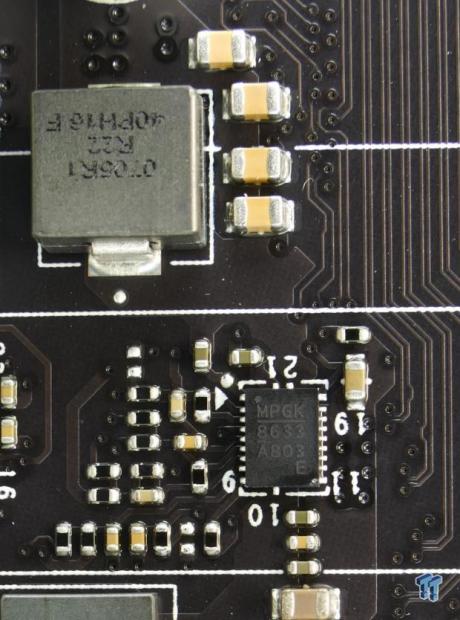 Had to ask Supermicro for some of the specs of the power components. They are using server grade Monolithic Power Systems digital PWM and Intelli-Phase integrated power stages. The PWM is in a 5+2 phase configuration, and each PWM channel goes to one power stages. The PWM is the MP2955G, and the power stages are MP86908 50A Integrated Power Stage.
I was able to find the inductors, they are each rated to 51A without core loss, and they are from CooperBussman's high current collection. The VCCSA, VCCIO, and memory use fully integrated point of load devices, sort of a PWM plus power stage all-in-one.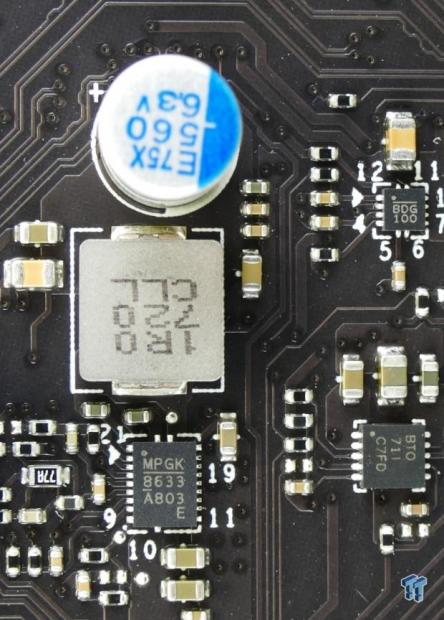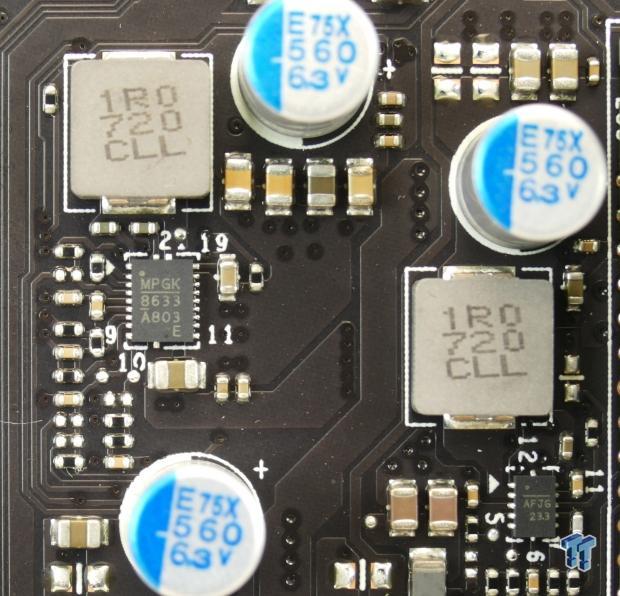 We find multiple MPQ8633A, each one is rated for 12A, and they are fully integrated. We also find mind other Monolithic Power System chips, almost all used for power delivery. It seems like a whole package type deal.
Supermicro C7Z370-CG Circuit Analysis Continued
C7Z370-CG Circuit Analysis Continued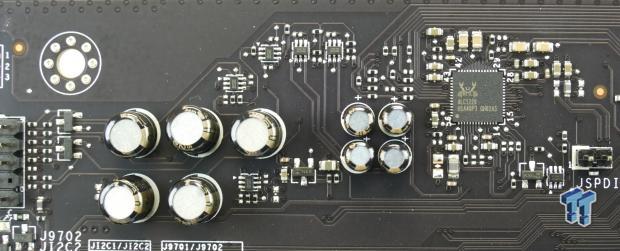 Supermicro uses the Realtek ALC1220 audio codec along with some audio-grade capacitors to improve audio quality.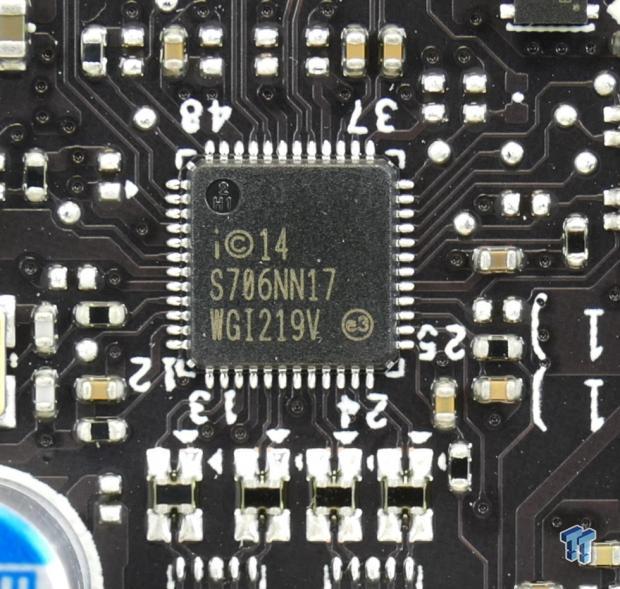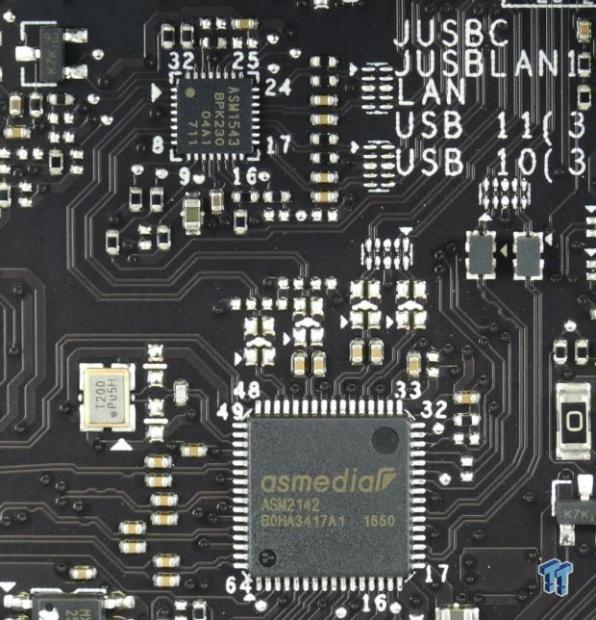 The Intel i219v is used to produce the 1Gbit LAN port in the IO; it's a PHY that compliments the MAC integrated into the PCH. USB 3.1 comes from an ASMedia ASM2142, and an ASMedia ASM1543 is used as the type-C switch and CC logic chip.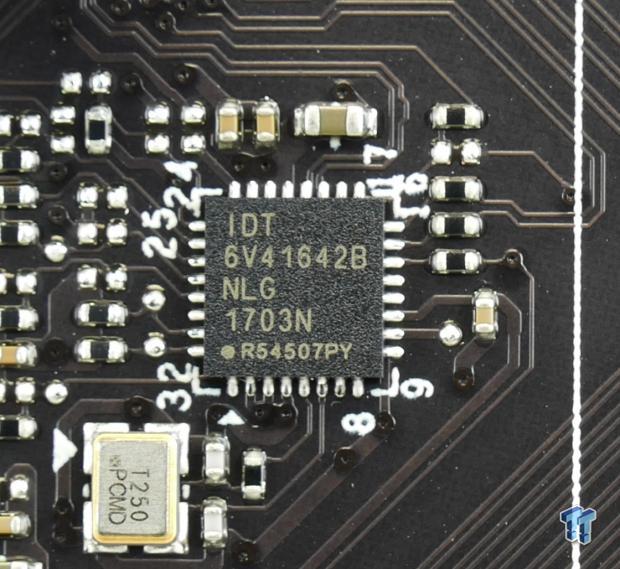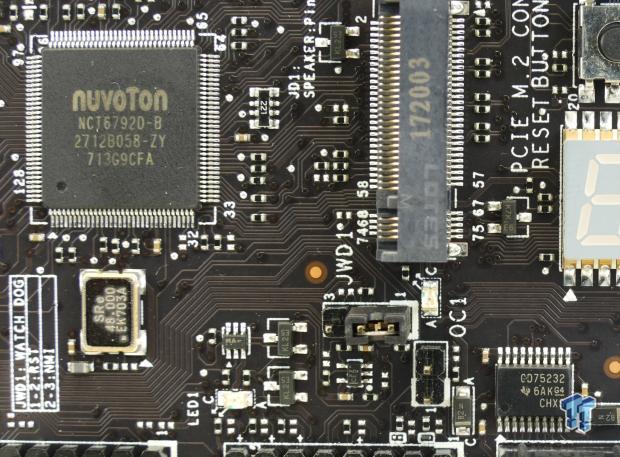 An IDT 6V41642B is a BCLK clock generator that should improve BCLK margins. The nuvoTon NCT6792D is the main SuperIO, and with the Texas Instruments GD75232 drivers and receivers chip, you get the COM port.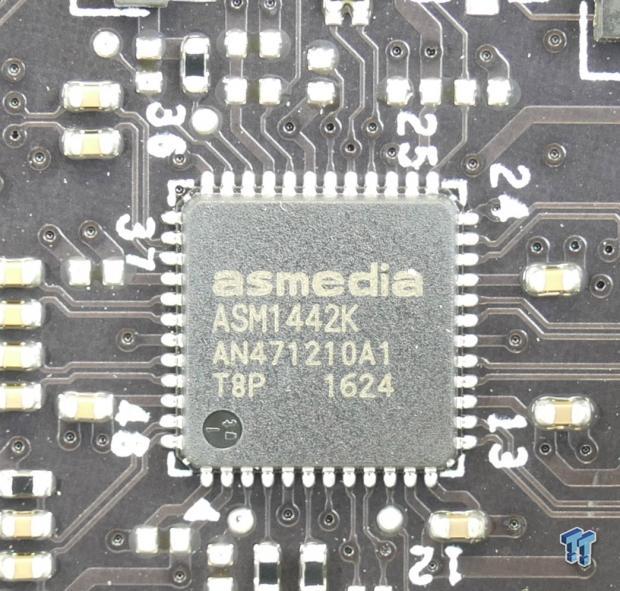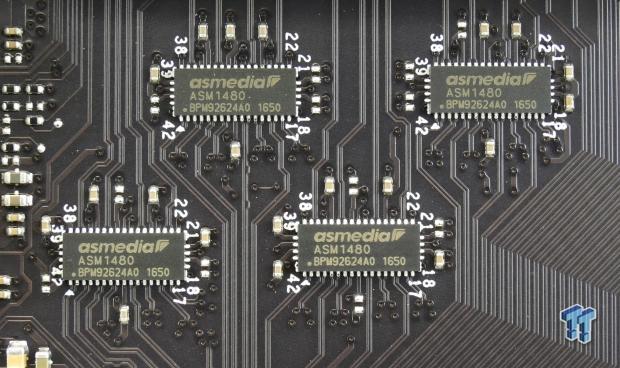 An ASMedia ASM1442K is a level shifter that is responsible for the HDMI and DVI ports on the rear IO. We also find just four ASMedia ASM1480, possibly a record for a full-sized Z370 motherboard, which means there is very little bandwidth switching going on.
BIOS and Software
BIOS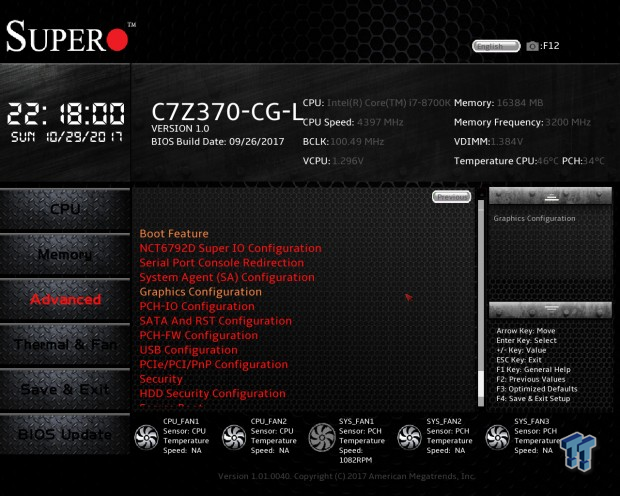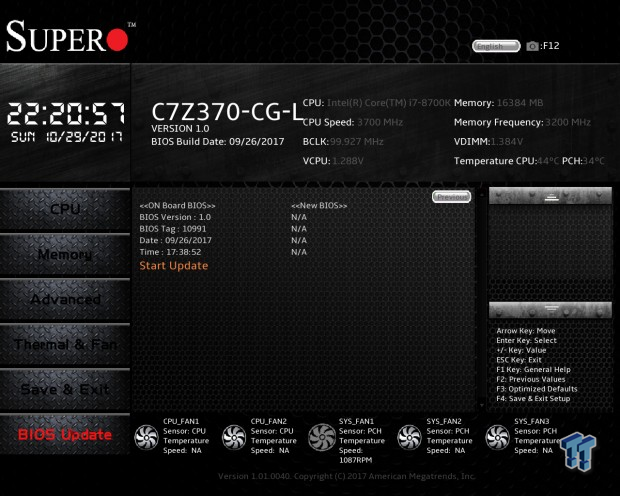 The UEFI BIOS is not too bad, it's a bit different than what we are typically used to with other products, but it has more settings than many competitors. Supermicro is even adding in more useful settings, for instance, you can now choose between PWM and DC mode for all system fan headers, and you can choose between different temperature references for the fans.
A few tips for novice users, settings "0" will max out the value in question on Supermicro boards, boot settings are on the Save and Exit page (no idea why), you should change from Legacy to UEFI boot mode, and larger text item lead to deeper menus. The manual also has great explanations for all the UEFI settings; it's a gold mine.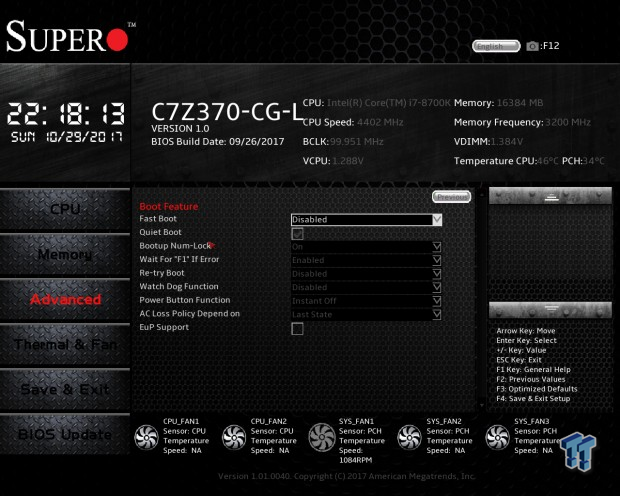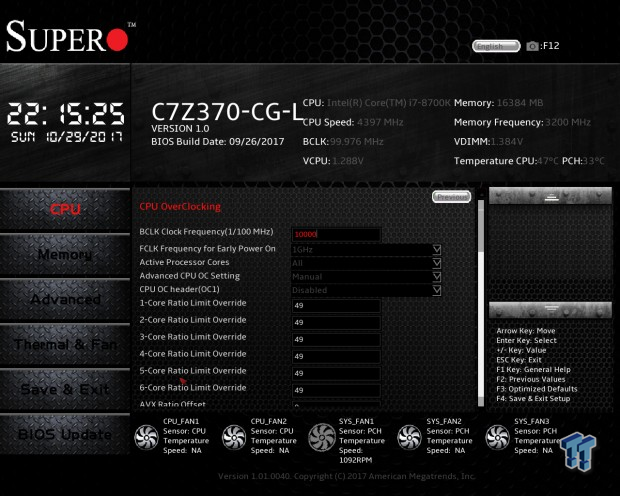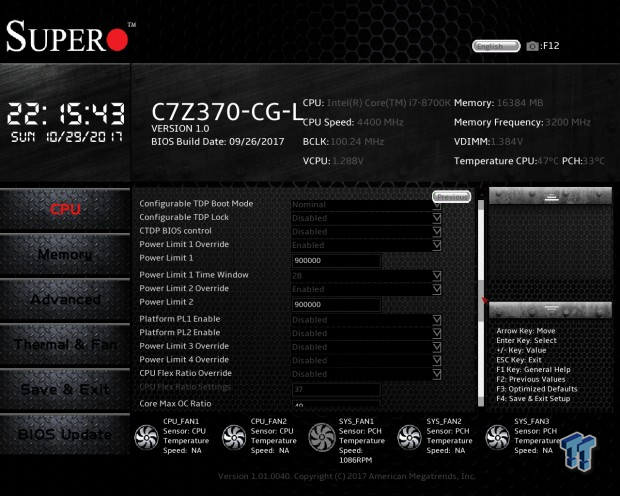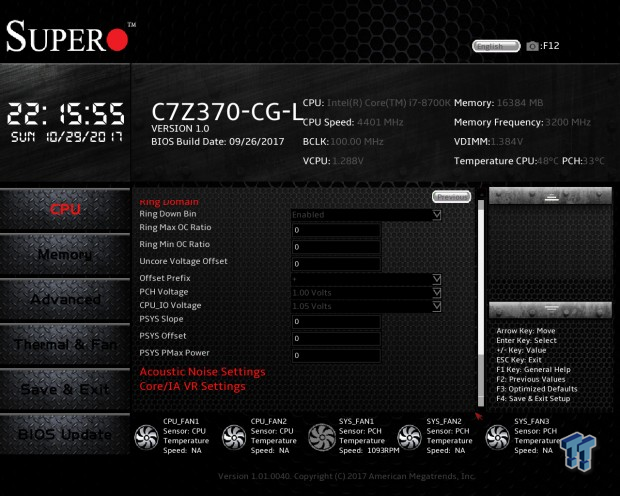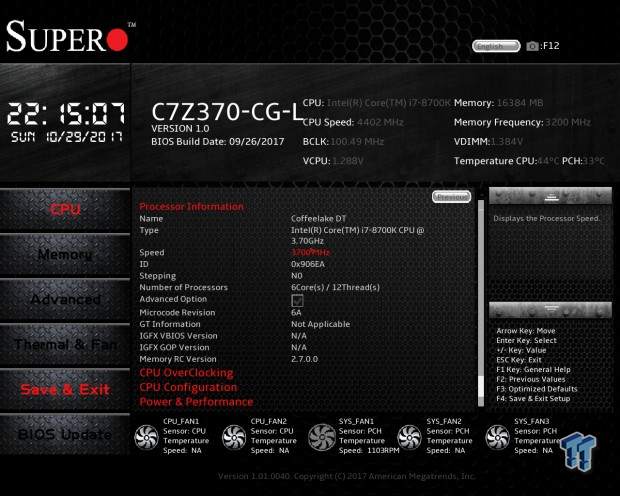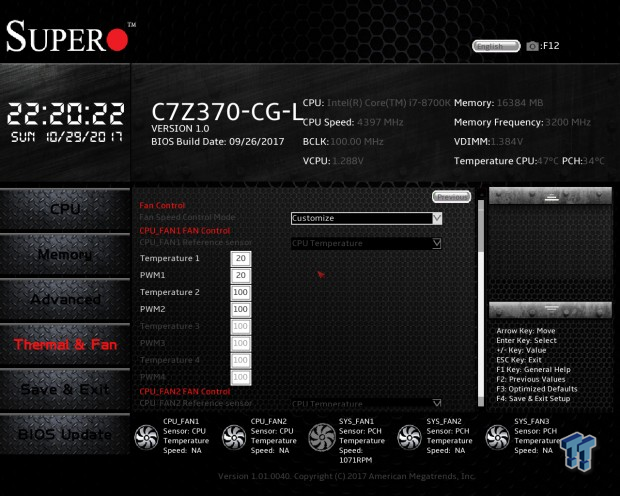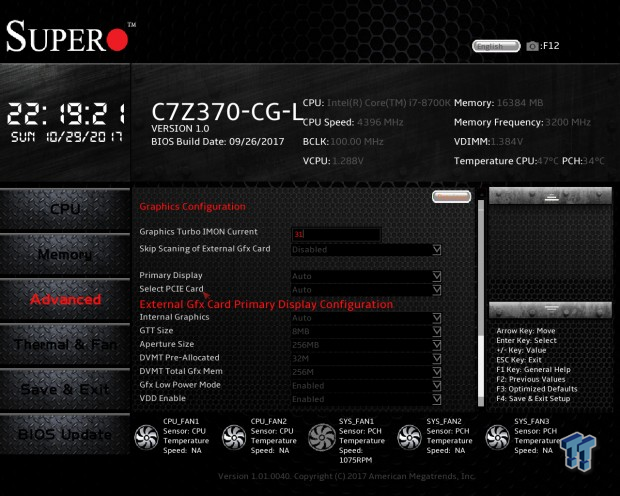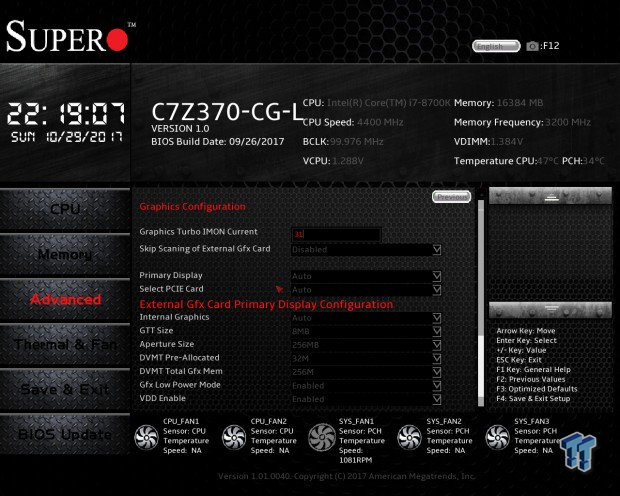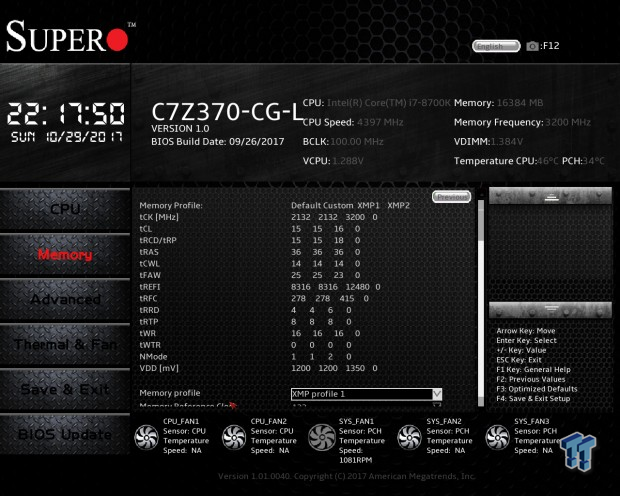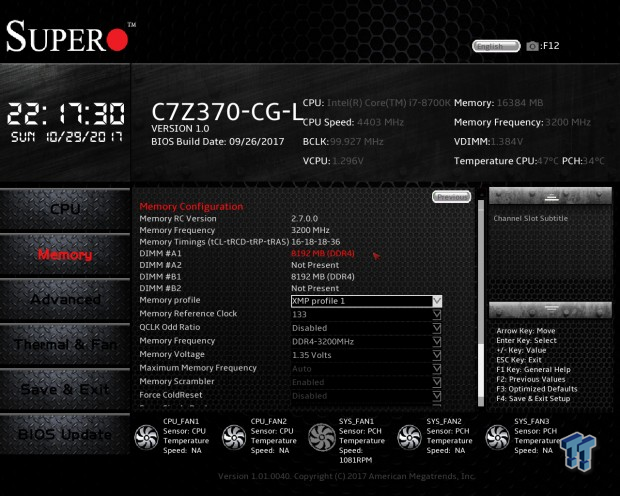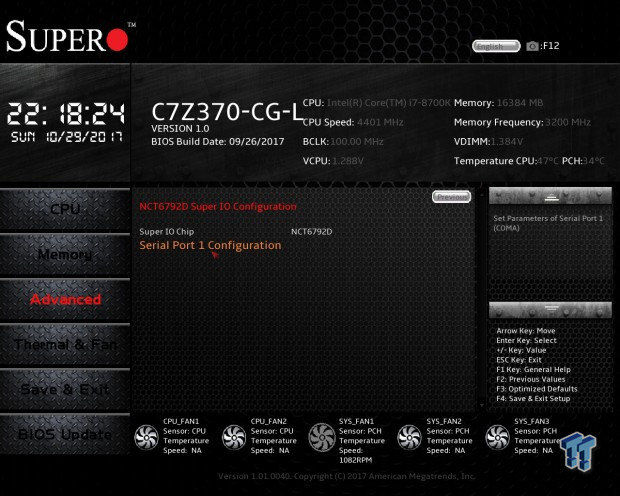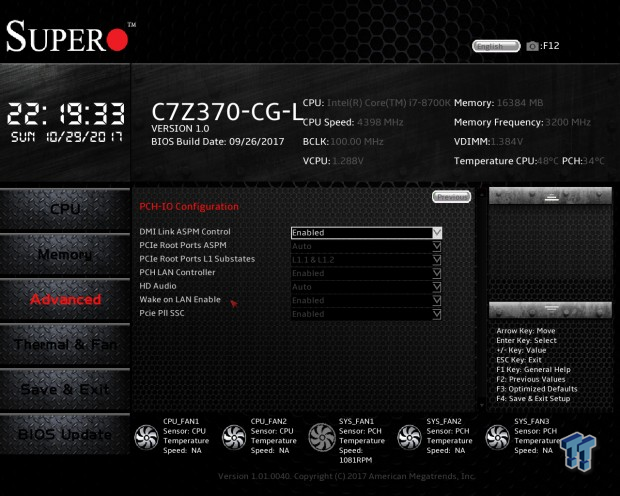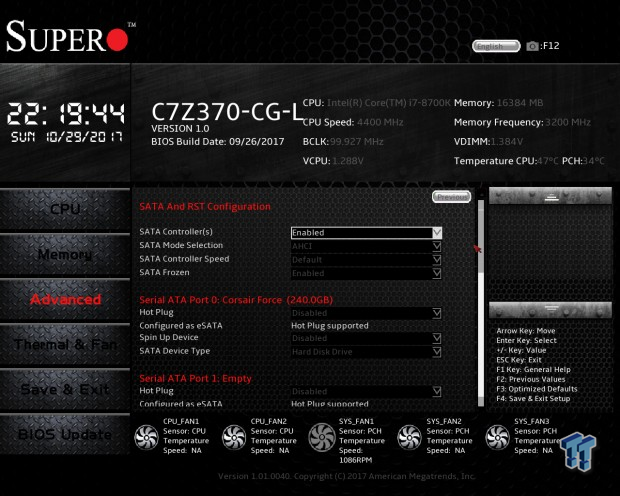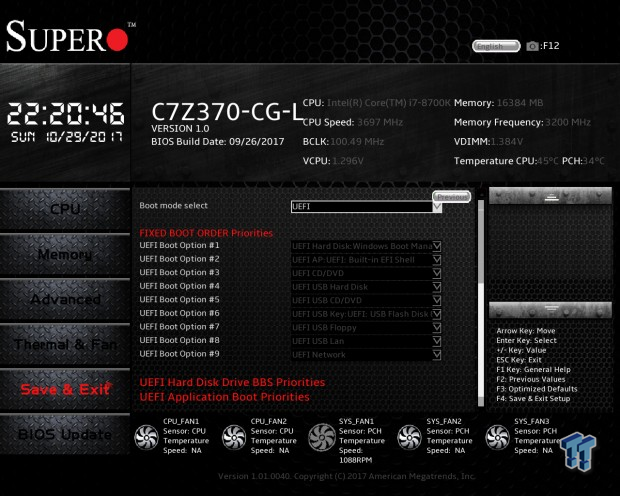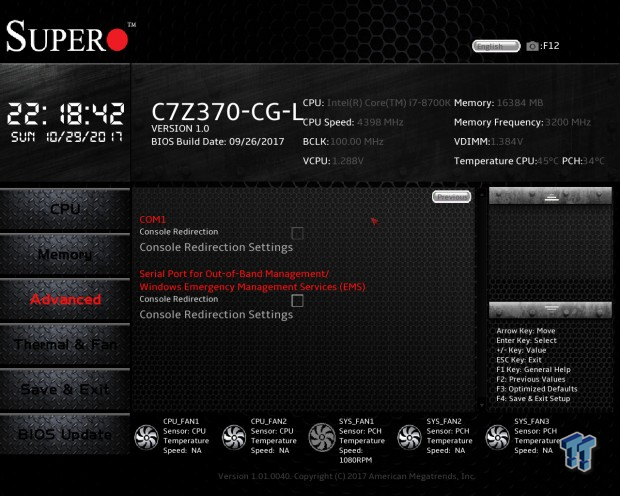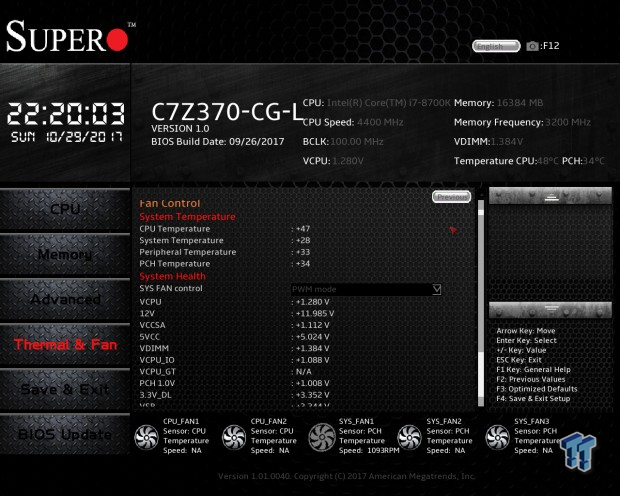 Software
Supermicro's SuperO Booster program will be compatible with this motherboard, but the current version is not.
Test System Setup
Steven's Motherboard Test System Specifications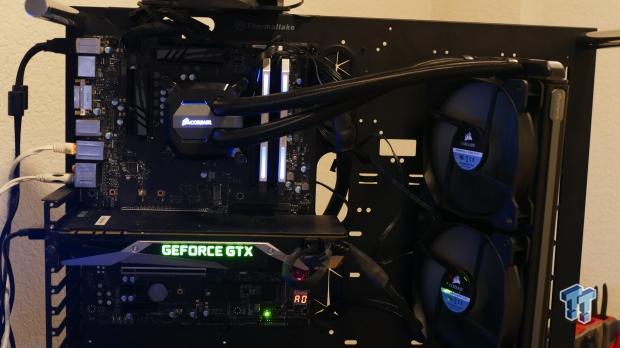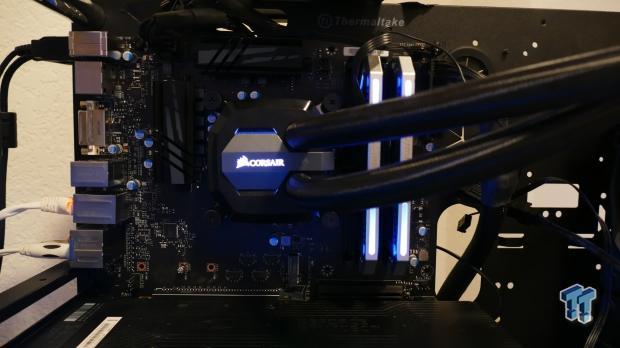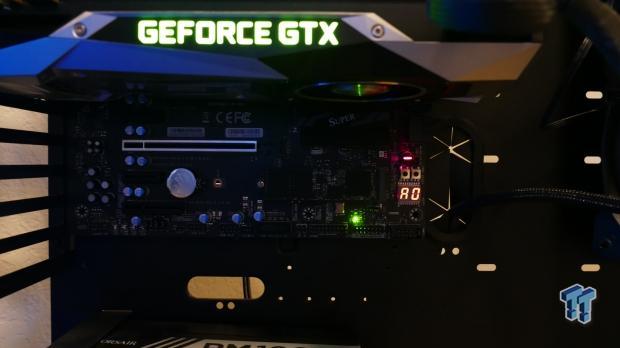 The C7Z370-CG-L is simple and sleek. It literally blends into the background and allows your other components to shine.
Overclocking
Overclocking Results
CPU Overclocking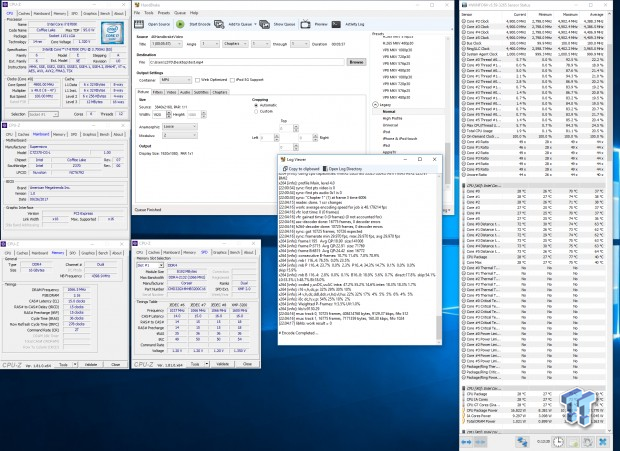 The C7Z370-CG-L overclocks the CPU very easily. I first recommend setting the 6th core to 49x or 50x, as that will change all other core ratios with it to 49x or 50x, then I set VCore to override, but the adaptive mode is present, and I set VCore to 1.30v. With the built-in LLC, you will get something around 1.32-1.34v. I also enabled XMP, but the motherboard did not like either of my kits (3200MHz double sided or 3866MHz single sided), of course, that just takes a BIOS update to solve.
Manual overclock memory was more effective. You also will want to go and maximize current limits. Supermicro's BIOS typically doesn't use a period, so a limit of 12500 is 12.5W, as per the example in the UEFI description. I set 900000 for both short and long duration power limits; I think 900W is enough. The CPU OC was stable and relatively easy to accomplish with enough experience with the BIOS settings.
The good news is that Supermicro has built-in CPU overclocking profiles all the way over 5GHz, so you might want to give them a shot as well.
CPU, Memory, and System Benchmarks
CINEBENCH 11.5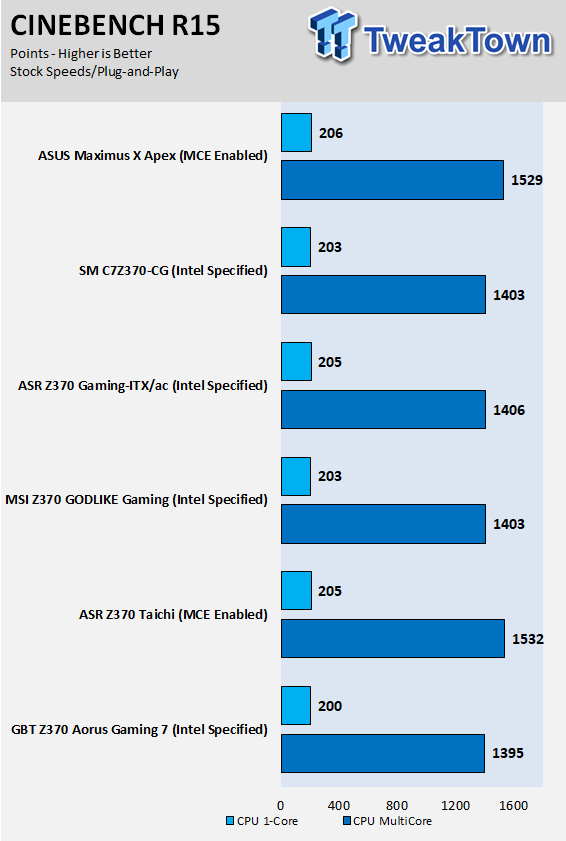 wPrime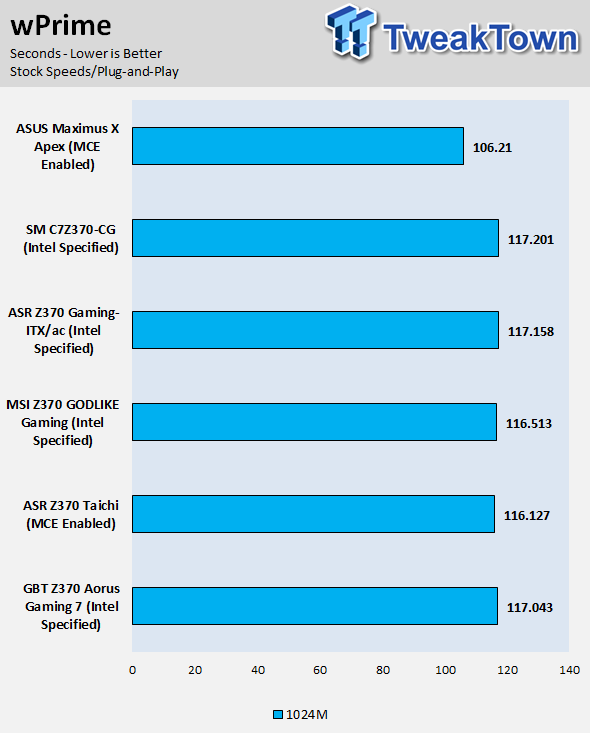 AIDA64 FLOPS and IOPS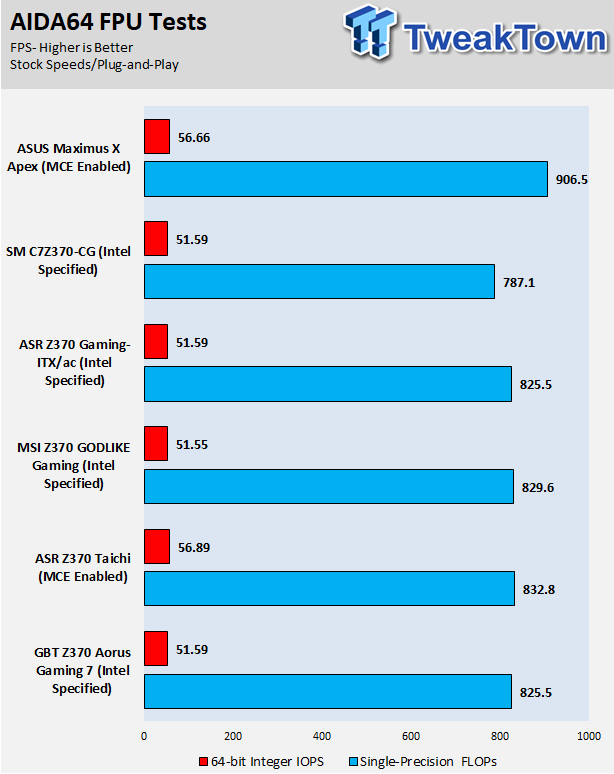 AIDA64 Memory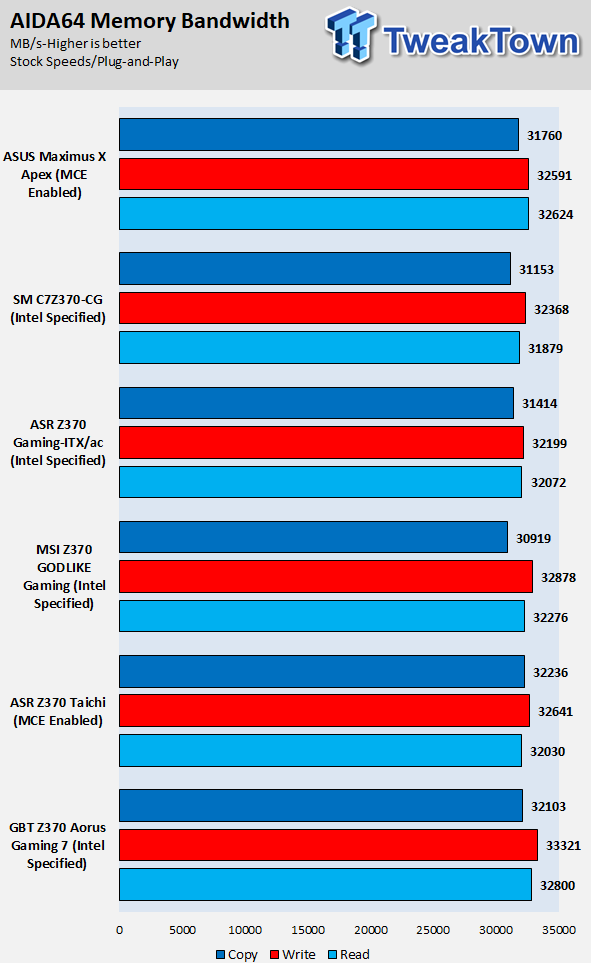 ScienceMark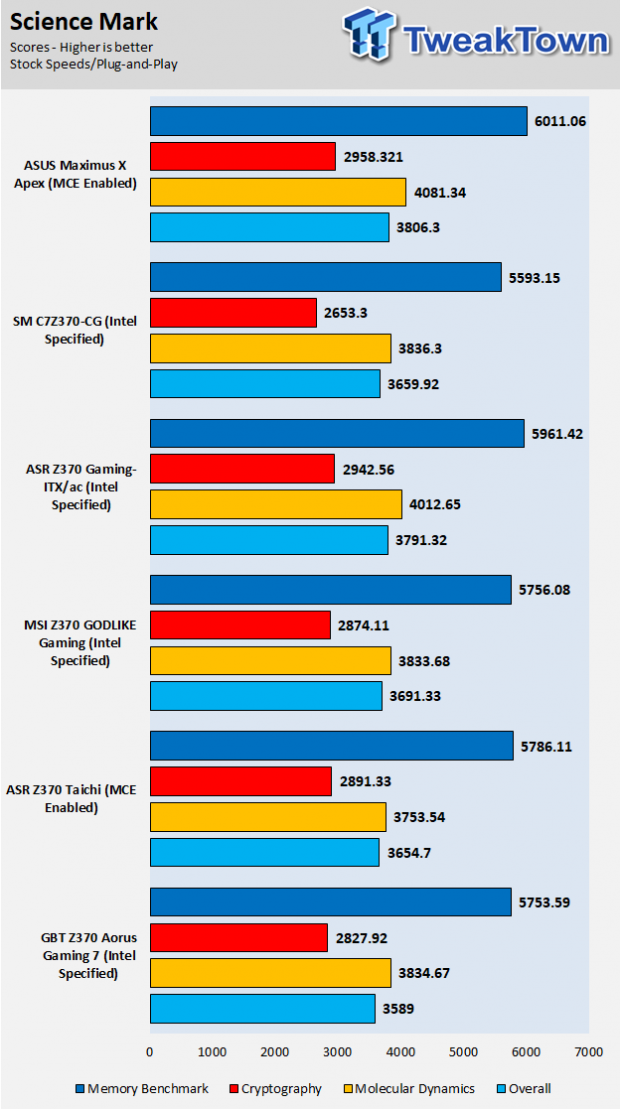 HandBrake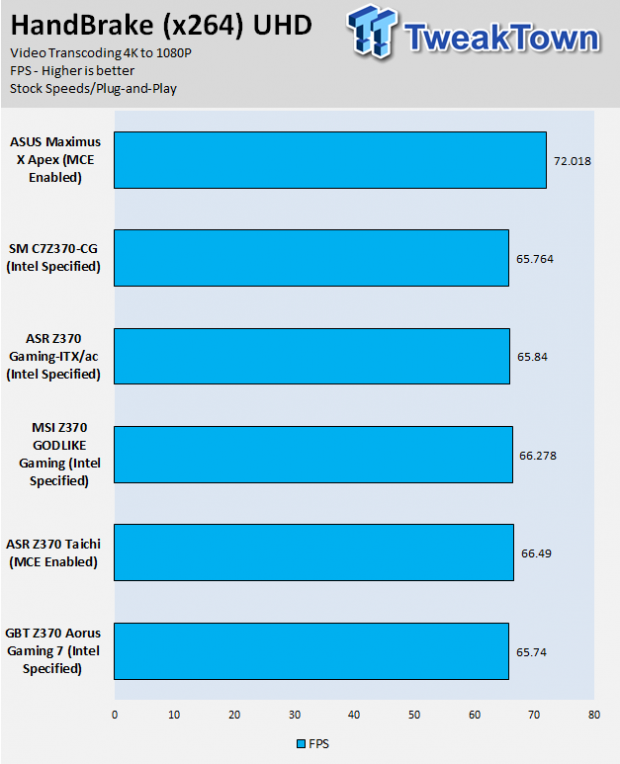 3DMark: Fire Strike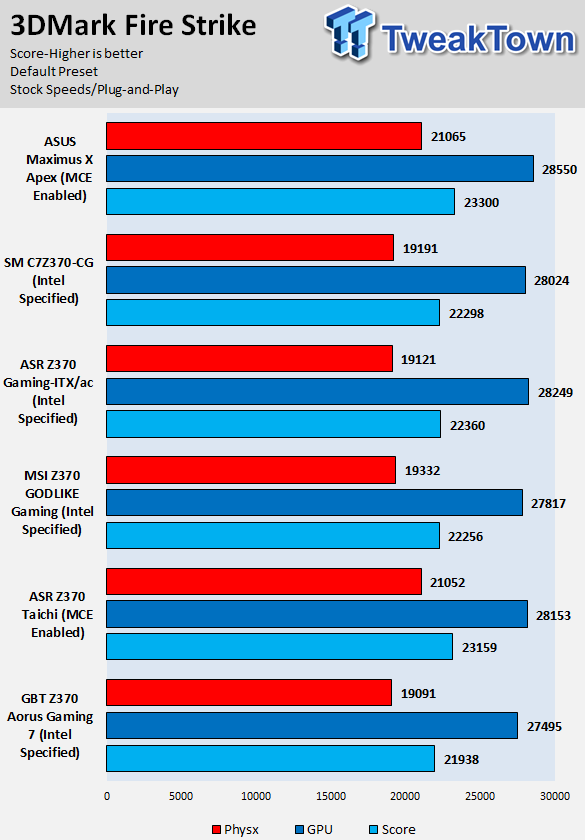 3DMark: Cloud Gate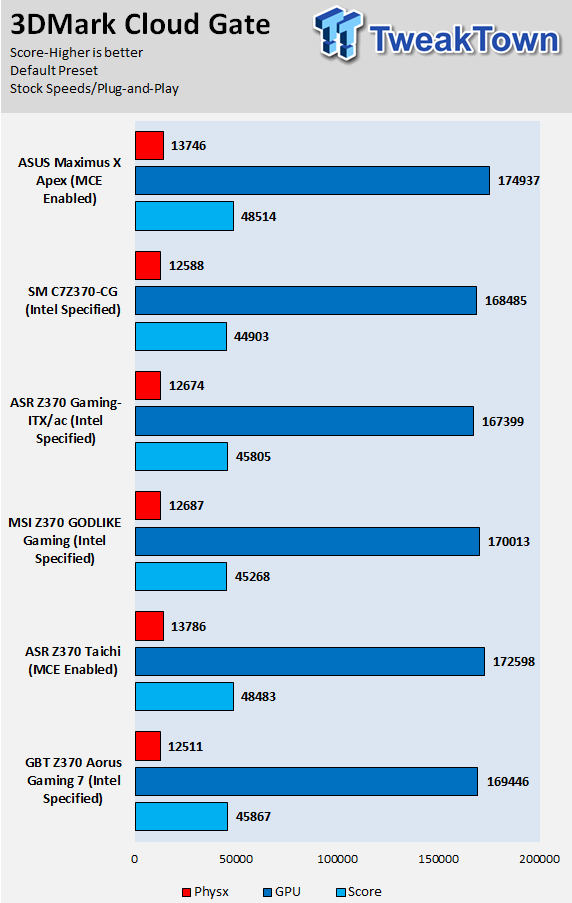 ResidentEvil 6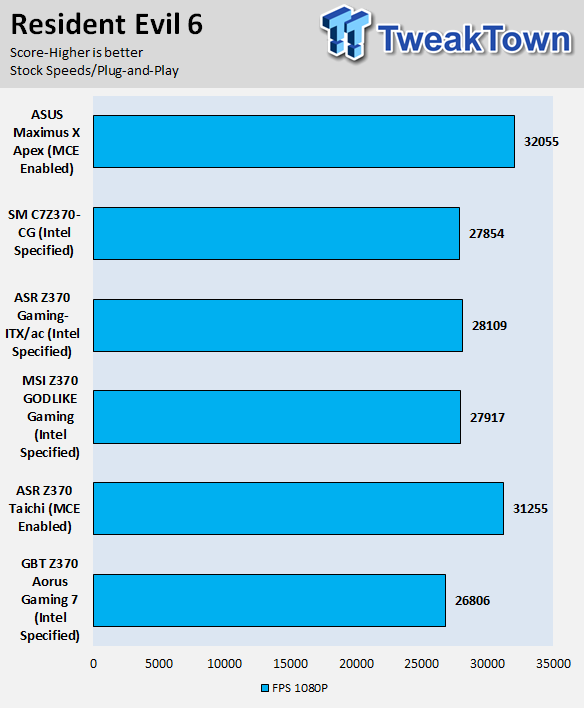 These tests are done out of the box, so I have decided to include whether or not the vendor has implemented some type of default overclocking, such as multi-core enhancement. Multi-core enhancement is when the motherboard vendor pushes all cores to maximum turbo speeds instead of just one or two.
MCE as I will call it, can cause instability if your CPU isn't great, and we would hope vendors would have it off by default, but it does offer a free performance boost out of the box. Some motherboards also might increase the BCLK a bit over stock to score higher, and some might even mess with the turbo boost table. If we standardize settings, then most motherboards should perform the same, but in this case, we haven't.
Overall, the C7Z370-CG is doing just fine, but it is strictly going off Intel's specifications, which means a 95W power limit. That 95W limit is, in my opinion, a bit low. You will ensure that you don't go above the power threshold, which is the reason in some benchmarks it's slightly lower than the other strict ones.
The microcode in our BIOS version is also from early September, so I expect a new BIOS will come out soon.
System IO Benchmarks
CrystalDiskMark SATA6G: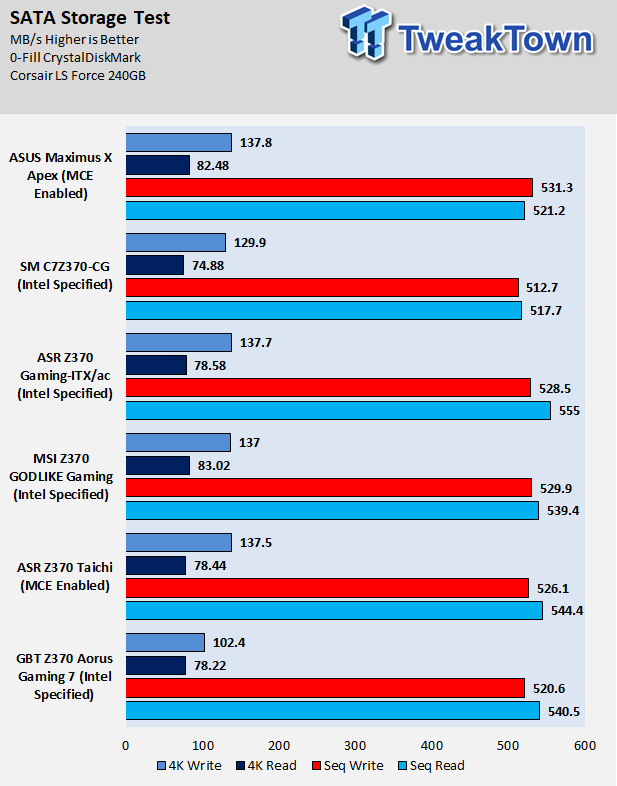 CrystalDiskMark M.2: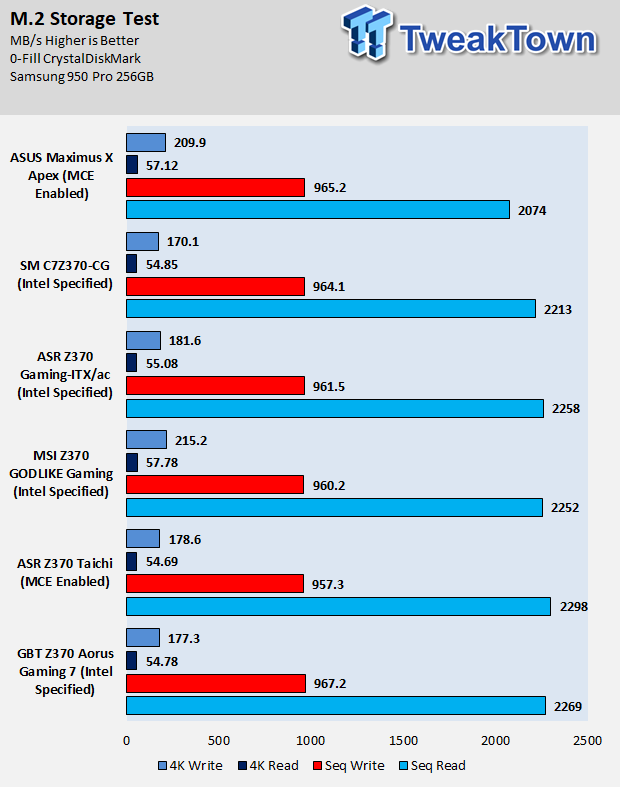 ixChariot Network Throughput: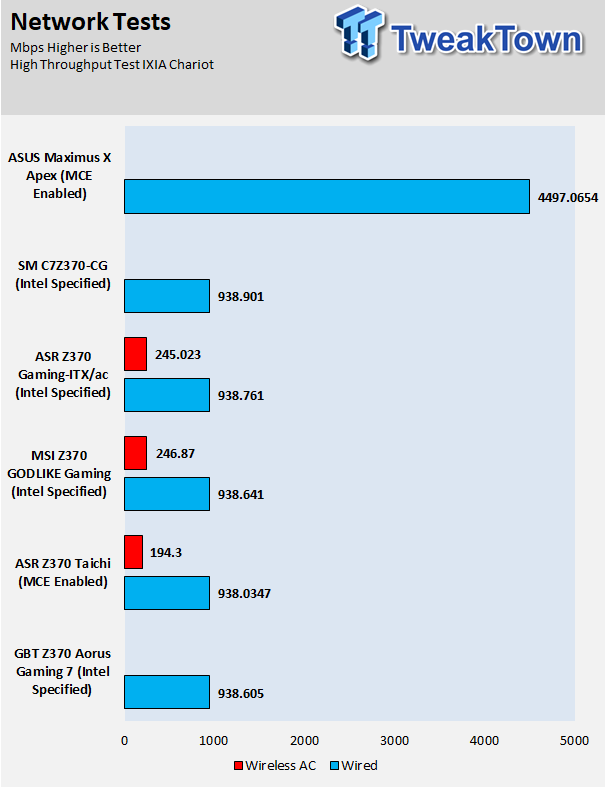 The C7Z370-CG's SATA performance is okay, probably because of power aggressive power management enabled by default. M.2 performance is a bit better. Networking performance is right where it should be for a 1Gbit Intel NIC.
Audio RMAA 5.5:
I disable all audio features, set the correct bitrates, and then test the audio with a loopback test.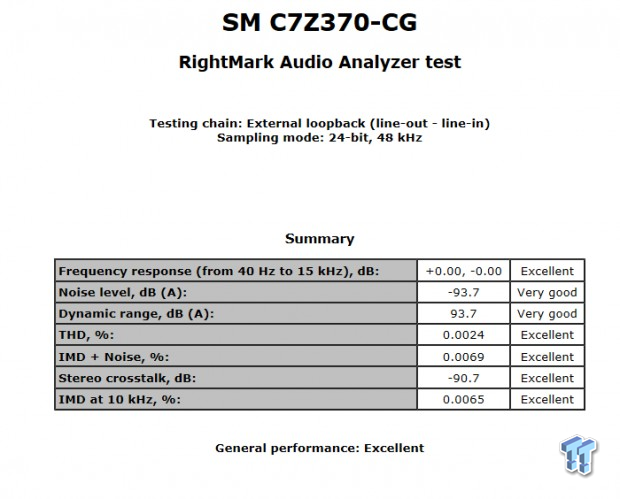 Sound Judgment by Ear: Excellent, the routing and results are very clean. There are five ratings for audio: 1. Problems, 2. Okay, 3. Acceptable, 4. Very good, 5. Excellent
Thermal Imaging and Power Consumption
System power is measured at the wall with an AC power meter.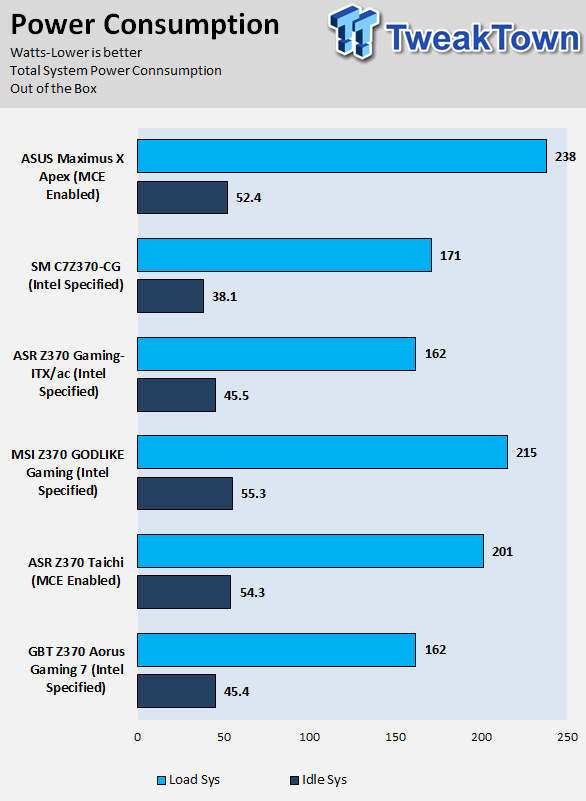 Note on Thermal Images: In the temperature section, we use our Seek thermal imaging camera to capture the surface temperatures of major components on the board. I look at the VRM and then all other things that light up the screen. If there is something to worry about, then I will state it. Otherwise, I will just show the hotter running parts of the board for fun. Unless some component is over 80-90C, then there isn't anything to worry about.
All systems will act differently, so I will look for commonalities, such as how far from the VRM the heat spreads through the PCB and the difference in temperature between the front side and backside of the PCB. Keep in mind, the majority of the heat from the VRM goes into the PCB as it is a giant soldered on copper heat sink. A larger difference in temperature between the back and front of the PCB points towards a more effective heat sink.
Thermal Testing at Stock Speeds:
The image on the left is always at idle, and the image on the right is at load. During ALL TESTS, fans to the right of the motherboard from the (Corsair H110i) radiator are left on automatic mode (ramps with internal block temperature). Additionally, a 120mm fan is situated right above the VRM, and it blows down at a medium rate (very quiet). Thermal Images are taken at loop 15 of Intel Burn Test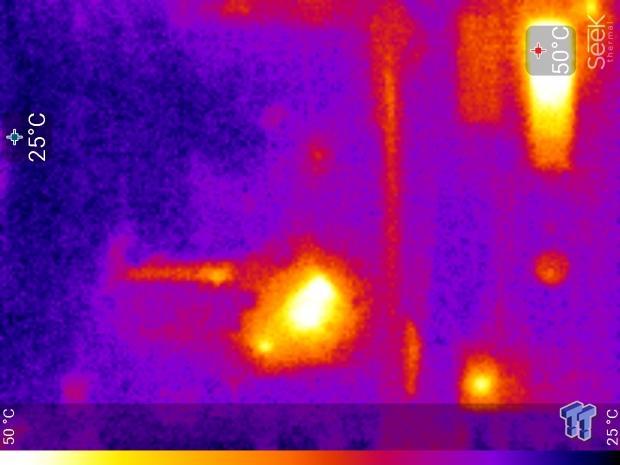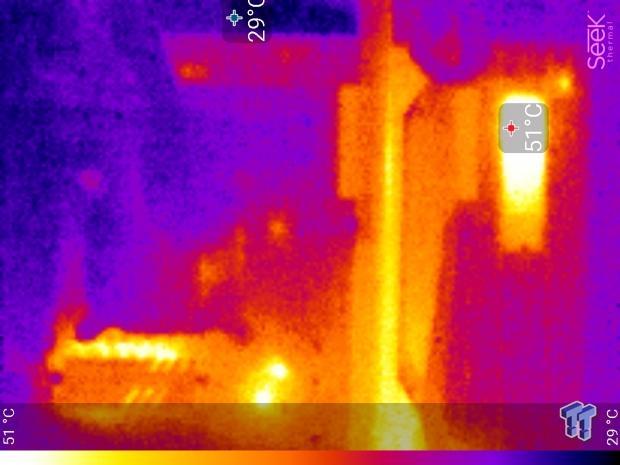 Full frontal.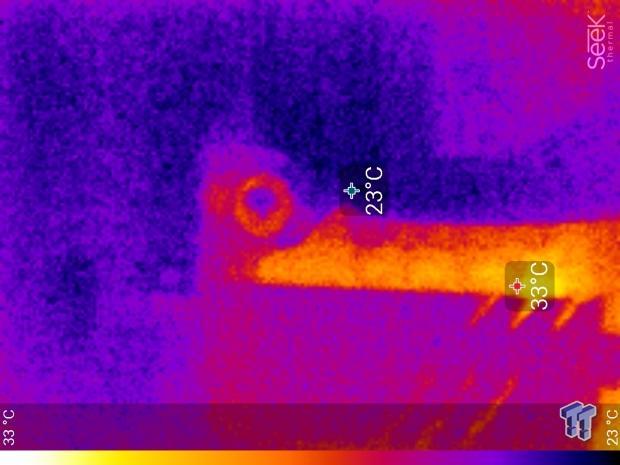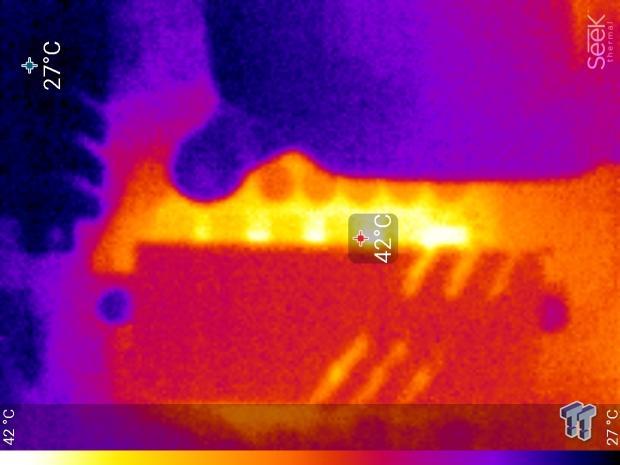 Up-close of the front of the VRM.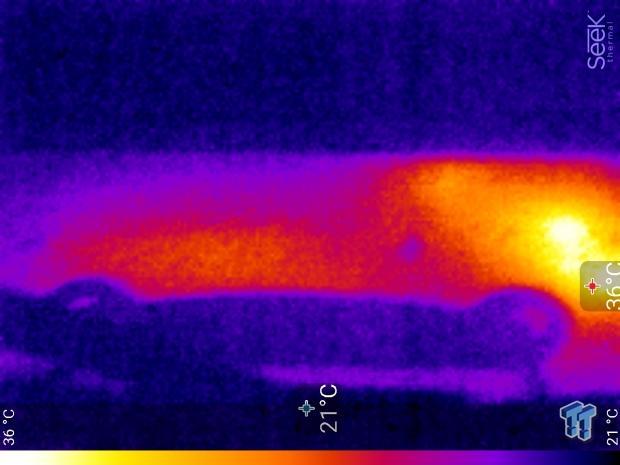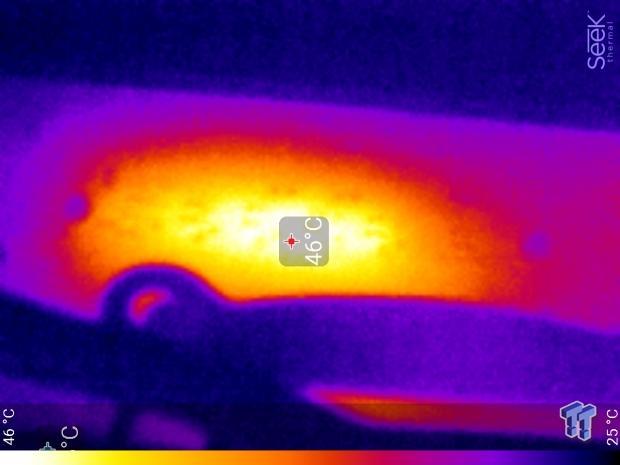 Up-close of the back of the VRM.
Thermal Testing at 4.9GHz/1.3v Overclocked Speeds:
The image on the left is always at idle, and the image on the right is at load. During ALL TESTS, fans to the right of the motherboard from the (Corsair H110i) radiator are left on automatic mode (ramps with internal block temperature). Additionally, a 120mm fan is situated right above the VRM, and it blows down at a medium rate (very quiet). We standardize this test with a 4.9GHz on all cores with 1.3V real under load and take pictures at the 80% mark of HandBrake rendering a 4K video.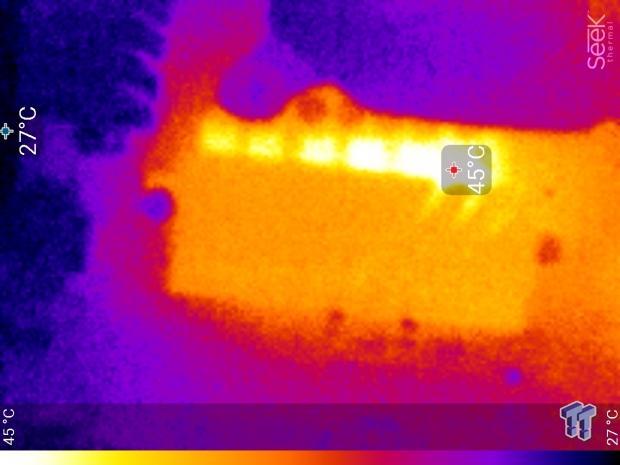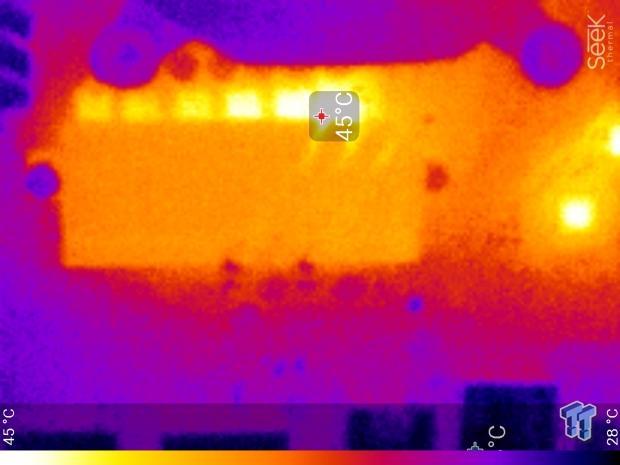 Up-close of the front and back of the VRM.
The C7Z370-CG's thermal performance is great. While the heat sinks aren't the craziest, the VRM components are of high enough quality to ensure things don't overheat. The VRM is not overtasked, in fact, the five phases can provide up to 250W and up to 2V, which is pretty intense.
It looks like MPS digital PWM and power stages are quite competitive. Notice that when we overclocked, temperatures aren't really that much higher than when things are at stock, so it's like most of the heat we saw at stock was just base heat from operational loss.
Anything under 60C is great, 60-80C is acceptable, and anything above 80C is a bit worrisome (if at stock).
What's Hot, What's Not & Final Thoughts
Here are key points about the Supermicro C7Z370-CG.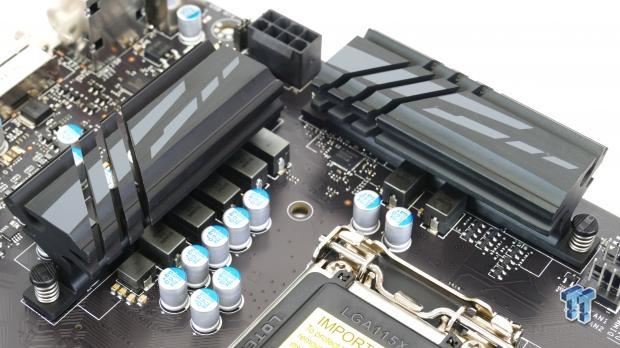 What's Hot
Quality of Course: The VRMs are high quality, each phase for the CPU and iGPU is rated 50A at the power stage and 50A at the inductor. Supermicro says the VRM is capable of 250A, not watts, but rather amps, and that's a lot. The thermal testing shows us that this much is probably true, as temperatures barely increased from stock to overclocked full load. The rest of the motherboard also features high-quality parts, and for $179.99, I doubt you will find anything with higher quality components.
Sleek and Simple: No RGB LEDs, no RGB LED headers, and no colored heat sinks. The Supermicro C7Z370-CG-L is truly simple, and its simplicity makes it sleek. It will fade away into the background of your build, acting as your machines backbone, it will sit there and not make much noise while keeping everything together. At least, that's if you don't like RGBs.
Straight Forward Routing: There are only four quick switches on the motherboard, and all they do is split the CPU's x16 PCI-E lanes into x8/x8 for more than one device. There is no switching of PCH bandwidth on the motherboard, meaning less electrical noise and stronger signal integrity. It also means you won't have to guess which SATA port is disabled when you use one of the M.2 slots because all the SATA and all the M.2 slots work all the time.
OC Features: I have this odd rule of mine; if a motherboard costs $200 or more, it needs to have a POST code display on it. However, at $180, the C7Z370-CG has a post code display, power, reset, and clear CMOS buttons, and even an OC header designed to work with an external push button switch to load an OC profile. The motherboard also features USB BIOS flash recovery in case of a corrupt BIOS, and SuperO is working to improve overclocking in the UEFI.
What's Not
No SATA Based M.2 Drives: Since there is no switching of bandwidth between the SATA ports and M.2 slots, the two M.2 slots only support PCI-E based M.2 drives.
Final Thoughts
The Supermicro C7Z370-CG-L is not yet widely available, but we know its price, its hardware, and how it performs. Apart from memory overclocking woes, the UEFI was decent and usable, so I suggest you look at Supermicro's list of compatible memory kits, otherwise, stick to memory at or below 3200MHz.
Over the past few generations I have seen Supermicro really step up their game when it comes to their gaming lineup of motherboards, and the C7Z370-CG is a great next step towards becoming really competitive. The quality from Supermicro has always been extremely solid when it came to quality, but more recently, they have been adding more functionality. For instance, now I can change system fans to DC mode if I want, and even choose the temperature sensor I am referencing.
If you are looking for a high-quality motherboard with simple aesthetics and an affordable price tag, give the C7Z370-CG-L a look.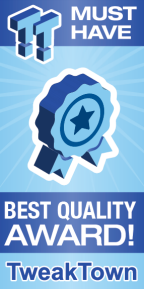 | | |
| --- | --- |
| Performance | 89% |
| Quality | 96% |
| Features | 90% |
| Value | 94% |
The Bottom Line: Supermicro's C7Z370-CG-L is their latest gaming motherboard featuring high-quality components at an extremely reasonable price.
PRICING: You can find products similar to this one for sale below.

United States: Find other tech and computer products like this over at Amazon.com

United Kingdom: Find other tech and computer products like this over at Amazon.co.uk

Australia: Find other tech and computer products like this over at Amazon.com.au

Canada: Find other tech and computer products like this over at Amazon.ca

Deutschland: Finde andere Technik- und Computerprodukte wie dieses auf Amazon.de
We openly invite the companies who provide us with review samples / who are mentioned or discussed to express their opinion. If any company representative wishes to respond, we will publish the response here. Please contact us if you wish to respond.