TweakTown's Rating: 92%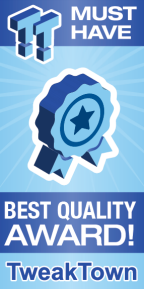 The Bottom Line
MSI's attention to detail and component selection on the X399 Gaming Pro Carbon AC make it a great choice for a solid AMD Threadripper system.
Introduction, Specifications, and Pricing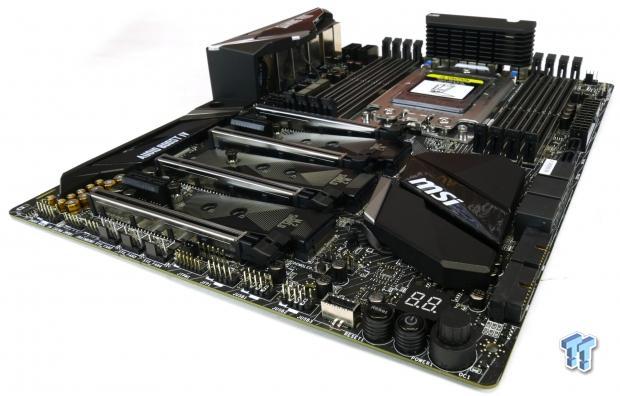 Threadripper X399 motherboards are now readily available on the market, and today we will take a look at a TR4 motherboard from MSI. MSI has also gone the same route as other vendors and has designed gaming motherboards for the X399 platform. The reason for the focus on gaming is because two of the fastest growing segments of the PC industry are gaming and the datacenter.
Many manufacturers have taken to model their products as gaming products, although on the motherboard side of things gaming features could also benefit non-gamers. The X399 chipset supports AMD's high-end Threadripper CPUs, which are mainly focused at mega-taskers, workstation users, and those who can take advantage of many threads, but the CPUs can also do well in games, especially at high resolutions.
Let's take a look at what MSI has to offer.
Specifications

The X399 GAMING PRO CARBON AC features Intel wired and wireless networking, triple M.2 slots, 8x SATA6Gb/s ports, 4-way multi-GPU support, and even comes with customization plates.
Pricing
The X399 GAMING PRO CARBON AC costs $349.99.
Packaging and X399 GAMING PRO CARBON AC Overview
Packaging and Overview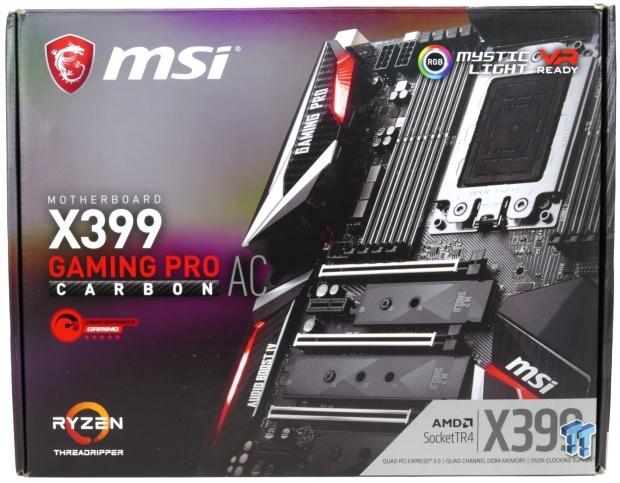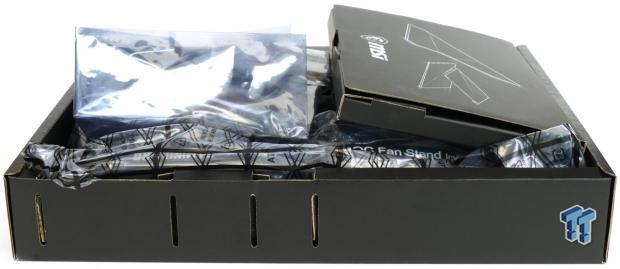 Retail packaging is done well, and the motherboard is prominently displayed on the box. The motherboard is well protected from the elements inside an anti-static bag.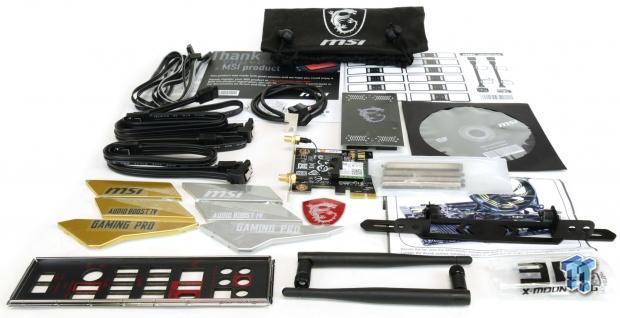 The accessory package includes six SATA6Gb/s cables, RGB LED extension/splitter, WIFI card, WIF card USB hookup, gold and silver optional panel covers, SLI HB bridge, VRM fan mounting hardware, two WIFI antenna, IO shield, 3D Mounting standoffs, cable stickers, documentation/manuals, and driver DVD.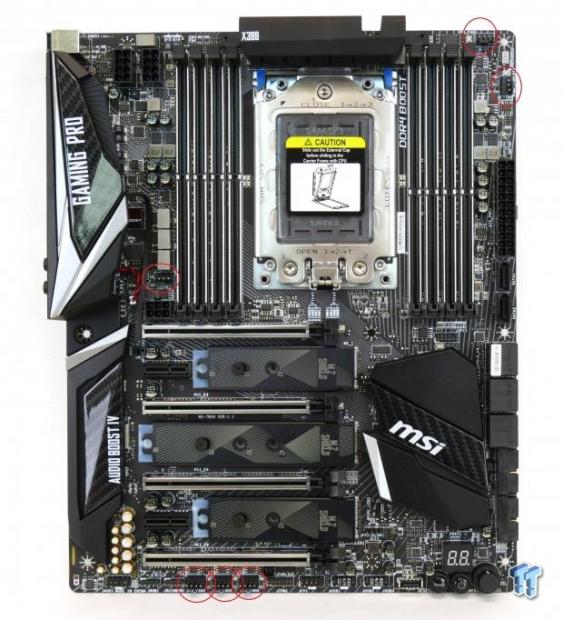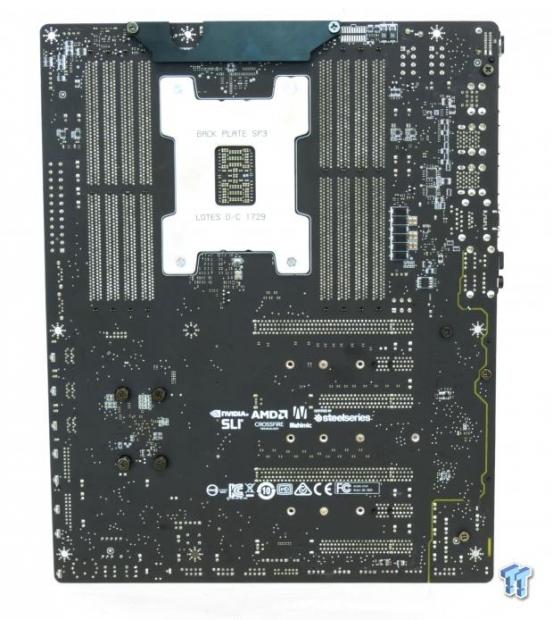 There are six fan headers on the motherboard, and I have circled them in red. They all operate as hybrid PWM/DC mode headers, although I am sure that the pump header maxes out voltage at default. The headers can be configured through the UEFI or Windows to operate in either mode and reference different temperature sensors for their PWM curves.
The motherboard uses carbon fiber panels on the shields and chipset heat sink, but also offers the ability to change these panels out for gold or silver panels. The back of the motherboard doesn't have much circuitry other than some of the POSCAPs used for the VRMs.

The rear IO panel features PS/2 Keyboard/Mouse, clear CMOS button, BIOS Flashback button, two USB 2.0 ports, eight USB 3.0 ports, USB 3.1 type-A, USB 3.1 type-C, 1Gbit LAN, and 7.1 gold plated audio outputs wish S/PDIF out.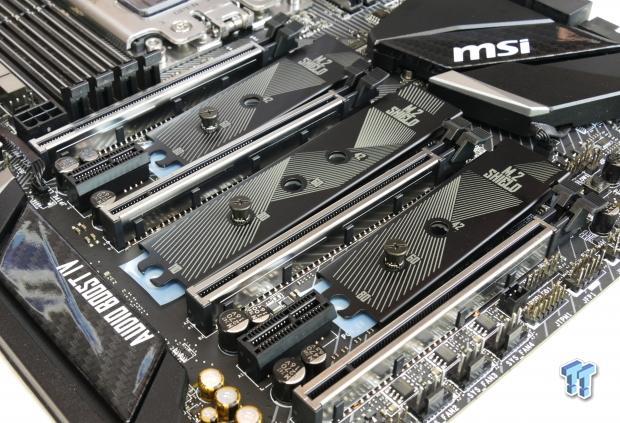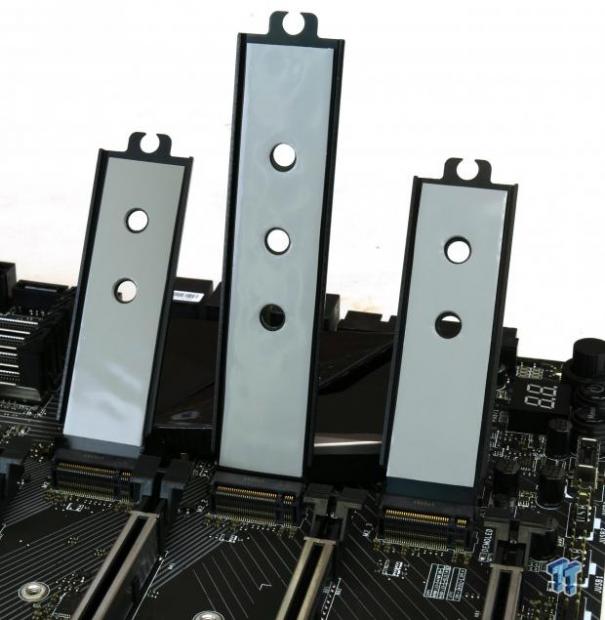 The PCI-E layout is very simple; the x16 slots operate at x16/x8/x16/x8 PCI-E 3.0 at all times. The two x1 PCI-E slots are x1 PCI-E 2.0 each and connect to the chipset. Three M.2 slots operate at x4 PCI-E 3.0, and each one has an M.2 Shield which is supposed to help cool down M.2 drives, or at least make them more aesthetically appealing.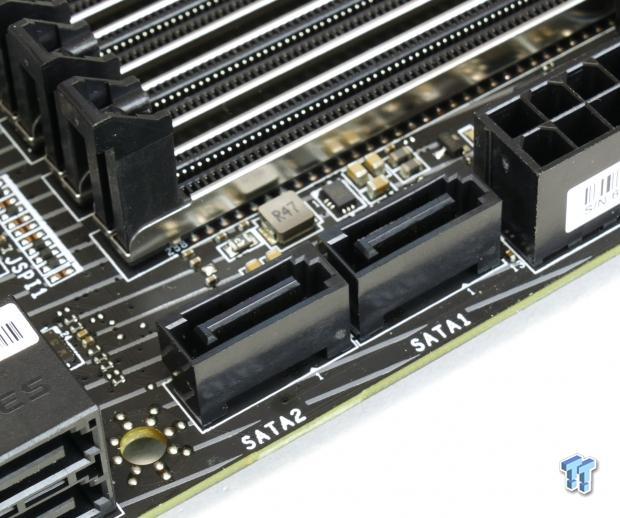 Six of the eight SATA6Gb/s ports are right angled as are the two internal USB 3.0 headers. The remaining two SATA6Gb/s headers are angled vertically and are located right below the 24-pin motherboard power connector.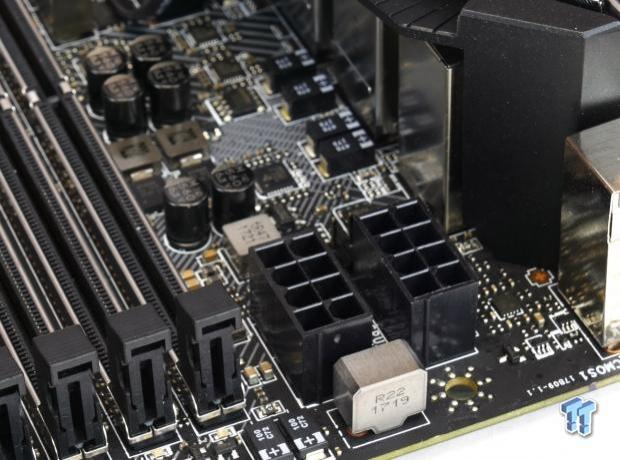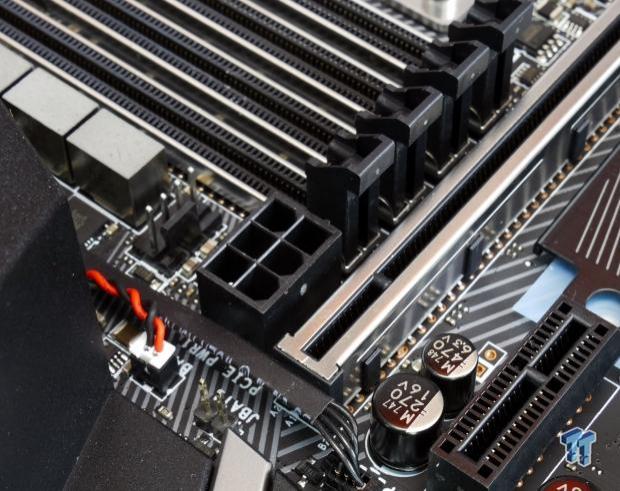 You also get two 8-pin CPU power plugs on the motherboard as well as a 6-pin PCI-E power plug that provides extra juice to the PCI-E slots.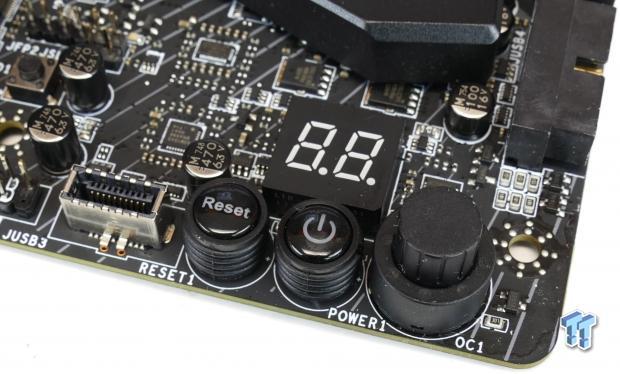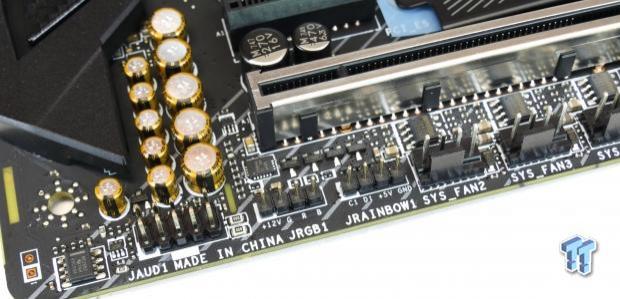 MSI also put in an overclocking knob with preset overclocking profiles, a power button, a reset button, and a POST code display in the lower right-hand corner of the motherboard. The motherboard also features an internal USB 3.1 type-C header on this bottom row.
MSI has also incorporated an RGB LED header as well as a digital RGB header. While most digital RGB headers on motherboards from other vendors offer power, ground, and data pins, MSI has also added in a clock pin.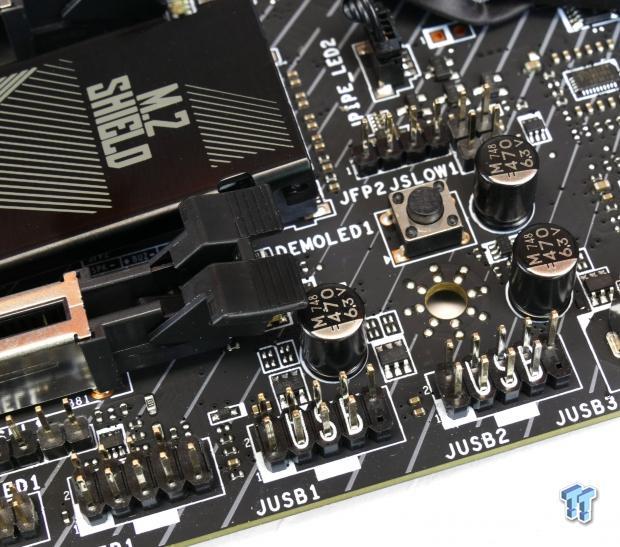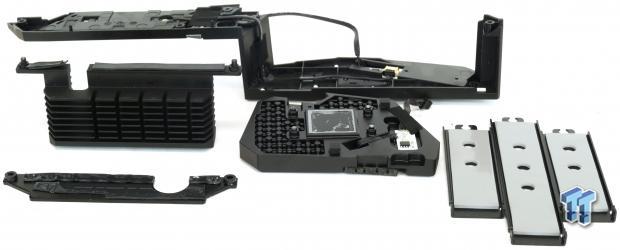 MSI has a few headers located on the motherboard that will engage certain "hidden" features, such as the slow-mode header. The demo LED header allows you to quickly change between RGB LED presets. Two USB 2.0 headers are located to the left of the USB 3.1 type-C internal header.
The heat sinks are interesting on this motherboard, as the VRM heat sink is very tall and seems to be optimized for decent airflow, while the chipset heat sink is designed to act as a sink. The back of the VRM also gets a heat sink.
MSI X399 GAMING PRO CARBON AC Circuit Analysis
Circuit Analysis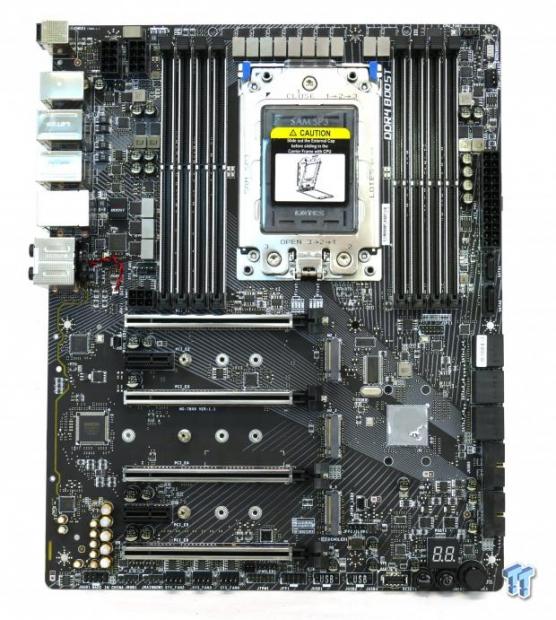 The X399 GAMING PRO CARBON AC shows off its goods.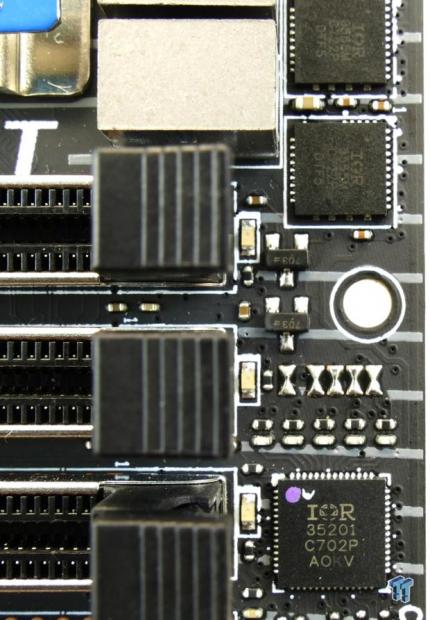 The VRM for the core of the CPU is actually a 10-phase VRM. We typically see 8-phase VRMs, but MSI has decided to increase the number of power stages and reduce the number of true phases to help spread out heat load among more components.
The fully digital IR35201 PWM controller outputs 5 phases to doublers that then output two power stages. The power stages are International Rectifiers IR3555, and they are fully integrated 60A power stages. I am not sure on the specifications of the inductors.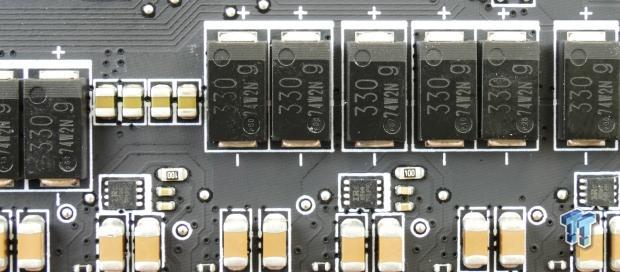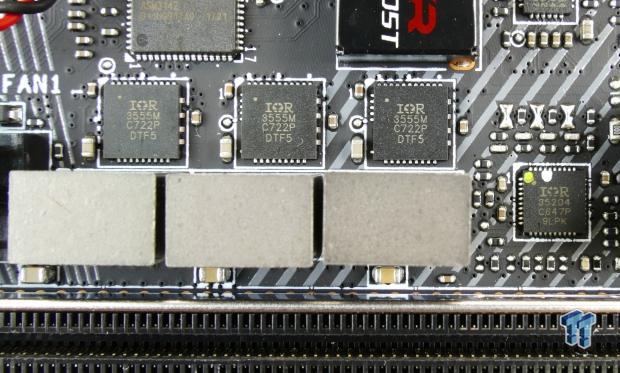 PWM phase doublers are located on the underside of the PCB; they are IR3599 operating in doubler mode. We can also see the tantalum capacitors on the back of the PCB, and the doublers and capacitors are covered by a metal heat sink. The SoC VRM is made up of three IR3555 60A PowIRstages, and they are controlled by an IR35204 digital PWM controller.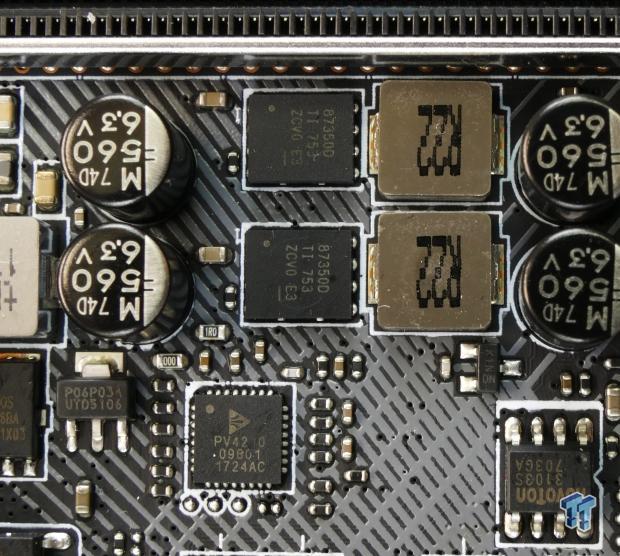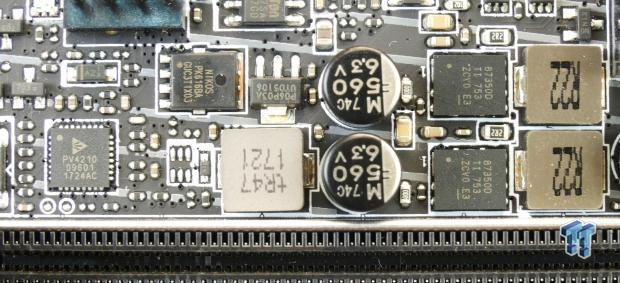 Memory VRMs for each of the four DIMMs use a Primarion digital PWM controller, the PV4210. The power stages are made up of two phases of Texas Instruments CSD87350Q NexFET dual N-channel 40A MOSFETs. The memory VRM on MSI's X399 motherboard is identical to that of MSI's X299 motherboard.
MSI X399 GAMING PRO CARBON AC Circuit Analysis Continued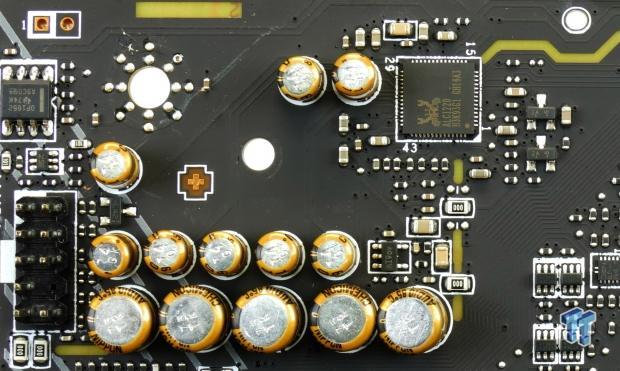 The Realtek ALC1220 is used as the audio codec and offers 120dB output on an amplified rail. MSI adds in a Texas Instruments OP1652 operational amplifier for the front headphone outputs as well as Gold series Nippon-Chemicon audio capacitors and then divides the audio PCB from the rest of the motherboard to improve audio quality.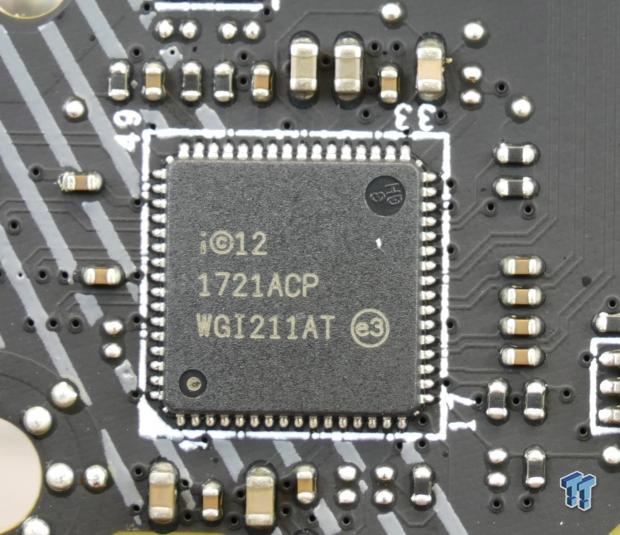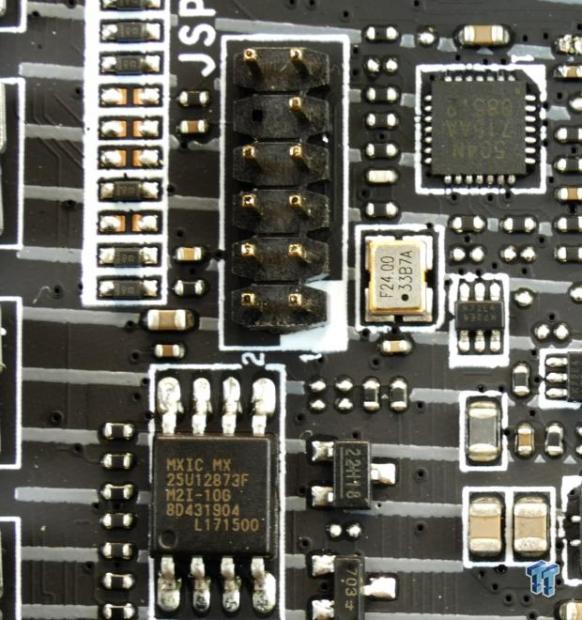 The Intel i211AT NIC is used for wired LAN while the Intel Wireless AC 8265 is used for wireless AC. The motherboard offers BIOS recovery through USB BIOS flashback (chip labeled 504N), and uses a 128Mbit ROM to store the actual ROM.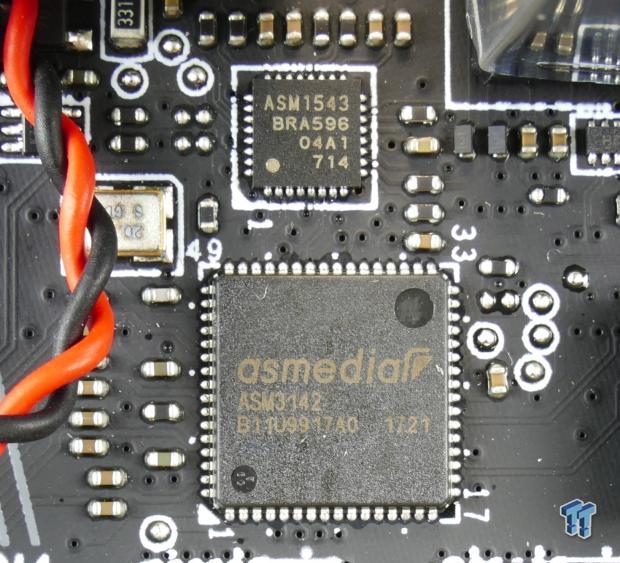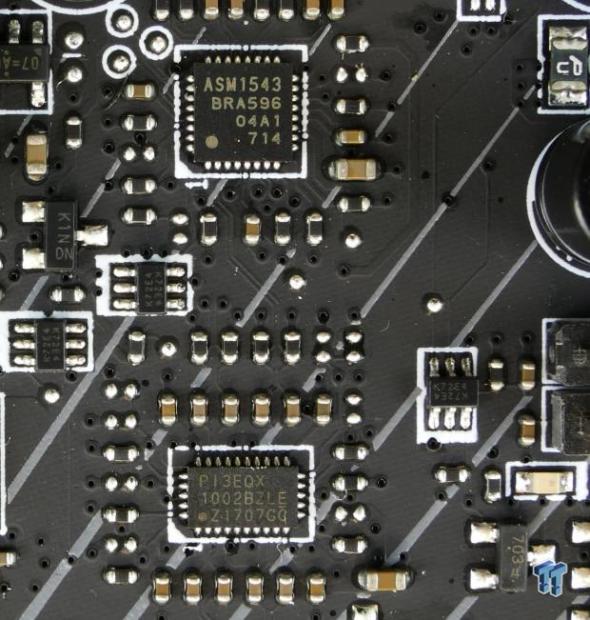 The two USB 3.1 ports on the rear IO are derived from the ASMedia ASM3142 USB 3.1 controller, and an ASMedia ASM1543 operates as the type-C port's switch and CC logic chip. The USB 3.1 type-C internal header gets another ASM1543, and also gets a Pericom PI3EQX USB 3.1 re-driver to re-drive the integrated USB 3.1 signal in the X399 Southbridge.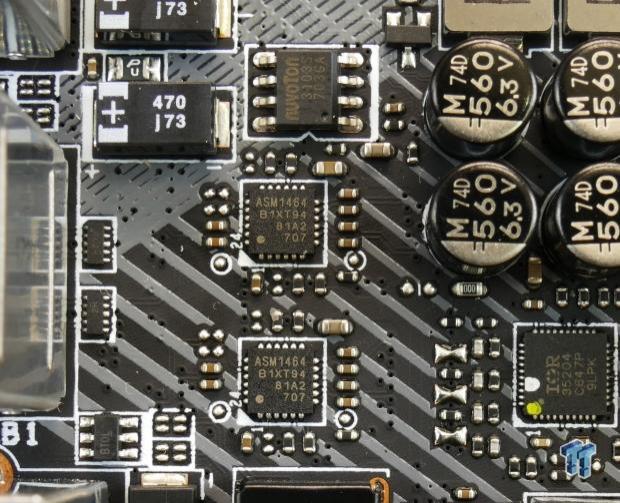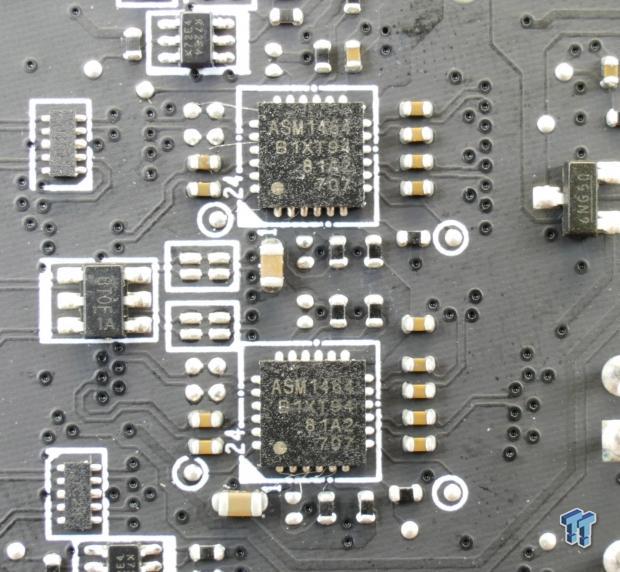 We find two ASmedia ASM1464 near the rear IO and two more near the internal USB 3.0 headers, and these are USB 3.0 re-drivers. They must be behind MSI's VR-Ready USB 3.0 ports, and they should ensure that data travels across longer USB 3.0 cables.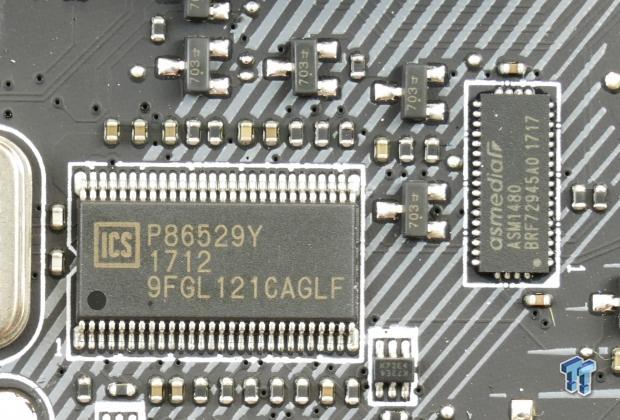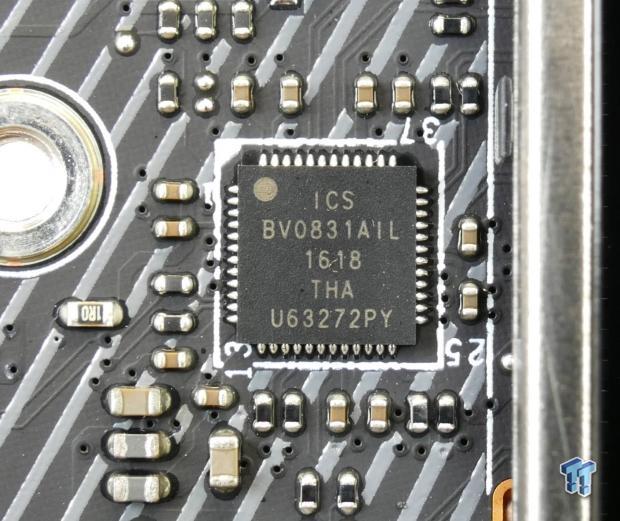 There are two clock generators on the motherboard, an ICS 9FGL121CAGLF, and an ICS BV0831AIL are used to help CPU base clock overclocking and I assume to allow for more than seven simultaneous devices to operate connected to the CPU. An ASMedia ASM1480 seems to be connected to the first clock generator and must switch between native signaling or between the two clock generators.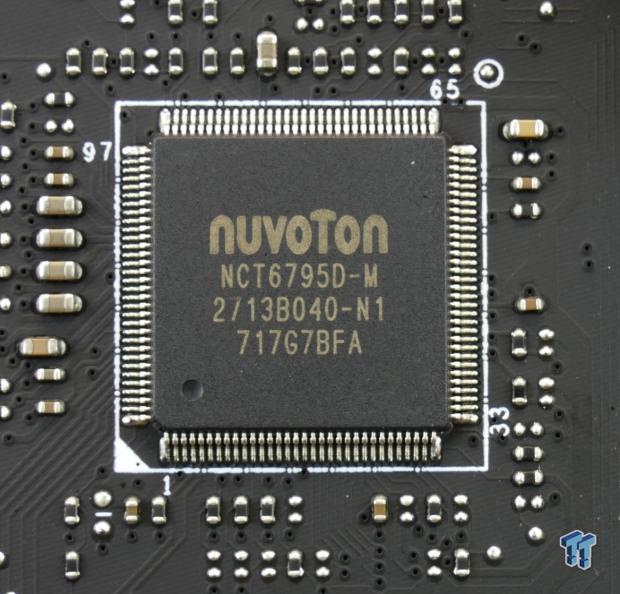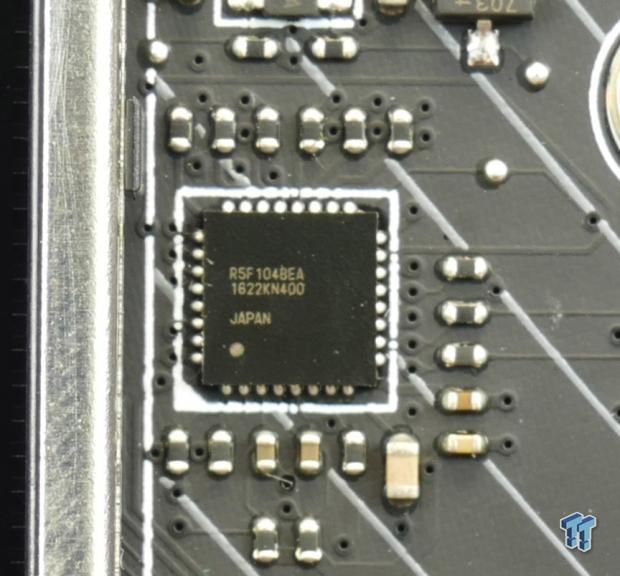 The Nuvoton NCT6795D is the main SuperIO controller and provides the PS/2 on the rear IO as well as system management. An NEC R5F104BEA programmable micro controller provides RGB LED, and digital RGB LED control.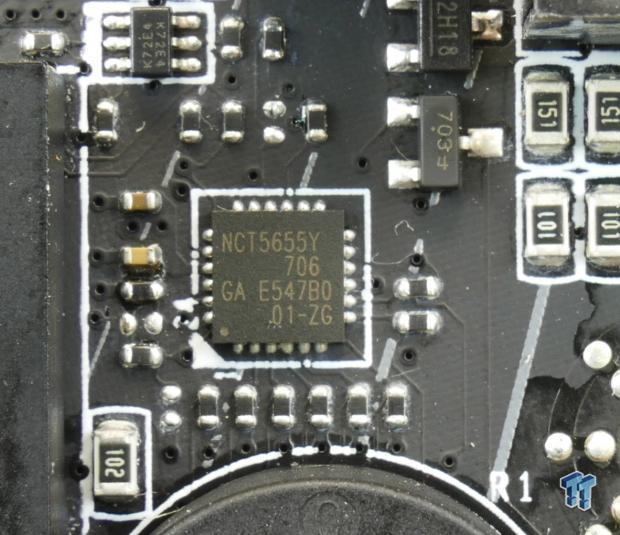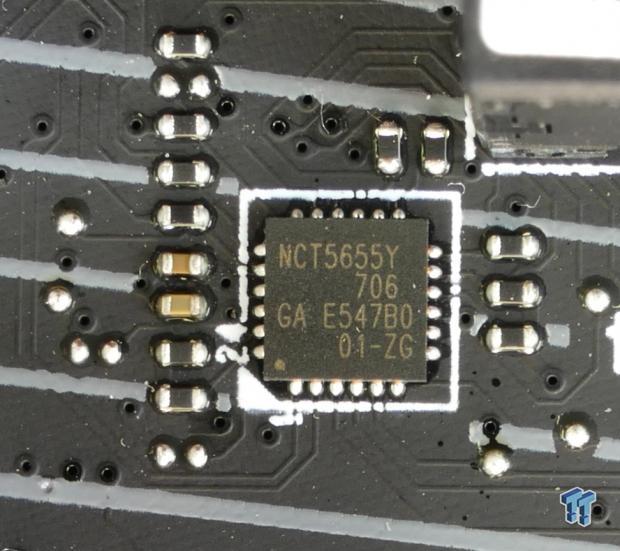 You can also find two Nuvoton NCT5655Y GPIO chips that help to extend the SuperIO's fan control capabilities throughout the motherboard.
BIOS and Software
BIOS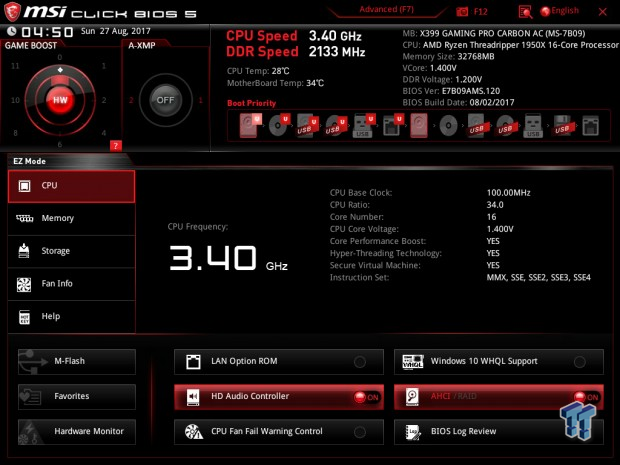 MSI's UEFI for the X399 GAMING PRO CARBON AC is loaded with features, but it is very similar in layout to MSI's UEFI for X370, Z270, and X299. You get an Easy Mode and an advanced mode for more expert users.
AMD's CBS menu is also present, and it offers a lot in regards to customizing deep AMD settings. Overclocking settings are also present, and so at the PWM options to expand power limits so that the VRM won't throttle the CPU.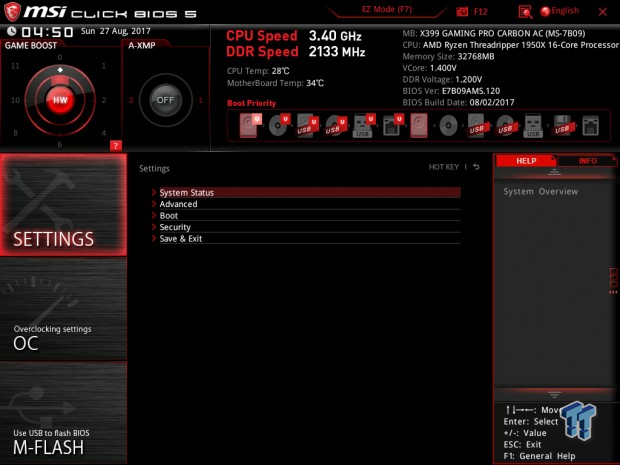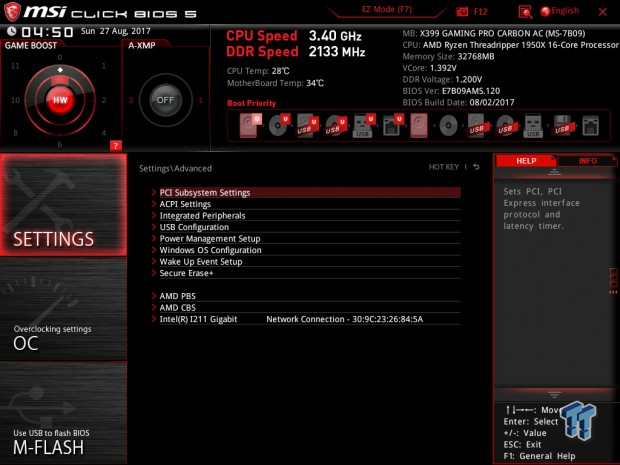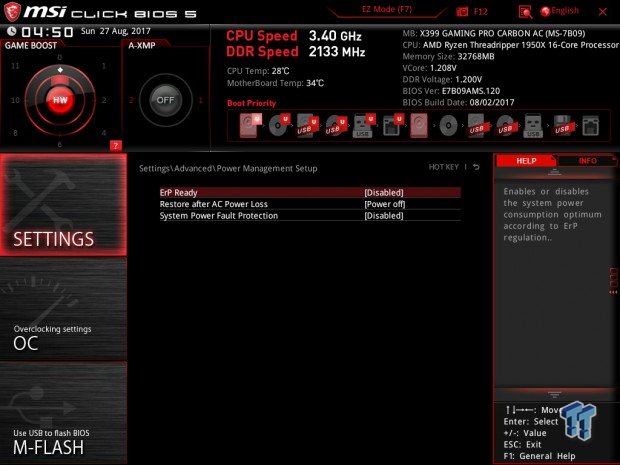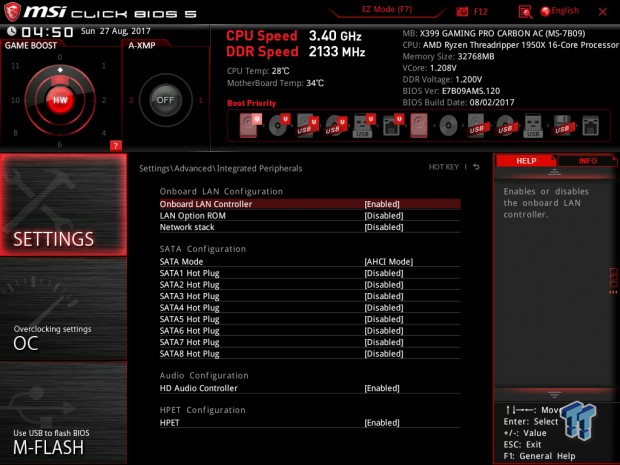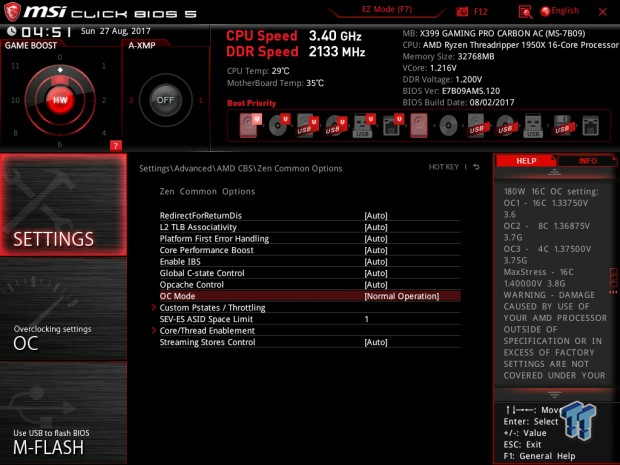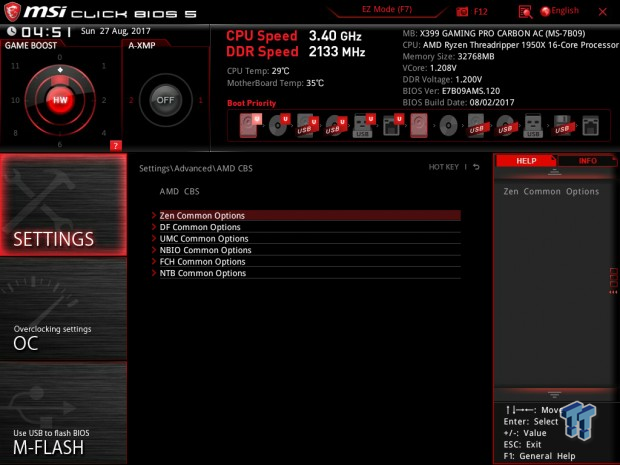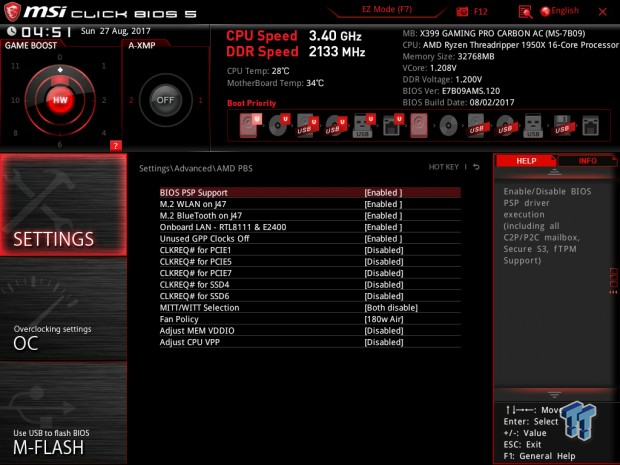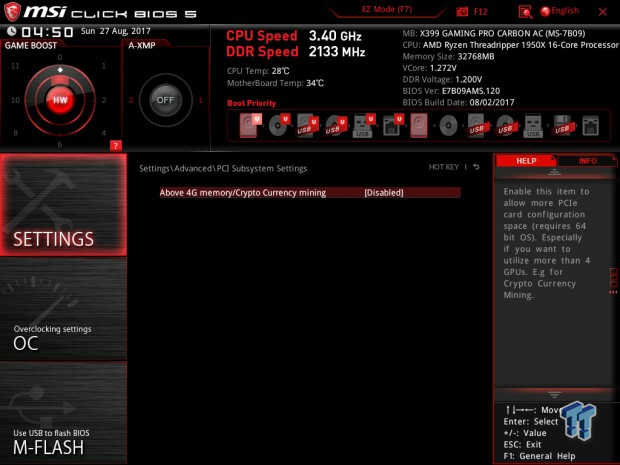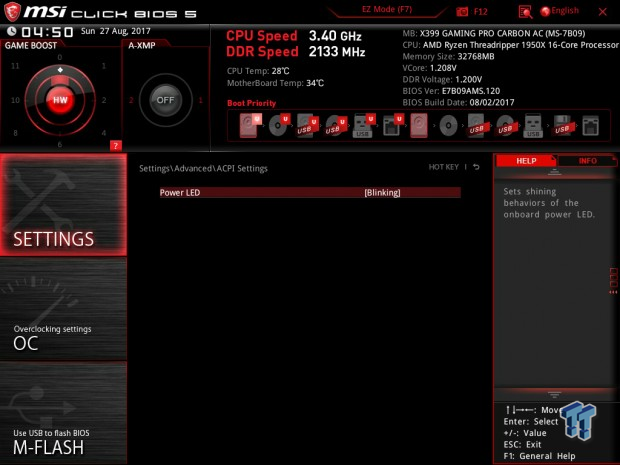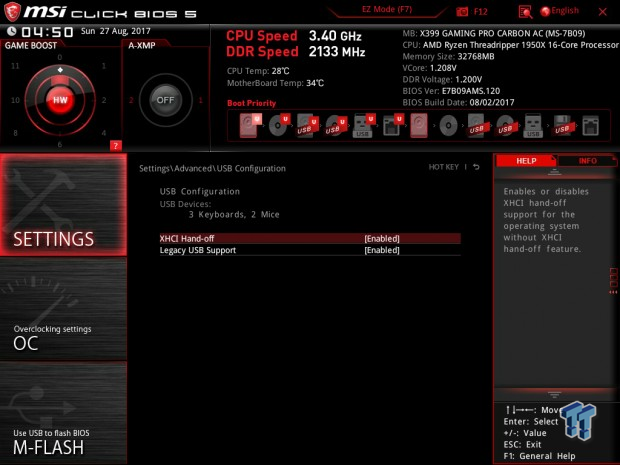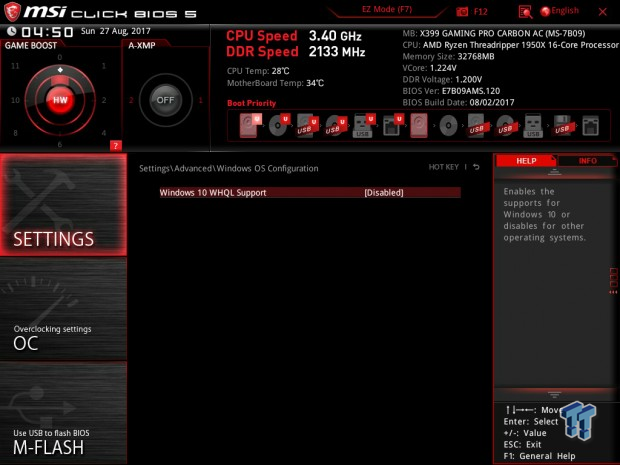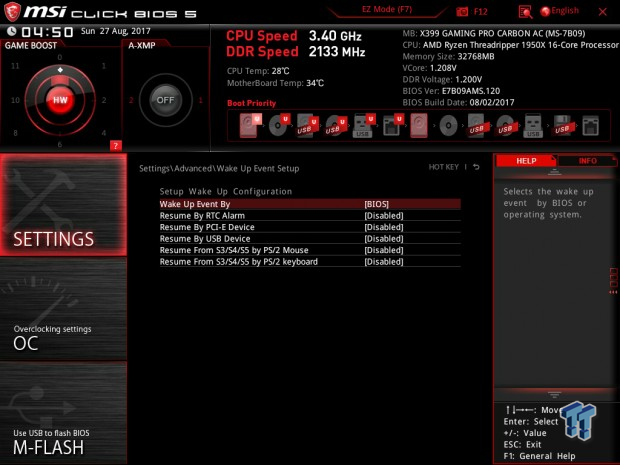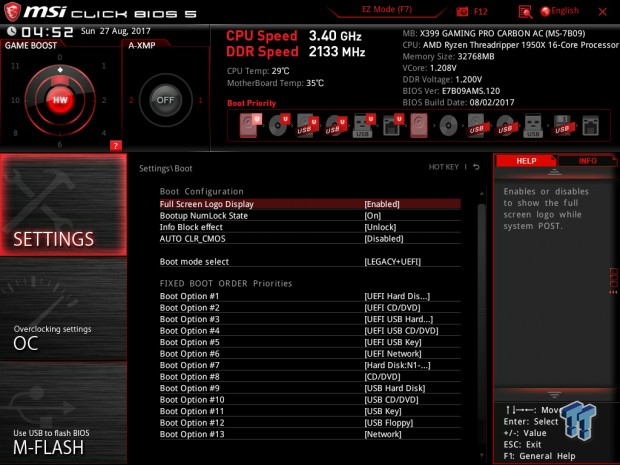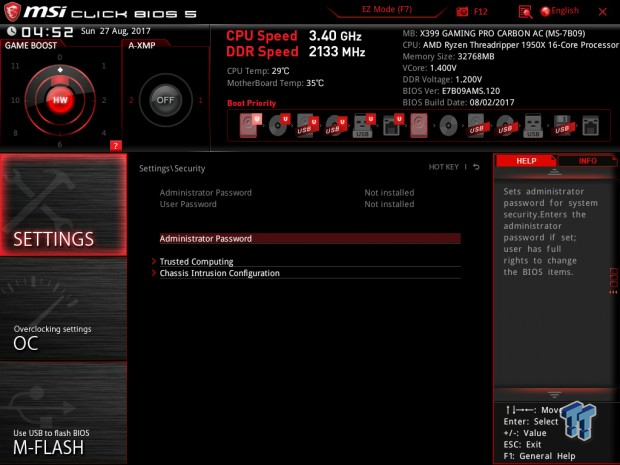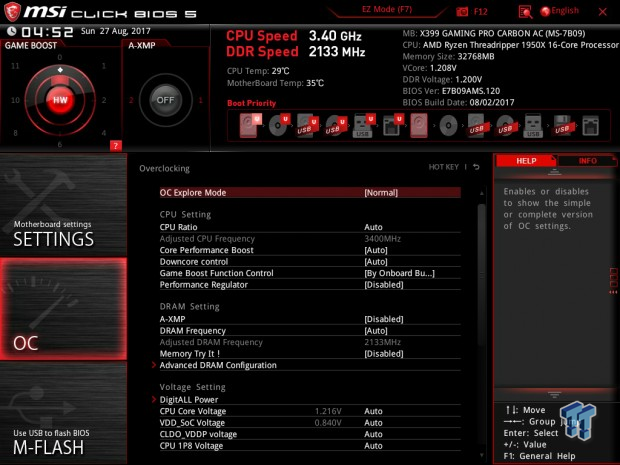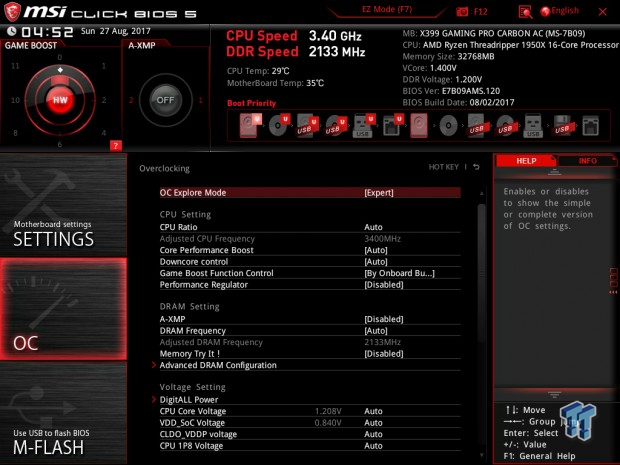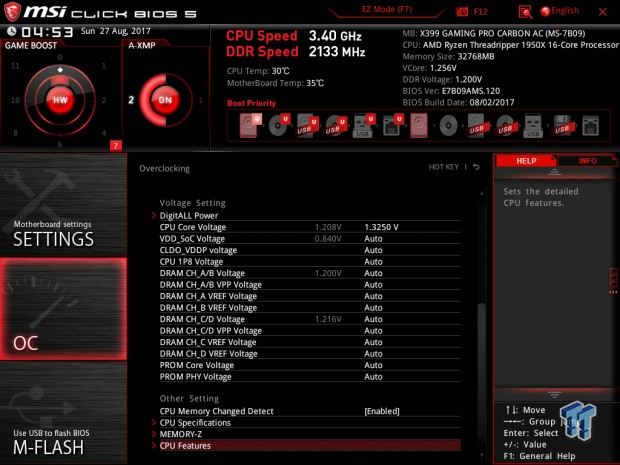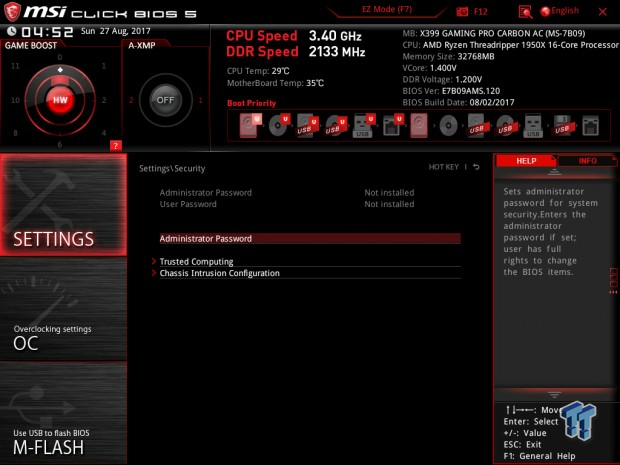 Software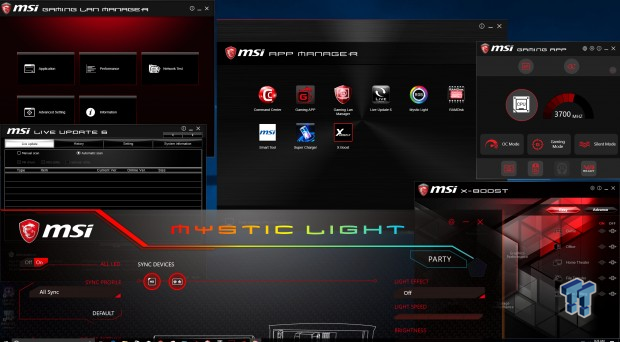 MSI's software suite includes APP Manager, Command Center, Gaming APP, Gaming LAN Manager, Live Update 6, Mystic Light, RAMDisk, Smart Tool, Super Charger, X-Boost, and more.
Test System Setup
Steven's Motherboard Test System Specifications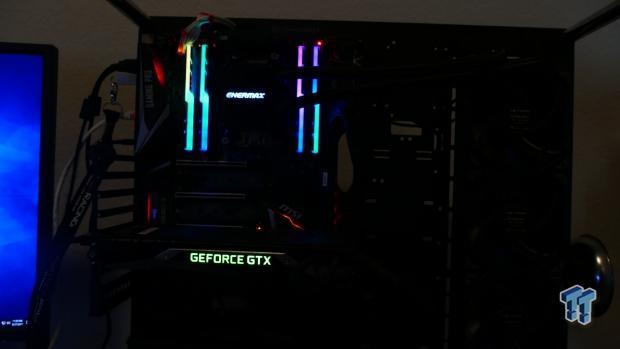 The X399 GAMING PRO CARBON AC does have RGB LEDs built into it, but they aren't that bright, and won't offend those who get offended by something as simple as a light.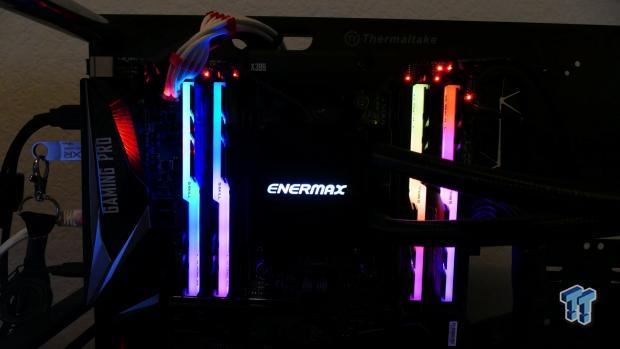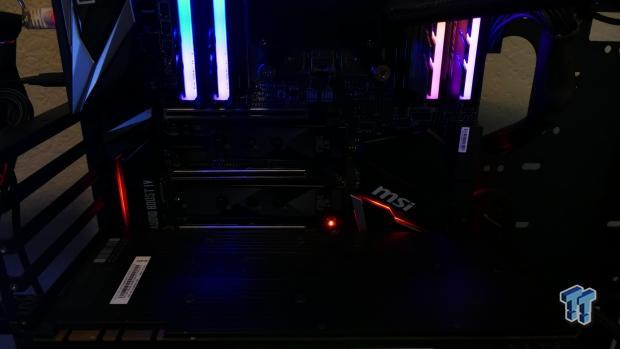 They will add some glamour and fun to your build, and you can always disable or change their color if you don't like the default red option.
Overclocking
Overclocking Results
CPU Overclocking
AMD's Threadripper platform is quite interesting, as AMD stated the top 5% of Zen dies become Threadripper CPUs. That is a big deal, as that would also mean the CPU should overclock quite high, or at least consistently high.
My best overclock on the X370 platform was 4GHz with 3200Mhz memory speeds after months of BIOS updates, so I will aim for the same here. Most people get limited around 4.1GHz, and I know my 1950X can't do 4.1Ghz stable on all cores without tons of voltage or better cooling.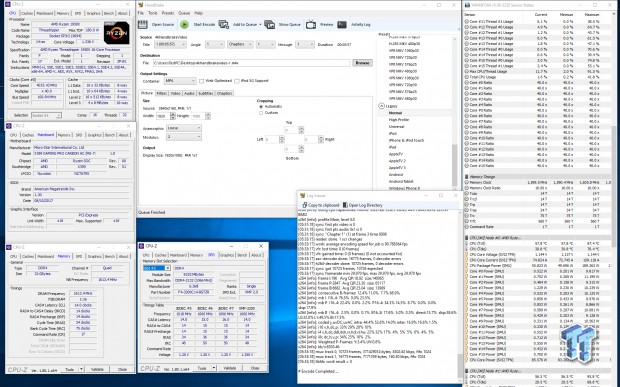 It was very easy to overclock the CPU using MSI's UEFI. I went and set OC Explore mode to expert, set the CPU ratio, then enabled A-XMP, set VCore to 1.325v, and went into the DigitALL Power menu and maximized all CPU VRM temperature and current limitations.
CPU, Memory, and System Benchmarks
CINEBENCH R15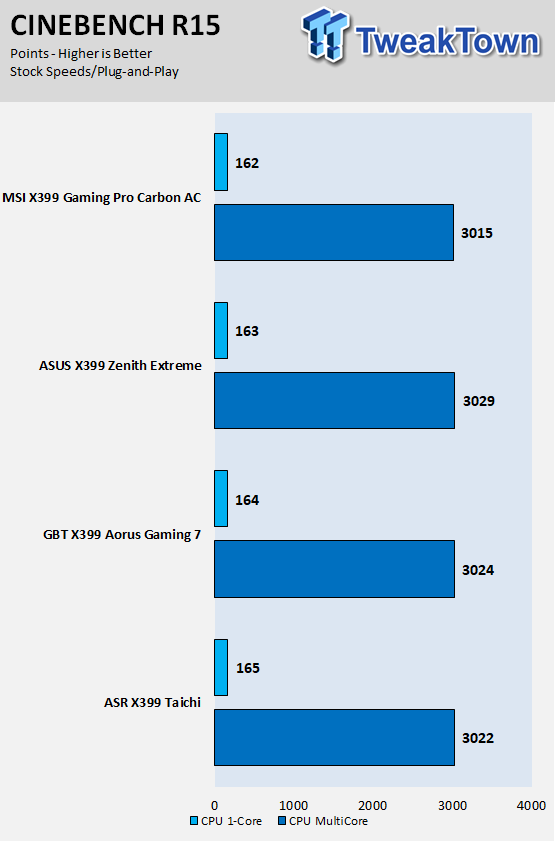 wPrime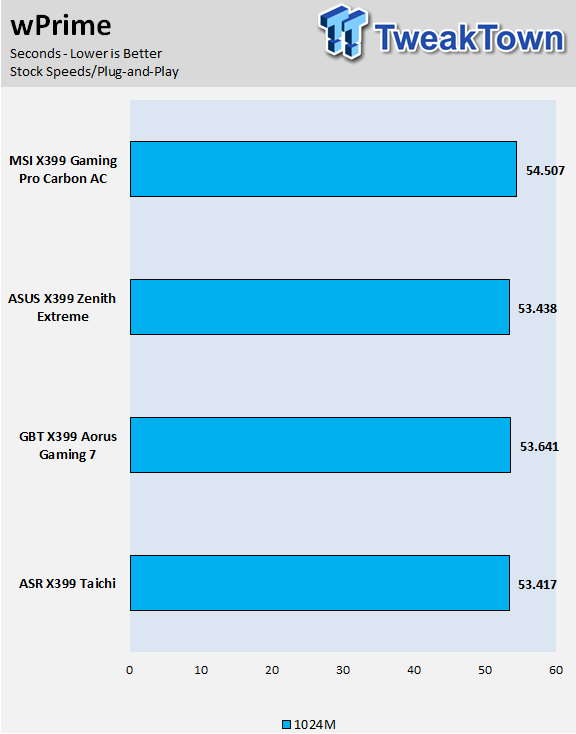 AIDA64 FPU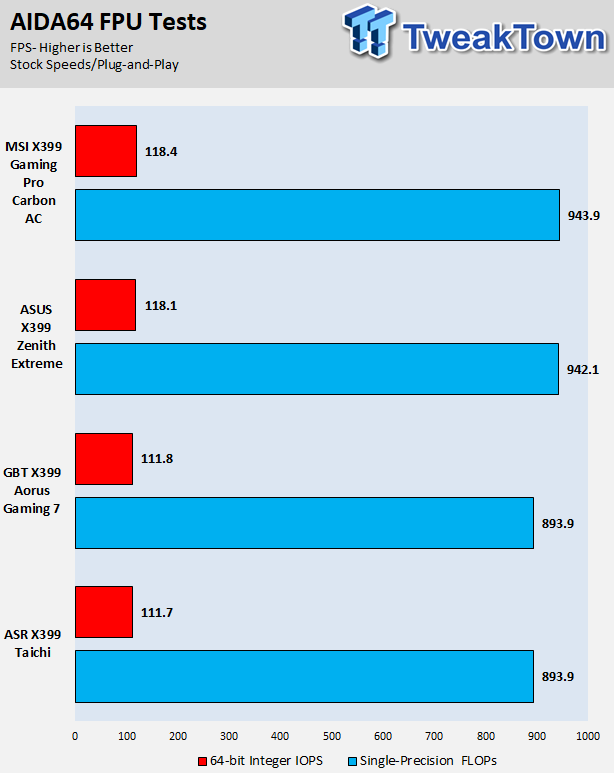 AIDA64 Memory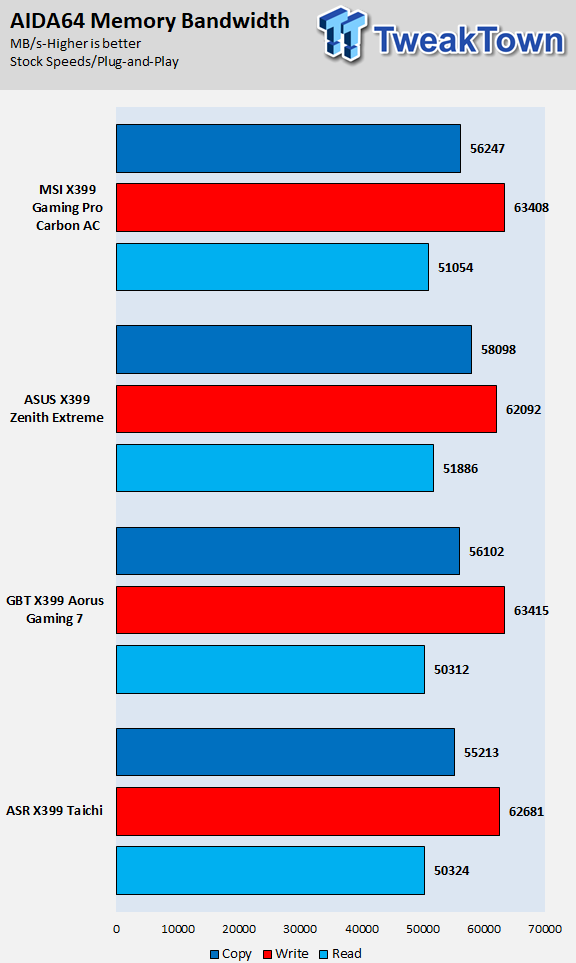 ScienceMark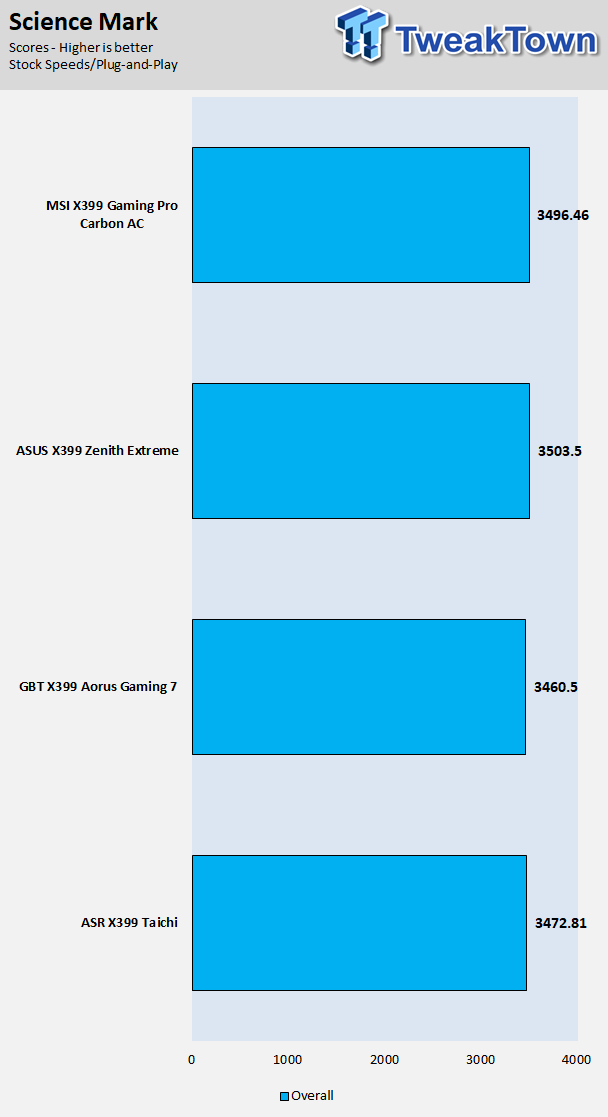 HandBrake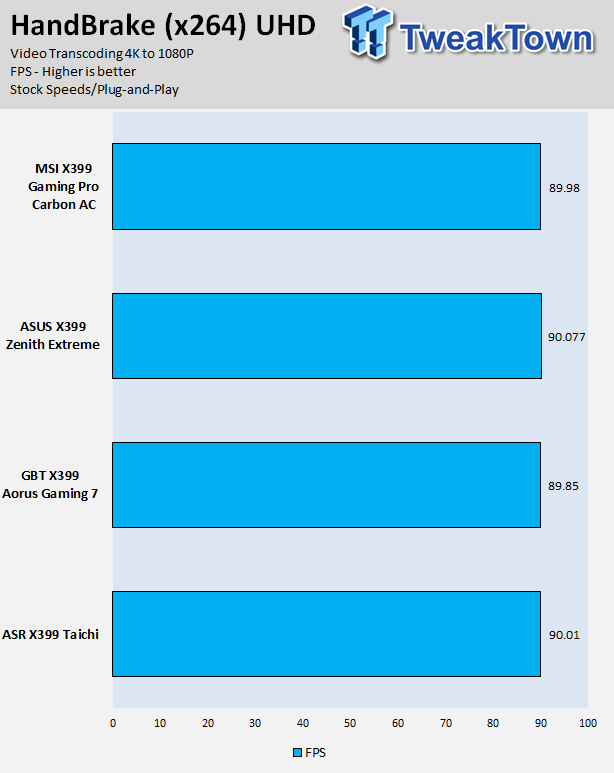 SuperPi 32M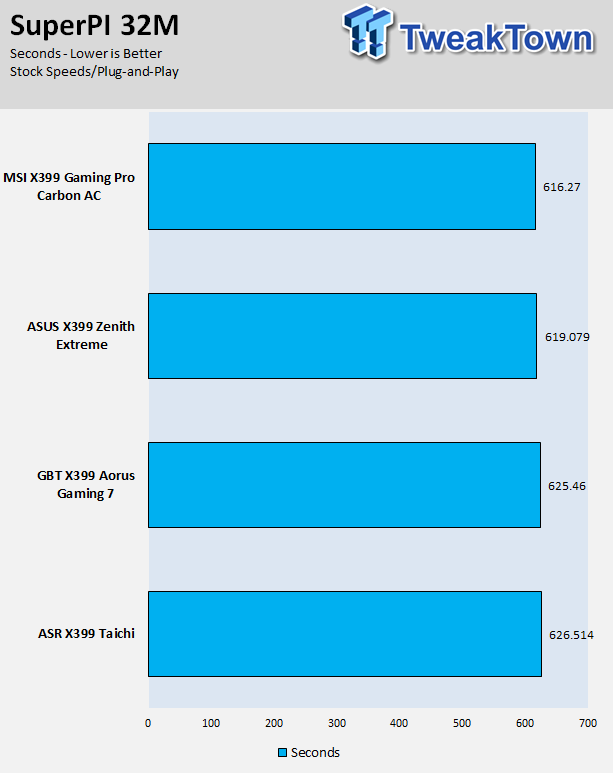 3DMark: Fire Strike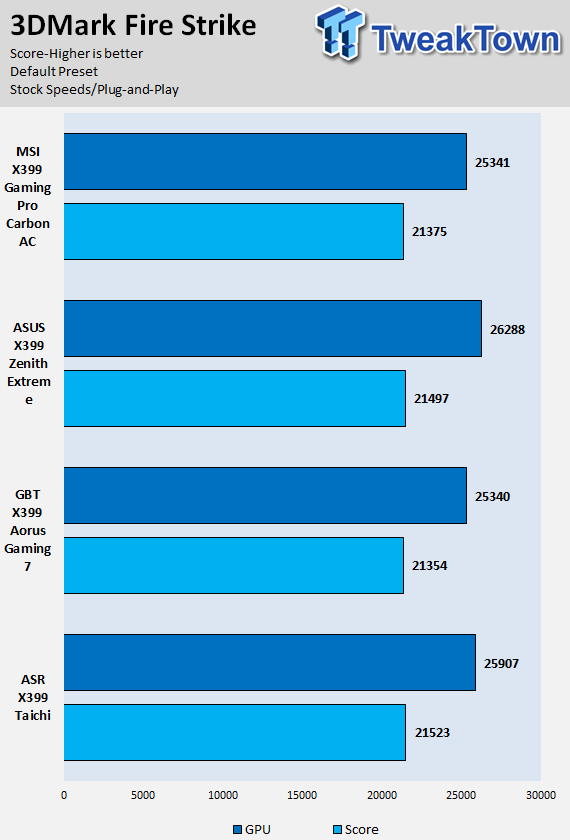 3DMark: Cloud Gate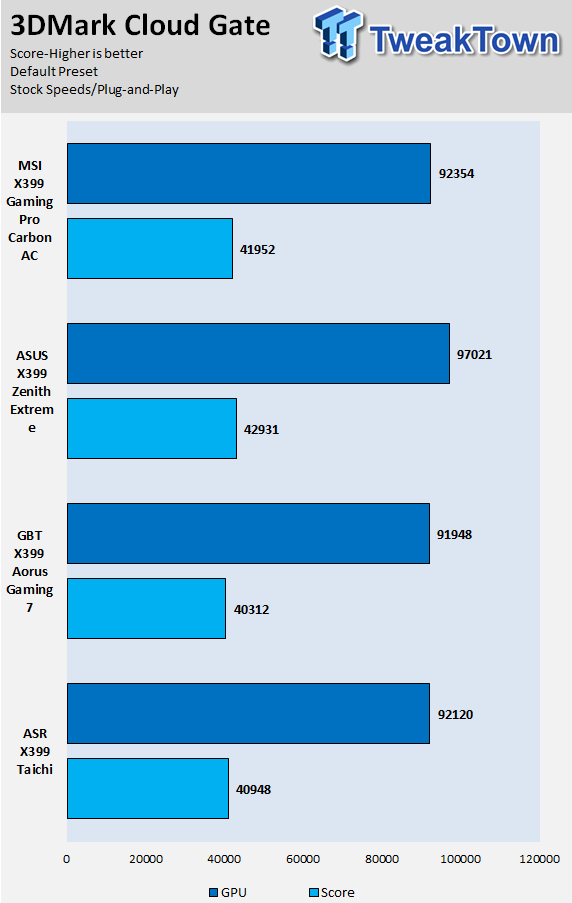 ResidentEvil 6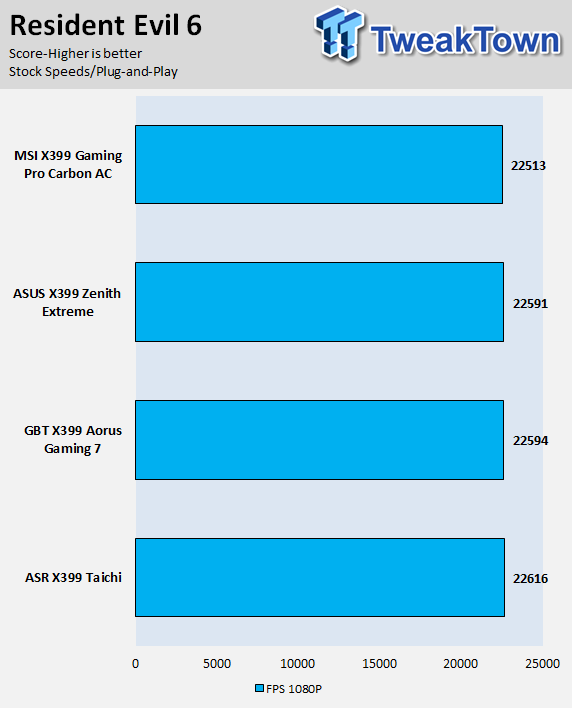 The X399 GAMING PRO CARBON AC's performance is well rounded, and the new microcode and software optimizations in the MSI and ASUS results show how much the two impact performance. If you look at the AIDA64 FPU results, you will see both the MSI and ASUS boards have jumped up above the rest of the boards.
Overall, the motherboard's performance is just fine, and there isn't anything to worry about or get too excited about, at least not here.
System IO Benchmarks
CrystalDiskMark SATA6G: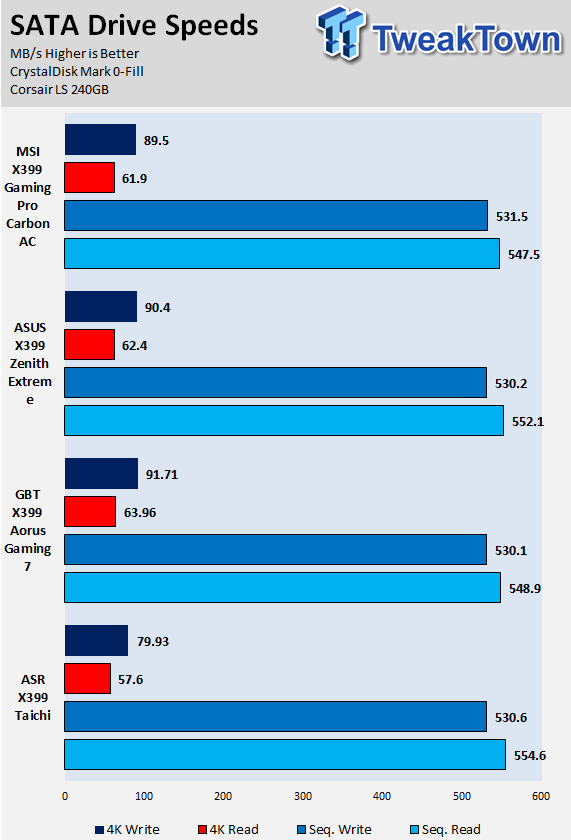 CrystalDiskMark M.2: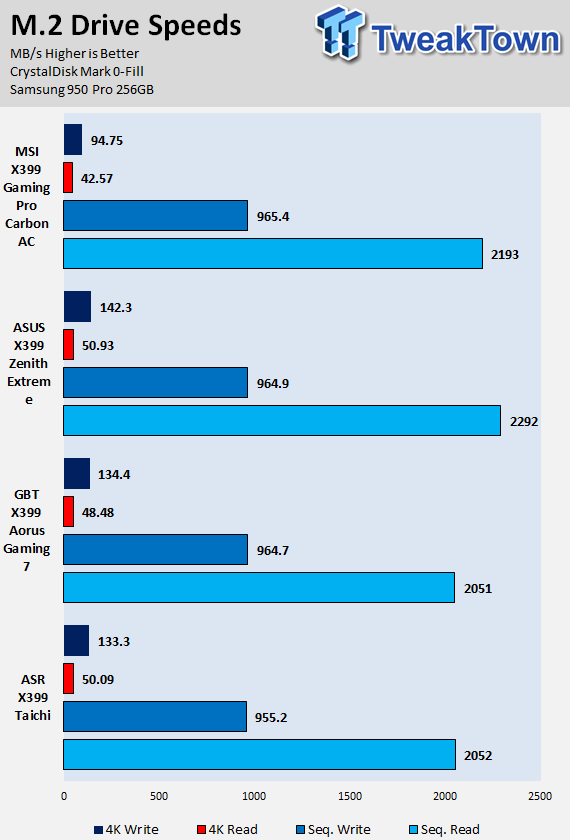 ixChariot Network Throughput: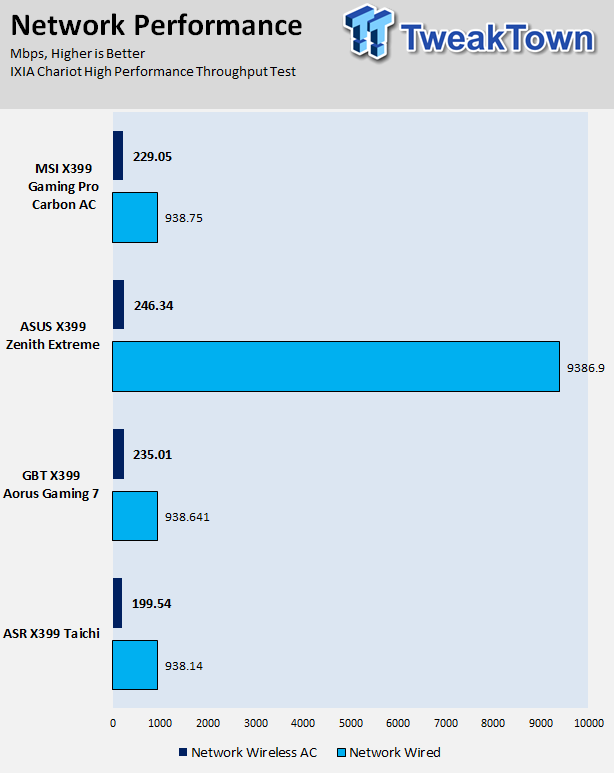 The X399 GAMING PRO CARBON AC's storage performance is where it should be, except the 4K write speed on the M.2 drive.
Networking performance is top notch, and I have encountered this same Wireless AC controller on other motherboards, and it performs the same here.
Audio RMAA 5.5:
I disable all audio features, set the correct bitrates, and then test the audio with a loopback test.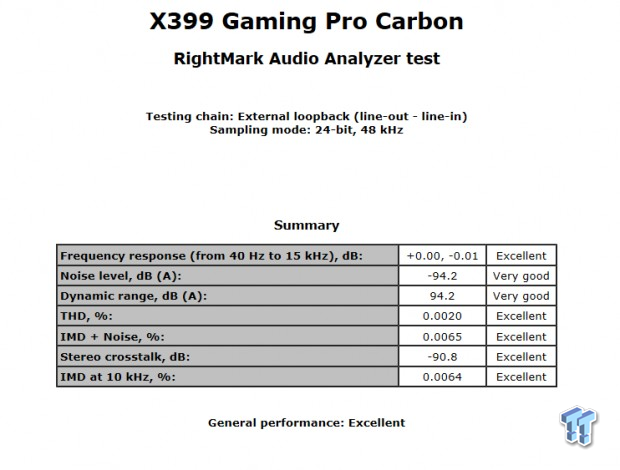 Sound Judgment by Ear: Excellent. There are five ratings for audio: 1. Problems, 2. Okay, 3. Acceptable, 4. Very good, 5. Excellent
Thermal Imaging and Power Consumption
System power is measured at the wall with an AC power meter.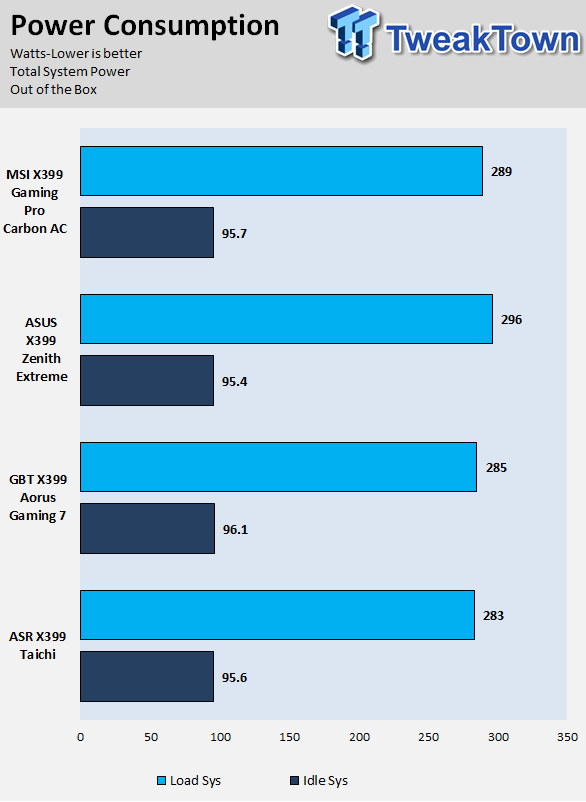 Note on Thermal Images: In the temperature section, we use our Seek thermal imaging camera to capture the surface temperatures of major components on the board. I look at the VRM and then all other things that light up the screen. If there is something to worry about, then I will state it. Otherwise, I will just show the hotter running parts of the board for fun. Unless some component is over 80-90C, then there isn't anything to worry about.
All systems will act differently, so I will look for commonalities, such as how far from the VRM the heat spreads through the PCB and the difference in temperature between the front side and backside of the PCB. Keep in mind, the majority of the heat from the VRM goes into the PCB as it is a giant soldered on copper heat sink. A larger difference in temperature between the back and front of the PCB points towards a more effective heat sink.
Thermal Testing at Stock Speeds:
The image on the left is always at idle, and the image on the right is at load. During ALL TESTS, There is no airflow direct at the VRM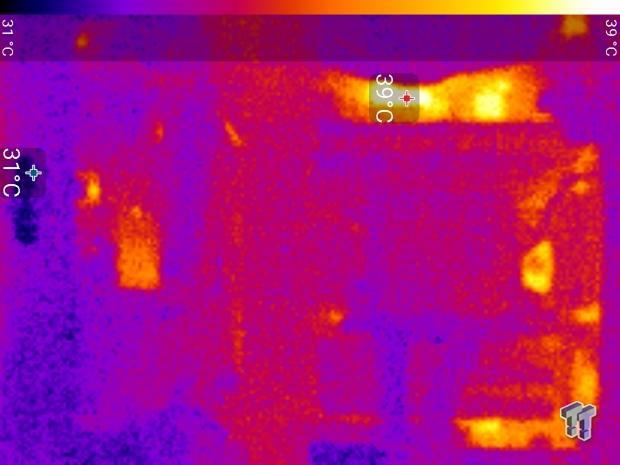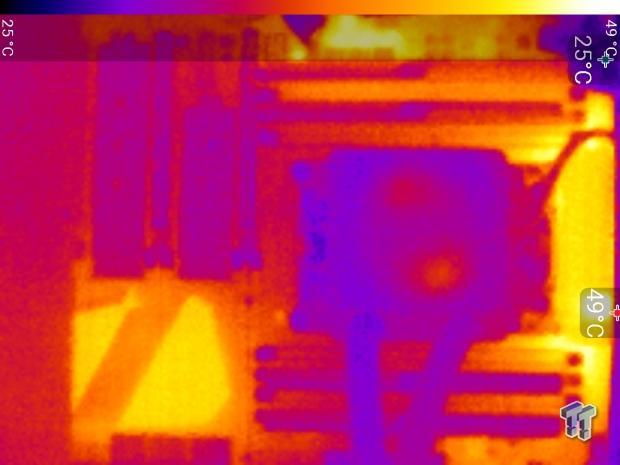 Full frontal.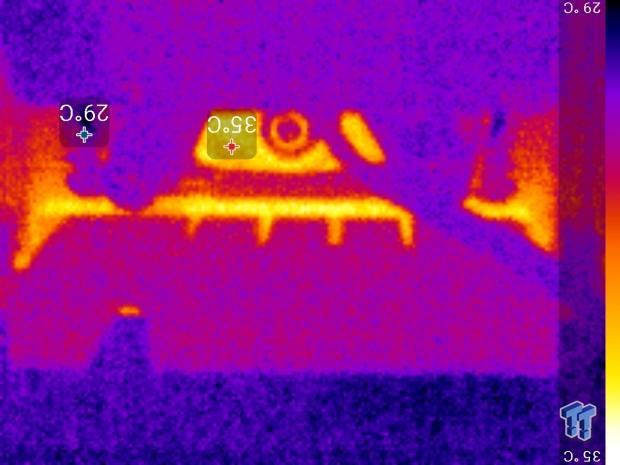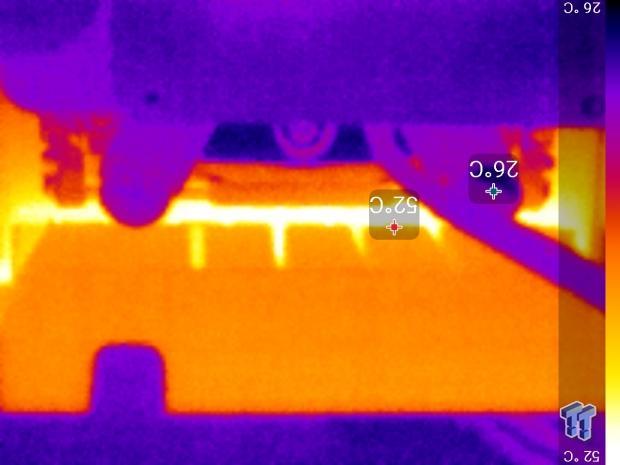 Up-close of the front of the VRM.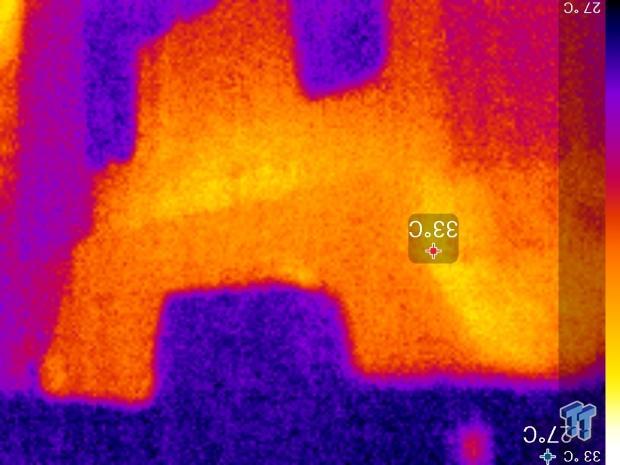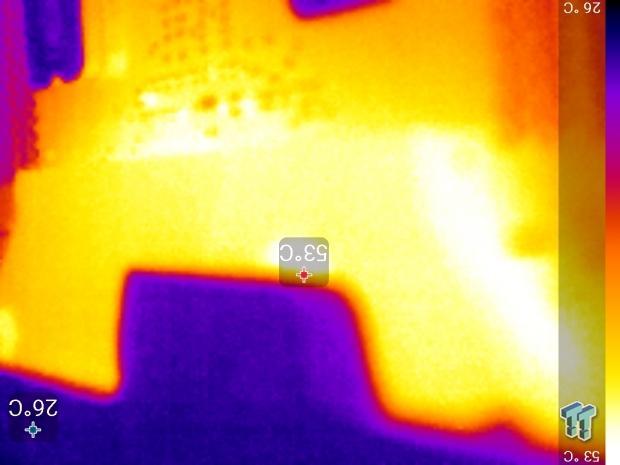 Up-close of the back of the VRM.
The X399 GAMING PRO CARBON AC stock almost-worst-case thermal testing scenario doesn't have a mechanism for airflow around the VRM area, so it basically tests the ability of the heat sink to sink the heat.
That means that this test is just one way to testing VRM thermal performance, and inside a case, the motherboard would do much better.
For a test bench, MSI has included a fan mount that is capable of cooling the VRM heat sink, so they provide the right hardware for scenarios like the one above.
What's Hot, What's Not & Final Thoughts
Here are key points about the MSI X399 GAMING PRO CARBON AC.
What's Hot
VRM Quality and Cooling Design: MSI's power stages are IR's 60A variant, and MSI has used more than other vendors by using 10 instead of 8. To do that, they correctly doubled five phases to ten, and that helps spread the load among two more power stages. The heat sink they implemented it also quite tall, and it is optimized to disperse heat with airflow. The package also comes with a VRM fan stand, so that you can mount a fan directly aimed at the VRM heat sink if you are on a test bench.
Customizability: One unique feature of the X399 Gaming Pro Carbon AC are the panels that go on the chipset heat sink and some of the shields, and they allow you to change out the carbon fiber panels for gold or silver panels. RGB LEDs are also integrated into the motherboard and provide mild accent lighting. RGB headers are also present, as is a digital RGB header with four pins. While most vendors have digital RGB headers with three pins (power, ground, and digital signal), MSI also added a clock signal pin for a different set of digital RGB cables.
Intel Networking: Intel's Gbit wired NIC, the i211AT can be found on the motherboard, as can a wireless Intel NIC. The Intel 8265 Wireless AC/Bluetooth card can be found included in the accessory package, and you can also take it and use it on a system in the future if you decide to upgrade years down the line.
IC Use: Not all motherboards are created equal, and MSI has done a nice job in the integrated circuit department. They implement two extra clock generators and the proper switch to expand capabilities of the platform. They also implement four USB 3.0 re-drivers to improve USB signaling quality for their "VR-enabled" USB ports. When it comes to USB 3.1, MSI also made sure to add in the latest and greatest ASMedia ASM3142.
What's Not
Odd Layout for SATA/USB: I am a bit confused as to why MSI put the type-C internal header so far down, as most cases will have cables for the new connector, but they won't be very long. It would have been a better idea to switch the location of the two straight ports with the USB 3.1 header, or turn those two SATA ports into a right-angled connector and put the type-C connector near the 24-pin connector. The PCI-E x1 slot position for the WIFI card would have also been better if they placed it between the 2nd and 3rd slot so that you wouldn't have to sacrifice either of your x16 card slots when using the WIFI card.
Final Thoughts
The MSI X399 GAMING PRO CARBON AC is an "affordable" X399 motherboard, but it's not cheap by any means. It uses a solid amount of power stages for the CPU core, and while you don't get the interleaving effect of 8 true phases, you get the load and heat spread among two extra power stages. VRM design is a balance, and I think MSI did a nice job. The VRM heat sink is optimized for a case with airflow, and when that isn't present, MSI included a bracket for a VRM fan.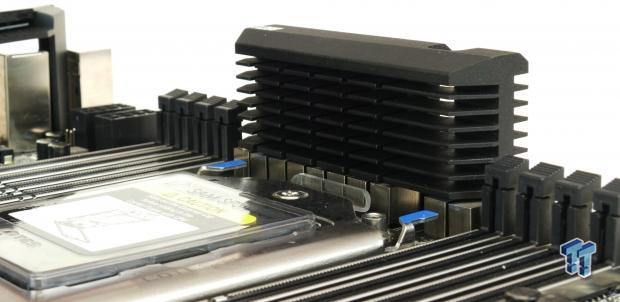 MSI has done a nice job with integrating ICs for extra features or better signal quality, and to my surprise, they didn't really advertise it. MSI has done an excellent job with component quality on this motherboard, and their attention to detail is also impressive. I was surprised to find they implemented their digital RGB header with the extra clock pin, and that they used the higher quality USB 3.1 controller for the rear IO.
Overall, I am impressed with this more "affordable" X399 motherboard from MSI, and it's definitely worth a look if you want a solid product that will last for years to come.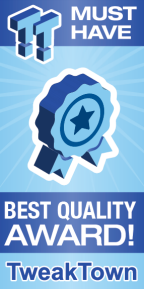 | | |
| --- | --- |
| Performance | 90% |
| Quality | 95% |
| Features | 92% |
| Value | 89% |
The Bottom Line: MSI's attention to detail and component selection on the X399 Gaming Pro Carbon AC make it a great choice for a solid AMD Threadripper system.
PRICING: You can find products similar to this one for sale below.

United States: Find other tech and computer products like this over at Amazon.com

United Kingdom: Find other tech and computer products like this over at Amazon.co.uk

Australia: Find other tech and computer products like this over at Amazon.com.au

Canada: Find other tech and computer products like this over at Amazon.ca

Deutschland: Finde andere Technik- und Computerprodukte wie dieses auf Amazon.de
We openly invite the companies who provide us with review samples / who are mentioned or discussed to express their opinion. If any company representative wishes to respond, we will publish the response here. Please contact us if you wish to respond.