ASUS Zenith Extreme Alpha (AMD X399) Motherboard Review
The ASUS Zenith Extreme Alpha has quite a selection of features, has great performance and is a great looking motherboard.
Published
8 minute read time
TweakTown's Rating: 95%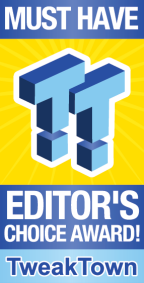 The Bottom Line
ASUS's X399 Zenith Extreme Alpha brings together a huge and well-designed VRM, and excellent feature set, and some stellar good looks, but it will cost you.
Introduction, Specifications, and Pricing
Today we take a look at ASUS's new Flagship for the AMD X399 chipset, the Zenith Extreme Alpha.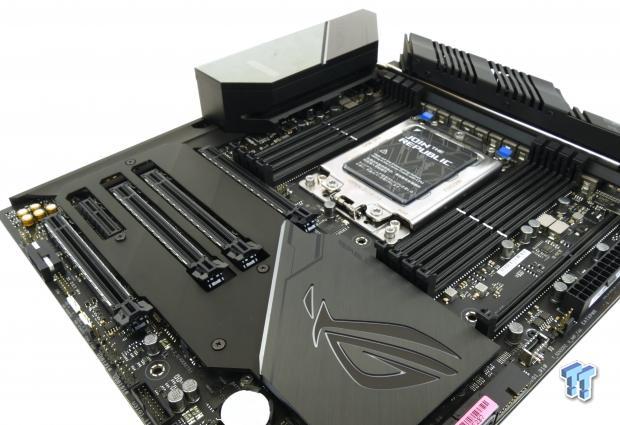 You might have seen our review of the Zenith Extreme before, but this new motherboard is designed to go above and beyond in regards to its VRMs and features. Let's see how this new motherboard delivers.
Specifications

The Zenith Extreme Alpha offers an Intel NIC, a 10Gbit NIC, Wireless AC, USB 3.1, USB 3.0, and SATA6Gb/s.
Pricing
The Zenith Extreme Alpha costs $620.01
Packaging and Zenith Extreme Alpha Overview
Packaging and Overview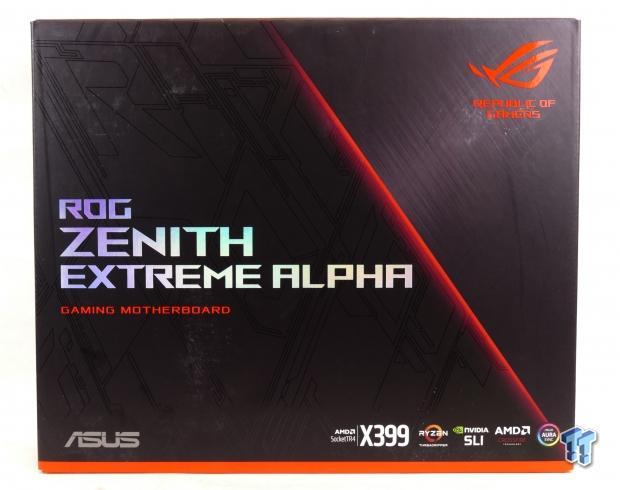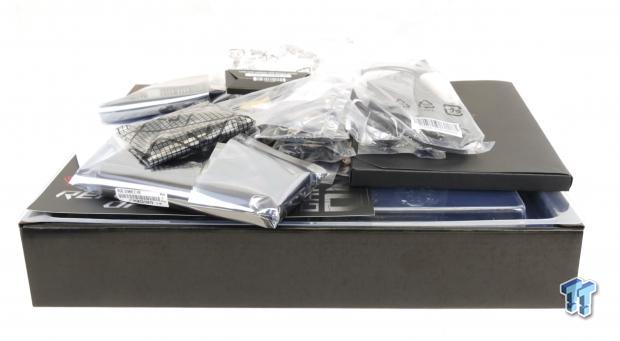 ASUS's box and packaging are top notch.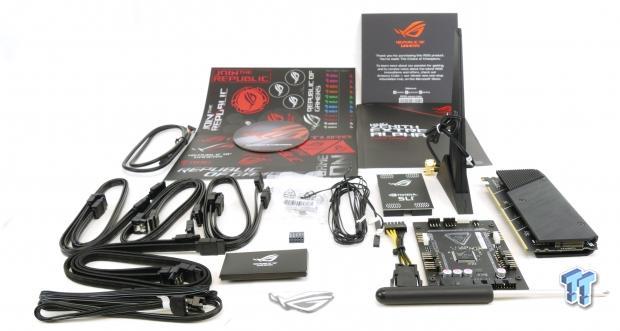 The accessory package includes four SATA6Gb/s cables, two weaved SATA 6Gbps cables, three thermistor cables, RGB extension cable, addressable RGB LED extension cable, ROG logo stickers, WIFI antenna, Q-Connector, M.2 screws, ROG thank you card, ROG coaster, SLI HB Bridge, dual function screwdriver, DIMM.2 with heat sink, ROG NODE, NODE power cable, NODE connector, NODE screw kit, USB with drivers, and manuals.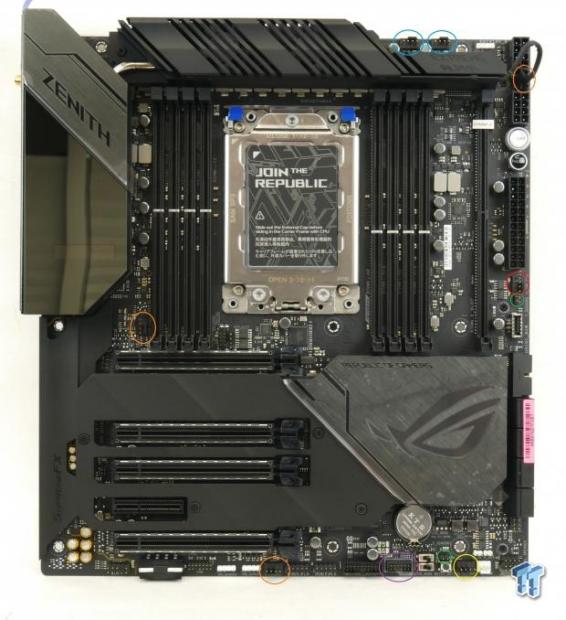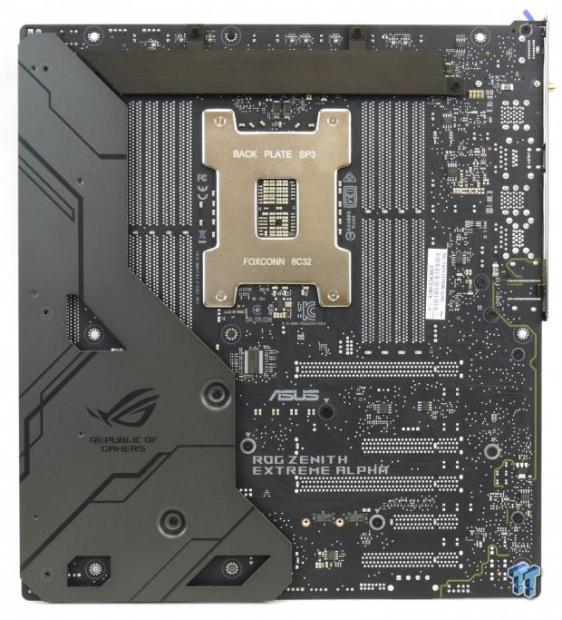 ASUS put seven fan headers on the motherboard, all of them are hybrid DC/PWM mode fans, one is occupied by the heat sink fans. The orange and blue fan headers are all rated 1A, but the blue share controls. The red and yellow headers offer 3A, but the yellow headers run full speed by default. The purple header is for the NODE, which extends fan control and offers more temperature input as well as RGB support. The two thermal probe input headers are circled in green. The motherboard has RGB accents, and all of the heat sinks and covers are metal, even over the audio section and the PCI-E area. The back of the motherboard has a heat sink for the back of the VRM and a shield on the right side of the motherboard.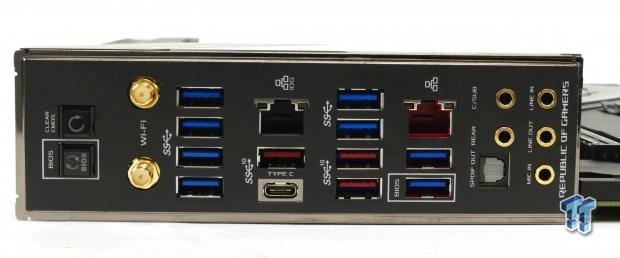 The IO shield offers a clear CMOS button, a BIOS FlashBack button, WIFI antenna, eight USB 3.0 ports, 10G LAN, 1G LAN, three USB 3.1 typeA, USB 3.1 type-C, and gold plated audio with S/PDIF out.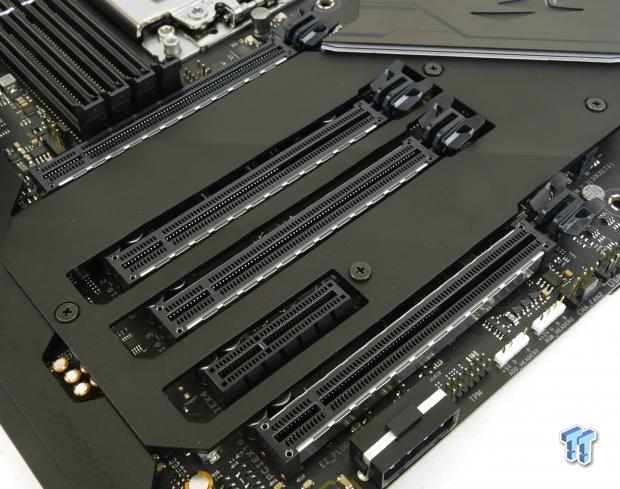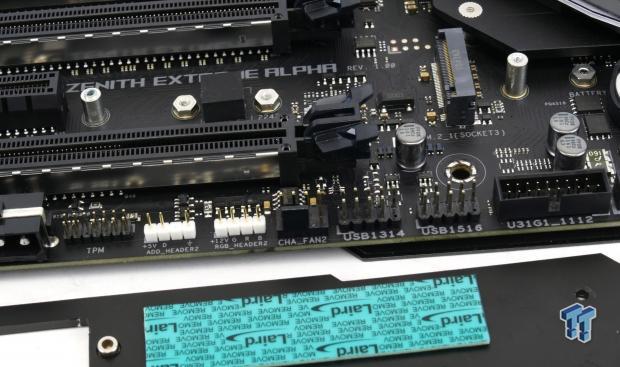 The PCI-E layout goes x16/x8/x16/x8, but if you use the M.2 slot under the PCI-E cover, it will take the x8 slot down to x4, and that's because ASUS decided to use one of the normal x4 that the M.2 slot would get from the CPU and give it to the 10G LAN and both USB 3.1 controllers on the rear IO. The x4 slot is wired to the chipset. The other two M.2 slots are on the DIMM.2 card and are connected to the CPU.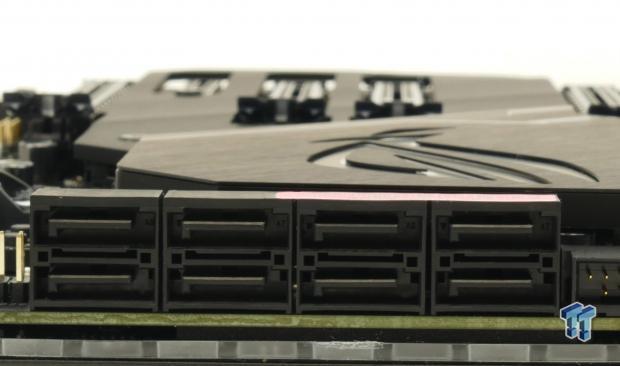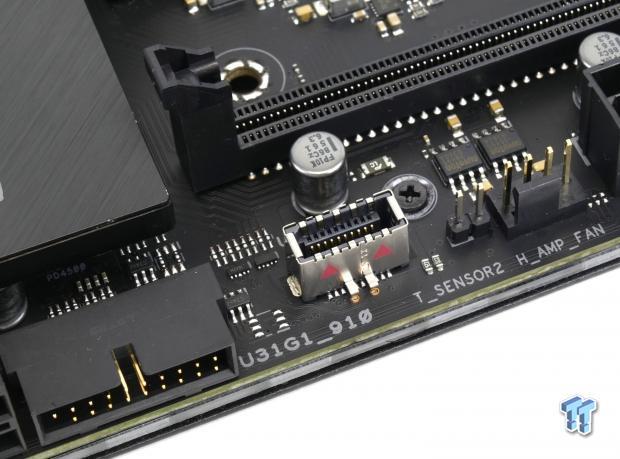 There are eight SATA6Gb/s ports on the motherboard along with a right-angled USB 3.0 internal header. There is a USB 3.1 (10Gbps) type-C internal header under the 24-pin power connector.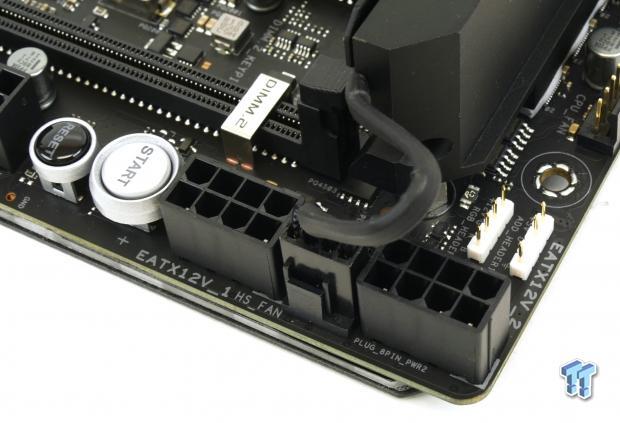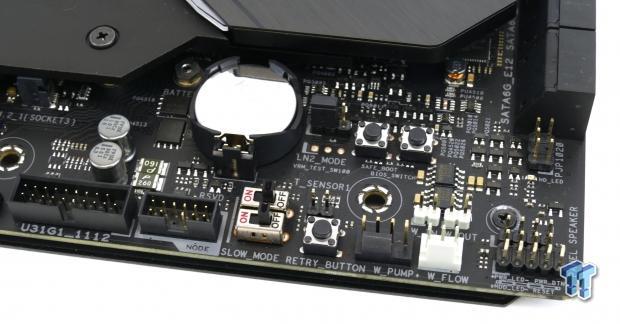 There are voltage read points behind the 24-pin connector., and right above them are power and reset buttons as well as an addressable RGB LED header and an RGB LED header. At the bottom right corner of the motherboard we find a Safe Boot button, a BIOS switch button, a slow mode switch, an RSVD switch (probably for cold bug), an LN2 mode jumper, a retry button, a NODE header, a USB 3.0 header, a water flow sensor header, and water temperature header (in and out).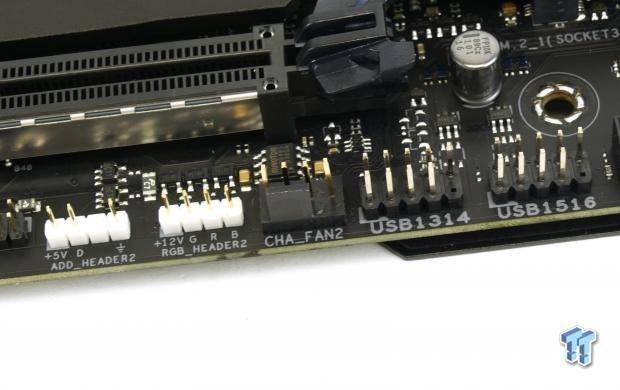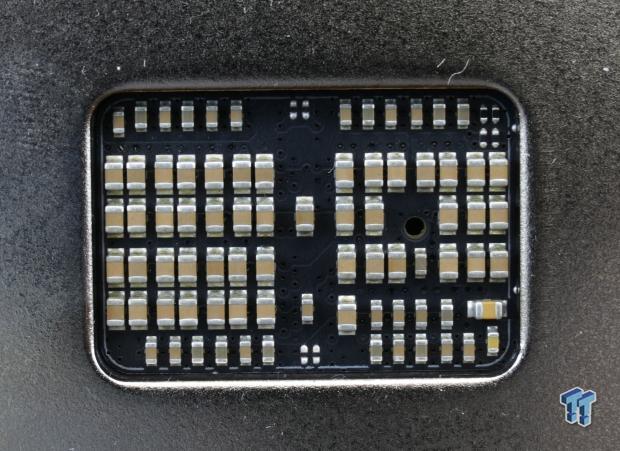 At the bottom of the motherboard, we have an addressable RGB LED header, an RGB header, and two USB 2.0 headers. Behind the CPU socket, we find a hole so you can stick a thermal probe in there during LN2 overclocking.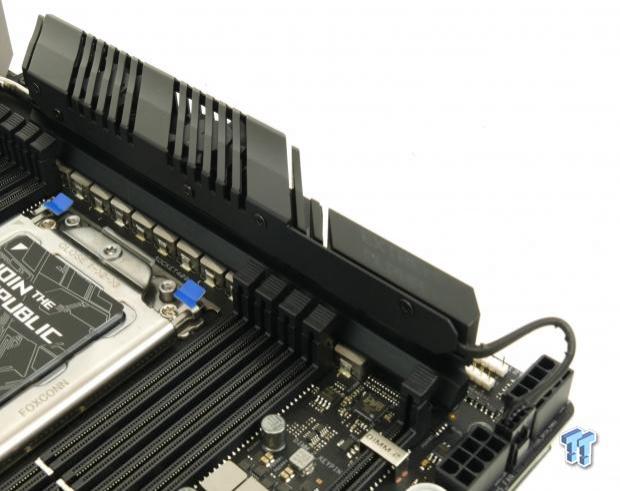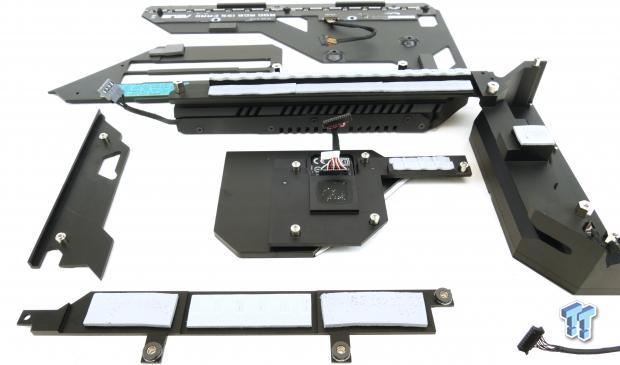 The VRM heat sink has two fans in it that actively cool it. The heat sinks are very heavy and loaded with quality.
ASUS Zenith Extreme Alpha Circuit Analysis
Circuit Analysis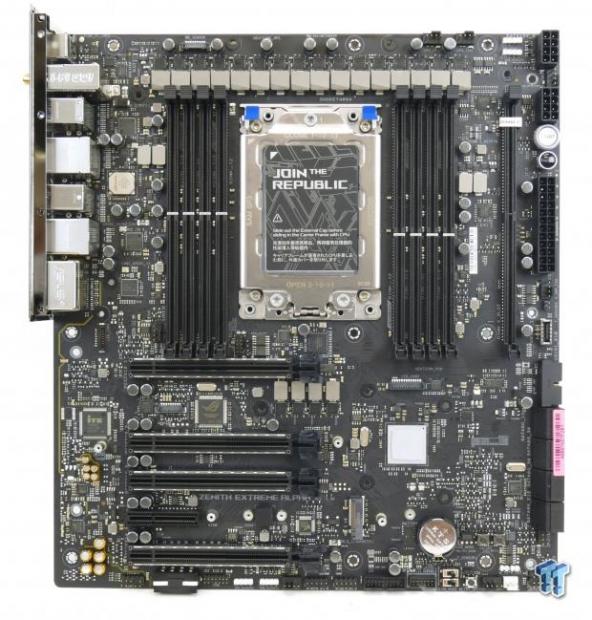 The motherboard looks great without heat sinks.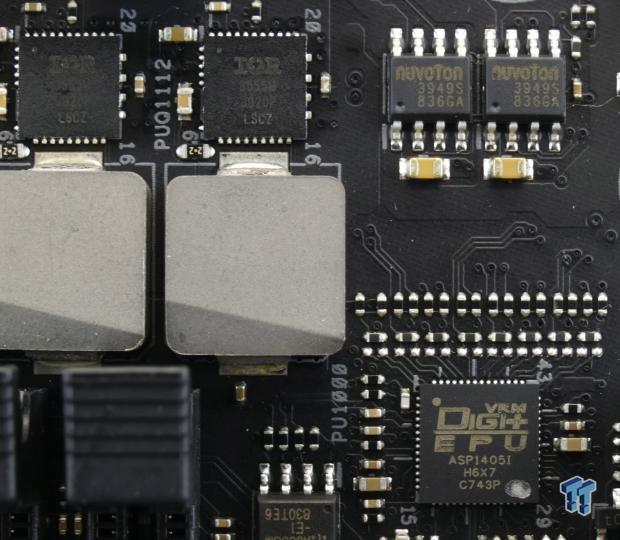 The VRM here is one of the largest and most powerful we have seen on any X399 motherboard, ASUS even moved the socket down to fit in all the power stages. This 16 phase VRM is a beast, and meant for AMD's 2990WX and other high power CPUs. It is controlled by an IR35201, which is relabeled ASP1405I. There are 16 IR3555M, which are 60A PowIRstages, and no doublers are used so each power stages attaches to one PWM channel from the PWM, this improves transient response.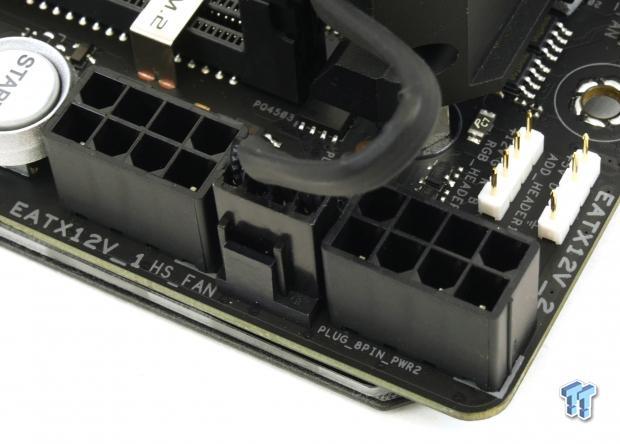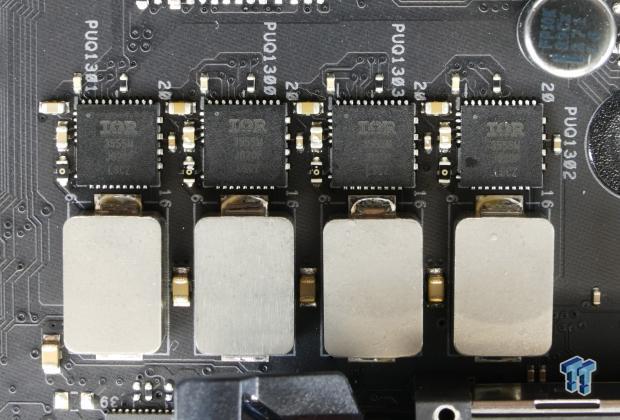 The CPU VRM gets its power from two 8-pin power connectors. The SoC rail gets its power from four IR3555 60A power stages.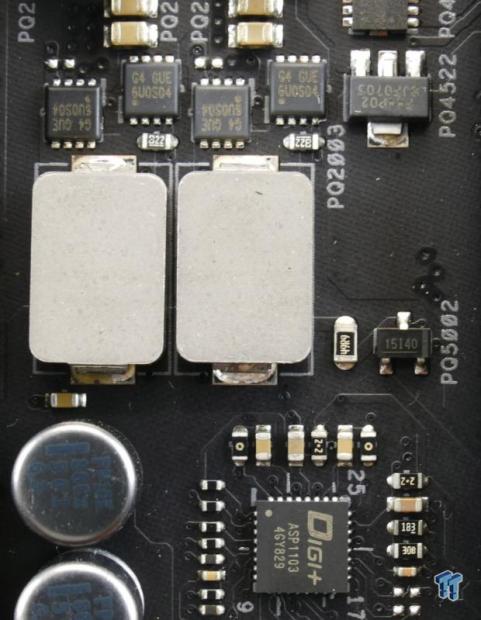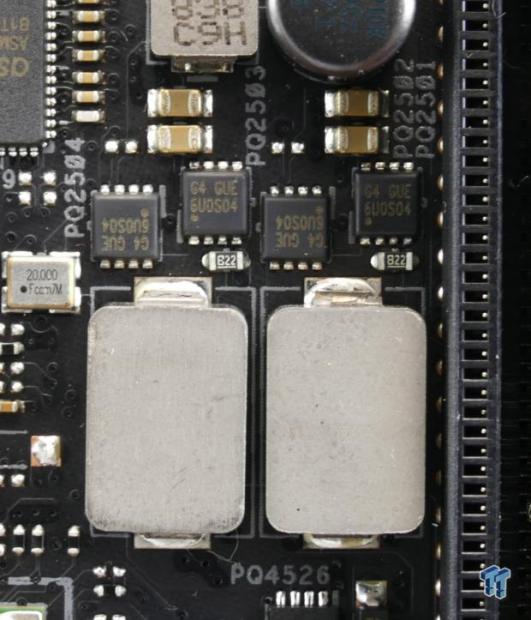 Both memory VRMs use the smaller MOSFETs in a dual phase configuration with an ASP1103 PWM controller with integrated drivers.
ASUS Zenith Extreme Alpha Circuit Analysis Continued
X399-Aorus Gaming 9 Circuit Analysis Continued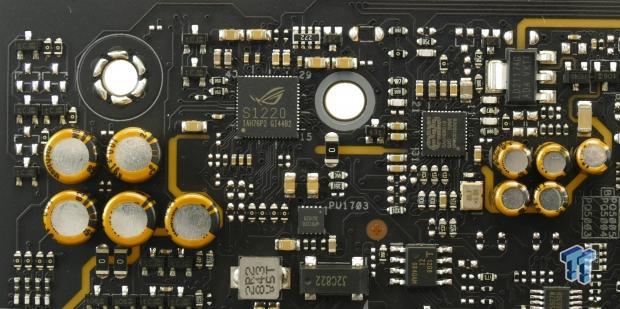 A Realtek ALC1220 audio codec is used in conjunction with an ESS Sabre 9018Q2C, and Nichicon audio capacitors.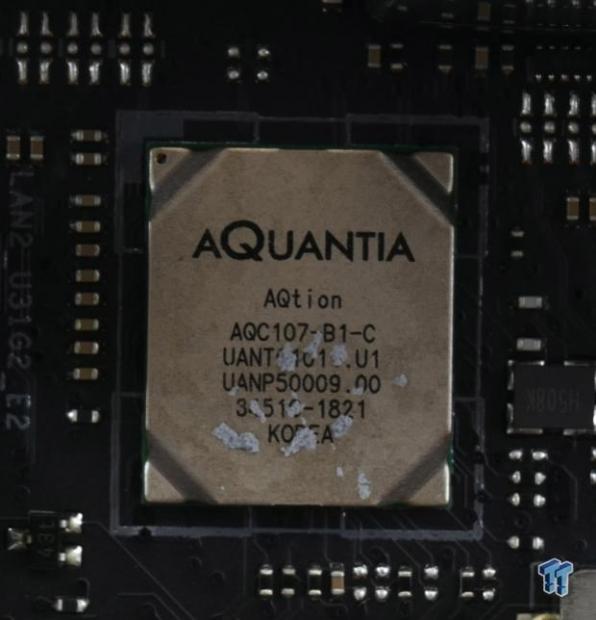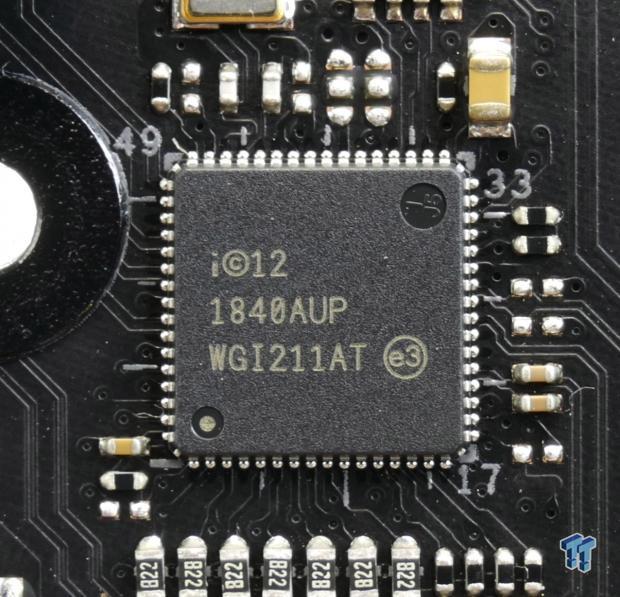 A 10Gbit NBase-T AQC107 which offers up to 10Gbig, 5Gbit, 1Gbit, and 100Mbit speeds, and they added an Intel i211AT for Gbit LAN. An Intel Wireless AC 9260 rated up to 1.733Gbps with BT 5.0 is included.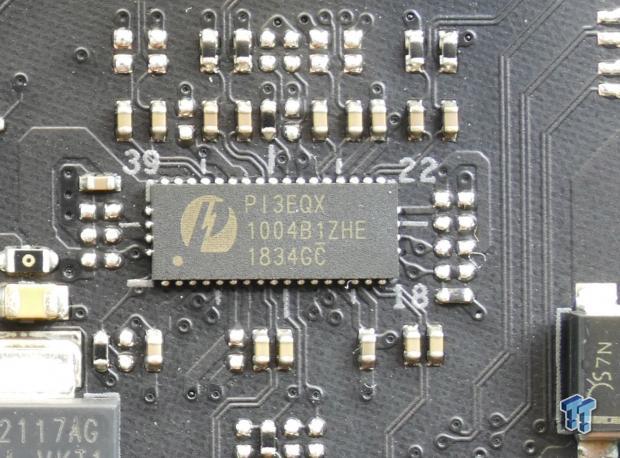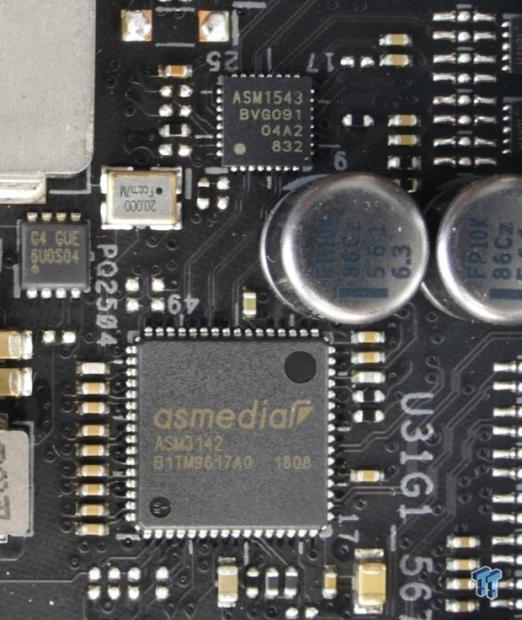 Rear USB 3.1 comes from two ASMedia ASM3142 along with an ASM1543 switch that controls the type-C port. The internal USB 3.1 header gets re-driven USB 3.1 from a Pericom PI3EQX.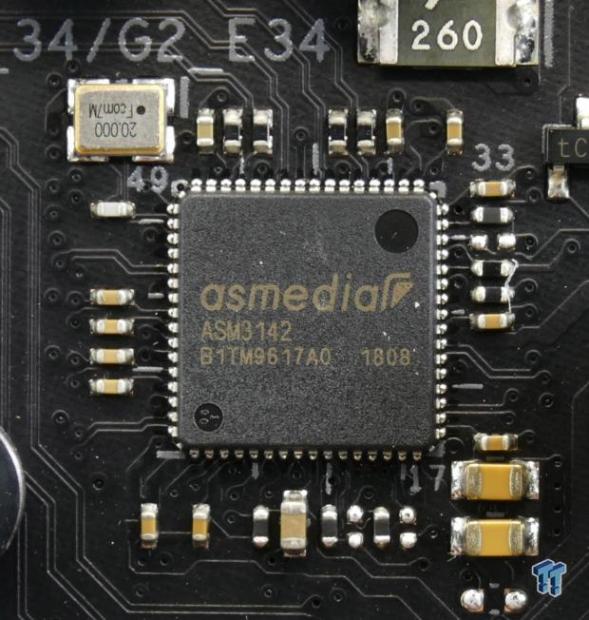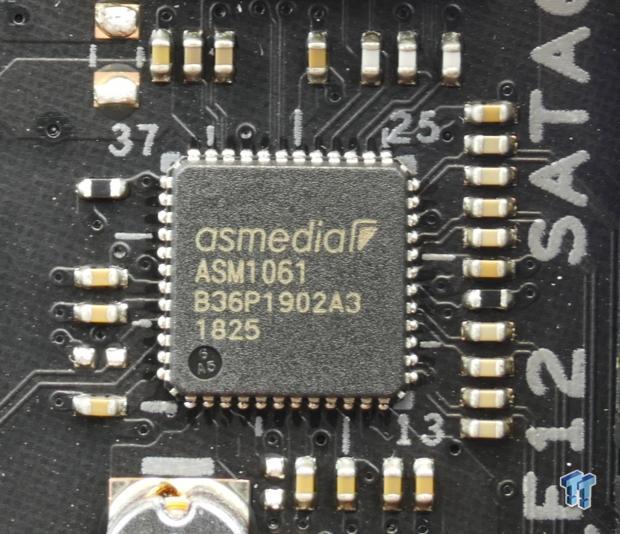 Above is the second ASM3142. We also find an ASMedia ASM1061 used to provide extra SATA ports.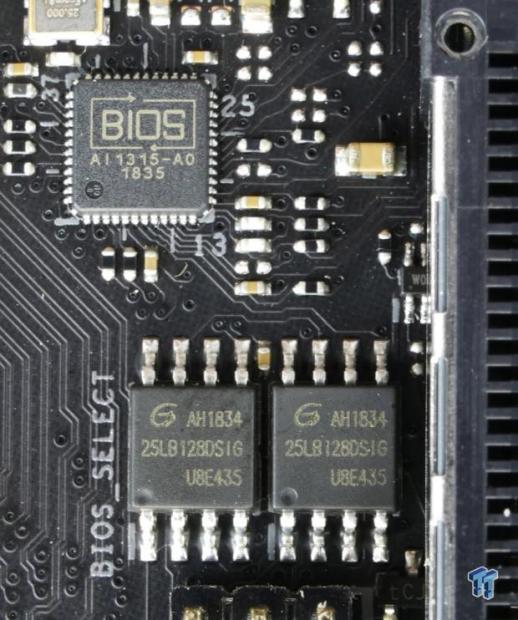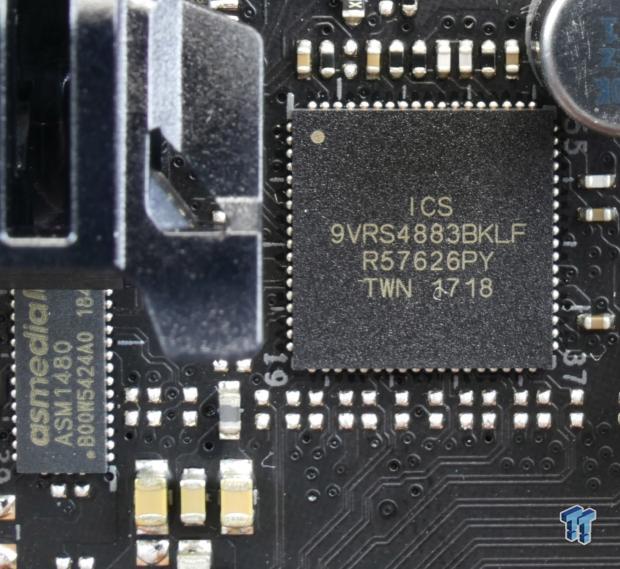 A chip labeled BIOS is responsible for USB BIOS Flashback. One of the clock generators is the ICS 9VRS4883BKLF.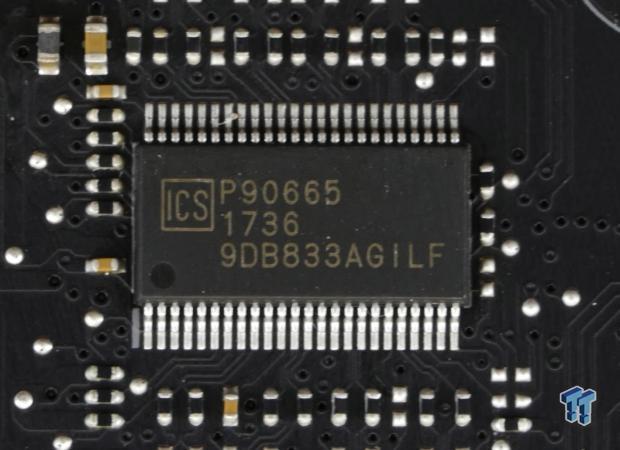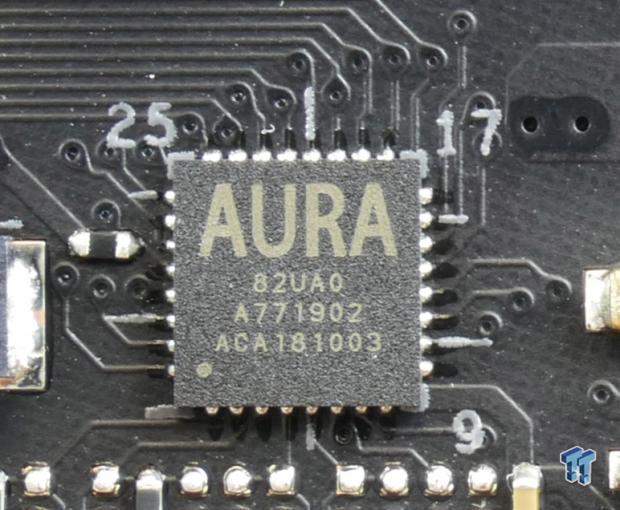 A second clock generator is the ICS 9DB833AGILF. An Aura chip controls RGB LEDs.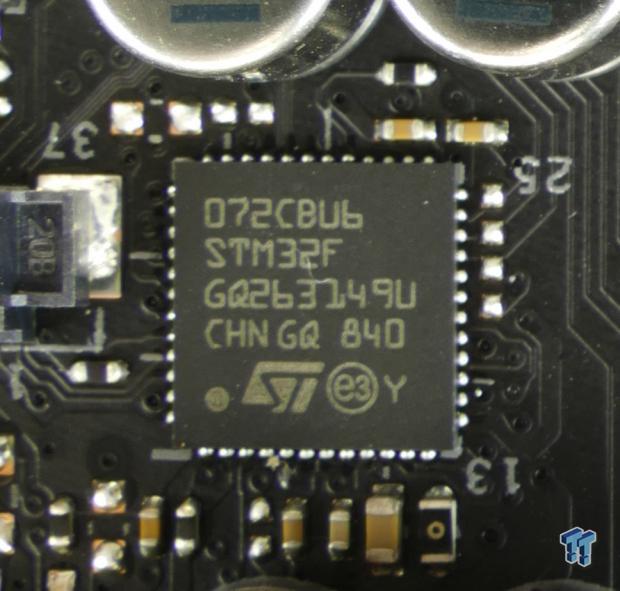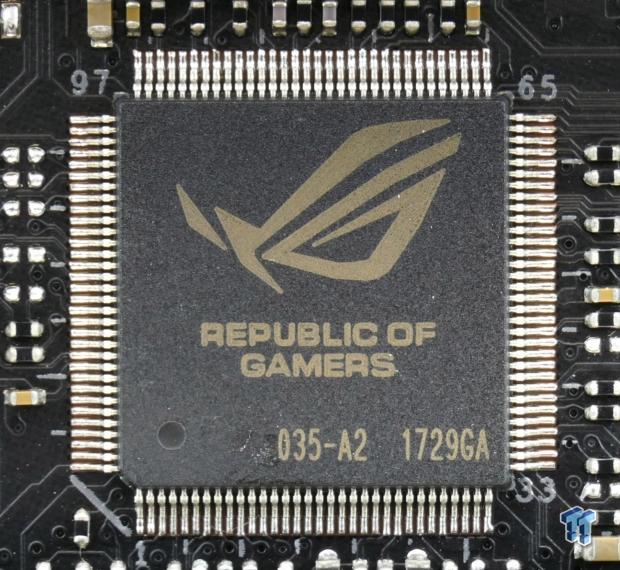 A STMicro STM32F is used to control the OLED. The ROG chip you see above is most likely used for OC features and to expand fan control and the like.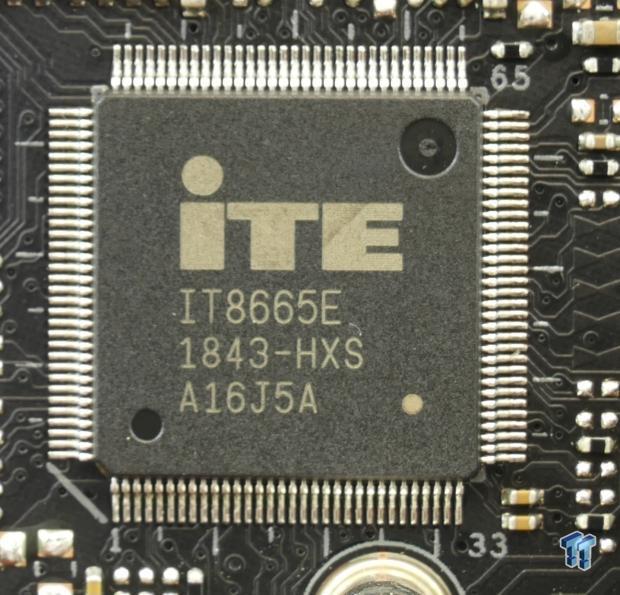 The main SUperIO is the IT8665E.
BIOS and Software
BIOS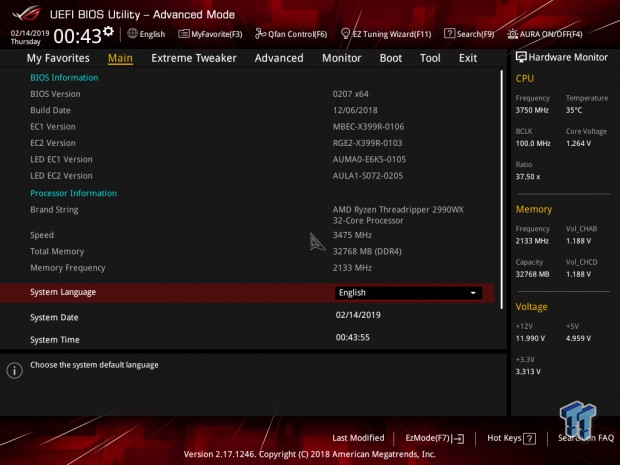 ASUS's X399 UEFI on their Zenith Extreme Alpha has a very similar UEFI compared to the normal Zenith Extreme, it's easy to navigate and has an EzMode as well. There are both CPU, and memory overclocking presets, which are something pretty unique to ASUS on this platform. Fan control is very nice on this motherboard, and there is a GUI and a manual input menu. It's a solid UEFI.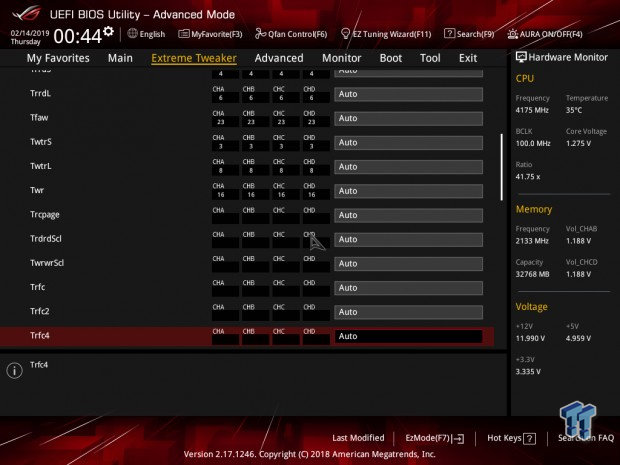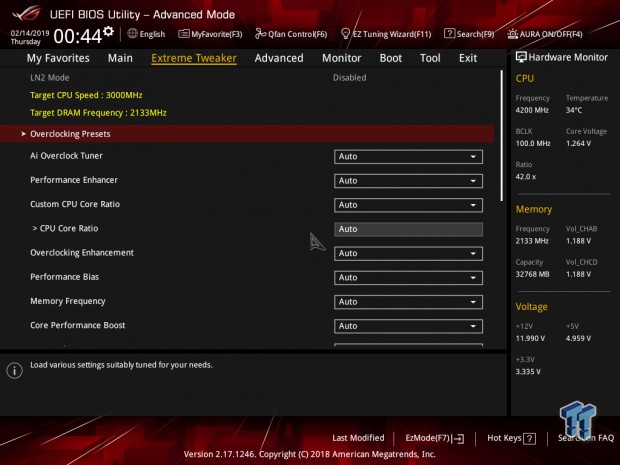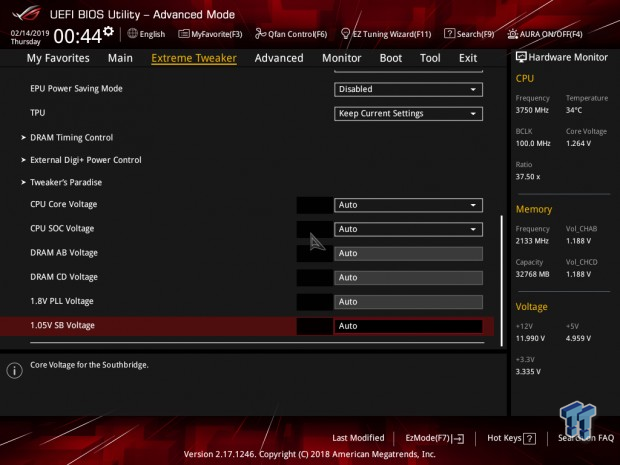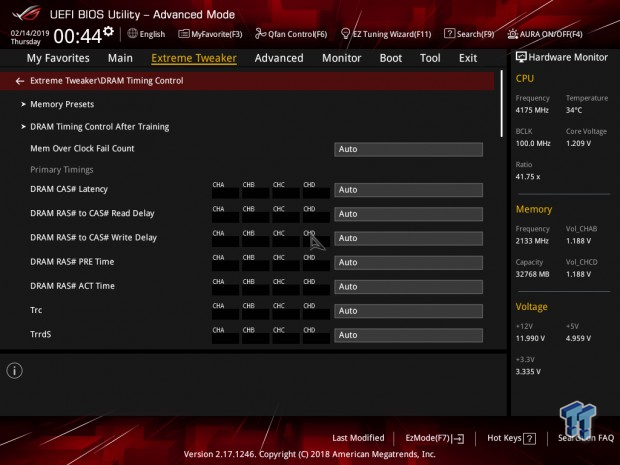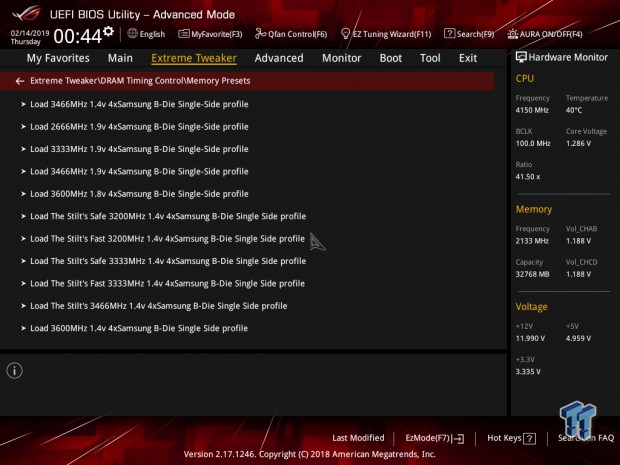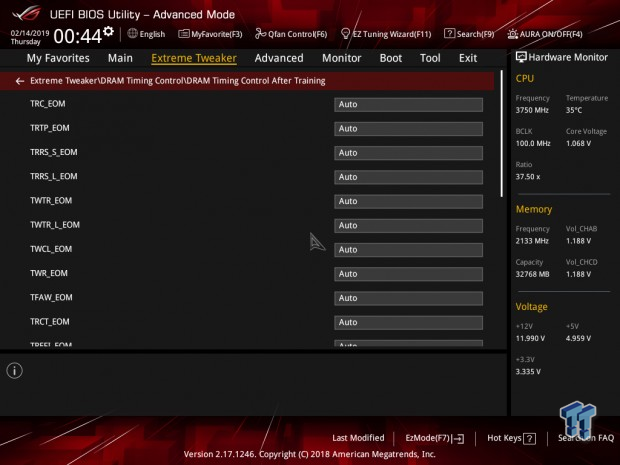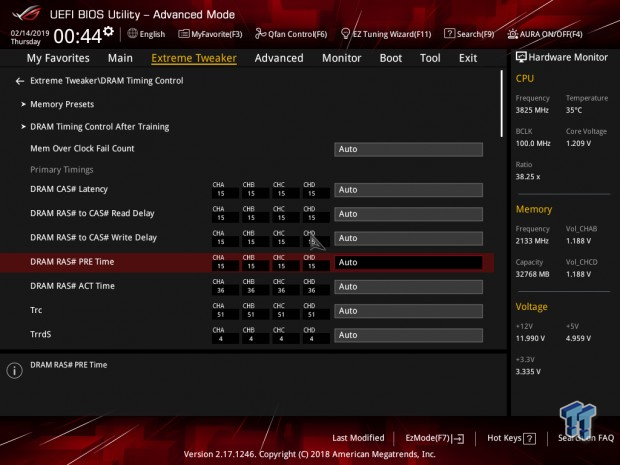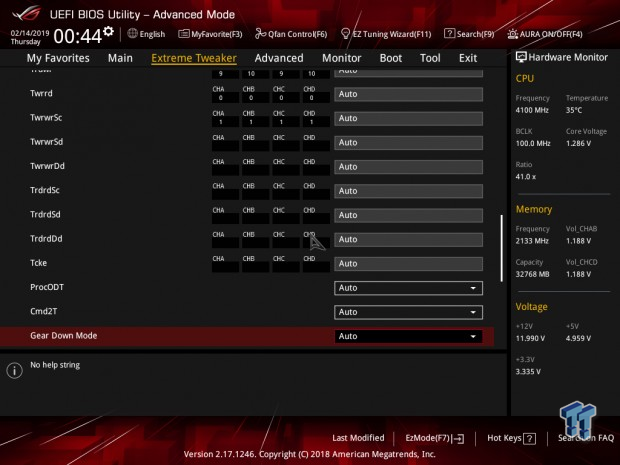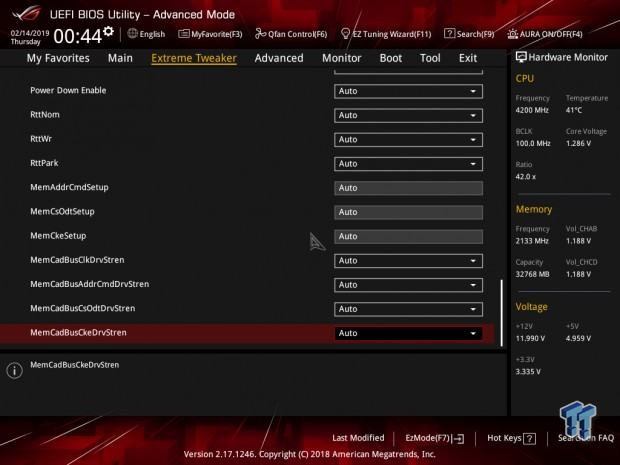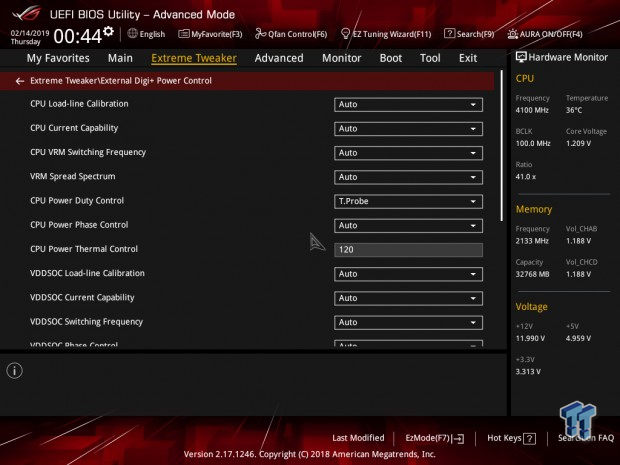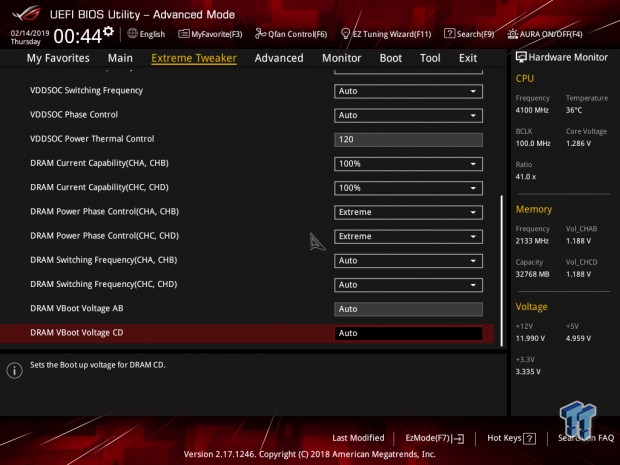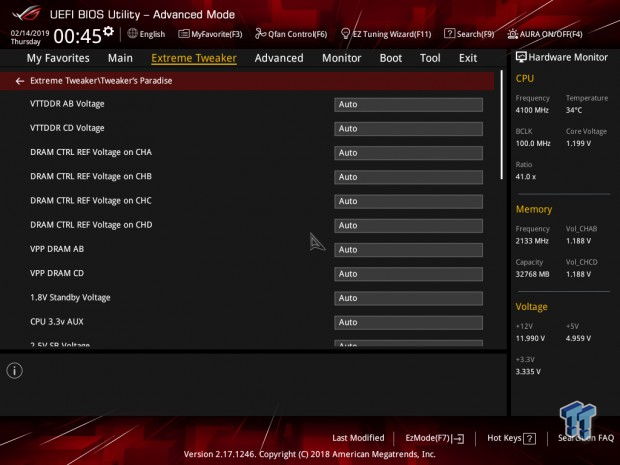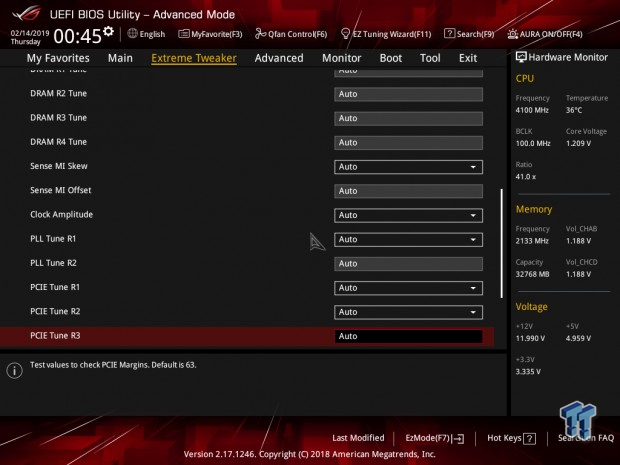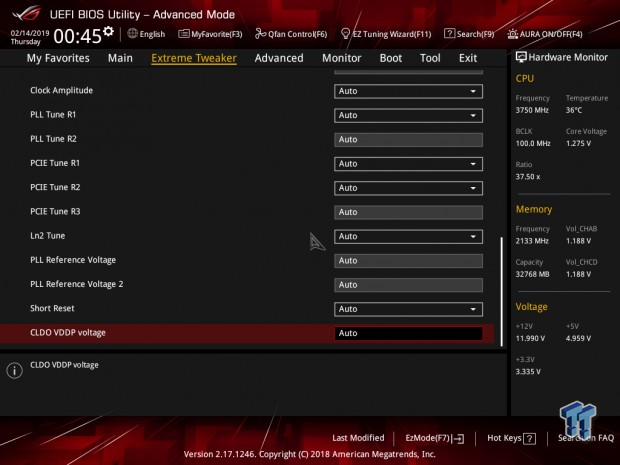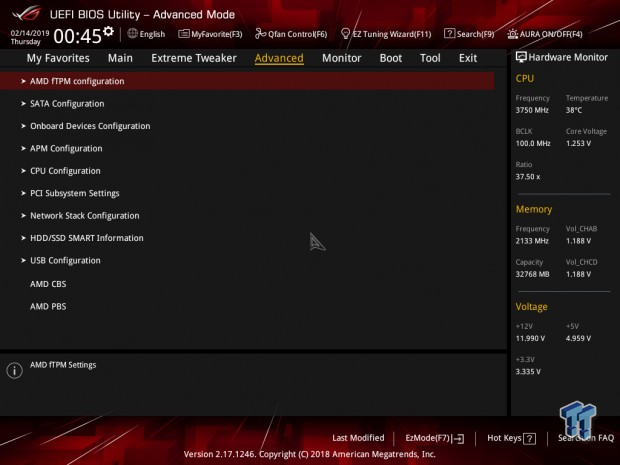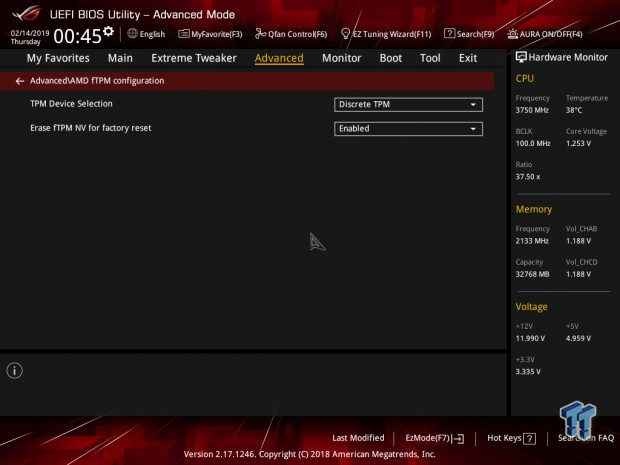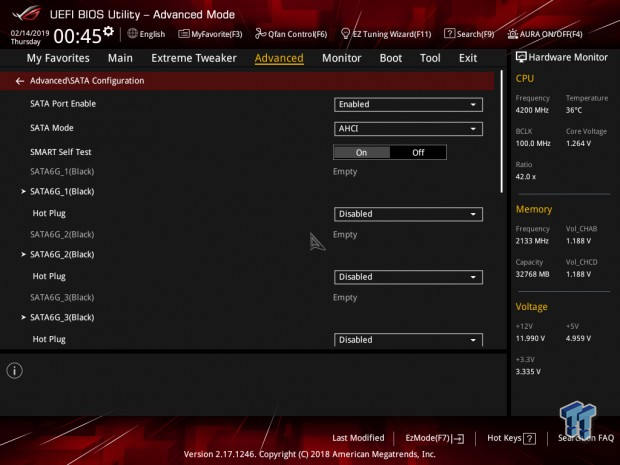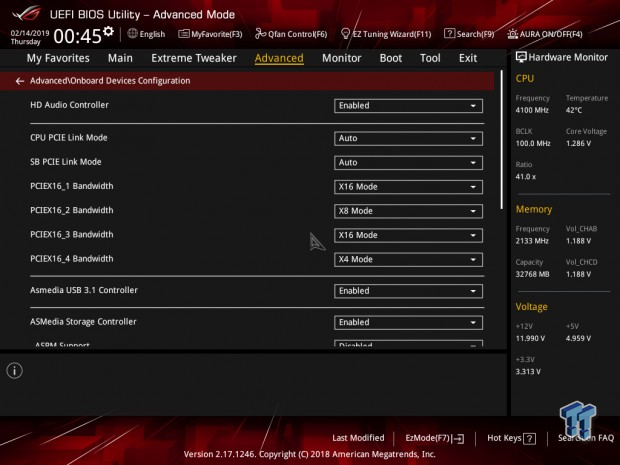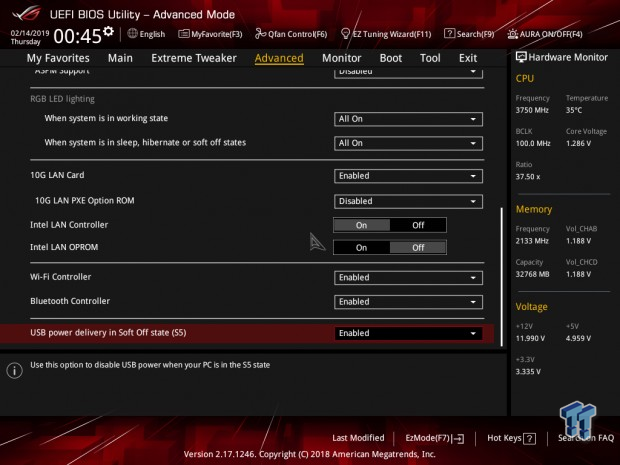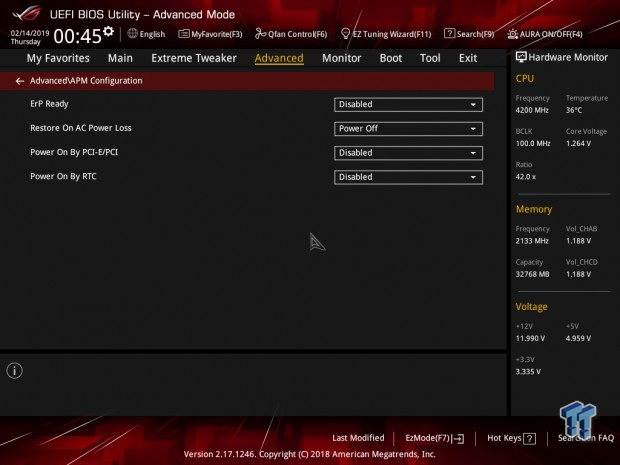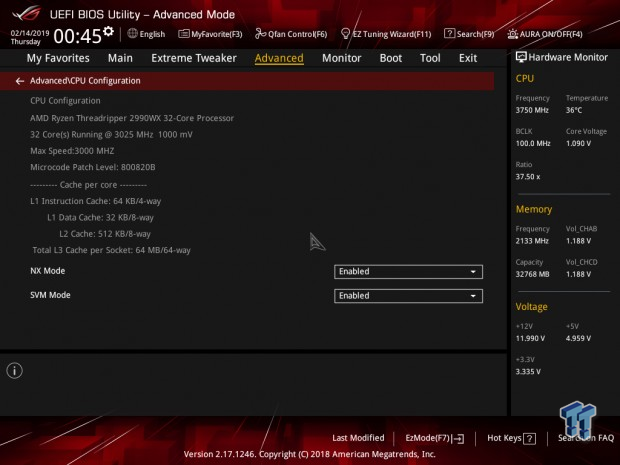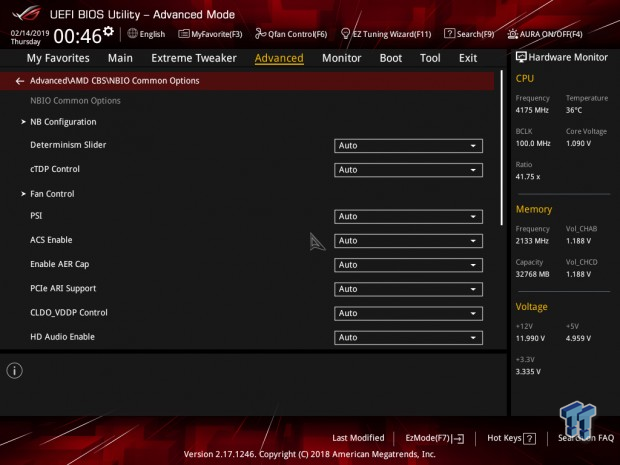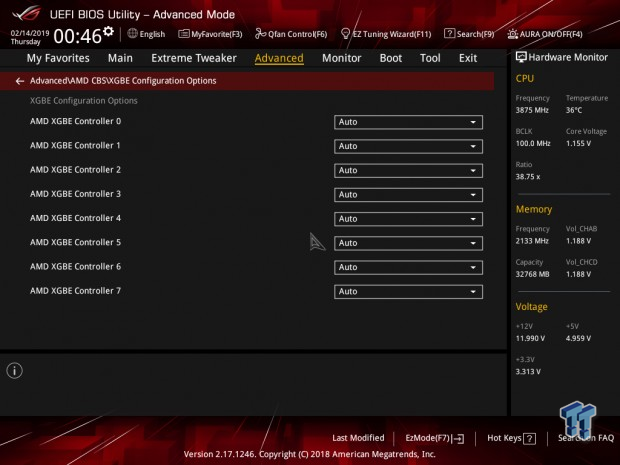 Software
Software includes ASUS 5-way Optimization, TPU, EPU, DIGI+ Power, Fan Xpert 4, Turbo app, LiveDash OLED, AURA RGB control, AI Suite 3, and Armory crate.
Test System Setup
Steven's Motherboard Test System Specifications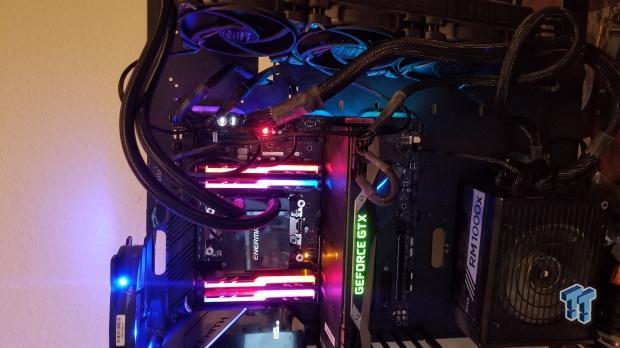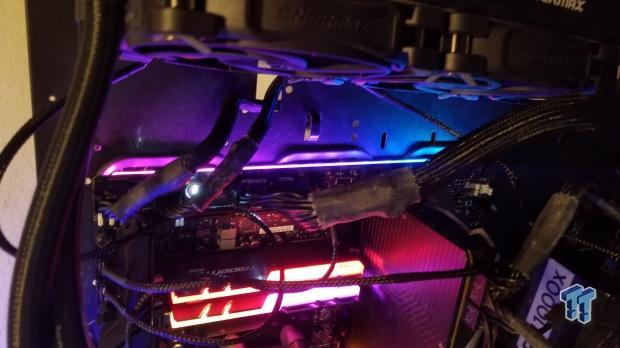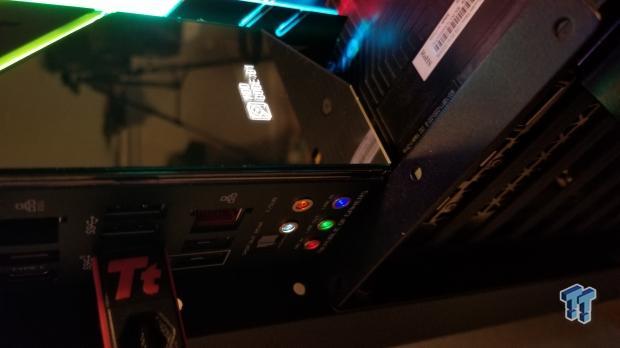 The motherboard looks extremely nice when turned on, we love the addressable RGBs both behind the right side of the motherboard and going from the top left to bottom right. The OLED is also nice, are are the LEDs in the audio ports.
CPU, Memory, and System Benchmarks
CINEBENCH R15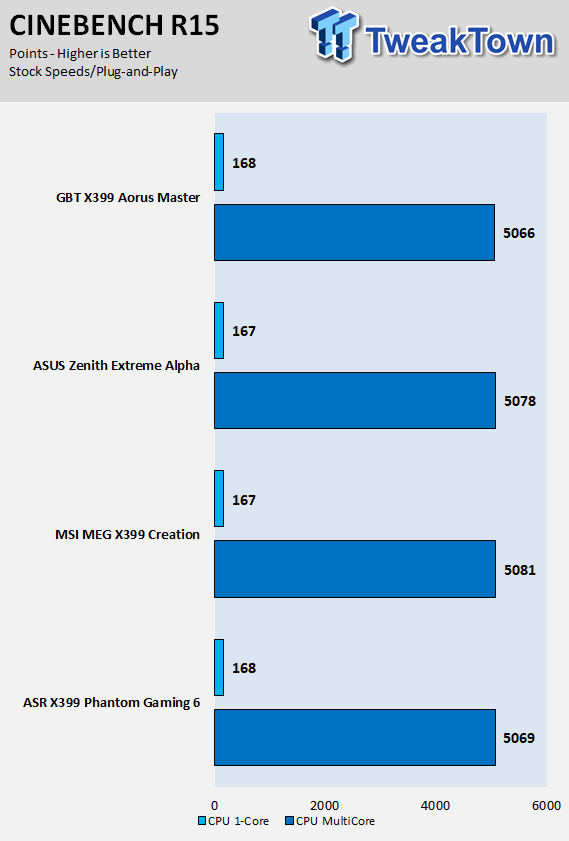 wPrime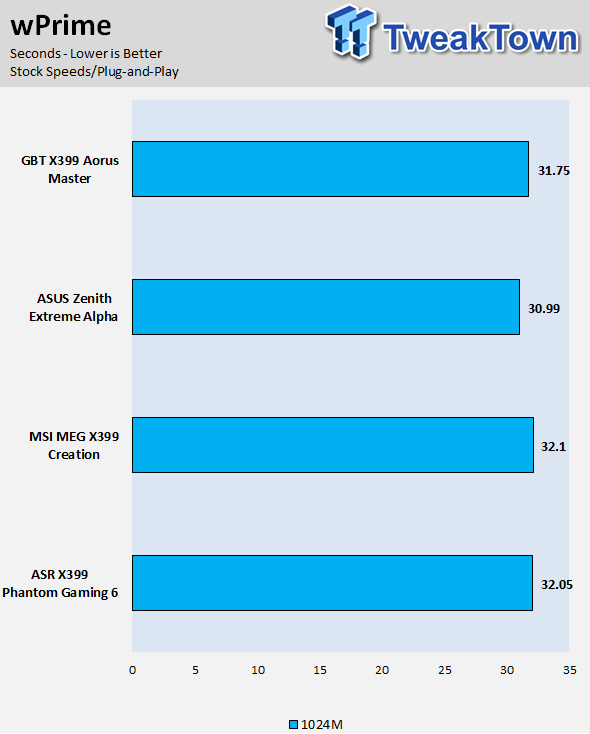 AIDA64 FPU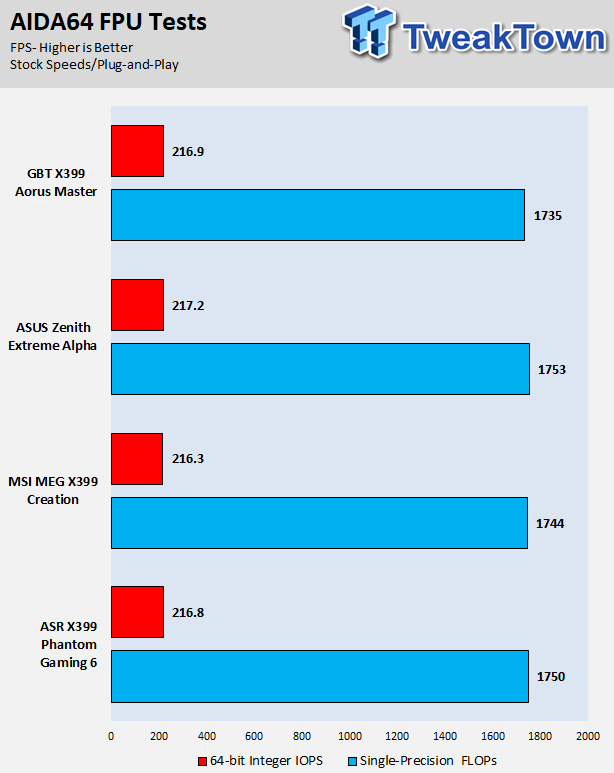 AIDA64 Memory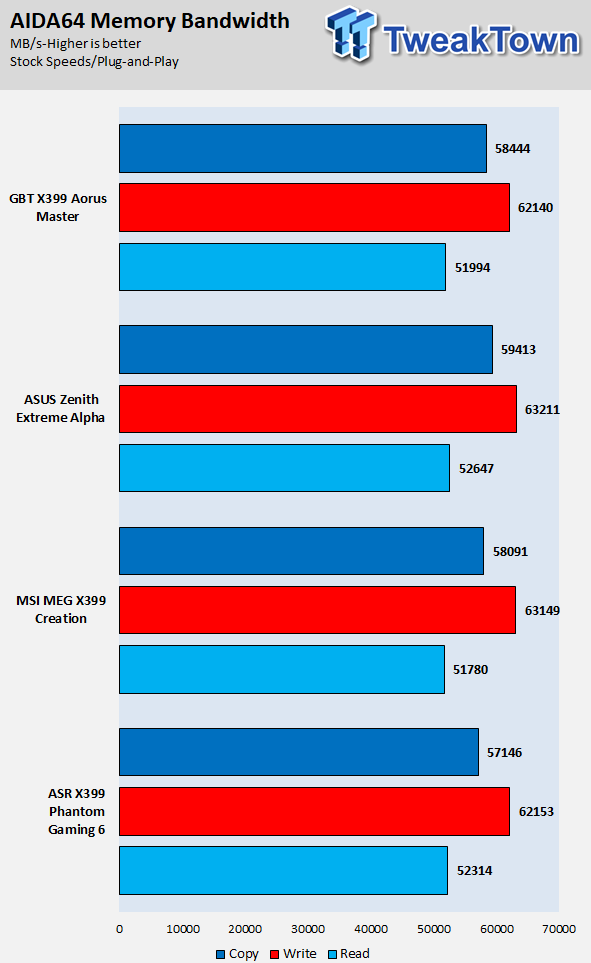 ScienceMark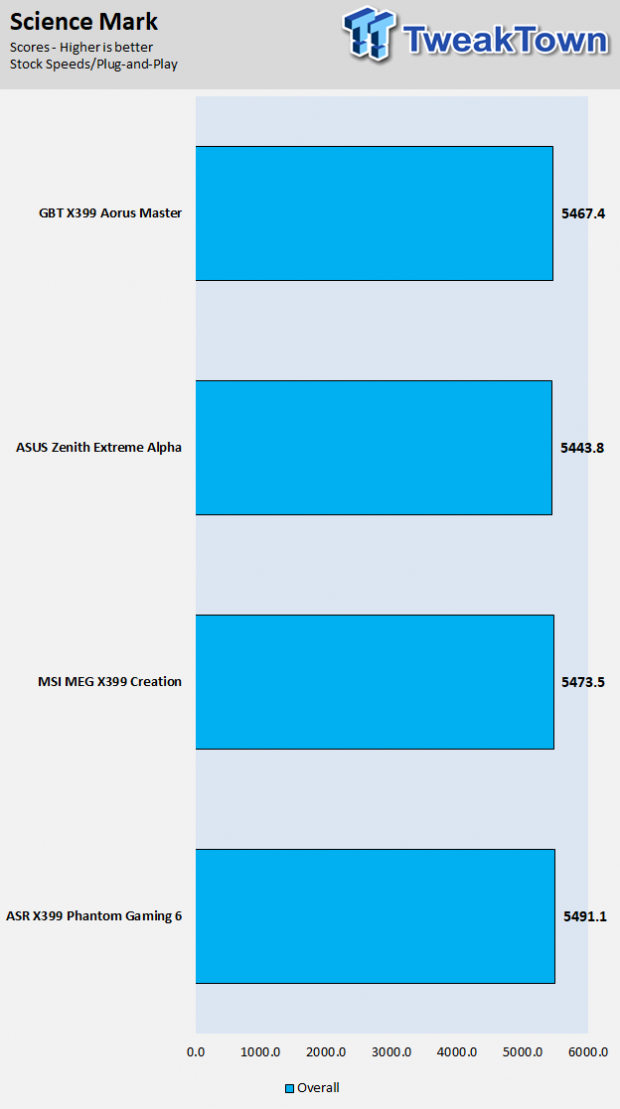 HandBrake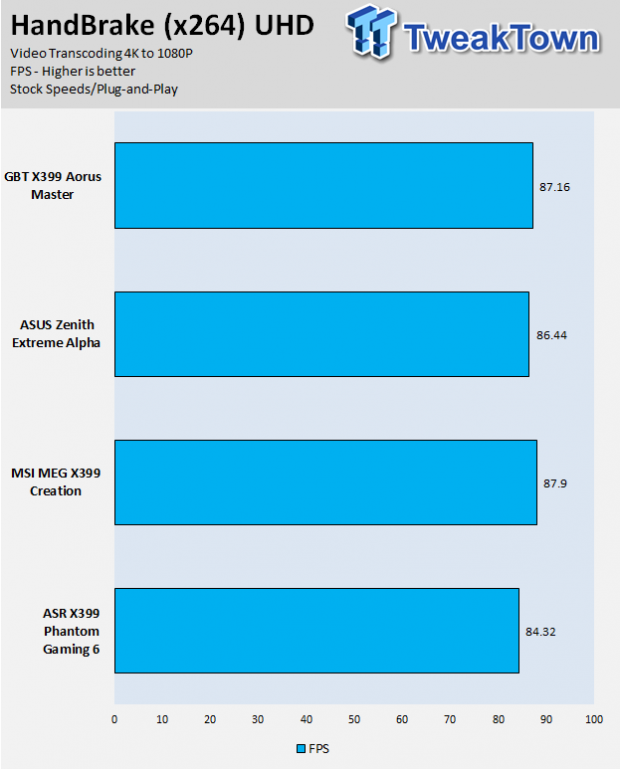 SuperPi 32M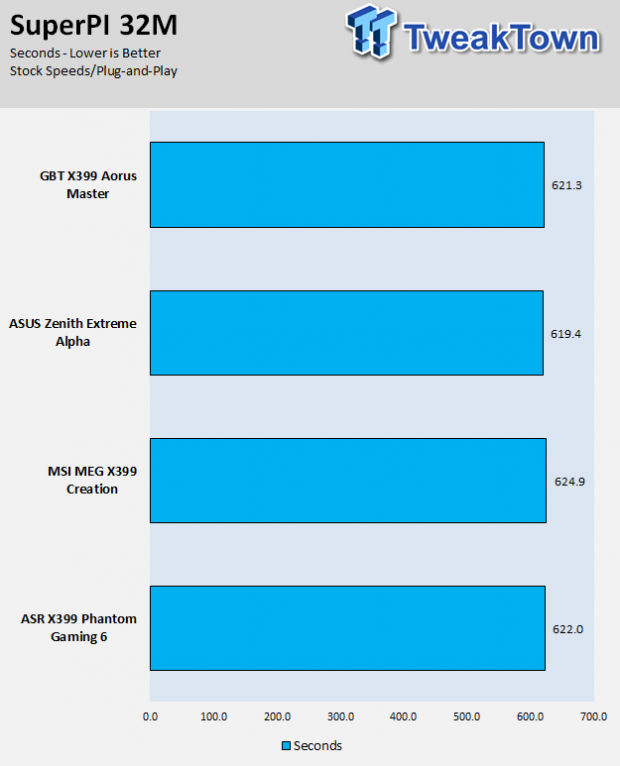 3DMark: Fire Strike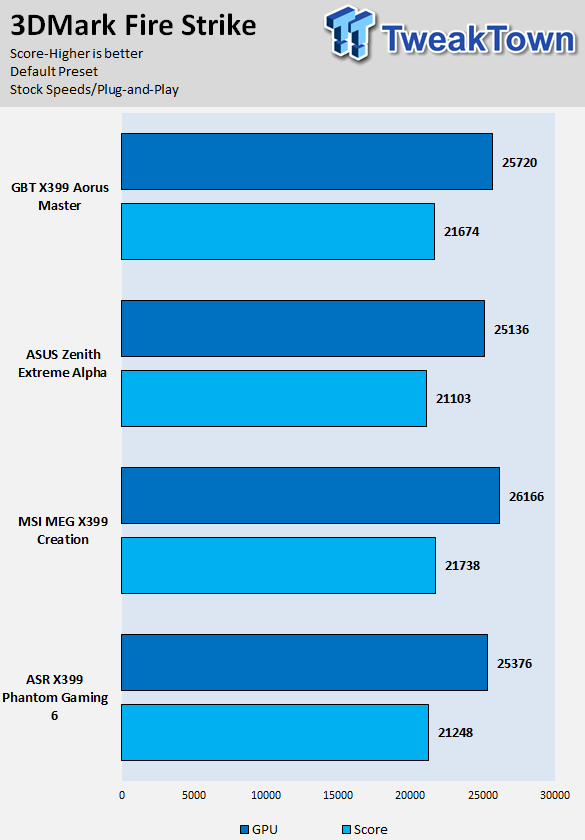 3DMark: Cloud Gate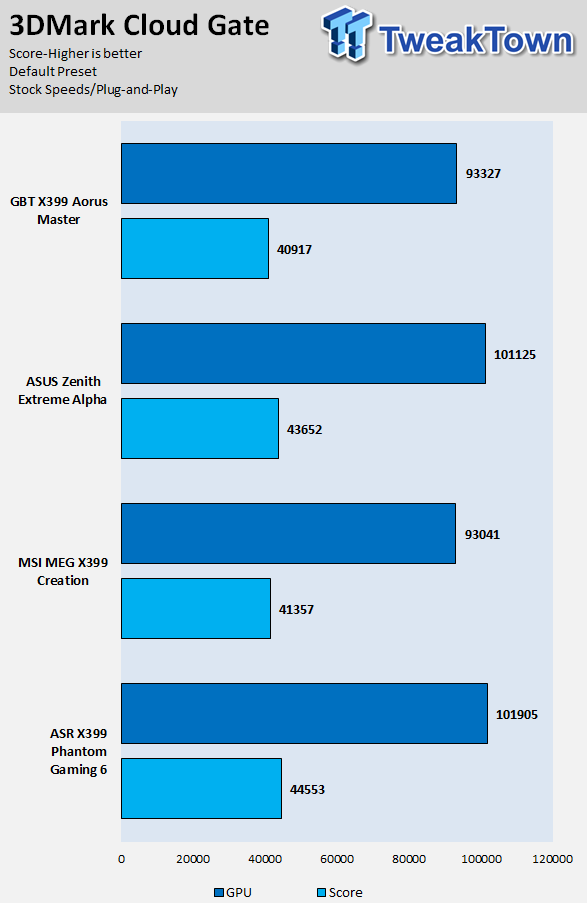 ResidentEvil 6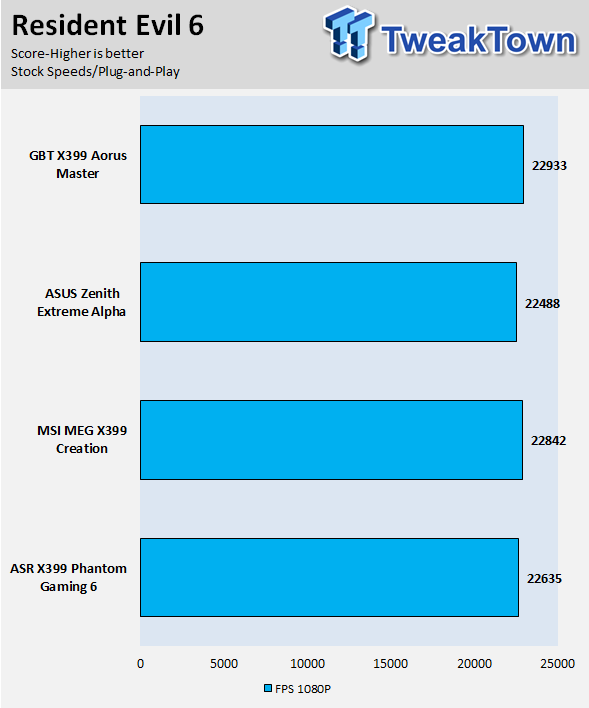 The ASUS Zenith Extreme Alpha has excellent performance, and compared to the other motherboards there is very little performance variation. There are no big problems.
System IO Benchmarks
CrystalDiskMark SATA6G: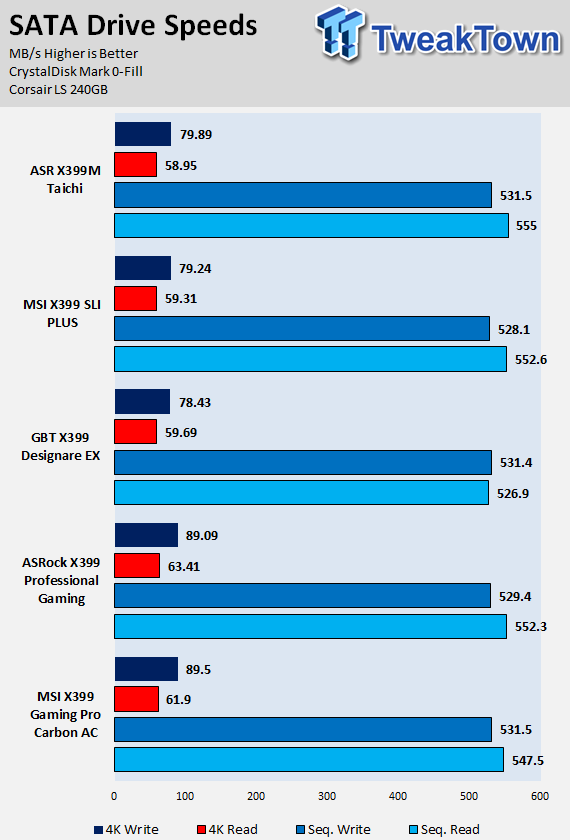 CrystalDiskMark M.2: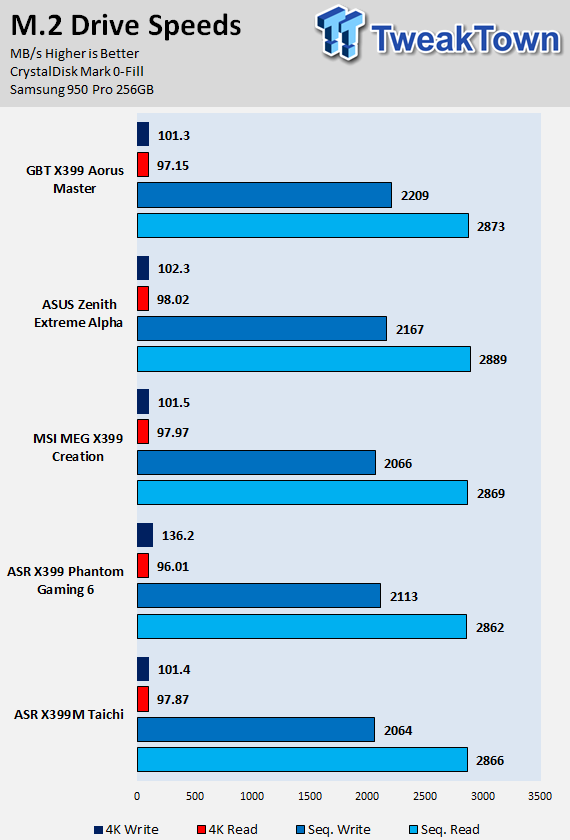 ixChariot Network Throughput: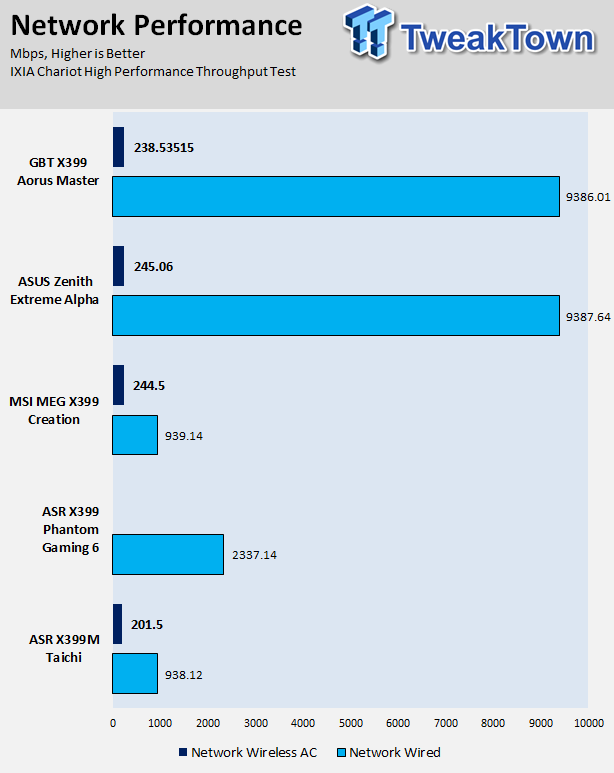 The Zenith Extreme Alpha has excellent storage and networking performance.
Audio RMAA 5.5:
Sound Judgment by Ear: Excellent, a very nice audio implementation for onboard audio. There are five ratings for audio: 1. Problems, 2. Okay, 3. Acceptable, 4. Very good, 5. Excellent
VRM and System Thermal Imaging and Power Consumption
Thermal Imaging and Power Consumption
System power is measured at the wall with an AC power meter.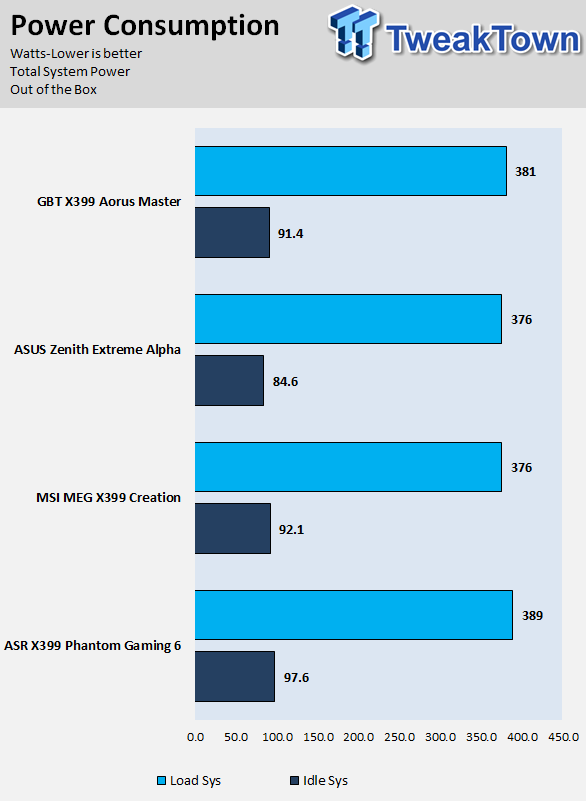 Note on Thermal Images: In the temperature section, we use our Seek thermal imaging camera to capture the surface temperatures of major components on the board. I look at the VRM and then all other things that light up the screen. If there is something to worry about, then I will state it. Otherwise, I will just show the hotter running parts of the board for fun. Unless some component is over 80-90C, then there isn't anything to worry about.
All systems will act differently, so I will look for commonalities, such as how far from the VRM the heat spreads through the PCB and the difference in temperature between the front side and backside of the PCB. Keep in mind, the majority of the heat from the VRM goes into the PCB as it is a giant soldered on copper heat sink. A larger difference in temperature between the back and front of the PCB points towards a more effective heat sink.
Thermal Testing at Stock Speeds:
The image on the left is always at idle, and the image on the right is at load. During ALL TESTS, fans above the VRM that cool the CPU cooler's (Corsair H110i) radiator are turned on to high (12v).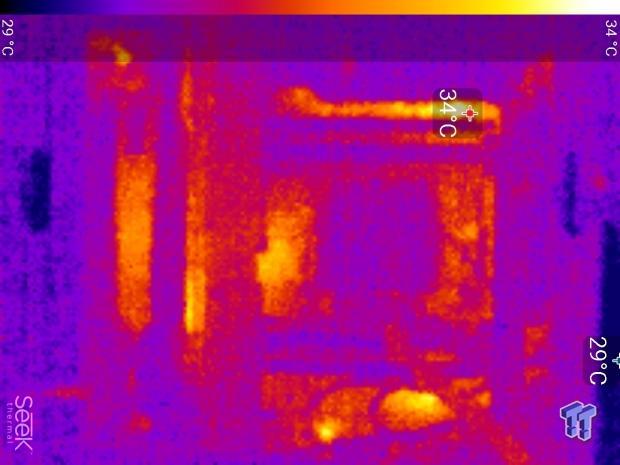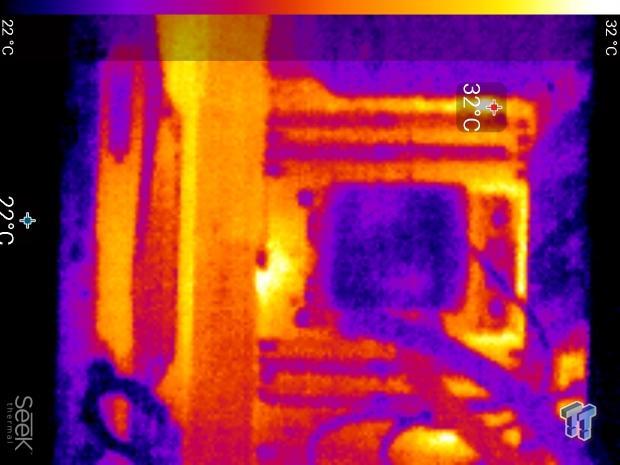 Full frontal.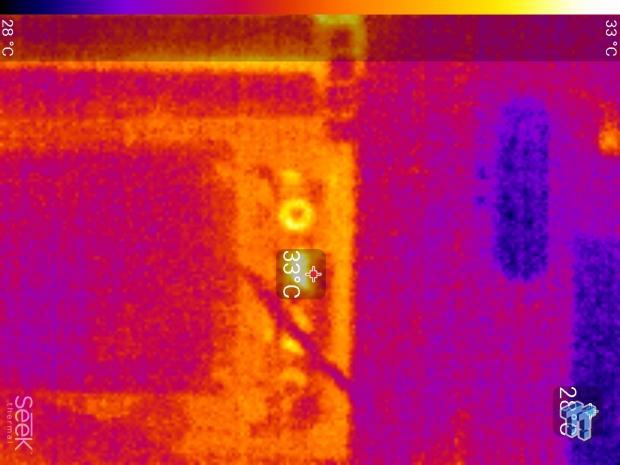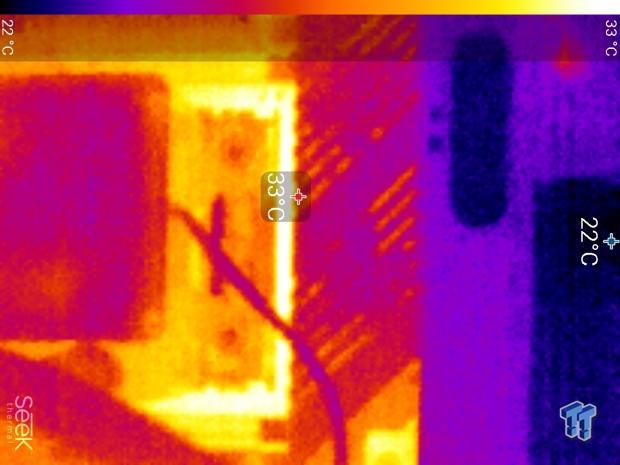 Up-close of the front of the VRM.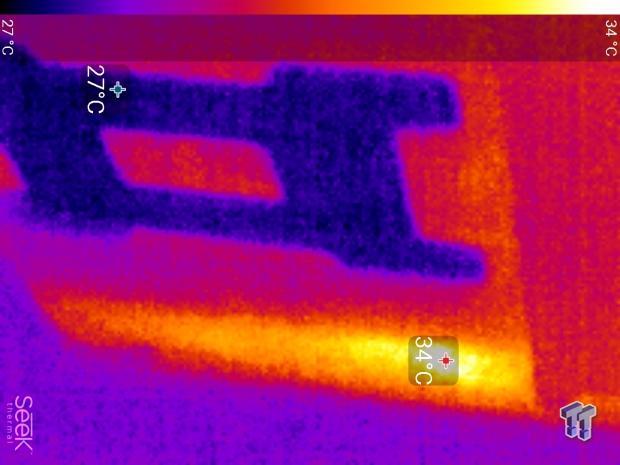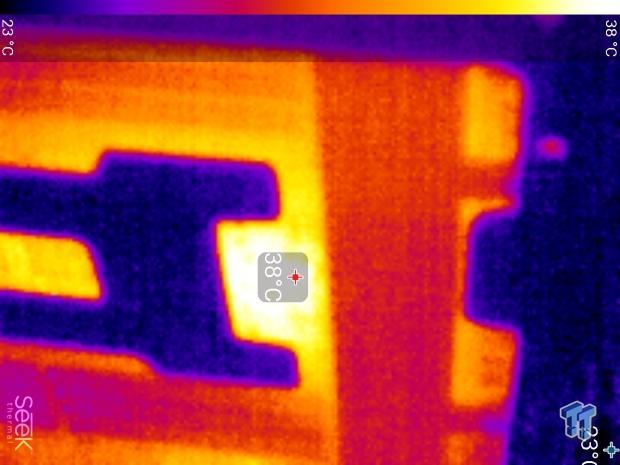 Up-close of the back of the VRM.
These VRM results are excellent, we have great performance, with a slight change in VRM performance from idle to load on the front and only a slight one on the rear. Overall, these results are some of the most excellent we have seen.
What's Hot, What's Not & Final Thoughts
What's Hot
Extremely Great VRM: If NVIDIA coined the term BFGD (big format game displays) for those huge gaming displays, then ASUS should coin this as the BFVRM, for big format VRM. Most people wouldn't expect there to be enough room for a 16-phase digital VRM, but in this case, they made it by moving down the CPU and memory slightly. They also used the latest in 60A PowIRstages, but without doublers, so that transient response is improved. To cool down this behemoth, ASUS uses similar cooling technology compared to their Dominus Extreme, which is quite impressive.
10Gbit NBase-T and new WIFI: With an added 10Gbit controller, and 1.733Gbps WIFI, as well as Intel Gbit LAN.
Node: There are six fan headers on the motherboard, but in case you need more you can utilize the stealthy Node card, which is the second generation of the fan extension card. The new card allows you to mount six more fan headers and a bunch of extra RGB headers and temperature input sensors in a place in your case that doesn't have a negative effect on your eyes.
What's Not
Live dash is small: We were hoping that ASUS would increase the size of the OLED display on this new Zenith Alpha, but alas we get a smaller display from the original Zenith.
Final Thoughts
ASUS's Zenith Extreme Alpha is the natural continuation of the X399 platform for ASUS's high-end offerings, specifically to support the new 2990WX CPU, which requires a lot more power.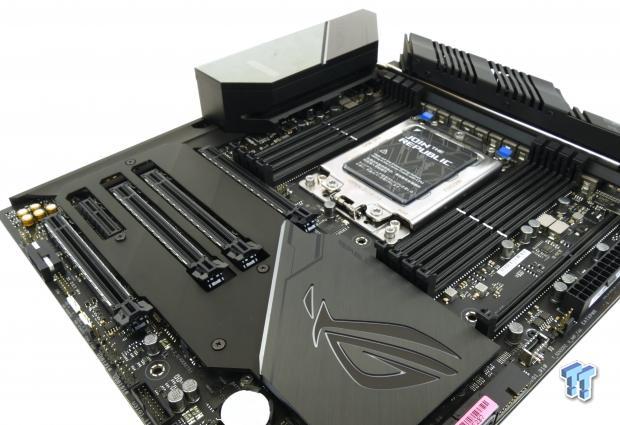 The new VRM is excellent. While they did have to push down the CPU and memory a bit to make room for the new VRM, this also means that 4-way spacing isn't possible, but that's not a big issue because not many people run four GPUs.
The audio is excellent, the fan control is excellent, the DIMM.2 and two M.2 slots are a great alternative to 4-way SLI, and we think the motherboard looks awesome. The entire motherboard screams high-end, and if you can afford it, then the Zenith Extreme Alpha is well worth it.
| | |
| --- | --- |
| Performance | 98% |
| Quality | 97% |
| Features | 96% |
| Value | 87% |
| Overall | 95% |
The Bottom Line
ASUS's X399 Zenith Extreme Alpha brings together a huge and well-designed VRM, and excellent feature set, and some stellar good looks, but it will cost you.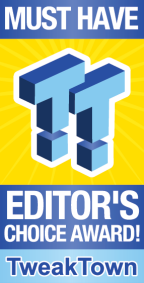 We openly invite the companies who provide us with review samples / who are mentioned or discussed to express their opinion. If any company representative wishes to respond, we will publish the response here. Please contact us if you wish to respond.