MSI MEG X399 CREATION (AMD X399) Motherboard Review
The MEG X399 CREATION is an excellent motherboard, it offers a monster 16 phase VRM with 70A power stages, solid USB implementation and much more.
Published
7 minute read time
TweakTown's Rating: 92%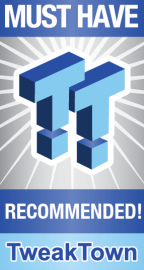 The Bottom Line
Offering a monster 16 phase VRM with 70A power stages, solid USB implementation, awesome fan control, and the ability to run seven M.2 SSDs at x4 PCI-E, the MEG X399 CREATION is an excellent motherboard.
Introduction, Specifications, and Pricing
Talking about top of the line X399 motherboards designed for the ThreadRipper WX series isn't something we have been doing much as of late, but today we are going to take a look at MSI's MEG X399 CREATION.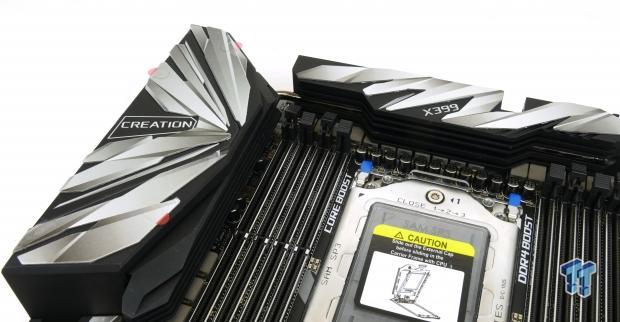 The motherboard is designed to support the latest and greatest AMD ThreadRipper CPUs, so let's see what it has in store for us.
Specifications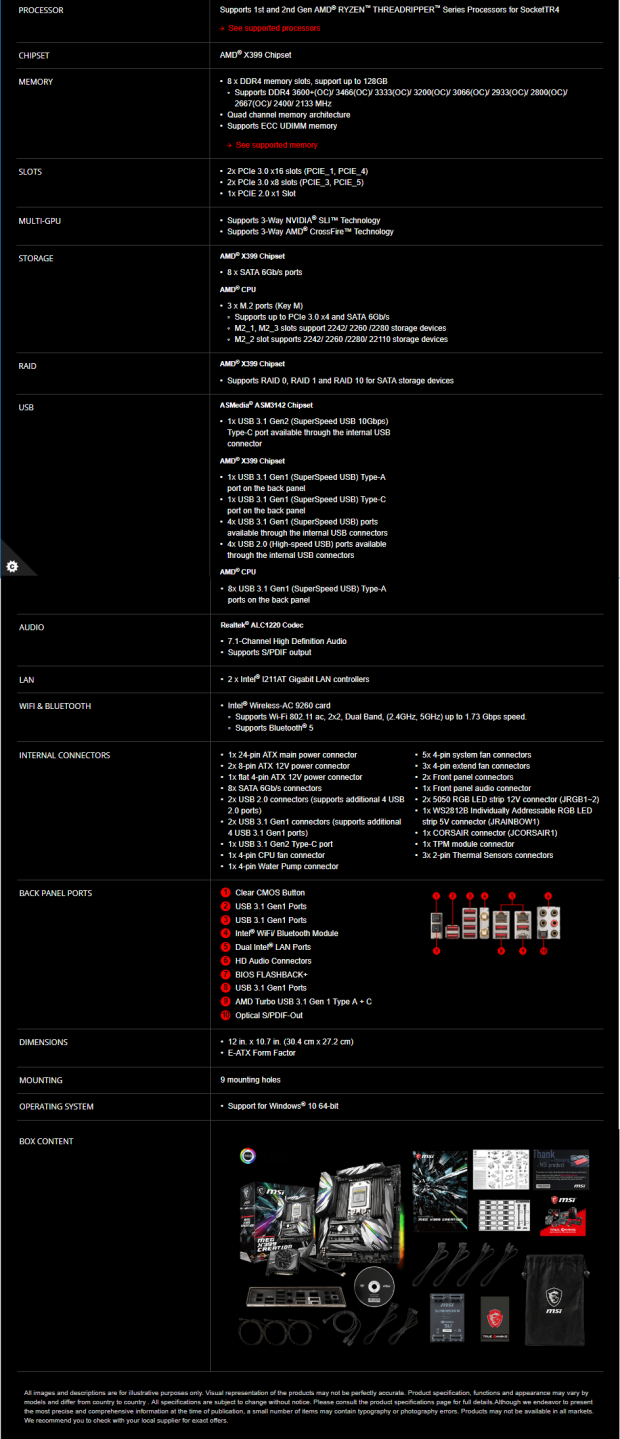 The MEG X399 CREATION features dual Intel NICs, USB 3.1, USB 3.0, SATA6Gb/s, three M.2 slots, support for up to 3-way SLI/CrossFireX, and even multiple RGB LED headers.
Pricing
The MEG X399 CREATION costs $505.99
Packaging and MEG X399 CREATION Overview
Packaging and Overview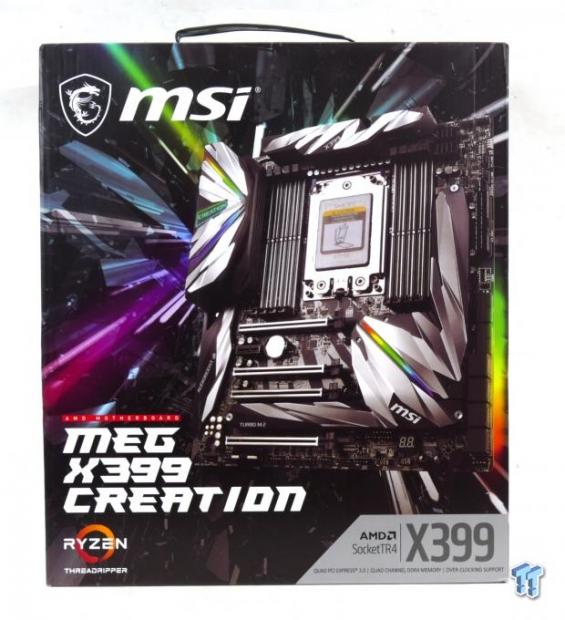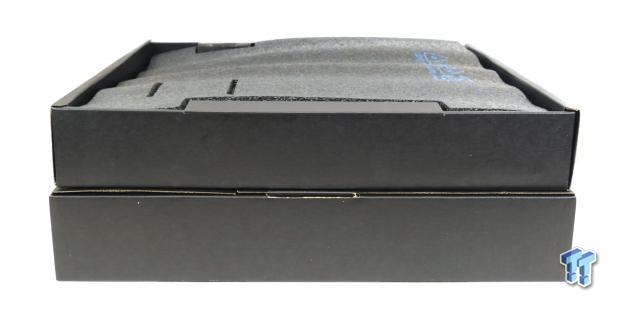 The box and packaging are just as colorful as the motherboard itself!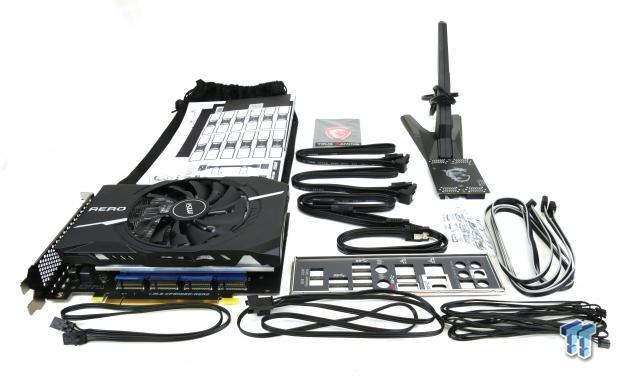 The accessory package includes four SATA cables, MSI's AERO 4x M.2 card, WIFI antenna, IO shield, RGB extension splitter, three thermal probes, addressable RGB LED extensions, SLI HB bridge, stickers, manual, and bag.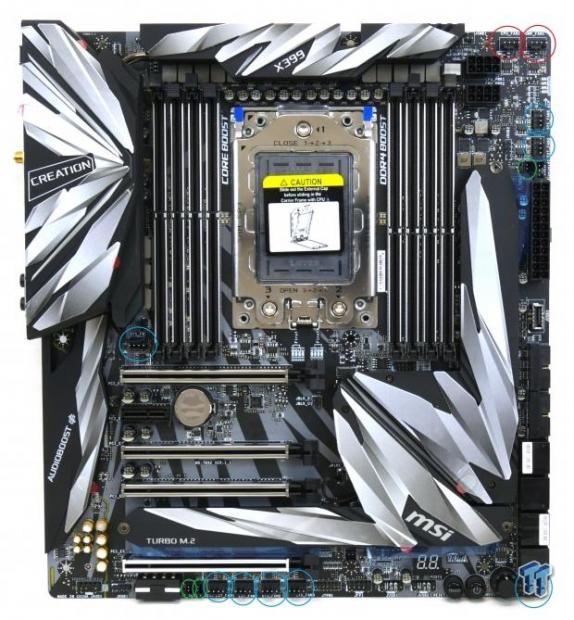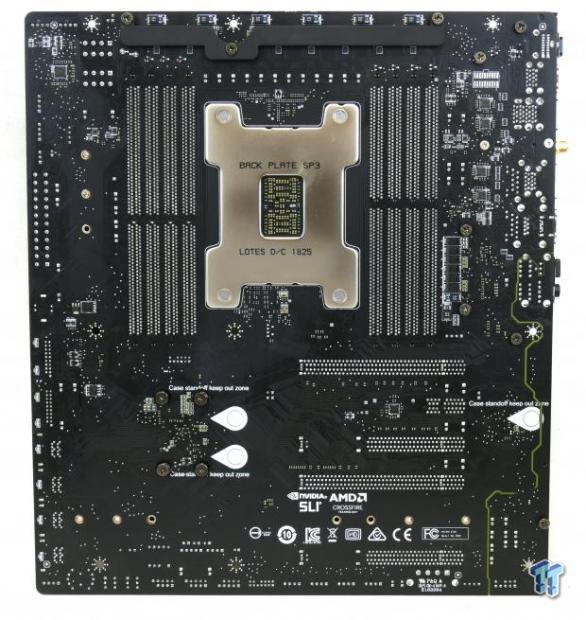 There are a total of 10 fan headers on the motherboard. Two of them are default PWM mode and located at the top of the motherboard, they are circled in red. Eight of them are default DC mode and are circled in blue. Three temperature input ports are located on the motherboard and they are circled in green. All fan headers are hybrid DC/PWM headers, so you can change their modes. The motherboard features a pretty interesting, almost angelic theme. The back of the motherboard has some components on there.

The rear IO panel Clear CMOS button, BIOS recovery button, nine USB 3.0 ports, WIFI antenna connectors, two Gbit LAN ports, USB 3.0 type-C, and gold plated 7.1 audio ports with S/PDIF out.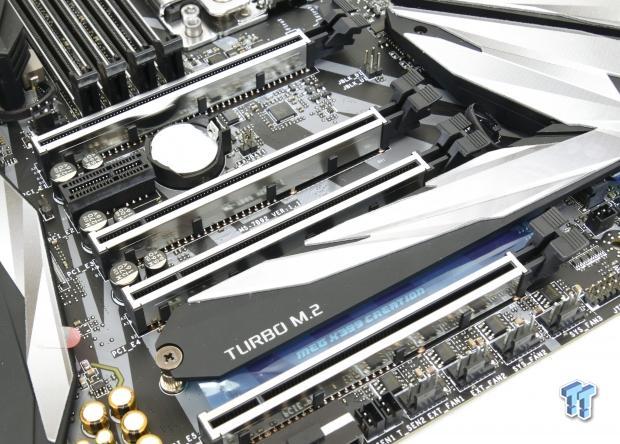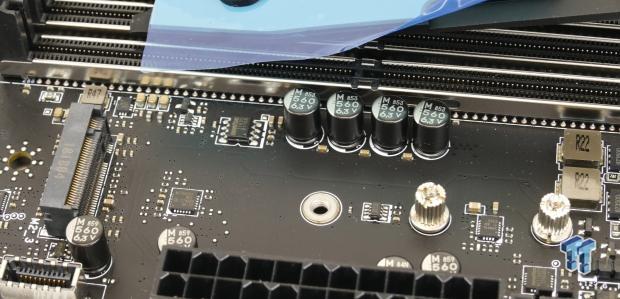 The PCI-E layout is quite simple as there are so many PCI-E lanes from the CPU that switching of bandwidth is almost non-existent board-wide. The first and third metal reinforced x16 slots offers x16 PCI-E 3.0 full time, while the other two offers x8 PCI-E 3.0 all the time. Spacing is a bit weird, but optimized for two or three cards. All M.2 slots are x4 PCI-E and support SATA as well. They all have heat sinks too.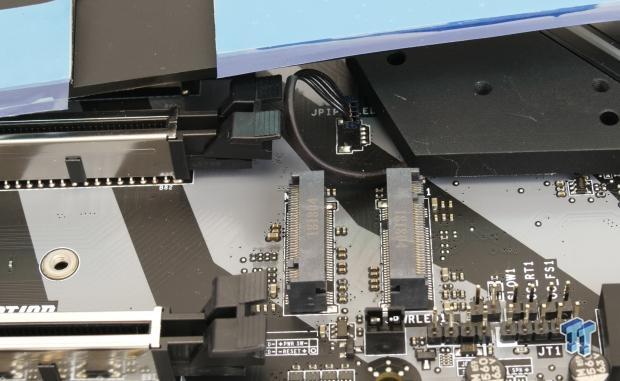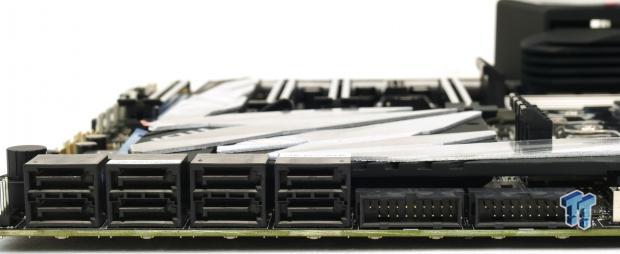 You need to unscrew a few screws from the PCH heat sink to access the M.2 ports. There are eight SATA6Gb/s ports on the motherboard as well as two right-angled USB 3.0 internal headers.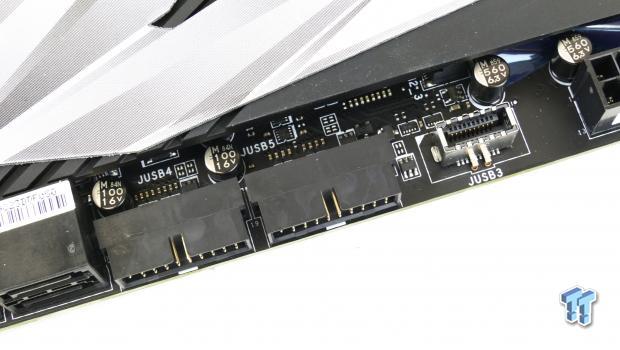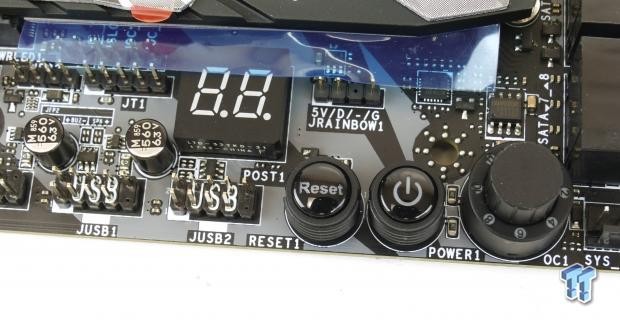 You also get a USB 3.1 type-C internal header. We find two USB 2.0 internal headers near power and reset buttons. We also find an OC knob for auto overclocking, and a POST code display for debugging. There is an addressable RGB LED header on the motherboard as well, and an RGB LED header in the bottom right corner of the motherboard.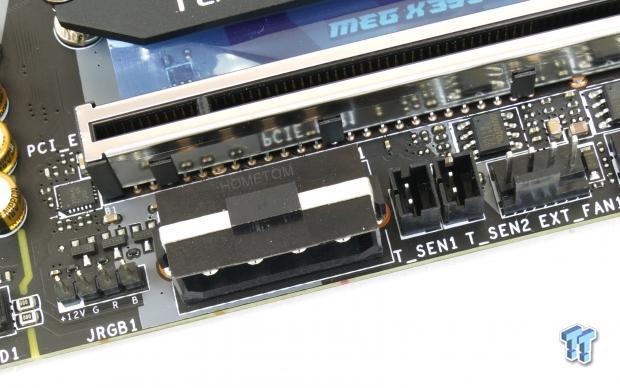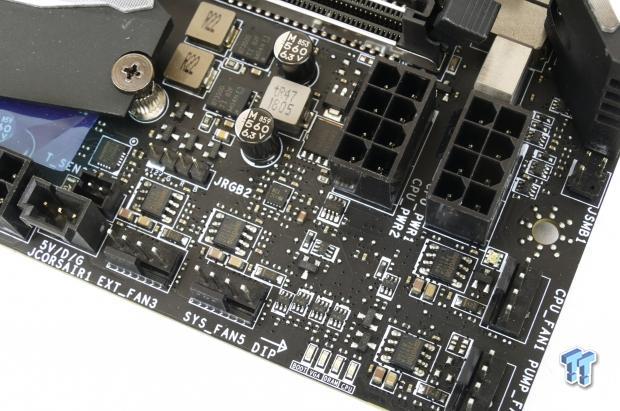 Near the MOLEX power connector for extra power, we find an RGB LED header. At the top right corner of the motherboard we find two 8-pin power connectors, an RGB LED header, and a Corsair/addressable RGB LED header.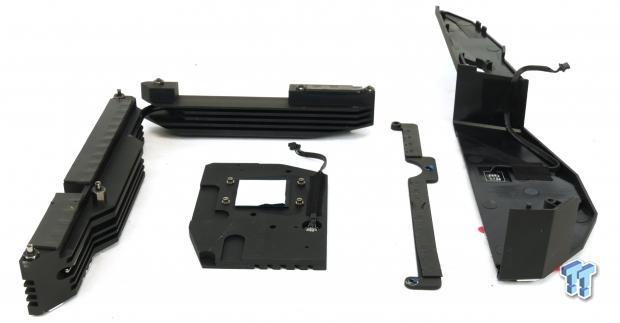 The heat sinks on this motherboard are well built, but use mass rather than fins.
MSI MEG X399 CREATION Circuit Analysis
Circuit Analysis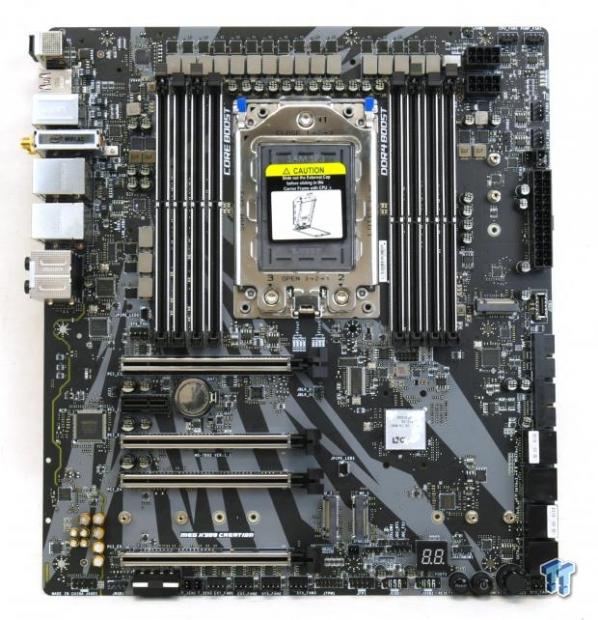 The MEG X399 CREATION shows us what it's got under the hood when we remove the heat sinks and shields.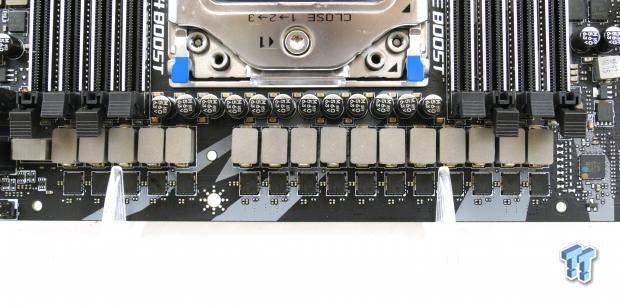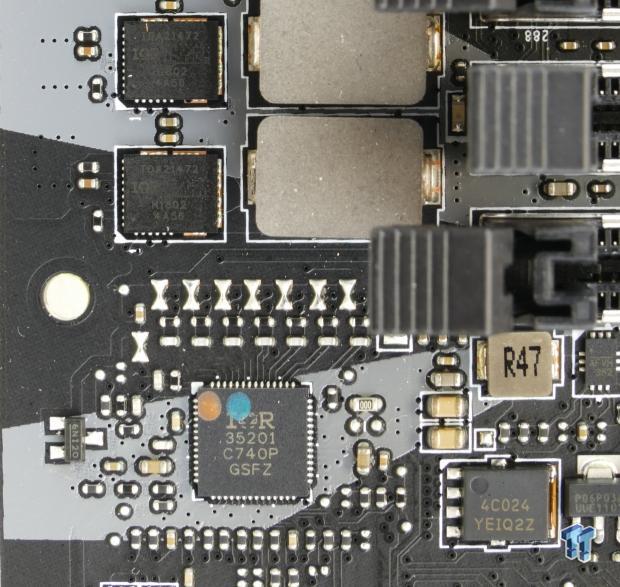 Here we have the massive 16-phase VRM consisting of 70A Infineon TDA21472 power stages and controlled by the IR35201 in 8-phase mode.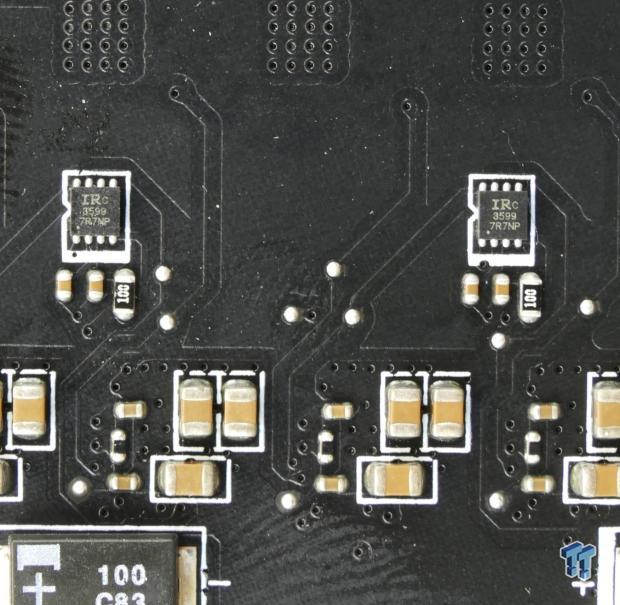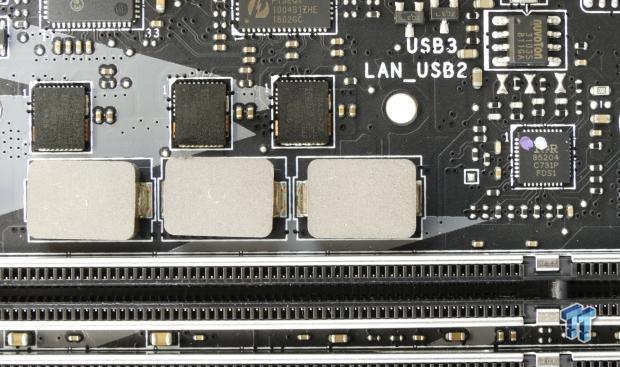 We find eight IR3599 doublers on the rear of the motherboard. The SoC VRm is made up of three TDA21472 70A power stages and is controlled by an IR35204.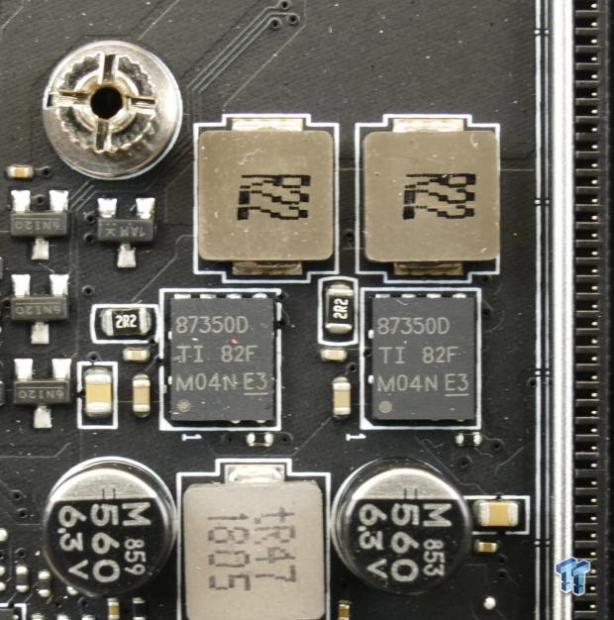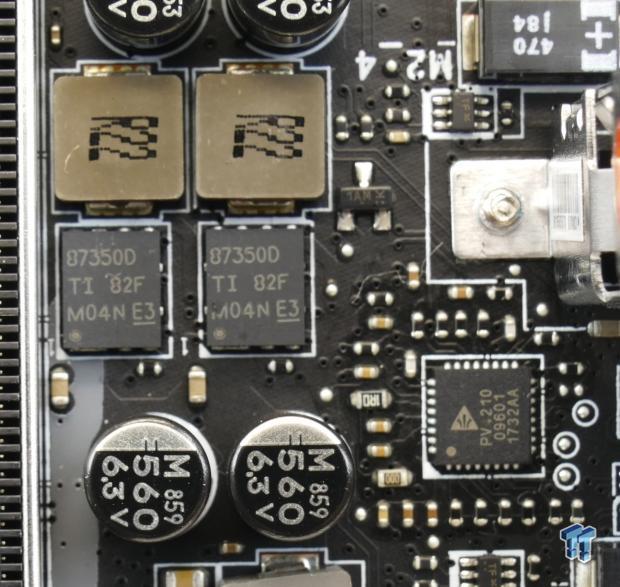 The memory VRMs are identical and use Texas Instruments CSD87350 NexFETs rated for 25A and are controlled by Primarion PV4210 digital PWMs.
MSI MEG X399 CREATION Circuit Analysis Continued
MEG X399 CREATION Circuit Analysis Continued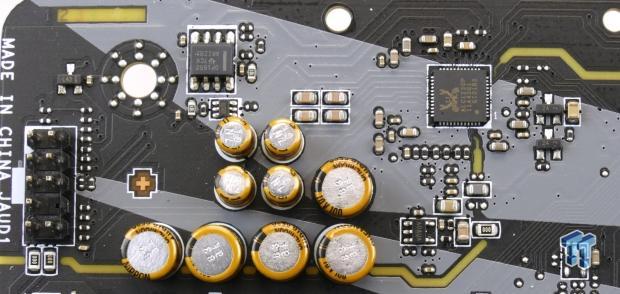 MSI is using a Realtek ALC1220 rated for 120dB and contains an integrated headphone amplifier. MSI added in an OPA1652 amplifier and gold series audio capacitors to improve audio.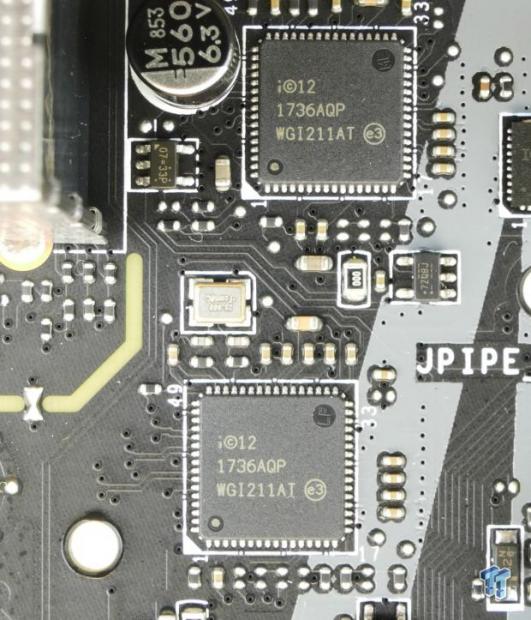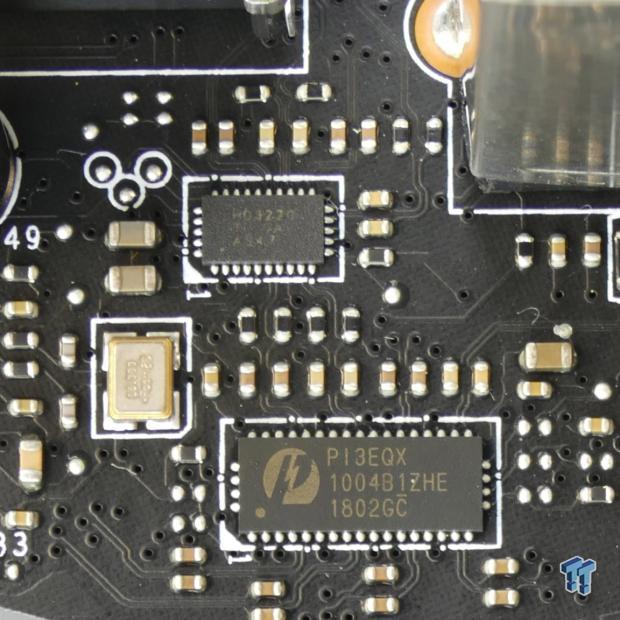 Two Intel i211AT Gbit NICs provide the two LAN ports on the rear IO. An Intel Wireless AC 9260 is also installed on the motherboard. We also find a two-port Pericom PI3EQX USB 3.1 re-driver and a Texas Instruments type-C port controller the HD3220 for the rear IO.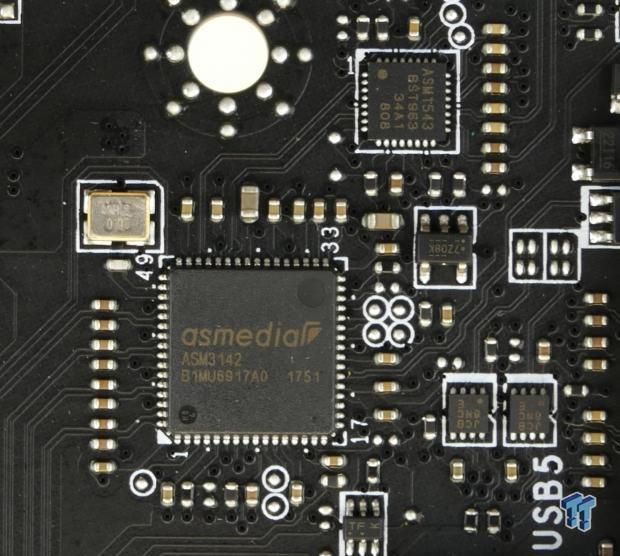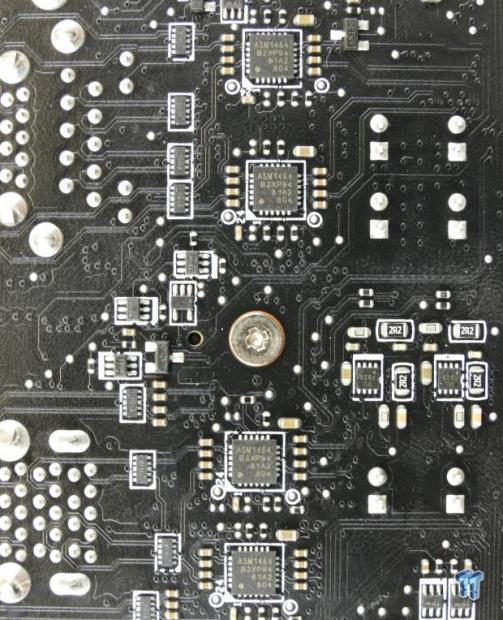 For the internal type-C header we find an ASMedia ASM3142 controller and an ASM1543 type-C controller. We also find four ASMedia ASM1464 USB 3.0 re-drivers to improve USB performance on the rear IO.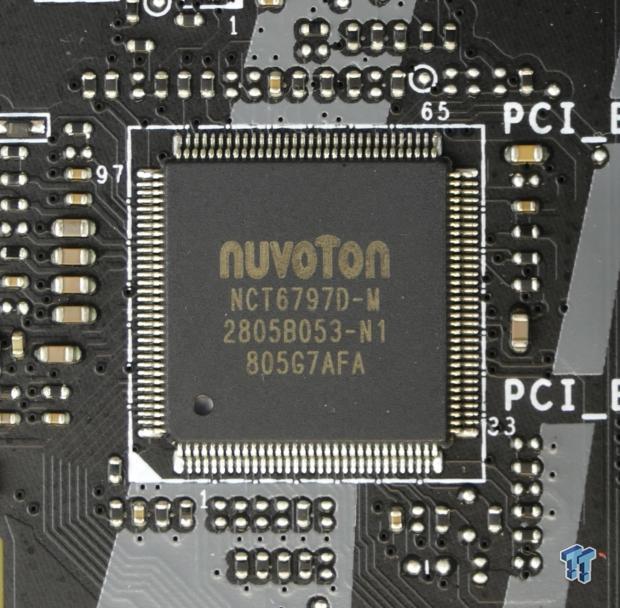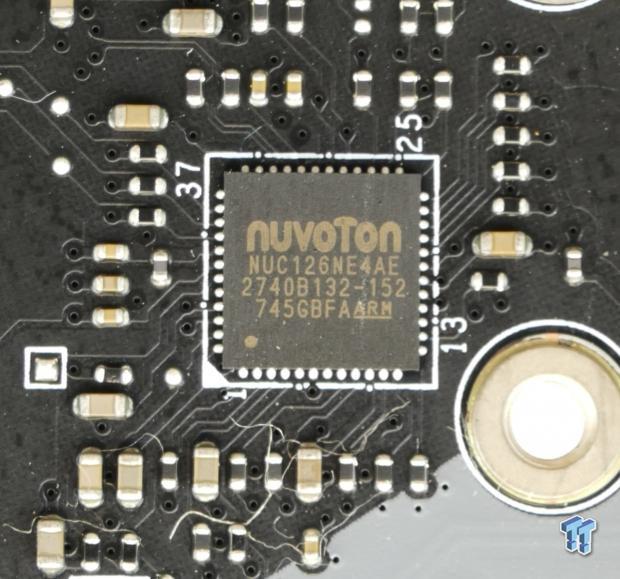 We also find an Nuvoton NCT6797D as the main SuperIO. The addressable RGB LEDs use a Nuvoton MCU, the NUC128NE.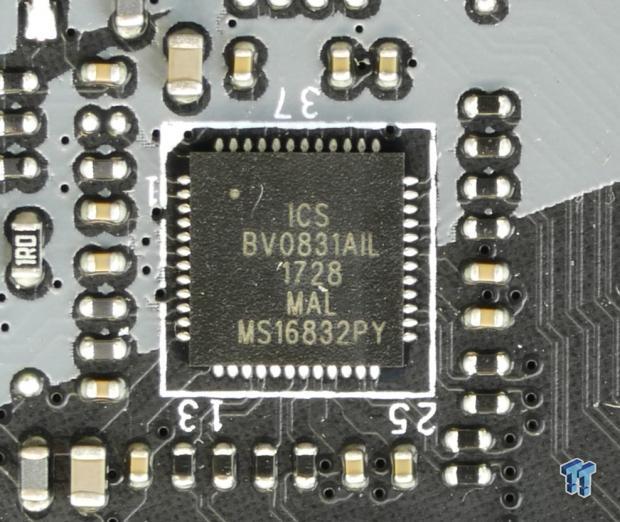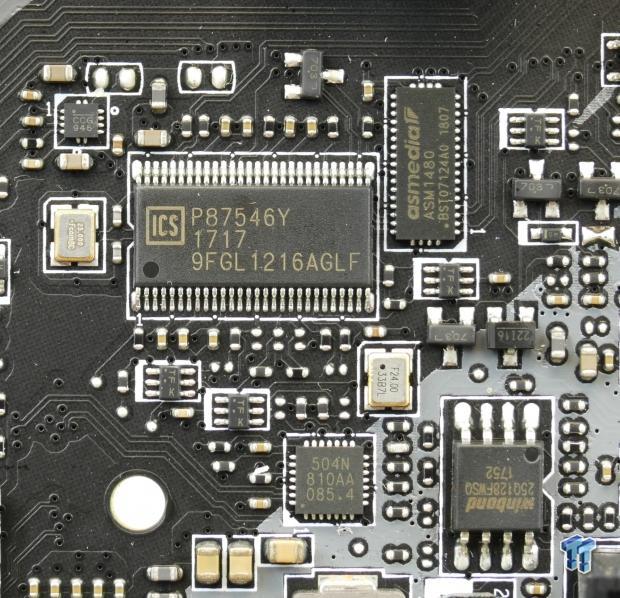 The clock generator is the ICS BV0831A, and we find another, the ICS 9FGL1216AGLF and an ASMedia quick switch to choose between the two it seems. A single 128Mbit BIOS ROM is on the motherboard, and the chip labeled "504N" is used for the BIOS flashback capability.
BIOS and Software
BIOS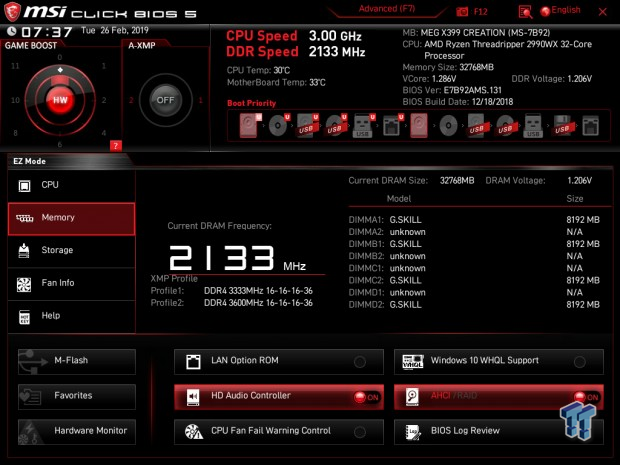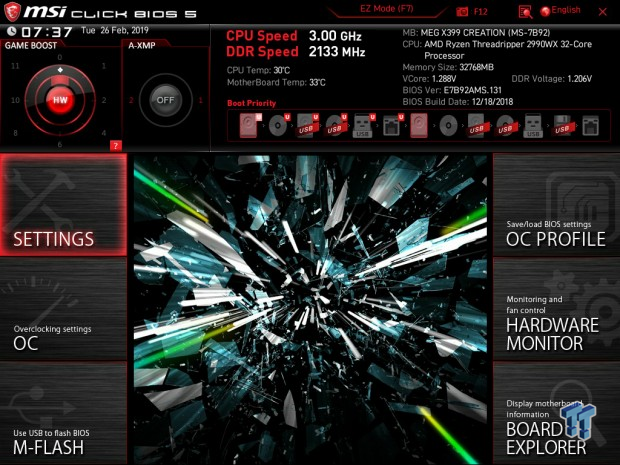 MSI's UEFI for the MEG X399 CREATION is pretty much just like any other MSI UEFI from the past few years, but with the added AMD menus as well. Overclocking settings are all there, and we even find a board explorer. Fan control is present in the form of a GUI, and MSI has upgraded it so that you can choose between all of the temperature sources.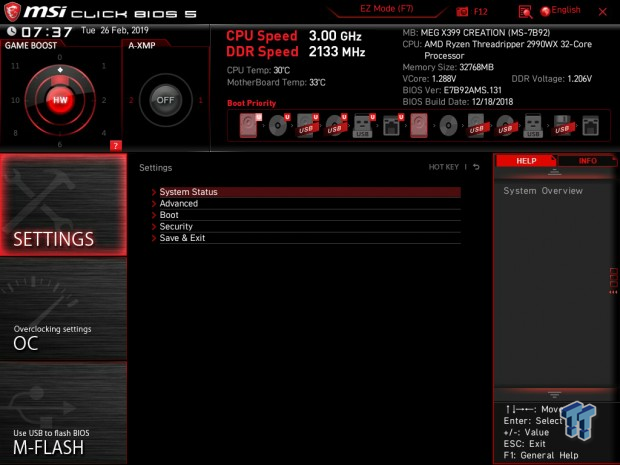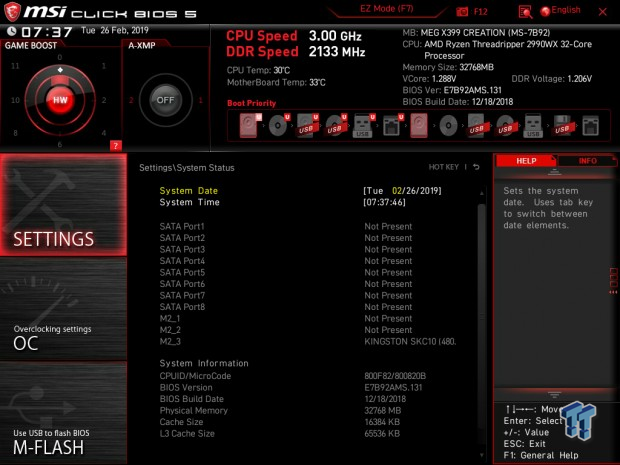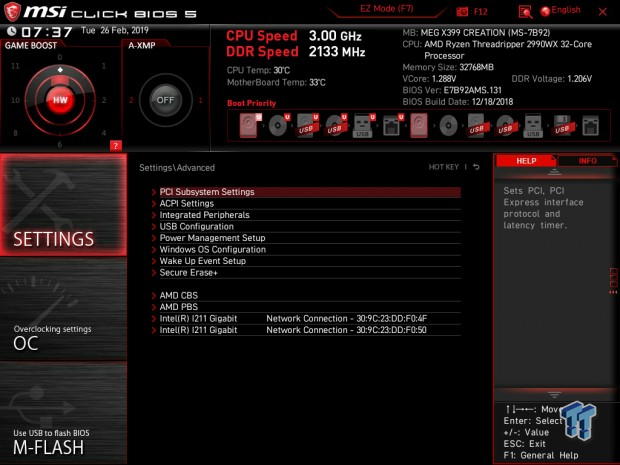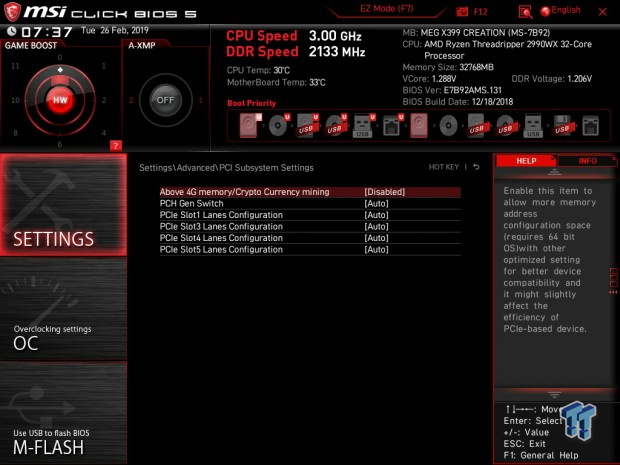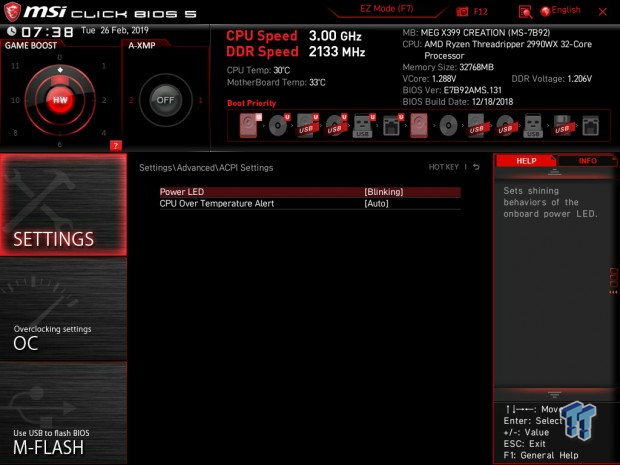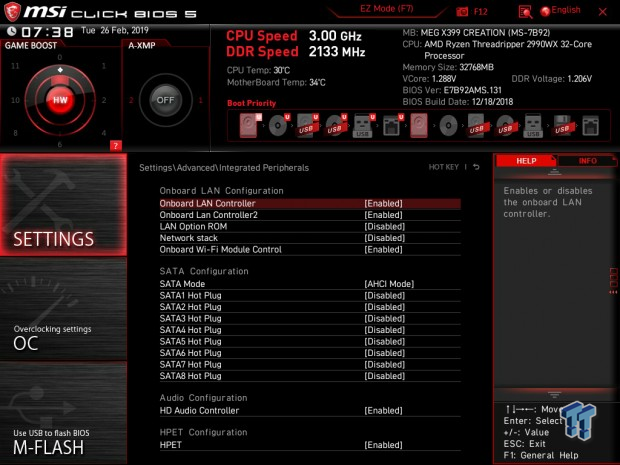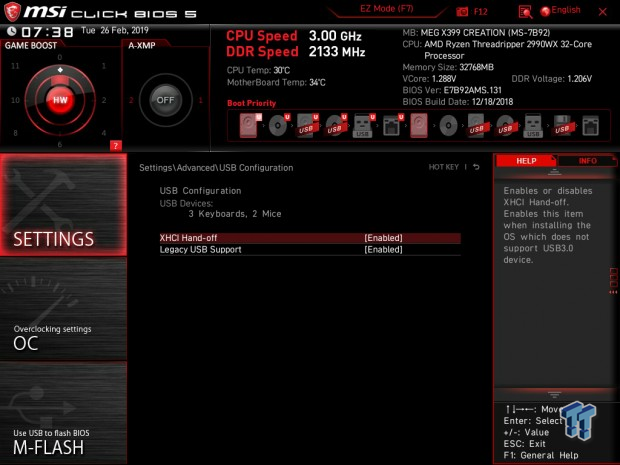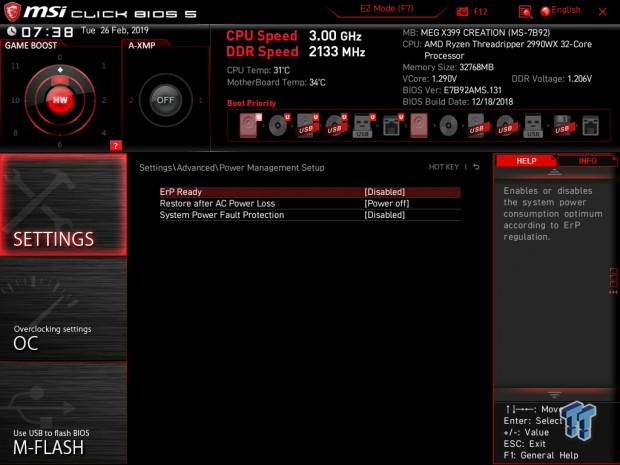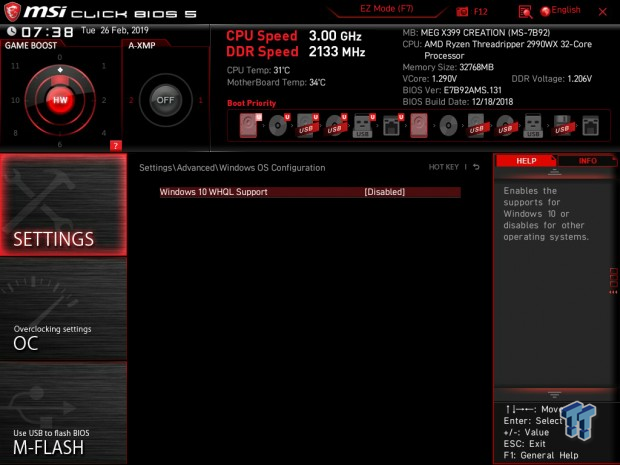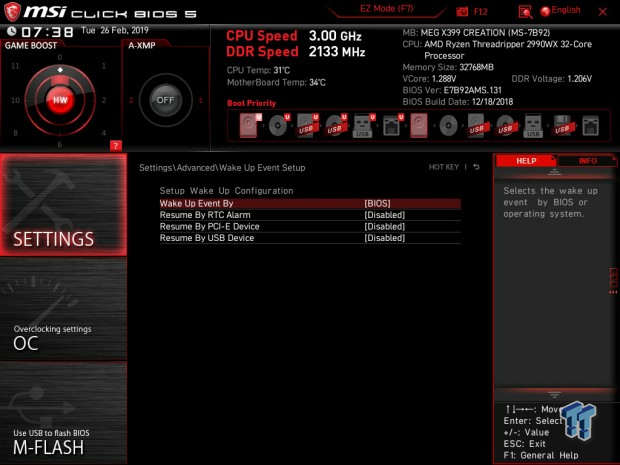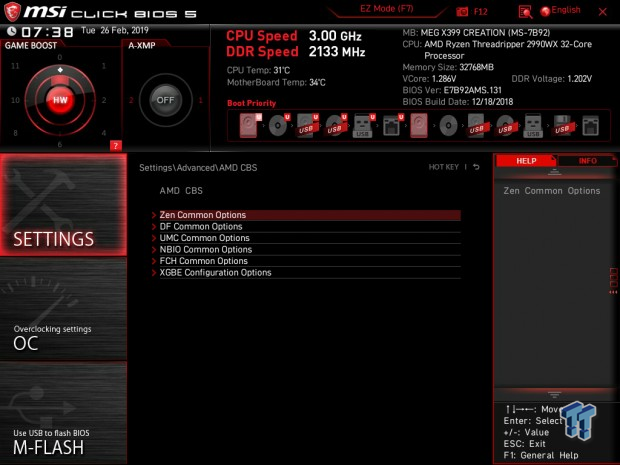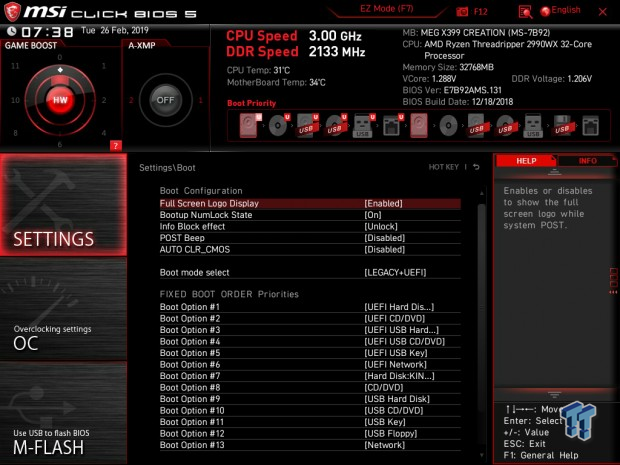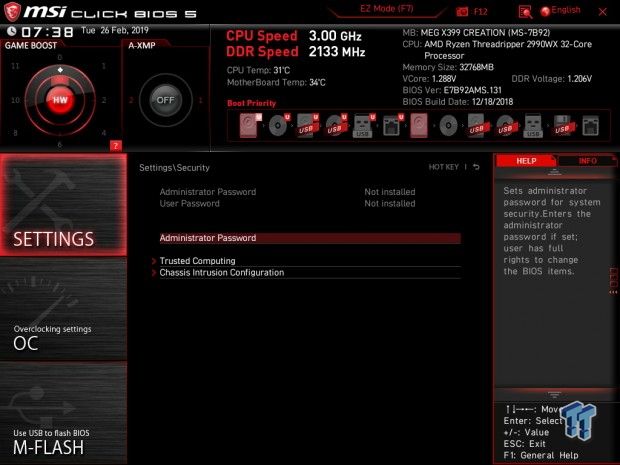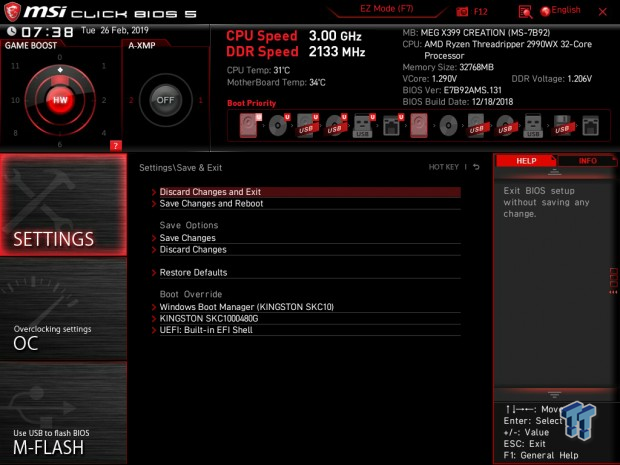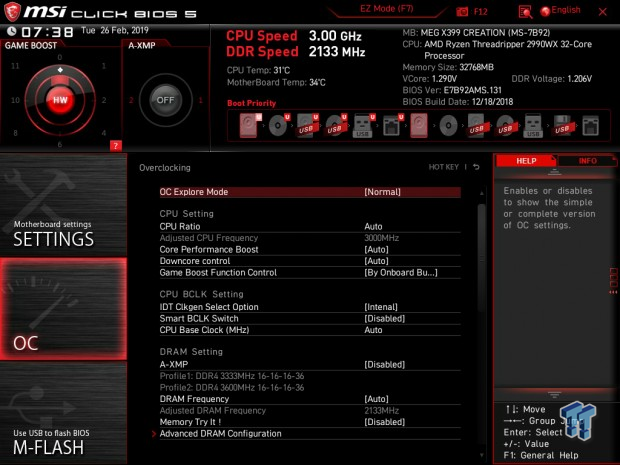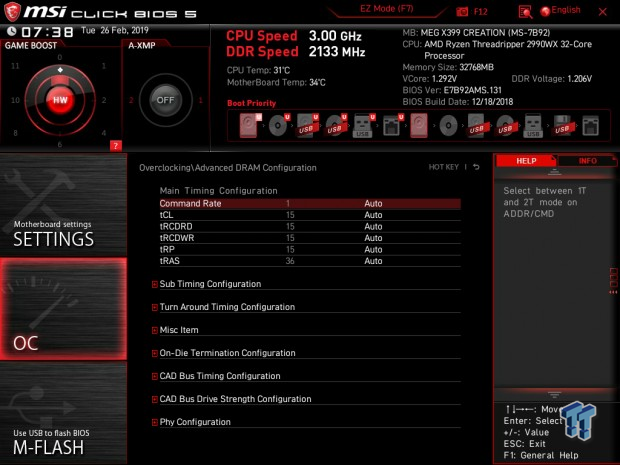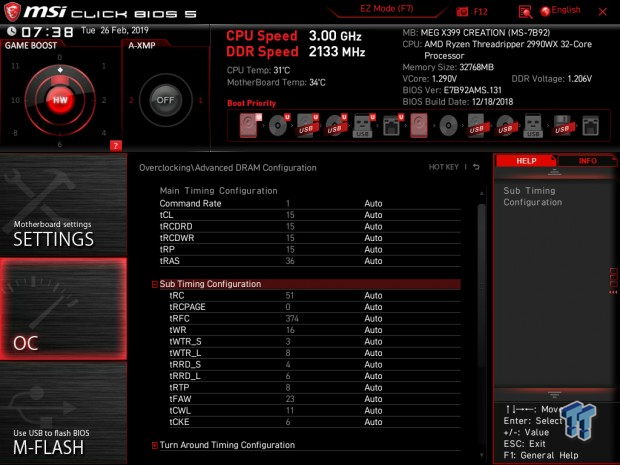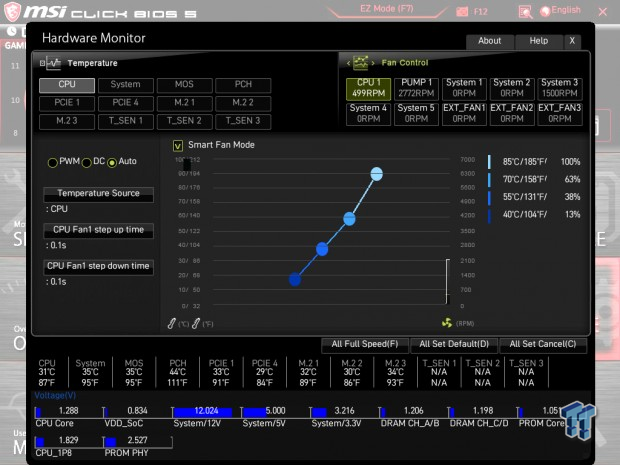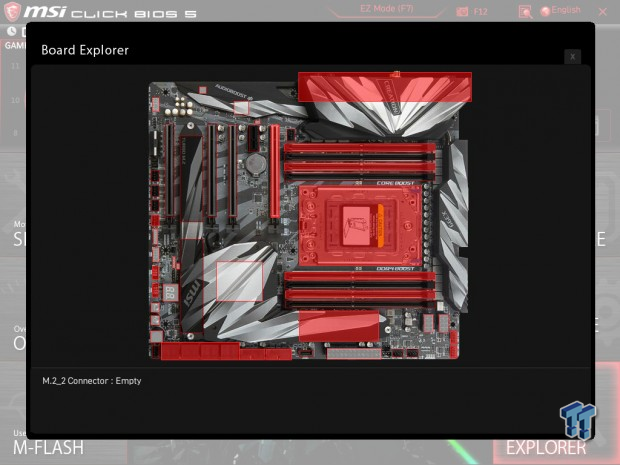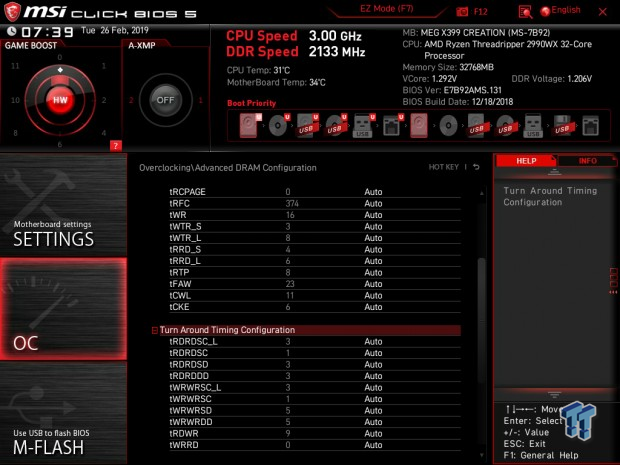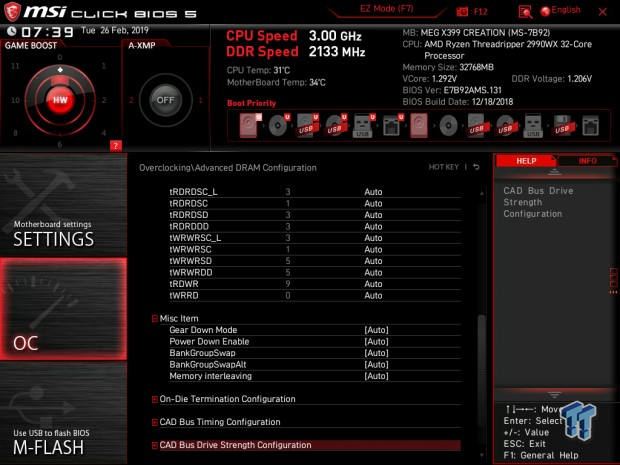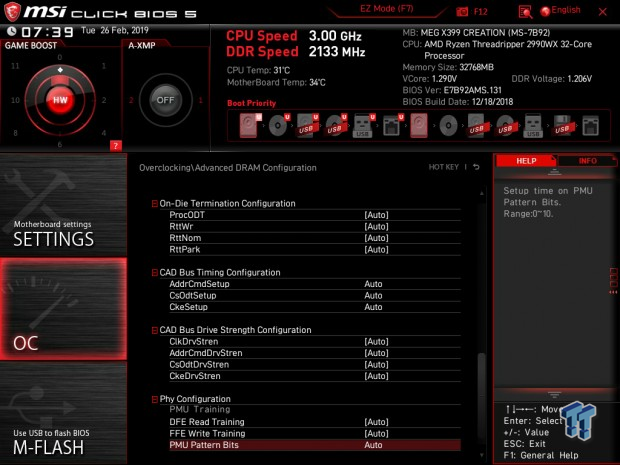 Software
MSI's software suite includes APP Manager, Live Update 6, Command Center, Gaming APP, Smart Tool, Mystic Lights 3, Nahimic 3, X Boost, and Super Charger.
Test System Setup
Steven's Motherboard Test System Specifications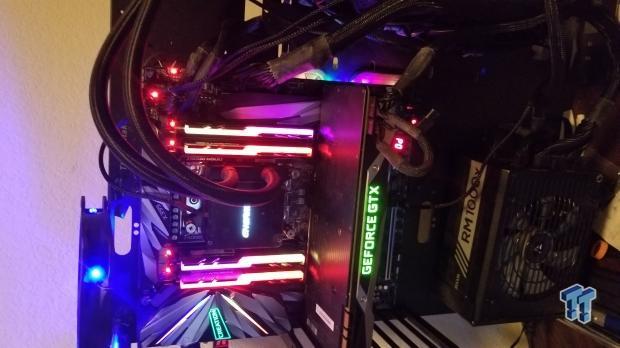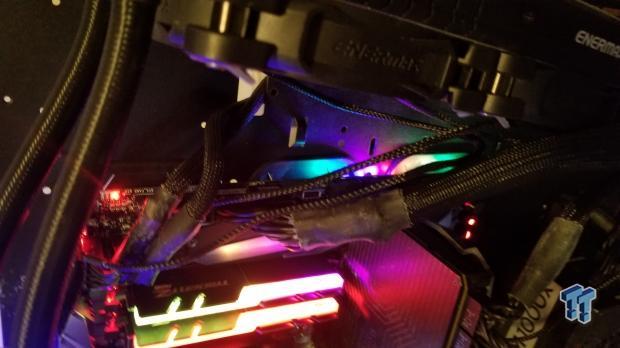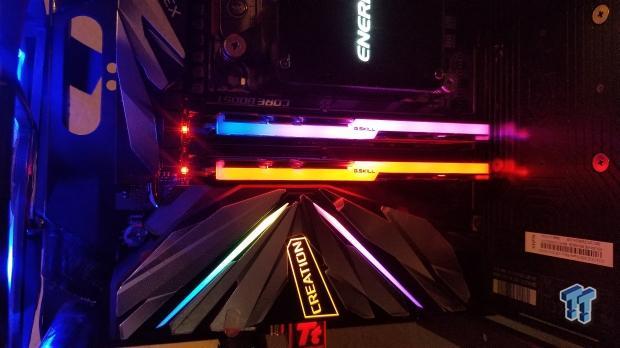 The motherboard looks awesome, and the RGBs are tasteful and not over the top.
CPU, Memory, and System Benchmarks
CINEBENCH R15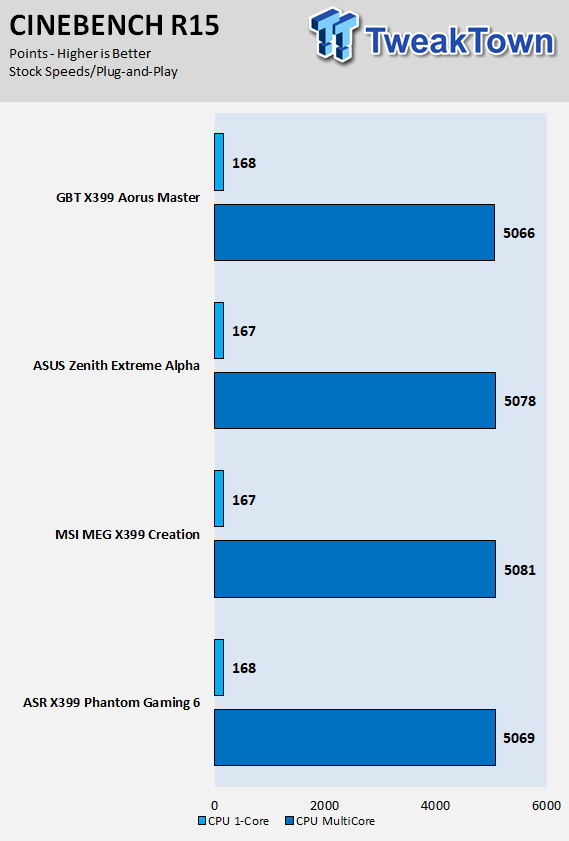 wPrime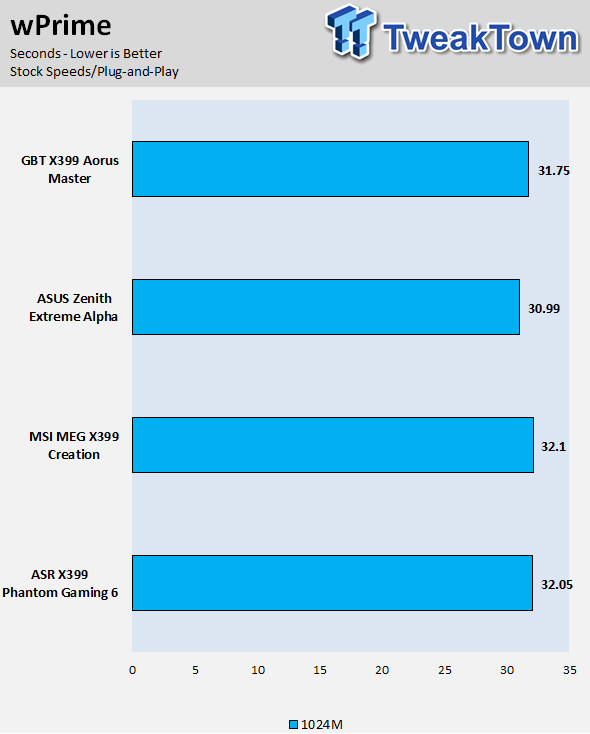 AIDA64 FPU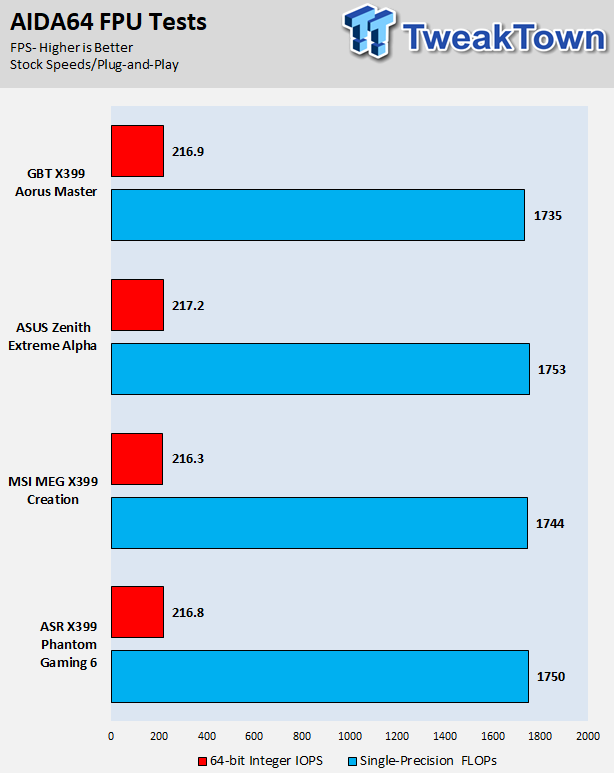 AIDA64 Memory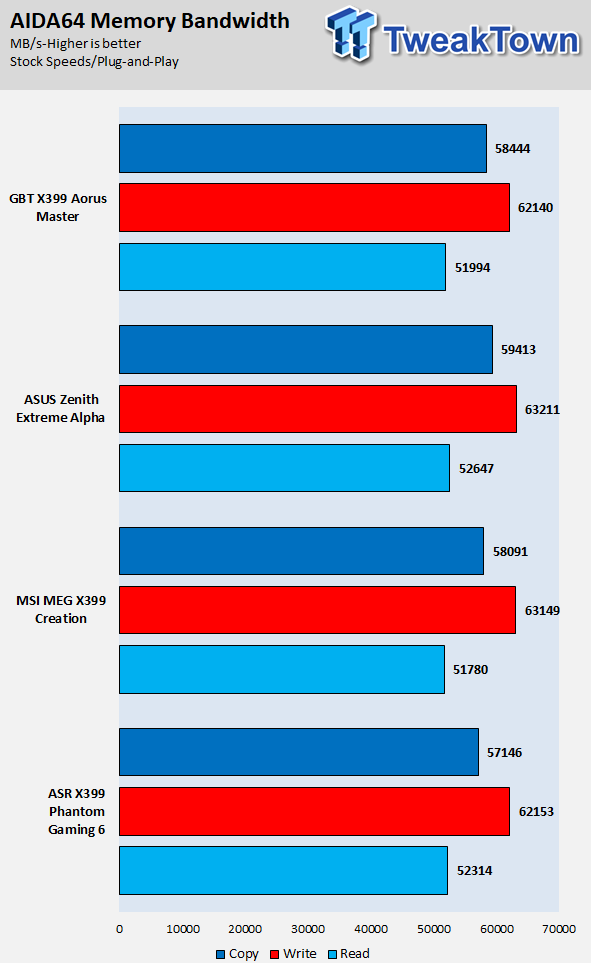 ScienceMark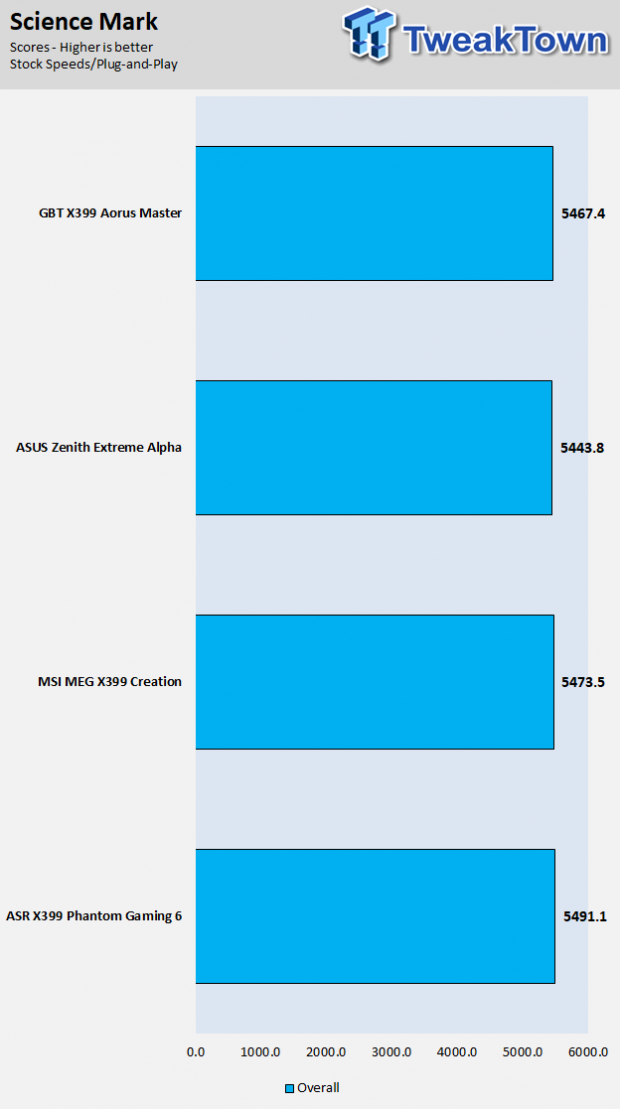 HandBrake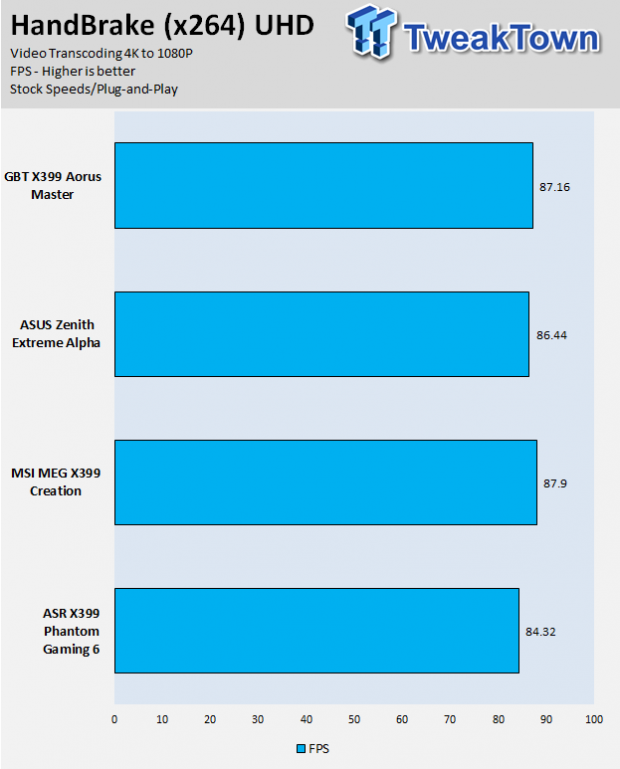 SuperPi 32M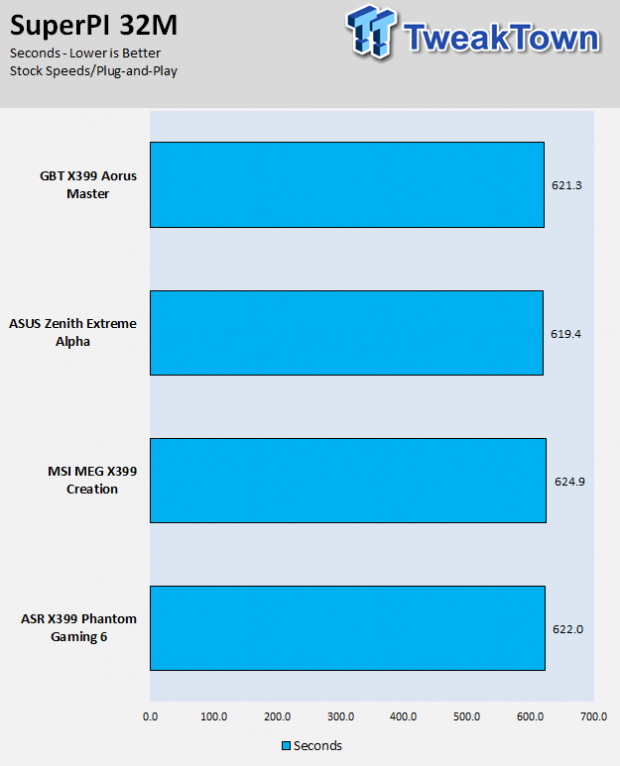 3DMark: Fire Strike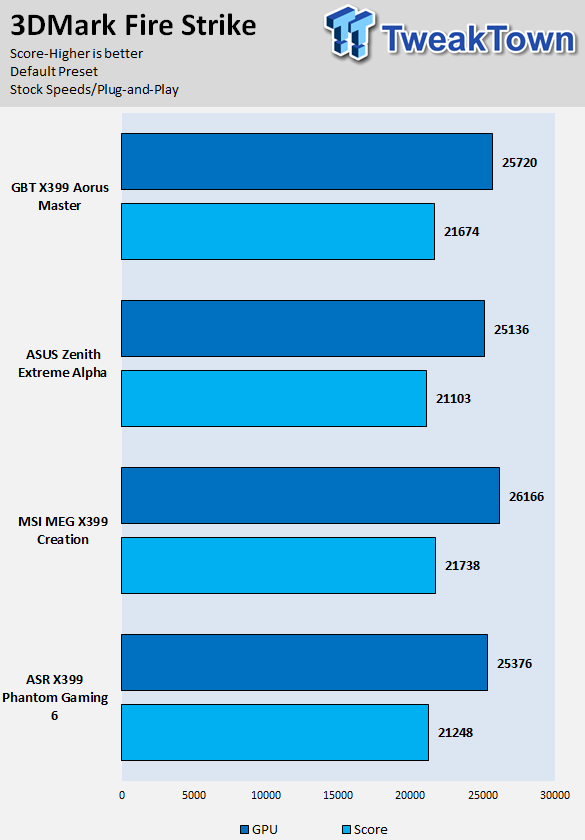 3DMark: Cloud Gate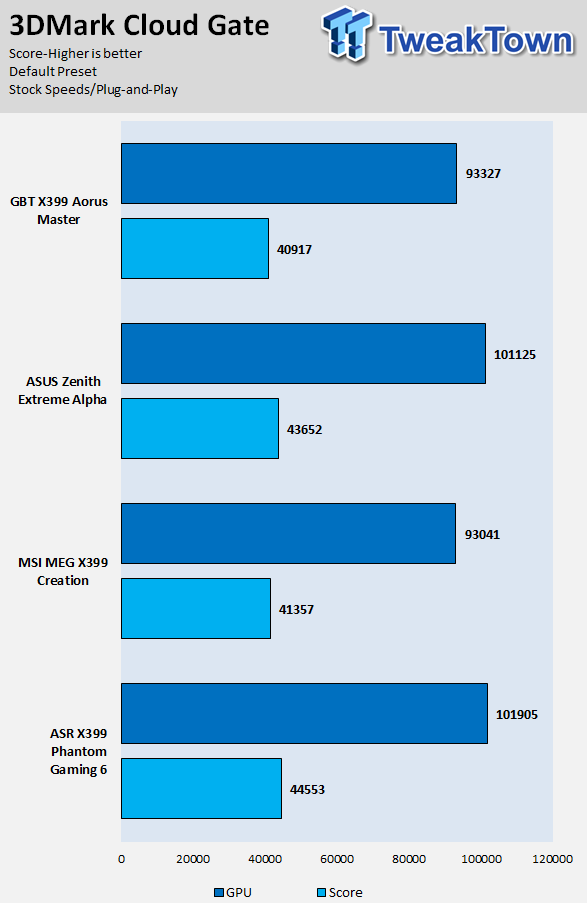 ResidentEvil 6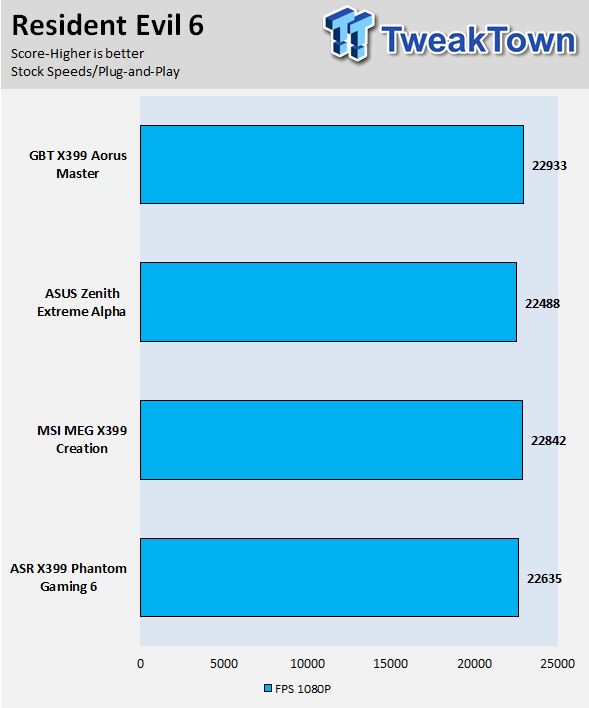 The MEG X399 CREATION's performance is pretty much the same as the performance of any of X399 motherboards in our charts. No performance issues to report.
System IO Benchmarks
CrystalDiskMark SATA6G: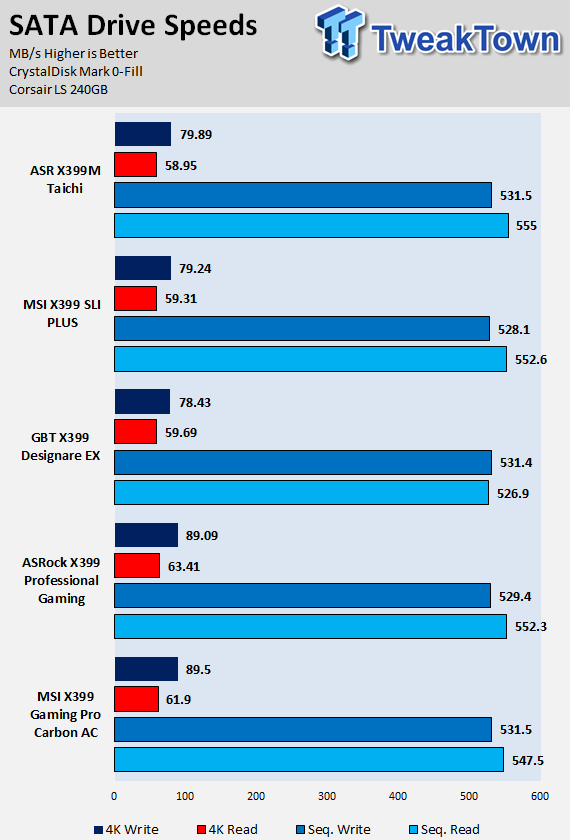 CrystalDiskMark M.2: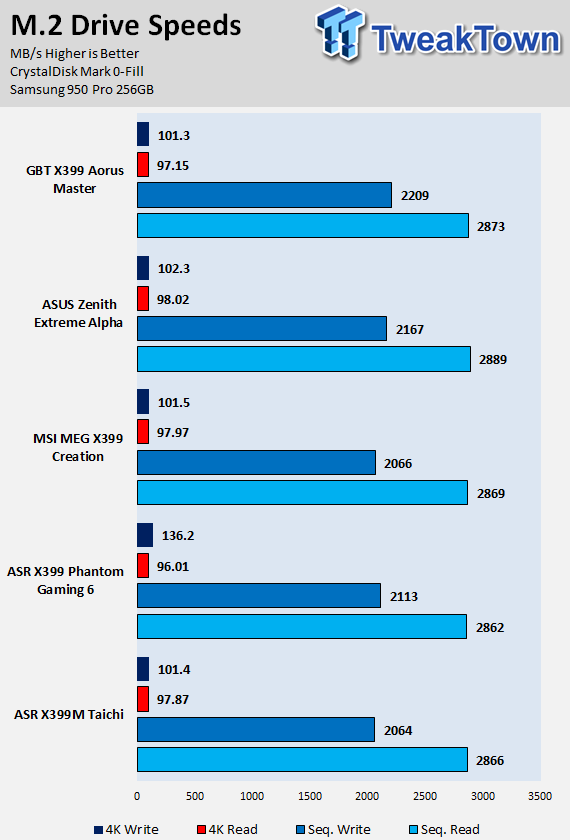 ixChariot Network Throughput: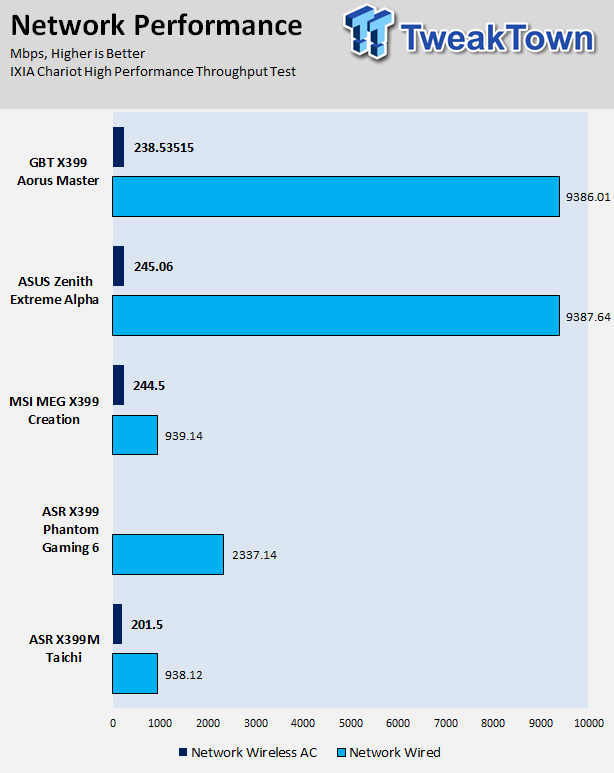 Here we see storage performance is solid, exactly where it should be. Network performance is solid as well, but as you can see there are many motherboards with faster NICs.
Audio
Sound Judgment by Ear: Excellent, a solid ALC1220 implementation. There are five ratings for audio: 1. Problems, 2. Okay, 3. Acceptable, 4. Very good, 5. Excellent
Thermal Imaging and Power Consumption
System power is measured at the wall with an AC power meter.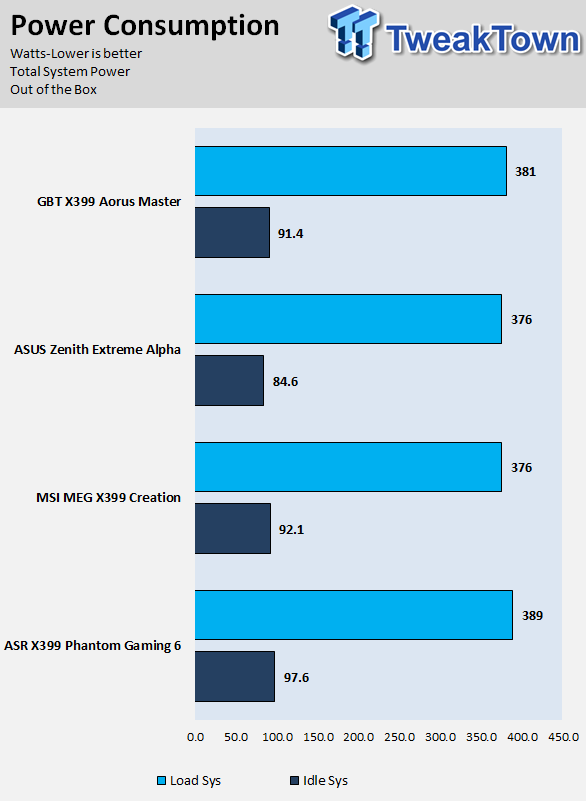 Note on Thermal Images: In the temperature section, we use our Seek thermal imaging camera to capture the surface temperatures of major components on the board. I look at the VRM and then all other things that light up the screen. If there is something to worry about, then I will state it. Otherwise, I will just show the hotter running parts of the board for fun. Unless some component is over 80-90C, then there isn't anything to worry about.
All systems will act differently, so I will look for commonalities, such as how far from the VRM the heat spreads through the PCB and the difference in temperature between the front side and backside of the PCB. Keep in mind, the majority of the heat from the VRM goes into the PCB as it is a giant soldered on copper heat sink. A larger difference in temperature between the back and front of the PCB points towards a more effective heat sink.
Thermal Testing at Stock Speeds:
The image on the left is always at idle, and the image on the right is at load. During ALL TESTS, There is no airflow direct at the VRM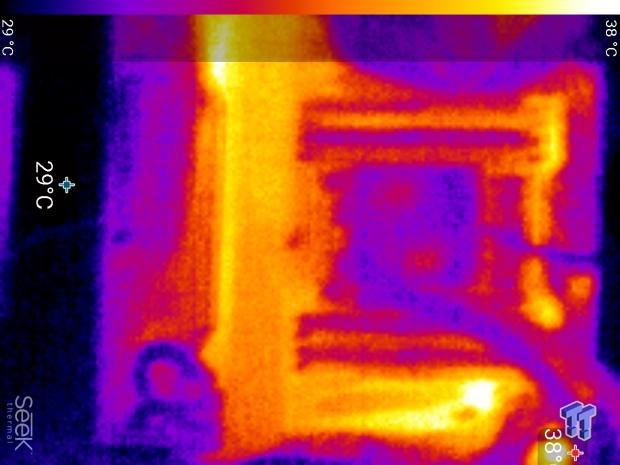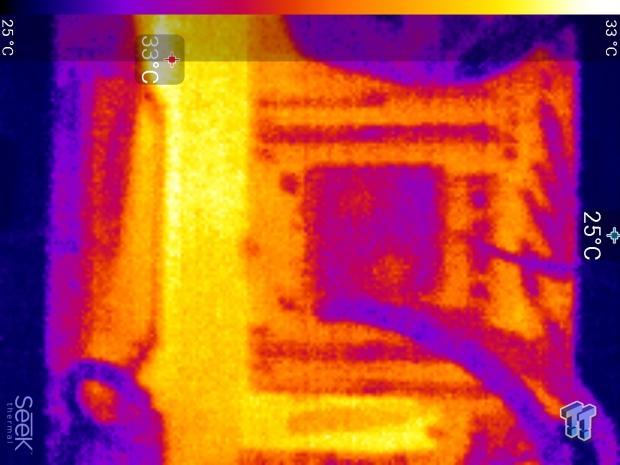 Full frontal.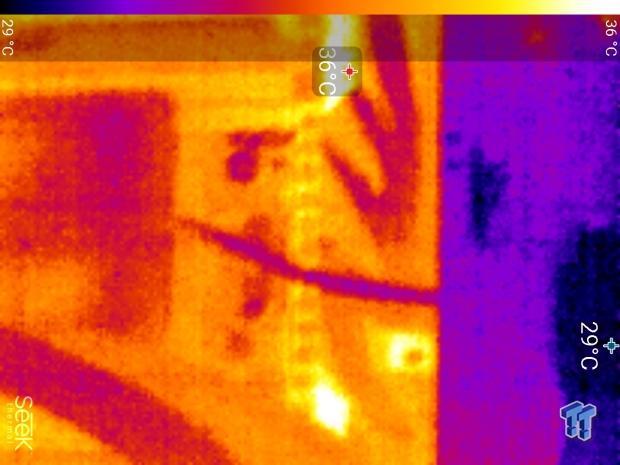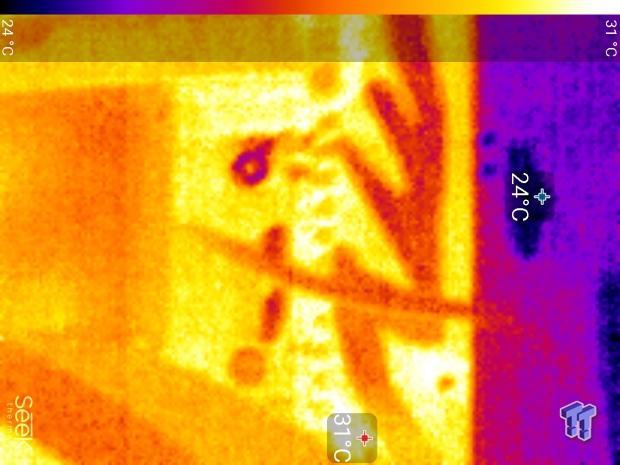 Up-close of the front of the VRM.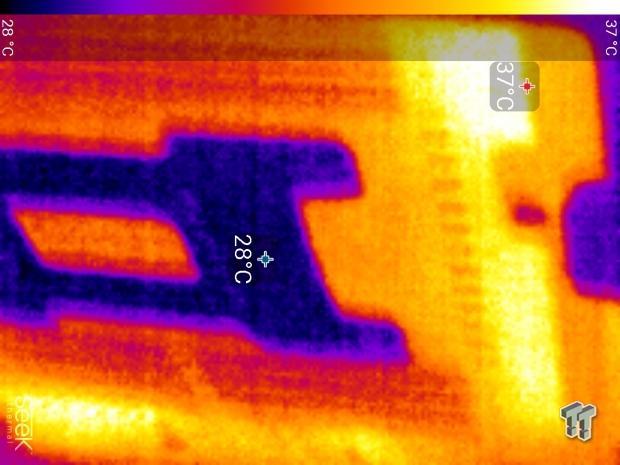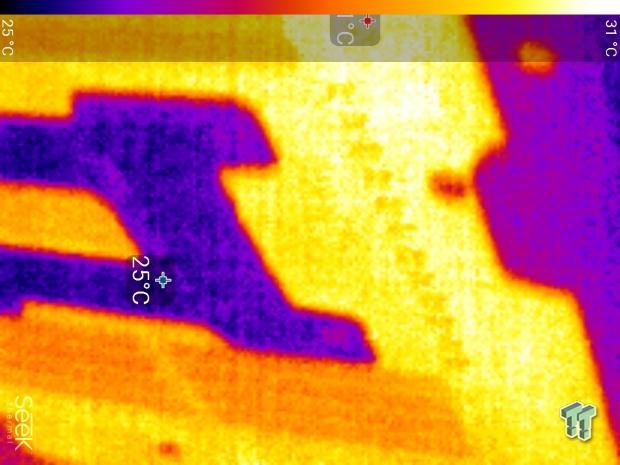 Up-close of the back of the VRM.
The MEG X399 CREATION has an excellent VRM, and while the heat spreads under load, the 70A power stages from Infineon keep things under control. The heat sinks could use some airflow around them, especially if you overclock, because the heat sink isn't the best. Overall, the motherboard has a solid VRM.
What's Hot, What's Not & Final Thoughts
What's Hot
Excellent VRM: The X399 Creation has moved down the socket and DIMMs so that they could fit in a giant 16 phase digital VRM. The VRM is using the brand new 70A Infineon power stages, which are rated above the 60A parts many other motherboards use.
Fan Control: These days high-end motherboards are loaded with a high number of fan headers, and that's because custom watercooling has become more popular leading to users requiring more of the headers. All the headers on this motherboard are hybrid DC/PWM headers, so they will work with either fan type. We also like the inclusion of external temperature sensor input, and the inclusion of the temperature probes.
Aesthetics: As far as we could tell, the RGB LEDs on this motherboard were addressable, and the grow from the ones on the rear of the PCB on the right side are quite nice, as are those that are integrated into the IO cover.
M.2 Card: Many people want super-fast storage, and in this case the addition of the quad M.2 card is a nice surprise.
What's Not
No Rear USB 3.1 (10Gbps): Scouring through the official specifications, I thought I found a typo when I found that the website lists all rear USB 3.1 as Gen 1 and not Gen 2. After looking at the motherboard's hardware, mainly the Pericom PI3EQX chip that re-drives the USB 3.1 Gen 2 from the chip, I asked MSI. I was a bit shocked when they told me they changed the specification to Gen 1 from Gen 2 because the performance they were seeing weren't at their levels. So to keep people happy they down speced their own motherboard, which leaves a question, who is listing USB 3.1 Gen 2 when it's not as fast as it should be to meet that spec?
Final Thoughts
We commend MSI for changing their specification on the two rear USB 3.1 ports, that's very honest, and it makes us wonder how many other X399 motherboards don't offer up to snuff USB 3.1 Gen 2. The internal type-C header is USB 3.1 Gen 2 though, as it uses a discrete ASMedia controller.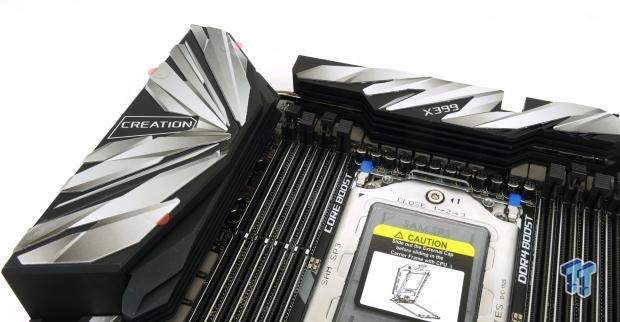 We were very impressed with the VRM on this motherboard, fan control, the aesthetics, and the additional four M.2 card. The motherboard costs $505, which is a lot, we think it has mostly to do with VRM cost.
While the WIFI is the latest Intel has to offer and theoretically can do 1.73Gbps and the motherboard features dual Intel NICs, the motherboard does not have any multi-Gbit LAN ports or heavily upgraded audio other flagship X399 motherboards offer at this level. Overall, it's a solid motherboard with a great set of features, quality, and looks.
| | |
| --- | --- |
| Performance | 95% |
| Quality | 94% |
| Features | 92% |
| Value | 88% |
| Overall | 92% |
The Bottom Line
Offering a monster 16 phase VRM with 70A power stages, solid USB implementation, awesome fan control, and the ability to run seven M.2 SSDs at x4 PCI-E, the MEG X399 CREATION is an excellent motherboard.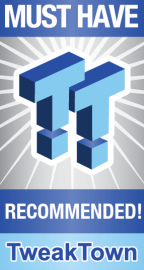 We openly invite the companies who provide us with review samples / who are mentioned or discussed to express their opinion. If any company representative wishes to respond, we will publish the response here. Please contact us if you wish to respond.