Team T-Force Night Hawk RGB DDR4-3000 RAM Kit Review
Team's T-Force Night Hawk RGB DDR4-3000 16GB dual-channel memory kit is one of the best RAM packages we've reviewed in a long time.

Published Tue, Jul 25 2017 3:13 PM CDT
|
Updated Tue, Nov 3 2020 6:58 PM CST

For those actively hunting for a new set of DDR4 for a build, Team Group may not have even been on your radar. Typically, we think of four or five other makers before we even think back to Team Group, but they are actively trying to fix that perception, hopefully propelling them to the top of the list. Not only do they offer some slick looking sets of sticks for the gamers out there, but Team also carries a top-tier line of T-Force kits which not only look good but are geared for enthusiasts as well.
We have tried a couple of kits from this series so far, like the Dark ROG and the Night Hawk, and both kits performed admirably and were highly recommended if you can find them. The latter kit, the Night Hawk has gone through a slight revision and is what has us discussing Team memory again. Today, we are looking at the T-Force Night Hawk RGB, which like many other kits have moved into multi-color lighting as a selling tool to drive you towards their products.
We have in hand; the TF1D48G3000HCC16CBK sent as a dual channel kit for us to test with. Densities can be had with a pair of 8GB sticks or a pair of 16GB sticks, with speeds ranging from 2666MHz to 3200MHz, and timings are either 15-17-17-35 on the slower kits and 16-18-18-38 on the faster ones. Voltages range from 1.2V to 1.35V to run the XMP 2.0 profile correctly, and all kits come with a lifetime warranty. Something else to note about these kits is that while we will be showing off the black set, there is another version made white, both sporting thin orange accents. Since the new RAM is RGB LED backed, it only makes sense that it is also Aura Sync supportive, allowing users to take control of the coloration to be displayed.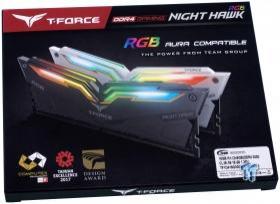 The packaging is similar to that of the original Night Hawk DDR4, but this time the large image shows the potential of the RGB LEDs in the modules. Along with being ASUS Aura Sync capable, Team shows off three awards for the kit and delivers the product sticker on the front of the box for easy recognition of which kit you have in your hands.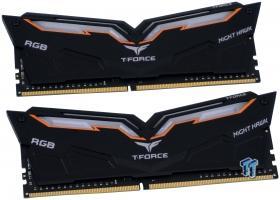 We find the black metal heat spreaders, with the angular shapes and multi-level look of them, along with the white and orange paint to be stunning to look at. The wing shape and "Hawkeyes Light Guide Panels" are attractive to look at, and we haven't even powered them yet.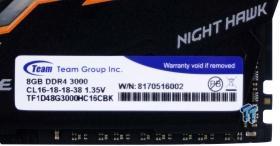 The back side of both sticks is identical to what is found on the front, down to every detail, but one. On this side of the Night Hawk RGB, we find the product sticker, which denotes the 3000MHz speed of this 8GB stick of DDR4. It then displays the 16-18-18-38 timings and usage of 1.35V for the XMP 2.0 profile, just above the product number.

Looking at the top edge of the Night Hawk RGB sticks, we see that there are more slots to view the RGB LEDs through. That makes ten slits on each stick where the glow of LED will flood out of this memory. Team also paints the T-Force name on the top, at both ends, so anyone will know what is running inside of the chassis.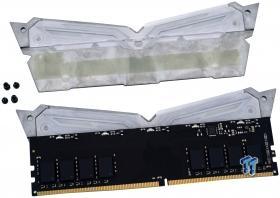 Using a 2.5mm Allen wrench, we were able to remove the cast, metal, heat spreaders. Each half of the spreader has an opaque plastic section which moves the light from the five LEDs on either side of the stick and delivers it through the spreaders to see. We are also fans of Team using a black PCB to match the spreaders and give this DDR4 a high-end look throughout.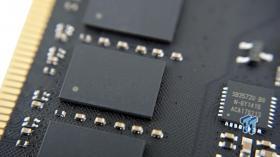 Team has opted not to have their memory ICs printed with any information, so it is up to Typhoon Burner to tell us what we have here. We find out that these are SK Hynix ICs, more specifically, they are H5AN8G9NAFR-TFC chips. We can only assume they are blanked out as supply may cause them to change manufacturers in later production.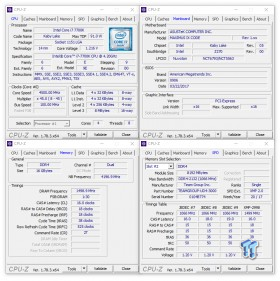 Showing just shy of 3000MHz currently, the XMP 2.0 profile put the Night Hawk RGB right into spec. We do see that they are running at 16-18-18-38 2T timings, using 1.35V VDIMM, and only 1.144 VCCIO and 1.136VCCSA to do so.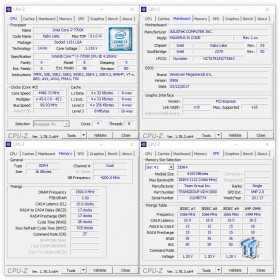 Lowering the timings did not get us that far, even trying to use 1.45VDIMM and increases to the IO and SA voltages. We were able to drop the main three timings one step to 15-17-17-38 2T and found this set to do this with the voltages supplied by the XMP 2.0 profile.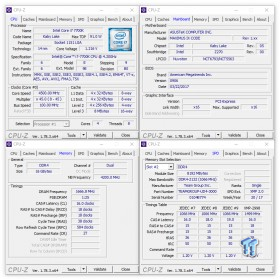 Pushing the speed comes with little hassle. WE took our Night Hawk RGB to 3333MHz, but we did need 1.45 VDIMM, 1.25 VCCIO, and 1.20 VCCSA. The tRFC has jumped a bit as expected, but we are pleased to find room to play with this RGB memory.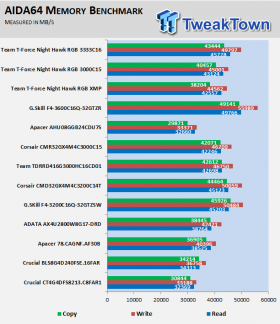 Testing with AIDA 64, we find the T-Force Night Hawk RGB to be on par with other 3000MHz DDR4 in our chart. The performance increases slightly by lowering the timings, but we do see a nice improvement in results by raising the overall speed. Not spectacular, but the advantage to running this kit a bit faster than spec is evident.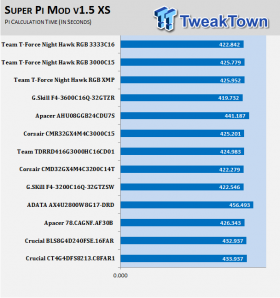 Using Super Pi, we find the T-Force Night Hawk to be slightly slower than the Corsair Vengeance RGB and the previously submitted Night Hawks, but not by much. Lowering the timings has little effect on the results here, but with the increase in speed, we gained over three seconds in performance for the run.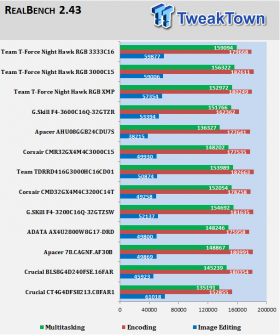 The T-Force Night Hawk RGB shines when it comes to RealBench results. Running with the XMP 2.0 profile as it is designed to do, we see some of the better overall results in this chart. Lowering the timings is better in all three aspects, but increasing speed is only beneficial to the multitasking and image editing, as the encoding takes a hit.
Our set of Team T-Force Night Hawk RGB is quite impressive. Not only does it run on its coloration pattern if left to its own devices, using ASUS Aura Sync software, but we were also able to get it to match the motherboard with a unified appearance and presentation of the full gamut of RGB colors. With ten slits to view the RGB lighting through in each heat spreader, from any angle you can see this kit, you are delivered, in our opinion, one of the most creative displays of RGB in DDR4. As you see in the image below, our Night Hawk RGB is glowing purple like the rest of the motherboard, and flooding the entire area with its light.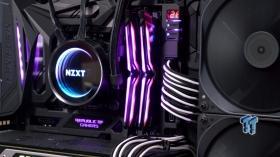 Team is also able to pack in the performance with this kit. In Aida 64 it floundered slightly compared to other kits at this speed, but in the other two rounds of testing, the T-Force Night Hawk RGB show their potential. We also liked that there is some room in these SK Hynix memory ICs to allow us to lower the timings, if only slightly, but we are very pleased to get 333MHz more from this kit for free too. Where other companies think the big deal is in the lighting, Team and their T-Force Night Hawk RGB DDR4 proves you can have it all, without having to sacrifice the look or performance to get what you want in RAM.
Looking around for the pricing, we also find another plus for opting for a set of memory like this. Whether you want the black spreaders, or you want the white ones, either way, the $149.99 for a 16GB set is the same at Newegg.com. Even if you wanted 32GB, you are still under $300 which compared to many others, is a steal at this time. In the end, we have nothing to complain about with our set of TF1D48G3000HC16CBK and feel that Team and this T-Force Night Hawk RGB memory is where you should be looking when it comes to top-notch DDR4 with all the bells and whistles.
Chad's DDR4 Dual-Channel Test System Specifications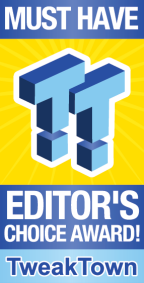 | | |
| --- | --- |
| Performance | 97% |
| Quality | 95% |
| Features | 100% |
| Value | 98% |
The Bottom Line: They are affordable, they are stunning to look at, and with the addition of RGB lighting, the T-Force Night Hawk RGB from Team is hard to beat! The performance is there, there is headroom left for the overclockers, there is Aura Sync support, proving that you can have your pie and eat it too.
PRICING: You can find products similar to this one for sale below.

United States: Find other tech and computer products like this over at Amazon.com

United Kingdom: Find other tech and computer products like this over at Amazon.co.uk

Australia: Find other tech and computer products like this over at Amazon.com.au

Canada: Find other tech and computer products like this over at Amazon.ca

Deutschland: Finde andere Technik- und Computerprodukte wie dieses auf Amazon.de
We openly invite the companies who provide us with review samples / who are mentioned or discussed to express their opinion. If any company representative wishes to respond, we will publish the response here. Please contact us if you wish to respond.