TweakTown's Rating: 90%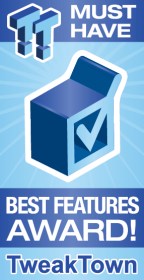 The Bottom Line
With the Intel Apollo Lake platform, the ASUSTOR AS6404T carries an incremental performance upgrade for current NAS users and it's a solid place to start for aspiring NAS owners.
Introduction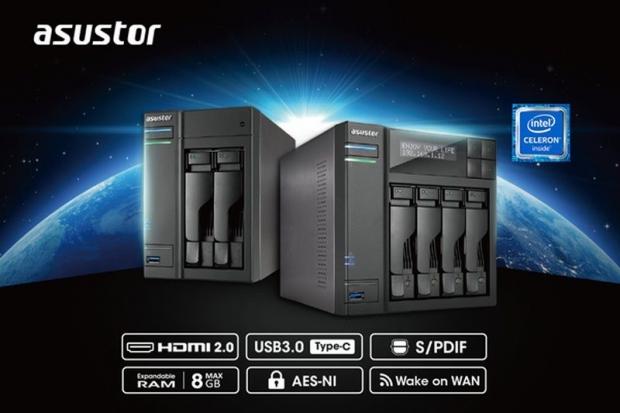 I have followed ASUSTOR since the beginning in 2011. Merging into the NAS market, ASUSTOR has quickly grown to one of the largest consumer NAS vendors. Heading into the next generation of NAS platforms, ASUSTOR has now revealed their Apollo Lake platforms, and we start our journey with the AS6404T.
The AS6404T is equipped with the 1.5GHz quad-core processor from the Intel Celeron family, built on the 14nm process that ASUSTOR claim provides a 30% increase in performance over the previous generation. At the core of this is the inclusion of HDMI 2.0, with 4K60p support out of the box, giving this solution smooth playback of 4K UHD content. With the latest generation of USB technology, ASUSTOR has taken it upon themselves to outfit the 6404 with USB-C connectivity. This allows consumers more flexibility with both C and Type-C ports available for external storage. Finally, ASUSTOR has updated the OS platform for the AS6404T to ADM 3.0; this is our first look.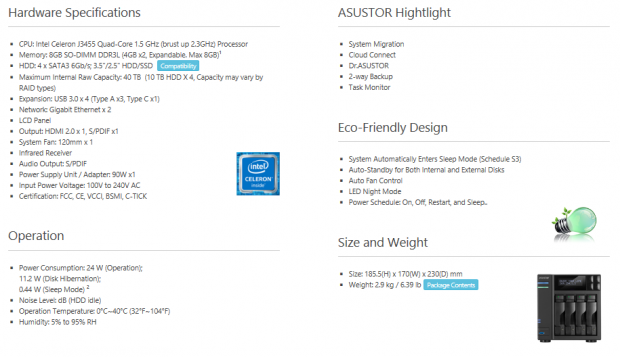 Diving into the hardware specifications above, we start with the Intel Celeron J3455 operating at 1.5GHz with a burst up to 2.3GHz. 8GB of DDR3L is installed in a 2x 4G configuration while the four drive bays support both 2.5" and 3.5" HDD and SSDs. Maximum capacity is listed at 40TB using 10TB drives in RAID 0.
As for expansion, ASUSTOR has fitted this unit with four USB 3.0 ports, with three being Type-C and one Type-C. Network connectivity runs through dual Gigabit Ethernet ports while AV connectivity includes HDMI 2.0 and SPDIF Audio output.
The MSRP of the four bay ASUSTOR AS6404T comes in at $599.99 with a three-year warranty.
The ASUSTOR AS6404T
Packaging and a Closer Look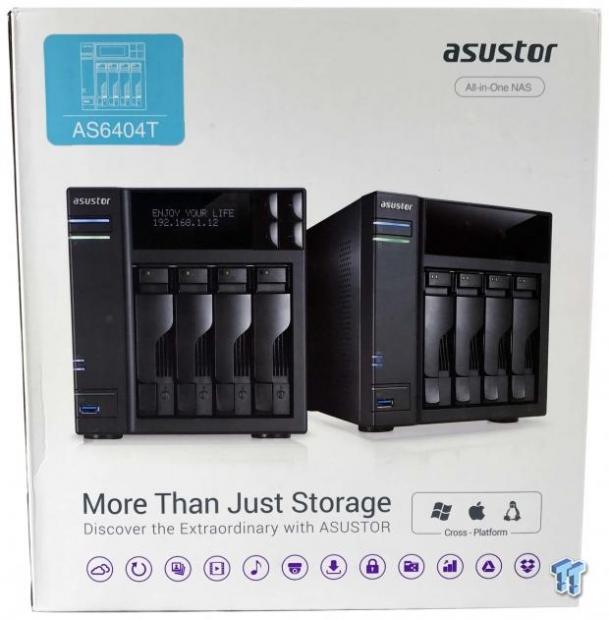 Packaging for the 6404T shows the model number at the top left, followed by and image of the NAS and platform compatibility at the bottom.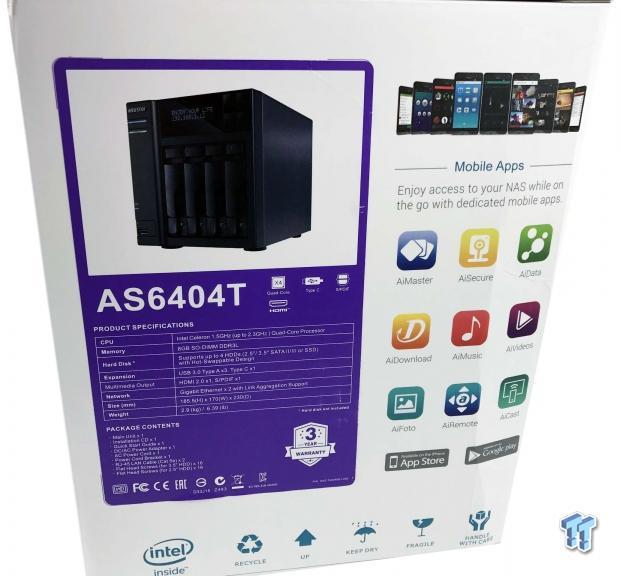 The side of the box houses a specifications list for the NAS including warranty information and mobile apps to the right.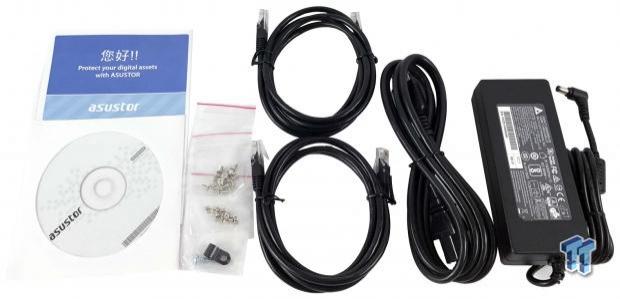 The scope of delivery includes two Ethernet cables, the power adapter, and all drives screens needed for both 2.5 and 3.5" drives.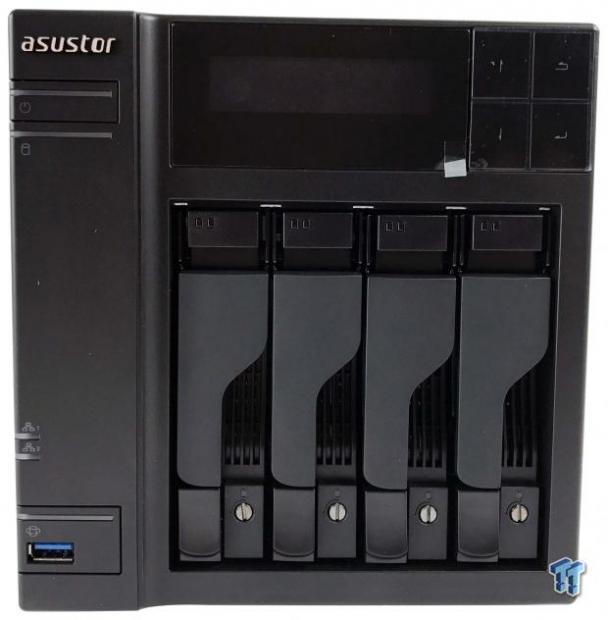 The front of the 6404T has a soft plastic front panel with four locking drive bays. At the top, we have an LCD panel centered with controls to the right.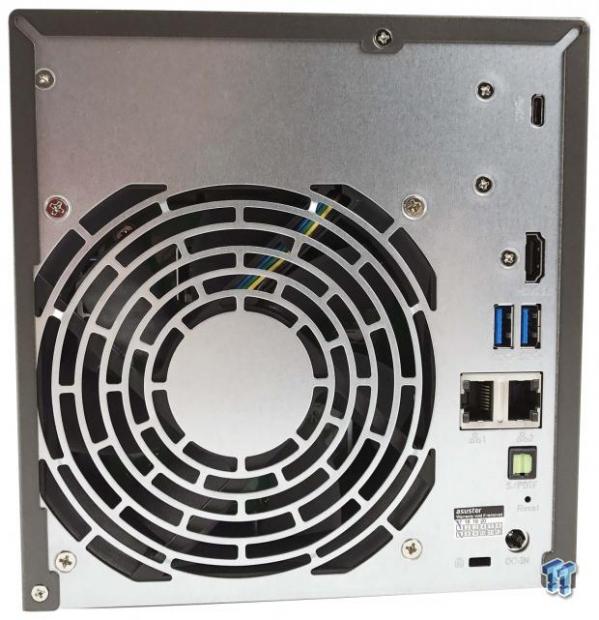 The backside houses a large cooling fan with the USB-C port at the top. Moving down, we have the HDMI 2.0 port, two USB 3.0 and the gigabit ethernet.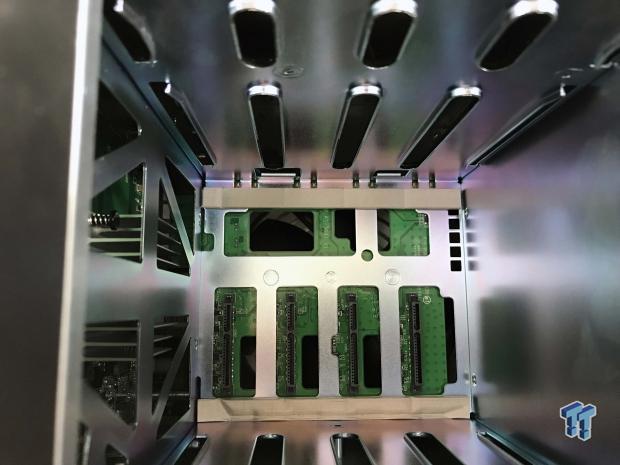 The backplane is a four slot SATA only setup.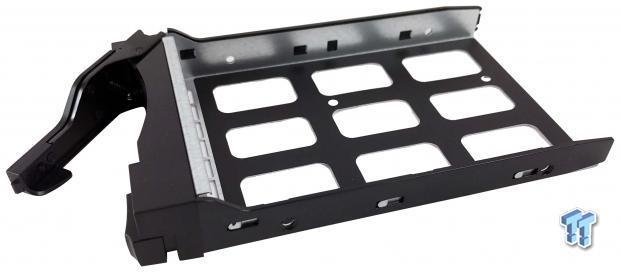 The drive trays are part metal with a plastic covering and plastic front bezel and locking mechanism.
Test System Setup and Management
Test System Setup
Tyler's NAS Test System Specifications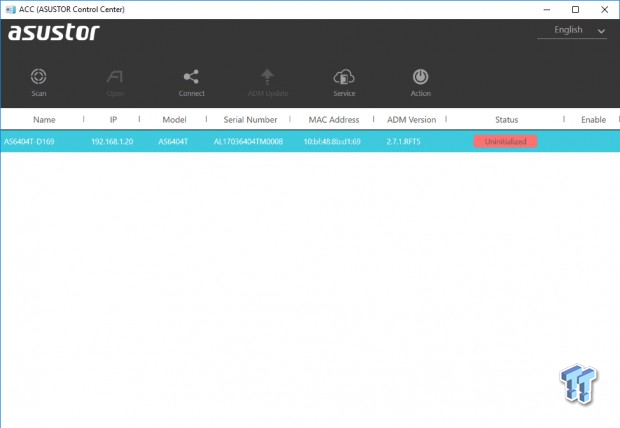 ASUSTOR uses the Control Center application to aid in the setup of their NAS appliances.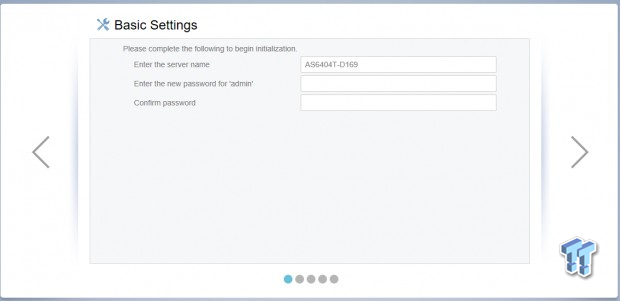 Setup starts by naming the NAS and setting an admin password.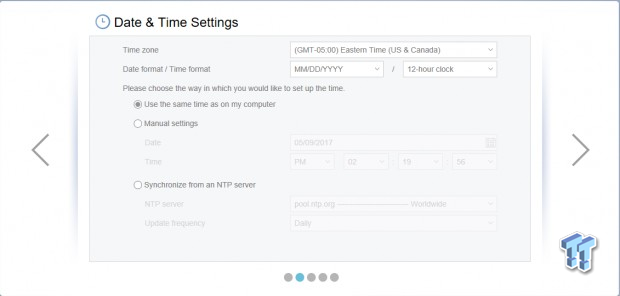 This is followed up by the data and time settings.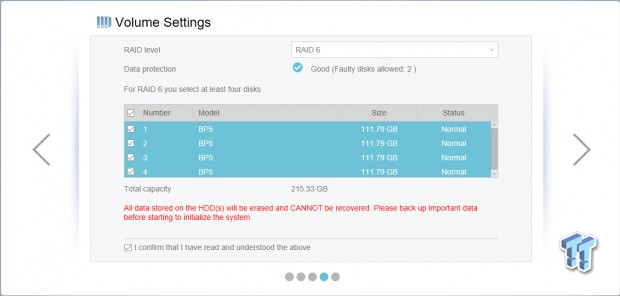 Setting up your storage volumes is the third step, notice we are testing with SSDs.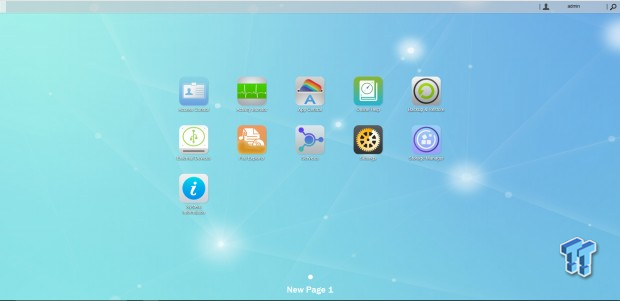 The desktop for ADM gives you a smart device feel with all the menu items listed with icons.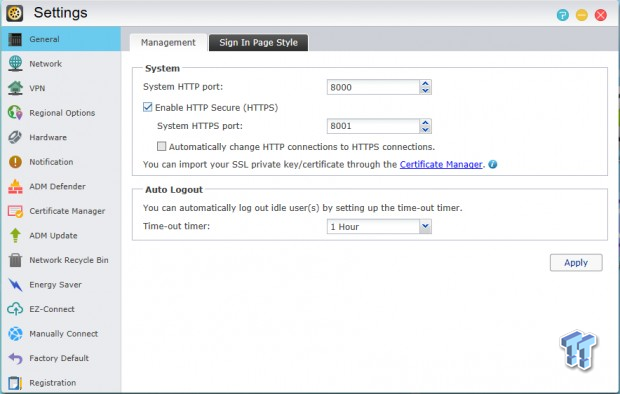 Entering the setup menu, we have options for network, VPN and regional. Hardware options along with notifications and ADM update round out a few more options.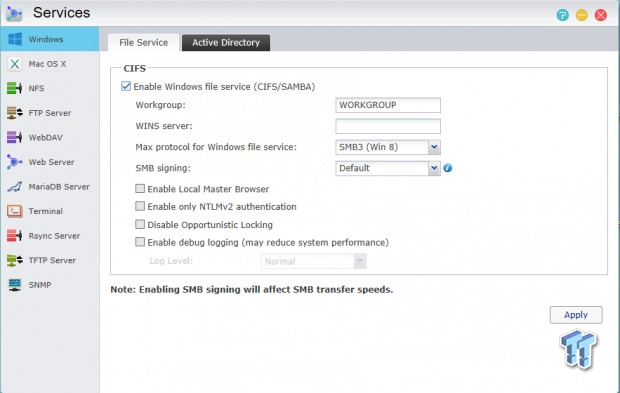 Services include Windows CIFS, Apple AFP, and NFS support. We also have FTP, Web DAV, and Web Servers along with MariaDB and Terminal and Rsync services.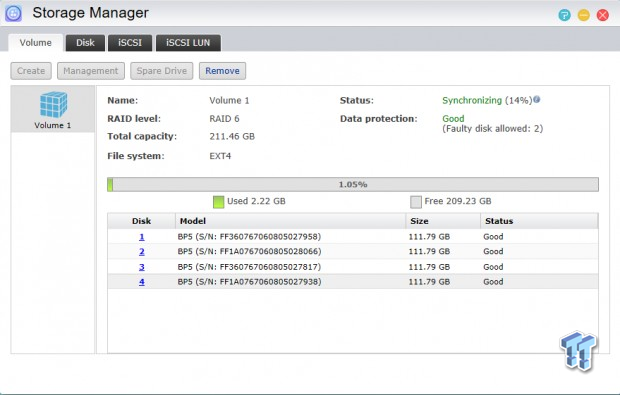 The storage menu gives you access to array and volume setup along with iSCSI options.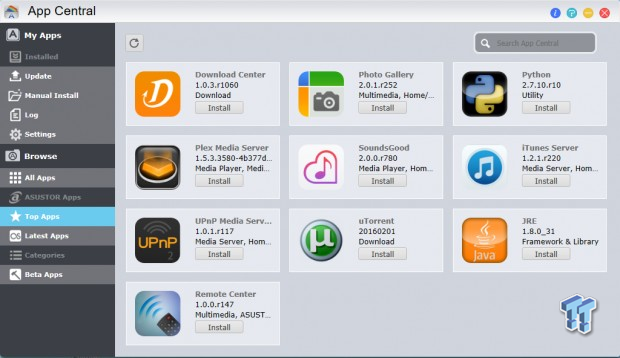 A quick look at the app menu gives a look at the top apps for ASUSTOR NAS.
Benchmarks – Single Client Throughput
Workload
HD Video Play - 720p HD stream from Windows Media Player, 256kB reads
2HD Video Play - 2x playback
4HD Video Play - 4x playback
HD Video Record - 720p HD stream, 256kB writes
File Copy From NAS - 4GB file copy, 64kB reads
File Copy To NAS - 64kB writes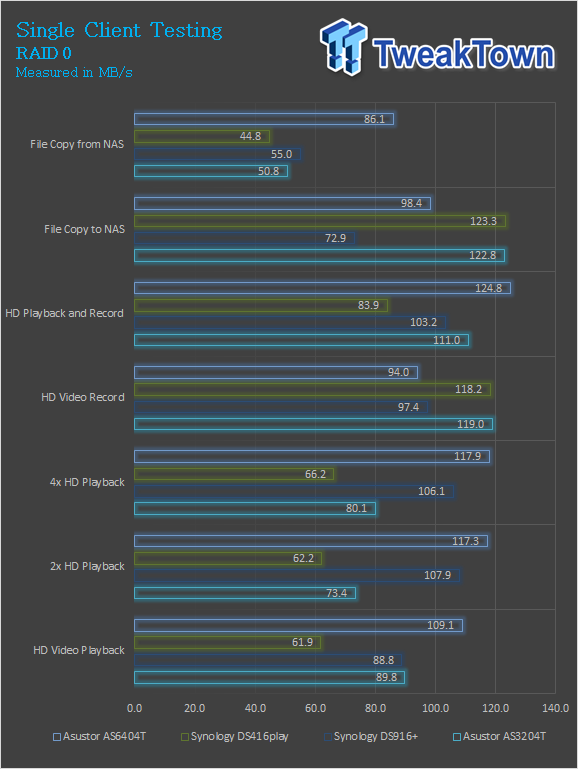 We started testing with Intel NASPT as our single client testing process. As you can see, the AS6404T in light blue performs quite well through video playback scenarios.
As for recording the 6404T performed lower than other solutions in our chart with File Copy operations reaching 98 MB/s to the NAS and 86 MB/s from the NAS.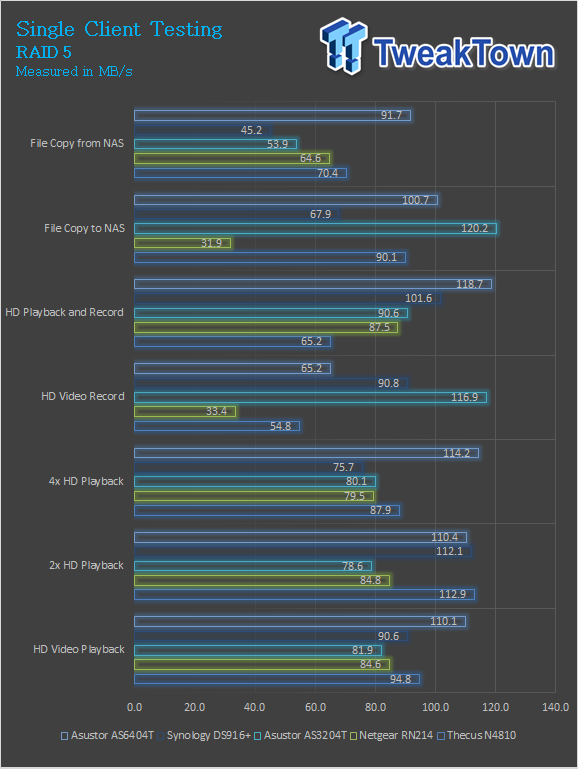 RAID 5 saw more of the same with the AS6404T at the top of playback testing, while file copy came in at 100 MB/s to the NAS and 91 from.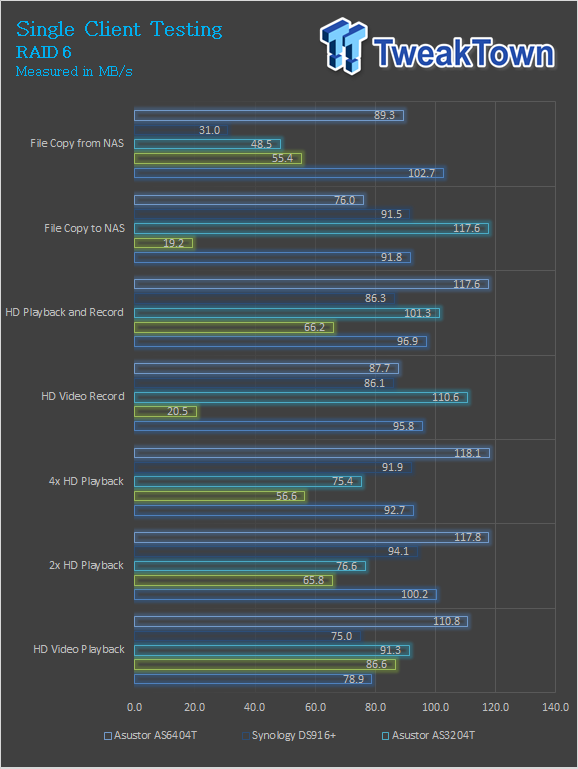 Over to RAID 6, we see 110 MB/s for HD Playback while 2x and 4x reach 117 MB/s and 118 MB/s. Record comes in at 87 MB/s, just ahead of the DS916+.
Benchmarks – Sequential and Mixed Workloads
Our Sequential read/write workload is centered on 128K transfer sizes with a Queue Depth of 128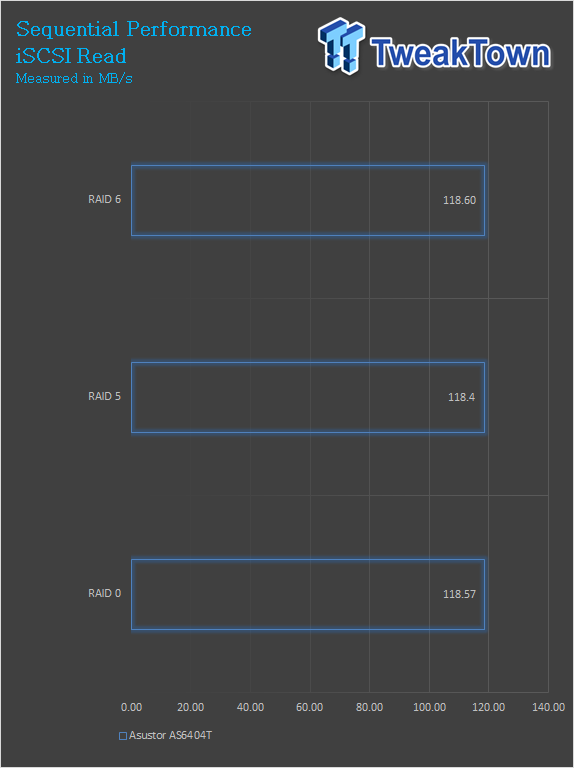 Sequential read performance topped out at 118.5 MB/s in RAID 0. RAID 5 and 6 reached 118.4 MB/s and 118.6 MB/s, respectively.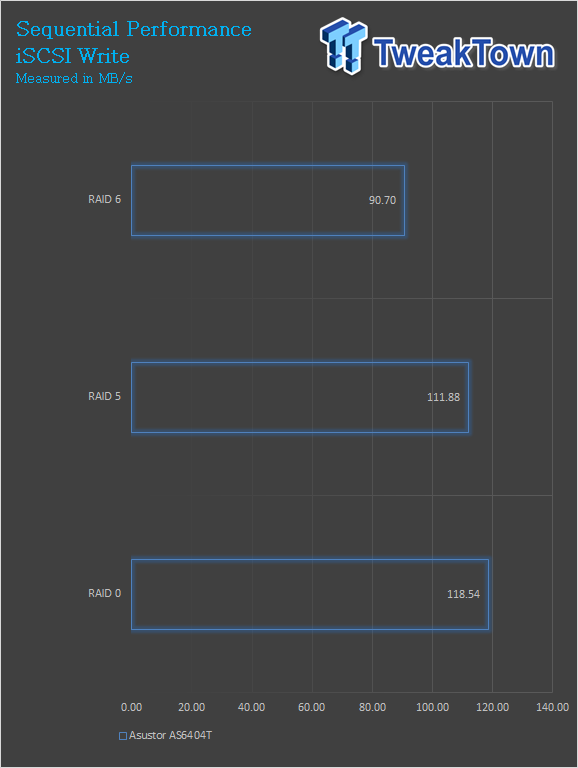 Write performance was at its highest with RAID 0, reaching 118.5 MB/s while RAID 6 touched 90 MB/s and RAID 5 111 MB/s.
Mixed Workloads Throughput and Latency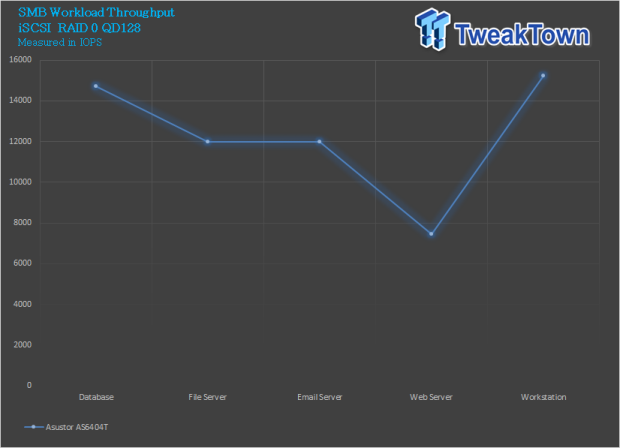 Moving on, I found the 6404T to perform the highest in workstation near 16000 IOPS. Database wasn't far behind with file and email server holding nearly identical performance.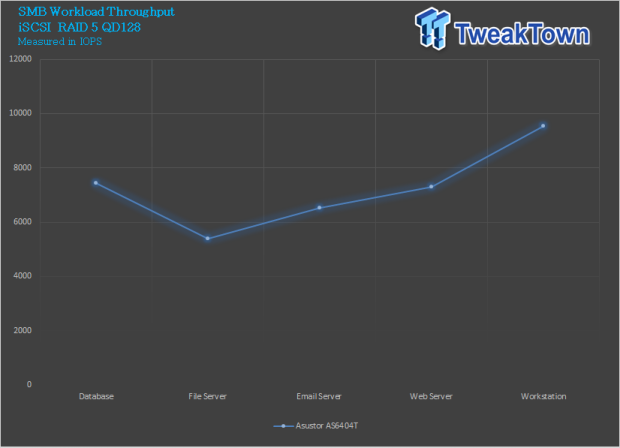 RAID 5 showed near 10000 IOPS for workstation in RAID 5, with database coming second near 8000 IOPs.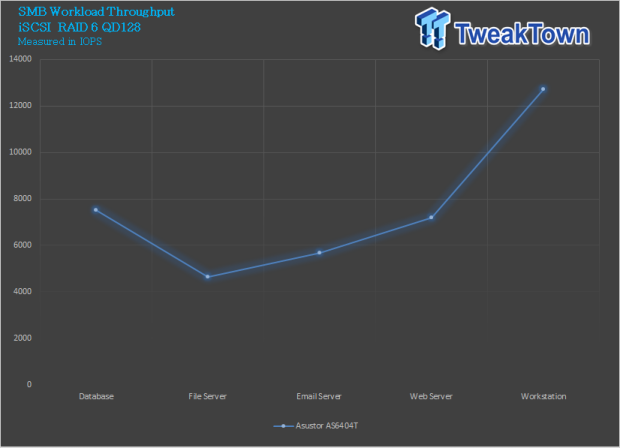 RAID 6 gives us 13000 IOPS for workstation, this is followed by 8000 IOPS for database.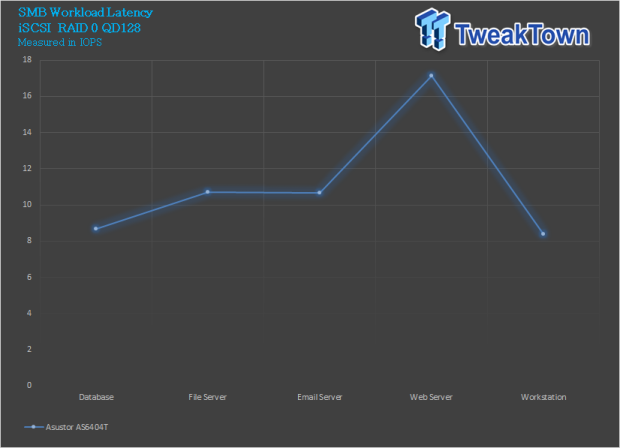 Latency results show near 18ms in Web Server at the highest with the lowest being 9ms for workstation and database.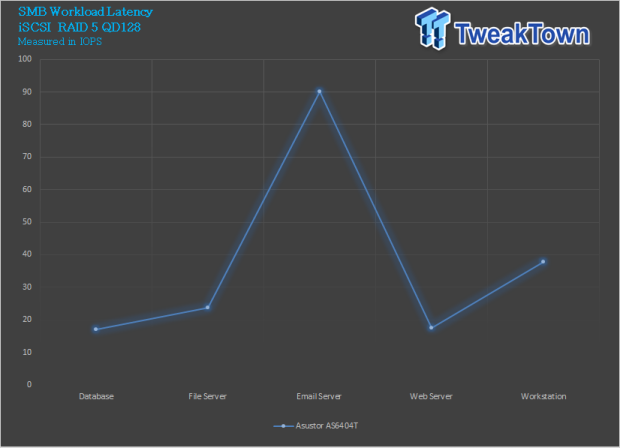 Moving to RAID 5, we see near 90ms latency at QD128 for Email Server. 19ms for both Web and Database as the lowest.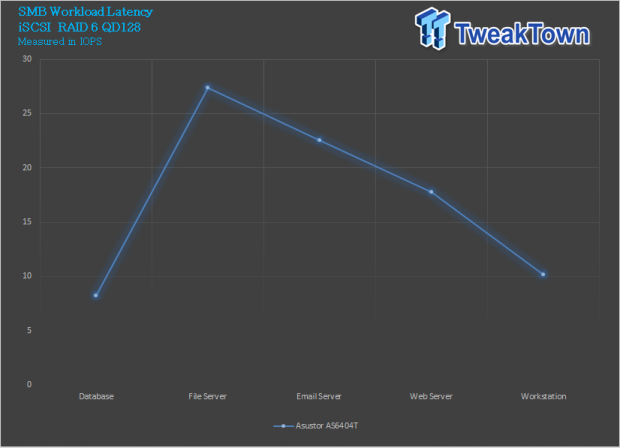 Finishing up, we have RAID 6 and database showing 8ms of latency at QD128. At the highest point, we have 27ms of latency for file server.
Final Thoughts
As I mentioned briefly, I have been testing ASUSTOR NAS appliances since the very beginning. With that background, I have seen them expand and add new features with each new generation. With this new series, we see ADM 3.0 for the first time out of beta, and it's faster than it ever has been. As for the new appliances, our first taste is this AS6404T. On the outside, you really won't notice any large improvements as ASUSTOR has kind of finalized a design for their appliances. With that, you get a soft plastic bezel with both green and blue LEDs and drive activity indicators above each slot. Some models such as the 6404T do get an LCD panel and buttons to control.
On the inside, we have the introduction to the Apollo Lake J3455. This solution is a 14nm Goldmont based SoC operating at 1. 5GHz. This includes an HD500 graphics core featuring 12 EUs and a 750MHz core clock capable of 4K60p over HDMI 2.0.
Moving things forward, the ASUSTOR AS6404T performed quite well in our testing. For some of our tests, we had no comparison data as all our old NAS appliances were tested on the old test system, so there is no direct comparison. With that said, 2017 is shaping up to be an exciting year for budget NAS platforms.
In single client, the AS6404T excelled admirably taking the top spot in all playback tests across all arrays. As for file copy, it was average and peaked near 118 MB/s in read operations. Workloads saw this unit capable of 16000 IOPS in RAID 0 and 13000 IOPS in RAID 6. Above all, the 6404T excelled in database and workstation workloads, showing the highest IOPS with consistently low latency.
With ADM 3.0, ASUSTOR has focused on overhauling its user interface making it more consumer friendly with auto arrangement of icons based on display resolution. They have also taken a page from Apple and allowed stacked icons to create app groups. Resizable menu windows round out further updates to the interface. Overall, the feel of ADM hasn't changed - it is still easy to navigate and very responsive to input, and the new tweaks do enable increased productivity with desktop shortcuts to your most used items.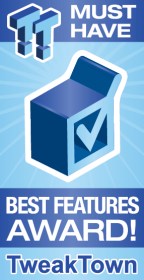 | | |
| --- | --- |
| Performance | 85% |
| Quality | 90% |
| Features | 93% |
| Value | 90% |
The Bottom Line: With the Intel Apollo Lake platform, the ASUSTOR AS6404T carries an incremental performance upgrade for current NAS users and it's a solid place to start for aspiring NAS owners.
PRICING: You can find products similar to this one for sale below.

United States: Find other tech and computer products like this over at Amazon.com

United Kingdom: Find other tech and computer products like this over at Amazon.co.uk

Australia: Find other tech and computer products like this over at Amazon.com.au

Canada: Find other tech and computer products like this over at Amazon.ca

Deutschland: Finde andere Technik- und Computerprodukte wie dieses auf Amazon.de
We openly invite the companies who provide us with review samples / who are mentioned or discussed to express their opinion. If any company representative wishes to respond, we will publish the response here. Please contact us if you wish to respond.