Synology DS1517+ SMB 10Gbe NAS Review
Synology's DS1517+ SMB 10Gbe NAS gets fully examined as we determine if it should find a spot in your home or office.

Published
|
Updated Tue, Nov 3 2020 6:58 PM CST
7 minute read time
TweakTown's Rating: 90%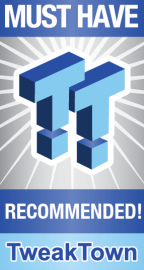 The Bottom Line
Synology's DS1517+ is a solid entry into the high-performance, five-bay NAS segment. Adding in a 10GBe NIC can dramatically increase that performance and this NAS is ready for it.
Introduction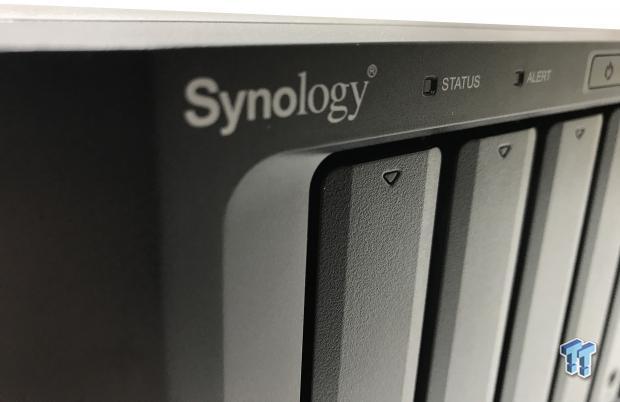 In February, we had the amazing opportunity to look at the all-flash NAS FS3017 from Synology. Coming from that review, I knew it was time to make our entire test network 10Gbe compatible as 10Gbe is on the horizon of becoming mainstream. With that, I reached out to some friends and came away with the Netgear XS708T, which now operates as the backbone for the test network. This came in handy when Synology launched the DS1517+ just a few short months ago, the unit they had sent over was outfitted with SFP+ capabilities meaning it was time to start our journey with 10Gbe NAS solutions.
The DS1517+ is the latest five bay Workgroup / Small Business NAS solution from Synology. This unit supports drive expansion allowing a total of fifteen drives with two DX517 expansion units. Additional capabilities include expansion to 10Gbe via the Mellanox ConnectX SFP+ solution that Synology has provided with our unit. There is also the option of adding in a dual m.2 PCIe card in place of the 10Gbe. Of course, this platform is powered by DSM6, with our testing is done on version 6.1.1.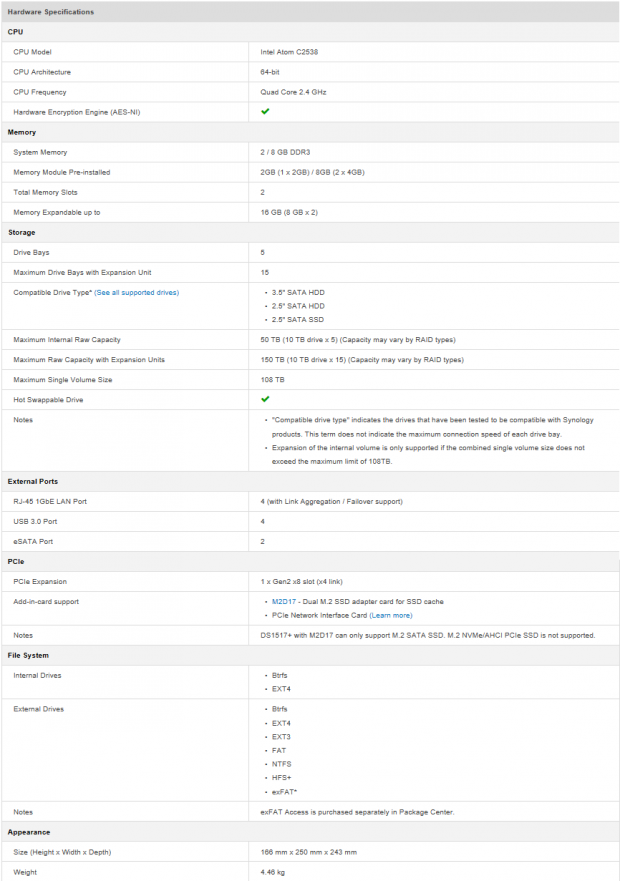 Hardware specifications start off with the Intel Atom C2538, a Rangeley platform solution operating at 2.4GHz over four cores. This CPU features a 64-bit architecture and hardware encryption engine. The DS1517+ comes with two flavors of memory capacity. A 2GB model and 8GB model both are expandable up to 16GB via the SO-DIMM slots. As mentioned above, this is a five-bay unit with an additional ten bays of expansion available to it. It supports both 2.5" and 3.5" HDDs and 2.5" SSDs.
Maximum raw capacity sits at 50TB using 10TB drives and 150TB with dual five bay expansions. The single volume capacity limit is 108TB while being hot swappable. LAN connectivity includes four Gbe ports found on the back of the unit while four USB 3.0 and two eSATA ports are available. There is one PCIe slot available for expansion using a Gen 2 x4 interface giving 2GB/s of available throughput.
The MSRP for the Synology DS1517+ 8GB comes in at $799 with a three-year warranty. You can tack on three more bays and grab up the DS1817+ for $949.
The DS1517+
Packaging and a Closer Look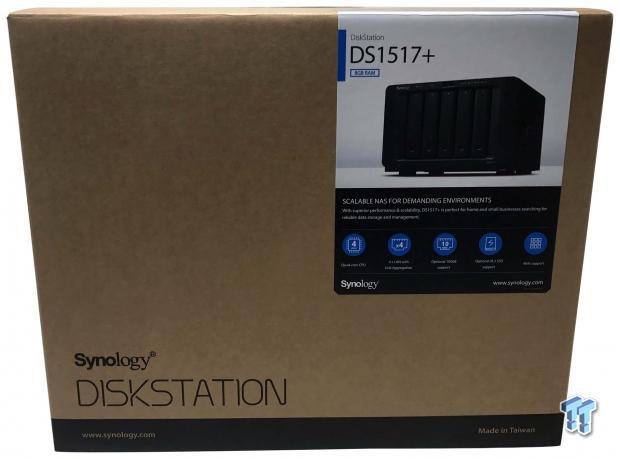 Following Synology trends, the packaging is still the brown box and a sticker to the right. This sticker houses all the necessary information along the bottom including the model and submodel at the top left.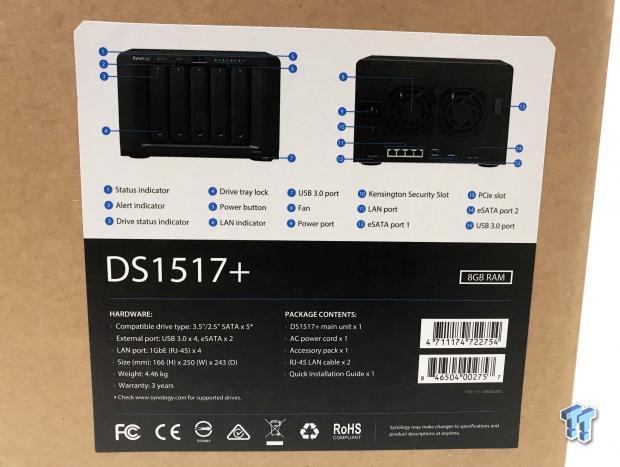 On the backside, we have a diagram and product callout along with package contents.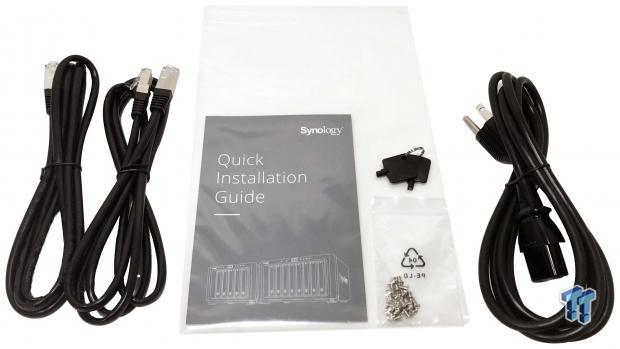 The scope of delivery includes two CAT6 Ethernet cables, installation guide, and the power cable.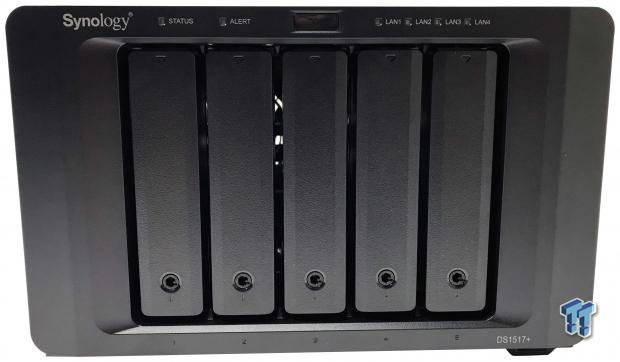 The front of the unit houses all status lights along the top of the bezel. Each drive tray has its own locking mechanism. At the bottom right, you will find the model number and top left Synology branding.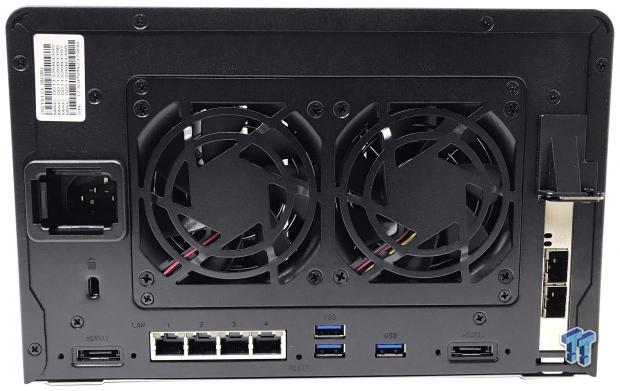 The backside is quite busy for this solution. Power input at the top left followed by dual 80mm fans. eSATA starts the second row and is followed by four Gbe LAN ports. Next, we have three USB 3.0 ports and another eSATA expansion port. In our PCIe slot, I have the Mellanox ConnectX SFP+ 10Gbe NIC ready for testing.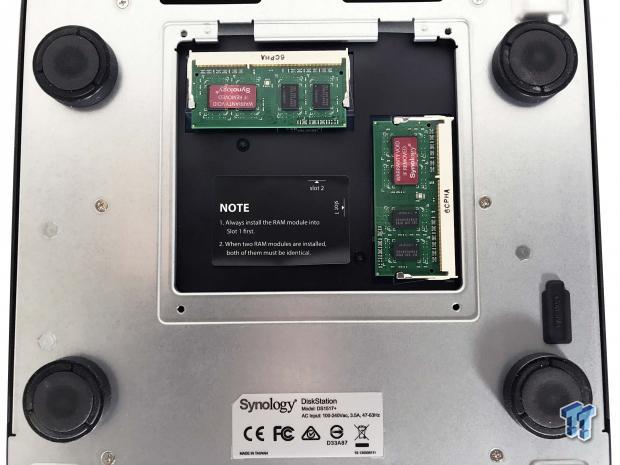 Making things quite a bit easier, Synology has placed the memory modules on the bottom of the NAS. With the quick removal of a few screws, you can swap out RAM sticks.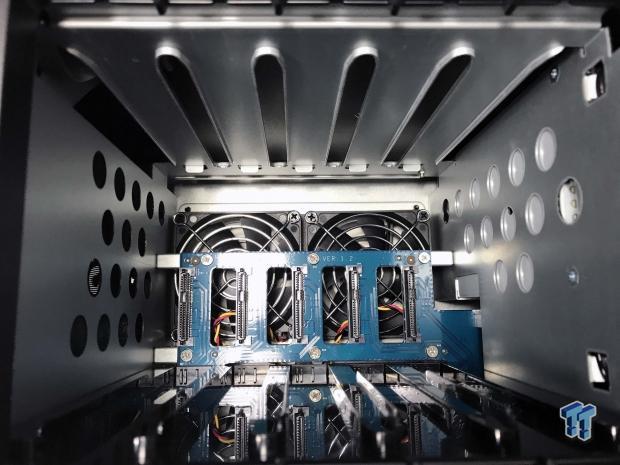 Looking at the backplane, we have an SAS compatible solution with a v1.2 silkscreened on it.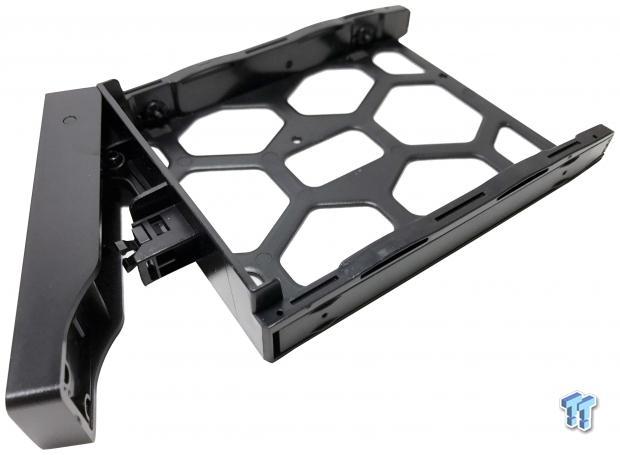 The drive trays are 100% plastic and tool-less.
Test System Setup and Management
Test System Setup
Tyler's NAS Test System Specifications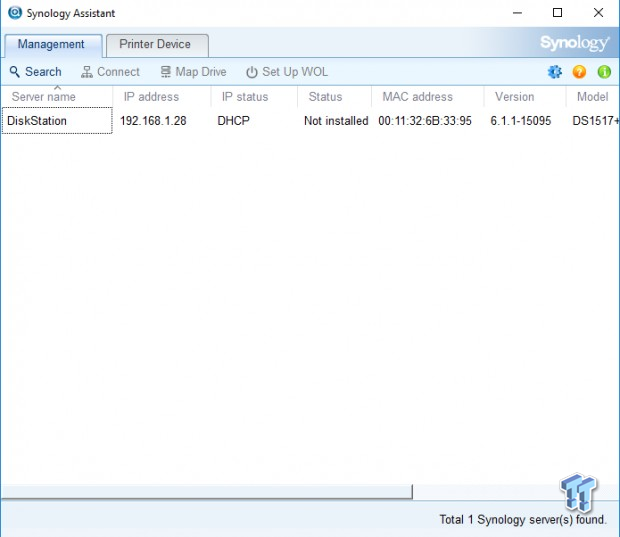 The Synology Assistant aides in setting up our appliance. Once installed this application will search your Network for any Synology NAS and start the setup process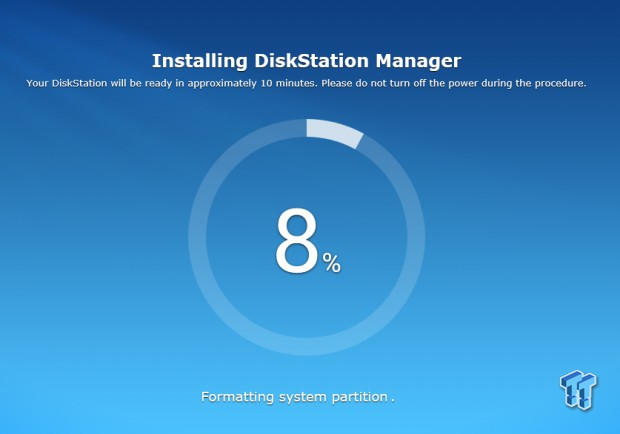 DSM setup takes around 5-10 minutes. It will ask a few questions about location and what packages you want to be installed and then commences those changes.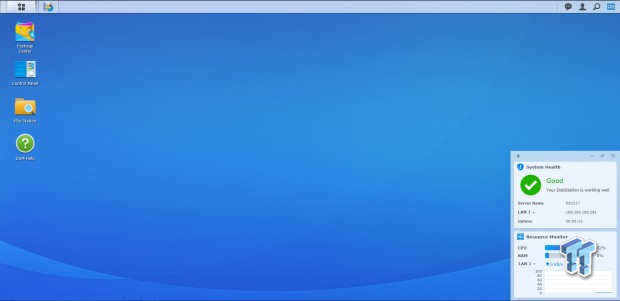 The desktop for DSM6.1 houses a few icons to the left for installing packages and looking over your files in File Station. At the top left, you can click the four-square icon to get further options.

Those options include storage manager, HA manager for NAS failover and support center to name a few.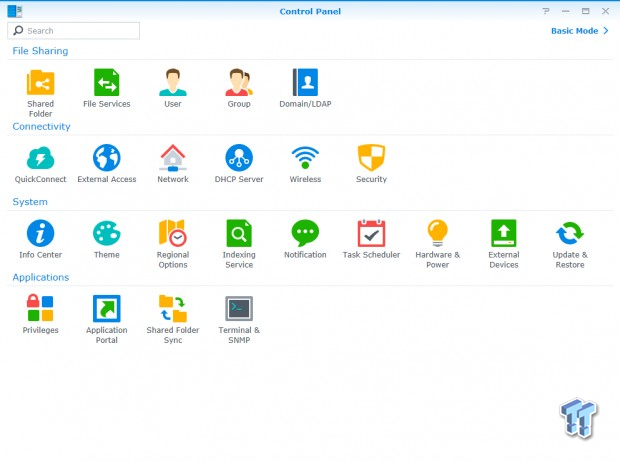 Control panel includes options for managing users and groups and even shared folders. You get connectivity options with network manager and wireless options if you happen to be using a WLAN adapter. Hardware and power along with indexing and external device manager are available near the bottom, and all NAS updates can be managed via the Update and restore link.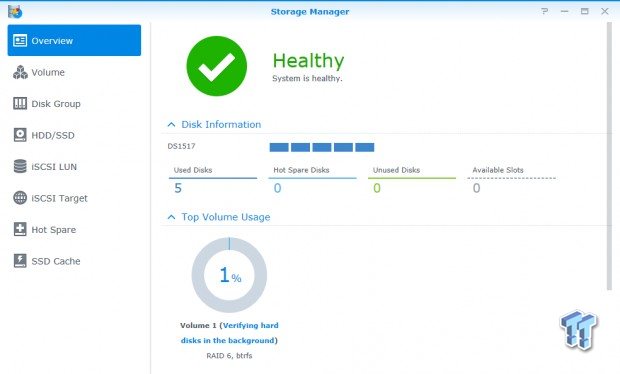 Storage manager gives you volume and disk group access. iSCSI is also made available to this menu as is SSD cache and Hot Spare.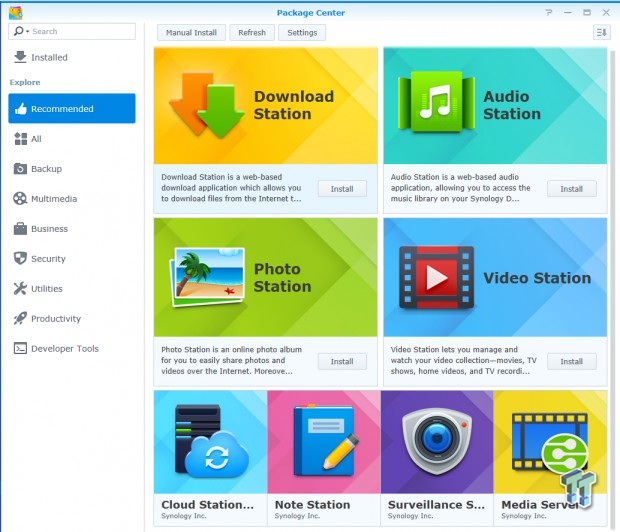 The package center has a solid number of offerings including Synology's own apps seen above to the right.
Benchmarks – Single Client Throughput
Workload
HD Video Play - 720p HD stream from Windows Media Player, 256kB reads
2HD Video Play - 2x playback
4HD Video Play - 4x playback
HD Video Record - 720p HD stream, 256kB writes
File Copy From NAS - 4GB file copy, 64kB reads
File Copy To NAS - 64kB writes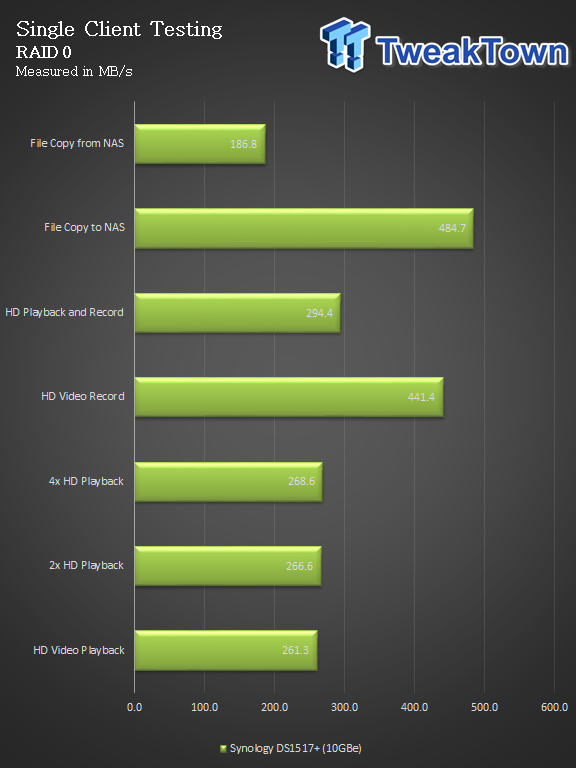 Testing began with our single client testing with NASPT. RAID 0 shows decent performance from the 1517+ starting with playback operations ranging from 261 MB/s to 268 MB/s. Record jumped to 441 MB/s while File Copy to NAS was the peak at 487 MB/s.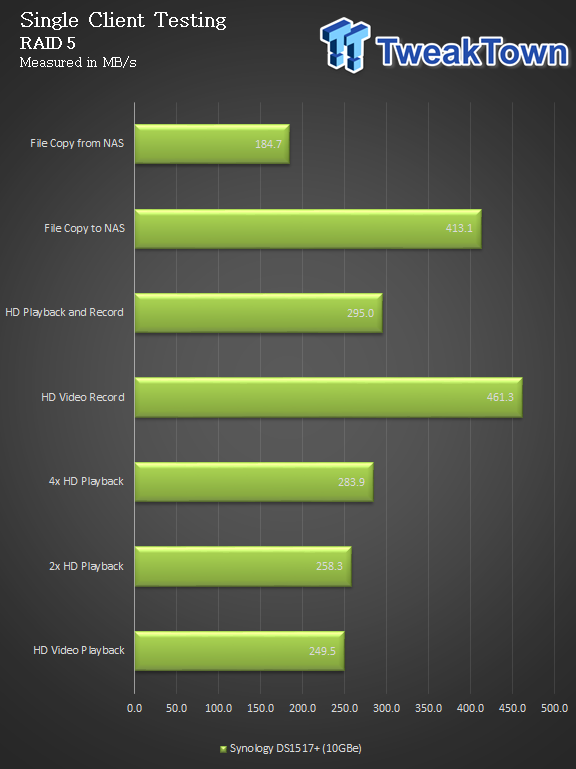 RAID 5 was very similar with a small performance hit. Here we range from 249 to 283 in Playback, Record hits 461 MB/s, and File Copy tops out at 413 MB/s.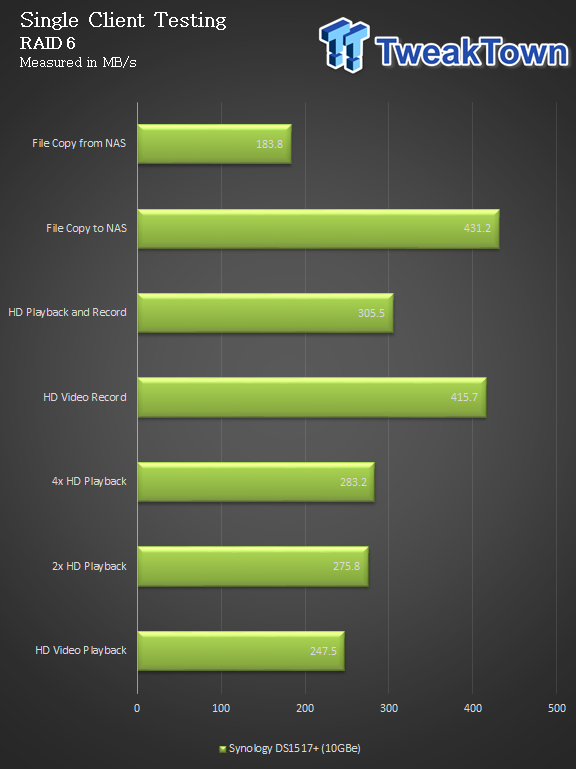 With RAID 6, I found similar performance to RAID 5. Playback operations were in the 247 to 283 range again while Record hit 415 MB/s and File Copy topped 430 MB/s.
Benchmarks – Sequential and Mixed Workloads
Our Sequential read/write workload is centered on 128K transfer sizes with QD ranging from 1 to 128.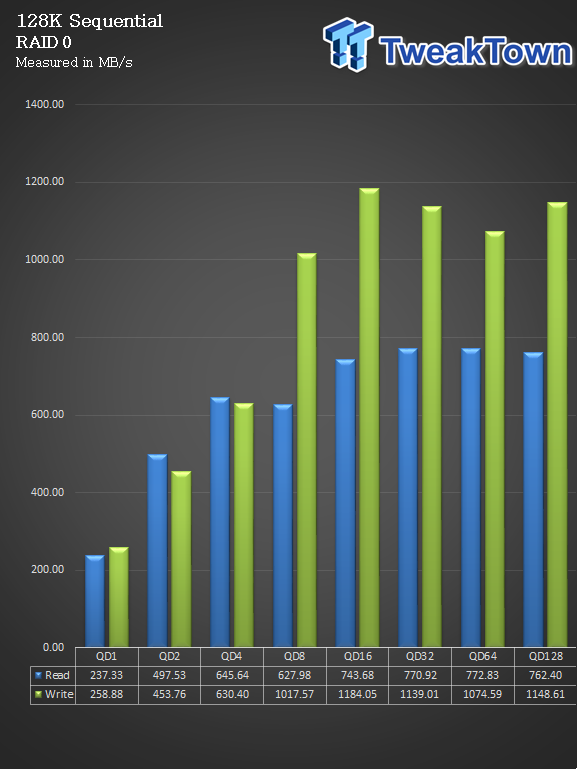 RAID 0 showed solid read performance starting at 250 MB/s at QD1 and peaking at 1200 MB/s QD16. Write performance started at 225 MB/s and peaked just shy of 800 MB/s.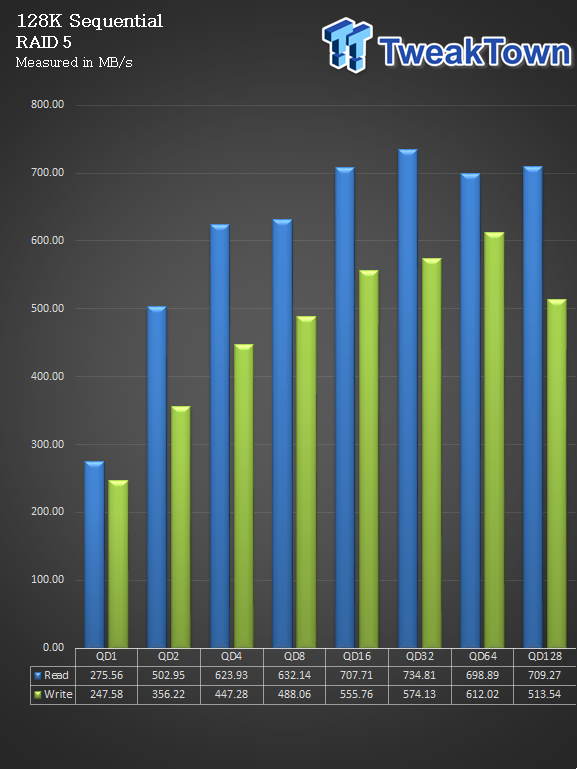 RAID 5 had a slight performance decrease with our starting point at 275 MB/s read and 250 MB/s write. This moves up to 710 MB/s read and 550 MB/s write at QD16 and finishes nearly the same.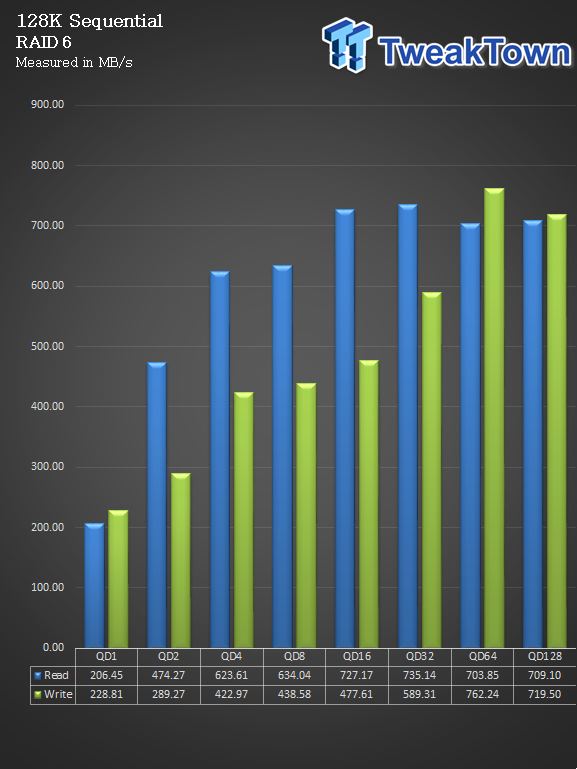 On to RAID 6, We see throughput start at 210 read and 225 write. QD16 comes in at 730 MB/s read and 475 MB/s write, while we finish at 700 read and write.
Mixed Workloads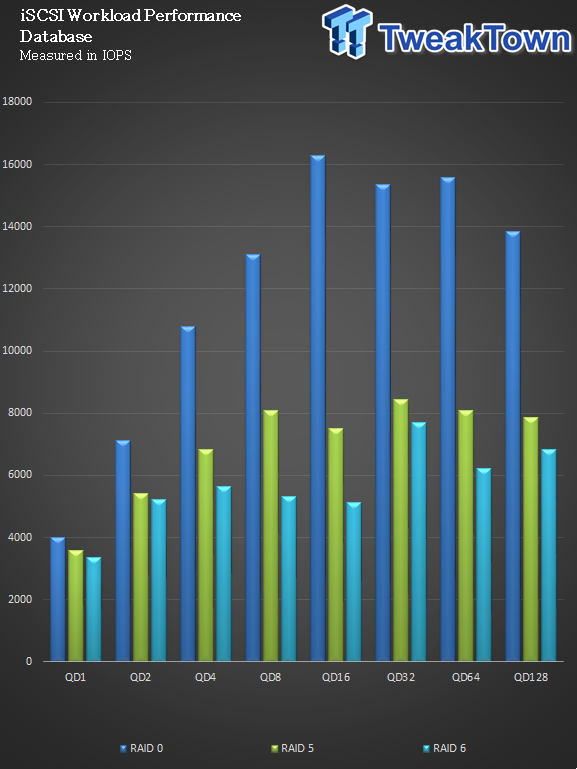 Database started strong near 4000 IOPS in RAID 0 followed by RAID 5 near 3500 IOPS and RAID 6 closer to 3200 IOPS. At QD16, these numbers are 16,000, 7500, and 5100, respectively, and they finish at 14,000 for RAID 0, 8,000 for RAID 5 and 7,000 for RAID 6.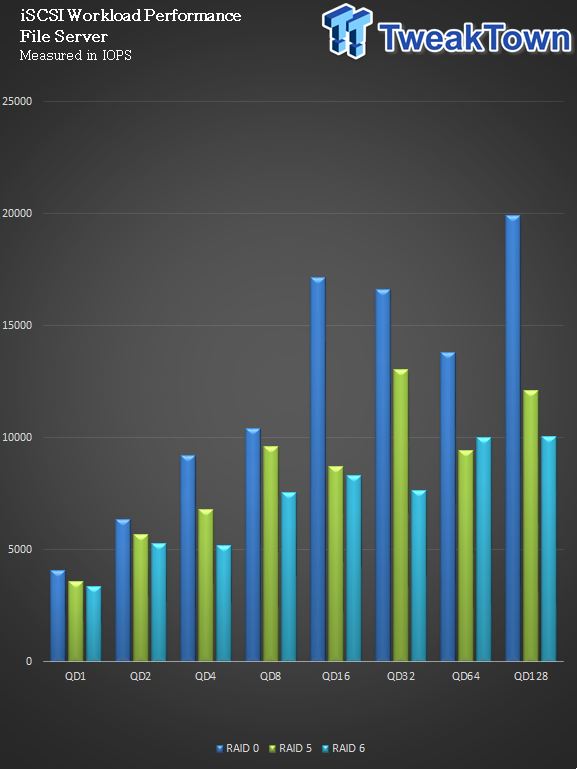 File Server showed a peak of 20,000 IOPS in RAID 0 QD128 with RAID 5 peaking at 13,000 IOPS QD32 and RAID 6 10,000 IOPS QD128.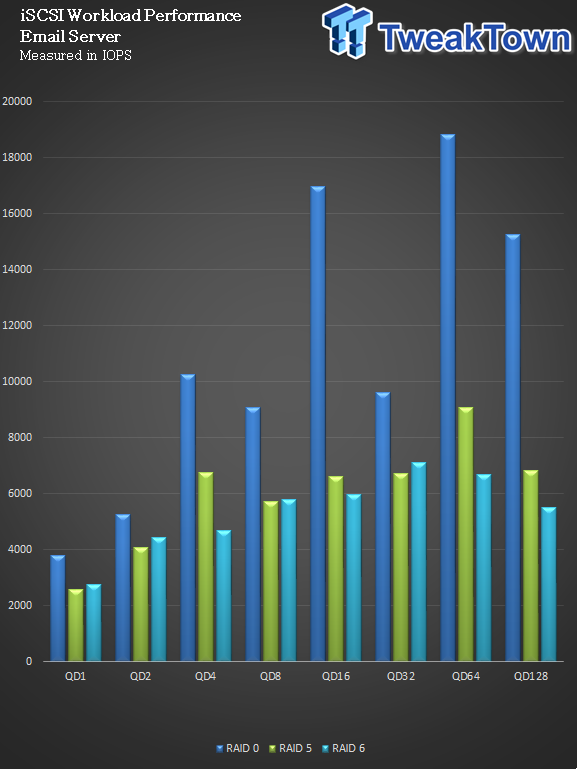 Email Server was very strong for RAID 0. Here we have a touch over 18,000 IOPS QD64. RAID 5 reached 9000 IOPS at QD64 and RAID 6 peaked at QD32 with a hair under 7000 IOPS.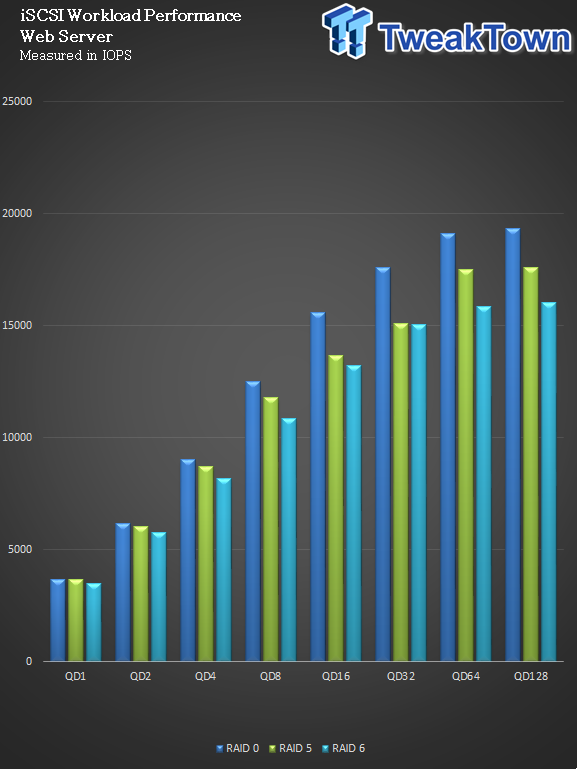 Back at it, Web Server showed the DS1517+ very well suited for this type of workload. All three RAID types scaled very well within this test with peaks just above 19,000 IOPS for RAID 0, 17,000 for RAID 5 and 16,000 for RAID 6.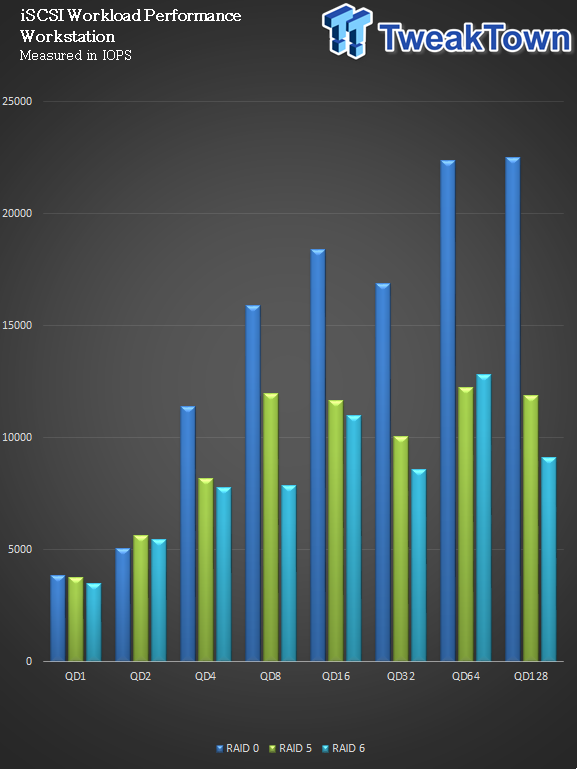 Workstation was by far the highest performing workload we tested. Here I have a peak of 23,000 IOPS in RAID 0 QD64 and QD128. RAID 5 topped out at 13,000 IOPS with RAID 6 bringing it all together at 13,200 IOPS QD64.
Final Thoughts
Synology has done quite a decent job with the DS1517+. Of course, it's the first of what will be many 10Gbe solutions to make their way through the lab, so we aren't quite sure where it stands on this vacant landscape. I do have a few units on the way from other vendors, so that will surely be put to the test in the coming weeks, but for now, I can say the Synology showed a solid start for our 10Gbe testing.
Build quality is always rather solid for Synology units; we do get some on the lower-end that has thinner plastics or custom designed enclosures. With these larger bay units, the enclosure is mostly reused year after year, so there isn't much to change other than a quick swap of the rear I/O. With the DS1517+, the drive bays still click shut with ease, the locks turn without issue and it's a relatively noise free unit with two 80mm fans spinning efficiently.
The performance was interesting to see. NASPT wasn't very friendly as far as workloads are concerned but again NASPT has been around for quite a while and not very likely to be optimized for 10Gbe testing. Sequential performance confirmed we were receiving full 10Gbe throughput reaching 1200 MB/s in RAID 0 while RAID 5 topped 700 MB/s and RAID 6 700 MB/s as well.
Workload testing showed this unit to perform exceptionally well with Web Server, with each RAID array scaling almost perfectly as QD increased. Database topped 16,000 IOPS with File, Email, and Web Server all getting very close to 20,000 IOPS. Peak performance was found with Workstation reaching 23,000 IOPS QD128 in RAID 0.
These NAS systems are evolving every day, as new platforms emerge from Intel and others, it's easy to see it won't be long before 10Gbe is the norm. As I write this, I have the Annapurna Labs-powered DS1817 on the test bench with preliminary results showing some pretty strong numbers for a value-based eight-bay appliance.
It will be interesting to see how the Synology appliances stack up against the competition in the weeks and months to come.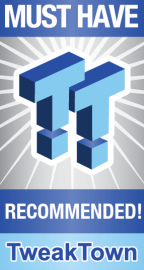 | | |
| --- | --- |
| Performance | 90% |
| Quality | 90% |
| Features | 90% |
| Value | 90% |
The Bottom Line: Synology's DS1517+ is a solid entry into the high-performance, five-bay NAS segment. Adding in a 10GBe NIC can dramatically increase that performance and this NAS is ready for it.
PRICING: You can find products similar to this one for sale below.

United States: Find other tech and computer products like this over at Amazon.com

United Kingdom: Find other tech and computer products like this over at Amazon.co.uk

Australia: Find other tech and computer products like this over at Amazon.com.au

Canada: Find other tech and computer products like this over at Amazon.ca

Deutschland: Finde andere Technik- und Computerprodukte wie dieses auf Amazon.de
We openly invite the companies who provide us with review samples / who are mentioned or discussed to express their opinion. If any company representative wishes to respond, we will publish the response here. Please contact us if you wish to respond.