AMD Ryzen 5 1600 and Ryzen 5 1400 CPU Review
We finally get some time to analyze AMD's Ryzen 5 1600 and Ryzen 5 1400 processors. Should you consider them for a lower-end build? Let's see.
Published Jun 12, 2017 6:31 PM CDT
|
Updated Tue, Nov 3 2020 6:58 PM CST
7 minute read time
TweakTown's Rating: 90%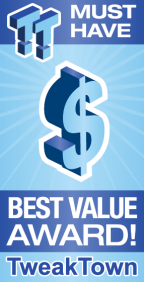 The Bottom Line
AMD's Ryzen 5 1600 is a solid performing 6 core 12 thread CPU at an affordable price point, and while the Ryzen 5 1400 might not have all the cores that Ryzen is known for, both are great value buys.
Introduction, Specifications, and Pricing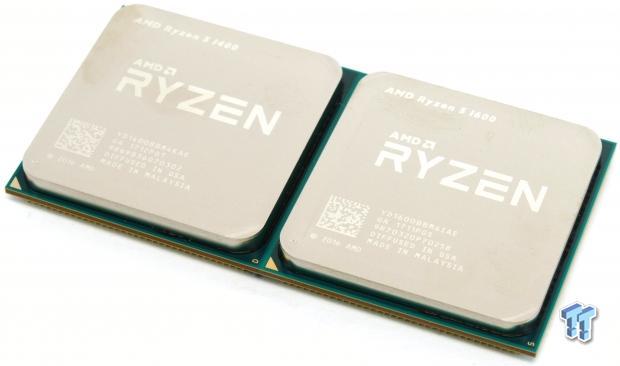 Over the past few months, I rise in the morning to test out Ryzen, and I am not joking. While most of the hardware I tested pre-Ryzen launch was almost 100% Intel based, it's now actually more on the AMD side.
AMD is the comeback kid, and they are slowly releasing their entire lineup, with rumors flying around that their Ryzen 3 series processors destined to target Intel's Core i3 processors will come out later this year.
I have reviewed the 1800X, 1700X, 1700, 1600X, and 1500X, and today I will look at another one of their 6 core/12 thread CPUs the Ryzen 5 1600 and the 4 core/8 thread Ryzen 5 1400.
Specifications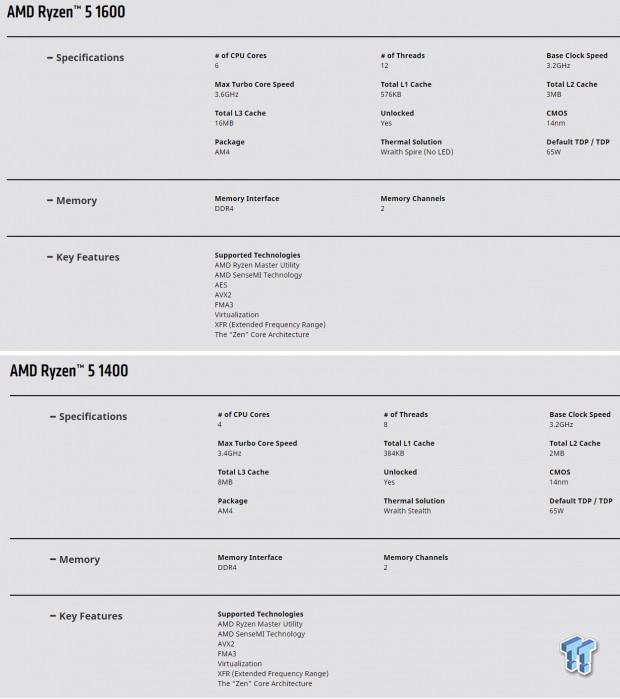 Compared to the 1600X, the 1600 has a base frequency 400MHz lower at 3.2GHz, and 100MHz lower on the boost at 3.6GHz. It doesn't feature XFR like it's bigger brother, but also has a TDP 30W lower at 65W. With 6 cores and 12 threads, the 1600 has the same amount of cache and is almost identical to the 1600X except for the clocks and XFR.
The Ryzen 5 1400 has a 65W TDP, but I found it uses a lot less power than other 65W TDP Ryzen processors. Its 4 cores and 8 threads run at 3.2GHz base and 3.4Ghz Max Turbo, which is 400MHz and 300MHz lower than the 1500X's base and turbo speeds. It also doesn't offer XFR. While the AMD Ryzen 5 1600 has 16MB L3 cache, the Ryzen 5 1400 has 4MB.
Pricing
The Ryzen 5 1600 and 1500 cost $219.99 and $169.99, respectively.
For comparison, the Ryzen 5 1500X costs $189.99, and the 1600X costs $249.99, the Ryzen 7 1700 costs $314.99, so the cost savings are significant.
The CPUs and Packaging
The CPUs and Coolers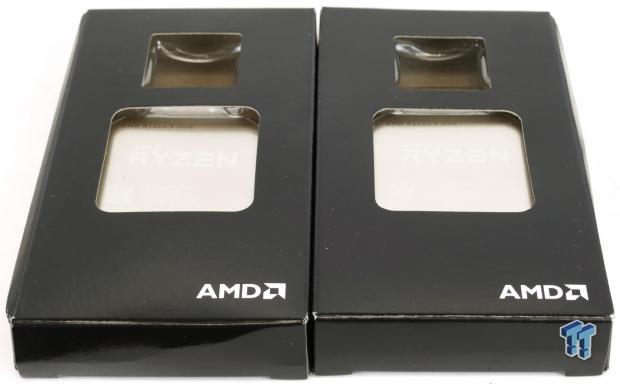 AMD didn't send us the actual box and cooler that would come with the retail package. Instead, they sent the CPUs in the small boxes you will find inside larger ones when you buy one of these CPUs. The Ryzen 5 1600 comes with the Wraith Spire heat sink cooler (but it doesn't have integrated LEDs), while the Ryzen 5 1400 comes with a Wraith Stealth cooler.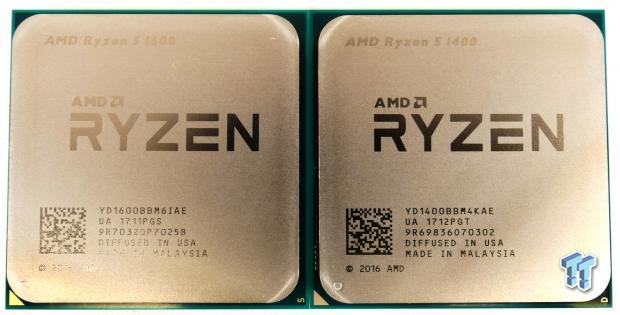 The tops of the CPUs are identical, just like the other Ryzen 5 and Ryzen 7 CPUs we have reviewed.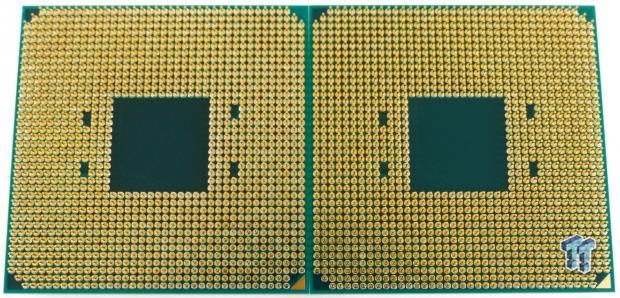 The bottoms of the CPUs are also identical, with all those 1331 pins and lovely gold coating.
Test Setup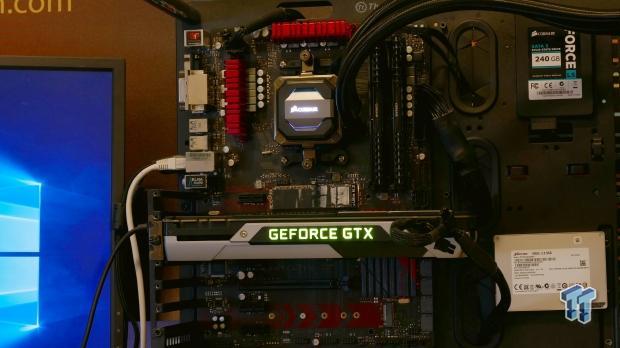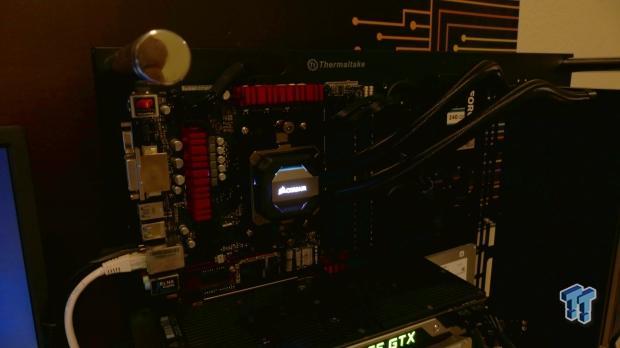 AMD provided us with the B350 motherboard and memory used in this review, and to be honest, the B350 motherboard overclocks and performs just as well as the X370 motherboards I have reviewed. It offers slightly fewer features than the X370 chipset motherboards, such as PCI-E lanes and SLI capabilities, but overall, it's an excellent alternative to X370 if you want to try and save on costs.
Out of the Box Performance: CINEBENCH, wPrime, and AIDA64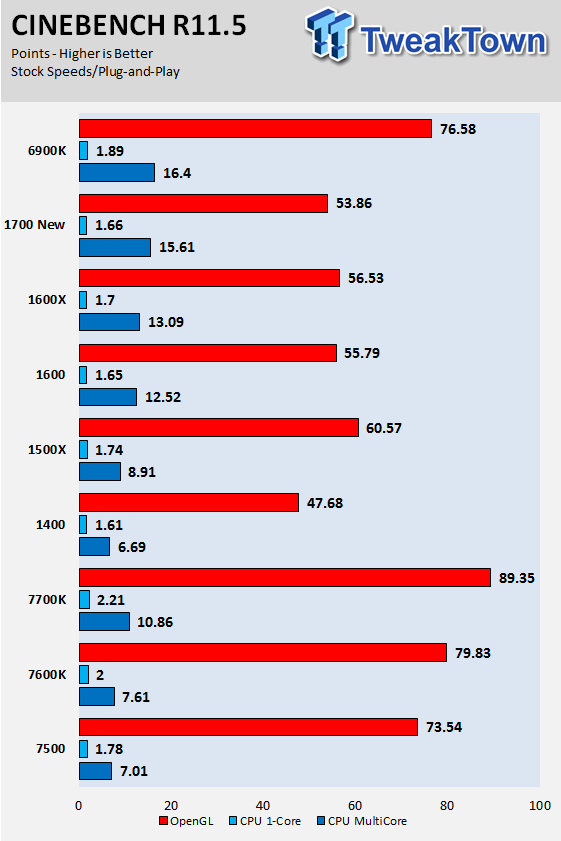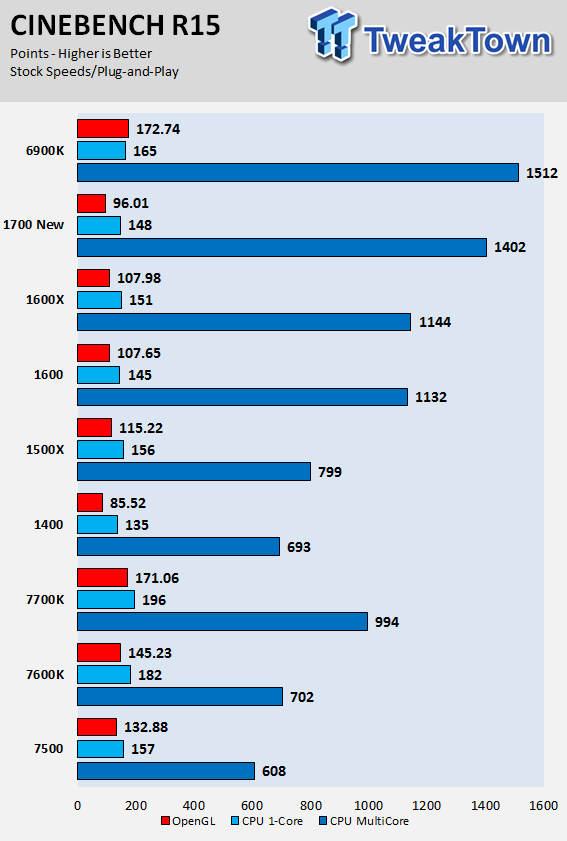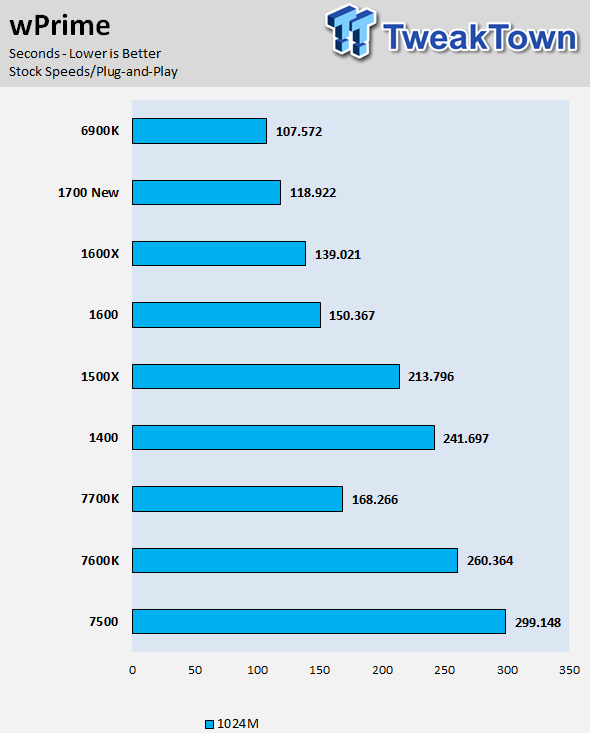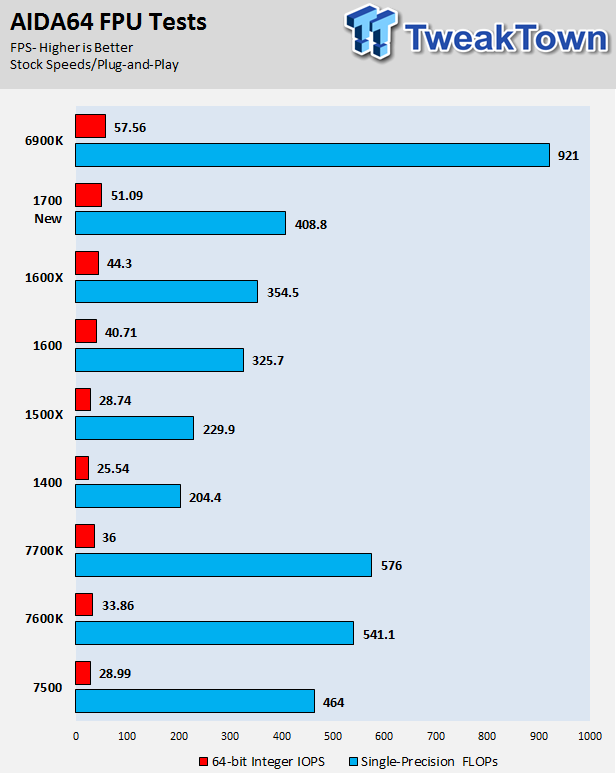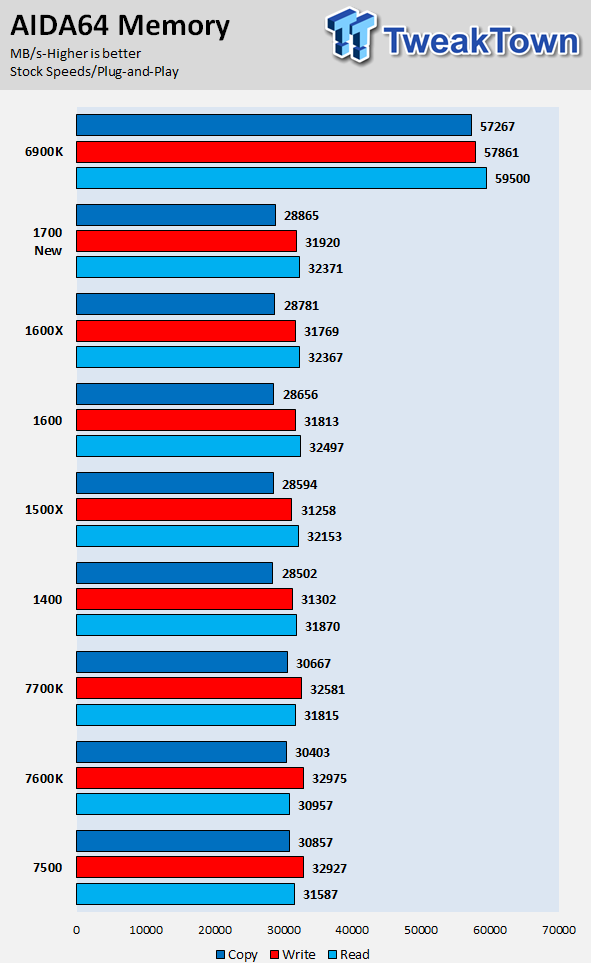 While we know where the 1600 will fall since it's just a 1600X without the extra Turbo Boost and lower base frequency, the 1400 is really the surprise performer. While its multi-core performance and single core performance aren't as strong as the i5-7500, if you consider its cost and the performance margin, it turns out the Ryzen 5 1400 is an excellent value.
While in CINEBENCH the Ryzen 5 1400 and 1600 might not beat slightly more expensive Intel competitors, in wPrime they do extremely well. Memory bandwidth is quite decent, the same as the rest of the Ryzen lineup and even Intel's dual channel processors.
Out of the Box Performance: Handbrake Video Transcoding, ScienceMark, and SuperPI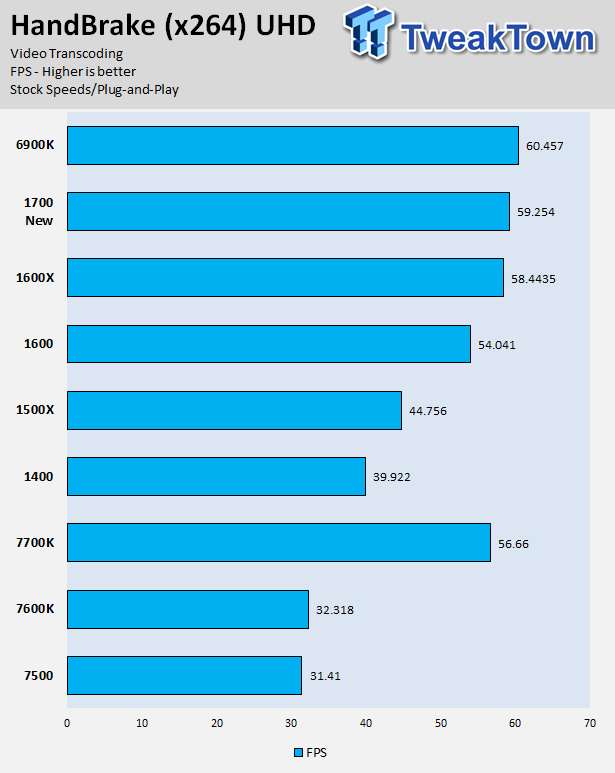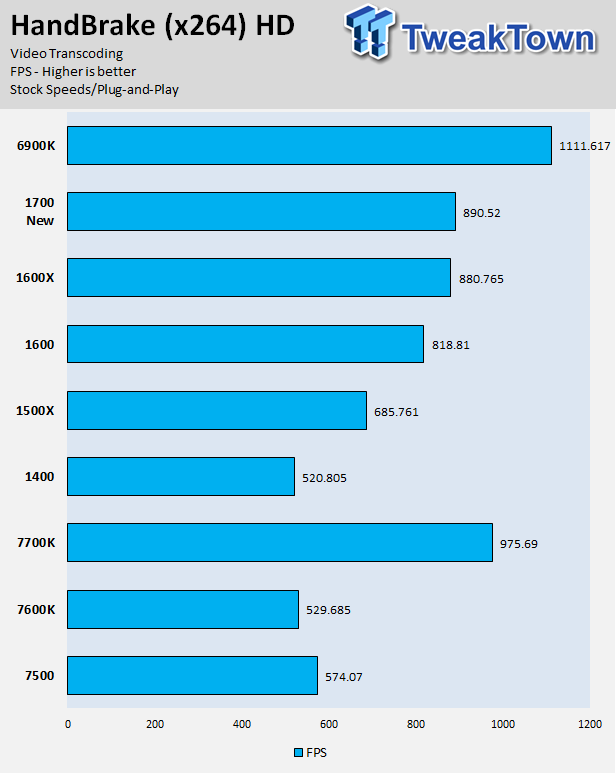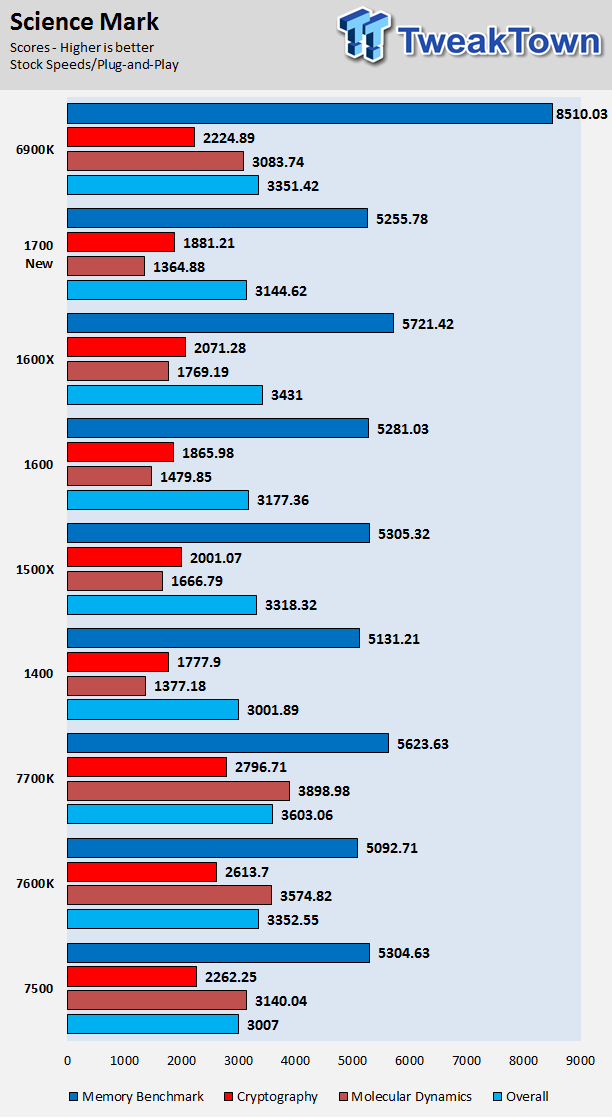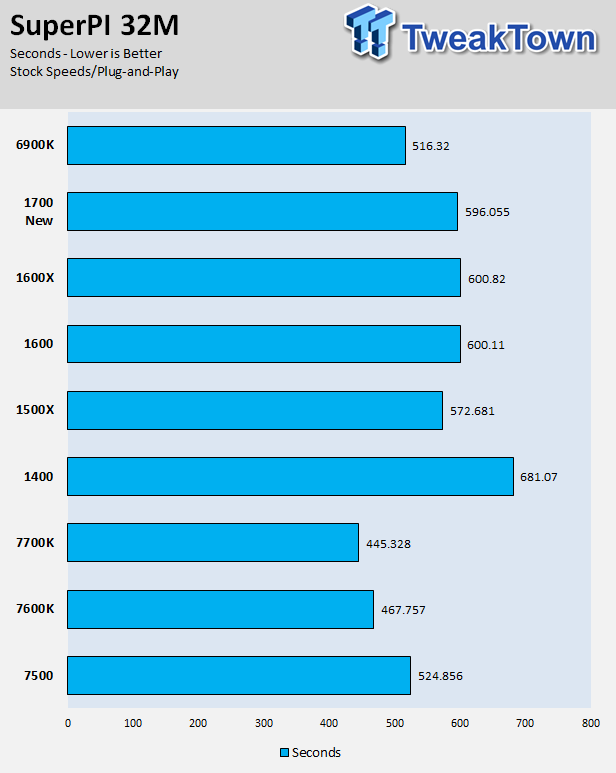 If Handbrake performance is very important to you because you do some video encoding, then the Ryzen 5 1600 and 1400 are excellent propositions if you are trying to build an affordable machine.
In ScienceMark, the 1400 goes head to head with the i5-7500, which costs $30 more. Intel SuperPi 32M we see Intel's advantage creep back up again.
Out of the Box Synthetic Gaming Performance: UNIGINE and 3DMark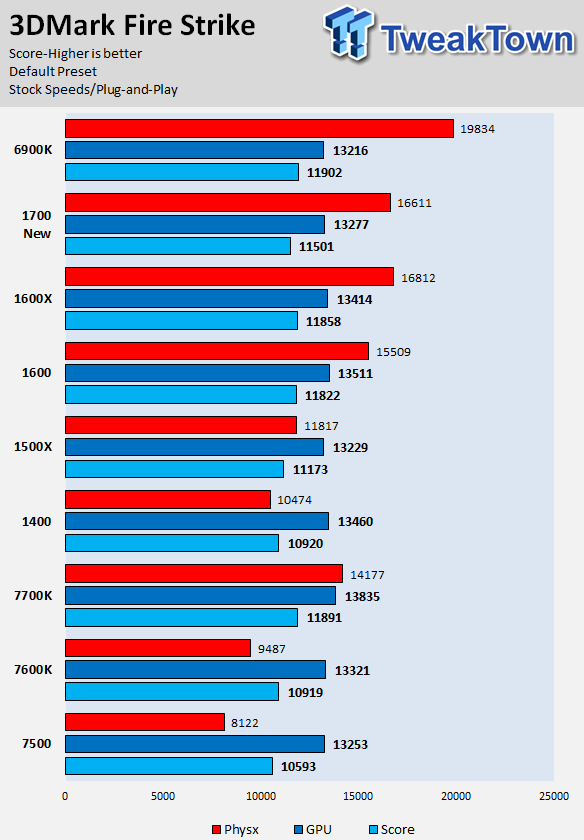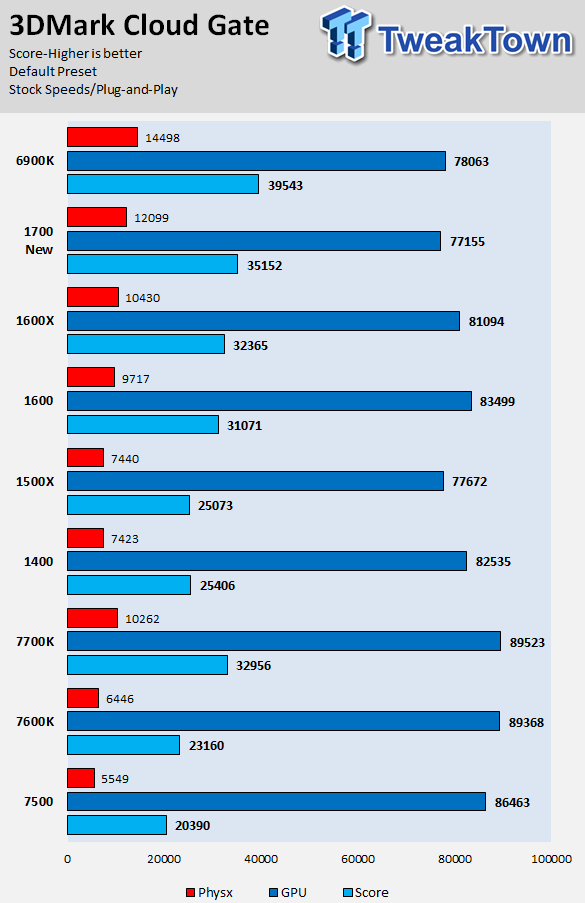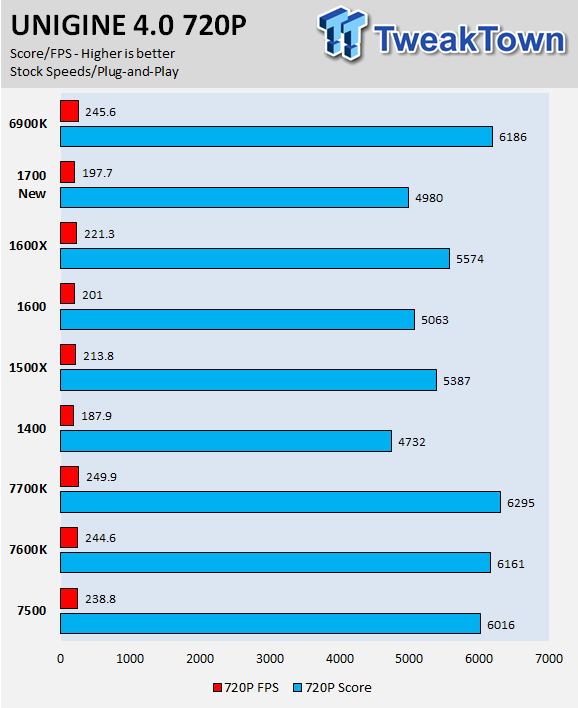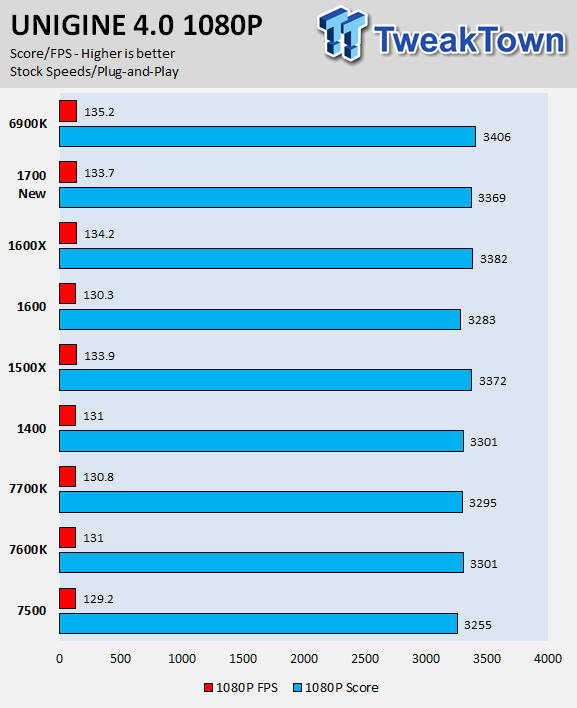 In FireStrike and CloudGate synthetic graphics benchmarks, Ryzen CPUs do quite well compared to their Intel counterparts. What is a bit surprising is Unigine 720P, where we see Intel's IPC put it ahead, when we go to 1080P we see the GPU bottleneck and thus performance is relatively the same across the board.
It's a typical thing we see these days, where the GPU limits overall performance, so the CPU can't increase performance.
Out of the Box Gaming Performance: Resident Evil, Tomb Raider, GTA:V, Ashes of the Singularity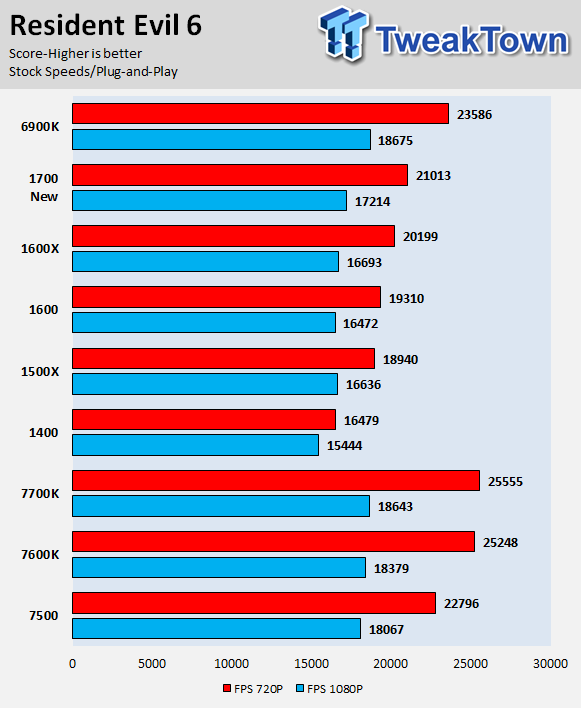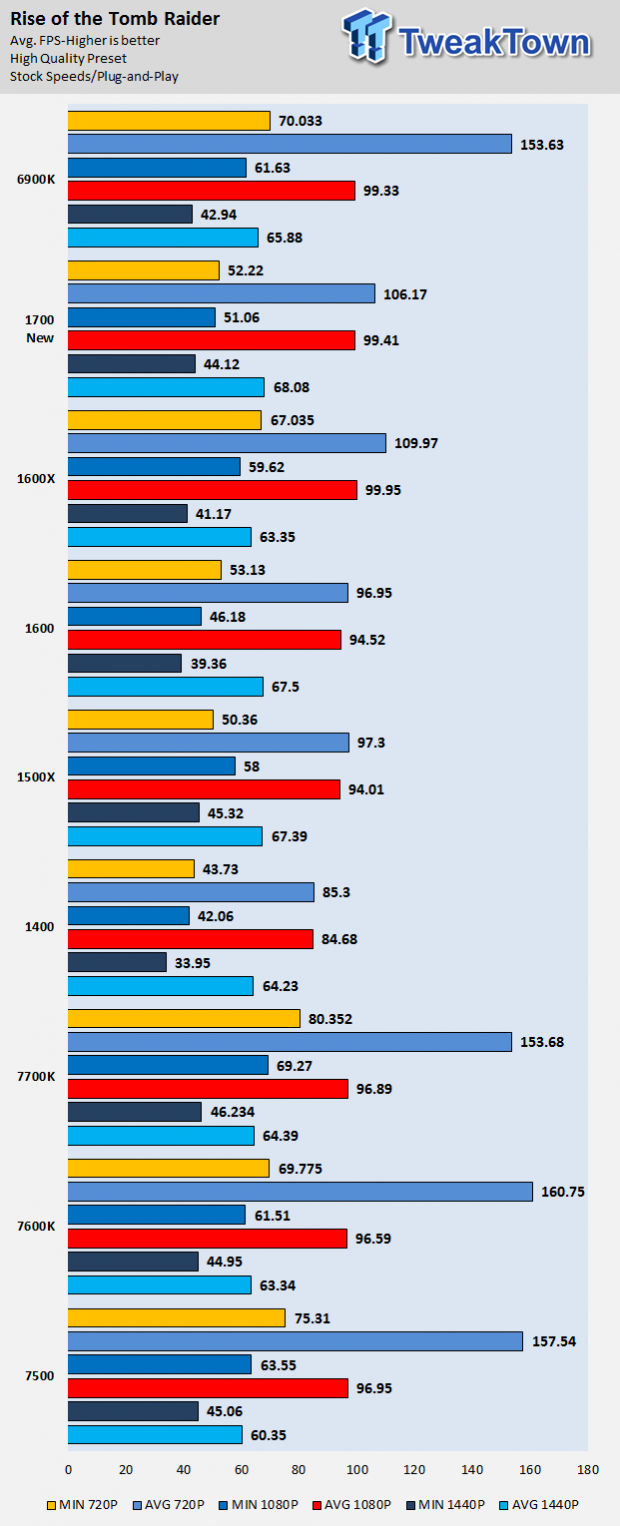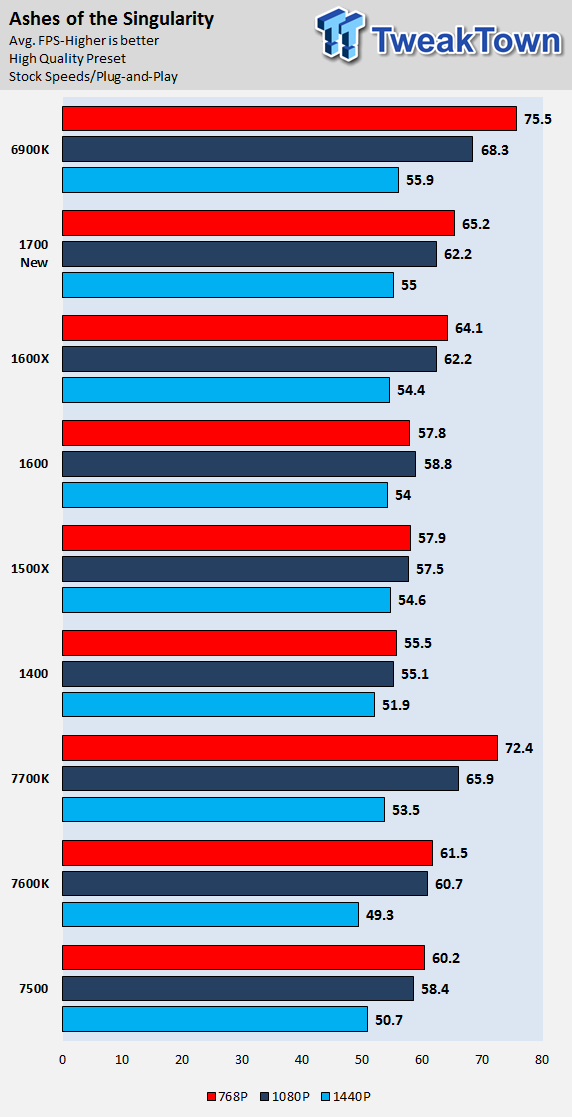 We all know how Ryzen does in gaming; when we are GPU bound at higher resolutions performance is in line with Intel, but Intel is still able to steal the show at 1080P. The reason we test at lower resolutions (if you consider 1080P a low resolution), is because it allows the CPU to play more of a role and it gives us a view into how the CPU will do if your system isn't GPU limited (let's say you upgrade your GPU or add in another).
Some games rely a lot on frequency rather than cores, and Intel's frequency has really helped it in games like GTA:V. In Rise of the Tomb Raider, the 1600 and 1400 do fairly well at resolutions of 1080P and up. In Ashes of the Singularity the Ryzen 5 1400 and 1600 do well, and that is because of optimizations and the fact that it's extremely GPU intensive.
Overclocking and Power Consumption
CPU Overclocking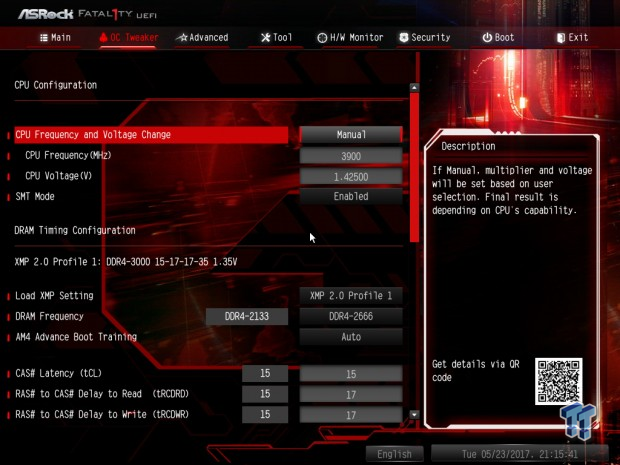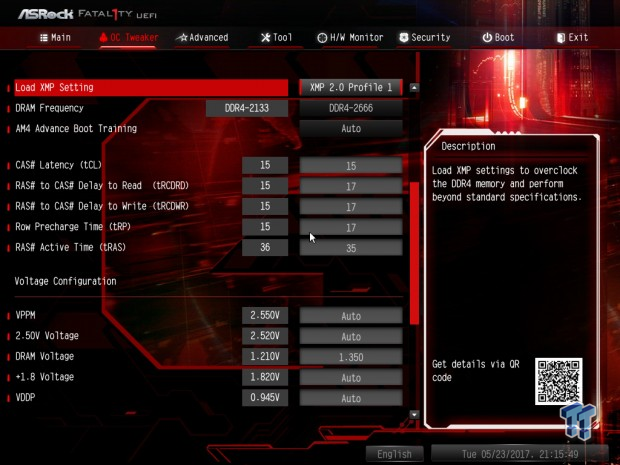 It's easy to tune the BIOS to overclock Ryzen CPUs. You just have to set the CPU frequency and enter in a CPU voltage. I start with 1.35v and go up if 39x or 40x doesn't work. Memory overclocking can be done by setting XMP, AMP, or DOCP or manually entering in frequency and timings, but don't forget the memory voltage.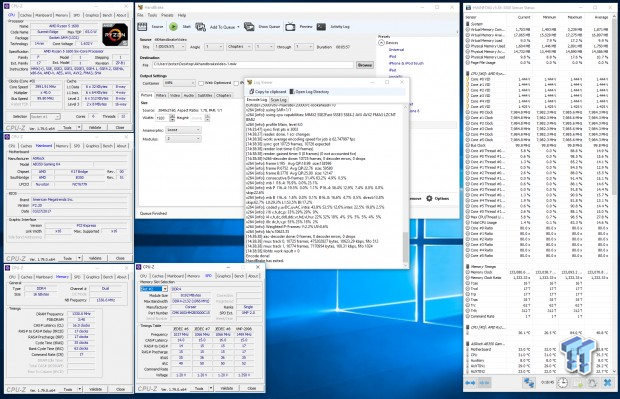 The Ryzen 5 1600 overclocked to 4GHz, but it required 1.425v to remain stable, and temperatures went up to 84C. I am more comfortable with 1.35v as a maximum for 24/7 use, and the CPU can do 3.9GHz at that voltage. Memory overclocking was a bit disappointing, topping out around 2666Mhz rather than 2933Mhz the kit can do.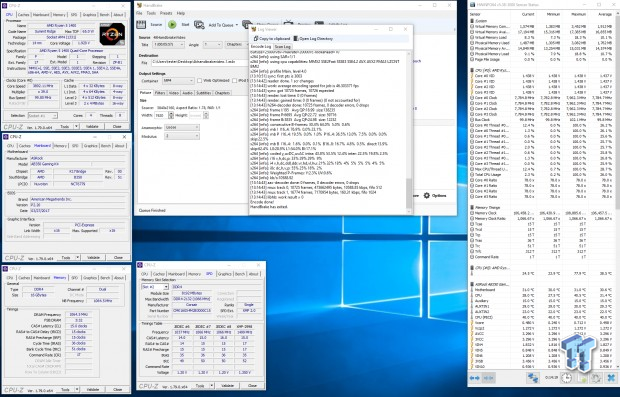 The Ryzen 5 1400 was able to hit 3900MHz with 1.400v, but I wasn't really expecting more. To get 4Ghz, it would have required over 1.45v to remain stable. One would think fewer cores would be easier to OC, and while that's true for the 1500X, it isn't for the 1400. It would seem that 4+4 CCX configurations with one bad CCX are sent down the line to become 1500X or 1400 depending on the quality of their cache and cores. What shocked me was that the memory controller, I couldn't get over 2133Mhz with this CPU, it could just be random luck or a current BIOS setting that needs to be optimized for the CPU.
Power Consumption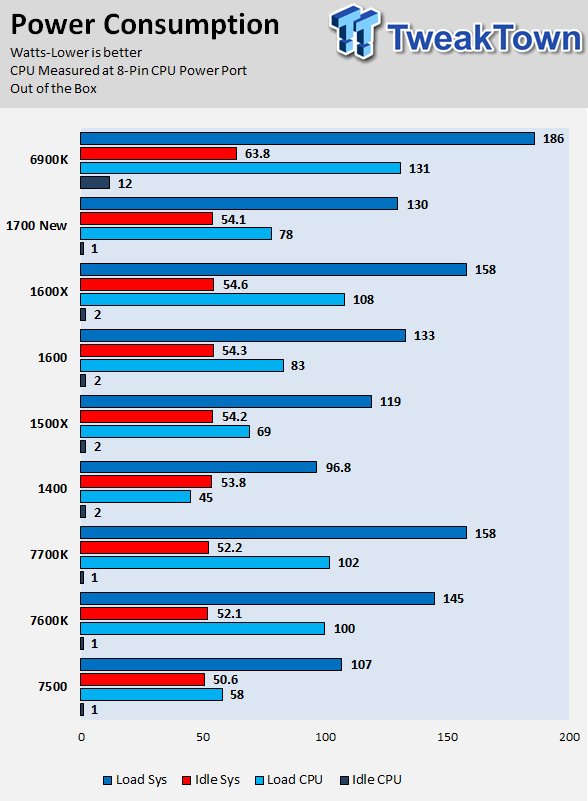 The Ryzen 5 1600's power draw is predictable, but the Ryzen 5 1400's isn't. The Ryzen 5 1400 pulls much less power than the 1600 even though they have the same TDP.
What's Hot, What's Not & Final Thoughts
This is where you can fast forward to the final section of the review, and get a quick recap and points on the AMD Ryzen 5 1600 and 1400.
What's Hot
Six for the Price of Four: At $219.99 the Ryzen 5 1600 offers significant value over comparable Intel parts if you need cores. Most computing needs other than gaming can take advantage of more cores, and that is where Ryzen is strongest.
Overclockable: While 3.9GHz isn't the most impressive overclock for a 1700X or 1800X, it is for a 3.2Ghz base/3.4GHz Turbo Ryzen 5 1400. You can easily take up all the cores on both the Ryzen 5 1600 and 1400 to 3.9Ghz or further depending on luck, and receive a huge performance increase. AMD's competitor doesn't allow overclocking on non-K SKUs.
Gaming Above 1080P: If you are going to game at QHD (2560x1440) or UHD/4K (3840x2160) then Ryzen 5 CPUs are a very good option because you will most likely be GPU bound on newer titles unless you have a few GTX 1080s or 1080 TIs in SLI.
SoC and Platform Cost: Since AMD integrated four USB 3.0 and x4 PCI-E 3.0 into their Ryzen 5 and 7 CPUs, it allows motherboard vendors to use a wide variety of chipsets that might cost less, but still offer the end-user a healthy selection of features. It's one reason B350 chipset motherboards are so popular; because they cost less but offer a lot.
What's Not
New Platform Still Needs Some Work: We have heard that a late May AEGIS microcode update is going to bring some great memory and performance tweaks to the platform, and we look forward to those. In the meantime, we still see some issues common to new platforms. I couldn't even get the Ryzen 5 1400 to overclock memory past 2133MHz, and that was a bit shocking. I might be able to chalk it up for BIOS that needs more optimizations for memory overclocking of CPUs down the pole, but it could also be a bad IMC.
Final Thoughts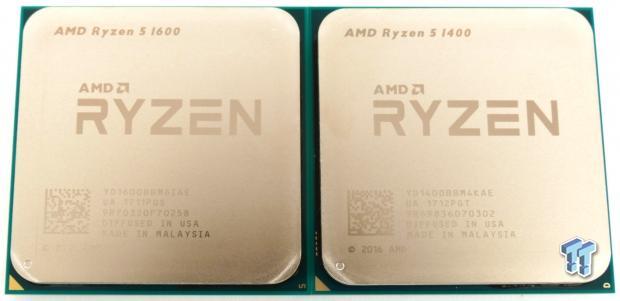 The Ryzen 5 CPUs are solid CPUs and are extremely competitive at their price points. However, if you are looking for a CPU to do it all at one price point, that probably isn't going to happen. At one price point, Intel might be better at gaming but worse at productivity while the opposite could be said for AMD at the same price point.
I am just happy that there is finally competition again in the industry and both companies are doing their best to get ahead. The Ryzen 5 CPUs are excellent competitors for Intel's i5 series, and the Ryzen R5 1600 and Ryzen R5 1400 are excellent value buys.
Ryzen 5 1400 - Value Award
Ryzen 5 1600 - Approved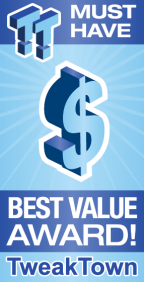 | | |
| --- | --- |
| Performance | 83% |
| Quality | 90% |
| Features | 90% |
| Value | 95% |
The Bottom Line: AMD's Ryzen 5 1600 is a solid performing 6 core 12 thread CPU at an affordable price point, and while the Ryzen 5 1400 might not have all the cores that Ryzen is known for, both are great value buys.
PRICING: You can find products similar to this one for sale below.

United States: Find other tech and computer products like this over at Amazon.com

United Kingdom: Find other tech and computer products like this over at Amazon.co.uk

Australia: Find other tech and computer products like this over at Amazon.com.au

Canada: Find other tech and computer products like this over at Amazon.ca

Deutschland: Finde andere Technik- und Computerprodukte wie dieses auf Amazon.de
We openly invite the companies who provide us with review samples / who are mentioned or discussed to express their opinion. If any company representative wishes to respond, we will publish the response here. Please contact us if you wish to respond.