ASRock Fatal1ty Z270 Gaming-ITX/ac Motherboard Review
ASRock's Fatal1ty Z270 Gaming-ITX/ac is the first Intel Z270-based Mini-ITX motherboard we have come across so far. Let's take a look at it.
Published Mon, Jan 23 2017 8:08 AM CST
|
Updated Tue, Nov 3 2020 6:58 PM CST
Rating:

93%
Manufacturer: ASRock
Introduction, Specifications, and Pricing
I already reviewed one of ASRock's Z270 motherboards and realized how great value it was. However, ASRock also makes some very niche products, and the Fatal1ty Z270 Gaming-ITX/ac is one of them. The motherboard is loaded with more features than some of ASRock's full-sized motherboards and is equipped with a VRM designed for overclocking. I have always been a big fan of ASRock's mini-ITX motherboards; they always take what other vendors might call "risks," such as their mini-ITX X99 motherboard.
The Fatal1ty Z270 Gaming-ITX/ac and other mini-ITX motherboards are actually preferred by overclockers because of their simplistic two-DIMM design. Two DIMMs sometimes offers better memory overclocking abilities than four DIMMs because of the reduced trace routing for the second DIMM for each channel. Apart from overclocking, ASRock has also loaded this mini-ITX motherboard with features such as Thunderbolt 3 and Wireless AC.
Let's see what ASRock's Z270 flagship mini-ITX motherboard has to offer.
Specifications
The Fatal1ty Z270 Gaming-ITX/ac offers Thunderbolt 3, M.2, 6x SATA6Gb/s, HDMI 2.0, Intel LAN, Wireless AC, 5x USB 3.0 on the rear IO, a USB 3.0 internal header, and a USB 2.0 internal header.
ASRock also has updated the audio on the motherboard to the latest Realtek codec and offers Creative software.
Pricing
The Z270 Gaming-ITX/ac's price is currently unknown as it is not available in the USA yet.
Packaging and Fatal1ty Z270 Gaming-ITX/ac Overview
Packaging and Overview
ASRock's box design is new, and the color theme of the box is the same as that of the motherboard. Packaging is also quite good; the motherboard is well protected in a foam tray.
The accessory package includes two SATA6Gb/s cables, WIFI antenna, IO shield, M.2 screw, case badge, manuals, and driver DVD.
ASRock offers three PWM/DC headers on the motherboard; you will have to go into the BIOS to change the mode. The two headers circled in red are 1A headers, and the single header circled in blue is 1.5A. Mini-ITX motherboards tend to have fewer headers than ATX motherboards, but I usually only see two and ASRock has put three on this motherboard.
The motherboard's aesthetics are also well done. The matte black PCB and the crimson red heat sinks look great together. If you hate RGB LEDs and the headers that are all too common these days, you will love this motherboard because it has none of that. On the other hand, if you do not want a red themed build, a large enough CPU heat sink like the NH-D15 will block the red of the heat sinks while two memory modules will hide the red DIMMs. The backside of the motherboard is quite bare, which is a good thing.
The rear IO panel offers a Clear CMOS button, Wi-Fi antenna ports, PS/2 keyboard/mouse, six USB 2.0 ports (one is a Fatal1ty mouse port), S/PDIF optical, HDMI 2.0, DisplayPort, ThunderBolt 3/ USB 3.1 type-C, RJ-45 Gbit LAN, and six audio outputs.
A single x16 PCI-E 3.0 slot gets all the CPU's PCI-E lanes. The slot is reinforced with a metal shield to prevent GPU drooping from damaging the motherboard. An x4 PCI-E 3.0 M.2 slot can be found on the back of the PCB.
Four SATA6Gb/s ports are angled straight up, while two more are located right below the 24-pin connector and double as a single SATA Express port. There is a USB 3.0 internal header right below the 24-pin power connector. Below the USB 3.0 internal header is the front panel header and a USB 2.0 internal header.
All the heat sinks are screwed to the motherboard and are connected by a heat pipe.
ASRock Fatal1ty Z270 Gaming-ITX/acCircuit Analysis
Circuit Analysis
The Z270 Gaming-ITX/ac's bare PCB exposes some really nice hardware.
The motherboard's VRM is in a 6+2 phase configuration for the CPU VCore and CPU iGPU voltage rails. Each of the phases uses a Texas Instruments CSD87350D NexFET, which integrated the high and low-side MOSFETs into a single package. These NexFETs as well known throughout overclocking circles as great for overclocking.
ASRock is also using 60A inductors as well as 12K solid polymer capacitors for the output filter. The PWM controller is the International Rectifier IR35201, which is being used in 6+2 phase mode. It's also worth noting that ASRock is not using phase doubling, each phase gets its own PWM channel.
ASRock is using IR3598 doublers/dual driver units in dual driver mode, so they are not being used as doublers. The memory VRM uses a single NexFET, which is the same model as those used in the CPU VRM.
The motherboard is much more revealing when you take off the shields and heat sinks.
ASRock Fatal1ty Z270 Gaming-ITX/ac Circuit Analysis Continued
Fatal1ty Z270 Gaming-ITX/ac Circuit Analysis Continued
ASRock is using the updated Realtek ALC1220, which offers 120dB SNR and a built-in audio amplifier. However, it only has one amplifier, so ASRock has added a Texas Instruments NE5532 to amplify the front panel header's headphone jack. Nichicon Gold series audio capacitors are also used, and the audio section of the PCB is physically isolated from the rest of the PCB.
There are only a few Thunderbolt 3 controllers, and ASRock is using one on this motherboard. The Intel JHL6240 offers a single type-C output which supports USB 3.1 and Thunderbolt 3 technology. A Texas Instruments TPS65982 is used as the type-C logic and power delivery controller, and it is part of Intel's reference design for Thunderbolt 3.
HDMI 2.0 with support for HDCP 2.2 is not native to the iGPU, so ASRock used a MegaChips MCDP2800BC to provide HDMI 2.0 on the rear IO panel.
An Intel i219v PHY is used to compliment the Gbit MAC in the PCH for the Intel LAN solution. A 128Mbit BIOS ROM is hidden under the BIOS version sticker. The main SuperIO on the motherboard is the nuvoTon NCT6791D.
An Intel Wireless-AC 7265NGW 2x2 network adapter is also installed to provide Wi-Fi and Bluetooth.
BIOS and Software
BIOS
ASRock's UEFI for the Fatal1ty Z270 Gaming-ITX/ac is much like that of the rest of their lineup. It offers a myriad of settings for everything from overclocking to fan control. ASRock offers both automatic fan calibration, a fan setup GUI, and even controls so you can type in fan controls.
Automatic overclocking profiles are also built into the UEFI, so in case you have no idea what you are doing, you can still overclock the system. Like their other UEFI's, there are two operation modes, one for novice users and one for more experienced ones.
Software
ASRock's APP SHOP and LIVE UPDATE will allow you to download the rest of ASRock's programs including A-Tuning, APP Charger, and even Sound Blaster Cinema 3 just to name a few.
Test System Setup
Steven's Motherboard Test System Specifications
The Fatal1ty Z270 Gaming-ITX/ac has no RGB LEDs, or really any LEDs of any type, and it's also quite small, so it drowns out in a larger case or a case without lighting.
Overclocking
Overclocking Results
CPU Overclocking
The CPU was able to reach a 5GHz overclock with 1.3v with XMP enabled. I used Level 2 LLC with 1.3v set, which resulted in a voltage a little over 1.3v, and temperatures were quite good. I should mention I am using a new CPU for overclocking results; I found that one of my ES CPUs does 5GHz on low volts stable.
Compatible Memory Overclocking Kits
In this section, I overclock four memory kits only using XMP, if the kit works then the results are below. I welcome memory vendors to send in their kits to be tested on each motherboard.
Corsair Dominator Platinum 3200MHz C16 8GBx2
G.Skill TridentZ 3866MHz C18 8GBx2
GEIL EVO X RGB 3200MHz C16 8GBx2
GEIL EVO FORZA 3200MHz C16 8GBx2
The Fatal1ty Z270 Gaming-ITX/ac only has two DIMMs, and memory overclocking is excellent and easy to accomplish.
CPU, Memory, and System Benchmarks
CINEBENCH 11.5
wPrime
AIDA64 AES and HASH
AIDA64 FPU
AIDA64 Memory
ScienceMark
HandBrake
3DMark: Fire Strike
3DMark: Cloud Gate
ResidentEvil 6
ASRock's multi-core enhancement was disabled by default in the BIOS version I used, so at stock, performance results are a bit lower since ASRock is abiding by Intel specifications. When I even out the settings and load my standardized overclocked profile, we see the scores even out.
Since the motherboard doesn't use much switching at all, performance numbers are quite strong all around.
Some motherboard reviews put a lot of weight into motherboard CPU, memory, and GPU benchmarks, but for me, CPU, memory, and GPU benchmarks on motherboards should be more about finding anomalies, and I do that at standard settings (4.8G in graphs).
System IO Benchmarks
CrystalDiskMark SATA6G:
CrystalDiskMark M.2:
ixChariot Network Throughput:
The Z270 Gaming-ITX/ac's storage performance is top notch as is network performance. While it's Intel Wireless-AC solution isn't the fastest around, it's fast enough.
Audio RMAA 5.5:
I disable all audio features, set the correct bitrates, and then test the audio with a loopback test.
Sound Judgment by Ear: Excellent. ASRock's ALC1220 is better than expected. I thought that the small area and low PCB division might result in more noise, but I was pleasantly surprised by its performance. There are five ratings for audio: 1. Problems, 2. Okay, 3. Acceptable, 4. Very good, 5. Excellent
Thermal Imaging and Power Consumption
System power is measured at the wall with an AC power meter.
Note on Thermal Images: In the temperature section, we use our Seek thermal imaging camera to capture the surface temperatures of major components on the board. I look at the VRM and then all other things that light up the screen. If there is something to worry about, then I will state it. Otherwise, I will just show the hotter running parts of the board for fun. Unless some component is over 80-90C, then there isn't anything to worry about.
All systems will act differently, so I will look for commonalities, such as how far from the VRM the heat spreads through the PCB and the difference in temperature between the front side and backside of the PCB. Keep in mind, the majority of the heat from the VRM goes into the PCB as it is a giant soldered on copper heat sink. A larger difference in temperature between the back and front of the PCB points towards a more effective heat sink.
Thermal Testing at Stock Speeds:
The image on the left is always at idle, and the image on the right is at load. During ALL TESTS, fans above the VRM that cool the CPU cooler's (Corsair H110i GT) radiator are turned on to high (12v).
Full frontal.
Up-close of the front of the VRM.
Up-close of the back of the VRM.
Thermal Testing at 4.5GHz Overclocked Speeds:
The image on the left is always at idle, and the image on the right is at load. During ALL TESTS, fans above the VRM that cool the CPU cooler's (Corsair H110i GT) radiator are turned on to high (12v).
Full frontal.
Up-close of the front of the VRM.
Up-close of the back of the VRM.
The Fatal1ty Z270 Gaming-ITX/ac has one of the best VRMs I have seen so far on a Z270 motherboard, and to be quite honest, that is a bit odd considering this is a Mini-ITX motherboard. Granted, we haven't seen many true 6+ phase motherboards unless they are designed for overclocking or extremely expensive, and ASRock is using top-notch components and phase shedding correctly. VRM performance is excellent.
Anything under 60C is great, 60-80C is acceptable, and anything above 80C is a bit worrisome (if at stock).
What's Hot, What's Not & Final Thoughts
Here are key points about the ASRock Z270 Gaming-ITX/ac.
What's Hot
Tons of Features: Thunderbolt 3, USB 3.1, Ultra M.2, and Wireless AC? Check, check, check, and check. The Z270 Gaming-ITX/ac is loaded to the brim with features, and it's quite impressive.
Undercover Overclocker: The Z170 Gaming-ITX/ac had some of the best memory overclocking around, partially due to its use of only two DIMMs, and the Z270 Gaming-ITX/ac also offers this same capability. However, one of the more impressive overclocking aspects is the VRM, which is built better than many I have seen on mid-ranged Z270 ATX motherboards.
Healthy Serving of USB: Many mini-ITX motherboards lack a lot of rear USB 3.0 and internal USB 2.0 and USB 3.0 headers, but not the Z270 Gaming-ITX/ac. In fact, it has more rear USB 3.0 than many full-sized ATX motherboards.
HDMI 2.0: ASRock actually had to add an extra chip to support HDMI 2.0. HDMI 2.0 is the only way you can playback 4K Netflix content because of its HDCP 2.2 support, plus it supports 4K at 60Hz.
Audio System: I was surprised to find that ASRock complimented the internal amplifier in the ALC1220 with a second one for the front panel output. The internal one would have been enough, but ASRock went the extra mile. Plus, ASRock supplies six audio output jacks, most mini-ITX boards only supply three.
What's Not
No POST-Code Display: The Z270 Gaming-ITX/ac would be perfect for extreme overclocking if it has a POST code display.
No RGB Header: I was surprised to find that this motherboard doesn't have an RGB LED header since all of its other features are very high-end.
Final Thoughts
The Fatal1ty Z270 Gaming-ITX/ac is one of the most loaded Z270 mini-ITX motherboards on the market. It has Thunderbolt 3, something I didn't expect to find. ASRock's board has more features than some ATX motherboards and better VRMs than most mid-range motherboards. It's an excellent overclocker and very easy to use and setup. The only thing that remains a mystery is the price.
I am unsure if ASRock will price the Z270 Gaming-ITX/ac competitively, or take advantage because it is the only board of its type on the market. ASRock typically doesn't do that, so I expect this motherboard to be affordable. Overall, this motherboard impressed me at almost every turn and felt like a mature, finished product.
I would easily recommend this motherboard to anyone who wants an outstanding mini-ITX Z270 motherboard, and so I have awarded it the second highest award we offer.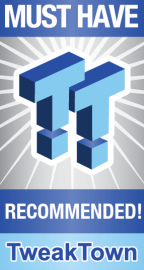 | | |
| --- | --- |
| Performance (including Overclocking) | 94% |
| Quality including Design and Build | 95% |
| General Features | 96% |
| Bundle and Packaging | 85% |
| Value for Money | N/A |
The Bottom Line: Loaded to the brim with the latest features and some very impressive overclocking abilities, ASRock's Fatal1ty Z270 Gaming-ITX/ac is one of the best Z270 mini-ITX motherboards on the market.
PRICING: You can find products similar to this one for sale below.

United States: Find other tech and computer products like this over at Amazon.com

United Kingdom: Find other tech and computer products like this over at Amazon.co.uk

Australia: Find other tech and computer products like this over at Amazon.com.au

Canada: Find other tech and computer products like this over at Amazon.ca

Deutschland: Finde andere Technik- und Computerprodukte wie dieses auf Amazon.de