TweakTown's Rating: 93%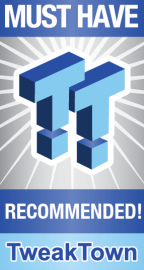 The Bottom Line
Loaded with the latest and greatest features, including top of the line audio, networking, overclocking, and component quality, the Z270X-Gaming 9 might dent your bank account, but it could be worth it.
Introduction, Specifications, and Pricing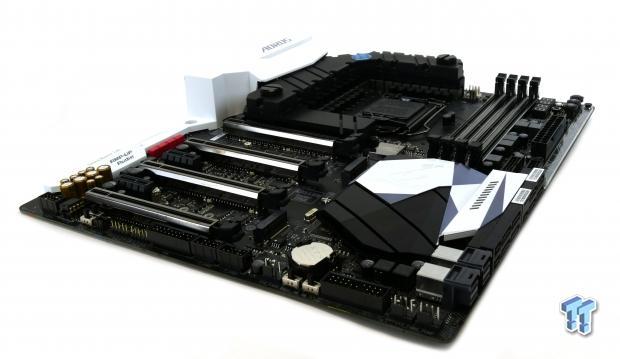 GIGABYTE, AORUS's parent company, has traditionally reserved the number 9 for their over the top motherboards, and the last time I saw a GIGABYTE branded motherboard with the number 9 was the X58A-UD9; a legendary motherboard that still holds a place in many people's minds. However, the AORUS Z270X-Gaming 9 seems to be a higher-end replacement for what GIGABYTE recently called their Gaming G1 series of motherboards. The departure from GIGABYTE's high-end branding structure and the introduction of AORUS's new hierarchy might be a bit confusing, and I expect the Z270X-Gaming 9 to be somewhere in between the Z170X-Gaming G1 WIFI and the X58A-UD9 (maybe more towards the Gaming G1 WIFI).
The GIGABYTE Z170X-Gaming G1 that the AORUS Z270X-Gaming 9 replaces used a PEX8747 to expand PCI-E lanes for up to 4-way SLI/CrossFireX, had ThunderBolt 3, a strong VRM, a water block, and a slew of other features such as triple Killer NICs. The Z270X-Gaming 9 has pretty much the same specifications, but with the little extra AORUS brings to the table. Just like we saw with the Z270X-Gaming 7 from AORUS, the new boards have significantly better fan control, UEFI, RGB LED control, and other electrical features such as USB DAC-UP 2, but the AORUS Z270X-Gaming 9 brings one more thing to the table.
In the past, GIGABYTE had always used some no-name water block, usually just a hollowed out heat pipe with threading to cool the PEX8747 chip and the VRM. The Z270X-Gaming 9 actually uses a custom-designed EK water block, which should prove to be much more effective, and the EK block might be why the motherboard carries the prestigious number 9 in its name. Let's take a look and find out.
Specifications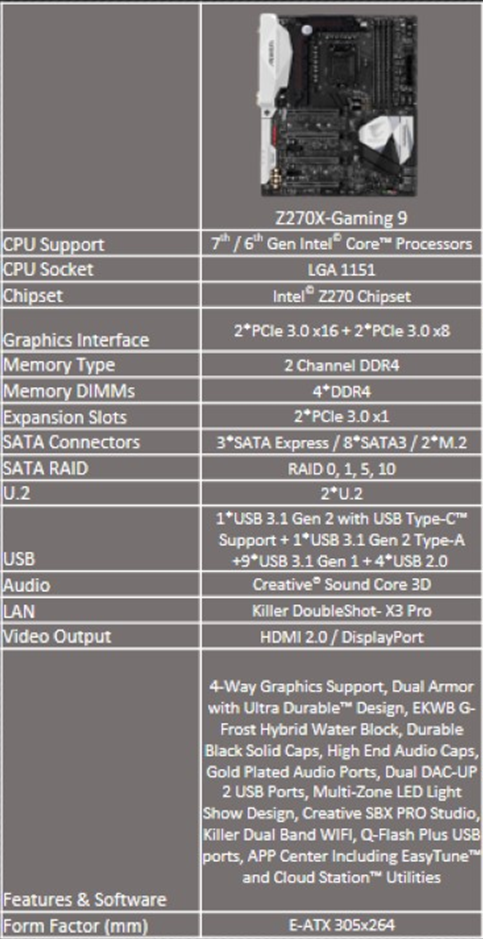 The Z270X-Gaming 9 supports up to 4-way SLI and CrossFireX, carries USB 3.1 ports, Killer DoubleShot-X3 Pro, Creative Core3Di (127dB certified), two U.2 ports, and two M.2 ports among many other features.
Pricing
The Z270X-Gaming 9's price is $499.99.
Packaging and Z270X-Gaming 9 Overview
Packaging and Overview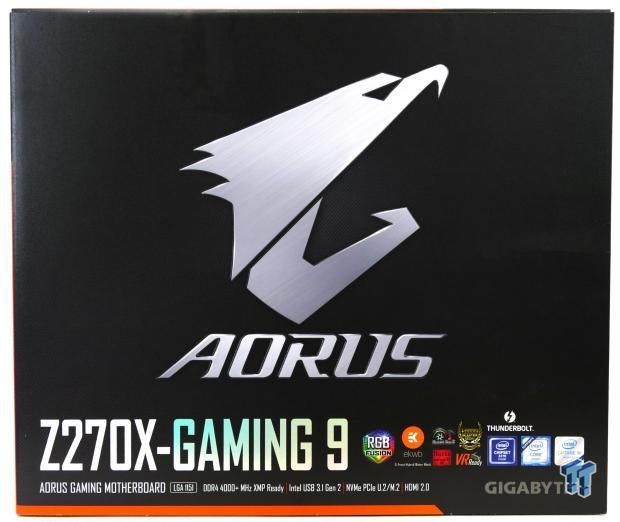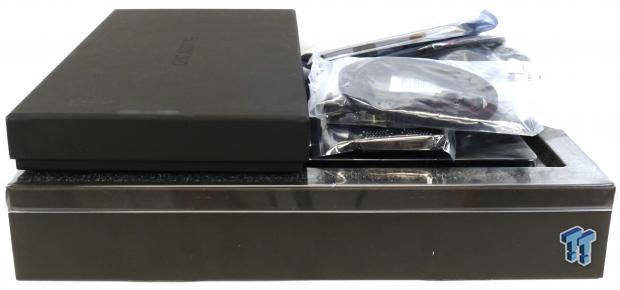 The box is simple and elegant, with the AORUS break and arm symbol and a plain black background. The AORUS Z270X-Gaming 9 uses the same premium packaging we saw with previous generation pinnacle products from GIGABYTE.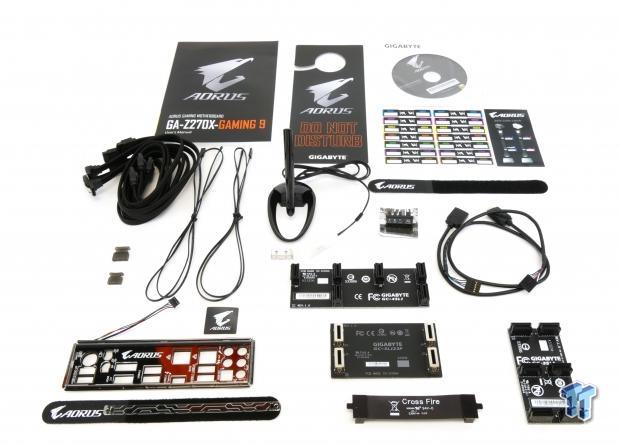 The accessory package includes six braided SATA6Gb/s cables, RGB LED IO shield, 2x external temperature sensors, LED plastic strip replacement, 2x AORUS branded Velcro cable ties, G-Connector, two WRGB extension cables, Wi-Fi antenna, CrossFireX bridge, AORUS case badge, SLI-HB bridge, 4-way SLI bridge, 3-way SLI bridge, iGPU dust covers, AORUS branded cable stickers, AORUS door hanger, and of course manuals and DVD drive.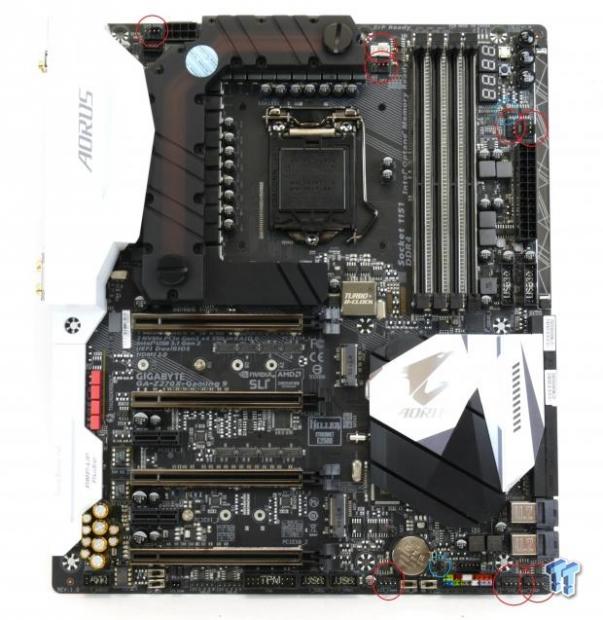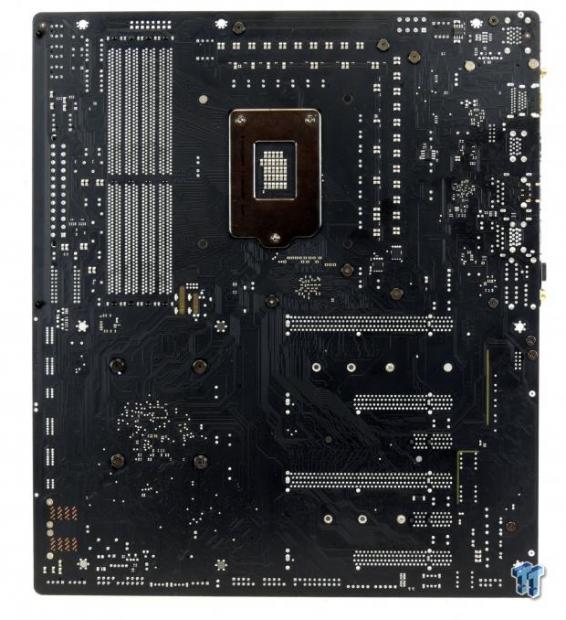 The Z270X-Gaming 9 offers eight fan headers circled in red. All these 4-pin fan headers are auto sensing PWM/DC headers, and you can manually set their mode in the UEFI or Windows. All headers support up to 2A output, and you can link them to multiple built-in temperature sensors or one of two external sensors whose headers are circled in blue to become a reference temperature for the fan cooling curve.
The Z270X-Gaming 9 has much-improved fan control hardware, but the software has also been improved in both Windows and the UEFI. The motherboard has a sleek black and white color theme, which is easy to match. Aesthetically speaking, AORUS has done an excellent job with the exterior design. The rear of the motherboard is devoid of hardware, so there is less risk of knocking off a component of the back by accident.

The IO panel on the Z270X-Gaming 9 features two USB 3.0 DACP-UP 2, three USB 3.0 ports (the white port can be used for QFlash Plus), Thunderbolt 3/USb 3.1 type-C, USB 3.1 type-A, two Killer 1Gbit NICs, Killer Wireless AC, HDMI 2.0, DisplayPort, and gold plated 7 channel audio with S/PDIF digital.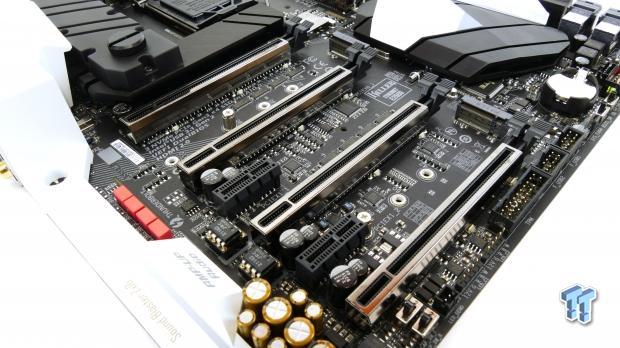 The PCI-E slot layout is actually simple enough because of the PEX8747 chip, which expands the x16 PCI-E 3.0 lanes from the CPU into x32 PCI-E 3.0 lanes for the four slots. You can run at x16/x0/x16/x0, x16/x0/x8/x8, x8/x8/x16/x0, or x8/x8/x8/x8. The PCI-E slots are reinforced with metal shields so that heavy GPUs won't droop too low and damage the slot. The motherboard features the six native SATA6Gb/s that double as three SATA Express ports. Two extra SATA6Gb/s ports are provided by an ASMedia controller. There are also two U.2 ports, the one on the right shares bandwidth with the bottom-most M.2 slot.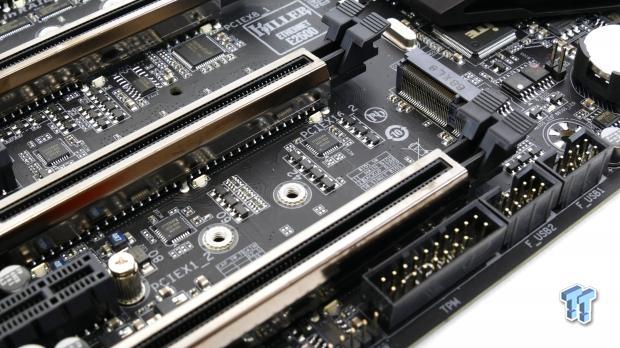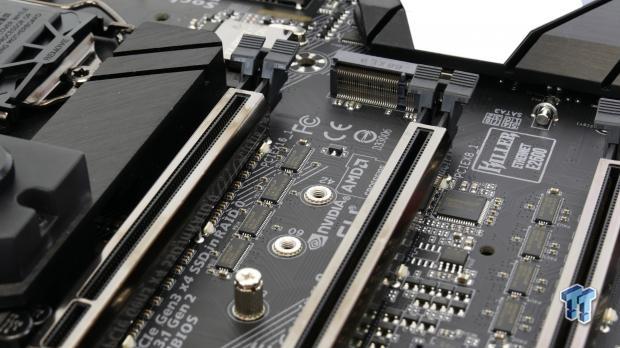 There are two x4 PCI-E 3.0 M.2 slots, they do share some bandwidth with SATA and the topmost U.2 port, and if you think there will be a conflict you should check out the user manual for exact sharing scenarios.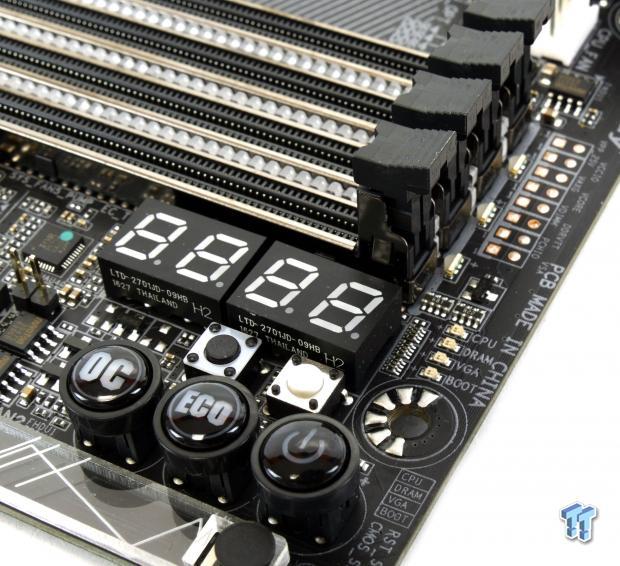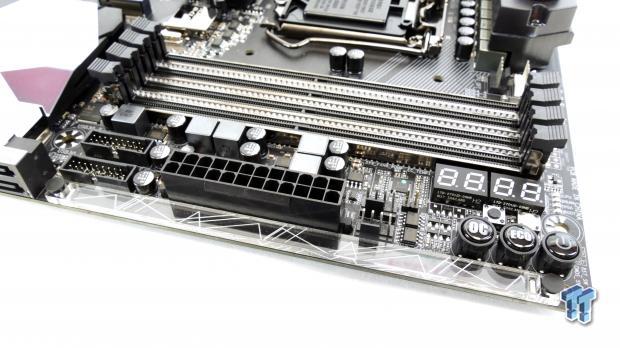 The Z270X-Gaming 9 has a healthy amount of overclocking features including voltage read points, error LEDs, a four digit POST Code display that can double as a VCore or temperature display, power button, reset button, Clear CMOS button, ECO button, and OC button. There is a large piece of plastic that can be customized by GIGABYTE, and it's illuminated by RGB LEDs for a really neat effect.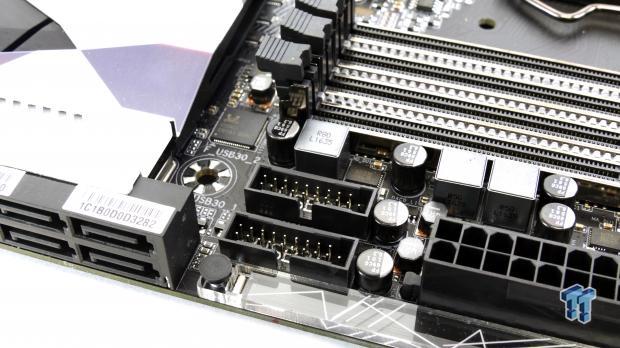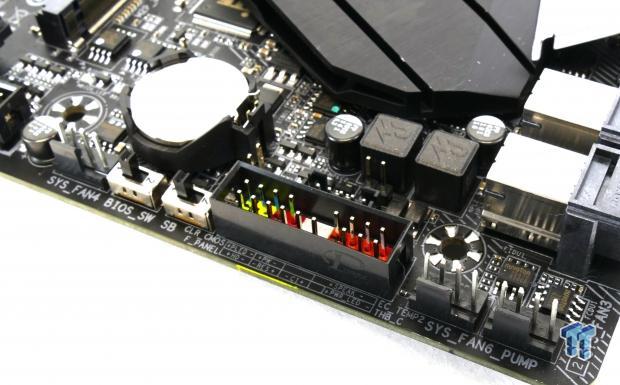 The motherboard has two USB 3.0 internal headers positioned below the 24-pin power connector. The two USB 3.0 internal headers each have dedicated voltage regulators to boost USB voltage to compensate for longer USB cables or to totally shut off USB power and only allow data to go through for USB DACs. To the left of the front panel header is a pair of switches. One switch switches between the main and backup BIOSes, the other can disable the DualBIOS feature to improve overclocking recovery.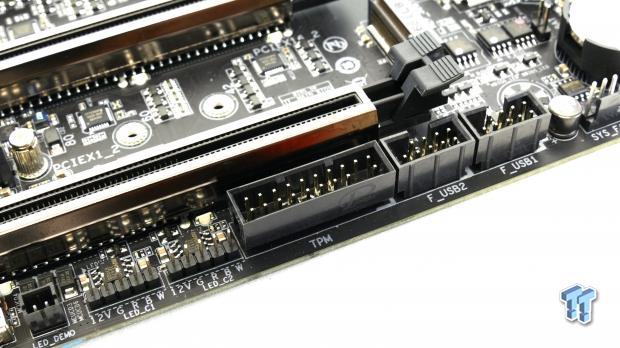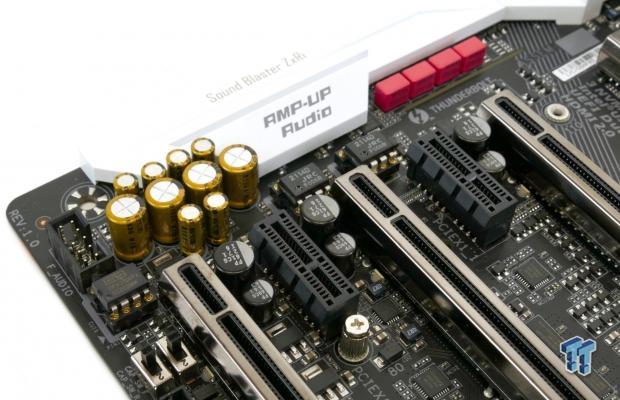 There are two USB 2.0 headers at the bottom of the motherboard as well as two RGBW headers. RGBW headers can work with normal RGB LED strips, but they also can work with RGBW LED strips that offer true white and a greater color gamut.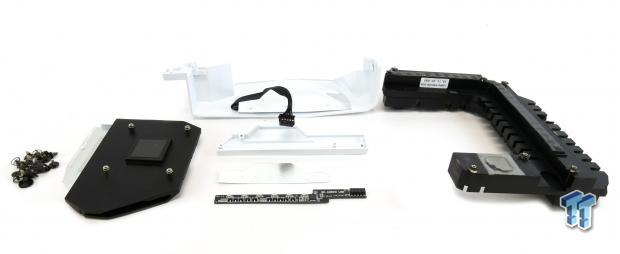 AORUS's Creative Core3Di solution on the Z270X-Gaming 9 is actually different than that on the Z270X-Gaming 7. For starters, it's certified by Creative for 120+ dB, and that is why "Sound Blaster ZxRi" on the shield. The audio solution also uses better audio grade WIMA capacitors and two extra Japanese Radio Company amplifiers. The audio solution also has manual gain switches to change between x6 and x2.5 gain.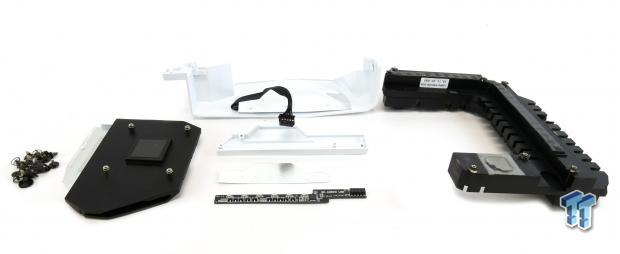 The heat sinks and shields are all screwed into the motherboard.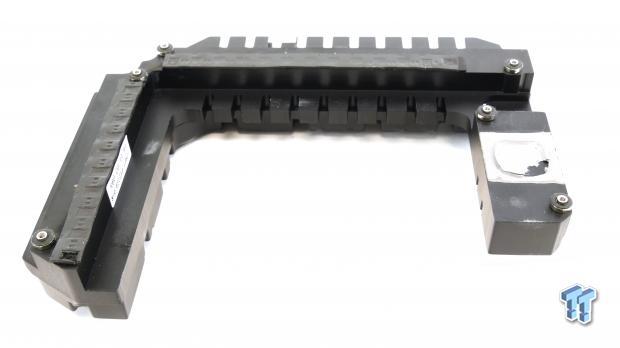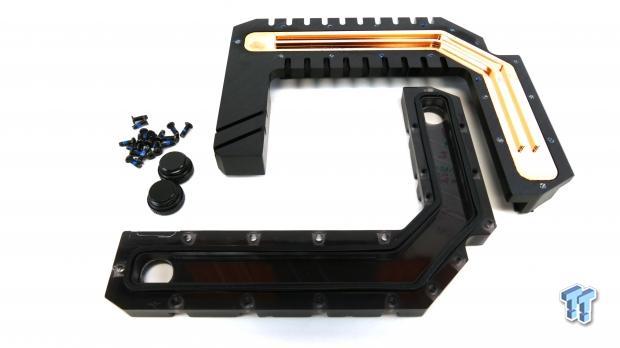 One of the main selling points of the Z270X-Gaming 9 is the EK water block that cools the VRM and PEX8747 bridge. The water block is built with copper and has two large channels to expand surface area.
AORUS Z270X-Gaming 9 Circuit Analysis
Circuit Analysis
Now it's time to dig deep into the motherboard's circuitry.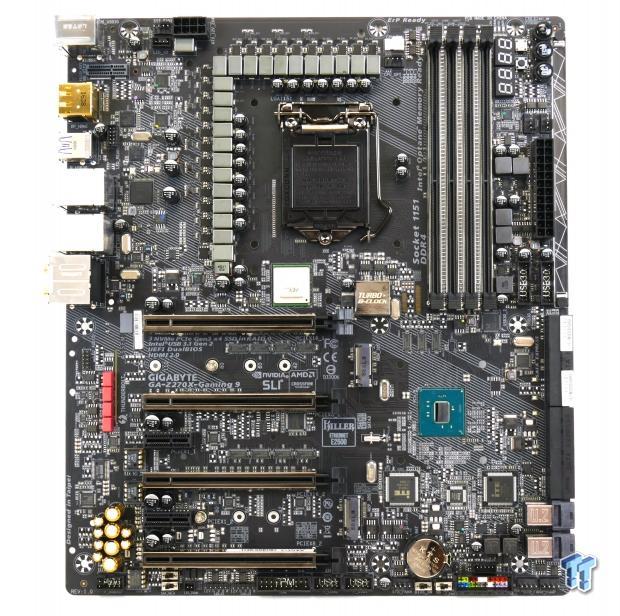 The Z270X-Gaming 9 hides a lot of expensive circuitry below the heat sinks and plastic shields. Let's see what it's hiding.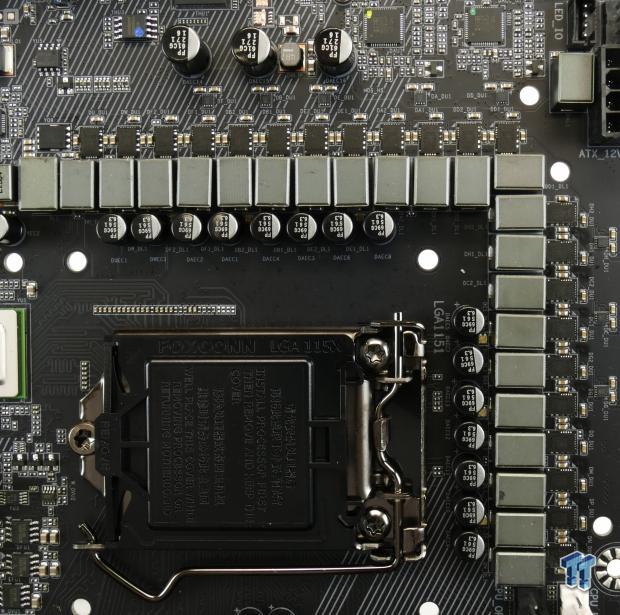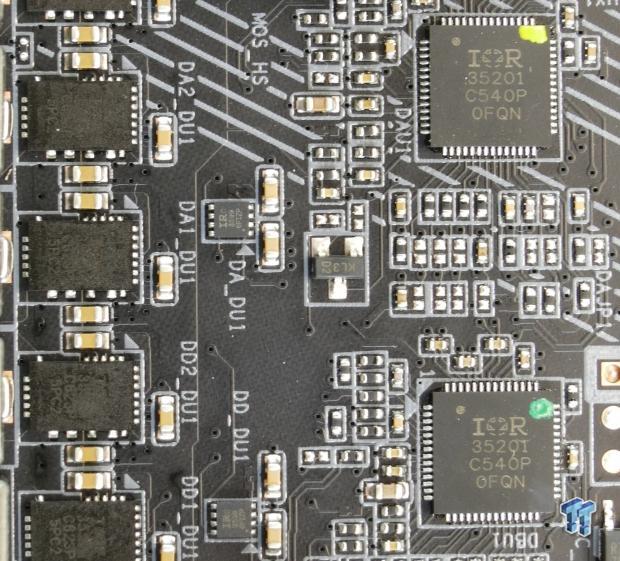 Starting from the bottom right of the VRM chokes, the first four phases are 4 phases directly wired to an IR PWM controller. Next are 16 phases, which are derived from 8 true phases doubled by eight IR3599 phase doublers. Following them are three other phases for the VCCIO and VCCSA, and a remaining single phase to power the PEX8747. GIGABYTE is using two IR35201 digital PWM controllers from International Rectifier. The PWM can work in 8+0 mode as it is for the CPU VCore rail or in a 6+2 or 7+1 mode as it is for the iGPU and VCCSA segments of the VRM.
Each phase uses an International Rectifier IR3553 40A integrated power stage. The IR3553 integrate the high-side, low-side, and driver into a single package. The IR3599 is being used as a doubler to double eight PWM phases to 16 for the VCore, but they can also be used as a quadroupler, but they aren't being used in that mode here.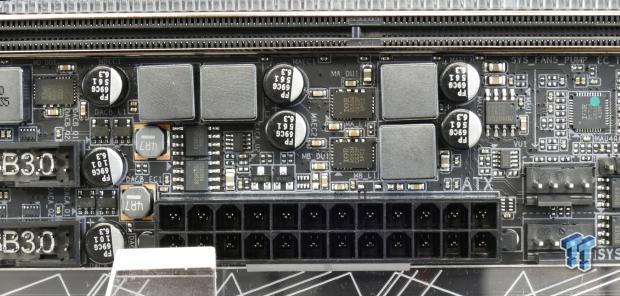 The memory VRM utilizes an International Rectifier IR3570 3+2 phase PWM to power a two-phase VRM for the main DDR4 voltage rail and a single phase for the DDR4 VPP rail.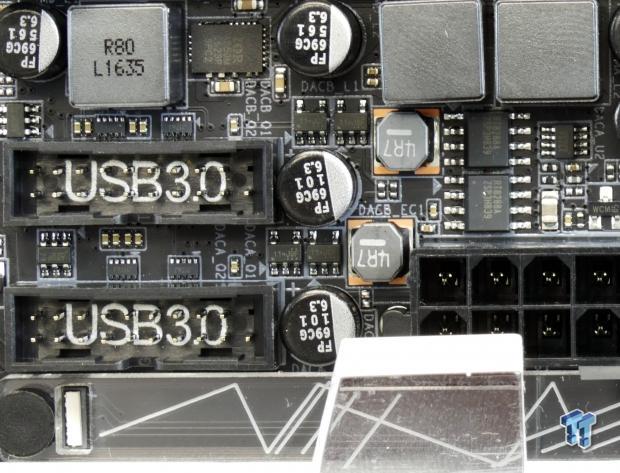 Looking closer at the area around the two USB 3.0 internal headers reveals two discrete USB power regulators, used to add a slight voltage boost or total severe power for USB based DACs. The technology behind the power for the USB headers is called USB DAC-UP 2.
AORUS Z270X-Gaming 9 Circuit Analysis Continued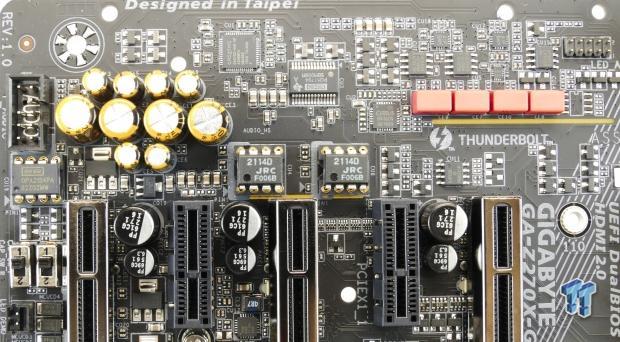 Audio on the Z270X-Gaming 9 is the best AORUS has to offer. While the Z270X-Gaming 9 uses the same Creative quad-core CA0132 Core3Di chip, it also uses a BurrBrown PCM1794 stereo DAC, a Cirrus Logic CN8416 ADC, Nichicon Gold Series electrolytic capacitors, WIMA film capacitors, two New Japanese Radio Company JRC2114D AMPs, a Texas Instruments OPA2134 AMP, and a Texas Instrument TPS5130 to power the amplifiers. The solution on the Z270X-Gaming 9 is certified at 120+dB SNR by Creative.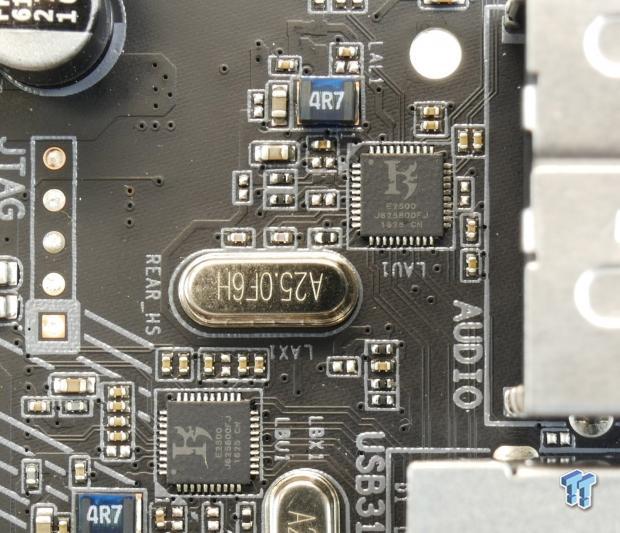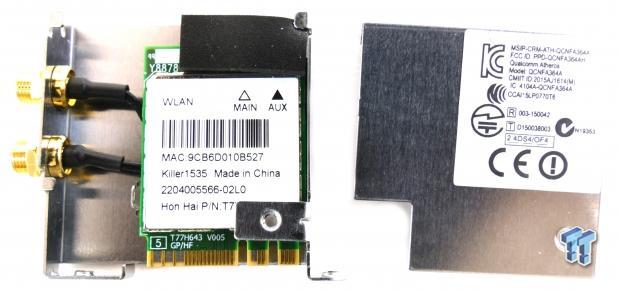 Two of Killer's latest Gbit NICs, the E2500s can work with the Killer Wireless AC 1535 to allow Killer's Double Shot Pro X3, which allows users to team all three NICs.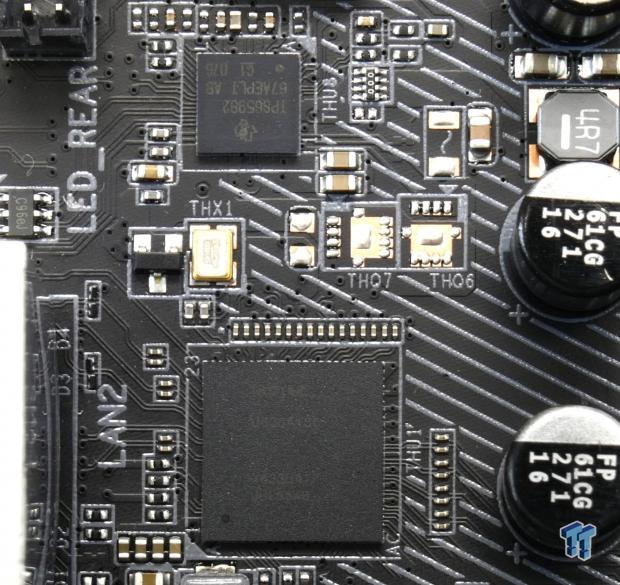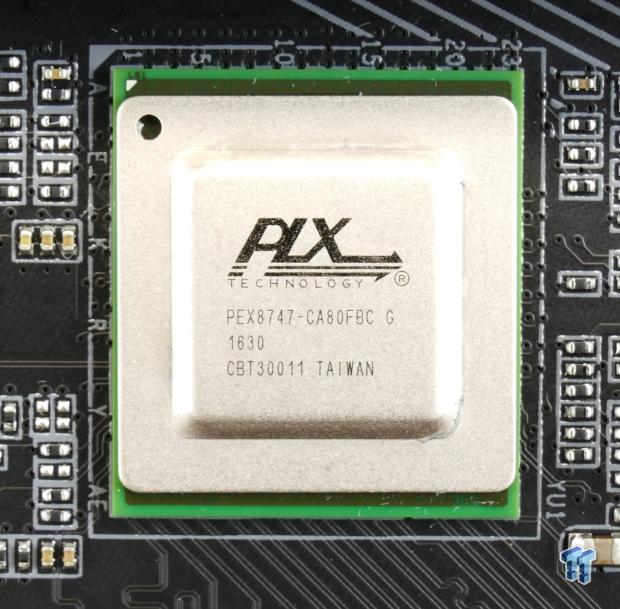 Intel's USB 3.1/ThunderBolt 3 controller is being used with the Texas Instruments TPS65982, which acts as a type-C switch and CC logic controller. Together they provide Thunderbolt 3/USB 3.1 for the type-C connector and USB 3.1 for the type-A connector on the rear IO. The motherboard also carries the PLX Technologies (now Avago) PEX8747 chip. The PEX8747 is responsible for doubling the CPU's x16 lanes to x32 for up to 4-way SLI or CrossFireX.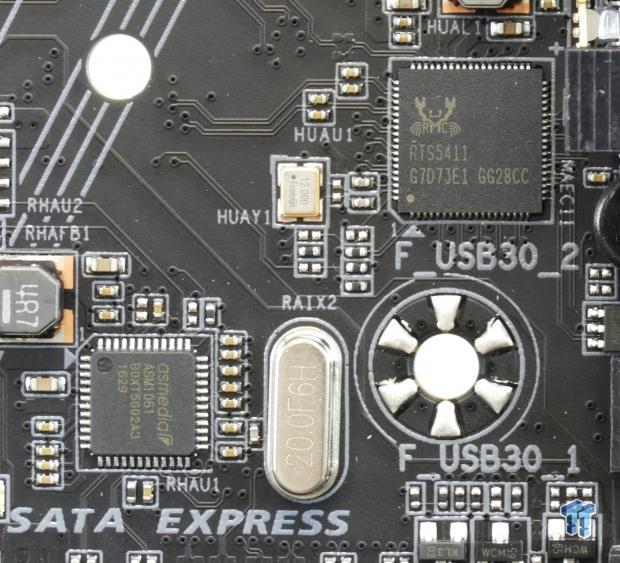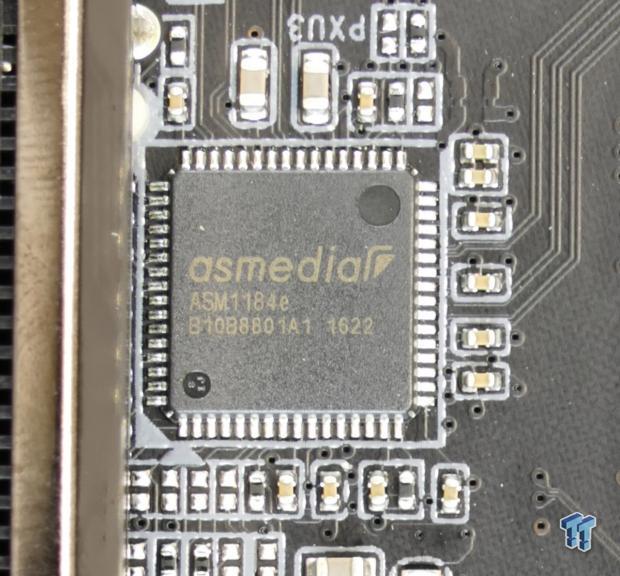 The Realtek RTS5411 USB 3.0 hub takes a single USB 3.0 port and produces four for the two internal headers. An ASMedia ASM1061provides two SATA6Gb/s ports. The ASMedia ASM1184e is a PCI-E hub that takes a single PCI-E lane and turns it into three for the two PCI-E x1 slots and the extra SATA controller.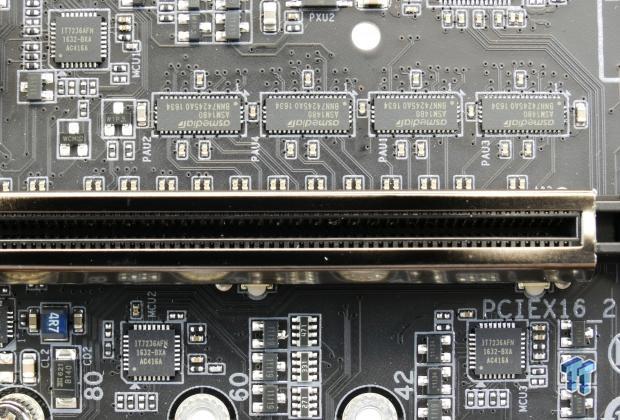 I found four IT7236AFN RGB Led controllers on the Z270X-Gaming 9; one was hidden under the audio section's shield. I assume there is another hidden below the IO panel's shield. The other three control the RGBW header and on-board lighting. There are multiple ASMedia ASm1480 quick switches that act as switches and move around PCI-E bandwidth between slots and connectors.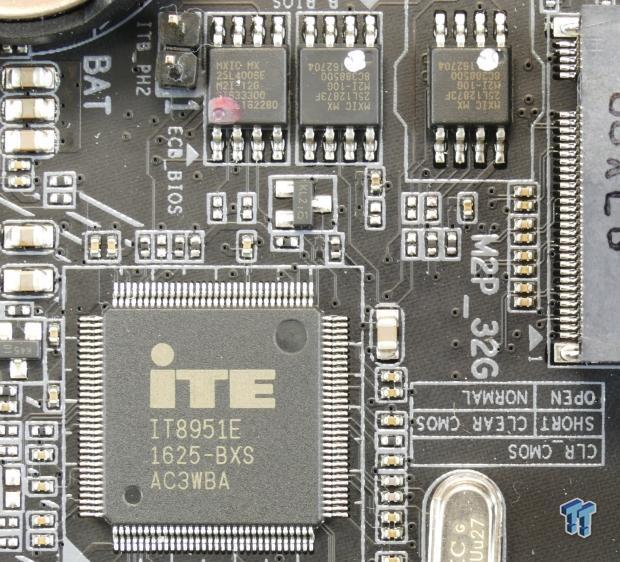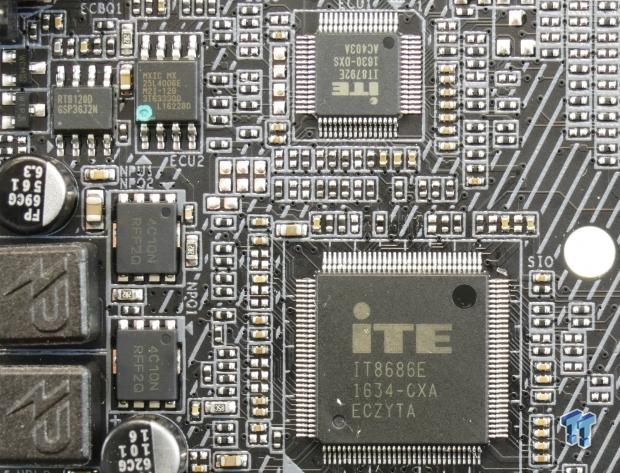 The motherboard is equipped with two 128Mbit BIOS ROMs, and in case both of them go out, GIGABYTE's Q-Flash Plus will help you recover them through the use of a USB flash drive loaded with a BIOS ROM. The IT8951E is in charge of Q-Flash Plus. AORUS is using a new SuperIO, the IT8686E for expanded fan control as well as an ITE IT8792E for extra embedded controller functions, I assume extra fan control or overclocking feature support.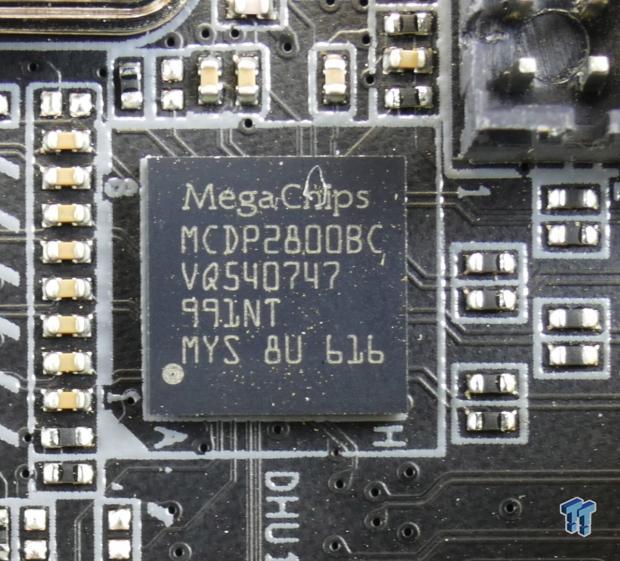 A MegaChips MCDP2800BC provides the HDMI 2.0 port on the rear IO, which supports HDCP 2.2, and will allow you to stream 4K Netflix.
BIOS and Software
BIOS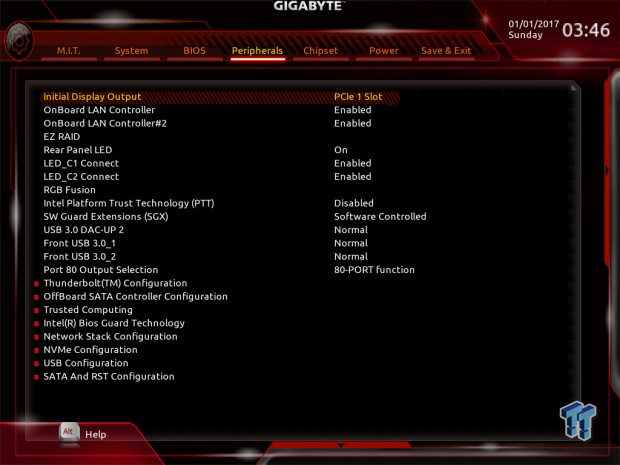 The Z270X-Gaming 9 uses the same UEFI BIOS that the Z270X-Gaming 7 uses, it's much like that of the refreshed Z170 and X99 motherboard from GIGABYTE. It offers GUI fan control options as well as basic RGB LED control.
I found an option named Port 80 Output Selection, which can be used to change the function and display of the Port 80h (POST Code) display. You have the ability to choose between normal POST Codes, CPU temperature, System Temperature, and VCore. You can turn the POST code into a digital multimeter. If you are not that experienced with the advanced mode of the UEFI, you do have the option to use a beginners mode with a fancy GUI.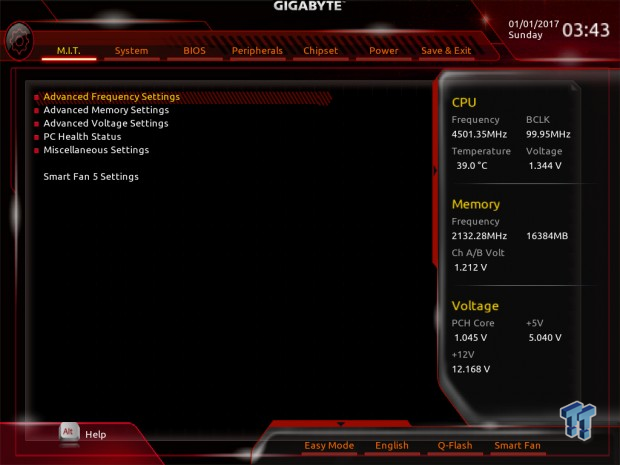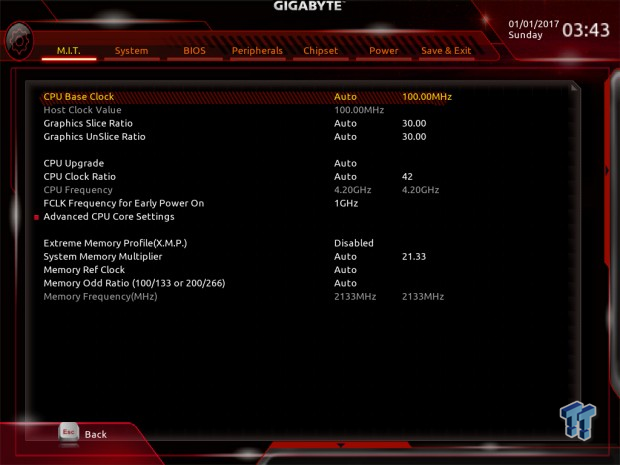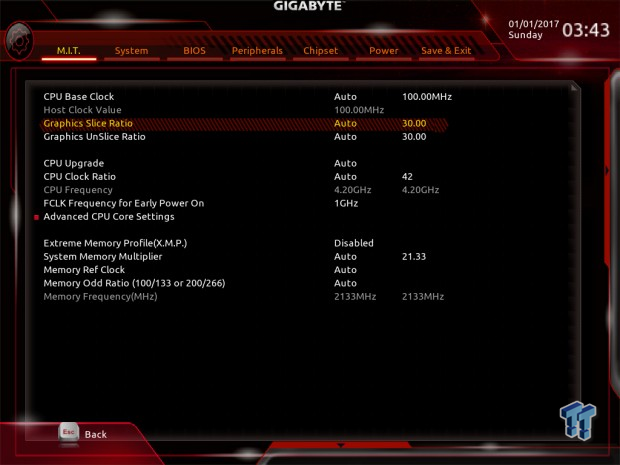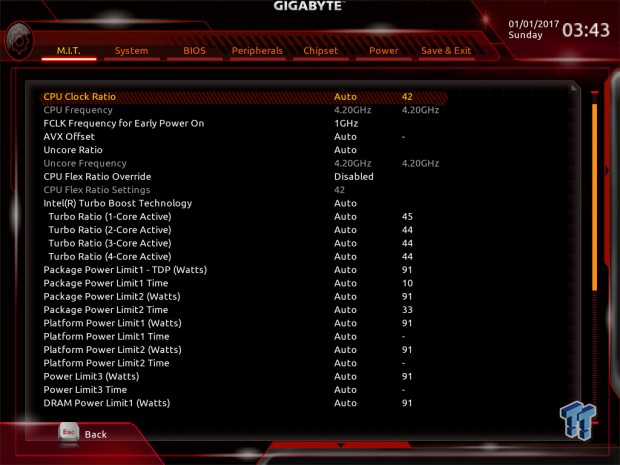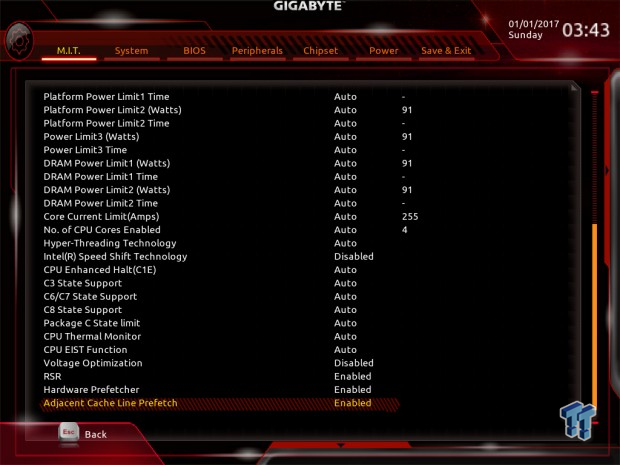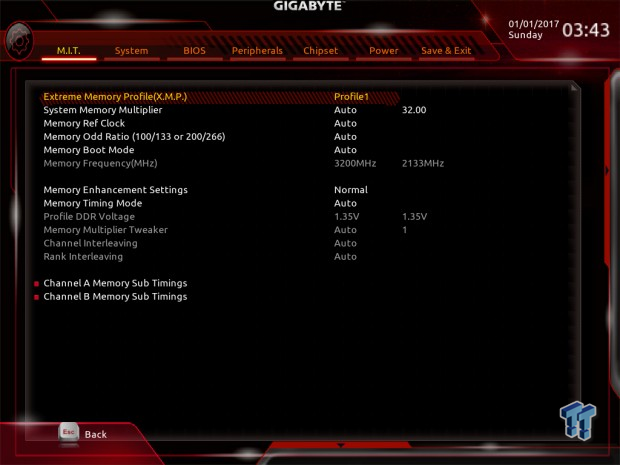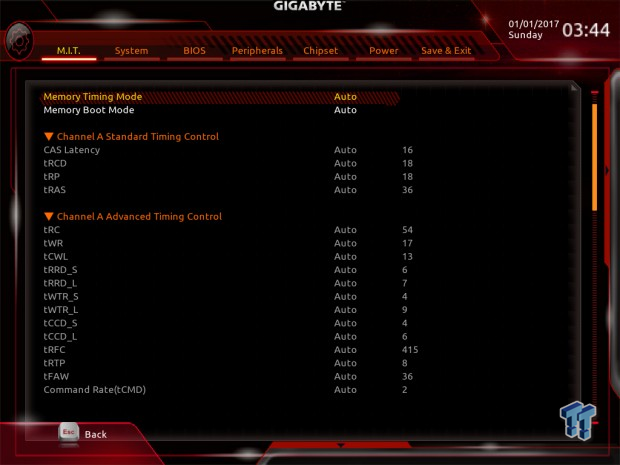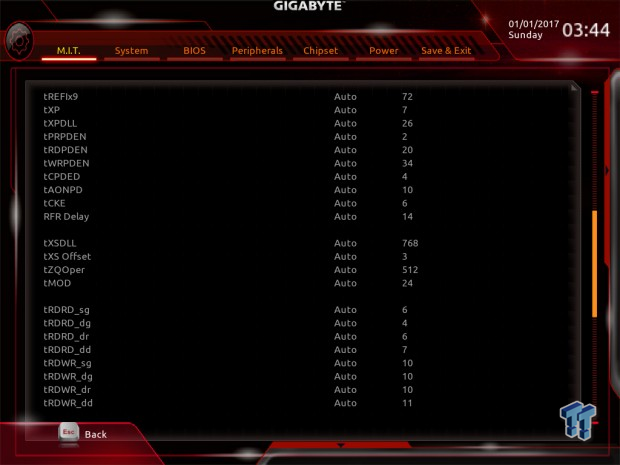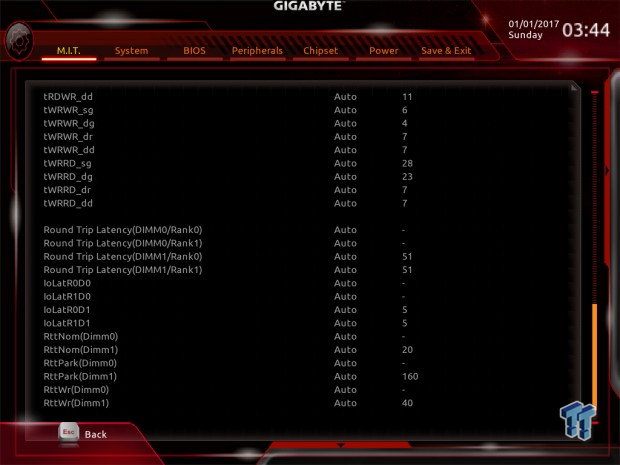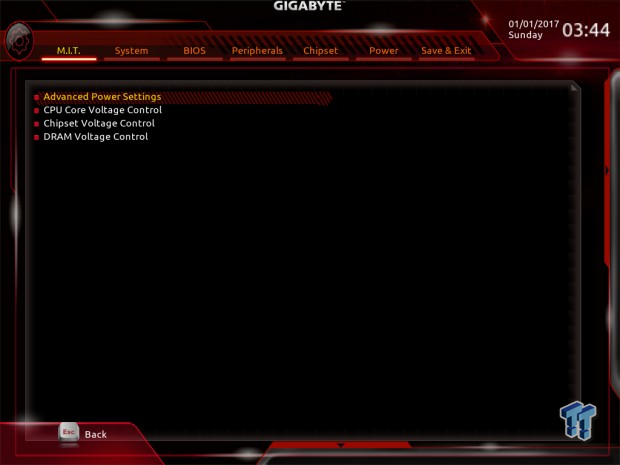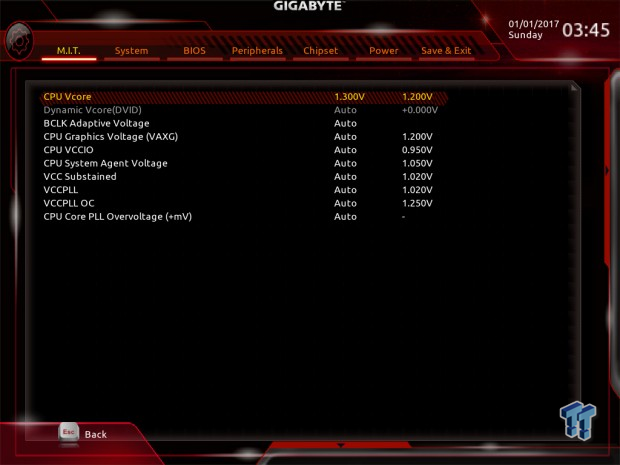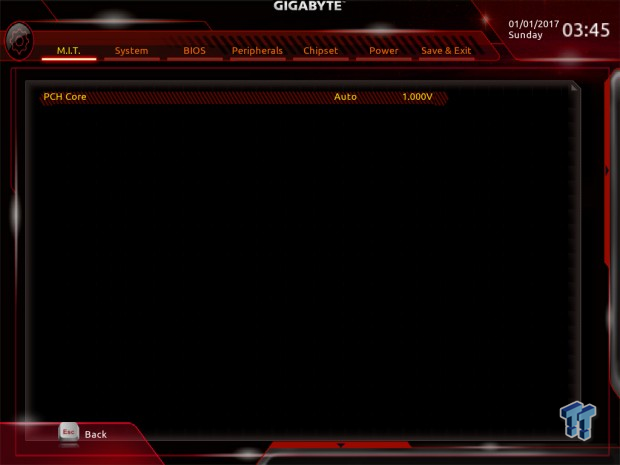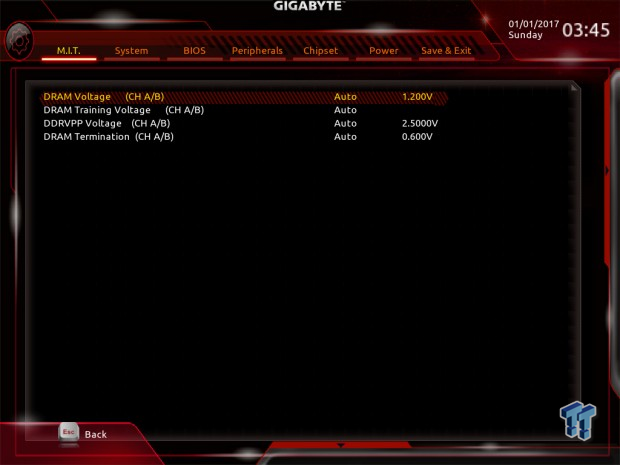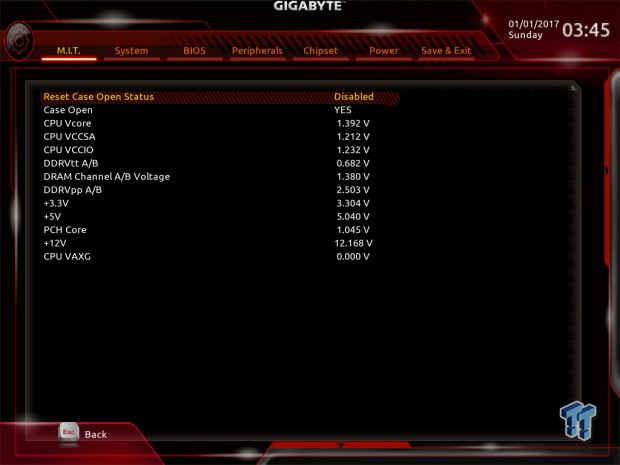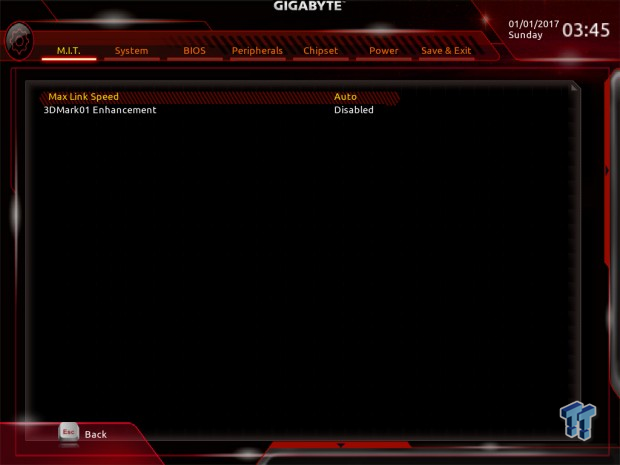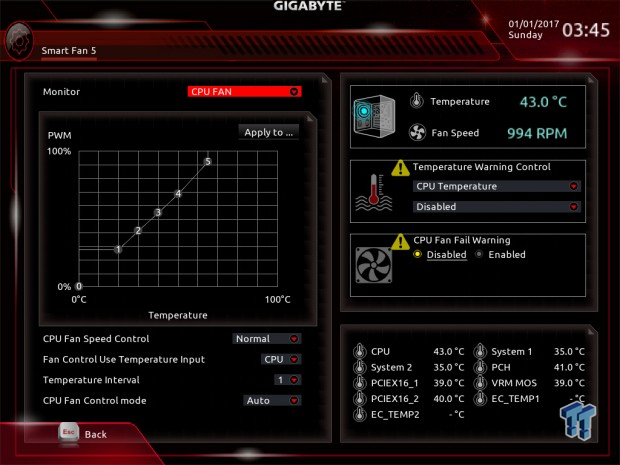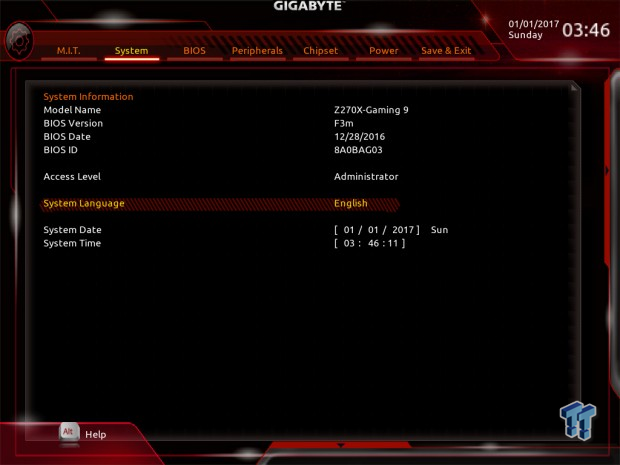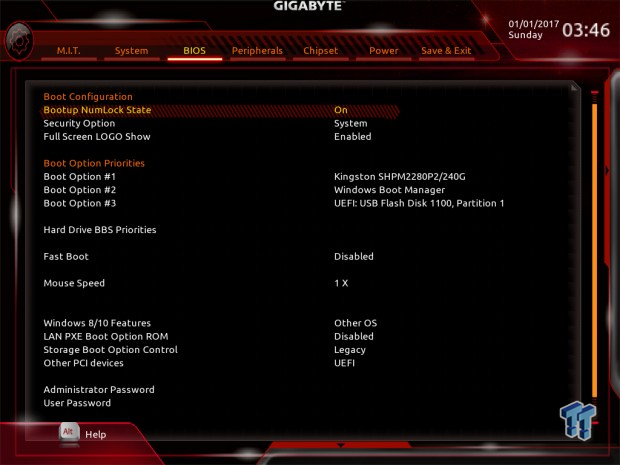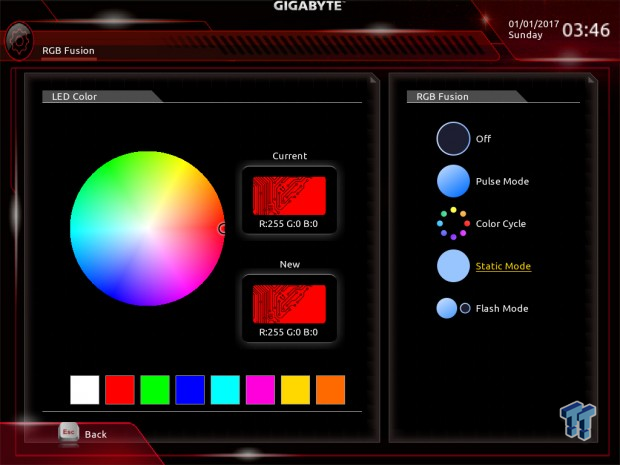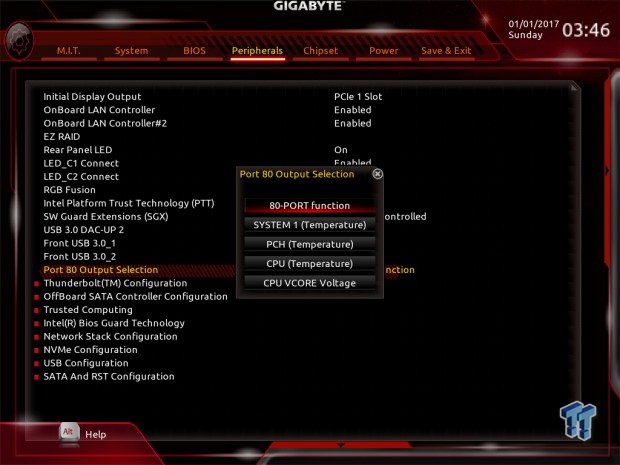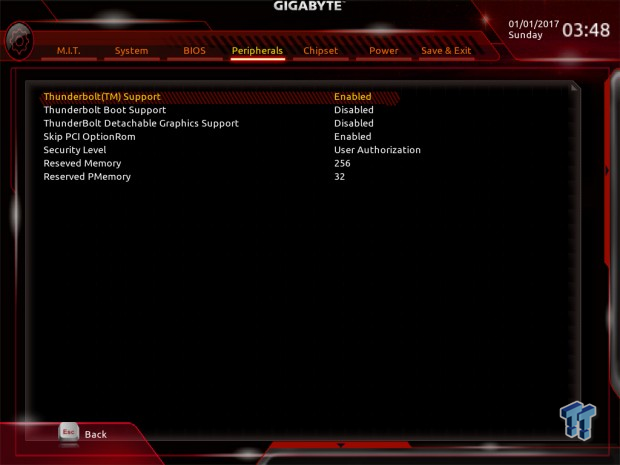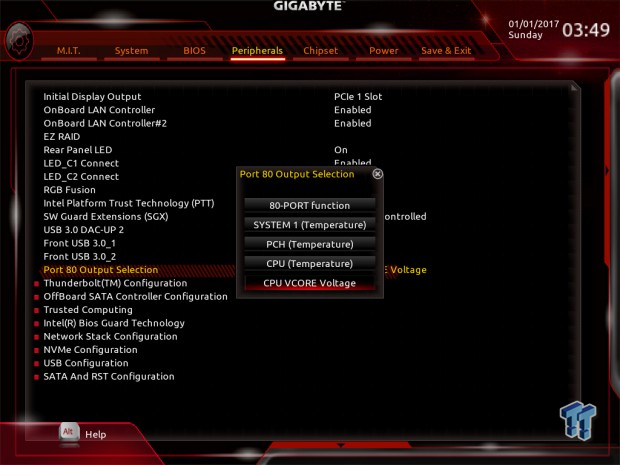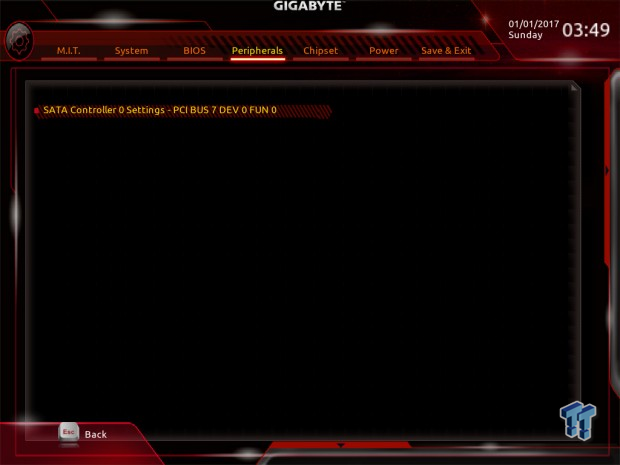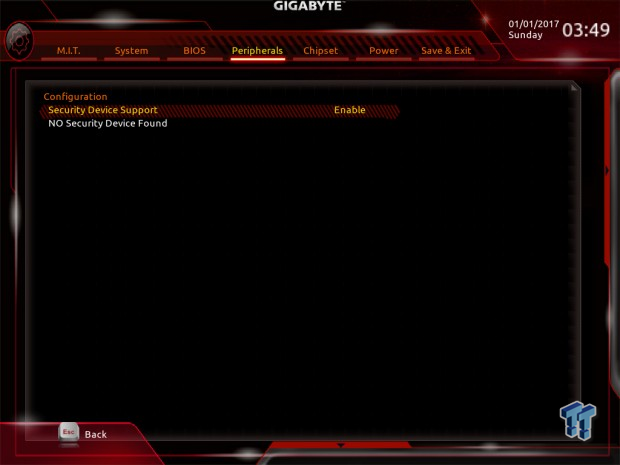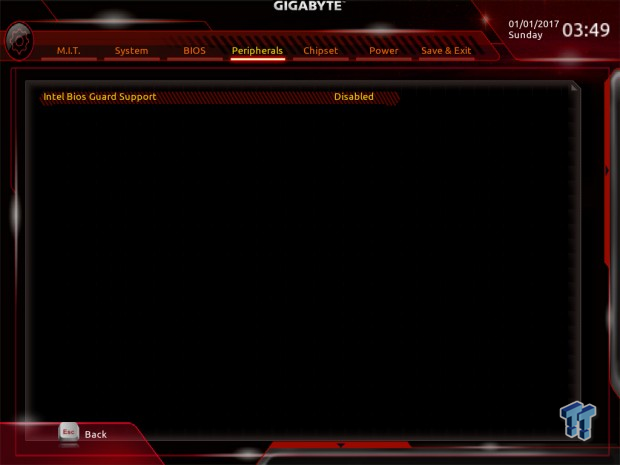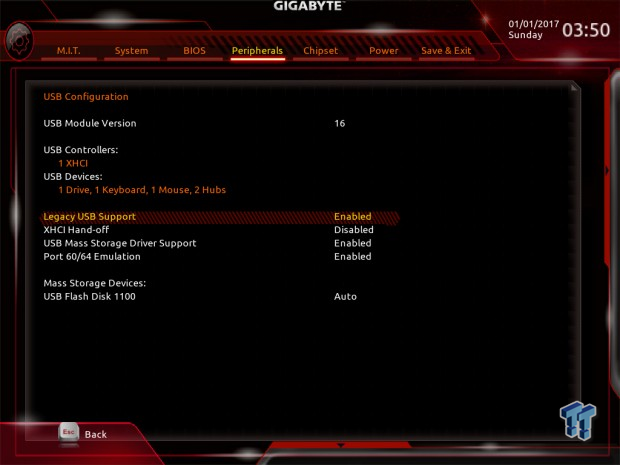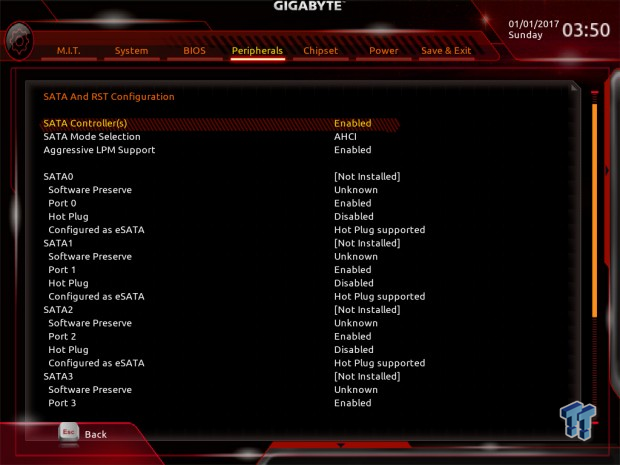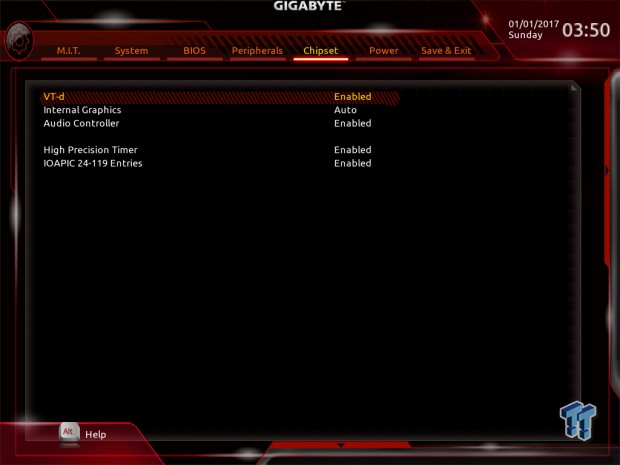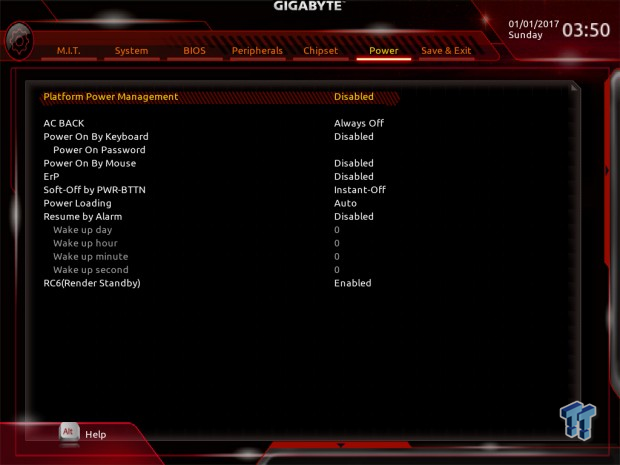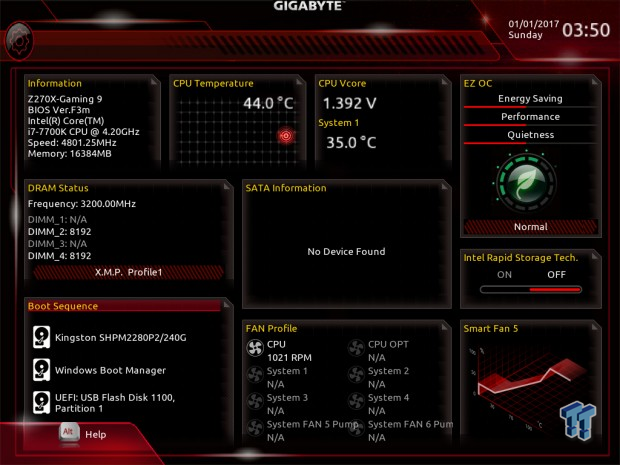 Software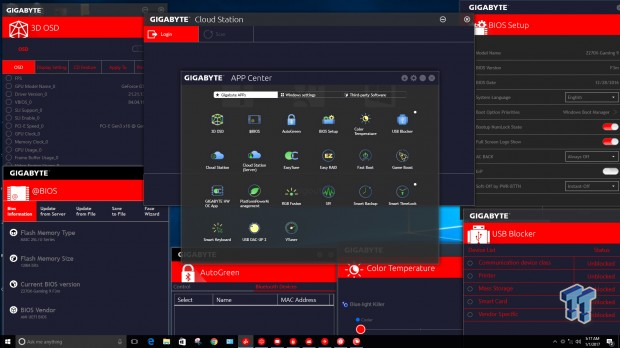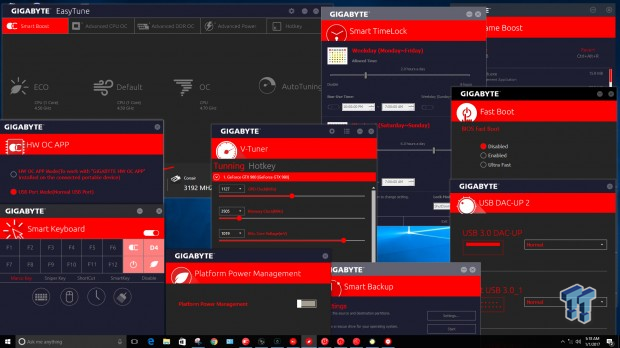 GIGABYTE's APP Center is where most of GIGABYTE's software is located. Software applications include 3D OSD, @BIOS, AutoGreen, BIOS Setup, Color Temperature, USB Blocker, Cloud Station, EasyTune, Easy RAID, Fast Boot, Game Boost, GBT HW OC App, PlatformPowerManagment, RGB Fusion, SIV, Smart Backup, Smart TimeLock, Smart Keyboard, USB DAC-UP 2, VTuner.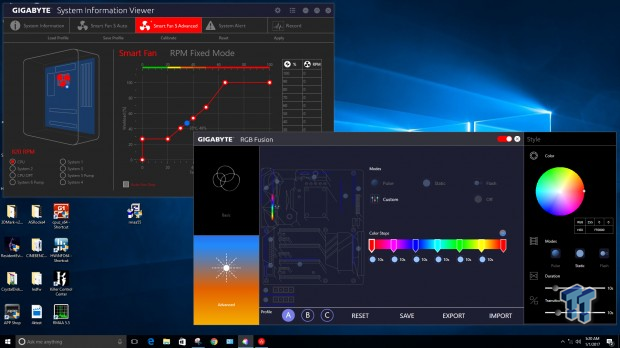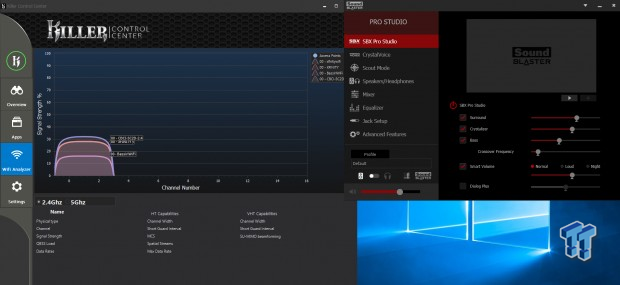 Creative's Sound Blaster Pro Studio is included, but it's a little more in-depth than the Pro Studio on the Z270X-Gaming 7. Killer's Control Center is also present, and it's where you can enable Killer Double Shot X3 Pro.
Test System Setup
Steven's Motherboard Test System Specifications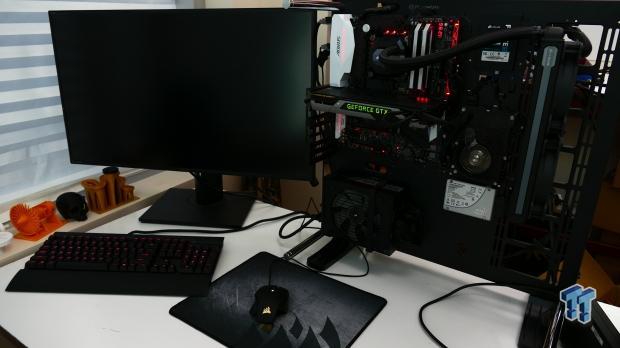 The Z270X-Gaming 9 has about the same number of RGB LEDs as the Z270X-Gaming 7, but it offers more control over the RGB LEDs.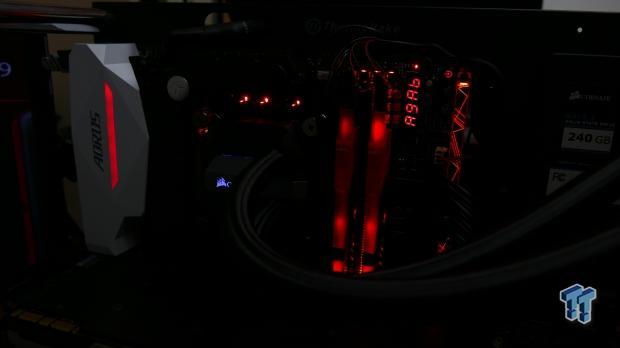 I really like the plastic strip on the right side of the motherboard; I just wish the 24-pin power connector didn't block it.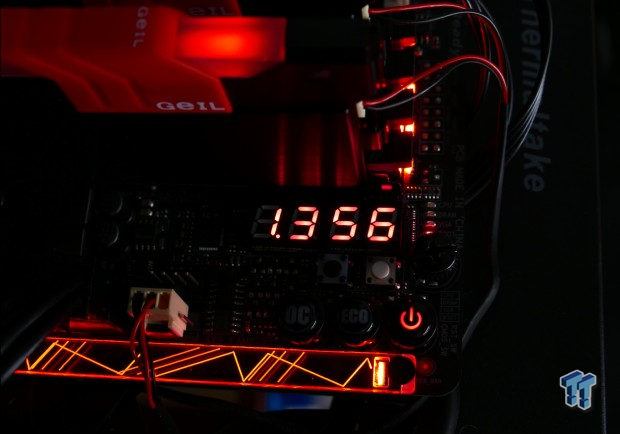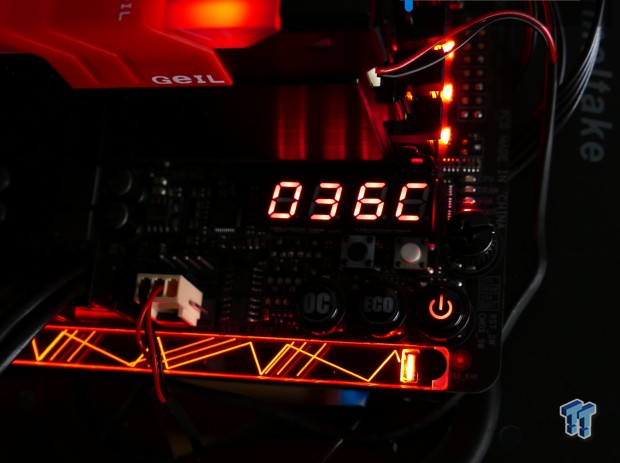 I also wanted to show how the POST Code display could be used to show temperature and voltage; it's a nifty little feature that takes advantage of the four digit display. Otherwise, I wouldn't know what to think of it if it couldn't show voltage or interactive stats. Hopefully, they will add frequency in the future.
Overclocking
Overclocking Results
CPU Overclocking
I have decided to reduce the CPU VCore to 1.25v applied with XMP and set 4.8GHz for the 7700K, since I ended up degrading my 6700K when using a borderline voltage across dozens of motherboards, and I want to use the same CPU for all reviews.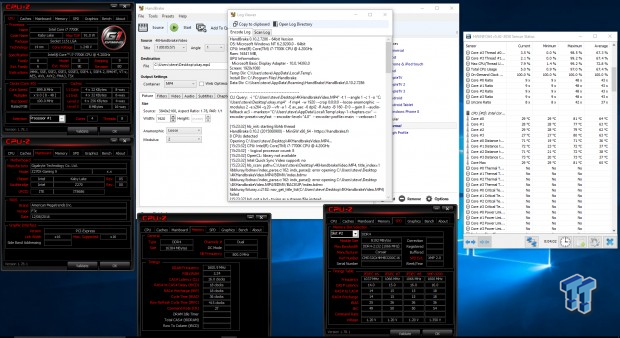 The CPU was stable at 4.8Ghz with 1.25v; an overclock I believe most 7700K CPUs are capable of achieving.
Compatible Memory Overclocking Kits
In this section, I overclock four memory kits only using XMP, if the kit works then the results are below. I welcome memory vendors to send in their kits to be tested on each motherboard.
Corsair Dominator Platinum 3200MHz C16 8GBx2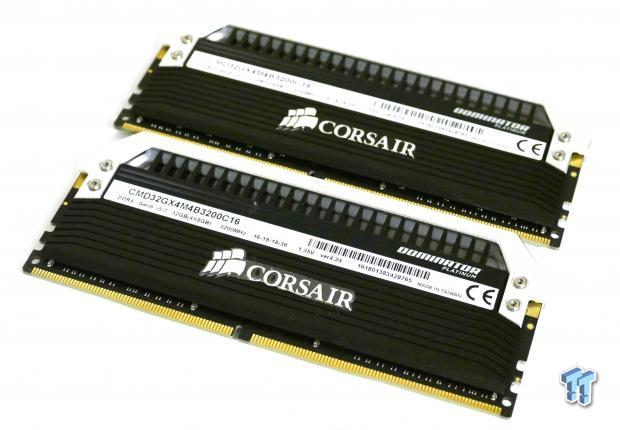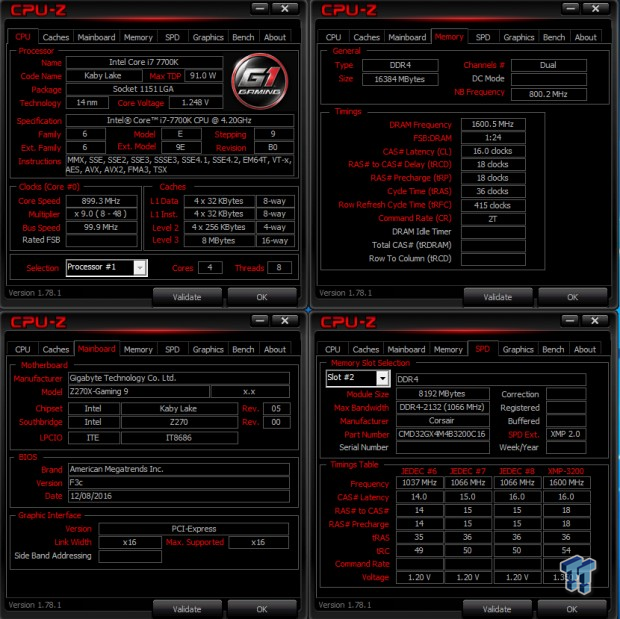 G.Skill TridentZ 3866MHz C18 8GBx2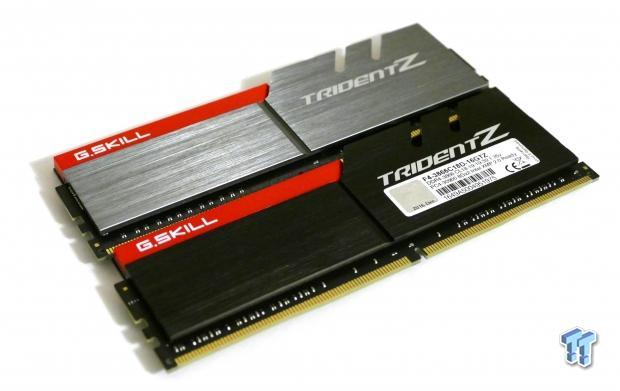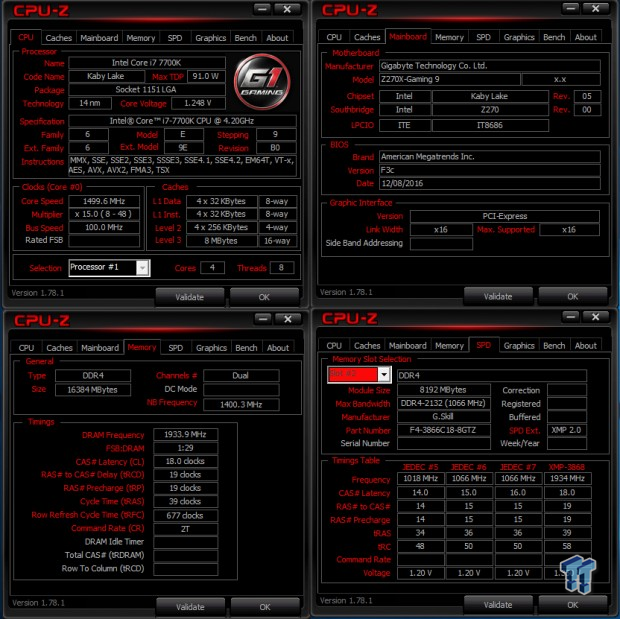 GEIL EVO X RGB 3200MHz C16 8GBx2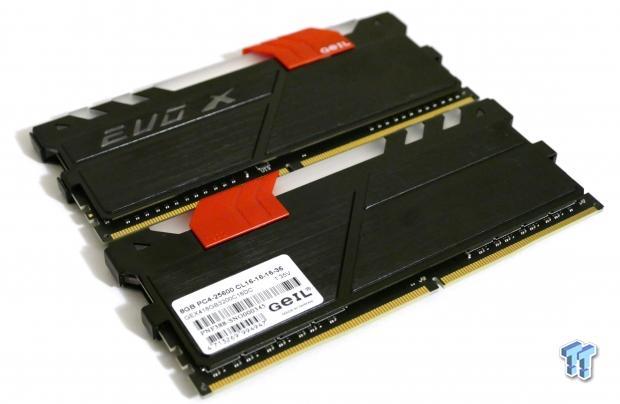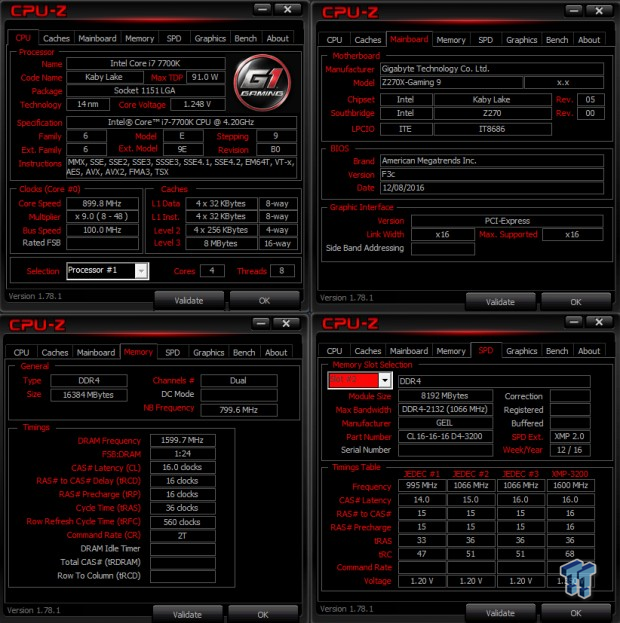 GEIL EVO FORZA 3200MHz C16 8GBx2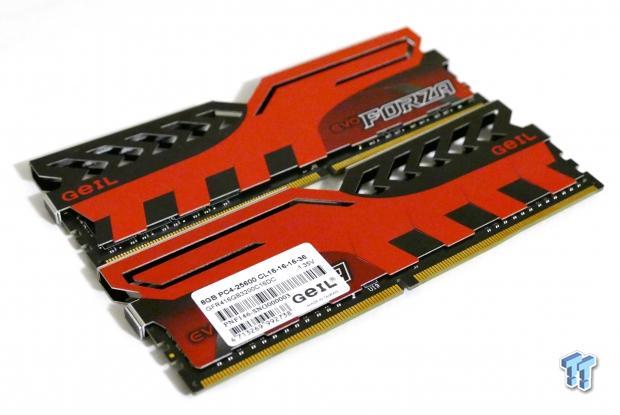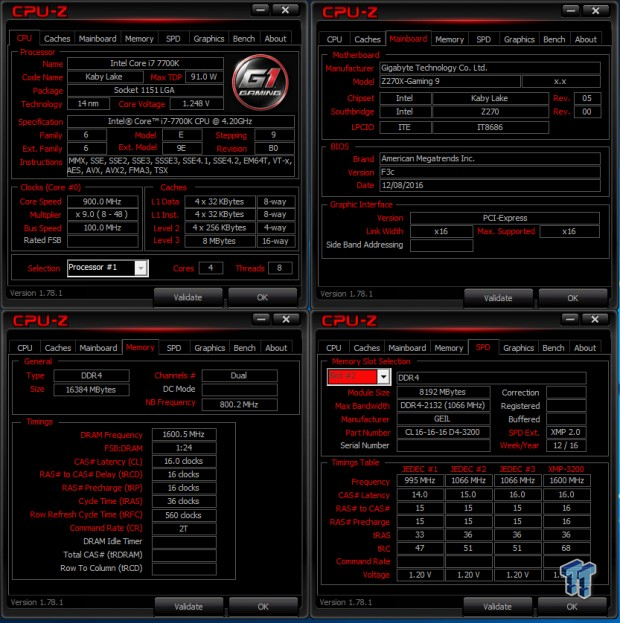 The Z270X-Gaming 9 overclocks memory very easily, and I am told that it is one of AORUS's better memory overclocking motherboards, a claim I will investigate in another article.
CPU, Memory, and System Benchmarks
CINEBENCH 11.5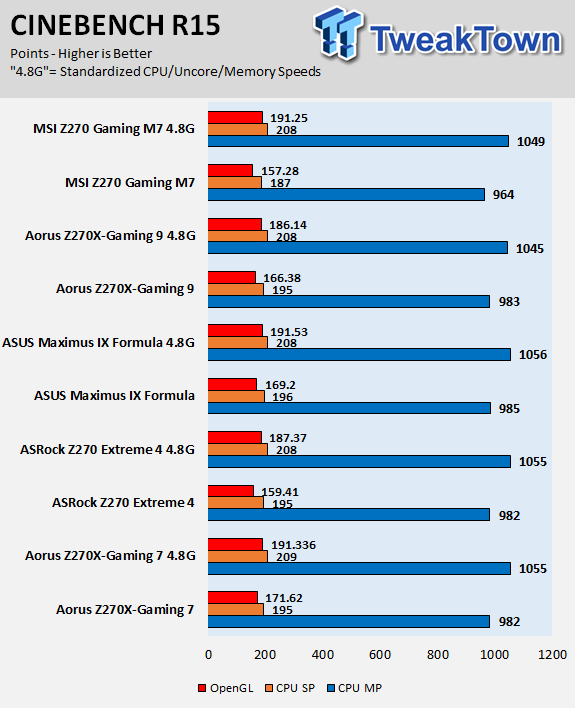 wPrime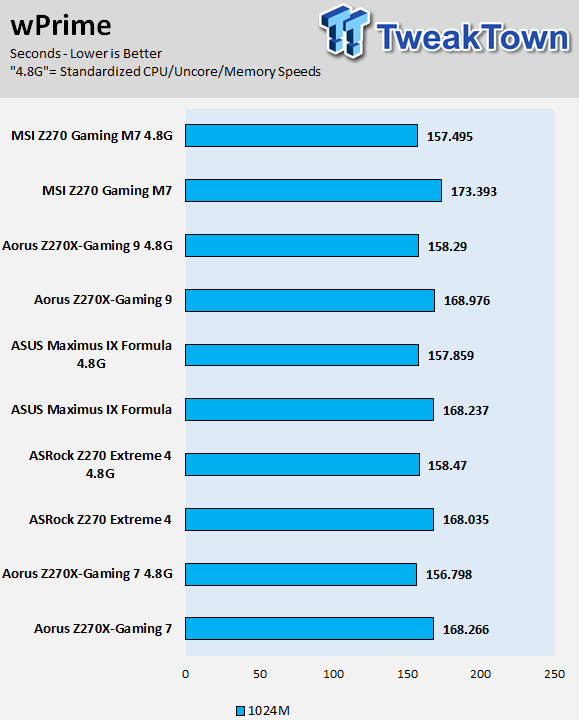 AIDA64 AES and HASH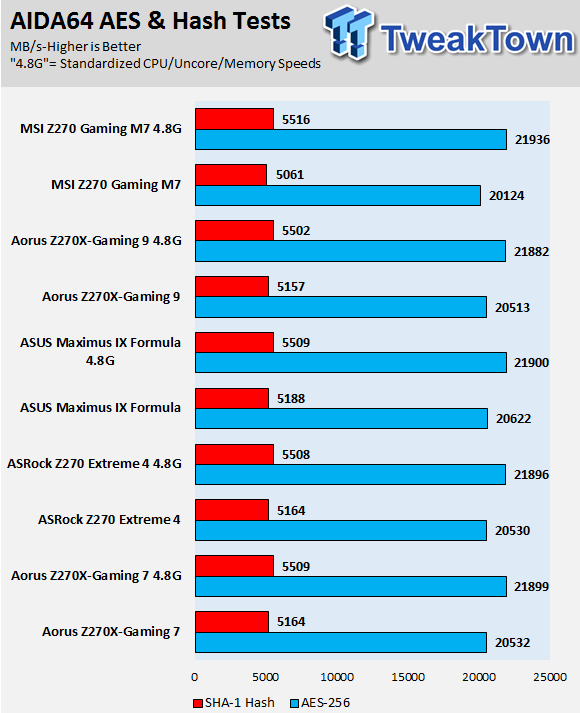 AIDA64 FPU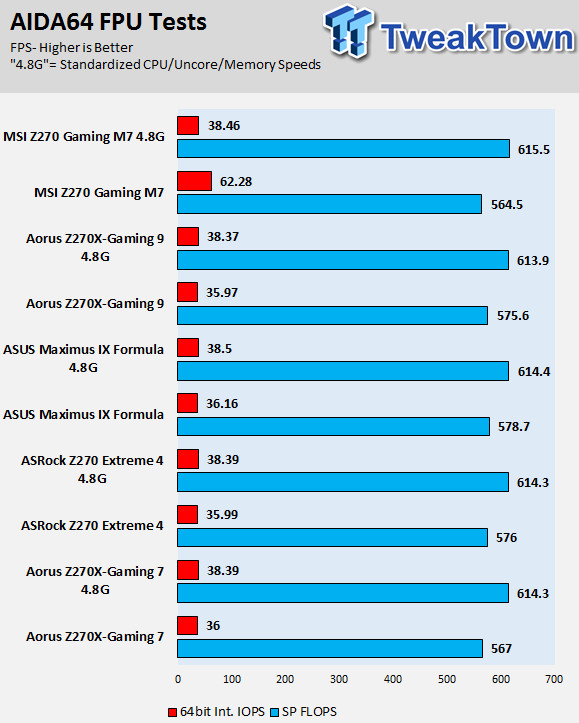 AIDA64 Memory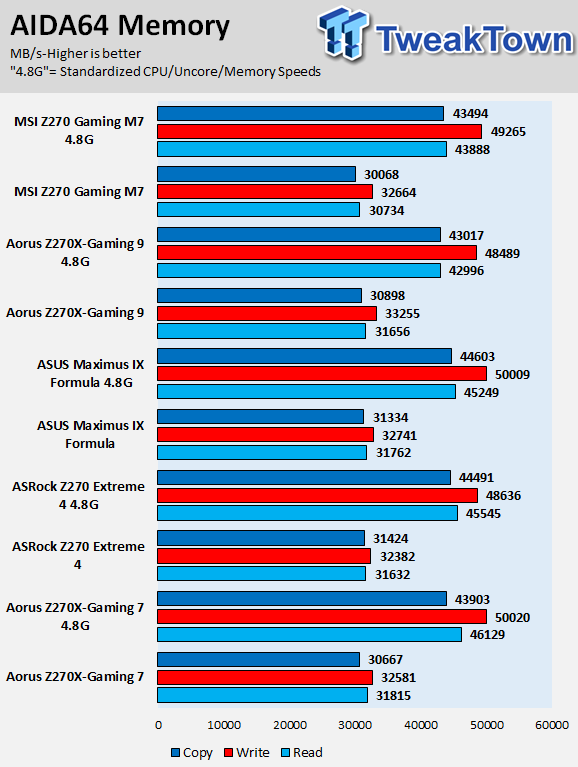 ScienceMark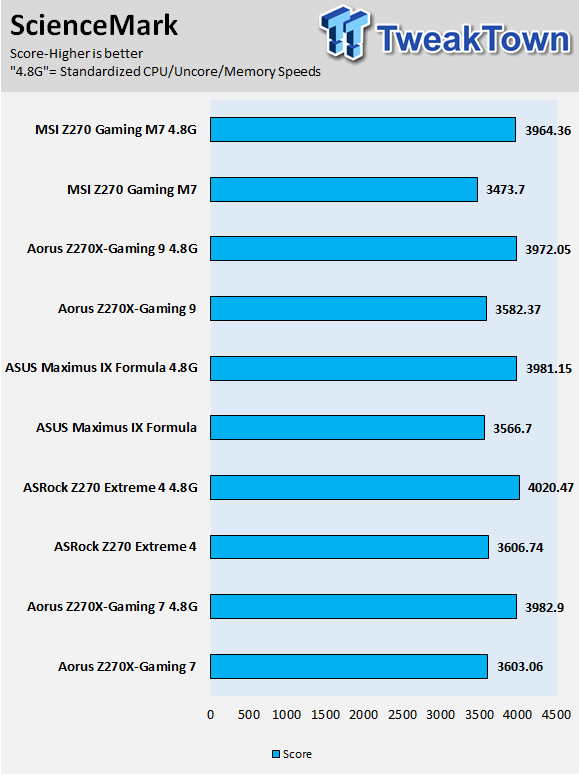 HandBrake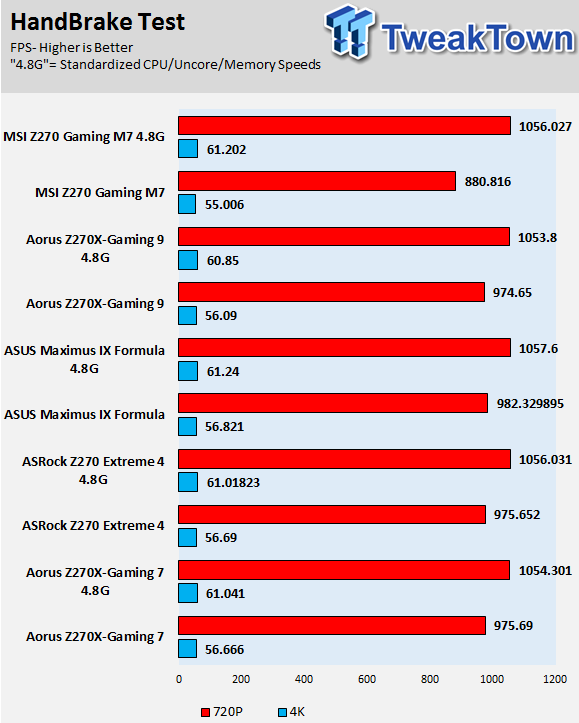 3DMark: Fire Strike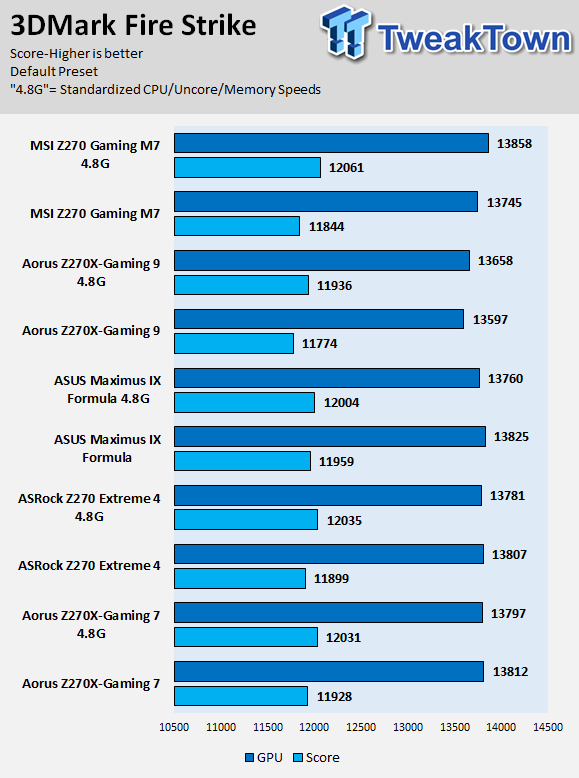 3DMark: Cloud Gate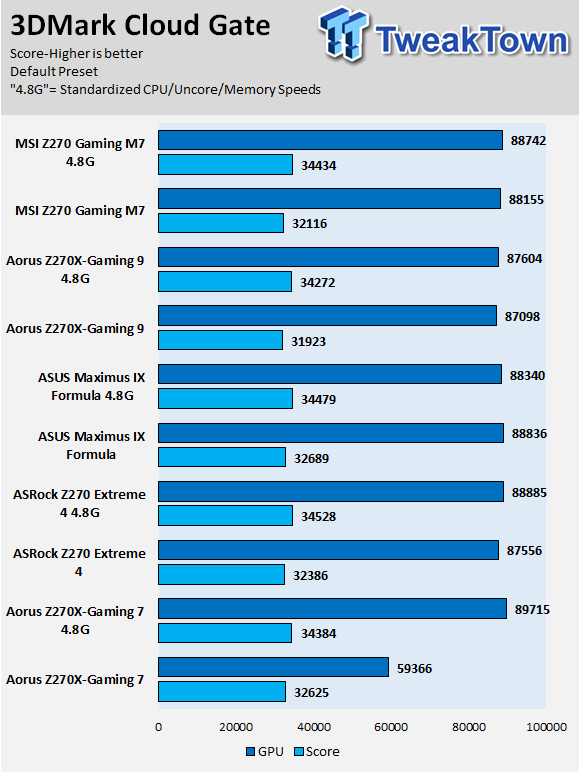 ResidentEvil 6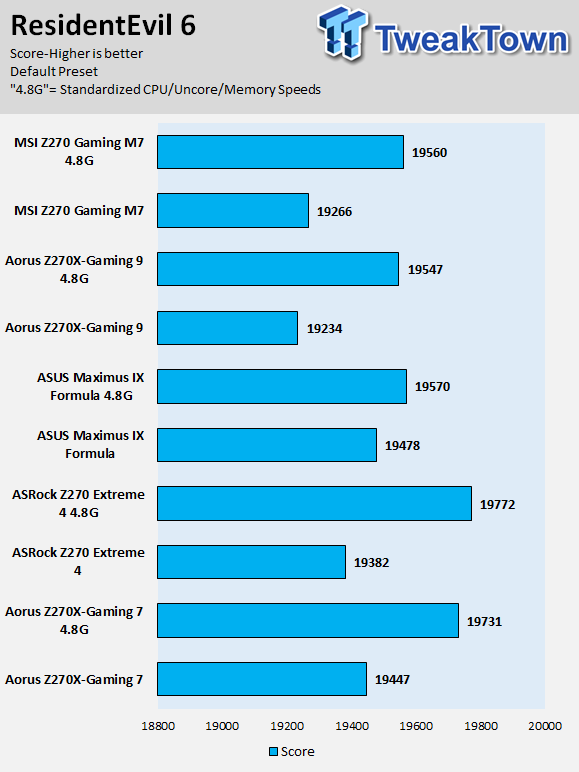 AORUS's Z270X-Gaming 9 uses multi-core enhancement by default, and its scores are similar to the other motherboards in the charts. When we equalize scores, we see minor performance differences, something to be expected at launch and when most motherboards are using the same microcode and driver versions.
Some motherboard reviews put a lot of weight into motherboard CPU, memory, and GPU benchmarks, but for me, CPU, memory, and GPU benchmarks on motherboards should be more about finding anomalies, and I do that at standard settings (4.8G in graphs).
System IO Benchmarks
CrystalDiskMark SATA6G: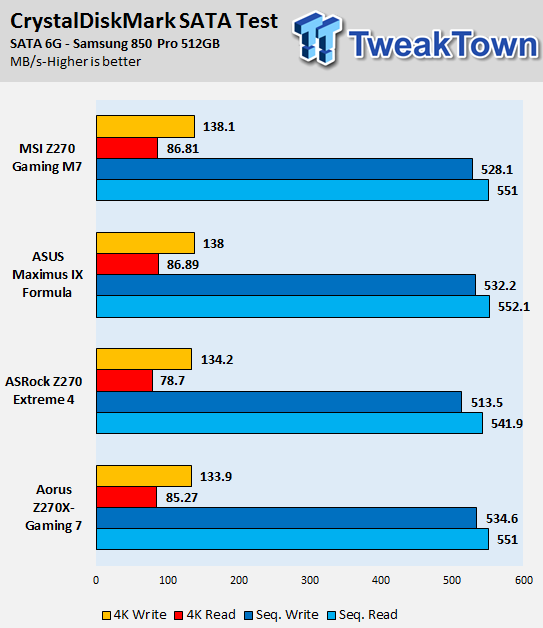 CrystalDiskMark M.2: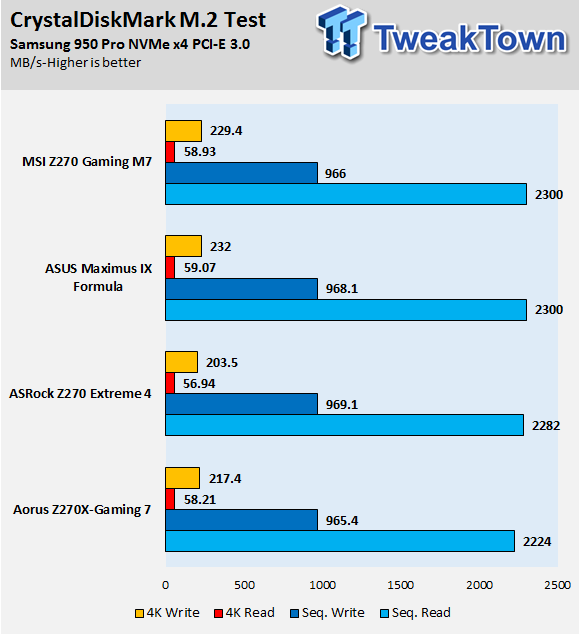 CrystalDiskMark U.2: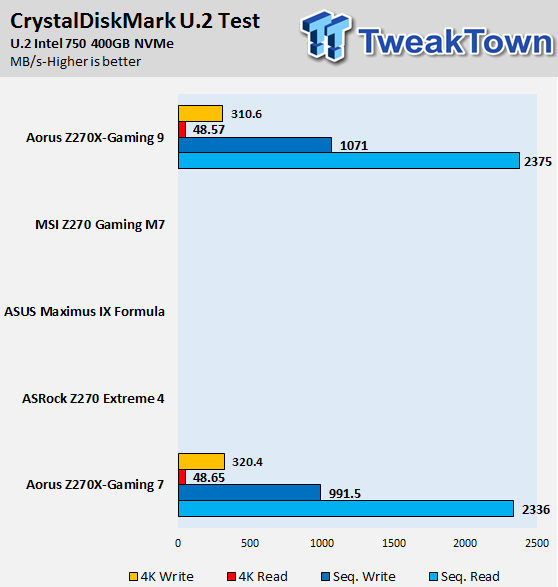 ixChariot Network Throughput: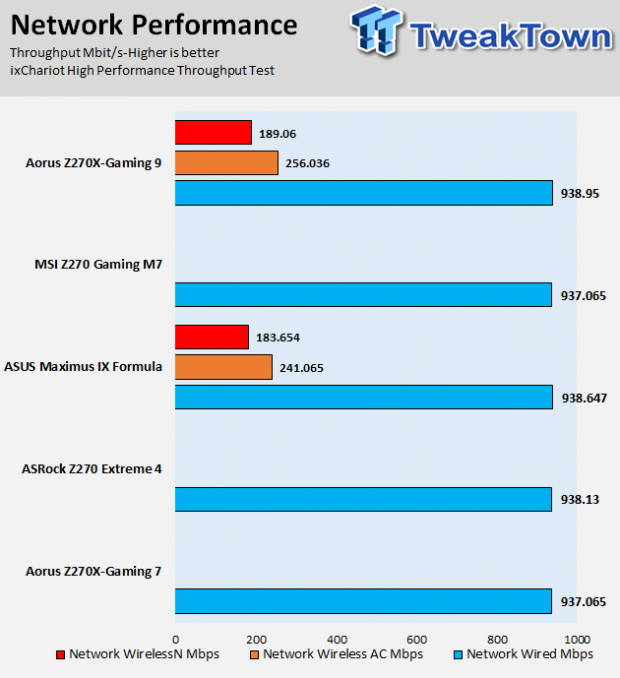 The Z270X-Gaming 9 has very strong IO performance. I was surprised to see that the Z270X-Gaming 9's U.2 sequential scores were higher than that of the Z270X-Gaming 7's.
Network performance is excellent as well, which isn't a surprise since I have seen the Killer Wireless AC 1535 in action before.
Audio RMAA 5.5:
I disable all audio features, set the correct bitrates, and then test the audio with a loopback test.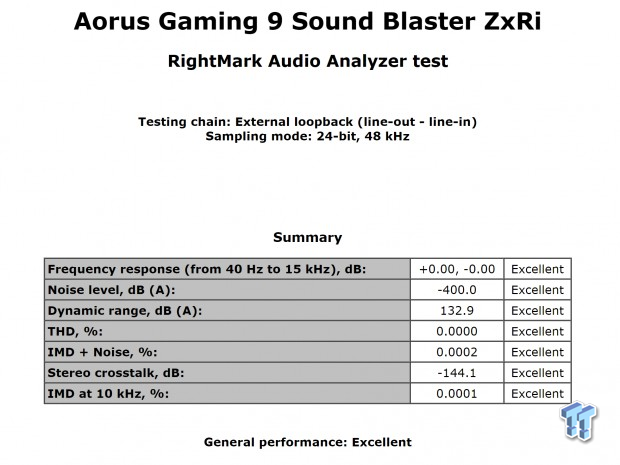 Sound Judgment by Ear: Excellent. The results are a bit bugged, as we have seen from previous Creative chipsets, but the audio itself was excellent, and I actually thought it sounded a tiny bit better at higher volume levels than the AORUS Z270X-Gaming 7. There are five ratings for audio: 1. Problems, 2. Okay, 3. Acceptable, 4. Very good, 5. Excellent
Thermal Imaging and Power Consumption
System power is measured at the wall with an AC power meter.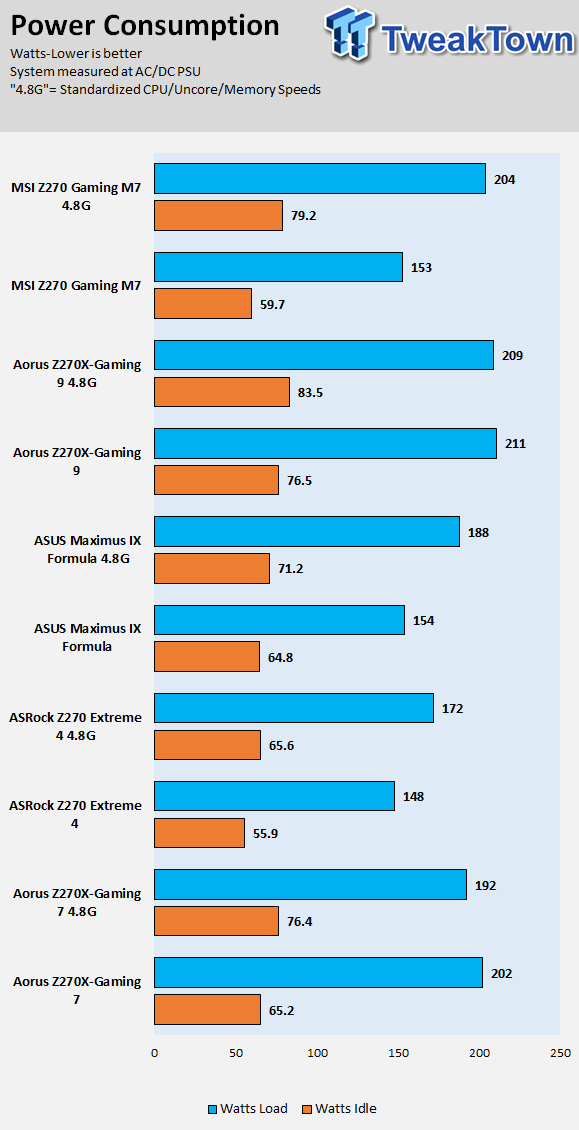 Note on Thermal Images: In the temperature section, we use our Seek thermal imaging camera to capture the surface temperatures of major components on the board. I look at the VRM and then all other things that light up the screen. If there is something to worry about, then I will state it. Otherwise, I will just show the hotter running parts of the board for fun. Unless some component is over 80-90C, then there isn't anything to worry about.
All systems will act differently, so I will look for commonalities, such as how far from the VRM the heat spreads through the PCB and the difference in temperature between the front side and backside of the PCB. Keep in mind, the majority of the heat from the VRM goes into the PCB as it is a giant soldered on copper heat sink. A larger difference in temperature between the back and front of the PCB points towards a more effective heat sink.
Thermal Testing at Stock Speeds:
The image on the left is always at idle, and the image on the right is at load. During ALL TESTS, fans above the VRM that cool the CPU cooler's (Corsair H110i GT) radiator are turned on to high (12v).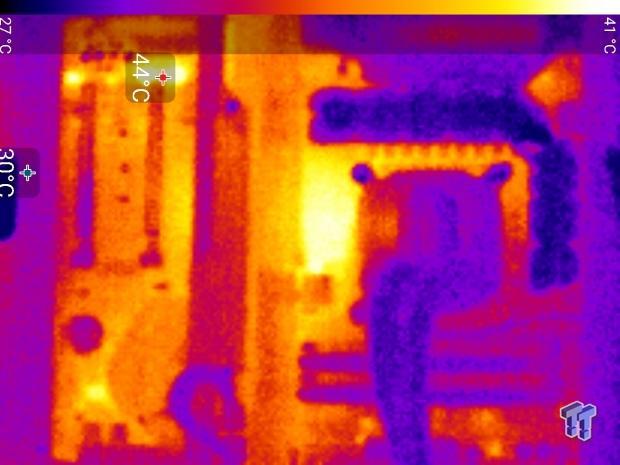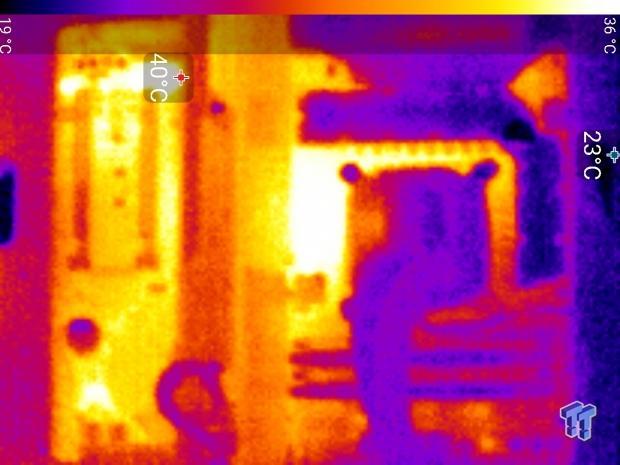 Full frontal.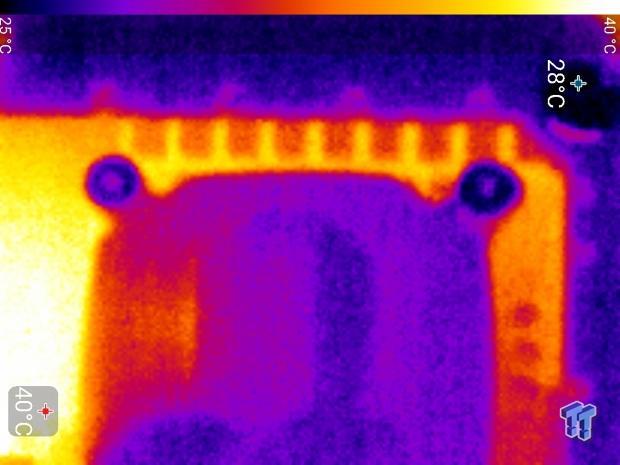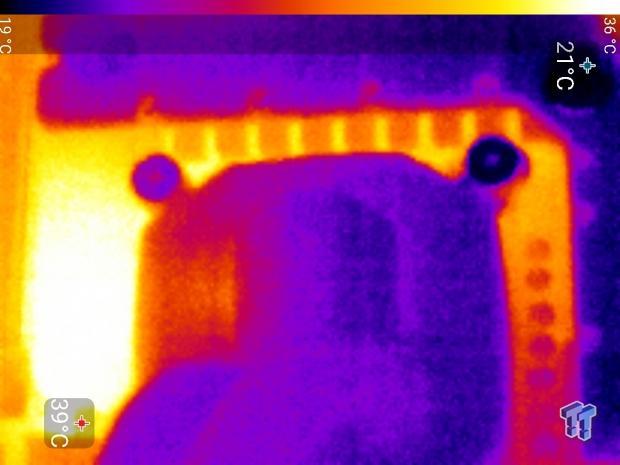 Up-close of the front of the VRM.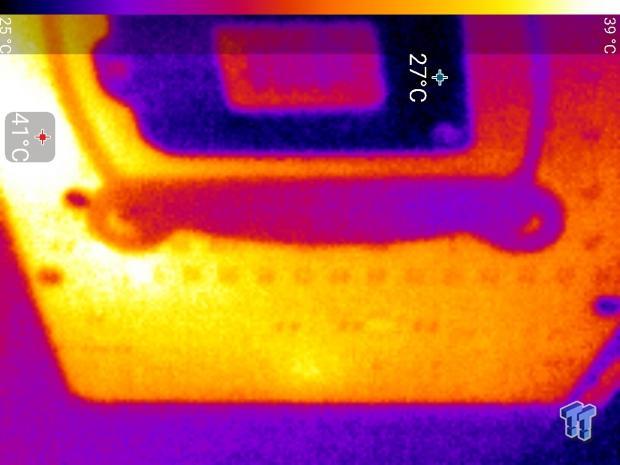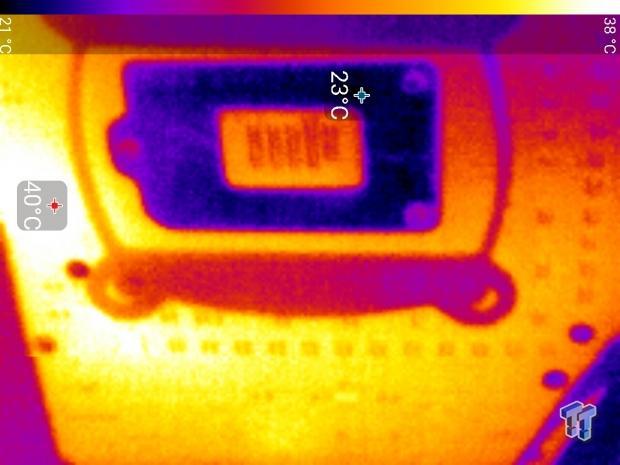 Up-close of the back of the VRM.
Thermal Testing at 4.5GHz Overclocked Speeds:
The image on the left is always at idle, and the image on the right is at load. During ALL TESTS, fans above the VRM that cool the CPU cooler's (Corsair H110i GT) radiator are turned on to high (12v).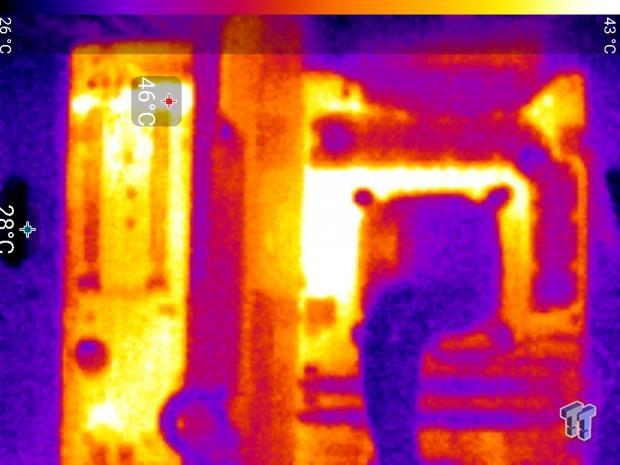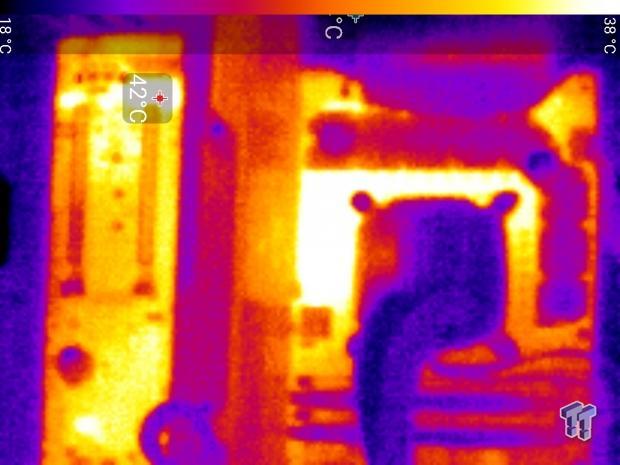 Full frontal.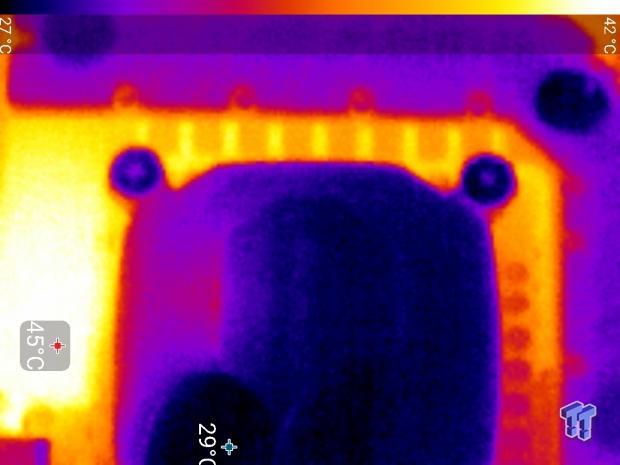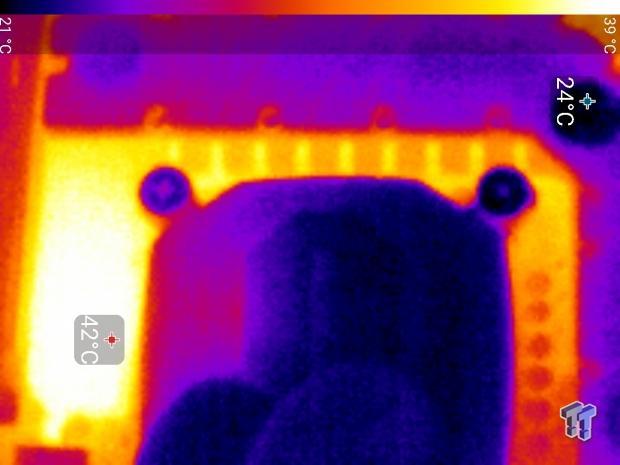 Up-close of the front of the VRM.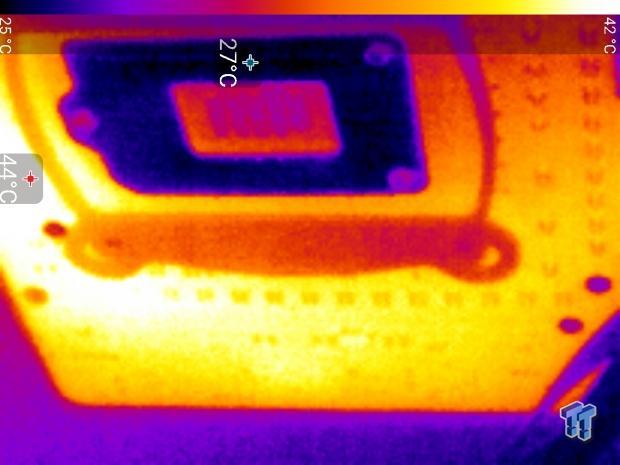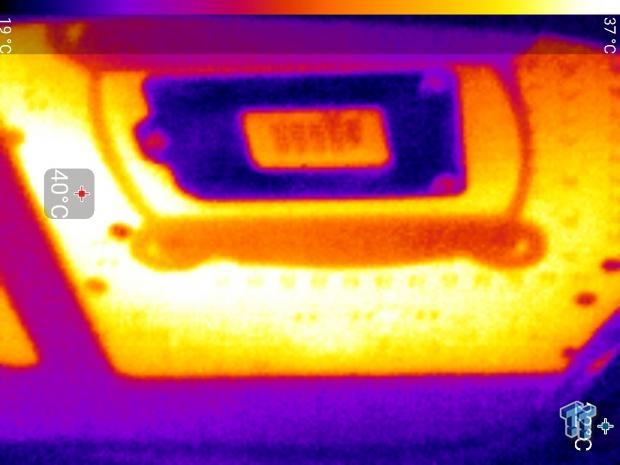 Up-close of the back of the VRM.
The VRM on the Z270X-Gaming 9 uses a PEX8747, which in turn turns the knob up when it comes to heat distribution. In all tests, the PEX8747 runs hotter than the VRM, and since the VRM uses very high-quality power stages, it can handle the extra heat load and produce a solid and reliable performance.
Before the latest BIOS update, the auto VCore on the Z270X-Gaming 9 was very aggressive, but that issue has since been fixed, and the motherboard's voltage are now in line with the Z270X-Gaming 7.
Anything under 60C is great, 60-80C is acceptable, and anything above 80C is a bit worrisome (if at stock).
What's Hot, What's Not & Final Thoughts
Here are key points about the AORUS Z270X-Gaming 9.
What's Hot
PEX8747: There is no other way to get x32 PCI-E 3.0 lanes for 3-way SLI, 4-way SLI, or 4-way CrossFireX without the PEX8747. Even if you just want to run two GPUs at x16/x16, or add in other peripherals, the Z270X-Gaming 9 offers many options.
Creative Certified ZxRi 120dB+: With the 127dB BurrBrown DAC and use of other high-end audio components, the AORUS Z270X-Gaming 9 was able to get certified for 120+ dB by Creative, which is why this board has ZxRi written on it while the Z270X-Gaming 7 doesn't. The audio solution on this board is equivalent to a decent sound card.
EK Water Block: With all the heat the PEX8747 produces, it's nice to see the AORUS Z270X-Gaming 9 use a decent water block from one of the most revered water block companies.
Dual M.2 and U.2: While one of the U.2 and M.2 ports share bandwidth, you can still run any three of the four interface connections simultaneously with 32Gbps of bandwidth each.
Four Digital Post Code and OC Features: I like the inclusion of the OC features, but I also really like the addition of the four digital POST Code display. Up until launch, well right before a BIOS released before launch, I didn't understand why AORUS would use a 4-digit POST code. The answer was made clear when I saw that the motherboard had the ability to not only display different temperatures on display but also VCore, making it an onboard digital multimeter since it will display VCore even when the CPU is booting.
ThunderBolt 3: The most equipped type-C port out there is ThunderBolt 3 since it's the fastest and backward compatible with DisplayPort and USB 3.1. AORUS's use of Intel's ThunderBolt 3 controller ensures your type-C port will support many of the new devices hitting the market.
AORUS Features: Eight fan headers with DC/PWM auto sense, 2A support, multiple temperature input headers, and decent UEFI fan GUI produces a lot of value for users who don't want to buy an external fan controller. DAC-UP 2 with its additional USB power options offers flexibility and troubleshooting options for a newer generation of VR devices. The Z270X-Gaming 9 also has more RGB LED controllers to support RGBW and different operation modes for the built-in RGB LEDs, even more so than the Z270X-Gaming 7.
What's Not
Super Expensive: At the $500 mark, the AORUS Z270X-Gaming 9 is one of the most expensive Z270 motherboards on the market, and it will make a dent in your bank account.
VRM and PCI-E area LEDs: The LEDs around the VRM area and below the PCI-E slots shine straight out, and I think the designers figured that with the slots filled and a large heat sink, the light from these LEDs would be diffused and that would create a glow. I talked to AORUS, and they said they would add a feature to disable these LEDs independently of the others in the future. If it bothers you now, you can still disable all LEDs.
Final Thoughts
The Z270X-Gaming 9 is the most loaded motherboard I have seen from GIGABYTE/AORUS regarding features and quality. GIGABYTE/AORUS's decisions to replaced the no-name water block on their previous boards with one from EK, use Intel's USB 3.1/ThunderBolt 3 controller, go for Creative ZxRi certification for their audio, and implement so many secondary and tertiary features with quality in mind shows their commitment to the enthusiast who might want to spend as much as it takes to get the features they want.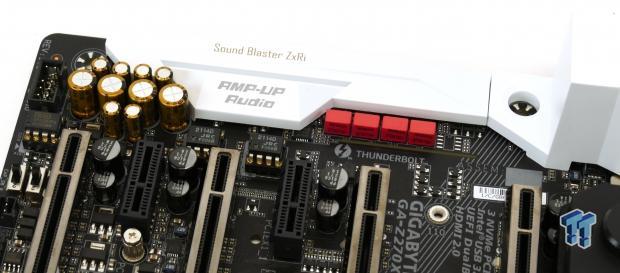 The AORUS Z270X-Gaming 9 is a worthy successor to the GIGABYTE Z170X-Gaming G1 WIFI, and while it's perhaps not at the legendary level of the old X58A-UD9, it does deserve recognition for bringing together the features need for a truly premium gaming motherboard from AORUS/GIGABYTE.
If your system's motherboard budget is huge, you have decided on water cooling the VRM/PEX8747, and you want the premium features the Z270X-Gaming 9 offers, then it might be the perfect match for you.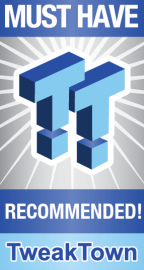 | | |
| --- | --- |
| Performance (including Overclocking) | 95% |
| Quality including Design and Build | 95% |
| General Features | 93% |
| Bundle and Packaging | 95% |
| Value for Money | 88% |
The Bottom Line: Loaded with the latest and greatest features, including top of the line audio, networking, overclocking, and component quality, the Z270X-Gaming 9 might dent your bank account, but it could be worth it.
PRICING: You can find products similar to this one for sale below.

United States: Find other tech and computer products like this over at Amazon.com

United Kingdom: Find other tech and computer products like this over at Amazon.co.uk

Australia: Find other tech and computer products like this over at Amazon.com.au

Canada: Find other tech and computer products like this over at Amazon.ca

Deutschland: Finde andere Technik- und Computerprodukte wie dieses auf Amazon.de
We openly invite the companies who provide us with review samples / who are mentioned or discussed to express their opinion. If any company representative wishes to respond, we will publish the response here. Please contact us if you wish to respond.