Supermicro SuperO C7Z170-M (Intel Z170) Motherboard Review
Supermicro's SuperO C7Z170-M Micro-ATX motherboard may not be packed with features, but it's a quality and solid product, given its asking price.
Published Jul 6, 2016 8:18 AM CDT
|
Updated Tue, Nov 3 2020 6:58 PM CST
11 minute read time
TweakTown's Rating: 92%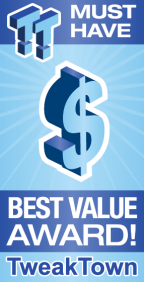 The Bottom Line
Supermicro's SuperO C7Z170-M is a solid motherboard with server-grade components and design, providing high value at a reasonable price.
Introduction, Specifications, and Pricing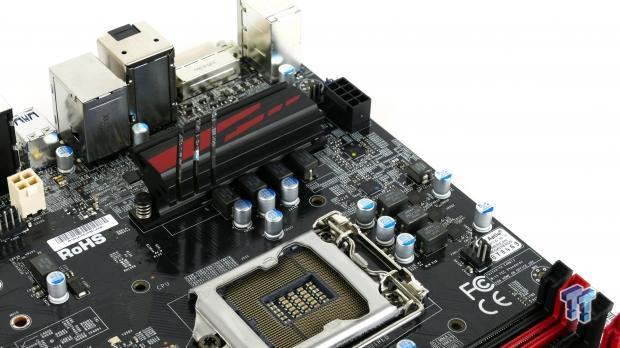 In recent years, Supermicro has made a play to break into the enthusiast market, to offer higher-end motherboards with a strong focus on gaming and even overclocking. I have reviewed a few of their previous Z170 offerings, and they have made great strides over the past few generations to provide more consumer friendly motherboards. The C7Z170-M is designed to meet the needs of gamers who want a small, yet powerful, system. While the mATX market isn't the most popular form factor, it's always good for consumers to have many options.
The C7Z170-M is part of the SuperO series of gaming motherboards from Supermicro. The SuperO brand was established to differentiate Supermicro's gaming products from their typical enterprise products. However, the differentiation between products doesn't mean there is a total isolation of design between the two product lines; the SuperO series of motherboards carry enterprise grade parts and design. In fact, that is one of the main selling points of boards such as the C7Z170-M, they use server-grade design and component selection merged with features better suited for consumers. Follow me as I take a look at the C7Z170-M.
Specifications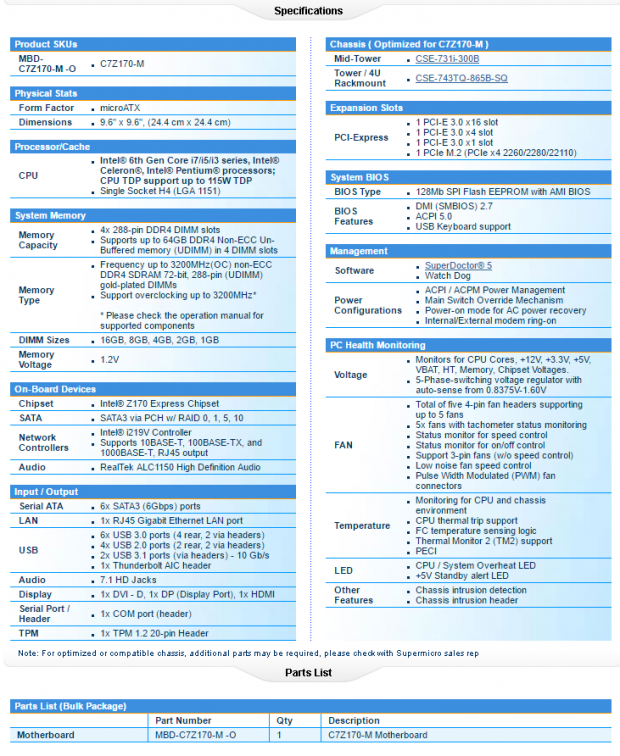 The Supermicro C7Z170-M has many of the latest Z170 chipset features such as 4x PCI-E 3.0 M.2 and a wide variety of USB 3.0 and SATA6Gb/s ports. The board does have USB 3.1 but through an internal header rather than a rear Type-C or Type-A port. Supermicro is using the Intel i219v Gbit Ethernet controller and the ALC1150 audio codec.
Pricing
The C7Z170-M is available from many large retailers for roughly $162.
Packaging and C7Z170-M Overview
Packaging and Overview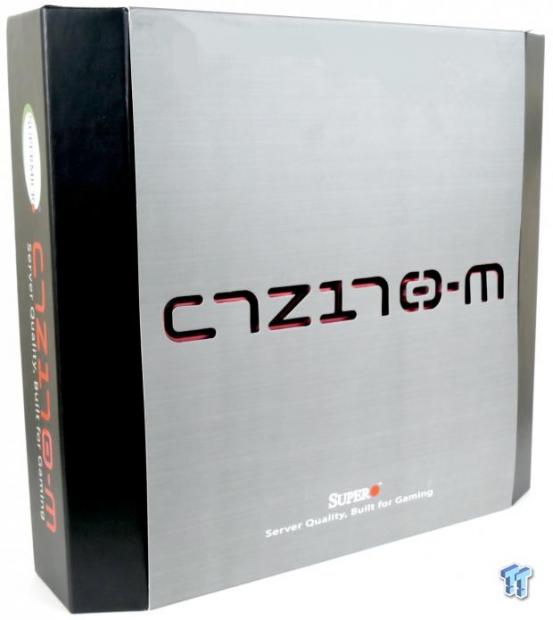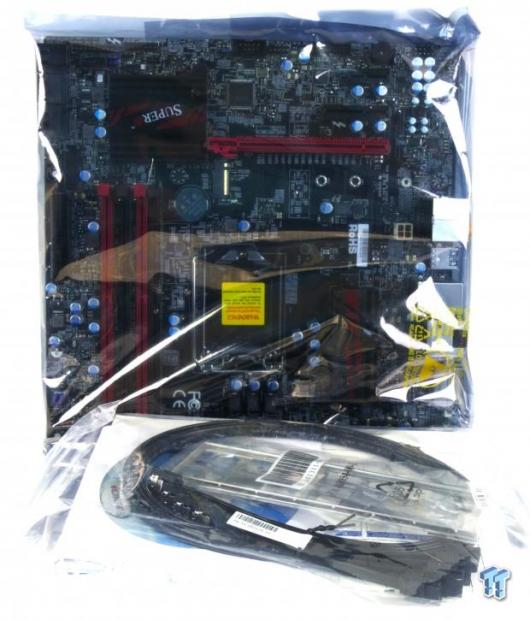 The C7Z170-M's box is very similar to that of the C7Z170-OCE. The slanted edges and overall aesthetic of the box and packaging are very high quality, different than what I am used to from Supermicro.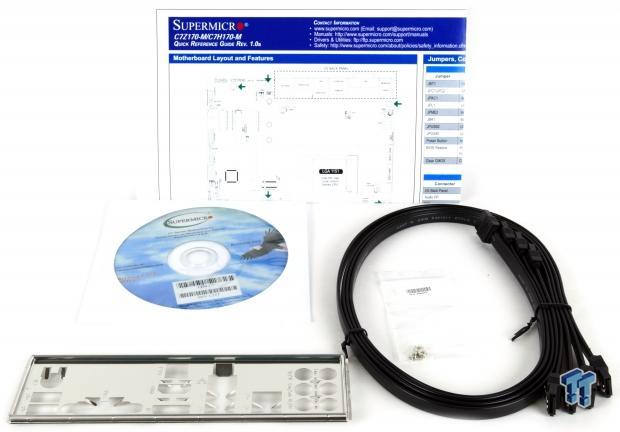 Accessories include 4x SATA6Gb/s cables, IO shield, M.2 screws, driver DVD, and quick reference guide.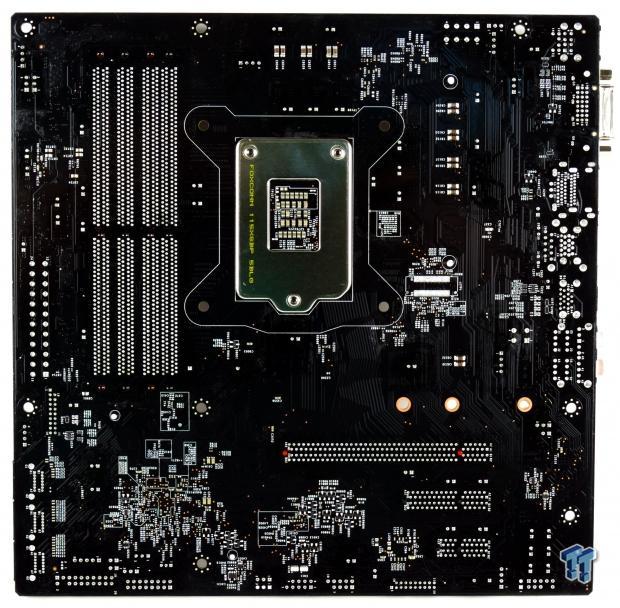 The Supermicro C7Z170-M has five fan headers; all of them are 4-pin PWM headers with 2.5A output each. These headers will power 3-pin fans, but speed control is only available on 4-pin PWM mode fans. The motherboard's red and black aesthetics are not only consistent, but they actually look good. Supermicro had a brush with fame a few months back when their H170 motherboard was the first to unlock non-K overclocking, and the C7Z170-M motherboard is a C7H170-M motherboard with a Z-series chipset. The back of the motherboard is bare of most components.

The IO panel on the C7Z170-M carries four USB 3.0 ports, two USB 2.0 ports, PS/2 keyboard /mouse port, DVI, HDMI, DisplayPort, S/PDIF, 1Gbit Ethernet port, and 7.1 audio output.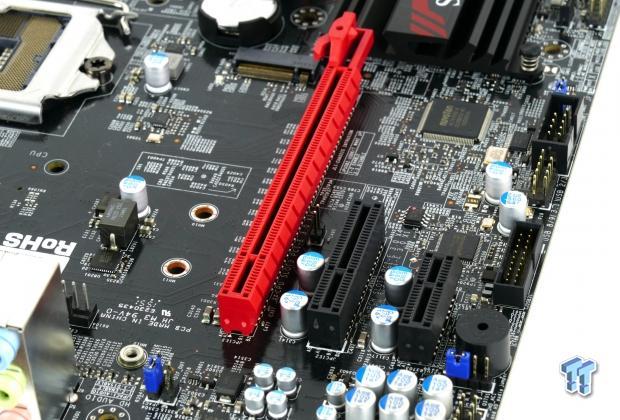 The PCI-E layout is pretty straightforward. The first PCI-E 16x slot is directly routed to the CPU, the PCI-E 4x slot is routed to the PCH, and the PCI-E 1x slot is routed to the PCH. The board does have a built-in speaker, and right near the speaker is a USB 3.1 internal header.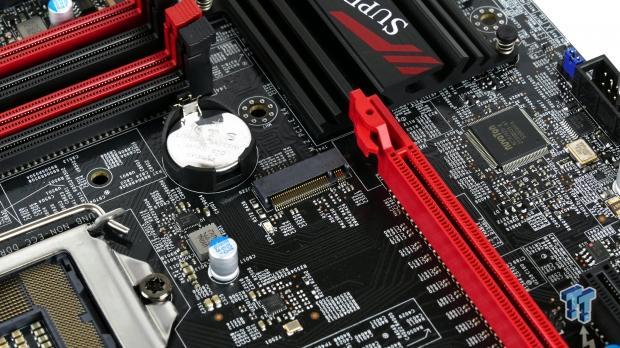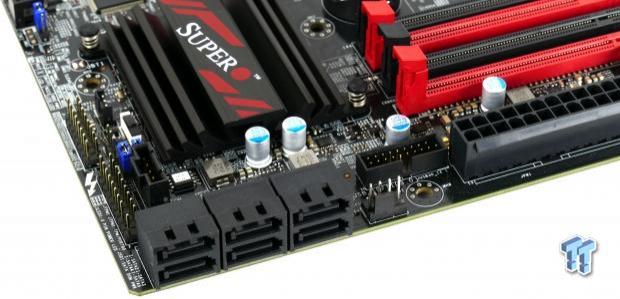 The C7Z170-M has a single M.2 slot located above the top PCI-E 16x slot. The CMOS battery is located near it for easy removal if you need to clear the CMOS. There is a USB 3.0 header located right below the 24-pin power connector for front panel USB 3.0. There are six SATA6Gb/s ports situated right below the USB 3.0 header.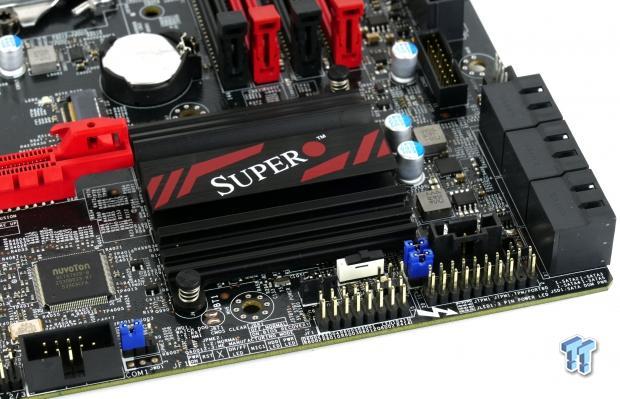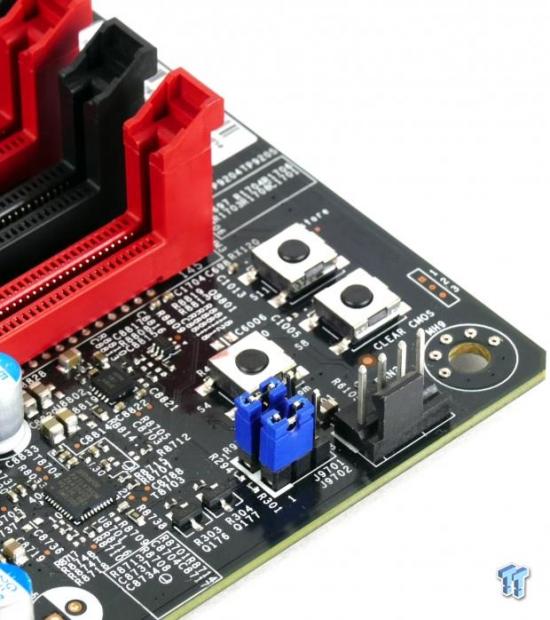 Supermicro has many jumpers all around the motherboard used to disable controllers and/or features. The front panel headers are located below the SATA ports. There is a BIOS recovery switch located below the PCH heat sink. The motherboard also has power, clear CMOS, and BIOS recovery buttons in the upper right-hand corner of the motherboard.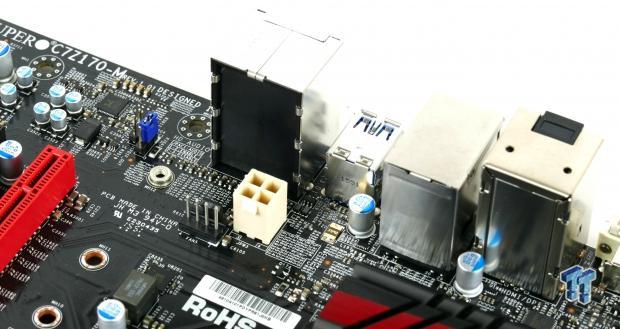 There is a 4-pin power header located below the CPU area, and this is a peripheral power connector.

The motherboard heat sinks make great contact with the PCH, and they are held down by plastic push pins.
SUPERMICRO C7Z170-M Circuit Analysis
Circuit Analysis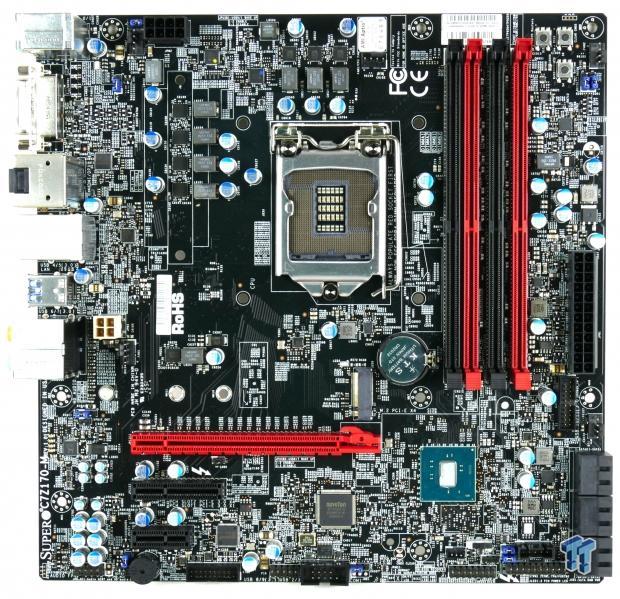 Now I will look at the parts on the motherboard.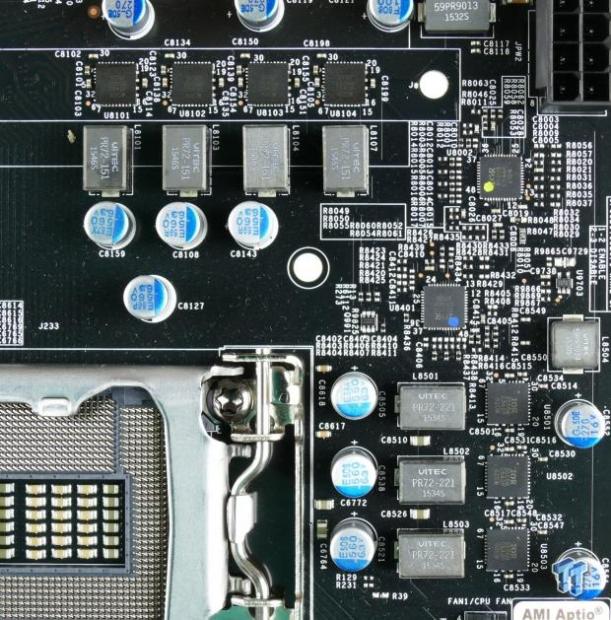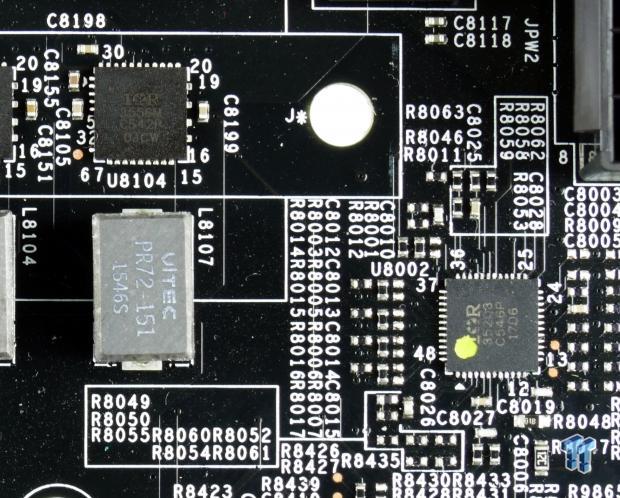 The VRM on this motherboard uses International Rectifier PWMs and power stages. The CPU VCore is a true 4-phase setup while the iGPU is a true 3-phase setup. Each phase gets its own 50A IR3556 integrated PowIRstage and Vitec 45A inductor. Supermicro has focused heavily on power density, and these are very high power components. The board uses two IR35203 6+1 phase digital PWMs to power each set of phases.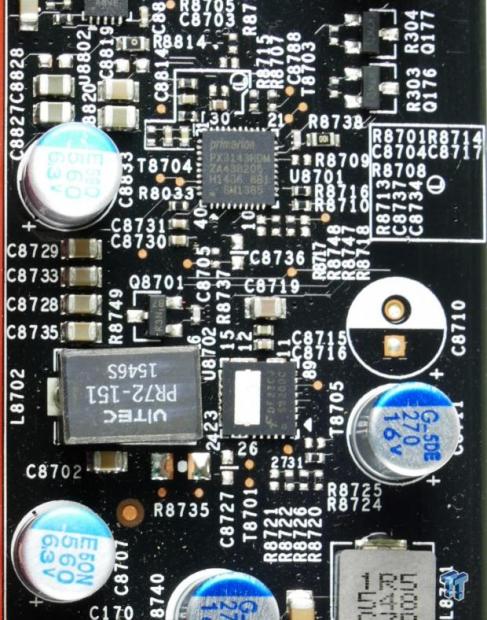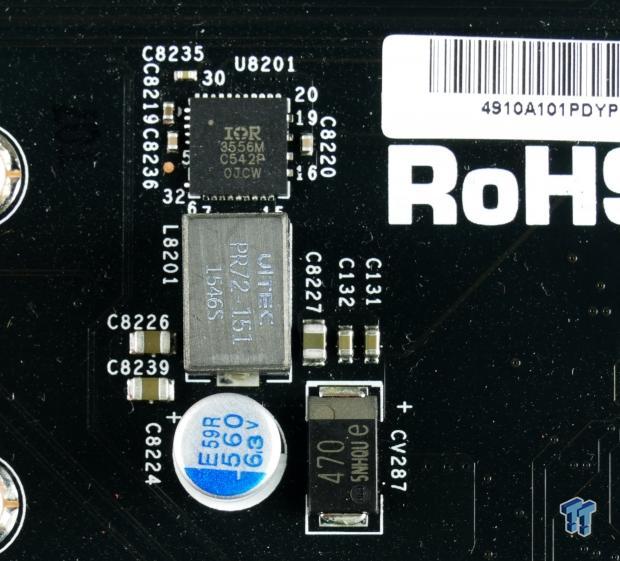 The memory VRM consists of a single phase powered by a Primarion digital PWM (PX3143HDM), and a Fairchild semiconductor integrated power stage (DF22CJ). The VCCSA gets its power from a single phase IR3556 integrated power stage which is controlled by the second output of the CPU core PWM.
SUPERMICRO C7Z170-M Circuit Analysis Continued
C7Z170-M Circuit Analysis Continued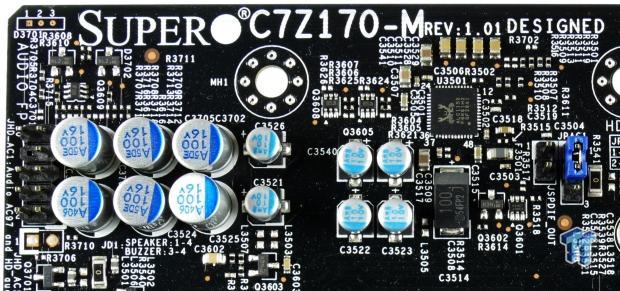 Supermicro is using the ALC1150, but unlike many other vendors, they are not using any amplifiers or line drivers. However, audio quality is still quite good, even in our tests, due to the trace path routing.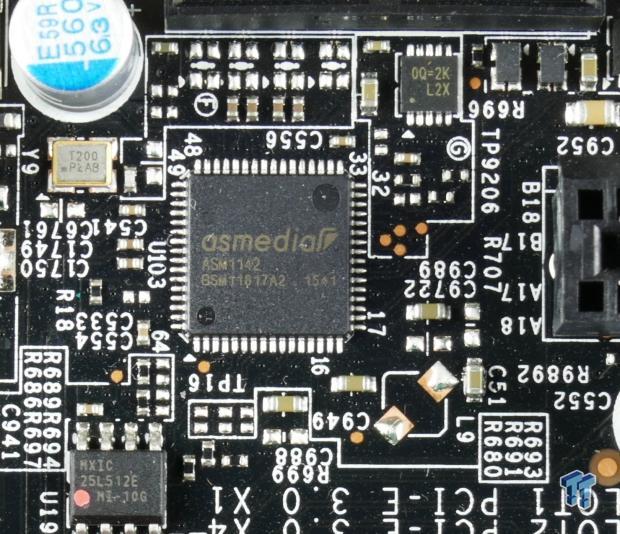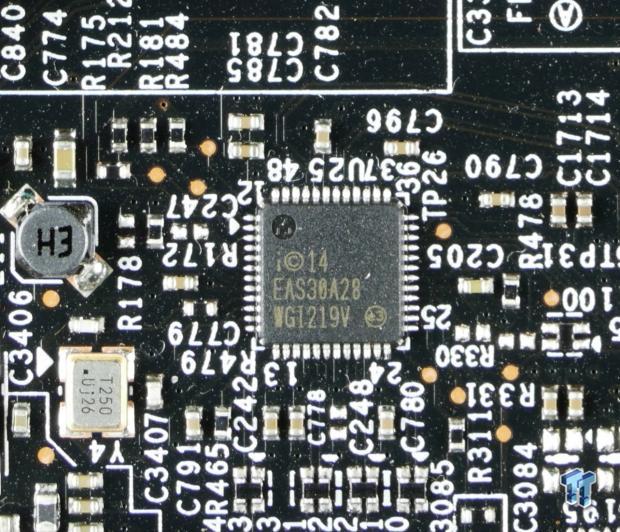 An ASMedia ASM1142 routes one PCI-E 3.0 lane and supports two USB 3.1 ports through in USB internal header at the bottom of the motherboard. The Intel i219v PHY is being used to compliment the MAC inside the PCH for Intel Gbit Ethernet.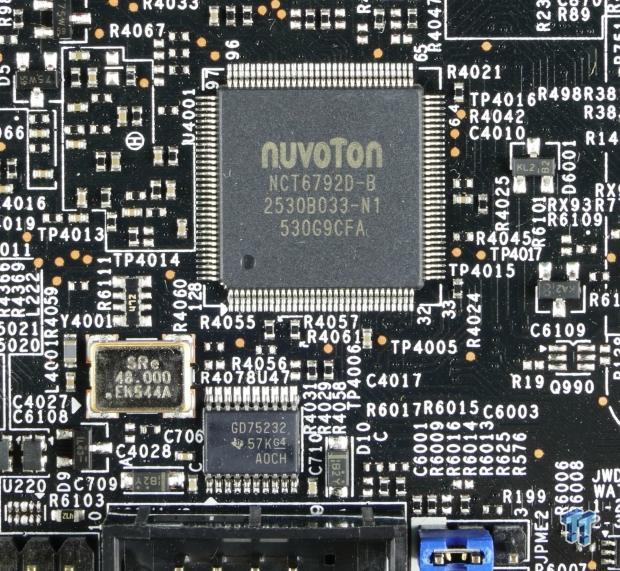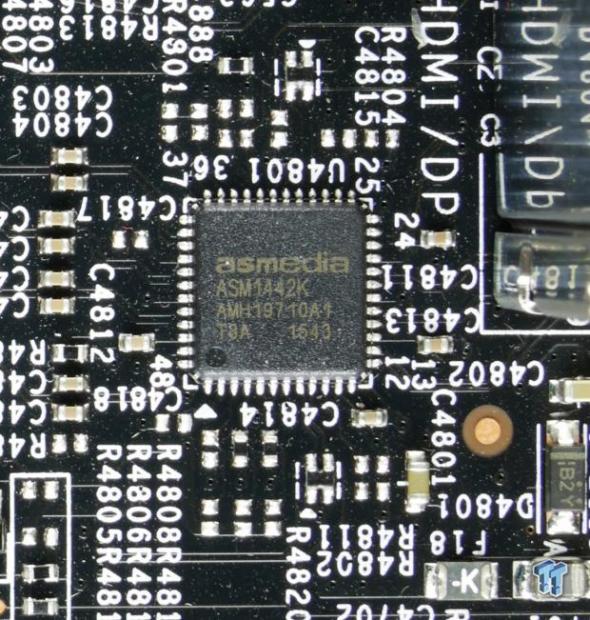 The main SuperIO is the Nuvoton NCT6792D, which provides all voltage, temperature, and fan monitoring and control. It also provides the PS/2 connector and with the GD75232 provides the serial port header. The ASMedia ASM1442K is a level shifter used to provide DVI/HDMI from the digital signal from the CPU's integrated graphics.
The BIOS
BIOS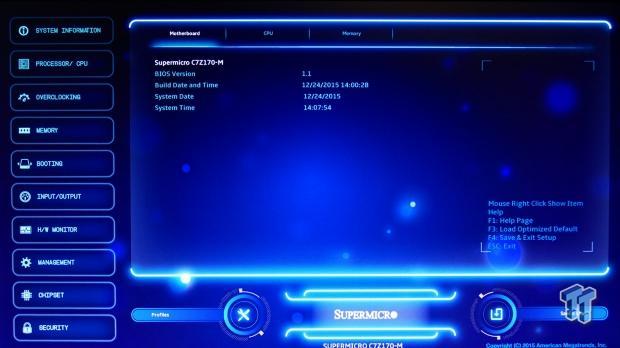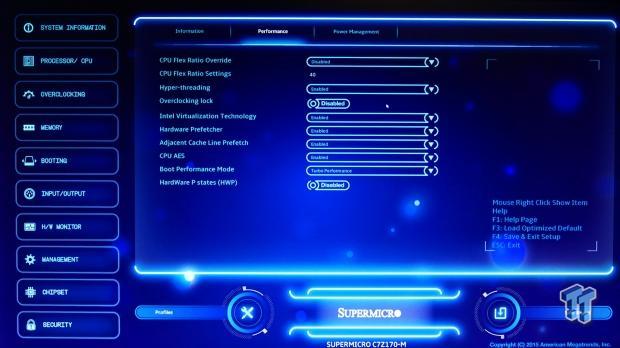 Supermicro has made many changes to its UEFI over the past few years. Their original Z170 motherboard UEFI had a few bugs, but this revision is possibly one of their least buggy. If an overclock fails in Windows, the system won't clear all CMOS settings automatically which helps a lot. Hard drive BBS priorities are present, and the board easily detects all my drives. CSM settings are available for legacy OS operation. Load line calibration is also present, which makes overclocking simpler.
There is one caveat if you want to apply CPU multiplier changes you must reboot twice for them to take effect. Overall, I was happy with their BIOS, while there is room for improvement, the motherboard's UEFI is usable. The one big thing still missing is adequate fan controls, but their default profile is manageable.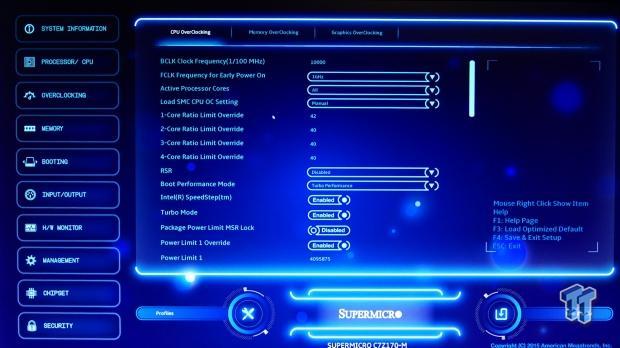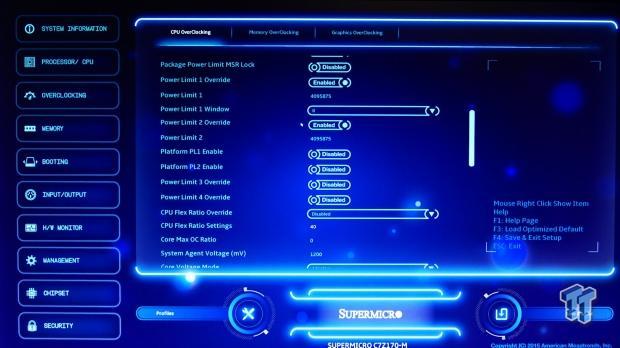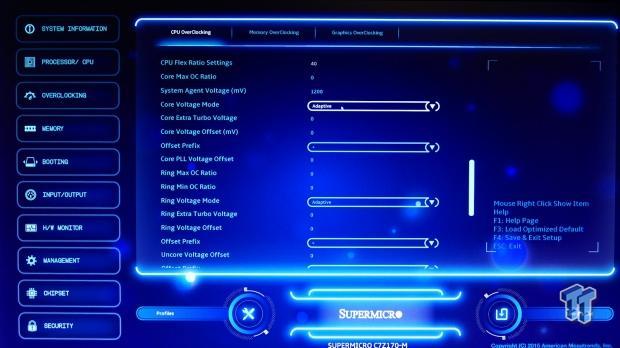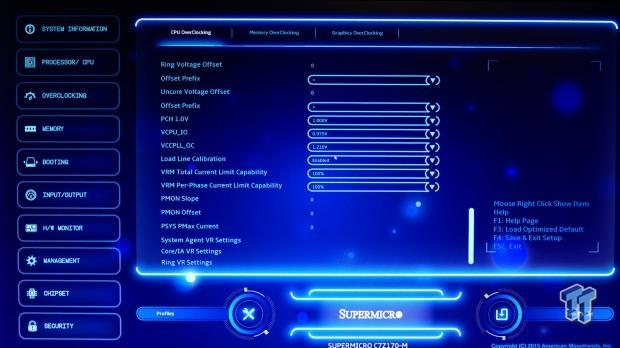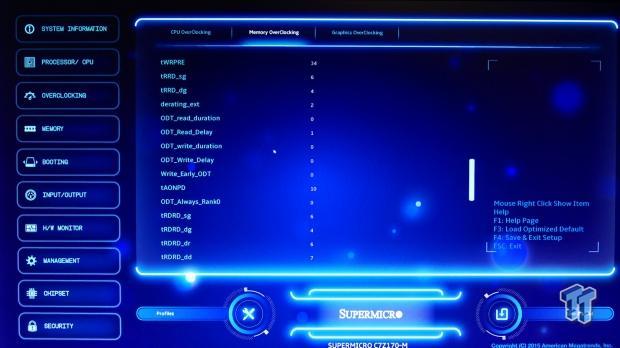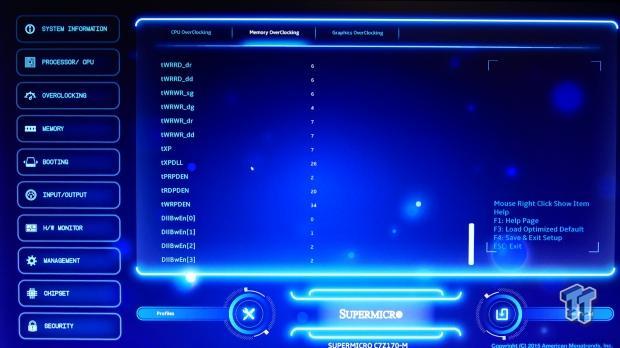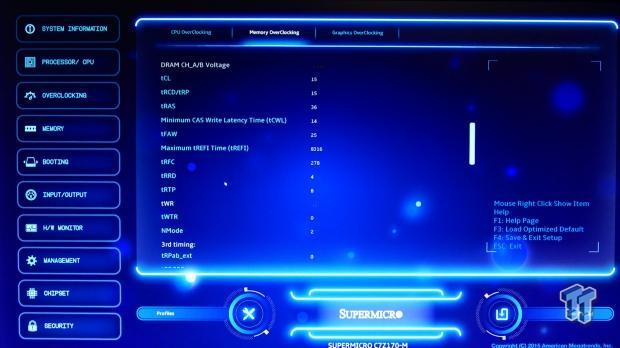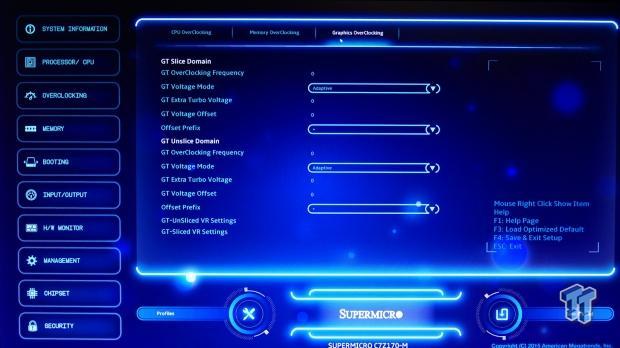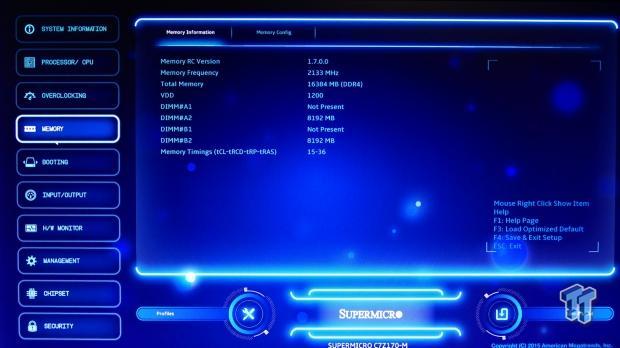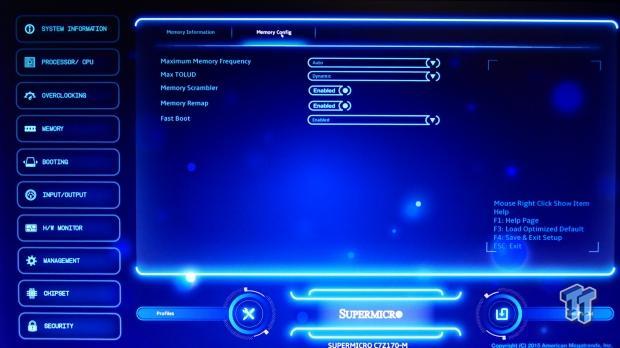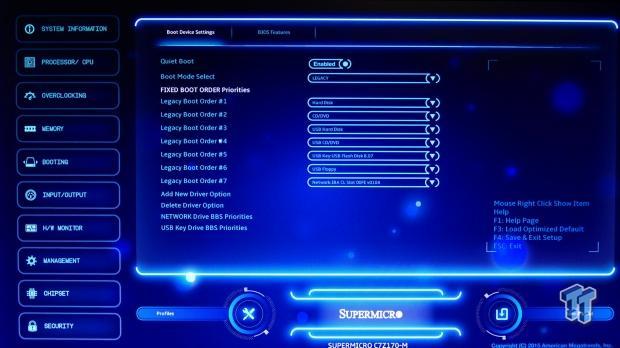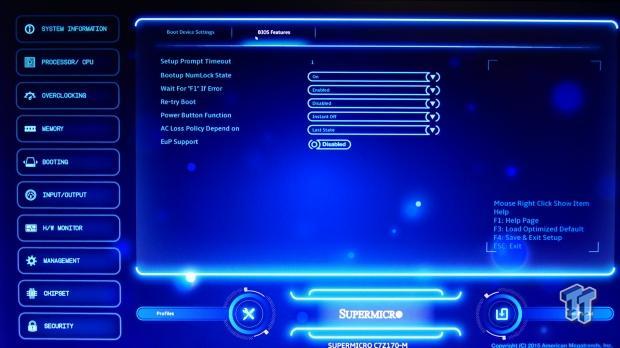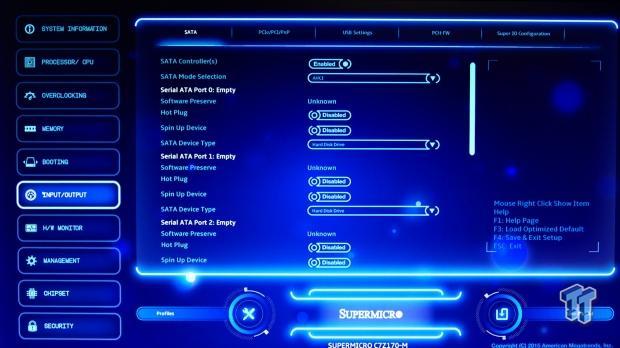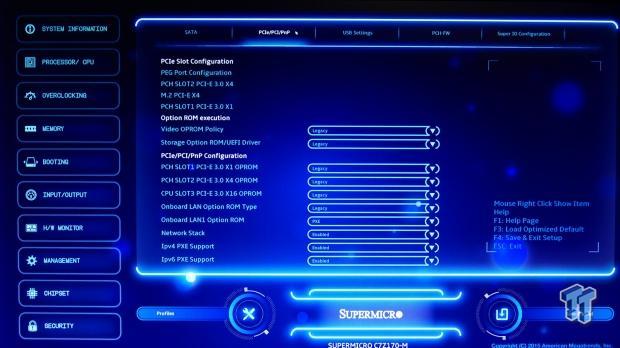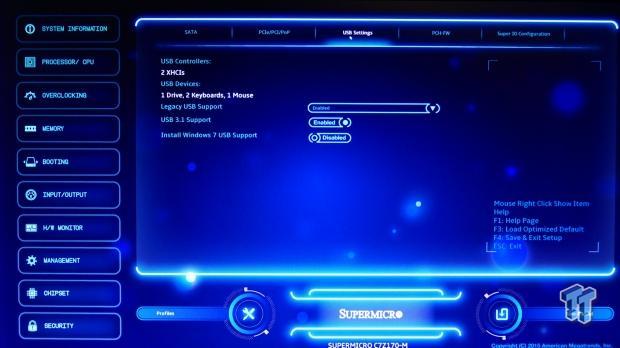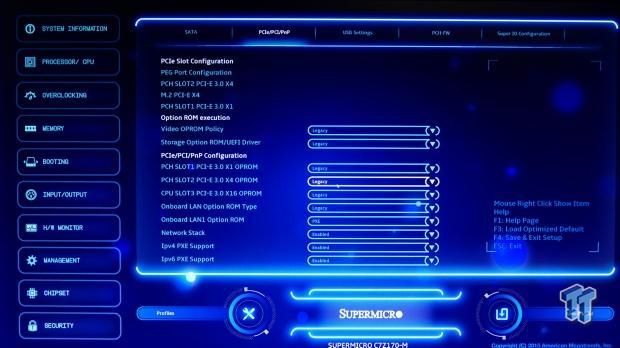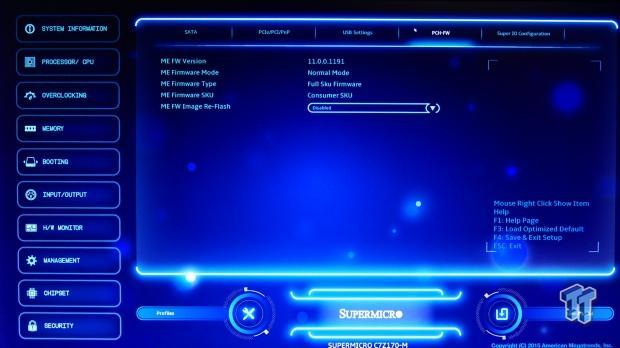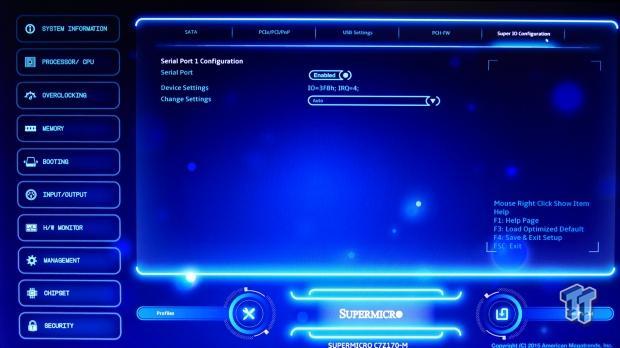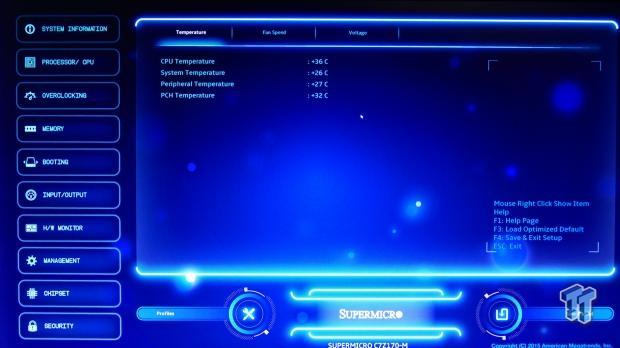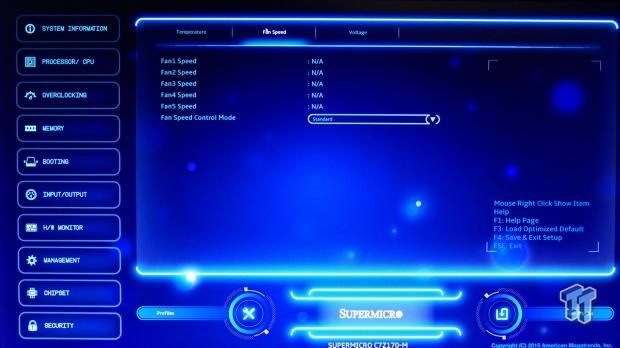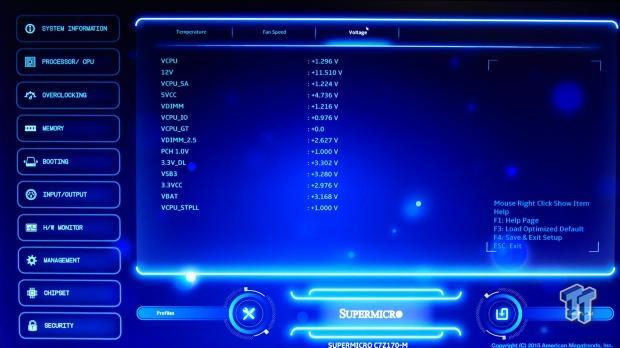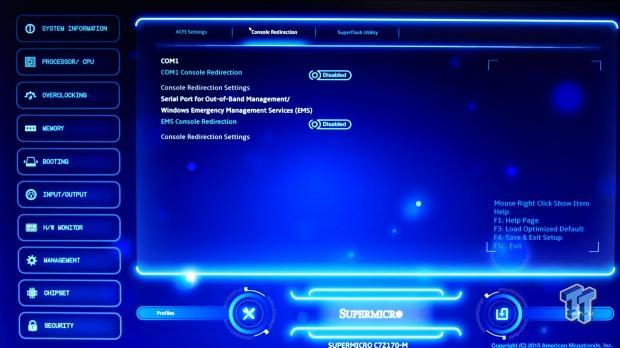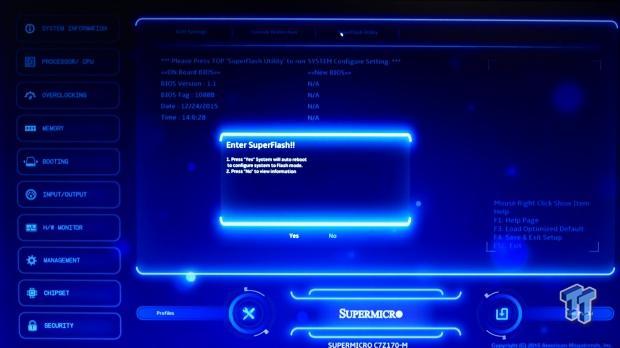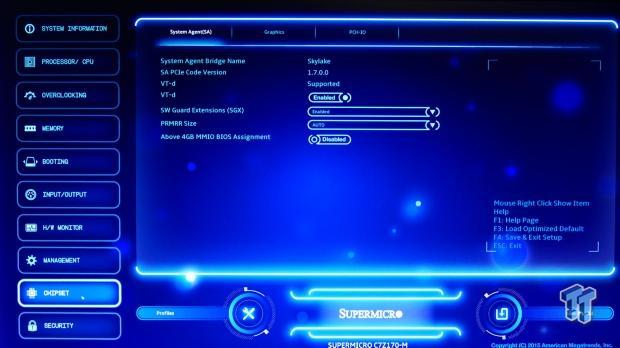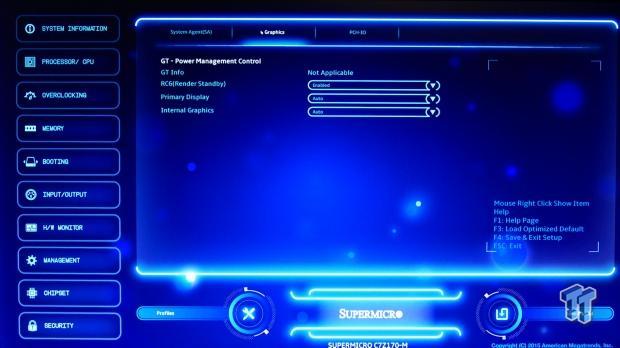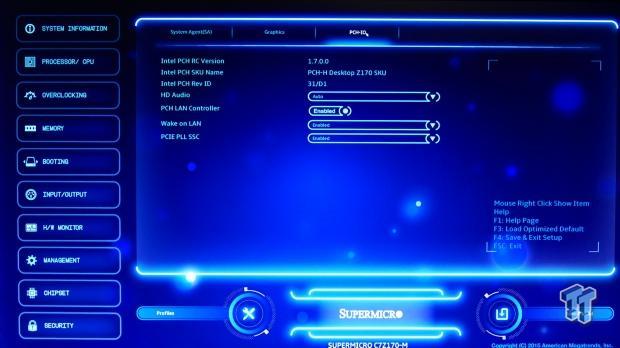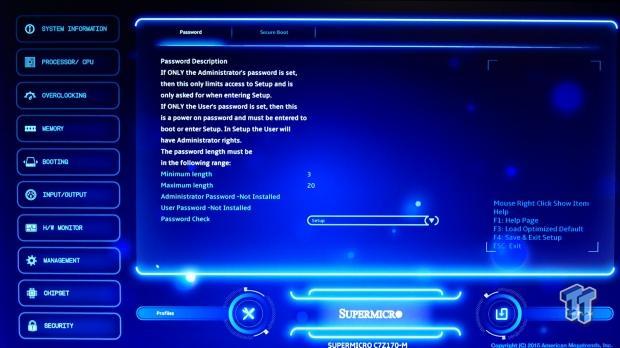 Test System Setup
Steven's Motherboard Test System Specifications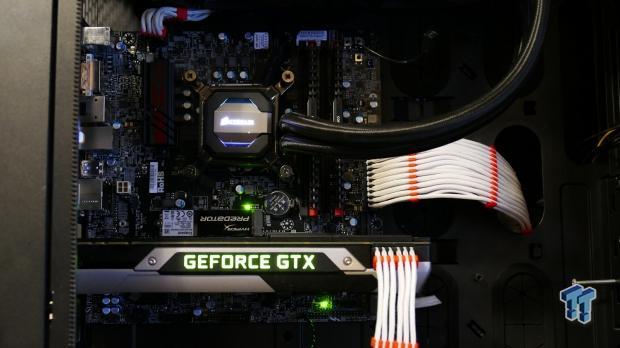 The C7Z170-M is the same width as an ATX motherboard but a bit shorter, it's built to the microATX form factor. The board looks nice inside a case, and it has no LEDs that would make it too flashy.
The new test bench is designed to test every aspect of the motherboard and IO. I have designed it so that the motherboard sits in a case and is cooled by fans always-on at a constant rate to keep the conditions similar during all tests. I have cut out part of the case behind the motherboard so I can get thermal images of the back of the PCB where the VRM heat spreads. System and CPU power measurements are now digitally logged.
I am also using a Netgear Nighthawk X4 AC2350 for our network (including wireless AC) tests. The latest M.2, SSD, and USB technologies are also being utilized to test the maximum potential of the motherboards that are tested.
Overclocking
Overclocking Results
CPU Overclocking
I have decided to reduce the CPU VCore to 1.4v applied (I will measure real VCore at the output capacitors), and see how high I can validate. On most boards, it's 5.0. I have also decided to add real voltage levels compared to what is set for all motherboards, if they don't have voltage read points I will mark where I read the voltage.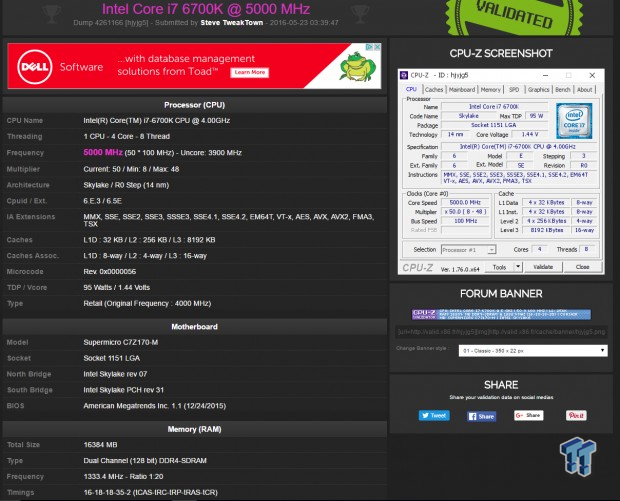 I was surprised that the C7Z170-M was able to pull off 5GHz. I usually run into problems with raising the multiplier of Supermicro boards in Windows since Intel XTU usually makes me restart, but this time, everything went according to plan.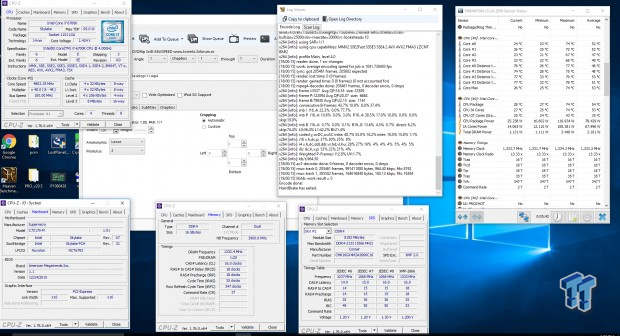 My stability test also passed with flying colors; Supermicro has fixed their LLC so that the CPU doesn't throttle due to very high load voltages. I was pleased with the CPU overclocking on this motherboard.
Compatible Memory Overclocking Kits
Test 1: 2x8GB (32GB) Corsair Vengeance LPX 2666MHz C16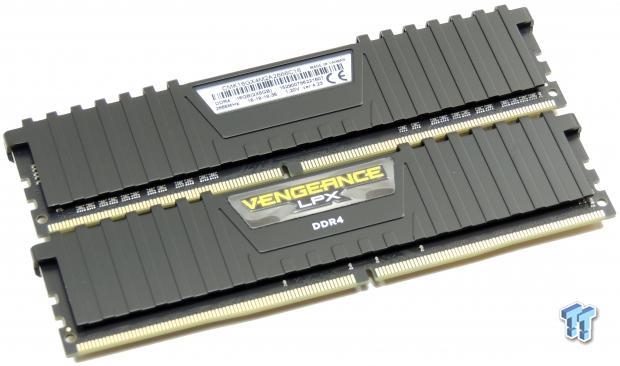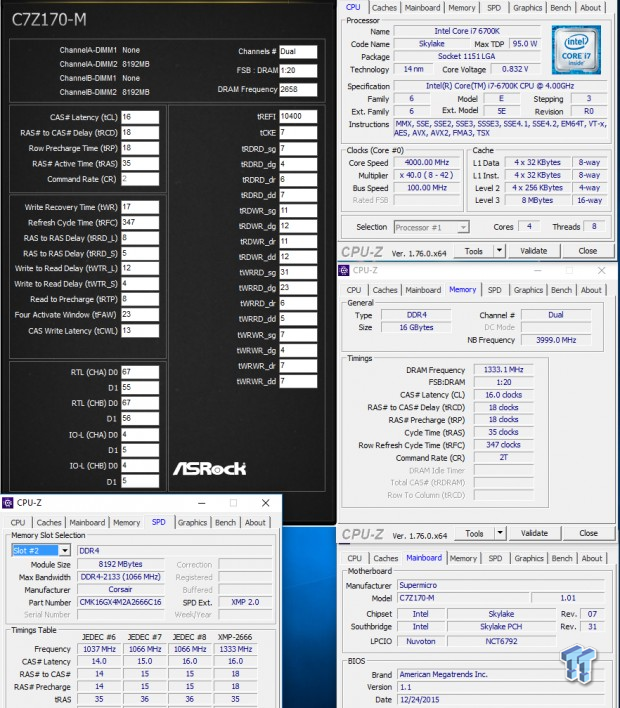 Memory overclocking with the Corsair kit above went fine, but my other DDR4 kits had issues (they are at or above 3200MHz).
CPU, Memory, and System Benchmarks
CINEBENCH 11.5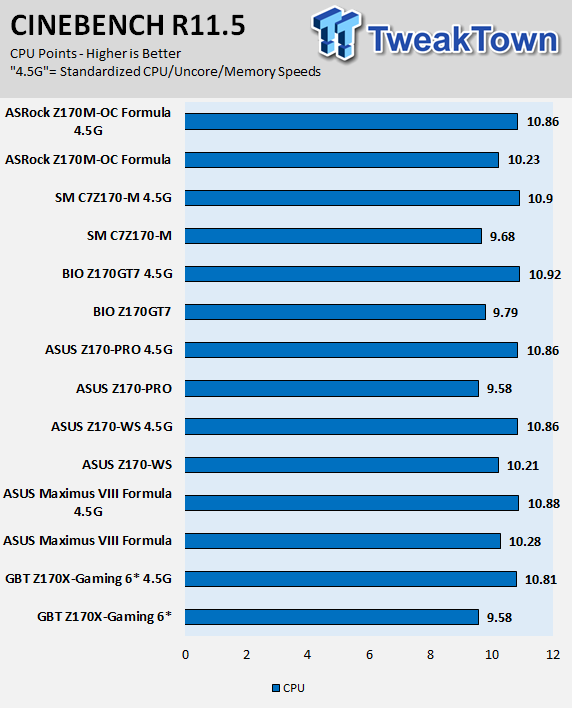 wPrime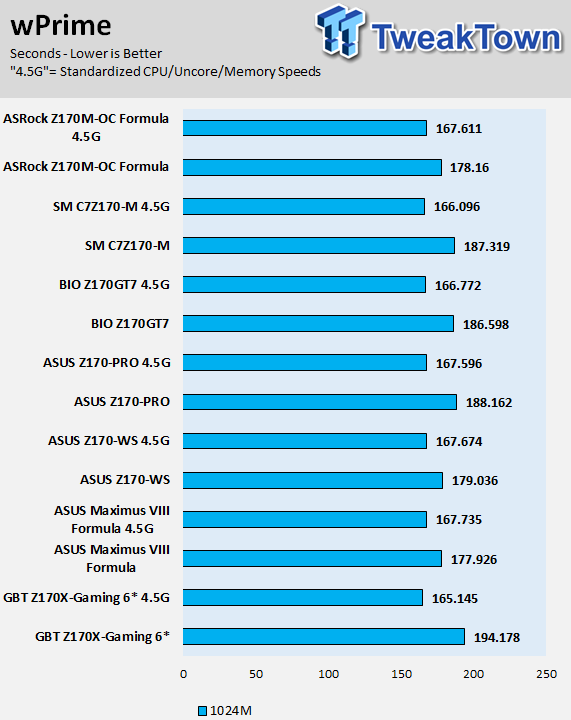 AIDA64 AES and HASH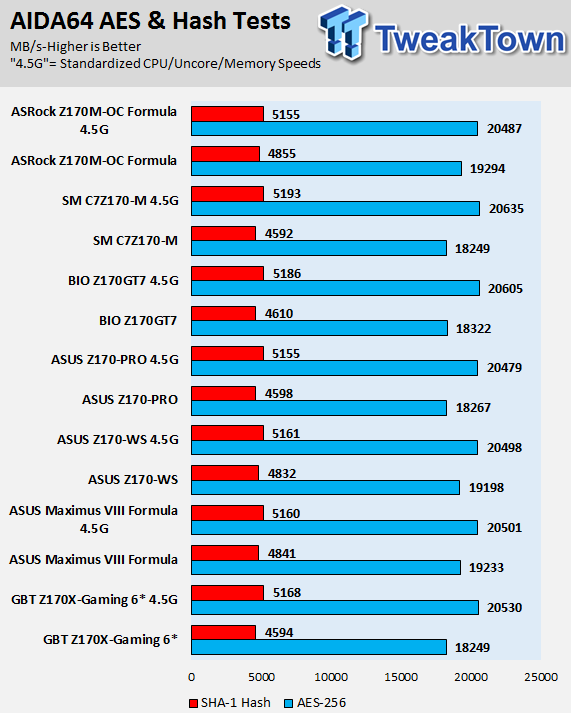 AIDA64 FPU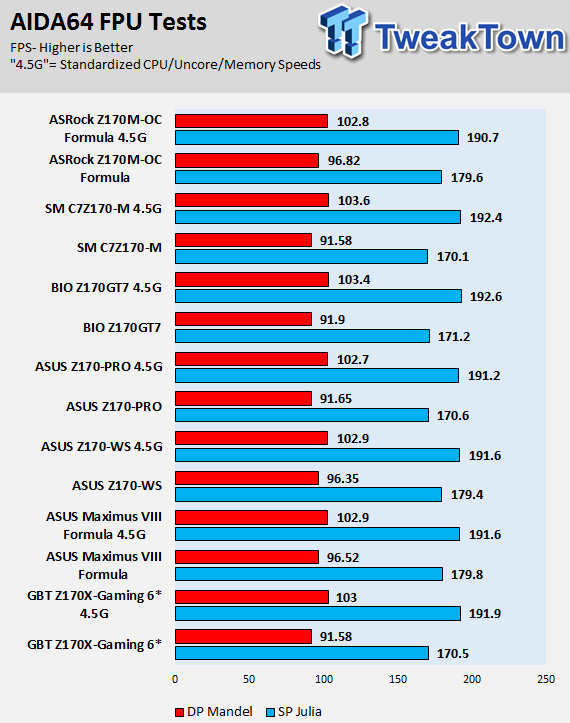 AIDA64 Memory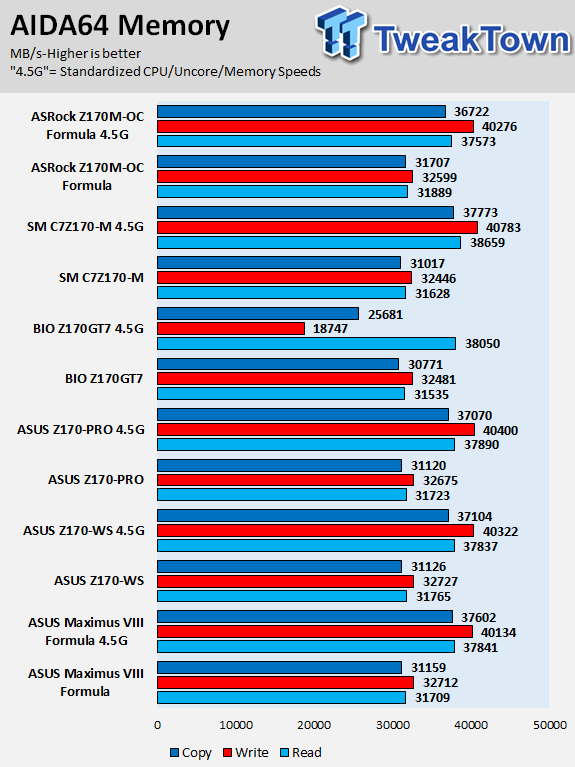 PCMark8 Home Test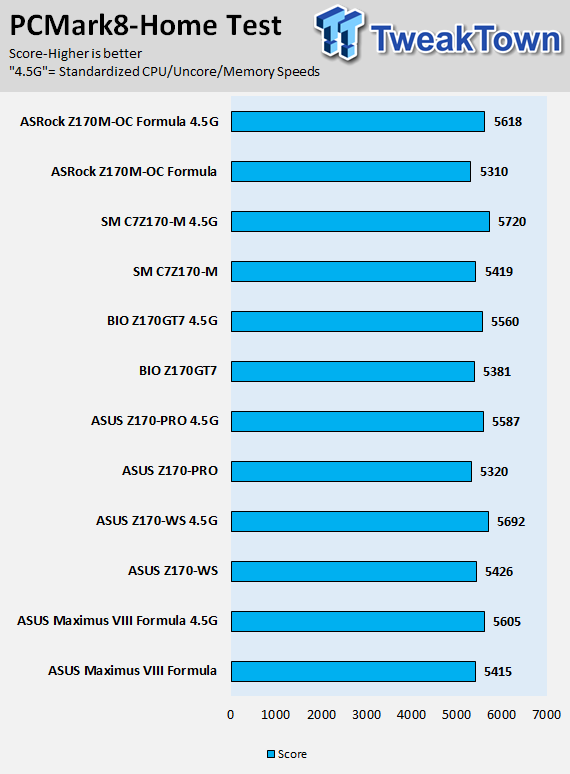 3DMark: Cloud Gate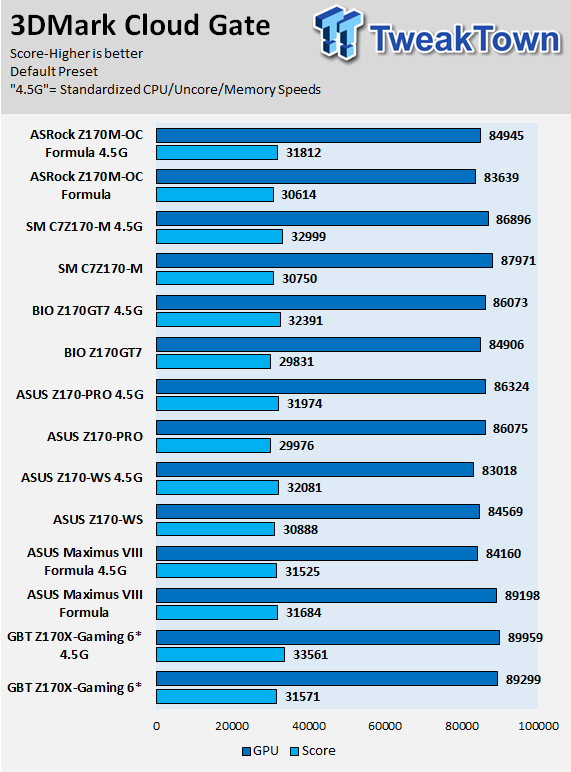 3DMark: Fire Strike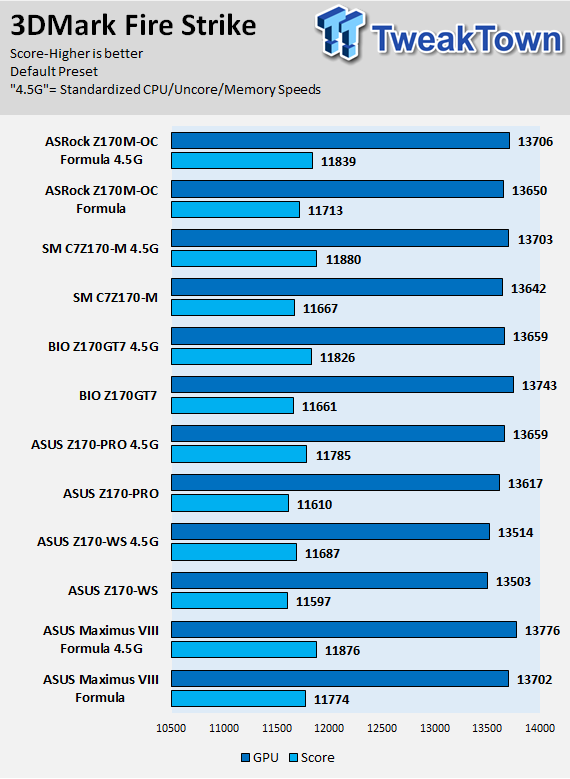 Supermicro's C7Z170-M does not seem to have multi-core enhancement enabled, it does appear to follow Intel specifications. Its performance was good all around, and I did not find any pitfalls. Both CPU and memory performance were top notch, especially when settings were made equal at 4.5GHz.
Some motherboard reviews put a lot of weight into motherboard CPU, memory, and GPU benchmarks, but for me, CPU, memory, and GPU benchmarks on motherboards should be more about finding anomalies, and I do that at standard settings (4.5G in graphs).
System IO Benchmarks
CrystalDiskMark SATA6G: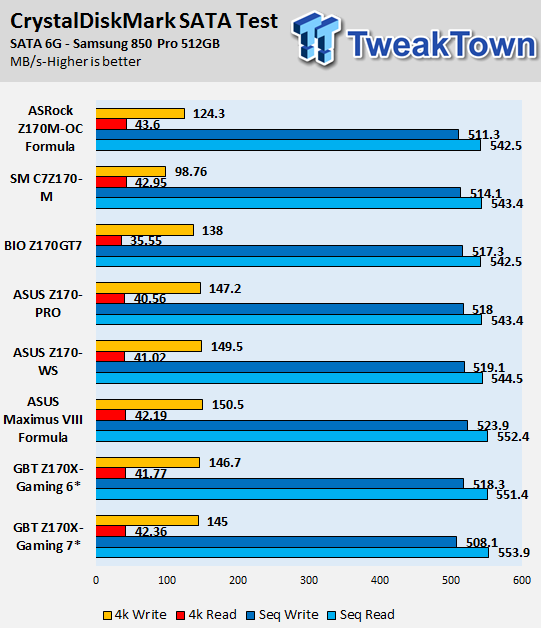 CrystalDiskMark M.2: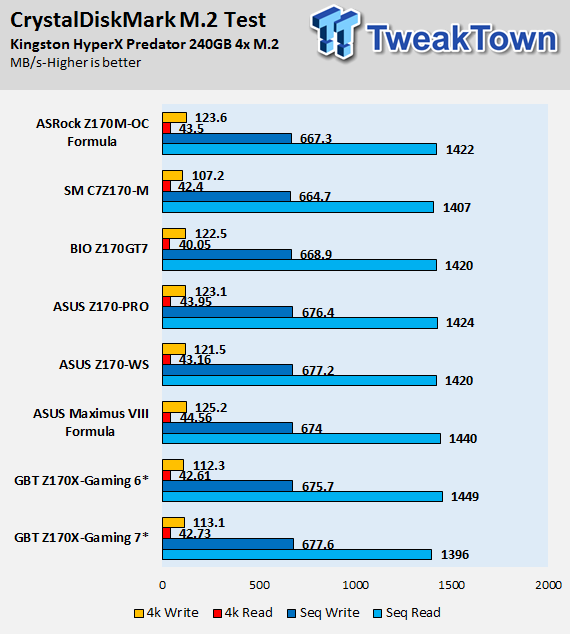 CrystalDiskMark USB 3.0: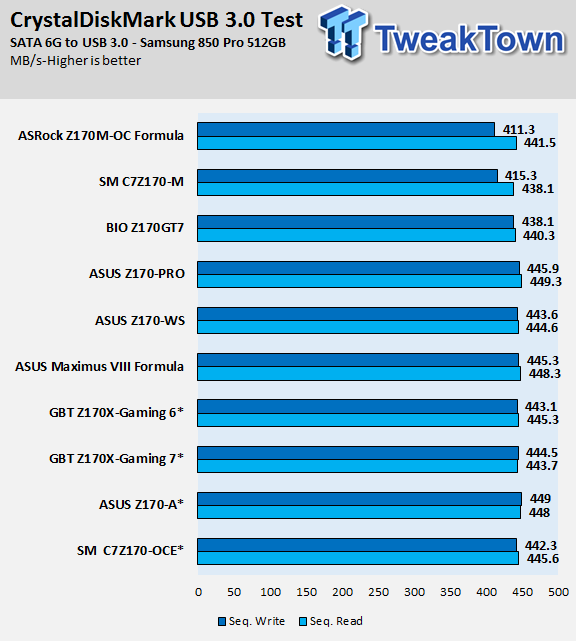 ixChariot Network Throughput: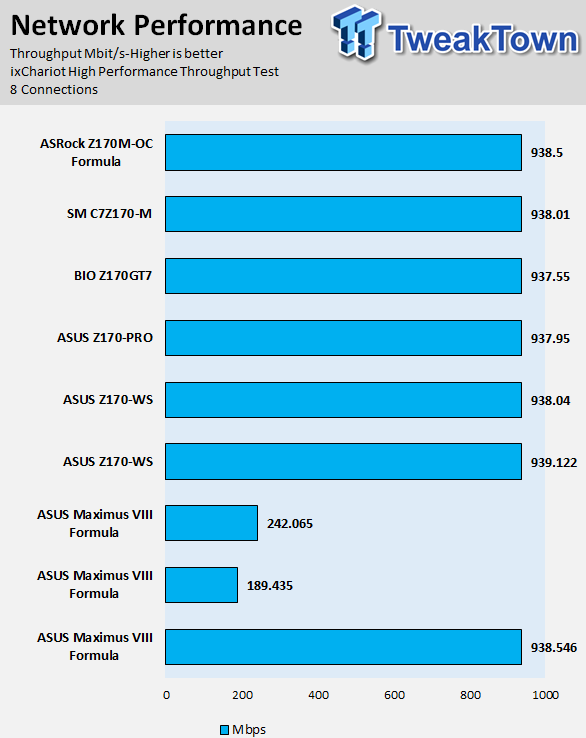 The C7Z170-M has solid IO performance in both SATA, M.2, USB 3.0, and Network.
Audio RMAA 5.5:
I disable all audio features, set the correct bitrates, and then test the audio with a loopback test.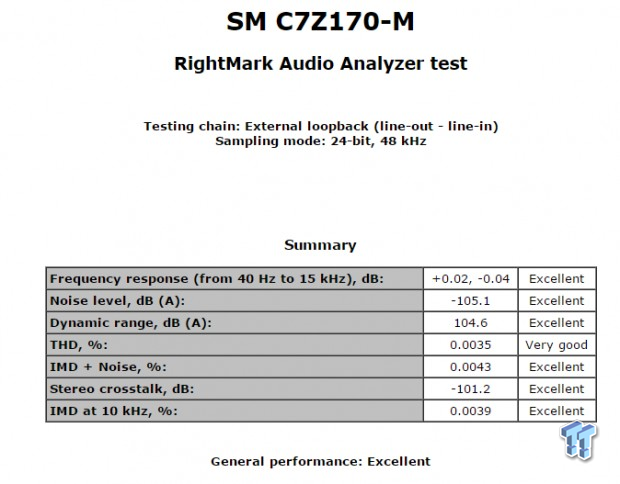 Sound Judgment by Ear: I would rate the audio as high-quality. While the absence of an amplifier means there isn't any volume amplification, quality was high. There are five ratings for audio: 1. Problems, 2. Okay, 3. Acceptable, 4. Very good, 5. Excellent
Thermal Imaging and Power Consumption
System power usage is measured at the AC/DC PSU (the Corsair AX1200i) which I have connected to another system to measure the test system, and as a backup, I have a wall meter to verify. The CPU power is measured through the 8-pin connector, which is hooked up to a hall effect IC, which measures current and puts out a voltage in proportion to the current. That voltage is logged by a National Instruments ADC, which logs the DC voltage level that I then convert into current.
Note on Thermal Images: In the temperature section, we use our Seek thermal imaging camera to capture the surface temperatures of major components on the board. I look at the VRM and then all other things that light up the screen. If there is something to worry about, then I will state it. Otherwise, I will just show the hotter running parts of the board for fun. Unless some component is over 80-90C, then there isn't anything to worry about.
All systems will act differently, so I will look for commonalities, such as how far from the VRM the heat spreads through the PCB and the difference in temperature between the front side and backside of the PCB. Keep in mind, the majority of the heat from the VRM goes into the PCB as it is a giant soldered on copper heat sink. A larger difference in temperature between the back and front of the PCB points towards a more effective heat sink.
Thermal Testing at Stock Speeds:
The image on the left is always at idle, and the image on the right is at load. During ALL TESTS, fans above the VRM that cool the CPU cooler's (Corsair H110i GT) radiator are turned on to high (12v).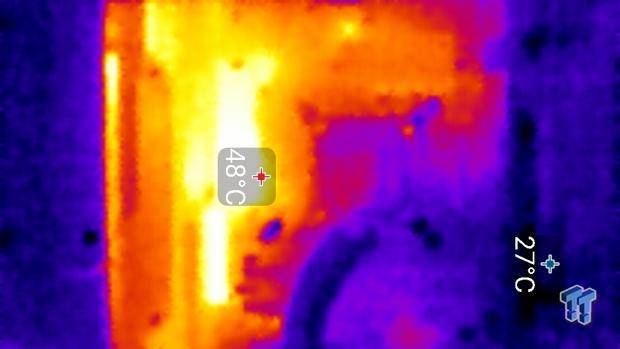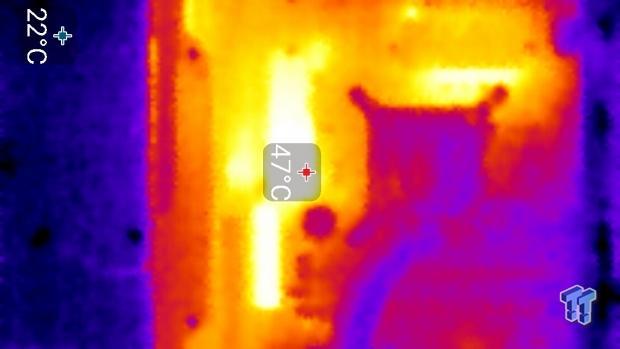 Full frontal.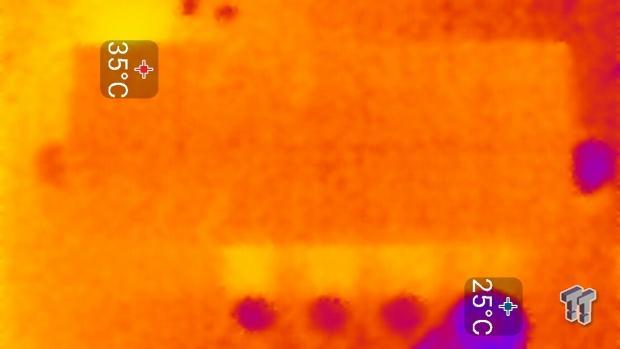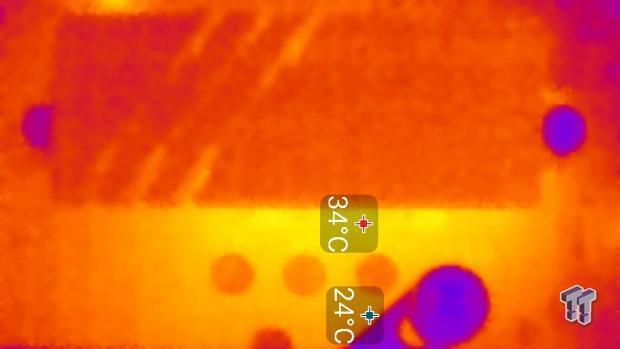 Up-close of the front of the VRM.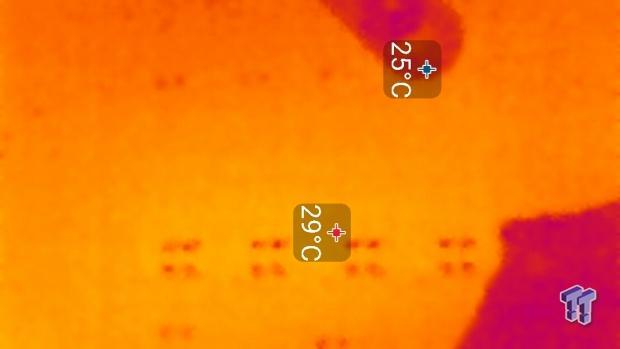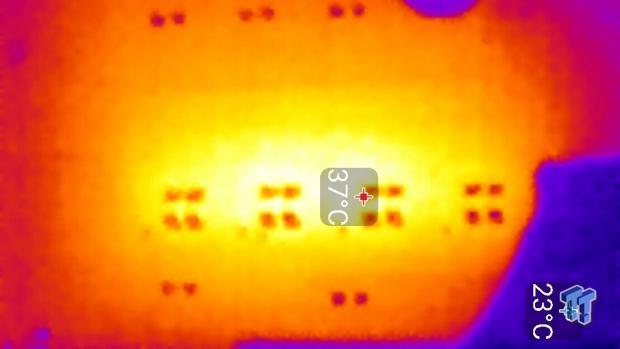 Up-close of the back of the VRM.
Thermal Testing at 4.5GHz Overclocked Speeds:
The image on the left is always at idle, and the image on the right is at load. During ALL TESTS, fans above the VRM that cool the CPU cooler's (Corsair H110i GT) radiator are turned on to high (12v).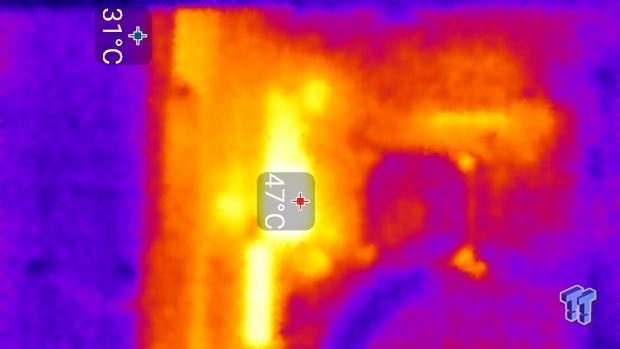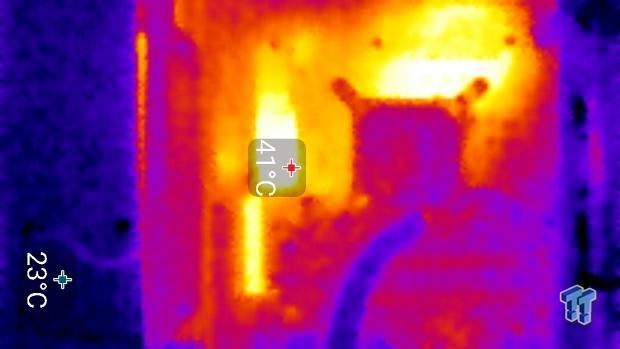 Full frontal.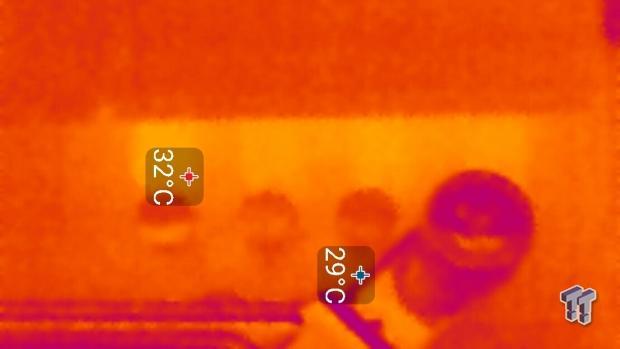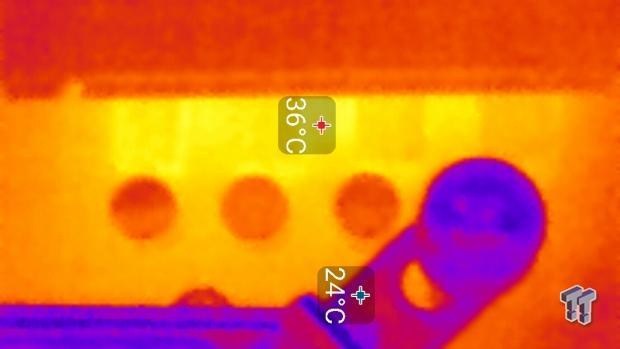 Up-close of the front of the VRM.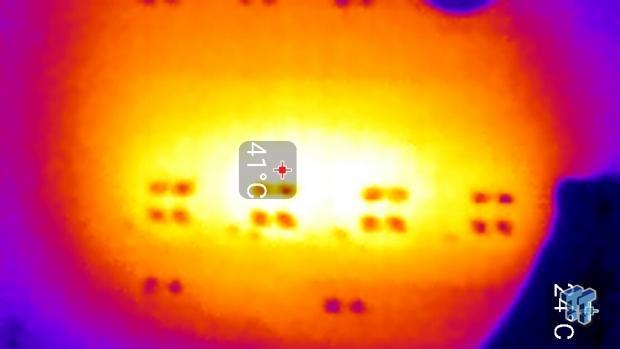 Up-close of the back of the VRM.
The VRM on the C7Z170-M is only four phases, but thermal performance is excellent. The excellent thermal performance, even when overclocked, is due to high-quality component selection. If there is one situation where component quality is obviously improving performance, it is on this motherboard.
Anything under 60C is great, 60-80C is acceptable, and anything above 80C is a bit worrisome (if at stock).
What's Hot, What's Not & Final Thoughts
Here are key points about the SUPERMICRO C7Z170-M.
What's Hot
Component Quality: The thermal analysis of the VRM was quite revealing. Even at 4.5GHz, the VRM surface temperatures are very low compared to other motherboards, and those motherboards all have more phases than this board. With only four CPU VRM phases, the C7Z170-M can overclock my CPU to its maximum with ease, and that is because of component quality. While it is true that Skylake has low power requirements, I have seen small VRMs the same size as this one throttle back the CPU, but Supermicro's component selection is why this board can overclock the CPU with ease. Audio quality is high in both real life and tests, and that is because of the way Supermicro has routed those traces.
Lots of breathing room: The C7Z170-M's layout is quite well done. There is ample room between the DIMMs and the socket, and between the top PCI-E slot and the CPU and DIMMs. Accessing the M.2 slot or the CMOS battery is also quite simple. Buttons are also easily accessible. There are two USB 3.0 headers, and they are situated to reach front or rear USB 3.0 internal cables.
Subtle Color Scheme: A lot of motherboards these days are flashy, and while a lot of people like flashy motherboards, many might also like something more modest. Supermicro did their best to ensure the majority of the motherboard was black and added hints of red to different parts of the board.
BIOS Recovery Feature: It's not typical for more affordable motherboards to have BIOS recovery options, but the C7Z170-M can recover the BIOS from a flash drive loaded with a BIOS ROM file.
What's Not
Fan Control: Fan control is almost nonexistent. Apart from the fact that only 4-pin PWM fans will have speed control, speed control is limited to two pre-loaded profiles in the UEFI. The lack of manual fan control might be a turn-off for some, but Supermicro's default profile does offer a decent level of noise control and performance.
Memory Overclocking: As more and more people start to buy memory kits above 3000MHz, it is imperative that motherboard vendors work to add support for higher speed kits. The C7Z170-M could use some work in that regard, so I would stick to kits that have been validated with this motherboard.
Final Thoughts
Supermicro's SuperO brand is coming along quite well; with their latest Z170 motherboards, I have seen some significant improvements when it comes to usability and performance. SuperO motherboards have always had excellent component quality, but in the past, they lacked usability.
The C7Z170-M brings usability to the SuperO line; its layout is optimized for usage and the latest features are present and easily accessible. The color scheme is even equivalent to that of a high-end enthusiast motherboard and takes into account community feedback.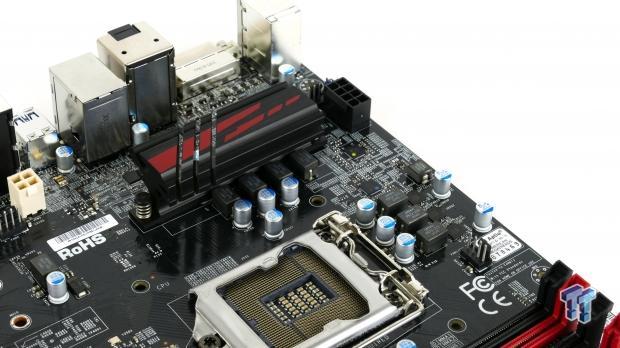 Hardware-wise, the C7Z170-M is solid; it has everything you might want in a Micro-ATX motherboard, but just like every motherboard it has its pitfalls. The biggest of these is memory overclocking, but to be honest, benefits from DDR4 speeds over 3000MHz are marginal at this time. One other thing I really like is the lack of lanes switches or hubs; all connectivity is directly connected to the PCH increasing performance and compatibility.
At $163, the C7Z170-M is filled with value. Everything from layout to hardware design has been optimized; you really are getting a server-quality motherboard built for gamers.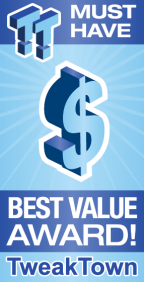 | | |
| --- | --- |
| Performance (including Overclocking) | 90% |
| Quality including Design and Build | 95% |
| General Features | 90% |
| Bundle and Packaging | 90% |
| Value for Money | 95% |
The Bottom Line: Supermicro's SuperO C7Z170-M is a solid motherboard with server-grade components and design, providing high value at a reasonable price.
PRICING: You can find products similar to this one for sale below.

United States: Find other tech and computer products like this over at Amazon.com

United Kingdom: Find other tech and computer products like this over at Amazon.co.uk

Australia: Find other tech and computer products like this over at Amazon.com.au

Canada: Find other tech and computer products like this over at Amazon.ca

Deutschland: Finde andere Technik- und Computerprodukte wie dieses auf Amazon.de
We openly invite the companies who provide us with review samples / who are mentioned or discussed to express their opinion. If any company representative wishes to respond, we will publish the response here. Please contact us if you wish to respond.