TweakTown's Rating: 90%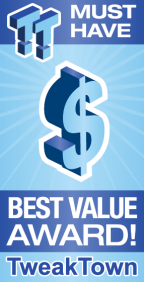 The Bottom Line
It is quite possible that the Synology DS716+ could be the top two-bay NAS solution for this year. Adding the new DSM 6 only makes this solution stronger and with its MSRP at $450, it's a solid solution for user looking to purchase their first NAS solution.
Introduction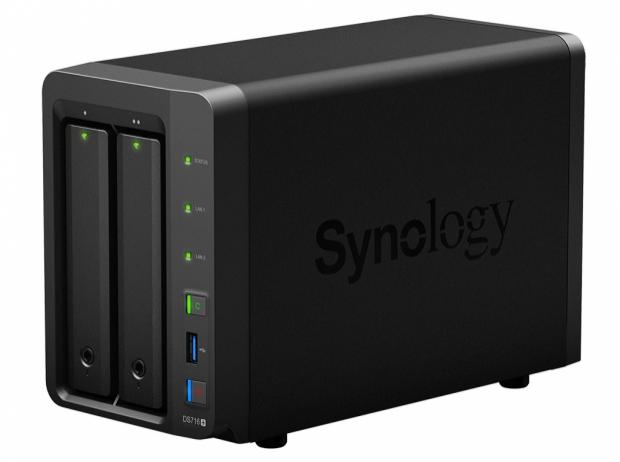 While the primary focus of this review is solely placed on the latest two-bay NAS appliance from Synology, the DS716+, I also thought it would be appropriate to take a gander at the latest DSM firmware or operating system from Synology. NAS vendors are always at work to push their OS to the next level, and anyone that has owned a Synology NAS knows they release updates at least once per month or more.
Over the last few years, Synology has been hard at work to bring you what has now been launched as DiskStation Manager 6.0. This NAS software brings many advancements to the Synology platform, but before I dive into those details, we must get back on track with the 716+ itself.
The DS716+ is a two-bay solution aimed at growing small and medium business. This NAS is built on the Intel Braswell platform and more specifically the Celeron N3150. This NAS features dual Gigabit LAN for failover or link aggregation while additional drives can be added through the use of the DX213 or DX513 and the rear mounted eSATA port. Also, the Synology DS716+ supports three USB 3.0 devices - two via the rear of the unit and one on the front for quick backups.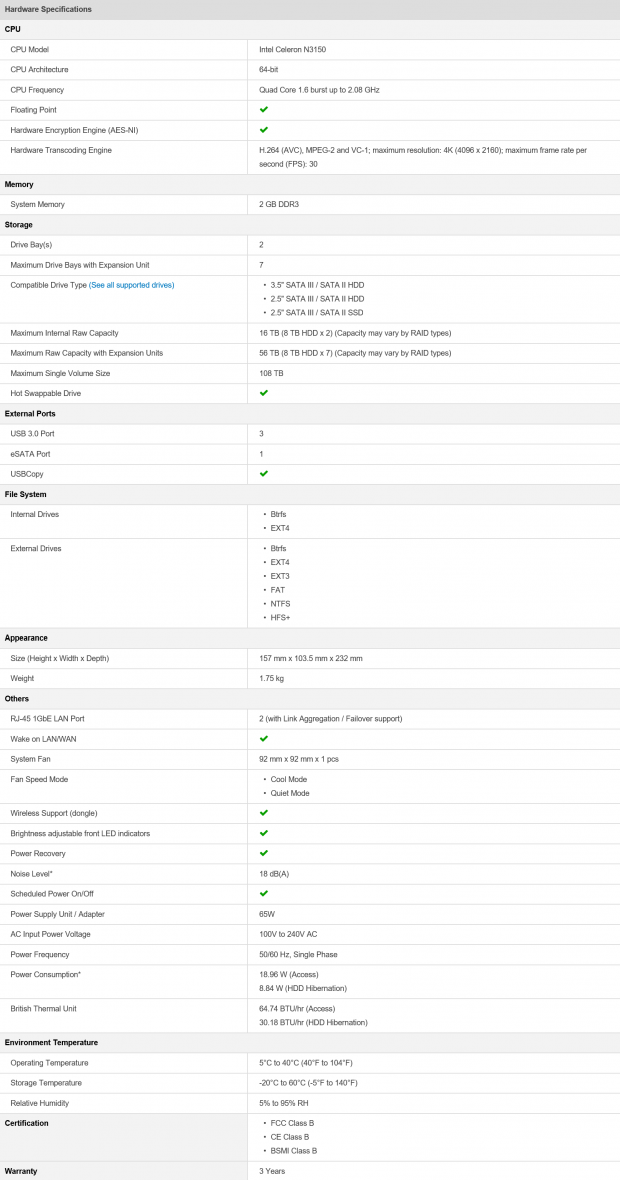 The specifications of the DS716+ include the Intel Celeron N3150, a quad-core processor operating at 1.6GHz with burst speed set at 2.08GHz. This processor has both a floating point and AES-NI hardware encryption engine along with its hardware transcoding capabilities with several formats including H.264 AVC, MPEG-2, and VC-1.
Synology has paired the N3150 with 2GB of DDR3 from the factory, but it is upgradable via the single SO-DIMM slot on the motherboard. With this unit being a two-bay solution, capacity is restricted to 16TB via two 8TB drives, but with expansion units like the DX513, it can reach a massive 56TB. With this NAS running DSM 6.0, you now have access to the BTRFS file system for both internal and external drives while dual gigabit NICs allow for failover or increased performance with 802.3ad.
Synology DS716+ NAS Appliance
Packaging and a Closer Look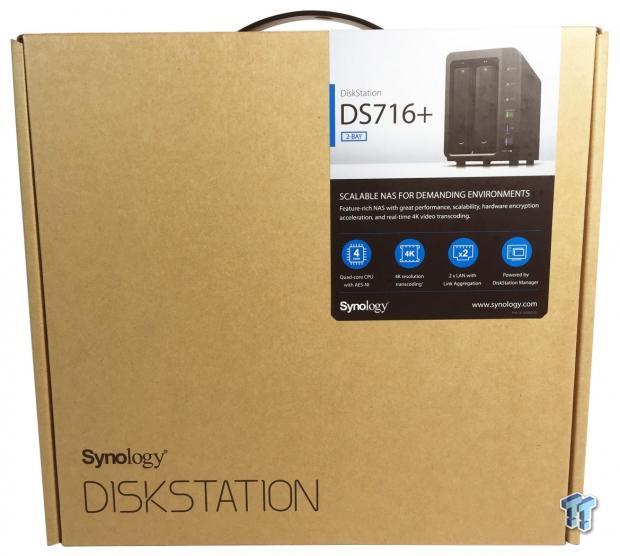 The packaging for the DS716+ changed slightly as this box is more closely resembles what you receive with a router. At the top right there is a full-color sticker that includes information about the NAS along with its model number.
The scope of delivery of this solution includes the power adapter and two Ethernet cables.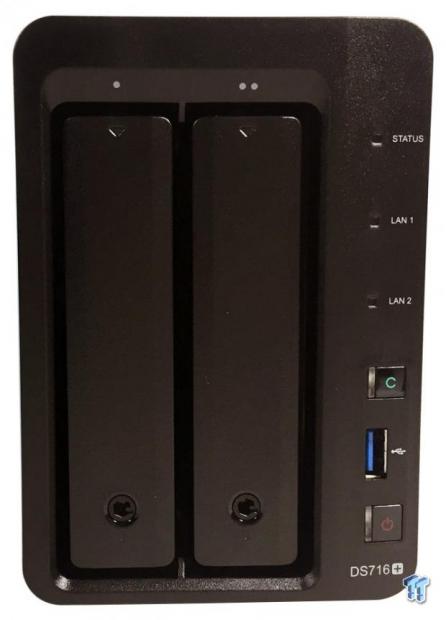 The front of the NAS has a series of LEDs for LAN and NAS status with the power and backup buttons below. Each of the trays carries a green LED above it for activity.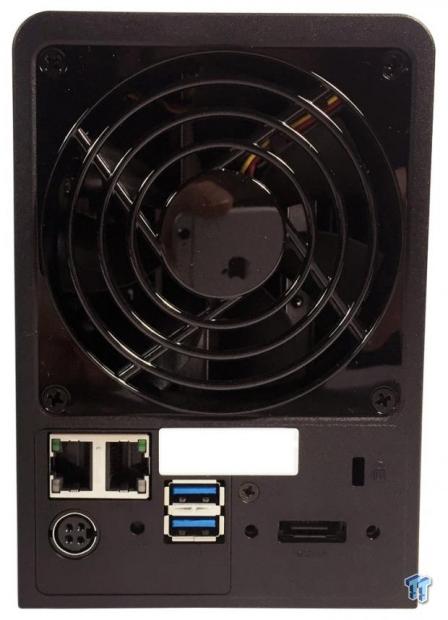 The back side of the NAS has both of the Gbe ports to the left with the proprietary power below and USB 3.0 to the right. To the far right is the eSATA port for expansion units.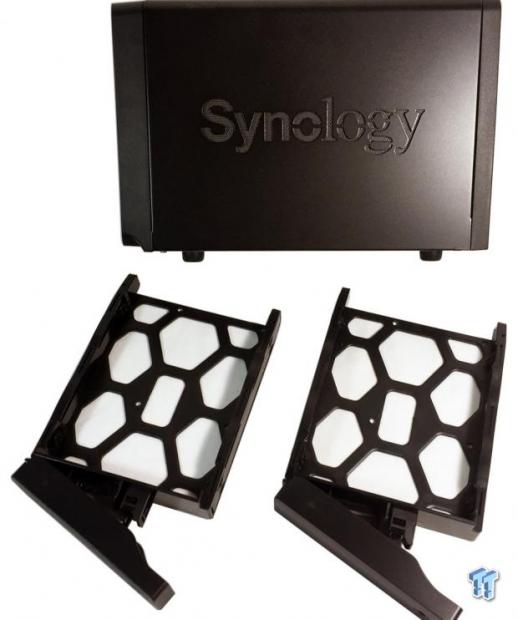 The trays for the DS716+ are plastic all around and use the same tool-less mechanism as past appliances.
Test System Setup and Web Management
Tyler's NAS Test System Specifications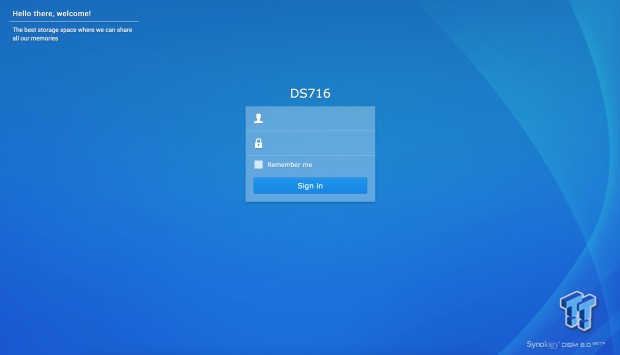 For the last couple months, I have been toying around inside DSM 6 Beta, to get a feel for things that have changed and the overall performance. Above, we have the landing page for DSM 6.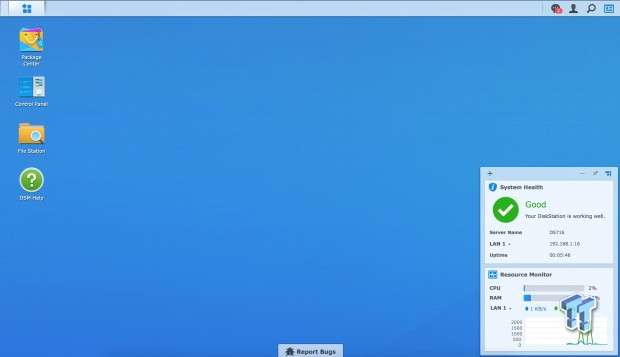 So right off the bat, DSM 6 doesn't look or function much different than OS 5. Perhaps the biggest change is this release is 64-bit only, allowing this appliance to process tasks more efficiently while also allowing increased memory capacities in future appliances.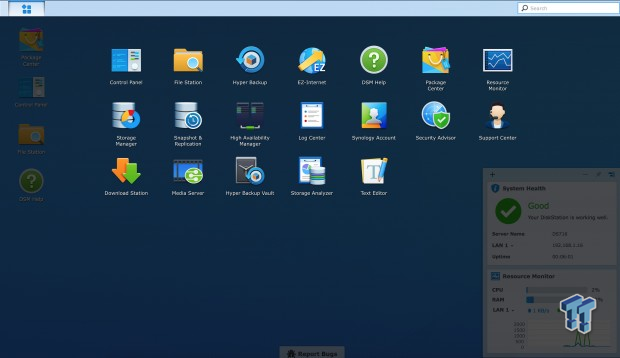 Opening up the Control Panel gives access to features such as file station, backup, and storage manager.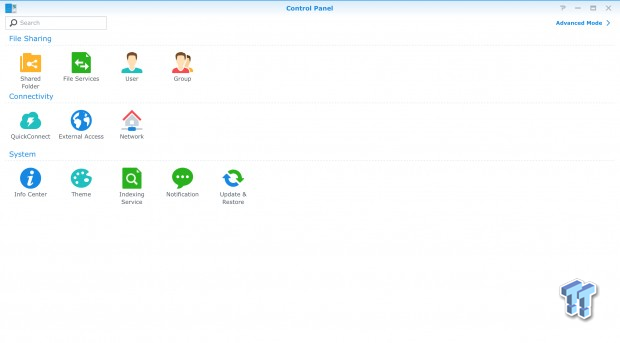 Diving deeper into the Control Panel options get further enhanced, as you can see you can create groups and users along with managing network, security, and the update icon tells you when firmware needs attention.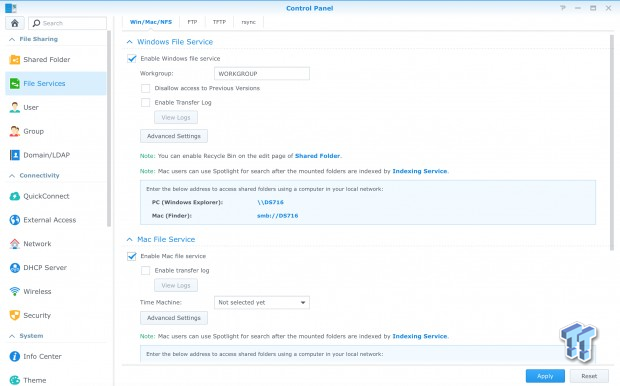 The file services menu gives you access to SMB and AFP shares on the first tab while the following tabs are for FTP, TFTP, and Rsync.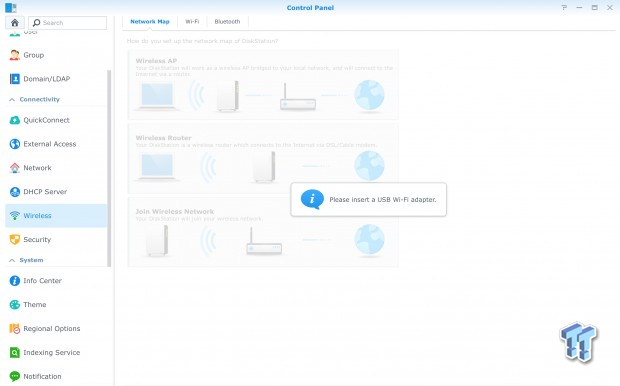 Within the setup menu, if you install a USB adapter for Wi-Fi or Bluetooth, these two menus give you access to their settings.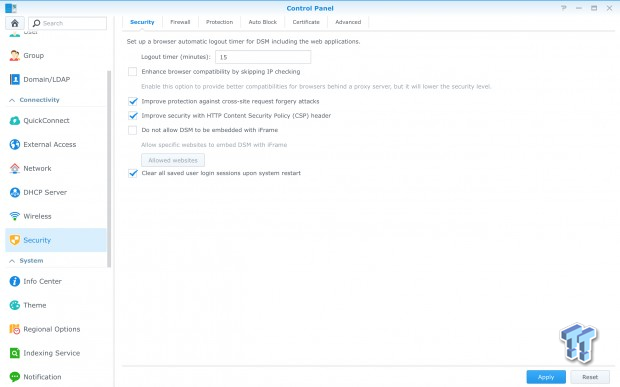 The security menu has all the necessary options for locking down your NAS from outside intrusion.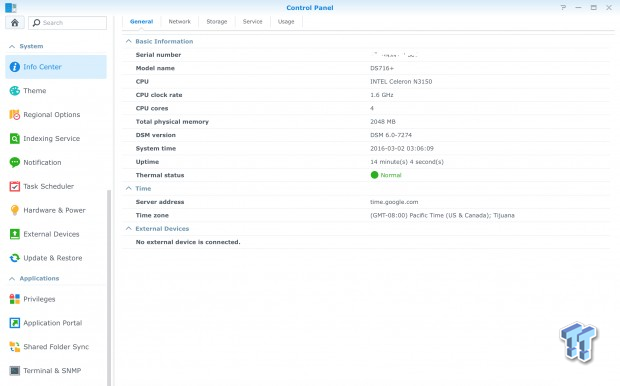 Over in the info center, we have a quick overview of the NAS components. In the list, you can see we are working with four cores and 2GB of RAM running DSM 6 build 7274.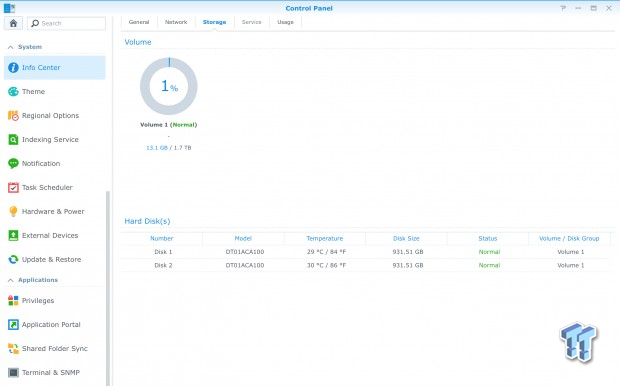 Following along we have a quick look at the storage devices and as you can see in the list below we are working with a pair of Toshiba 1TB drives.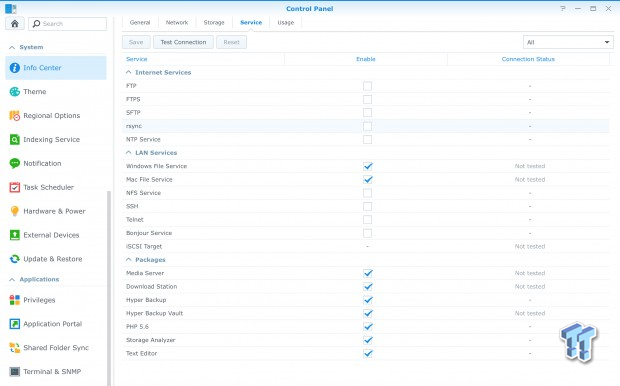 The service breakout shows you a complete list of everything enabled on the NAS.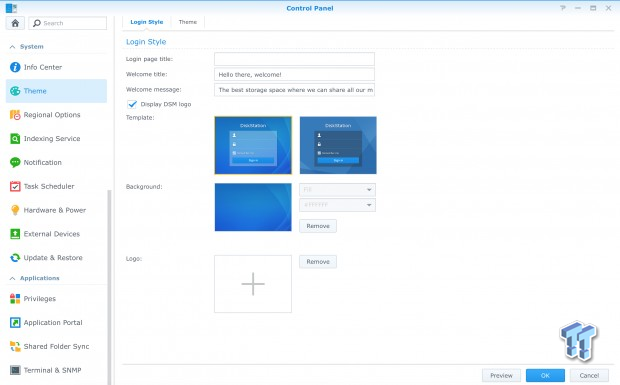 You can personalize your NAS to your liking within DSM 6 via the Theme menu.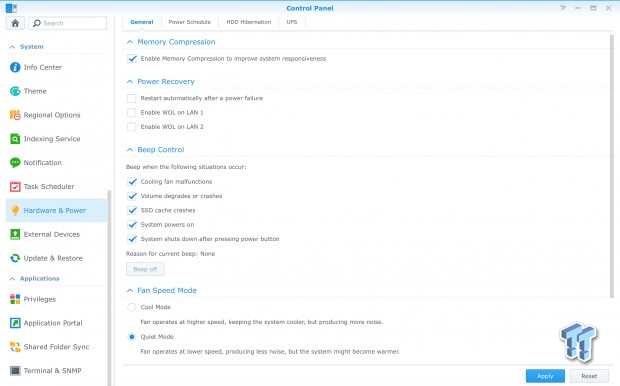 Within the hardware menu, you have the option to control many variables of the NAS including beep control, fan speed, and power recovery. Enabled by default the memory compression option is intended to improve responsiveness.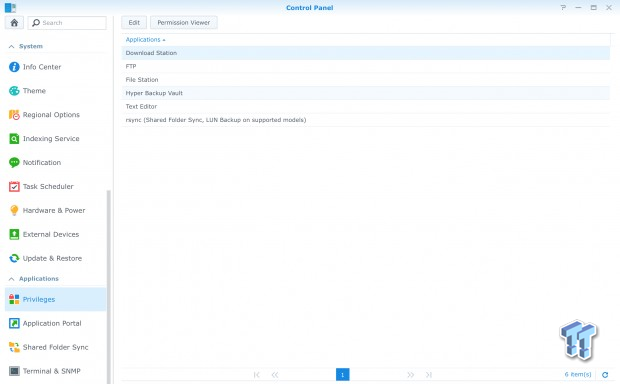 The Privileged menu shows you the file permission for every user or group.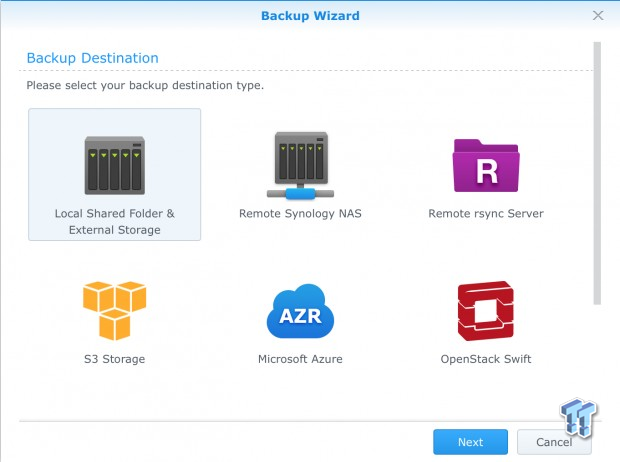 The backup menu includes options for several big name cloud solutions such as Amazon S3, Azure, and OpenStack. Optionally, you can also backup to a secondary NAS with Rsync or cluster two Synology units together with Remote Synology NAS.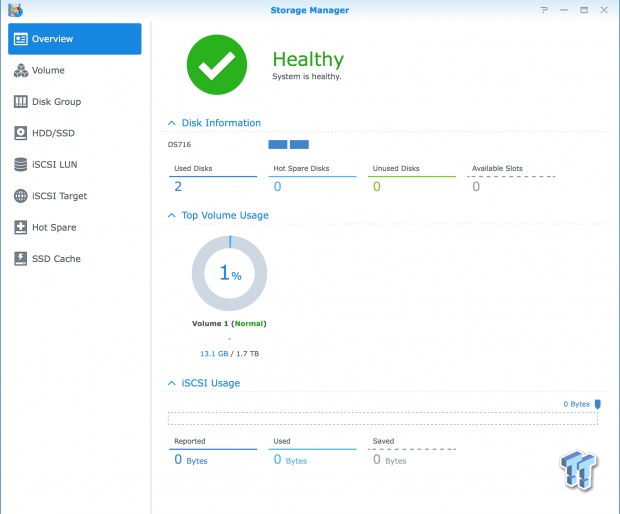 A deeper dive into the storage manager reveal a similar look and feel to DSM 5. The overview menu is a quick look at your disks and their health along with any iSCSI LUNs you may have.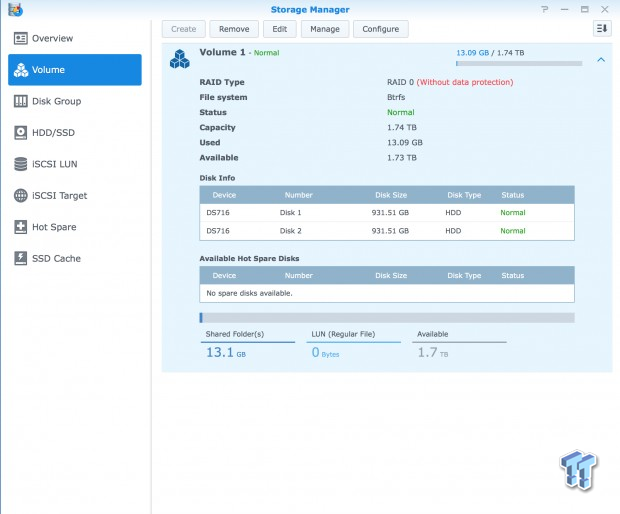 The volume manager keeps track of any RAID or JBOD you may have. In the list, you can see each of our drives and their capacity along with the file system in use.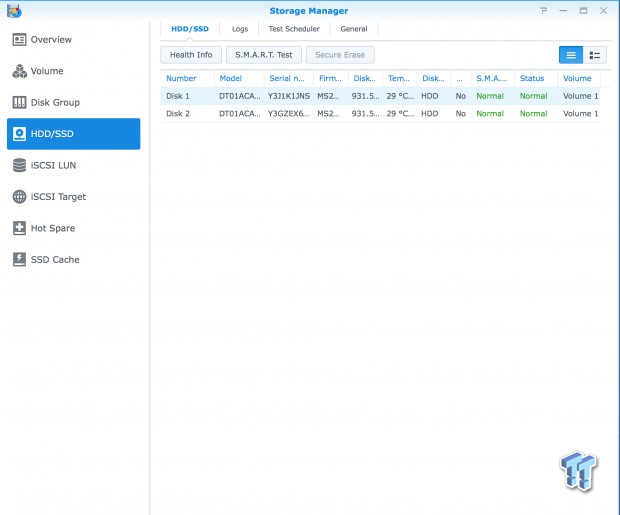 Moving down to the drive menu, we can see our drives in a little more detail including the operating temperature.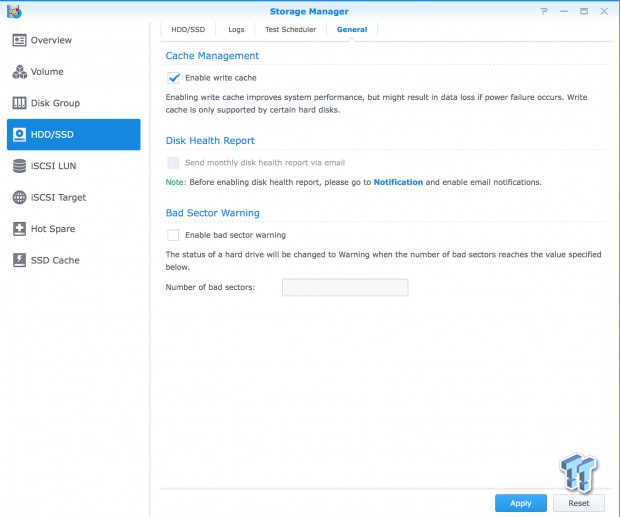 In the general tab, you can change options for the drives in use including bad sectors, health reports, and cache management.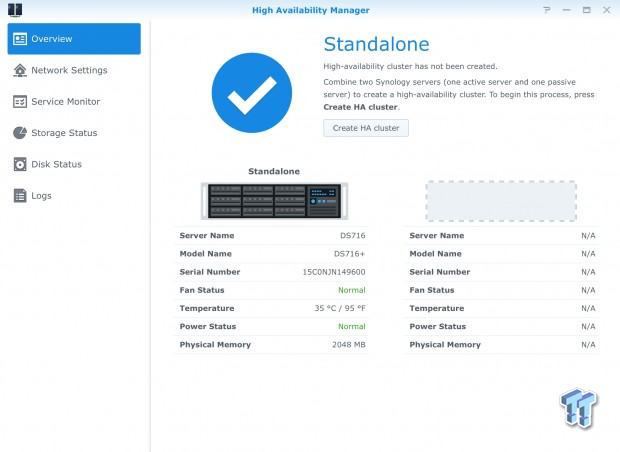 The High Availability Manager is something new to DSM and allows businesses to have a complete operational failover in the case of a component failure.
Benchmarks – Single Client and Sequential Throughput
Single Client Throughput
HD Video Play - 720p HD stream from Windows Media Player, 256kB reads
2HD Video Play - 2x playback
4HD Video Play - 4x playback
HD Video Record - 720p HD stream, 256kB writes
File Copy from NAS - 4GB file copy, 64kB reads
File Copy to NAS - 64kB writes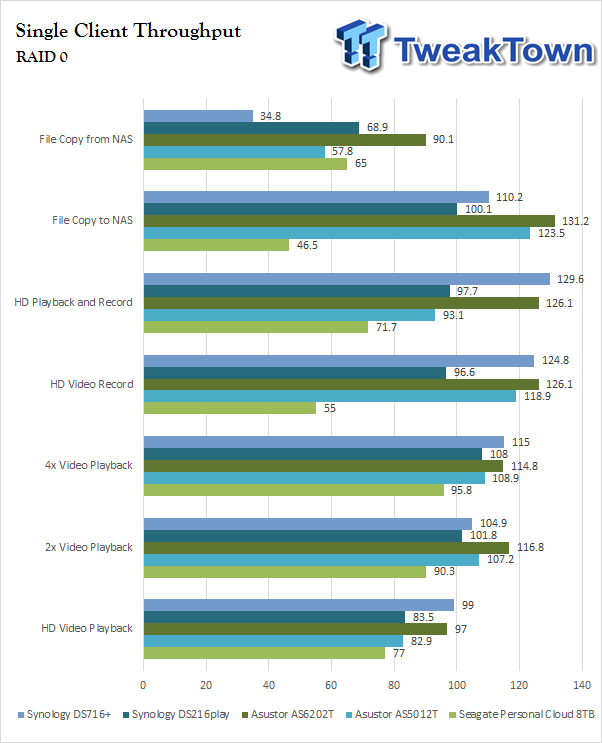 Single Client Throughput for the DS716+ was quite impressive. In our chart above this appliance is battling it out with the 6202T from Asustor in nearly every test.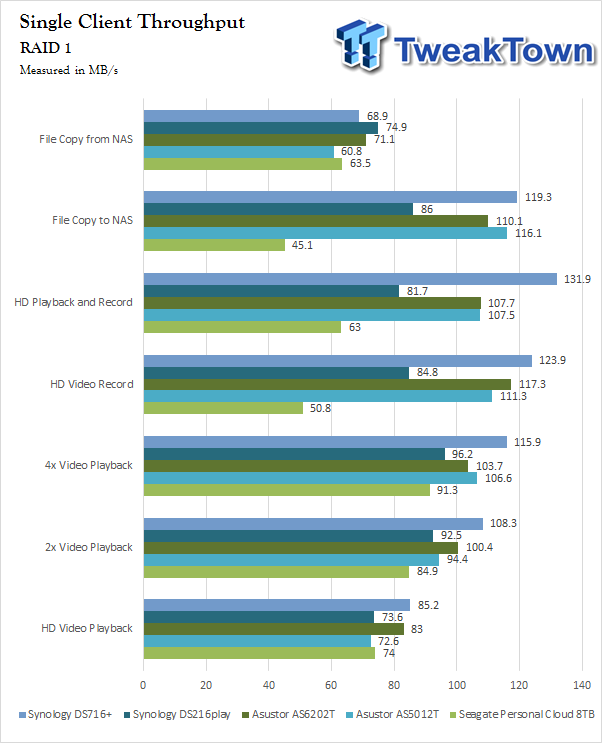 Changing our array to RAID 1, the DS716+ took a sizable and clear lead in almost every test.
Benchmarks – Sequential Workloads in RAID 0
Our Sequential read/write workload is centered on 128K transfer sizes.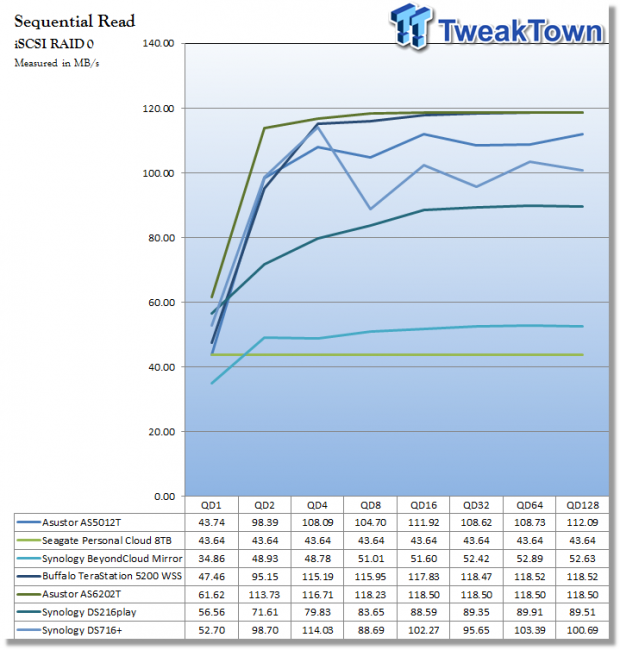 Sequential read results in RAID 0 topped out at 114 MB/s at QD4.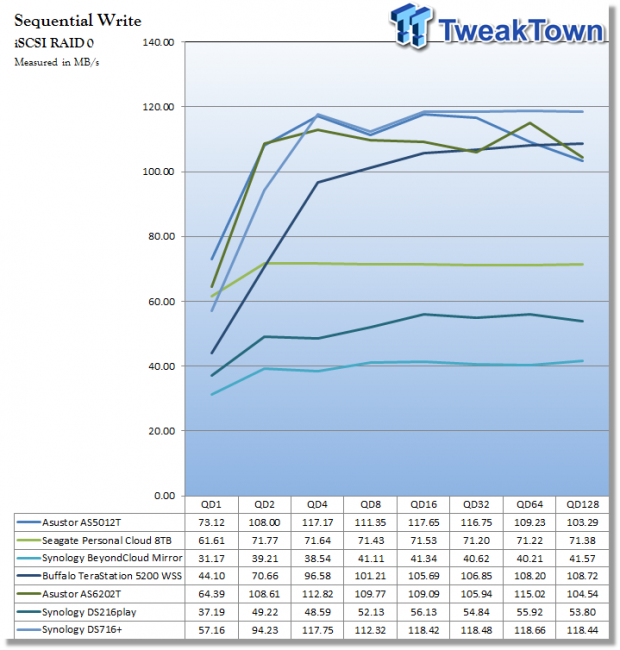 Sequential write started out at 57 MB/s then ramped up to a peak of 118 MB/s.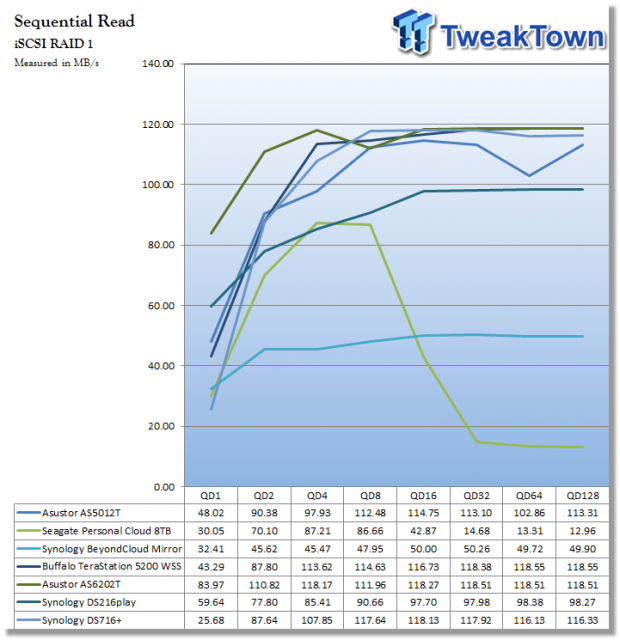 With RAID 1, the DS716+ started out at 25MB/s QD1 and ramped up to 117 MB/s by the time we hit QD8. Peak performance reached was around QD16 at 118 MB/s.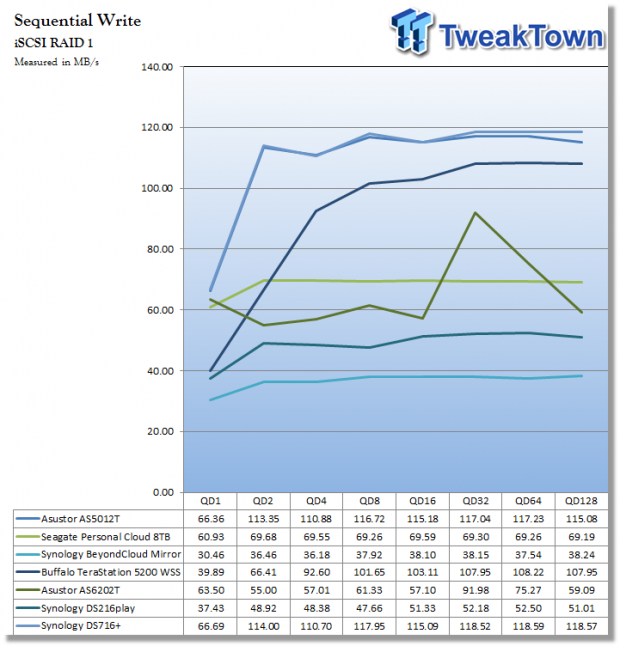 Write performance for the DS716+ was spot on the read performance though we started at a much higher 66 MB/s at QD1, but still peaked at the same 118 MB/s.
Benchmarks – SMB Workloads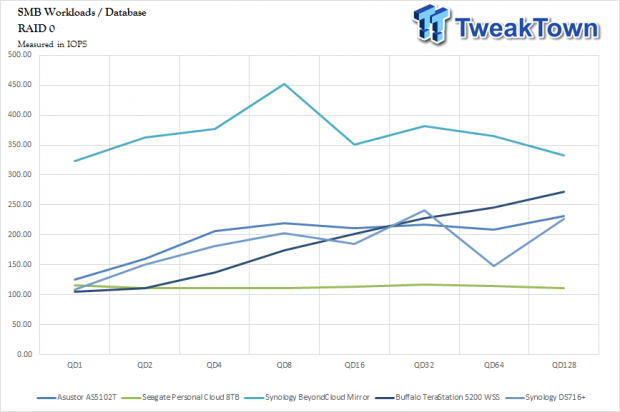 Starting off our SMB workloads, the DS716+ at QD1 hovered around 110 IOPS but did ramp up to 200 IOPS at QD8. Continuing, we find a slight dip at QD16, which recovers nicely at QD32 near 250 IOPs.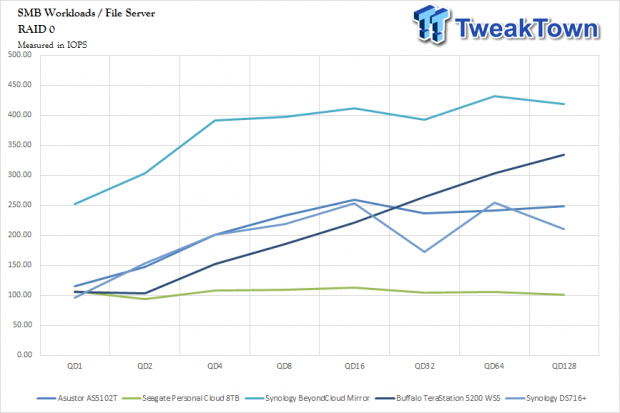 File Server started the DS716 off just under 100 IOPS but scaled quite well all the way up to QD16 and 250 IOPS.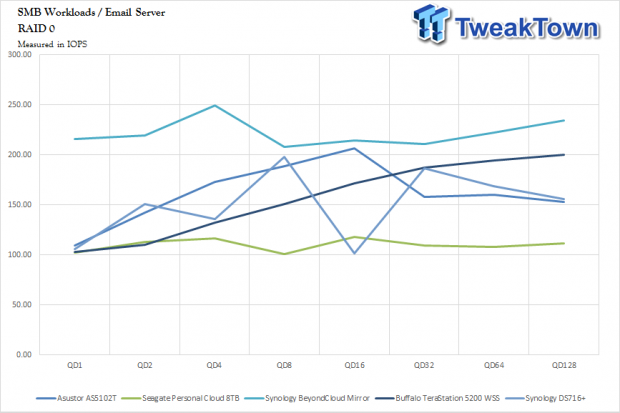 Looking the email server, we find similar performance with QD1 just a touch over 100 IOPS and peaking at 200 IOPS at QD8.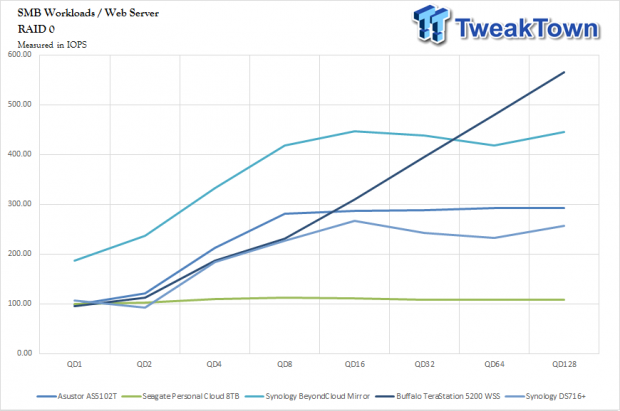 Web Server scaled quite well up to QD16 where we find our peak performance a little under 300 IOPs.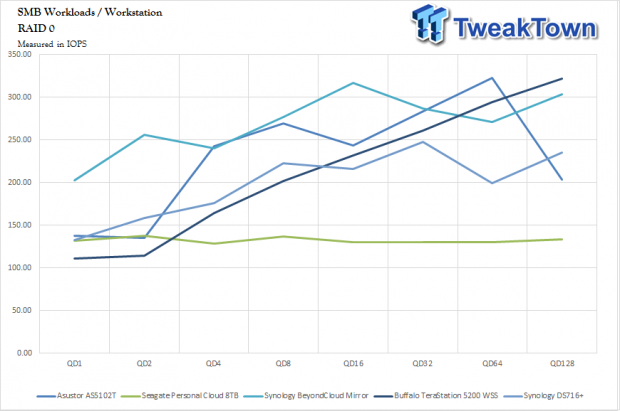 Workstation had a better start with QD1 around 130 IOPS and scaling all the way up to QD32 at 250 IOPs.
Benchmarks – SMB Workloads RAID 1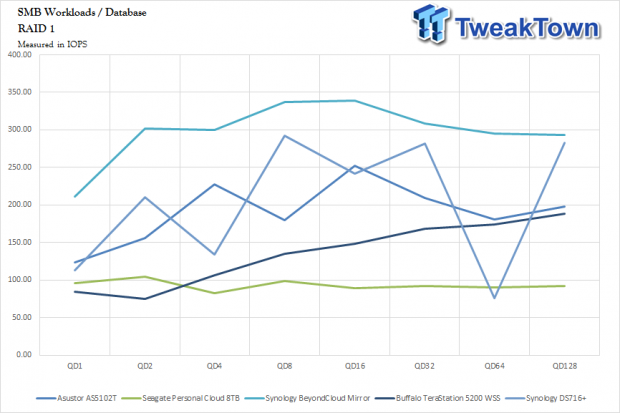 Swapping over to RAID 1, performance starts out with the DS716+ a touch over 100 IOPS peaking at QD8 and 300 IOPs.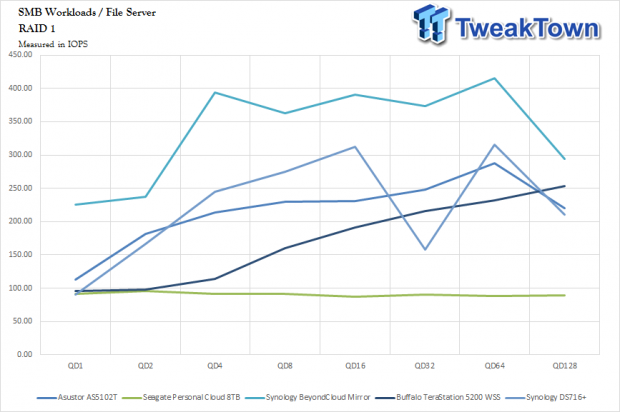 With the file server workload, the DS716+ was able to reach a touch over 300 IOPS peak at QD16.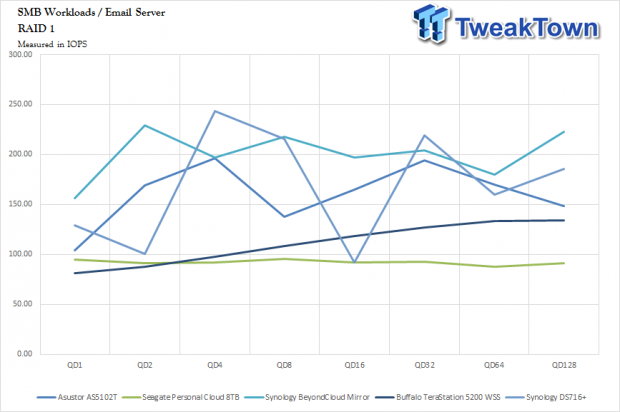 Email server peaked at QD4 and 250 IOPs.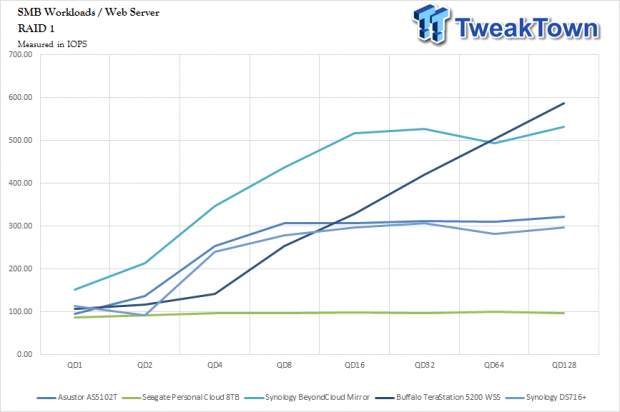 Moving on to Web, we find all appliances running an interesting and parallel pattern on the chart. Peak performance was around 300 IOPS from QD8 all the way past QD128.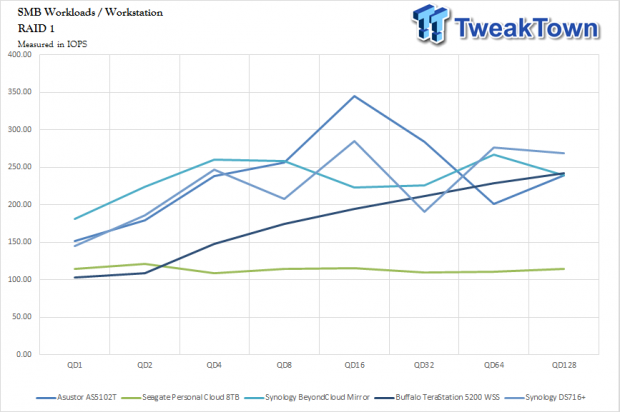 Workstation has the 716+ starting at 150 IOPS QD1 and moving up to a peak of 275 IOPS at QD16.
Final Thoughts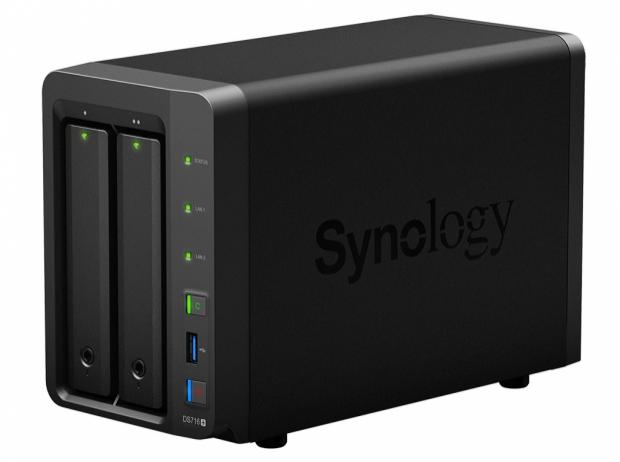 The DS716+ is a solid entry-level SMB solution for businesses just getting started. The build quality is quite good with its mix of plastics on the front and back panels, and the vented steel enclosure allows ample airflow to keep your drives cool. This solution is also quite silent for a unit housing a single 92mm fan. The drive trays are also plastic, so the rattles sometimes heard with metal trays are gone, and the bonus is a tool-less solution.
The performance was quite good, even with the 1TB hard drives we tested this unit with. In our single client testing, this solution was at the top of nearly every individual test with this unit excelling in Playback and Record in both RAID 0 and 1. Sequential performance seemed to peak around 118 MB/s for RAID 0 and 117 MB/s for RAID 1, telling us this NAS is only being held back by the Gigabit interface.
With the latest DSM version 6, Synology has taken the extra steps needed to modularize their OS, trimming the fat of many applications, allowing them to be installed if needed, allowing for maximized uptime and fewer updates. Also, we had our first taste of the BTRFS file system, a copy on write or CoW filesystem that is focused on fault tolerance and repair and is sure to bring Synology into the future with increased performance in high bandwidth situations such as backup or restore operations.
Of course, those mentioned above are only a few of the many changes Synology has made with DSM 6 but for most users you should have a quicker experience with the new DSM with its 64-bit architecture and modular design.
In closing, Synology has released, at this point, one of the quickest two-bay solutions I have tested and with DSM 6, a sure winner for those in the market for a new NAS appliance.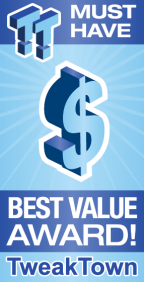 | | |
| --- | --- |
| Performance | 90% |
| Quality including Design and Build | 90% |
| General Features | 93% |
| Bundle and Packaging | 85% |
| Value for Money | 92% |
The Bottom Line: It is quite possible that the Synology DS716+ could be the top two-bay NAS solution for this year. Adding the new DSM 6 only makes this solution stronger and with its MSRP at $450, it's a solid solution for user looking to purchase their first NAS solution.
PRICING: You can find products similar to this one for sale below.

United States: Find other tech and computer products like this over at Amazon.com

United Kingdom: Find other tech and computer products like this over at Amazon.co.uk

Australia: Find other tech and computer products like this over at Amazon.com.au

Canada: Find other tech and computer products like this over at Amazon.ca

Deutschland: Finde andere Technik- und Computerprodukte wie dieses auf Amazon.de
We openly invite the companies who provide us with review samples / who are mentioned or discussed to express their opinion. If any company representative wishes to respond, we will publish the response here. Please contact us if you wish to respond.