TweakTown's Rating: 89%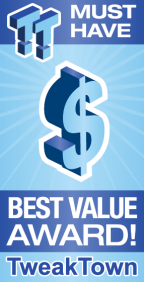 The Bottom Line
Users interested in a entry-level machine backed by one of the best NAS operating systems should put the DS223j on the shortlist.
Pros
+

DSM7

+

Low power draw

+

Price
Cons
Should you buy it?
Avoid
Consider
Shortlist
Buy
Introduction, Specifications, and Pricing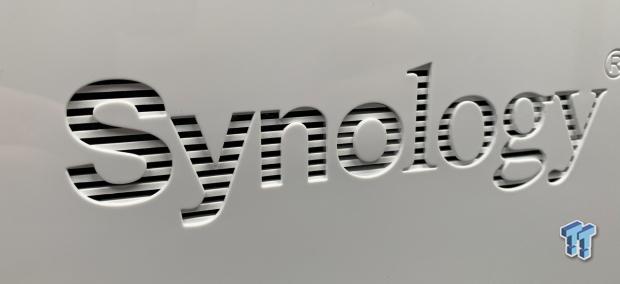 It has certainly been a good amount of time since we last looked at a NAS solution, and after talking to Synology over the last few months, we finally decided on several NAS units to throw on the test bench. We start first with the DS223j, a home/cloud solution that takes advantage of low-cost hardware to offer a solid entry-level solution.
Specifications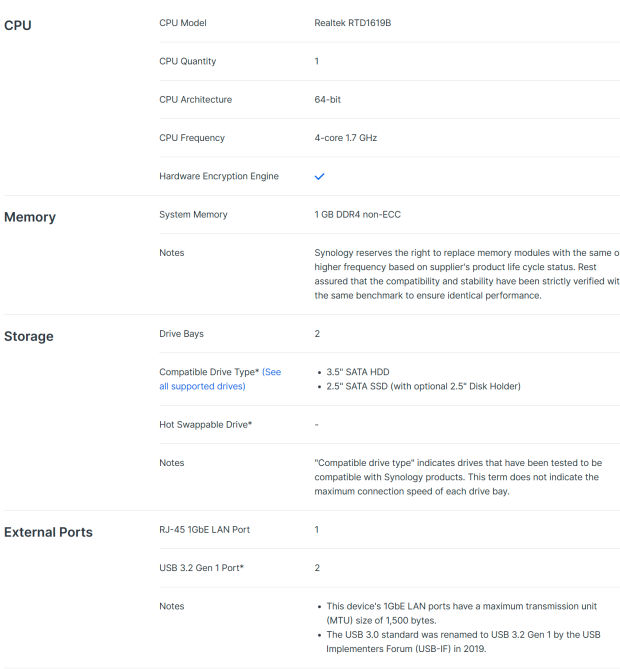 Specifications for the DS223j start with the Realtek RTD1619B, a four-core ARM CPU that offers a 1.7GHz base clock. Memory for this unit includes 1GB DDR4 installed from the factory alongside dual drive bays supporting 2.5" and 3.5" HDDs and SSDs.
LAN on this unit is a single 1Gbe RJ45 port, MTU peak at 1500. USB 3.2 connectivity is also available for any external storage you may have.
Pricing
The MSRP of the Synology DS223j comes in at $189.99 with a two-year warranty, which can be extended to four years with an extended warranty plan from Synology.
Packaging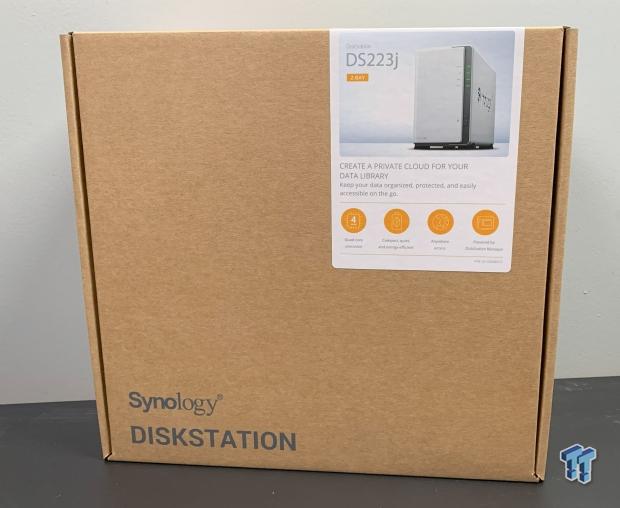 The DS223j was delivered in its retail package, which includes a sticker with an image, model number, and a few features listed.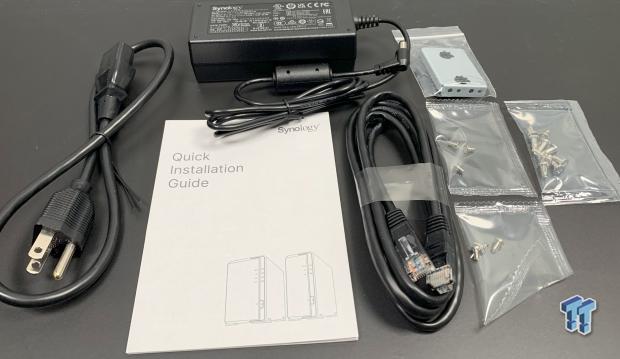 Accessories include the power adapter and ethernet cables alongside additional hardware.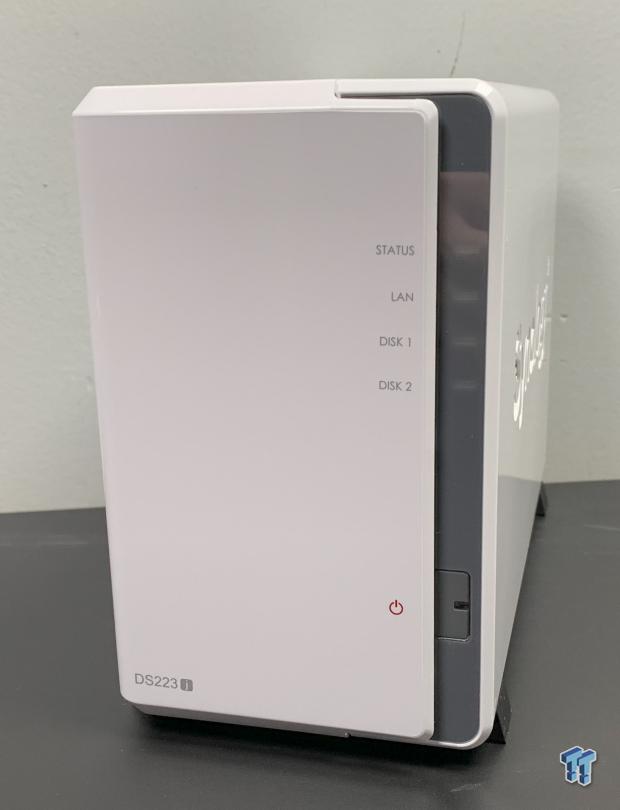 The DS223j is a white unit that offers LAN and disk activity LEDs on the front panel, along with power and status.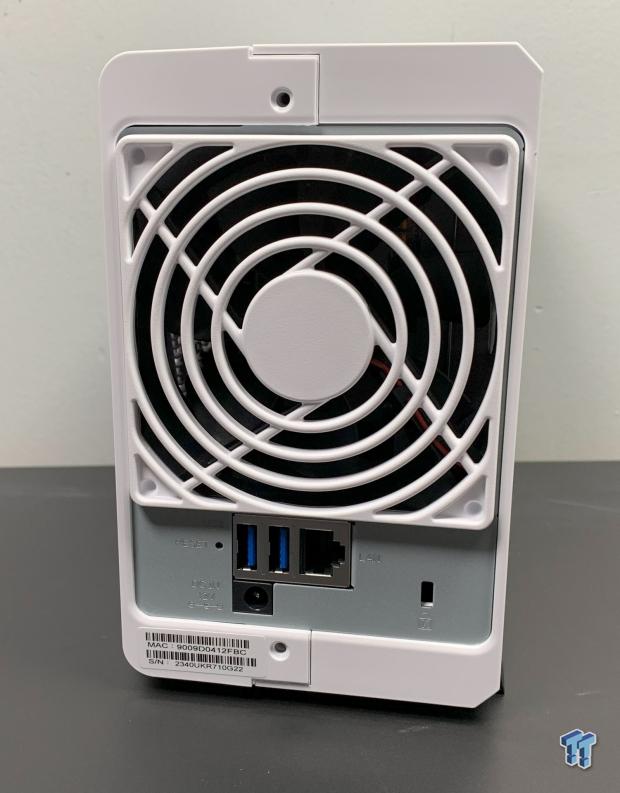 The backside includes a large cooling fan up top with USB 3.2 and Gigabit LAN below.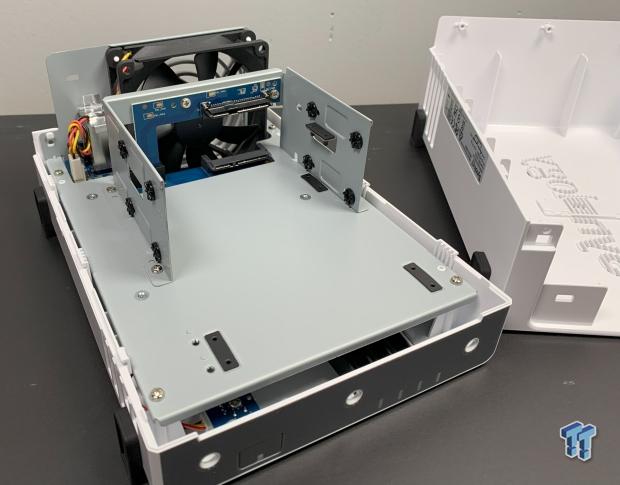 To install drives into this unit, we split it to gain access to the drive tray area. This NAS does have a SAS backplane though no mention of support is made.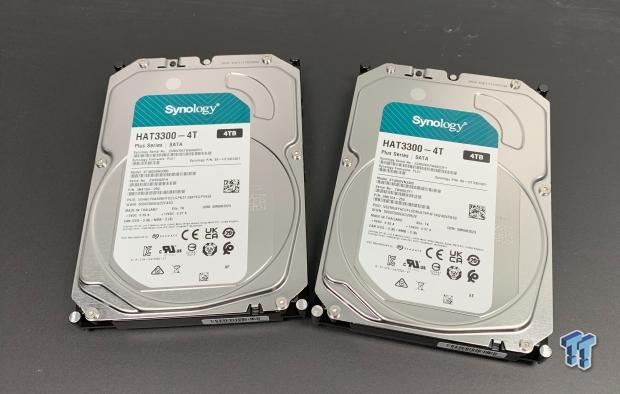 We are testing this NAS with the new Synology HAT-3300 NAS HDDs.
Software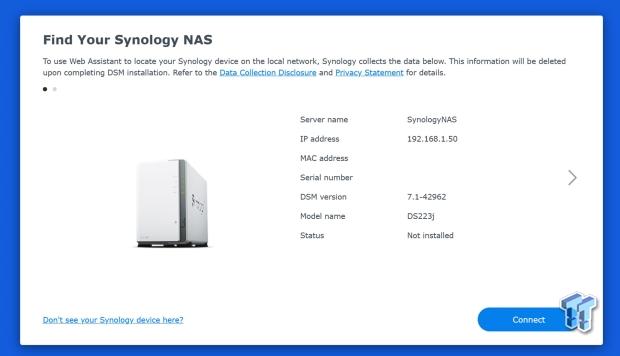 The setup of this NAS is like any other Synology platform I have tested. We point our browser to find.synology.com, and there is no need for any additional software.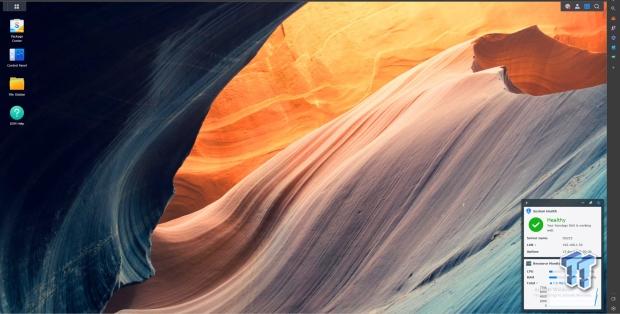 Once setup is complete, we land on the dashboard, with system info displayed to the right in a widget and desktop icons to navigate the interface.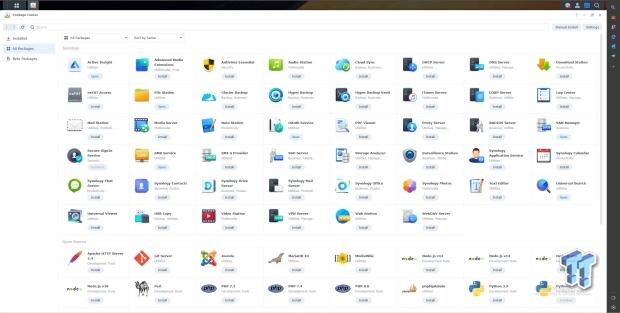 The package center is not quite as big for ARM-powered devices, but Synology does offer most of its in-house applications for the DS223j.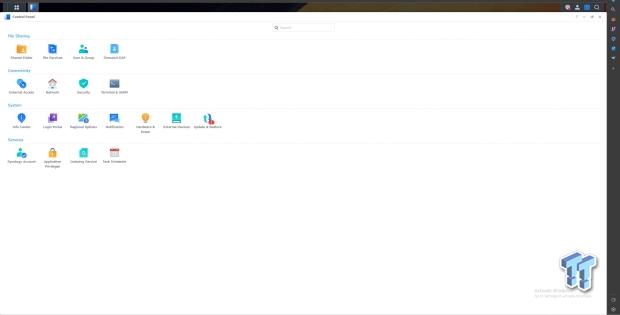 The control panel gives us options for creating users and groups, managing shared folders, and configuring network settings, including services and application privileges.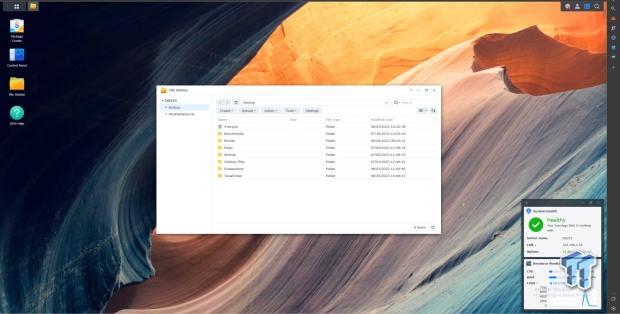 File Station allows you to manage files and folders within the NAS interface.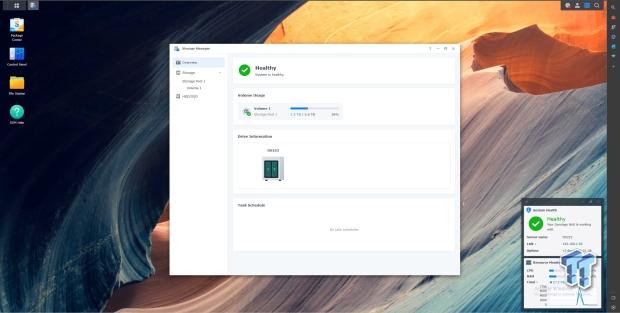 The Storage Manager allows you to configure any installed hard drives with RAID. Arrays supporting include RAID 0, 1 along with SHR and JBOD.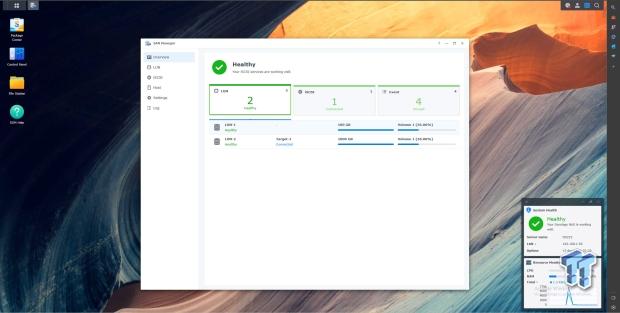 To configure any iSCSI services, you must head over to the SAN manager, which Synology has included.
System Benchmarks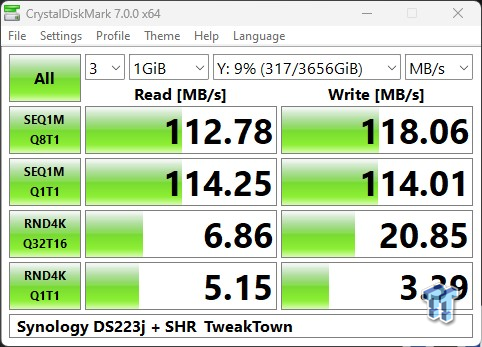 To kick off our testing of the DS223j, I set up a network drive on our test machine. From there, we deployed Crystal Disk Mark and came away with 112 MB/s read and 118 MB/s write for the DS223j.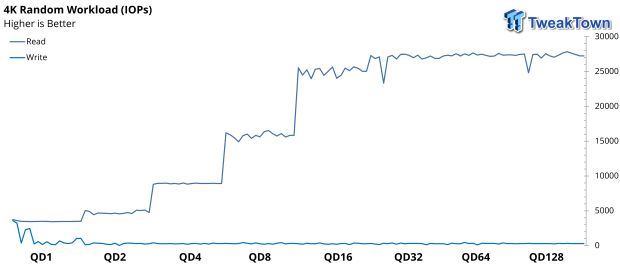 With CDM complete, we move to an iSCSI configuration with a 1TB share while deploying IOMeter to test.
Starting this off, we note the DS223j reaching top speed around QD32, holding it through QD128.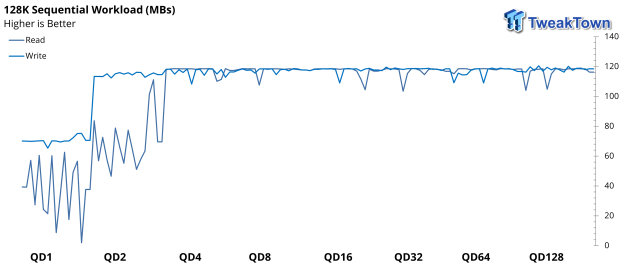 Next up, we have a sequential workload at 128K. This offers insight into the DS223j as it produces peak performance rather quickly, nearly 120MB/s at QD2.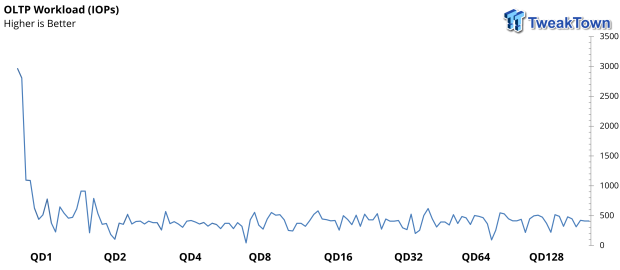 Our next workload was OLTP, a database workload from SNIA. This showed consistent performance from QD2 through QD128.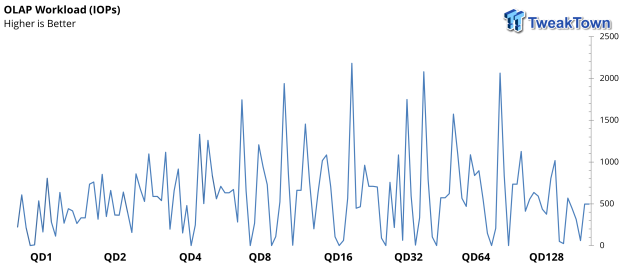 OLAP is our data warehousing workload. For the DS223j, this showed a gradual improvement in performance with higher QD workloads.
Final Thoughts
The DS223j is aimed at users wanting control over their data and creating their own cloud solution from scratch. While being an entry-level unit, the DS223j does this very well, and Synology complements this unit with DSM 7.1 and a full suite of in-house applications.
In testing, this unit did very well, hitting the limit of its network interface without issue. As noted in our CDM workload, the DS223j peaks at 112 MB/s read and 118 MB/s using an SHR RAID array for the utmost in flexibility. Moving into our IOMeter workload traces, the DS223j continued to do quite well in random read and write, with QD32 being the sweet spot.
Sequential workloads, too, did very well. We noted consistent performance QD2 through QD128, both read and write, and getting into our OLTP and OLAP traces, we once again have consistent performance around 500 IOPS for OLTP and hovering between 500 and 2000 IOPS on OLAP.
The hardware internal to this unit is quite good for the purpose, we had no testing or use issues, and the NAS was always very responsive to our network and devices. Additional USB 3.2 connectivity is fantastic on this NAS, allowing users to dock external HDDs and SSDs with the ability to move data back and forth easily.
The pricing of this unit is fantastic. At $189.99, I'm not sure we have ever seen a NAS unit hit these levels. Market competition comes from the ASUSTOR AS1102T and QNAP TS-233, with the ASUSTOR unit having 2.5Gbe alongside a very similar set of hardware to the DS223j.